Druhomes.com – Everyone needs to take a rest and sleep to recharge their energy after a day of activities. Sleeping is an effective way to make your body feels better. Furniture in your bedroom is considered to give a qualified bedroom for you. If you sleep in a comfy bedroom, you may get a nice dream. Besides, a the right bedroom interior design is also important to fresh your mind from boredom. For that, you can create a stunning Scandinavian bedroom design in your home.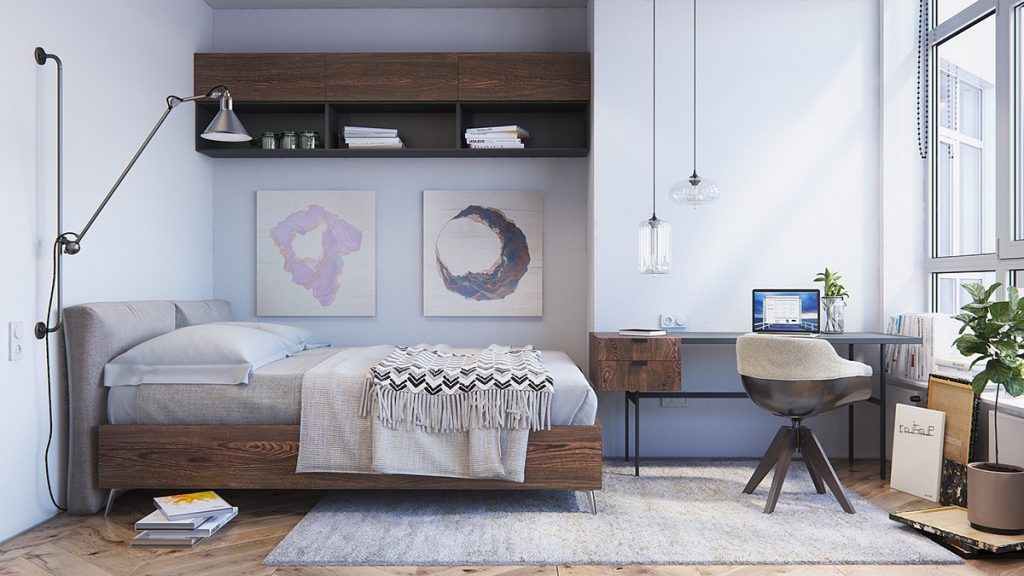 Scandinavian design is a design that imitates the simplicity of interior design. This interior design sticks out a nuance of fresh air and a larger impression. Also, the Scandinavian design will transform your bedroom into a spacious, bright, and clean look. Besides, the this design also brings a natural effect to your bedroom interior. It is nice to apply this design to your bedroom interior. Since it has a catchy design, let's see the characteristics of this design.
Using neutral color
Has a clean impression
Has a simple layout
Using functional furniture
Has a few displays
Has natural light by the large window/skylight
After knowing the various characteristics of Scandinavian interior design for you to apply in your bedroom, the next topic we will discuss is creating them. To create a stunning Scandinavian interior design in your bedroom, you can pay attention to various aspects such as furniture, color, and decoration. For that, let's discuss it one by one.
Scandinavian Furniture Design
To create a Scandinavian interior design in your bedroom, you need to pay attention to the furniture you use. Pay attention to the design and furniture materials that you use in your bedroom. This is to create a beautiful and comfortable Scandinavian bedroom interior concept for your daily use.
In a bedroom, a chair is usually put near a table. It is a pair of table set who has a functional and decorative value. In the Scandinavian bedroom interior, functional furniture is the priority to install in your bedroom. For a Scandinavian chair, choose a wooden chair that stands on a soft carpet.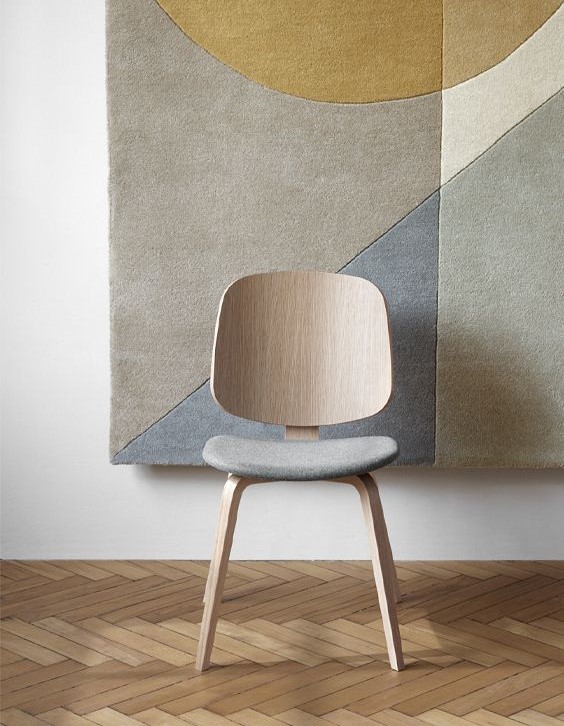 The wooden chair has a simple design and easy to move, so you can sit wherever you want to put it. Besides, gives a carpet under the chair provides a comfortable place for your feet in cold weather. The Scandinavian chair is compatible with your bedroom even in a small room.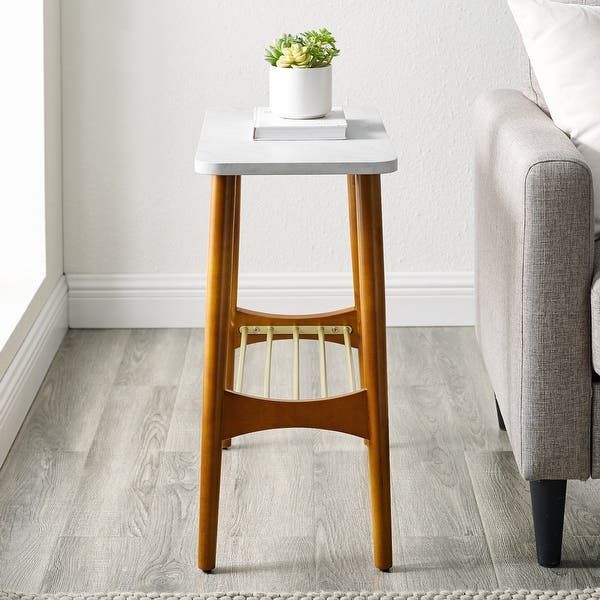 The table has a function to decorate your room interior and gives a geometric accent to your bedroom interior. For your Scandinavian bedroom interior, you need a table to put a small clock, desk lamp, and book for your night reading.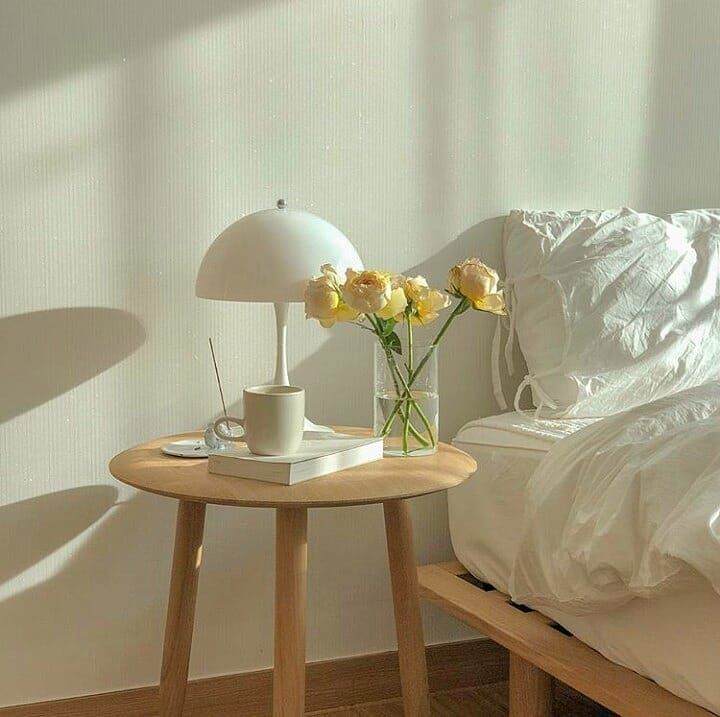 You can put aside a table beside your bed. Moreover, if you have a window in your bedroom, then it will be nice to let natural light touches your table. Since lighting is an important aspect of Scandinavian design, it also helps you to warm the room.
The characteristic of simple and clean design offers you a neat look in a Scandinavian bedroom. Since this design gives us a simple decoration to arrange, we can manage furniture in your bedroom by installing a wardrobe.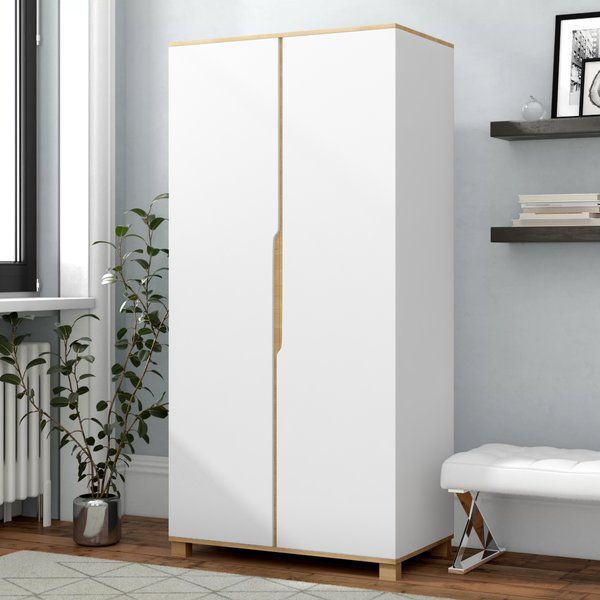 A simple wardrobe will strengthen the Scandinavian accent in your bedroom interior. Wardrobe in Scandinavian design is commonly made of wood because it has a warm impression on your bedroom. Moreover, the geometrical shape of its wardrobe represents simplicity and timeless style, then it suits any design.
A bed is the most important piece of furniture in your stunning Scandinavian bedroom. Lay on the bed will recharge your energy and build your mood. Moreover, in a Scandinavian bedroom, you will feel calm and comfortable.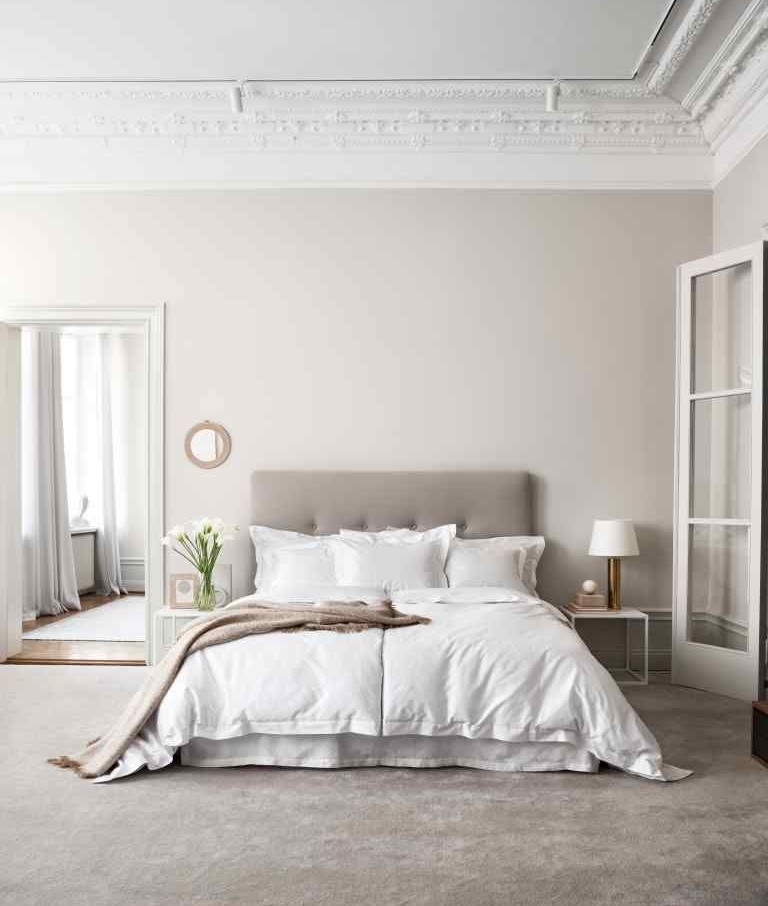 The Scandinavian bed creates a comfy nuance with natural wooden material. It is nice to put your bed near a large window to integrate an outdoor look into your room. An essential wooden bed suits the white bedcover because it reflects natural light to get a brighter room.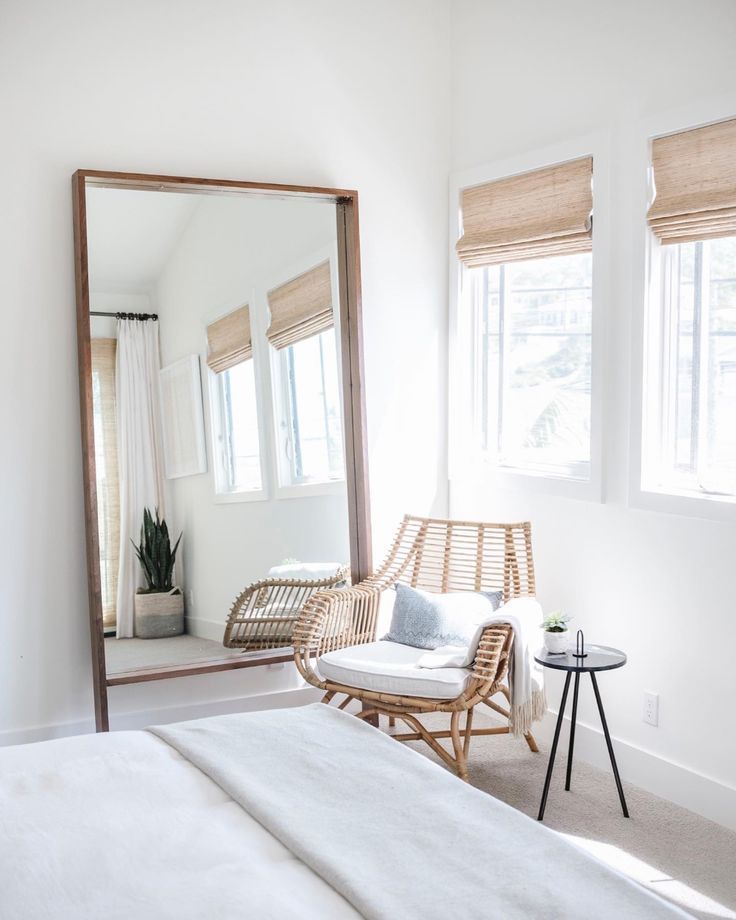 A thin and slim mirror is the common design for Scandinavian bedroom furniture. It has a simple and geometric shape. Moreover, if you install a large mirror, it can reflect a simple interior to get a spacious look. It also cut your time to clean the room because the Scandinavian bedroom has a simple layout.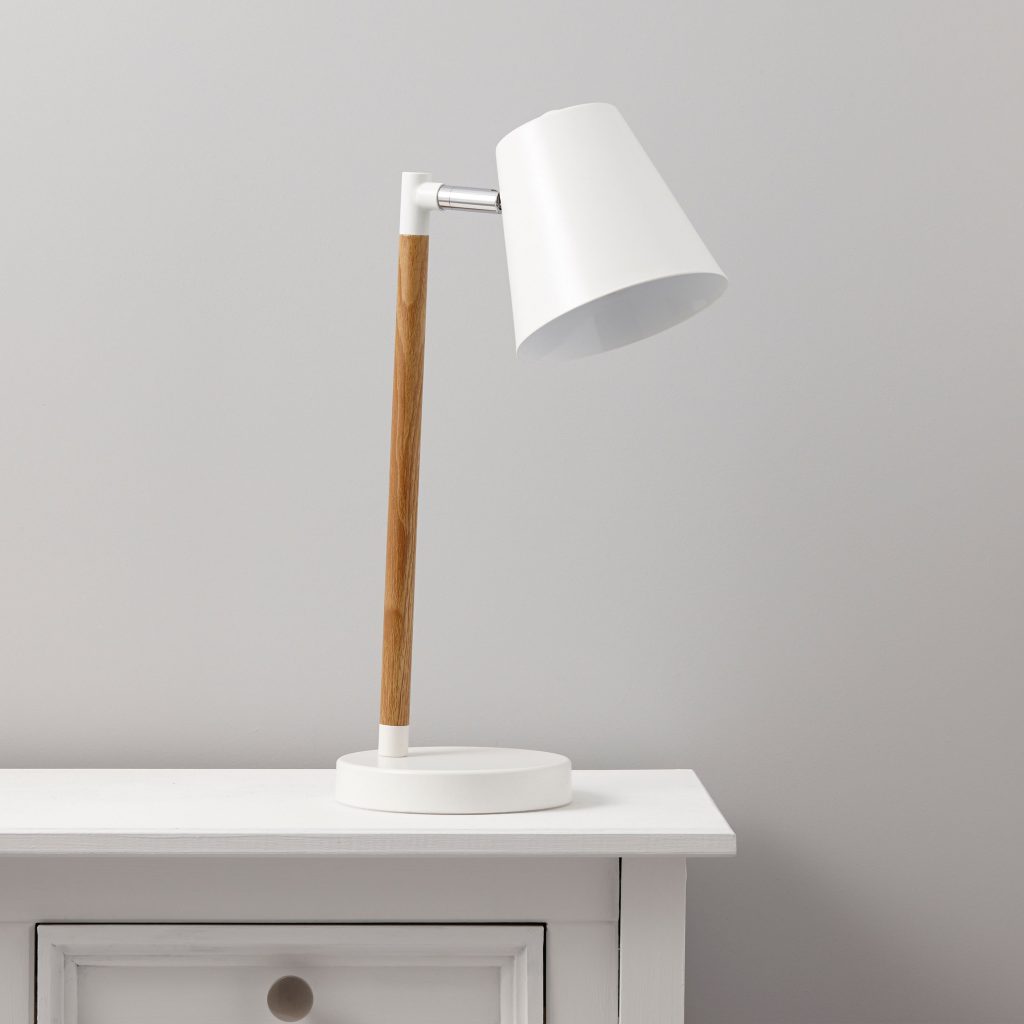 Scandinavian bedroom interior needs more light to create a spacious look. A desk lamp is an essential item to use as an ornament. The Scandinavian desk lamp has a simple design with a neutral color such as white, grey, or light brown. You can turn on the lamp when you need more light at night, and doing late work
Scandinavian Bedroom Color
In addition to determining the variety of furniture that you use in the interior of your Scandinavian bedroom, you also need to pay attention to the color you choose. Because this interior design has a warm character in a neutral atmosphere, you can use colors with that character. For that, here are some colors that can be your choice.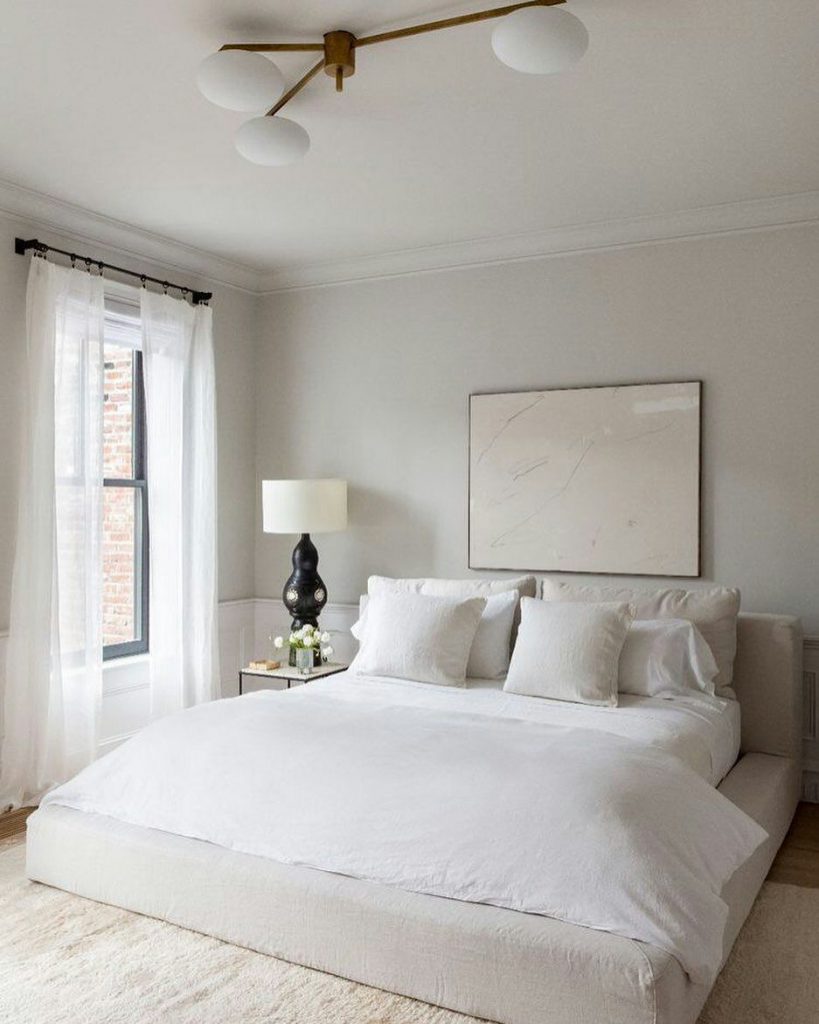 Scandinavian interior sticks out a clean impression to your bedroom by using neutral color. White is the most popular color in a Scandinavian interior that makes your room looks clean and spacious. It reflects the light in the room very well. This color is compatible to design with any ornament in various colors.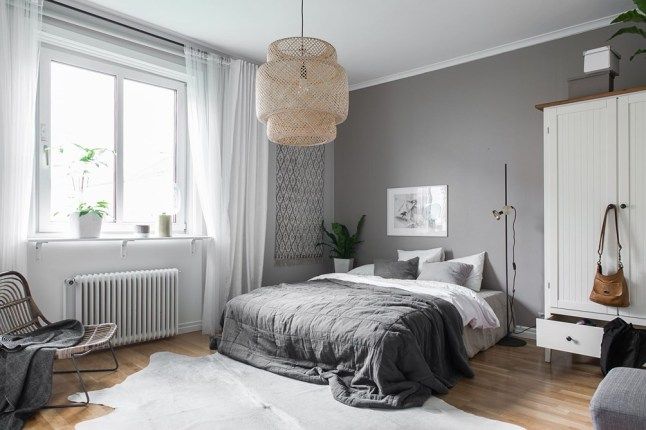 To simplify your Scandinavian bedroom, light grey will transform your plain wall into a soft and calm atmosphere. Light grey has an elegant impression and it doesn't leave your room look plain. This color represents a neutral nuance. Light grey is compatible with white furniture and black furniture.
Another natural color is brown. In the Scandinavian interior, light brown is a rare choice but calming when you apply this color in your bedroom. Ligh brown is close to the wood color that makes your bedroom seems spacious. Moreover, light brown can reflect the light and makes the atmosphere looks warm and romantic.
Scandinavian Decorations and Ornaments
The last thing you should pay attention to in creating a beautiful and comfortable Scandinavian bedroom interior design is decoration and ornamentation. Using certain decorations and ornaments will provide an aesthetic, unique and beautiful atmosphere in your bedroom in a simple concept. Here are some decorations and ornaments that you can use.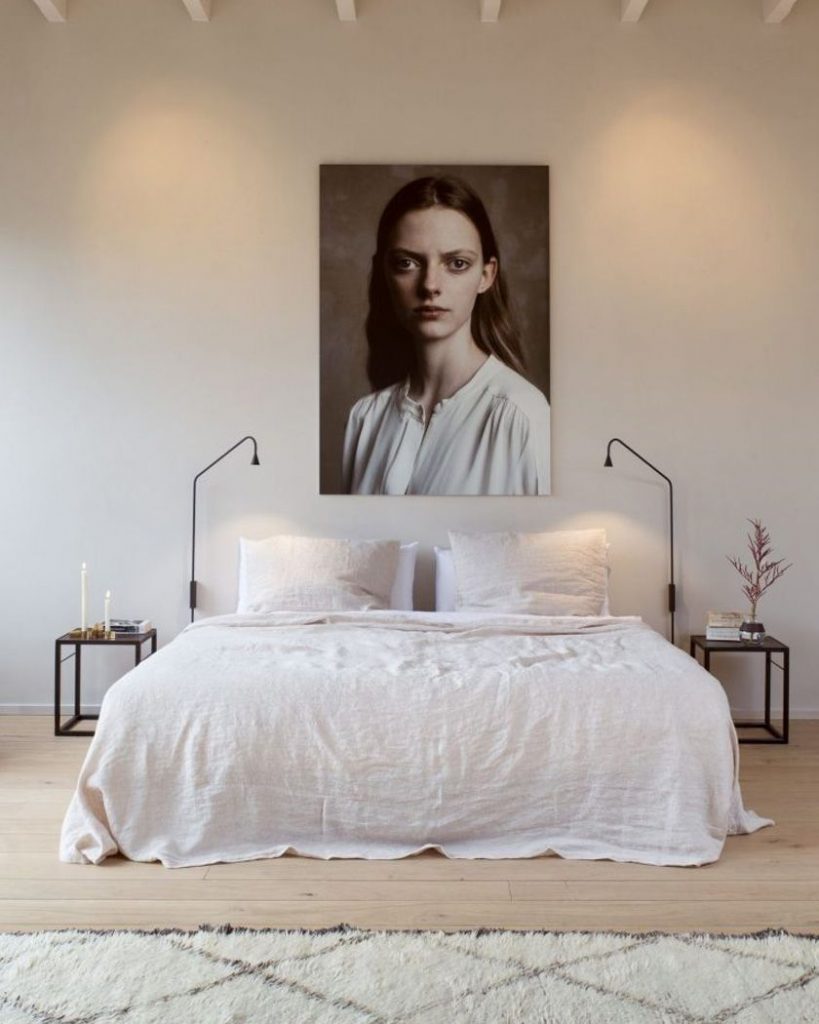 A Scandinavian bedroom requires an ornament to display in your bedroom. It shows the Scandinavian accent with an aesthetic painting on the wall. You can hang two paintings with an absurd image or natural object on the canvas. Painting gives an attractive spot to impress everyone who enters the room.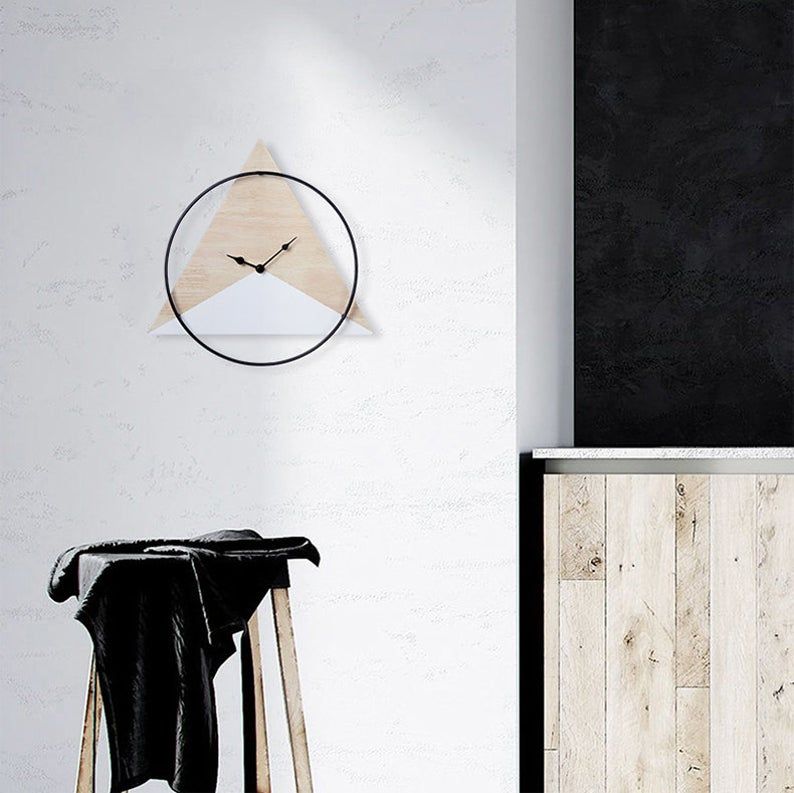 Having a wall clock in your Scandinavian bedroom is functional to show time and decorate the interior. A Scandinavian bedroom is identical to simple nuance, choosing a white wall clock suits the theme of clean and simple design.
Scandinavian design has a neutral nuance and it arouses a naturalistic sense in your room. For your Scandinavian bedroom, you can put an ornamental plant to freshen the atmosphere. The green ornamental plant gives a natural accent to your room. This plant invigorates your plain room to be more alive. It is a functional ornament to decorate the room and to make you healthier.
Conclusion
Thus our discussion about Create a Stunning Scandinavian Bedroom Interior Design. Scandinavian bedroom interior has some characteristics such as using functional furniture, applying a simple layout, having a large window, and attaching neutral color. These characteristics determine the outlook of your Scandinavian bedroom. Furniture, room color, and ornaments are important aspects that you should pay attention to. We hope that this information is useful for you to decorate your Scandinavian bedroom.