Druhomes.com – Wallpaper is a beneficial element to decorate your plain wall. It has various colors and motifs to adjust your favor. By installing wallpaper, you can cut more time to decorate your room. It is an alternative way if you don't have enough time and energy to repaint your wall. You can create a variety of wallpaper patterns that you want. For example, you can use geometric patterns to create an elegant, modern character. Besides that, you can also Create Aesthetic Classic Wallpaper Using Flowery Patterns. Thus, wallpaper gives a new look for an old decoration in a room. There are some benefits of installing wallpaper for your room interior.
Decorate your wall aesthetically
Hide the broken spot on the wall
Create a certain impression such as make it looks larger, natural, or spacious
Enliven the atmosphere through the colors and its patterns
Increase your creativity if you like to draw the patterns by yourself
Classic style brings a nuance of the time past by showing an antique decoration and identical furniture that represent the era. It has an interesting element such as classic furniture, antique displays, using bold colors, and simple nuance for the interior design. The most identical classic element is wallpaper since it has a large view to see it directly when entering the room. Here, we have some ideas for classic wallpaper by using flowery patterns. Let's discuss!
Bedroom Wallpaper
The first interior room that you can choose for you to create a classic aesthetic wallpaper concept in the bedroom. The bedroom is an essential part of the house for you to create. This is because this place functions for you to rest, sleep and do all your daily activities. For that, choose a wallpaper with a flowery pattern that you want for your bedroom.
Dark Flowery Wallpaper for Your Bedroom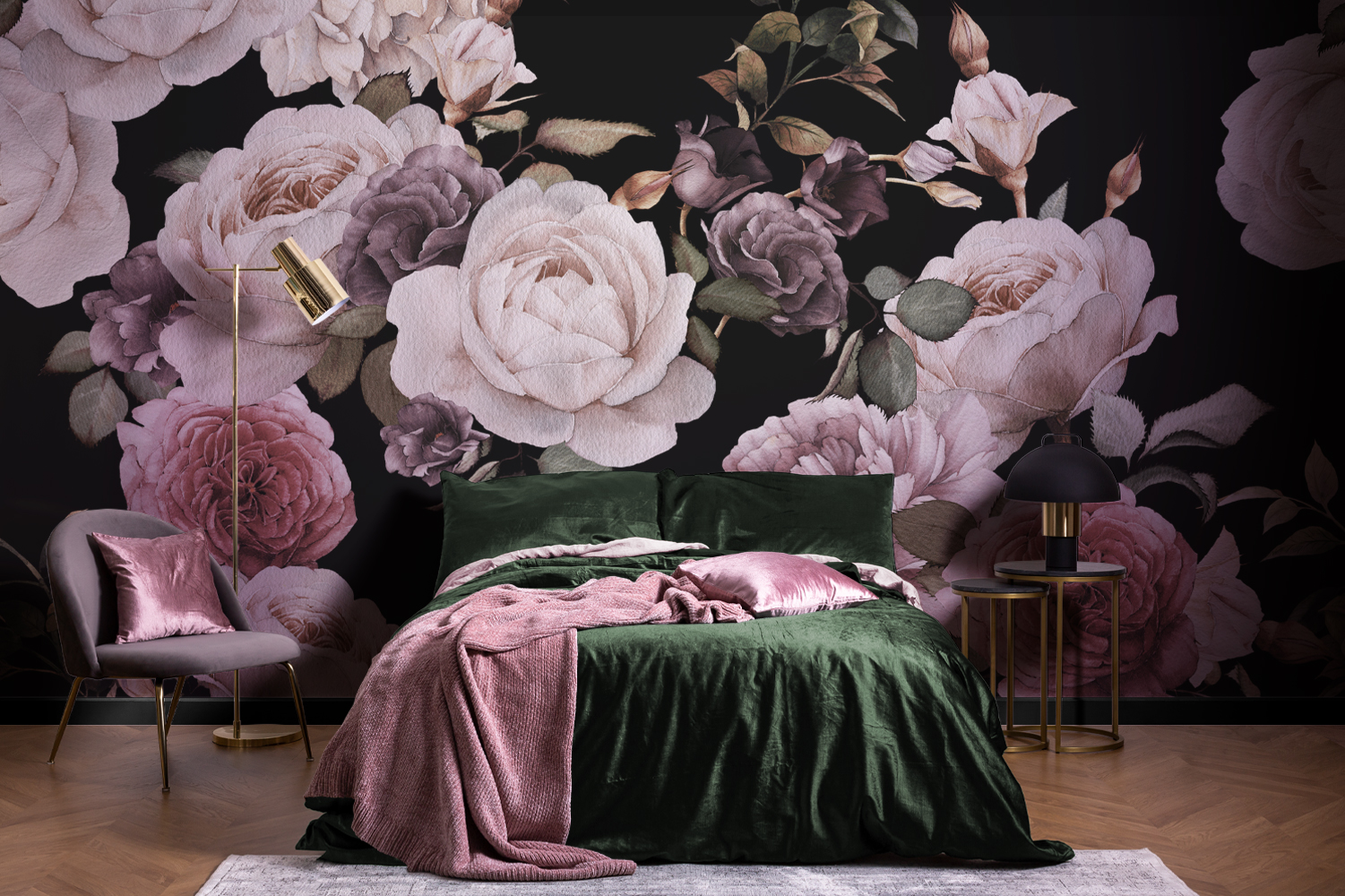 Flowery wallpaper brings a nuance of a beautiful garden. It gives interesting scenery in a bedroom. Besides, the right combination of colorful flowery patterns with dark background arouses the depiction of these flowers. Usually, the flowery patterns in this wallpaper are roses. In a dark flowery wallpaper, it helps you to build a girly nuance with a mysterious side. Hence, the dark flowery wallpaper looks elegant and classic.
Classic Tropical Wallpaper For A Tropical Nuance Bedroom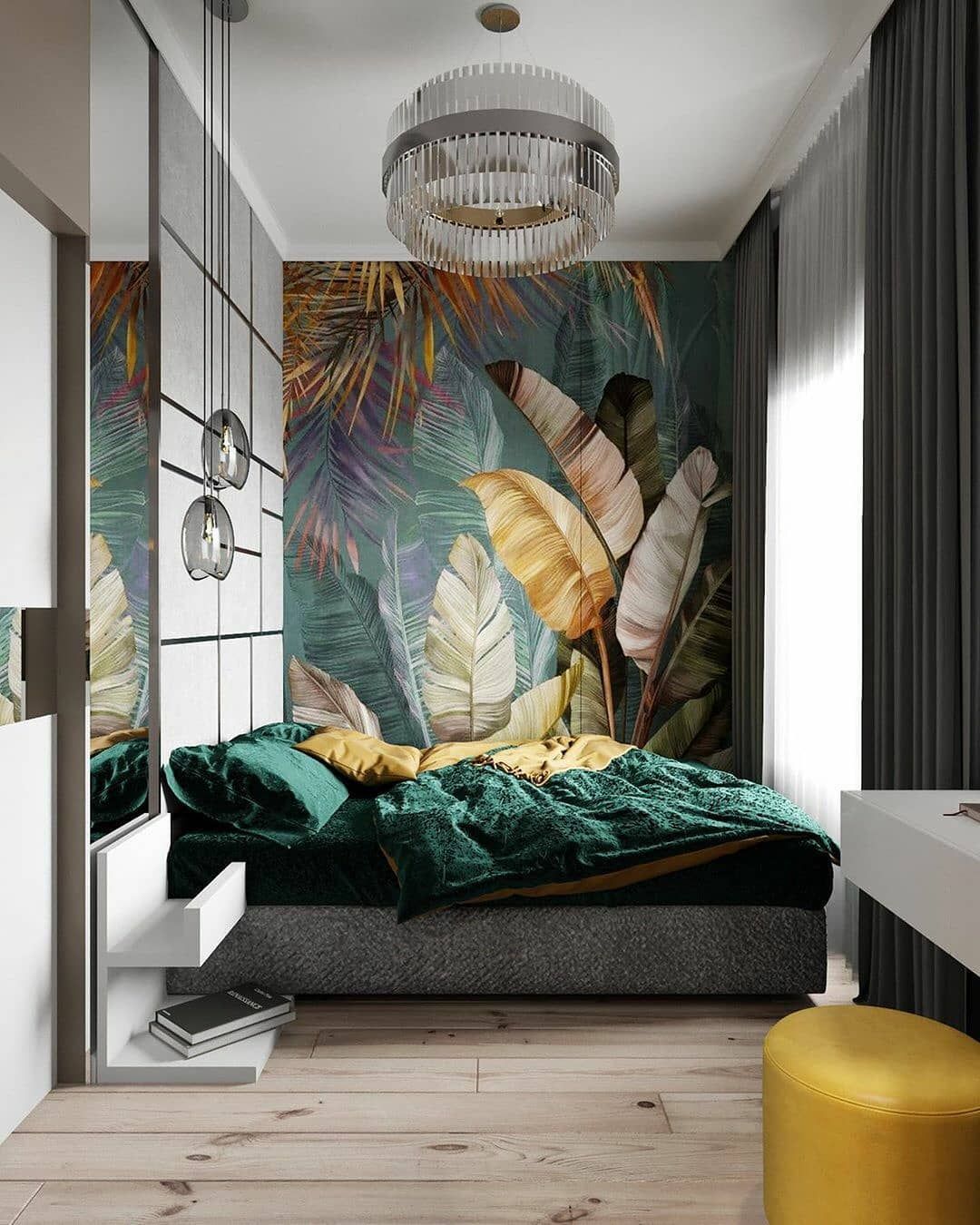 A tropical plant is an exotic plant that lives in a tropical region. This plant has various species from different countries on earth. Many tropical plants are drawn as wallpaper to create a tropical scenery in a certain room. For a bedroom wallpaper, tropical plant patterns are compatible with the modern interior design. It brings the classic accent by its plant patterns. The graphic print in this wallpaper commonly uses the images from leaves of the Bird of Paradise ornamental plant, Monstera, and other Banana leaves.
Living Room Wallpaper
Apart from the bedroom, you can also create classic aesthetic wallpapers in the interior of the living room. A comfortable and beautiful living room will give enthusiasm in gathering and sharing stories with your friends and family. This will give you a tropical character and style that makes you comfortable in a fresh atmosphere in your living room. Here are some ideas that you can follow.
Tropical Nuance by a Classic Wallpaper with Comfy Classic Couches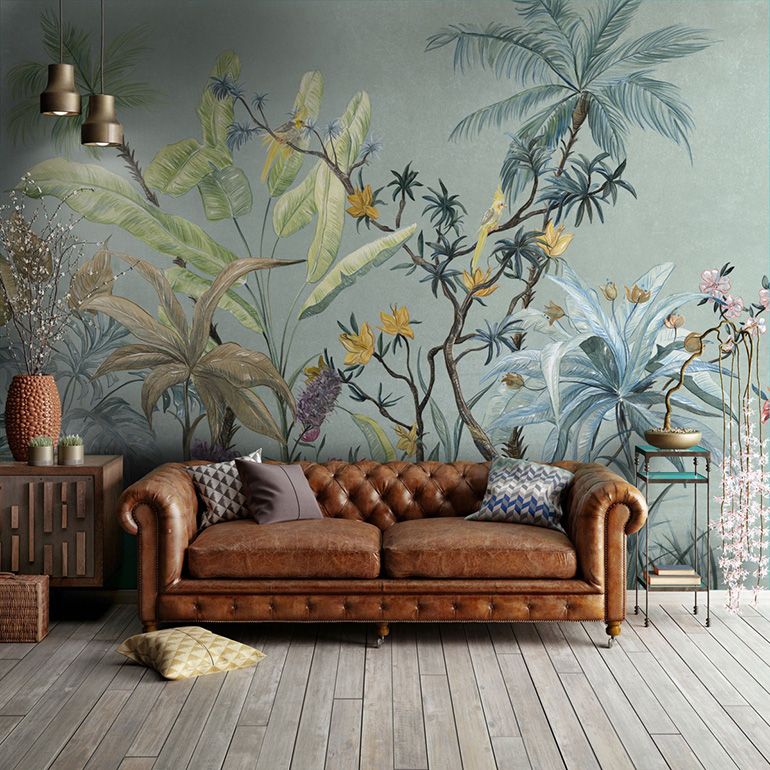 It looks interesting to have the tropical area in a certain spot such as in the living room. This room provides a perfect spot for attracting attention in room decoration. These patterns are identical to the living creature such as Banana, Monstera, Cactus for the wallpaper patterns. It suits your classic couches that complement the living room interior. When you explore this wallpaper with classic furniture such as brown couches, you will get a perfect decoration for your classic living room.
Neutral Colors for Aesthetic Flowery Wallpaper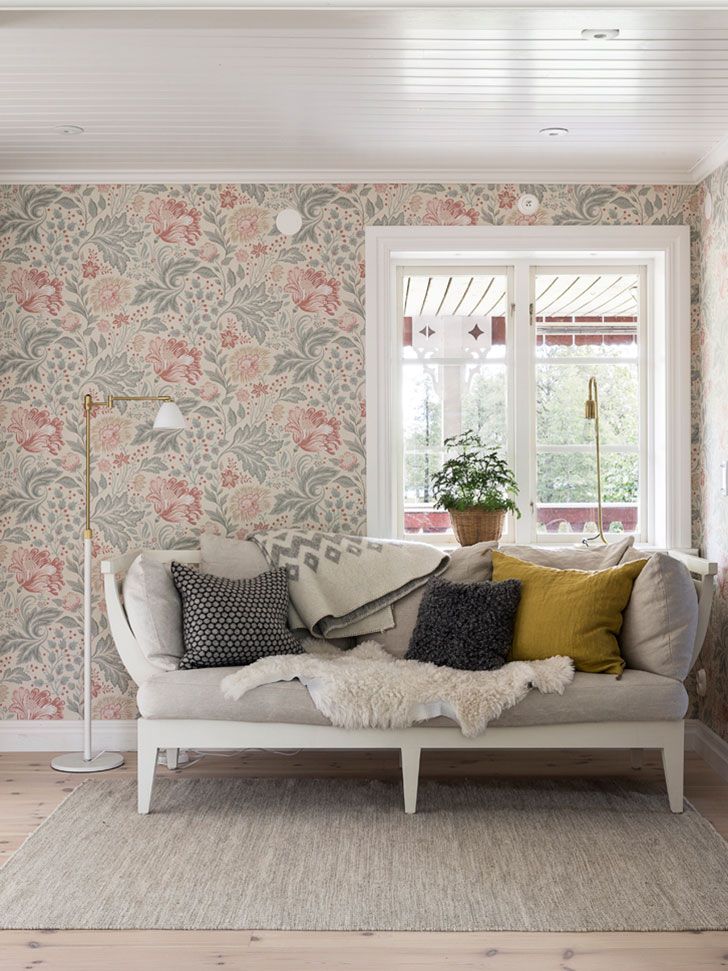 The wallpaper should bring a new decoration to your room. It also has many shades of flowery patterns that adjust your favor. The flowery wallpaper uses the same graphic print that has some faded colors of the flowery wallpaper. The faded color brings a calm nuance to your living room. You can put some furniture in neutral color too if you want to balance the saturation in your entire living room.
Bathroom Wallpaper
Also, create a flowery pattern wallpaper in the interior of your bathroom. Creating wallpaper with this design will give your bathroom interior a fresh and beautiful atmosphere. Besides, you can also use a variety of wallpaper designs in the concept of a flowery pattern in your bathroom interior. Thus, you can create the most comfortable and beautiful natural bathroom concept for your daily use. Here are various concepts that can be an idea for you to apply.
Flowery Wallpaper for Your Bathtub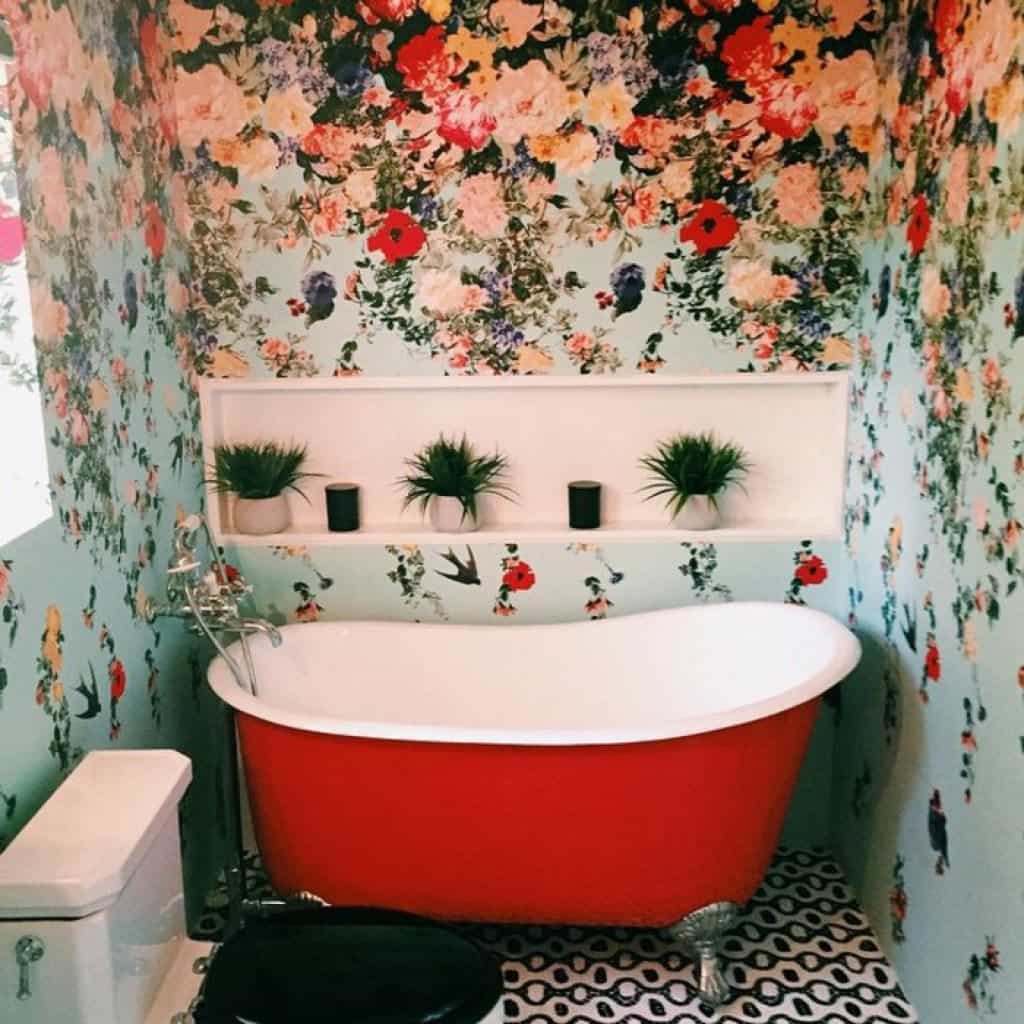 Since the natural wallpaper patterns bring good vibes, it is interesting to explore the bathroom wallpaper by using flowery patterns. Even though many people have a different theme but it is catchy to see this idea that creates an elegant impression. To freshen your bathtub, you can install this wallpaper on the wall near the bathtub. It calms your mind by its greenery scenery and beautiful colors. Thus, it freshens your mind when having a comfortable home spa.
The Flowery Patterns on the Ceiling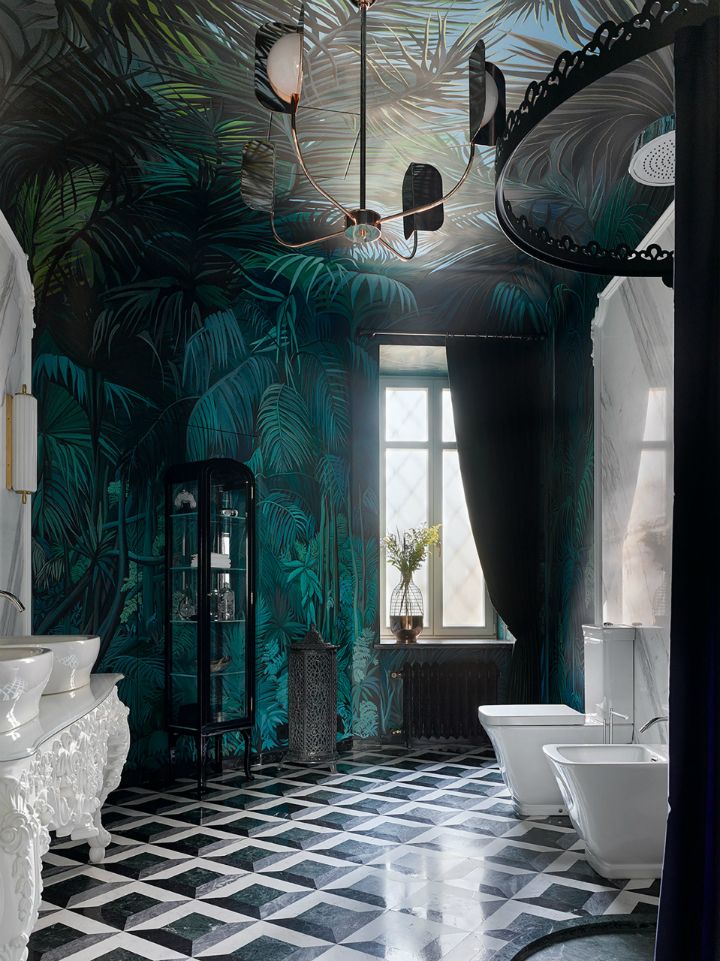 A ceiling provides enough space to use it as a canvas to draw interesting patterns. The classic flowery patterns for a bathroom is aesthetic because it gives you a nice view when you taking a bath in your elegant bathtub. The ceiling wallpaper is compatible with black furniture since it has a darker color. Some shiny stuff is elegant when they reflect the light around the natural patterns. Moreover, it enlivens the classic style in your bathroom with the flowery patterns that combine with modern style.
Dining Room Wallpaper
The last interior room that we will discuss for you to create a flowery pattern wallpaper is the dining room. Creating a dining room with wallpaper will give a beautiful and attractive interior in a fresh concept. Besides, you can also create a dining room interior with a classic aesthetic character by using wallpaper with this design. Here are a variety of ideas that you can follow for the interior of your dining room.
Neat Impression by Flowery Wallpaper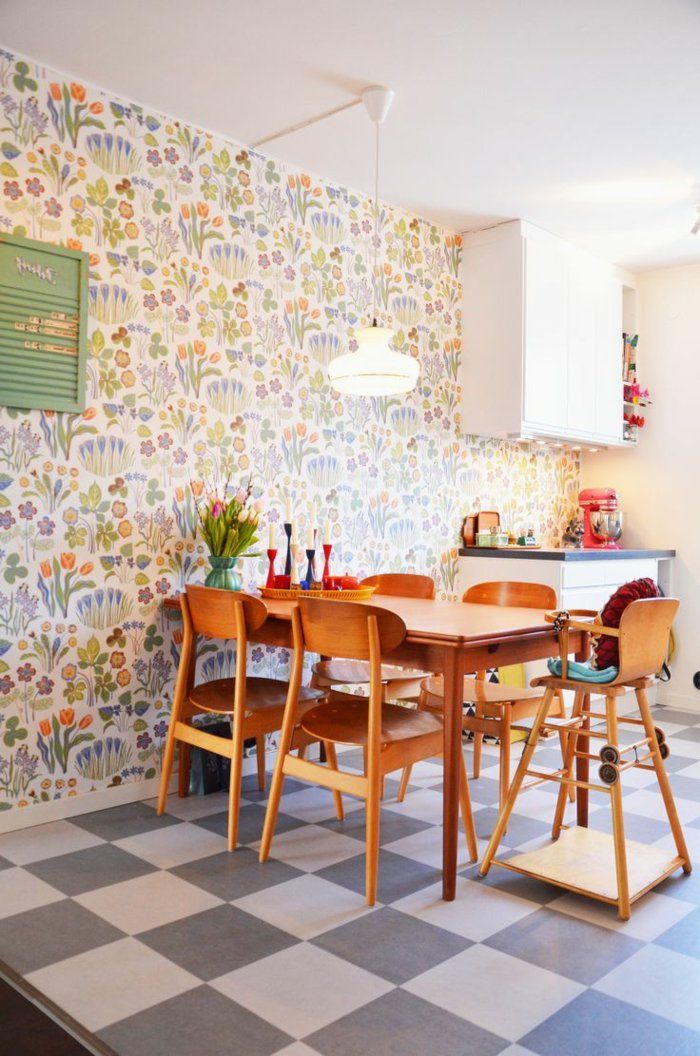 The dining room is another room to gather with the beloved family member. You can enjoy your meal at a certain moment for breakfast, lunch, and dinner time. It draws the simplicity in your dining room by the combination of the tiny flowery patterns and your dining room decoration. Thus, it is important to create a neat impression through the flowery wallpaper. It boosts your mood when you are tired and want to get a fresh nuance while eating the meals.
Combination of Flowery Wallpaper and the Plain Wall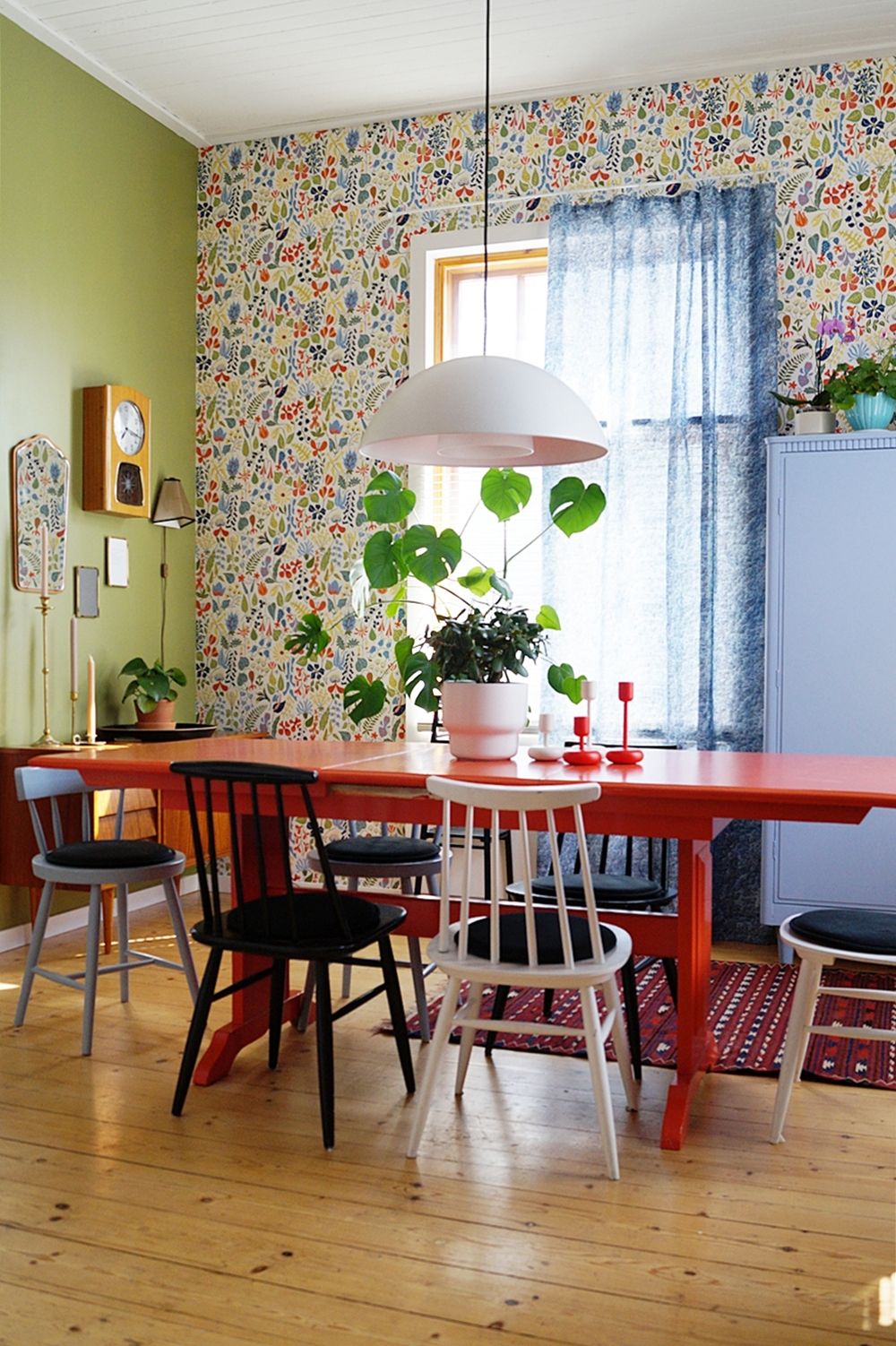 It looks interesting when you combine two different elements in one perspective. For your plain wall in the dining room, you can combine it with an interesting pattern by using a flowery wallpaper for another sidewall. The angle of both walls is interesting in that it creates a natural combination between the light green wall with the colorful flowery wallpaper.
That is our discussion about Create Aesthetic Classic Wallpaper Using Flowery Patterns. Creating an interesting view in a room is not an easy thing. It needs the right preparation and arrangement of how to draw an interesting room. By using flowery wallpaper for your wall decoration is an alternative way to draw a new look that may save your time and energy to repaint your wall. Moreover, the wallpaper that is made of vinyl material retains well for the next 10 years. Therefore, we summed these ideas to inspire you when determining the flowery wallpaper to use in your room interior. We hope you can find the right flowery wallpaper for your room's interior. Happy decorating!