Druhomes.com – Living room design gives a certain impression to the people. The interesting living room will attract attention and comfortable feeling. You can decorate your living room to bring an amazing design. A wide variety of ornaments, furniture, and room color are the important element to add fresh air to your living room. We have 18 Stunning Living Room Ideas: Create an Enjoyable Gathering Atmosphere for you to decorate a pointing living room. You can choose and combine various stunning living room ideas which we will discuss as creatively and impressively as possible. Moreover, you can also create it in the style, concept, and layout you want. Let's check this out!
Modern Living Room
This modern theme is perfect for your large living room. You can use all the spaces to put the decorations. Those are comfy couches, large curtains, and two desks. Using this decoration will give an enjoyable appearance to an elegant concept.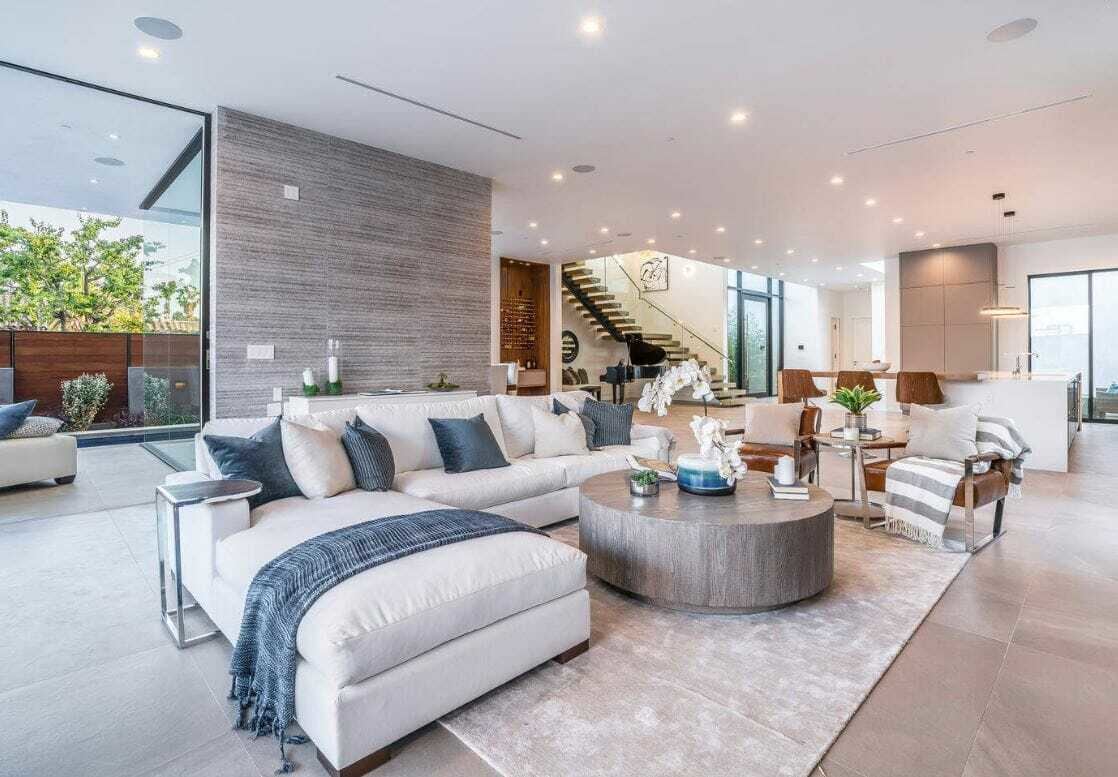 Besides, this living room looks calm with the beige color. You can add a white color to enlighten the atmosphere or put a bulb chandelier on the ceiling. This will provide an elegant focal point in the interior of your stunning living room.
1 of 18
White Living Room with Natural Accents
If you like the white theme, this design fits your favor. white color always brings peace, a clean, and a calm impression. Even, you can add more ornaments to the wall to decorate it, such as some books or frames.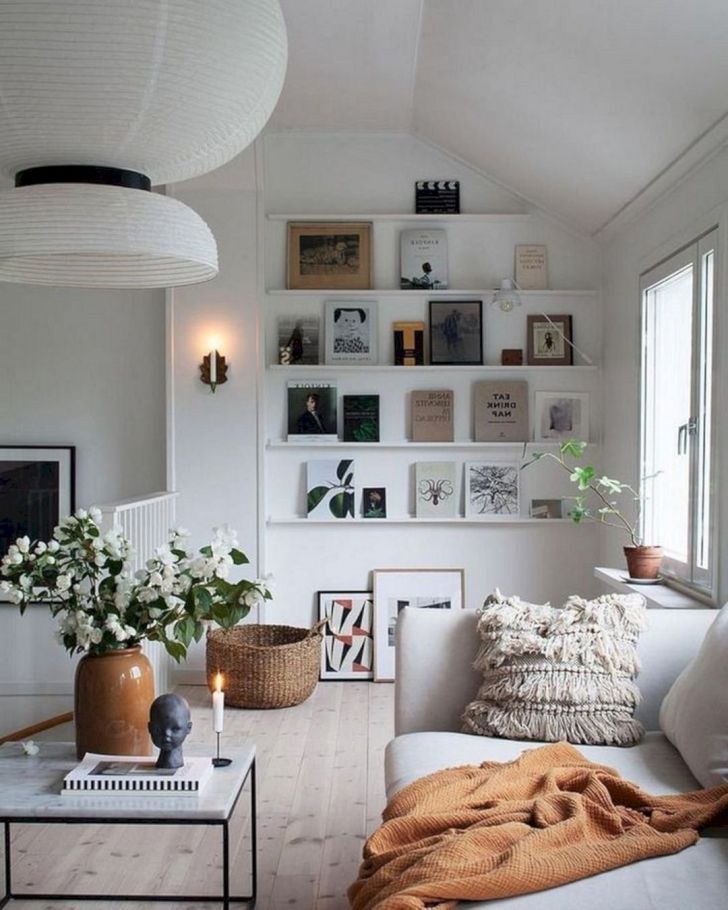 You can add comfy furniture for the couches. Put a wicker basket to give color on the floor. Moreover, thrive white and green ornamental plants make it looks fresh. This design is catchy if you put some terracotta accents to bring the natural earthy look.
2 of 18
Combining White Living Room and Bohemian Accents
The white stunning living room fits any design. You can combine your white living room with some Bohemian accents. The Boho accents give your room some colors and a little gross impression, instead it brings stunning design.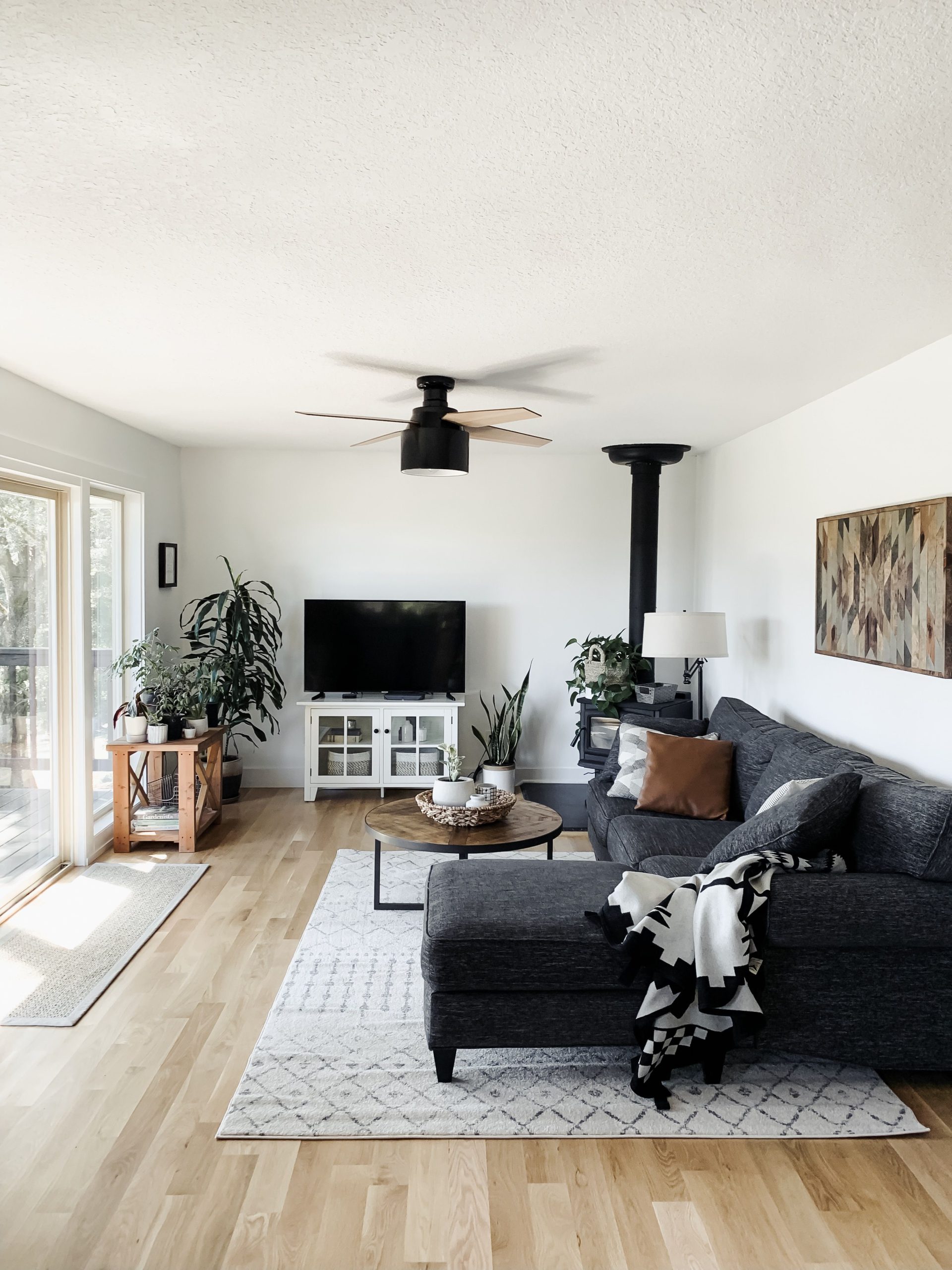 Put some comfy couches and arrange them in an L position. Pick the cushions on each seat, and choose the colorful ones. The cushion's color can be a center point if you put them in different colors. The ornamental plants in this living room will bring natural vibes inside your living room.
3 of 18
Declutter The Living Room by the Plain Wall
The wall in your living room has an important point as the background of your room. It brings a certain impression based on the color. Pick the white wall to make it clean and do not put lots of ornaments to declutter the design.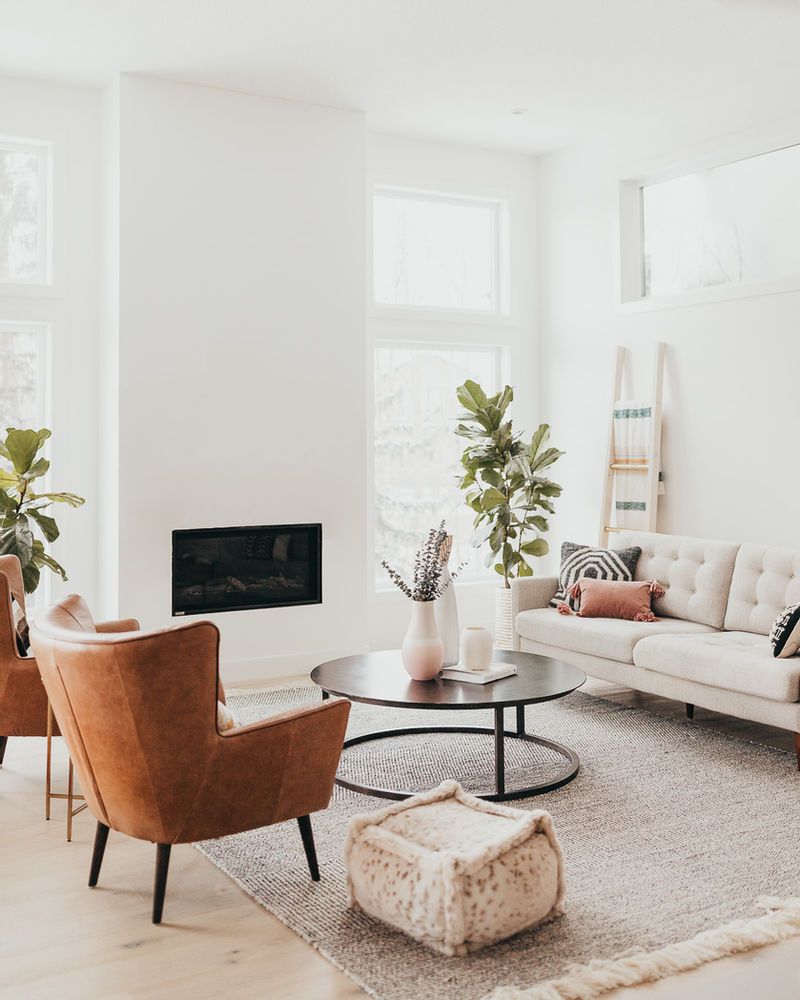 For the furniture, you can choose the white comfy couches and two separate big chairs for extra seats. Do not let the center of your stunning living room looks empty. Add a round coffee table and decorate it with a small ornamental plant, a book, and a room freshener.
4 of 18
Minimalist Living Room with Grey Couches
The grey couches are attractive as the main point in your living room. The Grey color is a perfect pair for the white room. Moreover, it makes your room looks spacious. Add one beige carpet for coloring the floor.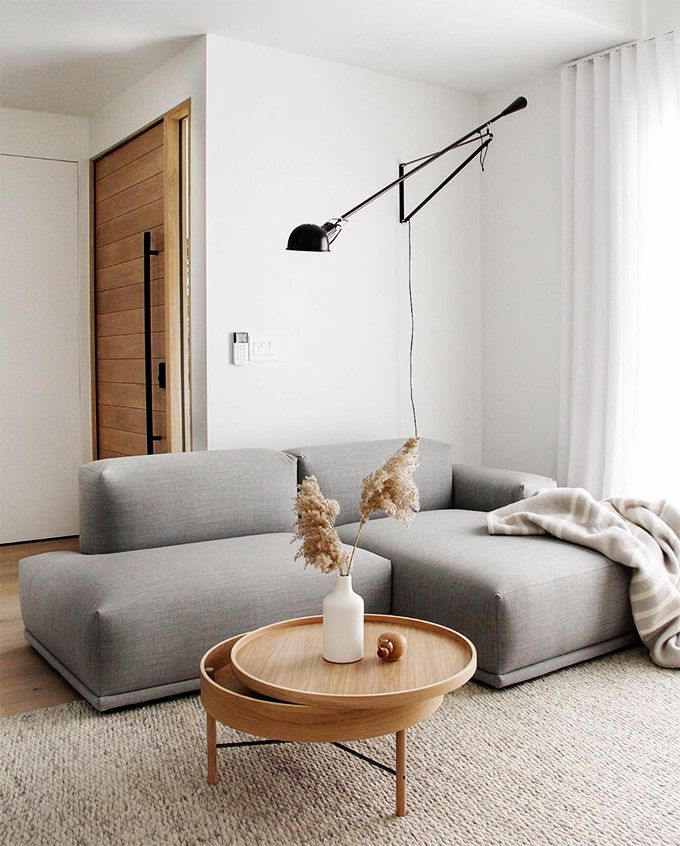 Complete this design with one coffee table upfront the couches. Put a white pot to hold the ornamental grass to beautify the living room. If you want an accent on the wall, you can install an industrial black lamp.
5 of 18
Scandinavian Living Room
The Scandinavian living room is a unique design that brings nature to your room. It uses natural light colors such as white, beige, brown, and green. This design mimics natural things such as a white cave, stone house, and warm cottage in the wood.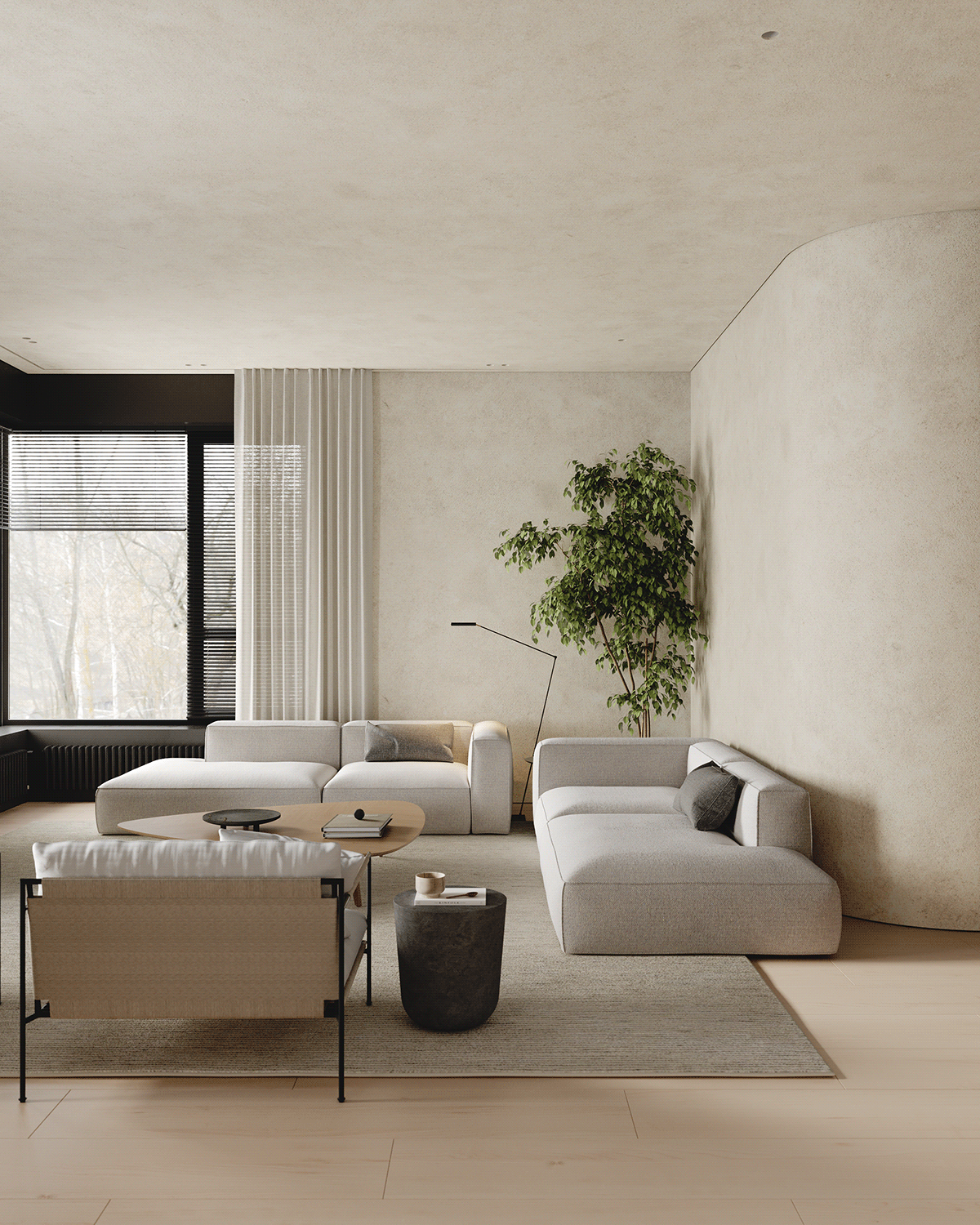 This interior design looks simple but worth and stunning to decorate your living room. The neutral color and natural light are the basic themes for this design. Moreover, you can add white furniture to strengthen the Scandinavian impression.
6 of 18
Beautiful Monochrome Living Room
The monochrome design is catchy to decorate any room in your house. Applying this design in the living room to update your interior design. It looks stunning to play with the color combination in the room. Pick the black furniture to fill one side and the white couches for the other side of your living room.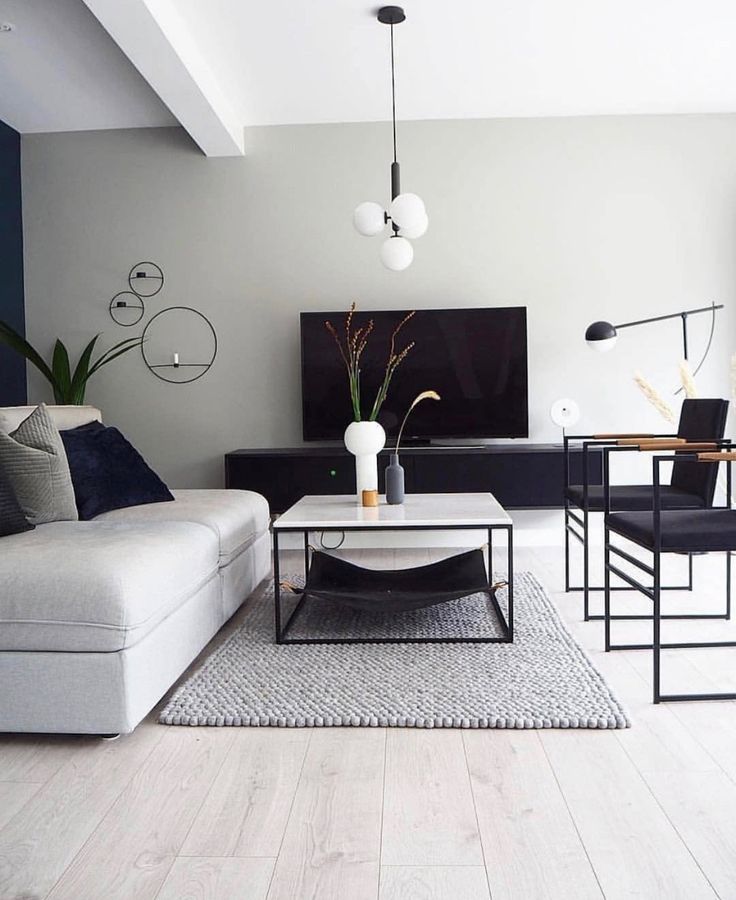 You can install an interesting monochrome chandelier on the ceiling. If you want more lights, add an industrial standing lamp on the left side. Put a light grey carpet to give an accent on the floor.
7 of 18
White Living Room with Summer Vibes
This interior design is catchy to apply in a living room. It makes your living room looks clean and spacious. If your living room has some large windows, you can apply this design to enlighten the room.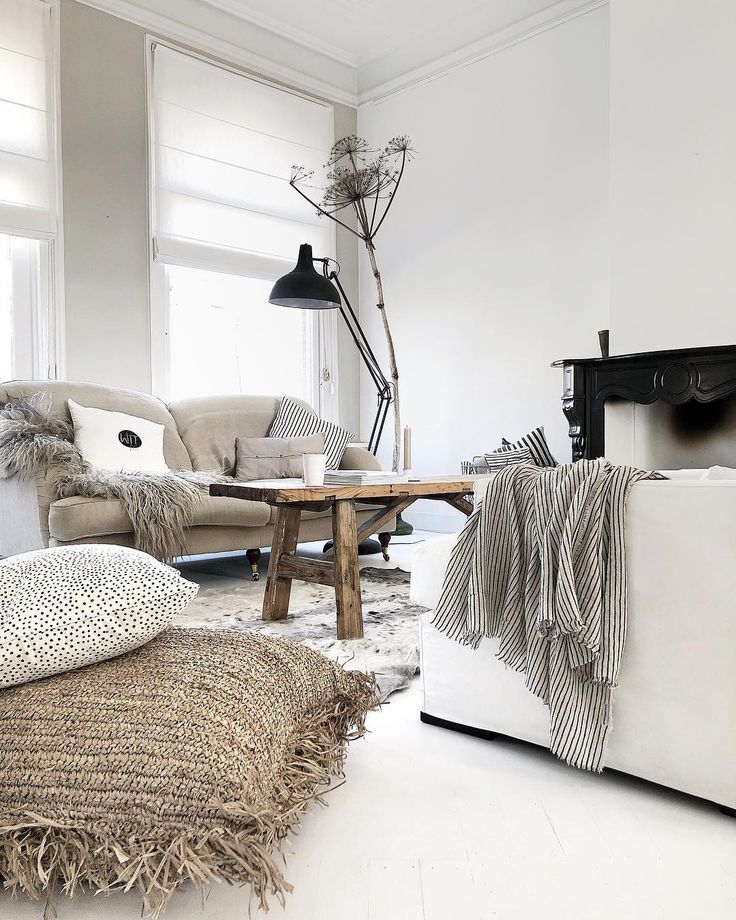 You can enhance the summer vibes with the white furniture, wall color, and large window sill. It gives you more sunlight inside the room. Put some ornaments from wicker to give a natural look.
8 of 18
Modern Living Room With A Simple Design
Do you like a simple design? This idea will grant your wish. It is a minimalist living room with less decoration. You only have one long couch, a comfy small seat, and one small coffee table.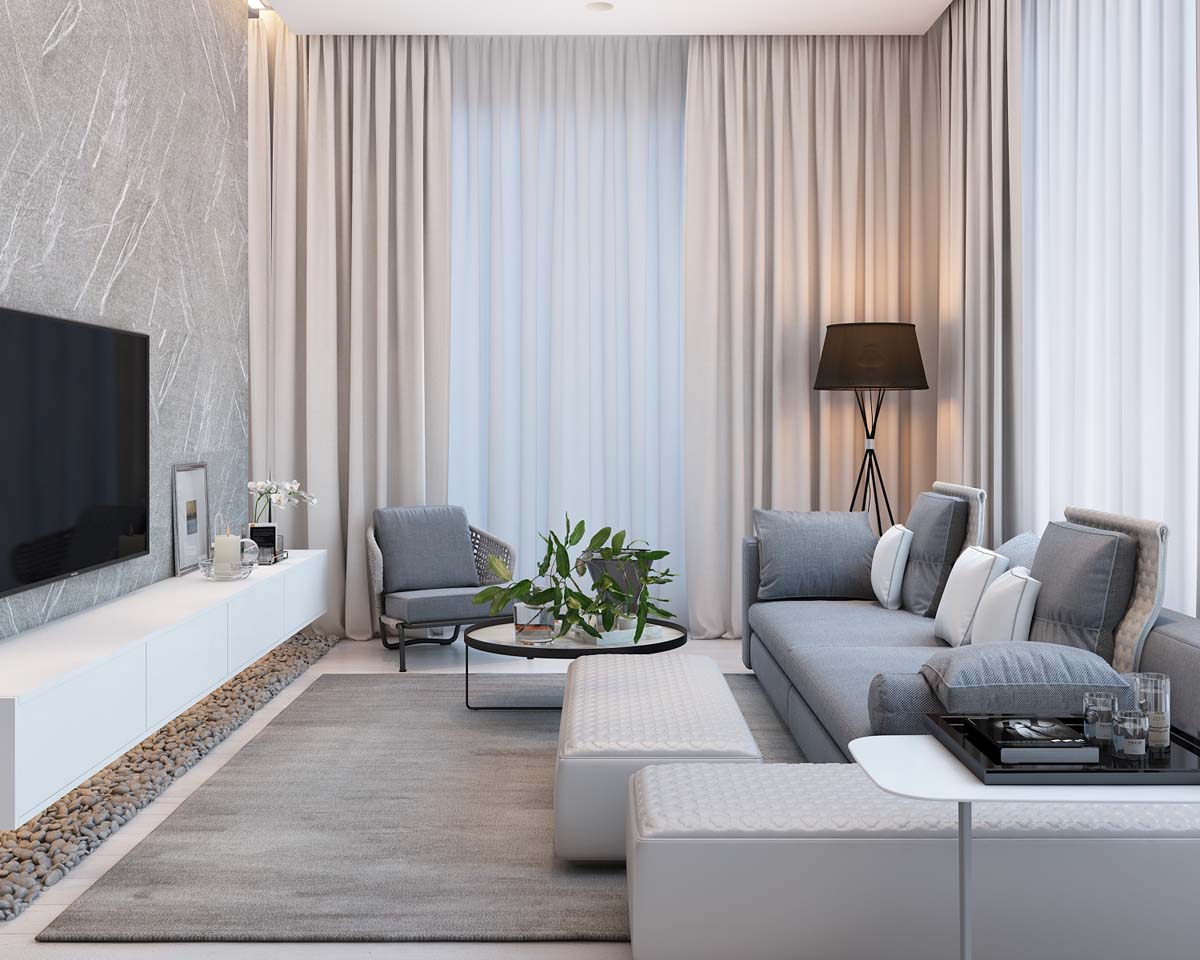 Put two small candles to make the table interesting. Do not put lots of black accents and use white colors for the primary design. It looks amazing if your floor has the same tone color. If you want to thrive on an ornamental plant, put one ornamental plant that gives you a bushy point such as a Rubber plant or Fiddle Leaf Fig Tree.
9 of 18
Attractive Living Room with Boho-Mid Century Design
Bohemian design is easy to mix with any interior design. You can pick the Mid Century interior design to bring a classy impression to your living room. The Bohemian design has lots of patterns and neutral furniture. The Mid Century makes it perfect.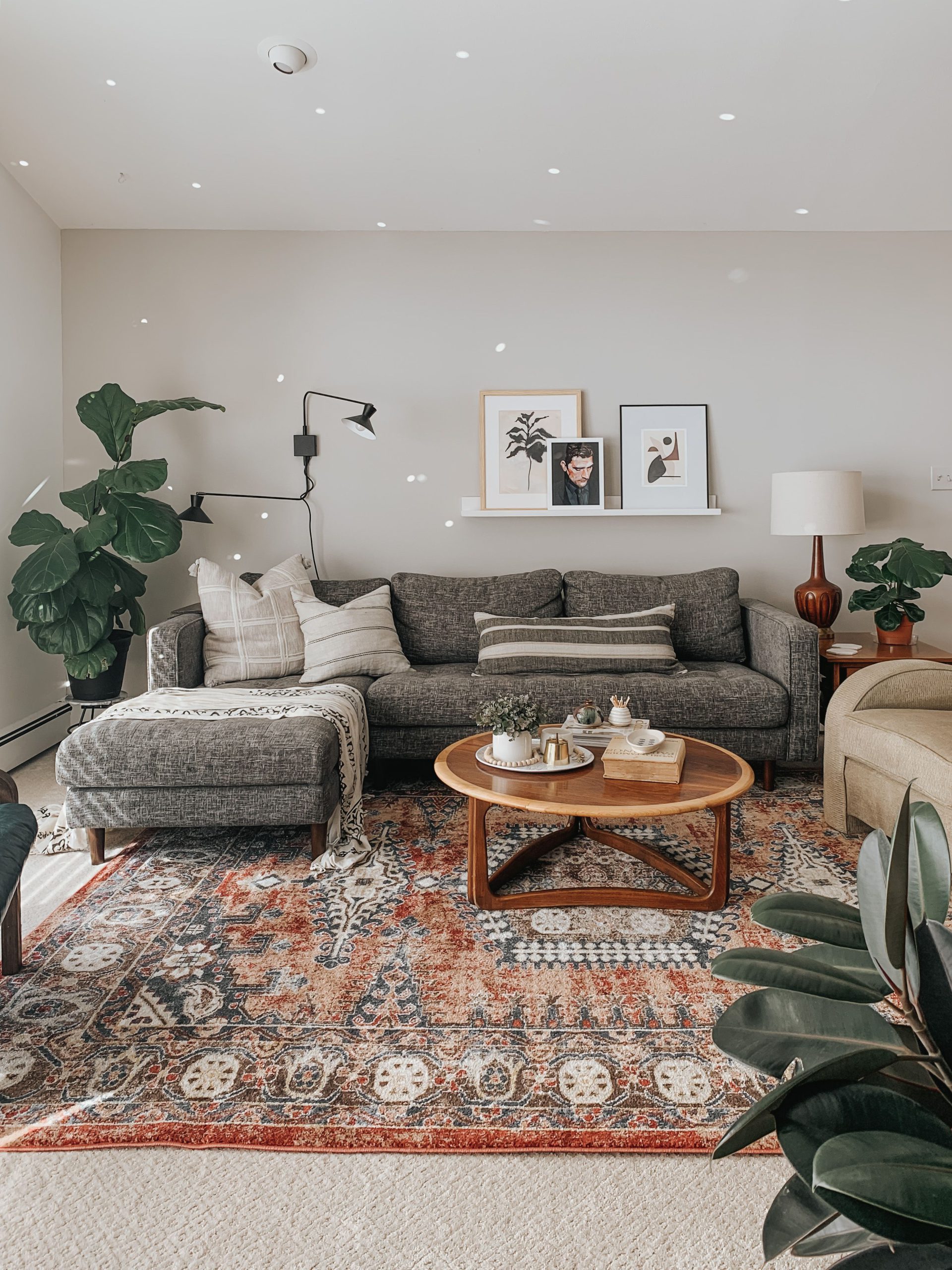 Pick one large carpet from the Mid Century pattern. It will give you lines for the living room. To enhance the Boho style, you can add a Bohemian throw blanket. It has various materials such as woven and wool.
10 of 18
Natural Design to Indulge A Large Comfy Living Room
The natural design has some tone colors to make it stunning. The warm brown color has the color of the woods and white represents the sky. You can decorate your living room by combining brown wooden floors and white walls.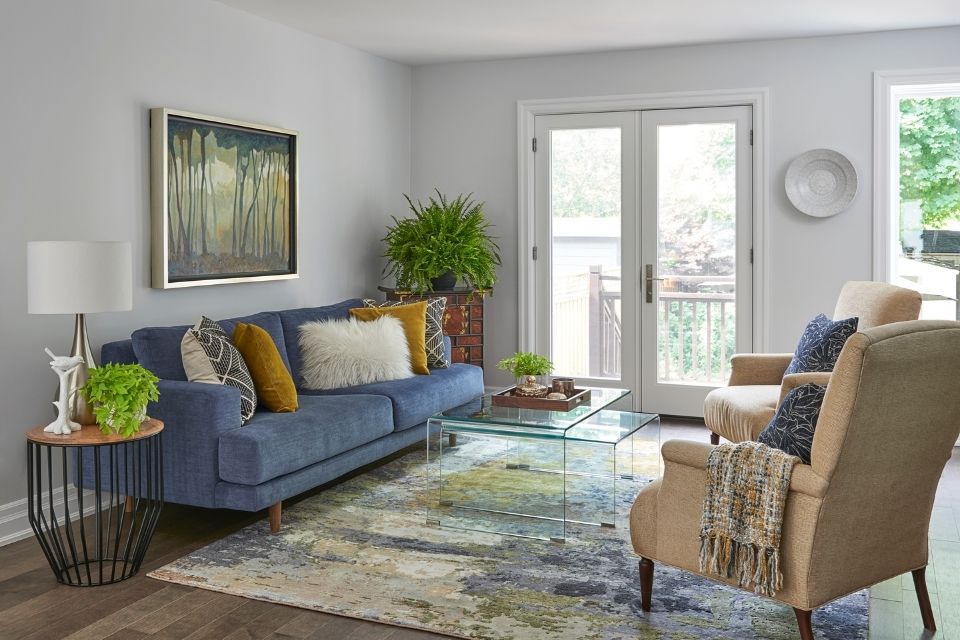 Arrange the brown furniture on the right side and the white couches on the left. For the accents, pick some cushions with attractive covers. Add one Bohemian chair and a wicker seat to add more accents. Installing one furry carpet will make it perfect.
11 of 18
Declutter Living Room with A Classic Style
A spacious living room needs more creativity to fill the place and tear the boredom. You can install one large carpet to cover the floor. Pick the patterned carpet to give a new look on your floor. The tone color of beige and faded brown will arise the classic style.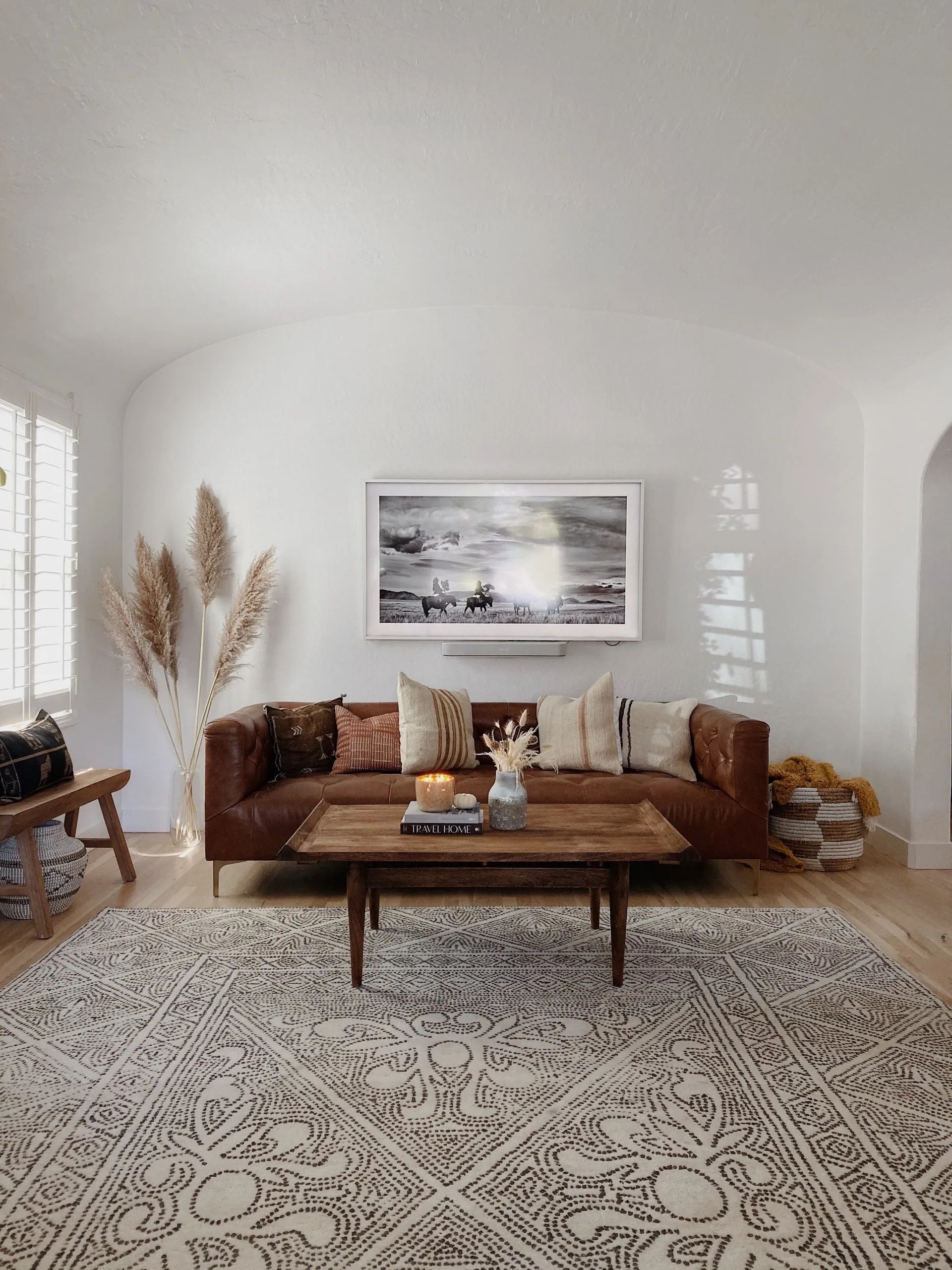 For the furniture position, you can put one big couch that has cushions with different patterns. Add a breath of fresh air by letting the natural light gets into the room. For the wall decoration, you can hang a mysterious painting to fill the plain wall.
12 of 18
An Open Living Room with Comfy Couches
This open plan design fits you who have a large space at home. You do not need a wall to make a private living room, you only need a large carpet to give lines for the living room area. To make the carpet on point, you should pick the contrast color with the floor. It signs a different nuance for your living room.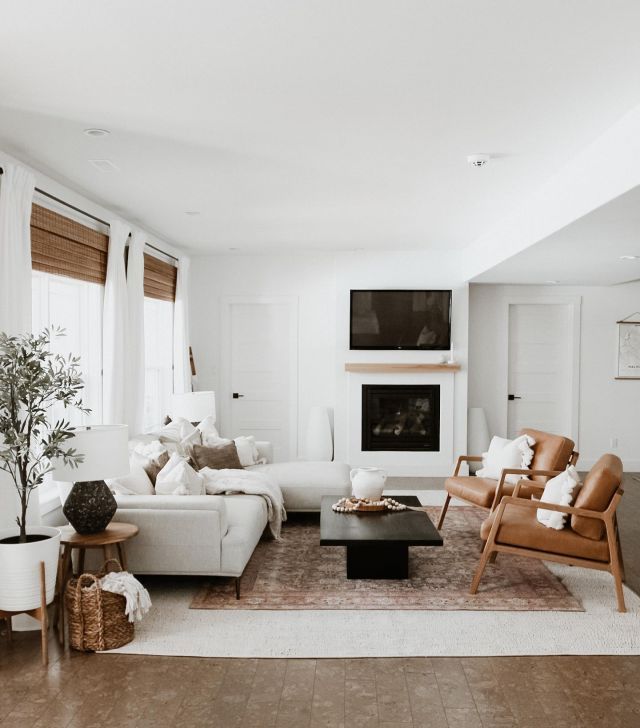 For the wall, let it be cleaner by having fewer ornaments on it. You can use the fireplace for the accents on the wall. Focus on the living room area, add a wicker basket, a small side table, one low table for the main table, dan more cushions to make your couches comfortable.
13 of 18
Minimalist Living Room with an Elegant Design
A minimalist living room isn't just about simplicity and less furniture, it offers you more elegant designs. The element to bring elegance is the long curtain, coffee table, bookshelf, and tone color.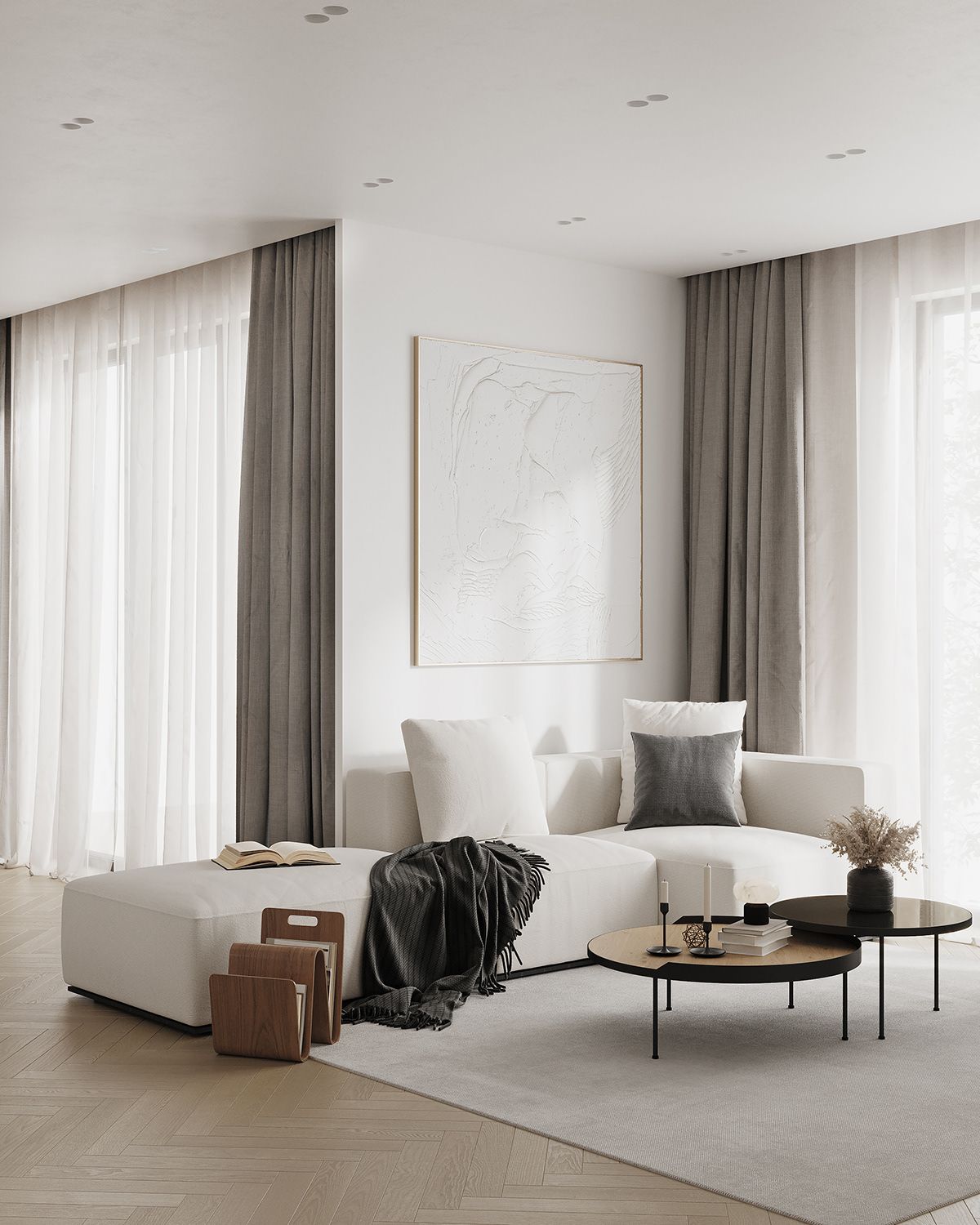 Pick the light grey curtains with white laces. You can add a large white decoration on the wall. The couches are low and white, with a round coffee table. Add some small items such as candles, ornamental flowers, books, and a small freshener.
14 of 18
Japanese Aesthetic Living Room in Modern Design
Some Japanese designs use neutral colors. It brings a natural impression to the living room. Just let the wall bare and clean with its neutral color. You can arrange the big couches in the L letter.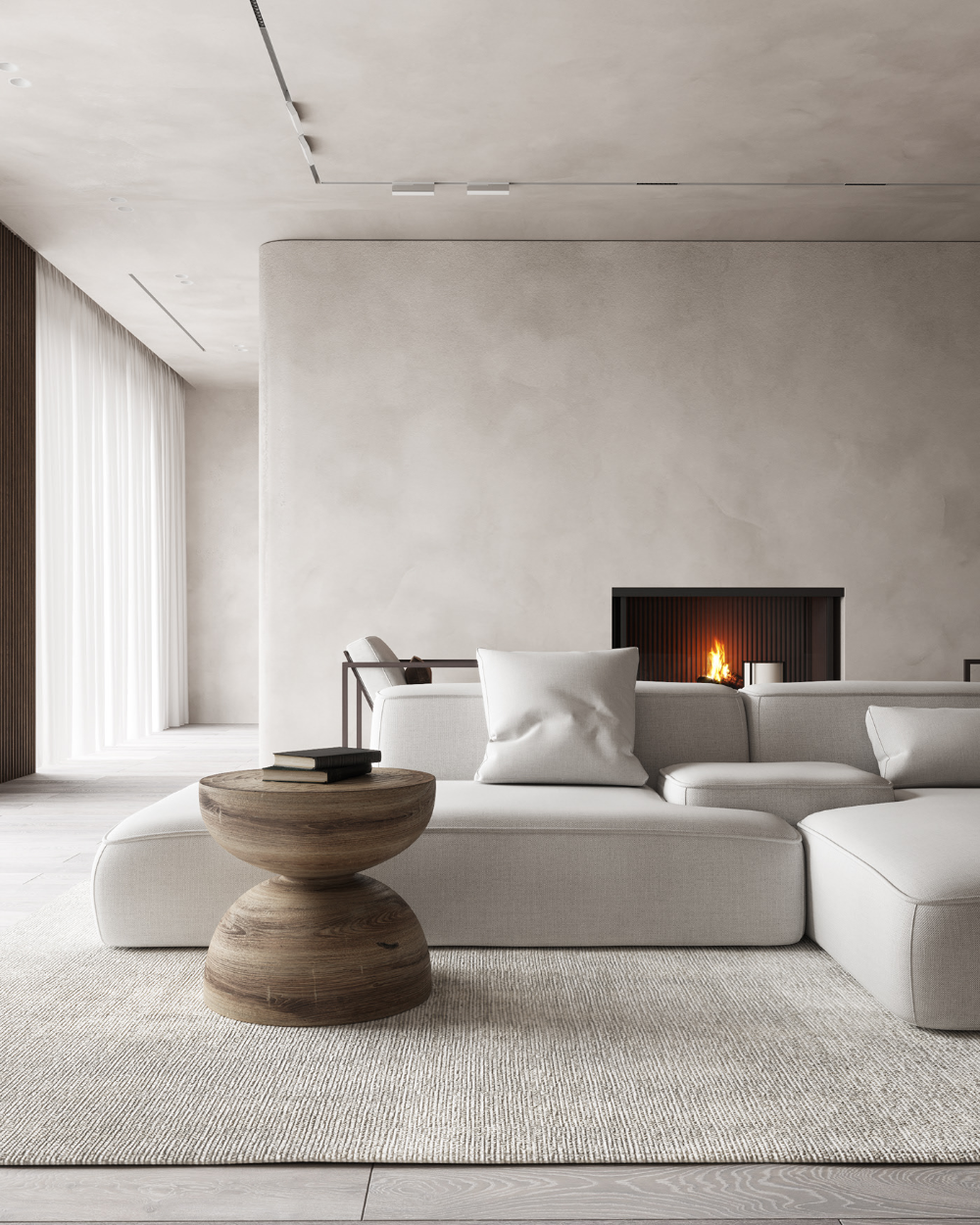 This living room uses white colors to create a calm atmosphere. Lessen the patterns in this living room by installing a small light on the ceiling and opening the window to get natural sunlight.
15 of 18
Comfy Living Room with a Plain Design
Sometimes you do not need to buy new furniture to decorate your old living room. Rearrange your living room by using the couches, cushions, and decorations in your house. You can use cushion covers with the same colors.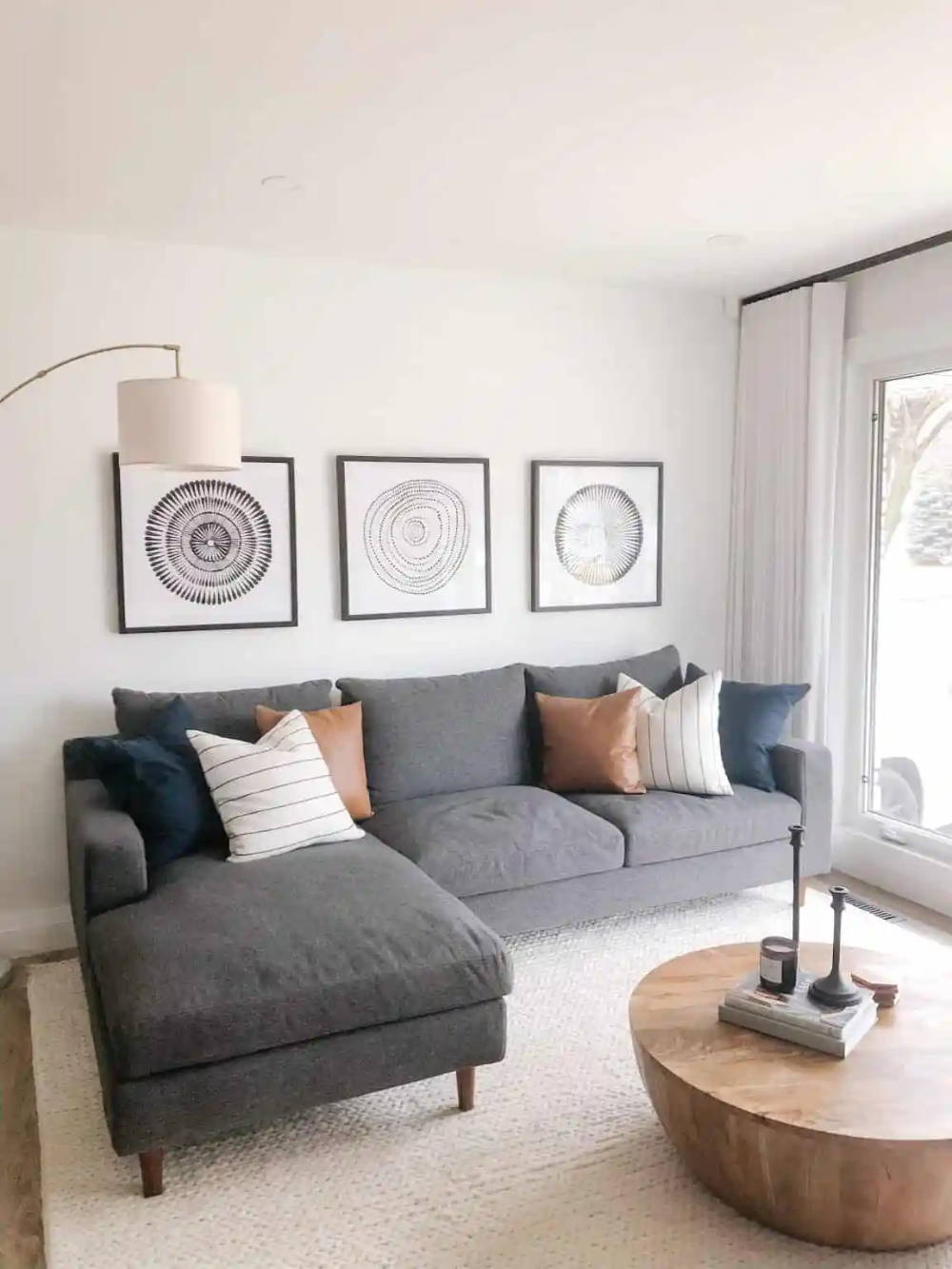 Put plain decorations on the wall to declutter it and install a standing lamp. Make your living room looks spacious by opening the window. The white carpet will help you to reflect the sunlight and enlighten the living room.
16 of 18
Scandinavian Living Room with Industrial Coffee Table
Scandinavian design uses neutral colors to emerge the nature in your living room. It can adjust your wall's color and gives you peace.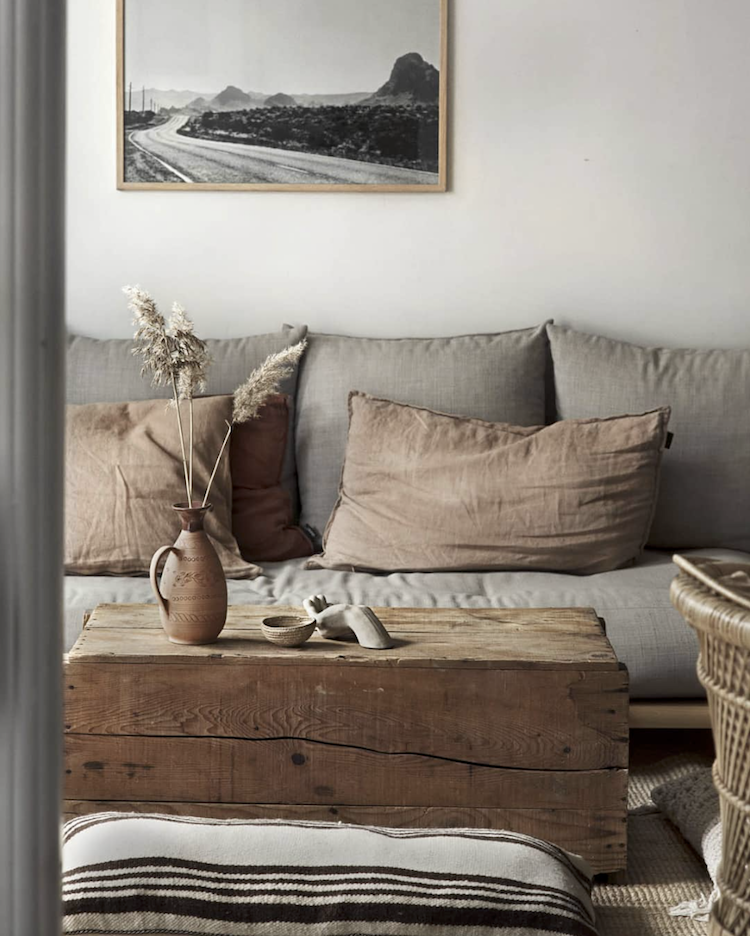 For the couches, put some fascinating cushions in various shapes to boost the comfy impression. It reduces the cluttered look by installing the coffee table. You can pick the eccentric square coffee table and the smaller one.
17 of 18
Modern Living Room with Classic Chair
Combining modern design and classic design is something you can try. It gives you vigorous vibes to sit in this living room. The grey couches fit any color for cushions. Moreover, you can add extra white couches in small sizes.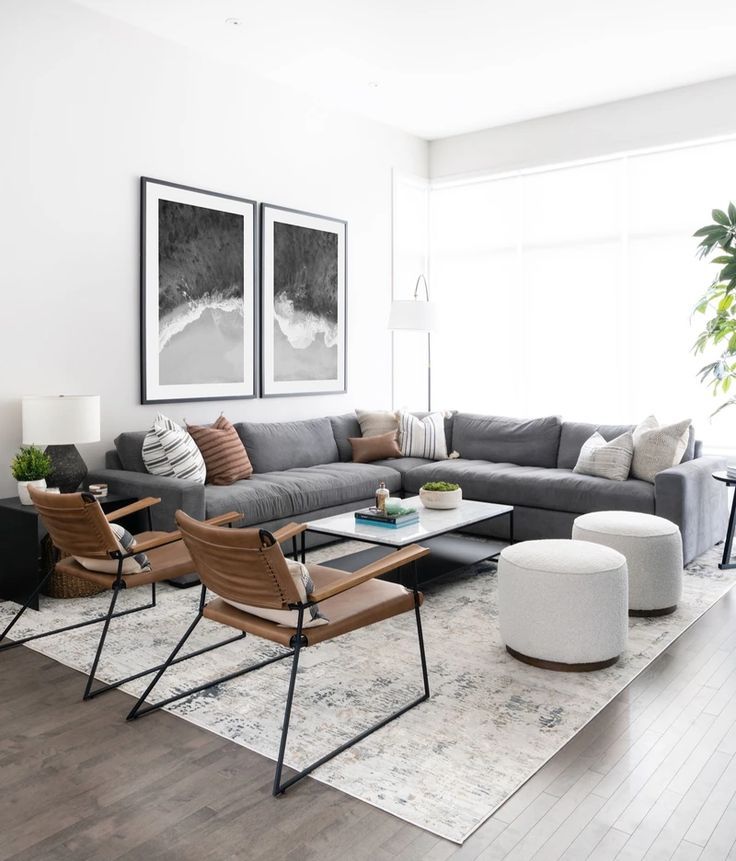 Use a large carpet in the white-grey color to show the classic design. To enhance the classy room, you can add two chairs that have metal legs and a low armchair. For the wall, hang two frames with grey, white, and black colors to strengthen the transitional style.
18 of 18
Those are 18 Stunning Living Room Ideas: Create an Enjoyable Gathering Atmosphere. You can brighten up your living room by applying the white minimalist style, Scandinavian style, or Japanese style. If you prefer a dramatic impression, pick the monochrome design. Bohemian style is nice too, for those of you who like creating eccentric interior design. Moreover, you can also combine various stunning ideas that we have discussed according to your wishes. For that, create an enjoyable, beautiful, and cozy living room for all your activities. We hope those ideas are useful. Enjoy your decorations!