Druhomes.com – Interior style is something you need to pay attention to in creating a bedroom. A comfortable and beautiful bedroom is influenced by the interior style you choose in it. Therefore, choose a bedroom interior style that suits your expression and character. One of the interior styles that you can choose is the coastal bedroom. Using the coastal style will give you a refreshing atmosphere with the concept of a beautiful beach and sea.
The coastal design has more than memories of a sand holiday with ocean vibes. This interior design brings an airy atmosphere. If you want to have a stunning bedroom with lights and tranquility, you can try the coastal bedroom design. Therefore, we have 21 Coastal Bedroom Ideas to Create an Airy Atmosphere that will inspire you. Let's discuss!
Dreamy Coastal Bedroom Decor Ideas
The coastal design uses white base colors to bring an airy atmosphere. The design generally means to draw the sky and ocean. You can pick the white and light blue colors. Combine the white features to color the wall. Also, you can open the windows in your bedroom to add more lights.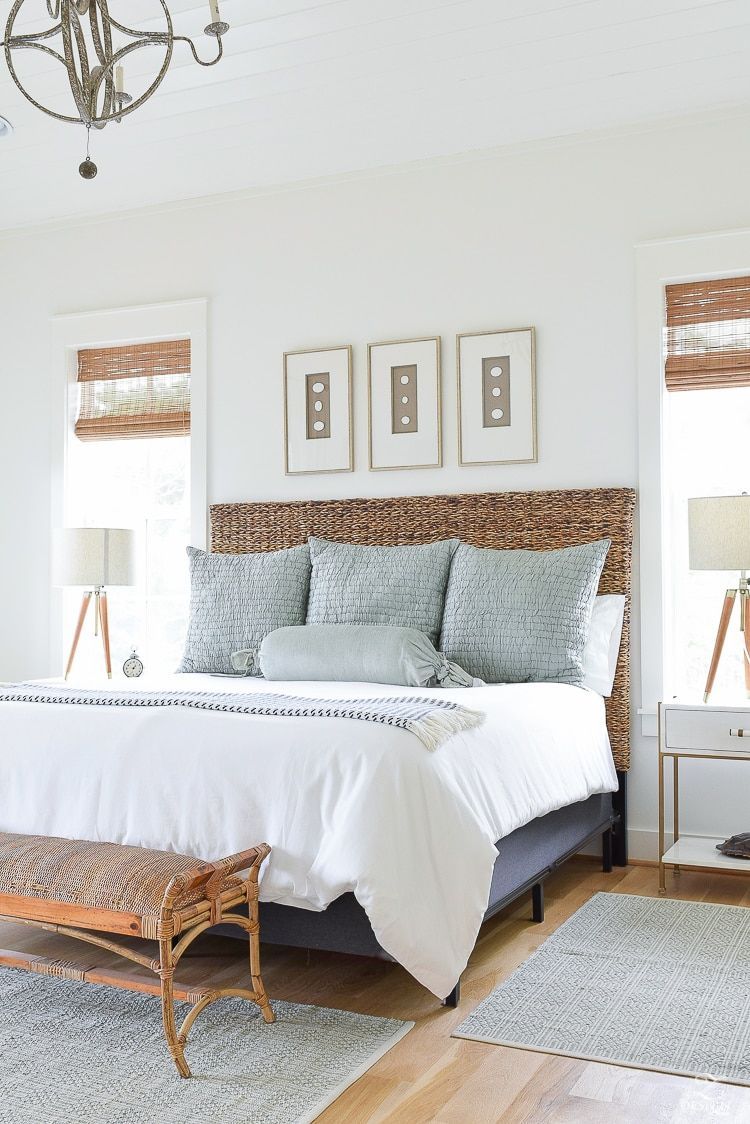 The furniture should adjust the tone colors in your bedroom. Pick a white color for the blanket. Therefore, put two small standing lamps on either side of the bed. To create patterns, you can use light grey pillow covers. However, you can install some wicker accents through the headboard and footboard for the textural visual effects that look catchy.
1 of 21
Coastal Design to Bound An Airy Atmosphere
The next idea is a certain color that brings meaning and atmosphere. Therefore, the characteristic of the white color brings an outdoor atmosphere into your bedroom. Apply the white colors to the ceiling and the wall. Besides, this color looks nautical with beige accents on the bed.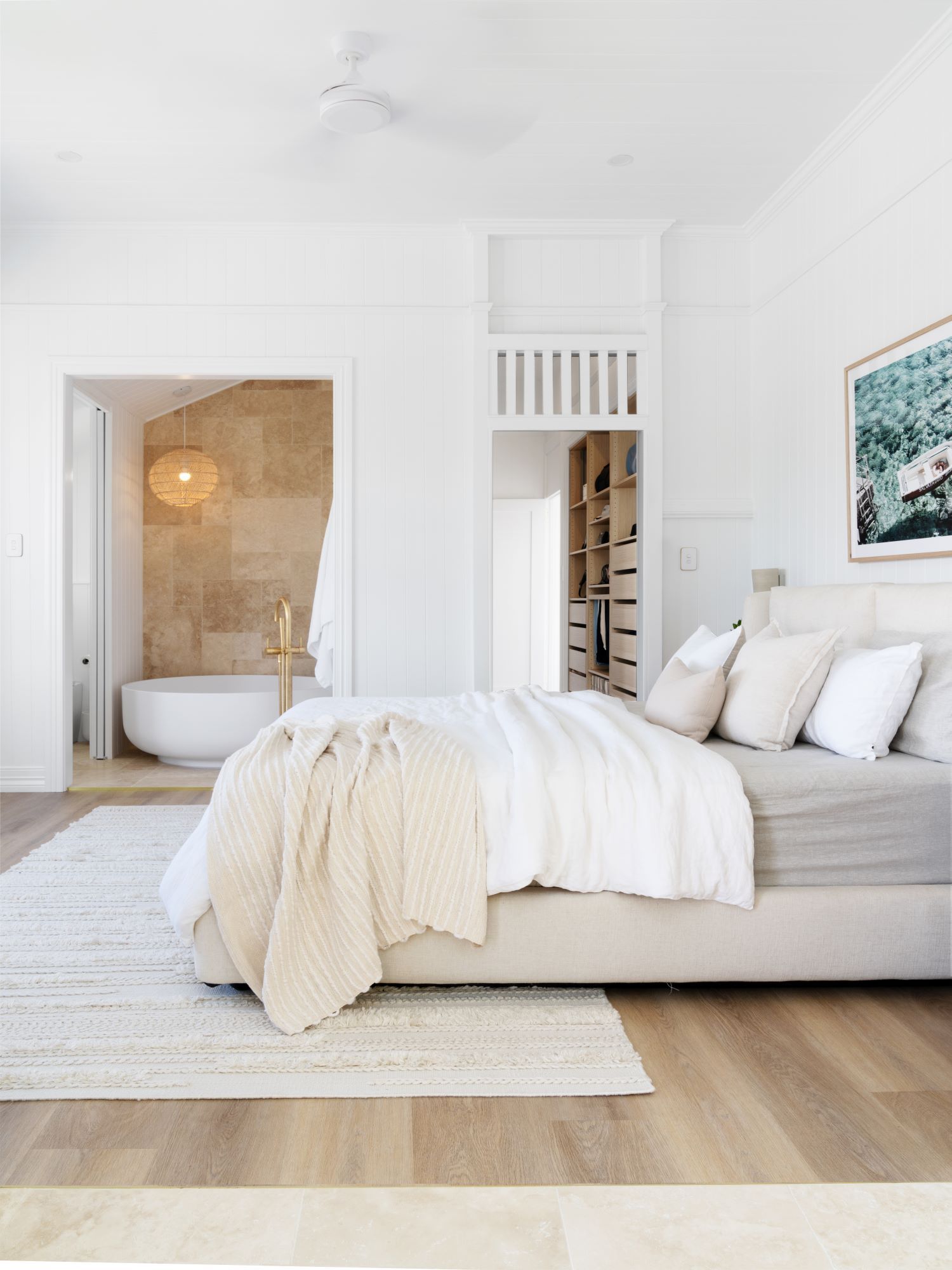 The furniture in this bedroom is the bed, carpet, side table, and the like. However, if your room has a wooden floor, it looks natural and takes the air exposure nuance. In addition, hang a colorful frame on the wall that will bring coastal design.
2 of 21
Coastal Interior Design with Nautical Blue Accent
The color of the blue ocean brings an outdoor atmosphere. It has a fresh impression and an airy look. Moreover, the calming blue color makes the appearance of seawater. Moreover, make it looks actual by hanging a coastal painting with a coconut tree on the shore.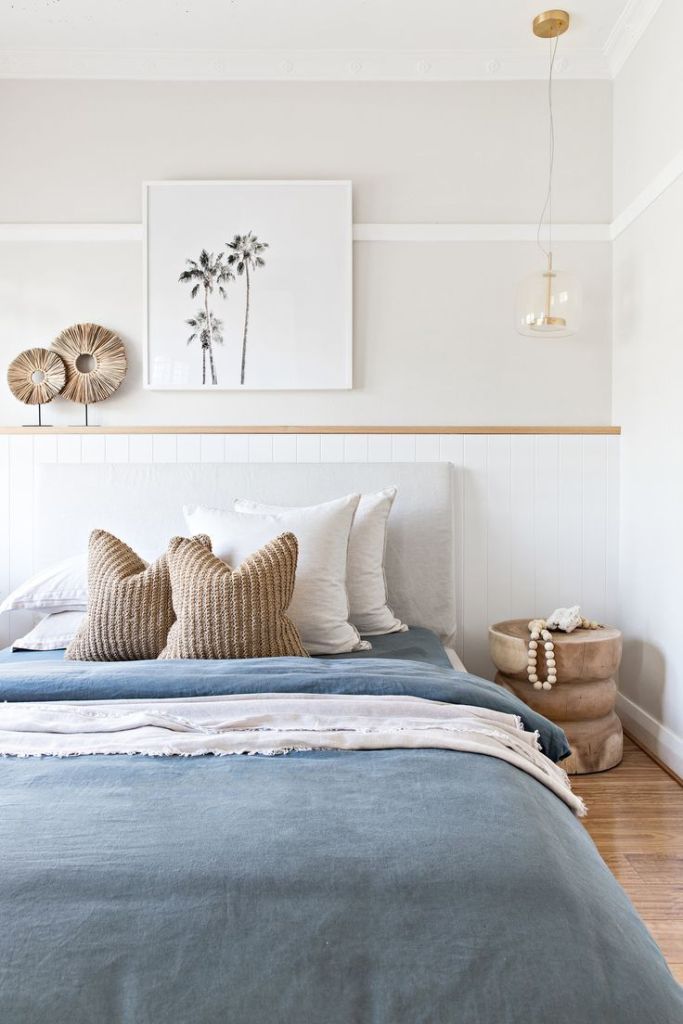 The white color is another color to attach to your bedroom. You can split the wall into two lines. Thus, you can combine the white wall with the beige wall. Complete your coastal bedroom with natural wood accents on the bed, bedside table, and ornaments.
3 of 21
Coastal Bedroom with Decorative Wall Art
Simplicity becomes an important thing to bring into your coastal bedroom. Therefore, this room has a white wall and a wooden patterned floor. Those colors represent the nuance of a brown sandy beach and the saltwater of an ocean. Also, you will find more tropical-inspired coastal designs through the right color combination.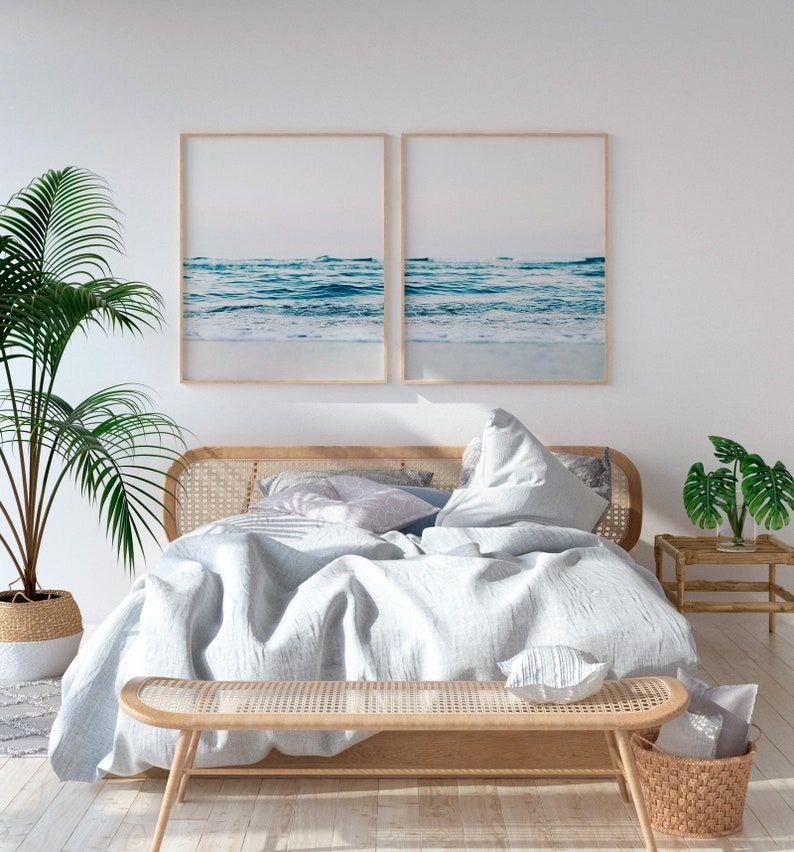 The aesthetic impression of the coastal bedroom seems perfect through the right furniture. Therefore, you can install a natural bed frame with a wicker headboard and seat on the footboard. This furniture has a light brown color that will define sands, coconut trees, and the sea. In addition, you can add some ornamental plants to freshen the atmosphere. Put them on both sides of the bed.
4 of 21
Perfect Coastal Bedroom with Bohemian Style
Are you looking for something fun? Try to combine coastal design with Bohemian style. Think of sea and nature, those designs use neutral colors like white, brown, and grey. You can attach the coastal design through the white wall and the ceiling. The Bohemian style draws the bed through the ornaments and pillow covers.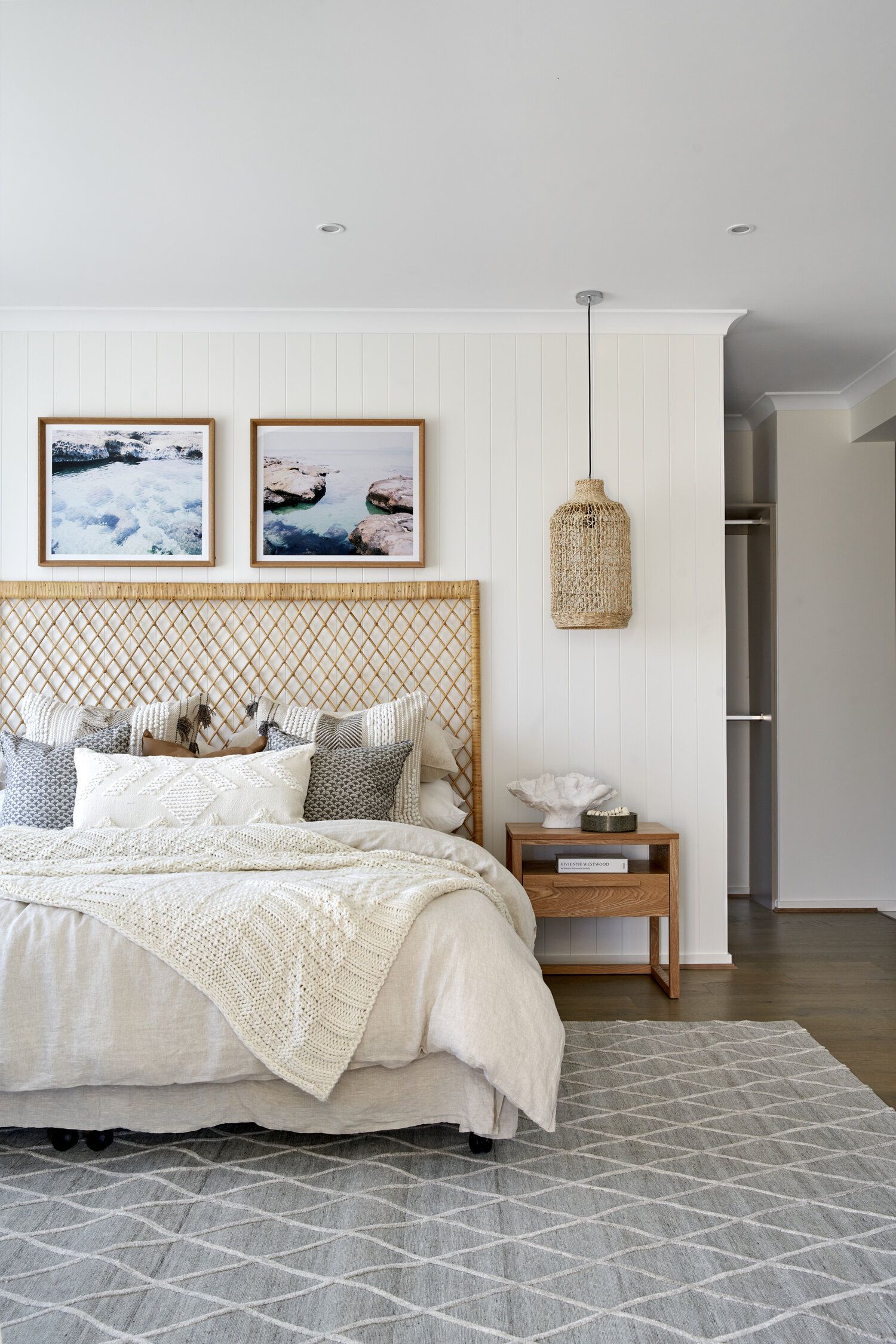 Moreover, you can hang two small nautical paintings over the headboard. Those paintings and wooden headboards are always a great way to draw into Coastal Bohemian design. Add more accents on the floor with white striped patterns. It represents the geometrical accents in your coastal bedroom.
5 of 21
Dreamy Coastal Bedroom with White and Natural Accents
Do not be afraid to use more white colors in a coastal bedroom. This color is perfect to implement an airy impression. Create the best view through the white bedcover, white pillow, and wall paint around the room. Even, your white windows are something to defend natural lights.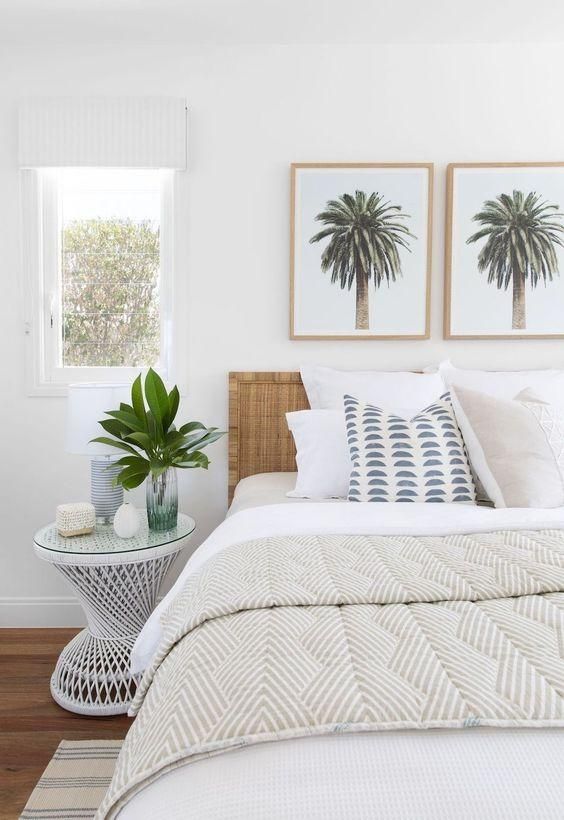 Another accent to reflect a coastal look is the green accents like ornamental plants or natural painting. Those are the organic object that represents an outdoor nuance. Besides, it brings you peace and a breath of fresh air. Make a balanced perspective through wooden materials from the bed frame and floor.
6 of 21
Coastal Bedroom with Blue Patterned Wall
The nautical color refers to the ocean color. Thus, it is catchy to give patterns on the blue base. If this design reduces lights, apply the white or light grey color above the blue paint. Also, you can bring natural textures like jute, cotton, and limestone to make a casual relaxed vibe.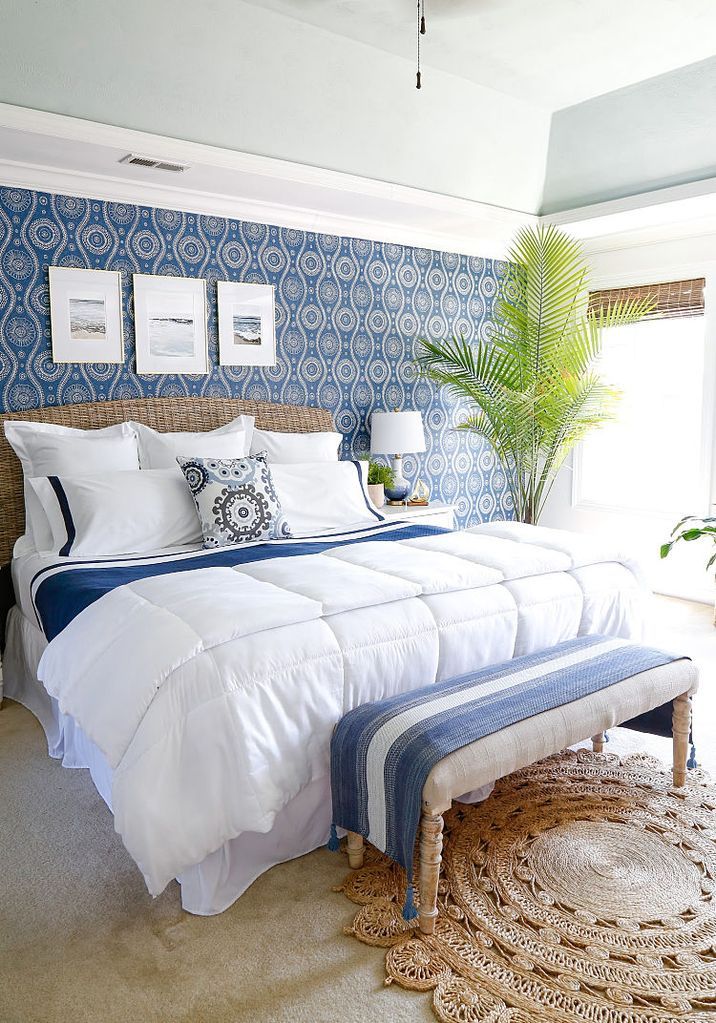 Add a patterned carpet with brown color to suit the natural impression. However, if you want to have more patterns, use a patterned pillow cover and a nice blue bed cover that will sweeten the room. The combination of white, blue, and brown colors makes you feel like you are on a vacation. Moreover, mix and match this interior design with a natural accent by thriving an indoor palm tree on the corner.
7 of 21
Layered Coastal Interior Design with Some Colors
The Coastal Bedroom is easy to combine with other light accents. Mix and match those colors on the bed by taking some pillow covers. Arrange those pillows with the right interval, then you will see the contrast colors are beautiful. Do not be afraid to incorporate it with natural beige colors.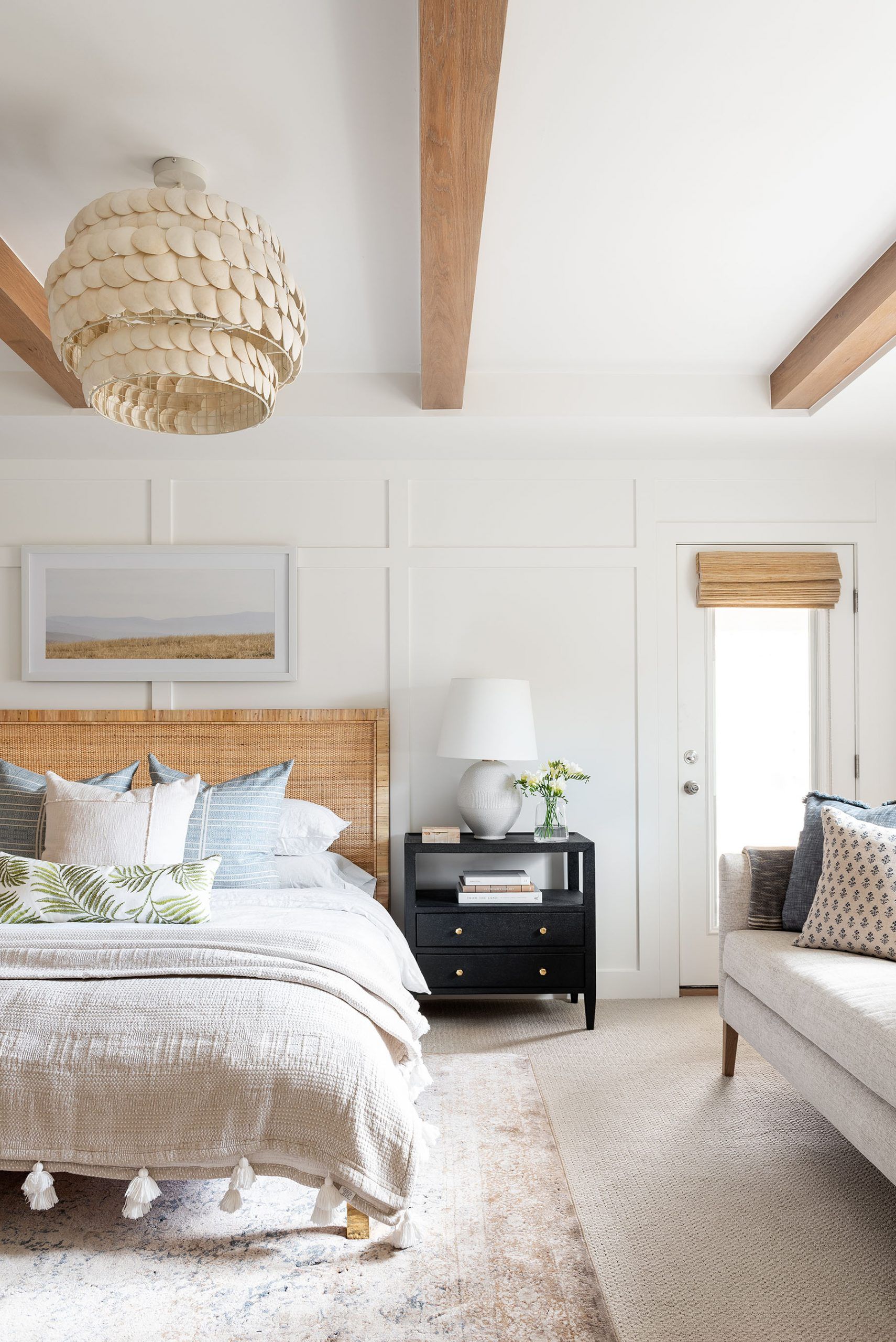 Somehow, an aesthetic blanket with beige color represents the sandy beach. Add some textural effect with a furry brown carpet. You can drive the homey look with common furniture like a classic bedside table and a comfy couch. The natural light through the window will bring nuance to the coastline.
8 of 21
An Ornamental Plant to Redecorate Your Coastal Bedroom
Do you ever dream to live near the coast? You can bring the atmosphere to your room. Designing your room with a nautical impression like the shore. Somehow, having an indoor ornamental plant will offer you the best coastal nuance. Put the plant near the window. You can give it natural sunlight in the morning and shut the curtain for indirect sunlight.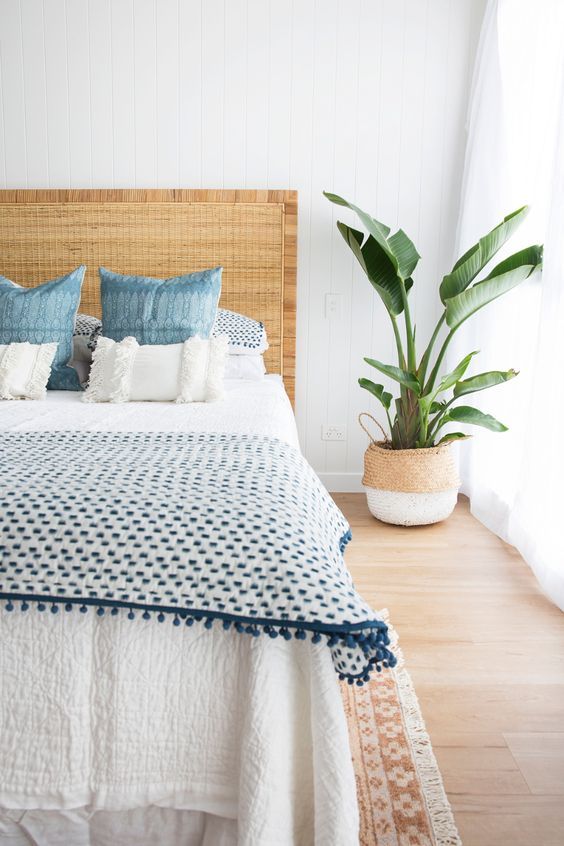 If you have a white bedroom wall, then you can decorate it into a coastal bedroom. Replace an old bed cover with a white bed cover. Put some nautical blue pillow covers. Add the textural visual effect through the furry pillows and woven blankets.
9 of 21
Coastal Bedroom Interior with Cottage Impression
The basic color to draw this design is white, it can be fully white or a combination of white colors. Pick an upholstery light grey headboard. Put a shore painting above it. The bedding set can adjust in your favor. We recommend you use two colors for the pillow. The white blanket will fit your bedding set perfectly.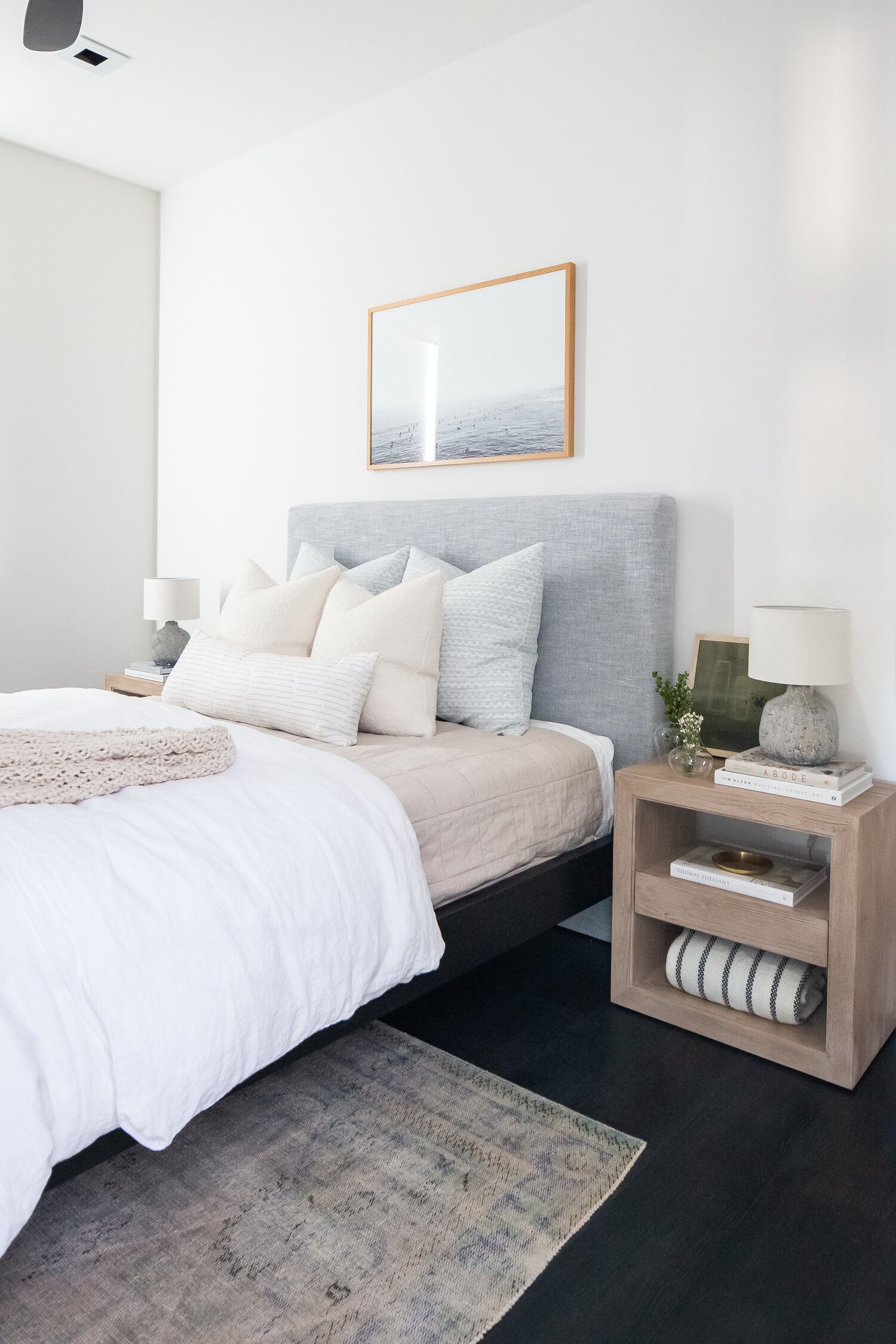 The cottage impression emerges from the furniture like the bedside table, table lamp, and carpet. Use two wooden doorless bedside tables. Decorate it with some items like a classic table lamp and a small ornamental plant. In addition, the carpet looks old through its faded brown-blue color.
10 of 21
Coastal Bedroom with Pure White and Brown Accents
The white and light brown colors are the perfect mate to draw a Coastal bedroom. Look at the white room. It has a direct view of the sky through the window. Besides, the natural light helps you to make this whitish room stunning. Somehow, a white room allows you to take another warm color to accompany.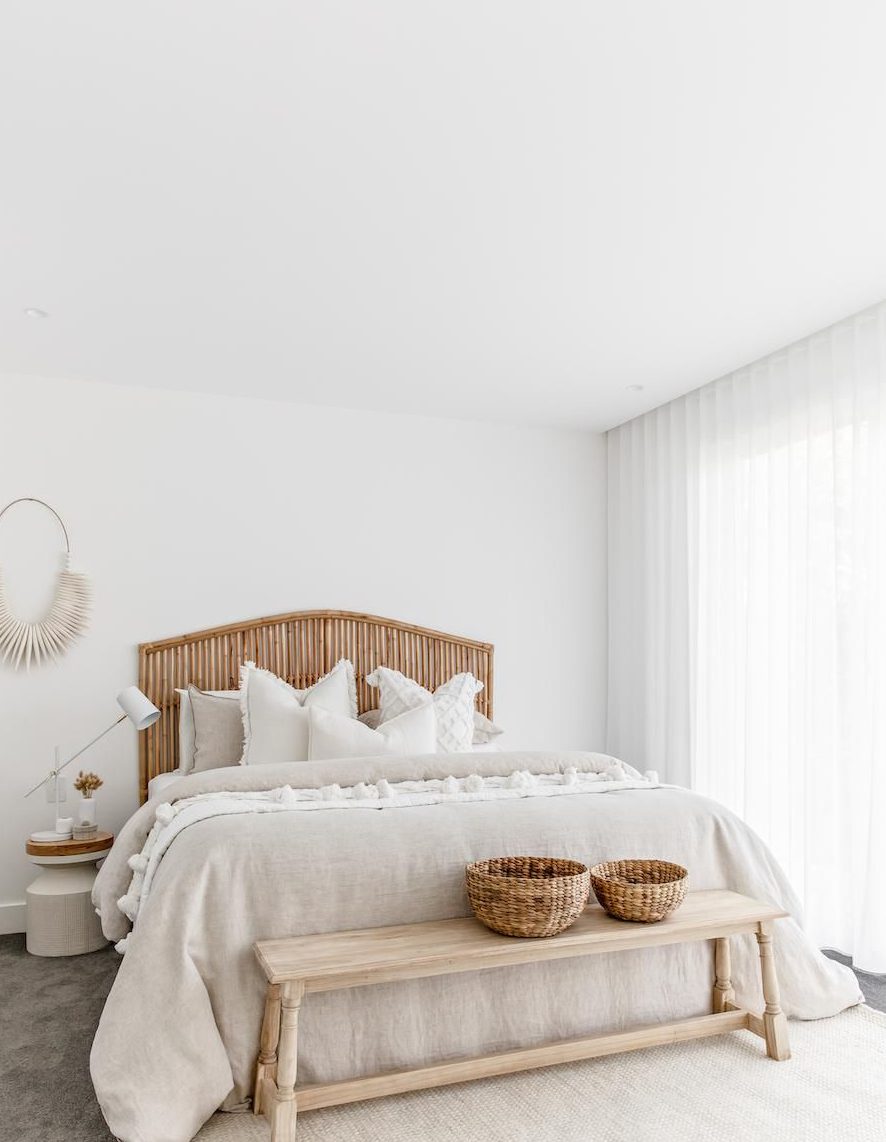 The wooden bed frame will keep this room looking natural. You can install the bamboo headboard to create a natural texture. However, the nautical nuance looks gorgeous with a traditional seat near the footboard. Also, add two wicker baskets to this bedroom. For the coastal ornaments, you can hang an eccentric one on the wall.
11 of 21
Coastal Bedroom with Relaxed Bedroom
Everyone needs a comfy bed to take a rest in their bedroom. Moreover, an interesting interior design will relax your mind. You can apply Coastal design to get a calming design. Pick the white color for the wall, floor, and bed. It helps to take a breath of fresh air. The more accents in this bedroom are catchy, even you can add some patterned pillow covers.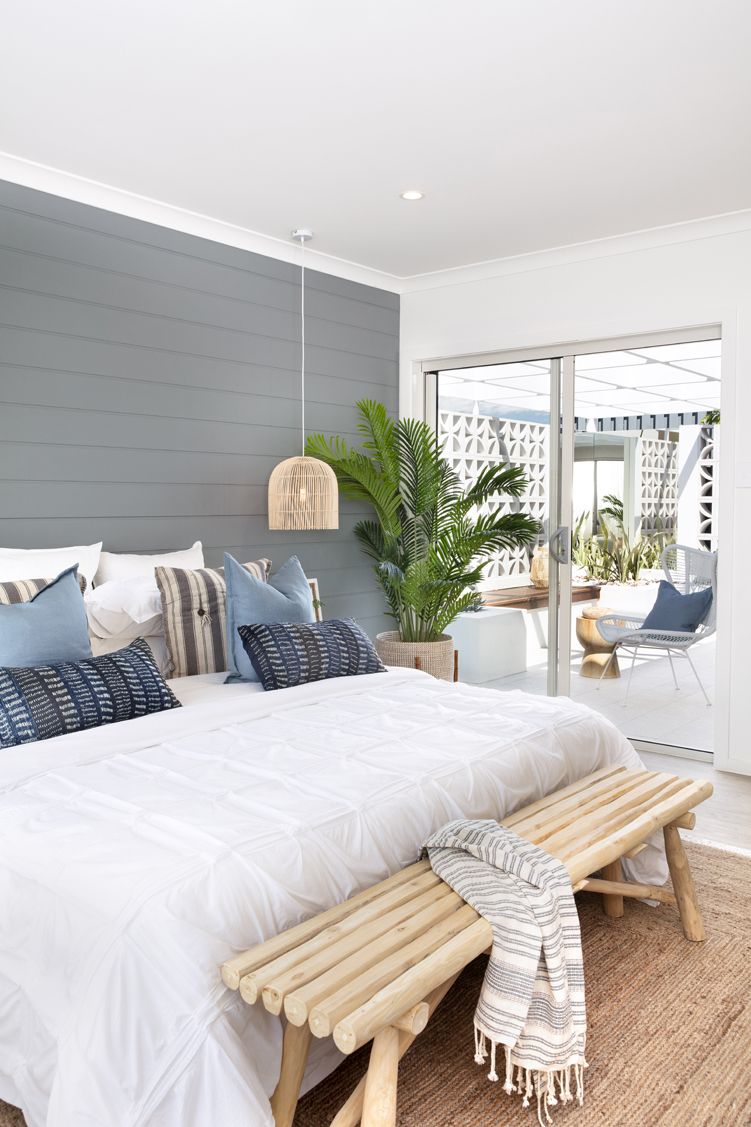 The common furniture to put in Coastal design is a wooden seat, textural carpet, textural walls, and lights from windows. Each of furniture is an important element t bring the soothing nature of the outdoors. Therefore, if you have some windows or glass doors, it will take the coastal vibes.
12 of 21
Combining Coastal Design with Modern Style
Do you like to mix and match interior designs? If you do, try to combine Coastal design and modern style. The modern style emerges from the geometrical textured wall. Pick the soft green color to draw a natural atmosphere into your room. This color looks stunning to pair with a white ceiling. Moreover, a classic chandelier offers you a nice interior on the ceiling.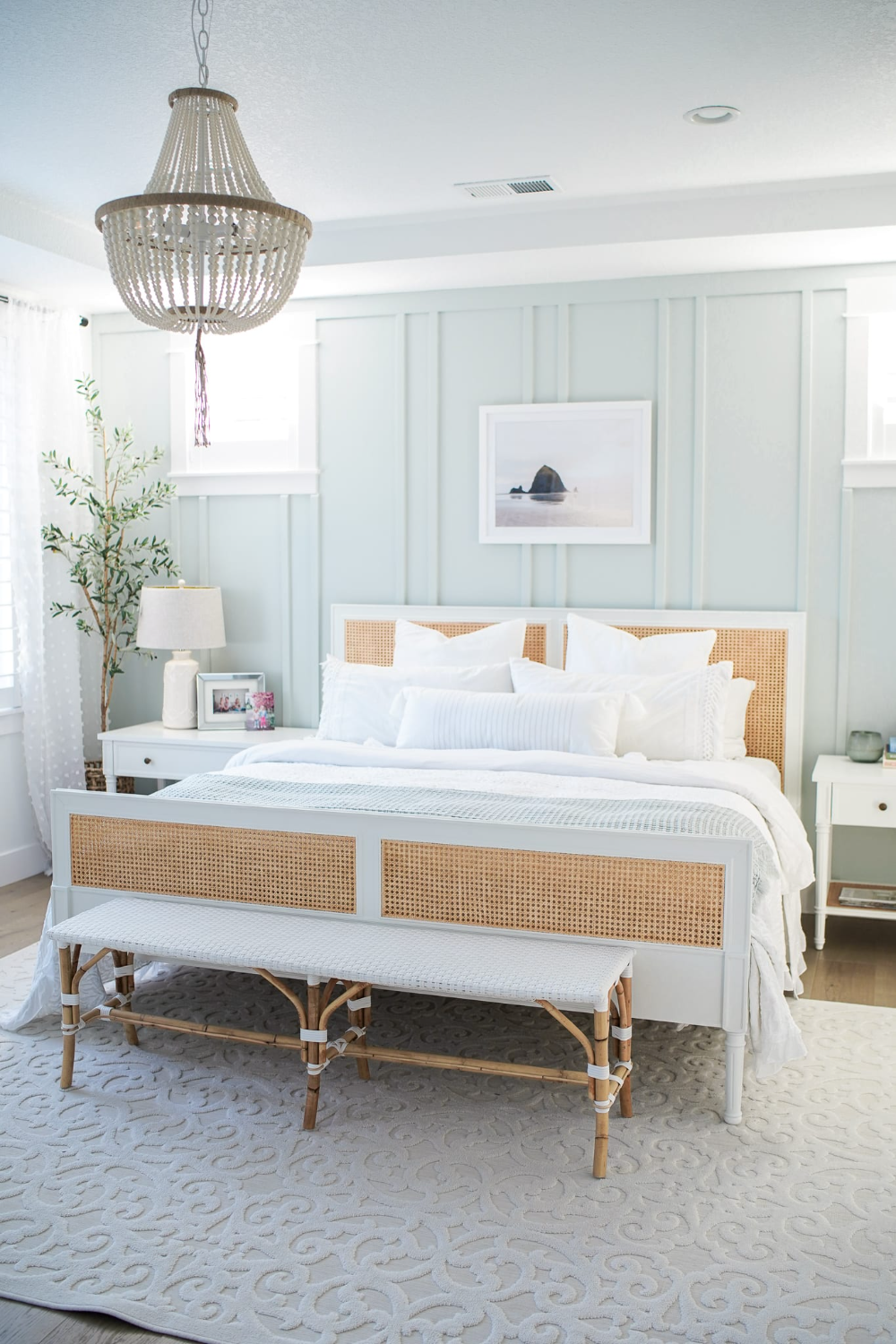 The furniture in this room has a classic elegant style. Therefore, take a white bed frame with wicker boards. The floor looks catchy with a soft textural carpet. You will love to use more white accents on several things like table lamps, bedside tables, white paintings, and white bedding sets. Do not be afraid to add natural accents like an ornamental plant on the corner.
13 of 21
Simple Coastal Bedroom with A Simple Bedside Table
Some furniture in a Coastal Bedroom has a function. Even the form and color of them will bring a certain impression. If you want to get a neat and clean design, choose geometrical furniture like a square bedside table with natural brown color. Another of furniture to complete this design is a wall lamp.
Pick a minimalist wall lamp that suits your bedroom wall. Therefore, you can adjust the bedding sets with beige color. If your bedroom offers natural sunlight, you can install a lace curtain to bring indirect sunlight and brighten the room. Moreover, this design will make you feel closer to the coast vibes.
14 of 21
A Classic Coastal Design for A Vast Impression
The Classic design has an old-fashioned style. This design is catchy to apply in your Coastal bedroom. You do not need to put many classic things. Arranging a classical bedside table is fine to add a classic accent. This bedroom doesn't have much old-fashioned furniture but it uses the calm grey color to emerge the classic style.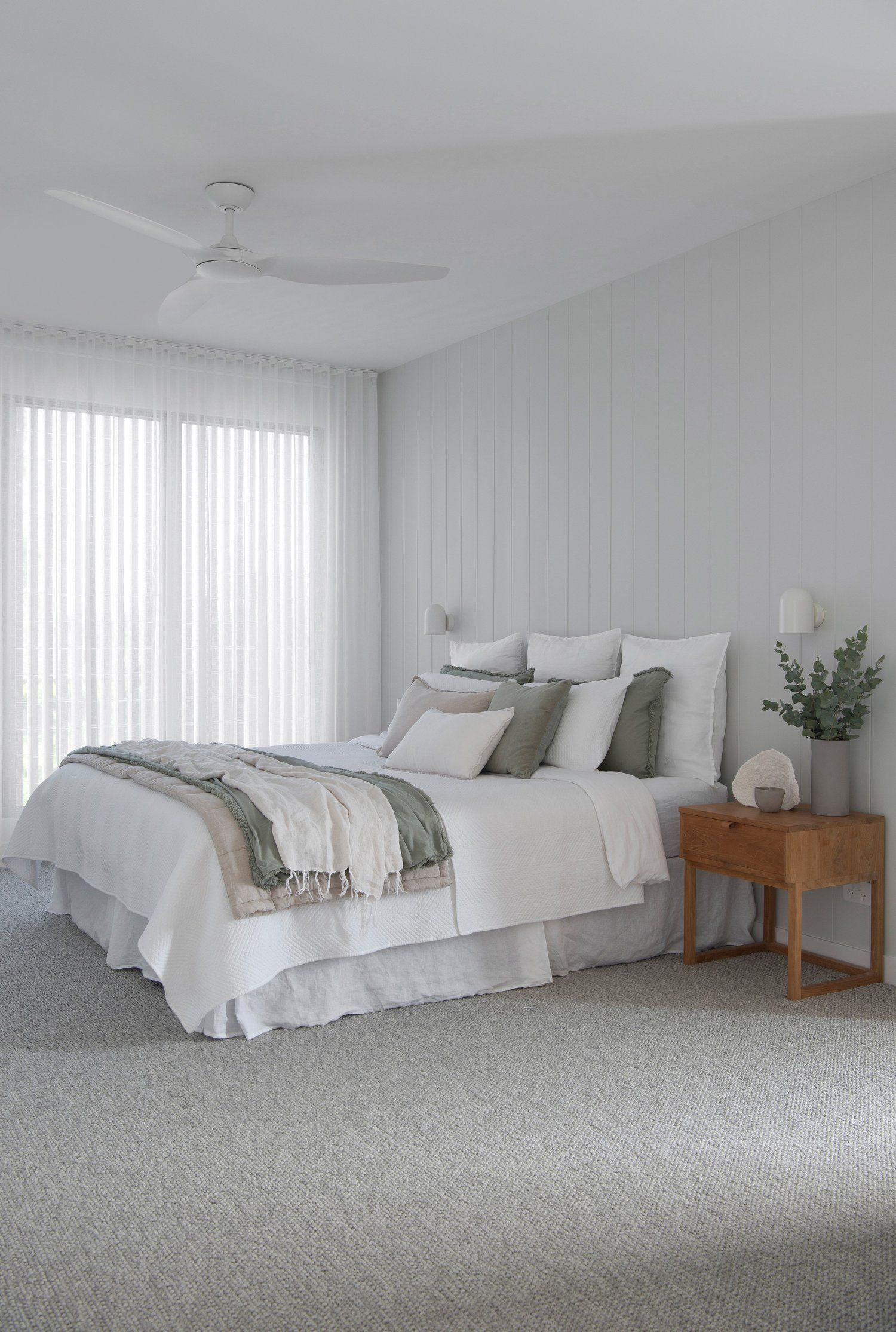 You can use the Coastal design as the basic interior to bring peace. The airy impression comes from the large window. Also, it has a large long curtain that allows indirect sunlight to brighten your room. Pick the color of white and soft green color to emerge an outdoor atmosphere in this bedroom.
15 of 21
The Whitish Bedroom with A Coastal Design
Do you want to design a clean and neat Coastal bedroom? You can try to apply more white colors in your room. It is gorgeous to have a white floor, wall, and ceiling. Also, this color reflects the light perfectly. Many people overlook the lighting, so this idea suits you who want this room to be bright. Those elements make your Coastal bedroom looks spacious.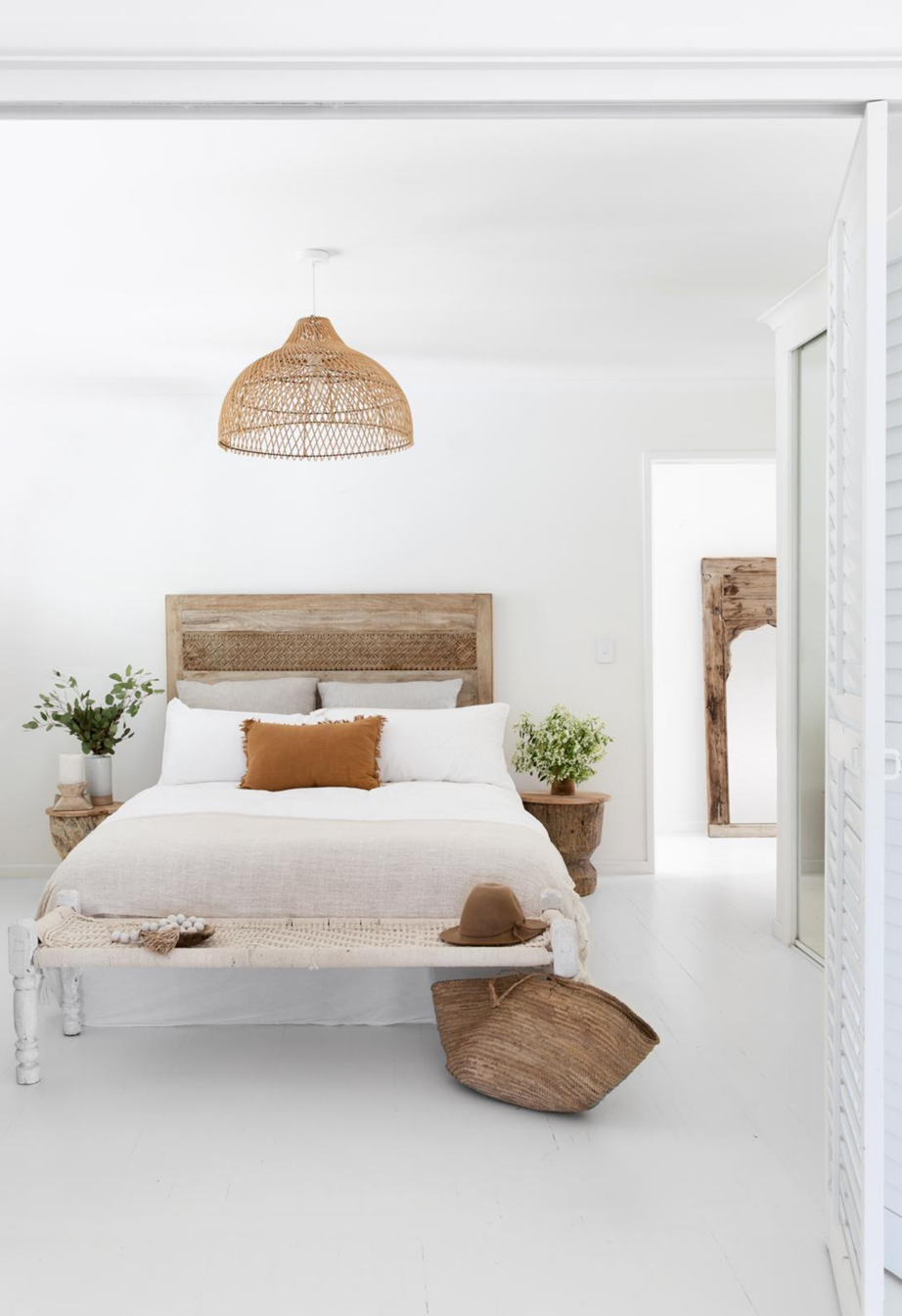 For the accompaniment, pick the natural wooden accents. The wicker basket, wooden bedside table, and wooden headboard are nice options. The bedding sets will be a center point in this bedroom because it has an eccentric visual in a whitish room. You can see it directly on the wooden accent or the green ornamental plant. Even the whicker chandelier will attract attention to the ceiling.
16 of 21
Coastal Bedroom with Tropical Decoration
The next idea that you can follow in creating a coastal bedroom is to provide tropical decorations. To create this idea, you can use flowerless ornamental plants in the bedroom. Flowerless ornamental plants will give a flowerless but beautiful and attractive appearance.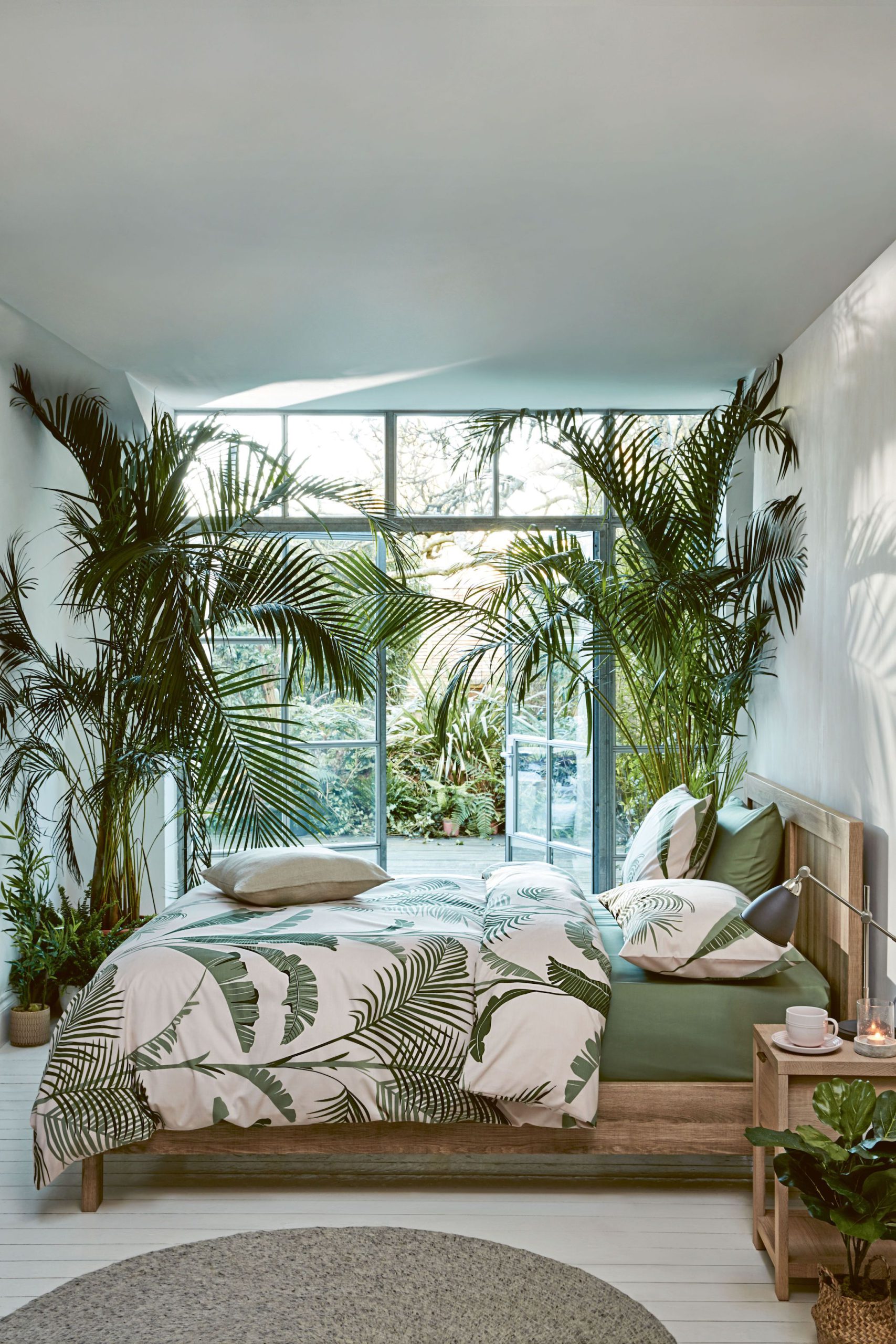 You can use various types of these plants according to your decorating needs. For example, you can use cactus, sansevieria, monstera, or any other plant you want. Create a refreshing coastal concept using these plants. Thus, you can have a delightfully cozy bedroom in a tropical coastal style.
17 of 21
Coastal Bedroom with Skylight Roofs
For those of you who want to save your electricity budget, you can use natural lighting sources in the bedroom. Natural light sources will provide a bright atmosphere that is effective and efficient. You can create this natural lighting also in a variety of concepts, designs, and sizes to suit your needs.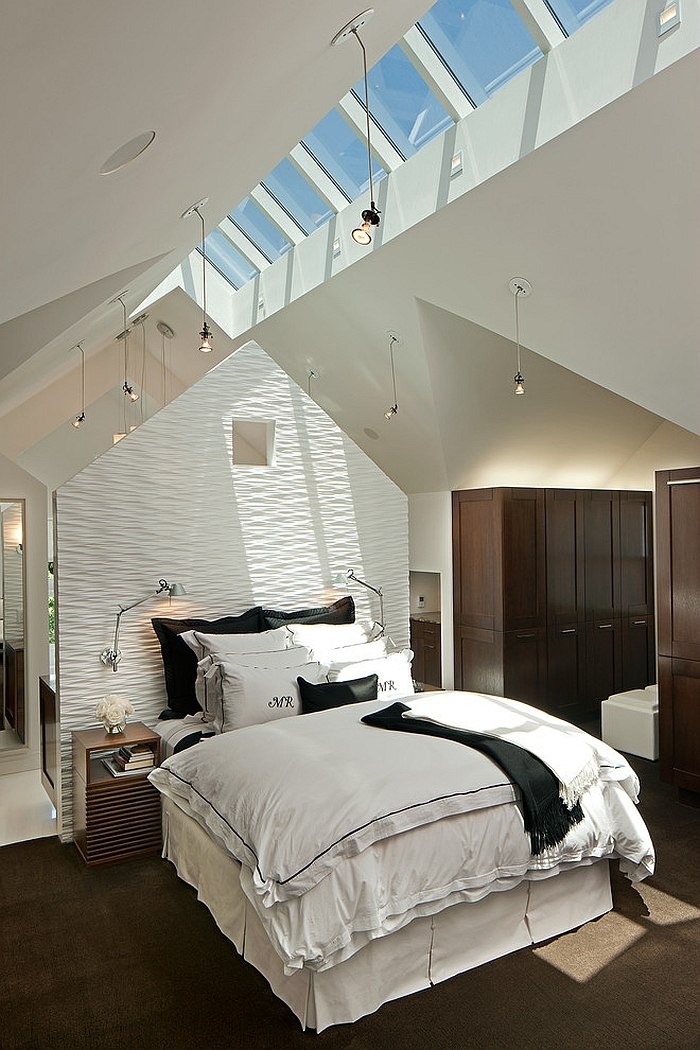 In addition, you can also create it by adjusting it to the interior style of your bedroom. For that, one of the natural lightings that you can use is skylight roofs. Also, skylight roof is a roof concept made of transparent material in the bedroom. Thus, sunlight will illuminate the interior of your bedroom easily and optimally.
18 of 21
Coastal Bedroom with Big Window
An alternative to a skylight roof that you can create efficiently is a large window. Therefore, you can use this idea in your coastal bedroom interior. Large windows will give you a bright atmosphere in your coastal interior.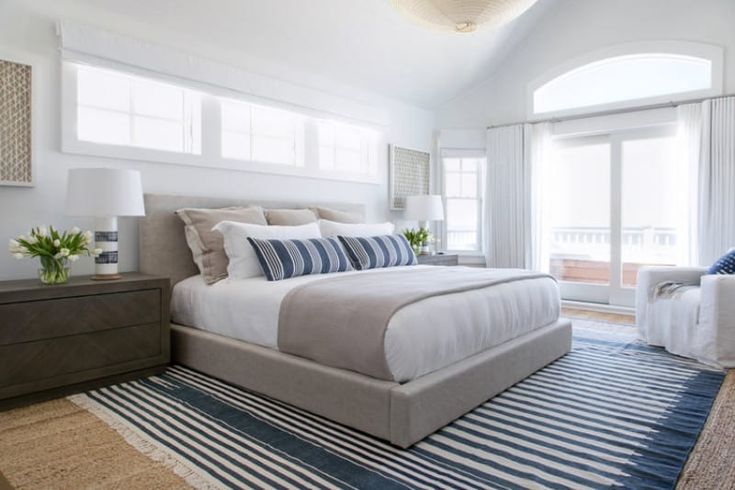 In addition, large windows will make your coastal interior more spacious and cozy. You can create this large window also in a variety of designs and materials that you want. Moreover, windows not only provide good lighting. However, you can also get better air circulation for your comfort in using your coastal bedroom.
19 of 21
Coastal Bedroom with Relaxing Swing
The next idea that you can follow in creating a coastal bedroom is to use a swing. A swing is a place where you can relax any time you want. You can create this swing also in a variety of concepts, materials, and sizes that you need.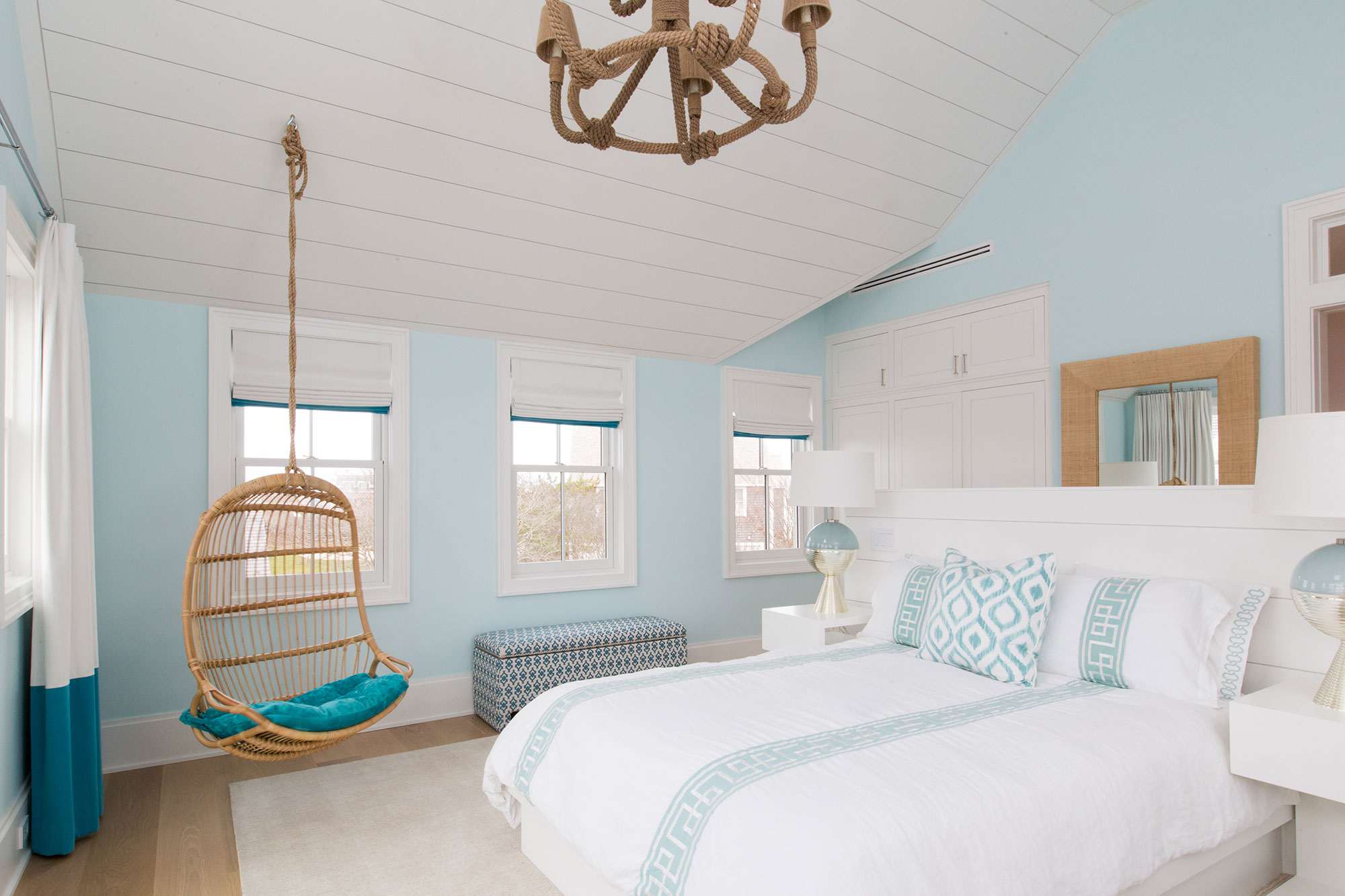 For example, you can use a swing made of wood or rattan to provide a warm coastal atmosphere. In addition, you can also create your swing in a harmonious size with your bedroom layout. Thus, a place for you to relax will not interfere with all your daily activities and mobility.
20 of 21
Coastal Bedroom in Open Space Concept
The last idea that you can follow in creating a coastal bedroom is to use the concept of open space. The concept of open space is an effective and efficient layout concept for you to create. This is because you can combine your bedroom with any other room you want. For example, you can combine your bedroom with workspace, living room, and other rooms in the same interior.
Moreover, you can create this idea creatively in a refreshing coastal style. In addition to making the interior of your bedroom brighter, this concept also makes your bedroom more spacious. This of course will make all your activities more comfortable in an effective and efficient concept.
21 of 21
Thus our discussion of 21 Coastal Bedroom Ideas to Create an Airy Atmosphere. By using this interior style, your bedroom will feel more beautiful in a refreshing concept. In addition, the atmosphere you create will also be more airy and cozy for all your daily activities. For that, you can design your Coastal bedroom in your favor.
Besides, it has no rules to draw Coastal interior. The thing you need to remember is to use nautical colors like white, light blue, ocean blue, and more natural lighting to get an airy impression. Moreover, those combination is perfect if you can put the wooden and green items in the room. It will make your Coastal bedroom natural and actual. Happy decorating!