A kitchen renovation is something that's at the top of most homeowners' lists but it can be hard to know where to begin. If you want to renovate your kitchen but you are struggling to know where to begin, then this article is for you. I have put together my top 5 kitchen renovation ideas to inspire you with your own kitchen renovation.
This article contains budget-friendly ideas and bigger renovation ideas that you can use when renovating your kitchen. So no matter what kind of kitchen you have or what your budget is, there will be something within this article for you.
Add a patterned tiled backsplash
A backsplash is a functional part of a kitchen that every homeowner needs, but that doesn't mean you can't add your personal touch to it. Adding a patterned or coloured tiled backsplash is a great way to add a pop of colour to your kitchen. Not only will this draw someone's attention to certain areas of your kitchen, but it is also a great way to add detail to your kitchen in a simple way.
If you are on a tighter budget then this is also a great way to renovate your kitchen whilst sticking to a budget. You can pick up the tiles at most hardware stores and glue them to the wall yourself.
Use floating shelves
If you have limited space within your kitchen then floating shelves are a great way to showcase your decor items without taking up useful worktop space. This also allows you to add your personality to your kitchen through your decor items.
You can add decor items or you can even utilise floating shelves as extra storage space. If you are going to do this, I'd suggest using it for bulkier items such as pasta that you can display in acrylic containers to make it more aesthetically pleasing.
Install new windows
A kitchen can quickly become the main vocal point of your home, especially if you have a kitchen/diner as you will probably use this to host when you have friends and family over. Therefore, making your kitchen look brighter and more open is essential. Installing new, big windows is a great way to do this as it will allow you to let in as much light as possible.
If you are on a tighter budget then I'd suggest looking for a local UPVC window supplier. Doing this will allow you to acquire the windows that you want at a cheaper price, from there you just need to find a tradesman that will fit them for you.
Add a feature wall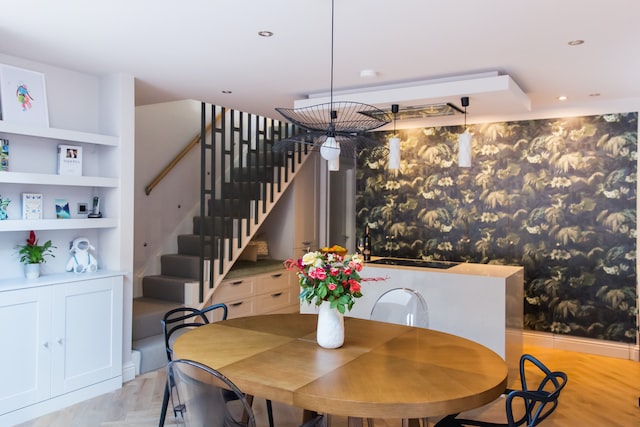 A feature wall is a great way to renovate your kitchen without ripping it all out and starting again. It is also a great way to draw attention to a particular area of your kitchen such as a beautifully decorated dining space.
You can create a feature wall with either paint or wallpaper. I'd suggest going for a bold colour or pattern to make it stand out. If you wanted to take it a step further, you could create a gallery wall to add definition and texture to your kitchen.
Install an island
A kitchen island is an amazing renovation project to increase value and modernise your home. Not only is an island great for the aesthetic of your kitchen but it can also prove to be extremely useful as extra storage and worktop space. You can create a bespoke island with built-in storage space or extra cooking space such as an oven or a microwave. This will allow you to use the island to your advantage whilst creating your dream kitchen.
You can also add seating to create a communal area for eating or socialising. If you already have a large kitchen or you are thinking of expanding it then this is a great way to create a defined area and break up some of the empty space.
Conclusion
Now that I have shared my top 5 kitchen renovation ideas, it's time for you to put them to good use in your kitchen. Whether you are completely re-doing your kitchen or you want to make smaller changes that have a big impact, this article has something for you.