Druhomes.com – A home library is a nice thing to have if you like reading. Therefore, the furniture and decorations that you use in it are important for you to pay close attention to. For example, you can choose the best chair for you to read your favorite book. The reading chair is a comfy chair to enjoy reading time. This chair has various designs to fit someone's needs. Thus, you can pick the right chair to bring comfy furniture for you. For example, the lounge chair has a simple design if you need more seats. Meanwhile, a single chair like the leathered chair is also good as your reading chair. To demonstrate this design, let's check the 20 Reading Chair Ideas for A Comfortable Home Library below!
Green Chair with Comfy Seat
This chair has green upholstery. It looks eccentric to put in a white room. As the reading chair, this green chair is comfortable. You will get a soft texture from the upholstery.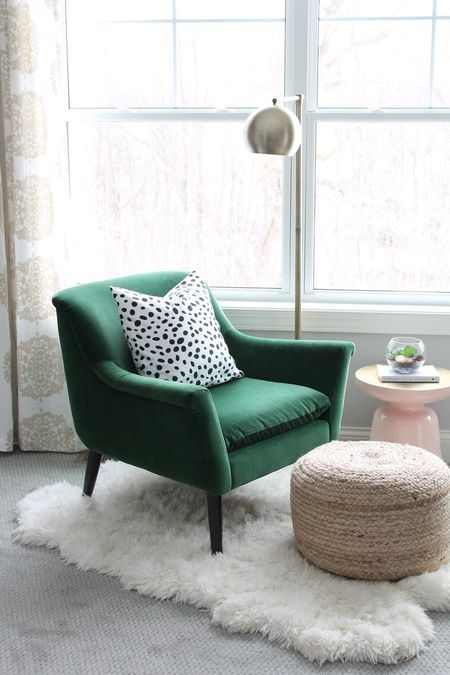 Moreover, you can put an eccentric cushion like polka dot patterns for its cover. Since it is a reading chair, you can add a small lounge chair as the complete design. Also, take a small coffee table to put your book or a cup of tea. For the lighting, use a standing lamp with a dim light.
1 of 20
Grey Upholstery Reading Chair
The coziest reading nook needs a comfortable chair like a lounge chair. This grey chair has a wide seat, then it gives a comfy place to sit and read the book. Besides, you can put some comfy cushions to make it more attractive. To connect this sofa to your interior, you can pick upholstery with the same theme.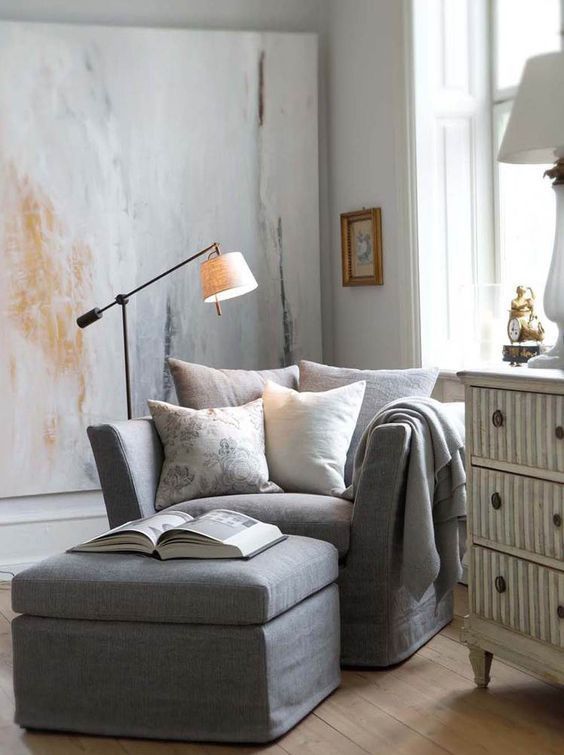 For the lighting, its neutral color will blend well put near the window. Besides, you can use a standing lamp that allows you to set it when reading a book. You don't need the brightest lamp, since it will harm your eyes. Pick the average lighting that helps you to see clearly.
2 of 20
Lounge Chair with Leathered Upholstery
The lounge always brings a comfortable design. This chair uses soft materials like velvet, silk, and cotton surface. Meanwhile, the common design is the tufted upholstery. Thus, you can take this chair to any nook that you will love.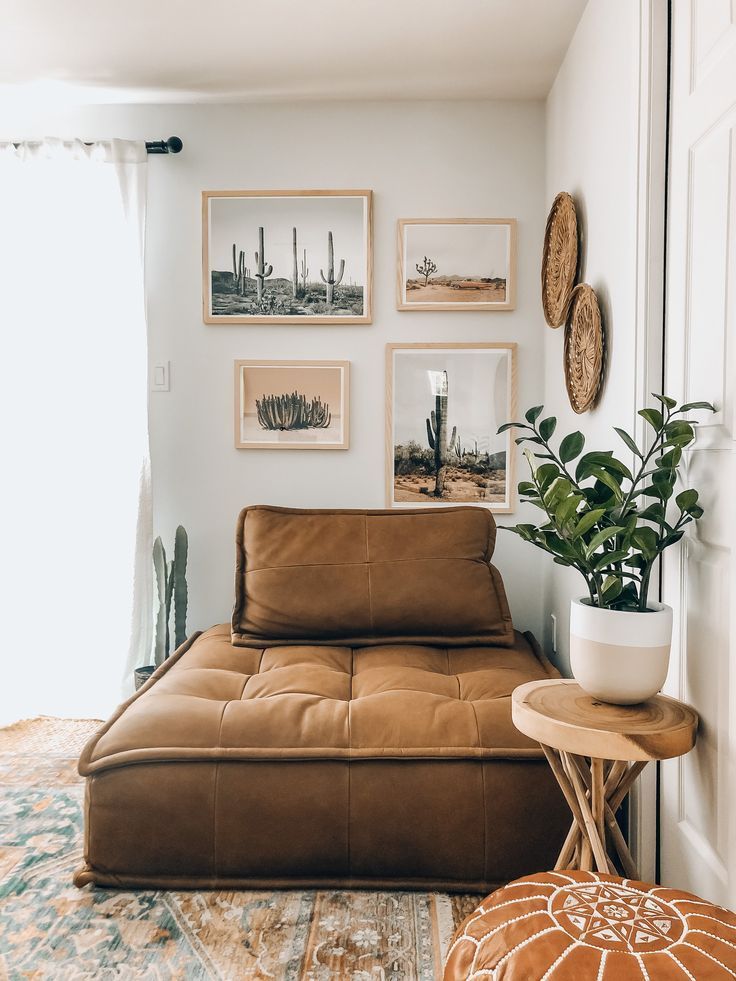 For styling up the design, you can add some ornaments on the wall like an artistic painting, wicker works, and ornamental plants. Moreover, create a natural impression by adding more wood accents. However, you can use a wooden table that will complete this reading room perfectly.
3 of 20
Bohemian Reading Nook with Rattan Chair
Something new that you will love from Bohemian design is the eccentric accents. You will discover lots of artistic points in a Bohemian style, like the Bohemian reading chair. This chair has lots of Bohemian accents such as the patterned cushions, floral seat, and furry blanket.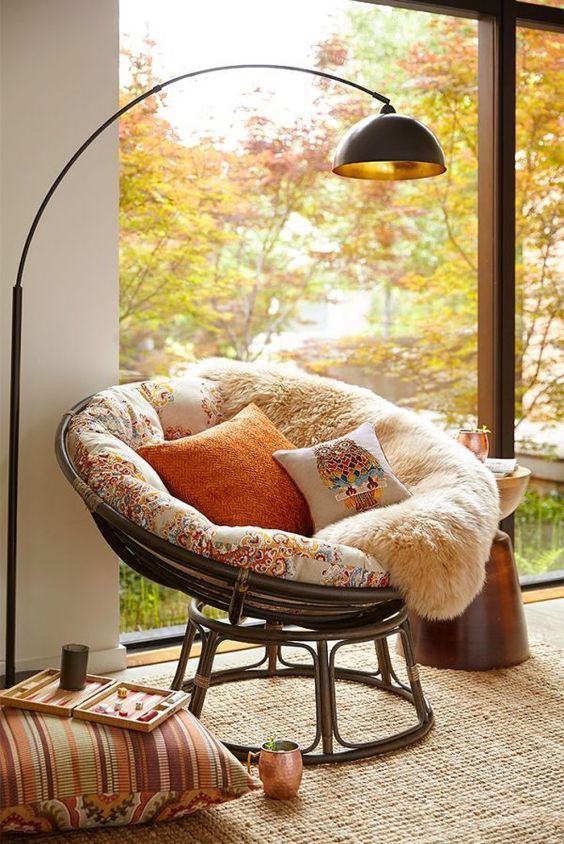 Moreover, a Bohemian reading chair will connect to the interior if you add a decorative rug. This décor is helpful to draw attention to the floor. Meanwhile, place this Bohemian chair close to a window. Then, you will see beautiful scenery from outside while reading your book.
4 of 20
An Elegant Navy Chair
The navy color has a mysterious impression. Even you can take this color as your reading chair. This chair uses silver frames from steel. It looks stunning to hold the navy seat. Also, it allows you to match it with light colors like white and grey.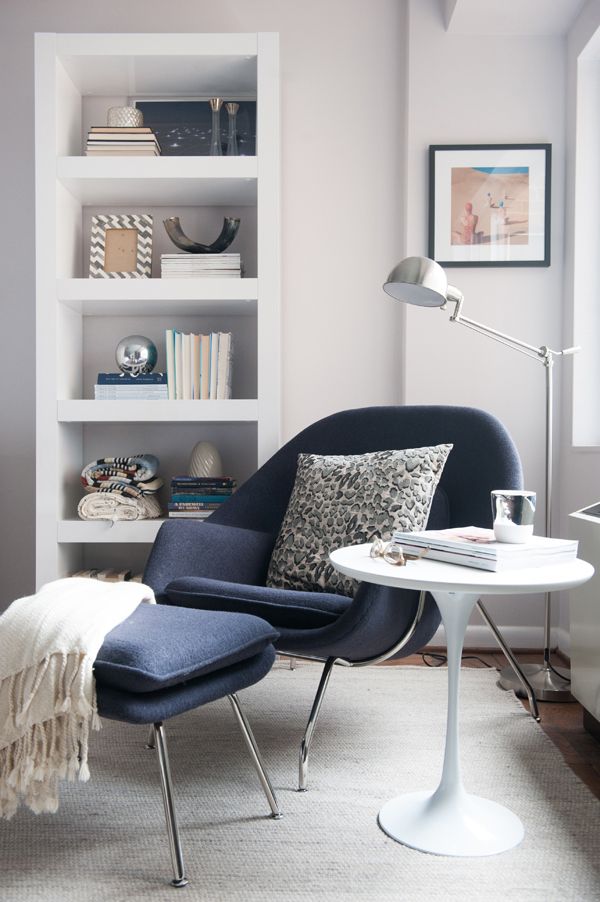 For the complete design, add a white coffee table to put your books. You can take a standing spotlight to provide light. Thus, you can do a late-night reading or spend time reading your lovely book. If you feel bored, add a comforter to the lounge chair or change the cushions' cover.
5 of 20
Industrial Leathered Chair
The Industrial furniture has an elegant style, even the reading chair looks stunning. You can pick the Industrial chair to complete the interior of your reading room. Also, this chair is simple with steel feet. For the comfy design, this chair provides a large backseat to take a rest while reading.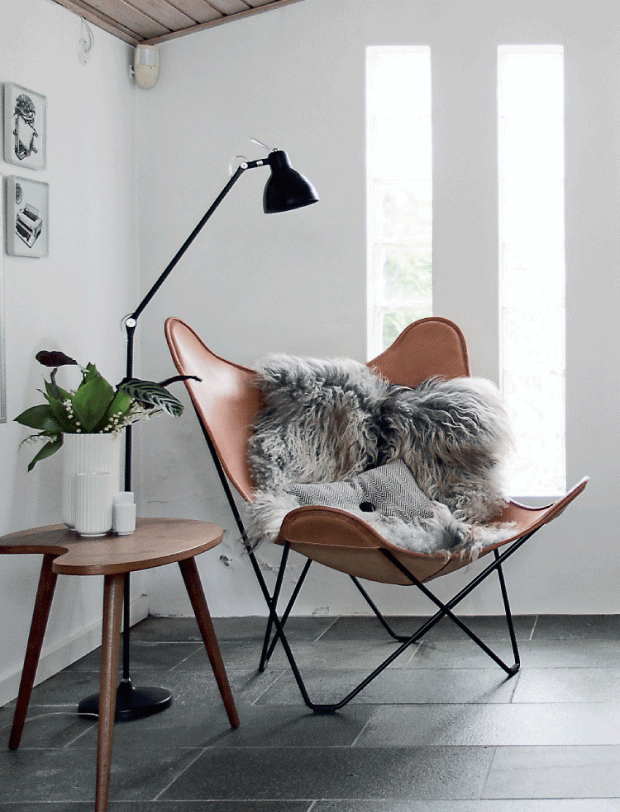 Even though this chair doesn't have an armchair, you will feel comfortable with its backseat and the sunken seat. For styling, this chair put a furry blanket with contrasting colors. Then, add an Industrial standing light that represents black accents in this area. Also, thriving a green ornamental plant will change the look of this room.
6 of 20
Tufted Grey Reading Chair
A tufted grey chair looks impressive to be your reading chair. It has a small lounge chair to comfy your feet while reading your lovely books. Also, you can bring an elegant accent with its grey colors. Even it connects to any design like the modern and classic design.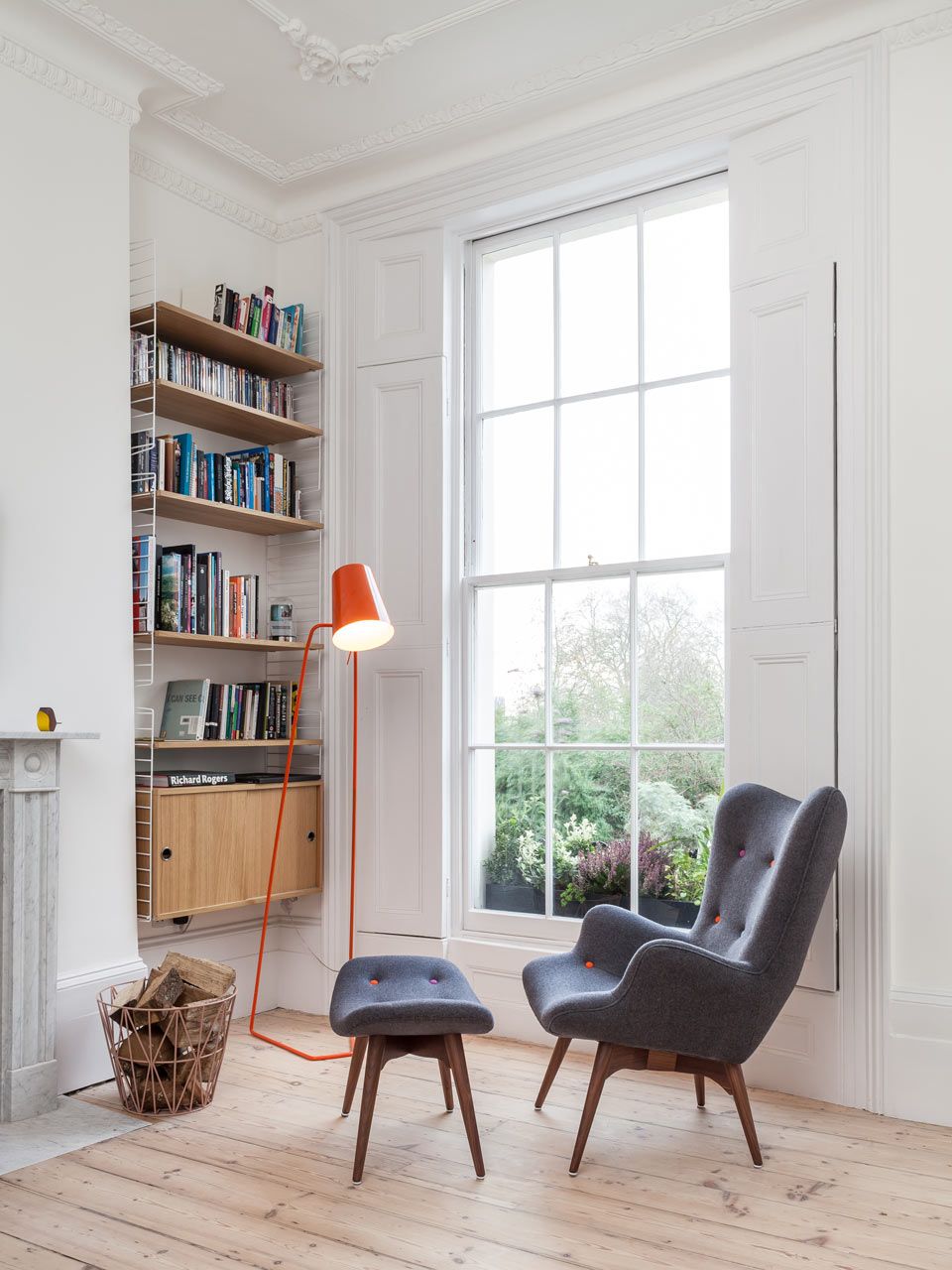 Furthermore, take your best standing lamp to help you read the books. For a beneficial design, place this furniture in your reading nook or near your bookshelf. Moreover, a large window is helpful to brighten your reading room and boost your mood.
7 of 20
Art Deco Reading Chair for Classic Style
The Art Deco reading chair commonly uses a bold accent like the Scarlett upholstery. Besides, other elements around this chair represent the classic style. Thus, it is suitable for you who love a clam design with mysterious visual interest. Also, this chair allows you to relax on its comfy backseat and armchairs.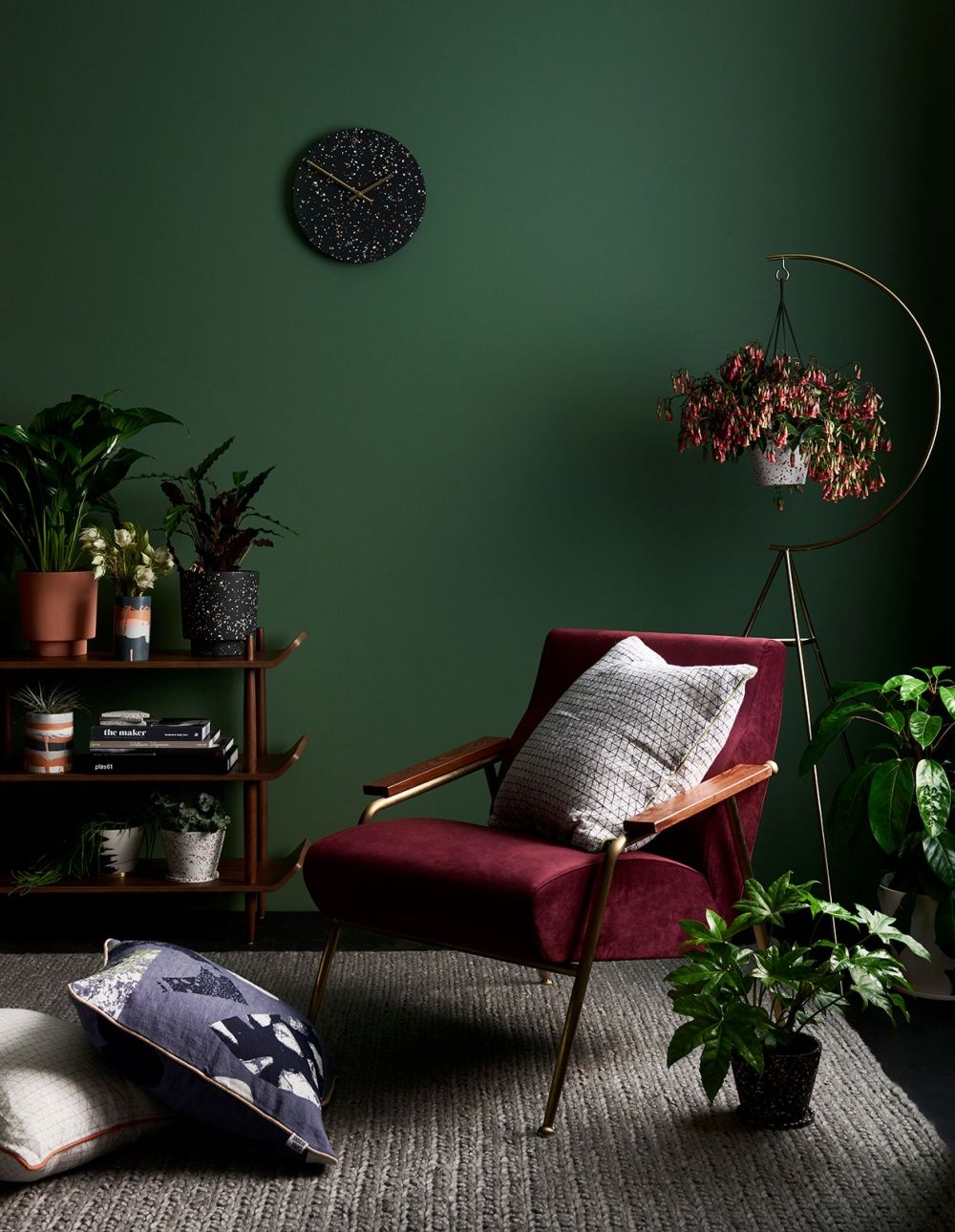 For the decoration, it looks simple to put a small cushion on the seat. Meanwhile, you can add a comfy cushion to the rug, just in case you prefer to sit on the rug. Moreover, always add a natural ornamental plant to bring an outdoor impression.
8 of 20
Rattan Frame for Round Reading Chair
The circle rattan frame looks aesthetic to be your reading chair. Also, you can add a comfy seat to make it homier. Thus, take the tufted seat with comfy material that is easy to put on your chair. For your notes, pick the neutral color to enlighten an aesthetic visual interest in this chair.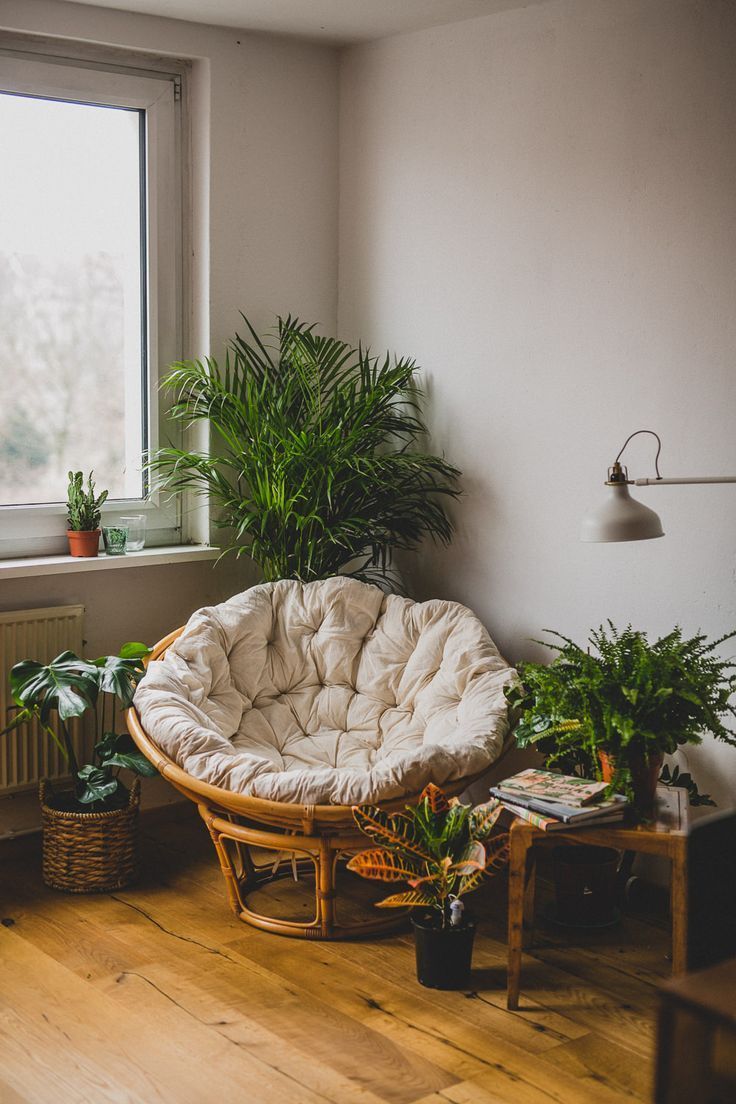 Besides, match this design with a simple table. Also, you can bring the ornamental plants inside your reading room. Maybe some palm trees will enliven the botanical impression around this place. For lighting, it is essential to put a standing lamp like a spotlight. Meanwhile, open the window near the reading nook, then you will get a warm atmosphere.
9 of 20
Seating Sofa for Your Reading Nook
The seating sofa adopts the concept of a bean bag. It is a comfortable seat that looks catchy to put in the corner. Thus, you can use this sofa as your reading chair. Since it has a comfy look, you can match it with a blanket and a cushion.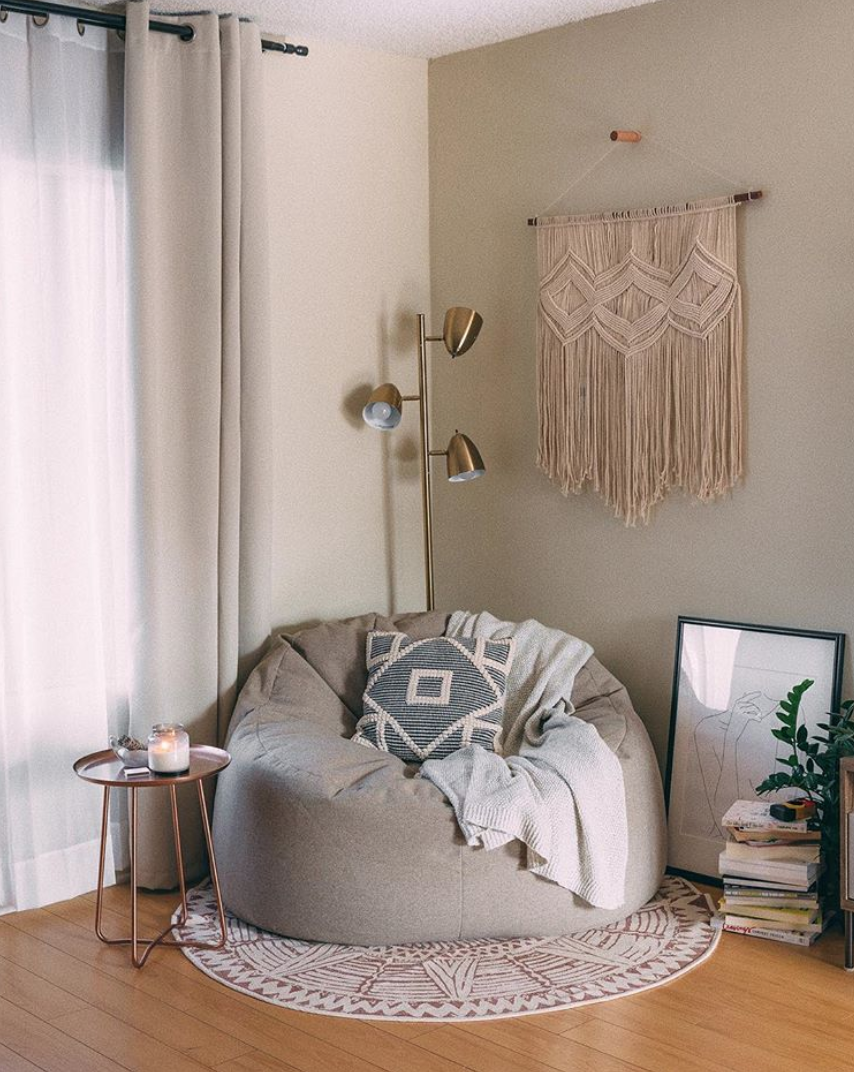 Moreover, hang some designs on the wall if you want to make something new. Having a macrame on the wall is a nice idea to bring an aesthetic impression. Also, put a small table to complete the furniture in your reading nook. Ahead, you can add a small bookshelf to save your books rather than put them on the floor.
10 of 20
Industrial Reading Chair with Comfy Blanket
The Industrial reading chair matches any room design. Even a white room fits well to have an Industrial chair. It can be an eccentric accent in this place.  Moreover, this Industrial reading chair looks classic and catchy.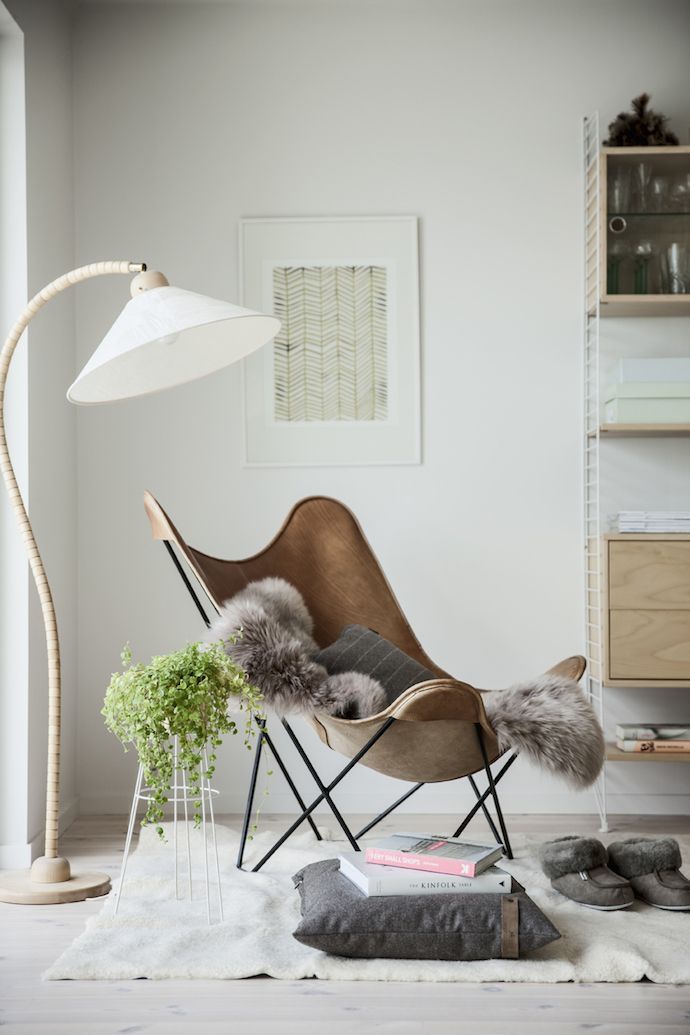 Also, it will create something new for the visual interest in this room. You can mark this area with a neutral rug. Ahead, put some decorations like an ornamental plant, a cushion on the rug, and a furry blanket. These elements are catchy for styling your reading nook.
11 of 20
Blue Reading Chair to Refresh Your Library
The reading nook sometimes looks boring. You can enliven this room with something fresh like the blue and white patterned chair. It can be a focal point in your room. Also, match this with more fresh accents like the ornamental plant and fresh breeze from the window.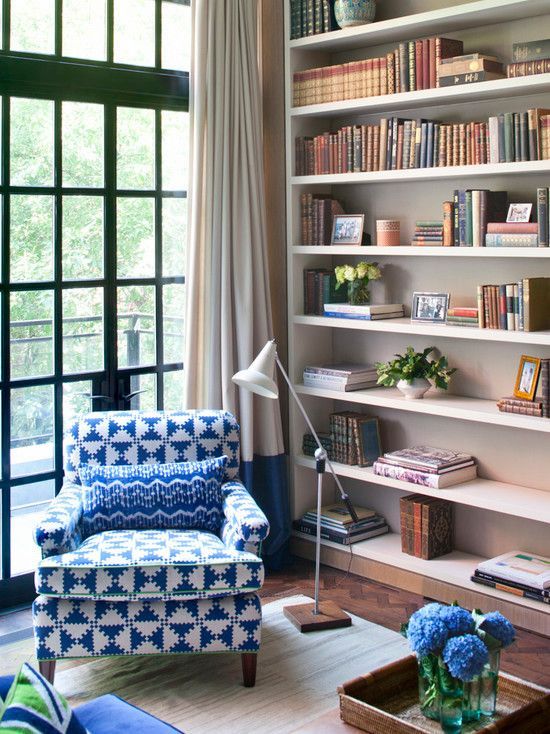 To help your readers easily, put a standing lamp next to your reading chair. If you are mad at reading, place the reading chair near your bookshelf. For more attractive accents, you can put some decorative ornaments like small faux plants and some photographs.
12 of 20
Leathered Lounge Chair for A Comfy Design
The lounge chair is a comfortable reading chair. It has a small lounge that is versatile as a footboard and a single seat. Also, this leathered chair looks catchy to remodel your reading room. Besides, this chair matches an Industrial table like a black steel table or a wood table.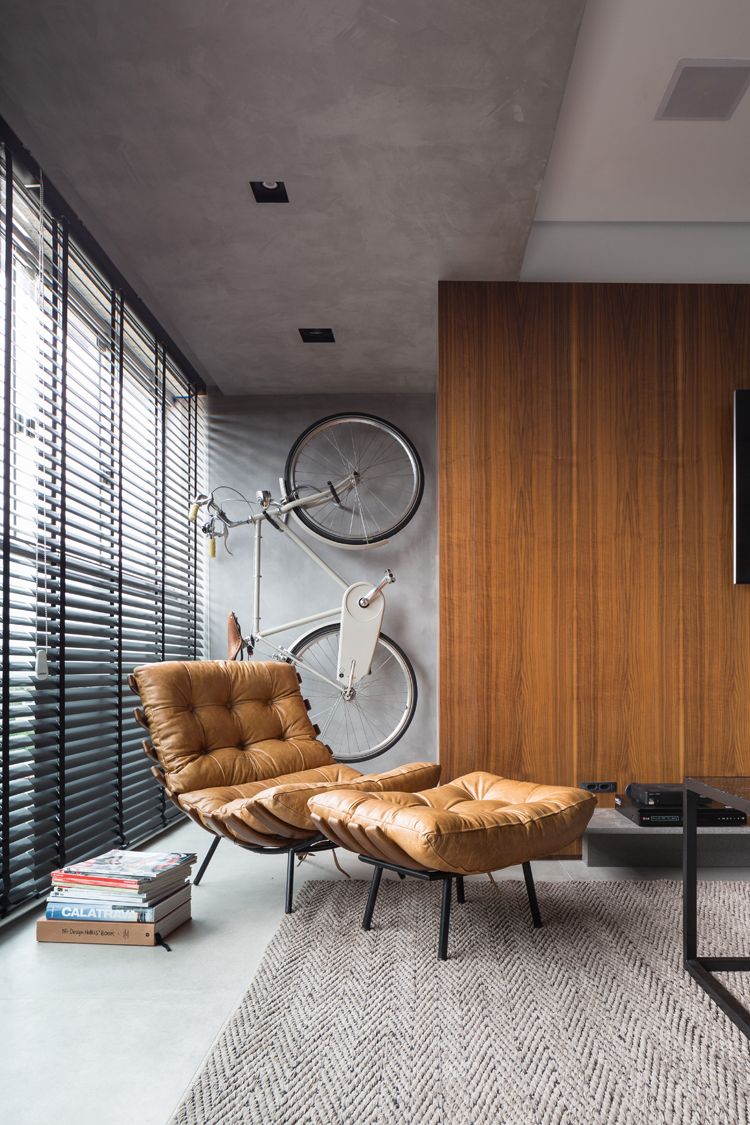 Moreover, this reading chair is useful to be your additional furniture in a living room or wherever you need a comfy seat. Since it uses a tufted seat and leather upholstery, you can bring it to close the window. Thus, it is useful as a reading chair for napping.
13 of 20
Chaise Lounge Sofa with Comfy Textures
The chaise lounge sofa has a unique shape. You will discover a simple lounge with a relaxing backseat. Thus, you can read a book in a comfortable position. Meanwhile, don't think about the lounge color because you can pick the room theme for this furniture.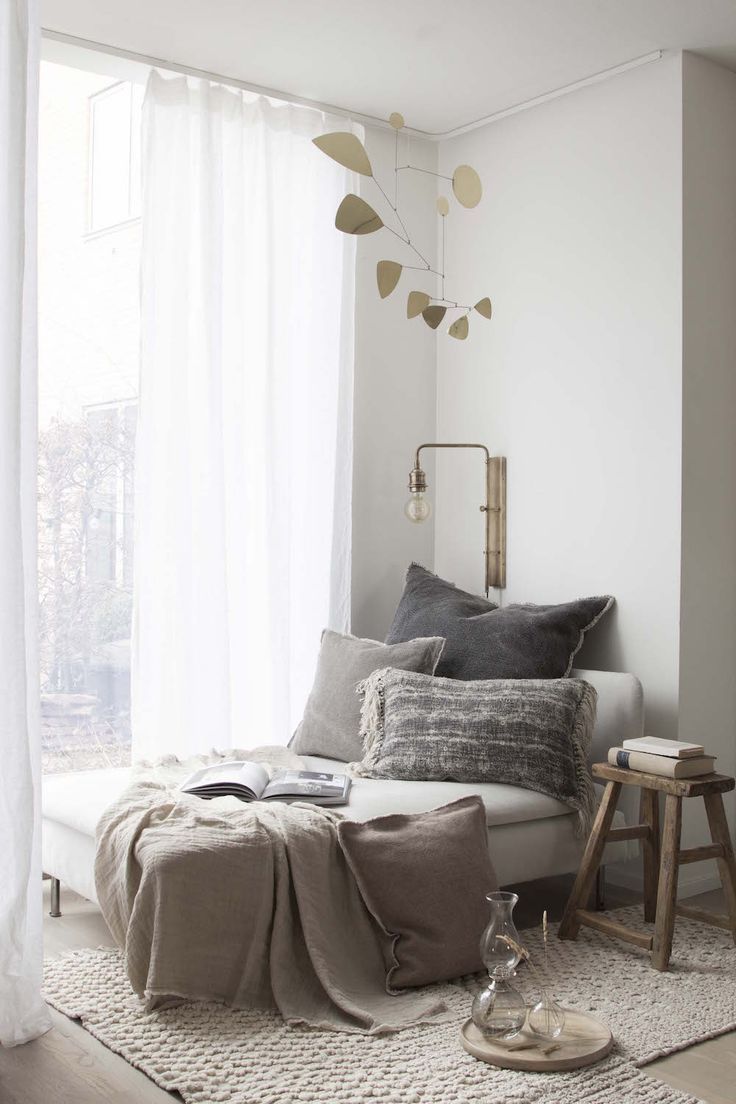 Moreover, styling up this lounge with some comfy cushions and a beige blanket for sophisticated decor.  Then, take a simple wooden table to put your books on. Since this lounge is on the corner, install a simple light on your wall. It helps you to enjoy late-night reading.
14 of 20
White Sofa for Your Reading Nook
Decorating a reading nook is a creative way to get a comfortable place. Also, you can put a cotton rug to line up your reading area. Then, put a simple sofa with a comfy lounge for your seat. Moreover, add some cushions for the eccentric accents that your will love to see.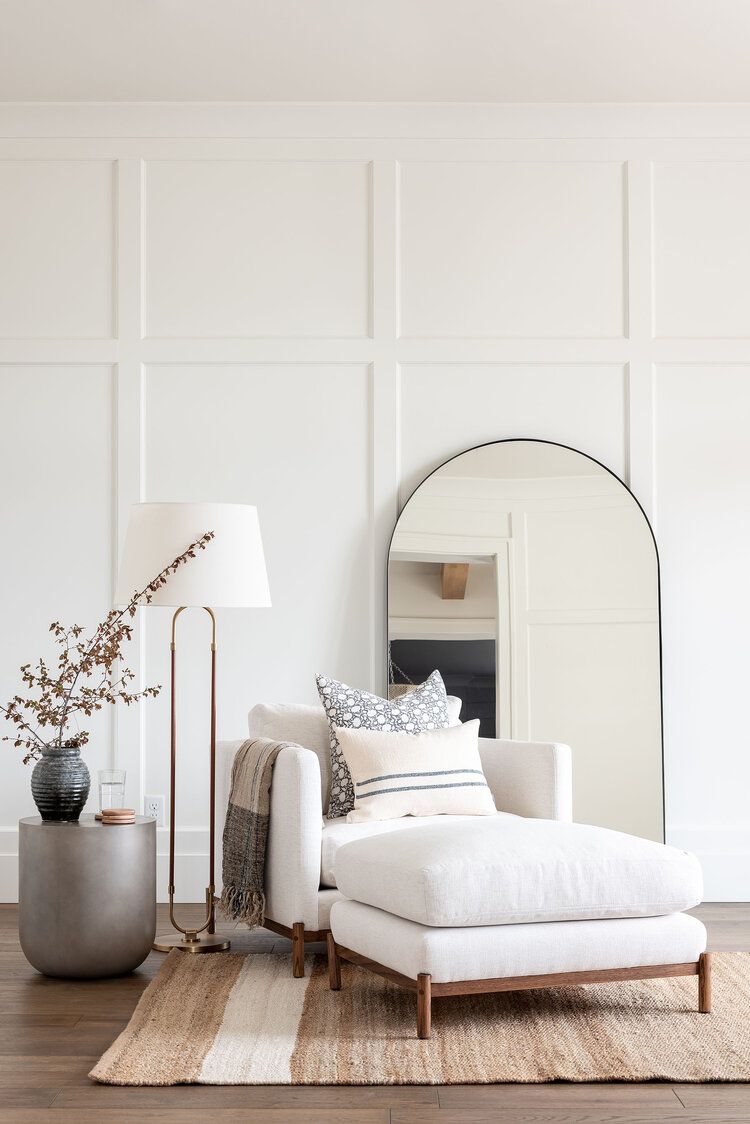 For the surrounding, put a standing lamp and a white lampshade for better lighting. It will brighten your reading chair with no diffusion. Ahead, put an interesting flowery ornamental plant on a small table. These elements will draw a perfect reading room for you.
15 of 20
Bohemian Rattan Chair with Stylish Floral Blanket
The Bohemian rattan chair is compatible with an eccentric design. Thus, you can bring this reading chair to your reading nook. Then, styling up this chair with a floral blanket and Bohemian cushion. Also, bring the indoor ornamental plant to add a natural impression to this area.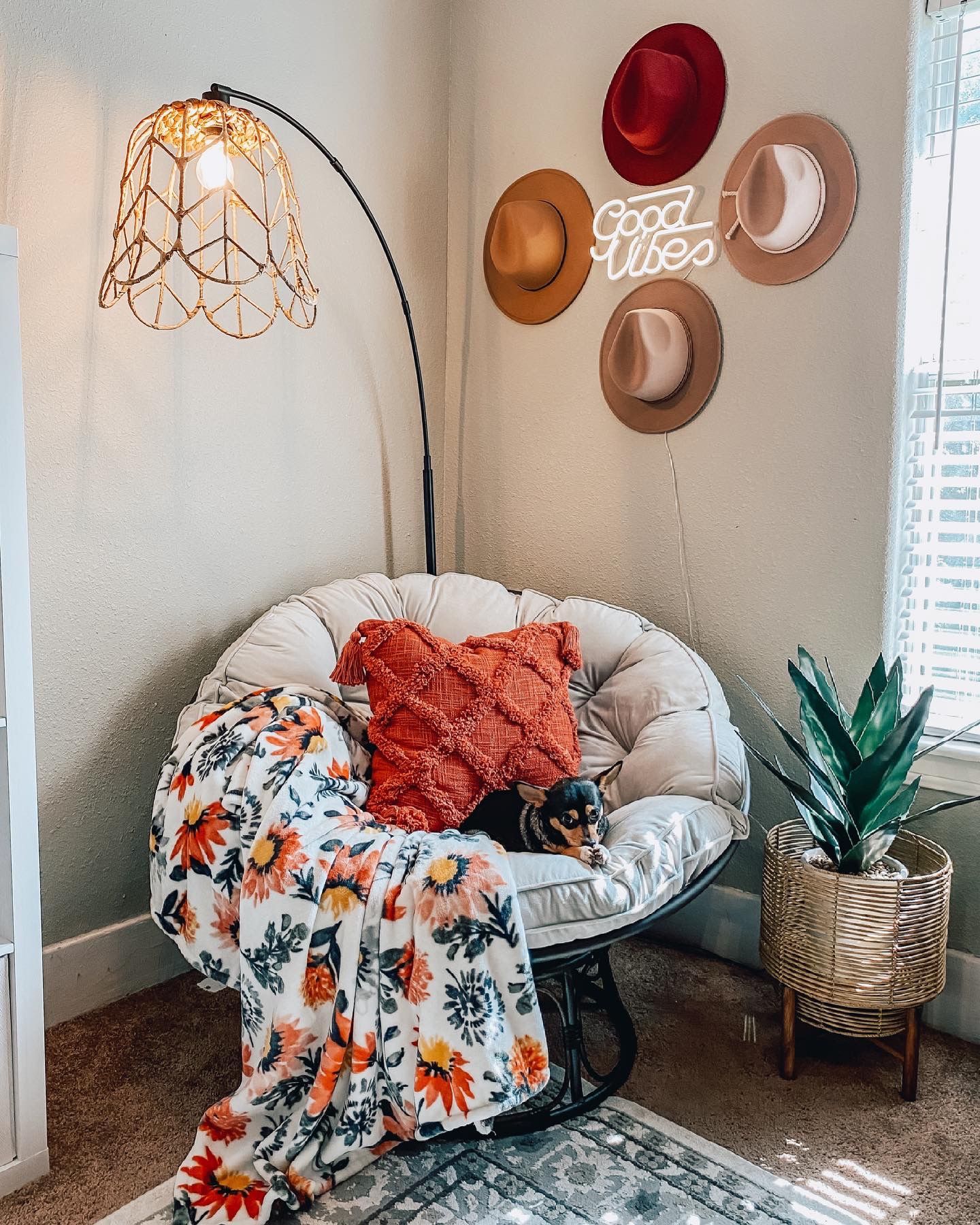 For the decorations in your reading room, install a standing lamp with dim light and an eccentric lampshade. Moreover, you can add some spotlights to your wall for decoration. For more accents, install an eccentric rug that will transform the view on your floor.
16 of 20
Industrial Classic Chairs with Standing Lamp
The Industrial chair with steel frames can bring the classic style. Also, this chair will shift the focus in your room to its leathered upholstery. Since it has a classic impression, you will discover a warm atmosphere through its leather material.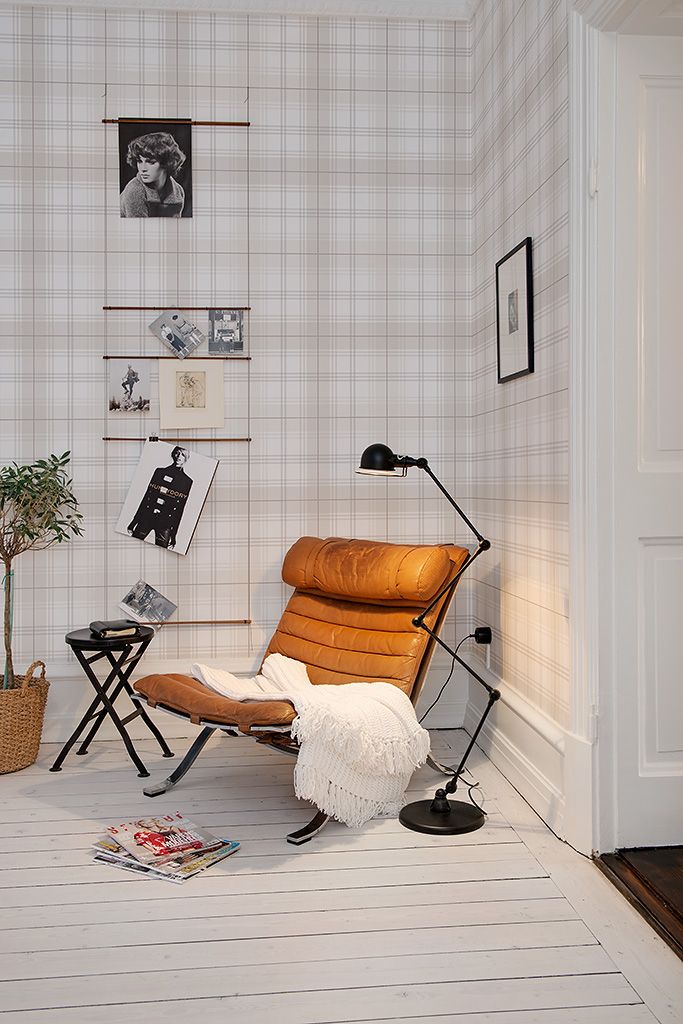 Furthermore, connect this furniture with the interior by having some Industrial accents like a standing lamp, small coffee table, and furry blanket. Besides, always add an ornamental plant to bring an outdoor accent and raw material that will support the Industrial chair.
17 of 20
Lounge Chair with Attractive Accents
The lounge chair commonly has the same theme, but it is okay to match different furniture as a pair. For example, take the leathered chair to match with a black wicker seat. Also, this furniture looks aesthetic because it matches your Bohemian and classic interior. Thus, you can bring more classic accents like the patterned rug and another table.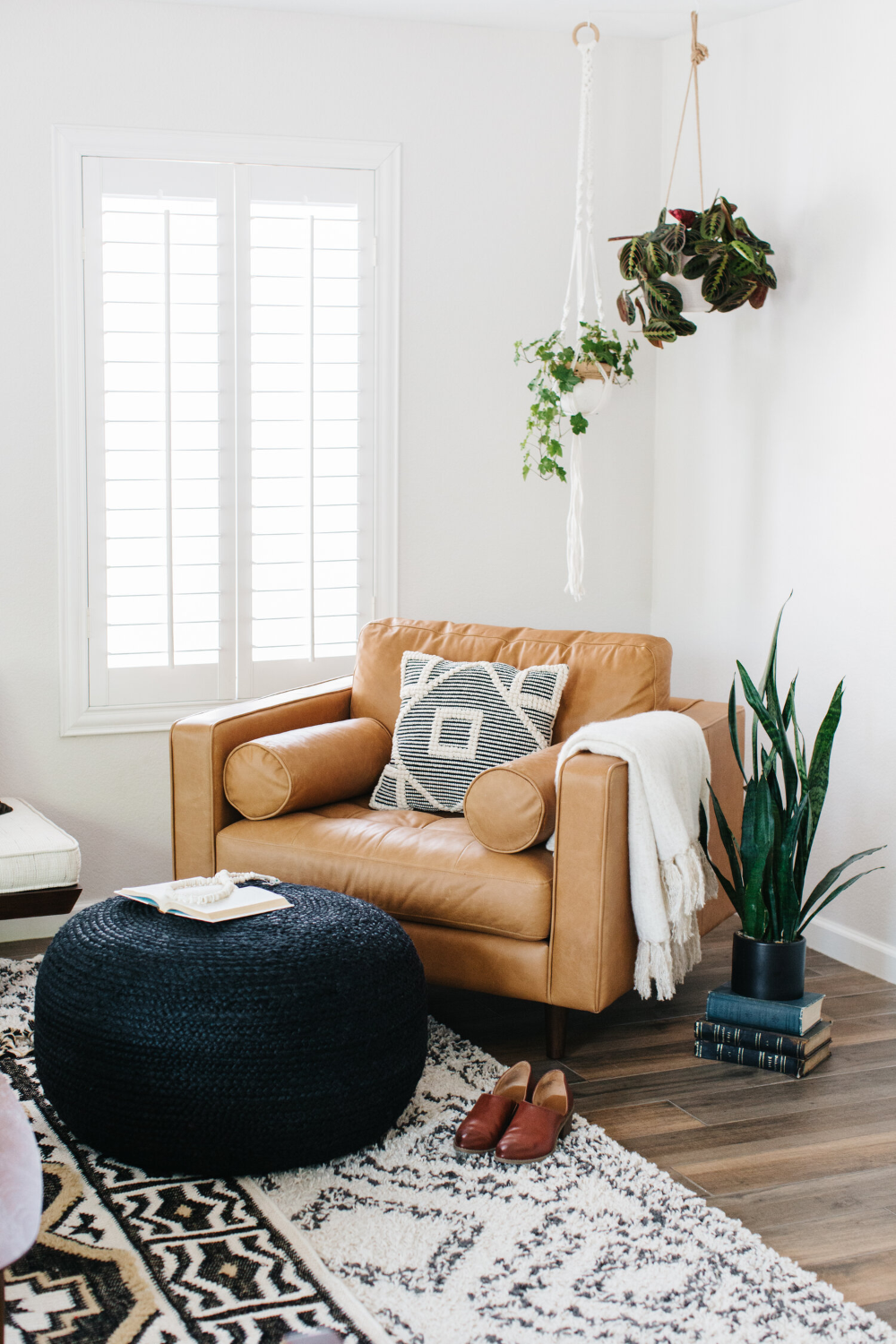 Furthermore, you can adjust this reading chair with some ornamental plants like the praying plants, Sansevieria plants, and English Ivy. It is important to make you feel comfortable in this area and enjoy your book. Thus, create a calming and soothing atmosphere that you will love.
18 of 20
Bean Bag Chair for A Comfortable Seat
The bean bag has a comfortable material that you can bring to a reading room. It feels like a small bed but is cozy to bring anywhere. Thus, having this seat in your reading room will transform the interior. It is also beneficial as your bed to take a nap after a hard reading time.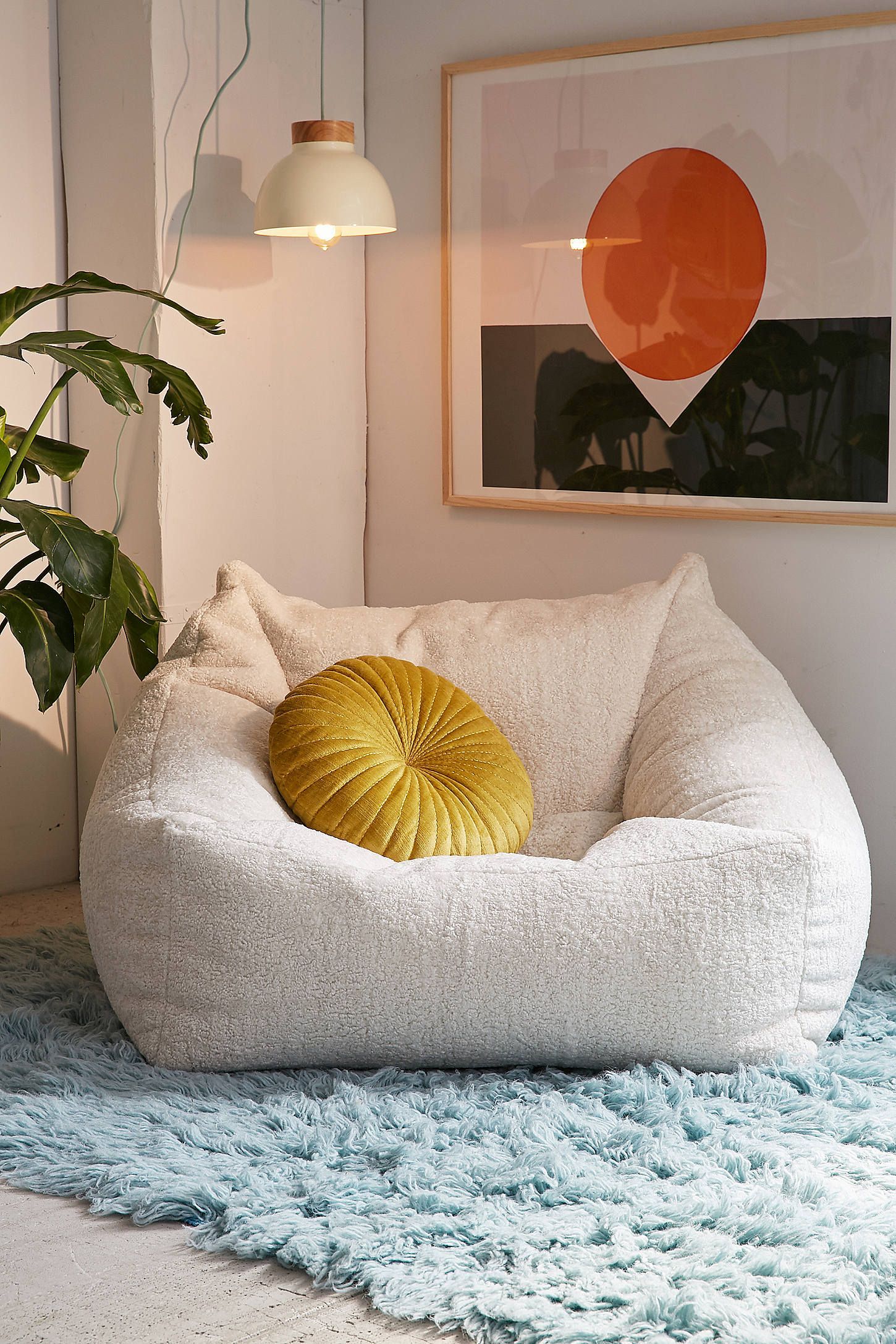 For styling this bean bag, you can put a mustard pillow for a contrasting accent. Also, install a furry rug that will comfy your steps. For the lighting, pick a dim light that won't hurt your eyes. Moreover, you can bring a natural decoration with some green plants and an aromatic room freshener. Thus, you can enjoy your reading time calmly.
19 of 20
Classic Reading Chair for An Aesthetic Nook
The classic reading chair can bring you back to an old era. Despite this, it looks stunning to refresh the interior in your reading room. For the details, it uses leather upholstery with its natural dark colors. Also, it matches a small lounge in this area. To enlighten the classic design, you can install a decorative rug that will change the visual interest of your reading room.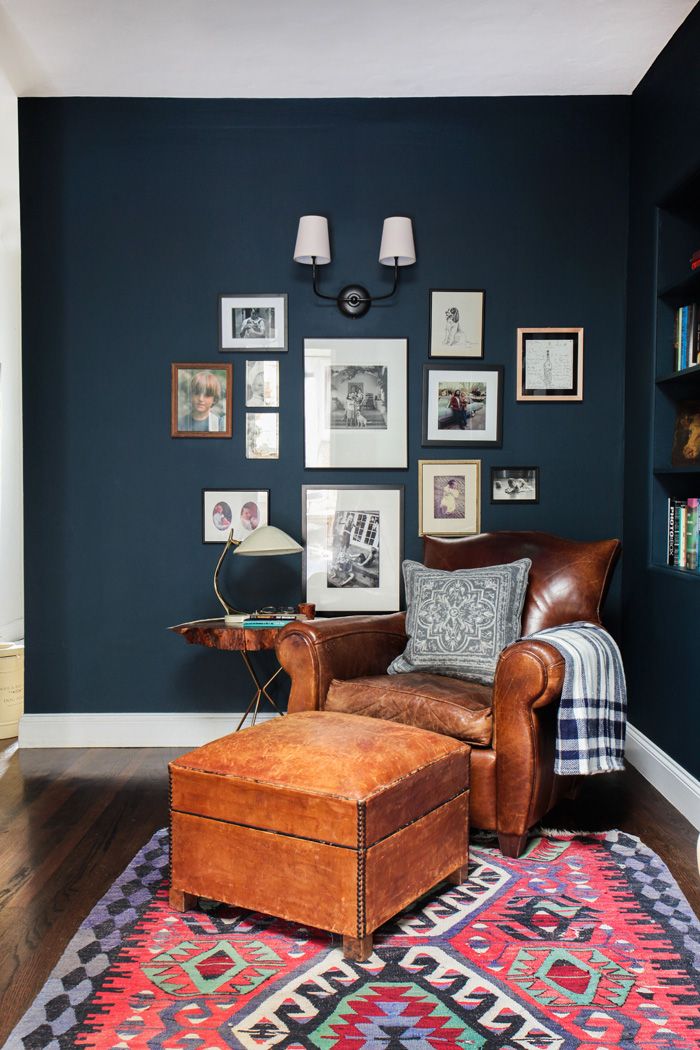 Furthermore, you can enliven a classic atmosphere through the old photographs on the wall. Moreover, hang them in an attractive position to bring an aesthetic view. To complete this reading room, put a wood table with steel feet and a small table lamp.
20 of 20
Thus our discussion of 20 Reading Chair Ideas for A Comfortable Home Library. The reading chair is a must-have piece of furniture in a reading area. It provides a comfy seat, so you can read the books peacefully. Moreover, the attractive design of the reading chair gives a different experience for you. You can also choose and combine the various ideas above creatively for a comfortable home library. In addition, you can also choose cozy furniture that matches the style and interior concept you create. Thus, you can pick the most suitable chair to refresh your reading room. Hopefully, you will find the right one that you will love.