Druhomes.com – The vessel sink is a component of the vanity. This part is important to create a clean design. The vessel sink is made of various materials. It should be a water-resistant material. So, they will bring a comfortable use. If you want to know more, let's see the 19 Vessel Sink Ideas Based on the Materials and How to Find the Right One below!
White Marble with Golden Patterns
Marble is a popular material for home design. Many people use marble to bring an elegant impression. This metamorphic rock is stunning to decorate your house. It offers a natural pattern as a part of the stone. Also, they have a cold temperature when you touch them.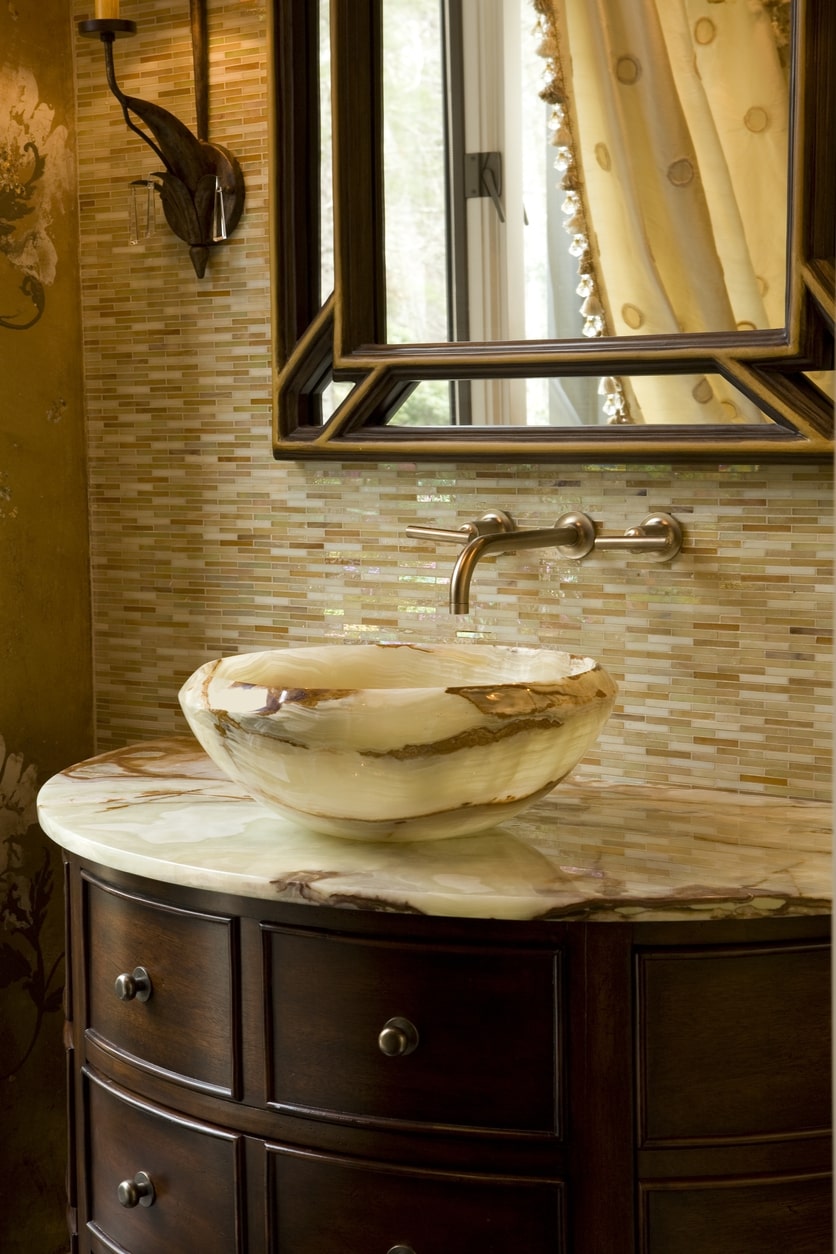 Look at this idea. This vessel sink has an interesting design. It offers a beautiful golden pattern on it.  The marble material matches its countertop. Besides, this room has an elegant impression. Almost all the decors are calm and use neutral colors.
1 of 19
Ivory-White Porcelain for An Elegant Impression
Porcelain is useful for any decor. It is interesting to decorate your vanity. Porcelain is a ceramic material from heating kaolin and constituent materials. This material creates a glossy impression. The white color is a common design of vessel sink porcelain. Also, it is easy to find vessel sink porcelain.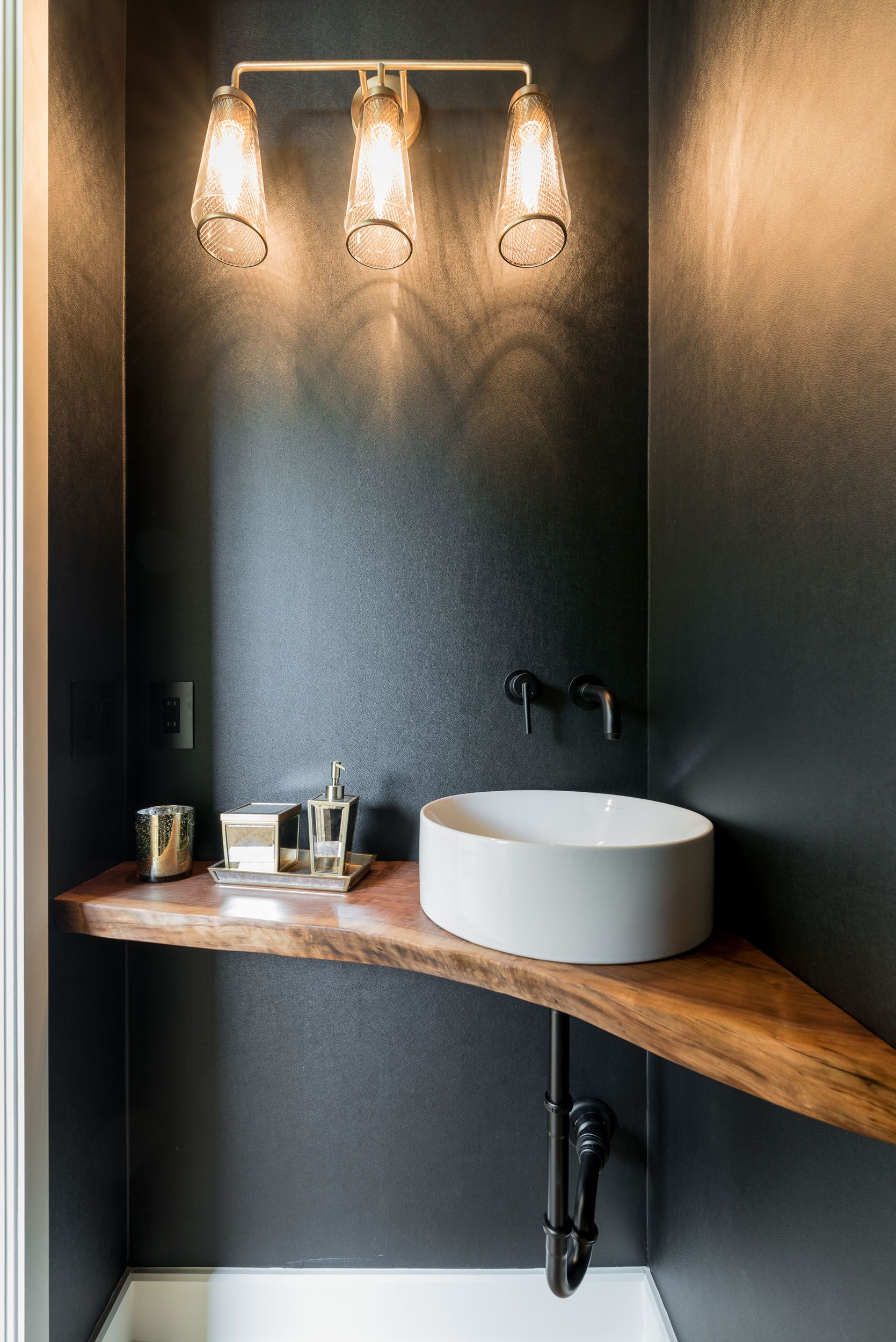 This idea uses ivory-white porcelain. It looks stunning to match the wooden countertop. This vanity area has an Industrial design. The white vessel sink is a contrasting accent for other accents. Besides, the ivory-white vessel sink is easy to install in this vanity.
2 of 19
Decorative Vessel Sink from Porcelain
Porcelain is useful for decoration. Many people use porcelain for bathroom design. This ceramic material is made of some materials like silica, feldspar or flint, and kaolin. Porcelain has a different finish. Some are smooth and others are having patterns.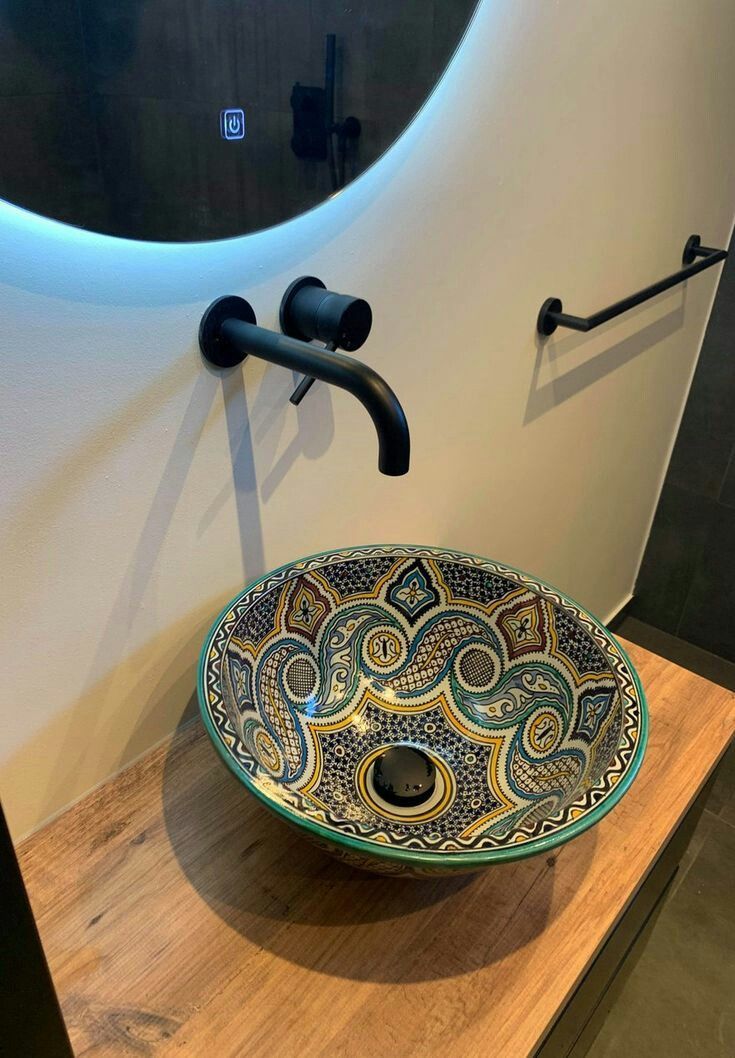 This idea is decorative porcelain. It has an attractive pattern. The decorative porcelain offers many shapes, such as a bowl. This bowl vessel sink will add a striking accent to a countertop. It can tie the look by their colorful patterns. Moreover, this vessel sink is suitable for a traditional bathroom or Art Deco design.
3 of 19
Steel Bucket for A Rustic Vessel Sink
This idea is the cheapest vessel sink. It looks striking by their original look. This steel bucket is functional to replace the broken vessel sink. Also, it is a nice idea to recycle a useless bucket. It can strengthen an Industrial impression of the bathroom.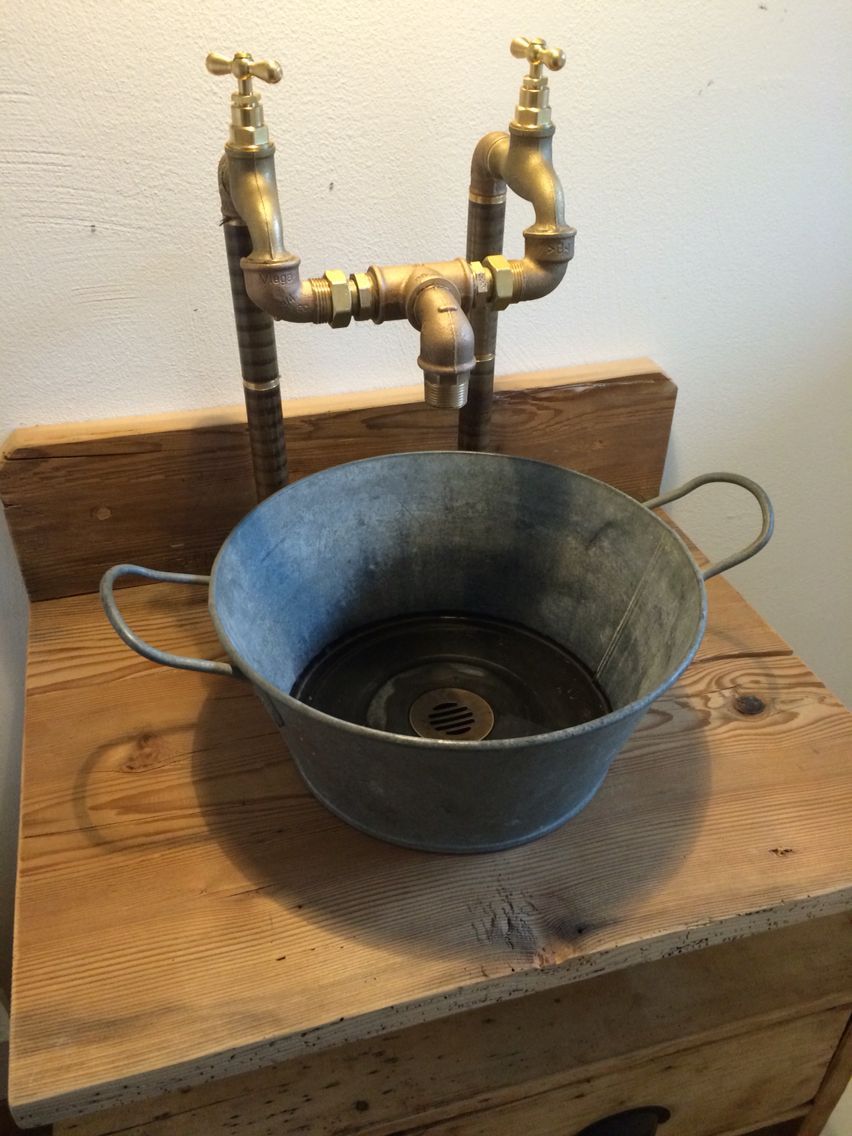 Besides, this vessel sink is hand-made. You can make it at home, or bring the bucket to a designer for a little modification. Then, match this design with other decors. For example, use the pipes to replace a faucet. Put some colors on it, so they will be brand new. Besides, use a wood countertop for perfect matching.
4 of 19
Textural Glass Bowl as Vessel Sink
This is a textural glass bowl. It is heavier than another glass vessel. This vessel sink has various colors. So, you can find the perfect color to match your vanity. Like other glass materials, this vessel sink has a transparent design. So, they can reflect light and declutter the vanity countertop.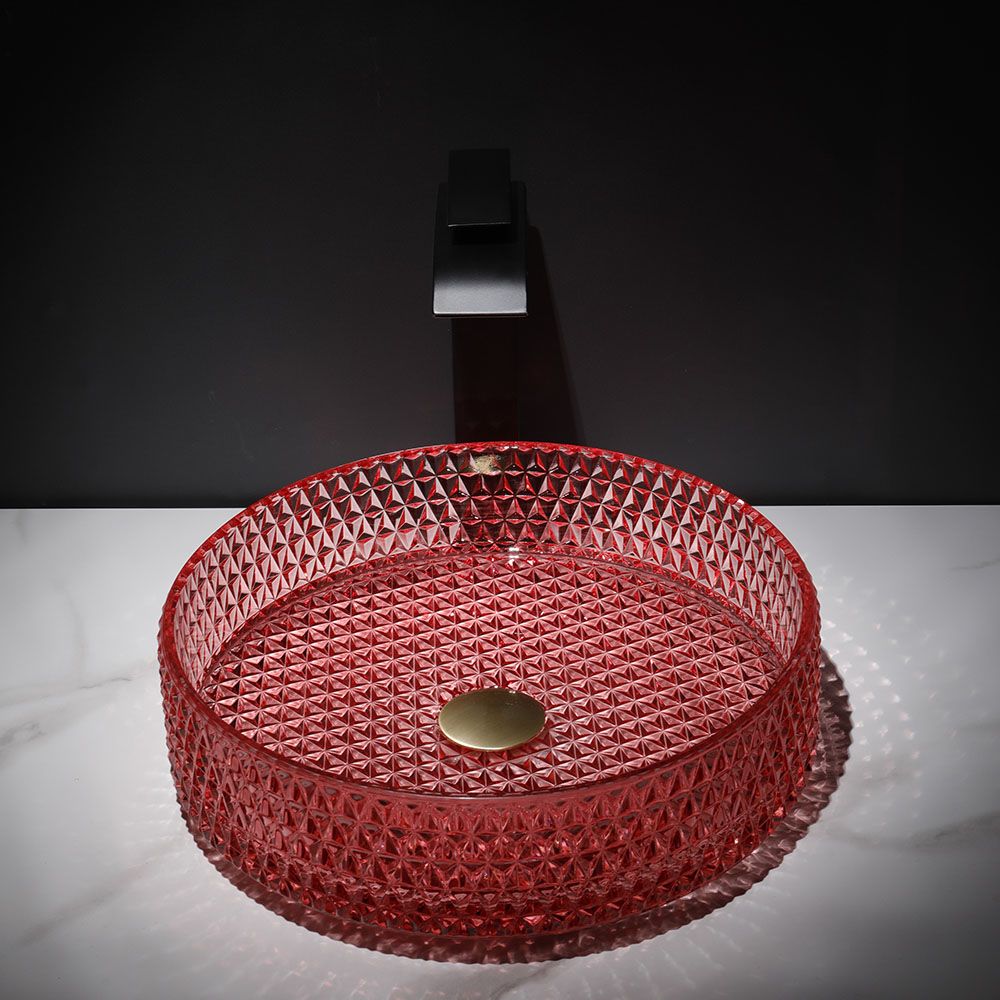 The textural glass bowl will be a catchy accent. It represents modernity and simplicity. Also, this bowl is useful to emerge a classic impression. Some textures are different and based on the bowl designs. The texture can affect the impression as well. Ensure to find your favorite textural patterns, if you want to take this vessel sink.
5 of 19
Copper Vessel Sink
Copper material is made of chemical ingredients. It has a soft, ductile metal, and malleable finish. Also, copper is electrical conductivity. Like stainless steel and metal vessel sinks, it has a strong texture. It is interesting to decorate an Industrial bathroom.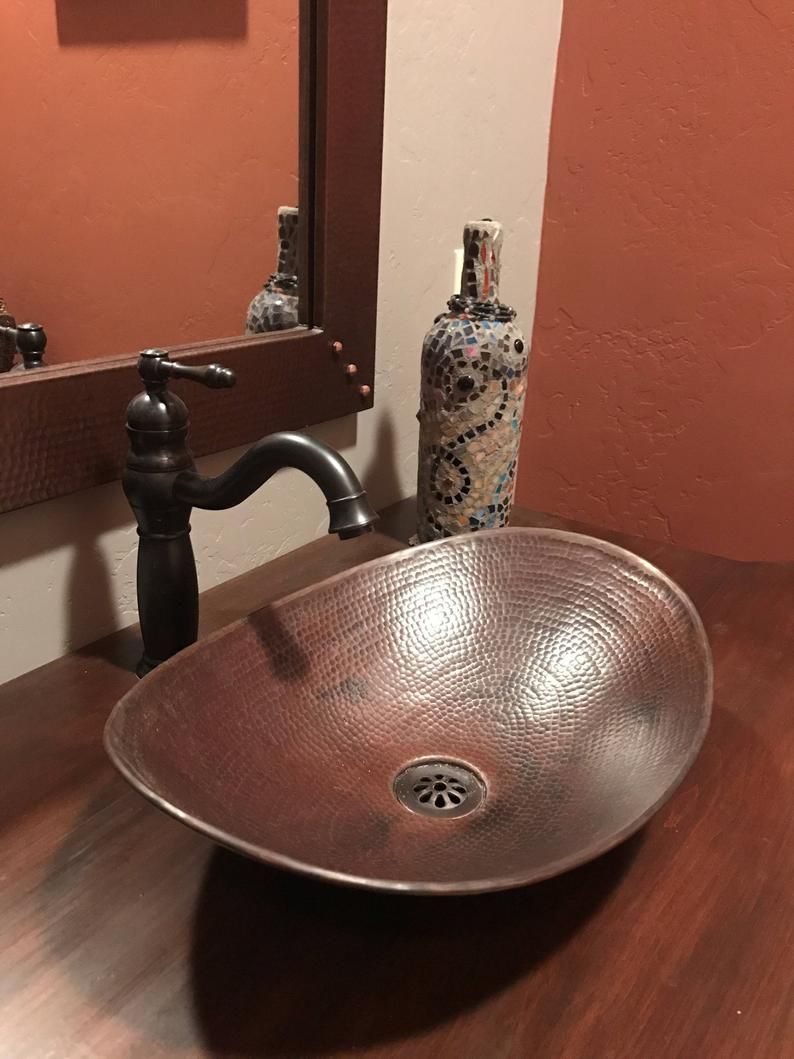 Look at this idea. The copper vessel sink has fish fin-like patterns. It is a textural pattern, so you can feel it when touching the surface. Like a glass material, it can reflect light too. This copper vessel sink brings a warm impression to the vanity. So, you can see their color as a basic theme in a vanity area.
6 of 19
Decorative Polymer
Polymer is a natural or synthetic substance composed. It uses very large molecules. This material is useful to create many things, like a vessel sink. They will bring a clean and neat design. Also, the polymer vessel sink is easy to clean.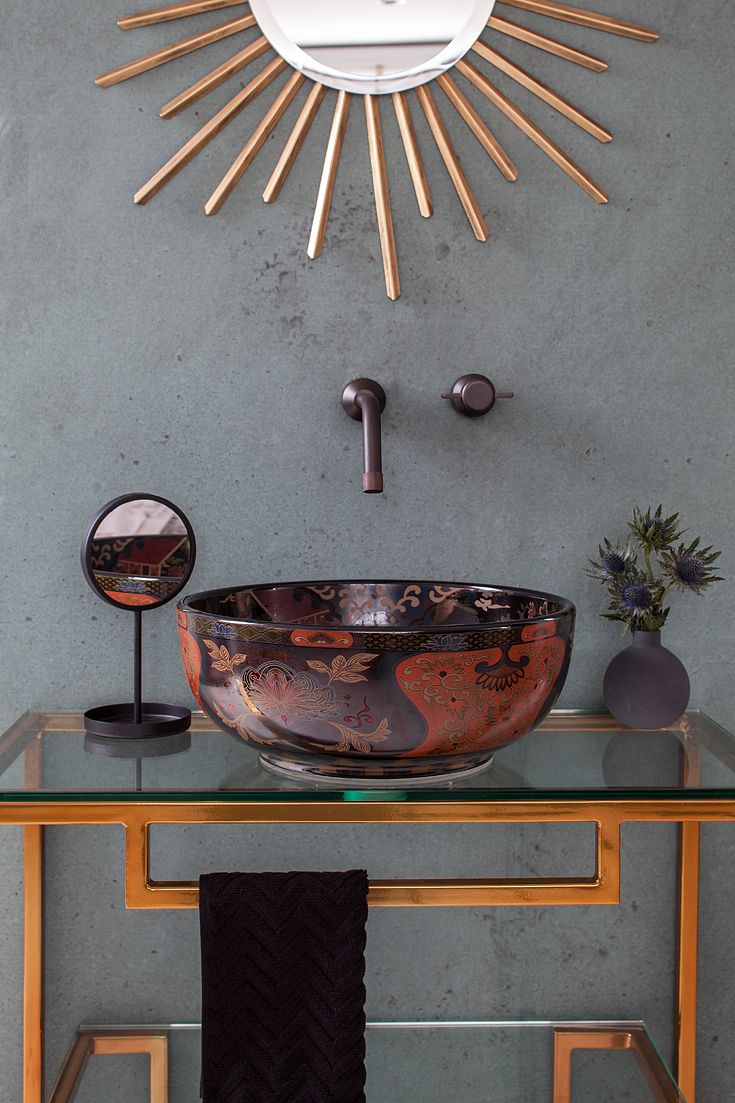 Also, they offer an attractive design, like this idea. It has a colorful pattern. This vessel sink is large and dominates the vanity. Their fascinating design is stunning to improve a classic atmosphere. The brownish red is a stylish theme. It looks perfect to decorate an Art Deco bathroom vanity.
7 of 19
Stone Vessel Sink
The stone vessel sink is made of the original stone. You can find this material in nature, like mountains, beaches, and rivers. This material has a natural impression and raw texture. The rough texture is important to emerge an outdoorsy touch. Even, you will feel a natural atmosphere from the first gaze.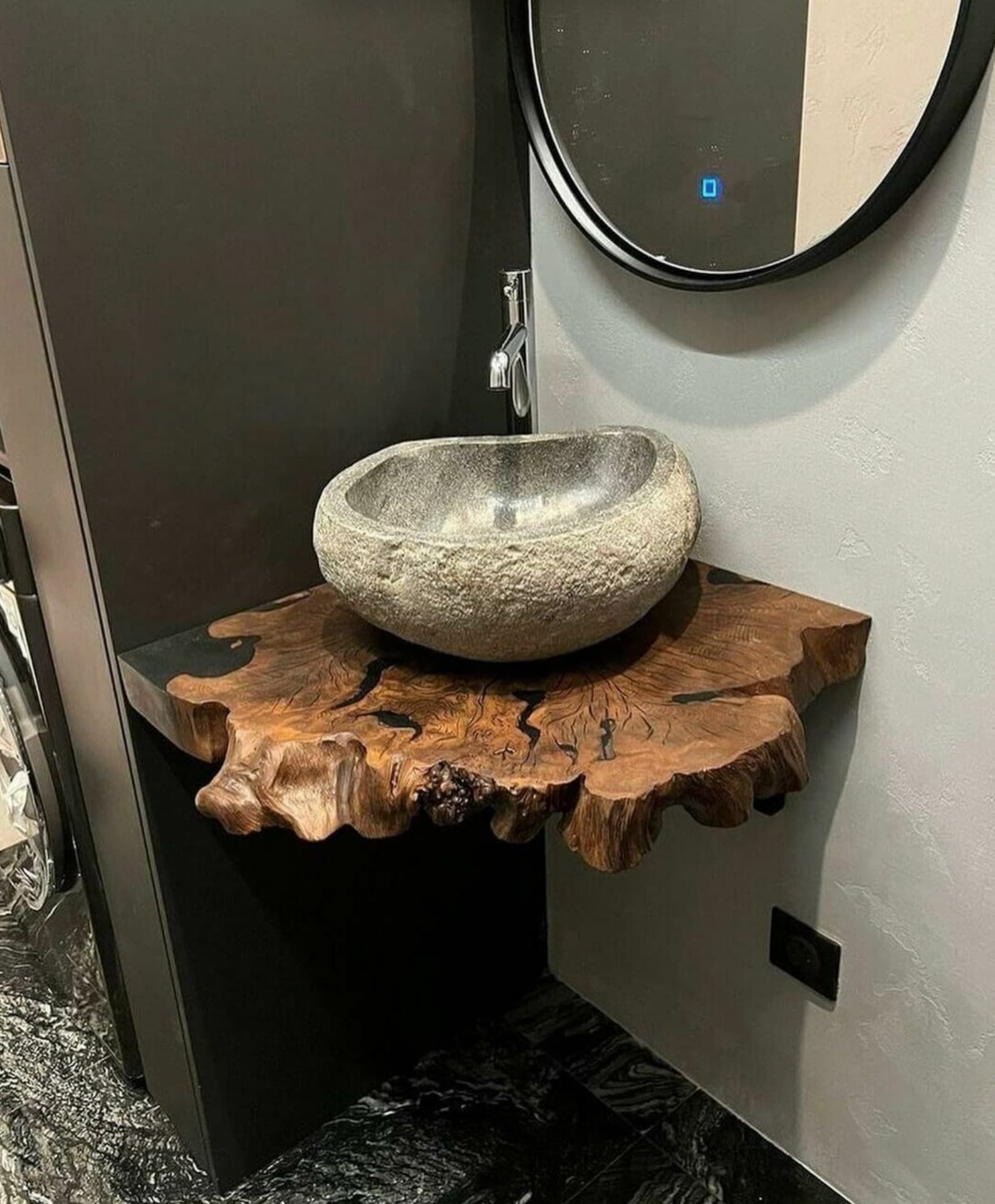 This stone vessel sink is fascinating on a wood vanity. The countertop uses a timber slice with rough textures. It even has its natural shape and pattern. These materials are bounding nature together. This idea will elevate a pretty interior.
8 of 19
Metal Bowl for Industrial Vessel Sink
Metal is one of the electrical conductors. This material is strong and compact. Some people use a metal vessel sink for their vanity design. It matches an Industrial and Rustic bathroom vanity. Their original appearance will emerge with a raw atmosphere.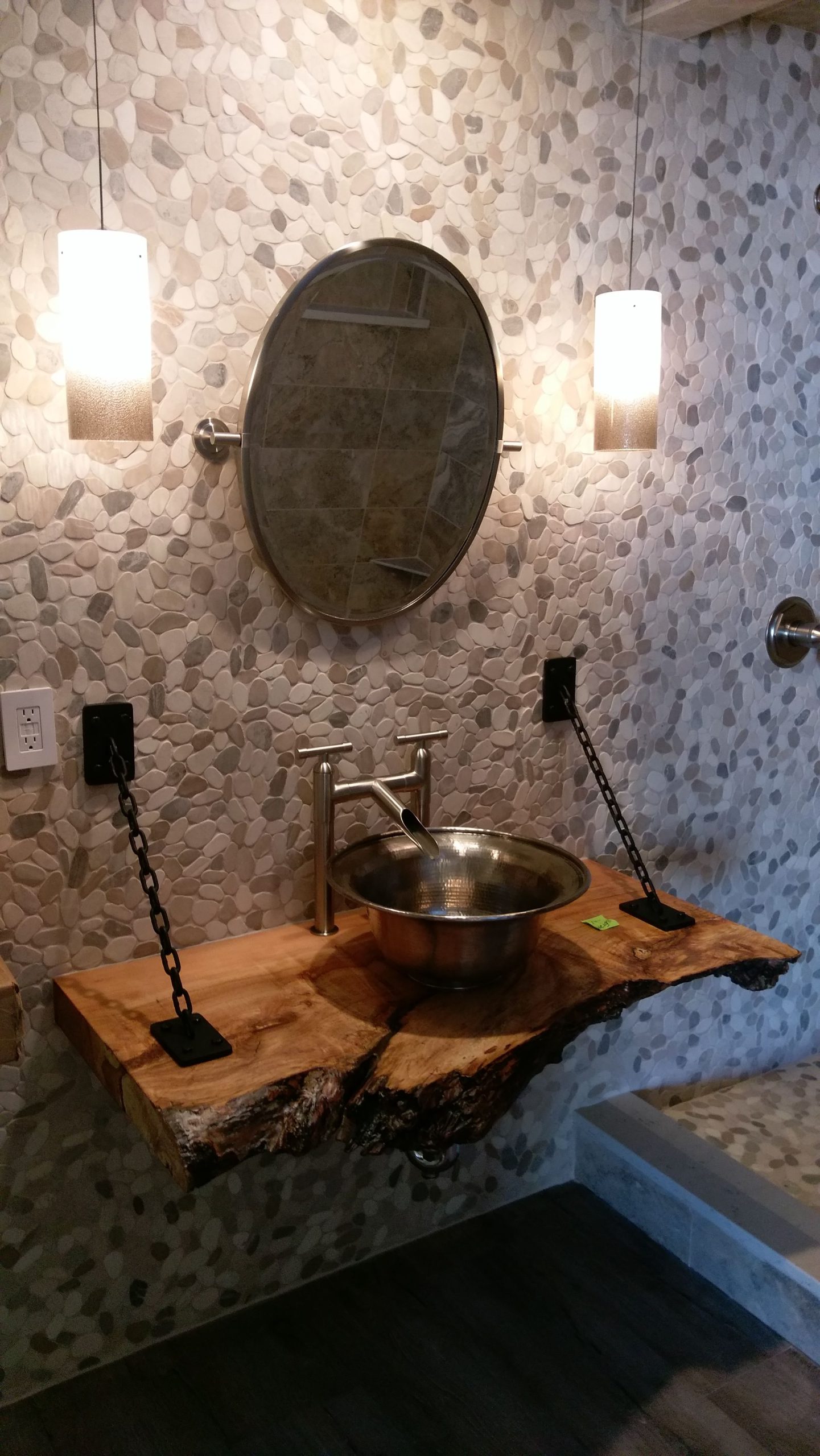 Then, look at this idea. It uses a metal bowl as a vessel sink. It has a metallic color and an ordinary appearance. This vessel sink is more interesting with the design around it. There are metal faucets, a wood countertop, and a black chain. In addition, the dim lights in this room will support the Industrial nuance.
9 of 19
Echo-Friendly Grey Vessel Sink
You have many eco-friendly materials that you will find in any country. This material is made of granite composite. Some producers use granite composite to create a vessel sink. It offers many designs that you will love. The common design is a double-layered vessel sink.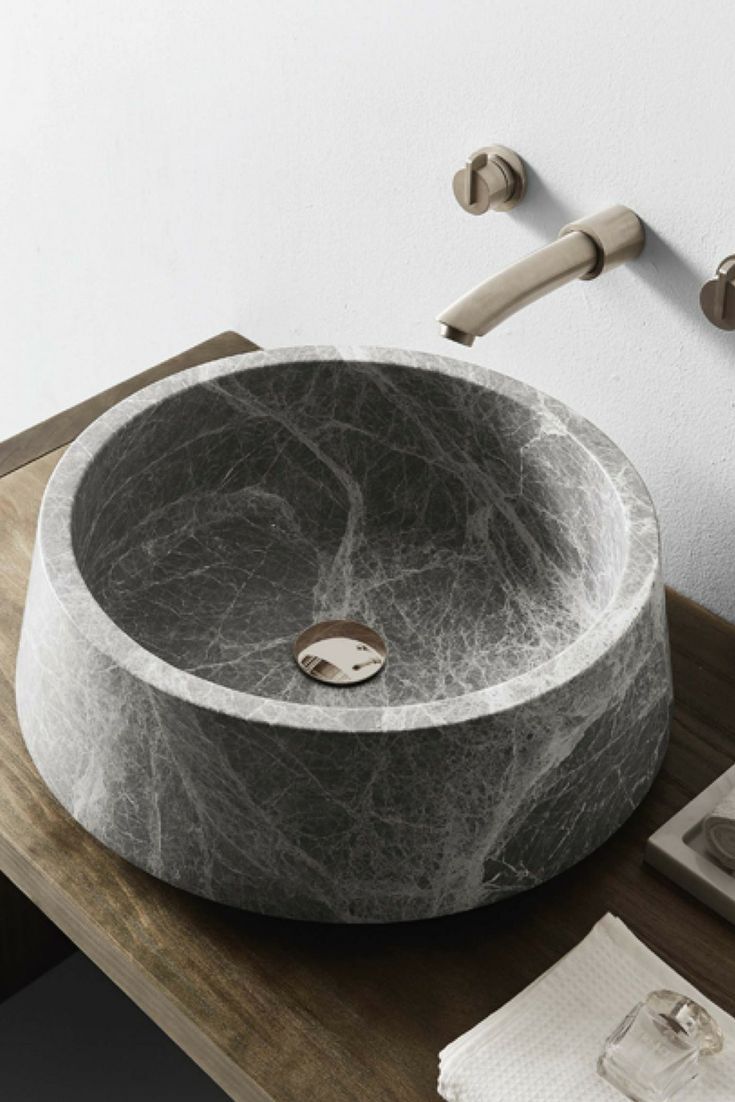 Let's see this idea. This vessel sink has grey color. It is a granite composite with white shade patterns. This decor fits any room design. The best accents for this vessel sink are gold and timber. Thus, you can use a timber countertop for this echo-friendly vessel sink.
10 of 19
An Antique Dough Bowl as A Vessel Sink
A dough bowl is a popular vessel sink. It offers a wide design with a natural-like impression. The dough bowl is made of materials like stainless steel, rattan, and silicone. It has a strong texture. Also, this vessel sink is easy to combine with other materials, such as pipes.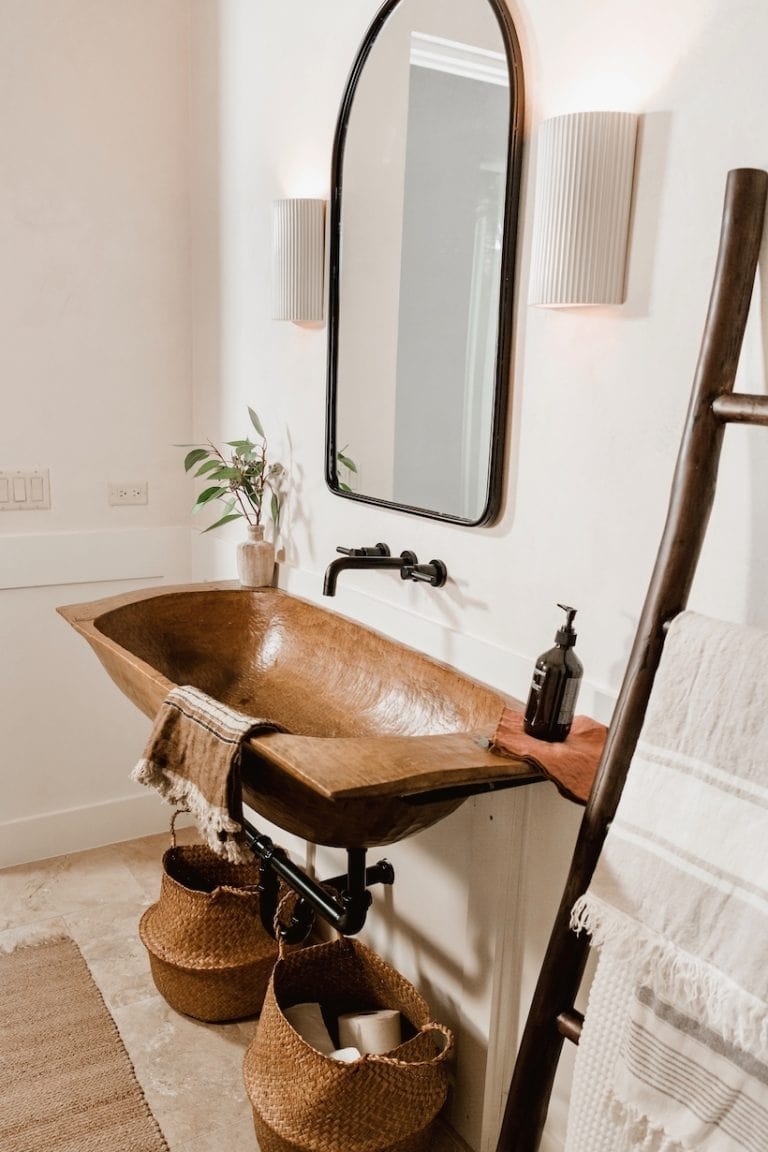 This idea has a traditional impression. It looks natural with a brown vessel sink. Moreover, it uses black pipes to create contrast. This vanity area has an Industrial design. It is more catchy to add other natural accents. For example, there are a green plant and a wicker basket.
11 of 19
Long Wooden Vessel Sink for A Farmhouse Design
This is a natural vessel sink. The wooden material is the main material. It has a natural brown color. Also, the timber patterns are stunning to decorate the vanity area. The wood material can fit any decor. It brings a warm impression to the room.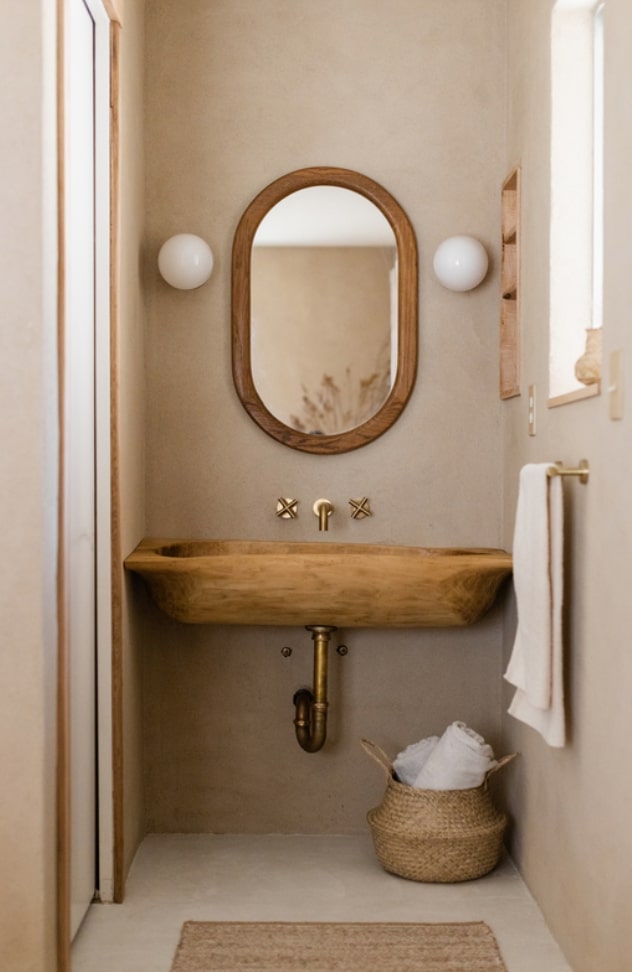 Moreover, you can use wood material as the focal point. It matches golden accents, like golden faucets and golden pipes. Also, this vessel sink will shift your focus in this neutral bathroom. It brings a spacious impression to the surrounding. In addition, install a few wall lamps to reflect the natural color of the timber.
12 of 19
Transparent Glass Vessel Sink
Glass is a versatile material. Most people use it for any design in a house. The glass vessel sink is one of the useful designs for the bathroom. Their transparent design is stunning and fits any ornament. It also brings a spacious impression to the room.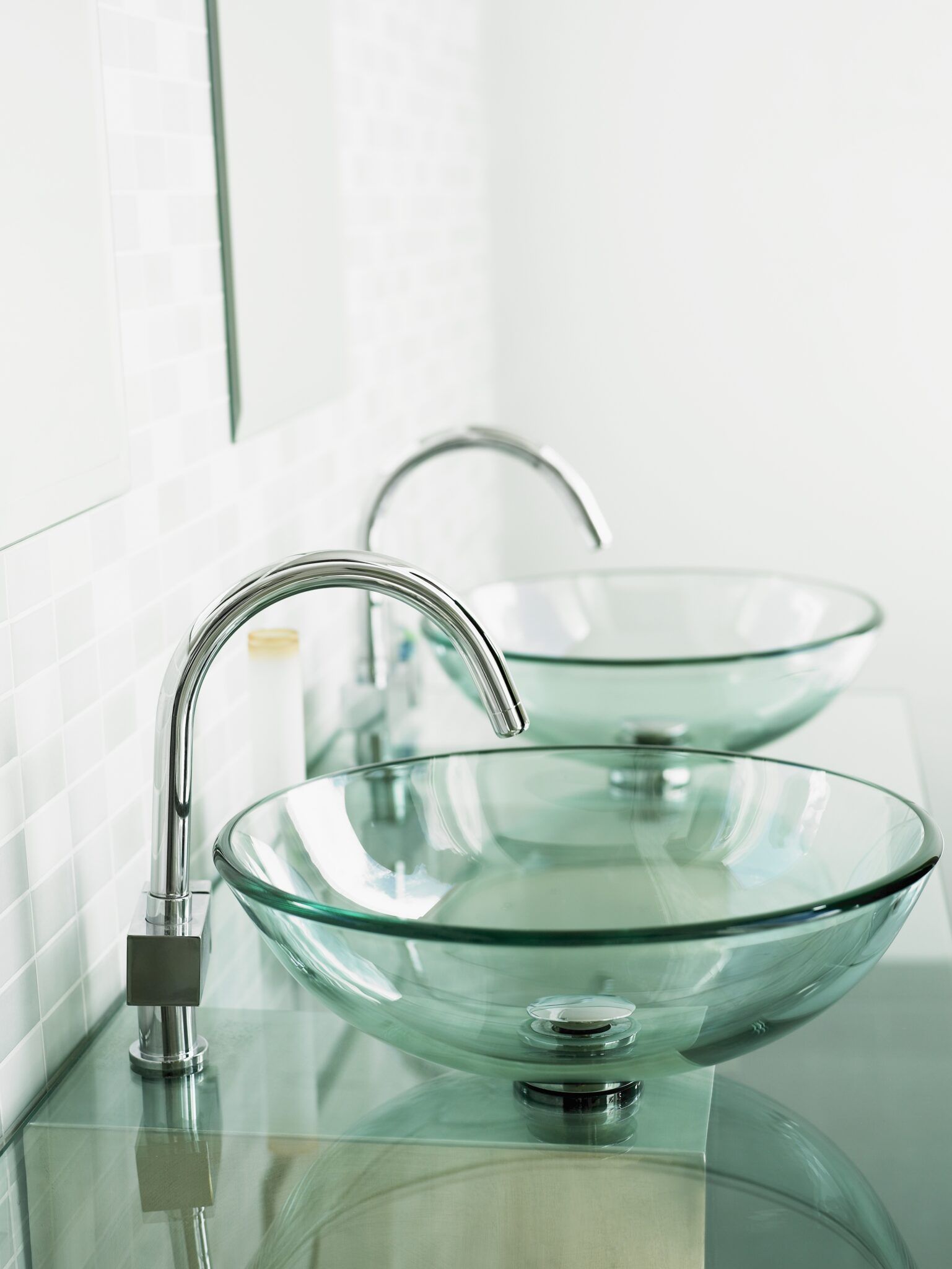 Besides, the glass material is easy to clean. You don't need to use a cleaning solution to take off the dirt. Even, you can use a wet cloth to wipe the vessel sink. Moreover, this glass vessel sink has myriad colors. You can choose an attractive color to create a catchy design.
13 of 19
Black Porcelain Vessel Sink with Antique Style
Porcelain is functional. It is a versatile material that looks good in any color. For example, this vanity uses a black porcelain bowl as a vessel sink. It looks on point when matching with vanity. The glossy finish is interesting to tie the look.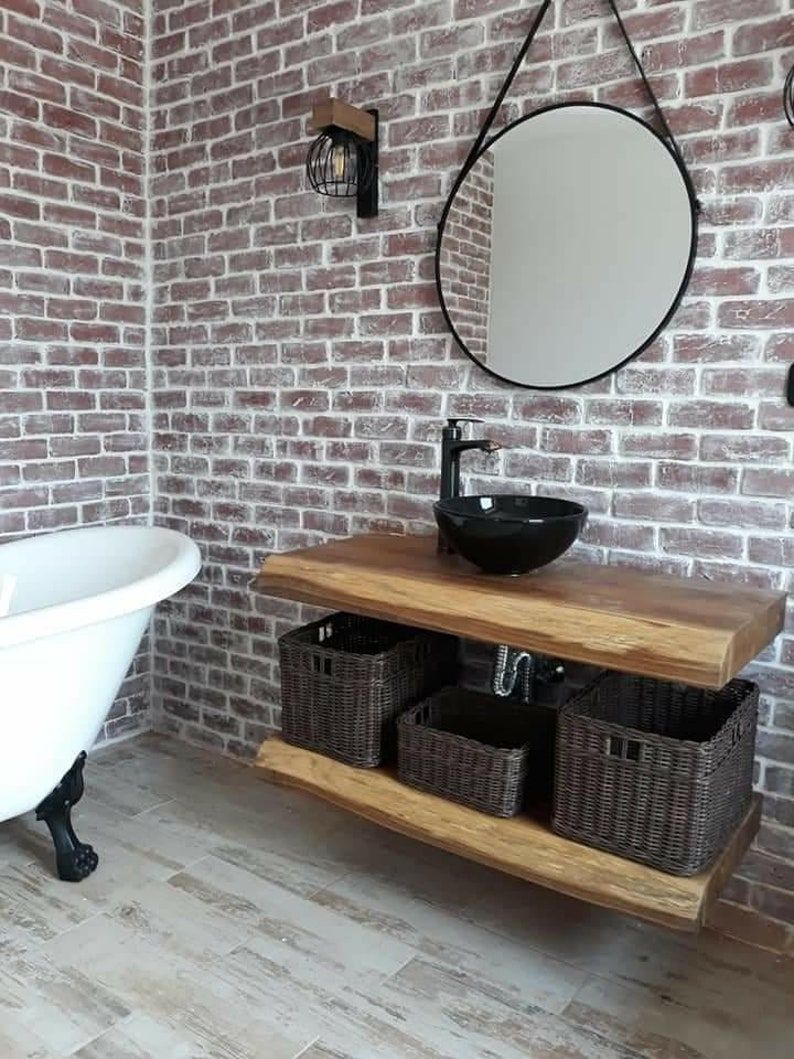 This vessel sink is a perfect match for an Industrial bathroom. Look at this idea. The black porcelain is a contrasting accent on a wood countertop. This bowl sink will complete other black accents, such as a black faucet, black mirror, and black wall lamp. Moreover, add more dark accents, like dark brown baskets.
14 of 19
Faux Material for A Natural White Stone Nuance
A raw accent in a bathroom is interesting. It will bring a natural impression to the room. For example, you can remodel the vessel sink by using stone or wood material. This idea uses a white stone vessel sink. It looks stunning to be a focal point. This rare accent will attract attention to the bathroom.
Moreover, you don't need to use the original material, because some stones can invite moss. Thus, you can take a faux material for your stone vessel sink. It is a synthetic material with a stone appearance. In addition, this vessel sink can bring an outdoorsy touch. Also, complete the natural design with other materials, like wood.
15 of 19
Stainless Steel Vessel Sink that Won't be Rust
Stainless steel is a versatile material. You can find this material in every home. Stainless steel is useful to be your vessel sink. This material is hard to get rust. Thus, it will be your favorite material in home design.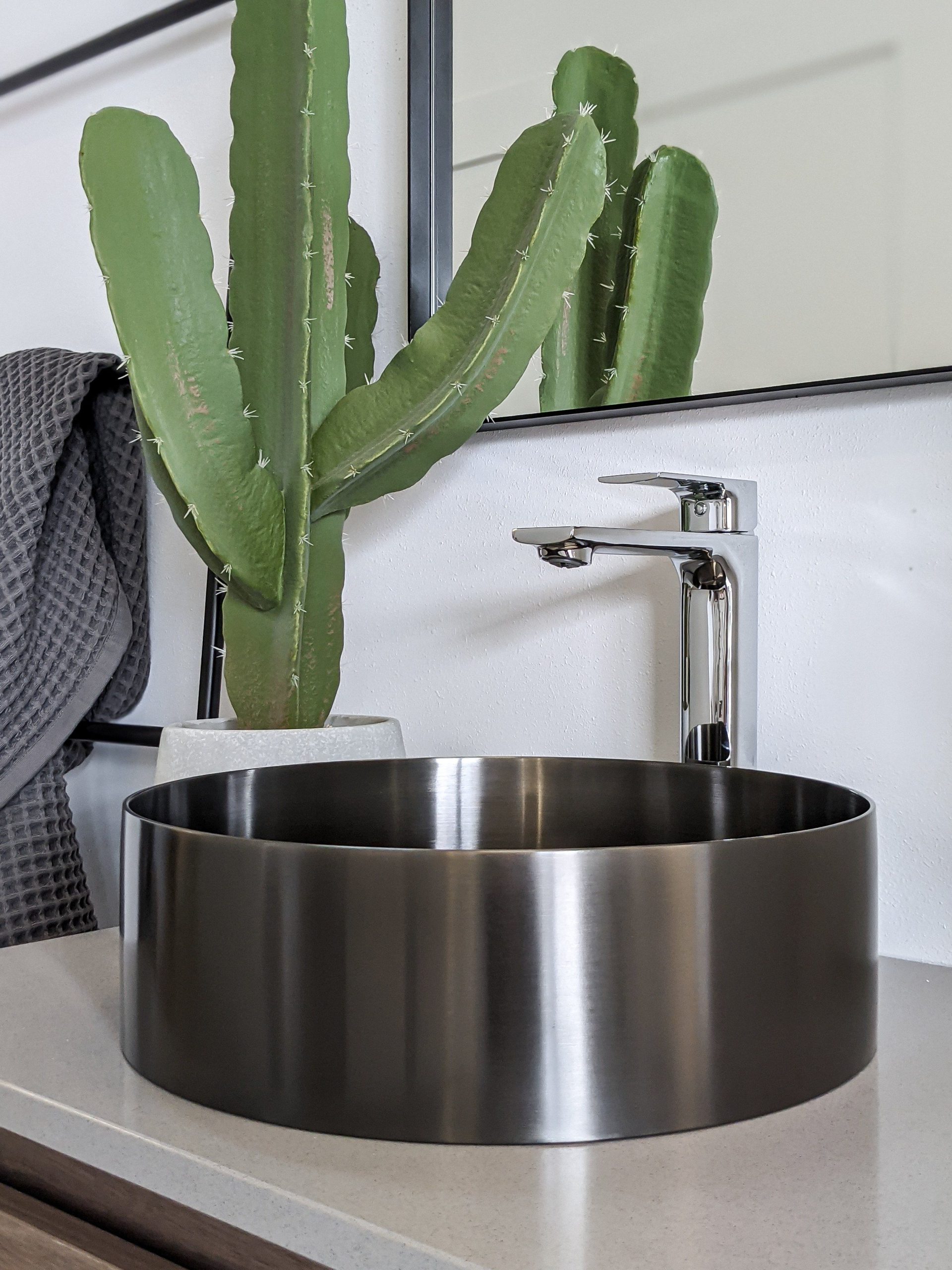 This material will bring a modern impression. It has a glossy impression in its metallic color. Most stainless steel accents are stunning to match any design. For example, this vanity uses a grey faucet. It looks good to match the stainless steel vessel sink.
16 of 19
Stone Forest with A Long Shape
The material from nature will add an outdoorsy touch. It offers a real texture and an interesting appearance. This vanity uses a long forest stone. It has a dark grey color. This accent has a natural cold of stone. Also, it matches other materials.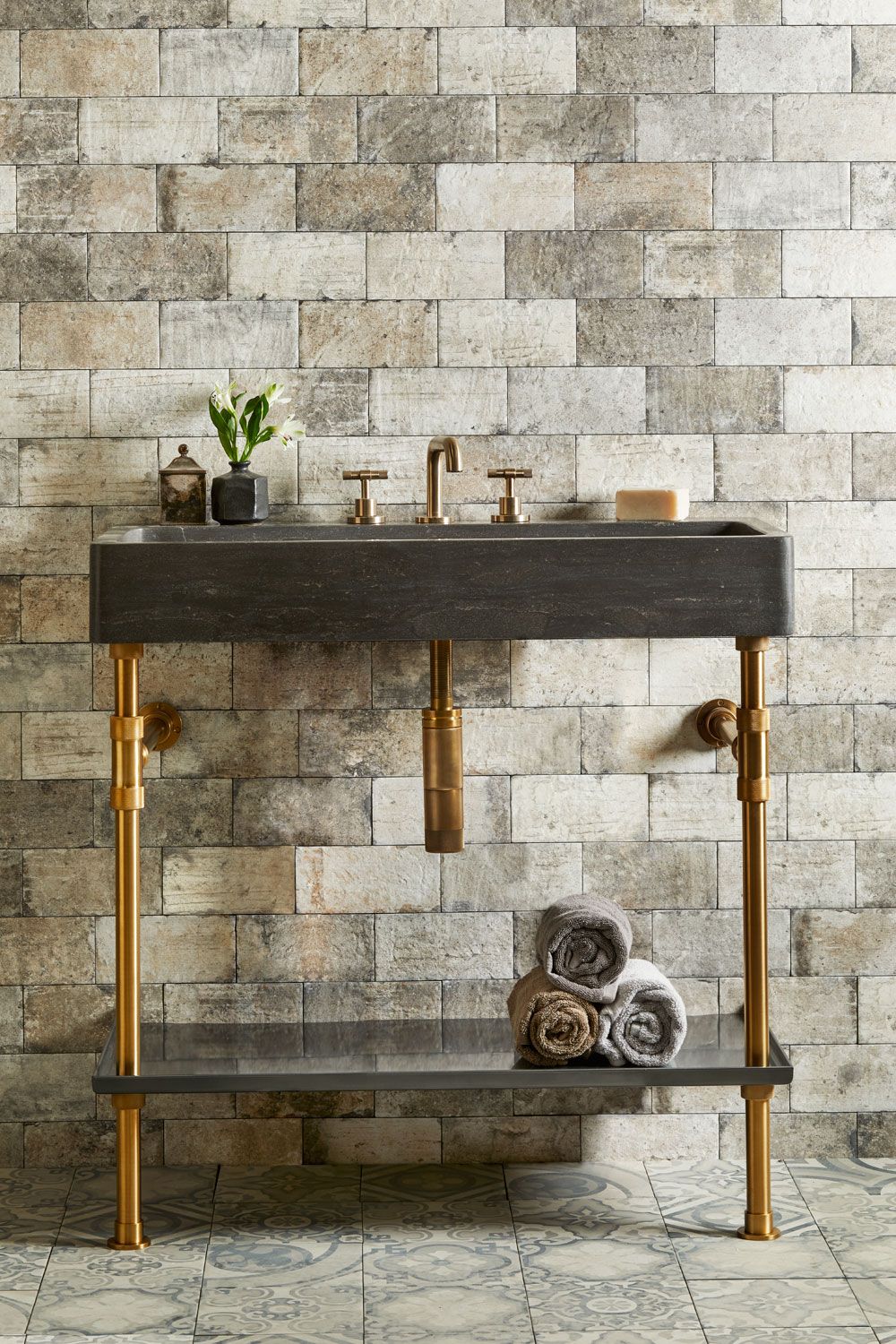 Stone forest vessel sink has a rectangular shape. The dark grey and golden accents are a nice combination. This vanity has golden feet and a golden faucet. Also, it has a glossy tray beneath the vanity. These colorful accents are interesting to put against the neutral stone wall.
17 of 19
Granite Vessel Sink Inside the Wooden Container
The granite material can bring a cold atmosphere. It has a smooth texture and an interesting design. Also, granite material is a popular accent in a bathroom. Some designers use granite material as bathroom tiles, vanity, and a little accent. Their original look will bring an attractive appearance.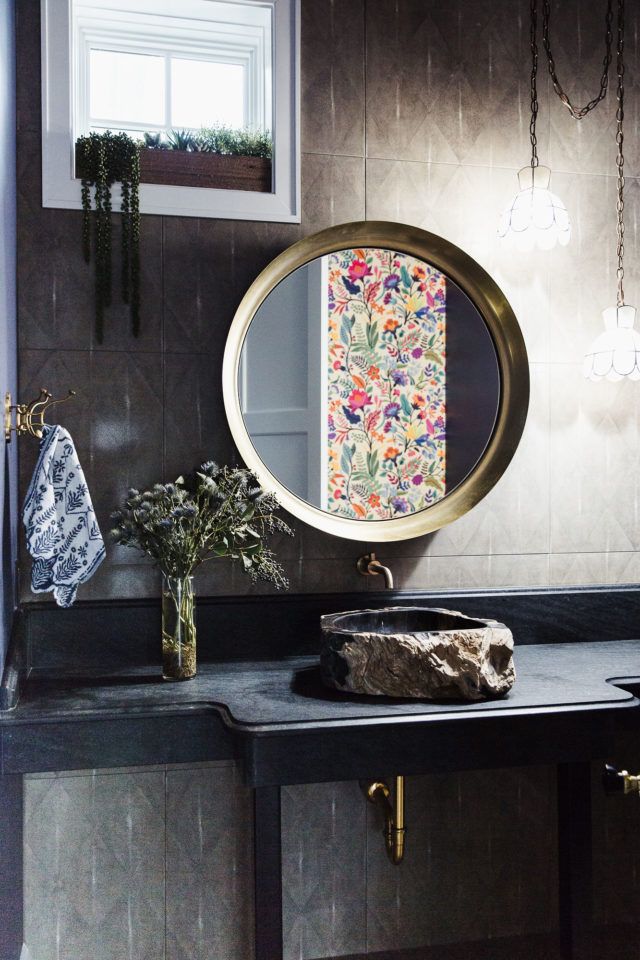 Look at this idea. It is a nice combination between granite and wooden material for the vessel sink. The granite bowl fills the wood container. Even, the wood container has a natural texture. Their raw appearance will boost the natural atmosphere.
18 of 19
White Porcelain as Vessel Sink
It is ordinary white porcelain. This vessel sink is useful to bring simplicity. Also, it completes the vanity without an excessive design. This design has a rectangular shape. Thus, it will bring a neat and clean design.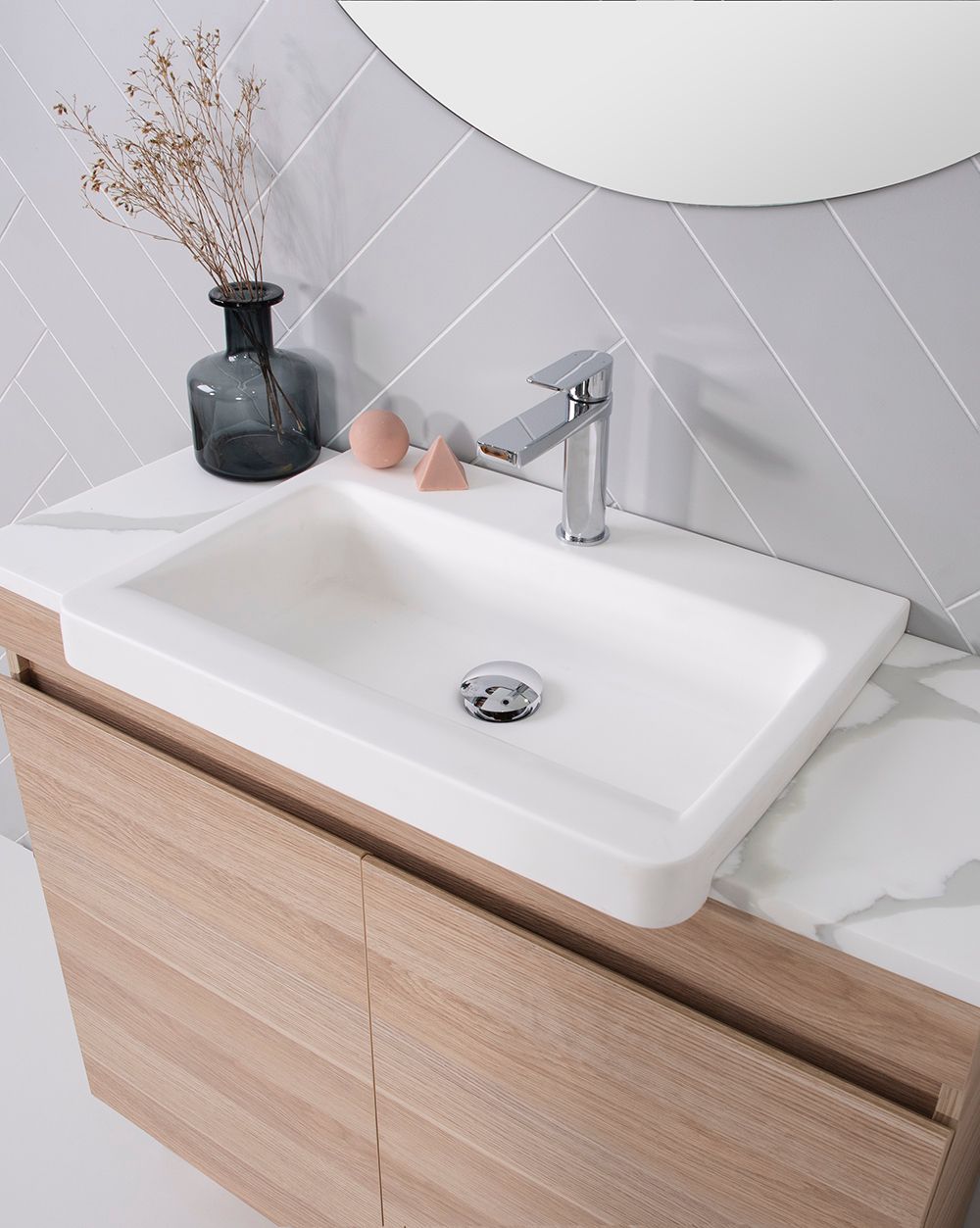 Like other vanity designs, this rectangular vessel sink will prevent the water sprout in any direction. You can display a few necessary things on the countertop. For example, add an ornamental plant and a room humidifier. Also, having some toiletries on it is interesting.
19 of 19
Thus are the 19 Vessel Sink Ideas Based on the Materials and How to Find the Right One. Some ideas have the same material, but it offers a different nuance. Every material is functional. The most important thing is always cleaning the vessel sink. It will keep the vanity area clean and prevent moss or other crusts to emerge. Hopefully, this article is helpful for you to determine the best material for a vessel sink. Good luck and enjoy your design!