Druhomes.com – The gaming setup is a part of creative home design. It has various designs with interesting elements like lighting, LED lights, and ornaments. If you have a gaming room, you need to prepare the gaming setup. Then, it is easy to use the appliances and more enjoyable, while playing your favorite game. Read this article to find the 18 Gaming Setup Ideas that Will Improve Your Creative Room.
Monochrome Gaming Setups
The first idea is the monochrome theme. This gaming setup is simple and fits any room. Even this small room fits well with the design. There is a white gaming desk with storage. This desk is large, so it can load two big monitors and a big speaker.
The middle part is for the keyboard and mouse. The twin monitors are curvy and interesting. Look at the combination of white and black. The gaming chair fits well on the white desk. It has a flexible backrest and brings a comfy seat.
1 of 18
Add More Indoor Plants
The indoor plant is a fresh accent in a home design. Most people thrive the indoor ornamental plants to invigorate the atmosphere. This design has many small indoor plants. There is a vertical wall shelf that loads the plants.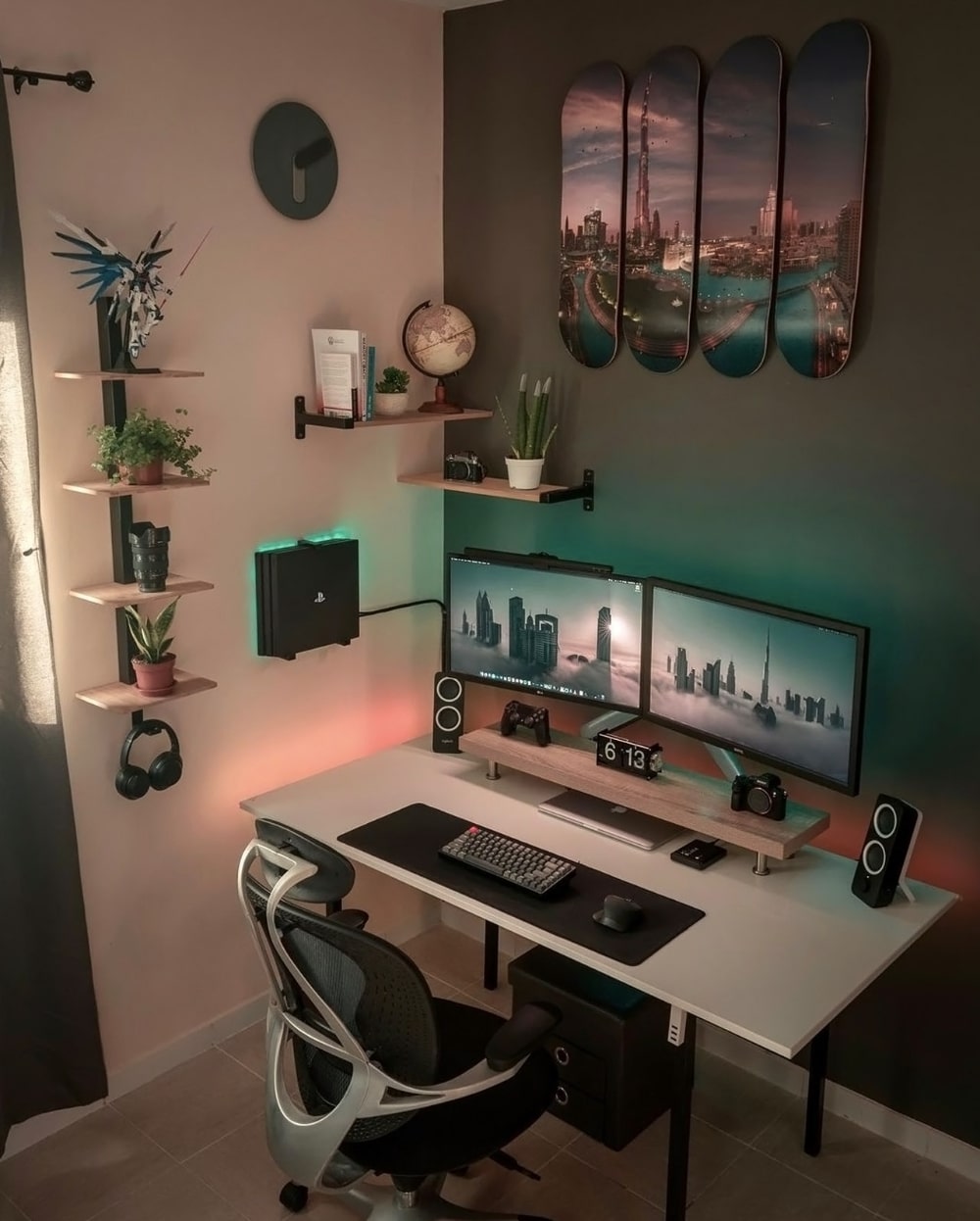 You can install a wall shelf for plants in a certain place. Thus, the plant will be an oasis to switch your focus from the monitor. You need a break when playing games, so the plants will invigorate your room. This gaming setup is neat because it uses a large gaming desk that loads big items.
2 of 18
Classic Style
The classic style is a popular design to get an old atmosphere. The combination of colors and furniture is important for this room. Look at this gaming chair. It is a comfortable leather chair. This seat has a classic design that enlivens an old nuance.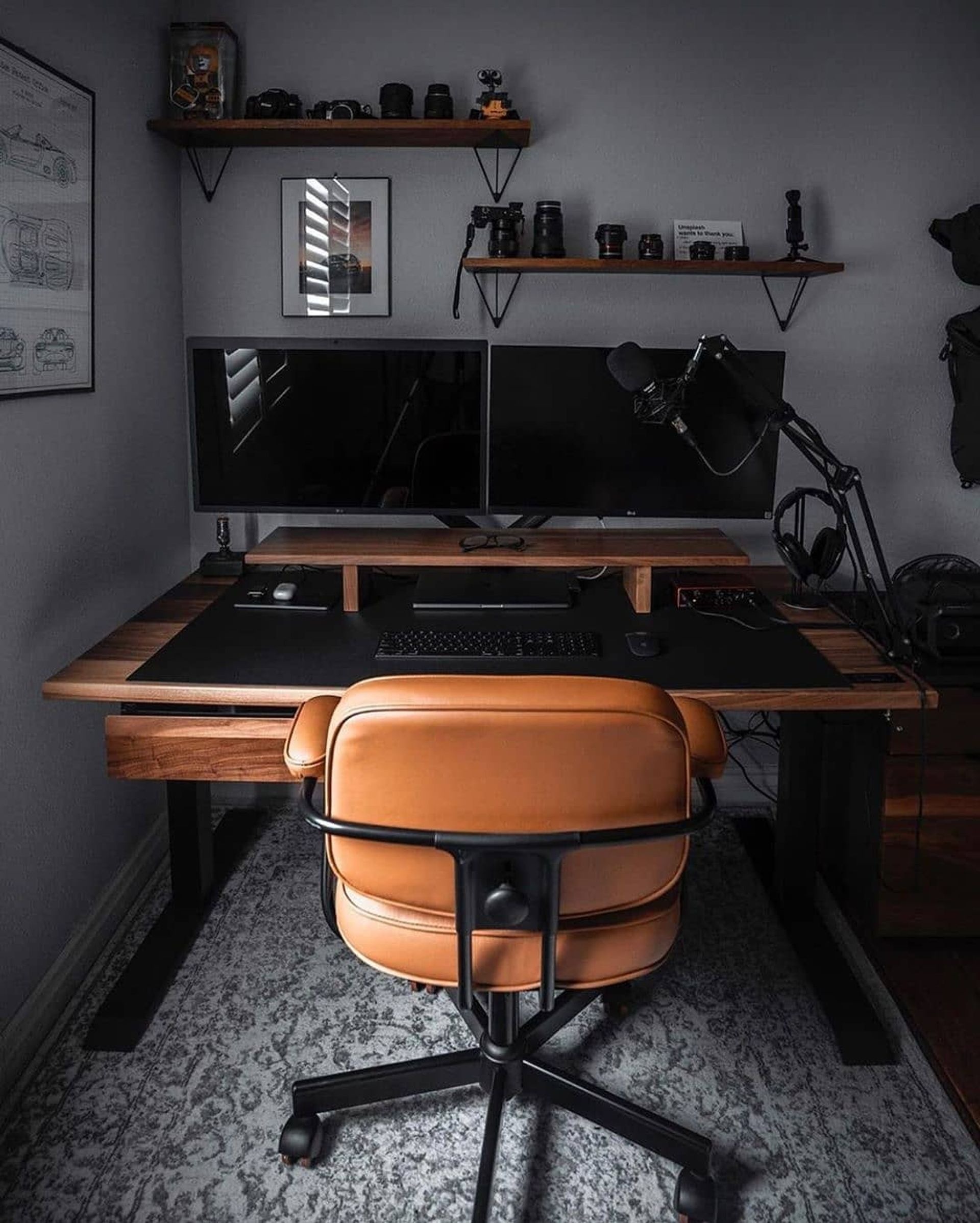 Besides, this gaming setup is neat. The large gaming desk is useful to load all the gaming items. There are two big monitors with soundproofing for the keyboard. This desk has a large drawer, so you can save many items. Moreover, this gaming room has an interesting corner with ornamental plants.
3 of 18
Simple Home Office as Gaming Room
This is a simple home office. It doesn't need an excessive design to make it stunning. This room fits well as a home office or gaming room. There is one monitor and a gaming chair. These elements are enough to play a simple game or do another activity.
Moreover, this room has big bookshelves. There are many books on the shelves and ornaments. You can divide the shelves for both categories. So, it makes an interesting gaming setup for your house. If you need a place to rest awhile, there is a long comfy chair to lie down.
4 of 18
Single Monitor for Simple Studio
It is another simple gaming setup. This room doesn't need many elements. A single monitor is enough to provide a simple gaming studio. It has an elegant CPU to support the dark theme. If you use a large gaming desk, then put it on the desk to show off.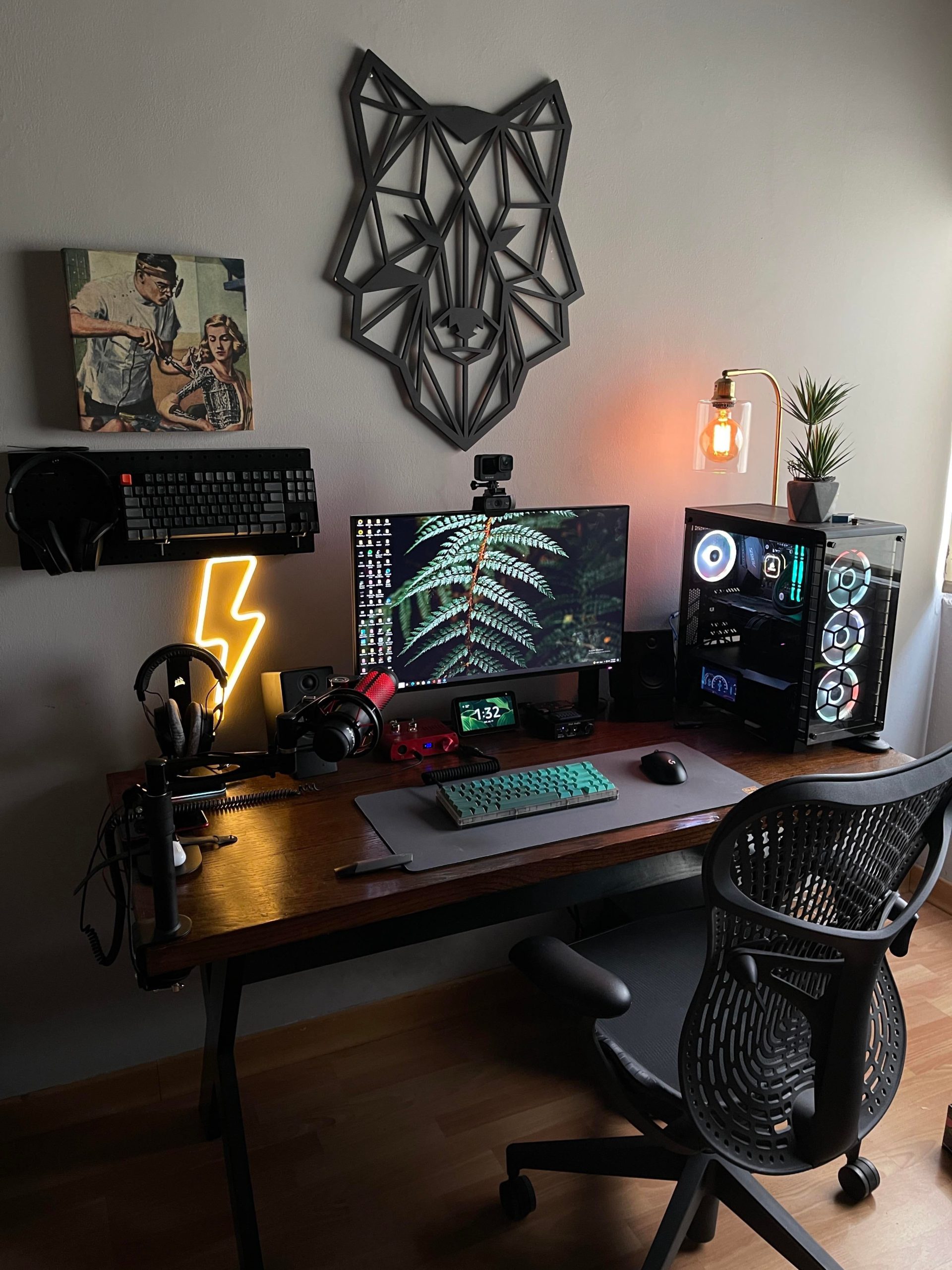 This gaming studio is easy to design. It looks interesting to have dim lights. Install decorative LED lights to enliven the gaming setup. Dim lighting is a must in the gaming room. It reduces the sudden dazzling lights in this room.
5 of 18
Functional LED Lights on the Wall
Lighting is an important element to decorate a gaming room. Most gamers use LED lights to decorate their gaming studio. Many designs of LED lights that you can choose from. This idea uses a geometrical LED light with a hexagonal shape.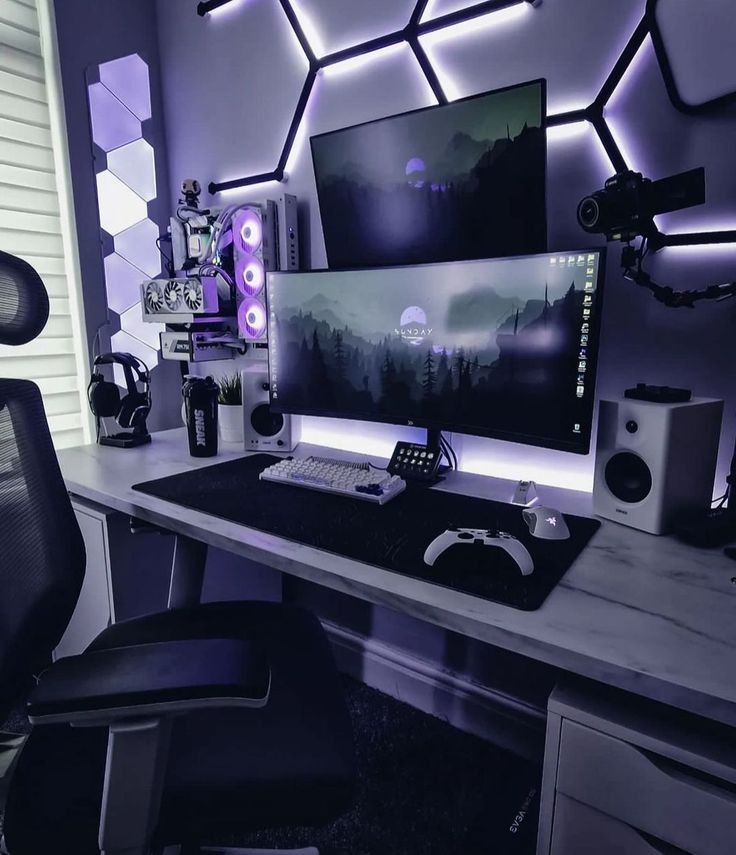 This LED light is useful to hang some small stuff. Also, it is interesting to see the colorful lights in the dark room. The hexagonal lighting sparks on the wall. You can support this ambience with another LED light. In addition, matching this design with stunning monitors will help as well.
6 of 18
Inspiring Game Setups with More Storage
Storage is an essential element for a home design. The gaming setup needs storage to save the gaming equipment. There is doorless and private storage that you can choose from. Pick the storage that fits your gaming room.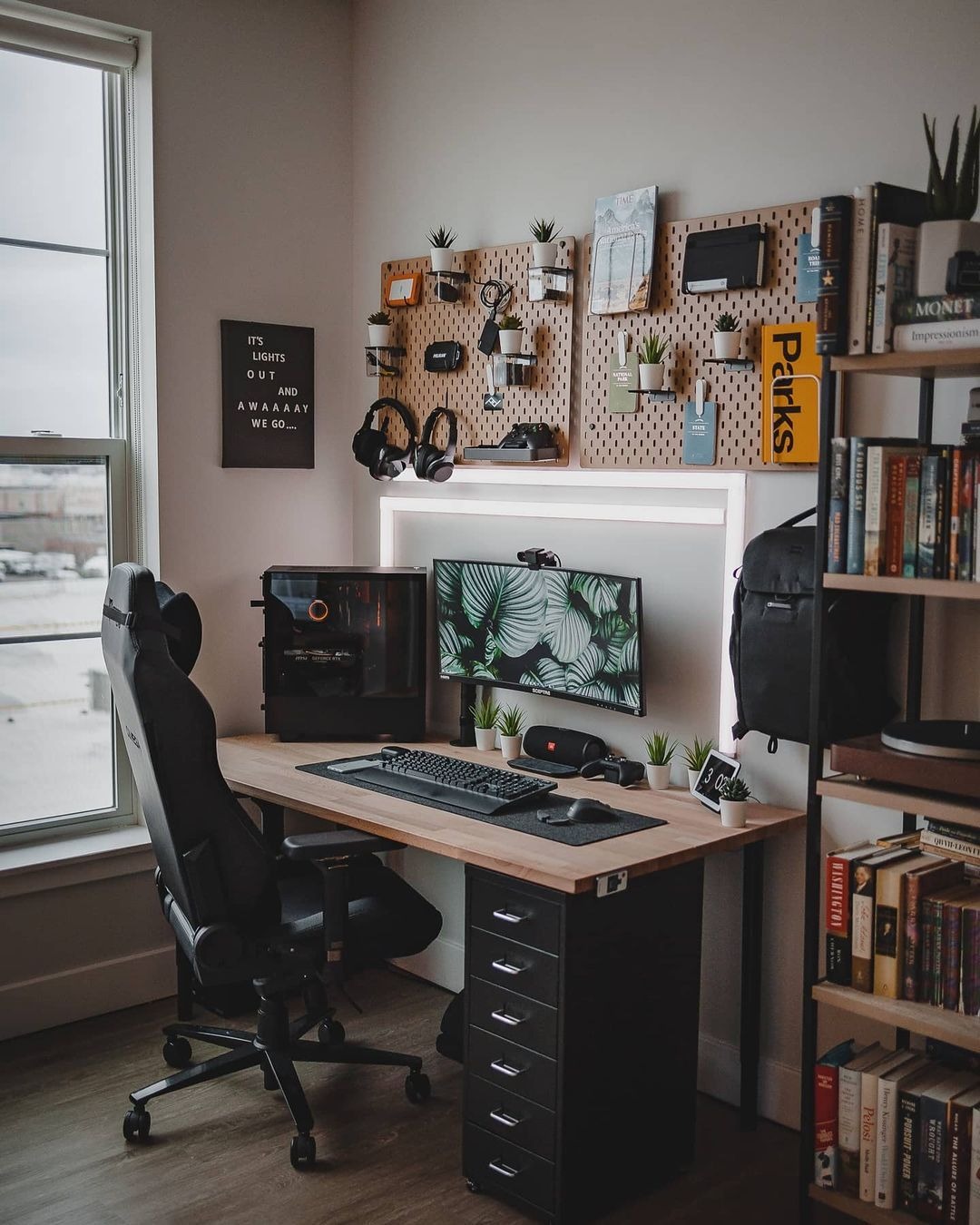 This idea has interesting storage beneath the gaming desk and on the side. The standing storage can load more items, like books, CPUs, speakers, and other electronic equipment. Meanwhile, the main desk loads the monitor, keyboard, and mouse. Moreover, having this gaming setup against the wall is ideal to focus on what you do.
7 of 18
Multiple Monitors
Some professional gamers use multiple monitors to do their jobs. Besides, content creators like video makers need large monitors as well. Thus, this idea is nice to spruce up the old design. If you have multiple monitors like this one, then use a large gaming desk. It provides enough space to operate the mouse and do your work.
Moreover, the design is quite important. You can start decorating the wall with colorful LED lights. Also, you can install a colorful light on the soundproofing for the keyboard. This design is more striking in the white room. Then, you can turn off the main lamp in the room to see the beautiful sparks.
8 of 18
Cool Gaming Setups with Attractive Ceiling
It is a bizarre design. The big cloud-like elements are decorating the ceiling. It looks interesting with its colorful appearance. You can nearly change the ceiling design with another color by changing the lighting. This design works in a dark room.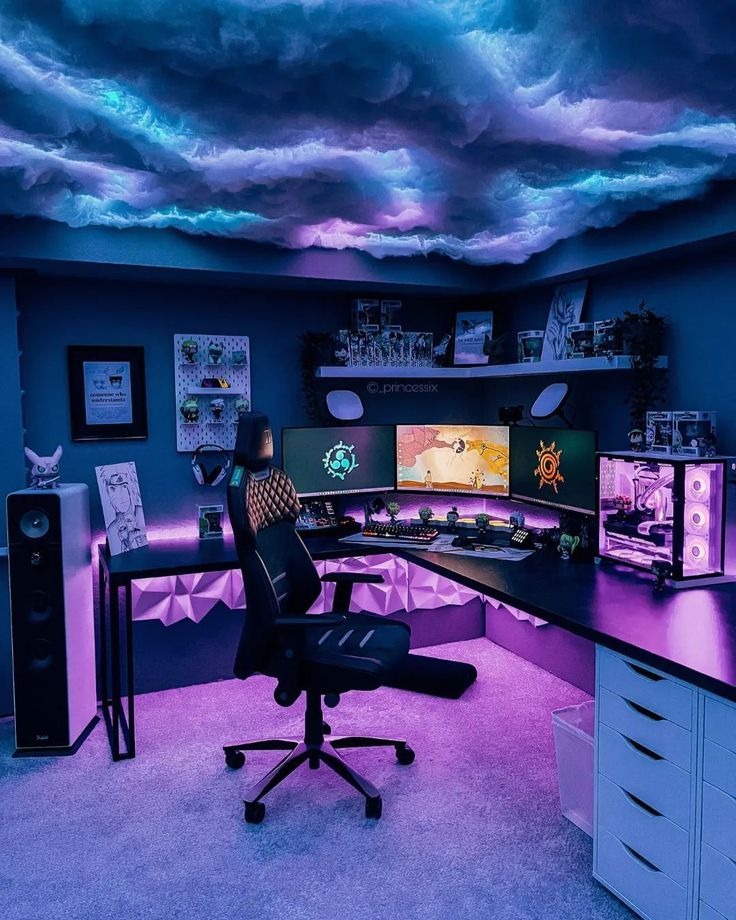 Moreover, the interior of this gaming room is perfect. The gaming setup is well-designed. A white gaming desk is simple. It matches the white wall. Meanwhile, the gaming chair is interesting and makes a beautiful contrast to the desk.
9 of 18
Gaming Setups in A Narrow Space
Everyone can create their gaming studio in any room. Even the narrow room is interesting to be a gaming room. Here is the idea of a gaming setup in a narrow space. The main furniture is a gaming desk and chair. First, ensure to use the gaming desk that fits the space.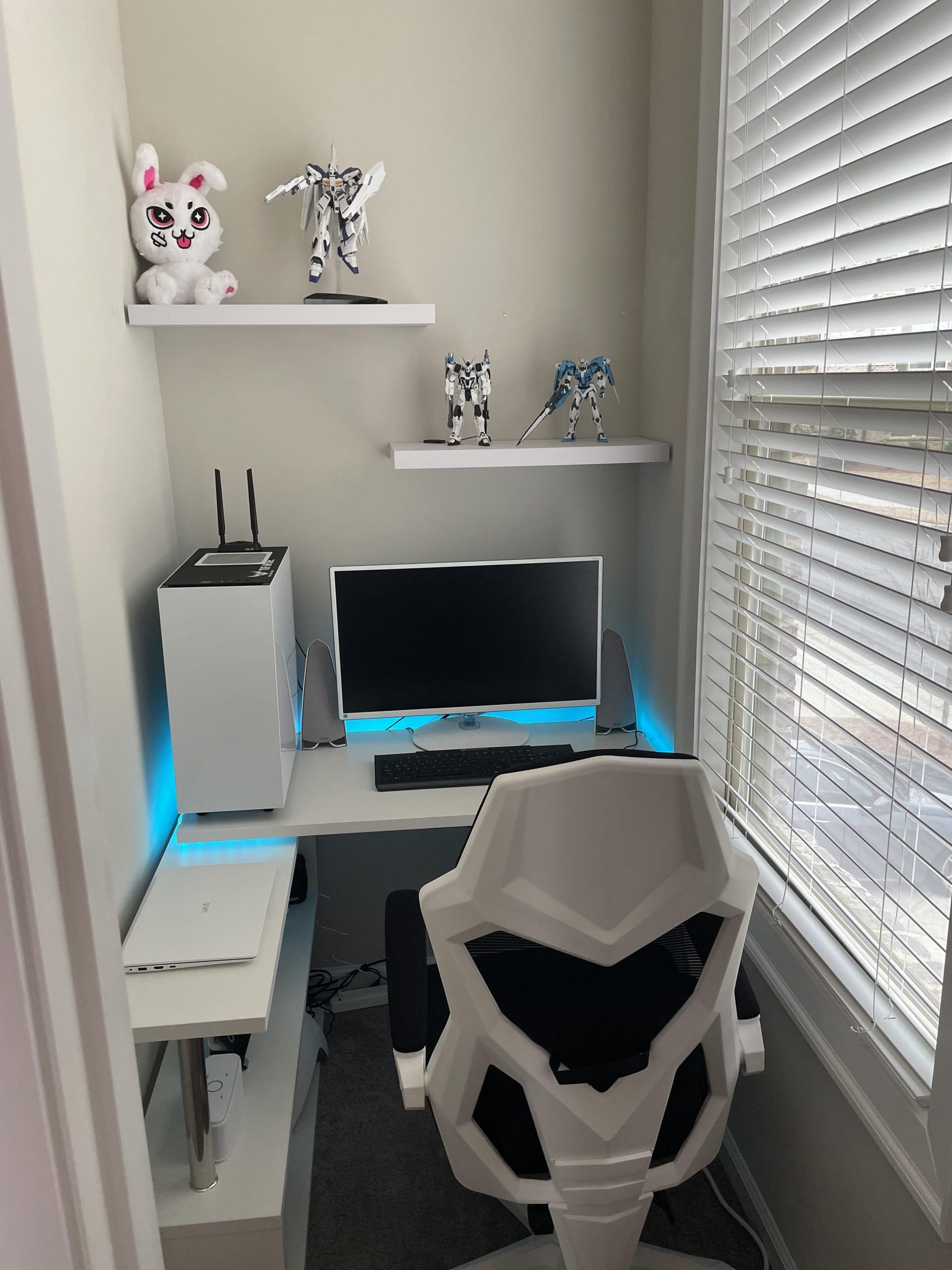 Then, choose a flex spot ergonomic chair or another comfy chair that fits it. The chair should get enough traffic to get in and out of the room. After that, arrange the gaming setup with patience. Put the monitor in the largest area. Then, add a few ornaments on the wall shelves to kill boredom. It is more stunning to install LED lights in dark spots.
10 of 18
Add Decorative LED Lights
The LED light is a popular element for a gaming room. Various designs of LED light fit any room. Look at this example. The decoration is interesting. You will see the decorative LED lights on the wall. It has a different color from one to another.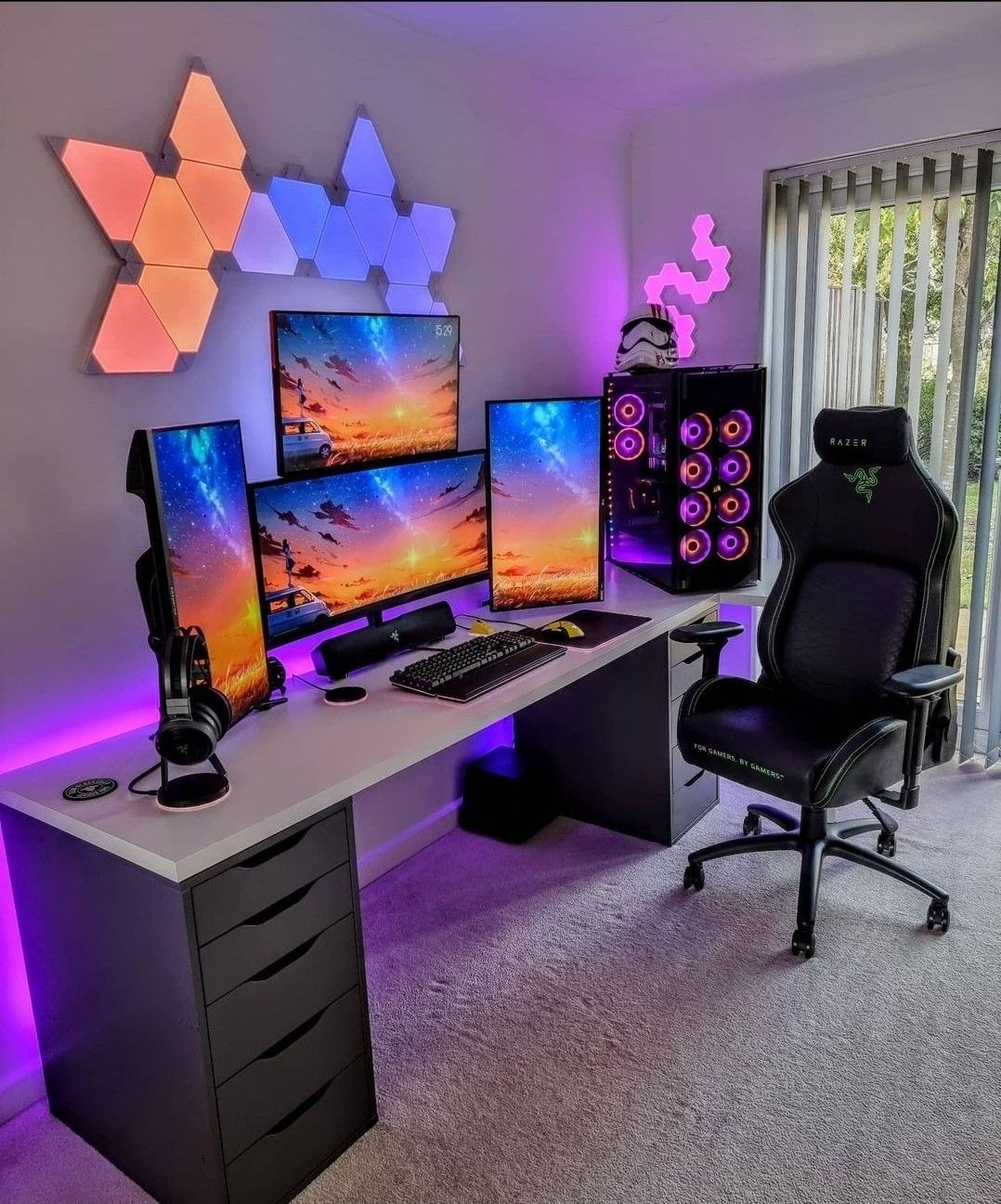 Moreover, the gaming setup is neat. There are multiple monitors on the desk. This placement is important and determines your activity here. Ensure that the monitors on the best position. Meanwhile, equipment like a mouse, keyboard, and speaker is versatile to put in any spot.
11 of 18
Invest in The Ambience
The lighting is the basic idea to create a certain ambience. There are colorful lightings to adjust your need. You can pick the best lights to emerge an atmosphere. This idea has dim lights with pink, blue, and purple colors. The light is coloring the wall and creates a mysterious ambience.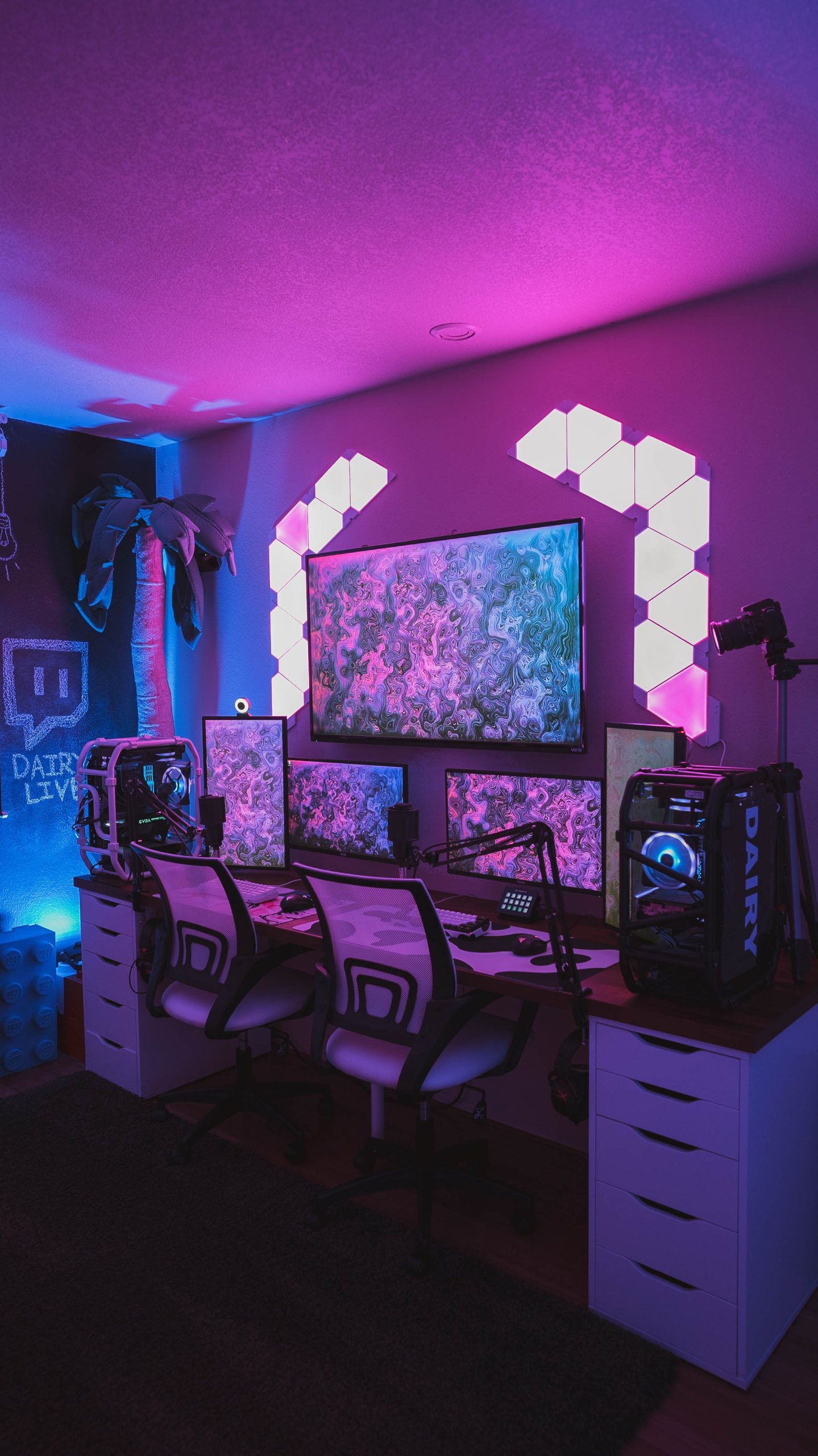 Look at the gaming desk. There are multiple screens for double jobs. It even has two chairs, so this place is ideal for two people. Moreover, there are double desks and speakers. This professional room is perfect for video makers, film editors, and gamers.
12 of 18
Versatile Music Setups
The homemade studio is useful for many jobs. Besides gamers, music editors or composers can use the same design. They can create a private room to do their job. This idea is a versatile music room. The setup is neat and interesting.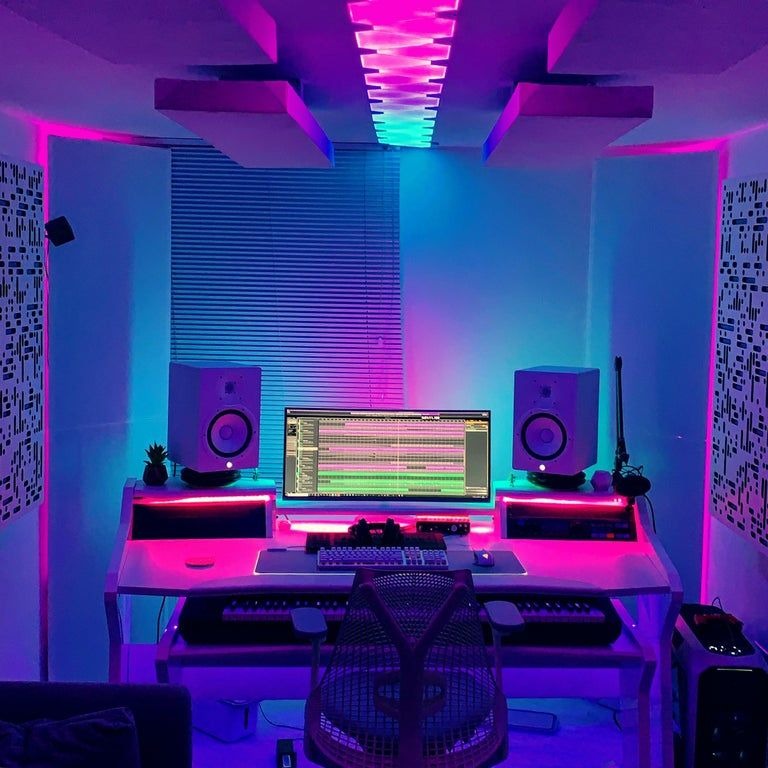 This room is useful as a gaming room as well. Besides, this room has musical equipment to produce instruments. The colorful lighting sparks from LED lights. The trim lightings are on the wall and furniture. These positions are important to create this beautiful ambience.
13 of 18
Triple Monitors
Some people need more monitors to do their job. There are triple monitors to work a creative job like video or film editor and gamer. For the gamer, this room is quite simple. It has a simple gaming desk to load all the monitors.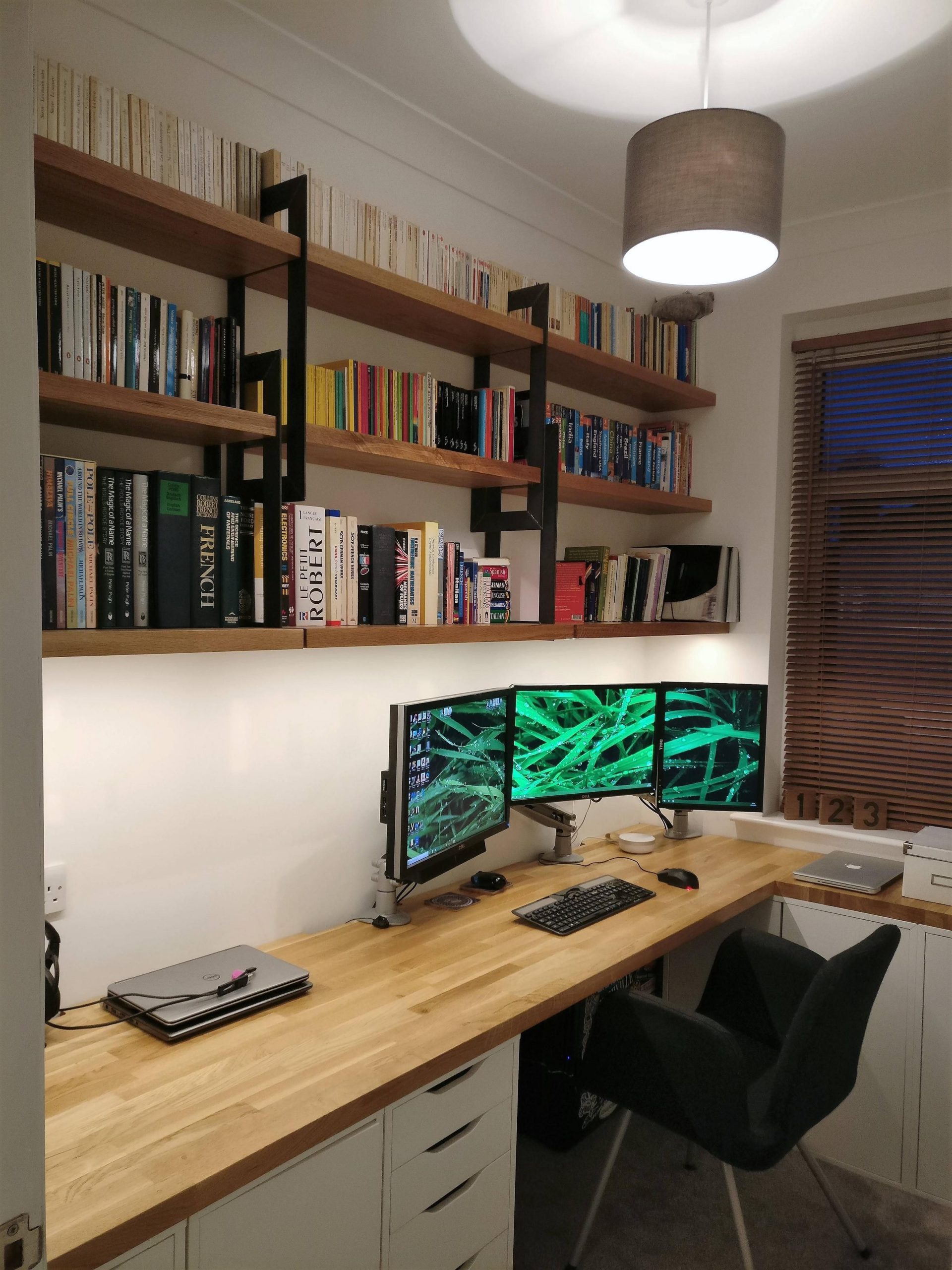 Besides, this room is also a home library. It takes the corner side to create a gaming setup. This design is versatile as a gamer room or study room. So, it doesn't have any gaming decoration. It has no iconic LED lights. This room is useful with its simplicity.
14 of 18
Add Soundproofing
Soundproofing is useful gaming equipment. Playing an interesting game can be so noisy. So, you need to install soundproofing in the gaming room. This gaming setup has to be soundproof on the wall. This soundproofing is small, but you can cover all the walls if it is needed.
Another soundproofing is useful to muffle the sound of the joystick and buttons. Take the soundproofing that fits your gaming room. There are materials like rubber, cork, and fabrics. Some also install soundproofing for the doors and acoustic tiles.
15 of 18
Using Trim Lights
Trim light is a popular idea to decorate a gaming room. This trim light can fit any space. It even looks beautiful to install in a narrow spot. As a decorative light, the trim lights are stunning to improve the ambience. This gaming setup has two trim lights.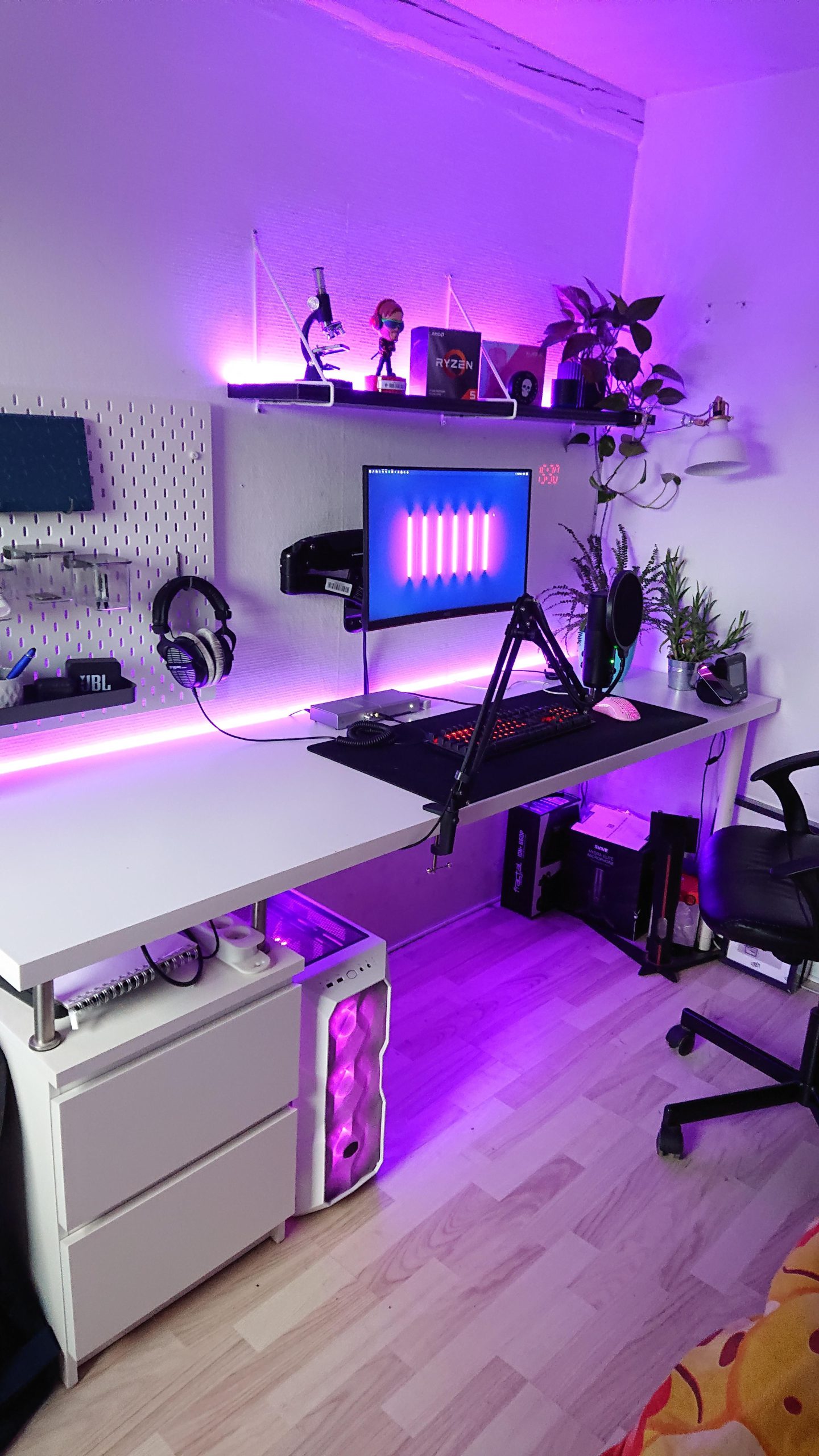 This simple gaming room has a trim light behind the desk line and a wall shelf. It is stunning to see the light sparks on a wall. The dim light is beneficial to control the brightness in the gaming room. Meanwhile, the gaming desk has some equipment, like a speaker, monitor, keyboard, mouse, and ornament. Besides the wall is useful to hang some things.
16 of 18
Purple Gaming Setups
The room's color determines the atmosphere. This gaming room has a purple theme. The mysterious vibe is the best result of purple lighting. It is attractive to combine purple with black and white accents. The black accents will support the mysterious impression.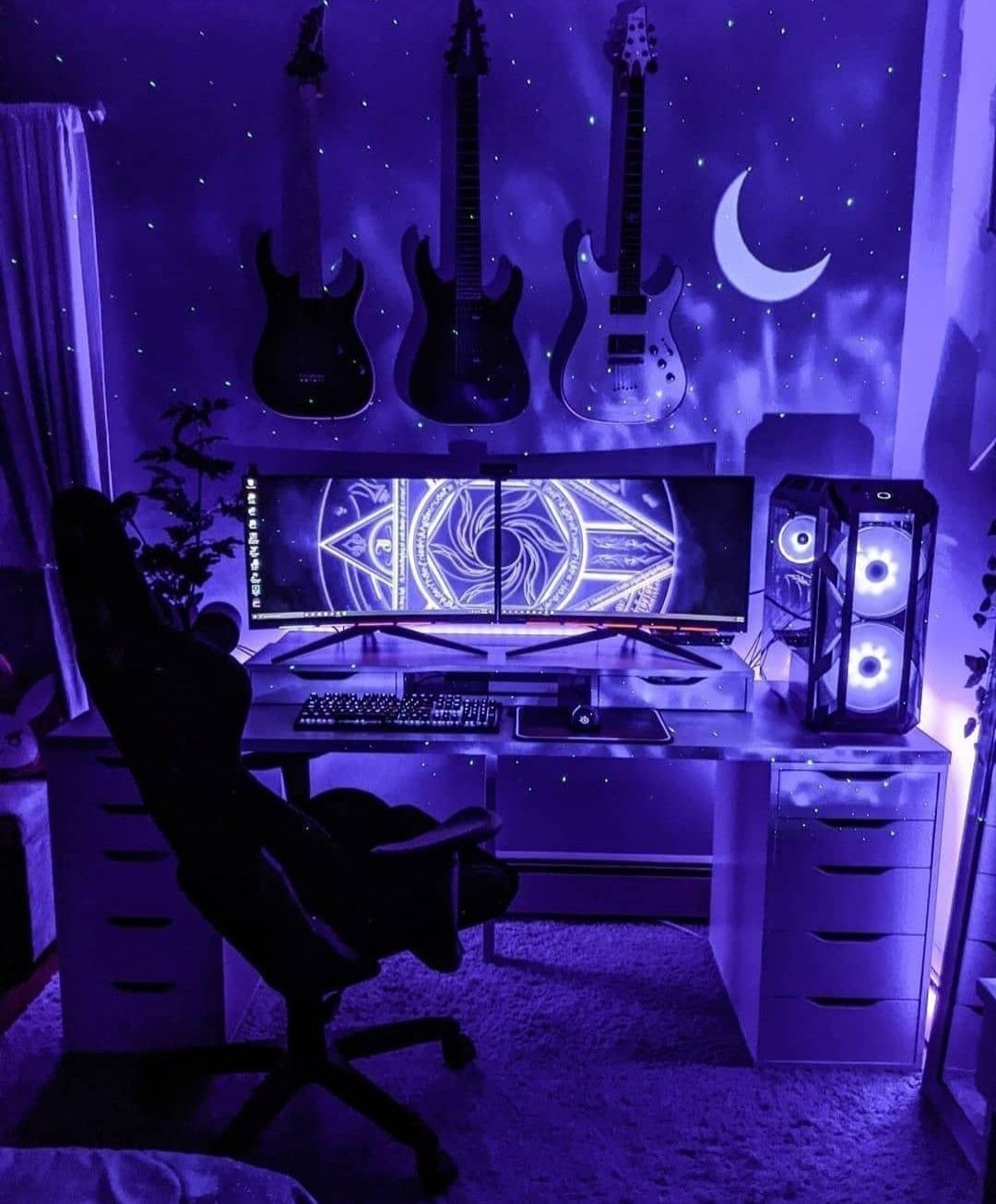 Besides, these colors reduce brightness, so you will feel comfortable staying in this room. For the styling up, this room has big monitors and a bit of a spark of starlights. It creates a beautiful effect on everything. This design will do best in the white room.
17 of 18
Attractive Wall Lights
The wall light is another decoration for the gaming room. It can instantly change the atmosphere. Sometimes, you don't need an excessive design and just use this light. Many wall lights you can install in the gaming room. The wall light should be at a low level to reduce dazzling lights.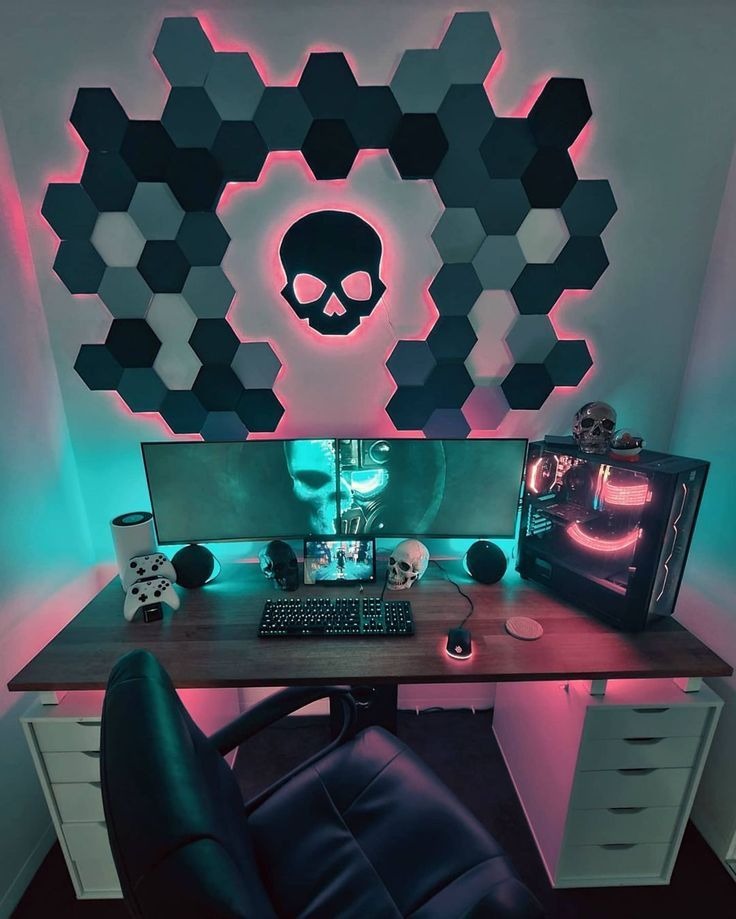 Another wall light that you can install is LED light. It can be a trim light to shine a certain spot. Look at this design. The wall is interesting with red lights behind the wall decoration. This decoration looks stunning when the room is dark. Also, it is more interesting to install another light on a wall.
18 of 18
Thus are 18 Gaming Setup Ideas that Will Improve Your Creative Room. The gaming setup is a part of the gaming room or bedroom. The best setup will determine the impression. So, you can see the ideas above and find the best one. Most of these ideas are using LED lights, gaming desks, gaming chairs, and ornaments. The lighting give a big effect on the ambience. So, you can think about it again. Hopefully, this article can inspire you to decorate your gaming room.