Druhomes.com – A drawing studio is an additional room in a house. It is optional but important for some people. The drawing artists like to have their drawing studio at home. Also, this room is useful to relax your mind and make some drawings. This room is versatile because you can do other activities like reading a book, sketching a thing, or listening to music. Here, are ideas for drawing studio design for your creative home studio. Let's get to the lists!
Use A Movable Desk
The first idea is to use a movable desk. It is a useful desk that you can move in any direction. Also, this desk has many drawers. Every drawer has no knob, so you open it by a lattice between the drawers. This drawing desk has a large countertop to load a big canvas.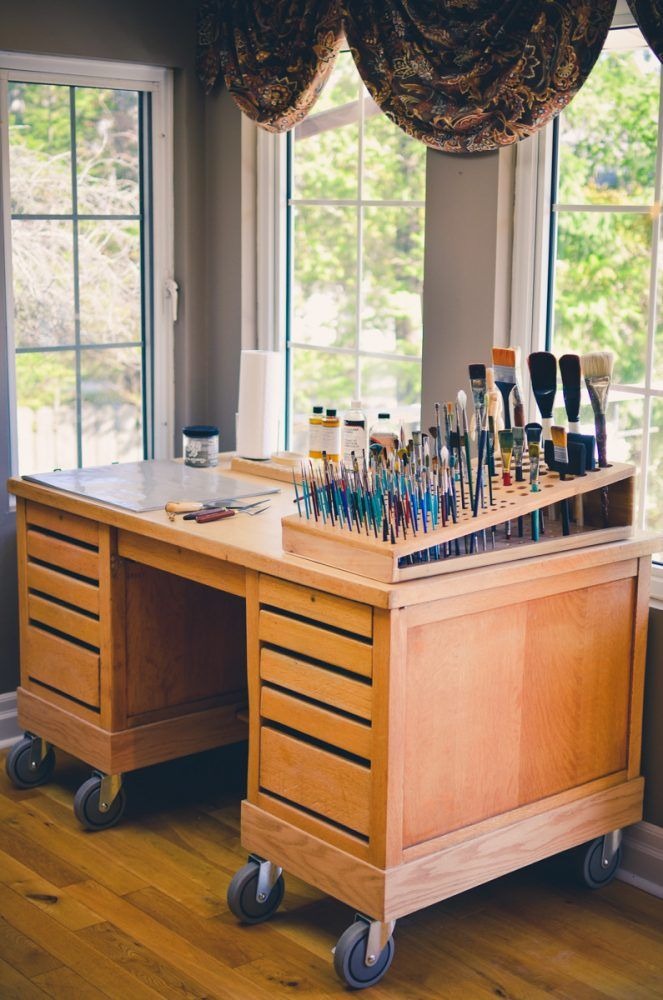 Moreover, it has a board to save the brushes. You can put every brush on the board. It has many brush stands, so this board can load diverse types of brushes. Besides, this movable desk has four-wheel feet. It has a lock on every wheel, so this desk will stand still on the floor.
1 of 17
Add A Small Stool
The next idea is a simple drawing studio. You can design it for any room's size. Overall, this room is a professional artist's studio. The nuance is warm and fresh. The large glass window is an important element in this room. Also, the green plants are stunning to refresh this room.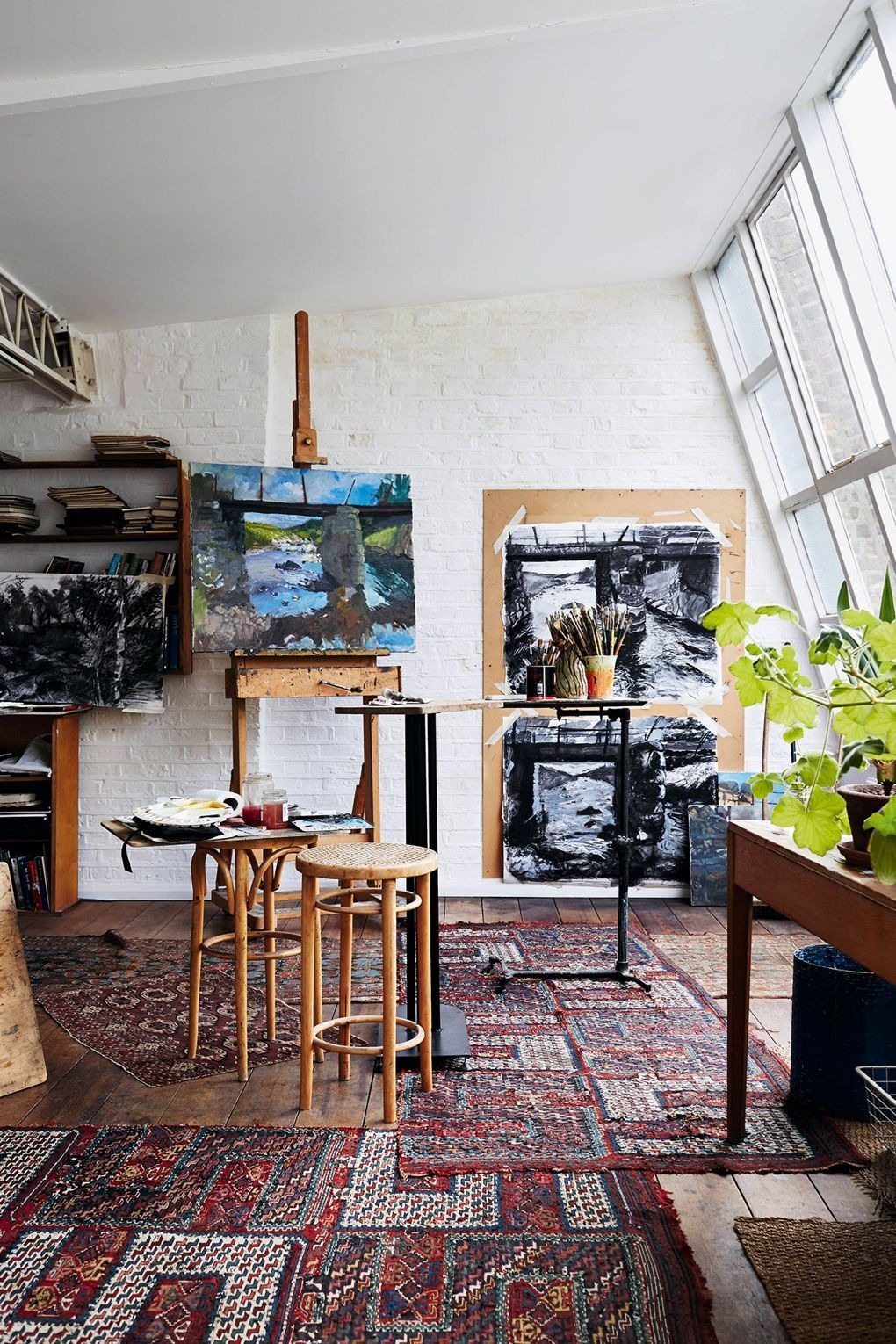 Besides, there is an eccentric carpet on the wooden floor. The crimson and dark colors are stunning to enliven an artistic vibe. Moreover, there are few drawing boards in this room. There is a drawing desk to load the oil paints and brushes on it. In addition, put some tall stools to pair with the desk.
2 of 17
Oil Painting Desk with Drawers
Designing a drawing studio needs the best furniture. It is a navy cabinet to load the oil paints and other appliances. This cabinet has many drawers. Every shelf is useful to classify the drawing appliances. Also, you can move this cabinet into any spot that you want to.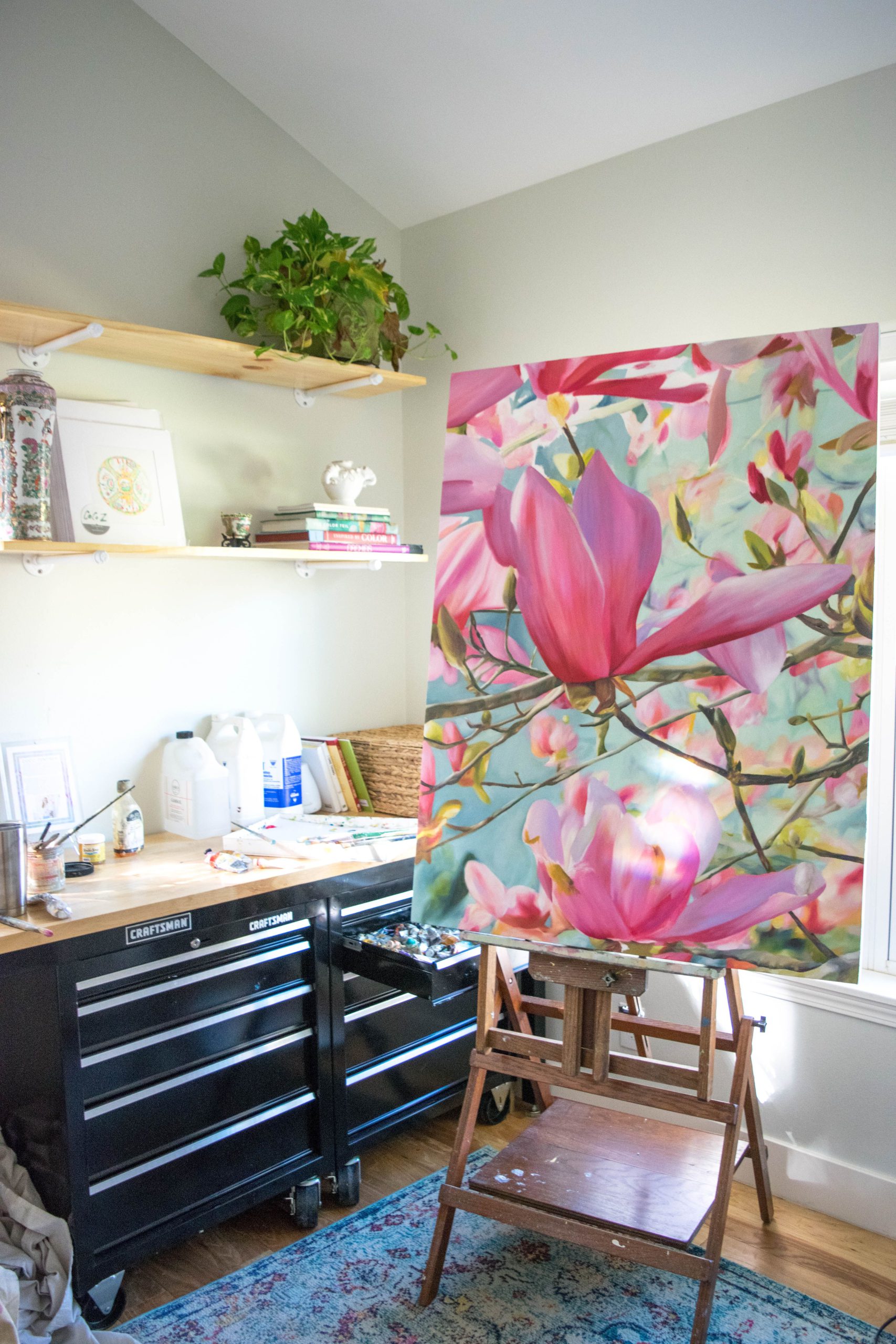 This drawing studio is catchy. It takes a small corner to make a drawing studio. The are some wall shelves on the wall. Every shelf loads small ornaments to decorate this room. It is okay to have a single drawing board against the window or wall. In addition, put an ornamental plant in this room.
3 of 17
A Simple Artwork Space
It is a simple drawing studio. This room is on the corner. As an artwork space, it only has a drawing board against the wall. Next to the drawing board, there is a sunny window. This window is useful to invite sunlight and fresh breeze.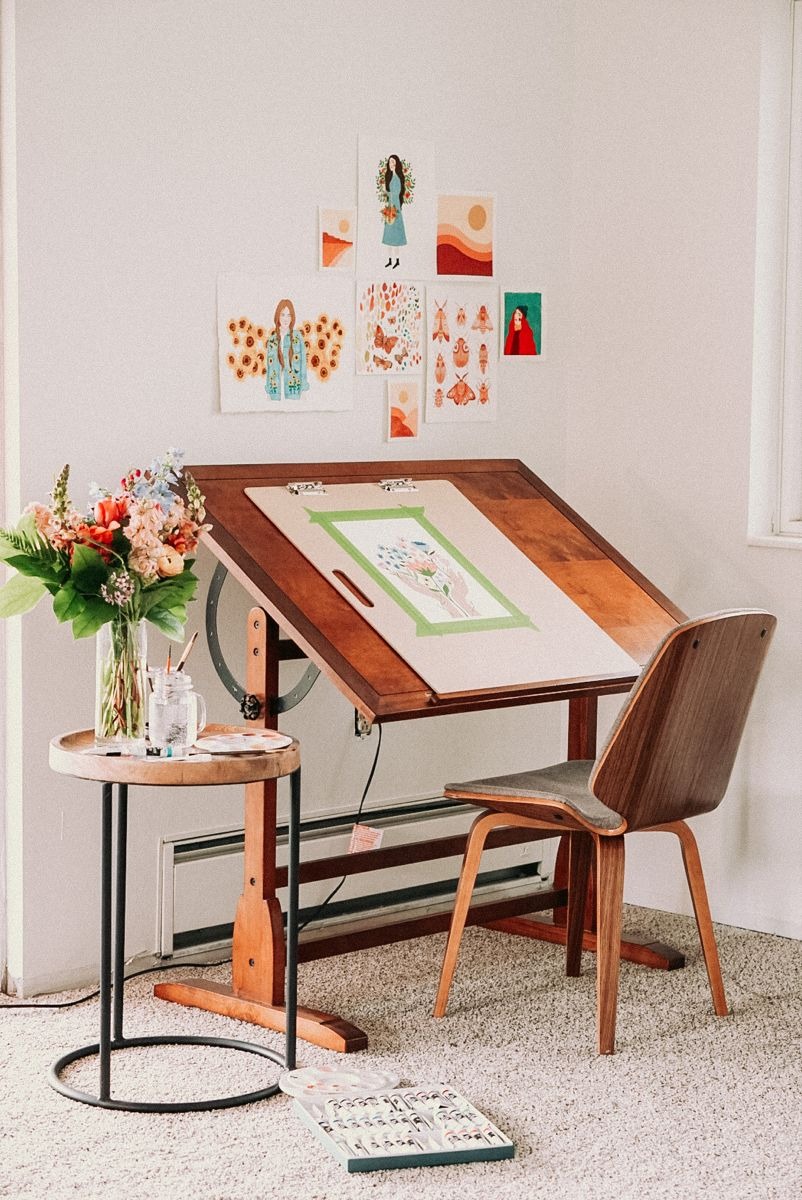 You will love this drawing studio. It doesn't take up lots of space. The only furniture is a drawing board and a stool. Choose the one with warm brown color. The timber patterns are stunning to decorate your drawing studio. Also, you can add a coffee table to put ornamental flowers.
4 of 17
Multifunctional Oil Painting Desk
The desk is an important element in a drawing studio. You need it to save your drawing appliances. Here, is a multifunctional oil painting desk. This desk is large and has many drawers. Thus, you can classify your drawing appliances on every shelf.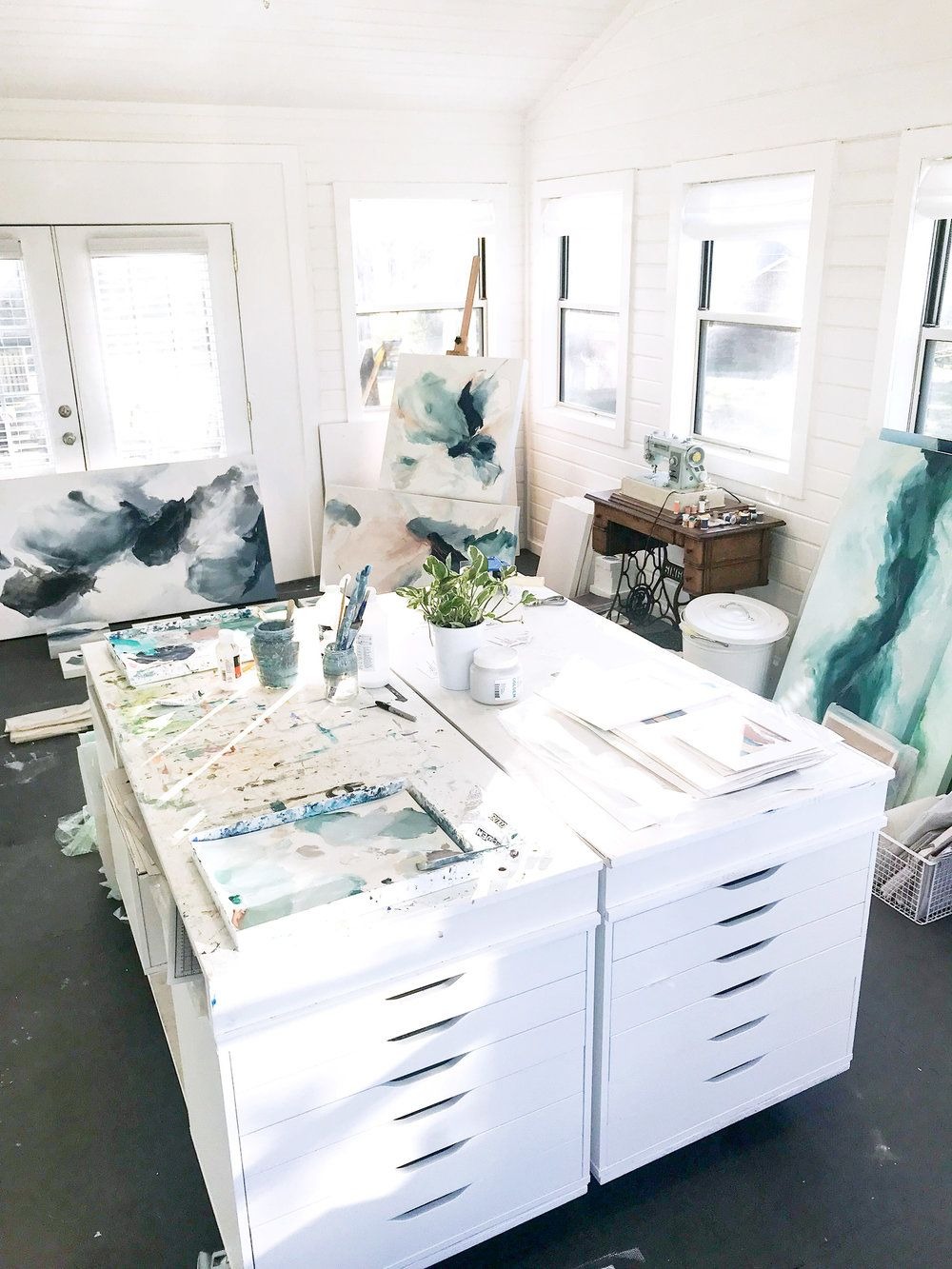 Moreover, this desk is movable. It has wheel feet to help you move it into any spot. Besides, you can draw or sketch something on the countertop. Add an ornamental plant to this desk. You can let the windows open and brighten the room naturally.
5 of 17
French Blue Cottage for Your Drawing Studio
Traditional French has a catchy style. It is a French blue cottage design for a drawing studio. This room is interesting with a bluish-patterned floor. Another blue accent is a cabinet on the corner. The navy color will invigorate the interior.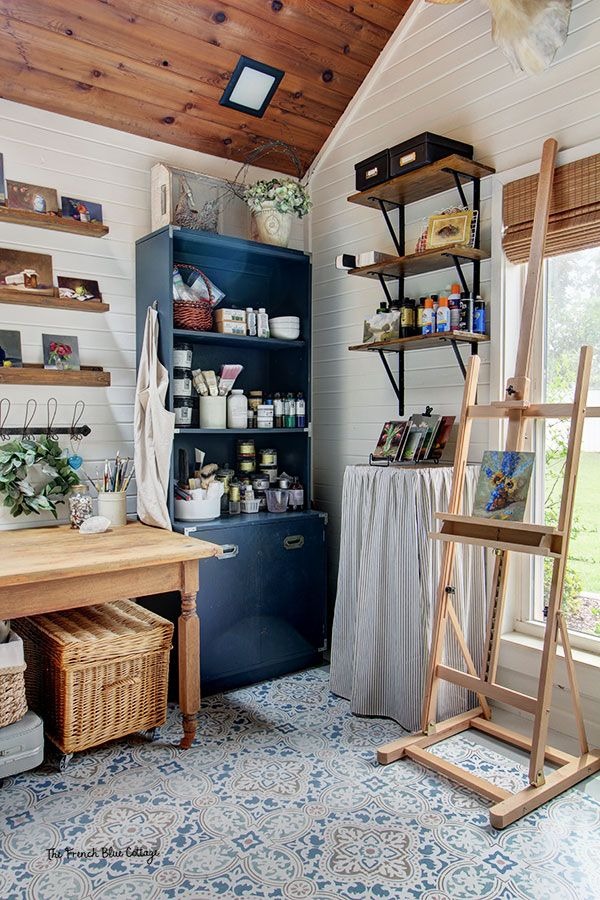 Besides, this room has many natural accents. There are wicker baskets in the room. This basket is useful to load your drawing appliances. Moreover, you will see a stand for a drawing board. Next to it, some storage loads many drawing appliances.
6 of 17
Make A Greenhouse
A greenhouse is not a place to grow plants. You can adopt this design to create your drawing studio. This greenhouse has lots of sunny windows. It is an important element to invite sunlight. Therefore, you can draw or paint something in a natural nuance. Also, this room is beneficial to thrive on indoor plants.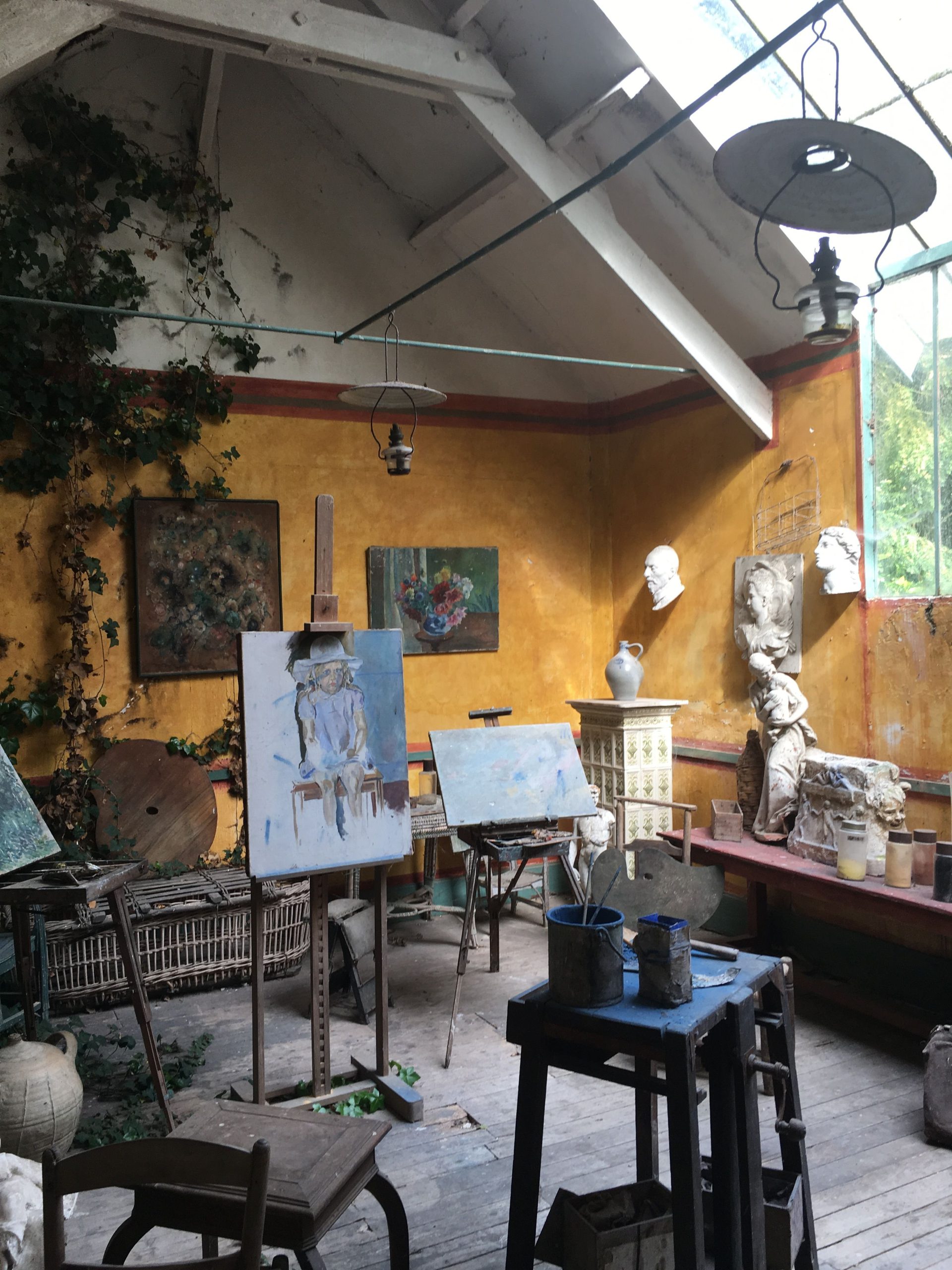 The sun lover plants are best to grow in this greenhouse. Besides that, you can create a partial shade location like this idea. Then, put your artistic works in some spots. This drawing studio is a bit classic. So, you can adopt this idea or find a new one.
7 of 17
Dreamy Workspace for Painting Artists
It is a nice drawing studio. A large window is an important element in this room. The room has a wooden theme that fills the atmosphere. The soft brown colors are best to reflect sunlight from sunny windows. Then, put a long desk in the room as your main drawing desk.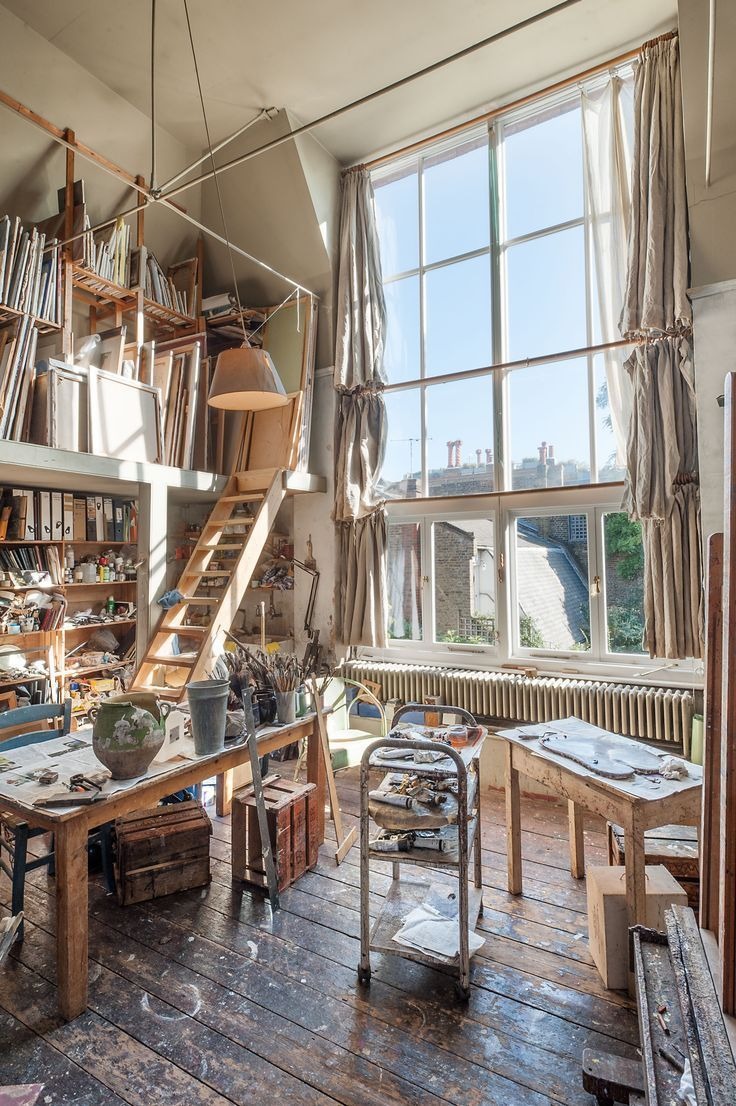 Also, make use of an empty wall by creating wall shelves. There are lots of books on every shelf. In addition, put a movable rack to load your drawing appliances. This shiny room is perfect to make a painting in the afternoon. Besides, if you want to reduce exposure to sunlight, then shut the curtain.
8 of 17
Designing An Ordinary Art Space
An ordinary drawing studio is suitable for a minimalist person. This design has a clever design. The floating desk is the best choice to declutter the design. It consists of two desk areas. You can separate the desk to be a workspace and a drawing space.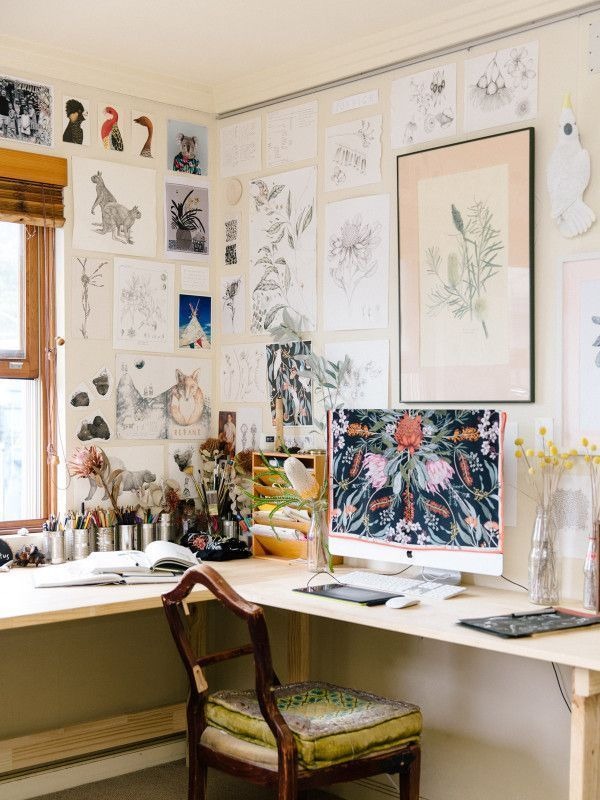 This drawing studio has eye-catching decoration. There are pics on the wall that support the interior. You can fill the wall with artwork. Also, put your decorative accents on the desk. These items are interesting to enliven the artistic nuance. Besides, ensure that you have a space to draw on the desk.
9 of 17
Make Use of A Side Wall
A side wall is a useful spot. You can design a drawing studio by using a side wall. There is a large desk against the wall. This is a floating desk, so you can save your stool under the countertop. The desk is white and slim, then it won't declutter the interior.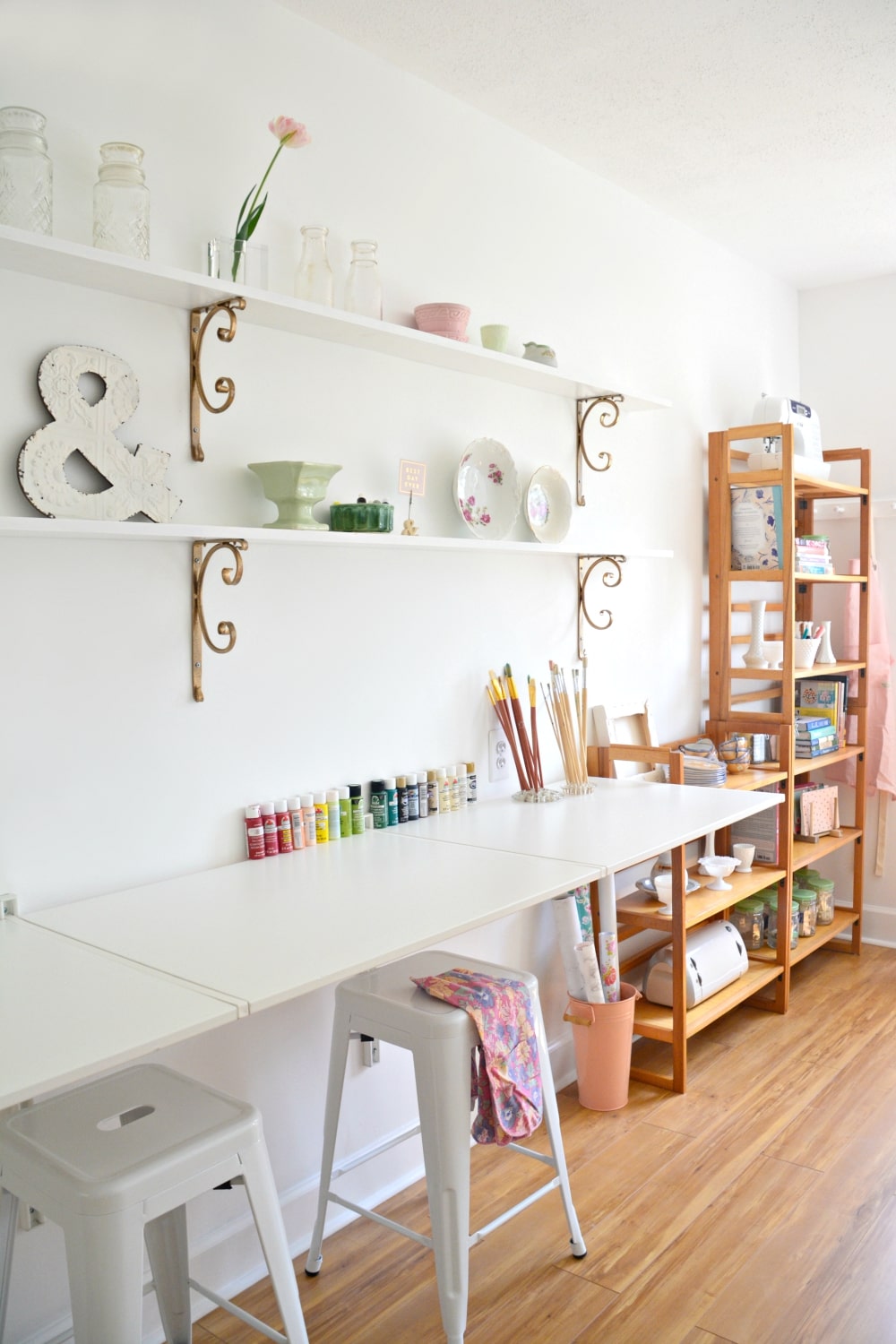 This drawing studio needs storage. Then, put two minimalist racks. This rack is easy to access when you need another brush. Also, this rack has many wooden boards to load things. In addition, you can add some wall shelves above the main desk. Then, display your decorative items on every shelf.
10 of 17
Eclectic Drawing Studio
Eclectic design is a classic interior. It uses old furniture to enliven the classic nuance. This design has neutral to bold colors. Here, is an Eclectic drawing studio. The soft blue cabinet is an eye-catching item. It brings a classic impression to this room.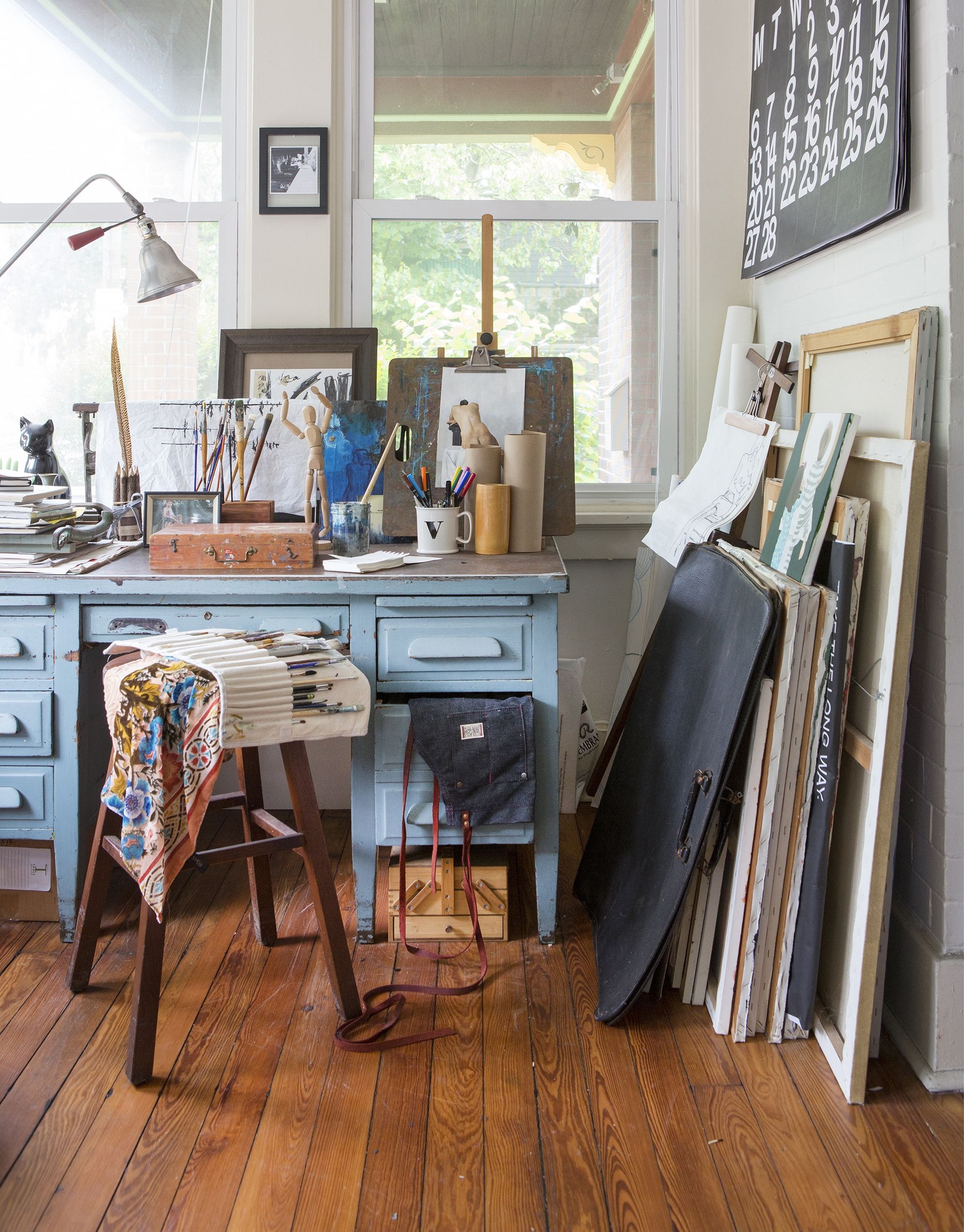 Besides, the warm wooden floor will make it perfect. You can put a decorative rug on the wooden floor if you want to. Then, add a stool to complete the bluish cabinet. Like another drawing desk, add some drawing appliances to it. There are canvas, drawing boards, and brushes.
11 of 17
Install Transparent Glass Windows
The lighting in a room is important. You can get lighting by installing a lamp or a window. Look at this room. This drawing studio uses transparent glass windows to improve brightness. The more windows in this room, sunlight will shine through the entire room.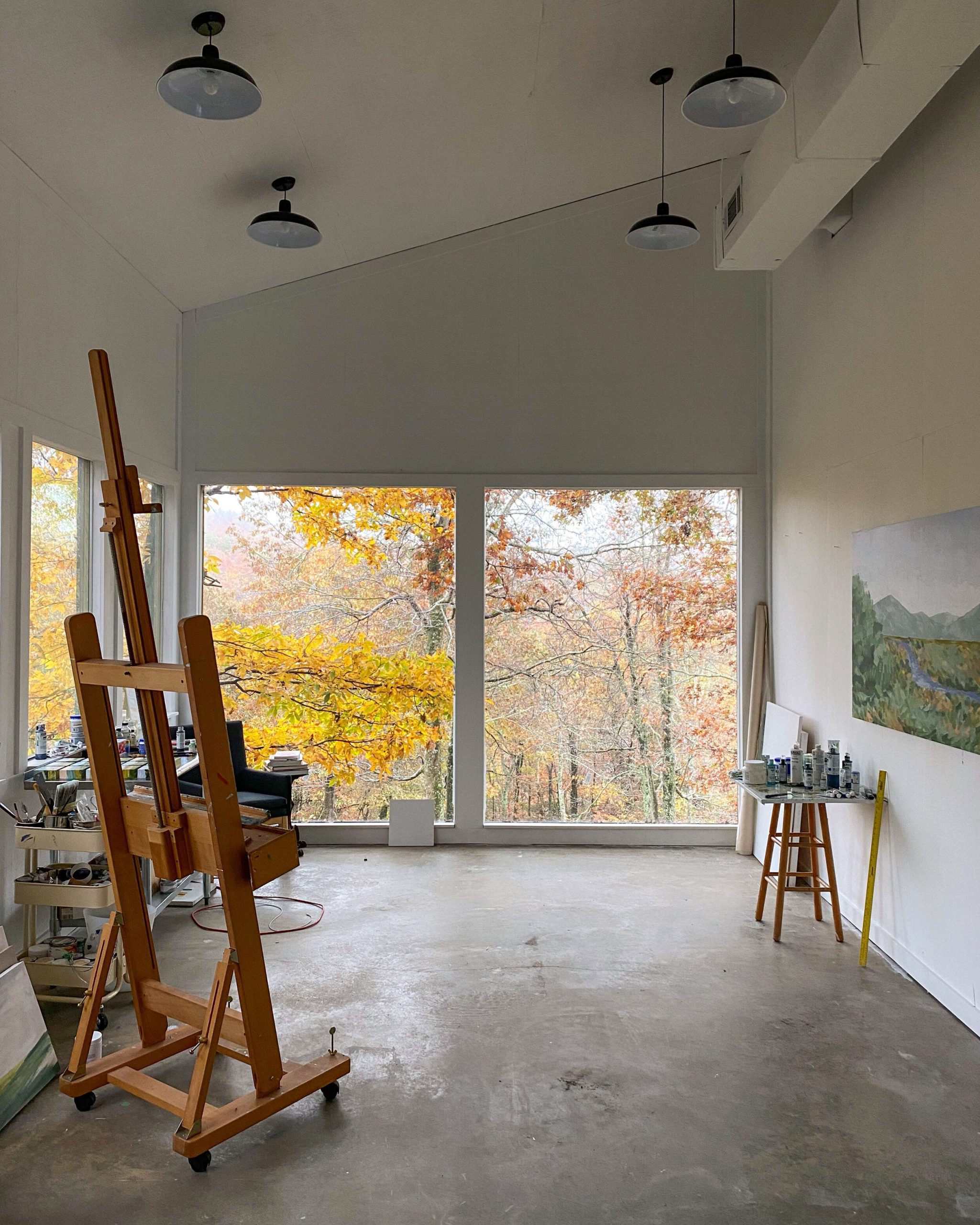 This drawing studio has an interesting design. There is a stand for a drawing board. Beside the stand, it is a movable rack that loads the drawing appliances. Next to the rack, you will find a large cabinet as a drawing board. This cabinet has much storage to save the drawing stuff.
12 of 17
Contemporary Drawing Studio
Contemporary design brings a classic interior. It has a different vibe from other classic designs. This design is identical to mute neutral colors. Look at this drawing studio design. This room has a white theme. The wall is made of wood with horizontal lines.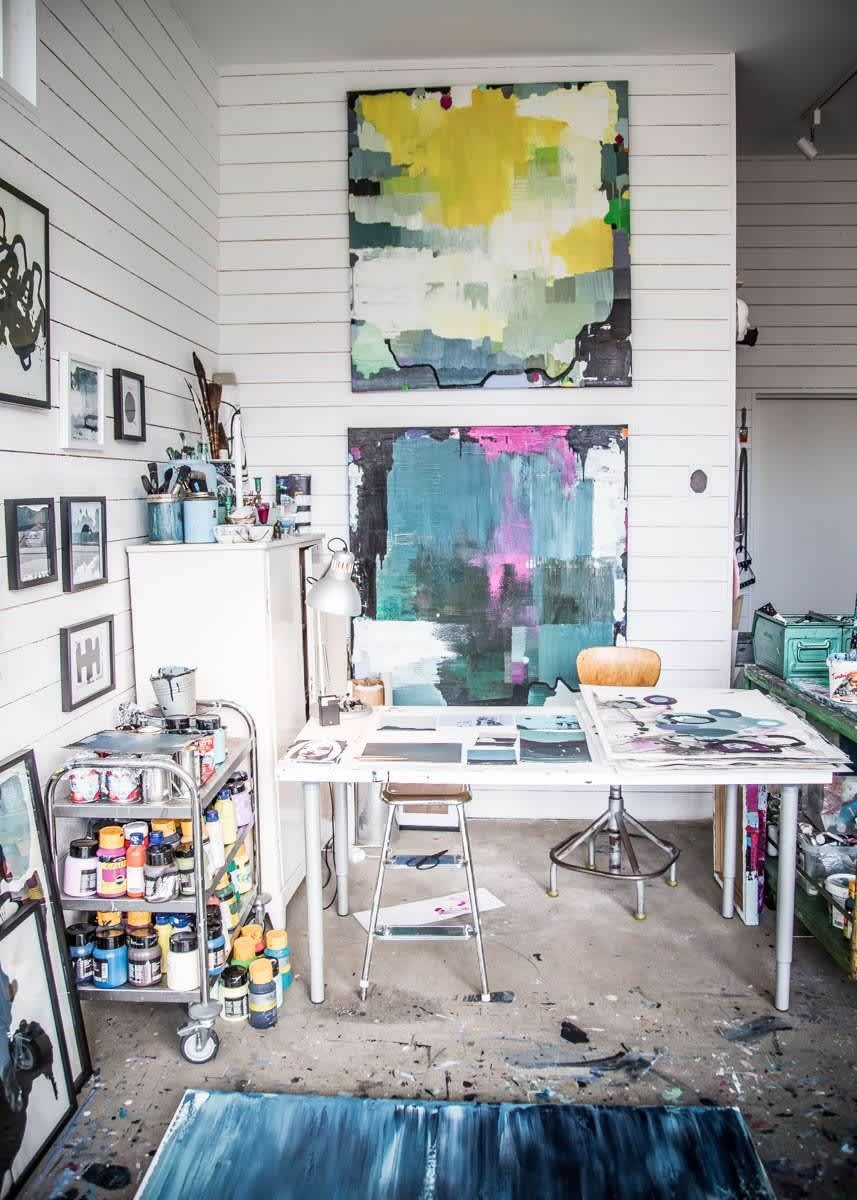 Moreover, this drawing studio has a concrete floor. It matches the white wall and white cabinet. This drawing studio gets some canvas in the room. Also, there are movable racks and cabinets. You can load the drawing appliances on this storage.
13 of 17
Living Room x Drawing Studio
This is a versatile room. The living room is elegant with a comfy sofa and rosette rug. The areal rug separates the living room and drawing studio. Next to the living room, you will see the drawing appliances. There is a drawing board on the white carpet.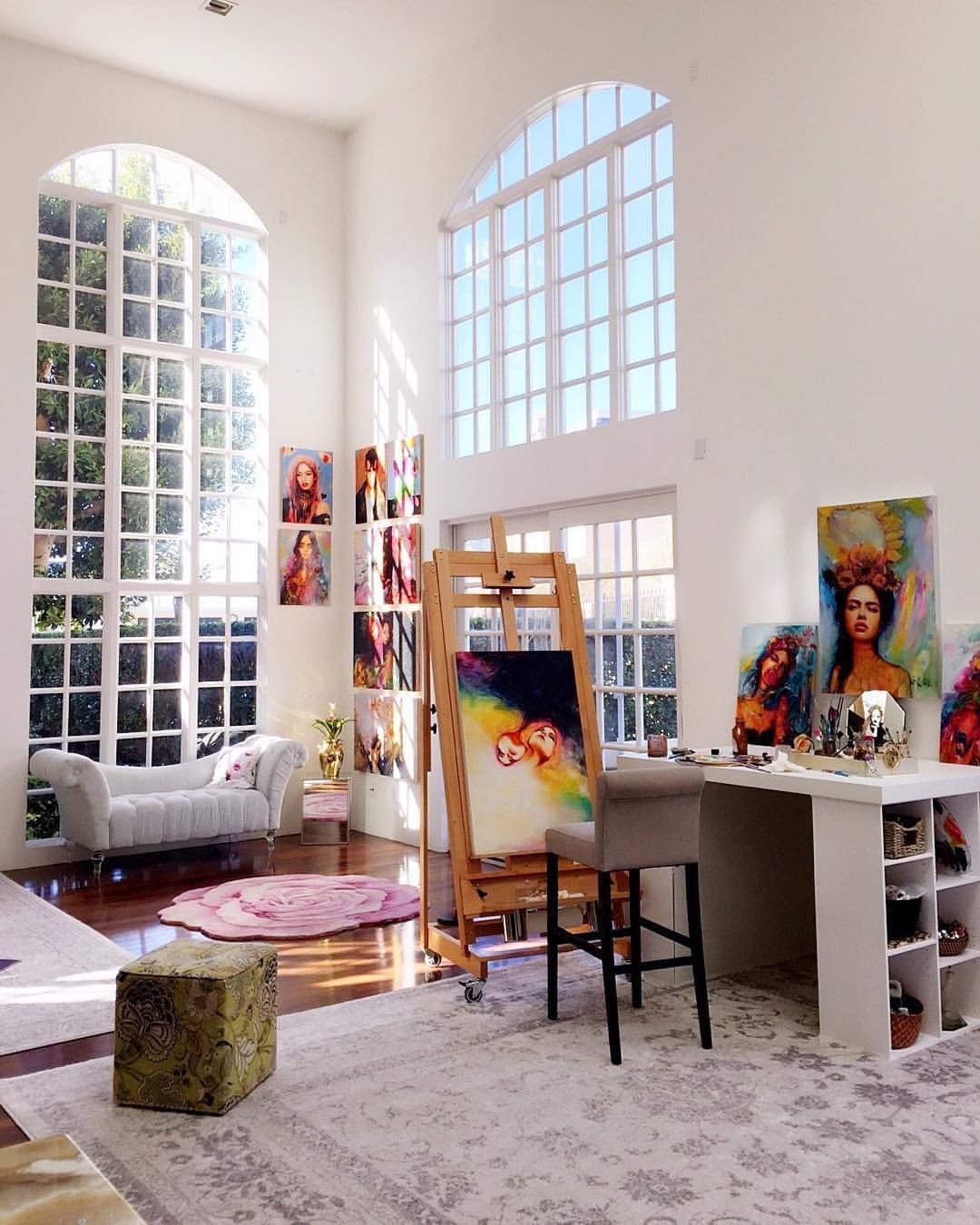 This is an open space drawing room. It only has a small area in the corner living room. A white desk is enough to make a versatile drawing studio. Then, add a stand for a drawing board. Add a high chair or stool near the drawing board.
14 of 17
Facing the Window
Outdoor scenery can refresh your mind. Some drawing artists like to draw near the window. This spot is beneficial to give inspiration or relax their mind. Here, is a simple idea of drawing the studio against the window. This idea has a large window with curtains.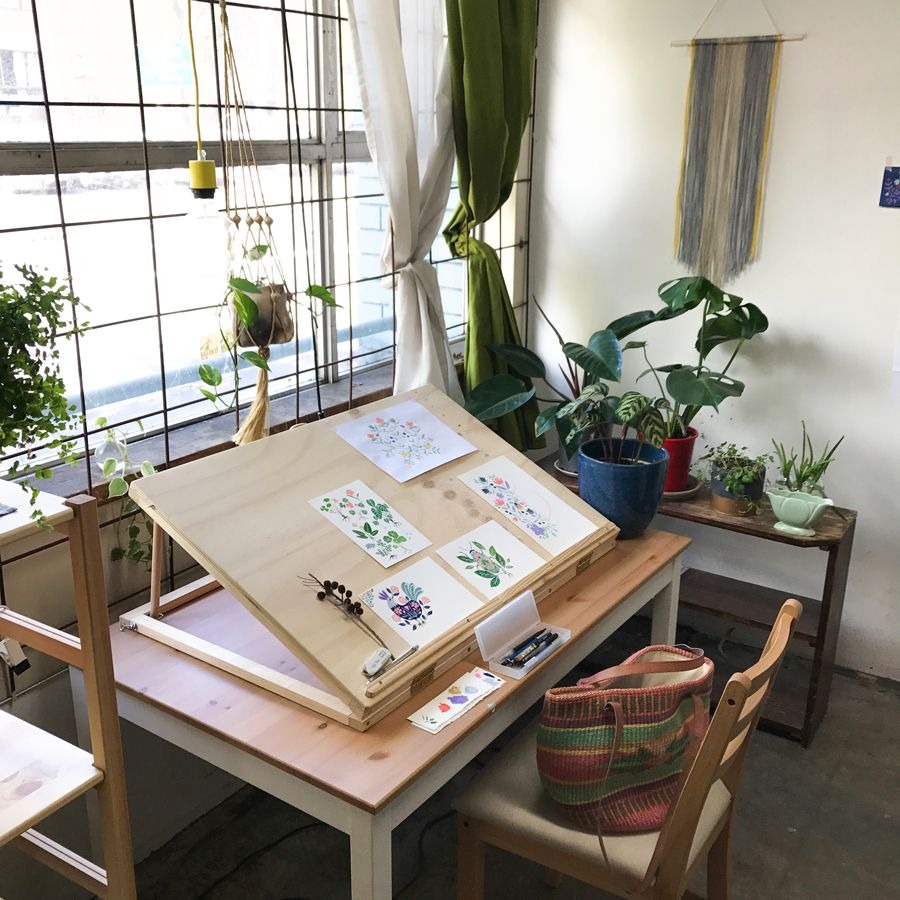 Then, put the drawing appliances on the desk. There is a drawing board to put canvas before sketching an object. It is a nice idea to make a comfortable drawing studio. Also, this room gets natural sunlight to brighten the drawing board. This drawing studio is more stunning with ornamental plants.
15 of 17
Workspace x Drawing Studio
It is a workspace design. This room is versatile as a drawing studio as well. It uses a long wooden desk with an additional desk. The wooden desk loads the workspace appliances, like monitors and stationery. Also, there are canvases on the same desk as a part of the drawing studio.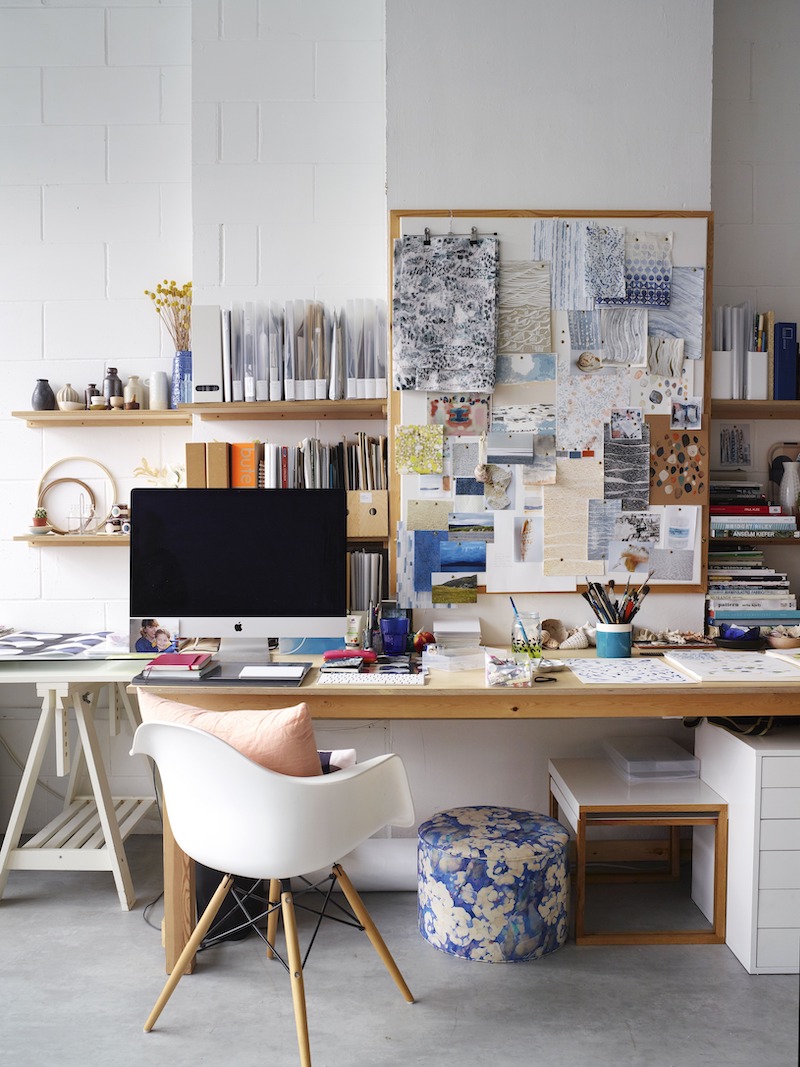 Look at the wall. There are wall shelves with many stuff on every shelf. It is interesting to put the book collection on wall shelves. You can make a simple bookshelf like this. It looks a bit crowded in this drawing studio, but this room is interesting to design in a narrow room.
16 of 17
Add More Plants
An ornamental plant is a fresh accent in a room. You can thrive on some plants in a drawing studio. There are indoor plants like Pothos, Monstera, cacti, and many more. Then, arrange your ornamental plants on the desk and wall shelf. The vining plant is interesting to put on a higher place.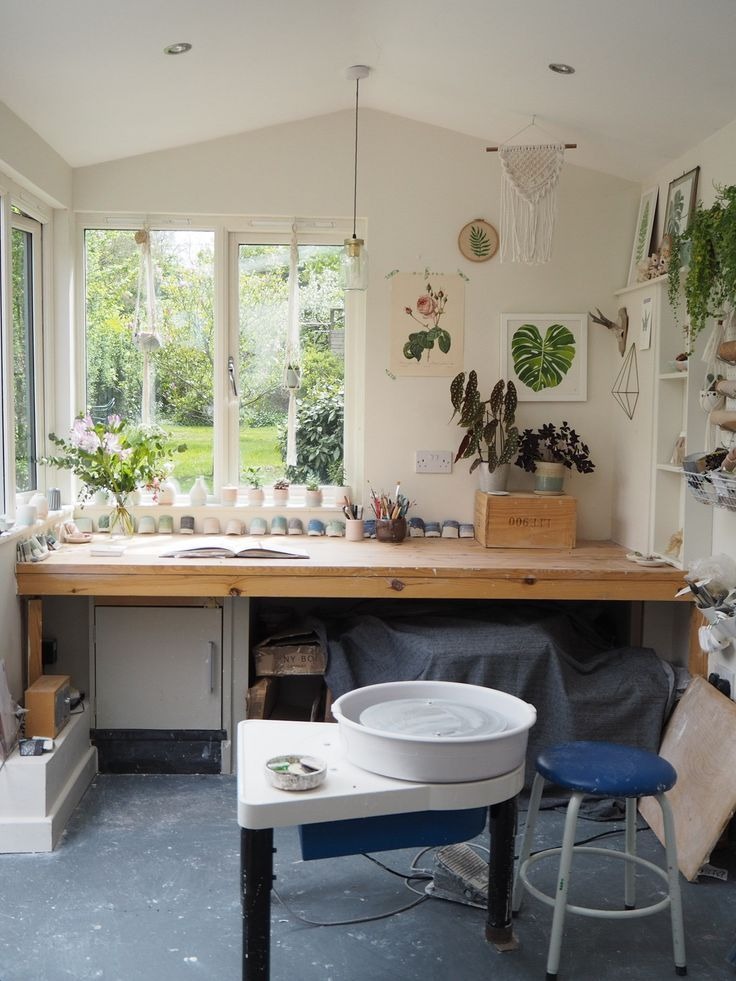 Besides, the small and leafy plants are stunning to put on a desk. This drawing studio is better to have some glass windows. It provides direct sunlight into the room. Moreover, it is better to use a floating desk or furniture that won't take up lots of space. In addition, you can decorate this room with your artwork.
17 of 17
These are ideas for drawing studio design. This room is versatile for your house. If you like to draw or paint something, make your studio at home. This home creative studio won't declutter your interior. You can use an empty wall or room to make a simple drawing studio. Hopefully, this post will inspire you to design the best drawing studio. Happy decorating!