Druhomes.com – A camper van is a movable house for temporary living. Some people use this house as a shelter during a long trip to another city. The camper van has all you need inside this house. There are a bed, bathroom, living room, kitchen, and a small workspace. Also, this house needs many preparations to create a comfortable living space. Here, are ideas for camper van interiors to inspire you. Let's get to the 19 Camper Van Ideas for Best Tiny House on Wheels!
Full Bed with Rustic Interior
A bedroom is an important room to take a rest. Most people create a comfortable bedroom to get the best sleep time. In a camper van, the bedroom is smaller. This idea has a raised bed with a comfy bed. There are pillows, sheets, and blankets to keep it warm.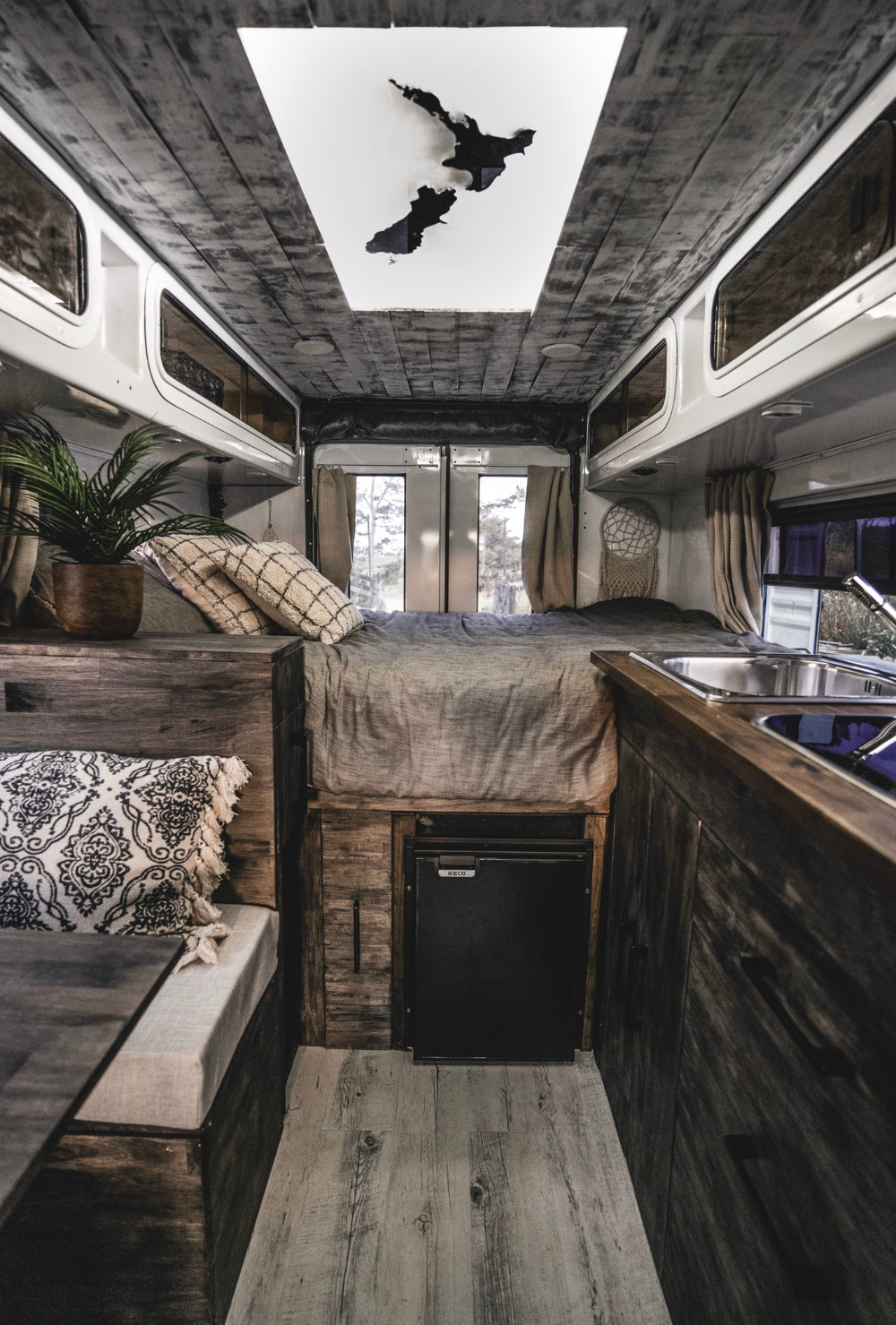 Also, this bed has an additional bedside table. It is useful to put books, plants, and other small things. Moreover, this bed has a nice interior. The grey-brown theme is stunning to emerge an aesthetic design. Besides, you need to be careful when sleeping under the storage.
1 of 19
Arrange Efficient Storage
Storage will change every interior design. It is a must-have element in any interior. Look at this idea. It has efficient storage. The designer uses every small area as storage. Beside the bed, you will see a small cabinet with some drawers.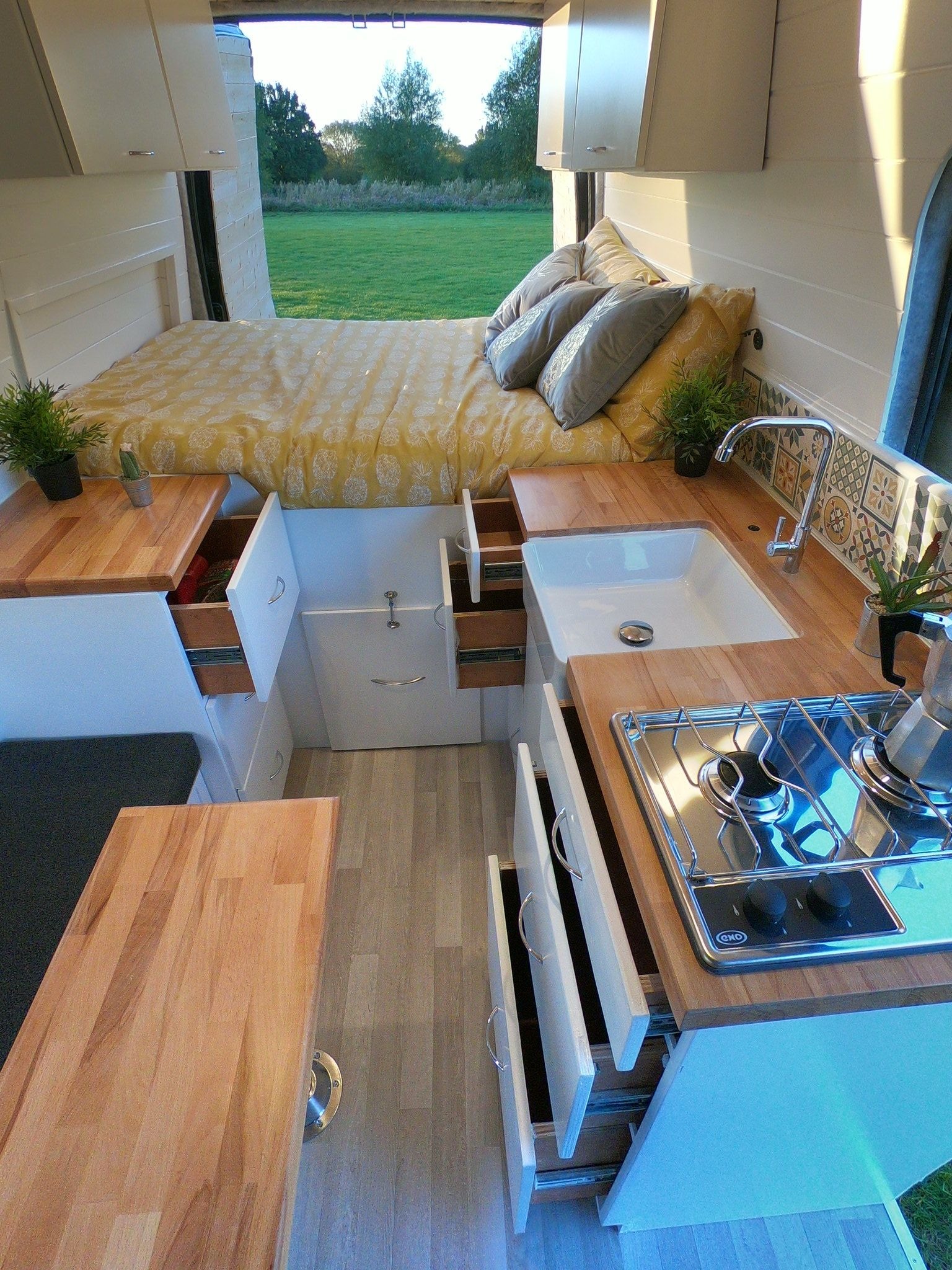 Meanwhile, the kitchen area has larger drawers. You can arrange the kitchen appliances in every drawer. Also, the white kitchen cabinet matches the sink on the wooden countertop. Moreover, the next storage is under the bed. There are also two cabinets above the footboard and headboard.
2 of 19
Install An Under-Bed Wardrobe
This idea is related to the previous idea. It is an additional wardrobe under the bed. The wardrobe isn't too big, but enough to hang some T-shirts, shoes, bags, and other things. You can design the wardrobe with some shelves and hangers.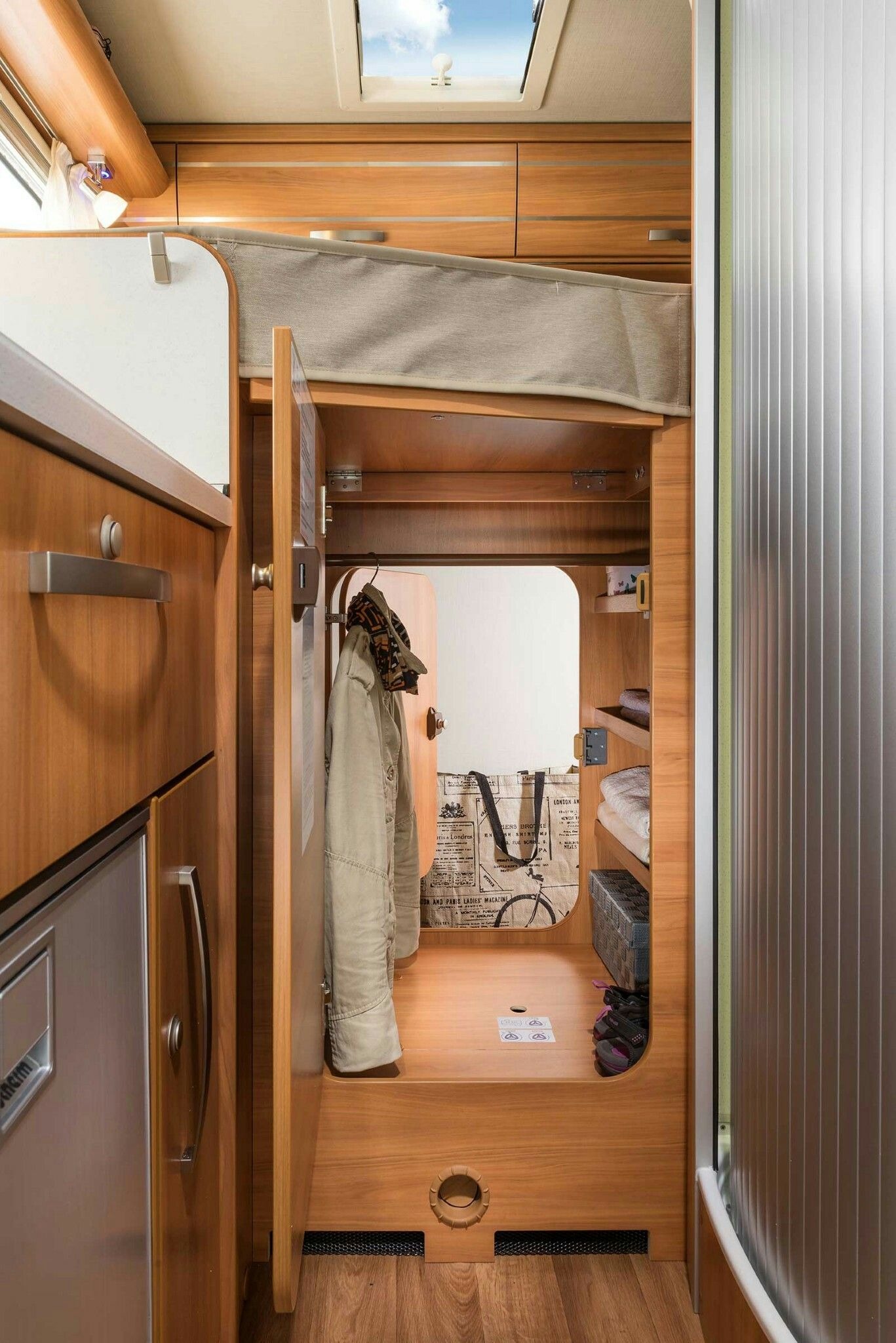 This camper van has a nice interior. The light brown material is stunning to enliven a natural nuance. You can match it with modern or minimalist accents. Look at this design. There are some metal accents near the wardrobe. Also, the permanent bed is perfect with a small sunroof.
3 of 19
Boho Camper Van
Bohemian interior design is versatile. You can apply this interior design in any place, like a camper van. This camper van has rich patterns on the bed. The green sheet is striking in this warm wooden camper van. The white patterns bring out the Bohemian nuance.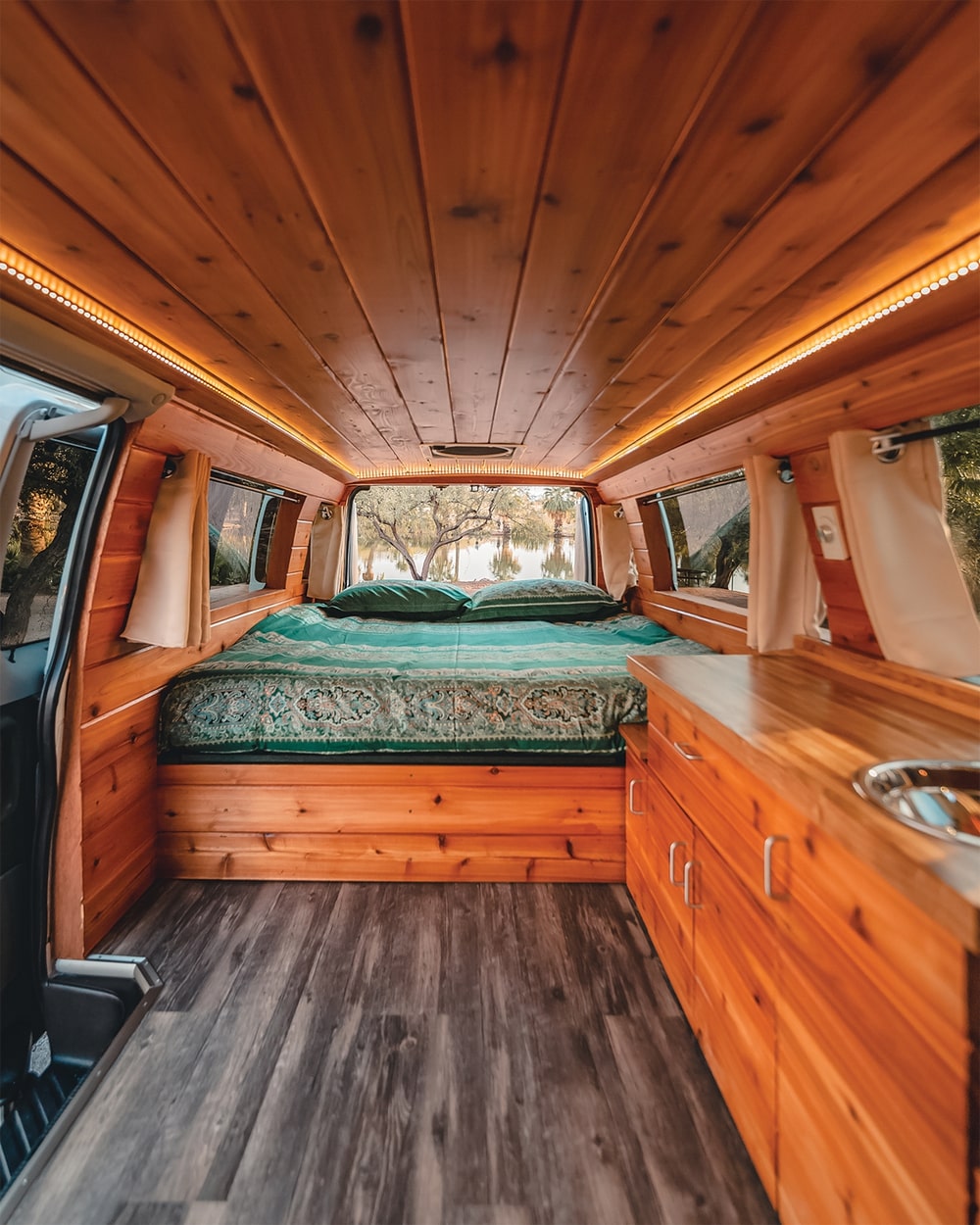 Also, this bed is located near the sunny window. The natural brightness is perfect to shine the camper van. Moreover, the interior design in this room is quite simple. It looks clean with no stuff on the countertops. There are only short curtains on every window.
4 of 19
Make It Looks Spacious
A camper van is identical to a crowded tiny room. You can even make it spacious with some tips. This camper van is a bit more spacious than common designs. First, choose a neutral theme like white, light brown, light grey, and many more. These colors make a perfect reflection in the room.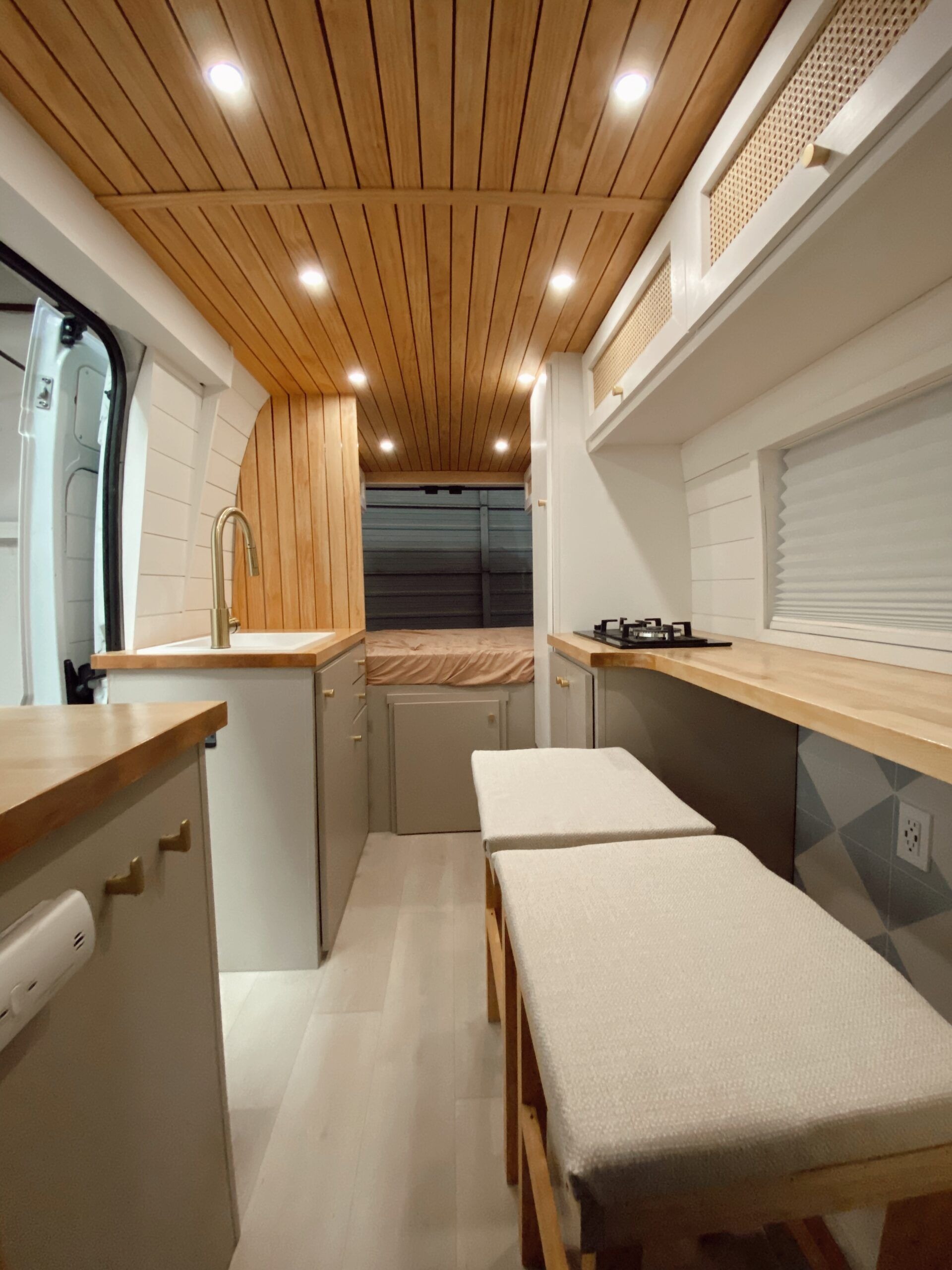 Then, the type of lighting and color of a ceiling will make a difference. This idea has a light brown ceiling with some orange lighting. Moreover, don't display much stuff on the countertop. It is better to always put them in storage. Too much stuff will declutter the design as it makes a crowded impression.
5 of 19
Design An Small Living Room
Some people have almost all rooms in their camper van. This camper van has a small living room to fill the space. It is located near the bed. Both rooms share the same cabinet. This living room has a catchy design. The striking mustard pillows are striking on the dark grey sofa.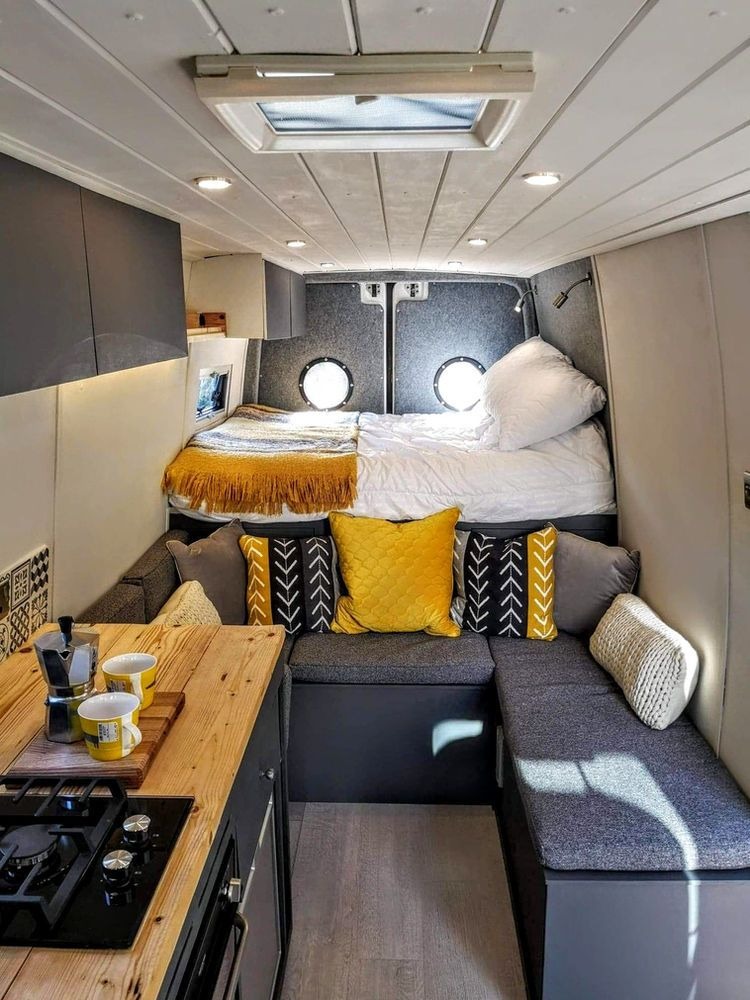 Besides, this living room design will cut off the storage. This bed can't have under-bed storage if there is a permanent living room. Some people like to create a portable living room. So, they can install it again whenever they want. This living room doesn't need a coffee table. The kitchen countertop is functional as a living room table as well.
6 of 19
Use Multifunctional Elements
A movable house like a camper van can't load all household appliances. Thus, you need to use multifunctional elements. Look at these designs. There is a small cabinet above the sink. It is useful to install small lights under it.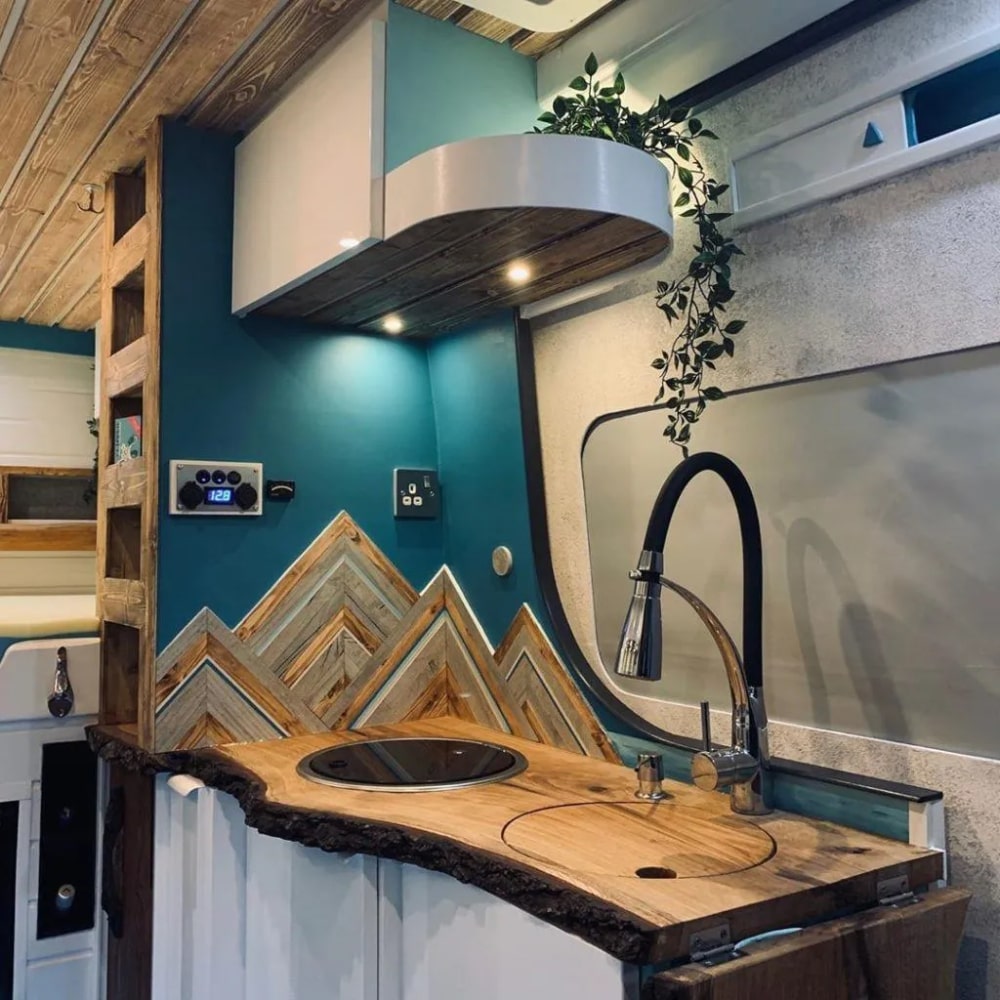 Besides, this camper van kitchen has a single electric stove. It looks elegant. Next to it, there is a sink with a cover. Thus, your camper van won't smell after washing the plates or cups. Also, you can use it as a cutting board. This kitchen is one of the most efficient designs in a camper van.
7 of 19
Has A Clean Window
Every camper van has a glass window. Some camper van houses have a permanent window that can't open it up. Also, there is a camper van with an open window. Both windows are useful to improve natural sunlight and brighten the room. Thus, don't put too many things near the window sill.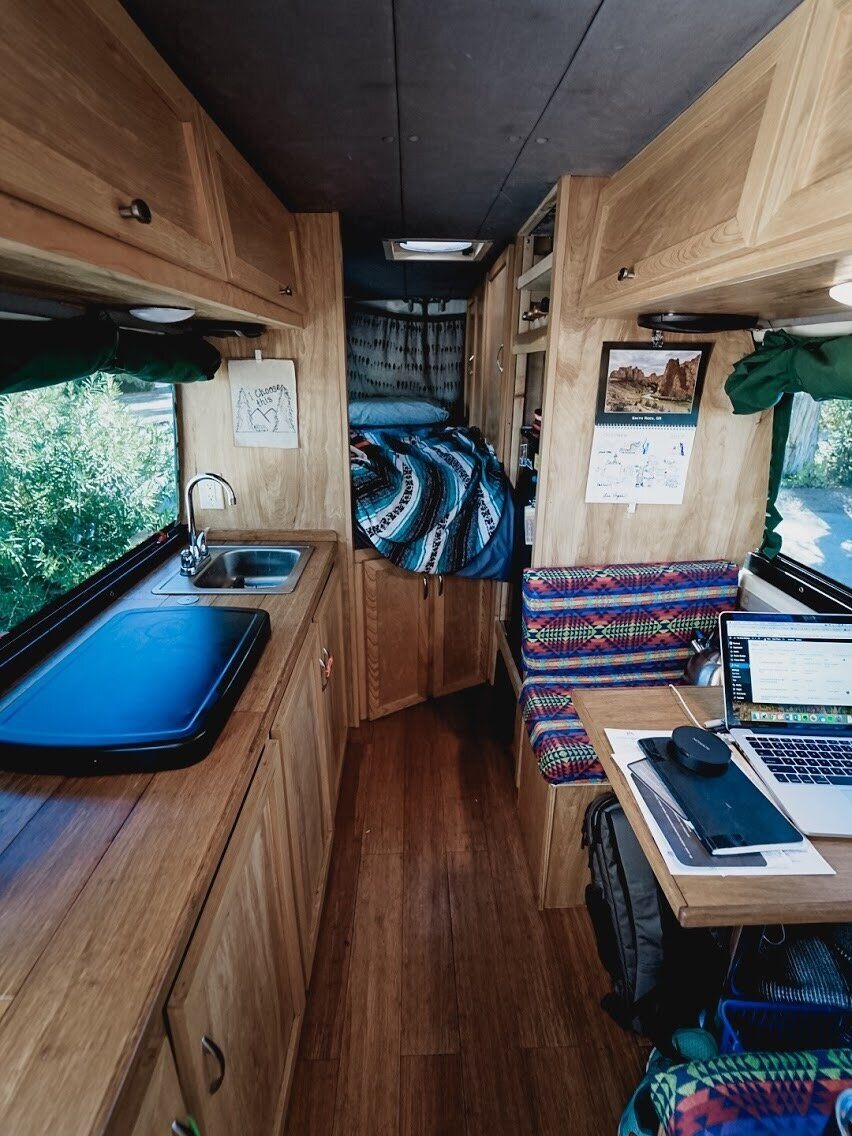 The crowded window sill will block the sunlight and barely reach the interior. Also, a clean window can bring a fresh view during your trip. Besides, you can pull the curtain to add privacy at night. Also, ensure the windows are made of strong materials.
8 of 19
Install String Lamps
It is interesting to decorate a camper van. You can make it looks like being at home. Install some string lamps and bring a comfortable nuance. Some people install string lamps as it reminds them of their bedroom at home. Besides, the string lamps are multifunctional lighting that reaches any small area.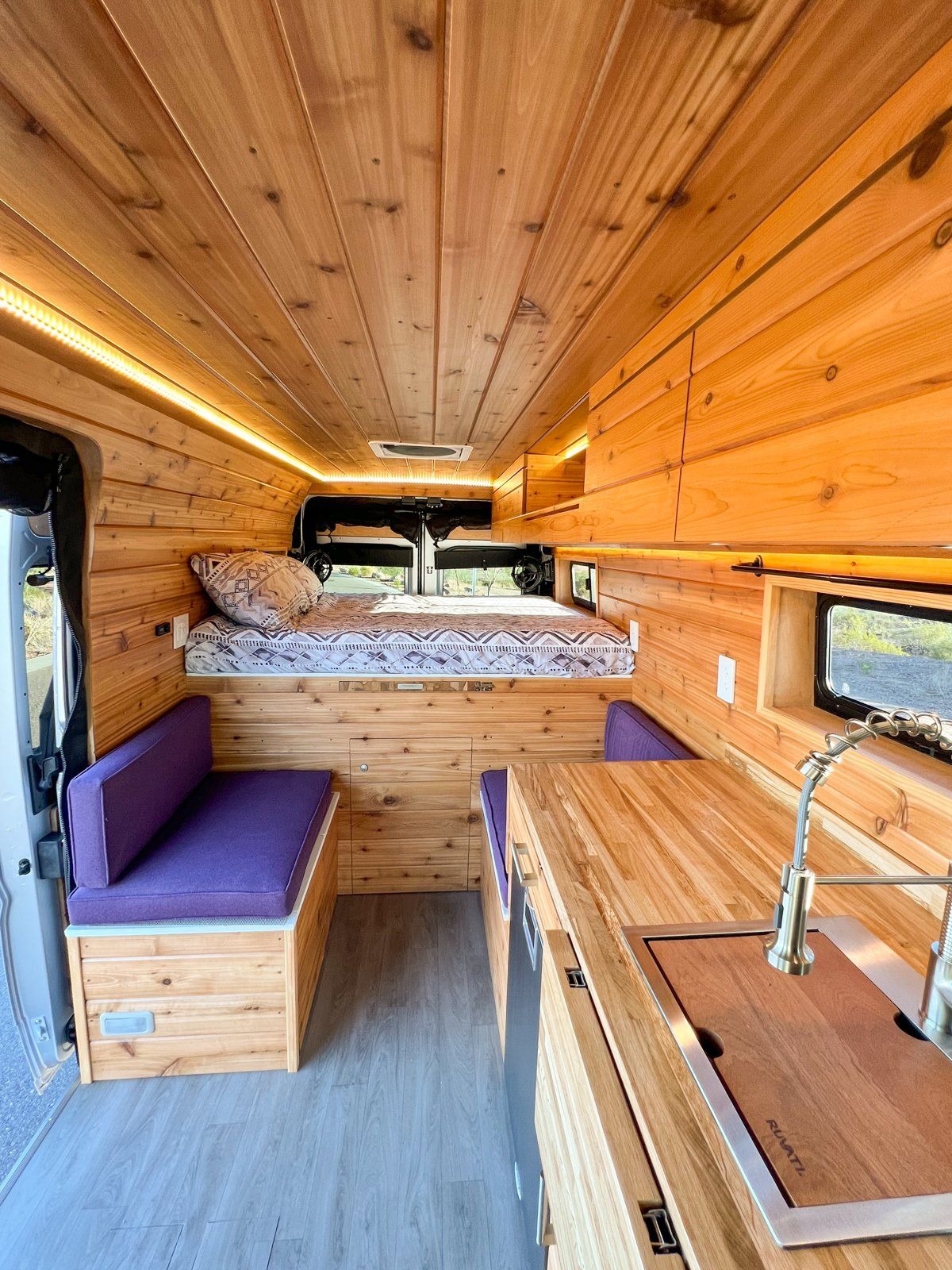 This idea has a horizontal string lamp. The long line will shine this small corridor. Moreover, it looks warmer because the room has wood siding. The timber patterns are stunning on every side. Moreover, this camper van is neat. It looks a bit larger because there are no ornaments.
9 of 19
Add A Portable Seat and Table
The camper van interior should adjust the room size. Thus, it is simpler to use portable furniture. This camper van has a portable seat and table. The seat is versatile and you can move it into any spot. Meanwhile, the table is like a drawer. You can pull it into its case under the bed.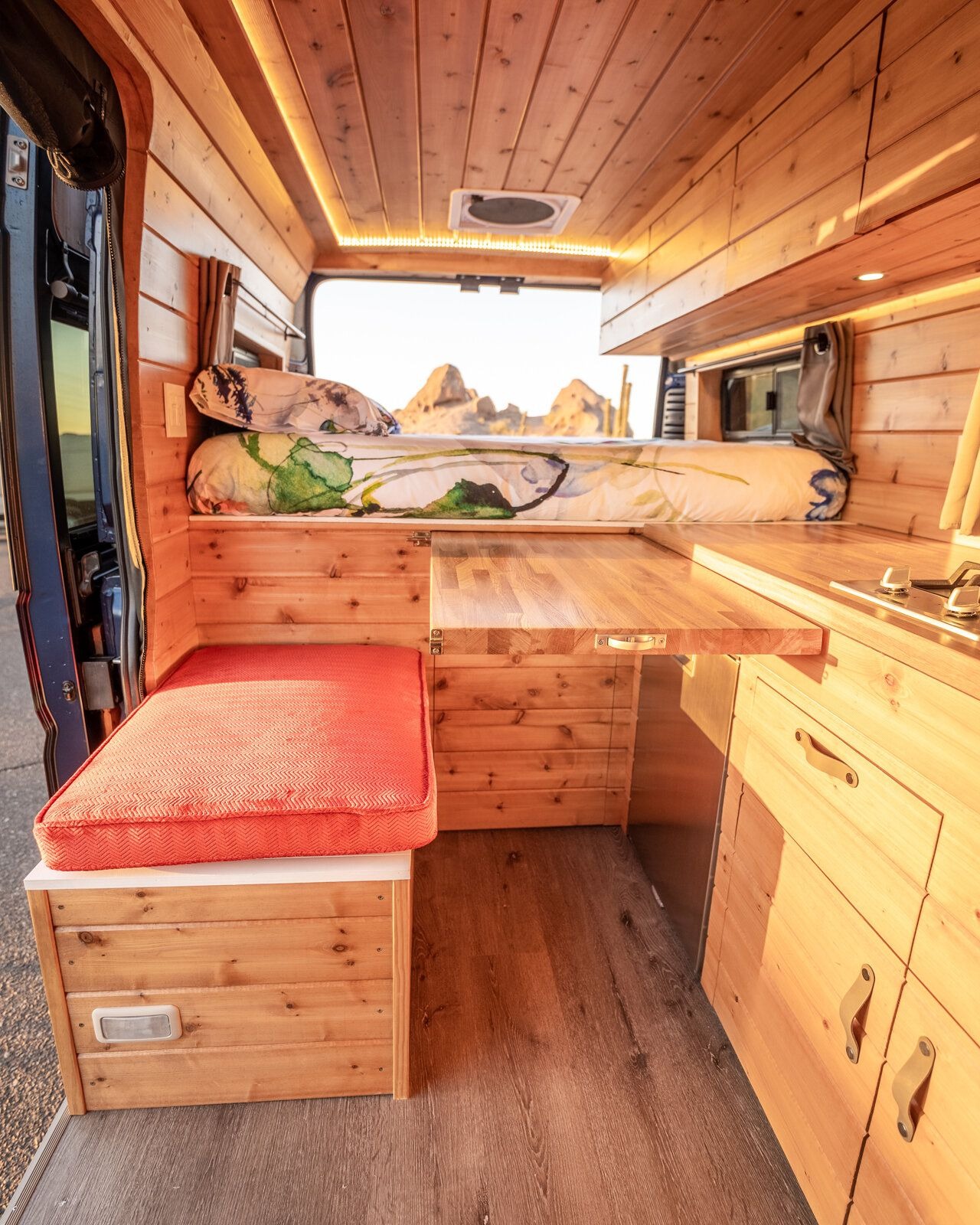 Besides, this camper van is useful for single or couple travelers. It has a clever design. Also, there is much storage that reduces clutter and chaos. This storage makes a compact interior. Moreover, there is also storage above the bed.
10 of 19
Use Vibrant Colors
The color room is important to bring a certain nuance. You can try a vibrant color to decorate the camper van. It consists of more than two colors. Sometimes, it looks striking. Look at this idea. The camper van has a striking interior on every side.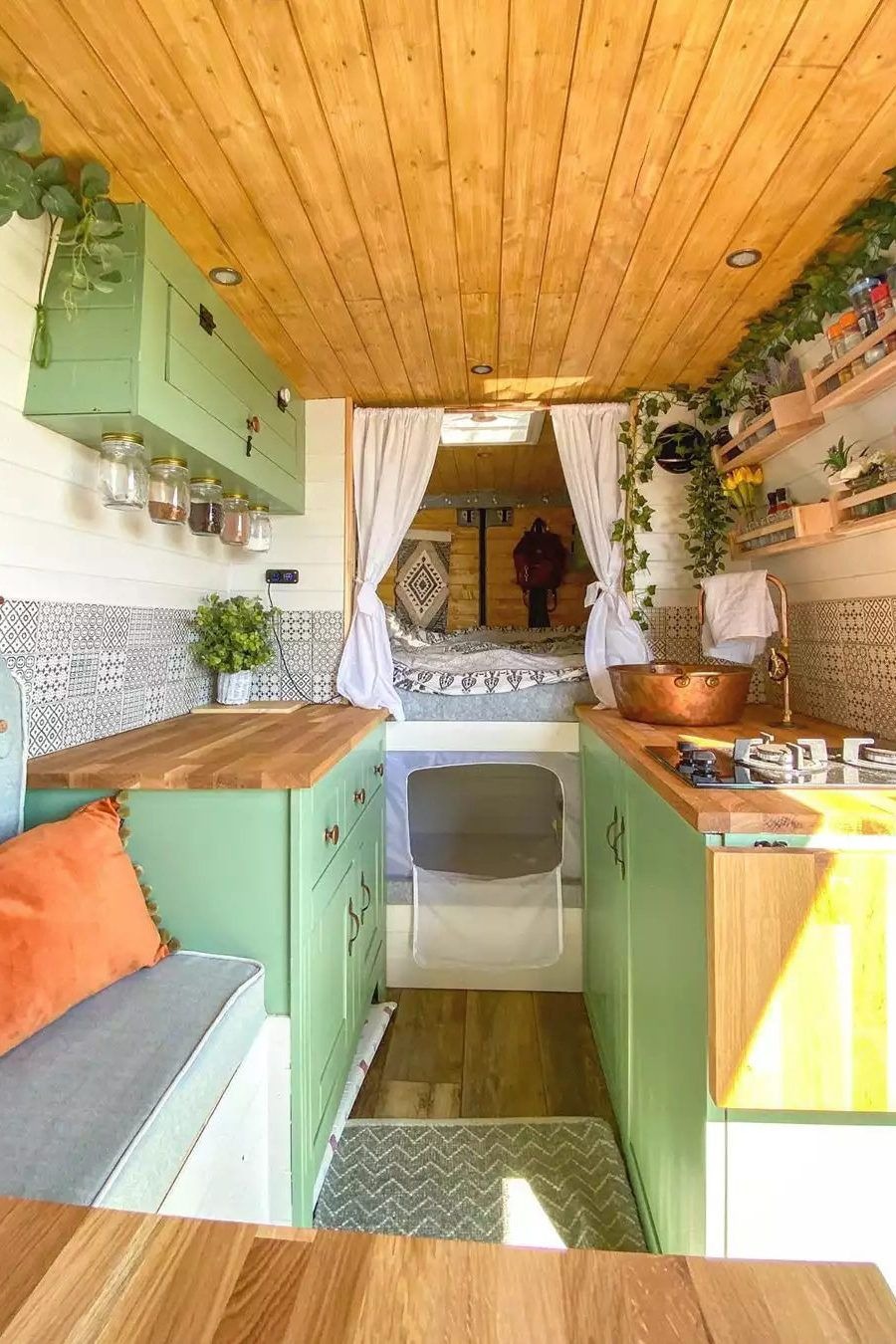 The ceiling and floor are light brown wood. It looks shiny in this room. Meanwhile, the kitchen cabinets are green. This green color represents the natural impression. Then, the bed is catchy with Bohemian design. It has a white lace to add privacy. Moreover, there are string plants above the kitchen that makes it perfect.
11 of 19
A Small Bathroom with a Toilet and Shower
A bathroom is a must-have element in a camper van. It is safer to have a private bathroom, so you don't need to use a public bathroom. Besides, this bathroom needs a steady water system. Ensure that you ask a professional to install a proper water system for your camper van.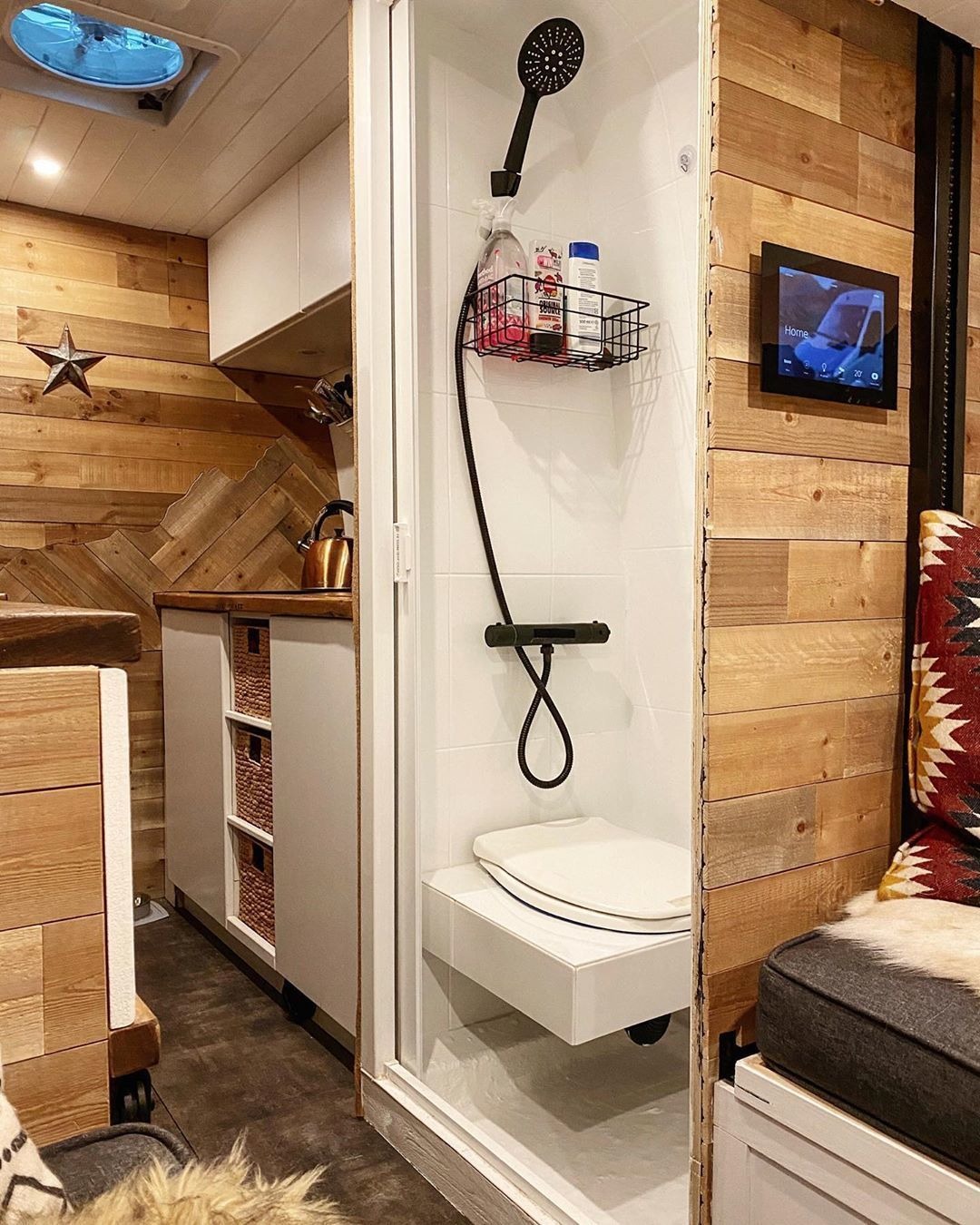 Also, if you use a portable cassette toilet, you need to empty it every few days. After dealing with this feature, you can start decorating your bathroom. Look at this idea. It has a toilet and shower. As a camper van room, it is narrow but enough to clean your body.
12 of 19
How to Make It Neat
A small room like a camper van can be so crowded. Even though this room has few things, an improper decoration will make it looks bad. This idea is a neat camper van. It looks a bit narrow because of the layout. Besides that, it is neat for a moving camper van.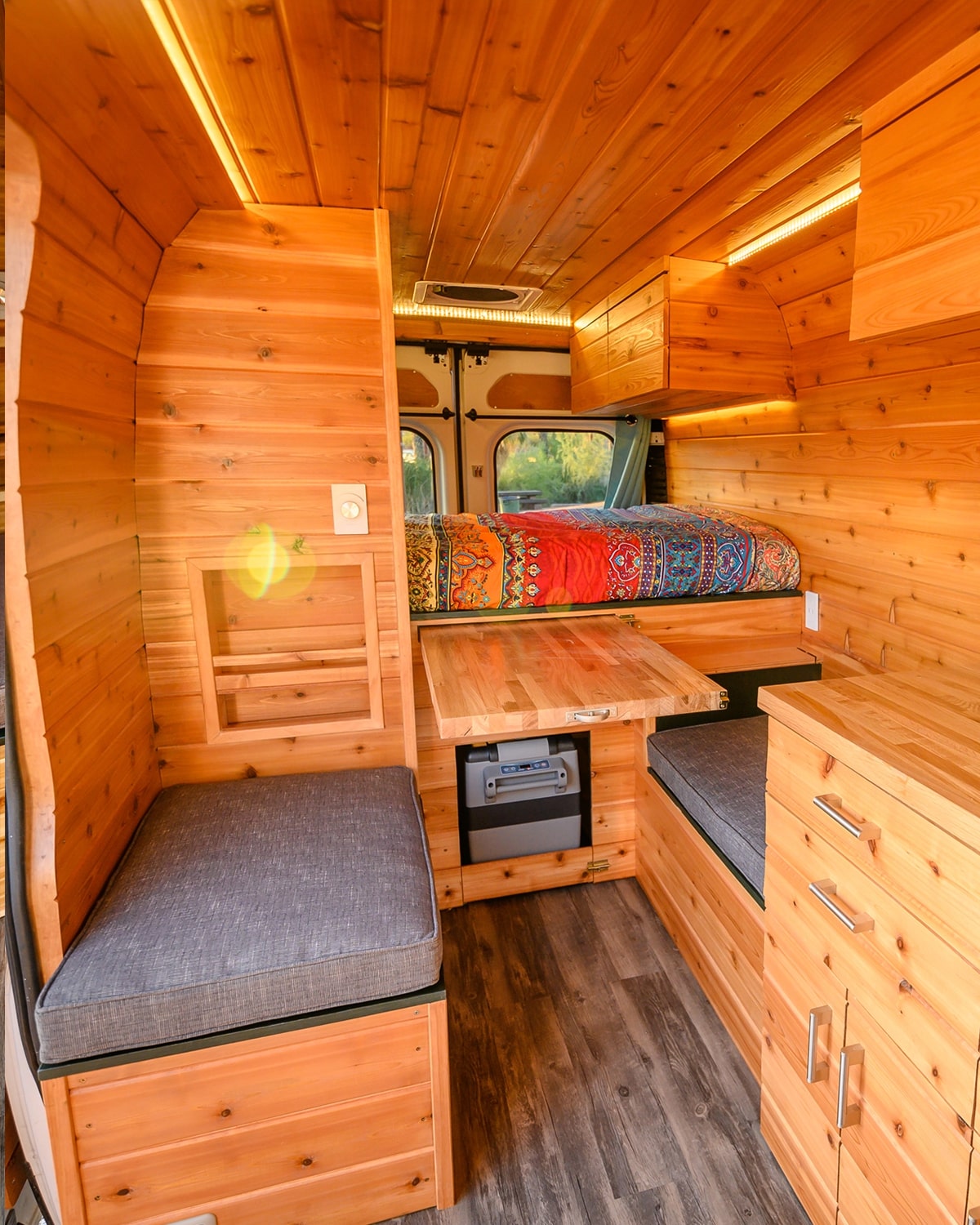 Moreover, this camper van has no ornaments. You can put some ornaments but can't have many things in this narrow living space. It is better to always save the things inside storage. This way is safer because people can't see what you have in this camper van. Also, ensure to always lock the storage that loads the most important things.
13 of 19
Pick Neutral Colours
A neutral color will calm your mind. Let's see this beautiful camper van with a neutral theme. This is a bed in the camper van. The white theme is perfect to improve brightness when you visit a sunny place. Also, it looks attractive to combine with any decor.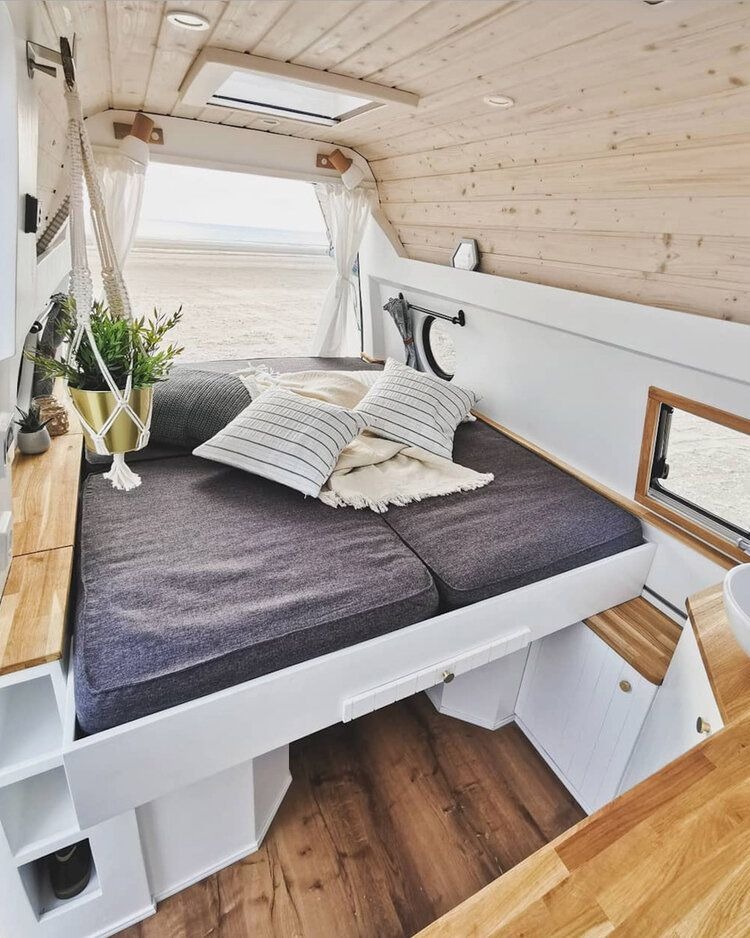 This camper van is interesting with a dark grey sheet and some striped pillows. Also, the hanging green plant is helpful to refresh the interior. Look at the pale wood on the ceiling. It reflects white lights from the ceiling lamps. This camper van is more stunning when you open the window.
14 of 19
Add Dim Lights on Dark Wooden Ceiling
The dim light is a nice choice to bring a warm impression to a dark interior. This camper van has some dim lights on a dark wooden ceiling. The timber patterns on the ceiling are interesting when dim lights shine at night. You can install some dim lights to brighten some spots.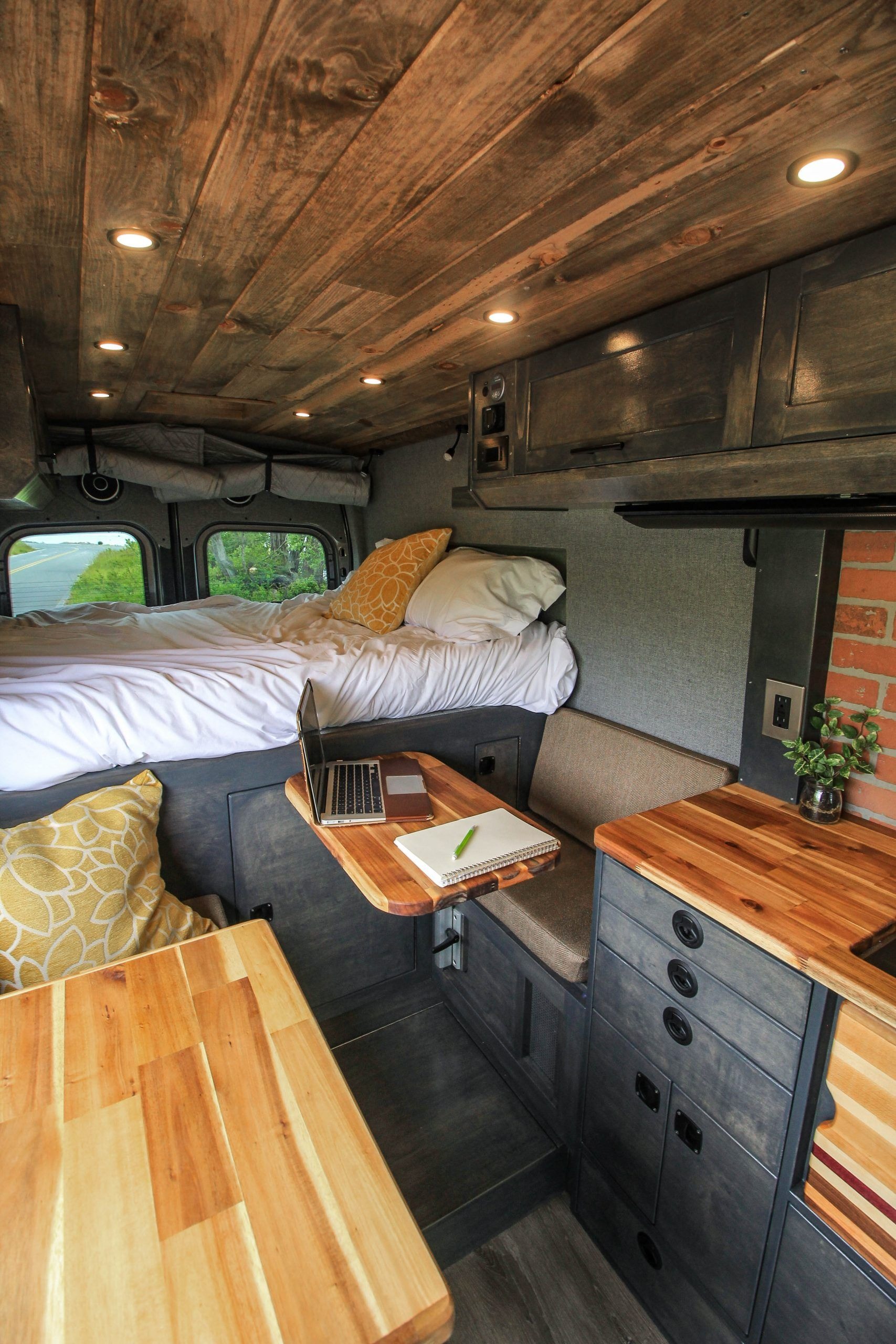 Besides the lighting, this camper van has a catchy interior. The wooden countertops make a perfect table for everything. It has a green plant to sweeten the design. Also, there is dark grey storage under the bed and kitchen cabinet. Next to it, there is a small workspace with a portable table.
15 of 19
Dividing Rooms in A Big Camper Van
The size of the camper van will determine the interior design. A narrow camper van needs a simple interior design. Meanwhile, a larger camper van can fit any design. This idea is a large camper van. It even has some rooms in a different spot.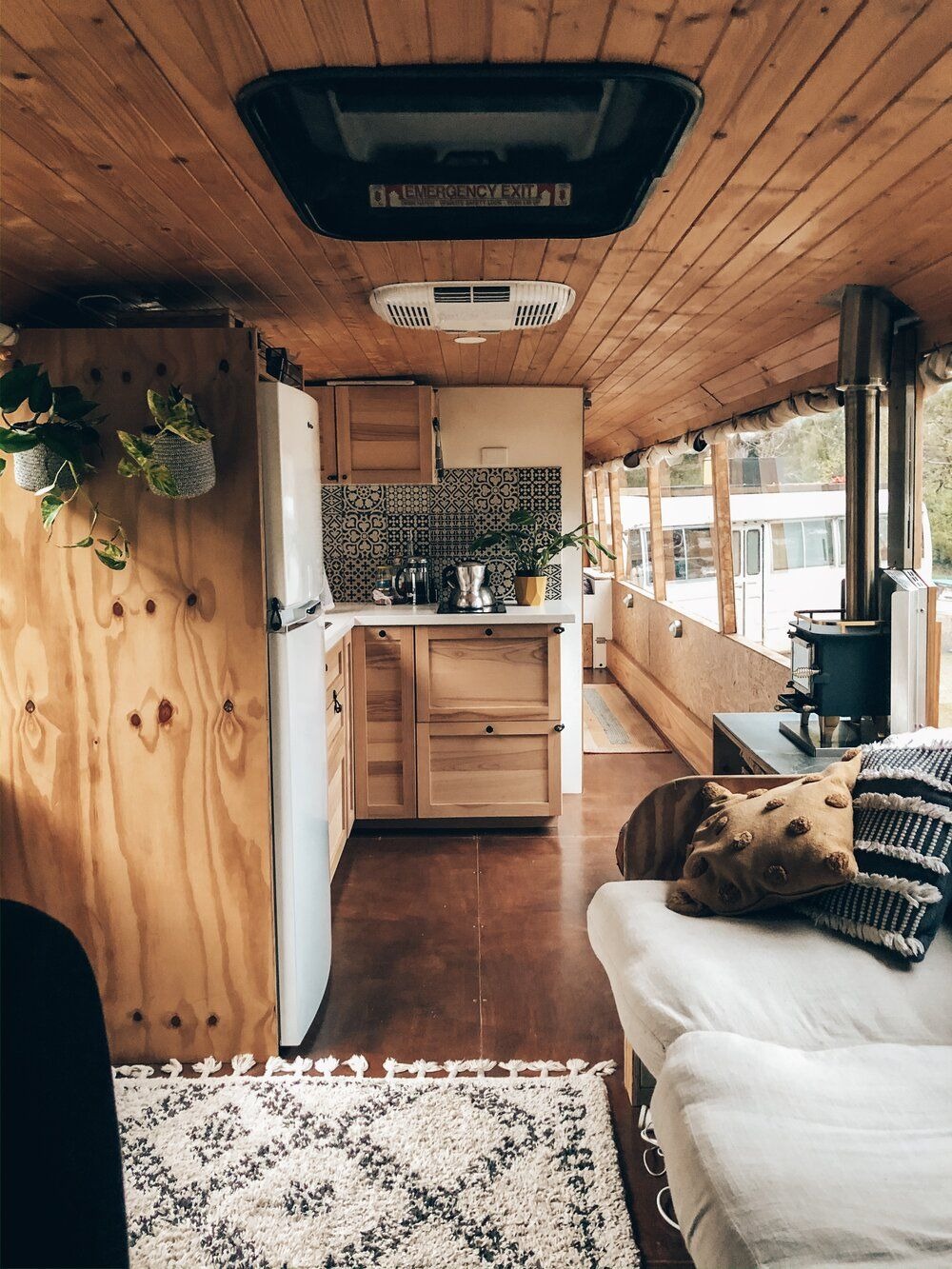 Every room is like a moving house. You will find a bedroom, bathroom, and kitchen in a different area. There is also more home stuff. This camper has a Rustic interior design. Every room has a clean glass window that invites sunlight.
16 of 19
Make Use of Every Space
A camper van needs a proper design to make use of every space. A narrow living space is better to simplify the interior with storage. Look at this idea. It has many storage as a staircase storage under the bed. You can save books on every shelf.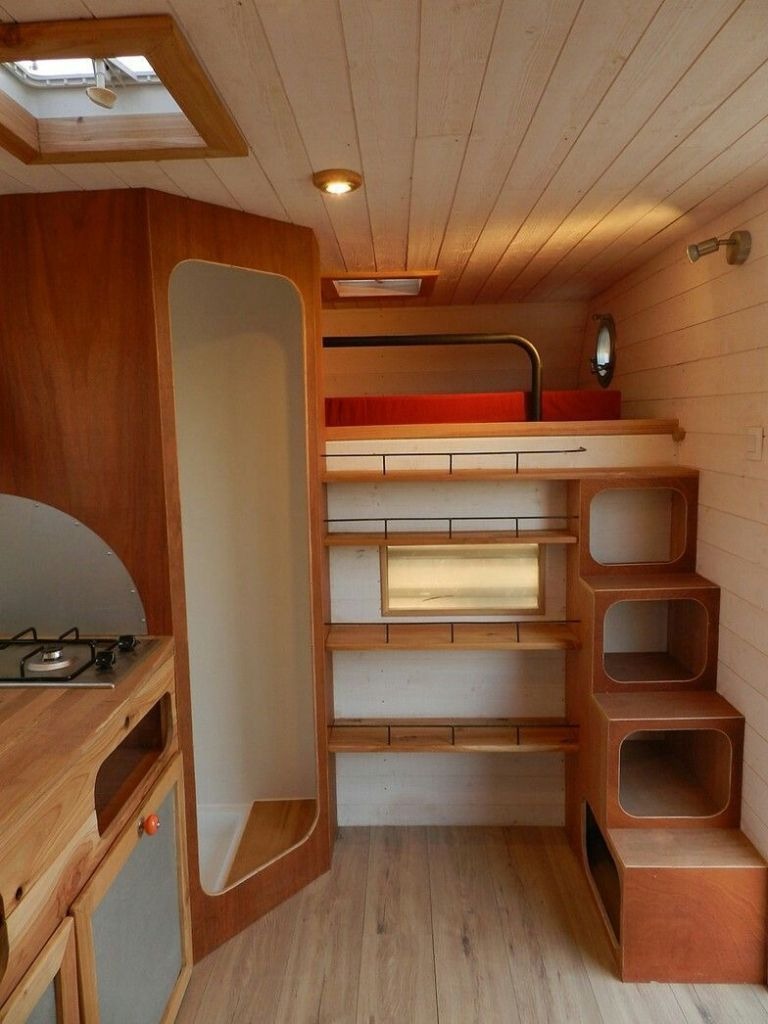 Meanwhile, there is an additional cabinet near the bed. This bed is located near the bathroom. Thus, it is important to save on space. Next to the bathroom, there is a kitchen cabinet. This storage has enough space to put kitchen appliances. To save on space, this bed has a narrow raised bed.
17 of 19
Add A Mini Fireplace
Some camper vans don't have a heating or cooling temperature system. Thus, they install a mini fireplace inside the van. Let's see this idea. This camper van has a mini camper van near the entryway. It is useful to warm the camper van or warm the water.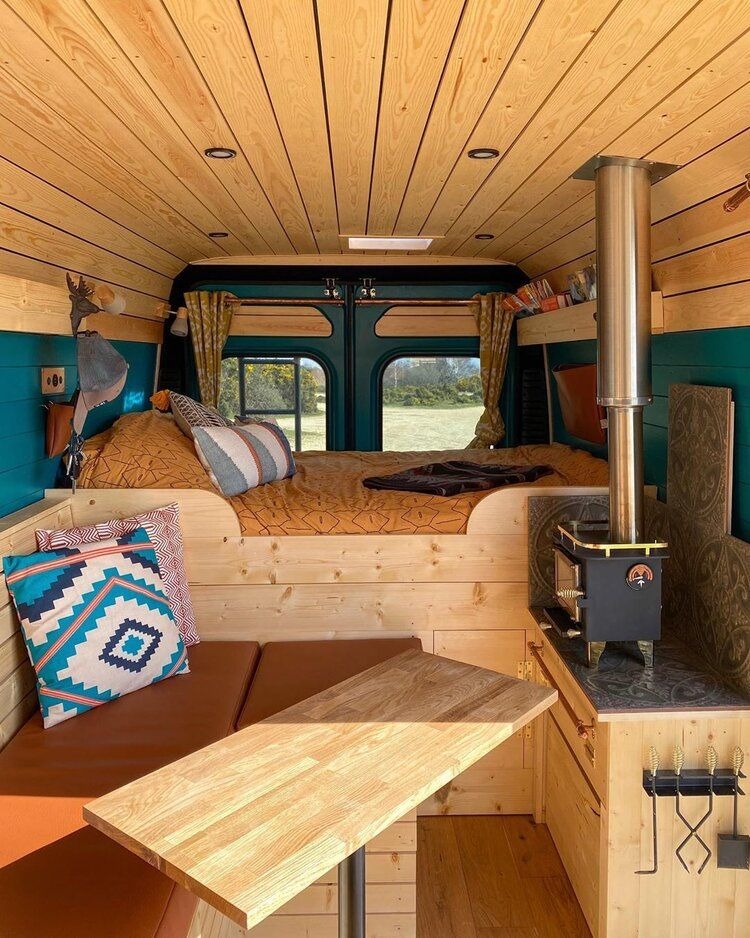 Besides, this camper van has a classic interior. The bed has a catchy bedding design. There is a mustard sheet with colorful pillows. Also, the curtain uses an old pattern. This traditional interior design revives a classic impression. Maybe you want to try this design and sit on the small brown bench.
18 of 19
Grow a Few Plants
The indoor plant is an attractive ornament to refresh the room. This camper van has some indoor plants. Every green plant looks stunning. It is better to grow a low-shade plant because some camper van has low sunlight. Growing them under the lighting will help them to live well.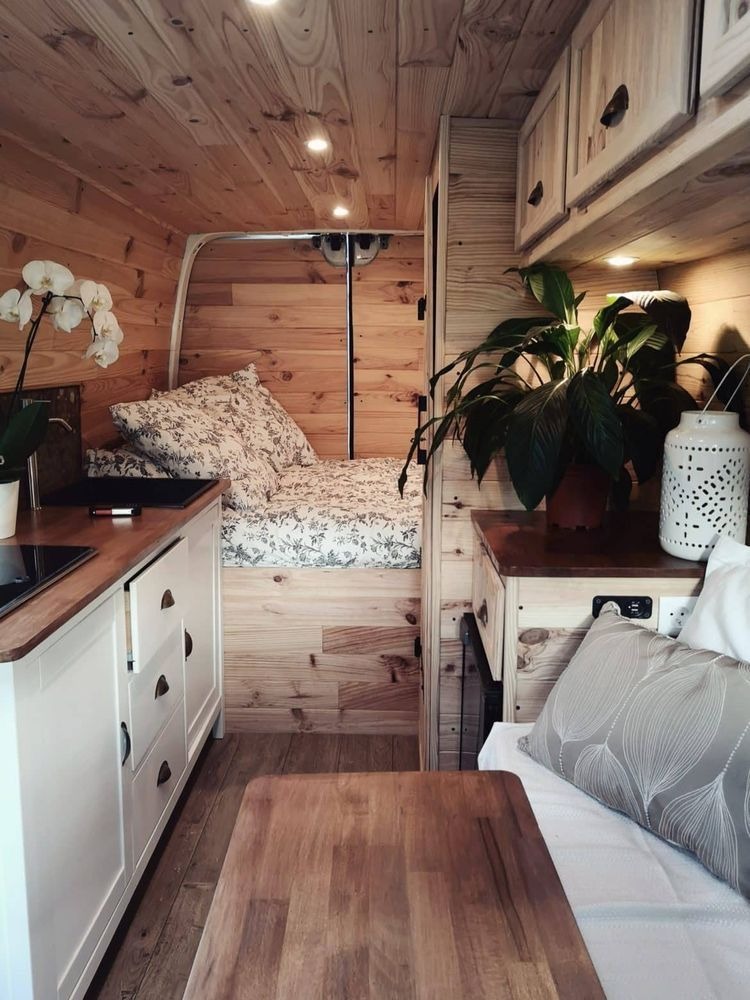 Despite that, you can replace the real plant with a fake plant. Then, let's see this camper van interior. The wood material dominates the wall sides. The bed has a wooden door as well. This material has a beautiful timber pattern. It looks stunning to pair with white accents.
19 of 19
These are 19 Camper Van Ideas for Best Tiny House on Wheels. It is a versatile moving house for a long trip. Some designers make a complete camper van with many rooms. These rooms are narrow but enough to live temporarily during the moving trips. Hopefully, this post will help you to design a functional camper van. Good luck and happy decorating!