Druhomes.com – A hallway closet is a nice solution for house storage. It is one of functional furniture. Many people hide their home stuff inside the hallway closet. What's inside it? They probably are old coats, umbrellas, shoes, and cleaning stuff. Also, the hall closet is a nice place to hide them instead of showing the mess. Here are 17 Hallway Closet Organizations to Declutter Your Storage. You can choose and combine various hallway closets which we will discuss in this article. This way, you can declutter and organize the storage you create better. Let's discuss it!
Narrow Hallway Storage with Classic Wallpaper
A narrow closet is functional to keep a few stuff. You can add a hallway closet to hide the mess. This idea is an inspiring hallway closet. It looks classic with calming wallpaper. The striking patterns match this white closet.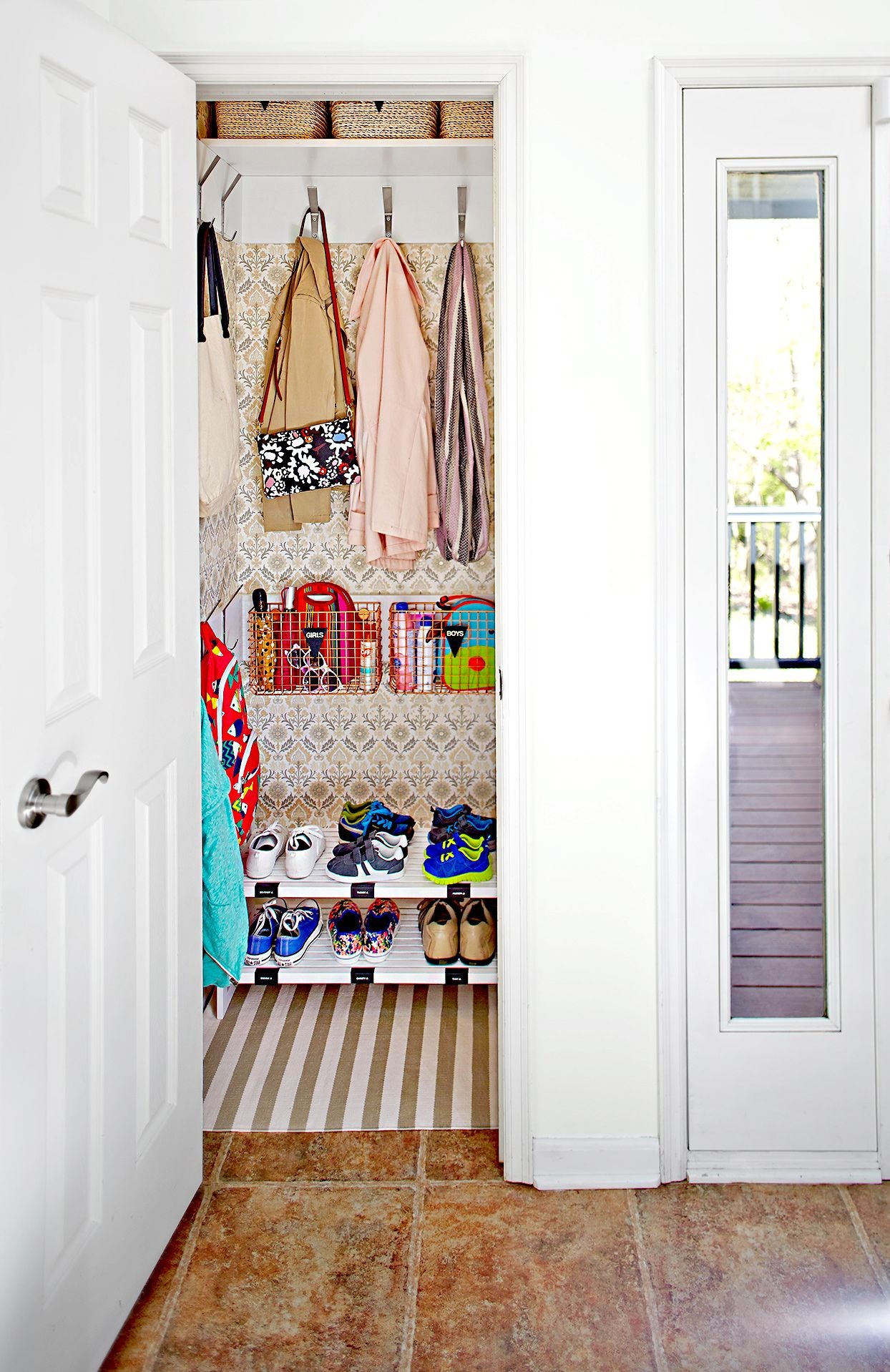 Also, you can add an interesting rug to decorate the floor. Moreover, organize the stuff on every shelf. Put the shoes on the lower shelf. In addition, install some wire baskets to save small stuff. Then, hang the clothes and coats on the hanger.
1 of 17
Functional Storage for Entryway
The hall closet is versatile, and you can put it in an entryway. It would be useful to declutter some stuff in this area. Look at this idea. The navy closet is functional as storage and a little bench. The lower storage can hide shoes and bigger things. Also, you can put them on top of storage.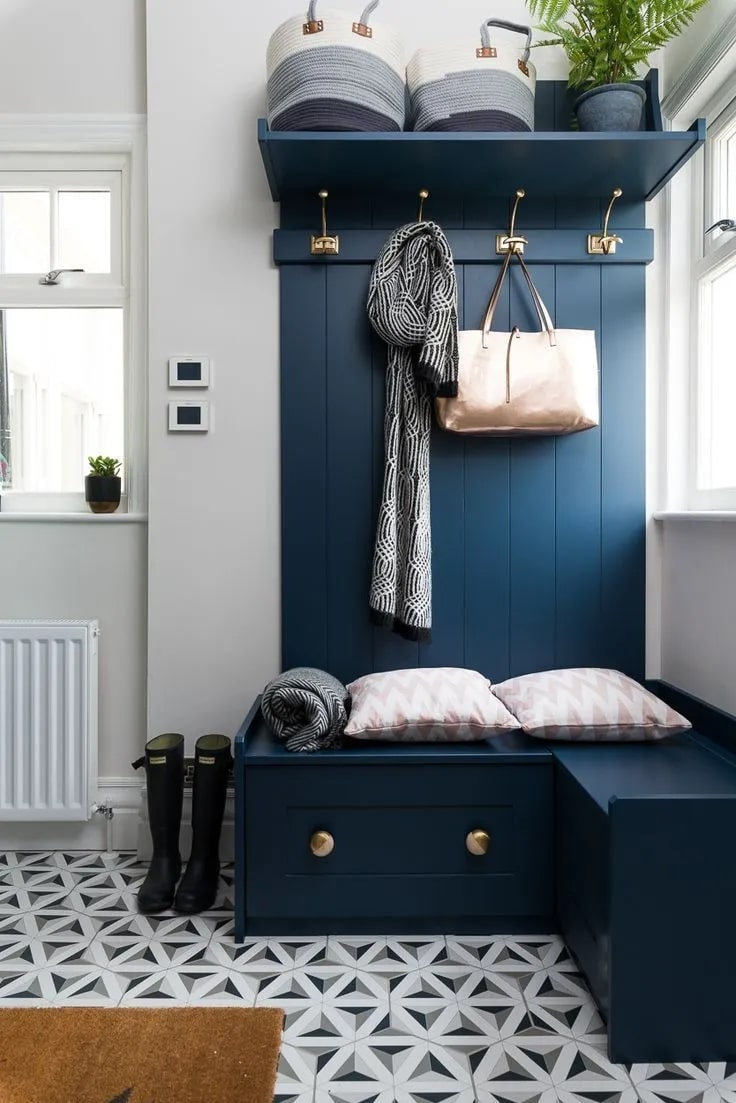 There are some colorful baskets on top. Then, add an indoor palm to refresh the design. In addition, install some hooks to hang your bags or hats. This hall closet is more stunning with a monochrome rug. It looks better to design near a sunny window.
2 of 17
Make A Horizontal Area
This is an attractive idea for a wide room. You can make a horizontal hall closet for extra storage. This design has longer storage to keep more stuff. Also, it has a long bench with a different level. There is some storage and drawers for every bench.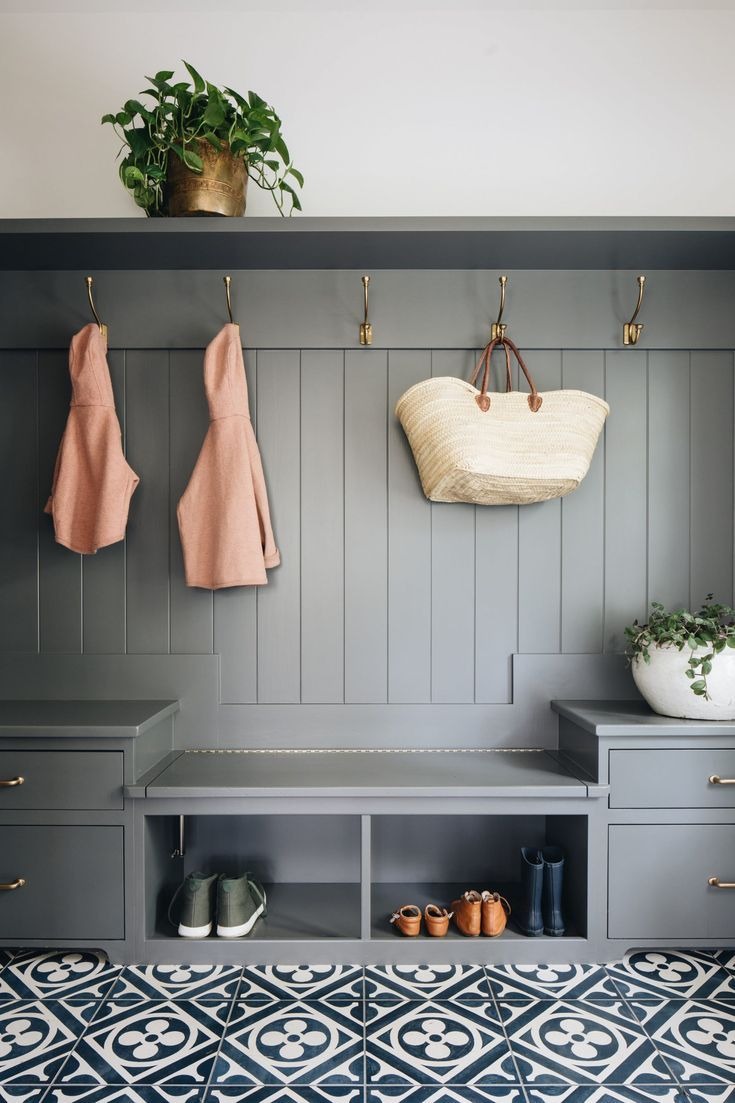 The lowest bench has two doorless shelves. You can organize some shoes or slippers on every shelf. Also, add some hooks to hang some stuff. Besides, this hall closet is versatile for an entryway or hallway. Make it the best area to keep your home stuff.
3 of 17
Hallway Closet x Wood Accents
The hallway closet is more stunning with wood accents inside. This idea uses wooden planks. It matches the wood floors. Besides, this hall closet is neat with some organizers. There are three boxes on the upper shelf. It adds extra rooms to classify the stuff.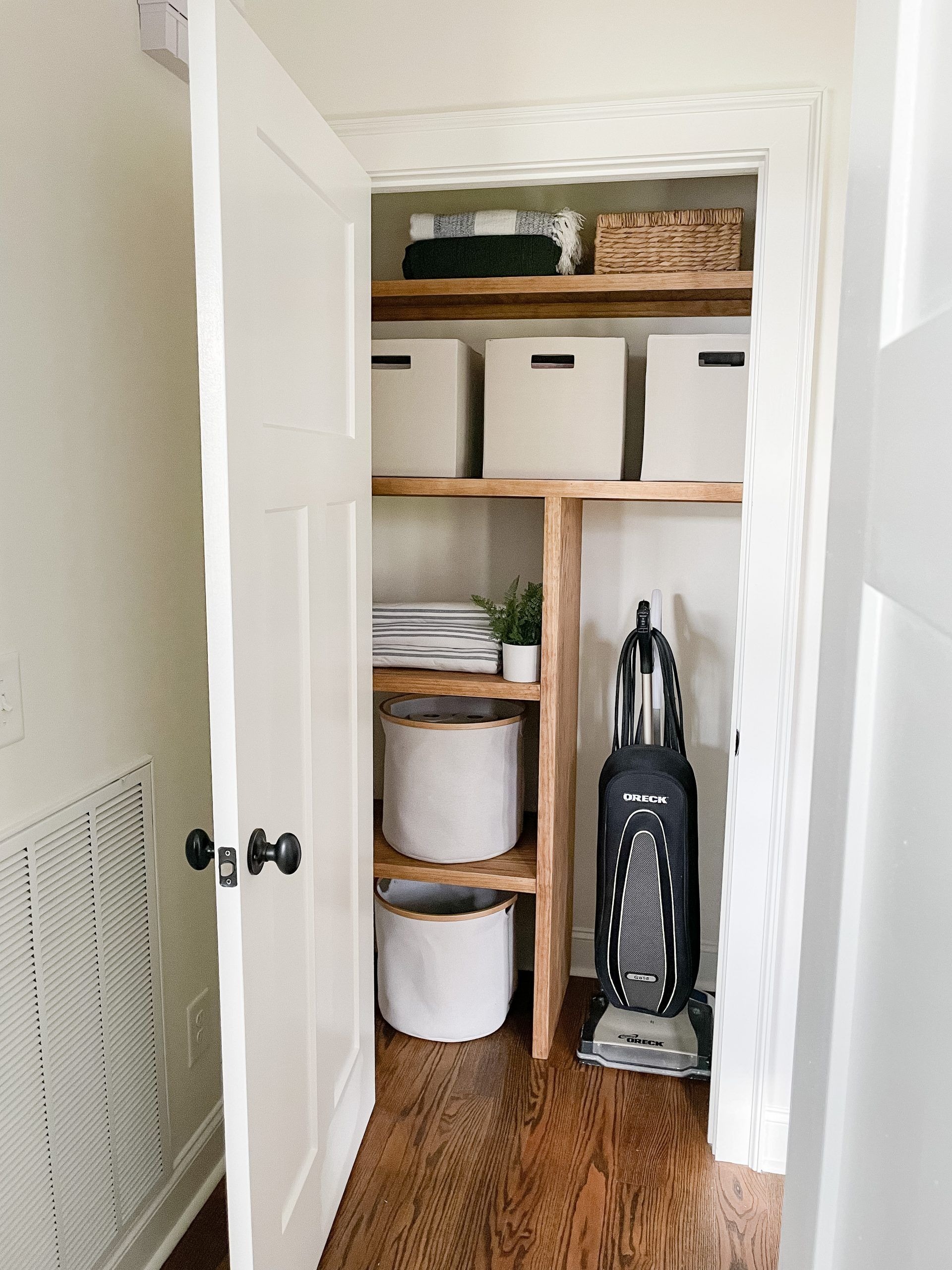 It even has a smaller basket. Moreover, there are extra baskets in the middle space. Also, put a small green plant to sweeten this design. In addition, add decorative stuff like creamy white fabric. Besides, the next storage can load a big vacuum.
4 of 17
Add Calming Colors
There are calming colors like creamy white, beige, soft green, oceanic, etc. They look neutral for a hallway closet. You can pick soft green and soft brown to give a calming impression. This idea is gorgeous with its functional storage.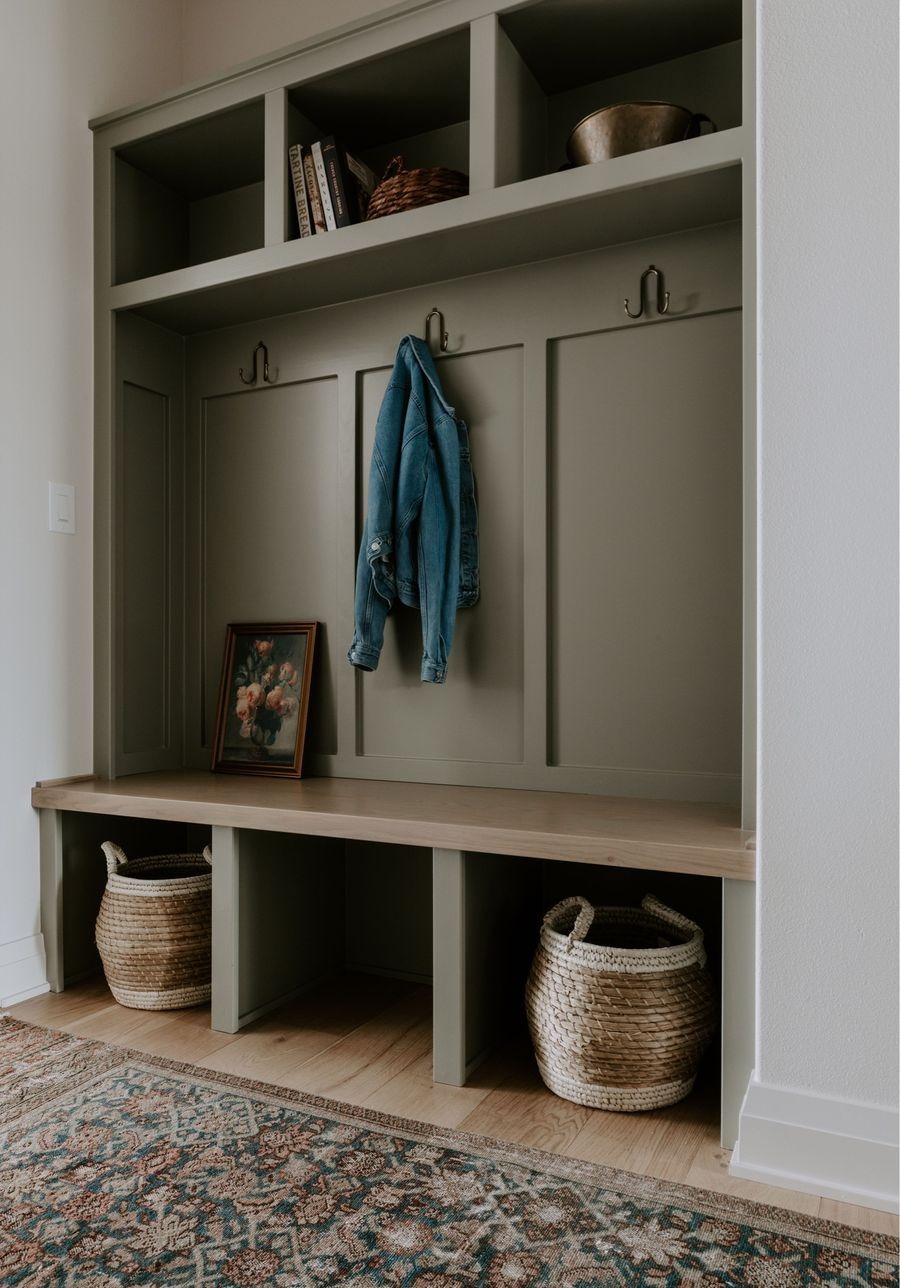 The calming color will put a good mood. Thus, use neutral brown woods to add contrast. This hall closet is doorless. There are six shelves for organizing your home stuff. If you want more colorful accents, then add a few baskets. Also, grow an indoor plant to sweeten the design.
5 of 17
Blue Cabinet and Extra Baskets
An eye-catching accent will attract attention to your interior. Here is a navy cabinet for your hallway design. This cabinet is quite striking to refresh your view. It is functional to load home stuff as it has three doors for larger storage.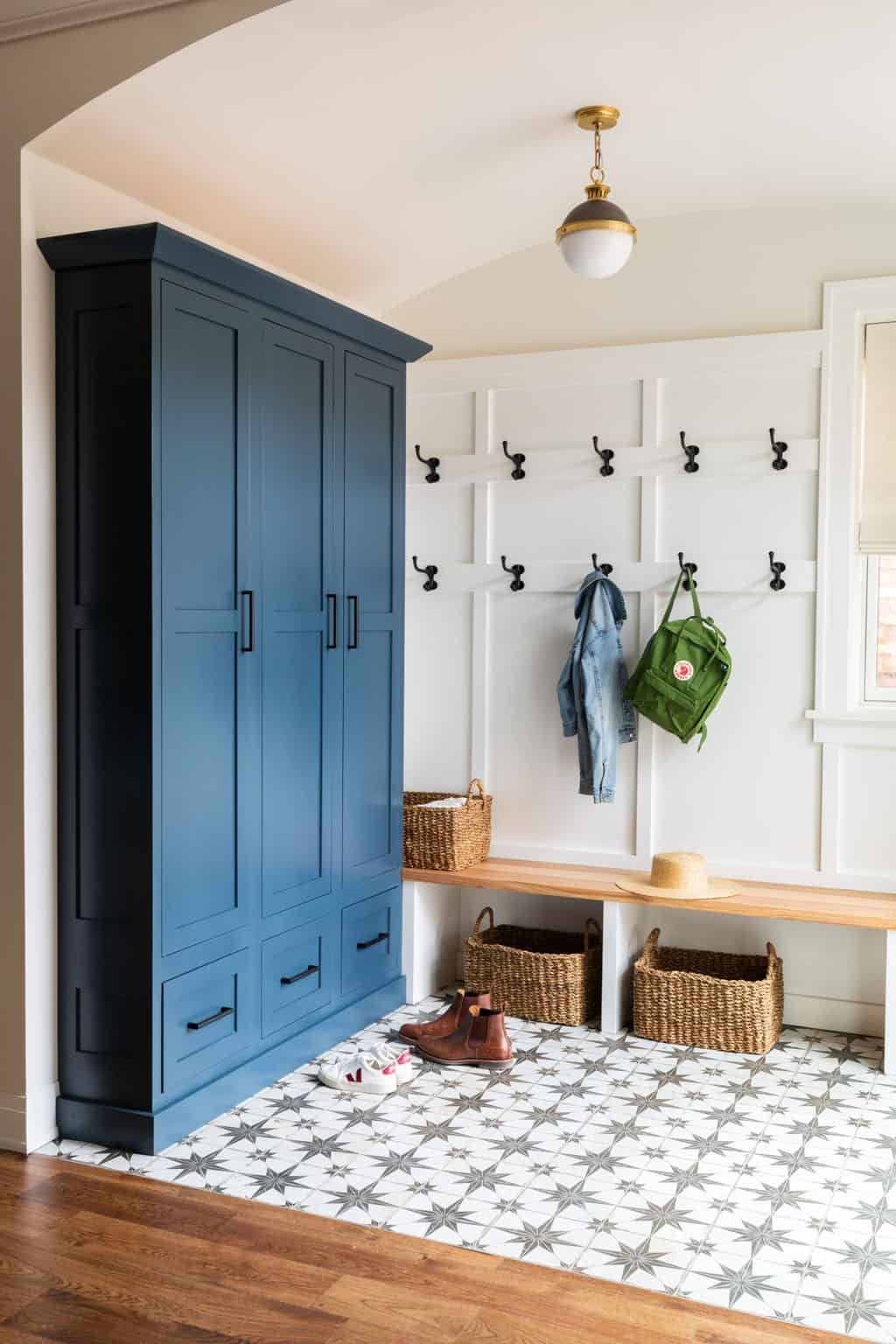 Moreover, this room has a white nuance. There are some accents like black hooks and brown wood on the wall. Meanwhile, the floor is quite attractive with patterned tiles. In addition, you can add some wicker baskets on the floor. Besides, install a wall mirror for checking the dress.
6 of 17
Doorless Design for A Neat Hallway Closet
This is another doorless cabinet for decoration in the hall. It is simple storage for cleaning stuff. You can make a hallway closet in a narrow space like this idea. It has some doorless shelves to load shoes and small stuff.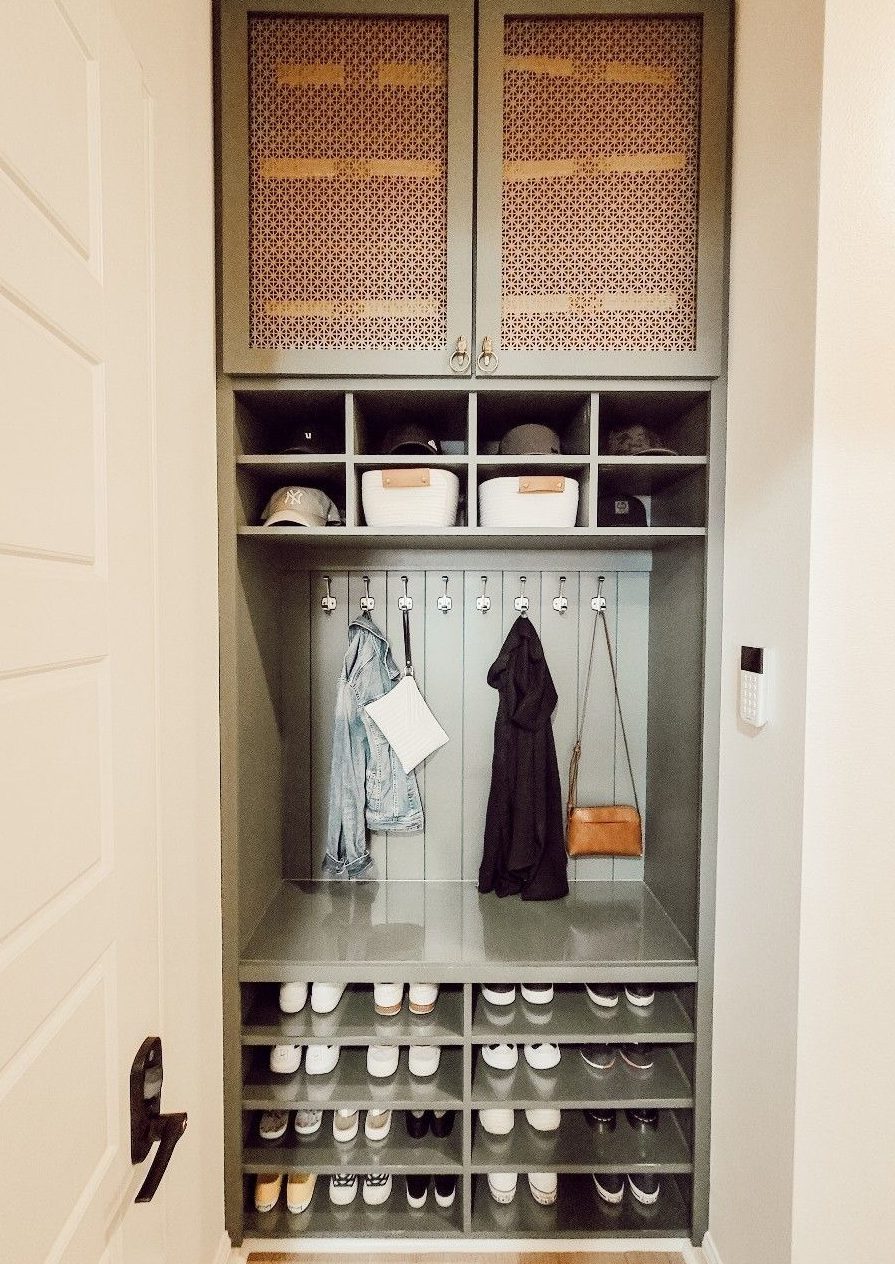 Meanwhile, the upper space is storage with wood doors. You can hide hygienic stuff in this storage. Also, some hooks on the wall are functional for hanging things. In addition, install small lamps to lighten this area at night. Besides that, you must keep it neat because it has no door to hide the mess.
7 of 17
Hallway Closet on Staircase Landing
A staircase landing is a versatile area. You can make a hallway closet on the staircase landing. This idea makes an inspiring statement by a narrow storage. It is loaded with some shoes and small things. Also, this design is quite neat without a door.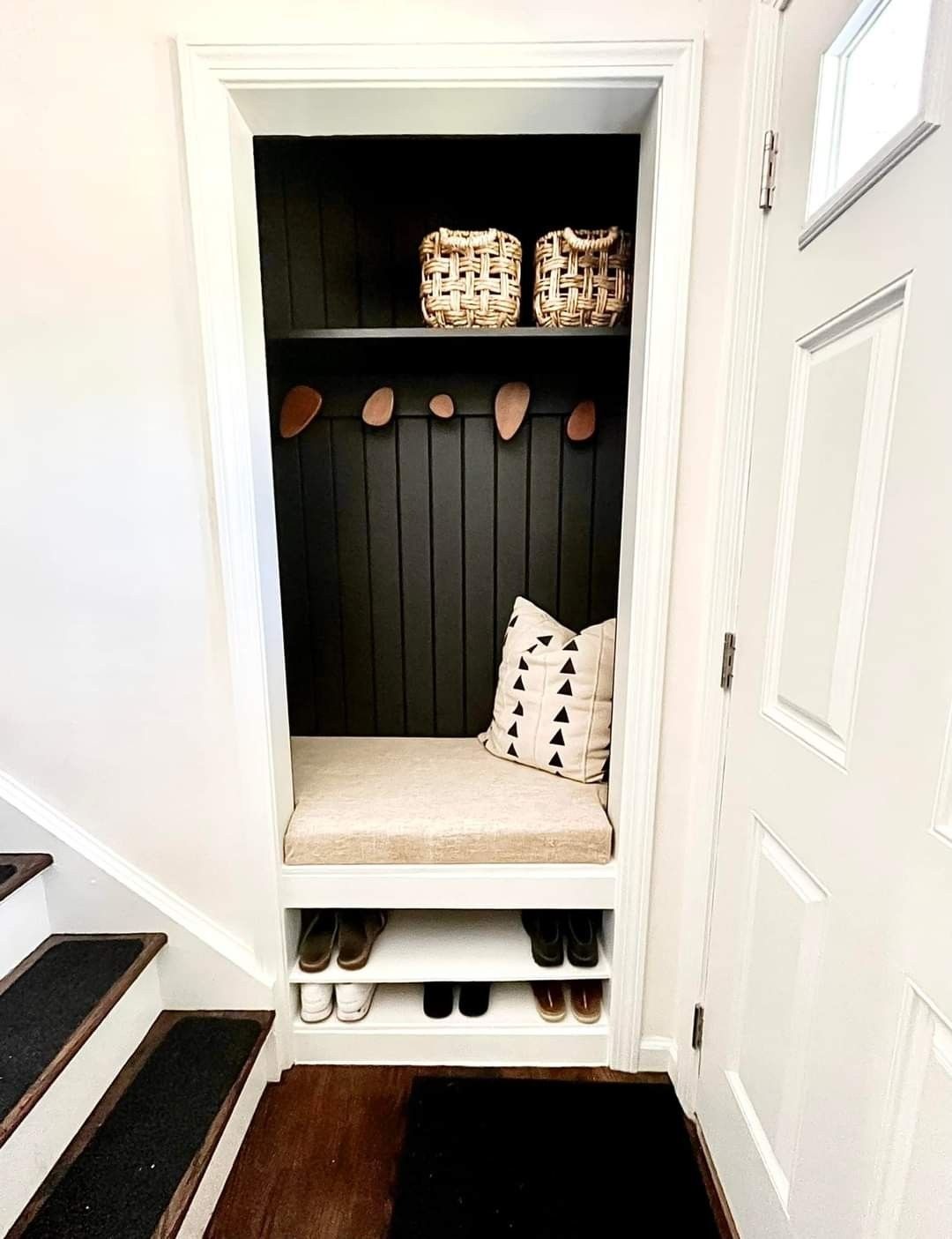 Moreover, it has a comfy seat and a cushion as a resting place. You can sit on it for a while after walking down the stairs. Besides that, pick an eye-catching color to show off this small place. The combination of white and dark brown will make it one point. Meanwhile, put contrast accents like wicker baskets.
8 of 17
Make A Storage Under the Stairs
Hallway storage is versatile cause it can be everywhere. Here, this idea is under the stairs. It is quite simple and saves your space. You don't need to make it in another room or put a cabinet. This storage makes an alternative to hide your home stuff neatly.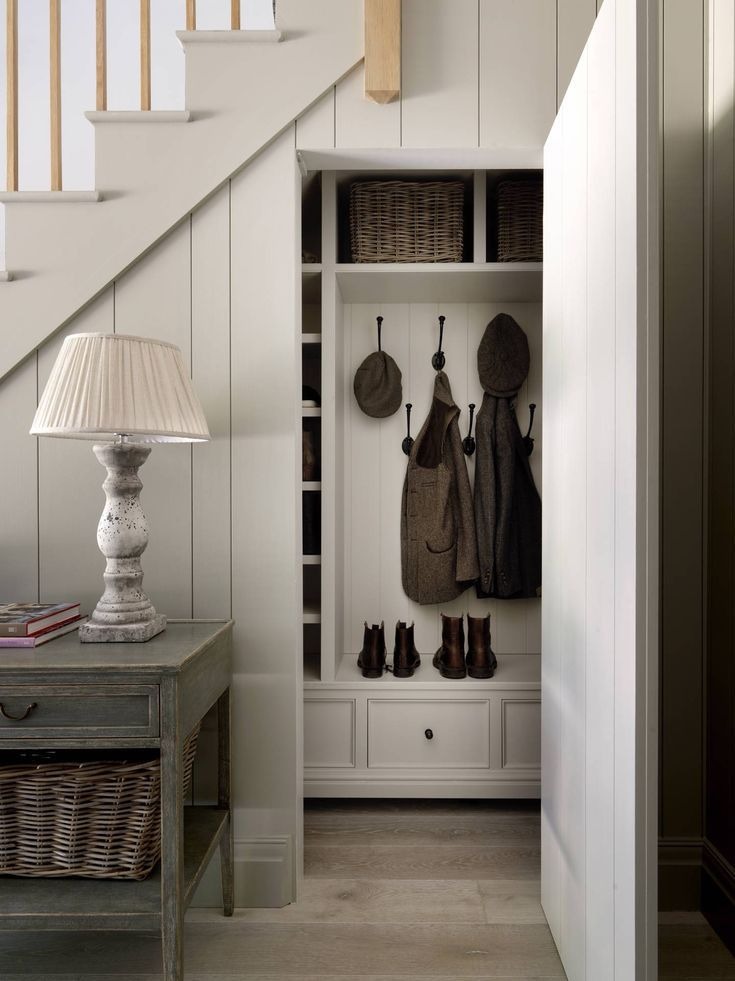 Besides, this storage looks like a cabinet inside. There are hooks to hang coats, clothes, bags, and hats. Also, the lower shelves are loading the shoes. You can add more storage by taking up baskets or boxes in this room. In addition, install a lamp to brighten this hallway storage.
9 of 17
Entryway Closet with Warm Lights
Lighting is a must-have thing in the home interior. This flicker stuff will enlighten the area. A cabinet in the entryway also needs a light. It helps the dweller to see all the stuff at night. Thus, choose lighting with different ambiances.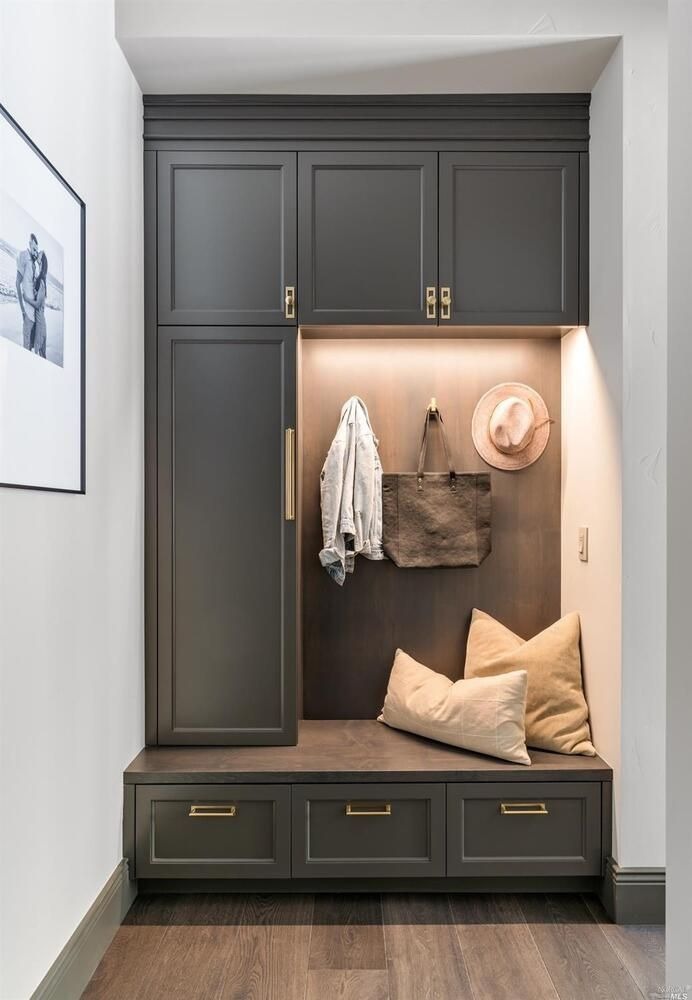 Look at this idea. It uses a yellow-white light to enlighten this place. Besides, it is more like a decorative light that brings out a warm atmosphere. Moreover, this cabinet has a catchy color in grey and gold. There are some shelves on top and bottom. You can save more stuff in this cabinet.
10 of 17
Hall Closet Makeover with Floral Wallpaper
Wallpaper is the easiest way to update the interior. There are many wallpapers with various colors, patterns, and textures. Look at this inspiring idea. This cabinet has striking floral wallpaper. It looks interesting to combine this wallpaper with white colors.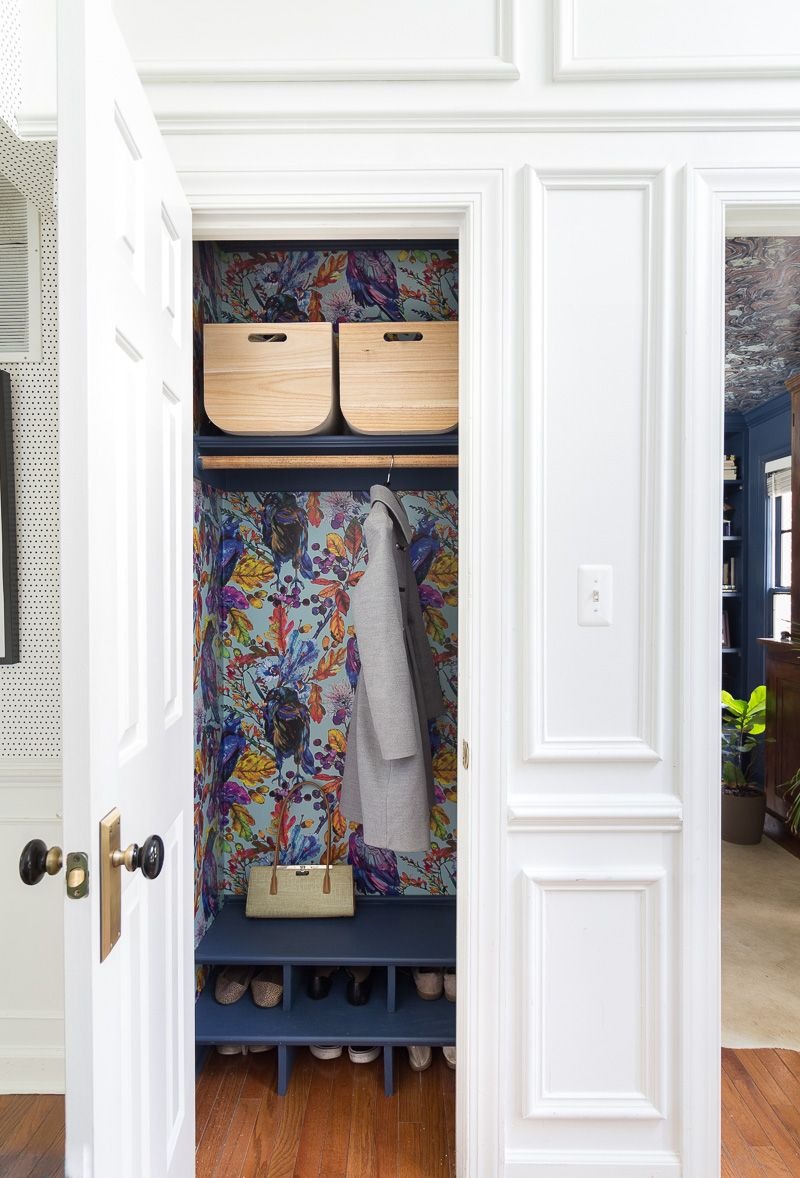 Furthermore, this hall closet is a bit narrow but comfy to save clothes. Moreover, it has two baskets to save some classified things. You can add shelves to save shoes. It looks attractive in contrast color like dark green. This cabinet is quite safe because it has two long white doors.
11 of 17
An Inspiring French Country Design
The French Country is a classic design that adopts rural houses in the past century. It is identical to neutral colors, old fashion furniture, and uses natural accents. Look at this idea. It is a neutral blue-grey color. Also, this cabinet has a classic design with dark wood accents.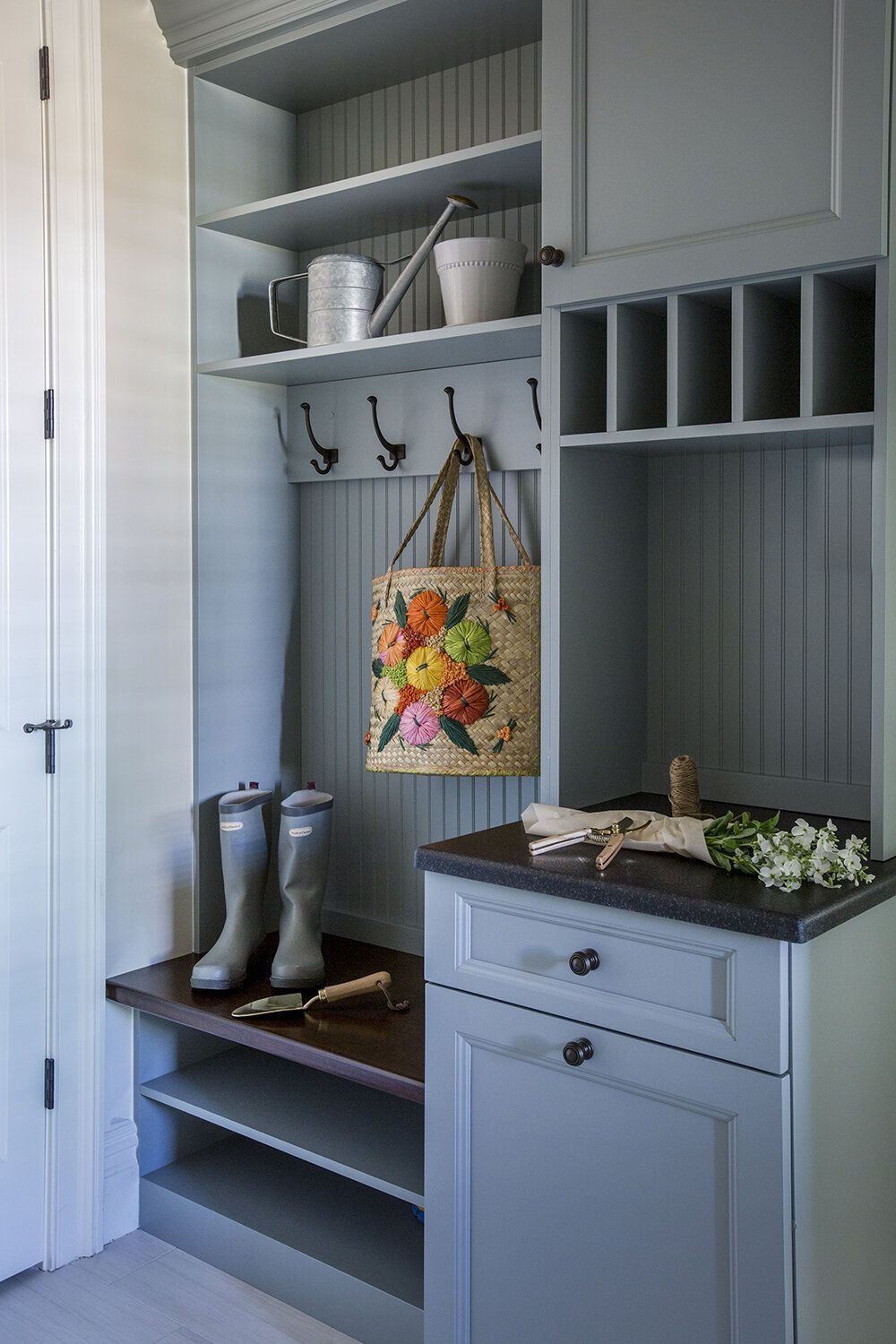 Besides, this hallway cabinet has functional details. There is storage like shelves, drawers, and hooks. Meanwhile, the French Country accents are vertical lines on the background and trims on the doors. You can organize your things in every space it has.
12 of 17
Hallway Closet with Plant
Indoor plants are interesting accents for the interior. There are many indoor plants that you can grow in your house. It even looks stunning to put an indoor plant in your hallway closet. Choose a plant that grows well in minimum sunlight and water.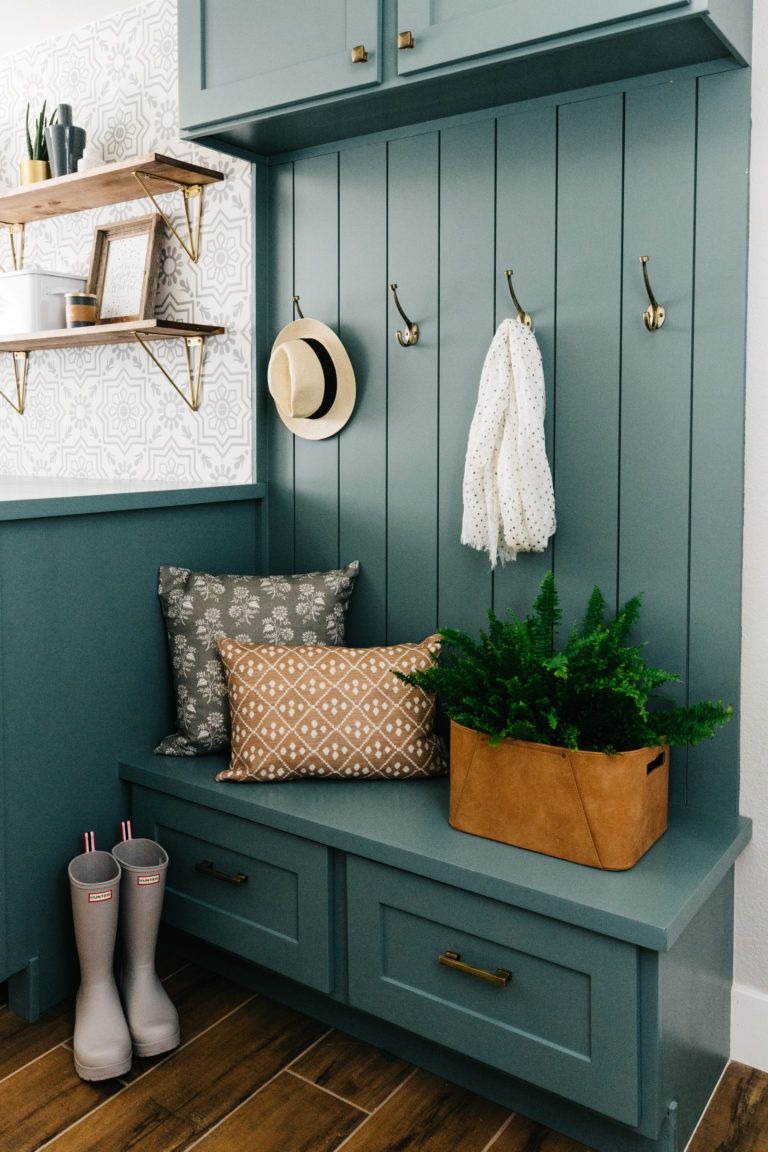 Moreover, you need to redecorate the hallway closet as well. Pick a dark green color to make a natural impression. In addition, put some classic stuff like floral and geometrical cushions. It will transform the impression with a little touch.
13 of 17
Add Oak Accents to White Closet
Oak is a popular wood for decorations. This idea has some Oak accents on a bench and lower shelf. It looks interesting in this white room. The hallway closet is also white. There are other accents like wicker baskets in the hallway closet.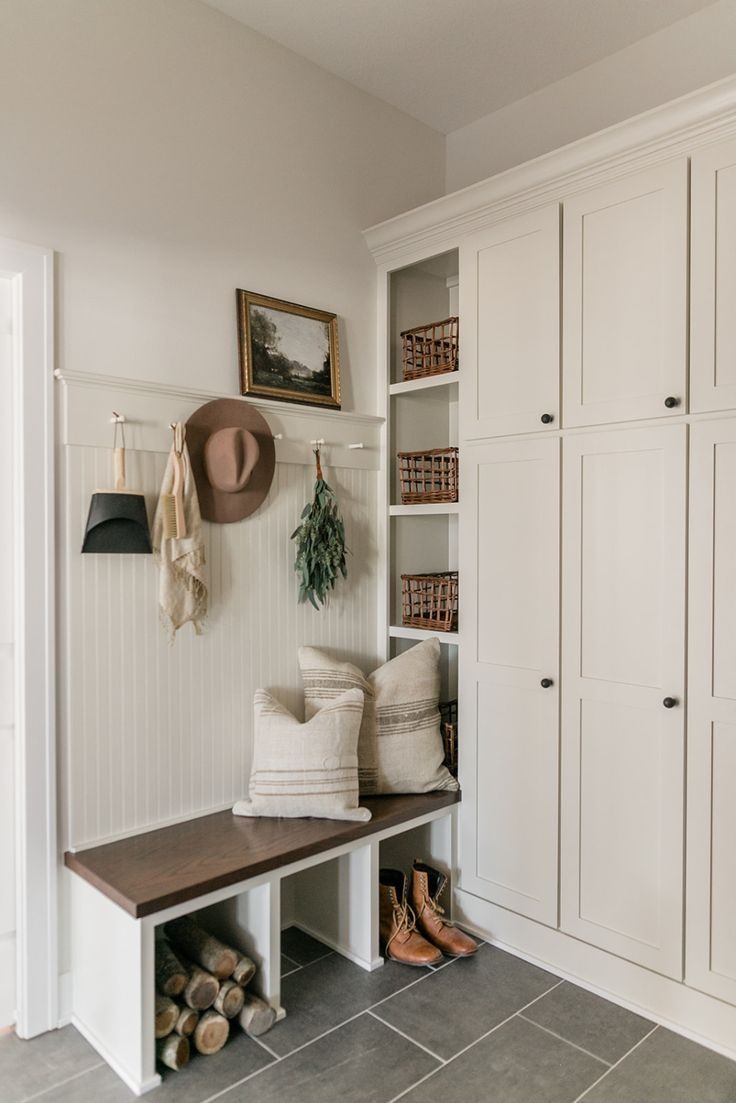 Besides, the bench area has more home stuff. There are soft brown cushions on dark benches. Moreover, this area has some hooks to hang hats, decorations, and coats. In addition, put some firewood on one shelf. You can put a pair of leather boots on another shelf.
14 of 17
Small Hall Closet with Wicker Baskets
Additional storage is useful for extra spaces. You can use extra storage to classify some stuff. Look at this idea. The hallway closet has a neat design with wicker baskets. These baskets are on top and bottom of the hallway closet. The middle space is for hanging clothes.
The hallway closet has interesting plant wallpaper. It looks striking between the white walls. Moreover, this hallway closet has a door to hide the stuff. You can keep it neat by organizing everything in a wicker basket.
15 of 17
Hallway Closet in Brown Colors
The color choice will bring a different impression. This hallway closet has calming brown colors. There are four wicker baskets on the top and bottom parts. Besides, it loads brown things as well. You need to always keep it neat because it is doorless so it can't hide the mess.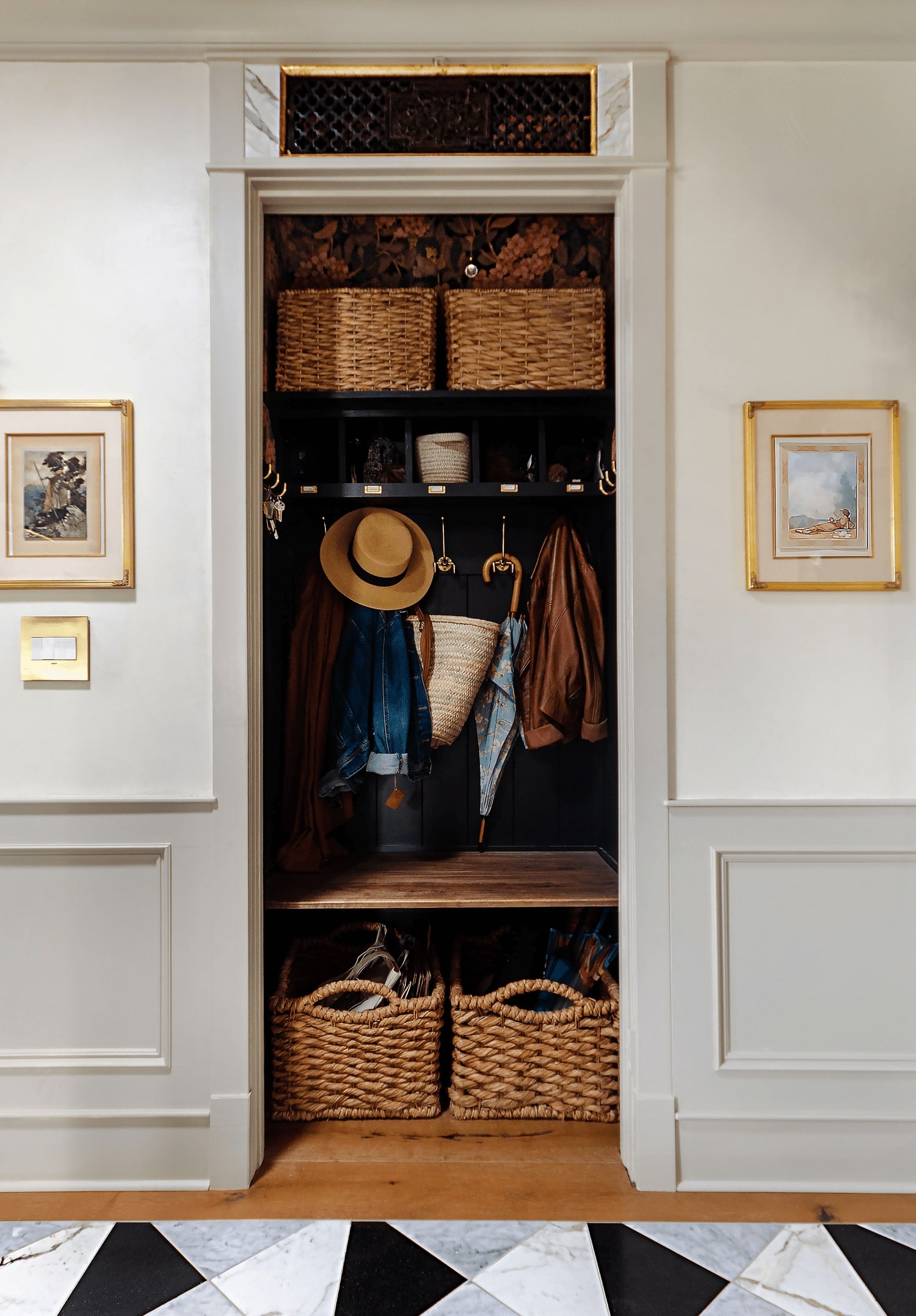 Furthermore, this narrow cabinet is functional for hanging cloth, pants, hats, and umbrellas. These things are the most needed before going outside. Besides, you need to pay attention to this cabinet. The decoration around it is perfect. It almost looks like it has a door.
16 of 17
A Classic 90's Design
A vintage design will bring a different impression. You can try the 90's design to decorate a hallway closet. This design has a classic atmosphere. Start with the stone tiles with grey and white colors. Then, a soft green color for the cabinet. It connects to every accent in this room.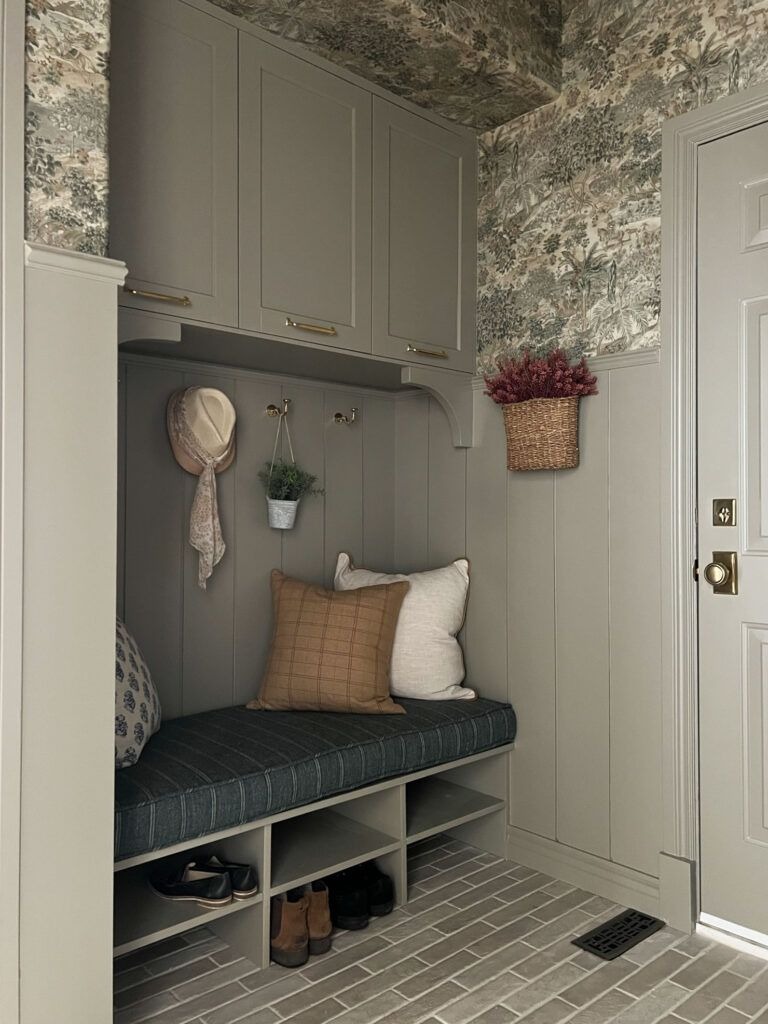 Look at the classic wallpaper. It dominates the walls with floral patterns. Meanwhile, there are shelves on the bottom for shoes. Also, it has some shelves on the top cabinet. In addition, you can put on a comfy seat with some cushions.
17 of 17
That's our discussion about 17 Hallway Closet Organizations to Declutter Your Storage. It is a functional design to make storage easy to access. There are many designs of hallway closets that you can try. You probably want to mix some designs like Bohemian and Industrial. Moreover, from the various ideas that we have discussed, you can choose and combine them according to your wishes. You can also create the concept, style and storage design you want by using the ideas above. For this reason, create neat and space-saving storage in your home. Hopefully, this post is functional for you to decorate a hallway closet. Happy decorating!