Druhomes.com – The bathroom is an important room to have in every house. Everyone needs a bathroom to clean their body. Most people take a shower to refresh their energy. Thus, a bathroom should be a comfortable place for everyone. The bathroom needs a non-slip floor to make comfortable steps. Therefore, people won't get slippery ways even though it is wet. Many tiles and other floor finishes make a non-slip bathroom. The popular one is porcelain with rough textures and wooden floors. Here, are eighteen ideas for non-slip bathroom floors. Read on the 18 Non-slip Bathroom Floor Ideas for Elderly and Busy Family below!
Eccentric Porcelain Floor
The first idea is an eccentric porcelain floor. It looks attractive for a monochrome bathroom. This floor idea has a non-slip surface for walking paths. Meanwhile, the shower room has a rough surface. Both floors are interesting and match this bathroom interior.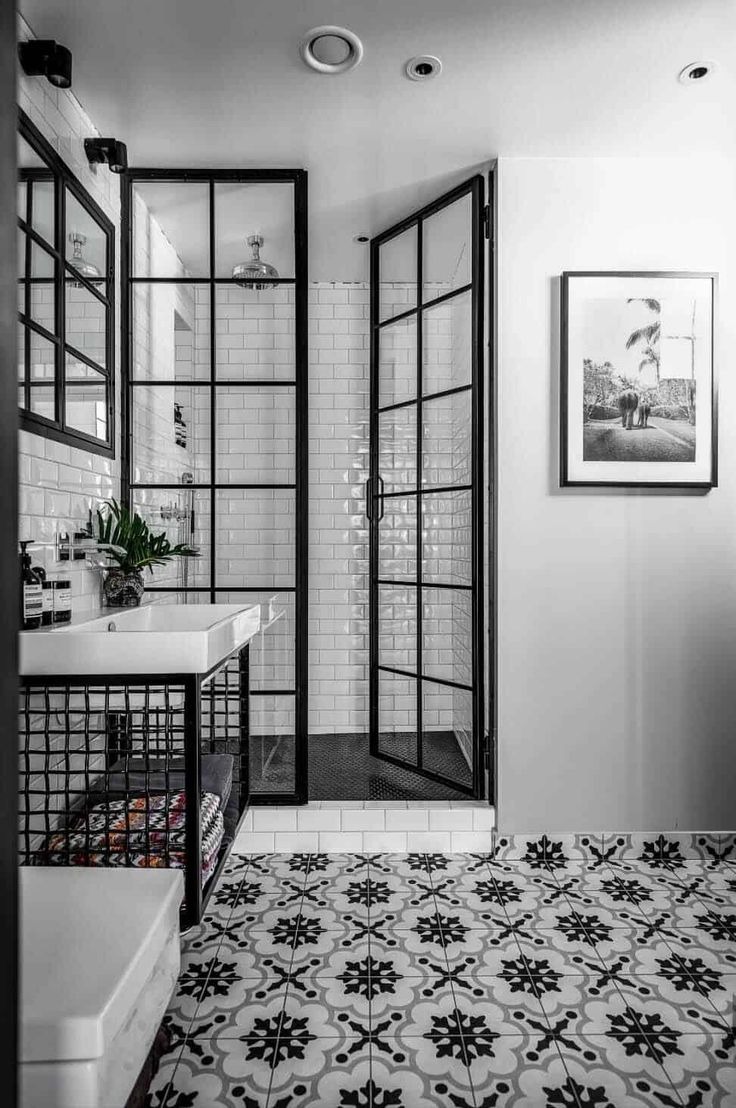 Moreover, these floors won't get slippery when getting wet. You can add a bathroom mat or rug if it is necessary. Furthermore, decorate this monochrome bathroom with black and white accents. There are a few black frames in the shower room and sink area. You can add an interesting frame on the wall.
1 of 18
Concrete Floor for An Industrial Bathroom
A concrete finish is identical to an Industrial interior. This bathroom has a simple concrete floor. It looks elegant to boost an Industrial impression. The concrete floor is versatile for any room decor. You can match it with concrete tiles for the shower room.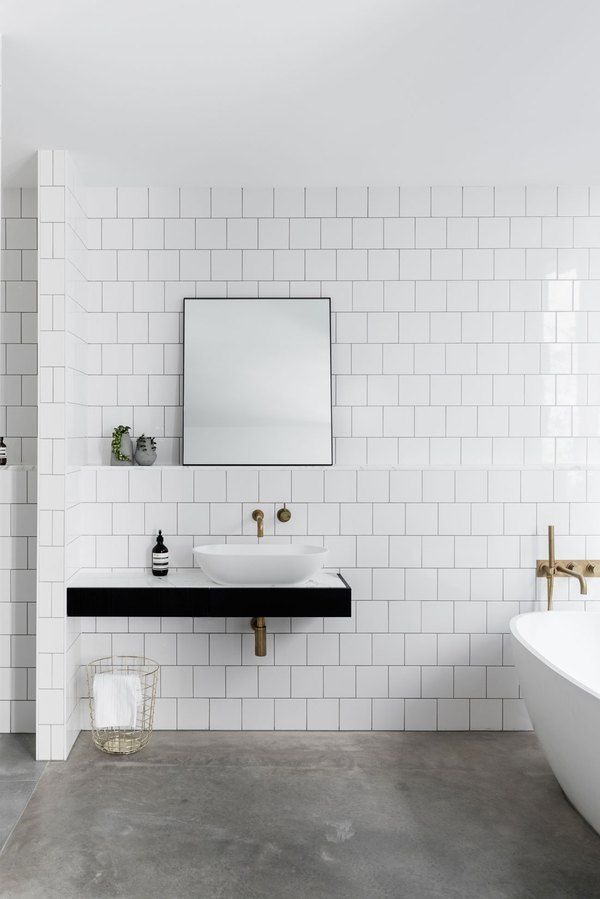 Meanwhile, this room has a whitish interior. The white walls look clean and neat with geometrical position. Furthermore, this bathroom is more stunning with black and golden accents. You can remodel the sink with a black one. Also, install some golden faucets for this bathroom.
2 of 18
Textural Floor x Porcelain Tiles for Shower Room
Let's move to a combination bathroom floor. This bathroom has two different floors. The shower room has porcelain floors with tiny hexagonal tiles. It is beneficial to make a non-slip shower room. Many designers invest in these tiny tiles to make a spacious impression.
Meanwhile, the sink area gets the textural floors. You can see the random textures on its surfaces. This floor is interesting to match this bathroom interior. Somehow, these tiles are catchy to get an old interior too. For example, add a wooden cabinet with natural patterns. Also, remodel the bathroom walls with geometrical tiles.
3 of 18
Hexagonal Tiles x Wooden Floor
Hexagonal tiles are popular for bathroom interior. This idea has hexagonal tiles on floors. It is made of half porcelain that nis on-slip for wet floors. It is a nice choice to make a bright impression. The white tiles are stunning to decorate a white bathroom. Look at this idea. This bathroom is going well with the hexagonal tiles.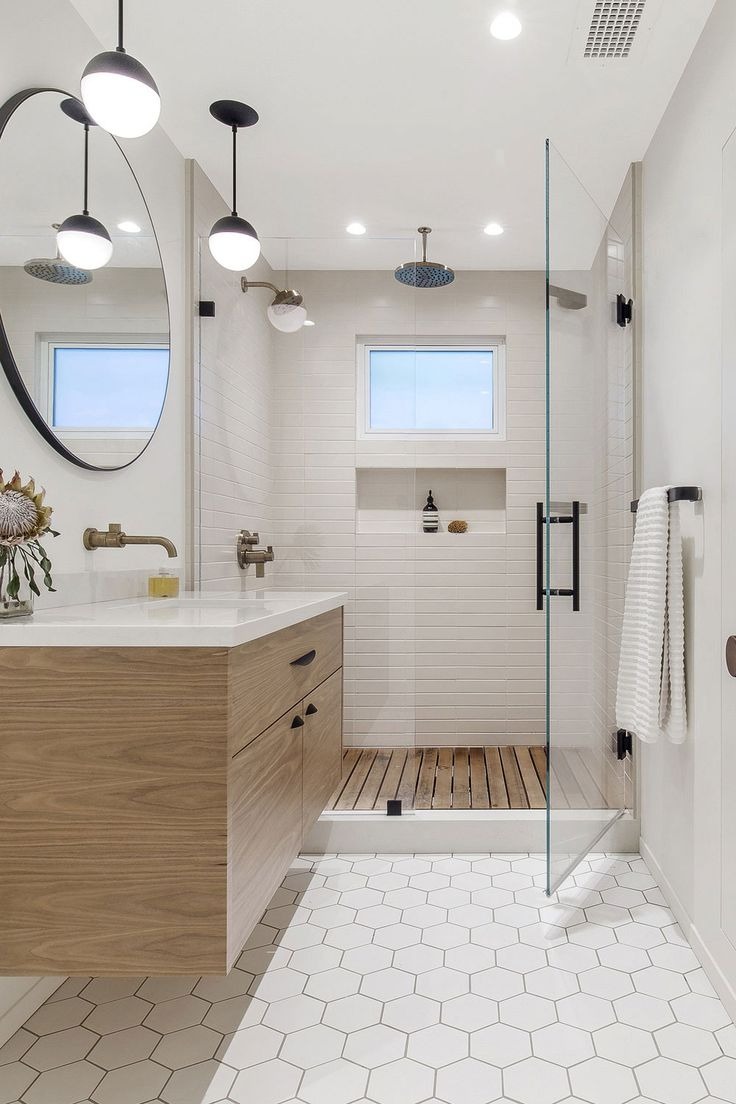 Besides, there are wooden floors as well in the shower room. This room is special because it emerges a natural impression. The water flow directly through the wooden floors. Moreover, this bathroom is stunning with pastel colors like soft wooden cabinet. Also, there are warm lights that enliven the nuance.
4 of 18
Try Dark Tiles for An Elegant Interior
Dark tiles will bring an elegant impression. This bathroom is quite attractive with dark tiles. It uses hexagonal dark tiles for walking area. The tiles match this interior very much. You will love to see it makes a monochrome impression. Let's see the shower room.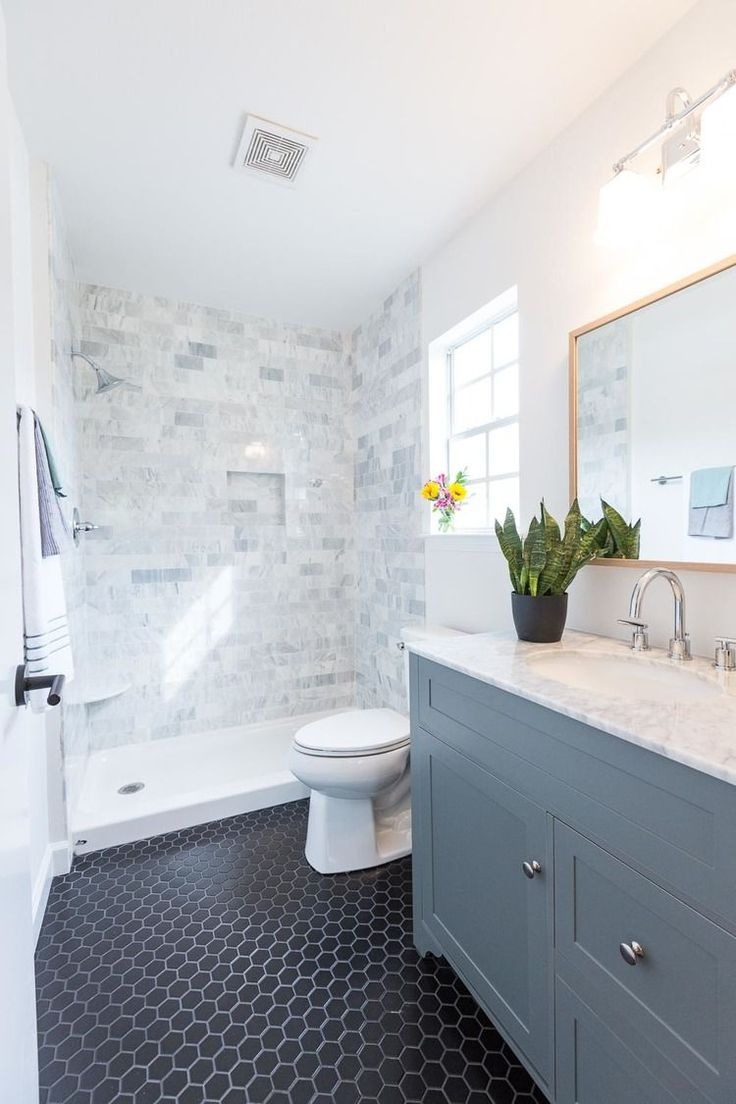 This shower room has white tiles like its white wall. It looks clean and spacious. This bathroom design is elegant for two different nuance. Moreover, this room has a nice combination between dark and white theme. You can make it more alive with warm lightings.
5 of 18
Small Bathroom Remodel with White-Grey Tiles
A small bathroom needs a bright decoration to make it looks spacious. This small bathroom has a nice palette decorations. There are white-grey tiles with a random position on floor. It looks attractive because you feel an artwork below there. Moreover, these tiles help you to see the dirt on floors clearly.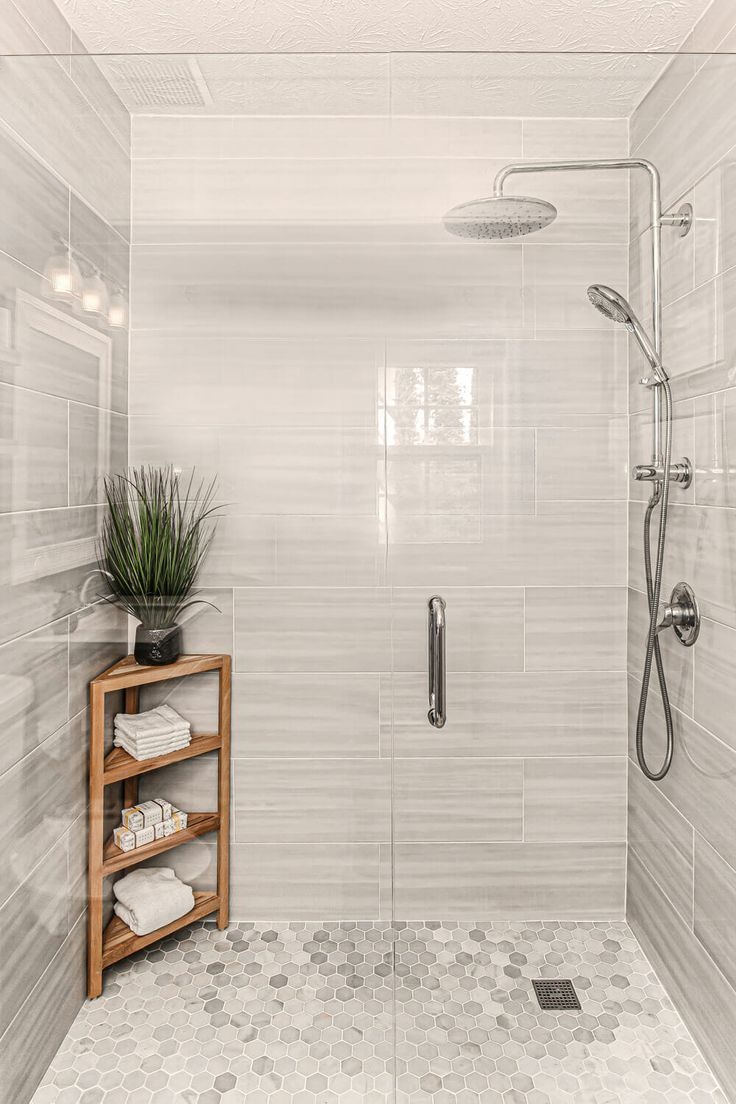 Besides, this bathroom has cream walls as well. It can reflect lights in this bathroom. These tiles on wall match the floor tiles. Moreover, both tiles are non-slip ones so you will feel comfortable to step on and hold on these tiles. This bathroom is perfect with warm lightings on ceiling. For styling up, it is preferrable to install glass doors.
6 of 18
Use White Porcelain Tiles for A Clean Impression
Porcelain is a favorite tile for bathroom. It has various patterns like a marble tile. This bathroom is interesting with white marble floors. It has a natural pattern and looks attractive to combine with grey interior. Let's see this bathroom.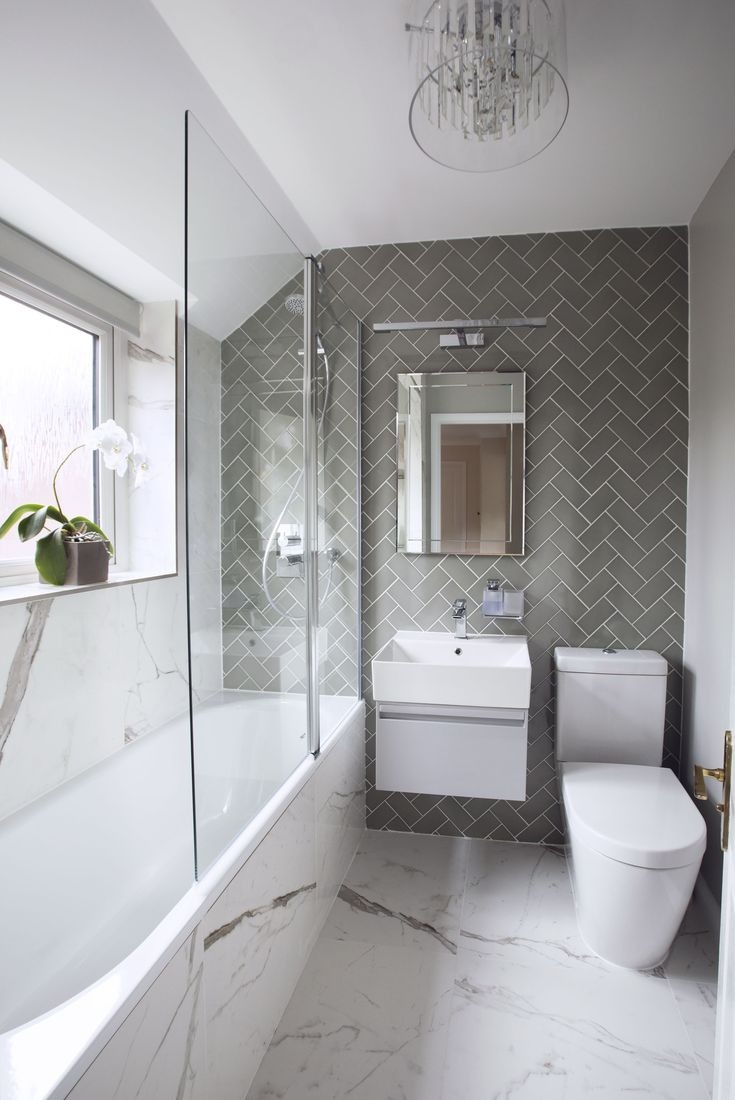 It has an attractive herring wall. The white floors match the whole walls. Both make a bright impression in this bathroom. Moreover, it has a combination between white and grey colors. This design is more perfect with some windows. Therefore, you can keep this bathroom clean, dry, and beautiful.
7 of 18
Patterned Tiles for White Bathroom
Patterned tiles are one of interesting ideas for a trendy bathroom. Some patterned tiles are made of non-slip material. Thus, it is functional for a bathroom that needs a beautiful non-slip floor. This idea is similar to other bathrooms. It has striking patterns to make an eye-catching floor.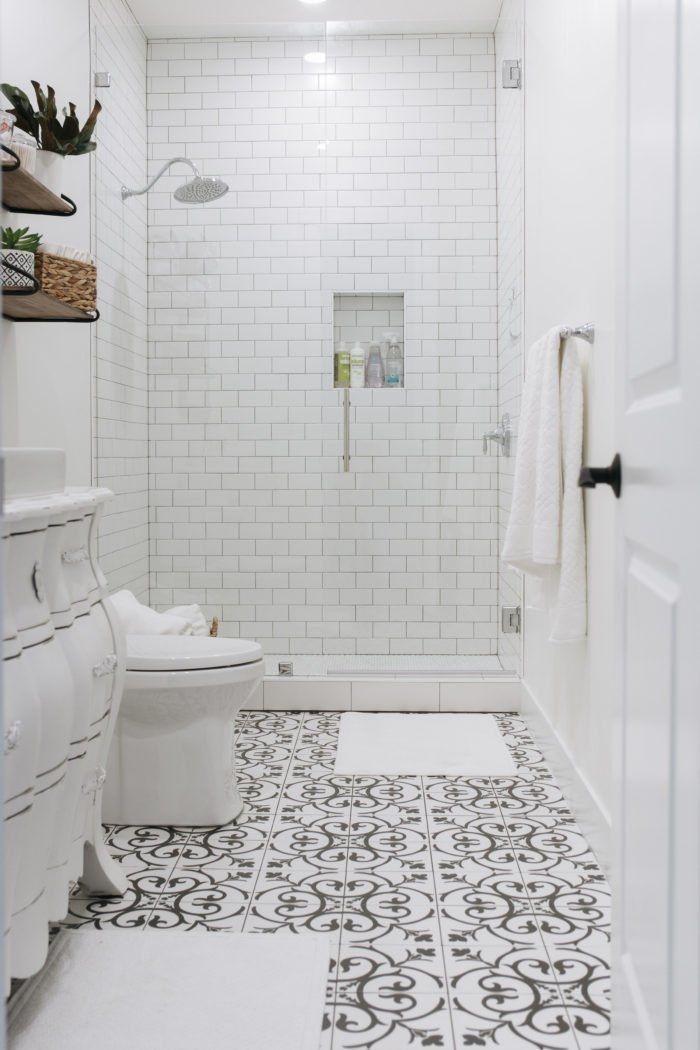 Meanwhile, the interior is really helpful to enliven this bathroom. Look at the whole rooms. White color dominates this bathroom and makes a clean background for the monochrome tiles. This idea is quite attractive for a narrow bathroom. Moreover, you can add some decorations like a cabinet and ornamental plant.
8 of 18
Gorgeous Grey-White Bathroom
Grey and white are attractive for interior design. This bathroom has grey marble tiles that look stunning with white accents. It matches other grey objects in this bathroom like a cabinet and a bathub wall. These grey objects have the same shade, so it look perfect to pair them in white room.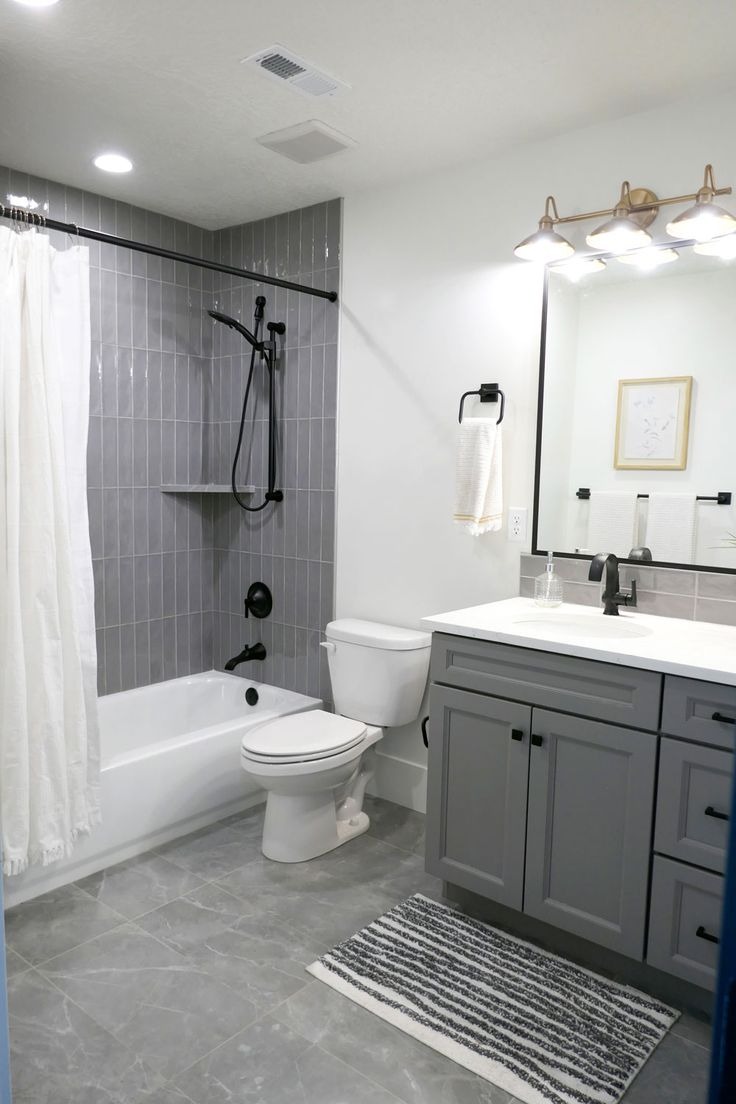 Besides, the grey marble tiles are non-slip floor. You can wall freely on floor even tough it is wet. In addition, you can put a bathroom mat or rug near the bathtub if you need it. Moreover, this bathroom is more stunning with a large geometrical mirror. Also, install a few lamps to enlighten the sink area.
9 of 18
Black and White Fish-Fin Tiles
Monochrome is an infamous interior design. You can apply this design for bathroom floor as well. Let's see this non-slip floor that looks good for this bathroom. It has a fish-fin pattern. This floor makes an attractive design for walking area. It will dry quickly after getting wet or stepping on the bathtub.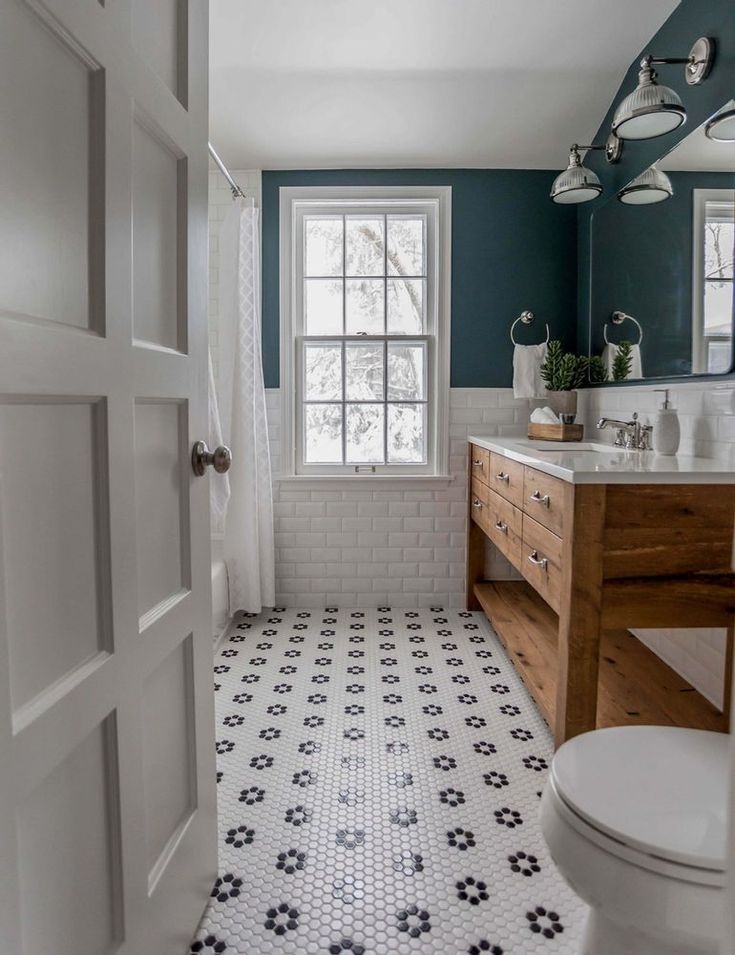 Besides, this bathroom is quite spacious. The white theme fits this room very much. Also, the large glass door will bring more lights into this room. It is more stunning with ornamental plants on the corner. Then, add two wall lamps to add a warm ambiance in this bathroom.
10 of 18
Cement Tiles with Ceramics
Cement tiles are easy to install in a floor. You can find a cement tiles that mixed up ceramics material. It is efficient to remodel the non-sip bathroom floor. This bathroom has green pastel tiles with textural surfaces. Therefore, it won't get slippery when getting wet.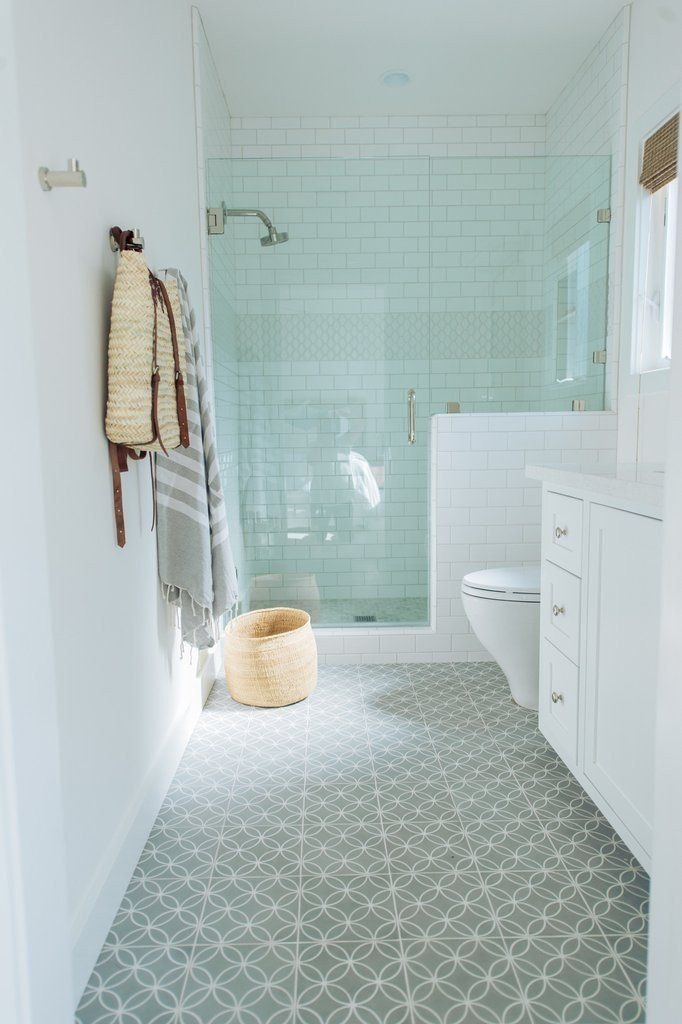 Furthermore, this bathroom uses soft green tiles for its bathroom. This wall is beneficial to reflect lights in this room. In addition, you need to use a glass door to make a spacious impression. Also, open the window so sunlight will get into your bathroom. Moreover, use white colors to make it brighter.
11 of 18
Mix of Textural Tiles and Walls
Textural tiles are the key for non-slip bathroom floor. It is versatile for decoration and safety. Look at this idea. This bathroom uses the hexagonal tiny tiles on the floor. It is one of popular non-slip tile. You can install them with different colors and make a decorative line. Moreover, this floor can dry faster after getting wet.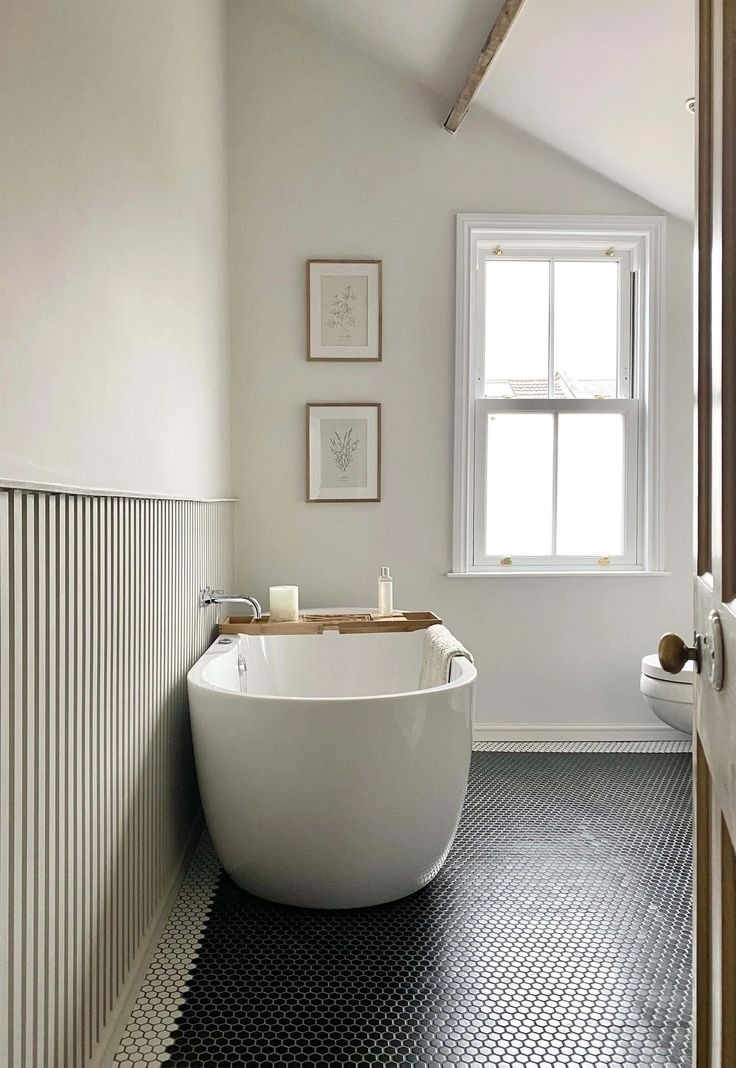 Besides, this bathroom has textural walls too. It is beneficial to make non-slip holder while walking on the floor. Meanwhile, the interior design is quite simple. It uses white theme to enliven a calming nuance. Moreover, the glass window is helpful to invite sunlight inside this room.
12 of 18
Hexagonal White Tiles for Modern Eclectic Bathroom
Hexagonal is very popular. Perhaps you find this tile in most bathrooms. It is functional for non-slip floor in a bathroom. Look at this idea. This room has hexagonal tiles in a Modern Eclectic bathroom. There are classic-modern accents that fit these tiles.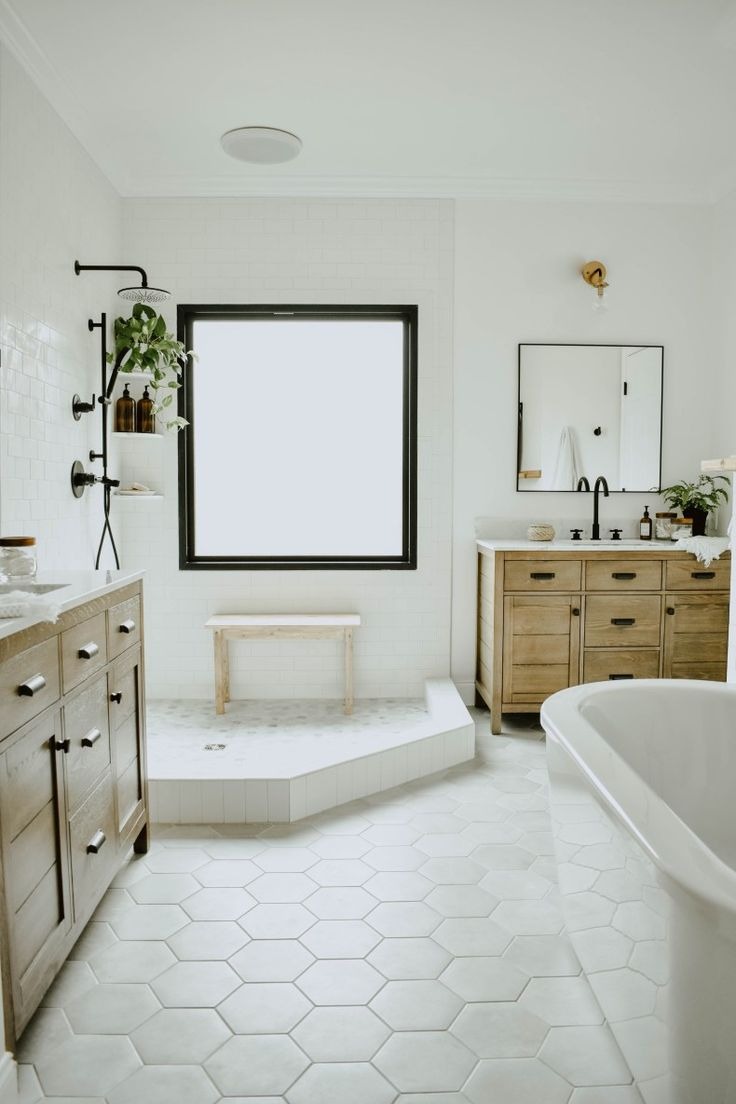 The white tiles are clean and reflect sunlight perfectly. You can match it with natural objects like wooden cabinets and ornamental plants. Moreover, lighting is quite important to build a calming nuance. You can open the window or use a curtain to make a certain feeling. Also, it is better to install some warm orange lights.
13 of 18
Wooden Floors for Rustic Interior
Rustic is very classic and natural. It emerges a warm atmosphere whenever you get there. This bathroom is quite attractive with Rustic interior. Look at the floor. The wooden floor has a fish-fin pattern. It is made of wood but some people use porcelain with wooden patterns.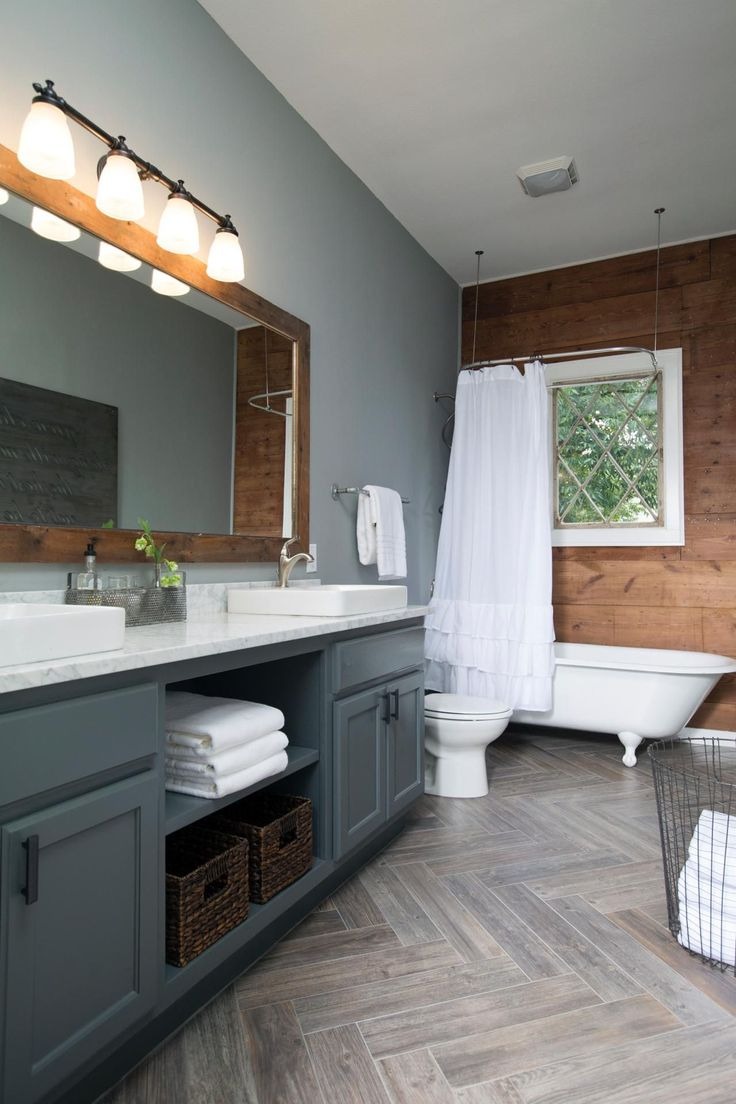 Moreover, there are wooden walls near the bathtub. The dark woods are interesting to enliven Rustic feeling. This bathroom is large and has a long mirror. Also, the sink cabinet is attractive in grey color. You can make it more classic by installing some warm lights.
14 of 18
Porcelain with Wooden Textures
Porcelain is versatile material. It has various patterns like a wooden pattern. This bathroom is stunning with porcelain-woods floors. You can use these tiles if you prefers sintetic than real wood. Moreover, it is easier to install porcelain on the floor rather than wood tiles.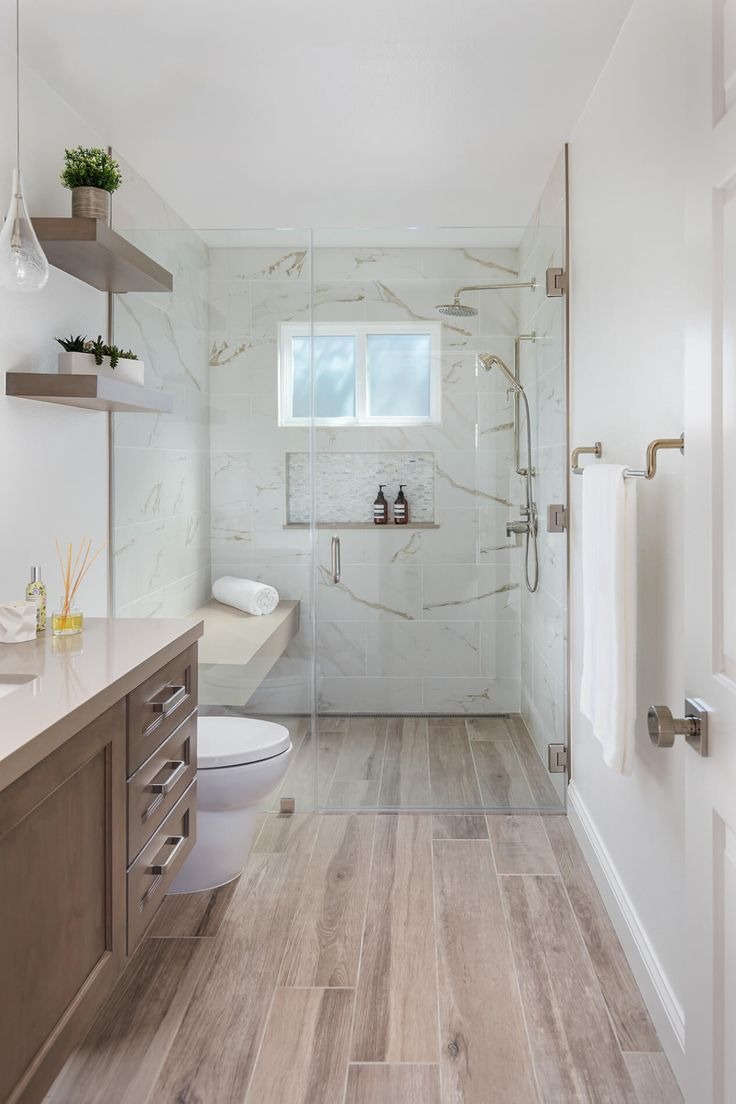 Furthermore, this bathroom has an interesting wall with marble patterns. It uses golden accents like faucets on marble walls. Moreover, you can install a soft brown cabinet to sweeten the interior. The glossy cabinet is more stunning with natural sunlight from window. Install a few lightings to get a warm nuance.
15 of 18
Marble Tiles in Pastel Shades
It is another marble flooring in bathroom. This flooring idea makes non-slip surfaces like stone or concrete tiles. The pastel shades are attractive to invest a calming nuance. This design is quite interesting for a minimalist bathroom. There is no toiletries on the sink and make it looks clean. You can save all toiletries inside the cabinet.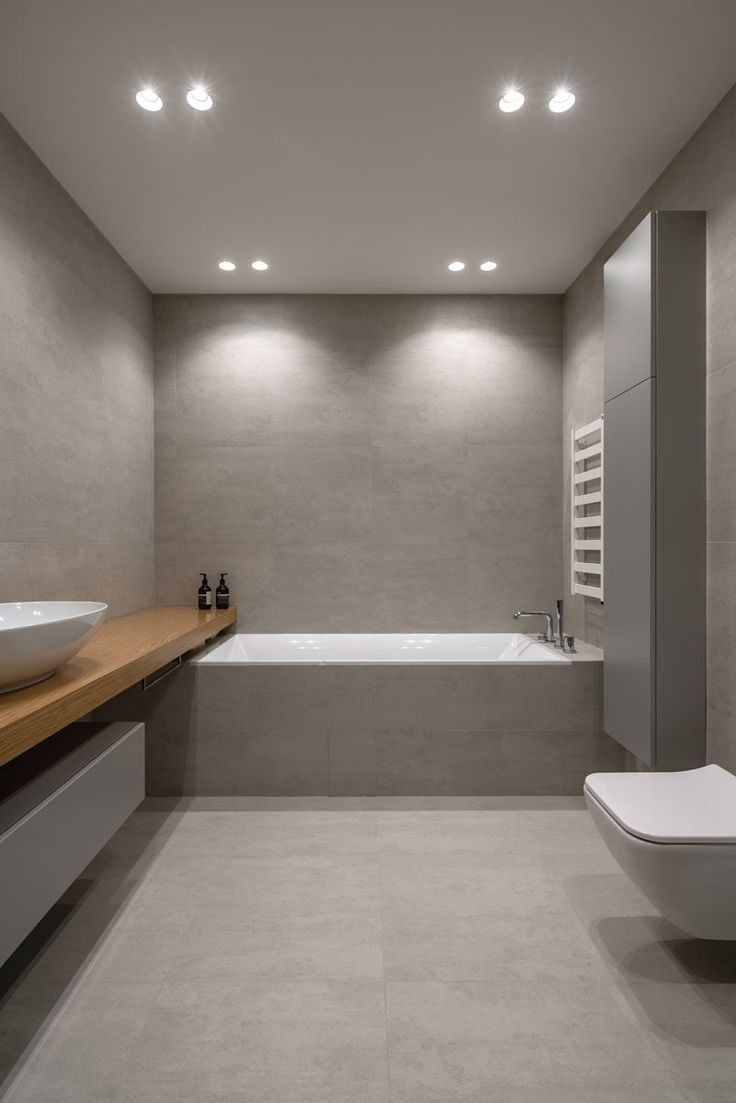 Meanwhile, there are only useful furniture like a bathtub, toilet, sink, and a towel hanger. Moreover, mix and match the pastel colors like soft brown and dark grey. It looks interesting to apply darker shade as wall. This bathroom has an elegant wall shade. It is more alive with warm ceiling lamps.
16 of 18
Black and White Anti-slip Tiles
Let's meet a new black and white idea for bathroom floor. It uses monochrome decor that looks striking. The main material is low-maintenance porcelain with textures. It has non-slip surfaces that make a safe walking area. You can install these tiny tiles for a narrow bathroom.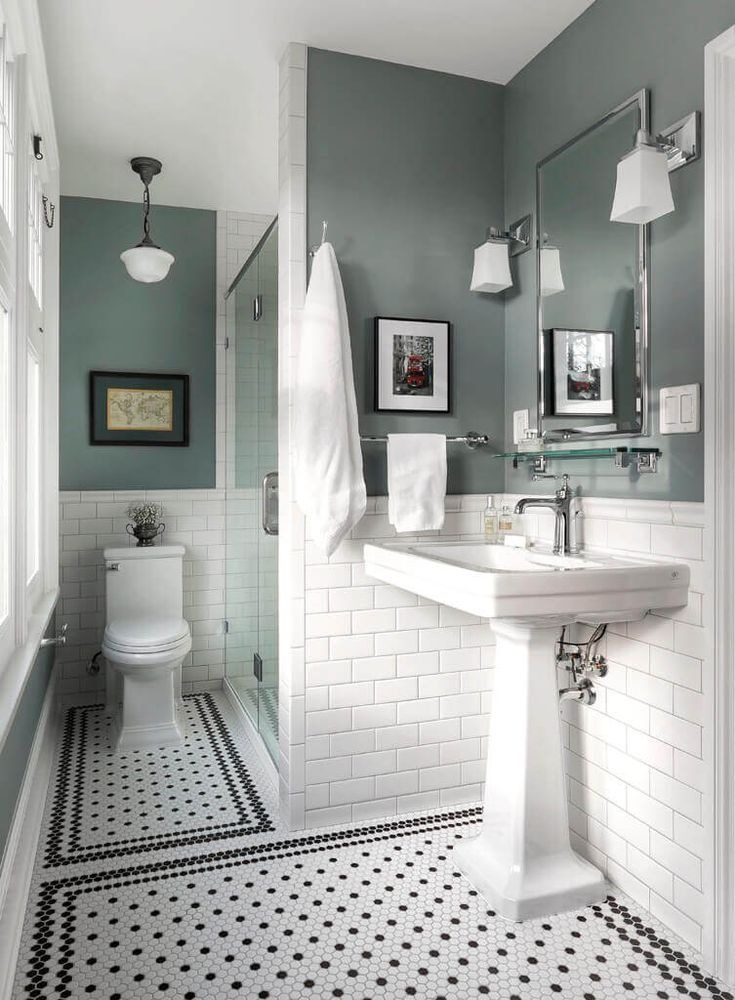 Look at this clean bathroom. The sage green wall is interesting to mix white walls. The white accents on the wall are striking and well-displayed. You can install an attractive painting for a few distance. Moreover, the bathroom lights will enliven a clean impression in every corner.
17 of 18
Striking Tiles with Non-slip Textures
Striking tile is interesting to bring out textures. This bathroom floor has a soft surface but can dry quickly after getting wet. It looks classic with its floral patterns. These tiles are going well with white walls. Moreover, it makes this narrow bathroom more alive. The glass doors are helpful to invite sunlight.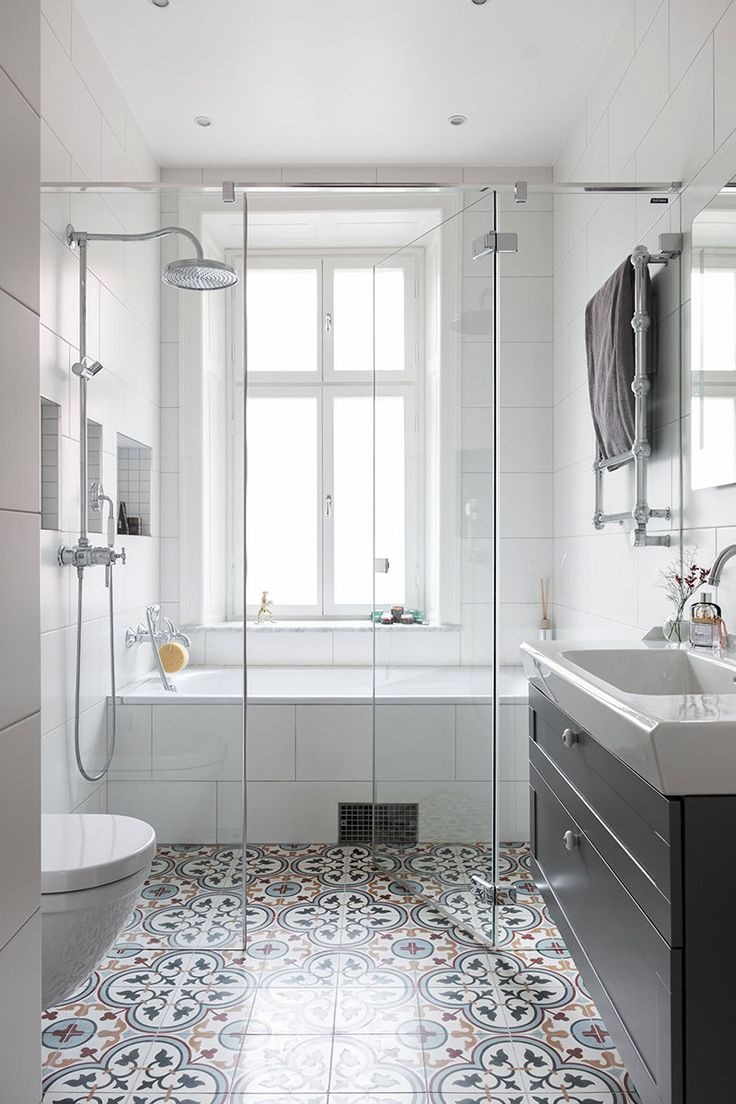 Besides, you don't need to add ornate designs in this room. Look at the sink area. It has one cabinet with two different colors. The dark wood is getting along with floor patterns. Meanwhile, the toilet is quite neutral in white shade. This bathroom only has a few colorful accents like black towel hanger and faucets.
18 of 18
These are 18 Non-slip Bathroom Floor Ideas for Elderly and Busy Family. The bathroom floor should make a comfortable steps. Also, it is necessarry to install a non-slip floor like non-slip porcelain, concrete, textural floor, etc. It will lessen the slippery surface on the bathroom floor. Moreover, some bathrooms have more than two different tiles. It makes an attractive patterns. Besides that, the patterned tiles are preferrable for some people. Therefore, you have many choices to make a comfy bathroom. Hopefully, this post will help you to find the best floor in bathroom.