Druhomes.com – Everyone has favorite food to eat with their family. Enjoying the mealtime with a beloved family is a precious moment that they should prepare it well. They can cook and prepare their meal at home. It is supposed to do in a comfortable place. A kitchen is a part of rooms at home to cook the meal. It should separate from another room to avoid a messy room. You can create a comfortable and beautiful kitchen by paying attention to the interior design and the type of kitchen layout that you use in it. Also, cooking in the kitchen is easier to do if you have complete kitchen utensils. Because of this, you need a suitable kitchen cabinet design.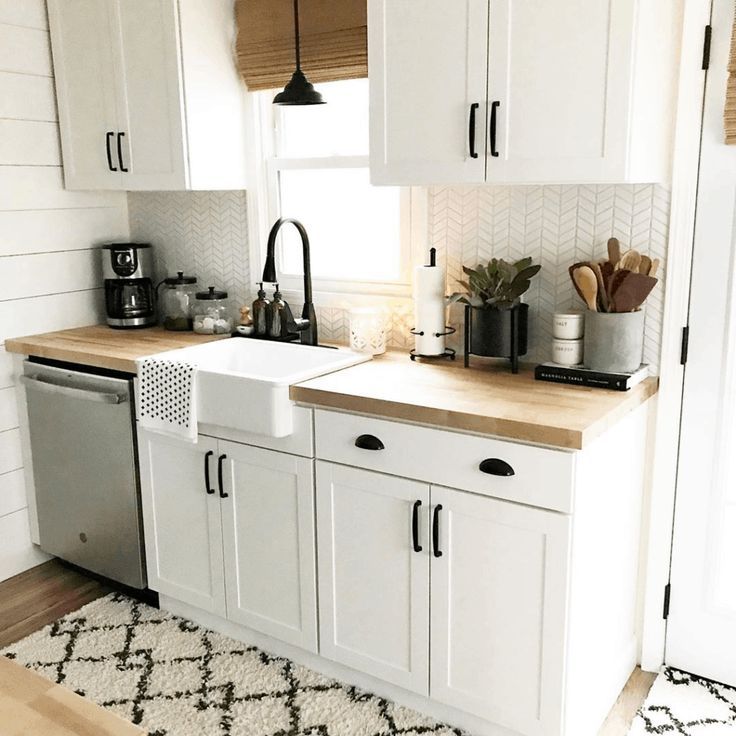 There are a lot of these utensils that require storage to keep them from dust. Besides, the storage in your kitchen makes your kitchen looks neat. The cabinet is a kind of storage you can install in your kitchen. It has a variety of models such as a wall cabinet, drawer cabinet, and mini cabinet under the dishwasher.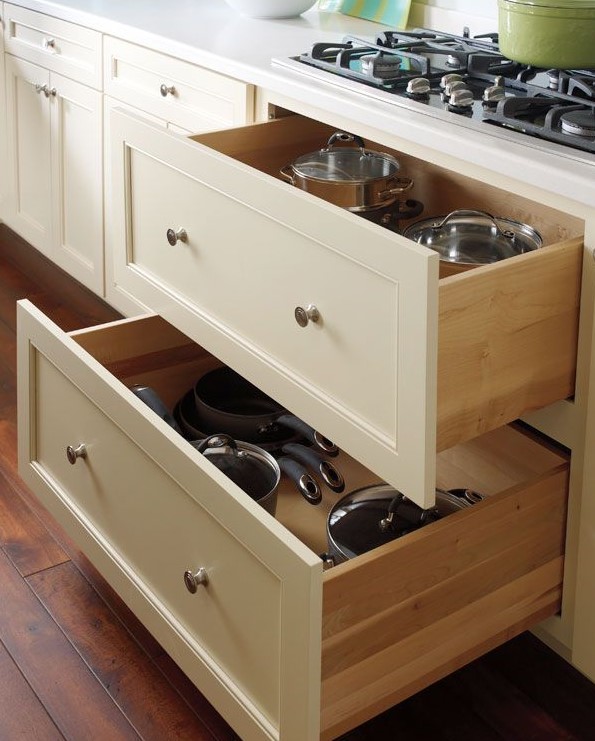 A certain model of cabinet simplifies your kitchen. It saves more space for you to move freely when you are cooking. Adjusting your kitchen space, a cabinet is compatible to install in a minimalist kitchen. It will do just fine to your minimalist kitchen since it reduces a messy kitchen by saving the utensils within it. Tying the look of a clean and neat minimalist kitchen by installing a cabinet. We have discussed that a cabinet is useful to keep your kitchen utensils from dust. Here, we have provided some cabinet ideas that suit your minimalist kitchen. Let's check this out!
Flat Panel Cabinet
You may wish to have a simple cabinet for your minimalist kitchen. A flat panel cabinet will grant your wish by its perfect shape. This cabinet is also known as a slab cabinet that has a large door and simple design. It suits your minimalist kitchen by attaching a neutral color. This type of cabinet usually consists of five doors.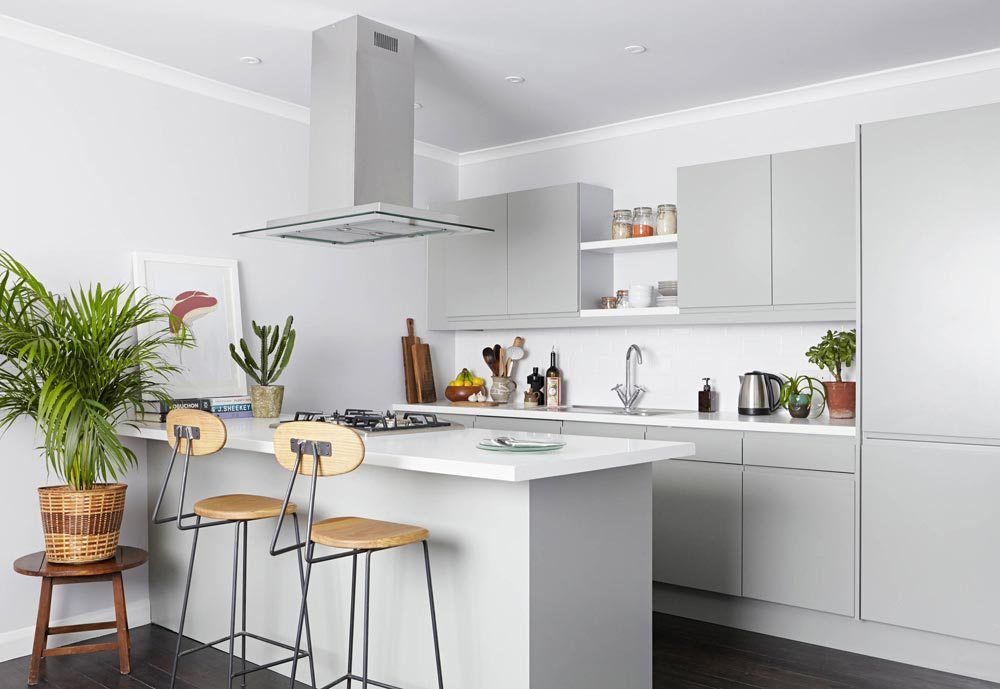 This cabinet is horizontally arranged on the wall and behind the kitchen board. It allows you to take your utensils easily from the upper and lower cabinets. To make your minimalist kitchen fresher, add some ornamental plants to put under the kitchen cabinet. It gives a greenery accent to your minimalist kitchen.
Doorless Cabinet
If you think that all types of the cabinet have doors you should see this doorless cabinet. A doorless cabinet is also compatible with your minimalist kitchen. This type of cabinet makes it easier to take the ingredients that you use regularly. Arrange some glass vessels for salt, sugar, coffee, chocolate powder, etc in one line.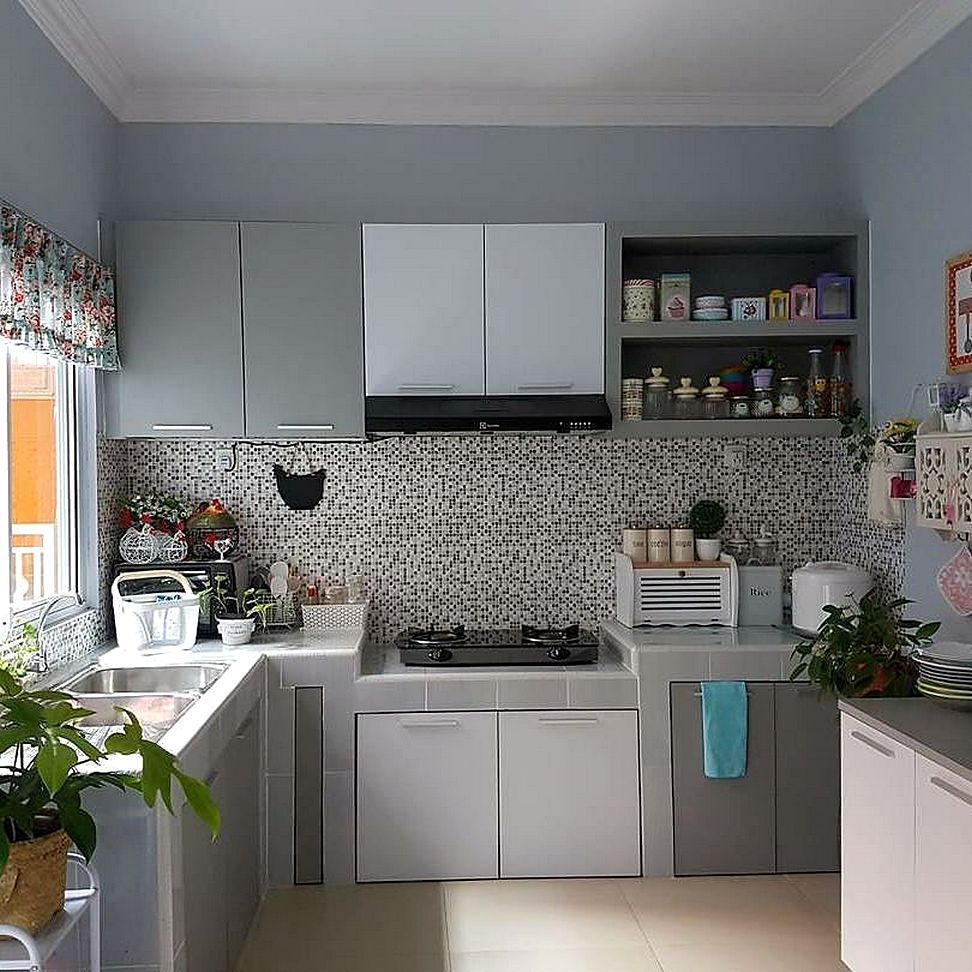 The nice arrangement looks more neat and attractive to apply in a minimalist kitchen. The other cabinet with doors will be useful to keep kitchen utensils that do not have any vessels such as plate, fork, pan, and wok.
White Doorless Cabinet and Wall Storage
A cabinet for a minimalist kitchen should play with room size and color. A doorless cabinet simplifies your minimalist kitchen by its efficiency of space and function to keep kitchen utensils, ingredients, and other stuff. Your cabinet is better to use a white color that has a clean and larger impression in your minimalist kitchen.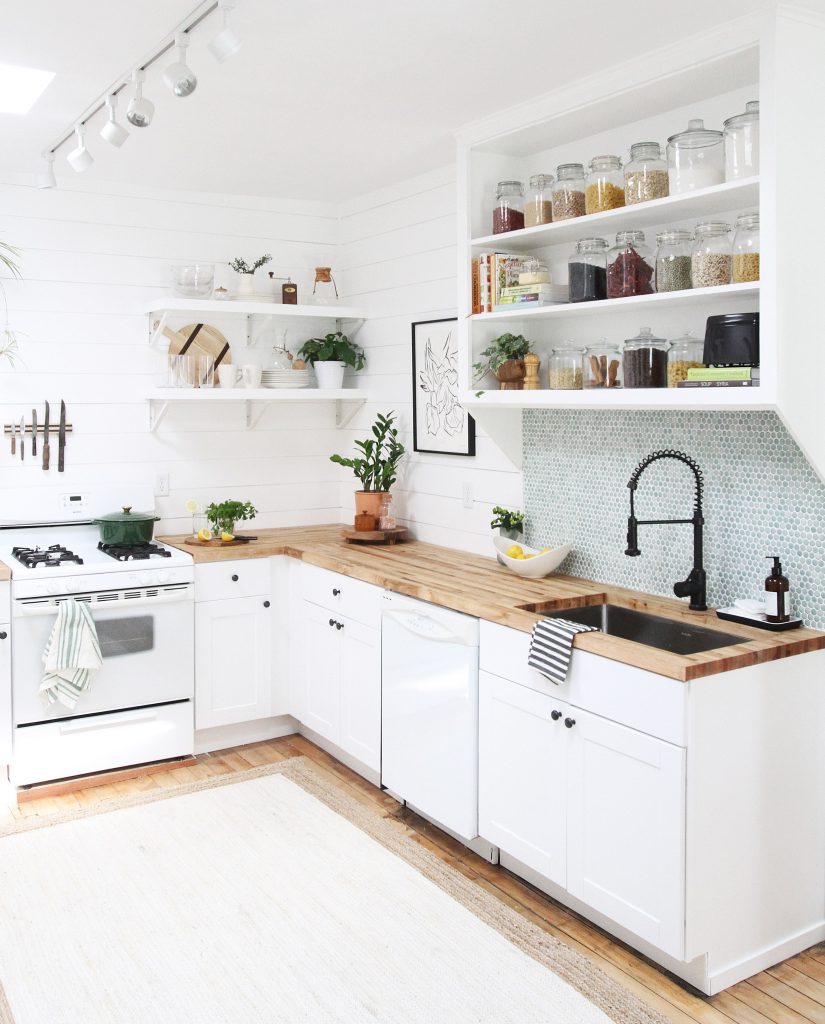 Besides, you can pair it with wall storage to make use of wall space. The other function of wall storage is to put an ornamental plant and dinner kits such as plate, glass, fork, etc, so your cabinet is functional to keep utensils only.
Mini Cabinet
In a minimalist kitchen, a simple cabinet with a mini design looks catchy. A plain door of the louvered cabinet strengthens a clean look. If it is hard to match your cabinet in your minimalist kitchen, play with the consistency of pattern, color, or theme in your minimalist kitchen.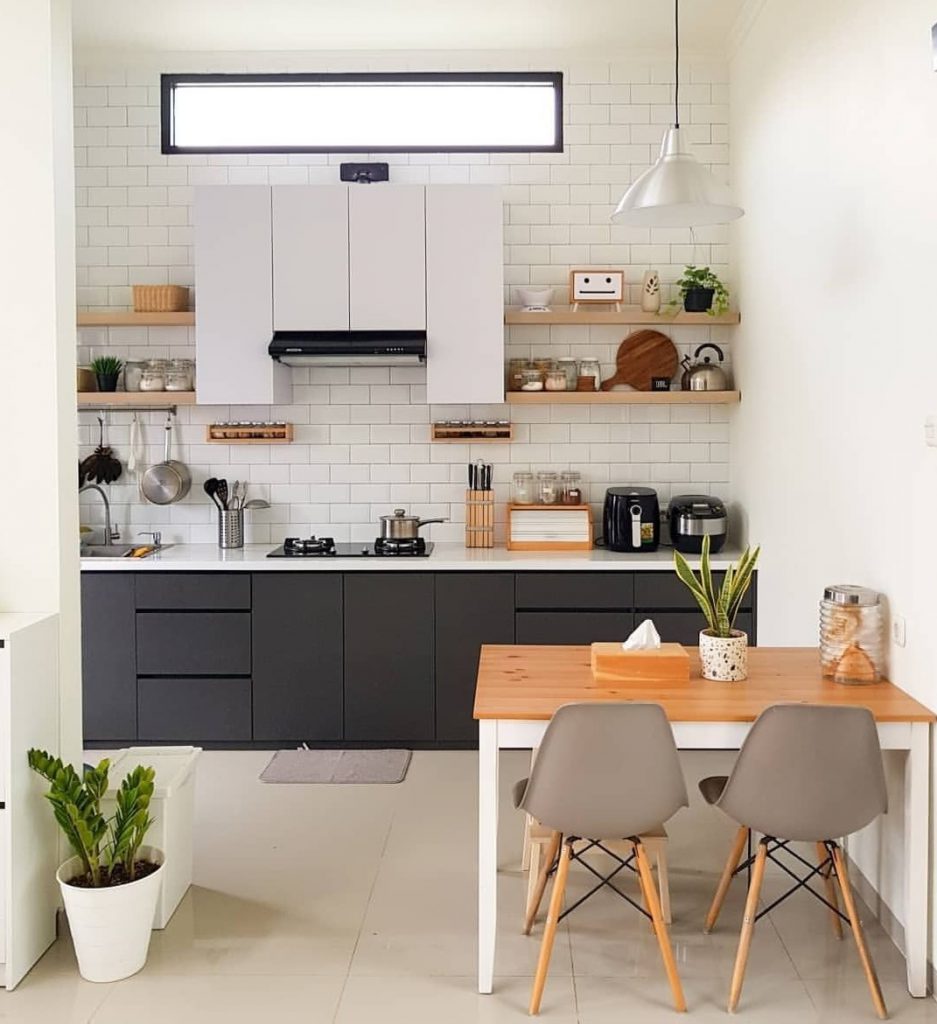 For example, choose a cabinet that has the same tone as your kitchen wall. A minimalist kitchen usually uses neutral colors such as white, soft brown, soft grey, and many more. For a sweetener, using wooden wall storage gives a punchy look in your minimalist kitchen.
Glass Door Cabinet
We know that a glass door can reflect light and allow us to see through its transparent surface. Because of its benefit, a cabinet in your minimalist kitchen is catchy to have on the wall. An arrangement of your kitchen utensils will look clean and elegant by using a cabinet with glass doors. This cabinet simplifies your need. Therefore, you can customize its door will have a hinged door or sliding door.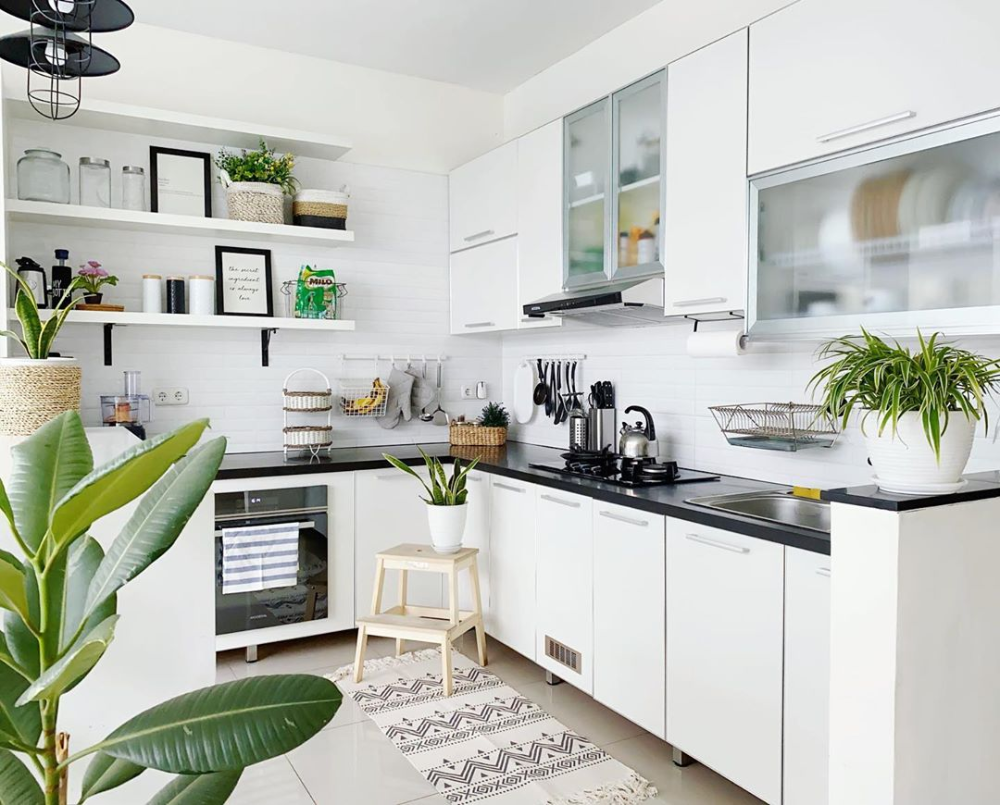 Since it is transparent, seeing through the door before you open it is a practical way to check the inside. Mix and match your minimalist kitchen by using this cabinet. The glossy surface of its cabinet door reflects the light for a brighter atmosphere. It is more alluring to add ornamental plants near your cabinet.
Cabinet Under The Kitchen Board
In every kitchen, there is a kitchen board. This part of the kitchen is useful to prepare ingredients, install a stove, and doing other cooking activities. Design your cabinet with some slim drawers vertically to suit your minimalist kitchen.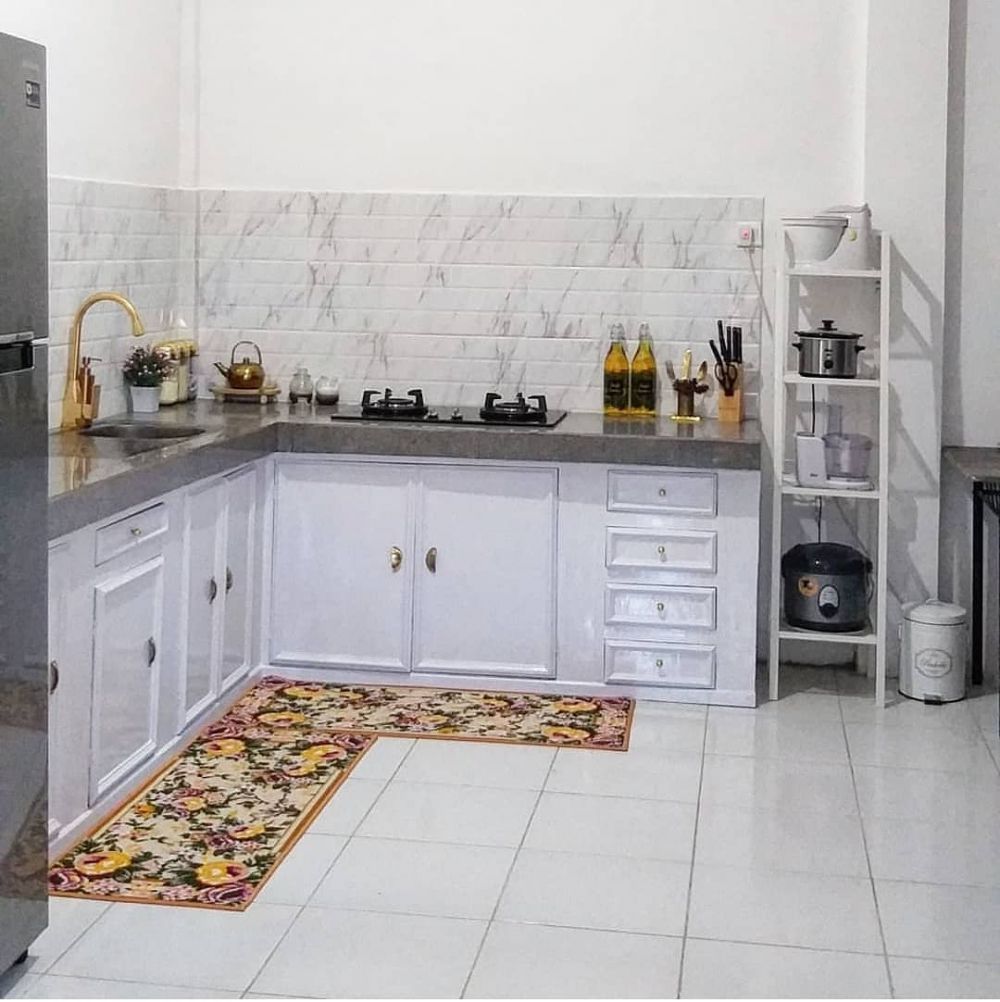 A small thing to save little space on categories you may add for each drawer. Make use of other space by creating a bigger door for your cabinet. It looks cleaner if you put a mat before the cabinet. The colorful mat creates a strict line to the cabinet.
Aesthetic and Elegant Black Cabinet
Color influences the atmosphere in a room. A minimalist kitchen is matchy using black and white color. This color has a contrast tone that creates a unique look. Mix and match your white wall to the opposite color of a black cabinet in your minimalist kitchen.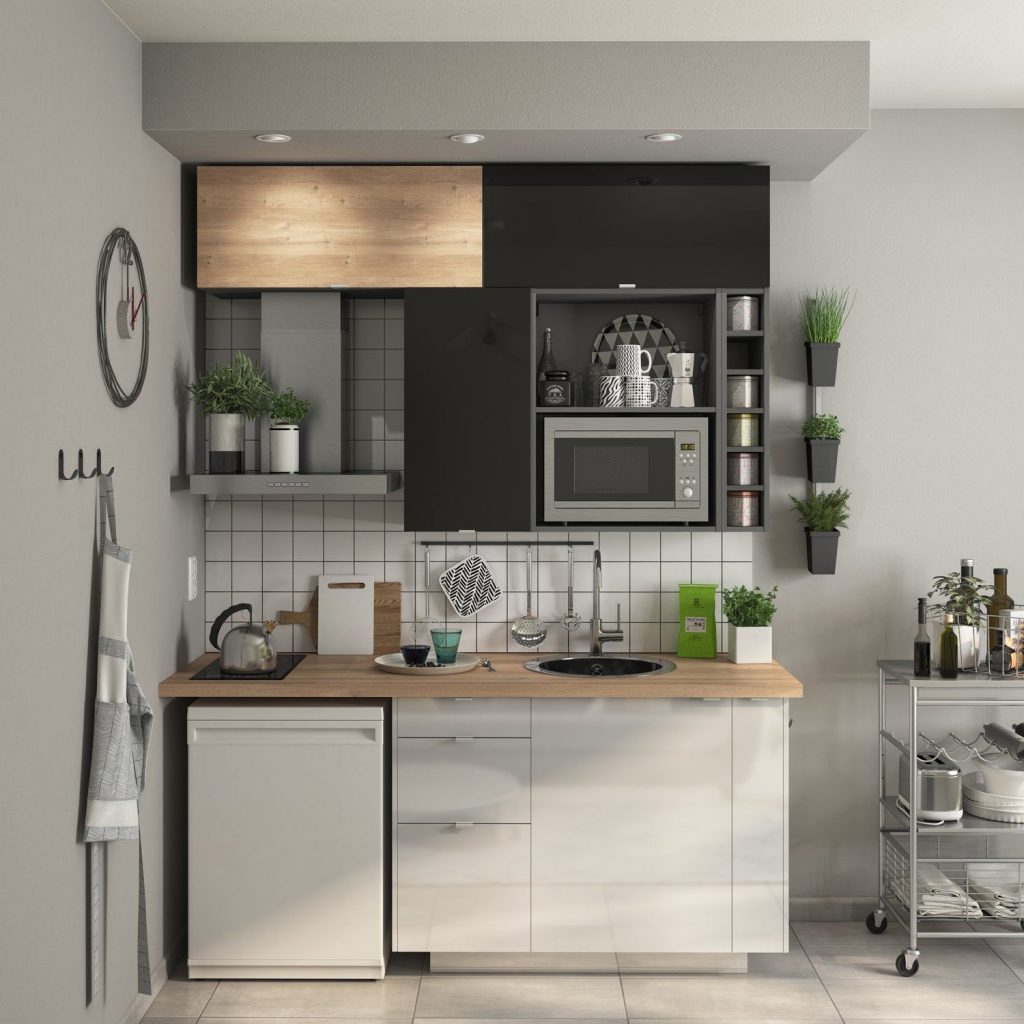 At a glance, this cabinet looks disappears but it is there. Play with a layout of the cabinet by arranging it in a strange position. Moreover, you can use space under your horizontal cabinet to be microwave storage. Make your minimalist kitchen more alive by hanging some small ornamental plant on the wall.
Cabinet Above The Dishwasher
Deal with a minimalist kitchen isn't a hard thing to do. Simplify your furniture to suit limited space in your kitchen. Positioning a pair cabinet above the dishwasher to get a simple design.
Even though it is impossible to have a longer horizontal cabinet due to your minimalist space, you can use space under your dishwasher and kitchen board. The cabinet design adjusts your dishwasher position.
Simple Sliding Cabinet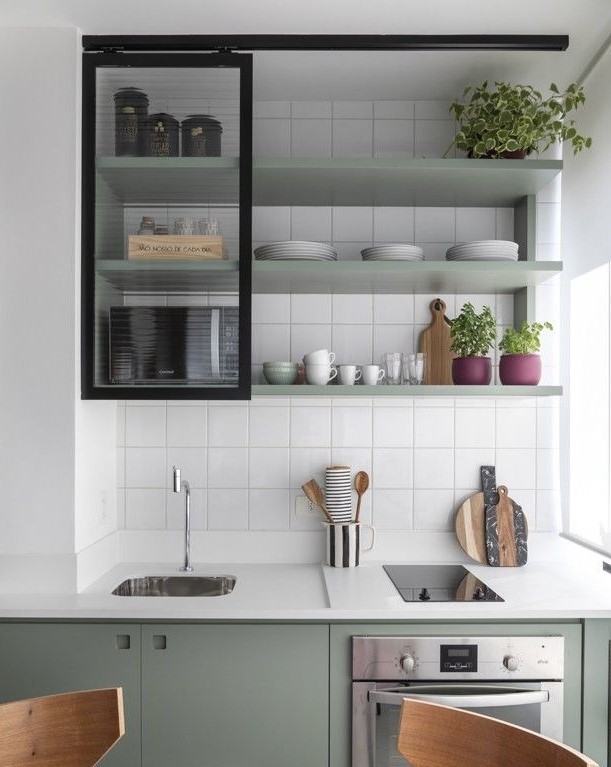 One kind of cabinet has a sliding door. It is a combination of wooden with glass material and wooden with synthetic material. Since this cabinet is available in various materials, it offers a simple design by using a sliding door. The door is better using glass because you can see the utensils inside, just in case it is in a bad arrangement. This cabinet makes your minimalist kitchen more simple.
Slim Cabinet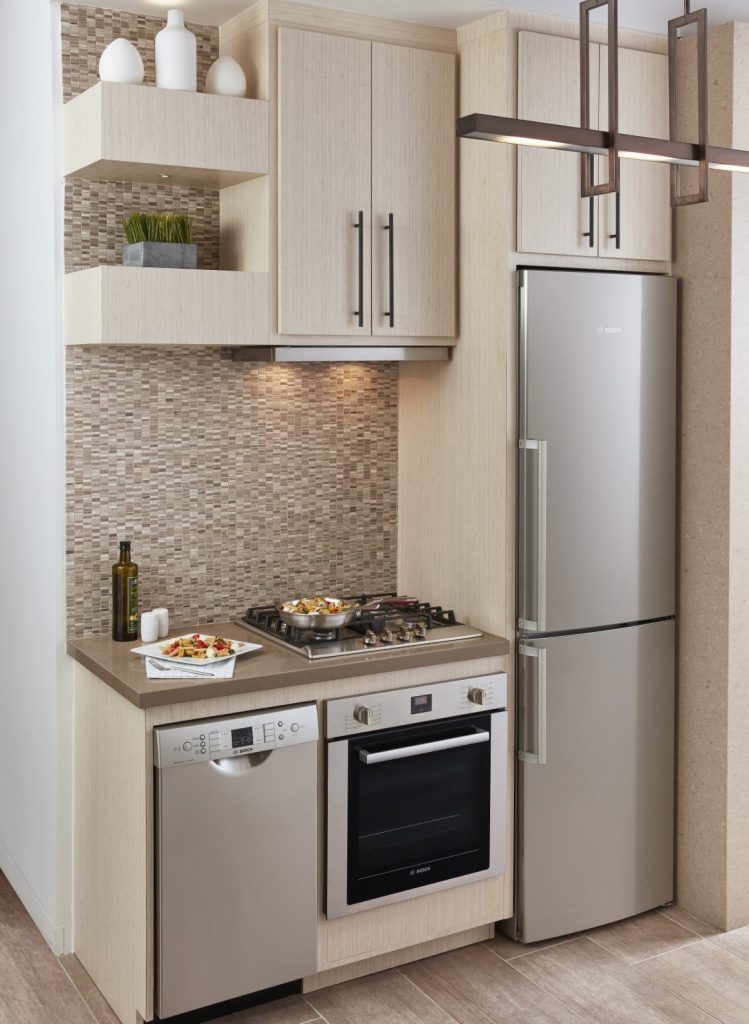 A minimalist kitchen has the characteristic to use simple furniture. This minimalist kitchen is compatible to install two pairs of slim cabinets near your refrigerator. Creating a mini cabinet on your kitchen wall makes it accessible to install in your minimalist kitchen. A dazzling cabinet looks matchy to the kitchen wall if it uses the same color and pattern.
That is our discussion about Amazing Cabinet Design Ideas for Your Minimalist Kitchen. Having a minimalist kitchen forces you to think and manage your limited space in a maximal function. Since a minimalist kitchen needs storage to keep your kitchen utensils safe and clean, you can install a cabinet. It sticks out a neat and clean characteristic of your minimalist kitchen. By reading some recommendations we have shared with you, we hope it will inspire you to choose a cabinet model that suits your minimalist kitchen. Happy Decorating!