Druhomes.com – Growing some ornamental plants has become a popular activity nowadays. These plants can thrive indoors and outdoors. This activity is beneficial to make every spot looks fresh and green. Some ornamental plants are foliage and blooming beautiful flowers. Having some of them at your home is beneficial for your home interior to look more stunning. If you thrive some ornamental plants indoors, you need a spot to put them. A space that people might see it directly, such as near a window, hang on the ceiling, or having them on shelves. These shelves make your ornamental plants more attractive because it has a various shape and places it on an alluring spot. Now, we have provided amazing plant shelves ideas to put your ornamental plants. Let's pay attention to the ideas below!
An Simply Beautiful Plant Shelf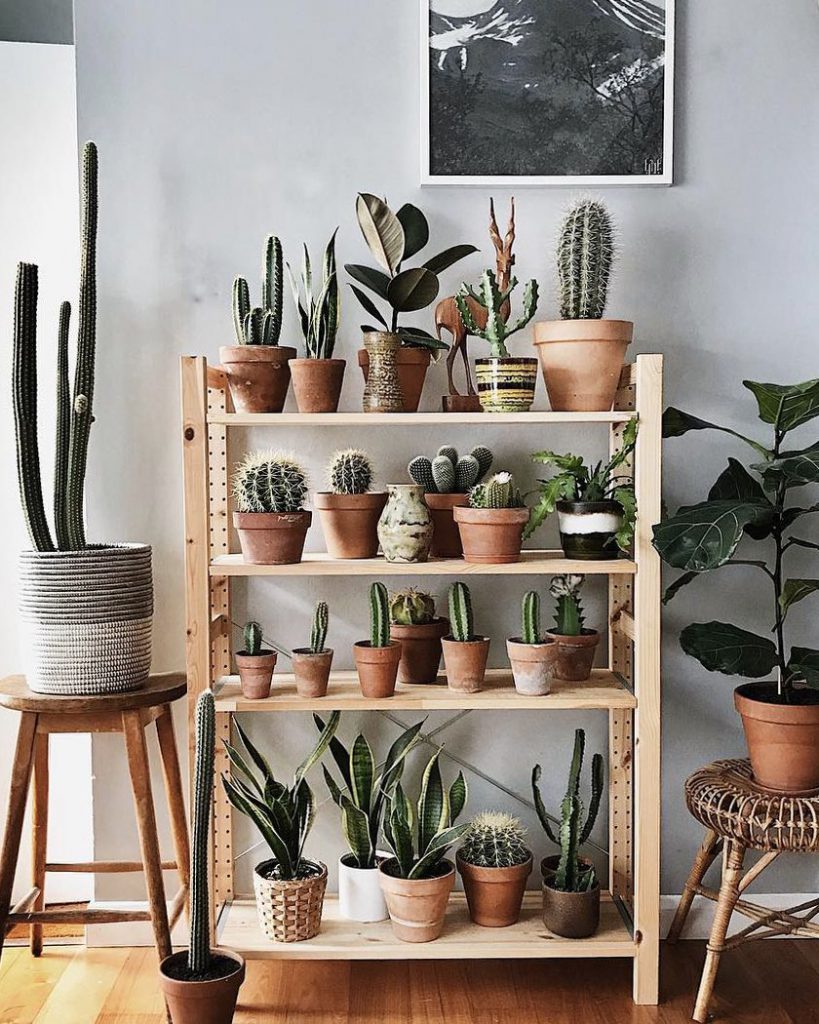 Imitating a bookshelf is an ordinary and simple shape that you can get. It is doorless shelves that allow your ornamental plants to get light and air from the environment. This shelf is compatible to put succulents and other plants that will not grow taller quickly. To make this shelf, you can use woods or iron to create the edge this shelf. If you use wood materials, varnish it by using wooden color in the shade of brown.
On the Wall Plant Shelves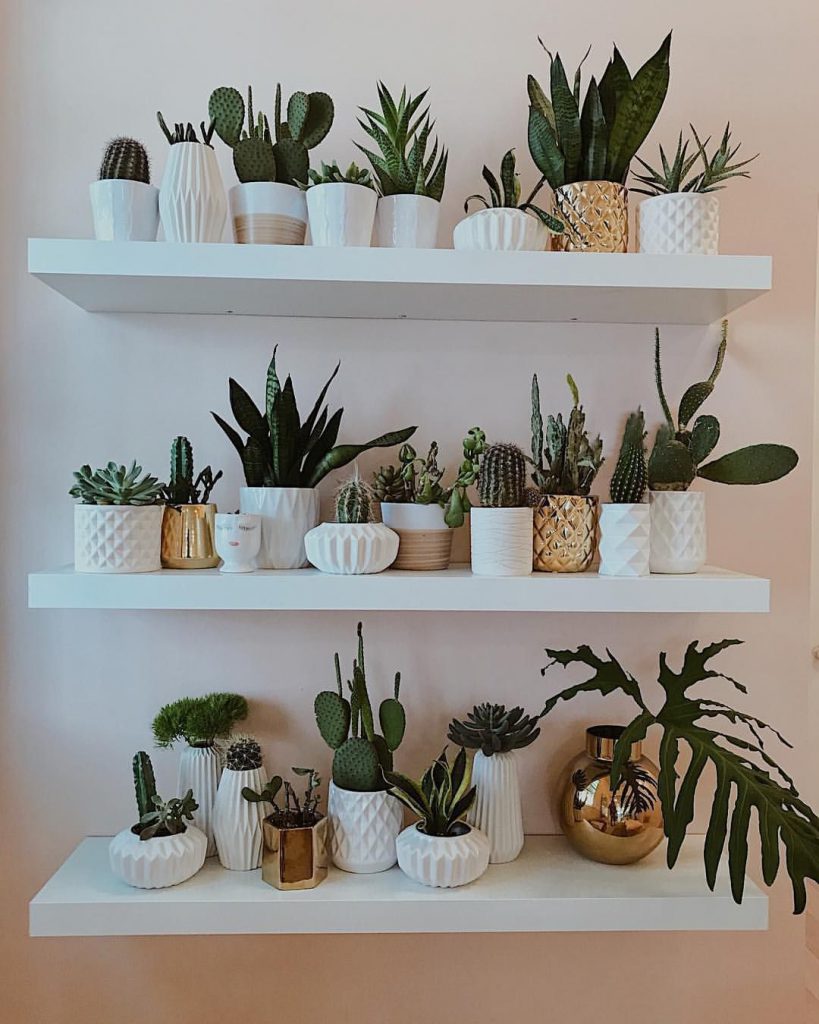 These shelves are made of ceramic, synthetic, wood, or iron material. It has a plain beam shape. Put some small ornamental plants on each shelf to give a greenery accent on the wall. Use the same color for your plant shelves and the wall paint. These plants that are put on each shelf should be the ones that will not grow taller. Succulent and vine plants are good to put on these shelves.
Vertical Shelves

A vertical shelf is an efficient shelf that suits minimum space. This shelf is compatible to put in a narrow room to save more spaces but gets greenery accents. It also fits a larger room, this shelf completes the room interior by providing a fresh decoration. You can put your ornamental plants on each shelf and it is free to combine with other decorations to make some shelves.
Ladder Plant Shelves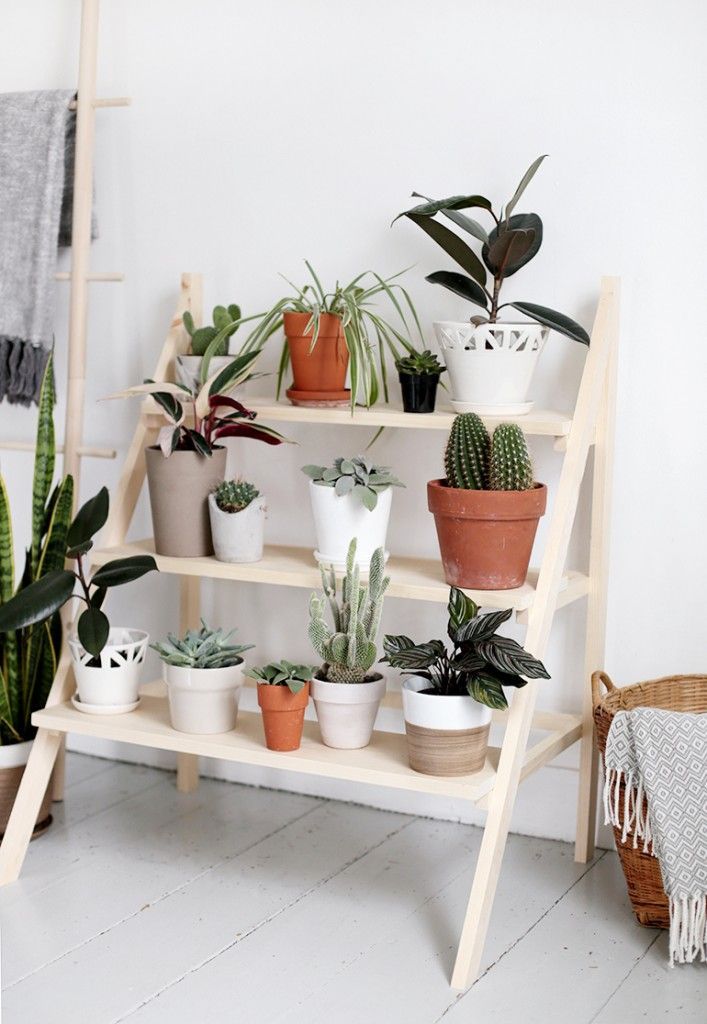 Ornamental plants have an attractive appearance, such as Rubber Plant, Peperomia, Succulent, and Calathea. Ladder plant shelves offer you an aesthetic arrangement of your ornamental plant collection. Each shelf makes your plant can grow taller without bugging other plants. It is safe for your plant's growth because you can easily water them and give fertilizer. Observing your plant's health is easier without moving them from the shelves.
Standing Wooden Planter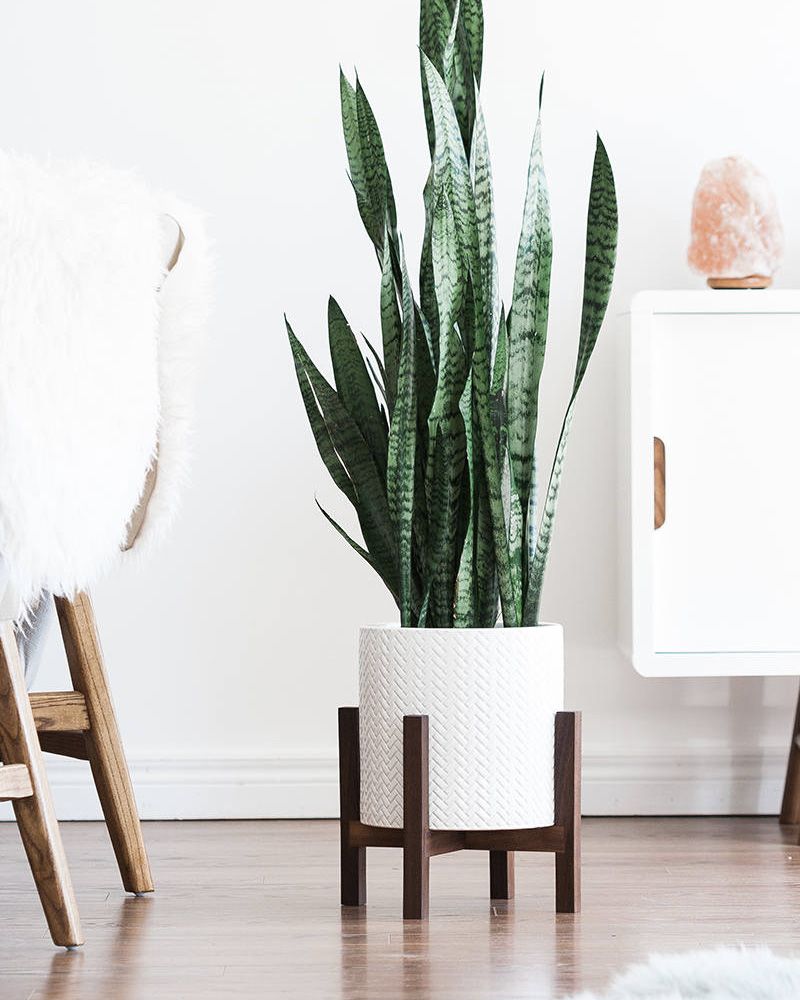 Standing Wooden Planter is a simple shelf to put your ornamental plant. It has one place for each plant. Using this shelf is beneficial to create a higher look for your ornamental plants. This shape gives fresh air to your plant's roots and gets enough light for the bottom of its pot. Your plant will stay healthy in this position. Moreover, the mono shelf makes it easier to put your plants in any place, whether it is smaller or larger.
Hanging Ceramic Shelves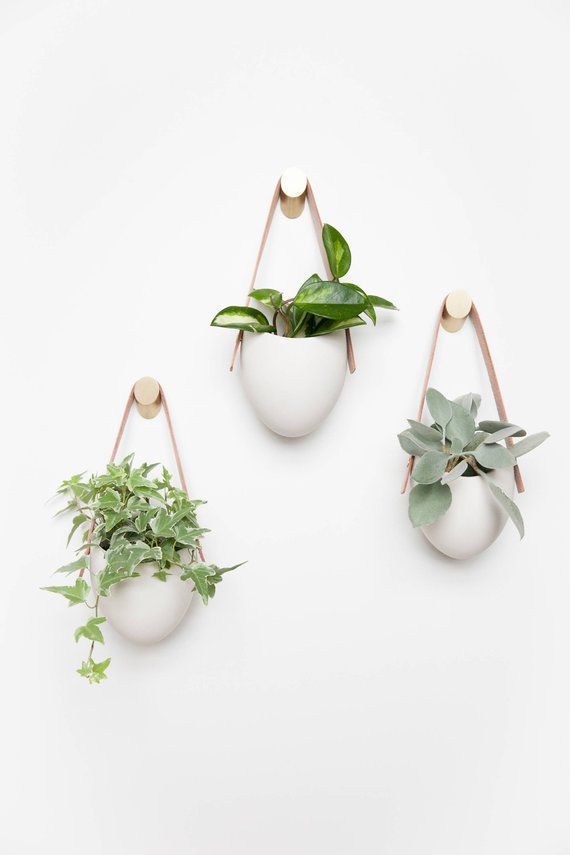 Another idea for ornamental plants is hanging them on ceramic shelves. Ceramic has a glossy and shiny surface. The plain white ceramic arouses the minimalist accent. To hang them on the wall, it uses a rope or connector. Having these shelves for your ornamental plants creates a simple and fresh decoration for your interior.
Wooden Stand & Iron Shelves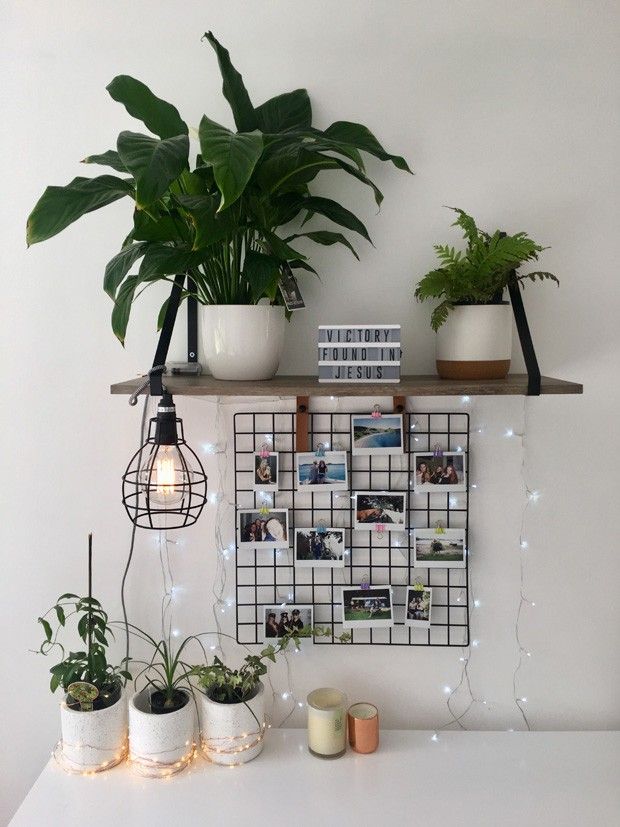 Plant Shelves on the wall have a variety of shapes, styles, and materials. Wooden board and iron connectors are the right combinations of raw materials to create plant shelves. This shelf emerges an industrial design that has an elegant and aesthetic look. You can put some ornamental plants on the wooden board. Besides, you can also hang some decorations on its iron connector. This shape is beneficial to add more decorative things below this shelf.
Hexagonal Shelves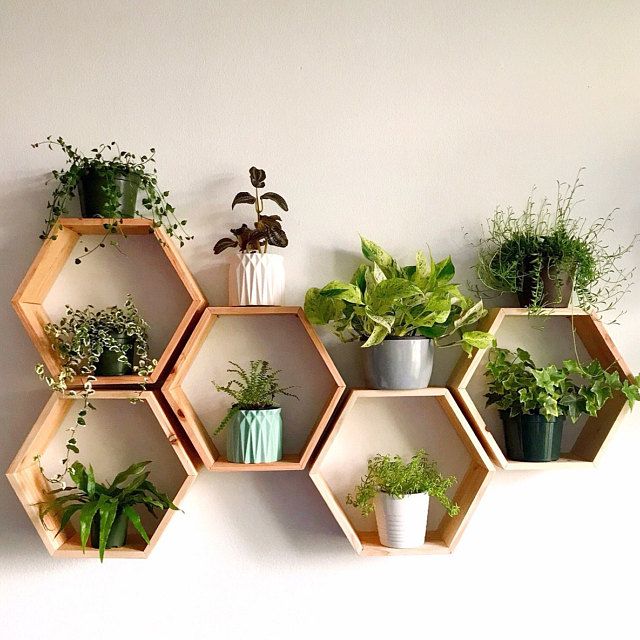 Geometric accent has a firm line and elegant look. Having hexagonal shelves for your plants invigorates your wall to be greenery and natural accents. The firm lines have one space above the shelf, you can get it as an additional shelf. Other geometric shapes are triangle, rectangular, and square to create plant shelves. Creating this shape requires the right size to guarantee your plant to grow well.
Metallic Corner Shelves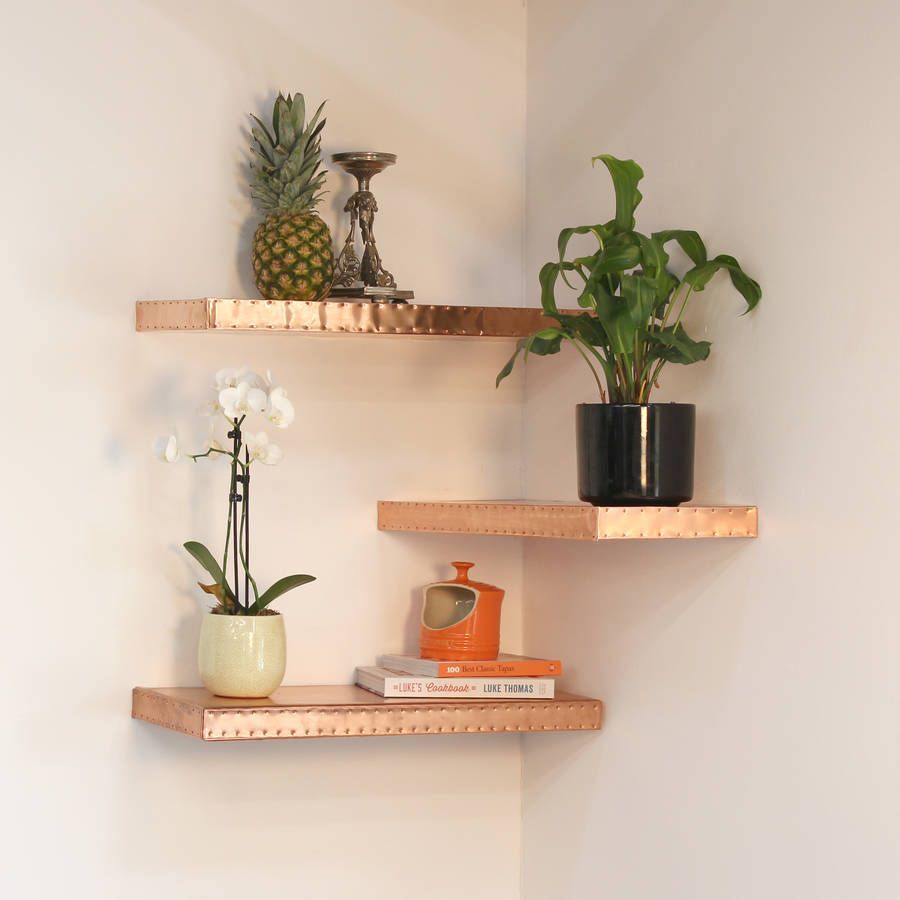 Glossy metallic corner shelves have a shiny surface that looks elegant. This shelf gives a luxurious accent if you use golden or black metallic color. A metallic corner shelf is made of iron material, you can put some ornamental plants on it. Its shelf is separate from each other, give some space to create the look of one plant shelves. The benefit of this shelf is its spot has an alluring perspective, because you can see the corner directly when entering the room.
Circular Ornamental Plant Shelf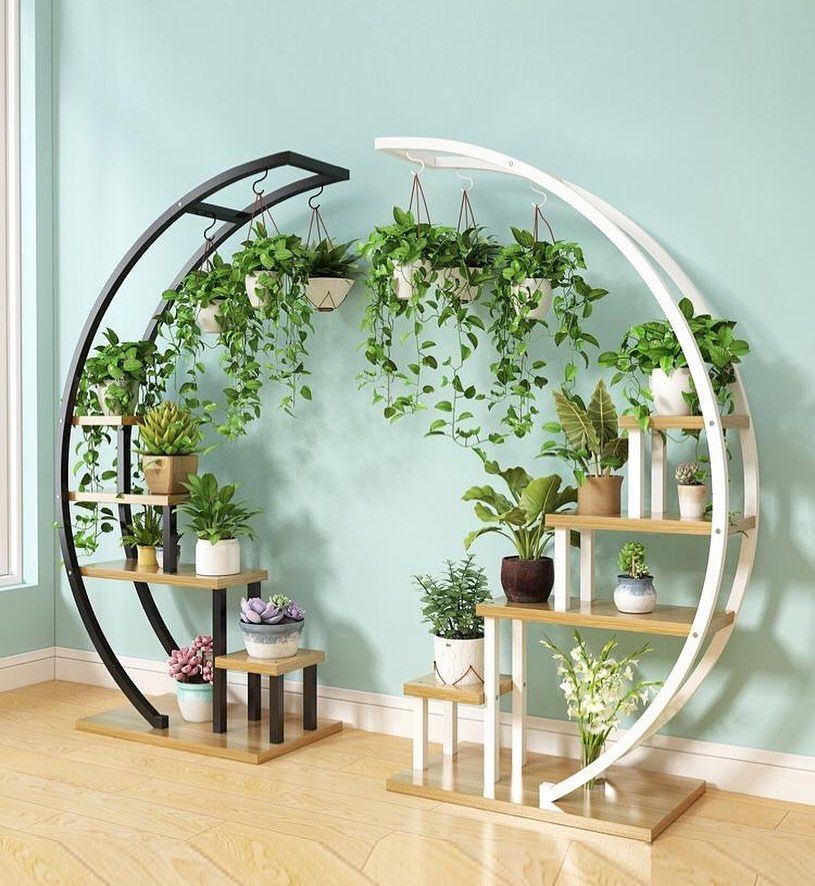 Create a unique and aesthetic decorative accent using this plant shelf design. You can use this design in the interior of any room in your home. You can also create it in a variety of sizes you want and need. Besides, for those of you who want to create a mini garden with a variety of ornamental plants and vegetables. You can use it in the interior of your kitchen. For your convenience, create a suitable kitchen interior layout that can make all your activities more comfortable and enjoyable in a beautiful natural atmosphere.
Hanging Rope Shelf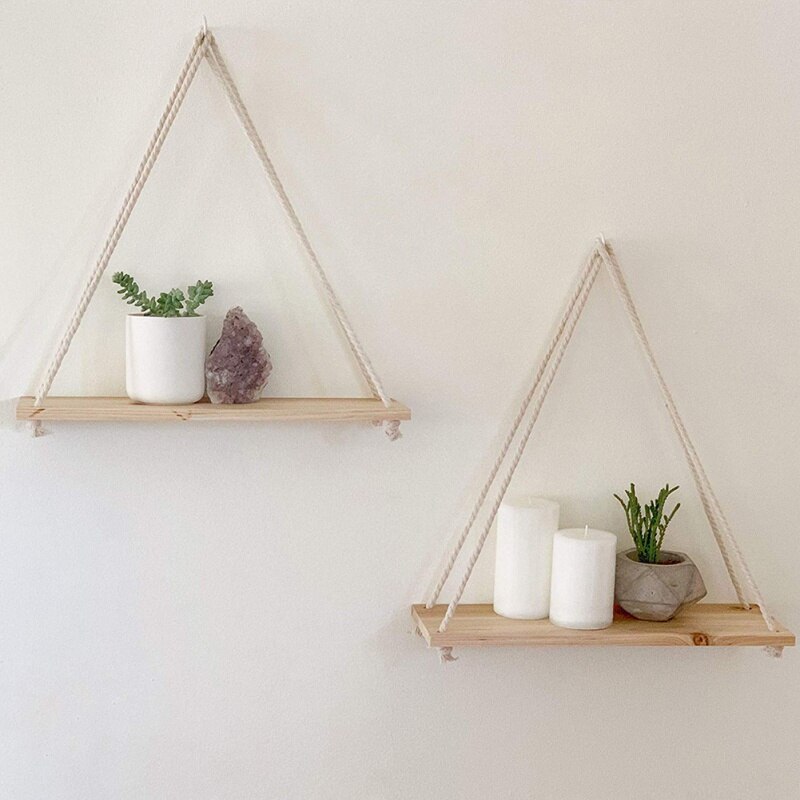 Hang your ornamental plants on the wall is fascinating. This shelf consists of a thin wooden board and a rope. It depends on your ornamental plant and its need, whether you want to hang a big or smaller plant. This shelf is simple and easy to make, as long as you can balance the board and the plant on it.
Hanging Basket Plant Shelves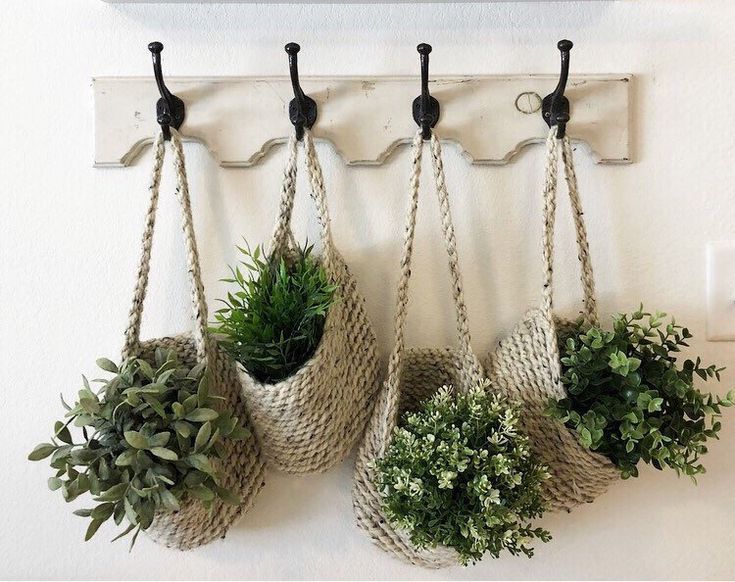 This amazing plant shelves ideas is the simplest one. You can buy some baskets to hang your ornamental plants. The basket should be strong and aesthetic. Since that basket usually is handcrafted, choose ornamental plants that are catchy to put inside it. The plant should fit the basket size.
That is our discussion of Amazing Plant Shelves Ideas to Put Your Ornamental Plants at Home. Ornamental plants have an aesthetic appearance that modifies the room to look more stunning. This plant suits any interior design, so it can put on every room. Having some ornamental plants in one room requires a place to keep them all. Plant Shelves are beneficial furniture to put your ornamental plants. It is available in various shapes, styles, and colors that make your interior design more interesting. We have mentioned some of the above, we hope you can get inspiration to use plant shelves for your ornamental plants. Happy gardening and decorating!