Druhomes.com – Enjoying your family time at home is an essential activity to do. A comfortable place is necessary to draw a beautiful memory for your happy family time, then you need a patio. A patio is a part of the home design that has a function as a shelter when enjoying your activity in a beautiful decoration. Patio stands in a backyard, a courtyard or an open space that offers you a cozy atmosphere. It also has a function as a decorative part to make your home design more stunning. Designing a patio is not an easy thing to do, since you need a room designer or references from many sources. Nowadays, many designs of patio you can choose to suit your home design on low maintenance and catchy to make your home more charming. Here, we have provided some brilliant patio design ideas for you to design a stunning patio. Let's see them!
Stunning Patio with Yellow Lamp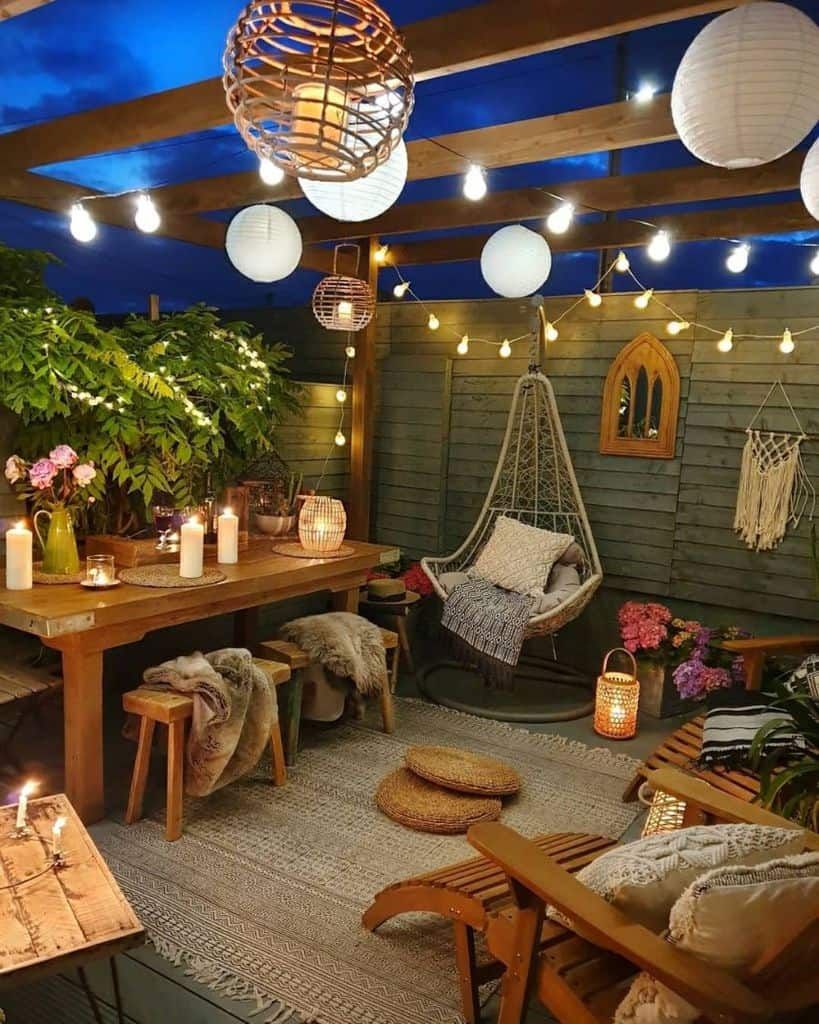 A stunning and brilliant patio design should look interesting every time, whether it is in daylight or at night. In daylight, you can enjoy your time on your patio by having a canopy as a shelter from sunlight. At night you can light beautiful yellow lamps to make your patio looks warmer. The dim lights give a romantic view of your patio.
It is essential to choose the dim lights rather than the brighter light because you can feel the atmosphere of a dark sky on a starry night. Moreover, the dim lights lessen the use of electricity since it needs less power to shine. You can add some electric candles to make a scenic landscape.
Attaching Beautiful Flowers in Your Patio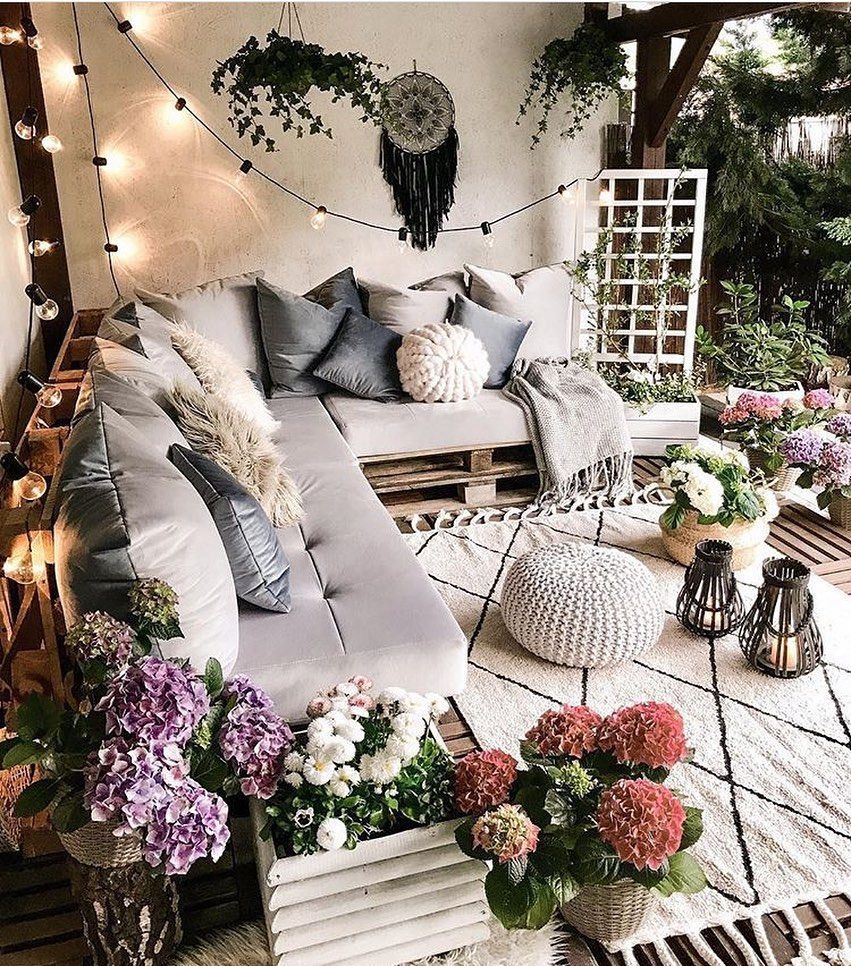 The flower has a decorative function if you put it as an ornament. Many flowers are catchy to put in any room to make it more beautiful. The colorful flower attracts attention and boosts your mood with its eccentric shape. The colors of flowers are compatible with any furniture and patio design.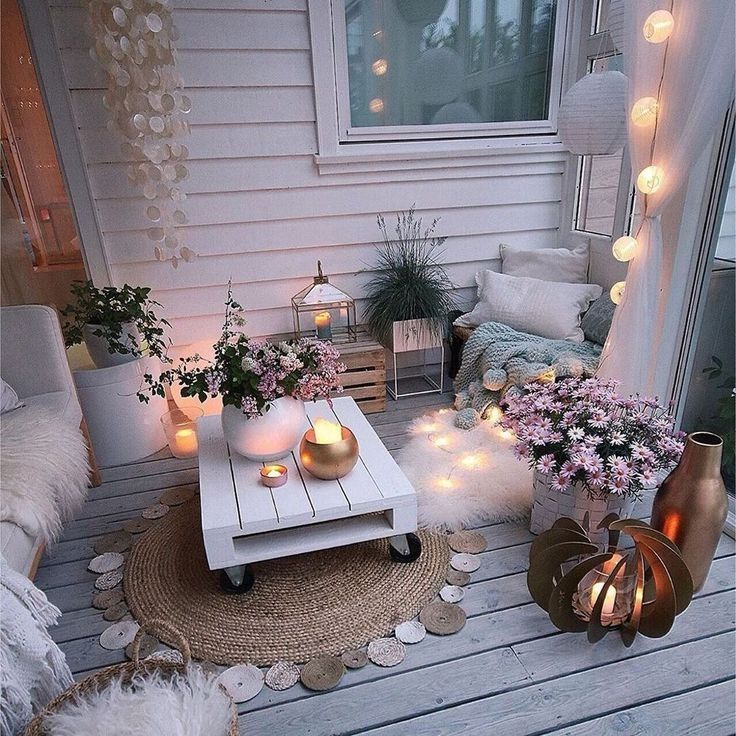 There are many flowers you can put on your patios such as lilacs and marigolds. If you have many flowers it gives a natural fragrance to the surrounding. Having some beautiful flowers on your patio also gives a natural touch to an open space patio.
An Open Space Patio with Fresh Air
The main function of a patio is to provide a comfortable place for you. Take a rest in a beautiful place will boost your mood and calming your mind. Fresh air in an open space patio is important for you to take a breath in healthy oxygen. Planting some green plants will produce oxygen better since it gets enough sunlight in the photosynthetic process.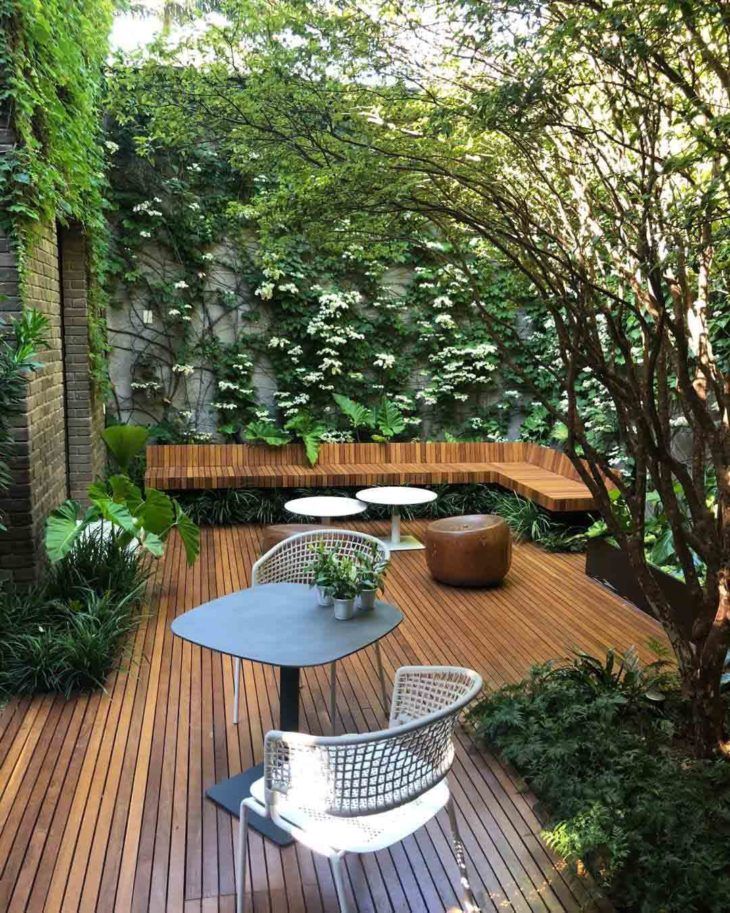 Even though your patio is surrounding by the walls then it still has fresh air from the trees and plants around the patio. The brilliant patio design looks shady when it has many trees and having more wooden accents such as a wooden floor and wooden settee. Having exposed brick walls also alluring to get a natural look.
Having Skylight for Your Patio on a Starry Night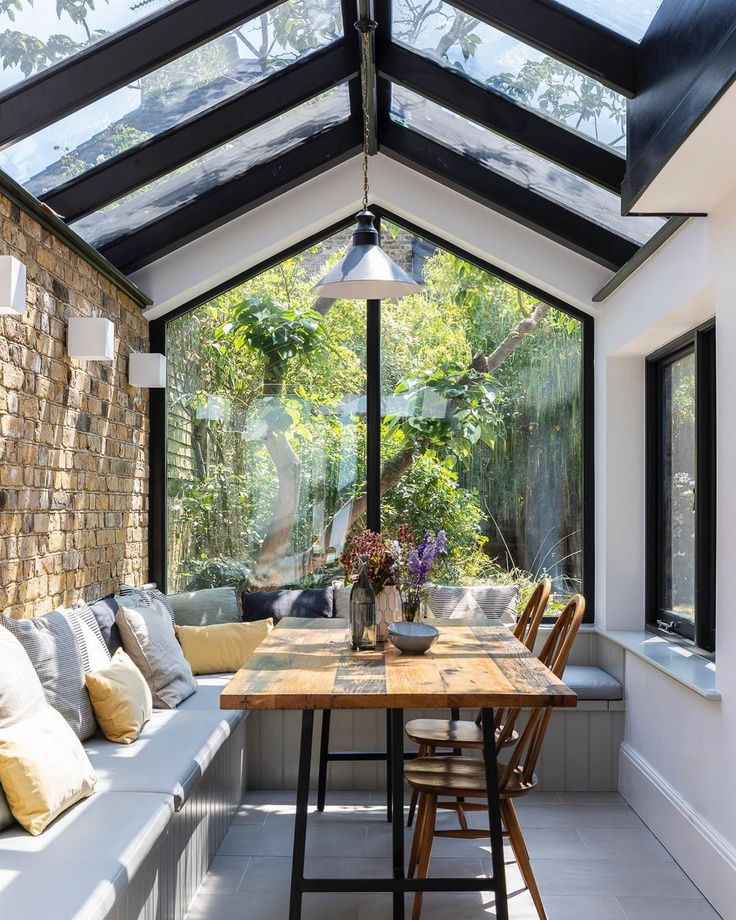 A skylight is commonly used in glass material. The skylight should be clean and strong because the sunlight and rain hit it every day. Your brilliant patio design can use this material with an iron or wooden combination. Having a skylight means that you create a transparent shelter, whether you want to make it a patio room or make a semi-outdoor patio.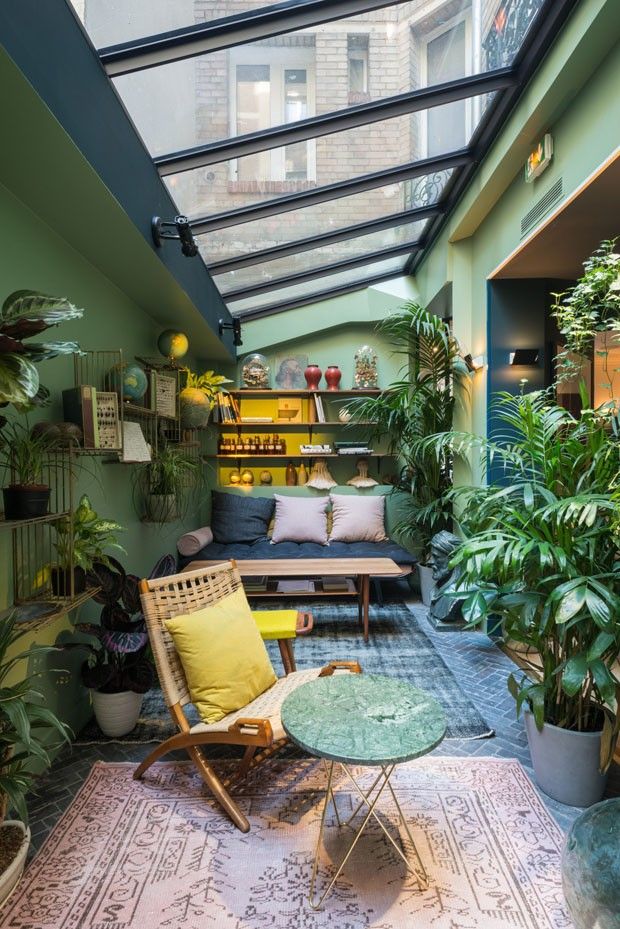 By having a skylight on your patio, you can do every activity in this place even on a rainy day. This skylight is also beneficial for you to see a starry night in a warm atmosphere without having the night wind. You can also thrive some ornamental plants in this patio to add a natural nuance.
Installing a Shady Pergola for Your Patio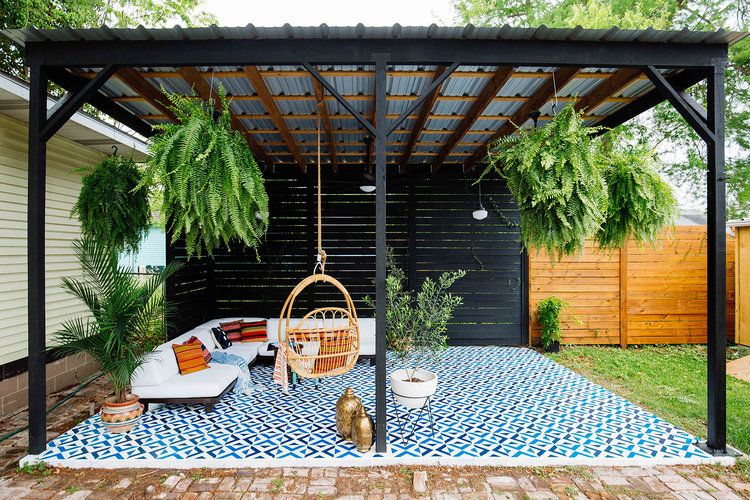 This kind of patio is a recommended type if you have a wide courtyard. Take advantage of your wide space by building a pergola. Pergola is a separate room from your home as a semi-outdoor room to enjoy your activity. It is a calm place because you can design it away from your home. Design your pergola freely, because it shouldn't be the same as your indoor design. Even though you have a minimalist home interior, you can attach an industrial design for your patio.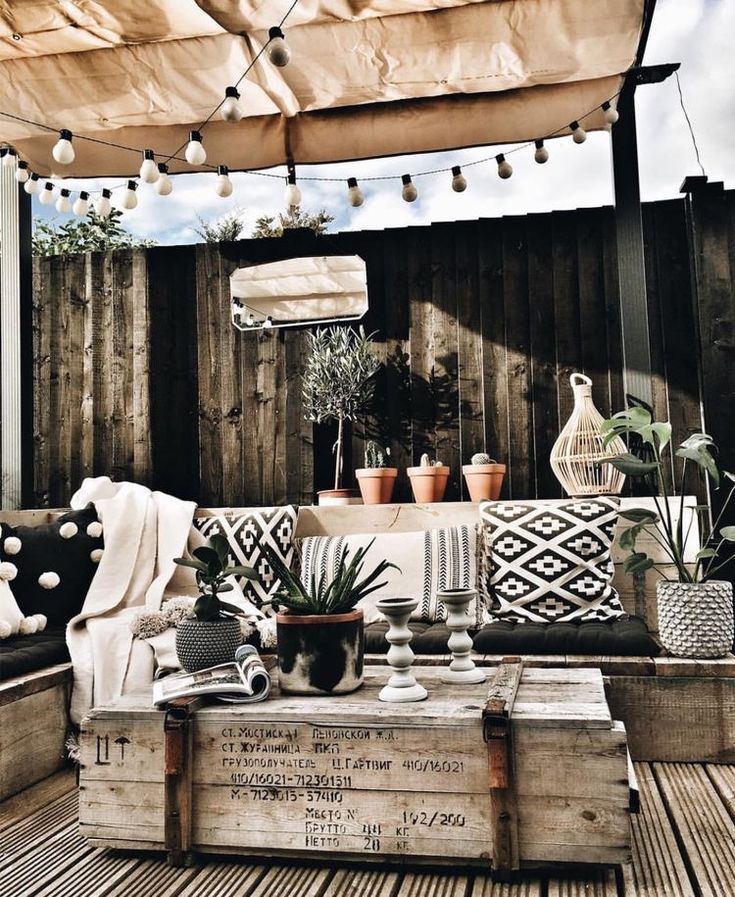 You can design this pergola in the corner of your yard. Use the corner space between your wall by attaching a canopy then transform it into a nice patio. Add some ornamental plants to soften the look of your patio.
An Aesthetic Bohemian Patio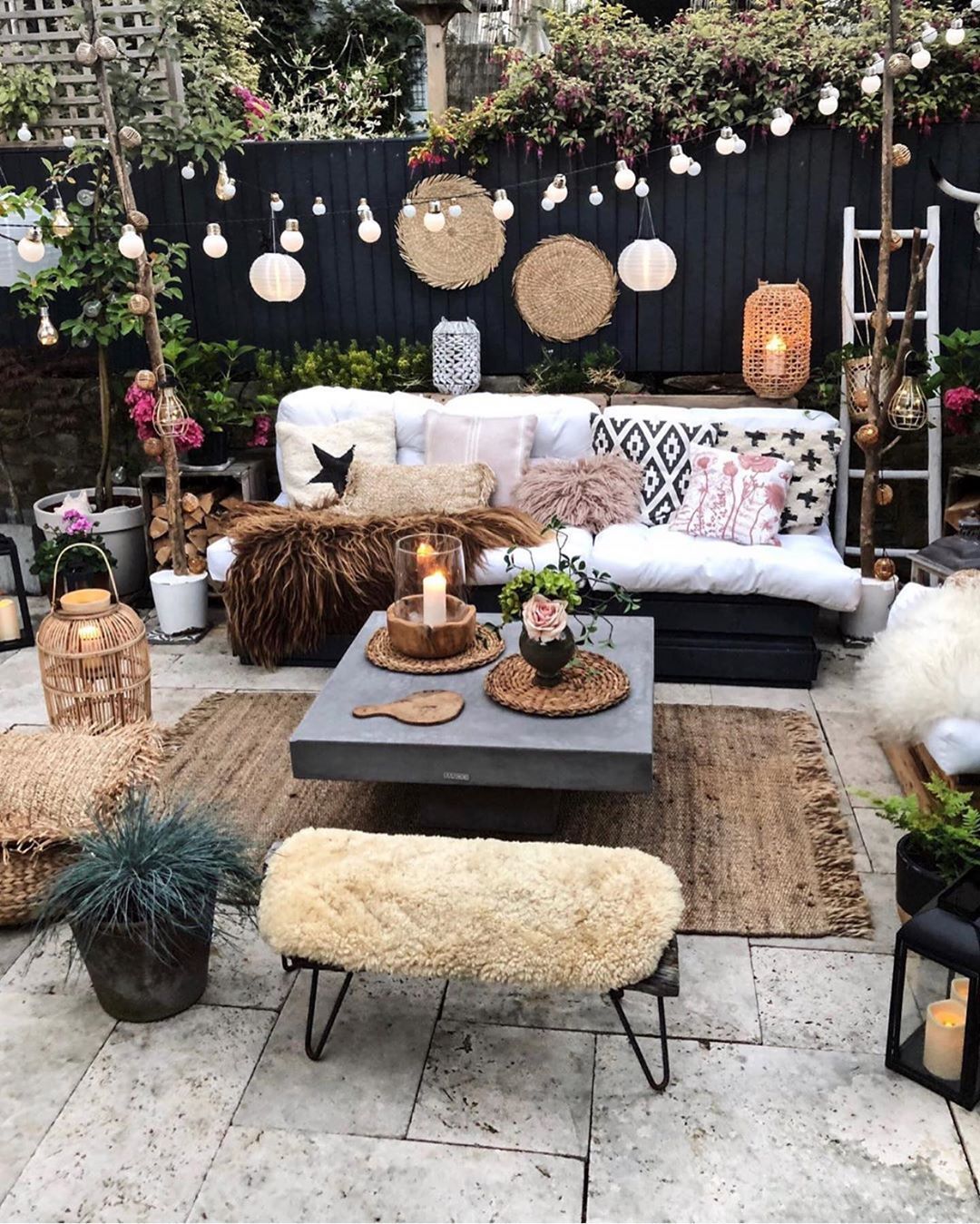 A patio is identical to an open space design in a courtyard. You can modify an outdoorsy touch by attaching a bohemian design for your patio. The bohemian design stands for an independent vibe and free design style with the taste of nature.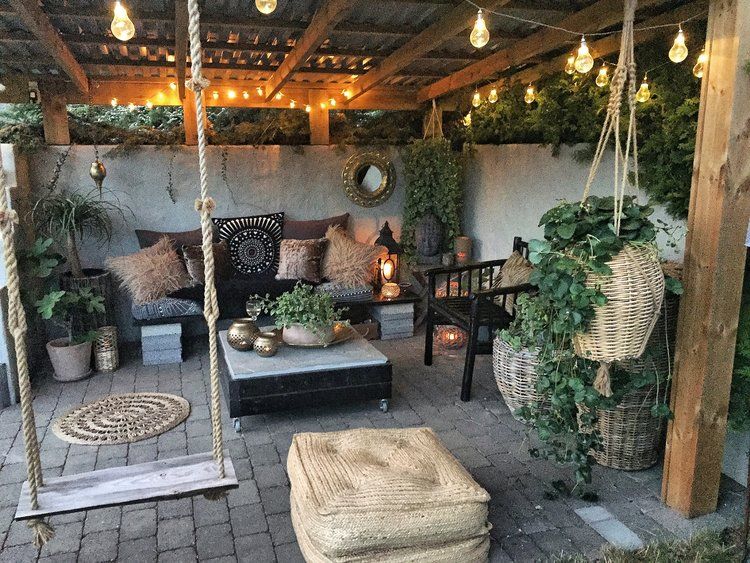 In the bohemian patio, there are many ornaments and elements to emerge this vibes such as rattan napkins, a wicker rug, iron chairs, and crowded patterned stuff. To make it more dazzling, you can hang some yellow lamps or using pendant lamps. Attaching some ornamental plants also makes the layout more eccentric.
A Natural Concept for Your Patio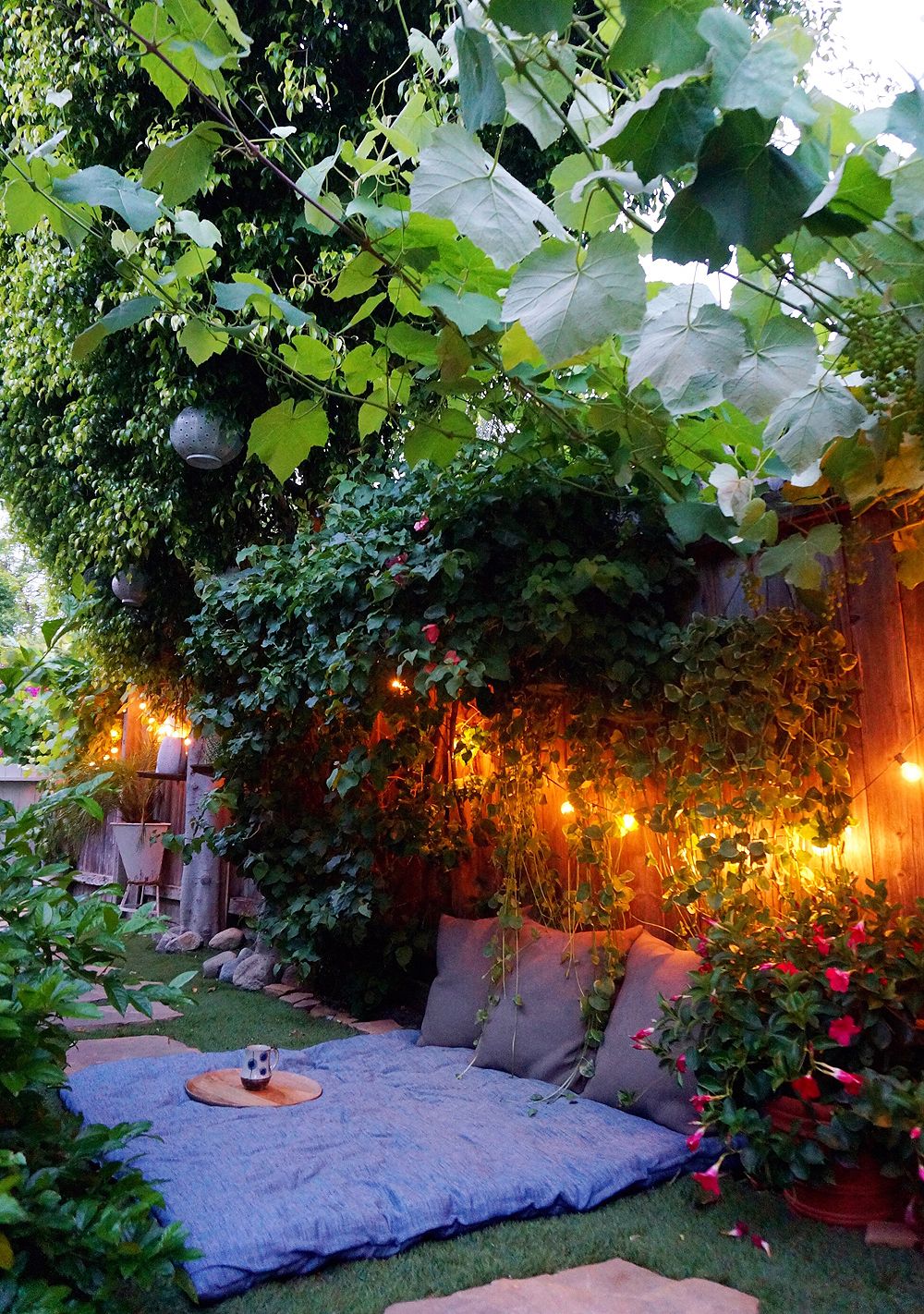 Since a patio provides an airy place for an outdoor patio, it also has some ornamental plants such as vine plants, flowers, and foliage plants that live in your courtyard. You can be closer to nature by having a mattress on your patio as a place to lie throughout the day. Having an intimate touch with the ground emerge the sensation of a natural nuance.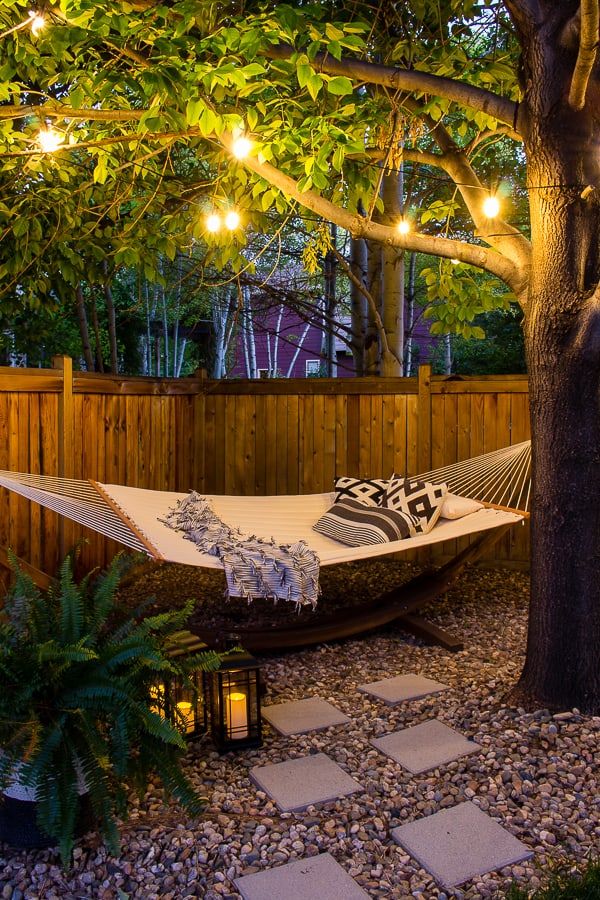 Installing a hammock between the trees is comfy to be the place for your temporary patio. This thing is easily removed if you want to change the patio decoration. It is nice to enjoy the night sky by lying on the mattress and the hammock with yellow dim lights.
Warmer Patio with Fire Pit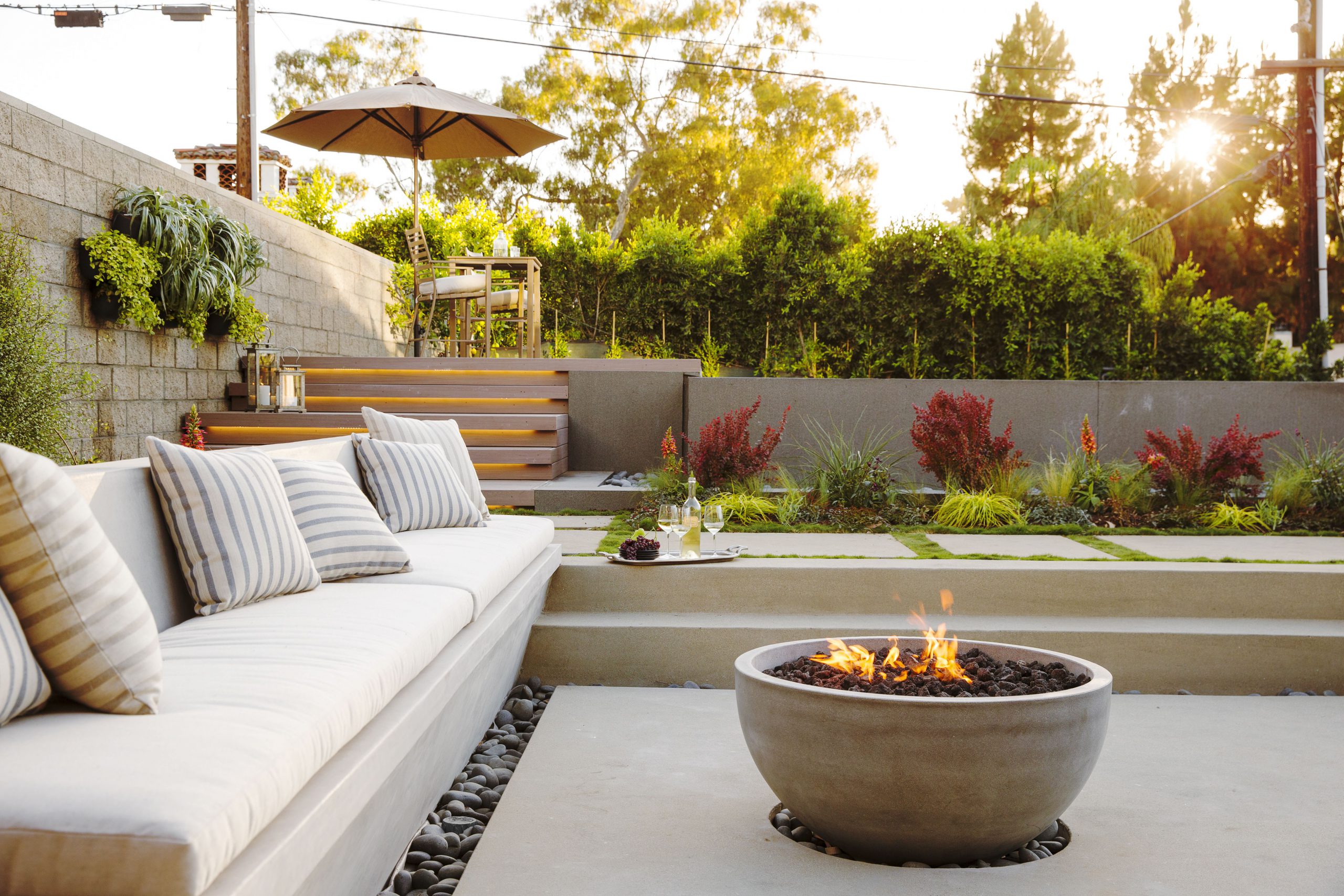 Enjoying the time with your beloved family is more precious in a warmer place. Even your patio is an open space, but you have a warm atmosphere by installing a fire pit. This element is important to have when enjoying an outdoor activity on a cold night.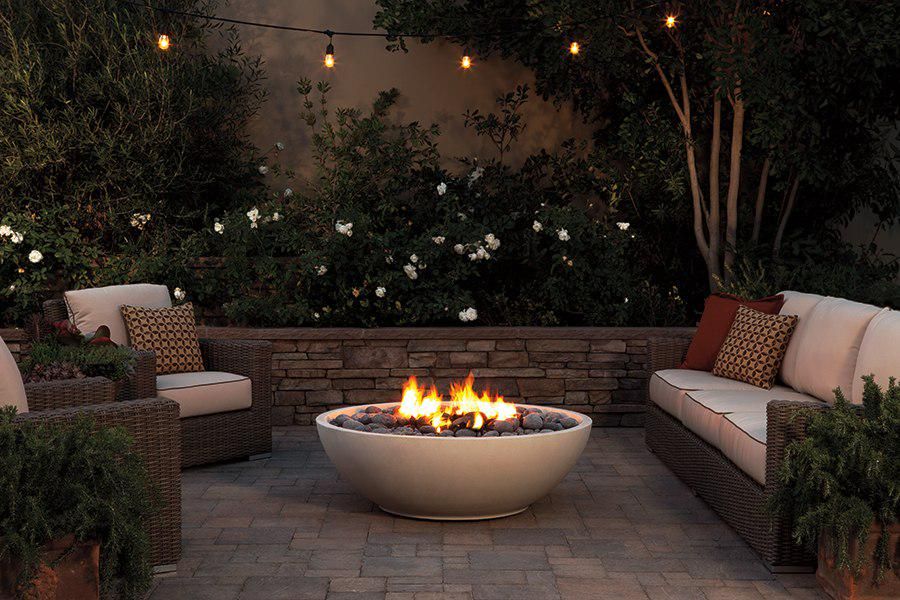 The fire pit can be a natural yellow light that shines the patio with its warmth. It will be a comfortable patio when having family time on a calm night, starry sky, and the sounds of burning woods.
Simple Patio Design for Your Home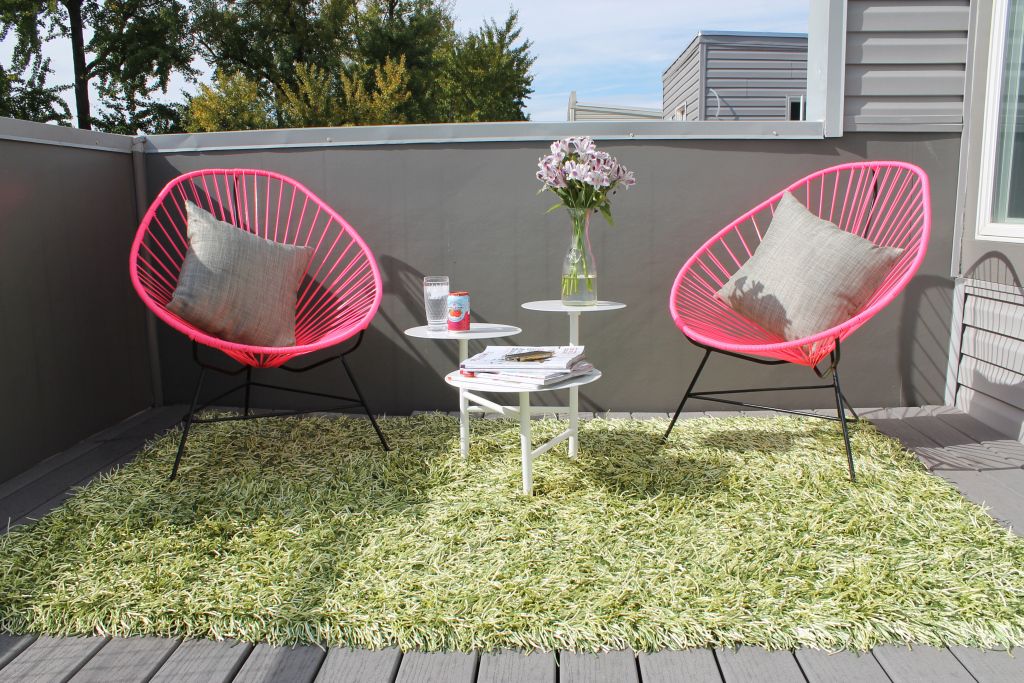 A patio needs a comfortable design. It doesn't require a luxurious design and expensive stuff, as long as you feel comfortable then a patio is enough to have. Installing two chairs is a simple design that you can try to design a patio for the first time. You can design it on your balcony and use a green rug to imitate the real grasses.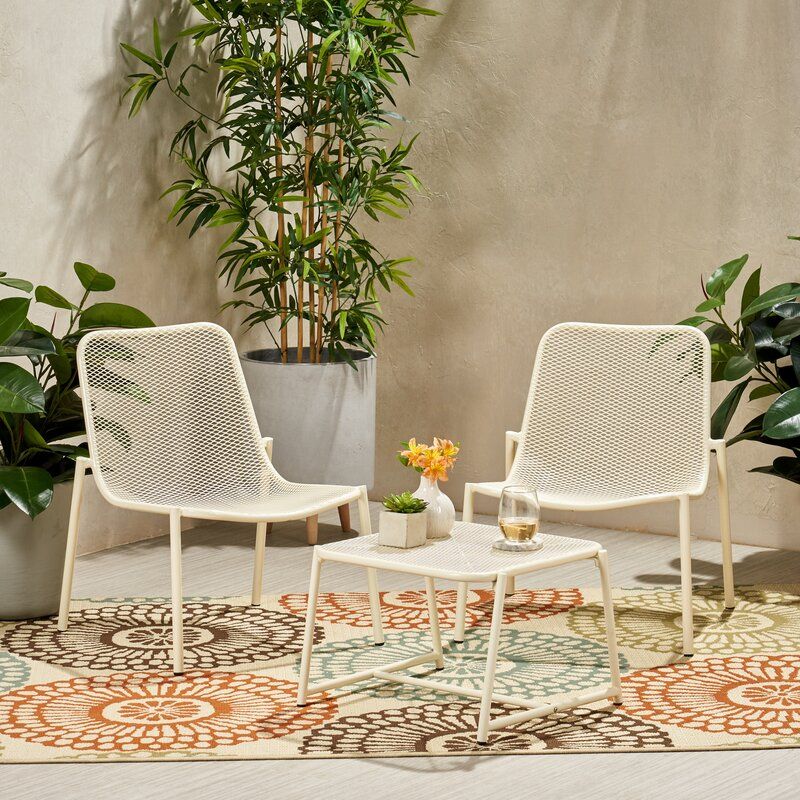 Put some ornamental plants also help this patio design to deal with simplicity. A semi-outdoor patio is nice to be simpler because of limited space. Having an aesthetic rug creates a limited space for your semi-outdoor patio.
Stunning Patio with Swimming Pool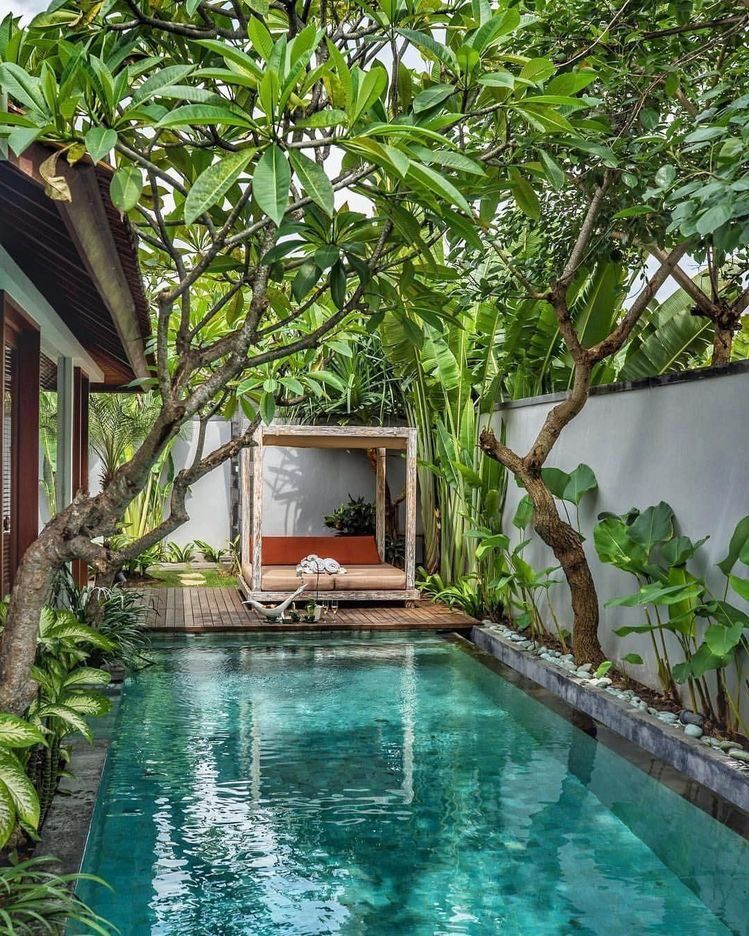 This is a fresh and interesting design for your patio. By designing a patio near your swimming pool is necessary for you to enjoy a calm atmosphere to relax your mind. You can do yoga or other meditations to get a healthy mind that boosts your psychology.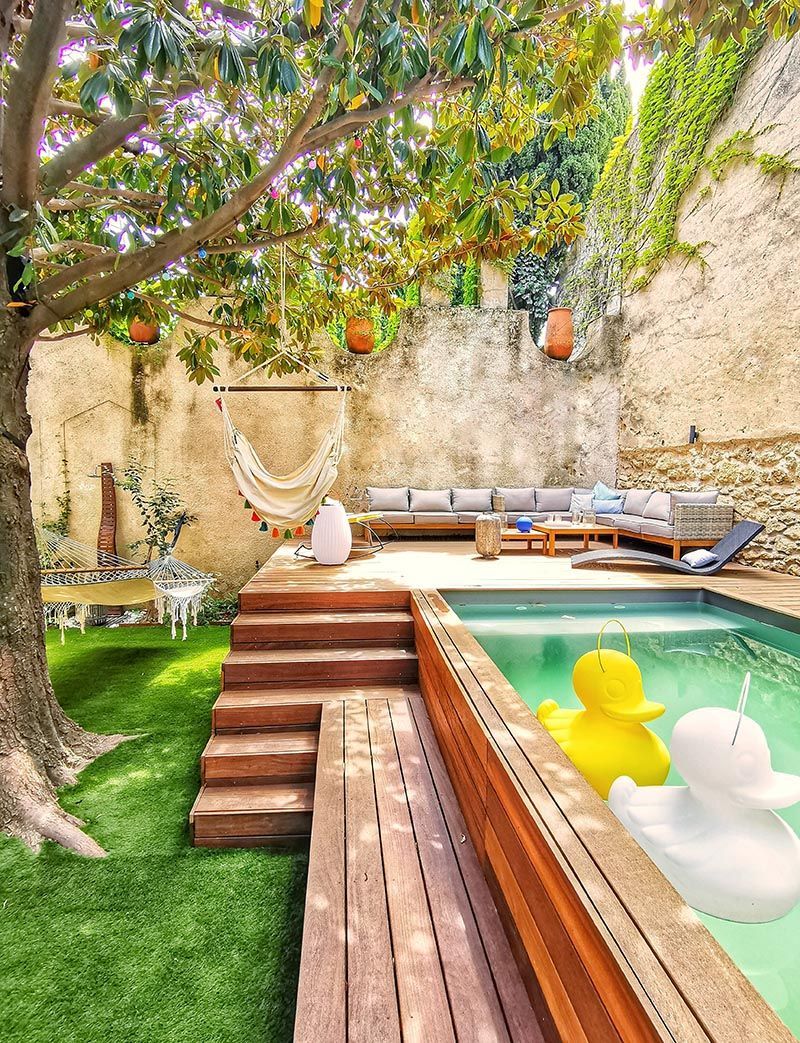 Moreover, you add some necessary furniture such as a seating bench and interesting ornaments under the shady trees. Swimming in the pool will freshen your body then you can take a rest in your stunning patio. 
Thus our discussion of Brilliant Patio Design Ideas for You to Create in Your Home. The patio offers a comfortable place for you to boost your mood and calming your mind after doing daily activity. It also can be a place to enjoy time with your beloved family. Designing a patio is essential for you to have it as a part of your home. We have provided stunning ideas for you to design your comfortable patio. These ideas may help you to find a nice reference to design it. Happy decorating!