Druhomes.com – A dining room is a special room that has the primary function to consume food with your family members. This room has some chairs and a table to put the food on. Usually, a dining room is adjacent to the kitchen to cut the time when serving food on the table. Eating breakfast, lunch, and dinner is exciting to do together rather than eating alone. Therefore, a dining room needs a compatible design with its basic function to serve food. Even in a simple design, a dining room still looks stunning. For that, you can create a variety of simple dining room ideas for you to create in the interior of your home.
A simple design for your dining room should adjust your taste of simplicity in the interior design. Even though your dining room engages in a certain interior design, like Minimalist design, Industrial design, or Mid-Century design. There are many spots at home to be a dining room. A corner space in a room, an open space dining room to join your living room, and a private dining room are compatible to apply a simple design. Here, we have provided some ideas for a simple dining room for you.
Minimalist Dining Room
The minimalist design stands for a simple design that needs less furniture, except the necessary ones, and using neutral color to arouse a neat and clean landscape in a room. Attaching this design to create a simple dining room is the most compatible design to try. Let's see Minimalist dining room ideas below:
Clean Impression of White Dining Room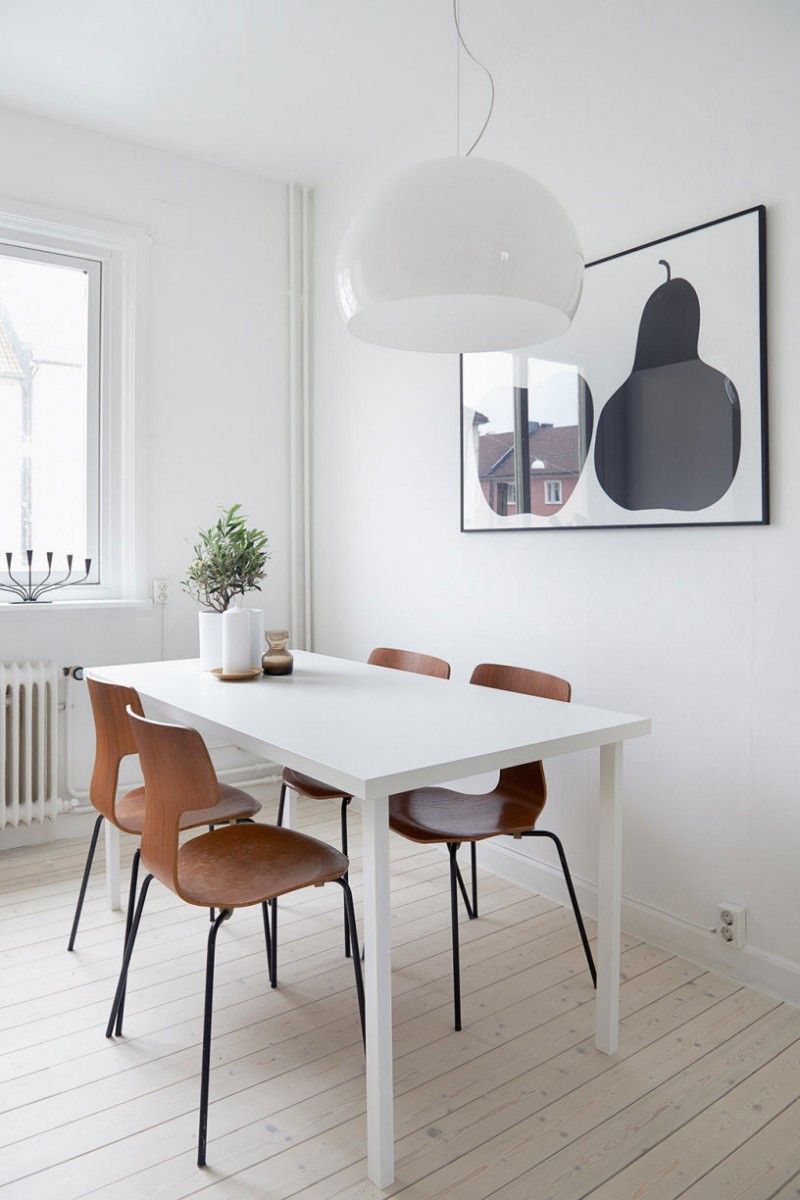 One of the Minimalist design characteristics is creating a clean and neat impression. It influences the room atmosphere that will look spacious and show the furniture clearer. A white dining room in Minimalist design uses fewer ornaments on the wall and has at least one painting on it. The white wall painting and white furniture reflect the light and brighter your dining room. The clean impression arouses from its arrangement of the ornaments and the choice of white colors of your furniture.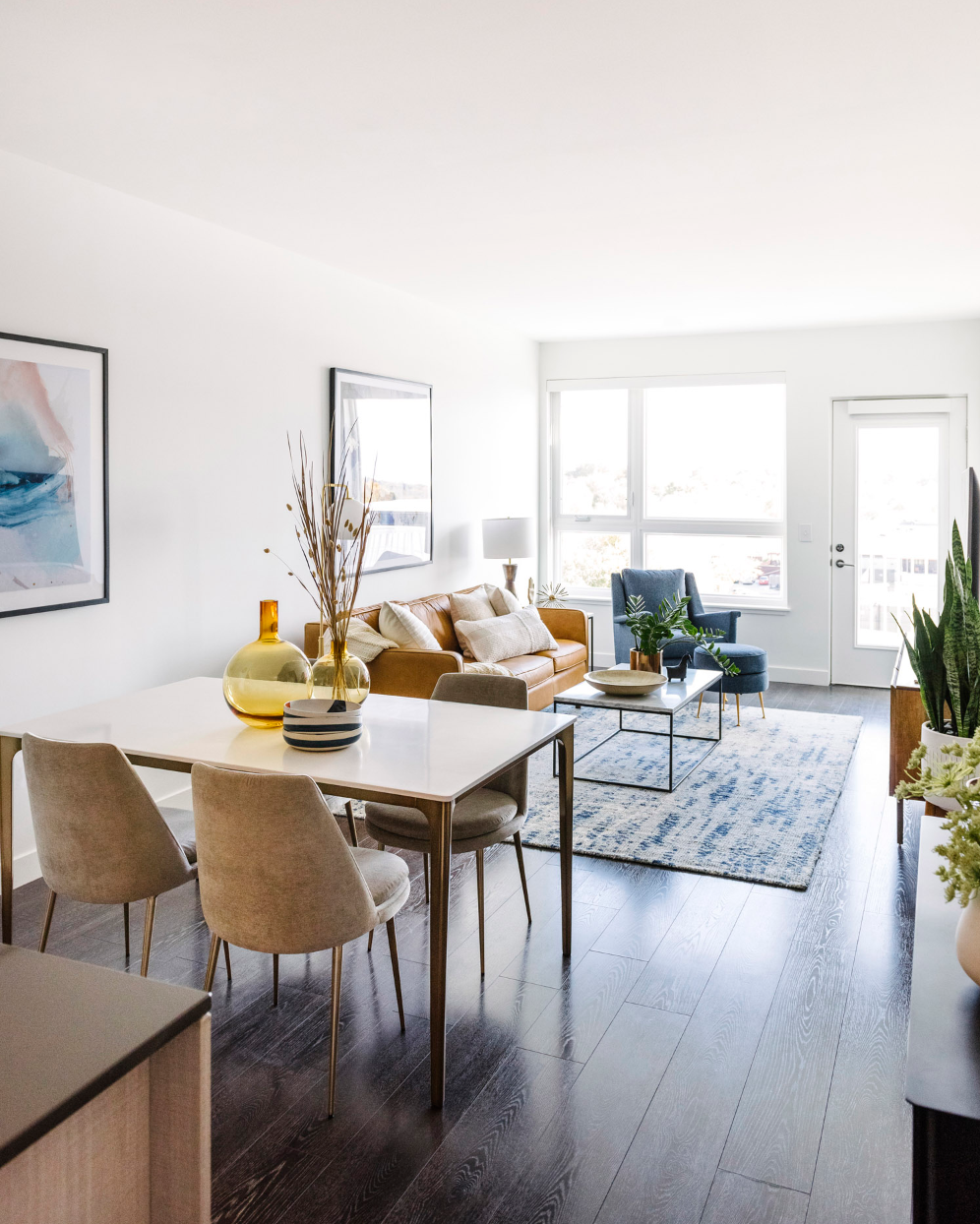 We have mentioned an open space dining room that emerged in a large living room. In this idea, you will have two different spots in one room. There is a living room and a direct dining room to enjoy the food. An open space dining room requires a mini table with a slim board and some chairs with an efficient size to arouse Minimalist accents. To make it clearer between the dining room and living room, put a rug on the floor. You can put it beneath your dining room table or put it beneath your living room couches.
A Calm Atmosphere in Neutral Colors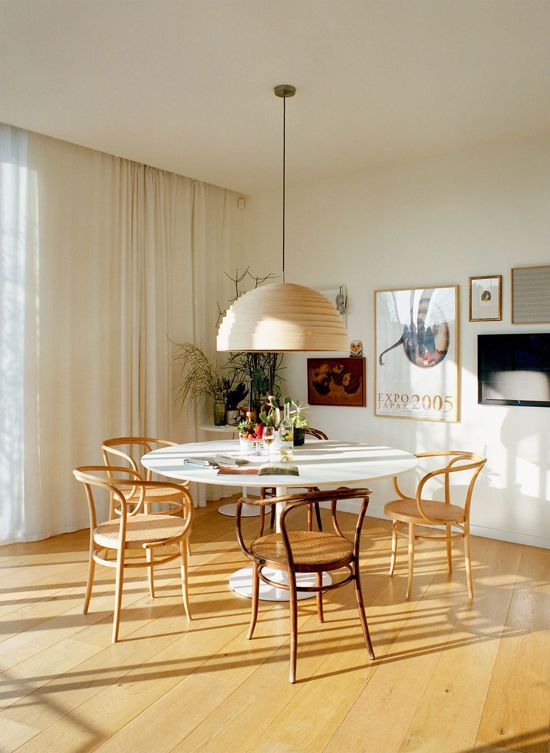 Another characteristic of Minimalist design is using neutral colors. These colors are in shades of light colors, like peach, white, light brown, and light gray. Each color generates a clean ambiance and strengthens the simple design. Using neutral colors for your furniture and wall paint will do just fine to impart a spacious look.
Industrial Dining Room
In many designs, Industrial design is a design that creates a masculine impression. It brings a nuance of an independent style using raw material. Even though it looks like an absurd design, but it is catchy to apply in your dining room, like the ideas below: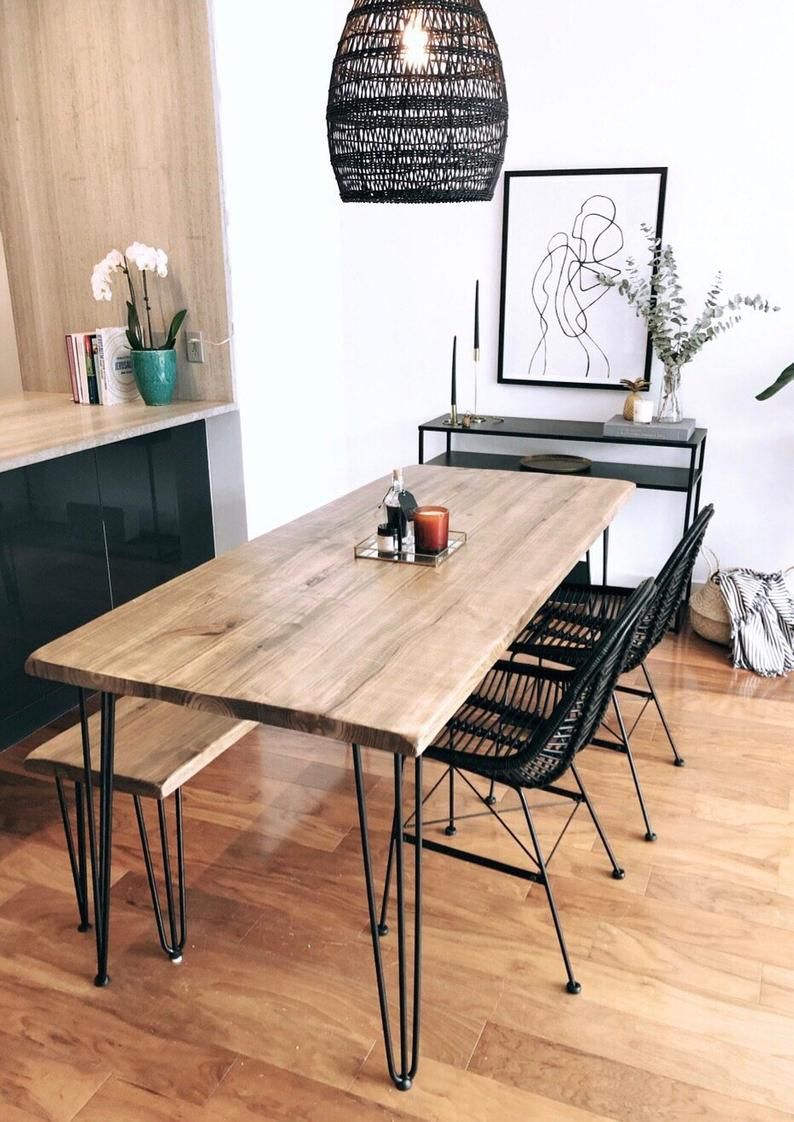 The black color is a common color in Industrial design to emerge an elegant view. Black iron material has a strong impression to use as furniture. It will complement your dining room interior by using this material for the furniture, like your chairs' legs and table's legs. Moreover, black iron accents are nice to pair with wood furniture. It creates a contrast effect in your dining room to put near a white wall.
Combining with Ornamental Plants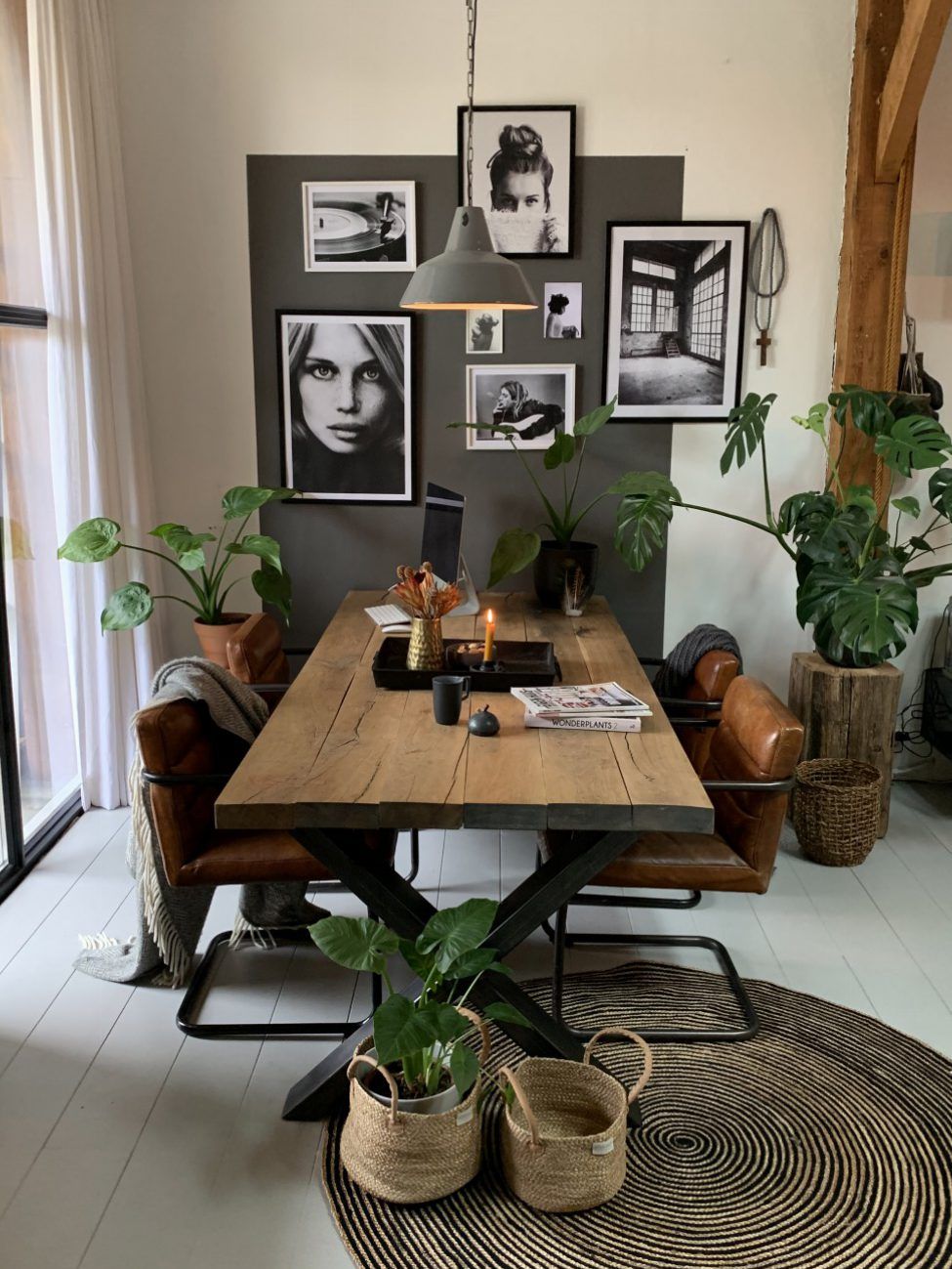 Even though Industrial design has a nuance of a garage, it enlivens the fresh atmosphere by attaching some ornamental plants in your dining room. This design looks simple and your ornamental plants make it looks perfect. There are dozens of ornamental plants that have foliage leaves and beautiful flowers. Choose the ones that you will thrive indoors and put them in a space that gives a bang slap on the eyes, such as put it on your table.
Using Elegant Pendant Lights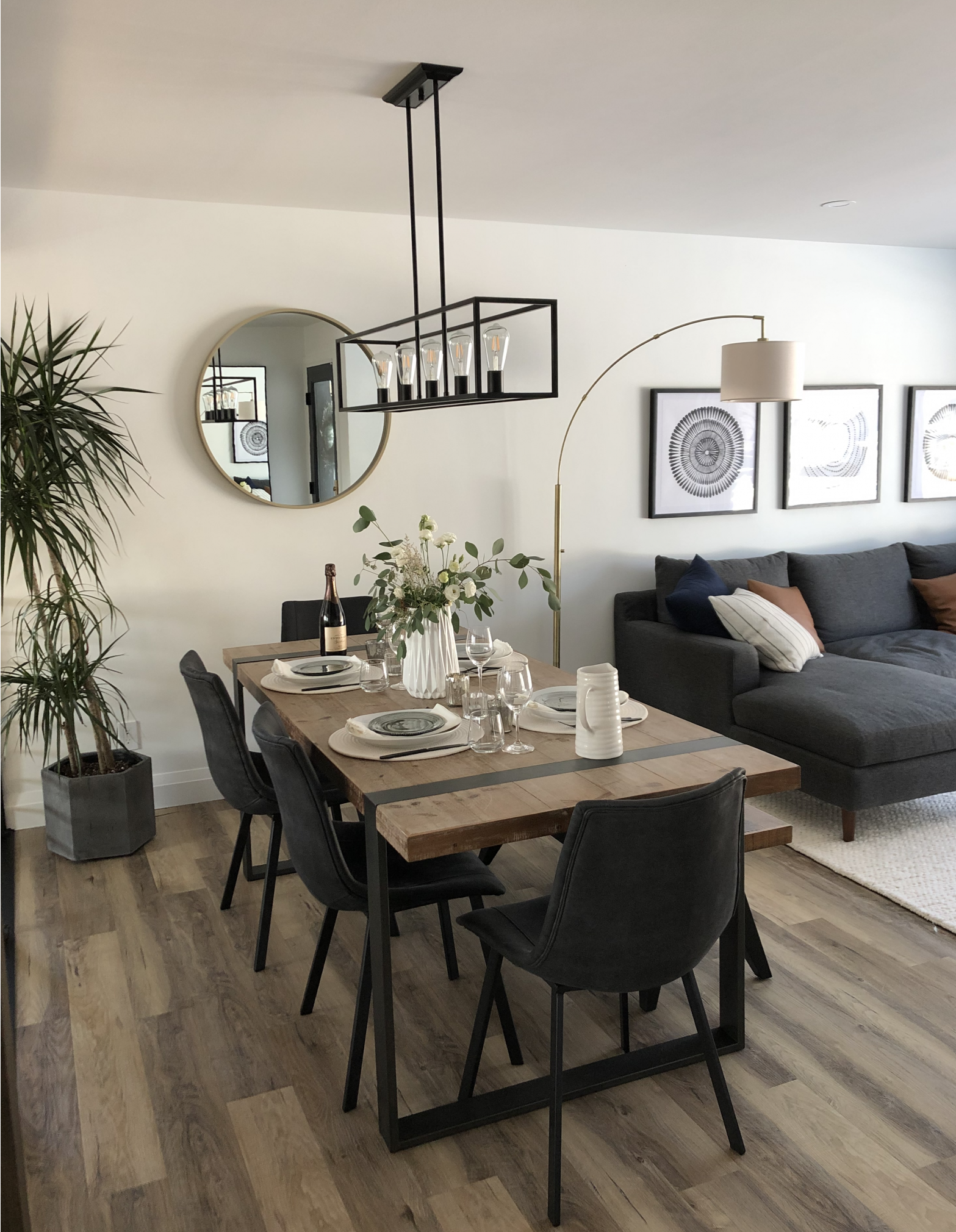 Another Industrial accent for your simple dining room is a hanging pendant light. This kind of light has an industrial look by its black color and iron material. The pendant light has medium-light to shine your dining room. It is a simple design that substitutes a bright lamp on the ceiling. Since it has black colors, it matches another industrial accent like black iron table legs and black comfy chairs.
Mid-Century Dining Room
This design is identical to a classic style. As its name, Mid-Century design emerged in the middle century era in 1940-the 1960s in Europe. It broadly arouses the spirit of the mid-century interior by its furniture, colors, motifs, and material. Nowadays, many room designers combine this design with modern style, but still maintains the original style of mid-century design. Let's see the ideas of Mid-Century design in a simple dining room: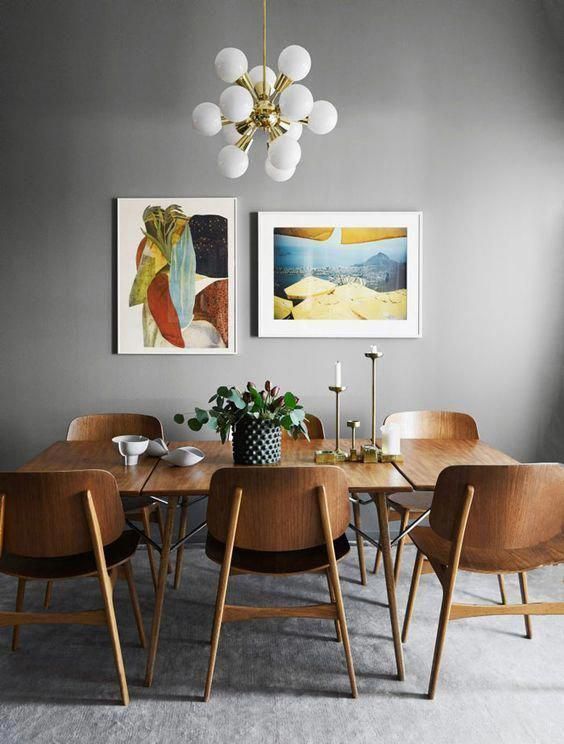 If you dine in a classic restaurant, you maybe see this table at one of these restaurants. The design of the mid-century dining table has a strong classic style with its solid wood. The quality of wood material in this dining table shows that Mid-Century design uses simple material with its glossy surface and natural wooden patterns. Moreover, pair it with an interesting Art Deco pendant lamp on the ceiling enriches the ambiance of the classic era.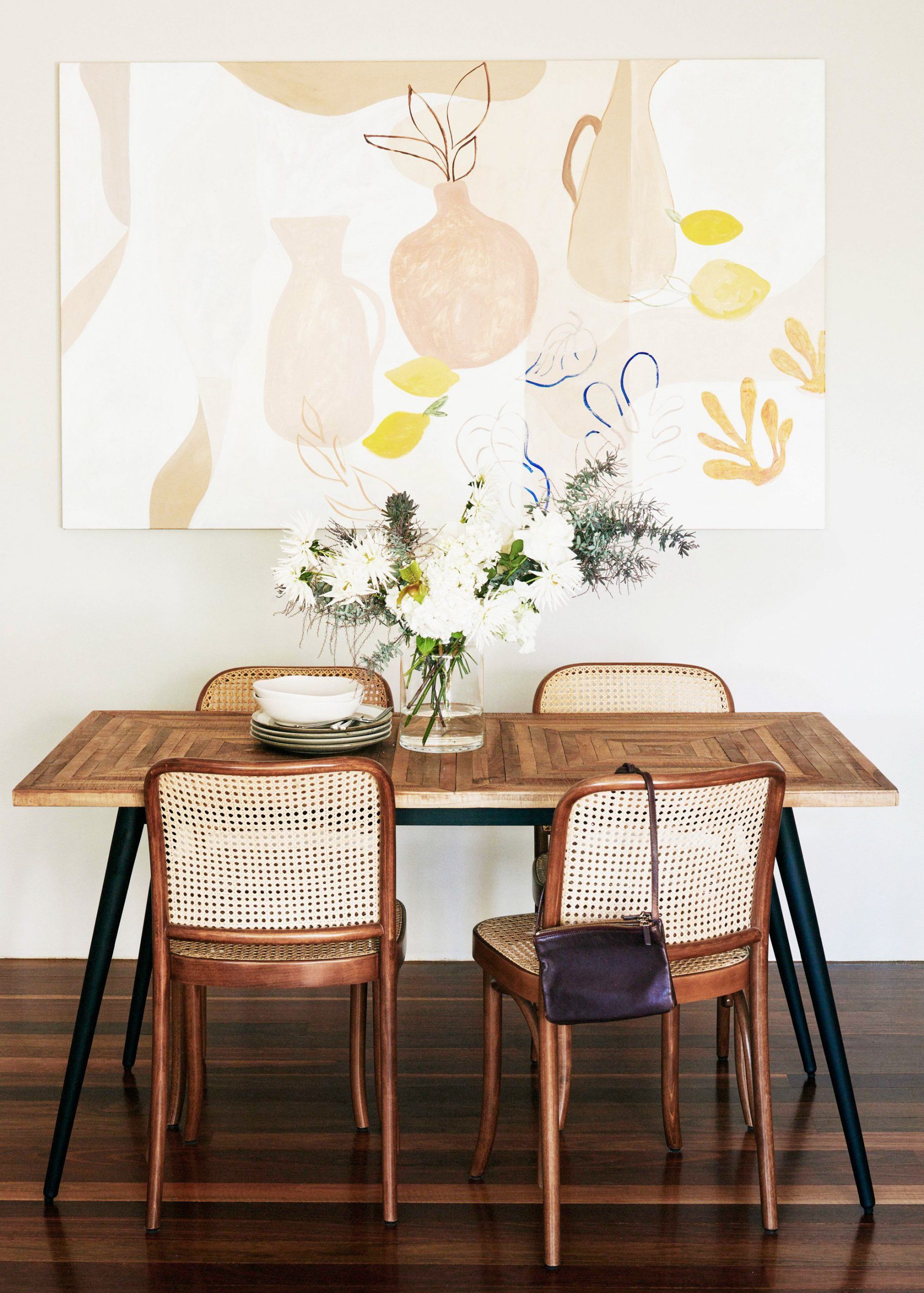 The next idea is Mid-Century chairs that have interesting looks and some of them are made of wicker technique of its bent. Over the past decades, this model of chairs still relevant to any room design. Even though this chair looks like granny chairs but it is antique furniture that simplifies your dining room. This kind of chair is compatible with Minimalist and Modern design for dining table.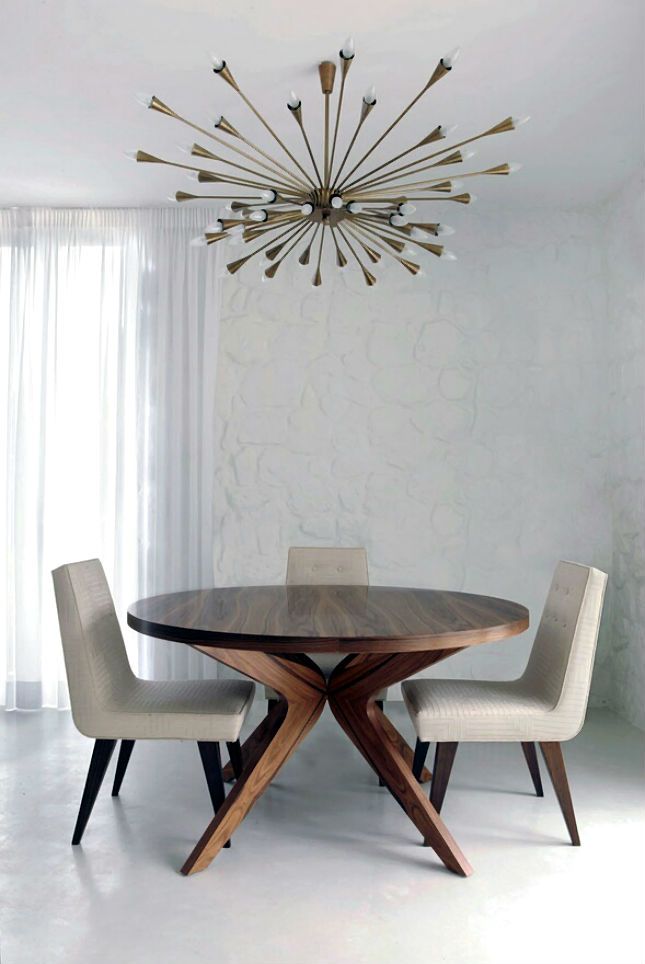 A round table in Mid-Century design coined the shape of a ball that has meaning to create unity. Several elements to complete this table are wooden chairs and a unique lamp. This round table is made of solid wood that has original wooden motifs. To make it looks interesting, you can pair it with Mid-Century chairs in the same color as the table. The placement of a table set for your Mid-Century dining room is nice to arrange in a center of the room. The plain white wall and floor are challenging your dining room to look simple.
Dark Wooden Chairs on An Artistic Rug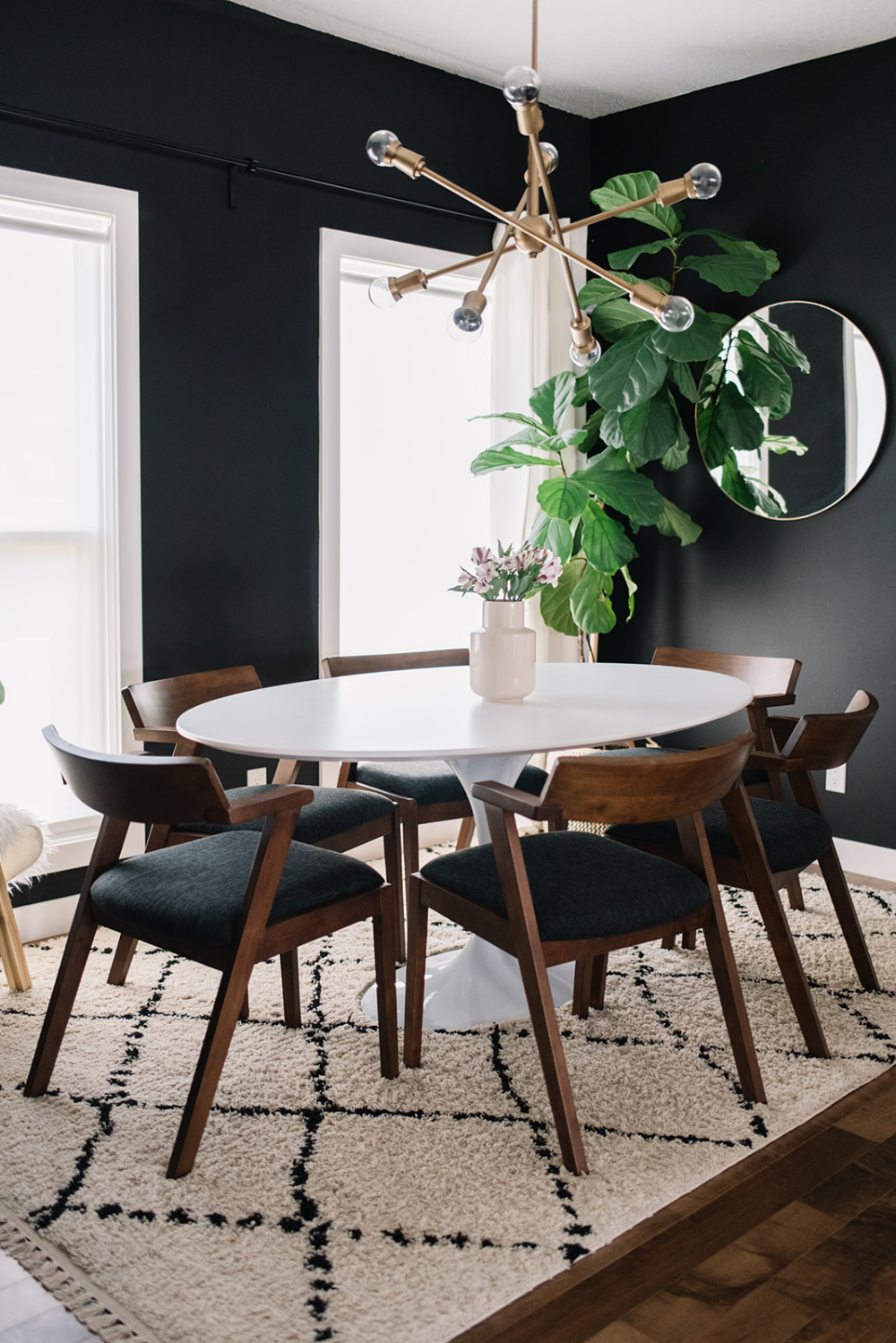 To make your Mid-Century dining room more perfect, adorn your floor by installing an artistic rug. In Mid-Century design, the repeated patterns describe the past decade's popular patterns. Moreover, the use of neutral colors combines with black lines is compatible to create a simple dining room. Complement your Mid-Century dining room by attaching an ornamental plant near your rug.
That is our discussion of Simple Dining Room Ideas: Comfort and Beauty in Simplicity of Decoration. Many room designers try to create a simple design but still look catchy and functional. In a home interior design, creating a simple design needs the right proportion between the number of furniture, room colors, and room designs. A simple interior for your dining room carries a stylish decoration to appeal to this space. There are plenty of interior designs with simple designs, we hope these ideas above are beneficial for you, in case you seek inspiration for your dining room. Happy decorating!