Druhomes.com – In a home interior, decoration is an essential thing for you to pay attention to. Therefore, you can use a variety of decorations that you want, such as natural decorations. The natural accents in a room bring a breath of fresh air. Also, the natural and organic appeal of elements makes you feel calm. For example, you can find natural accents on the wall decoration. Some materials that resonate the nature are wood, cotton, leather, ornamental plants, and natural visuals in a room. In brief, if you want to get inspired to decorate the wall naturally, here are the ideas for you. We will discuss 20 Natural Wall Decoration Ideas for Any Room in Your Home. You can choose and combine a variety of natural decorations for your walls creatively. Let's discuss!
Having A Plant Wall Shelf for A Natural Wall Decor in Living Room
Thriving some indoor ornamental plants make your wall looks fresh. The natural element connects to the outdoors. Moreover, the green plants provide fresh air and a shady interior. Thus, you can put some plants on each shelf.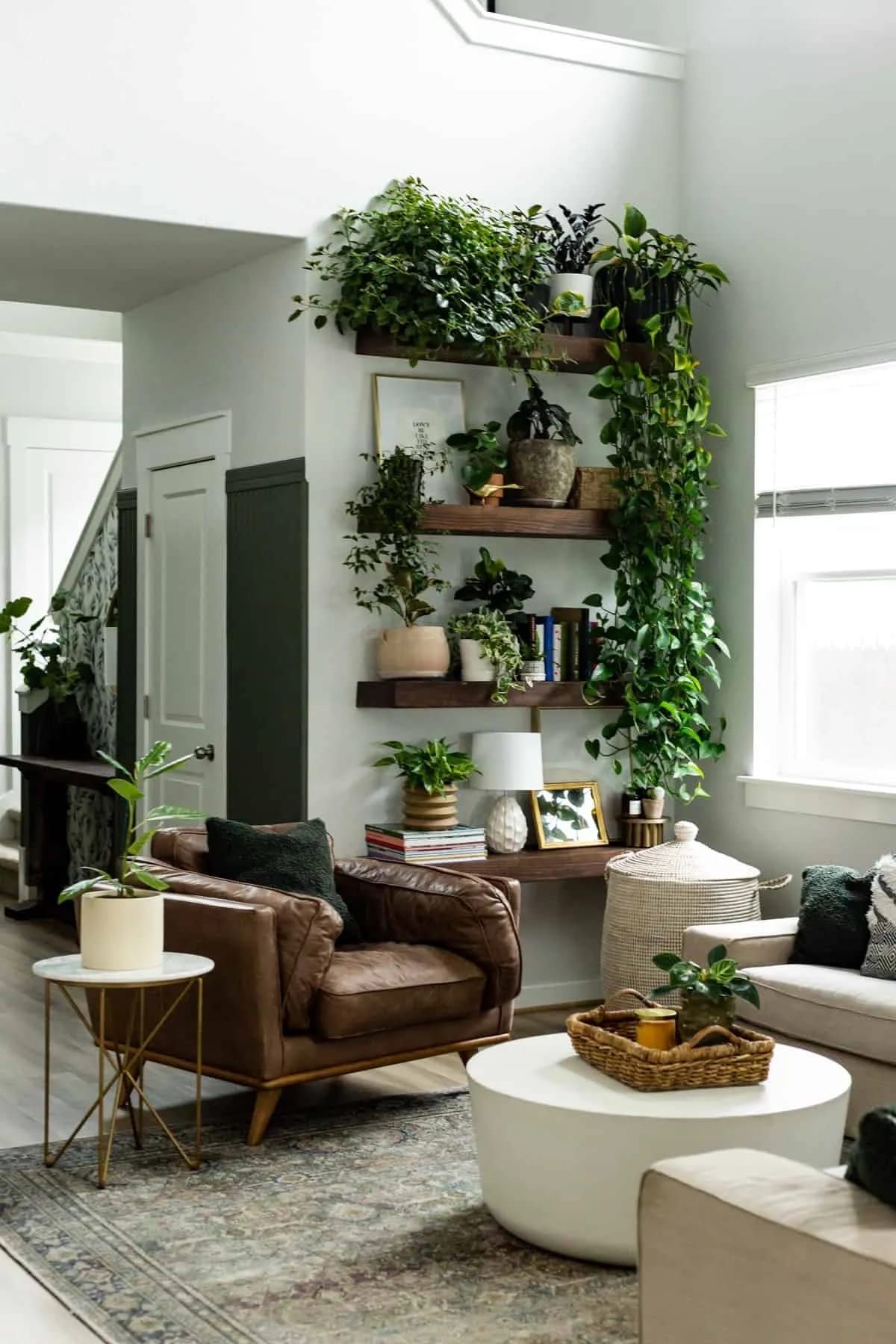 Ahead, the vine plants look charming as their long leafy stems grow massively. Thus, you do not need much decoration on the wall. Those plants will cover the wall and dominate the spaces. In addition, the plants have a real texture to give a natural impression.
1 of 20
A Group of Scenery to Reveal the Imagery Nature
Forest, rivers, mountains, and other nature have fresh scenery. Those places are wonderful. Thus, some people try to bring them inside the room by hanging some nature frames. In brief, you can try to put some frames that represent the place you love the most. For example, if you like hiking, the mountain scenery is perfect to decorate your wall.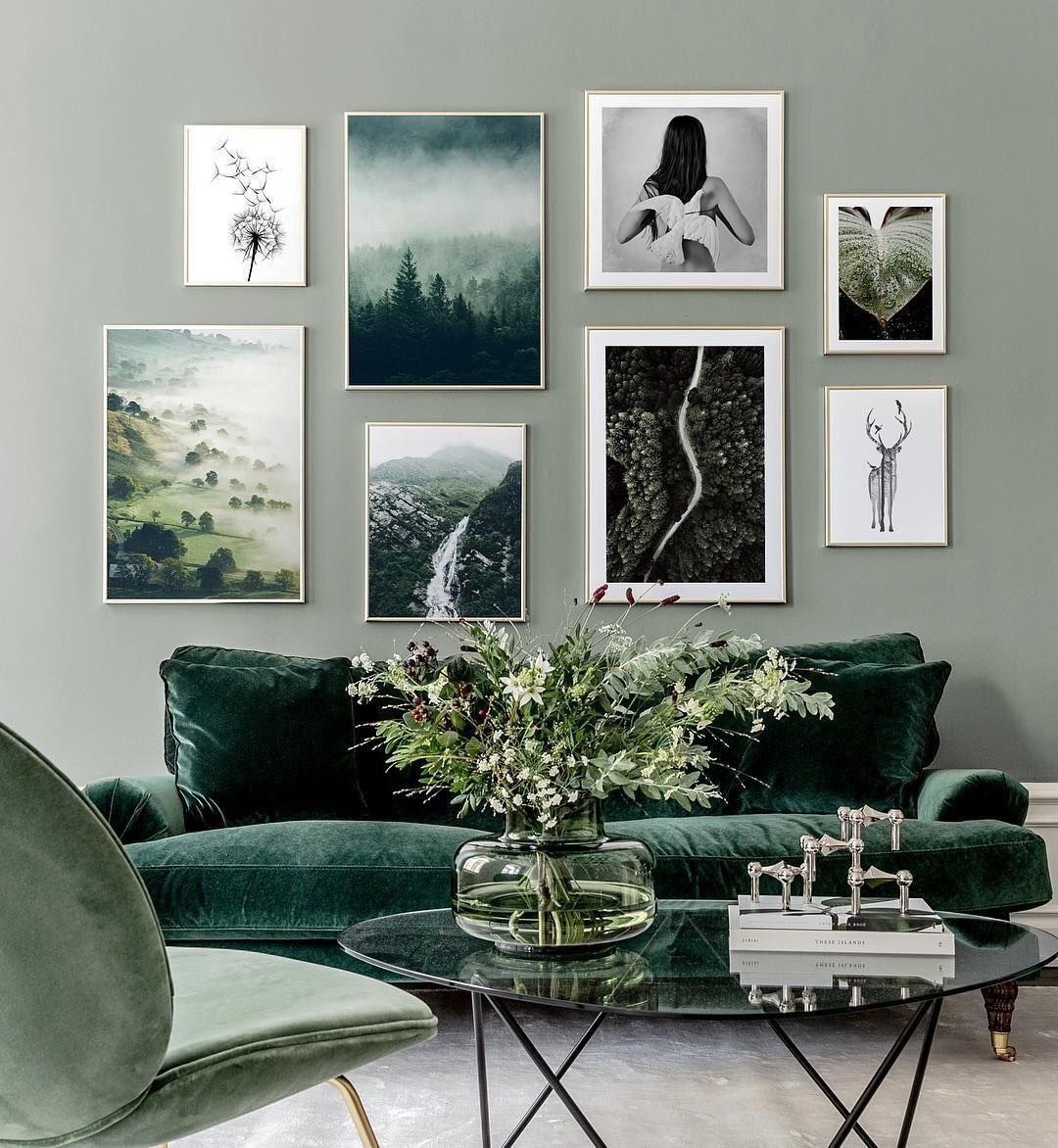 For other reasons, this idea is simple. Even you can replace them with other frames to create another feeling on your wall. For instance, the flow of the river looks catchy to give imagery scenery on the wall. Moreover, those frames make you feel close to nature.
2 of 20
How to Arrange Wickery Basket Like An Artist
The wickerwork has a traditional impression. This decor is catchy to emerge the natural visual look. Thus, these crafted items bring back the nostalgia of the countryside in the East.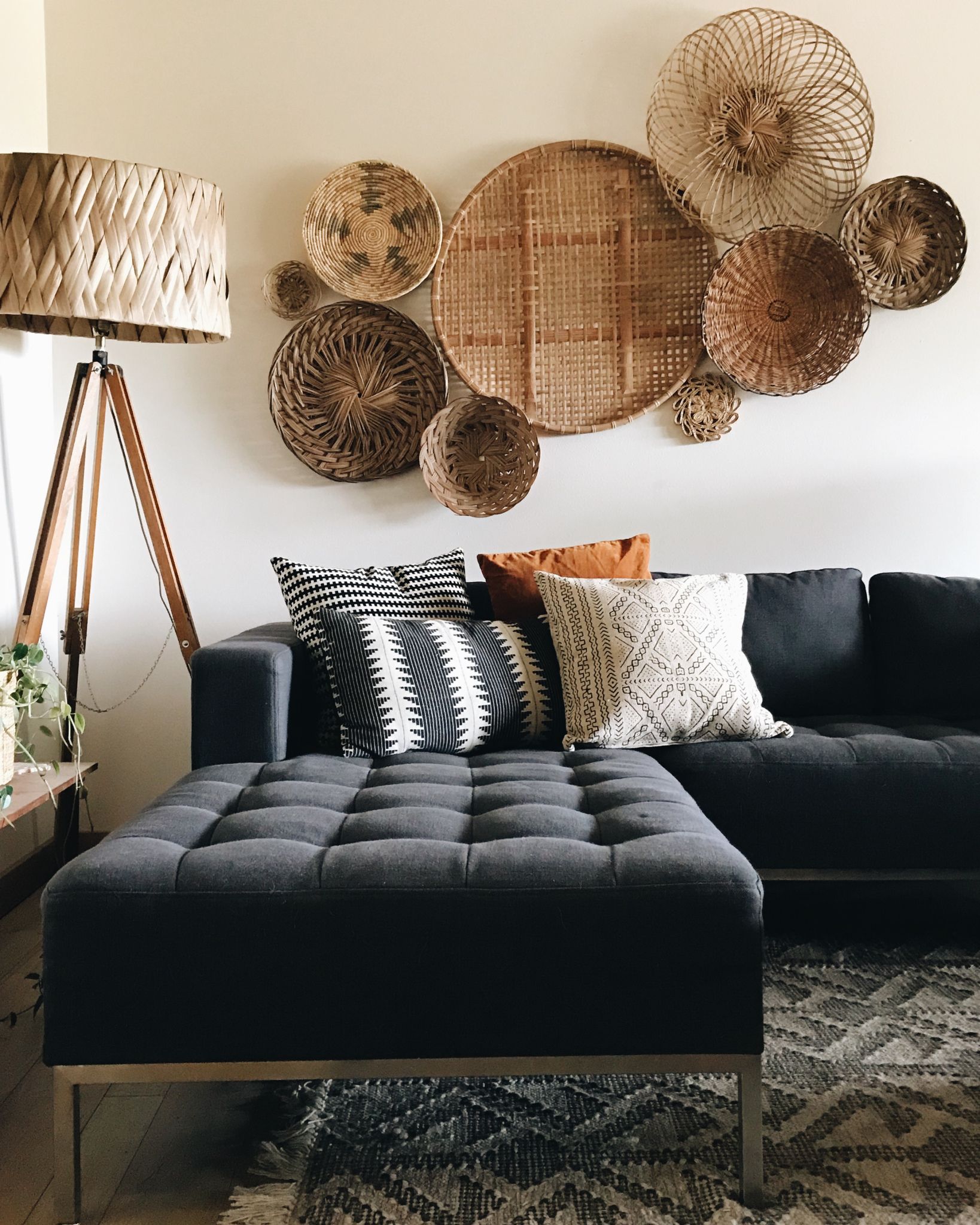 Furthermore, the raw finishing from this decor creates an actual texture. Thus, you can arrange it based on the wicker technique. It has a different appearance and motif. Therefore, pick the most attractive wicker basket in various sizes.
3 of 20
Luxurious Living Room With A Waterfall Wallpaper
Do you like to apply wallpaper on the wall? This idea is an instant way to decorate your entire wall. Besides, you can choose a creative design to emerge a natural impression. For example, the waterfall wallpaper is impressive to copy the visual of nature.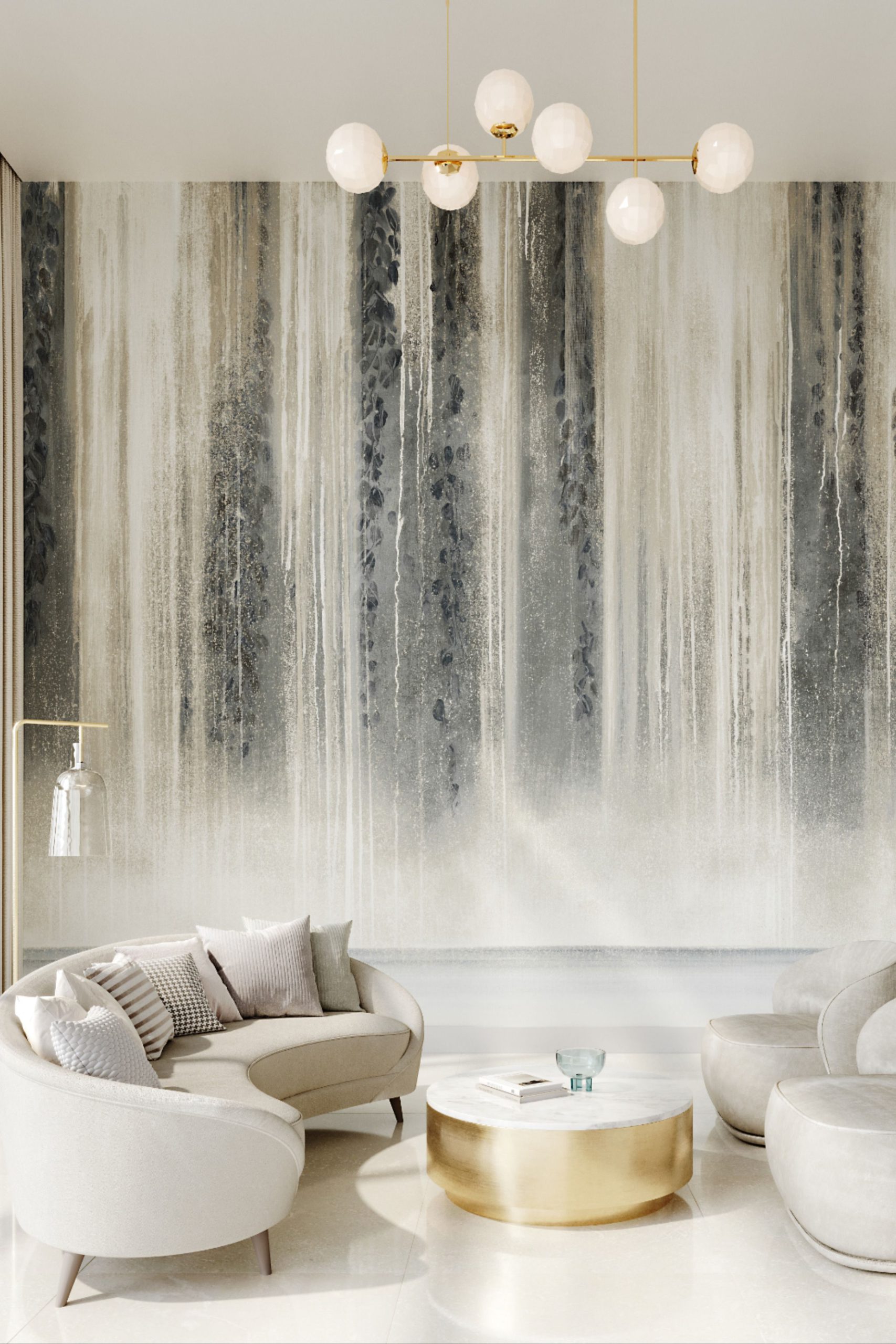 Moreover, it strengthens the room decoration to bring a fresh wall decor. The natural waterfall colors affect the mood in this living room. This wallpaper in your living room is the decoration that makes you emotionally changed, calmed, and soothed. Then, this natural wallpaper is an alternative decor that you will love.
4 of 20
Mysterious Wallpaper That Brings Peace To Your Dream
The bedroom is a private area to relax and get a peaceful mind. Thus, the natural wallpaper will change your mood better. Even the color of green nature helps you to soothe the tiring mind. This wallpaper looks like a shadowy mountain atmosphere with a dark forest.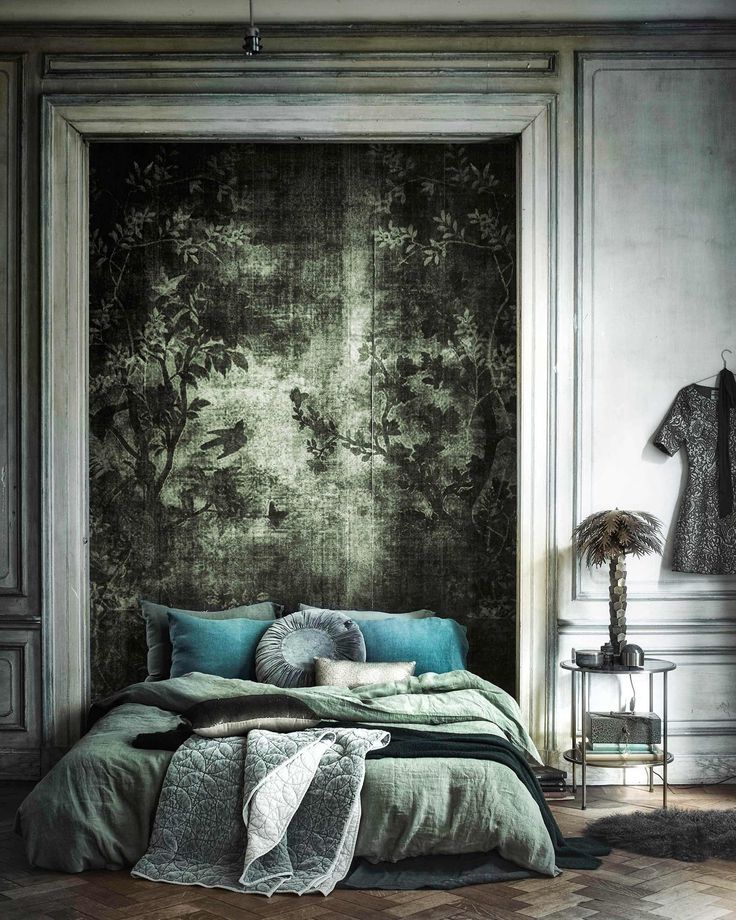 Moreover, you can apply this wallpaper over the headboard. This natural picture connects your bed to the forest and fresh air that transports your soul to serenity. Therefore, this natural wallpaper adjusts your spacious bedroom with an elegant panel on the wall.
5 of 20
Flowery Wallpaper to Decorate Your Wall Impressively
There is no exception for the greyish bedroom to get a natural wall decoration. Even, you can apply flowery wallpaper to cover your bedroom wall. The key feature to drawing this wall decor is using the same tone as your bedroom. In brief, the bedroom tone color is essential to determine the flowery wallpaper. Thus, pick grey, white, and other neutral colors to create a soothed nature visually.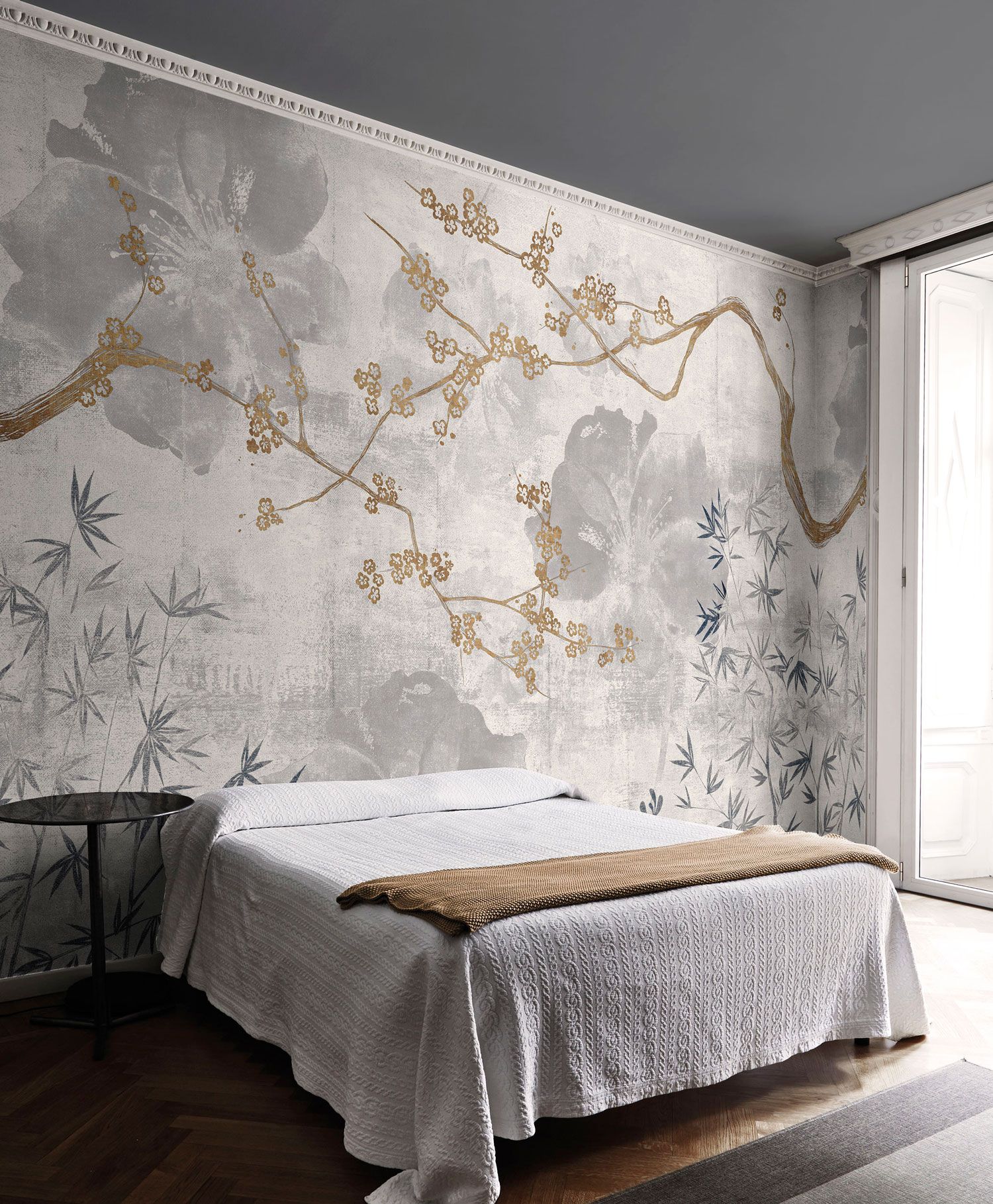 Besides, the design looks old but has a calm mood. Despite, if you want to bring another impression, you can pick the fresh green color to emerge a fresh mood. Thus, the color choice is optional and depends on your need that tends to a certain mood.
6 of 20
Natural Wood Wall Decor and Adorning Ornamental Plant to Catch Attention
Bringing the natural elements inside the bedroom is essential to get a fresh nuance. For example, wood and leafy object is an easy choice to bring natural appeal to your bedroom wall. In this idea, covering the wall with a wooden plank is genius to create an artificial decor. As we can see, the wooden planks show off the natural patterns that make it close to nature.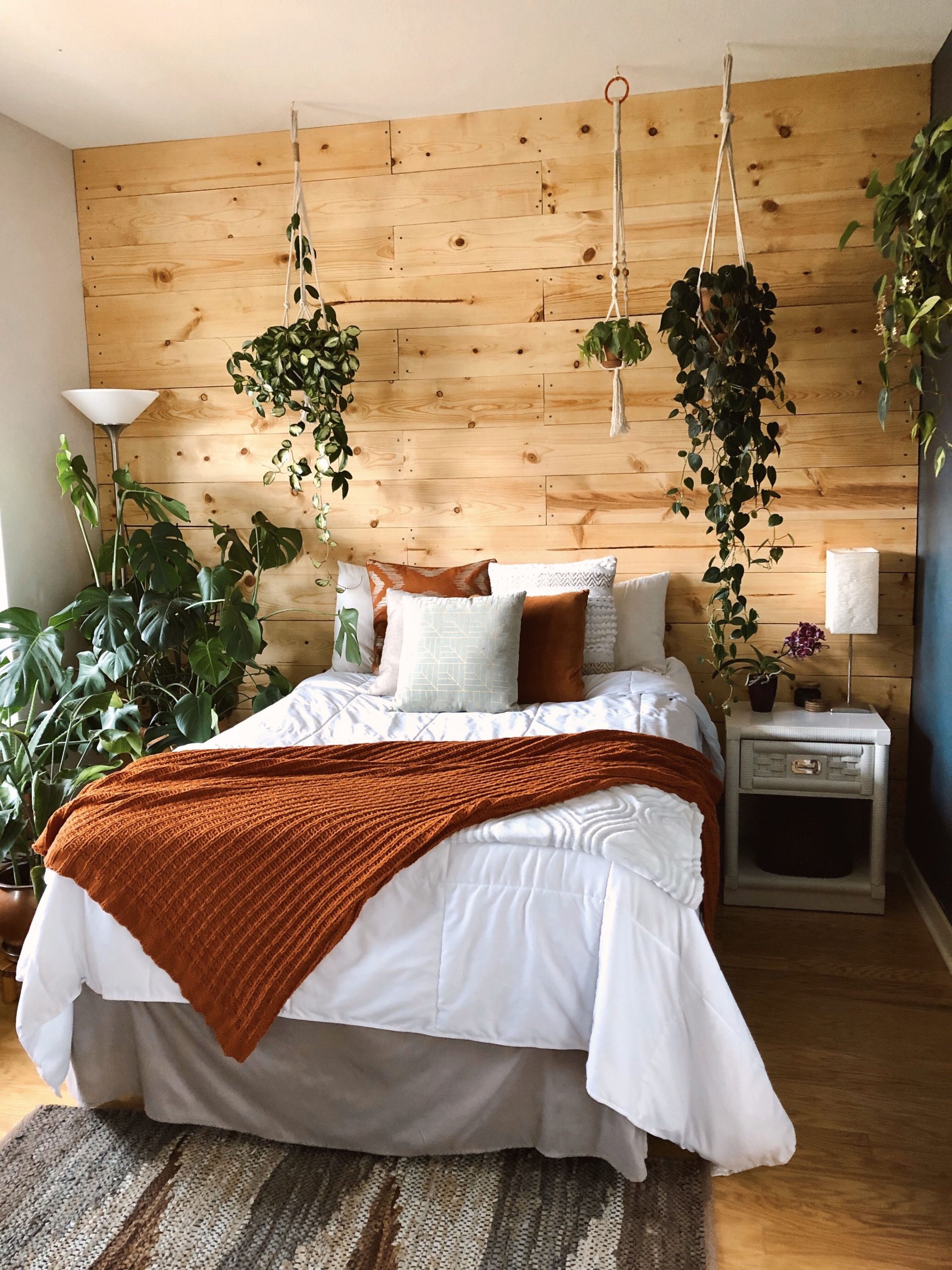 Moreover, it has a catchy brown color with a thin layer of rough textures. Then, you can let it bare with no ornaments on it. In addition, ornamental plants are an attractive option to get an extra natural mood. Thus, planting indoors can cheer up your bedroom wall.
7 of 20
Bohemian Bedroom Wall Decor for Your Next Wall Refresh
The Bohemian design has a bunch of eccentric ornaments. Thus, pick some of those ornaments to decorate your bedroom wall. Take a look at this idea, this Bohemian design combines with modern style. Therefore, the ornaments on the wall look stunning. Those elements look harmonious on the clean wall.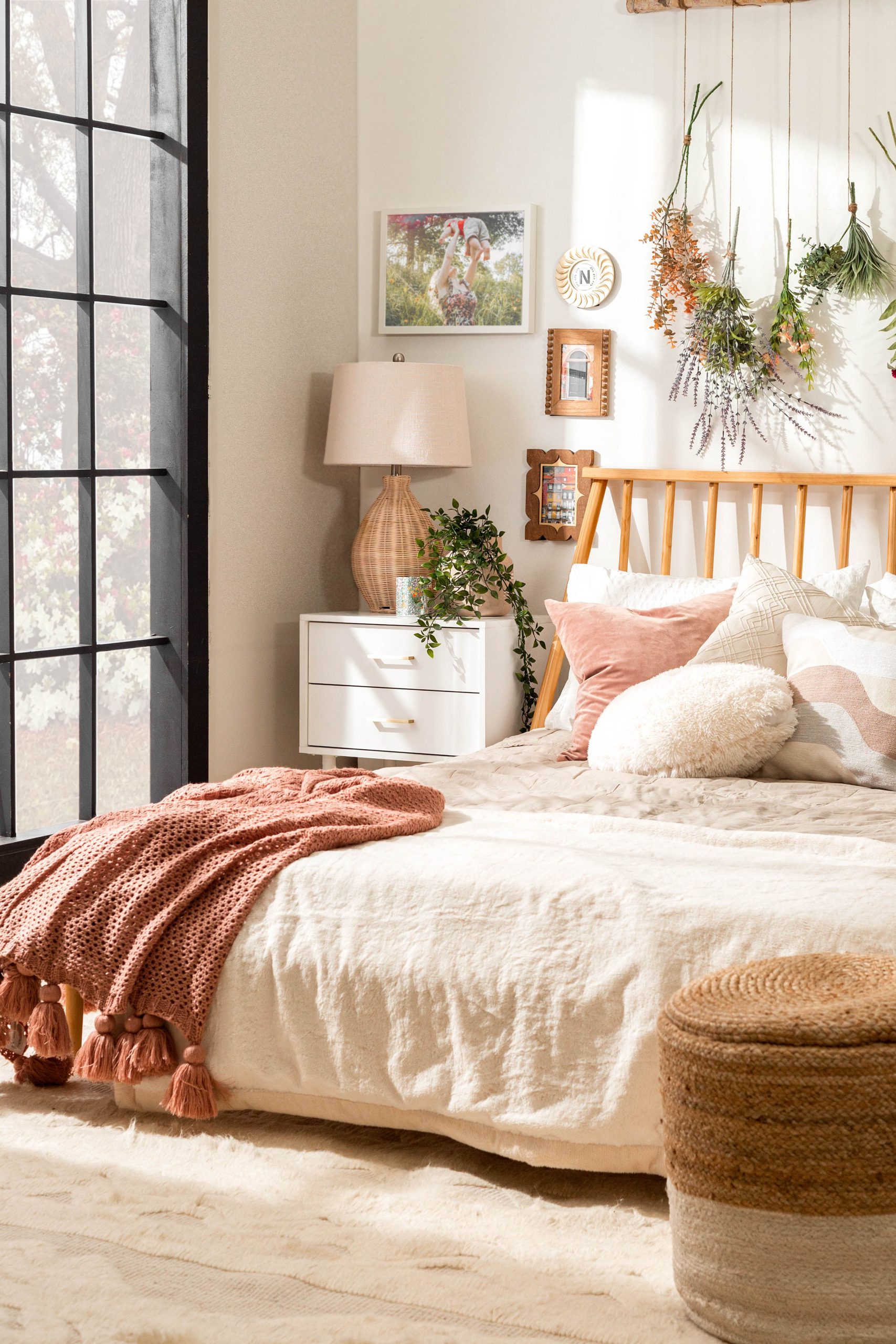 Ahead, hanging some bouquet is the instant way to draw a natural impression. Moreover, it looks fresh and close to nature. Besides, the hanger is a thin branch that has a real wooden texture. In addition, put a small ornamental plant on the bedside table for the accompanying.
8 of 20
Greyish Mountain and Golden Leaf Wallpaper for A Wonderful Bathroom
The greyish atmosphere of a mountain reflects the foggy area. Thus, it looks natural to adopt this visual into your bathroom. This mountain-like wallpaper appears with a calm tone and soothing mood. Moreover, the outdoors sense will balance your mind while taking a bath.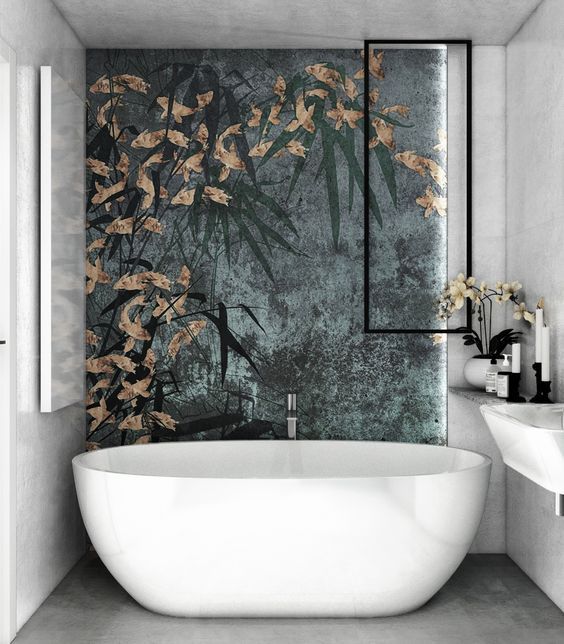 Furthermore, this wallpaper looks catchy to have some golden accents from the leafy picture. The scheme of the mysterious picture is incredibly pleasing to the eye and creates a peaceful mind. Therefore, the simplicity of this wallpaper makes a perfect calming atmosphere on your wall.
9 of 20
Tropical Green Wallpaper for A Natural Twist
The natural wallpaper is various and colorful. Even you can take the simple and chic design like a tropical forest. This wallpaper shows many tropical plants and the atmosphere in nature. The thick impression of this wallpaper emerges from the color scheme.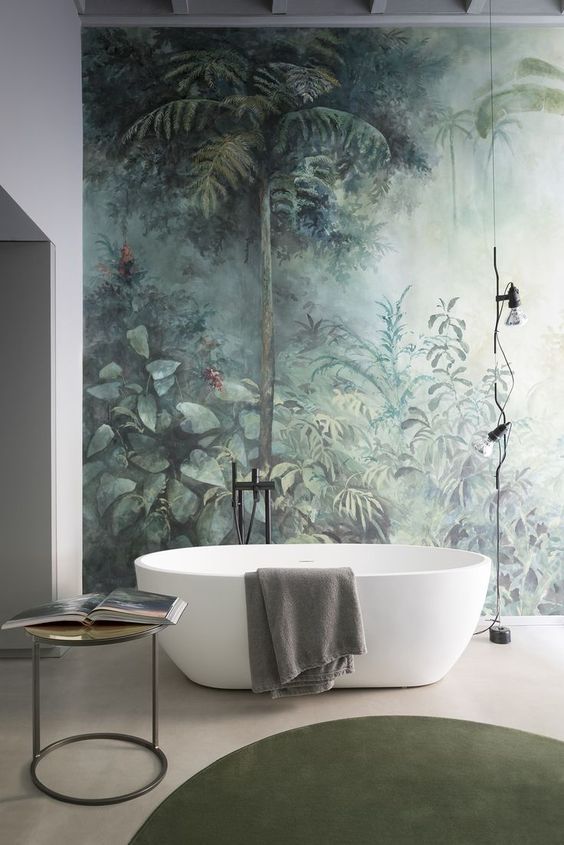 Therefore, if you want to bring a fresh tropical mood, install a tropical wallpaper with bright green colors. Despite this, the soft colors are essential to creating a shadowy mood that adopts an airy look on the mountain feet.
10 of 20
An Elegant Wallpaper for A Sleek Bathroom
In an elegant bathroom is free to get any wall decor like natural wallpaper. This is a wonderful example of an elegant bathroom with a single harmonious design. Thus, the wallpaper adjusts the bathroom scheme that has many golden accents on the details. For example, the floral wallpaper with butterflies represents the elegance of the botanical area.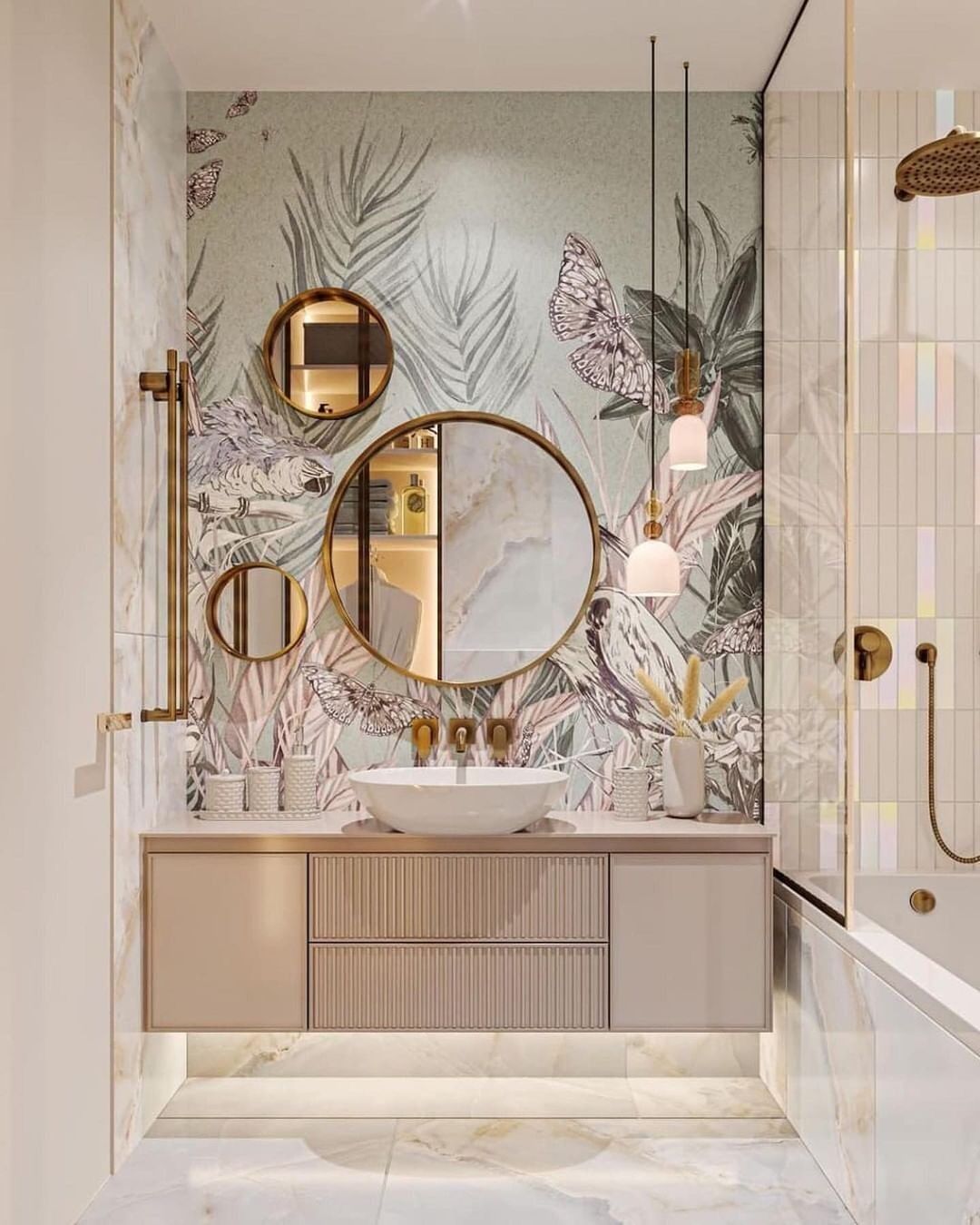 Besides, the color of this wallpaper creates its natural spectrum to accent the elegant theme. Moreover, it matches the golden details like the hooks, pendant lights, golden lights, and many more. The key to adopting this wallpaper is how you match the colors.
11 of 20
Cozy Bathroom with Monochrome Mountain Wallpaper
The wallpaper for decoration has various designs. Thus, you will find thousands of natural pictures like mountain wallpaper. Generally, the picture of the mountain looks attractive in a colorful scheme, but you should try it in monochrome. The simple monochrome color is a perfect combination to decorate your boring wall.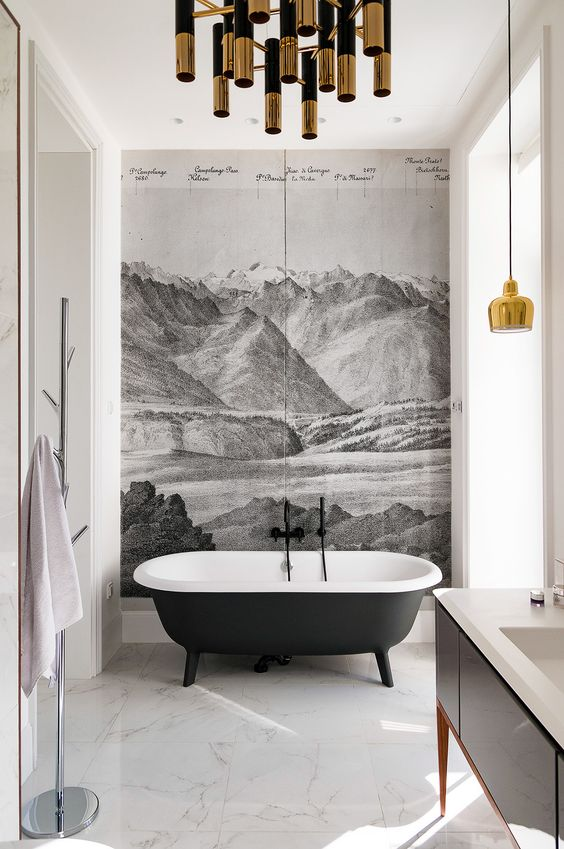 Furthermore, the monochrome wallpaper offers a simple palette to draw another decoration in the same room. Primarily, the mountain wallpaper represents the natural decor. A subtle hint of grey emerges from the artistic lines on the wall.
12 of 20
A Natural Frame for Your Imagery Window in Minimalist Dining Room
The dining room is a special area to eat or get meal time. Sometimes, this room looks boring. Thus, pick a single painting to decorate the dining room wall. For example, the natural scenery is attractive to create a sophisticated dining room with a natural feel.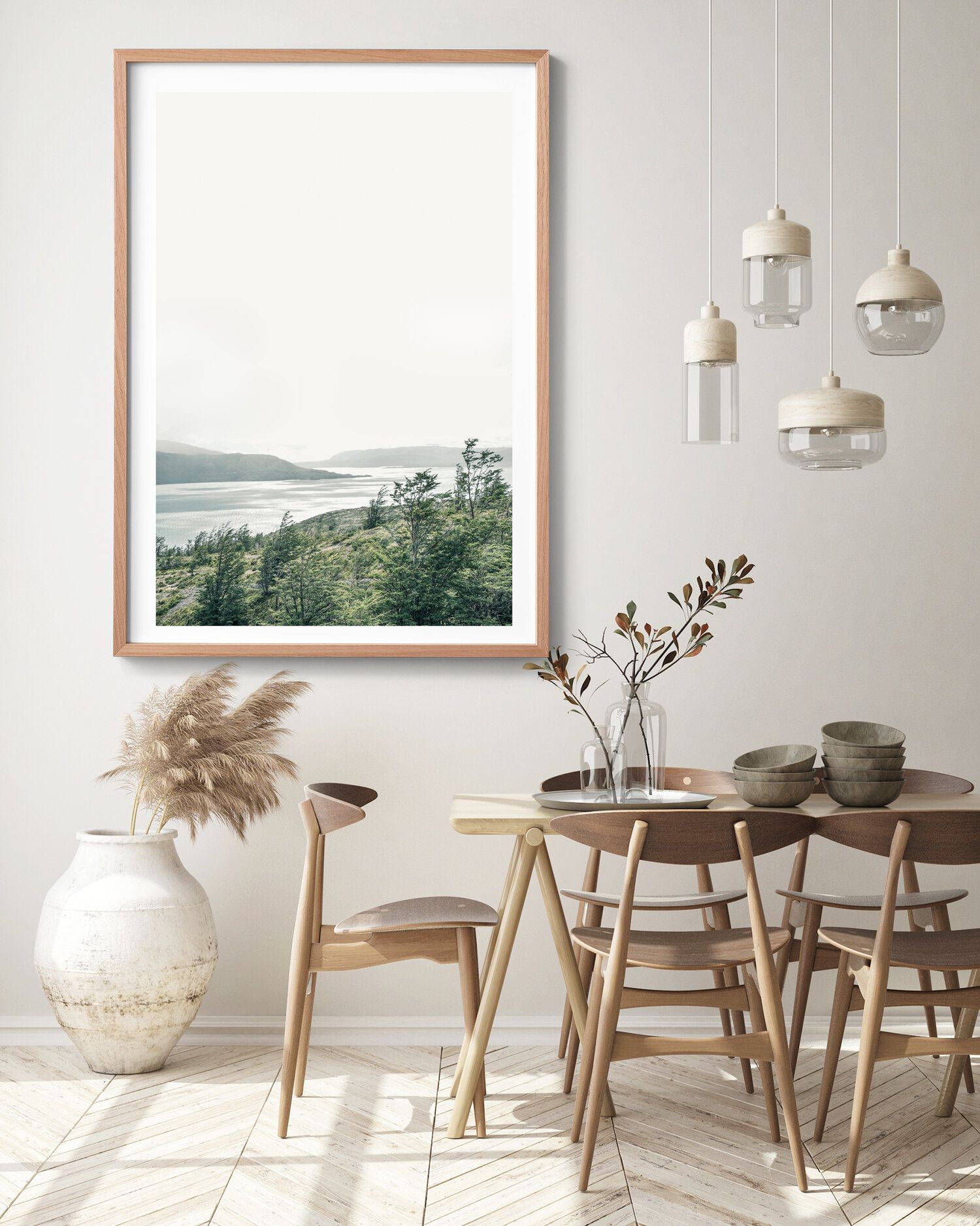 Moreover, it can substitute the window, if your dining room has no window. Besides, this painting is easy to change if you want to get another mood in this dining room. Therefore, another scenery is also nice to put on the dining room wall. Maybe you can put natural grass to accompany the wall decor.
13 of 20
Unframed Art Print and The Real Plants to Refresh Your Dining Room Wall
The dining room is identical to the dish and beverage. This room needs a certain mood to make you comfortable when enjoying the meal. For example, the visual accents on the wall can support your mood through the eye. The fresh fruit picture looks delicious and keeps your appetite in a good mood.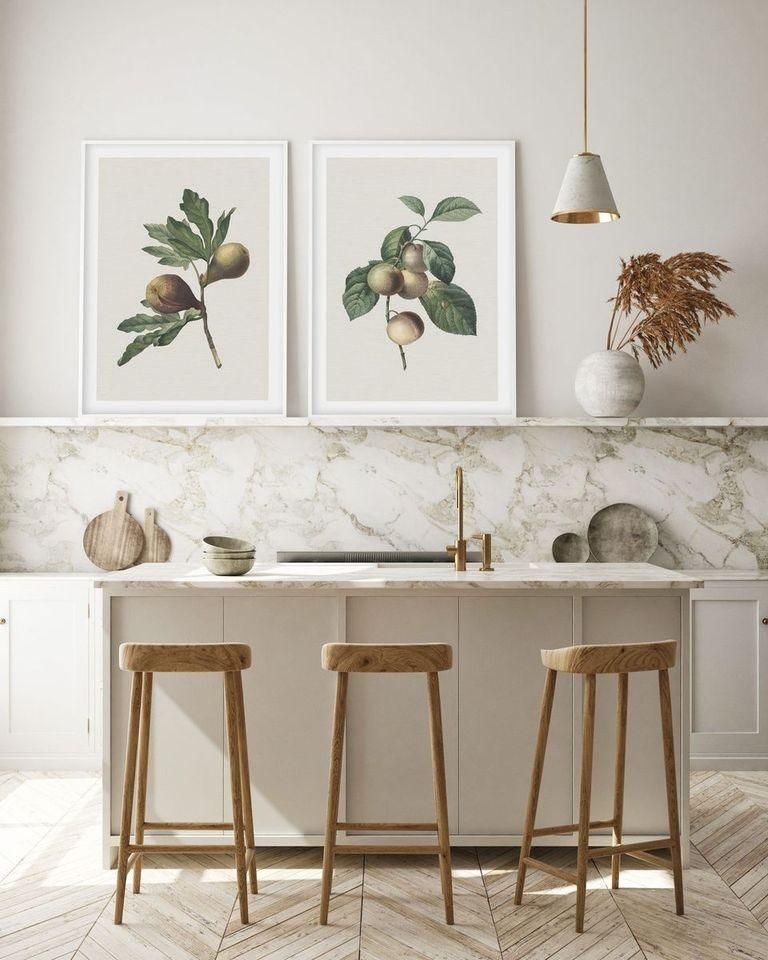 Moreover, the tone color helps you to relax and boost your peaceful mind. Besides, this art print is compatible with ornamental plants. Even you can use the faux plant to give color and texture to the wall. For instance, pick a deep color to give contrast with another wall decor.
14 of 20
Modern Architecture and Soothing Wall Decor to Elevate Your Dining Room Design
The natural wall decoration in this design uses a green color on the wall. Thus, the color can support any decoration that you will love to put on the wall. For example, if you like to thrive an ornamental near the wall.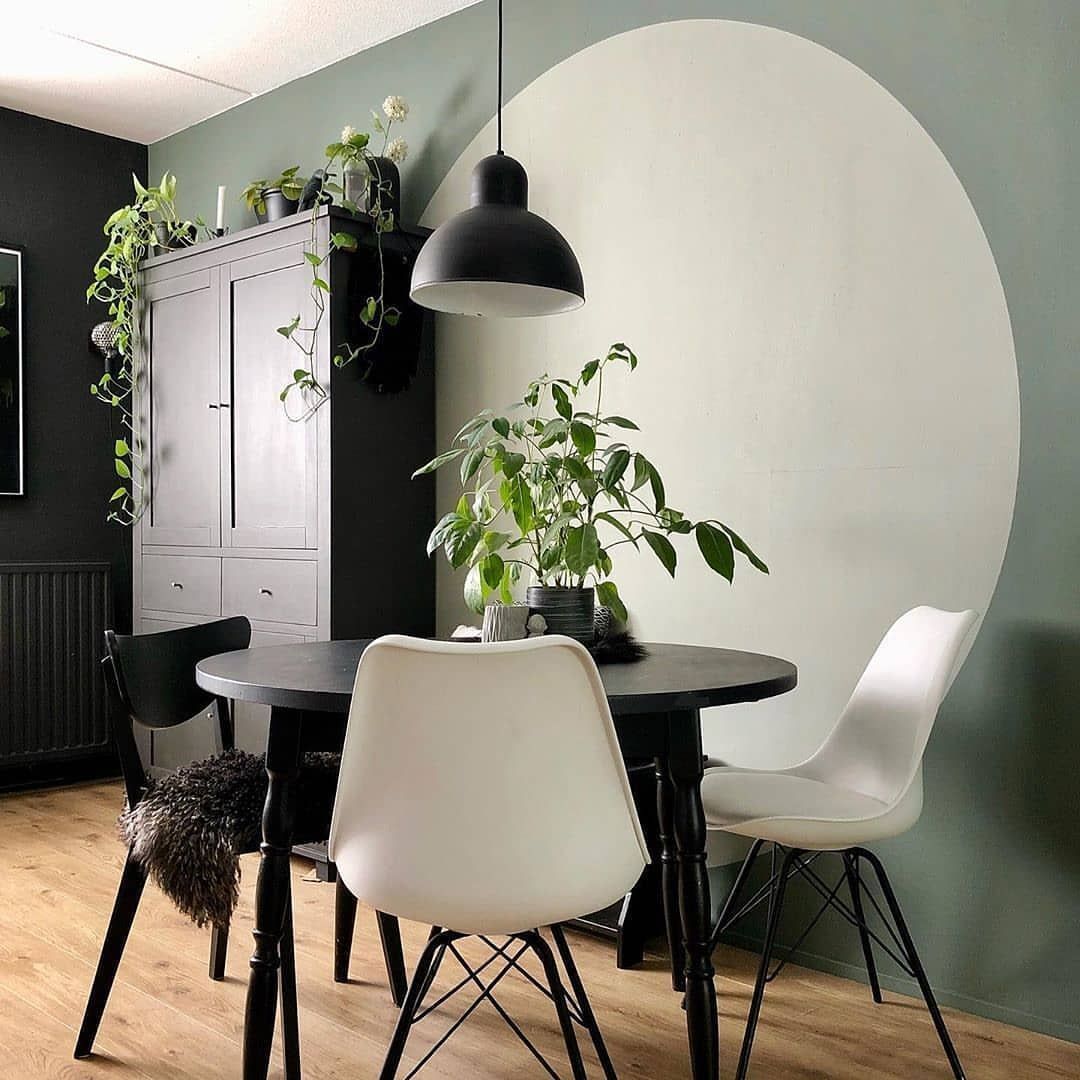 Moreover, the creative wall paint design is useful to blend natural elements with modern ones. Ahead, the other ornamental plants look catchy to create a natural accent on the contrasting wall paint. Thus, you can put the ornamental plant on the dining table as an example of this idea.
15 of 20
Natural Wall Decor in A Traditional Dining Room
This dining room is proof of natural surroundings looks catchy for the interior dining room. The wooden accents are a subtle nod to the outdoors. Even, you can see the reflection of nature on the wall decor. For example, the wall decor has various models of a wicker basket.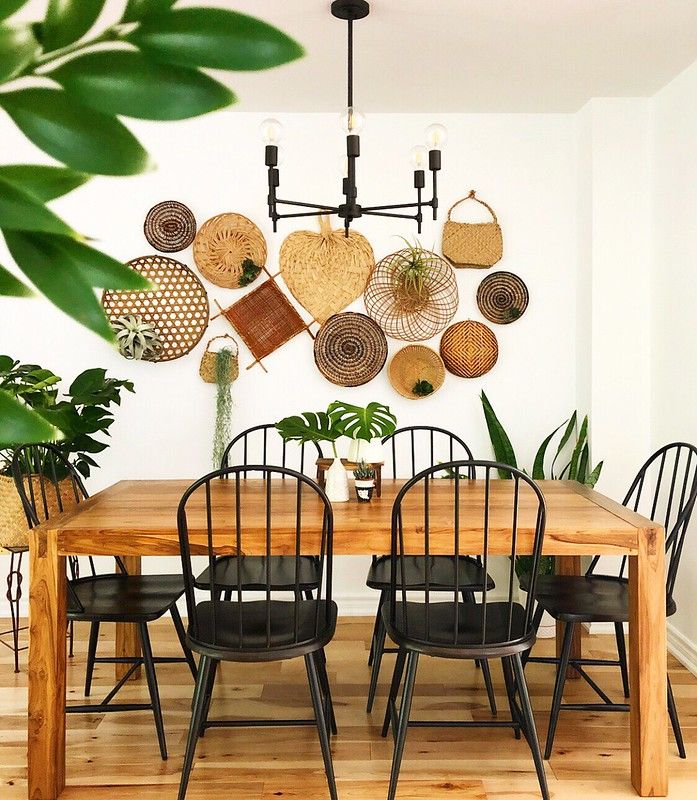 Moreover, the wall decor combines some ornamental plants. They have vine plants, small plants, and even succulents. Besides, this wall decor looks in contrast to the white wall. Thus, it has a function as a focal point in this room. Lastly, this wall decor idea is simple to add lightness and nature to the room.
16 of 20
Creative Multifunctional Wall Decoration
The next idea that you can use in creating natural decorations is to use a multifunctional concept. The multifunctional concept will give you a wider and cozy atmosphere in your home. You can use a variety of multifunctional concepts in the wall decoration you want.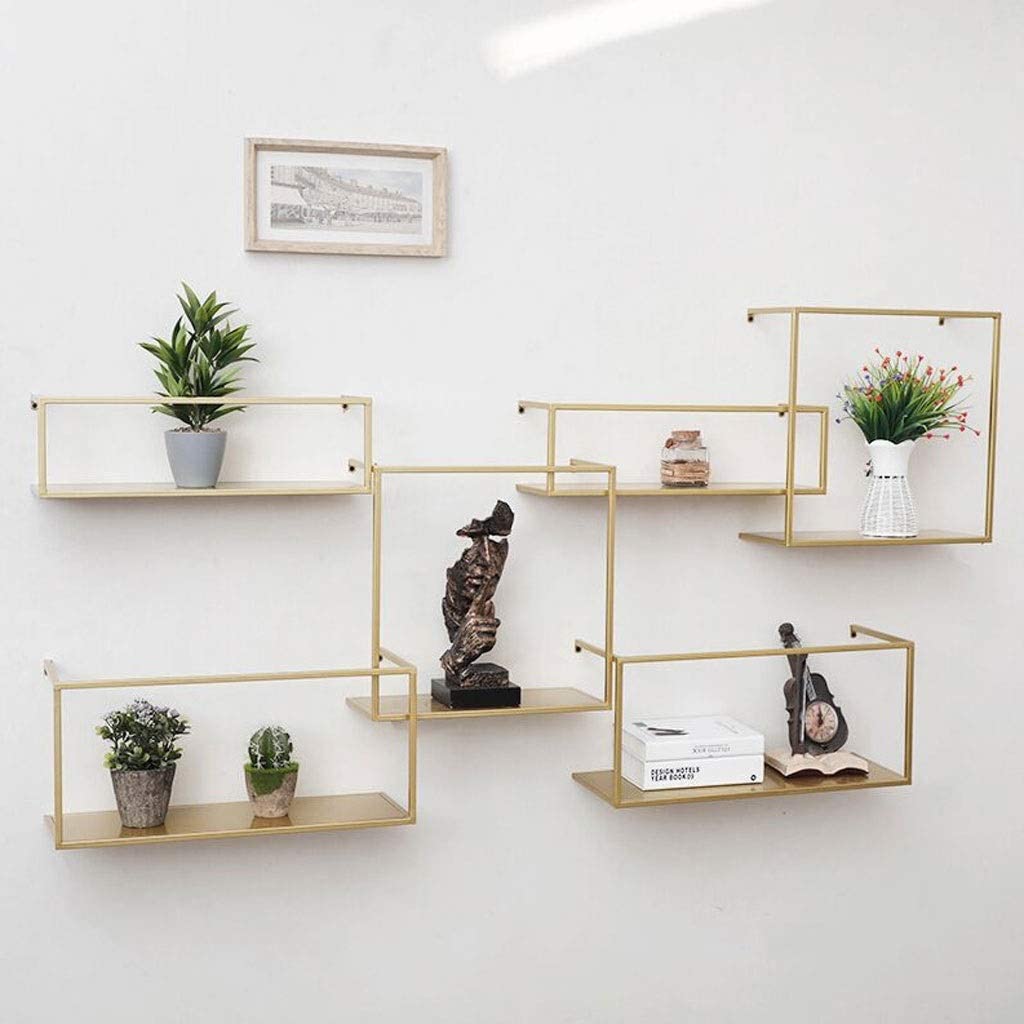 For example, in the natural concept, you can use ornamental plants with creative concepts. You can combine ornamental plants with storage or other functional decorations. Moreover, you can also use more creative ideas by providing other multifunctional displays according to your wishes.
17 of 20
Impressive Mirror Decoration
You can also use a more elegant decoration in a natural concept in your home. For example, you can use mirrors as decorations in any room you want. You can also use this mirror with natural accents such as ornamental plants in your home.
Ornamental plants will give you a fresh atmosphere in the interior of your home. Therefore, create a harmonious ornamental plant with your decorative mirror. Moreover, you can also use natural materials from wood for your mirror frame.
18 of 20
Arch Wall Natural Decoration
Arch wall decoration is a creative thing for you to create in the interior of your home. You can use this decoration for various interior parts you want, especially your walls. Therefore, use this arch wall decoration as a natural concept in the interior of your home.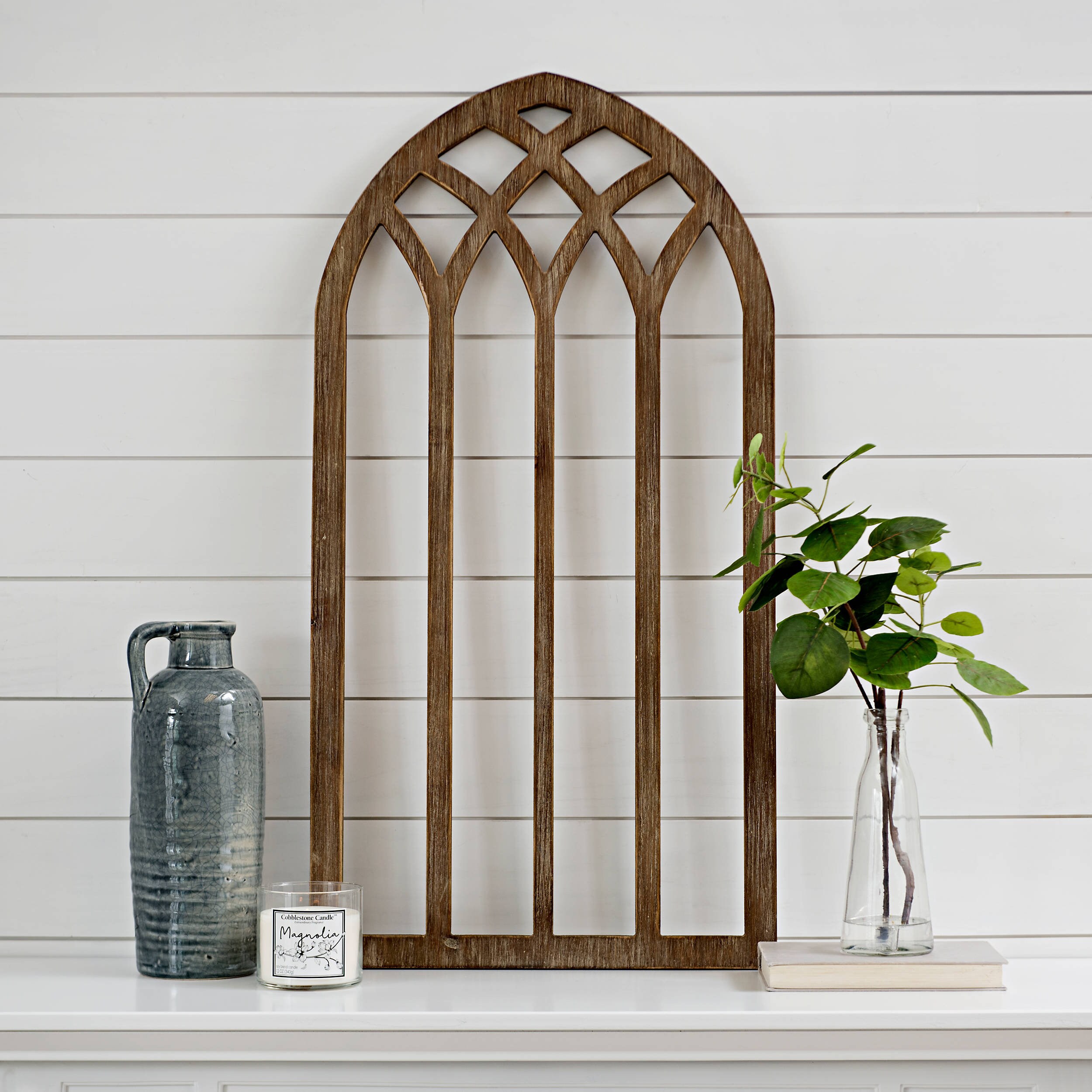 You can create this idea by using vines or small plants on interior walls. Create an arch layout that fits your decorating needs in the interior. Moreover, you can also create a display that you can adjust to the interior style of the house.
19 of 20
Sunburst Decoration for Art Deco Accent
The next idea that you can use in creating natural wall decor is to create a sunburst style. Sunburst style is a concept inspired by art deco design. You can use this idea in creating an elegant and aesthetic appearance in the interior of your home.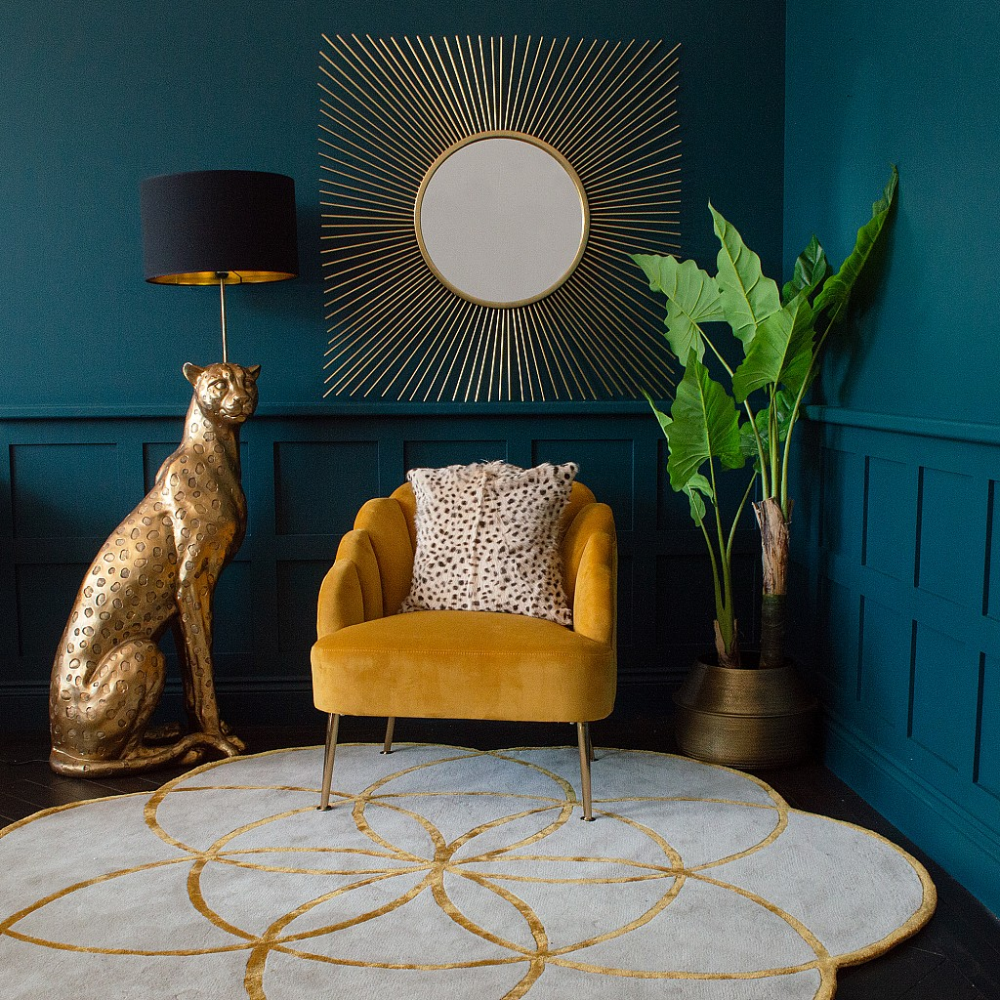 Moreover, you can also create this wall decoration in the concept you want. You can create a simple sunburst look to a festive one. For a natural look in this idea, you can add vines, small plants, or hanging plants. Moreover, you can also use large plants for a more refreshing look.
20 of 20
Thus our discussion of 20 Natural Wall Decoration Ideas for Any Room in Your Home. By using the right concept, you can create a refreshing look in a beautiful atmosphere in your home. The natural wall decor has a texture of outdoor lines and makes the color feels like forest and airy places. Those wall decor ideas represent nature that will give you a soothing and refreshing mind. Moreover, you can also choose and combine various natural decoration ideas that you want for your walls. You can also adjust it according to the interior style you have in your home. For that, we hope you get inspired to decorate your wall naturally for any room. Happy decorating!