Druhomes.com – A hallway is a corridor or a space between the entrance or door and the room. It is near the front door and people pass it before going in and out of the house. Some people decorate their hallways to get a beautiful design. It is useful to get a nice first impression before entering the room. If you want some fresh ideas for the hallway, you are in a good way. Let's see the 21 Hallway Ideas with Multifunctional Items for Your Cozy Space below!
Small Hallway with Patterned Carpet
This is the first idea. The small hallway should be neat and well-managed. Look at this hallway with a catchy brown carpet. It creates a comfortable step after the entrance. This is a nice design to try at home.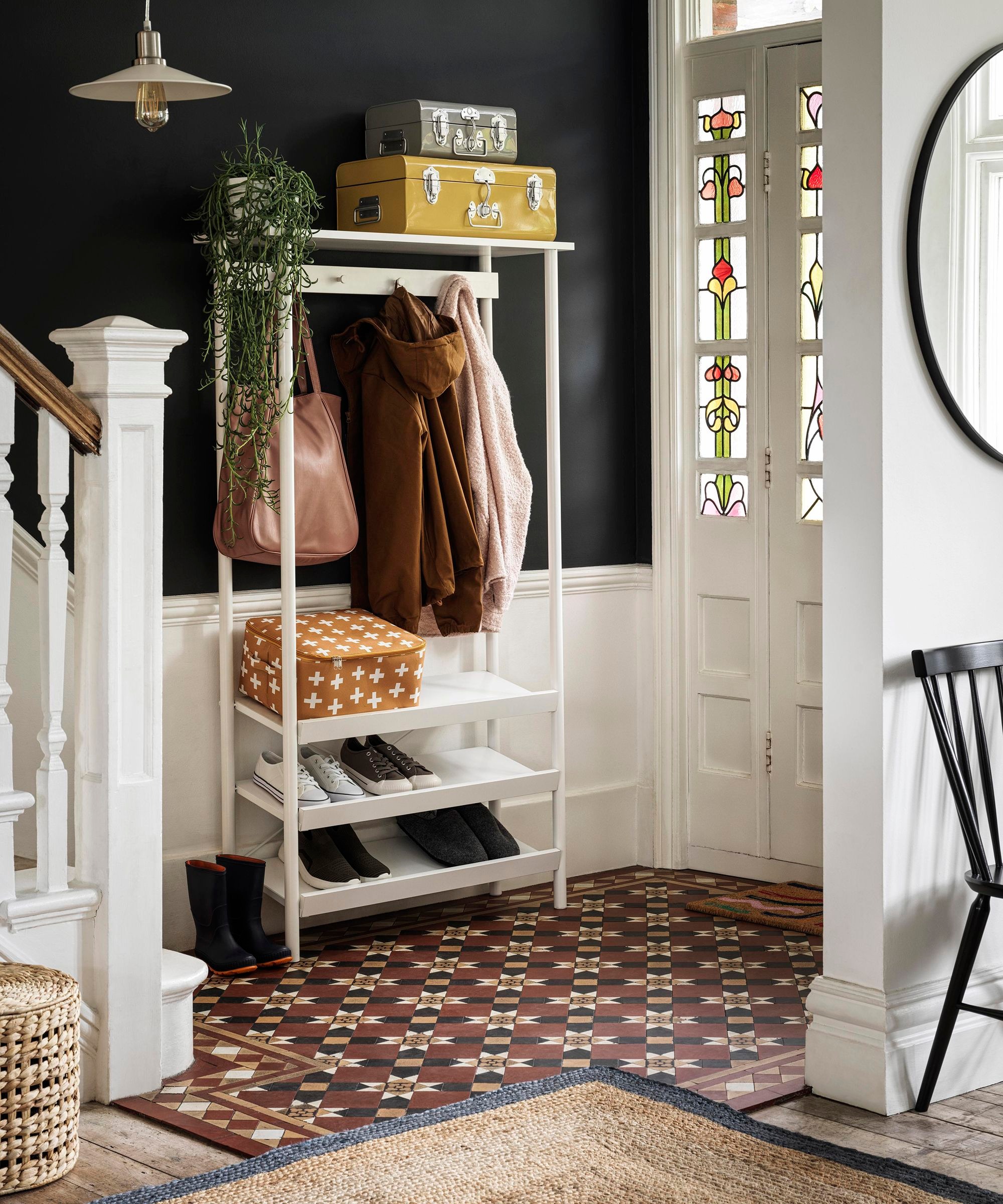 Moreover, the decoration around it is interesting. There is a white coat rack with three shelves. The upper part is useful to hang the coat. You hang put some items on the top shelf. Meanwhile, there are shoe shelves on the bottom. It can load some pairs of shoes.
1 of 21
Three-tiered Shoe Cabinet
Many designs of shoe cabinets in the home depo. So, you can see one of the attractive cabinets here. It is a three-tiered shoe cabinet for the hallway. This shoe cabinet has a multifunctional design. It is an open shelf to take the shoes out easily.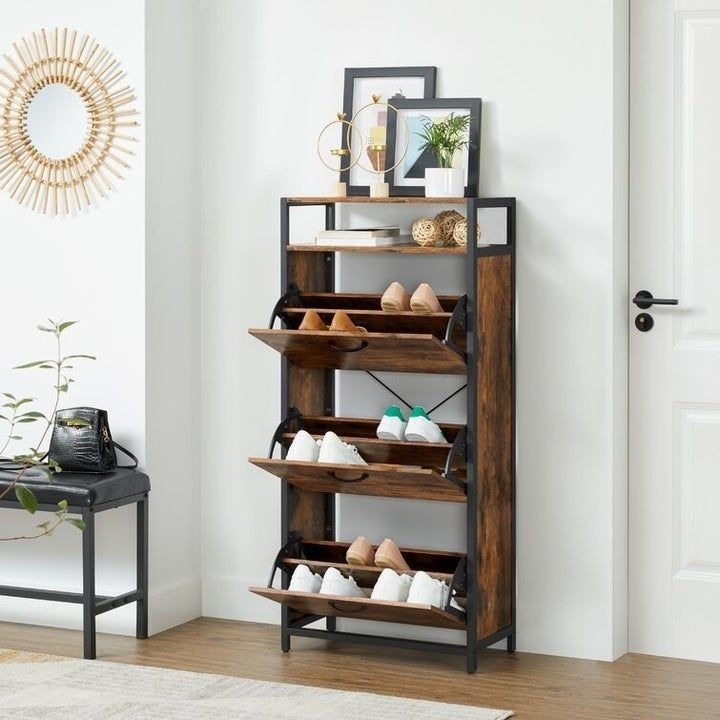 This shoe cabinet is easy to shut and open. You can pull the door and take the shoes or simply let them get air. Beside the shoe cabinet, there is a black bench with a comfy seat. It is useful for the sitting area. Also, it has a sunburst mirror on the wall.
2 of 21
Put Corner Coat Storage
This is a unique coat storage. It has a quarter shape that is simple for your corner. You can put them in the hallway to hang your coat. Their simple design won't declutter the interior. Also, it fits any room, such as a small bedroom or put in a narrow hallway.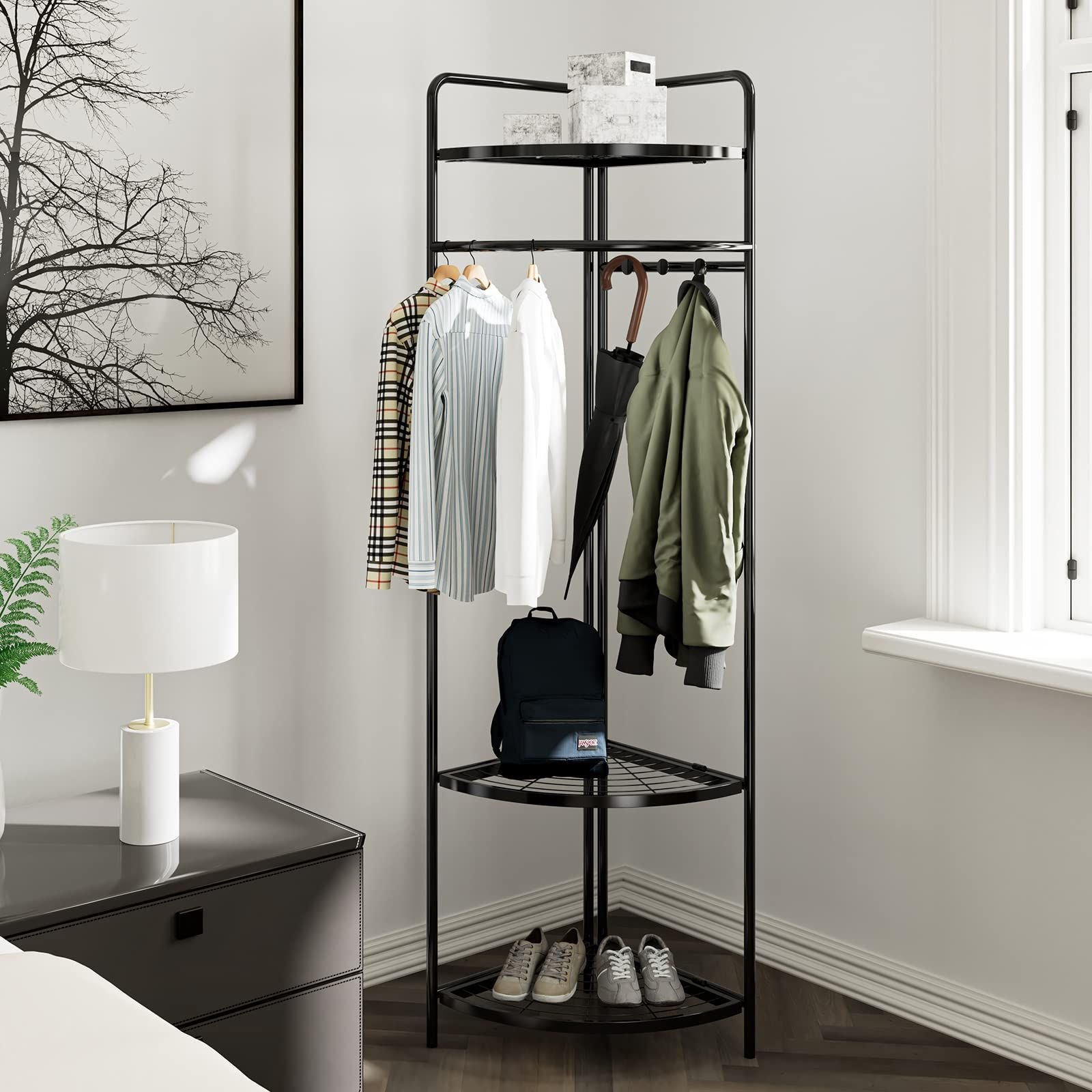 Their vertical shape will make an interesting design. It can load clothes and umbrellas. Moreover, there are some shelves to load your shoes or boots. If you want more storage, you can add a cabinet to save your things. Also, add an ornamental plant to create a fresh atmosphere.
3 of 21
Rustic Hallway with Plants
Many people love Rustic interior design. This design represents the wooden atmosphere at home. Here, is the Rustic hallway. It offers a warm impression to decorate your corridor. This design is very simple. It gets a raw wooden bench as the main seat.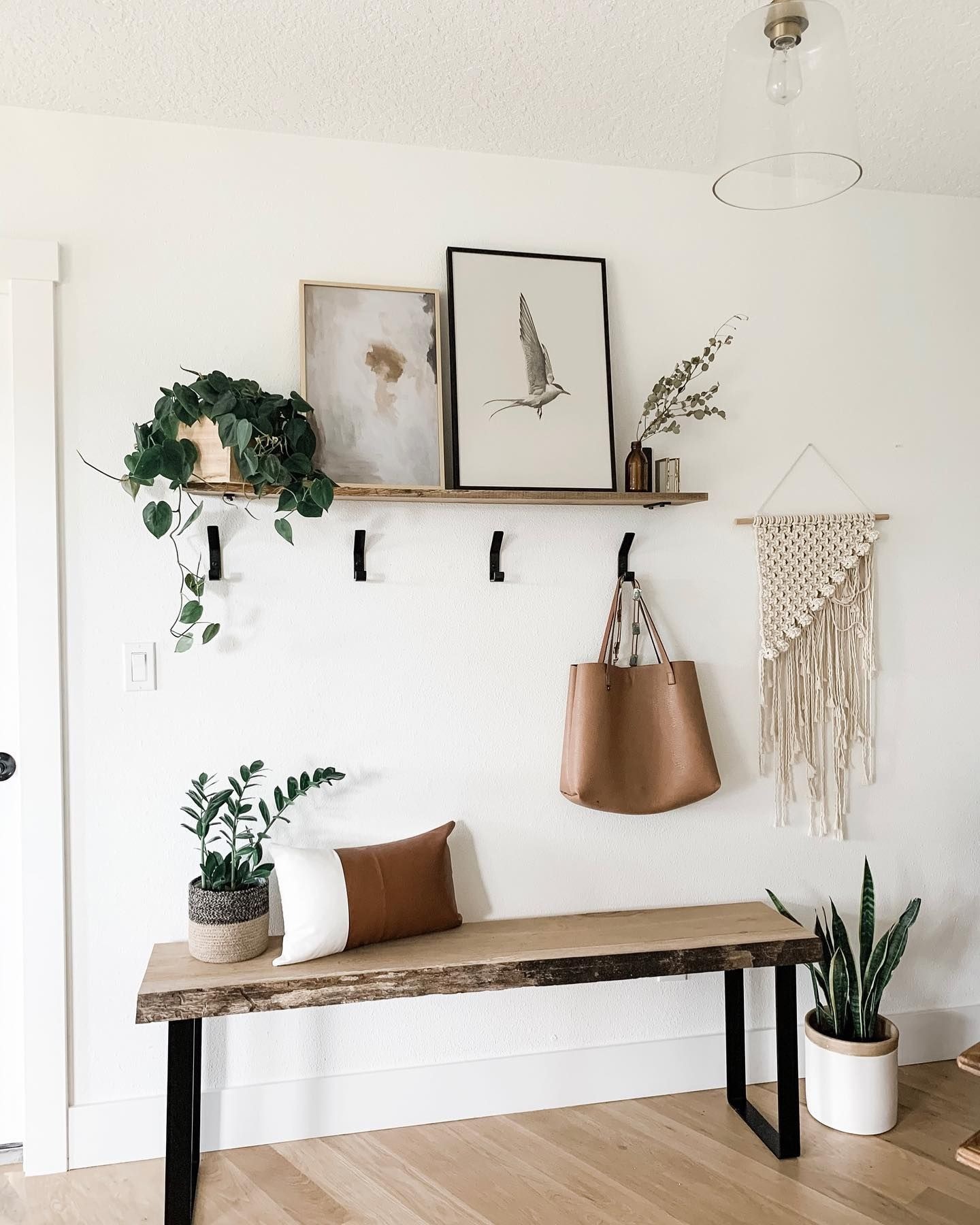 This Rustic hallway is easy to decorate. Add a wall shelf to load some attractive items. There are tiny plants and displays. Moreover, it has a few hooks to hang coats or jackets. In addition, this hallway gets few ornamental plants. Thrive the Snake plant to purify your hallway with its natural appearance.
4 of 21
Bohemian Hallway
This is a Bohemian hallway. It looks like the Rustic interior but it has more accents. Bohemian design gets ornate design. Here, is the Bohemian hallway with Boho woven bags on the wall. It uses wooden hooks to get a natural accent.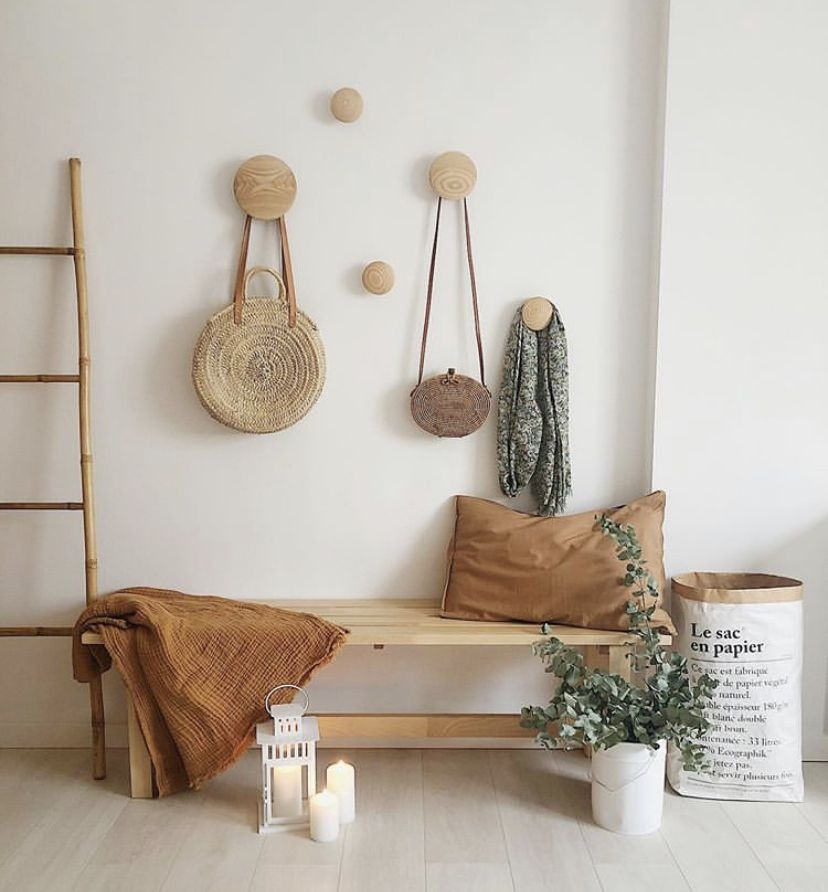 Moreover, this hallway gets a wooden bench that offers natural timber patterns. Also, there are few plants to add fresh accents. This Bohemian hallway uses a wood ladder on the wall to hang clothes. People can put other items, like a paper bag near the bench or put a brown comforter on it.
5 of 21
Add a Wooden Bench with a Storage
This is a wood bench in the hallway. It has storage to load shoes and other items. This bench is interesting with an ornate design. You will see many items on every shelf. There are wicker baskets, shoes, and other ornaments.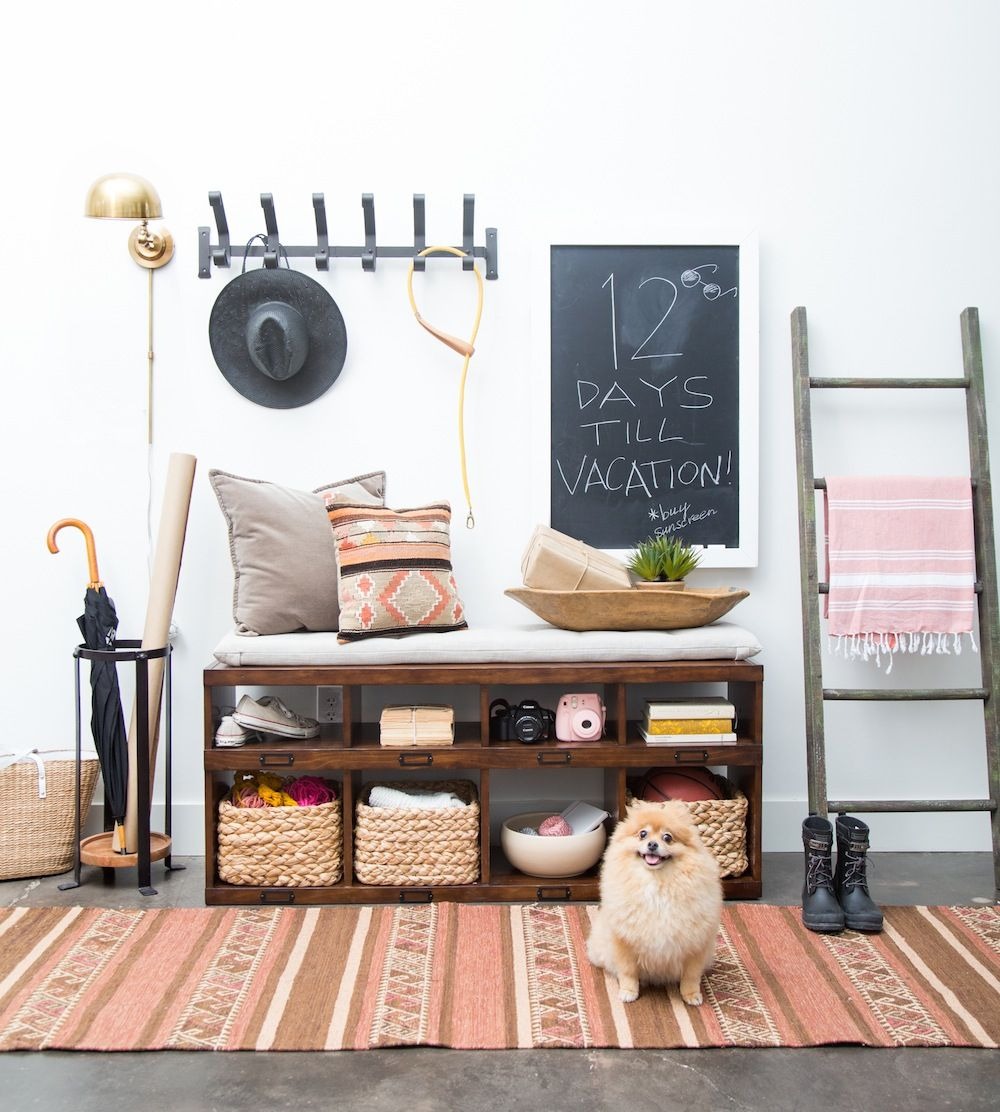 Besides, it has a comfy seat with a few pillows. This hallway also gets an ornate carpet. It adds a colorful accent to this area. Next to it, there is an umbrella holder and a ladder. The ladder leans against the wall. It is useful to hang clothes and coats.
6 of 21
Modern Farmhouse Hallway
The Farmhouse is a popular design to enliven a classic nuance. It offers bold colors with clean lines. Look at this idea. It gets a dark green wall with accents. This nuance is calming for the hallway. It looks interesting to get some hooks on the wall.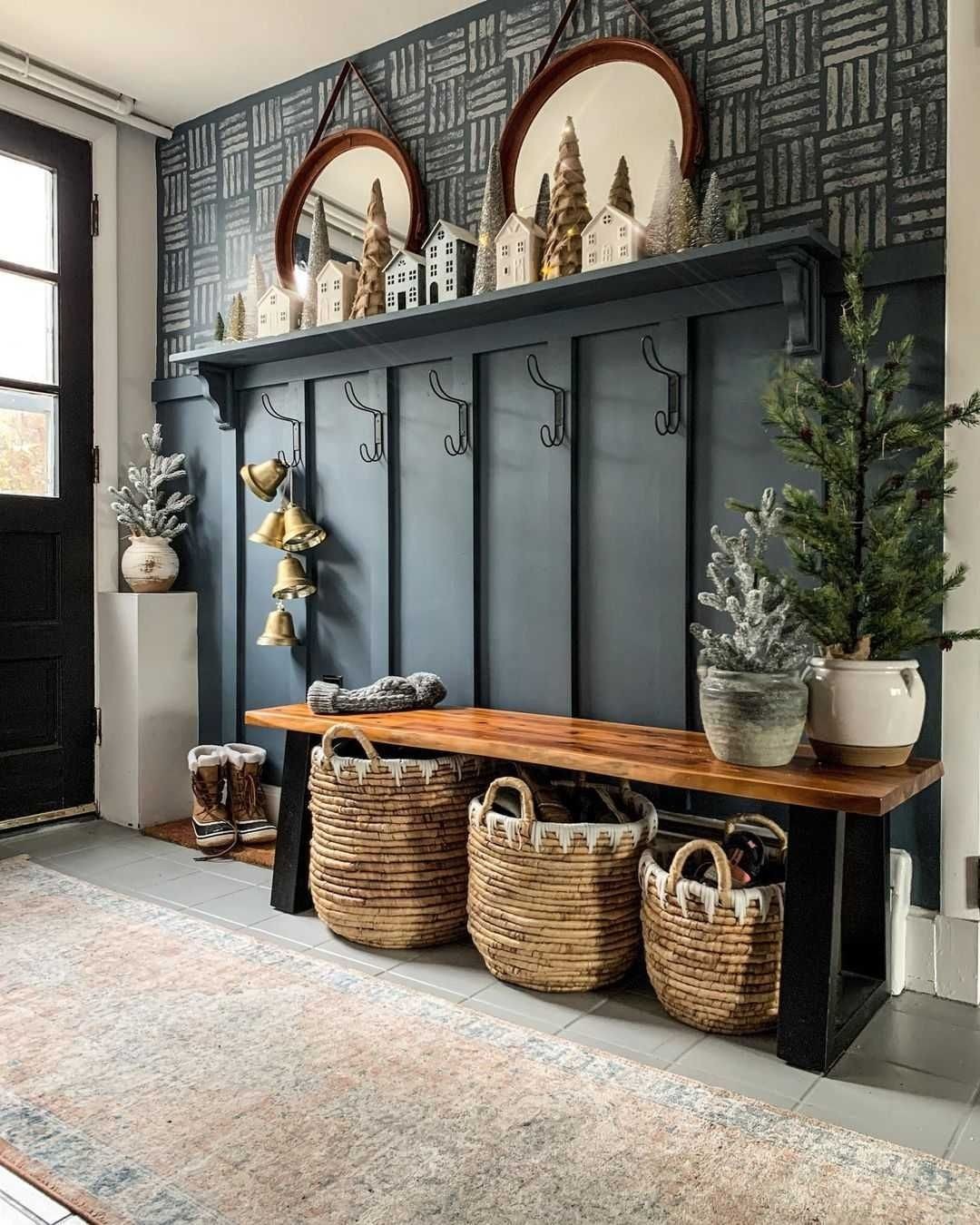 Also, there is a dark wooden bench with black feet. It looks stunning with some plants on it. You can decorate this bench with your favorite things. Look at the wall shelf above the bench. There are interesting displays. In addition, hang two round mirrors on the wall for a reflective accent.
7 of 21
Use A Rustic Wood Console Table
A simple hallway uses minimum furniture. This hallway is interesting with a Rustic wood console table. It is a simple table that won't declutter the design. The slim design fits any place, even a small hallway.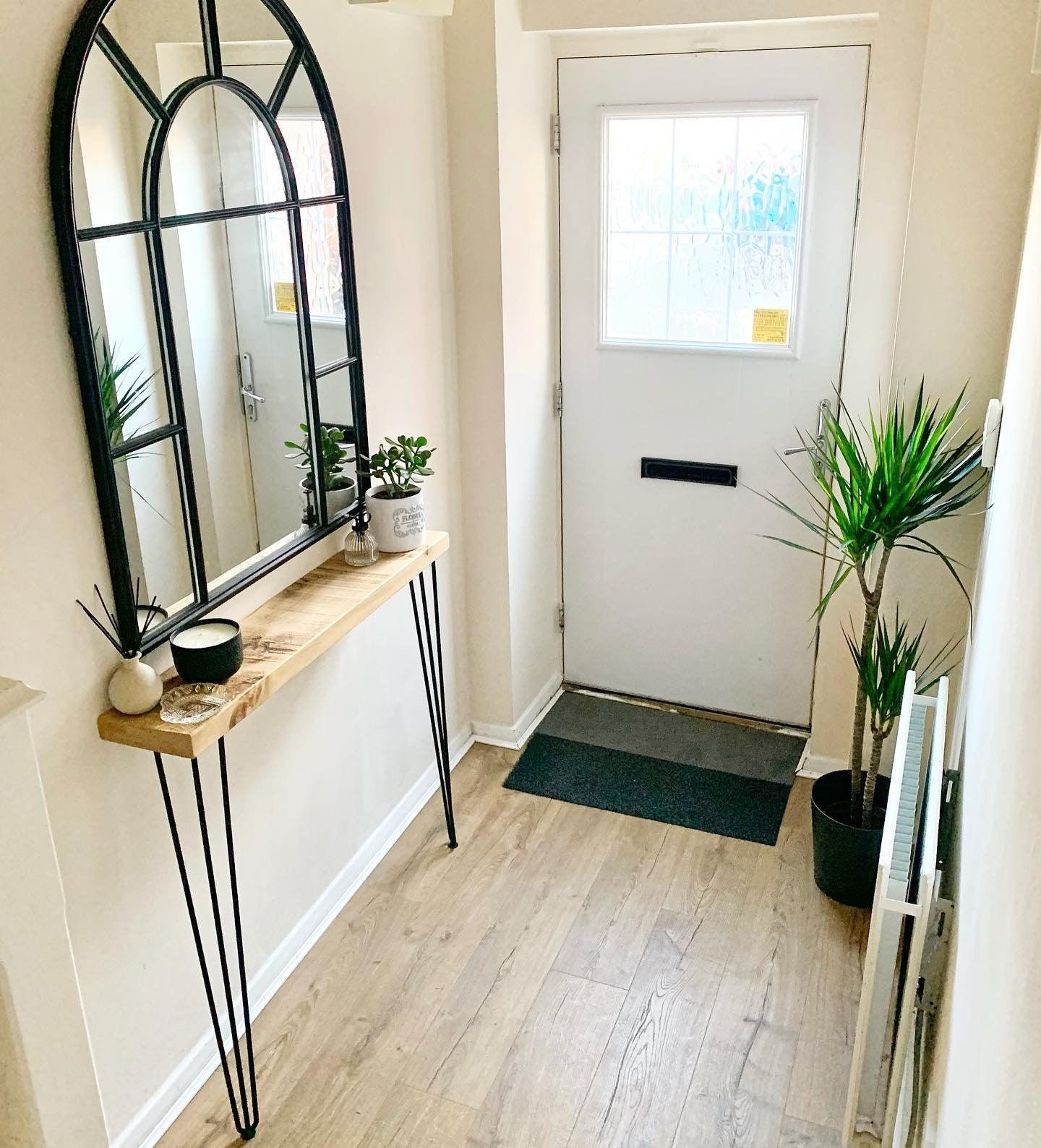 Moreover, this table looks catchy with a wall mirror. You can display an antique mirror with a frame. This area is more stunning with small plants on it. Put some cacti or other tiny indoor plants. In addition, put an indoor palm tree in the corner.
8 of 21
Coat Stand with Shoe Storage
The shoe storage will keep your hallway neat. You can save all of your shoes on the shelf. This hallway uses a coat stand with shoe storage. It loads two rows of shoe storage. So, it can hang coats and save shoes.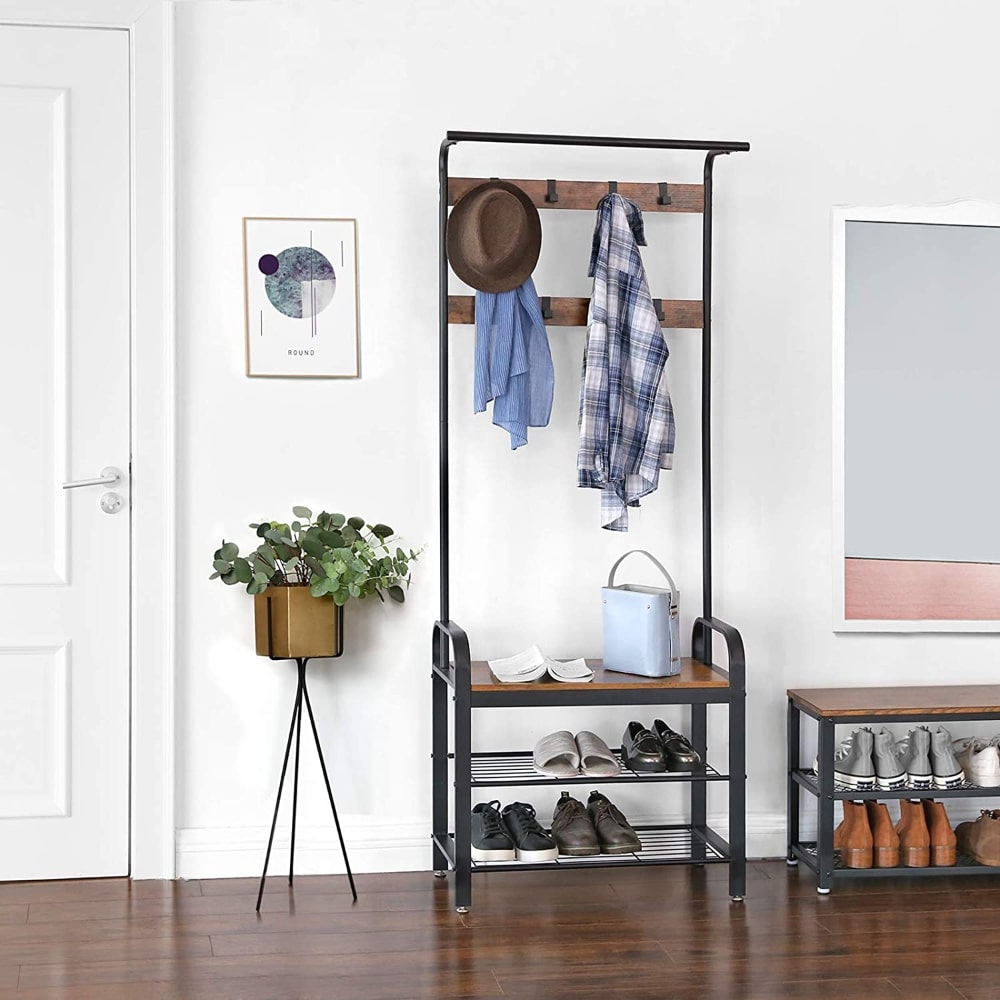 Furthermore, if you need more storage, add a cabinet. It should be a low cabinet, so it can be your bench too. Moreover, this hallway gets a big mirror on the wall. Thus, you can check your appearance before going outside or inside the house. In addition, put some ornamental plants to refresh the atmosphere.
9 of 21
Add a Large Coat Rack Stand
Let's see the coat rack stand. It is made of wood with metal frames. This furniture represents Industrial design. It doesn't have side covers, so can see its simple design. Moreover, this coat stand has many hooks.
The first row has six hooks and the lower has more. Then, look at the shelves. There is shoe storage with a metal shelf. You can display some shoes that you love to wear. Moreover, this coat stand has a wooden bench. It is a nice seat for people when taking off their shoes.
10 of 21
Narrow Hallway with Bookshelf
This is an amazing hallway. It gets many bookshelves along the corridor. This design is a dream home library for the book lover. Also, the hallway is a nice place to display your favorite books. Moreover, this bookshelf is useful as a bench as well.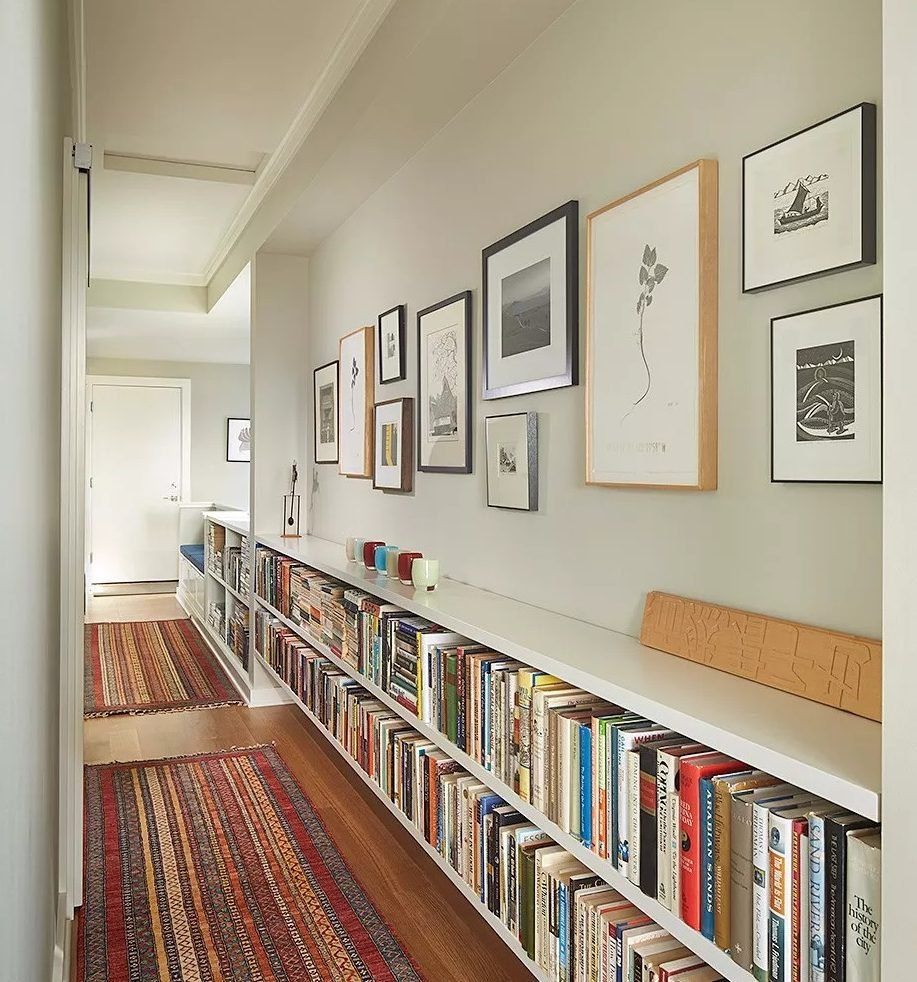 Thus, there is some stationery too. You can spend your time in this small library. Then, look at the whole design. There are colorful carpets on the floor. Also, see the colorful candles on the bench. It brings a nice fragrant and colorful accent when lit up.
11 of 21
Hallway with Minimalist Shoe Storage
Having minimum designs in a hallway is simple. You can adapt the minimalist design to decorate your hallway. Look at this idea. The hallway gets a white theme. The white paint is a big accent in this area.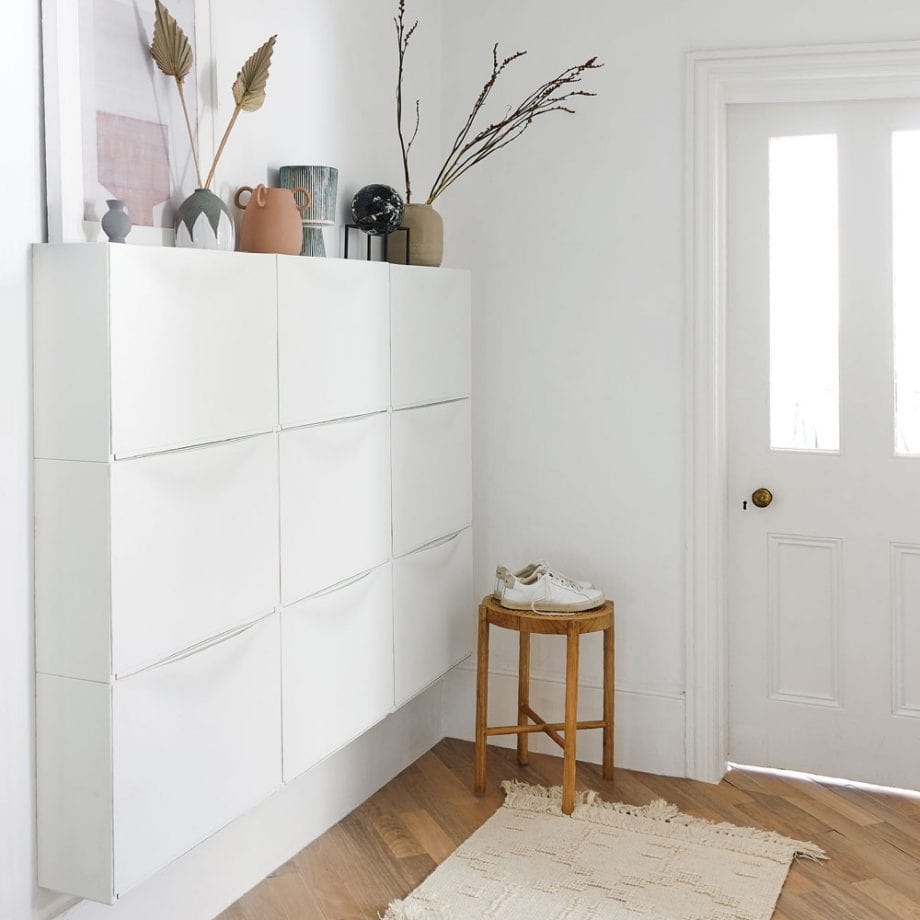 So, it is ideal to attach a minimalist design. The white minimalist shoe storage is the main furniture. It fits well on the white wall. Also, it has no knobs and just a simple door to open it. Moreover, this hallway has few ornaments on the shelf. There are attractive displays and faux plants.
12 of 21
Add Clothes, Hanger
The hallway is the first place before going into the room. Thus, people can take off their jackets or coat in this area. Then, hang them on the clothes hanger. This idea has a nice hanger for any items. It has a narrow hanger but enough to hang a few pieces of clothes.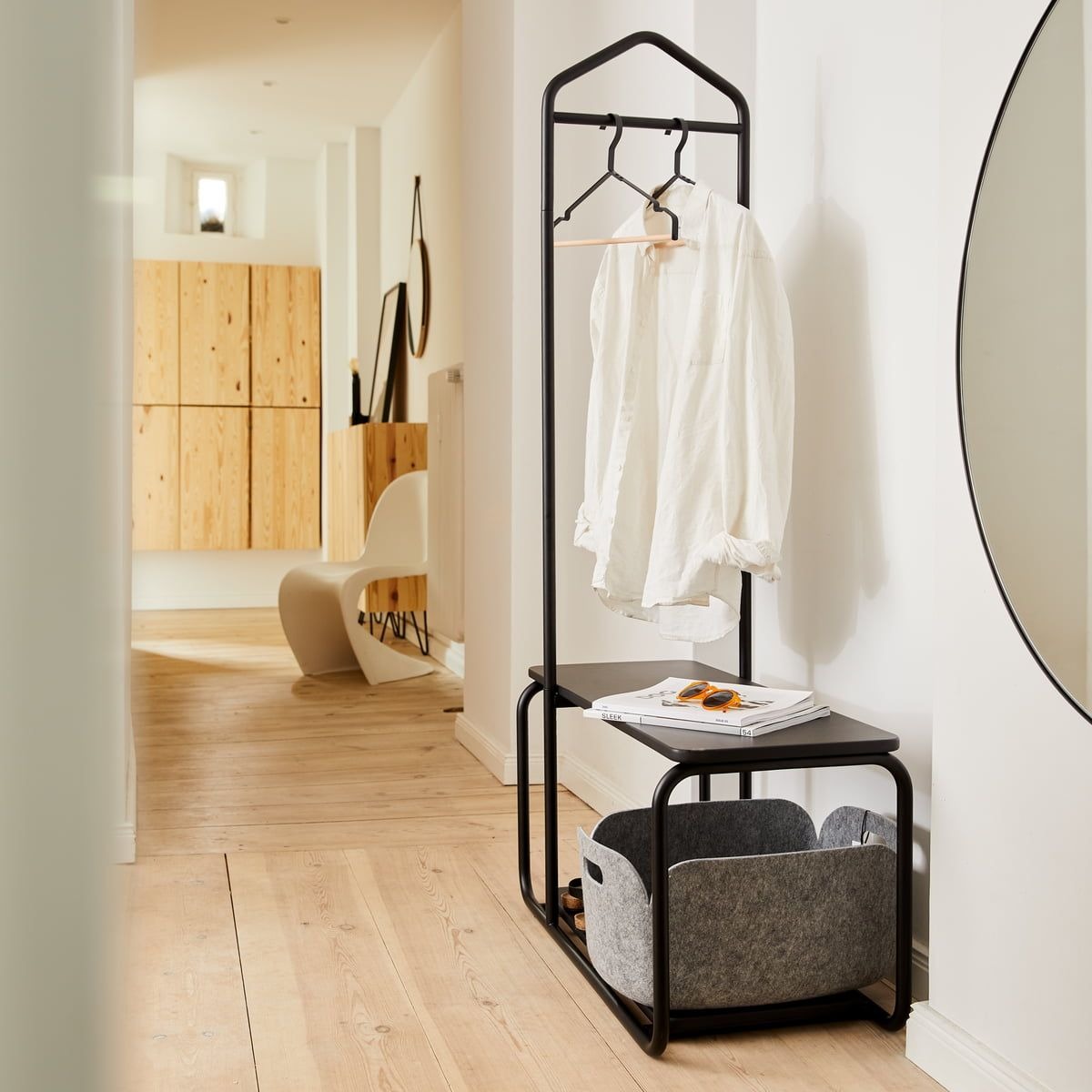 Then, the lower shelf is useful to load shoes. This clothes hanger is easy to move. So, you can take it to any location in the hallway. Moreover, this corridor has a wall mirror on the right. Stepping along the wooden floor, you will see a wooden cabinet in the corner.
13 of 21
Use Boot Storage with Coat Hanger
Storage is an important item in a hallway. It is useful to save shoes and boots. So, they won't declutter the hallway. Take a look at this idea. There is a boot storage with a semi-cabinet design. The coat hanger has a few hooks.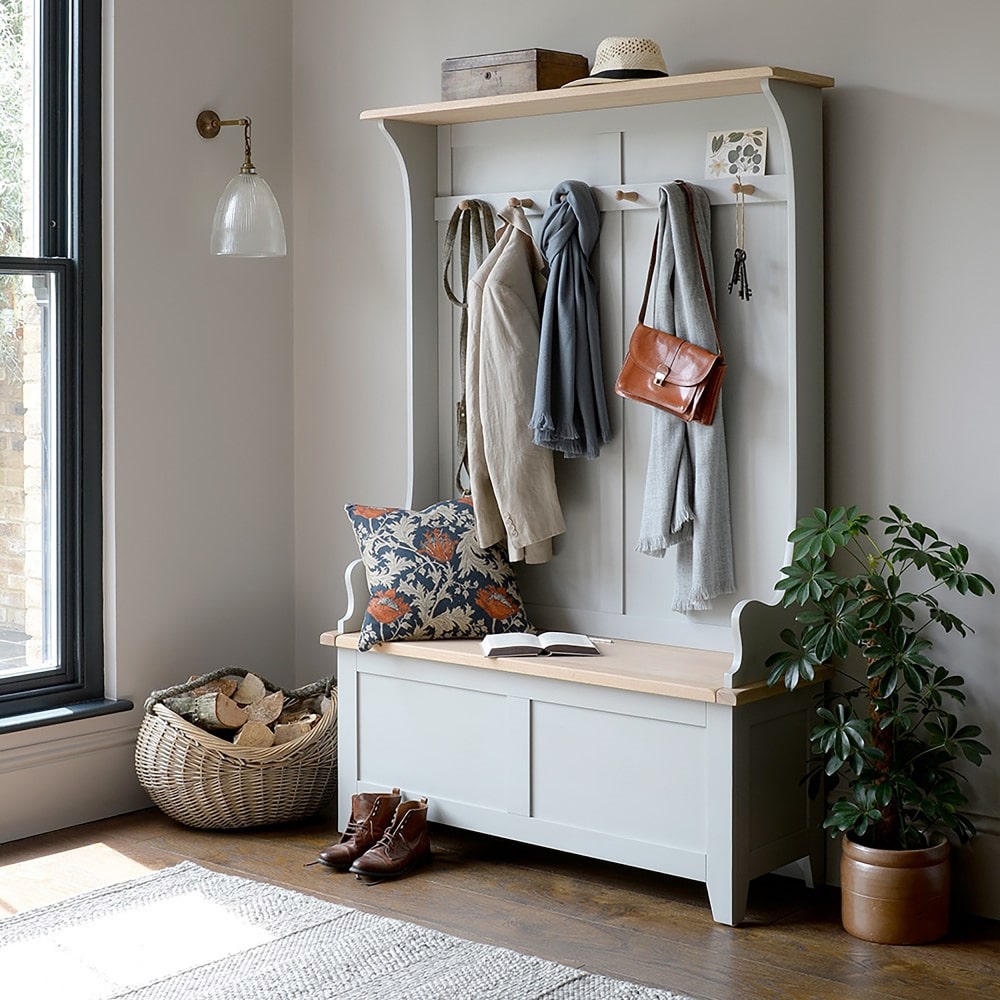 Besides, this store has a neutral color that fits the wall paint. It offers a small bench with a comfy pillow. So, you can sit while taking off your boots or shoes. Then, it has an ornamental plant to refresh the atmosphere. In addition, you can add a wall lamp beside it.
14 of 21
Contemporary Hallway
The Contemporary design brings a new impression to the room. It transforms the interior with its colors and accents. Let's see this hallway. It gets a stunning Contemporary design. The floor is white and black, just like the other rooms. Also, it gets the same patterns on the wall.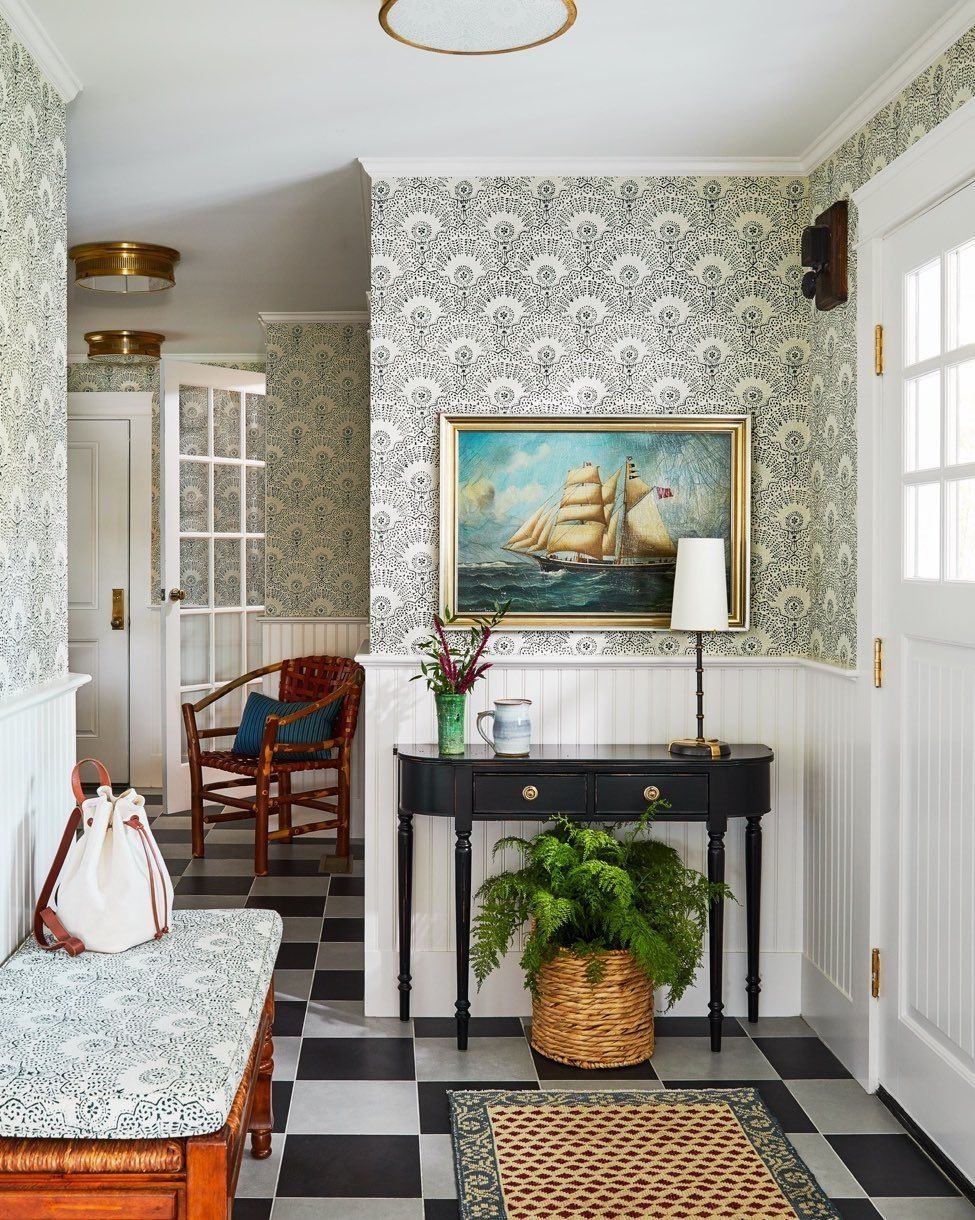 This hallway will impress you. Look at the bench. It even has a comfy seat with patterns. Meanwhile, on the corner is a wood table with a lamp, plant, and painting. All the accents are stunning and represent the high-classic design.
15 of 21
Coat Rack with Shoe Storage
Most minimalist people like to use simple furniture. They may design the hallway with minimum accents. Here, is a nice coat rack for a minimalist design. It has a vertical shape without a door. Also, it has a neutral color that fits the wall paint.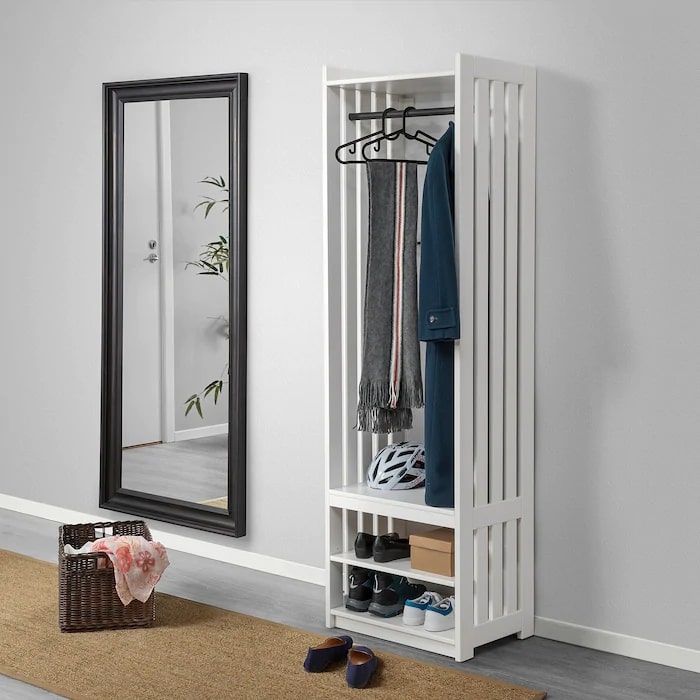 Moreover, this coat rack has shoe storage as well. This decoration is useful to save the shoe and declutter the corridor. Since it is small, then the shoe shelf is small too. Besides, it can load a few pairs of shoes. In addition, this hallway has a brown carpet along the hallway. Also, there is a vertical mirror on the wall.
16 of 21
Use Industrial Storage and Umbrella Holder
Some people like to use a few furniture to complete their decoration. Look at this idea. There are a simple coat rack and an umbrella holder. The storage is only a metal frame, so it won't declutter the design. Also, it won't make the hallway seems narrower.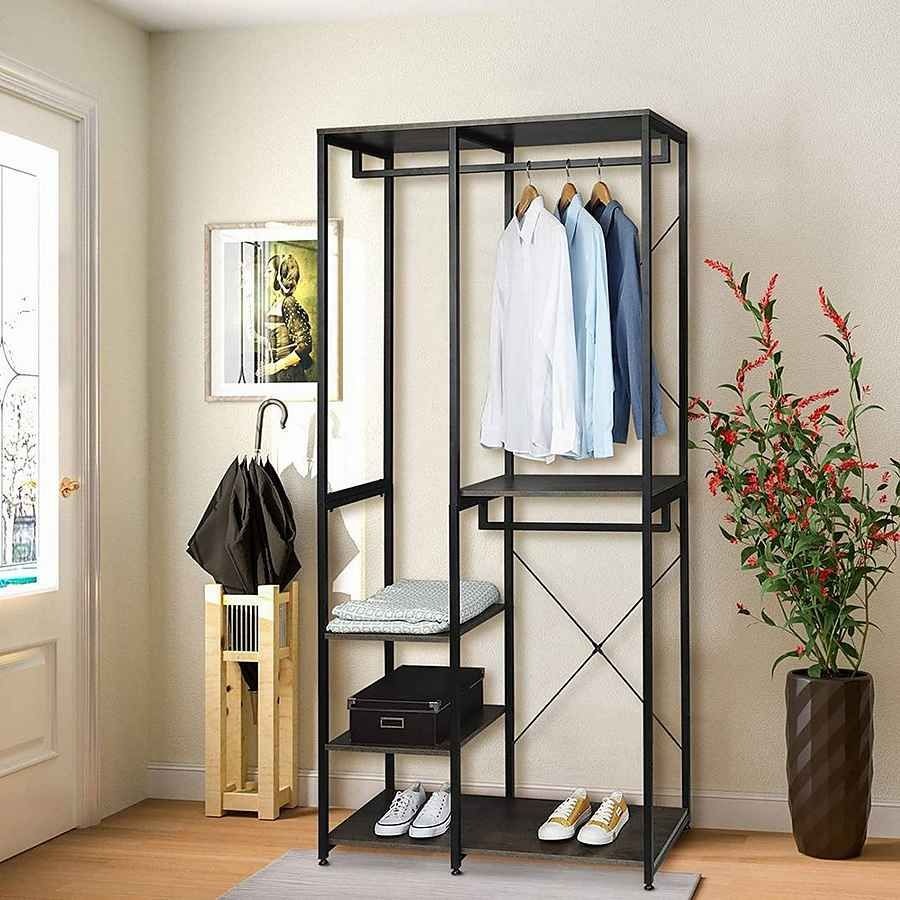 Moreover, the umbrella holder is made of wood. It is neat to put it beside the coat rack. Besides, the Industrial frame offers few shelves, so you can load more items. In addition, put a small carpet near the storage. If you like an ornamental plant, then add an indoor plant near the storage.
17 of 21
Small Hallway with Cabinet
A small hallway needs a neat design. Also, the homeowner should pick the furniture that fits the spaces. Look at this idea. The hallway gets a simple cabinet near the wall. It is a dark brown cabinet with a bench.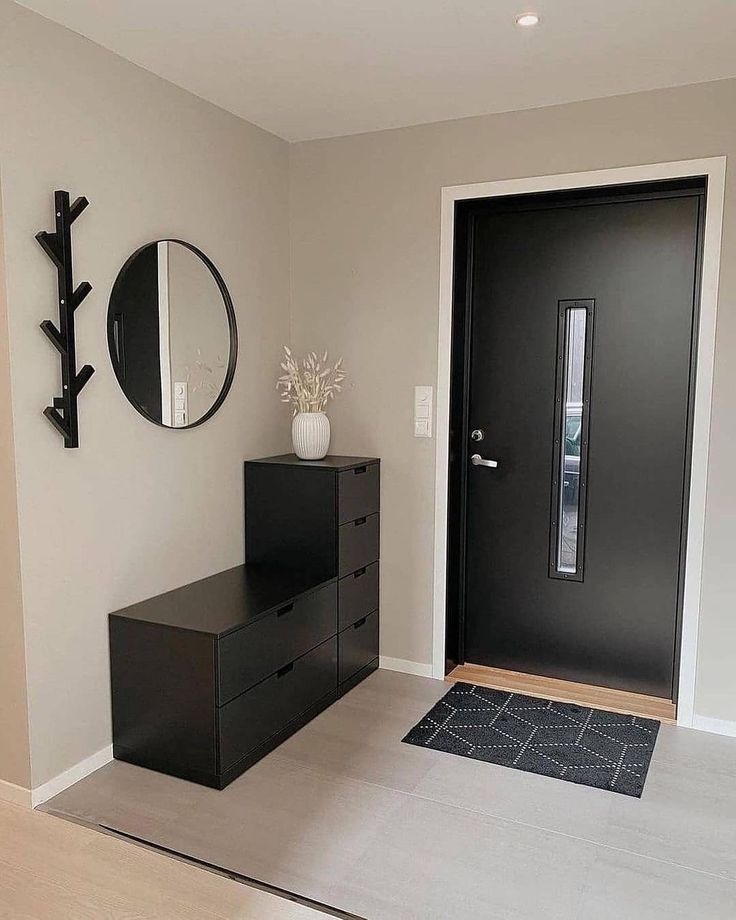 The bench is useful to sit on when waiting for the homeowner or when taking off shoes. Then, there is a wall mirror upper the cabinet. It also has a few displays on another cabinet. This item looks nice, so it fits any room. In addition, there is a simple coat hanger on the wall.
18 of 21
File Storage for Your Hallway
Having a long hallway is interesting. You can design it with some furniture. This idea uses file storage to decorate the half wall. It looks like multiple storages without doors. This furniture has a dark brown color. It fits the floor and is a traditional nuance.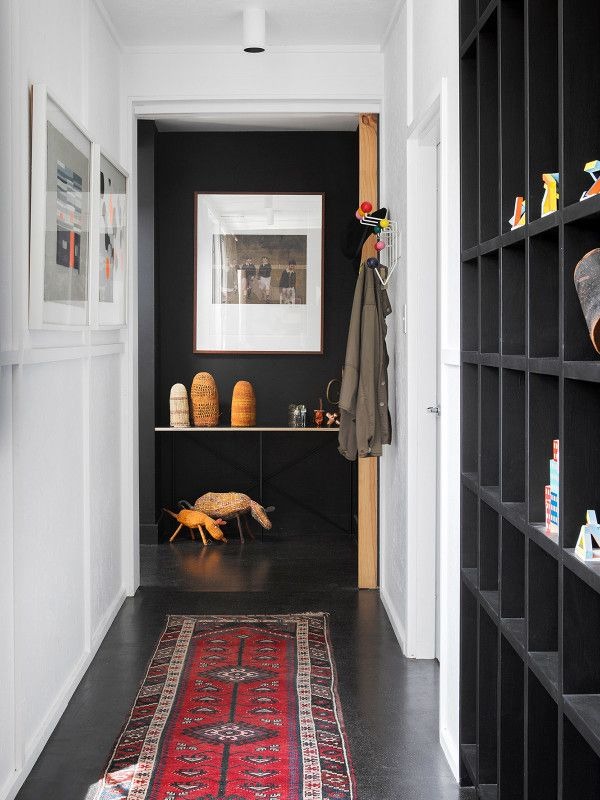 You can put many items in storage. Also, it can be your shoe rack. Moreover, this corridor has a colorful carpet. It looks interesting to hang some wall paints or photos. In the corner of this hallway, you will see an attractive bench with paintings and ornaments.
19 of 21
Portable Coat Rack
This is a portable coat rack. You can take it to any place that you like. The portable coat rack won't declutter the interior design. It looks like a ladder with a wooden plank on the low part. This part is useful to load shoes or other things. Meanwhile, the upper part is an interesting hook. It is the coat hanger.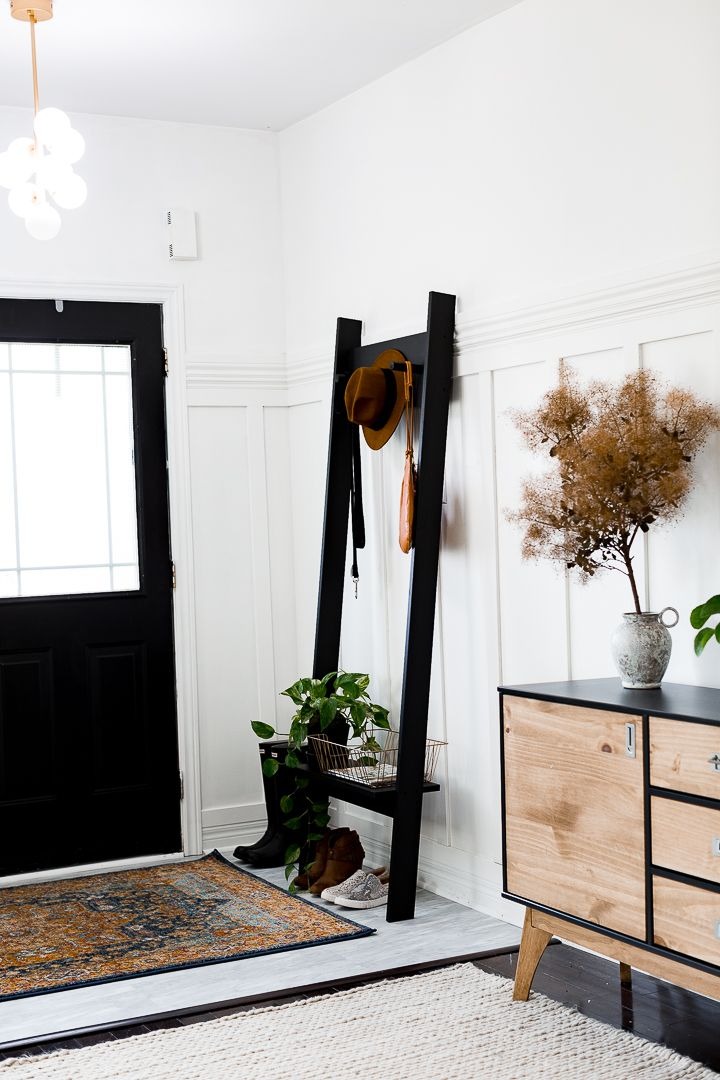 Besides, this ladder leans against the wall. So, it looks nice to get some vining plant. You can add a hook on their side, the hang Pothos, Scindapsus, or English Ivy plants. In addition, put a cabinet near the ladder to display your ornaments. It looks more interesting to have a long carpet on the floor.
20 of 21
Industrial Hallway with Mirror
The hallway looks stunning to have an Industrial design. You can try this style by seeing this design first. Look at this hallway. There are only useful accents in this corridor. You will see a minimalist white cabinet without doorknobs. It looks more interesting with the Sanseviera plant near the cabinet.
Over the cabinet, you will see the clothes hanger. It looks simple with a narrow design. The hanger is made of a raw branch that hangs on the ceiling. Next to it, there is a large mirror on the wall. For the lighting, it uses spotlights on the ceiling and the mirror.
21 of 21
Thus are 21 Hallway Ideas with Multifunctional Items for Your Cozy Space. You can decorate your hallway with some of these items in the ideas. There is a cabinet, coat rack, clothes hanger, shoe rack, carpet, umbrella holder, and many more. These things are useful for a certain house. Thus, pick the most necessary things for your hallway. We hope this article will help you to design your corridor at home. Good luck!