Druhomes.com – Summer season begins in a few months. The swimming pool is a nice idea to enjoy the Summer vibe. It is an interesting plant to refresh your body during summer. You can take notes for your dream swimming pool, whether you want a new setup or planning to install a swimming pool for the first time. Here, we have some fresh ideas to invigorate your swimming pool area. Read on the 18 Poolside Design Ideas for Welcoming The Bright Summer Season below!
Add a Mattress for Sun Bathing
The summer season is hotter than other seasons. Some people like to sunbathe in their swimming pool. Add a sunbathing mattress on the poolside. You can put two mattresses on the shady spot near the pool. It looks calming to have a comfy sitting area.
Moreover, you can enjoy sunny days or windy nights during summer in this area. The starry night is beautiful and you can see it by lying on the mattress. If you want a fresher atmosphere, plant some low-maintenance green plants in this area. These plants are fresh pills to improve natural accents.
1 of 18
A Resort-Like Design
The swimming pool at home can be a therapeutic place. You can create a resort-like design to enliven the swimming pool atmosphere. The resort-like design is a popular theme to get a new look. There are some resort items like a twisted towel, flower, white fabric, and candle. These items are useful to strengthen the resort-like design of your swimming pool.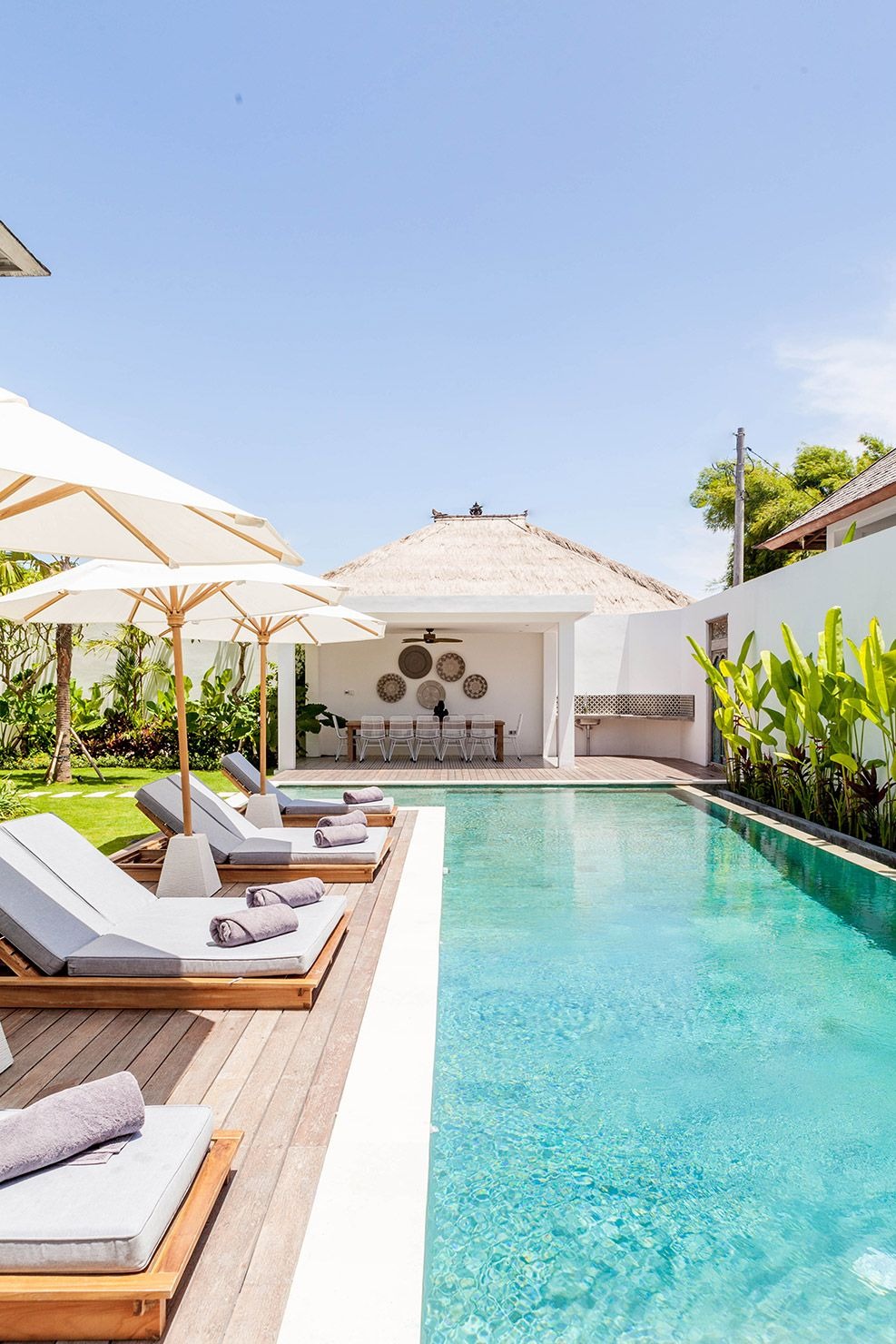 Look at this idea. This big swimming pool has some comfy benches on the poolside. Every bench gets a big canopy. Moreover, there is a twisted towel for every bench. The beige color is a perfect match on the white sheet. Besides, this swimming pool has a pergola with a dining room set. You can both enjoy the landscape or have dinner at the poolside.
2 of 18
Stylish Poolside with Ordinary Chairs
This is a swimming pool with stone materials. It emerges the natural impression. Look at the poolside. There is a stone line that represents the river bank. This swimming pool has a charming landscape.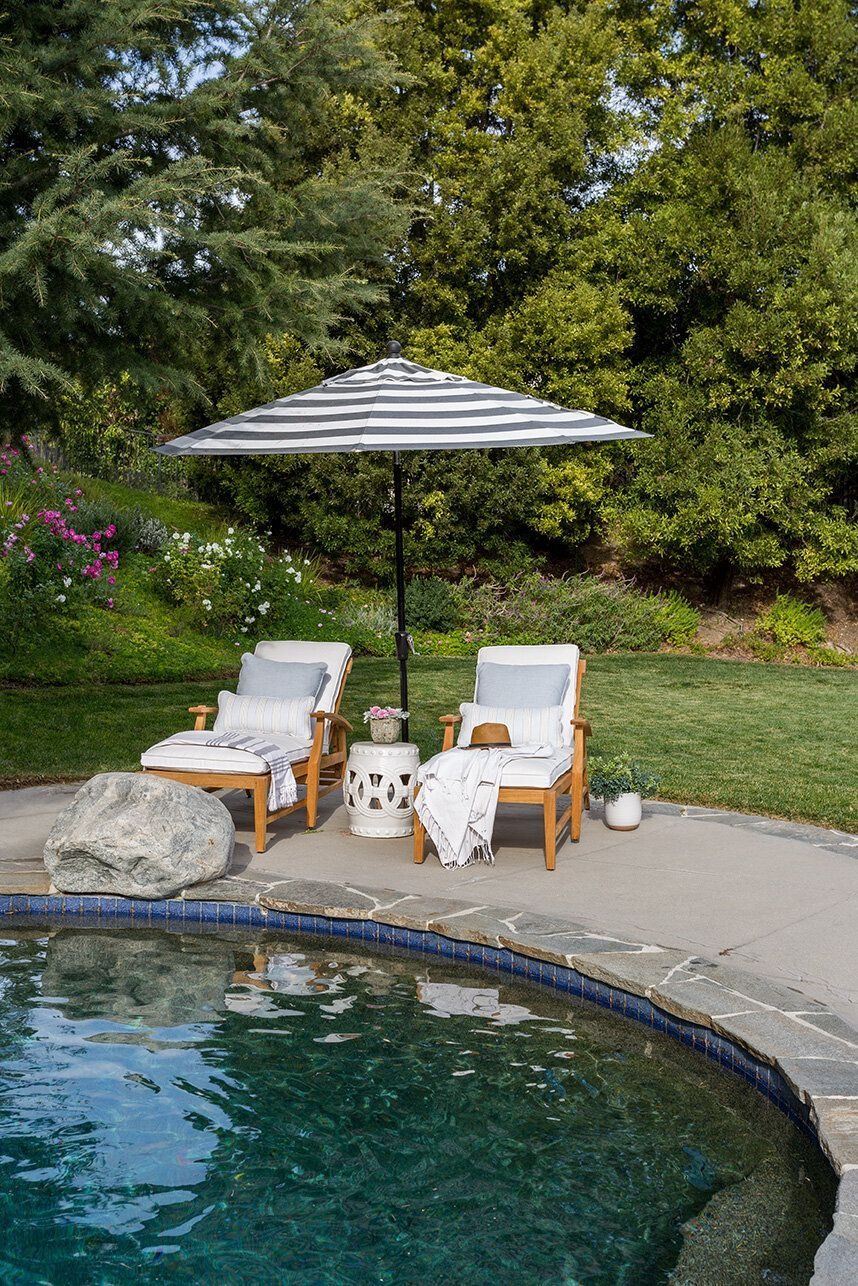 The green grass is stunning as a background for your comfy chairs. Two chairs on the poolside are enough to make a sitting area. There is a table for snacks and glasses. Like most poolside chairs, there is a big canopy to make a shade. Also, the white color is an ideal color to reduce the hot atmosphere.
3 of 18
Dining Area in the Poolside
The swimming pool can be a romantic place to have dinner. You can decorate a new setup with some dining sets. This idea will overcome the empty poolside with a dining area. There are at least two round tables for a romantic dinner near the swimming pool. Meanwhile, other sitting areas are versatile.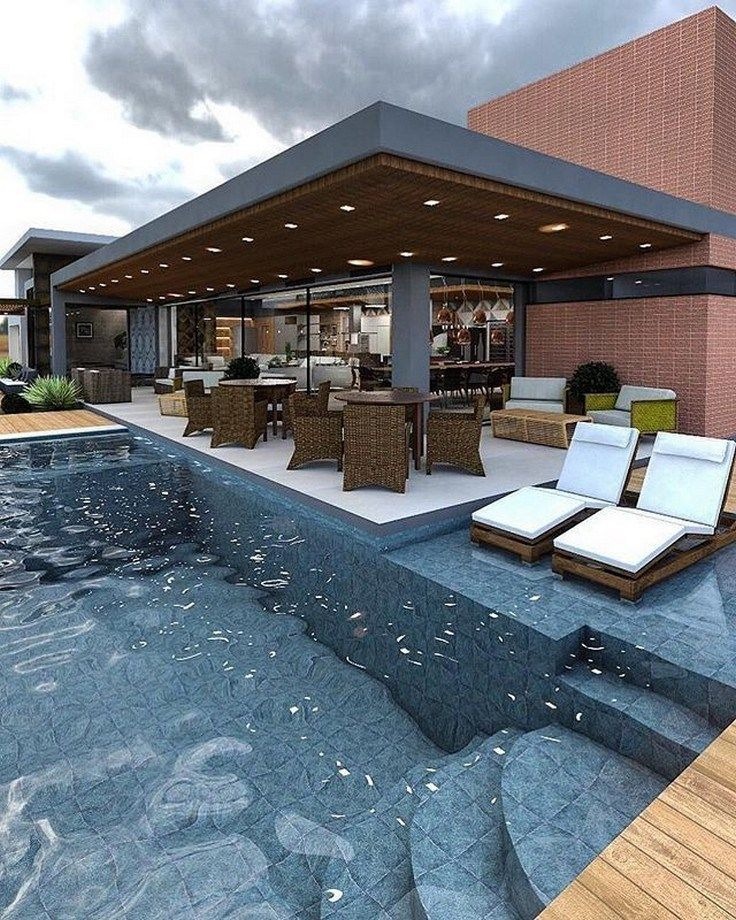 Moreover, you can have a special moment in the water. There are two curvy chairs in the shallow pool. Thus, you can enjoy the time in the freshwater after swimming. This swimming pool is located near the kitchen. Thus, it makes efficient access to serve food.
4 of 18
Chill Out with a Japanese Maple Chair
The Japanese design represents calmness. Most Japanese designs use neutral colors from wood, like Maple. This swimming pool has one Japanese Maple chair. It is a simple chair with an ordinary design. You can move this chair into any spot in your poolside.
This Japanese Maple chair has one table. This wooden table is an ideal pair for this chair. You can put a small candle to create a warm atmosphere. Moreover, you can grow some wall plants to enliven the Japanese nuance. The more natural accents in this place, the more you build a refreshing poolside.
5 of 18
Sunny Poolside with Lanterns
The summer season is identical to the sunny area. The swimming pool is one of the sunny locations during summer. It is a perfect place to enjoy a bright day while taking some fresh water. The popular design for this poolside is having some chairs. Look at this idea.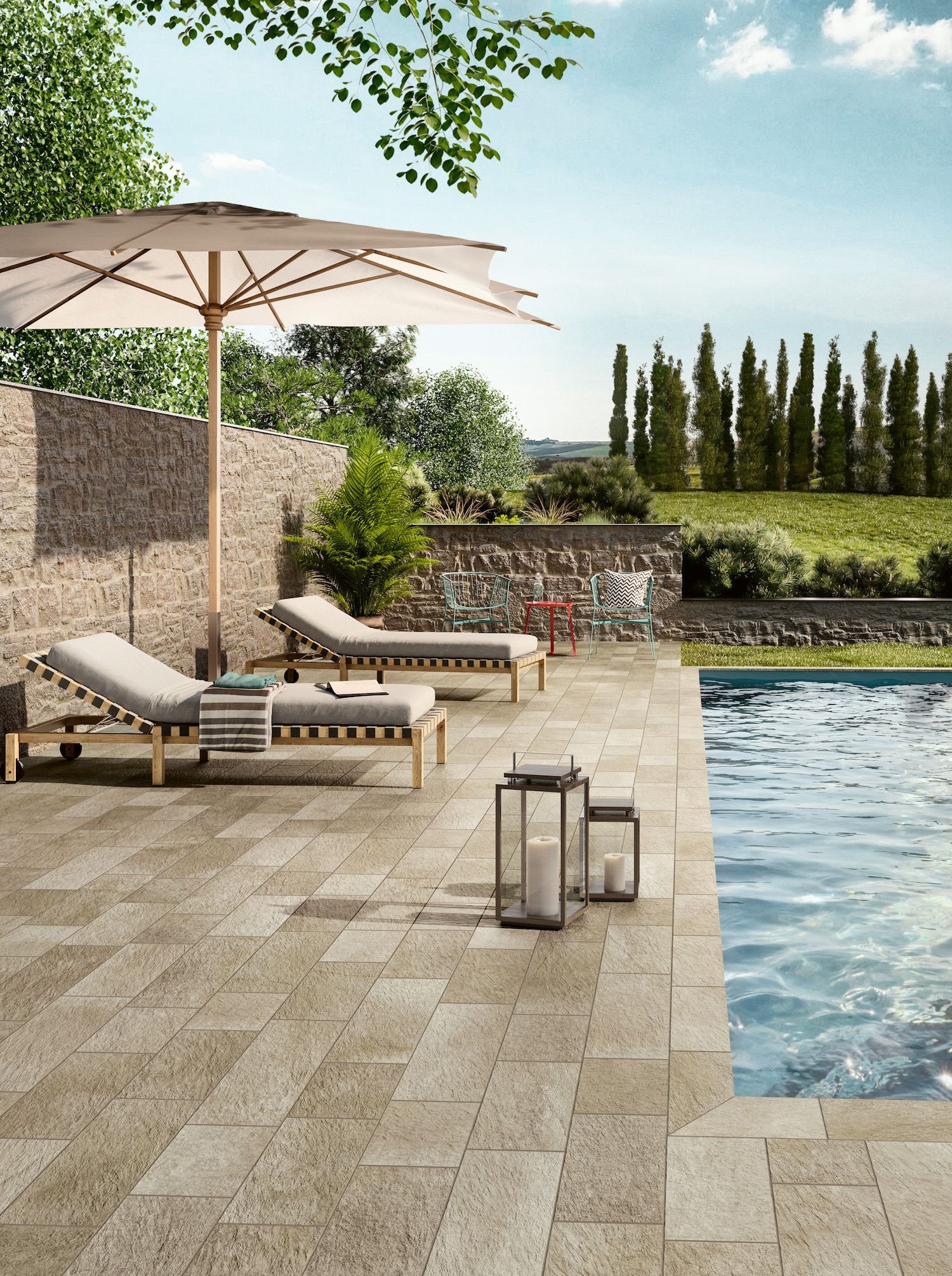 This poolside gets two long chairs with a big canopy. The sunny location is beneficial to feel the warm sunlight and enjoy the breeze. Otherwise, you can light some lanterns on the poolside and enjoy the starry night. This place will get a warm nuance. Also, the night swimming will be different with this atmosphere.
6 of 18
Add Cozy Chairs in Shady Areas
A shady backyard is a comfy place during summer. You can install a swimming pool in this area. Also, you can grow more plants to get more natural sides. This swimming pool is stunning with lots of plants. The green landscape is the main background in this area.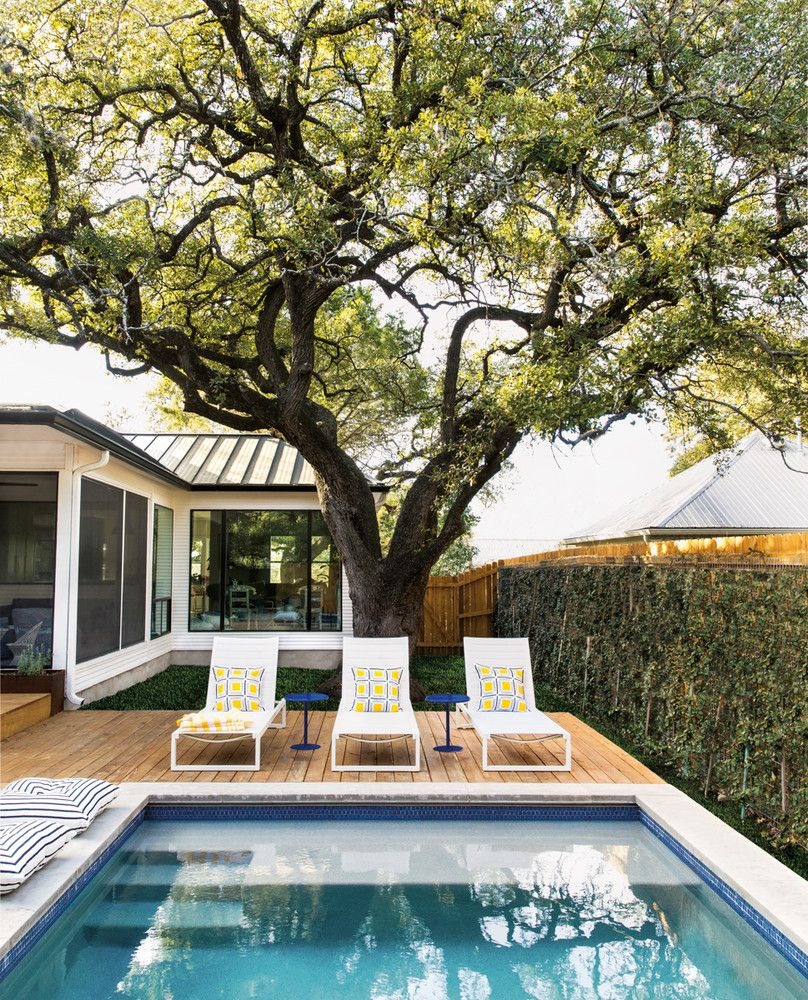 This swimming pool is not big, but enough to swim during the summer season. Then, it gets three long chairs on the poolside. It doesn't need a canopy cause the big tree is a perfect shelter. Meanwhile, there are two comfy pillows on another poolside. You can sit on this side while holding the pillow or lying on the poolside to enjoy the starry sky.
7 of 18
Add Modern Farmhouse Furniture
The furniture determines the atmosphere in a place. Here, are the modern farmhouse furniture on the poolside. The dark brown table is catchy to match the comfy sofas. This table has a wicker detail that represents the farmhouse design. Besides, the sofas are also put on the wicker frame.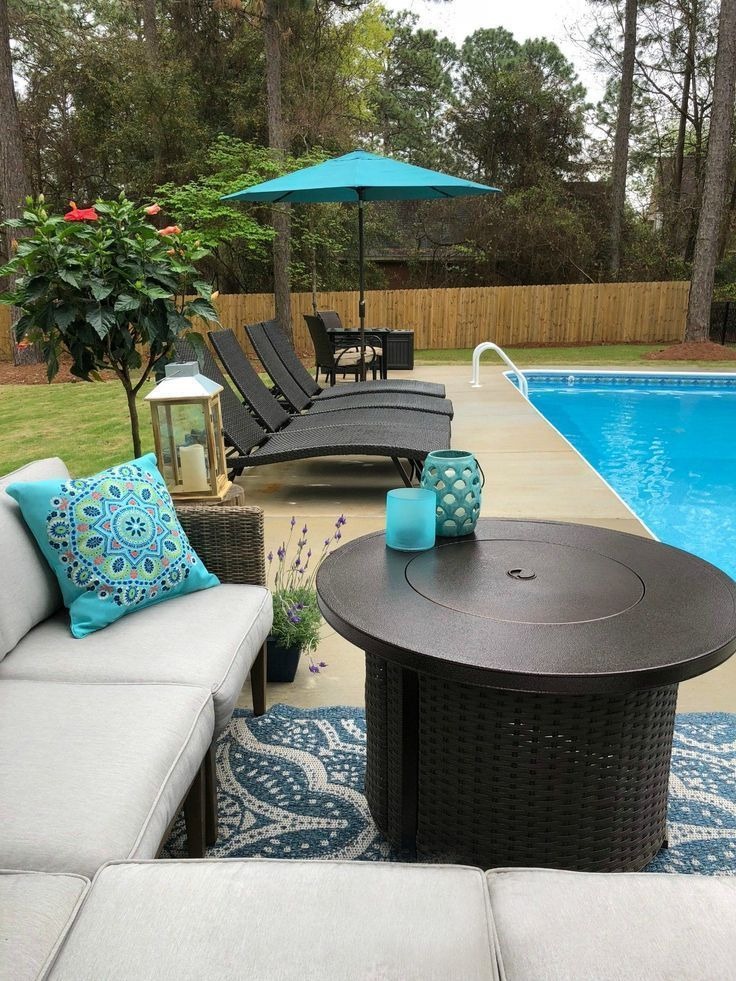 On another side, you will find another sitting area. There are some long deep brown chairs against the swimming pool. Next to it, there is a chair with a small table. It gets a big canopy to create a shelter. This modern farmhouse furniture is stunning to decorate this bluish swimming pool.
8 of 18
2 Sitting Areas in White Pergola
Double sitting areas will take up more space in the poolside. This idea is suitable for people who need more seats. Look at this poolside. The sitting areas are versatile for a party, dinner, or family time. It needs a large space and a pergola, in case you have a lunchtime here.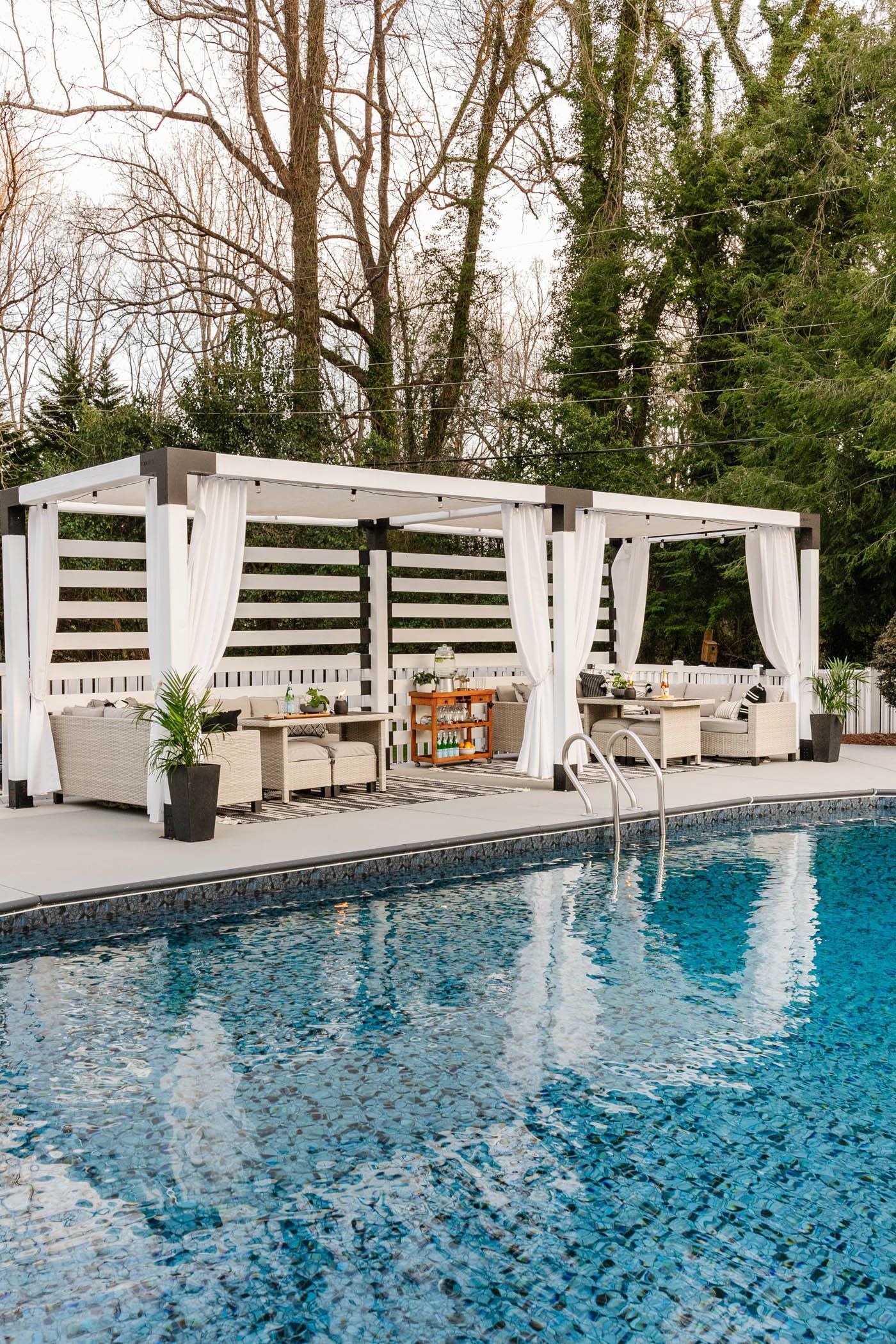 Moreover, it looks like an outdoor living room. The white theme is perfect to enliven the airy impression of the poolside. Also, this place is interesting to enjoy the summertime after swimming. Besides, there are white curtains to make privacy. This sitting area is more stunning to design in the green landscape.
9 of 18
Add Pergola for An Outdoor Living Room
Some people have a holiday in the summer season, so they can enjoy their free time in a fresh swimming pool. This deep blue swimming pool has a refreshing vibe. You can enjoy the breeze on the poolside. Here, is a pergola with some furniture. This area fits the swimming side and has a simple design.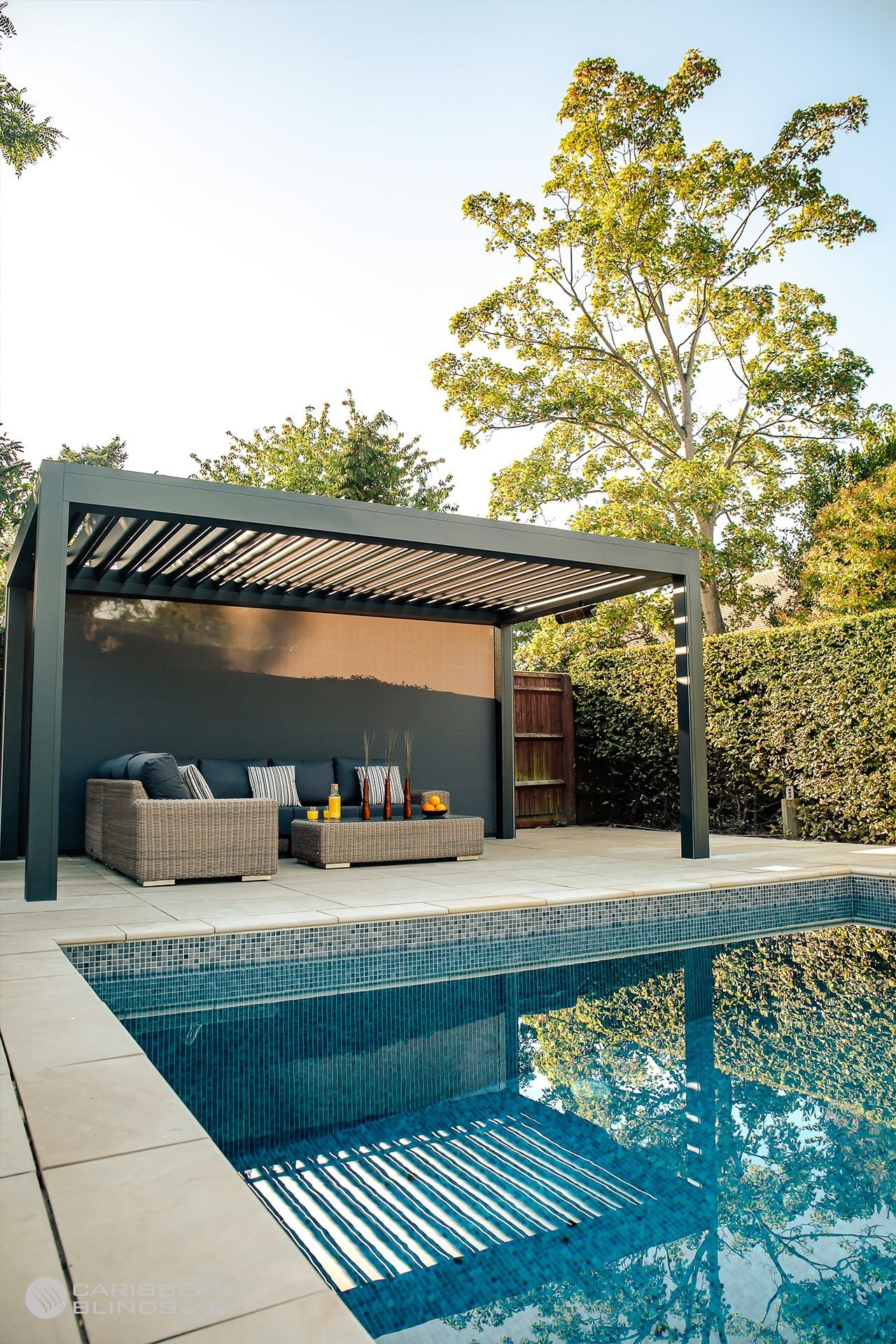 The pergola has a dark grey color. There is a thin layer of rooftops, so it delivers the brightness from sunlight. For the furniture, you will see a living room set with a coffee table. This poolside is an alternative design to install a sitting area on the poolside.
10 of 18
Add 2 Chairs and 1 Table
This is the simplest poolside design. You don't need to put a hard effort to decorate it. Here, are two minimalist chairs with a small table in the poolside. It is perfect for a small swimming pool that needs a chilling area. Also, this is a perfect location to enjoy a sunny day.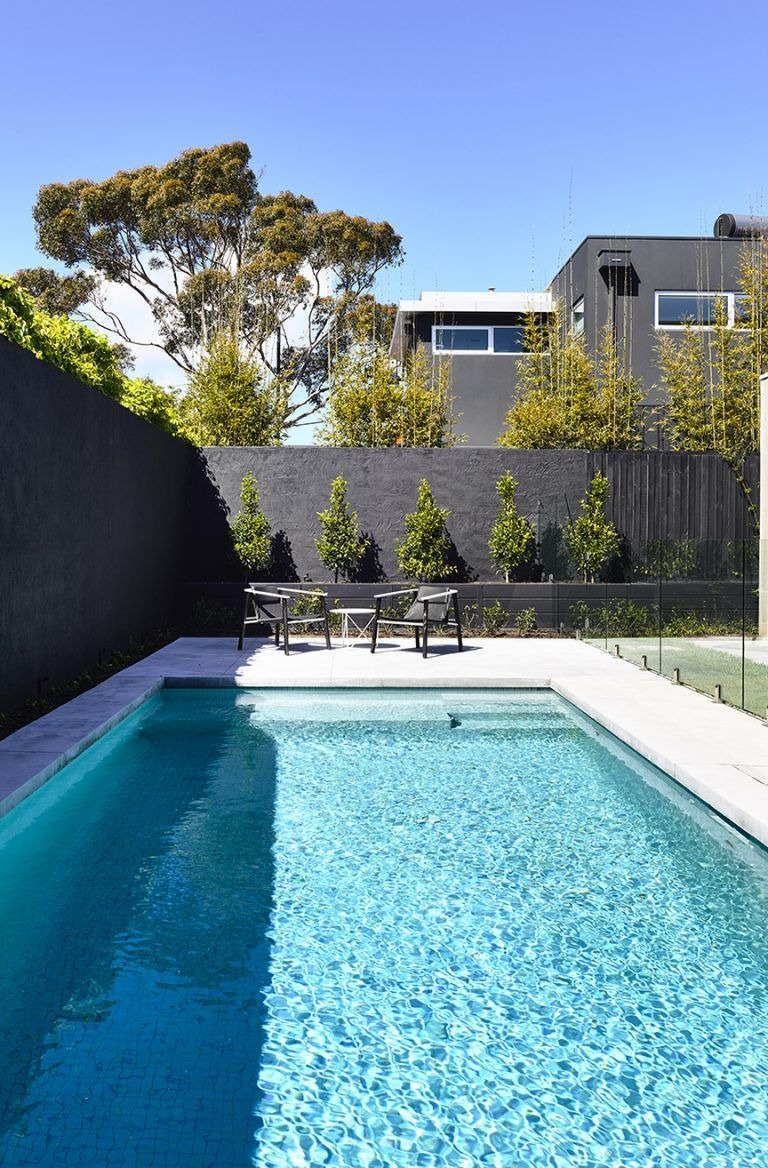 Moreover, you can sit on this chair and enjoy a glass of lime after swimming. These chairs won't declutter the swimming pool design. They even make it more enjoyable for swimming time. Besides that, the natural atmosphere is another thing to consider. Thus, plant more green plants on the swimming poolsides.
11 of 18
A Long Bench for Tanning Seat
Summer season is a time to enjoy the sunlight. The swimming pool is a common place to spend the day in summer. Let's see this swimming pool. It has no pergola nor patio. Thus, this swimming pool is ideal for tanning time. You will see a big canopy on the corner of the swimming pool. It gets a long bench in a sunny place.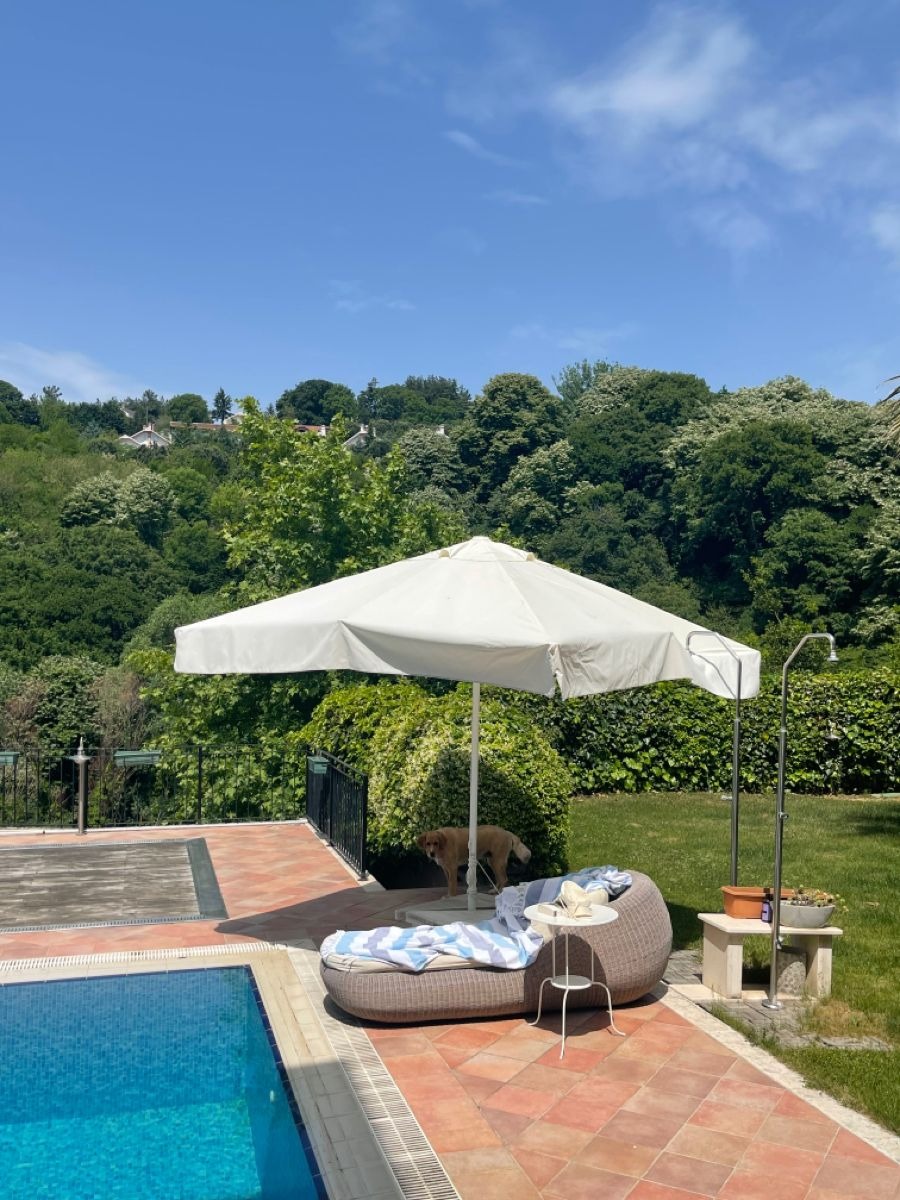 The canopy doesn't shade well, thus, sunlight will reach this bench. Enjoy your fresh orange juice while tanning your body. You can sit on this bench to enjoy snacks or feel the breeze. This sitting area has a mini table. Also, add a thin blanket if you need something to cover up your body.
12 of 18
Poolside with Firepit
The swimming pool can be the best location to enjoy the summer night. You will feel the cool breeze with a bright night sky. Light a small firepit near the swimming pool to add a warm accent. This swimming pool design is perfect for a family house with a poolside. The firepit will be the main spot to enjoy a long summer night.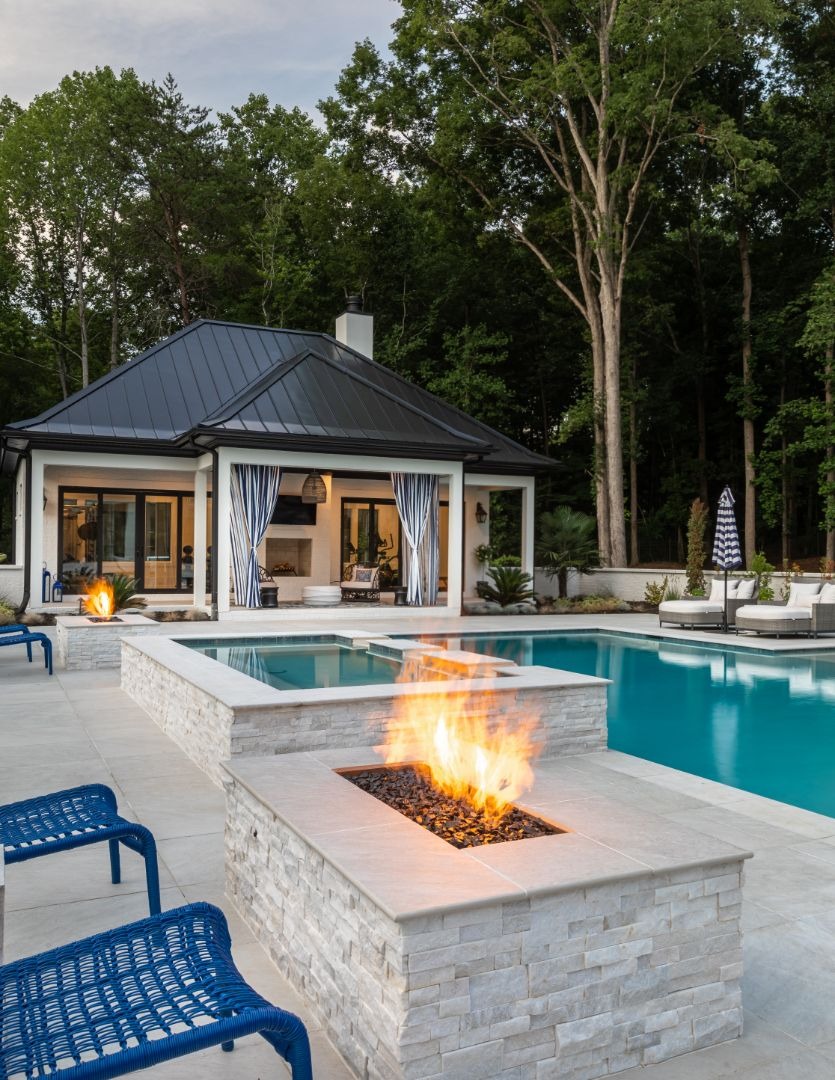 Besides, there is a small jacuzzi between two firepits. It will be an alternative spot to enjoy the night in the small pool. Moreover, this design has another sitting area on the cross side. There are comfy sofas with long seats and a white-blue canopy. This swimming pool area is like a chilling resort.
13 of 18
Add 2 Minimalist Chairs in the Pool
Many types of chairs that you can put on the poolside. Here, are two minimalist chairs in the swimming pool. These chairs are useful to enjoy the day in the pool. You can relax on this chair and enjoy a bright day during summer. Also, this chair is movable so you can remove it in the last summer.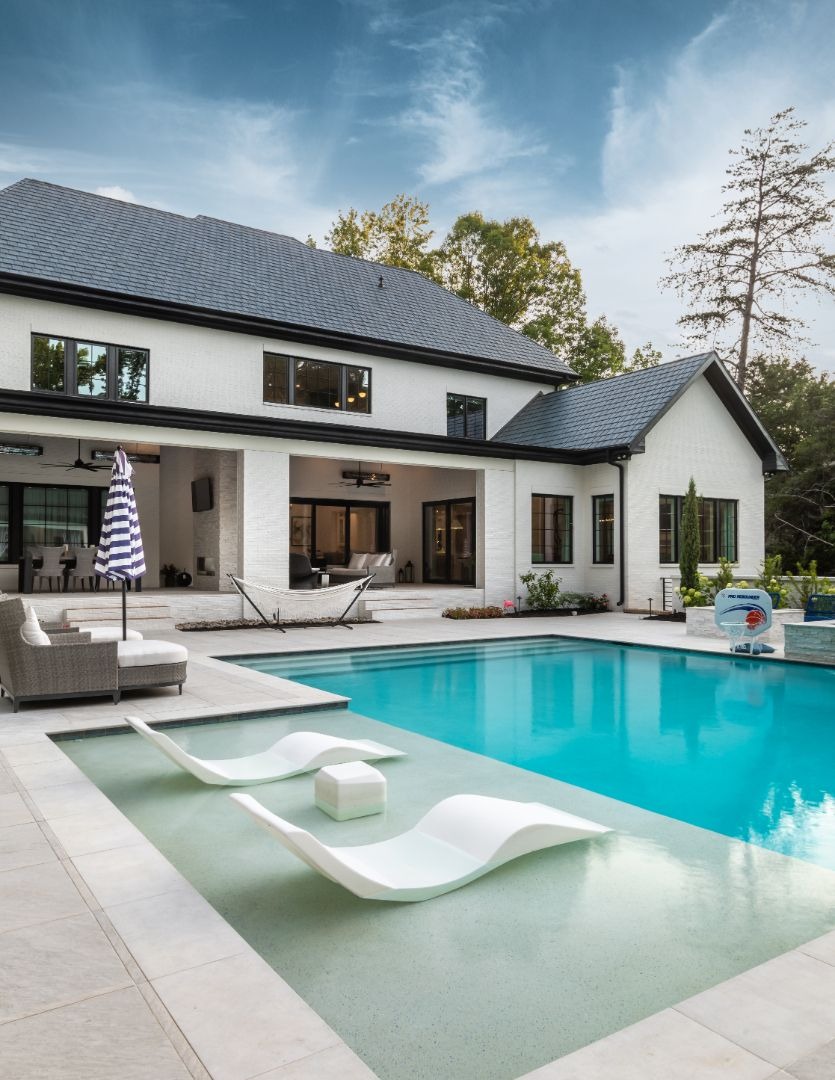 Besides, this swimming pool has another sitting area. There are two comfy chairs in the corner of a swimming pool. It gets a white-blue canopy to protect it from sunlight. This sitting area is comfortable for people who prefer to sit rather than swim. Thus, take the sitting idea that fits your need.
14 of 18
A Movable Tanning Bench
Some people like to enjoy summer sunbathing. If you want to tan your skin, you can use this tanning bench. This item has a hole to put on your face down. Meanwhile, let your body gets warm sunlight and relax. So, you can practice it in the poolside. This area has a sunny location on a bright day.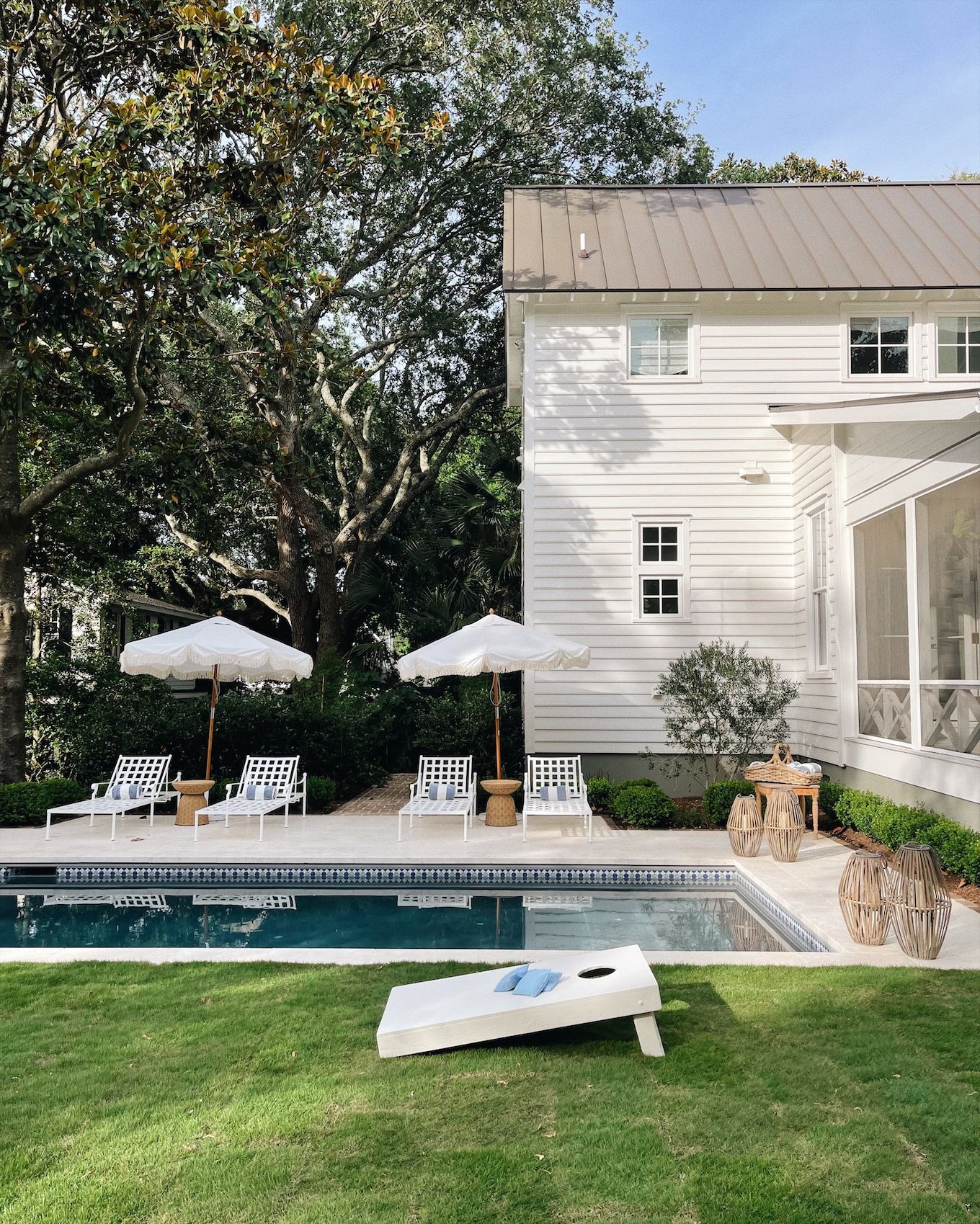 Another design will be on another side. There are two pairs of white wire chairs. Every two chairs get a big canopy. This chair has a simple design and neutral color. The white and blue accents are interesting to improve the beach-like atmosphere. Moreover, add a small coffee table to put snacks and juices.
15 of 18
Poolside with Versatile Canopy
A canopy is an alternative item to create a shady place. This item is movable and versatile. You can take some canopies to protect a sitting area in your poolside. The white canopy is an ideal color to reflect sunlight and get an airy atmosphere. Also, it has an adjustable pole, if you want it gets higher or shorter.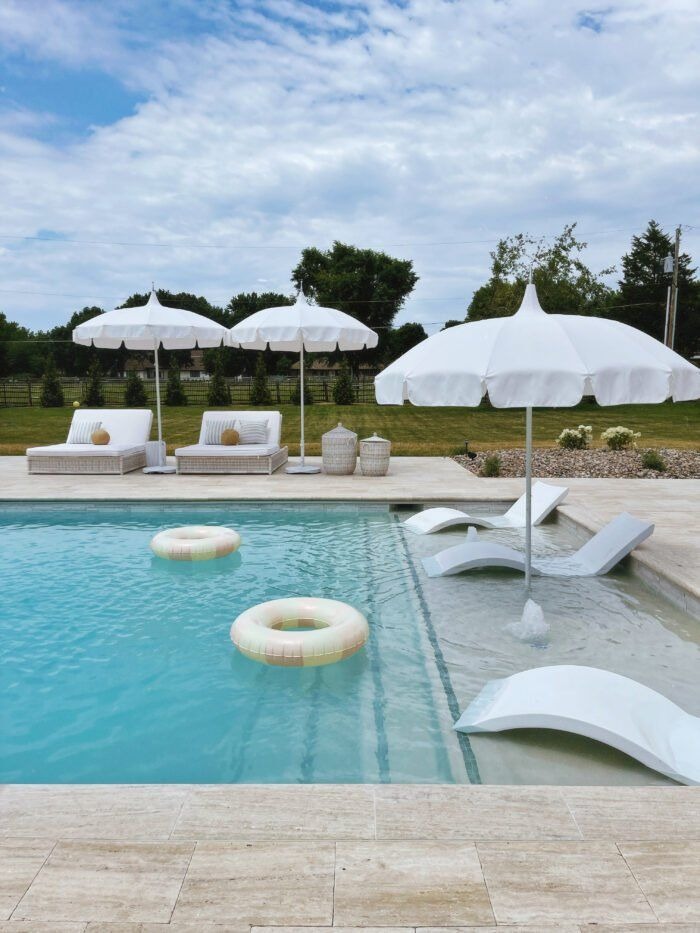 Moreover, this swimming pool has more than one sitting area. In the water, there are two curvy benches. It has a canopy for every bench. This sitting area is perfect to enjoy the breeze while touching the fresh water. In addition, this swimming pool has a beach-like atmosphere with floats.
16 of 18
Chic Poolside Design
Having a swimming pool at home is an interesting idea. Here, is a swimming pool in the backyard. The landscape is chilling. You can feel the fresh breeze around a greeny environment with grasses and trees. This stunning swimming pool is beautiful during the bright summer.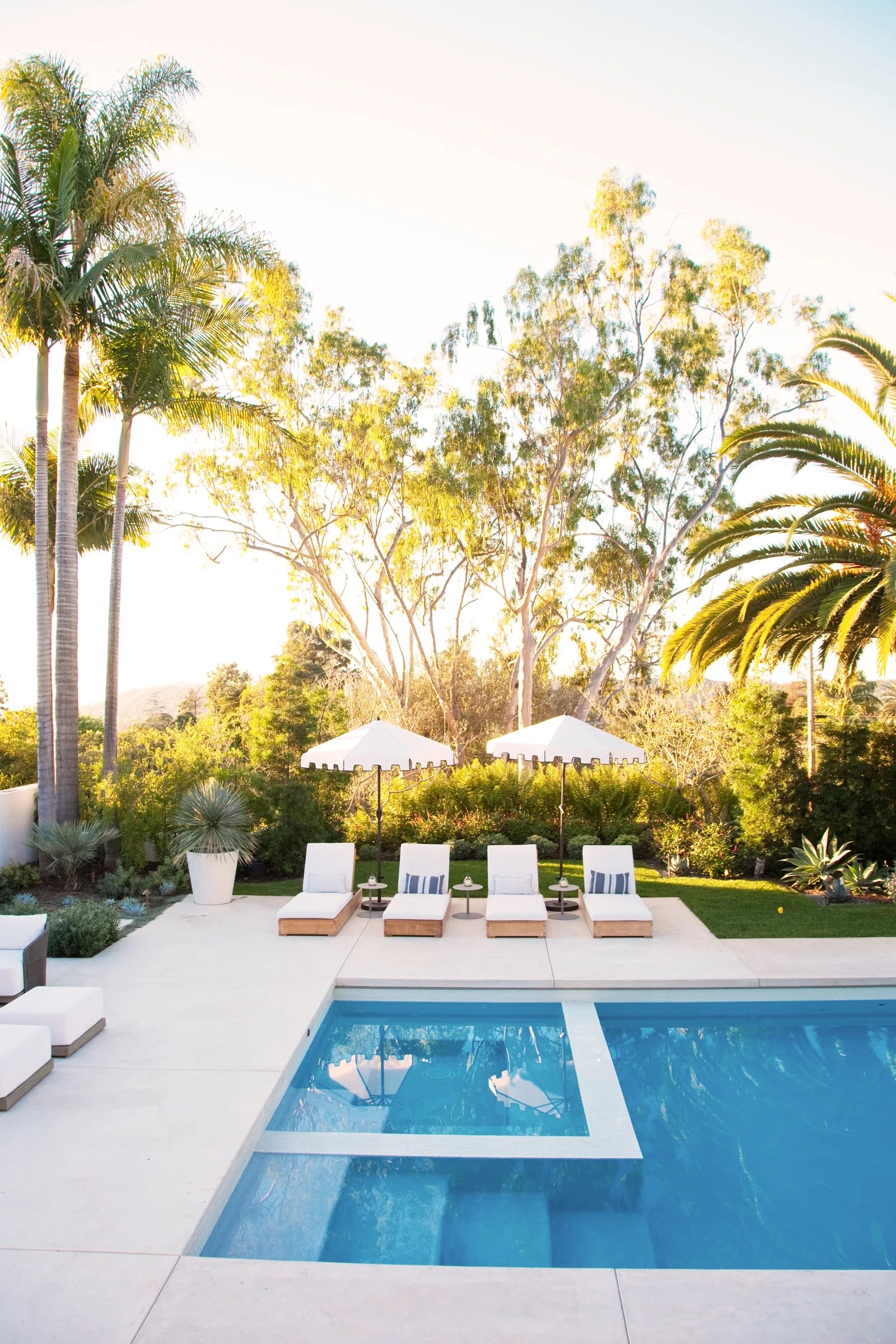 Then, you can start to decorate the poolside with an attractive design. There are a few long chairs on the poolside. Two canopies are important to create a shelter for the seats. Moreover, the garden landscape in this swimming pool is soothing your mind. The high palm trees are useful to invite fresh breeze in this area.
17 of 18
An Airy Design for Palm Area
A palm tree is a favorite plant to grow in the yard. This plant can grow tall and create a shady area. If you are planning to install a swimming pool, you can put a palm tree in your notes. This plant is low-maintenance and drought-tolerant. This bluish swimming pool is stunning with a green landscape.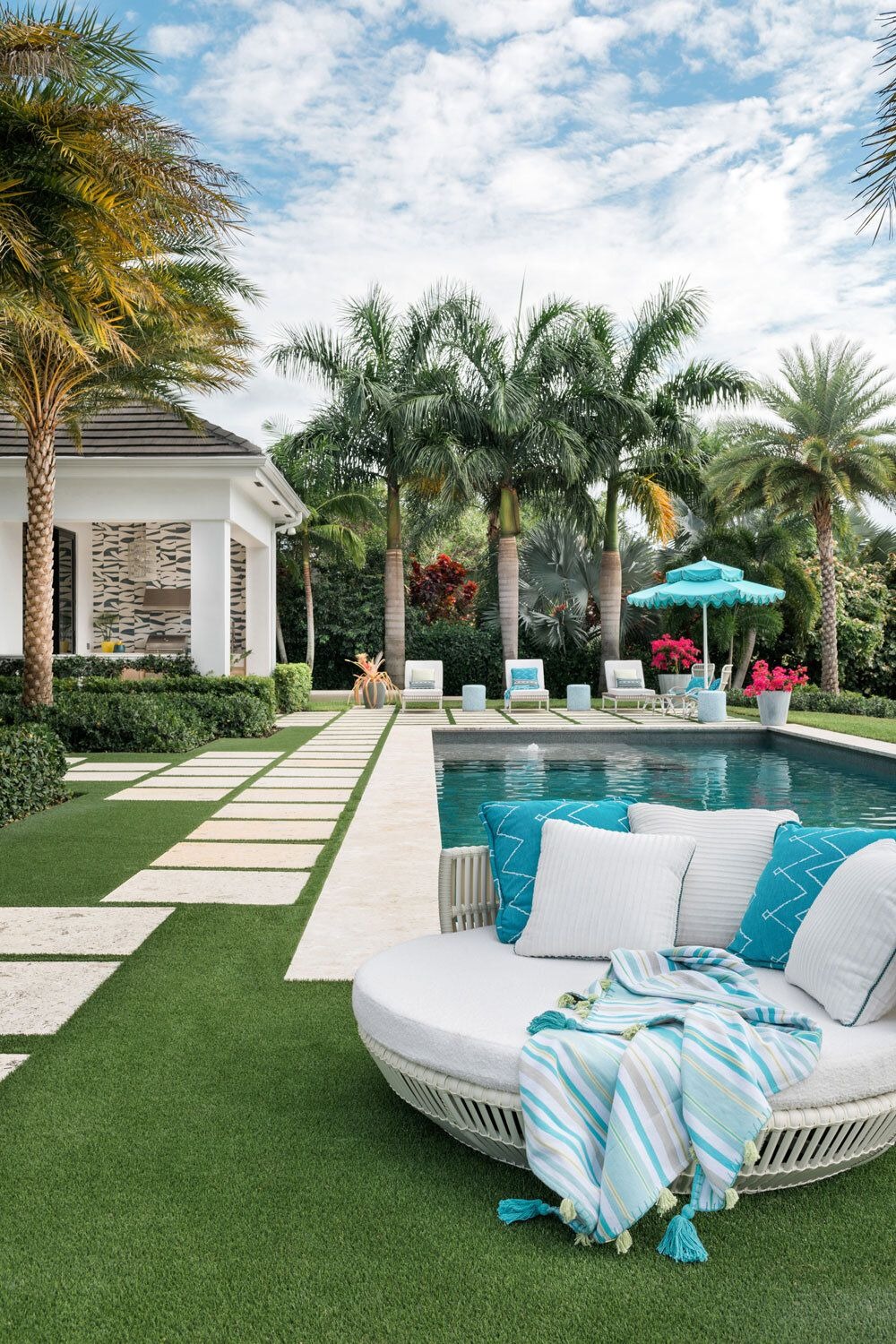 The palm trees are the key to getting a calming view. Moreover, a lot of green plants will improve the natural impression. Meanwhile, the poolside get some chairs. The white-blue theme is the best choice and enlivens a beachy atmosphere. You can add both minimalist and comfy chairs.
18 of 18
Thus are 18 Poolside Design Ideas for Welcoming The Bright Summer Season. The swimming pool is an interesting place to refresh your mind and body. This area is more stunning with a seasonal design. Summer is a popular season to enjoy the swimming pool. Thus, adjust this bright season with a special design. Hopefully, this article will inspire you to decorate your swimming poolside design beautifully.