Druhomes.com – A bedroom is a private place where you lay to take a rest and sleep after a day of activity. It has many interior designs and various themes to fresh your mind. Even, you can decorate it by your style. Besides, your bedroom layout interior influences the nuance that arouses in the room. It is also important to consider how your bedroom looks like and how you feel the tone of your room by its wall color. To create a beautiful bedroom interior, you can use aesthetic bedroom wallpaper, beautiful wall art, and various other decorations according to your expression in decorating.
Wallpaper is an instant way to get a aesthetic look without painting all the walls. It has many interesting designs you can choose to apply. It is also possible to emerge a particular sense in your bedroom. Moreover, by using wallpaper, you get various advantages in both decorative value and functional value. Besides, currently, there are many wallpaper designs that you can choose for the interior of your bedroom.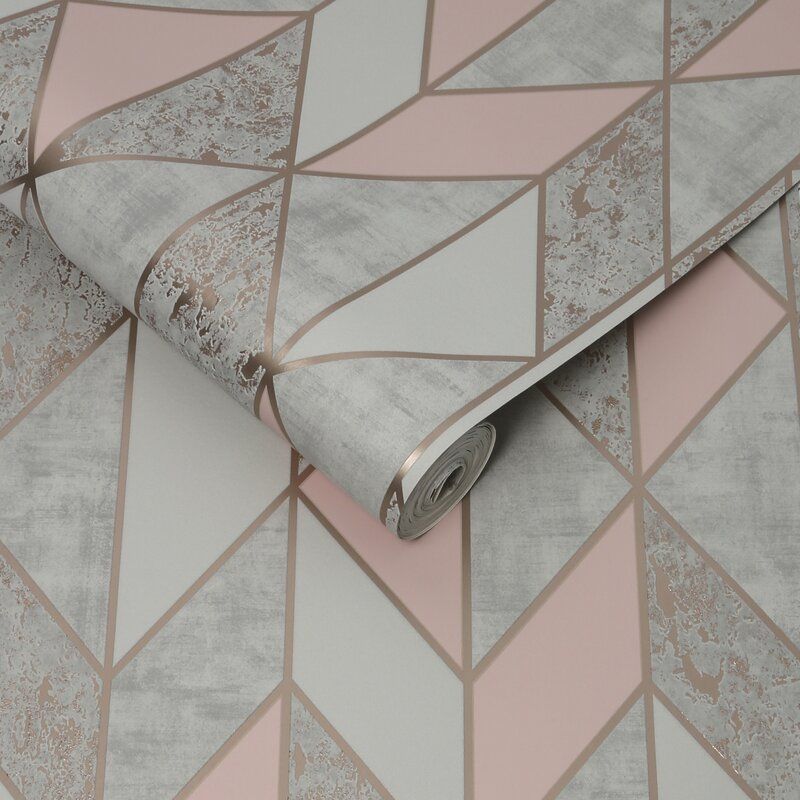 You can choose the wallpaper with the simplest to the most festive designs for you to use. For that, in the following, we will discuss some aesthetic bedroom wallpaper ideas for you to use. Let's discuss them one by one.
Advantages of Using Wallpaper
Creating wallpaper in the interior of your bedroom will provide various benefits for you. You can get a variety of decorative and functional benefits. Applying wallpaper for your bedroom offers some benefits for you. We summed the benefits below:
Simplify your wall decoration
Save more time rather than paint your wall
It has many choices of patterns
Has an aesthetic scenic
You can change it when you get bored
By knowing the various advantages of using wallpaper in the interior of your bedroom, you can be more confident in creating them. Besides, you can also compare what you will get from wallpaper rather than ordinary wall paint.
Aesthetic Bedroom Wallpaper Ideas
Wallpaper offers a simple way to get an aesthetic interior design. If you are curious about this decoration, you need to take a look at some wallpaper ideas. Here, we have provided wallpaper ideas for your bedroom.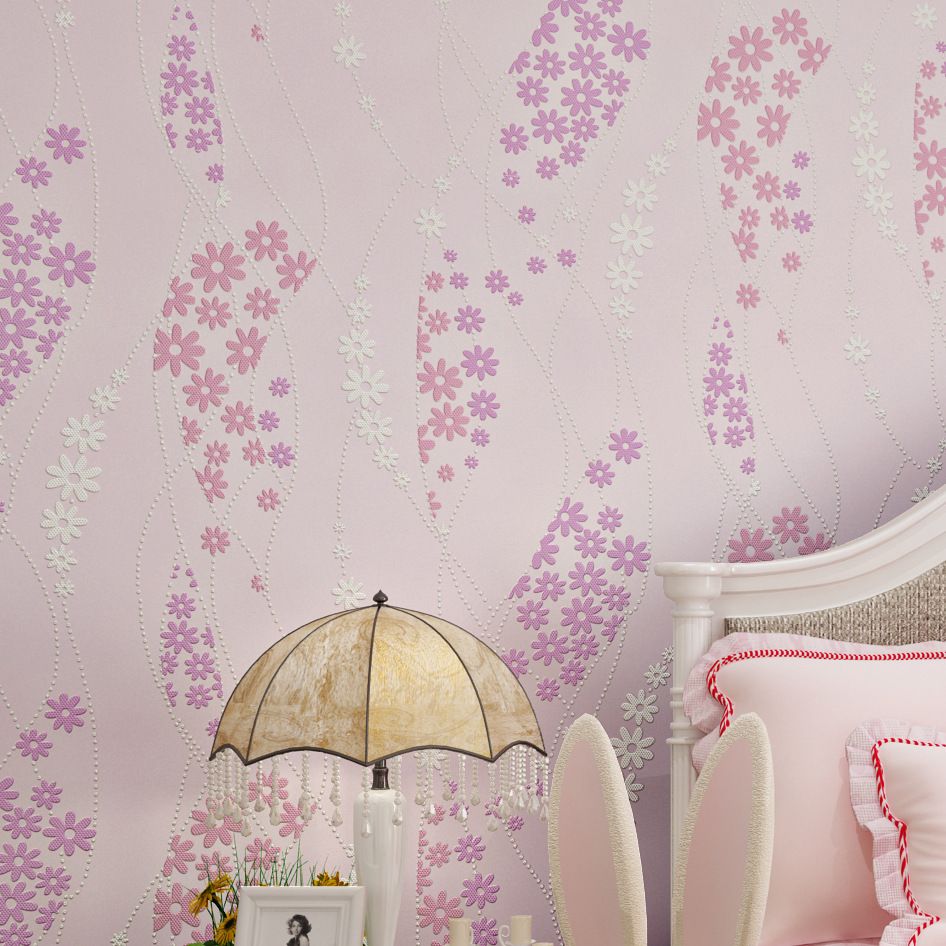 A flower is a beautiful part of ornamental plants. It has many shapes and characteristics based on its classification and types of flowers. Colorful petals, cute pistil, and green stem are the appearance of common flowers to use as a standard to draw flowers. This wallpaper usually symbolizes love, femininity, softness, and cheerful feeling.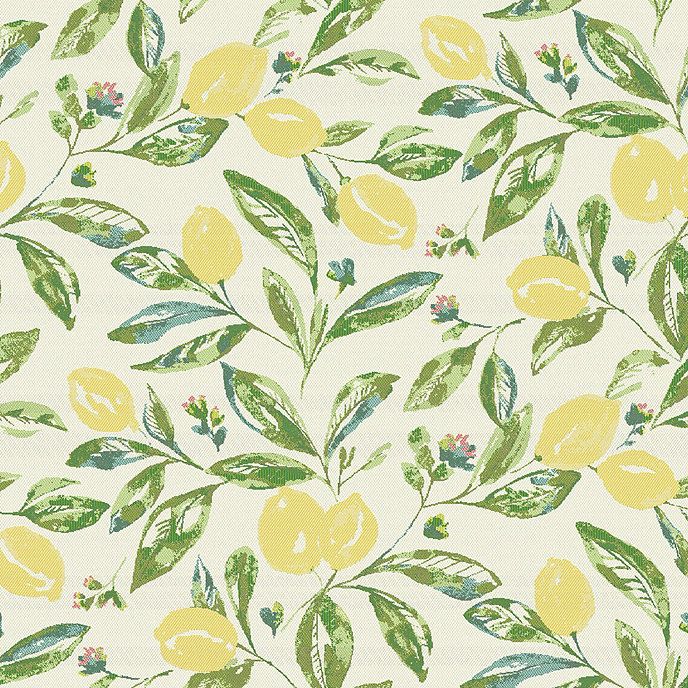 Moreover, a colorful floral wallpaper gives you more energy to get a good mood. It is available in wallpaper shape and offers an aesthetic look on the wall. Floral wallpaper is available in customary. You can order your favorite floral wallpaper to suit your room color and your taste. Many floral wallpapers you can find before you choose to custom.
Geometric Wallpaper Design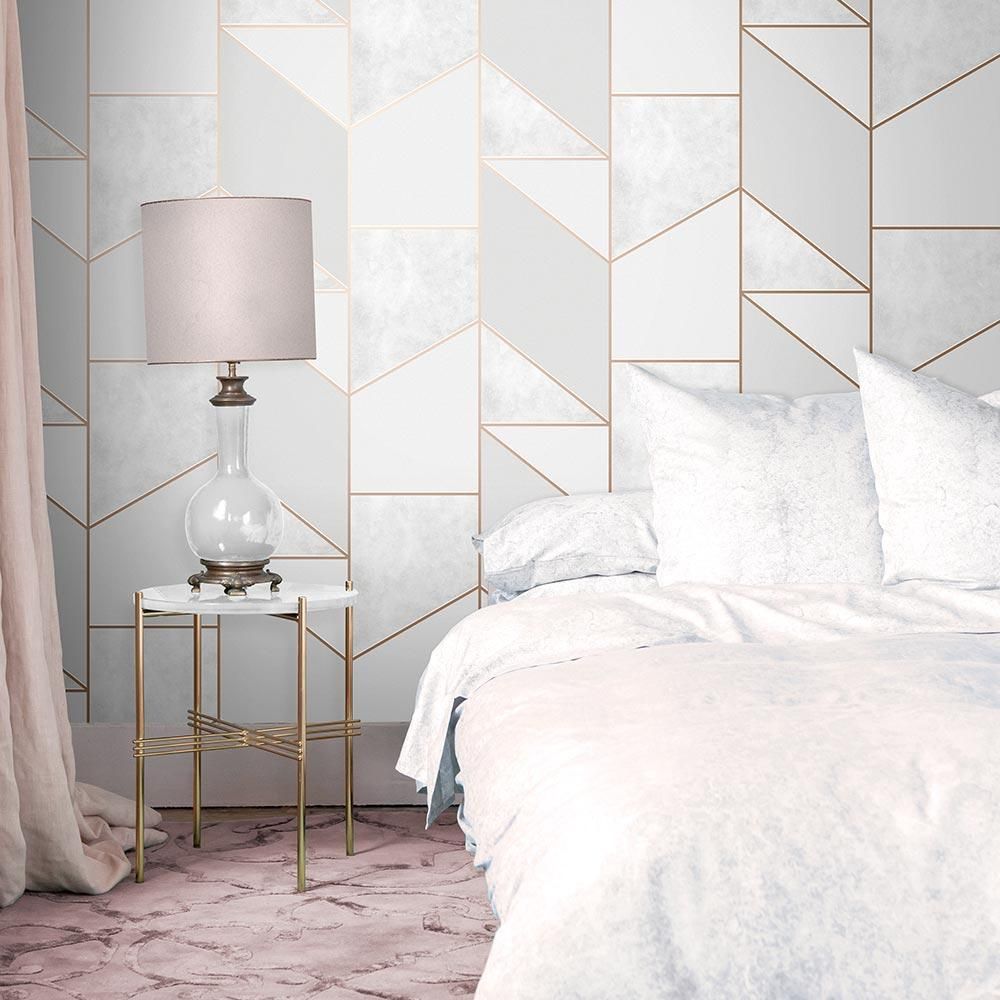 In a simple interior design, it focuses on firm line and furniture. Square, triangle, and rectangle patterns are examples of geometric prints for wallpaper. This shape has functions to strengthen your room's impression of being clean, neat, simple, and elegant. It also reflects your taste for distinct and firm interior design.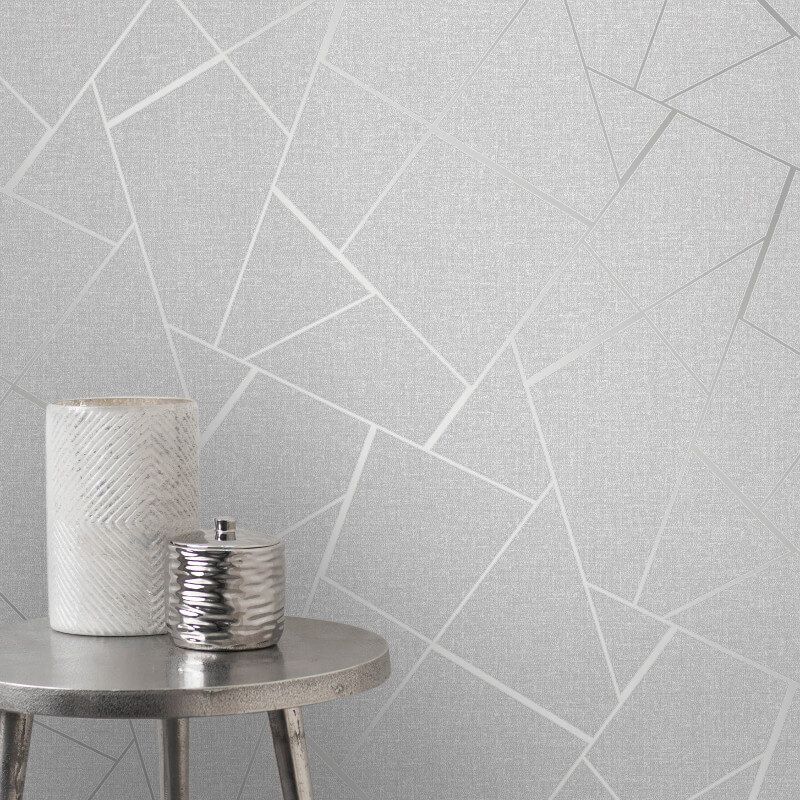 It is also easier to stick out a geometric accent because you are free to arrange the position of its patterns. The geometric print is compatible to use in any room size because it suits every room to look more interesting. It is a stylish and modern design for your bedroom interior, then you can apply it to a one-sided wall and full wallpaper. To make this wallpaper more elegant, choose metallic colors such as black, navy, and grey to combine with a golden or shinning color.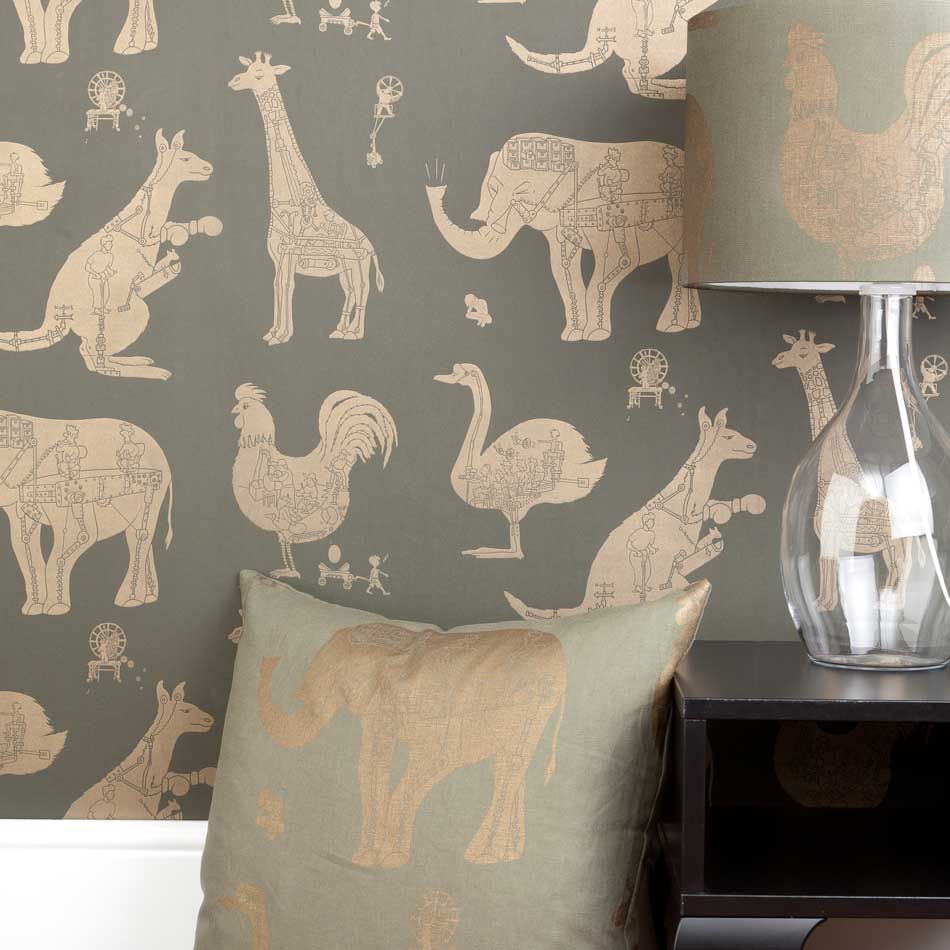 You may ever see deer print on a wall. It is an animal print that is always in style. If you have an interest in animal words, you may try this wallpaper to attach to your bedroom. There are many patterns of animal wallpaper in the cute images to cover your plain wall. One of those is the animals' footprint that is a popular pattern wallpaper.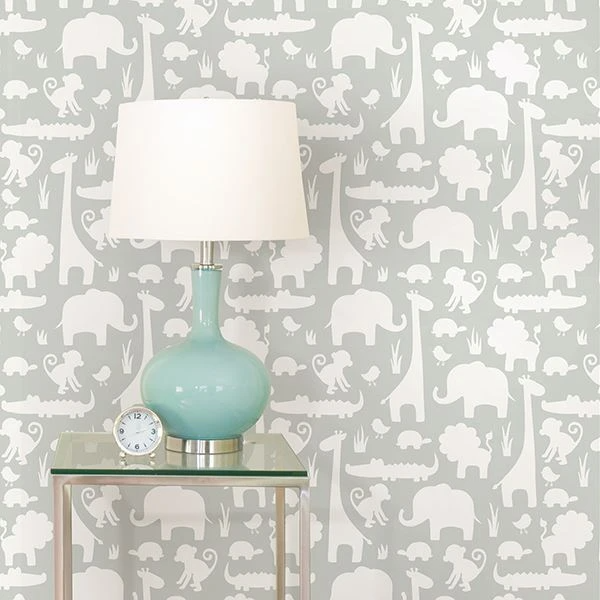 Animal wallpaper is a nice choice for any room, especially for your bedroom wall. It suits your need to cover your wall with a taste of fauna. This wallpaper becomes an elegant pattern if you display a big strong animal and compatible with your bedroom color. Grey and golden color are an elegant combination of pattern and room color.
Tropical Style Wallpaper Design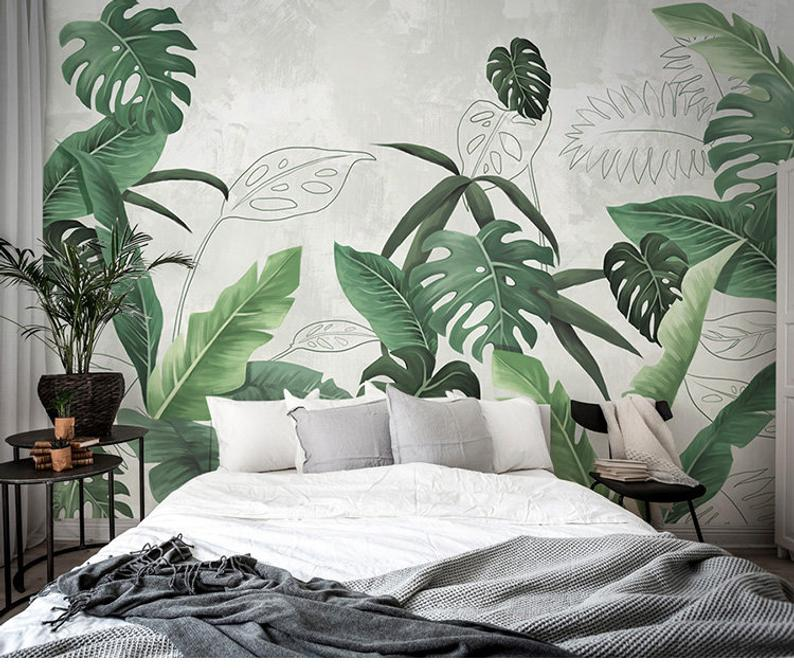 A fresh decoration requires natural scenic like tropical plants to tie the greenery look. It transforms your bedroom atmosphere to imitate a nuance of open space. Tropical wallpaper will shift your focus into fresh decoration as a focal point. It is interesting to know more about tropical plants.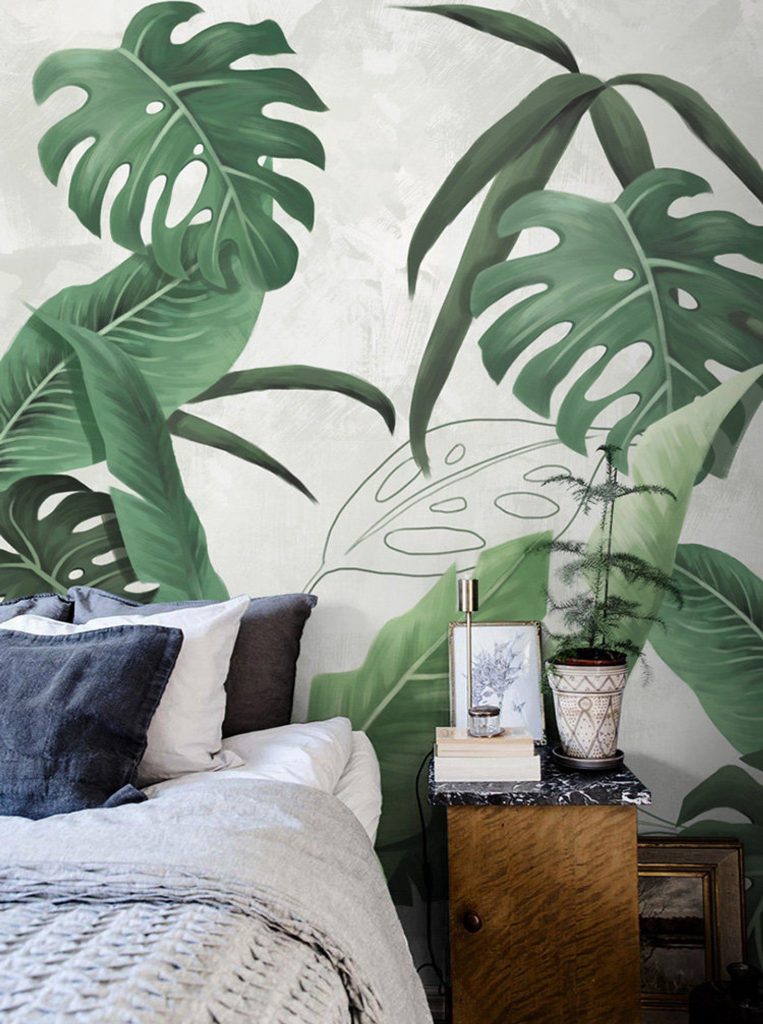 Tropical plant wallpaper offers you a fresh background to sleep and gives a positive mood. A combination of tropical plants and colorful wallpaper adds scenic woodland to your bedroom. You can use it to create an aesthetic and colored background. It saves more time and space to decorate because you do not need to add ornaments.
Abstract Line Wallpaper Design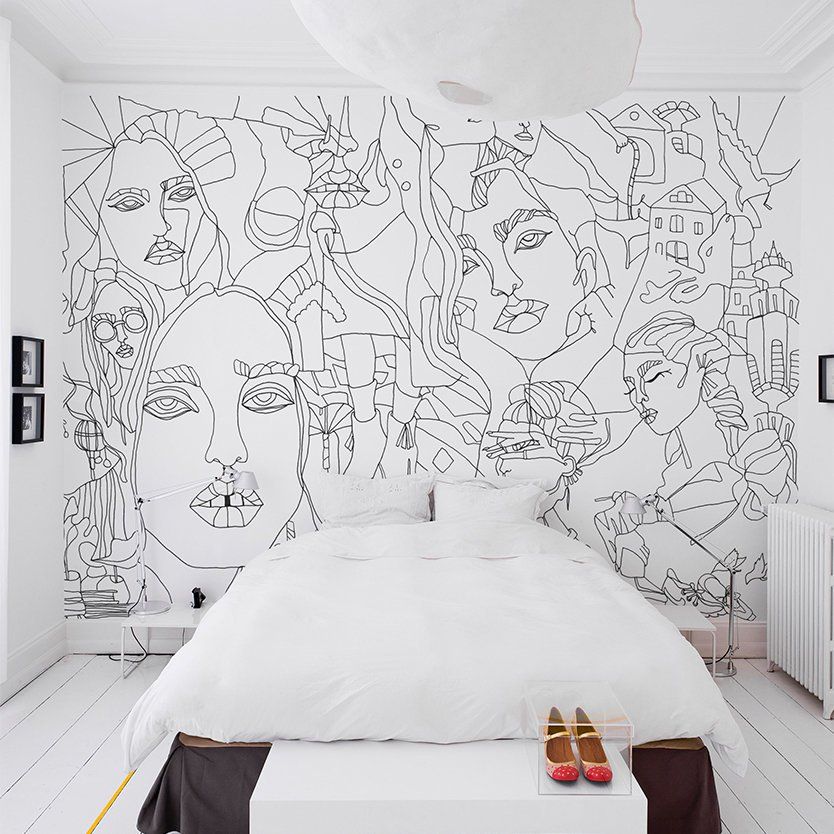 Creating artwork to make it as wallpaper will train your brain to discover aesthetic wallpaper patterns. An abstract line is a manifestation of freedom that is useful for your bedroom wall decoration. It has a high-class artwork and artistic design. You can create your artistic and aesthetic expression in wallpaper with a design like this.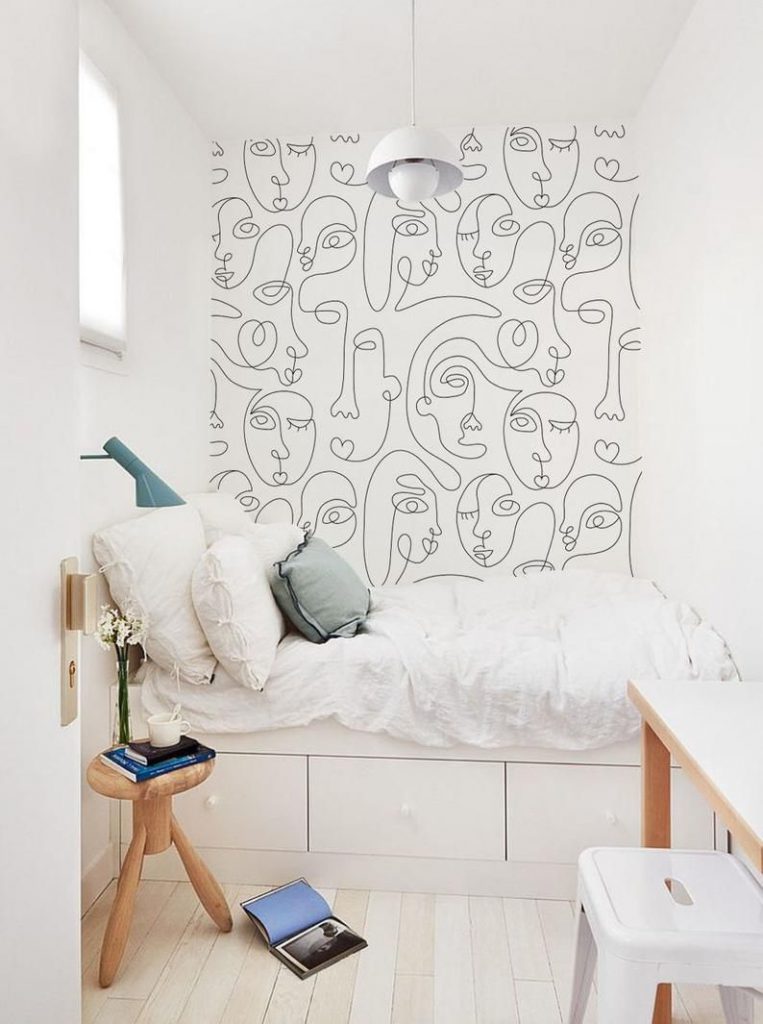 The abstract line focuses on an aesthetic value to make it a bang slap in the eye. It is potentially a focal point to attract attention when entering your bedroom. This wallpaper may take you to explore more creativity to design dazzling art. Since the artwork is purely independent and freely design, you can pour your taste of art into abstract line wallpaper.
Conclusion
That is our discussion about Aesthetic Bedroom Wallpaper Ideas for Your Home. Wallpaper is an alternative way to get an aesthetic wall decoration. It is an important part of interior design if you like a patterned wall rather than let it bare and plain. There are a lot of wallpaper designs to choose from. Choosing the right pattern that suits your bedroom will make your room more charming. If you want to save more time decorating your bedroom wall, you can try this idea. We hope you enjoy sticking your chosen wallpaper, happy decorating!