Druhomes.com – In a comfortable and beautiful house, it is important to have a complete room according to your daily needs. One of the rooms that you must have and create is a bathroom. Every home should build a bathroom, even in a small room interior. The bathroom is an important room to have in every home to do a private activity such as taking a bath. It should clean to prevent the potential bacteria and germ to thrive on its surface. The bathroom wall can be a medium to share the dirt which contains many dirt and bacteria. Installing some aesthetic tiles ideas in the bathroom is useful to help you see the dirty surface.
Moreover, you can clean the surface of the tiles easily as its surface is amazingly clean. Tiles also have decorative value to make your bathroom more interesting. Here, we have some aesthetic tiles ideas that suit your small bathroom. With a variety of design ideas that you can choose from, you can create a bathroom interior according to your character and expression. For that, let's discuss this topic one by one. 
A Half Colored Wall
Wall is a major part to determine the bathroom interior design. It is used as a room tone based on its interior design to create a certain nuance. In a small bathroom, wall decoration influences your mood and builds an atmosphere. A half-colored wall has two sides you balance your mood.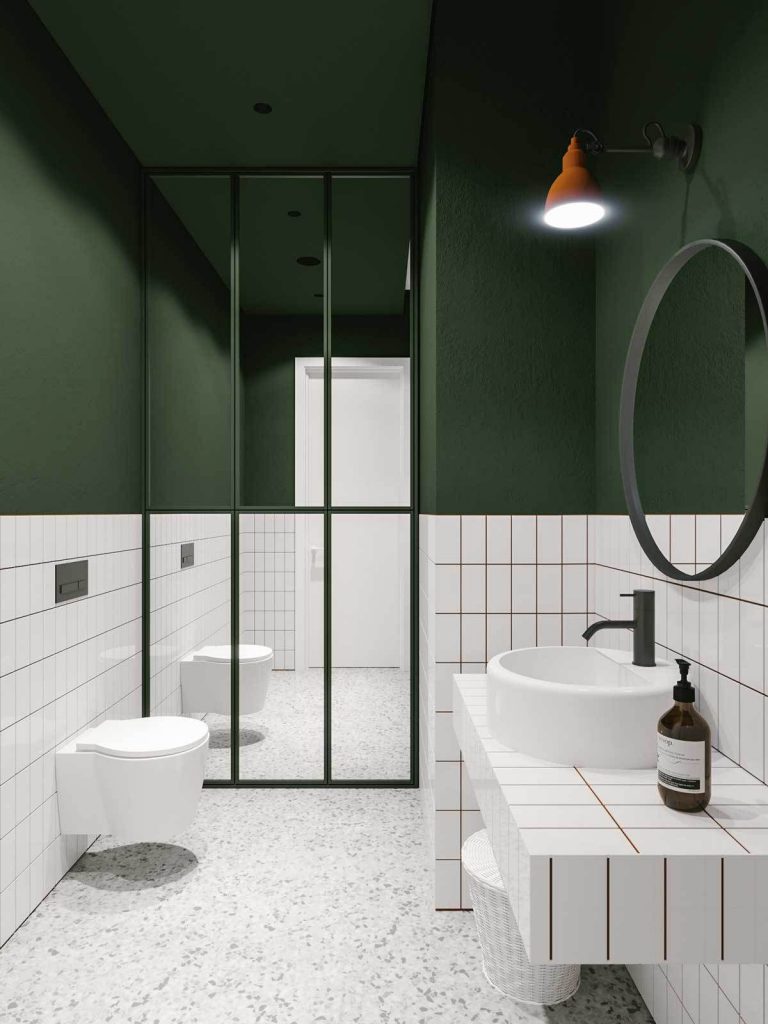 You can choose a cheerful color to make your bathroom looks brighter. For the tiles, use a contrast color to create a strict line between the two colors. White is a clean color that suits your small bathroom to make it seems larger. Moreover, the clean white color will show a yellow or brown stain well when it is dirty.
A Half Painted Wall
Another half-colored wall is using painting to separate your bathroom wall and create an aesthetic accent. Left a half wall bare to be a canvas before you painted it. A fresh image, picture, or wall art will freshens your small bathroom interior. Florals, leaves, and ornamental plants are fresh images to paint on your bathroom wall.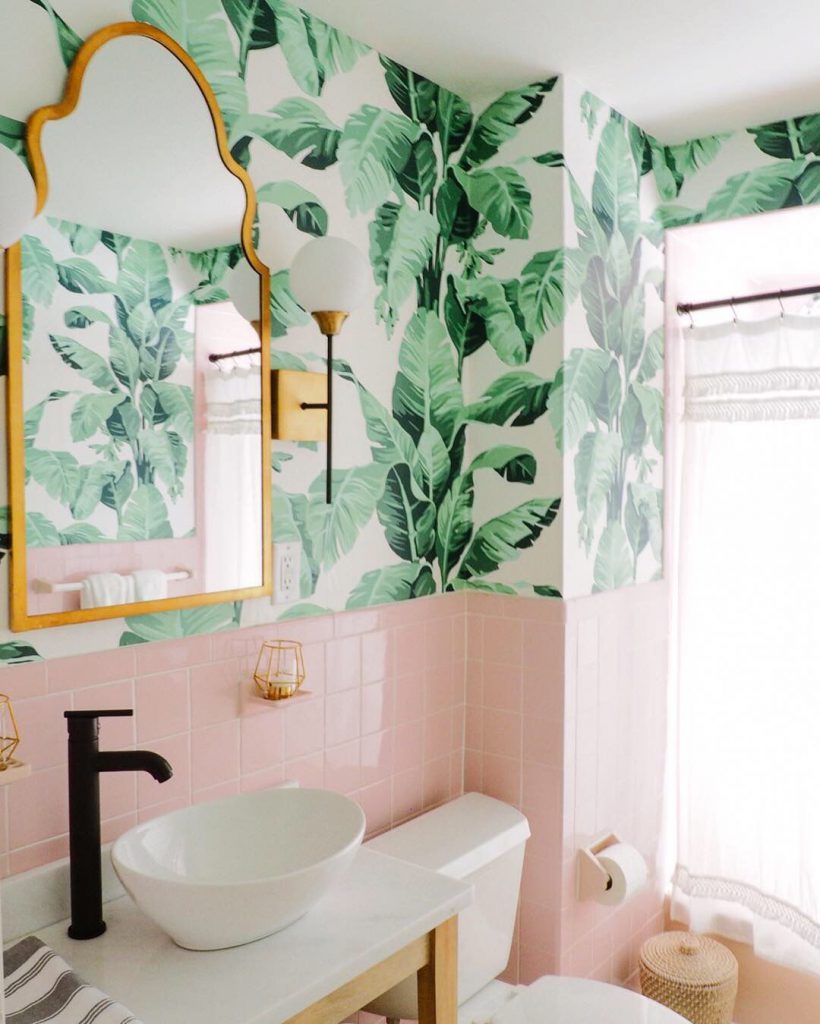 Especially if you have a window with the right design. You can create beautiful and stunning natural lighting in your small bathroom. When the above part, install tiles that suit its color to the painted wall. A soft color such as light blue, white, dusty pink, and light brown is nice to be attached.
Aqua Fish Scale
Fresh tiles have soft color and interesting shape. Aqua fish scale is an interesting tile shape you can try to decorate your small bathroom. It is available in various sizes to fit your need. Installing these tiles build a calm atmosphere and arouses a youthful spirit.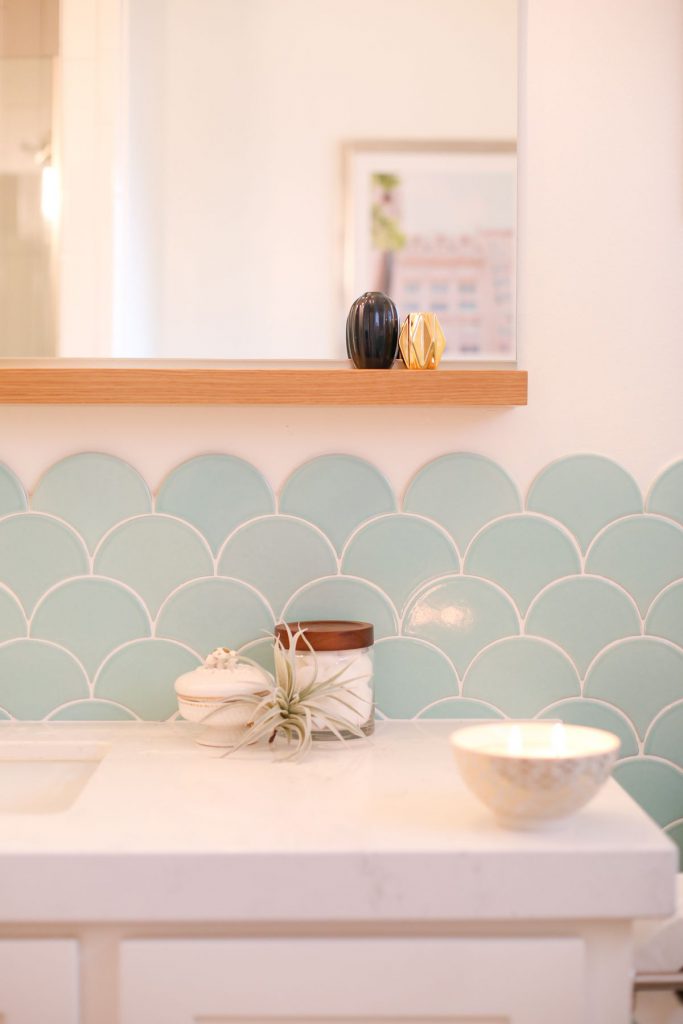 Also, It is usually used in a bathroom that needs to look fresh, cheerful, and energic. To suit its shape, a calm color is perfect to choose. Aqua fish scale is catchy to decorate a half wall and a whole wall.
Pink Tiles
Pink is a soft and sometimes an energic color that brings happiness when seeing this color. By applying pink color to decorate your bathroom wall invigorates your small bathroom. The pink color is usually used in an interior with a shabby chic interior design or in an interior with a feminine style. However, you are free to express yourself in a decoration that you want.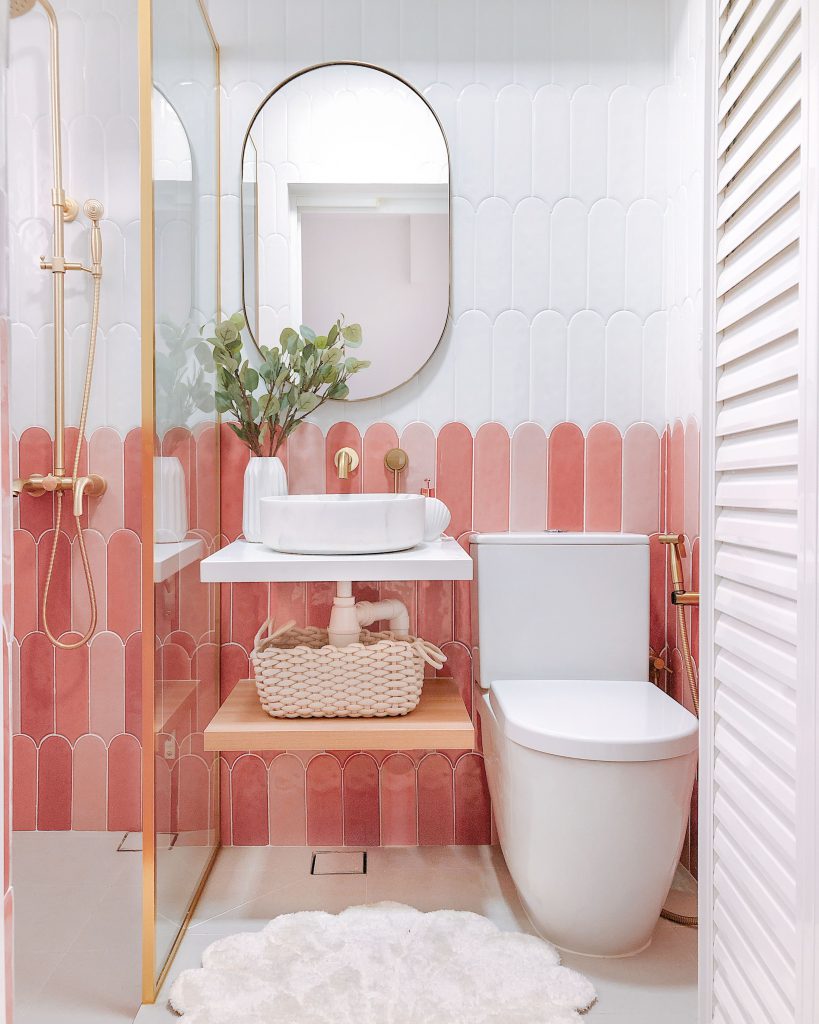 Besides, its calm color freshens your bathroom look. The pink tiles are stunning to pair with white walls and white furniture. You can choose the pink shade that is compatible with your character. Add an ornamental plant to give a natural accent to your bathroom. 
Square Tiles
Square tile is a simple design for a small bathroom. It strengthens simplicity by its shapes and firm line. Square tiles are the common design for bathroom tiles because it is easy to find and attach on your bathroom wall.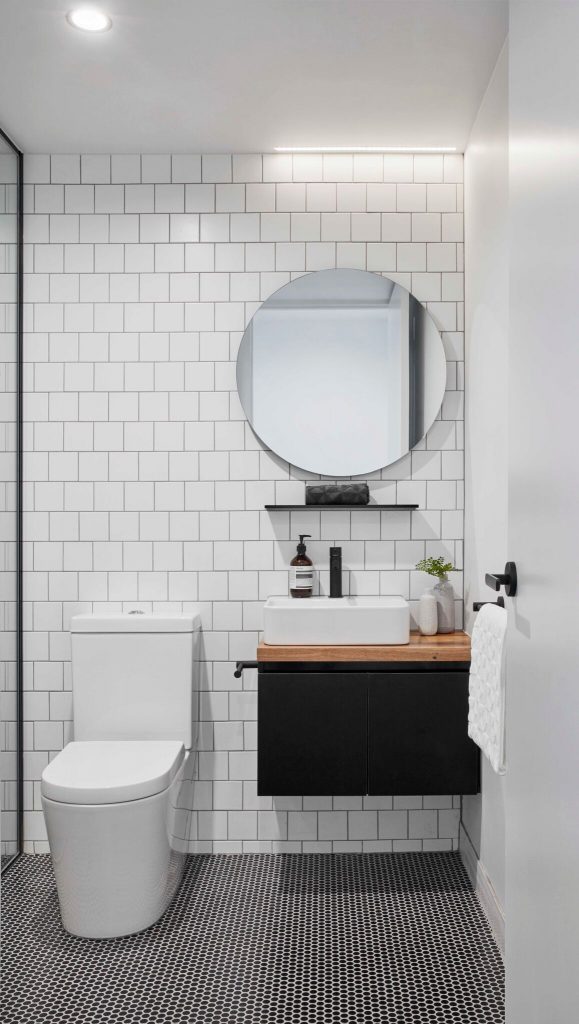 Even though it has an ordinary shape, but it is beneficial to make your bathroom wall clean and neat. The white square tiles reflect light to make your small bathroom brighter and larger. Moreover, you can combine this tile with metallic furniture and glossy furniture. Using a square tile design will give you a beautiful interior decoration and it manages simplicity. 
Rectangular Tiles
Rectangular tiles are almost similar to square tiles. It has a longer shape. Rectangular tiles imitate a brick wall appearance when it is attached to a bathroom wall. Using rectangular shapes can give you a more unique character than using square tiles. For that, you can use this aesthetic tiles ideas to express yourself in decoration.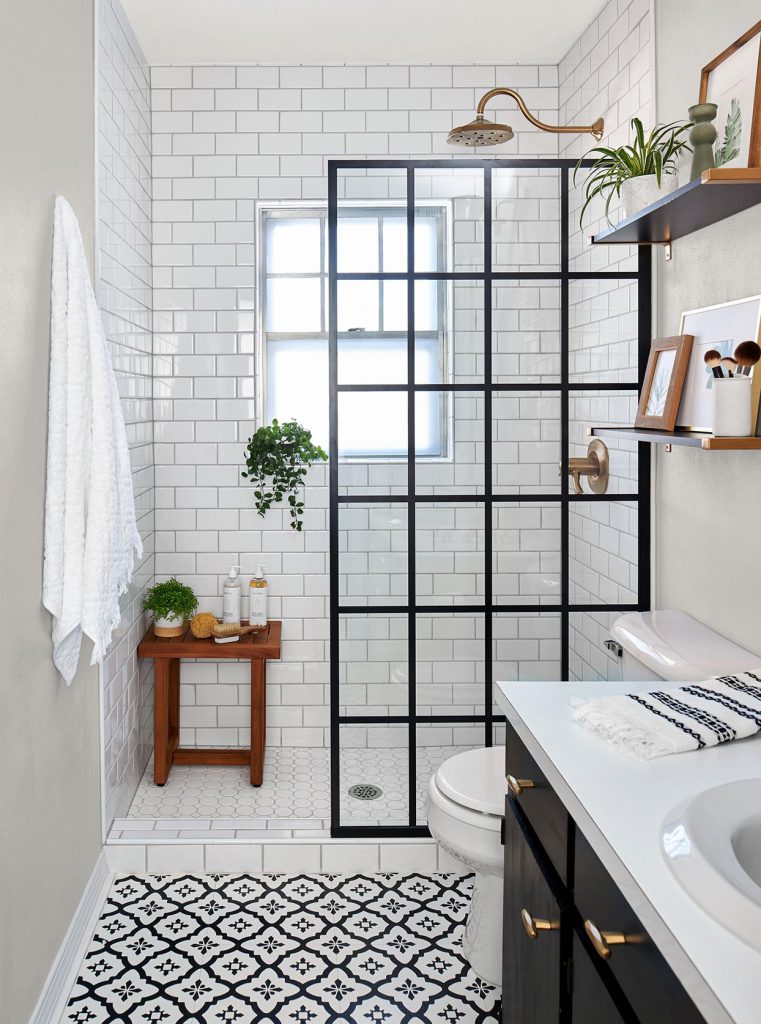 The white rectangular tiles are interesting to combine with black furniture. It creates a black-and-white theme in your small bathroom. For you who have an interest in the monochromatic interior, you may try this idea in your bathroom.
Hexagonal Tiles
Hexagonal tiles have a larger shape and six angles. It needs a careful way when you install it on your small bathroom to put the right angle to another tile. If you have white hexagonal tiles then you can combine them with any color for the furniture.
Since white color suits many colors, you may choose a color that shows your character. Moreover, the white color helps you to see the dirty spot on its surface, then you can clean it directly. You can also give a decorative character with an elegant modern concept using tiles like this one. For that, give the best combination of interior decoration with these tiles in your bathroom. 
Zig Zag Tiles
This tile's shape is a combination of rectangular tiles with a unique arrangement. Rectangular tiles are possible to make zig-zag patterns for your small bathroom. It depends on your arrangement whether it will be vertical or horizontal to create a particular accent on the wall.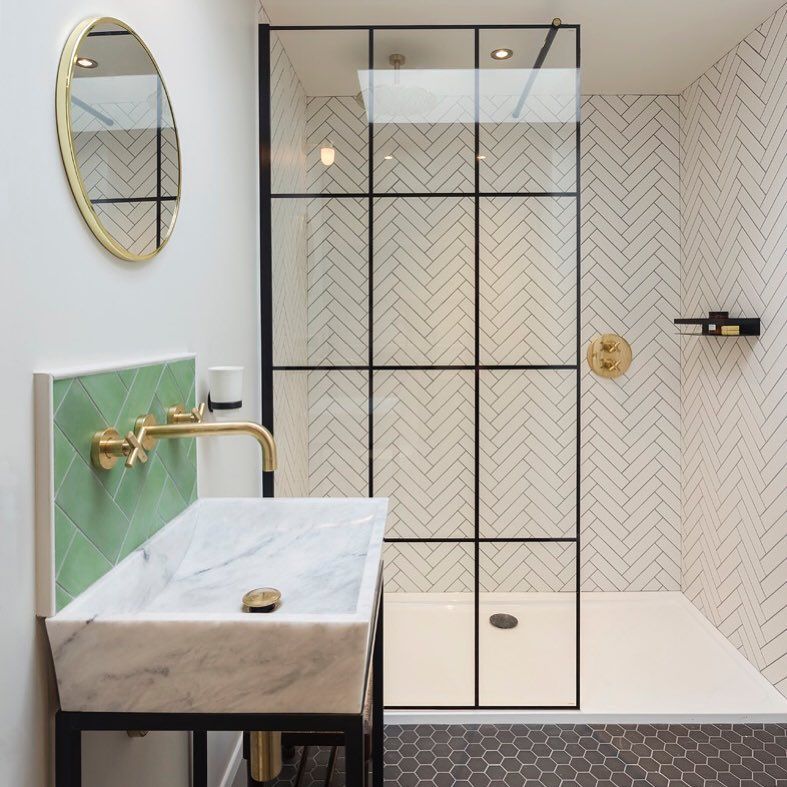 You can choose any color to create its accent by your taste. This pattern is freely installed for a whole room or in a shower room only. The zig-zag tiles are beneficial to separate a certain area in your small bathroom. Using a zig-zag tile design can also give you freedom in creating a unique and aesthetic bathroom interior decoration. Make a zigzag pattern as attractive as possible in your small bathroom.
Colorful Patterned Tiles
If you like to decorate a colorful wall for your bathroom, you can use patterned tiles with colorful nuance. It helps to build your mood when taking a bath and doing all your activity in your bath-room. Besides, It also freshens up your bathroom interior. This makes the interior of your bathroom look more attractive with a variety of colorful styles that you create.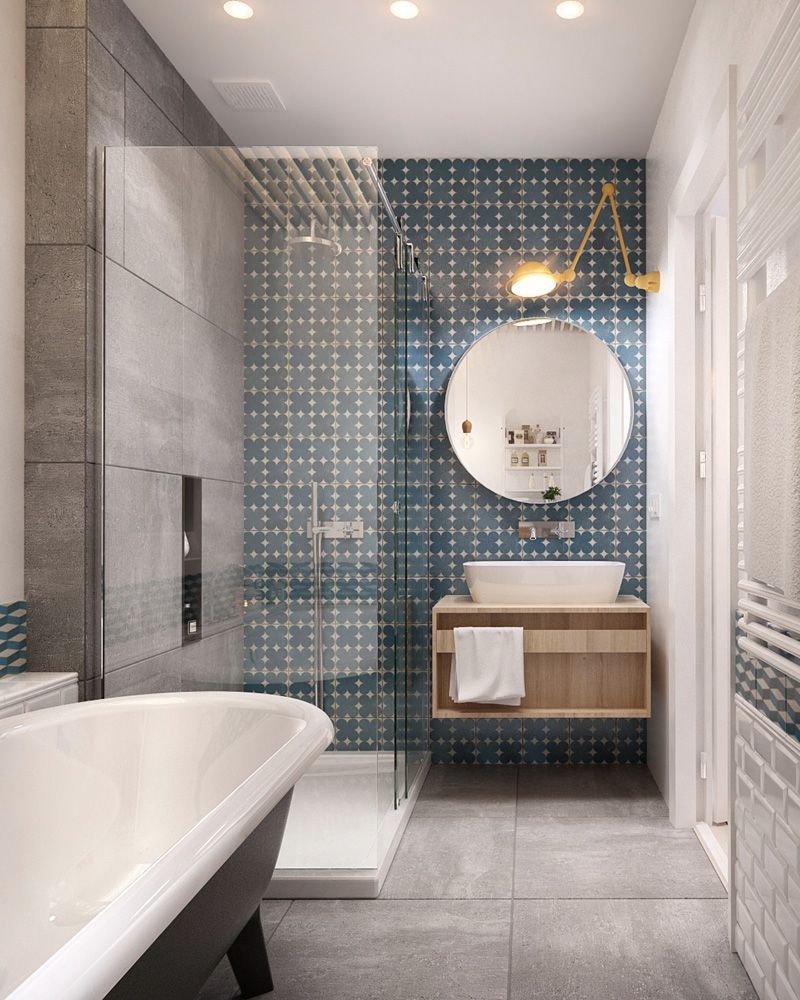 A certain pattern has an artistic and aesthetic value, then it is like artwork on your bathroom wall. There are many patterns for bathroom tiles you can choose to suit your favorite decoration. Use this aesthetic tiles ideas to create a beautiful and comfortable small bathroom interior in an artistic and expressive concept. 
That is our discussion about Aesthetic Tiles Ideas for Your Small Bathroom Interior. A small bathroom shouldn't limit you to explore its interior design. You can pour your creativity and interest to make it stunning by installing bathroom tiles. The tiles show your character, how you build its nuance in your small bathroom to fit the room size. Do you want to make it look spacious, fresh, elegant, masculine, or clean? It depends on your taste. We hope this article helps you to find the right type to install bathroom tiles.
Happy decorating!