Druhomes.com – Designing a bedroom interior should be interesting and comfortable for you. Shabby chic is a sweet design that has a vintage and an antique style. It uses classic accents to strengthen the vintage interior. This style usually uses floral patterns to show an old-fashioned fabric. The shabby chic design is dominated by white, pastel, soft color, and light color. This color has a function to create a comfortable atmosphere. Moreover, soft color arouses romantic and feminine characteristics. To create a shabby chic interior design in your bedroom, you need to pay attention to the following things.
Furniture
Color
Ornament and Decoration
By paying attention to these three things, you can create the shabby chic bedroom design that you want. You can start by using the appropriate furniture design, choosing the right color, and determining the ornament or decoration for your bedroom interior. For that, let's discuss these topics one by one.
Furniture Ideas
In creating a shabby chic bedroom interior, the first thing you need to pay attention to is the use of furniture in it. Furniture is an important part of interior decoration. This is because the furniture provides functional value and beauty in the interior of your bedroom. For that, pay attention to the furniture you use to create beautiful and comfortable decorations.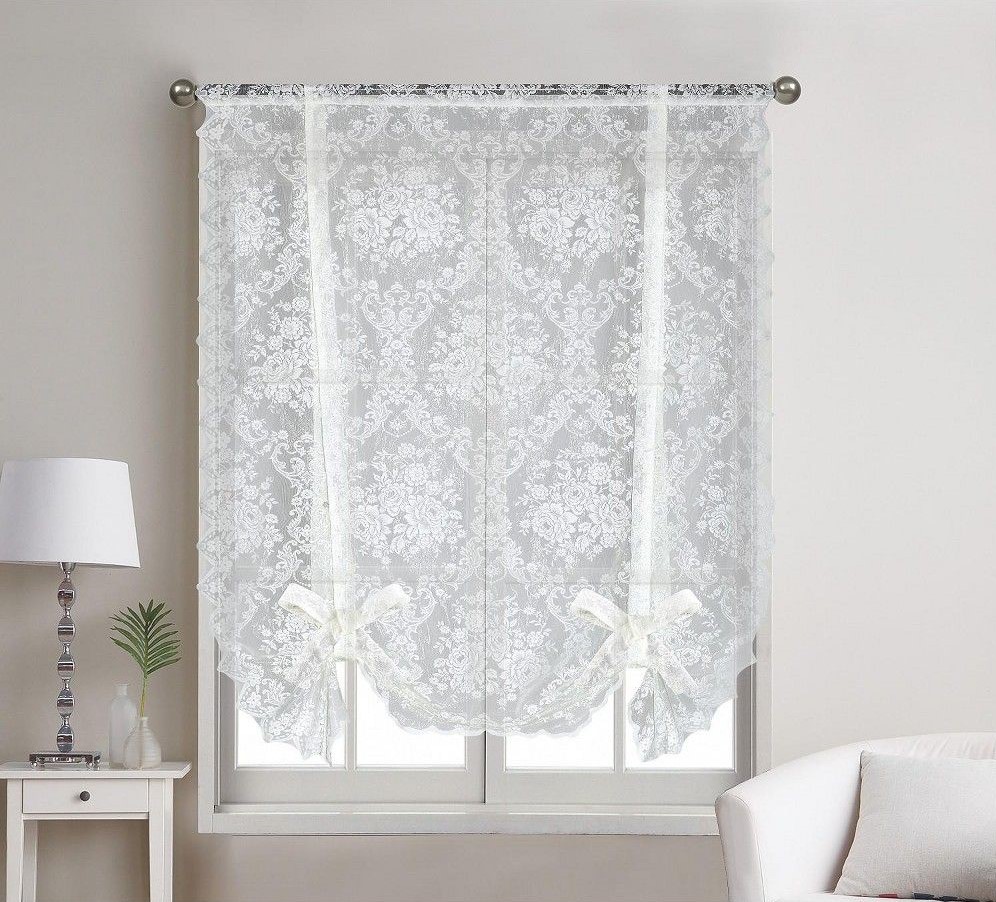 In Shabby Chic interior design, it has various vintage furniture. One of furniture is a window. A Shabby Chic window takes part to make the room more classic. By attaching a vintage curtain, it becomes an antique accent in your Shabby Chic bedroom. Some of those curtains are having special patterns such as floral, roses, and plants. Moreover, the curtain has its specific color that almost looks like a faded fabric, but the white color is the common color to use.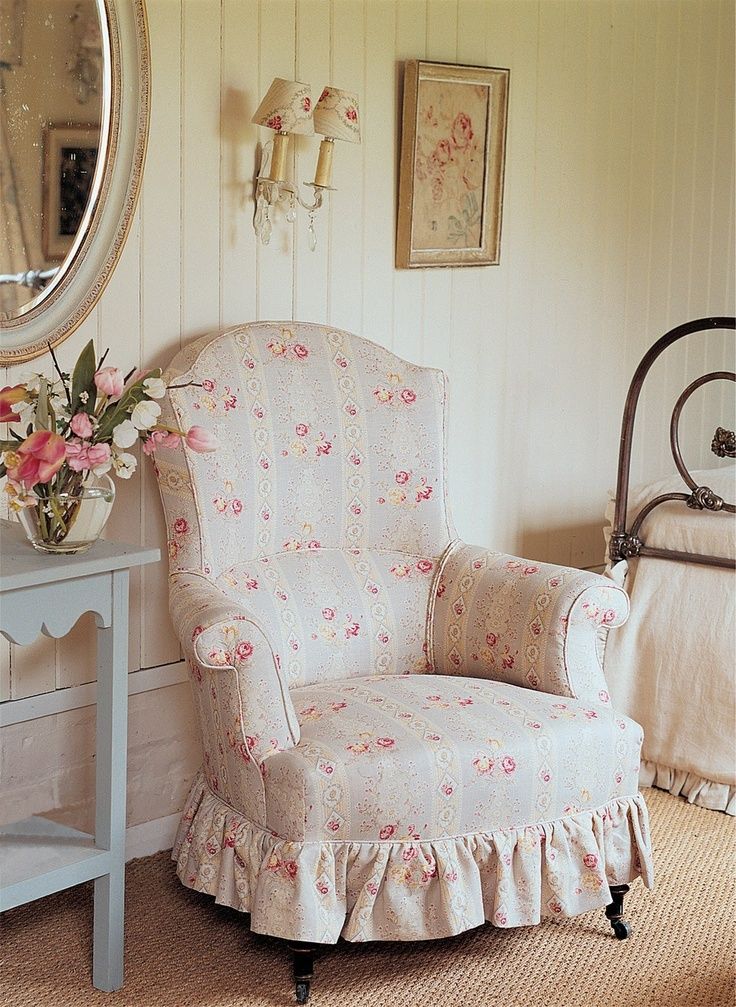 You may have a chair in your bedroom, if you do, installing a Shabby Chic chair is nice furniture to show a vintage accent. A Shabby Chic chair has a big cushion to make you feel comfortable when sitting on it. The chair cover has floral patterns and little laces, it looks cute and more feminine. Moreover, its color is better to use a soft color to suit your bedroom tone.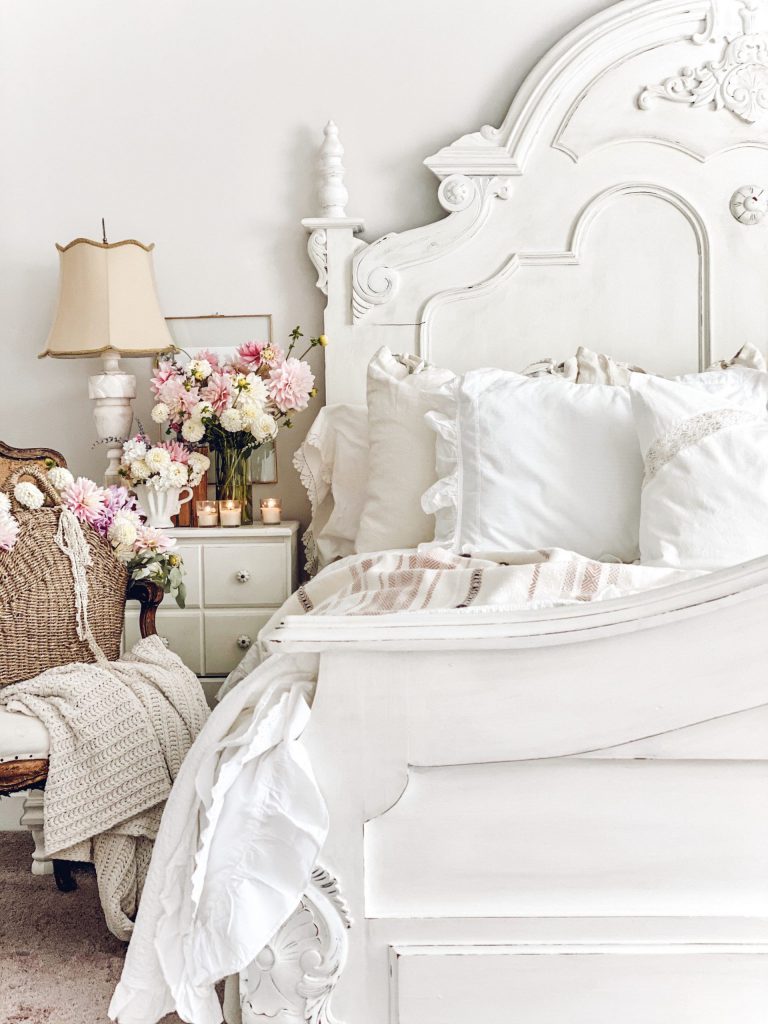 A precious piece of furniture in a bedroom is its bed. You can skip other furniture but this one is a must-have piece of furniture in your bedroom. A Shabby Chic bedroom has a special bedroom design. You can use this bed type in your Shabby Chic bedroom. To emerge a more classic style, you can put some old ornament on the bedside table. Vintage floral, lampshade and some books are interesting to complete your Shabby Chic bedroom.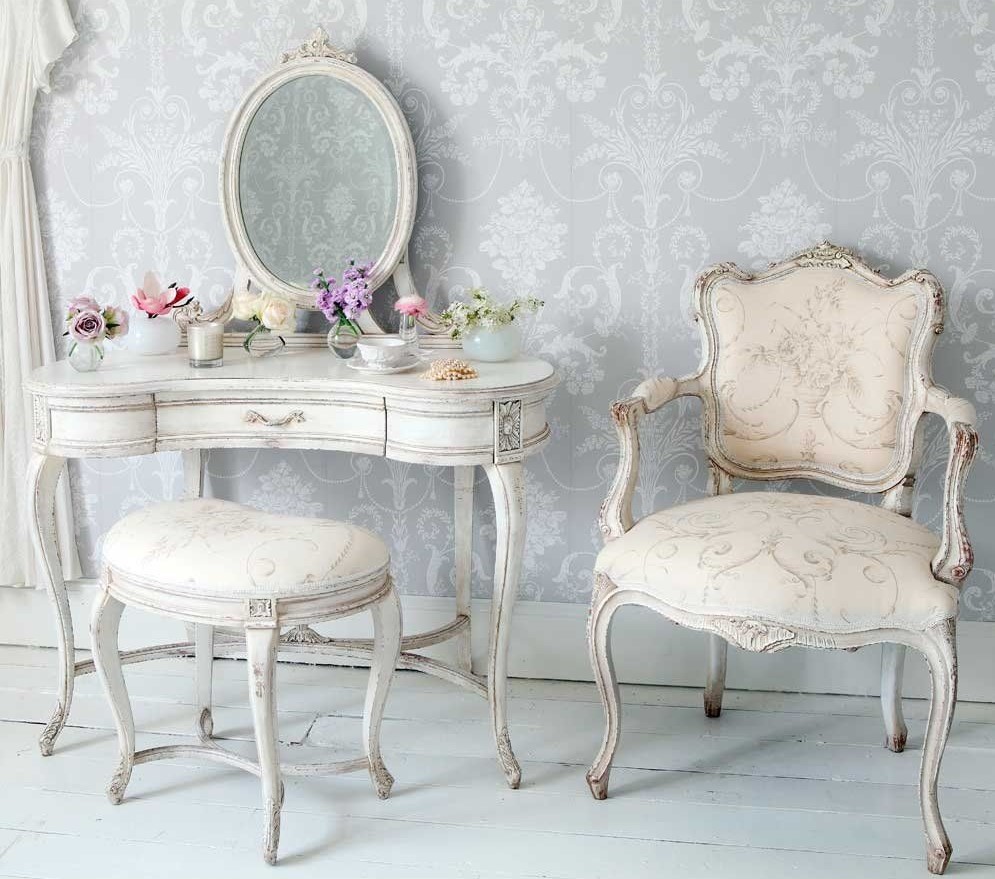 It is the stuff where you save your make-up tools. A dressing table should be useful to prepare yourself by wearing make-up, combing your hair, and matching your clothes. A Shabby Chic dressing table has an old shape of its table. It usually uses an old wooden look and antique mirror. To complete the dressing table set, it has a vintage chair to suit the dressing table.
Color Ideas
In addition to paying attention to the variety of furniture you use, you also have to pay attention to the colors you choose. Using the right color will give a comfortable and beautiful bedroom interior. Moreover, you use colors that are suitable for your interior design and interior layout. Moreover, you can use colors that match your expression and character in decorating.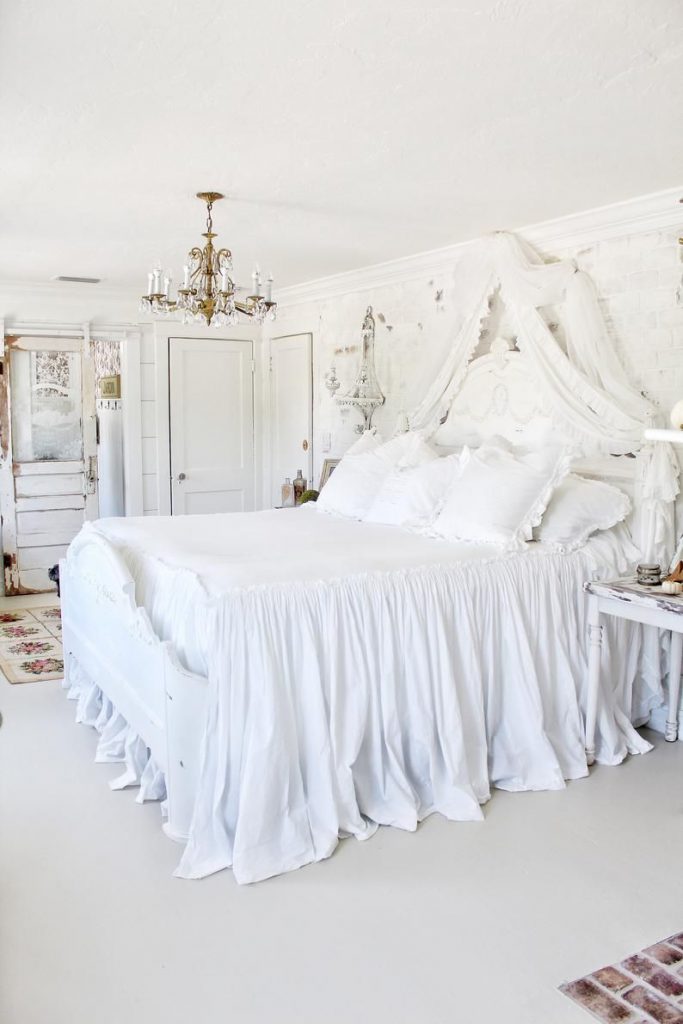 The cleanest color is white. It is well to arouse a vintage style in a Shabby Chic bedroom. The white color in this room usually has a faded color of white, it's not a solid white. It has a purpose to emerge the impression of being old and used for along time ago. Hence, a white Shabby Chic bedroom has another point to stick out in a room, such as a bedcover lace, old lampshade, old wardrobe, etc. Even though it is better to use yellow-white color but using solid white is not bad. You can explore your creativity to mix and match its color.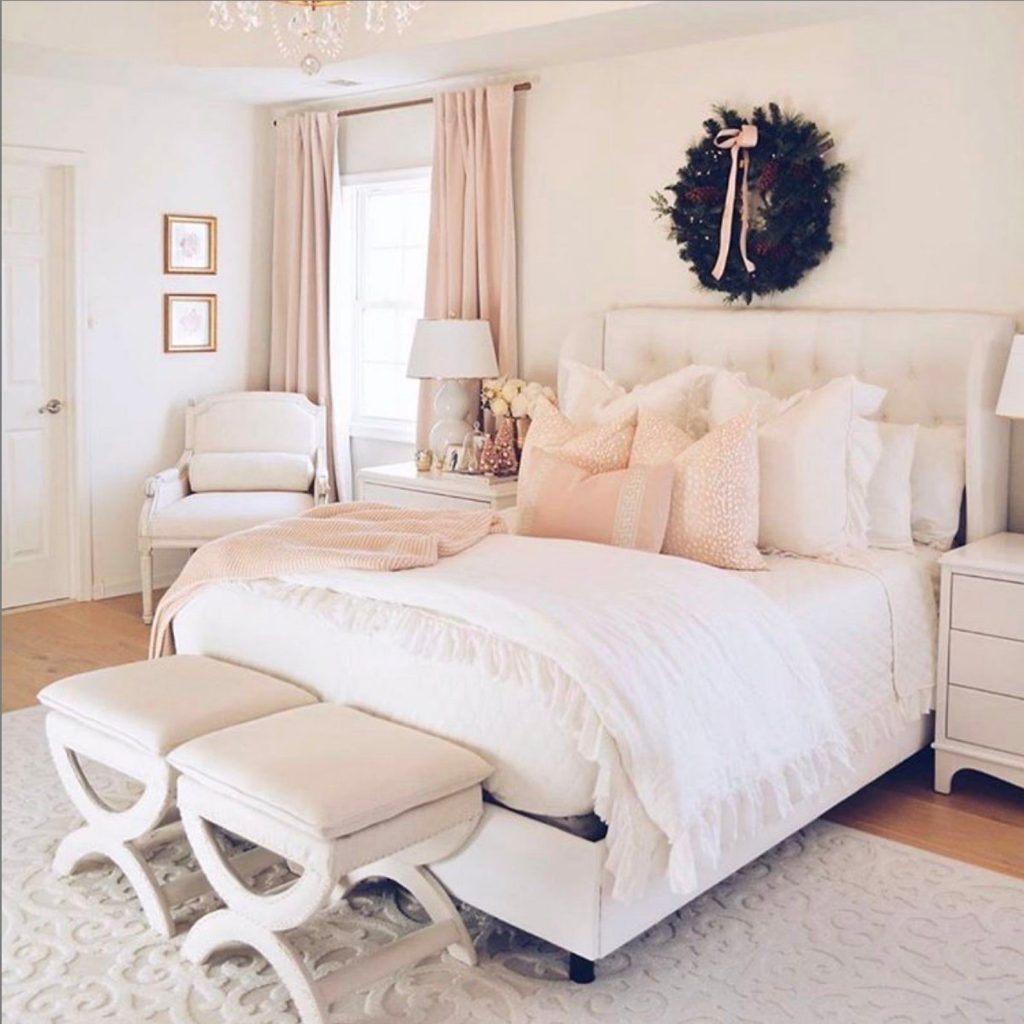 The tone of pastel color is in the range of warm color. This color type is calm and comfortable to apply in your bedroom, especially for a Shabby Chic bedroom. It has a feminine and romantic nuance. Combining pastel color with a brighter color such as white, light brown, and dusty pink is enough to strengthen the romantic atmosphere. Mix and match some stuff with different colors to give a variant of the decoration.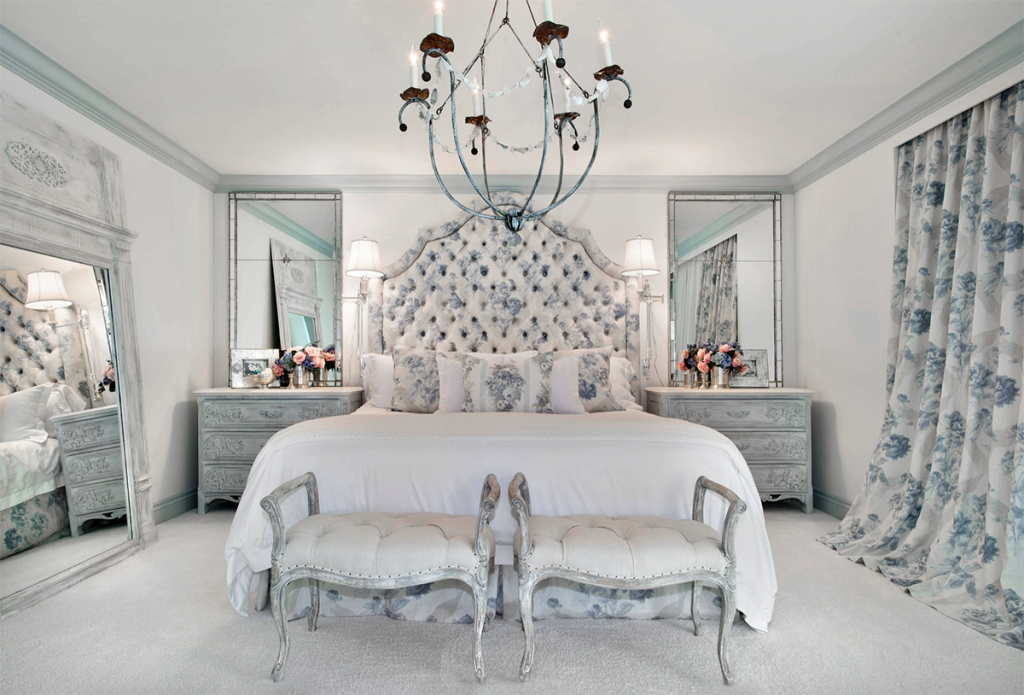 Blue is the color of the sky and the sea. It symbolizes harmony, calm, and fresh feeling. This color is compatible with a Shabby Chic bedroom because it focuses on creating a calm and comfortable atmosphere. The blue color in a Shabby Chic bedroom invigorates the nuance in your room by having floral patterns on a particular object. Bedcover, curtain, and pillow cover are big stuff that is enough to create a fresh scenic.
Ornament and Decoration Ideas
After you determine the various furniture and colors that you use for your shabby chic bedroom interior, the next thing you can choose is ornament and decoration. Using decorations that match your interior design will give you a beautiful and stunning bedroom. Moreover, you can use a variety of ornaments and decorations with shabby chic designs in your bedroom interior.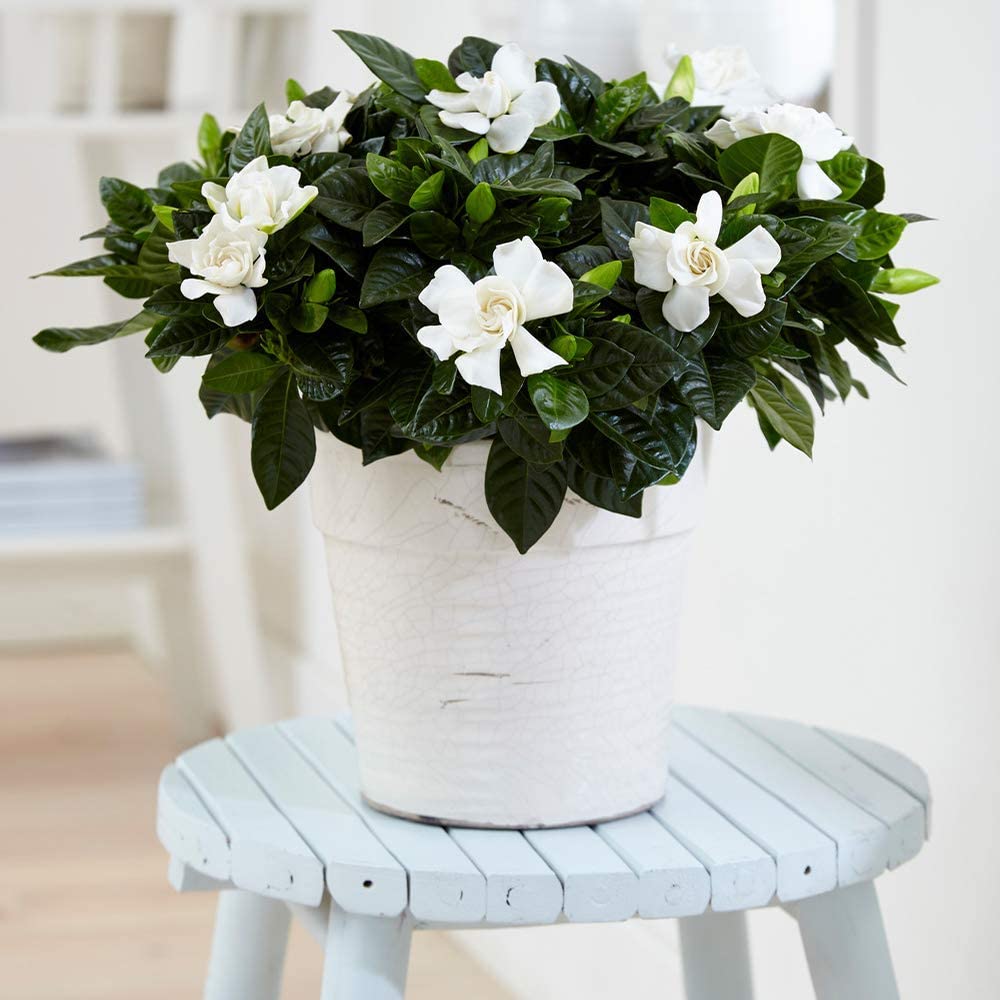 Ornamental plants play an important role in shaping the atmosphere in the interior of your shabby chic bedroom. Using the right types of ornamental plants will make your bedroom decor look fresher and more beautiful. Besides, you can filter the air in your bedroom. This will be good for your respiratory health. Moreover, you can use a window design that is large enough for good air circulation.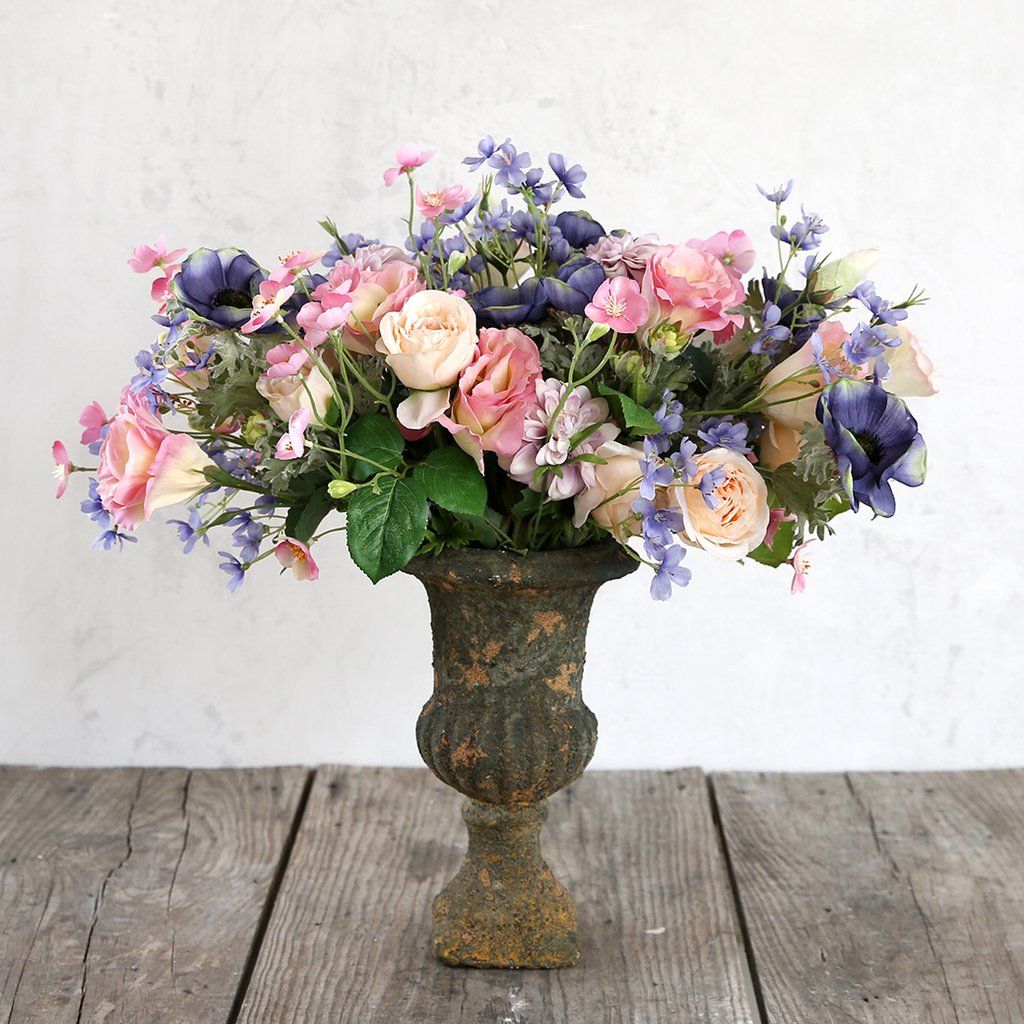 A wide variety of flower colors are catchy to display in your Shabby Chic bedroom. The flower shapes make your bedroom looks more beautiful and has a sweet nuance. Since it is a synthetic flower you don't need to replace it every day, but if you prefer the real flower, then you choose certain types of flowers for decoration. The real flowers have a more energic smell sometimes its petals will fall naturally. You can use it as an aesthetic decoration.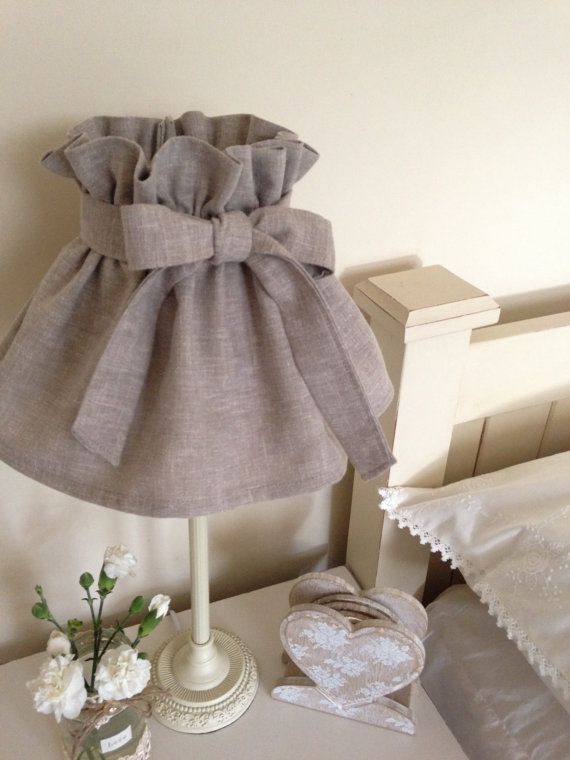 A lampshade has many unique shapes and is made of various materials. The lampshade in a Shabby Chic bedroom usually has an old-fashioned model. One of them is a neutral lampshade with a cute shape such as a little lace and mini ribbon. It gives an uncluttered look in the eyes. A thin or thick cover of the lampshade determines how the light will diffuse in your bedroom. A thin layer lets the light explores the whole side of your bedroom.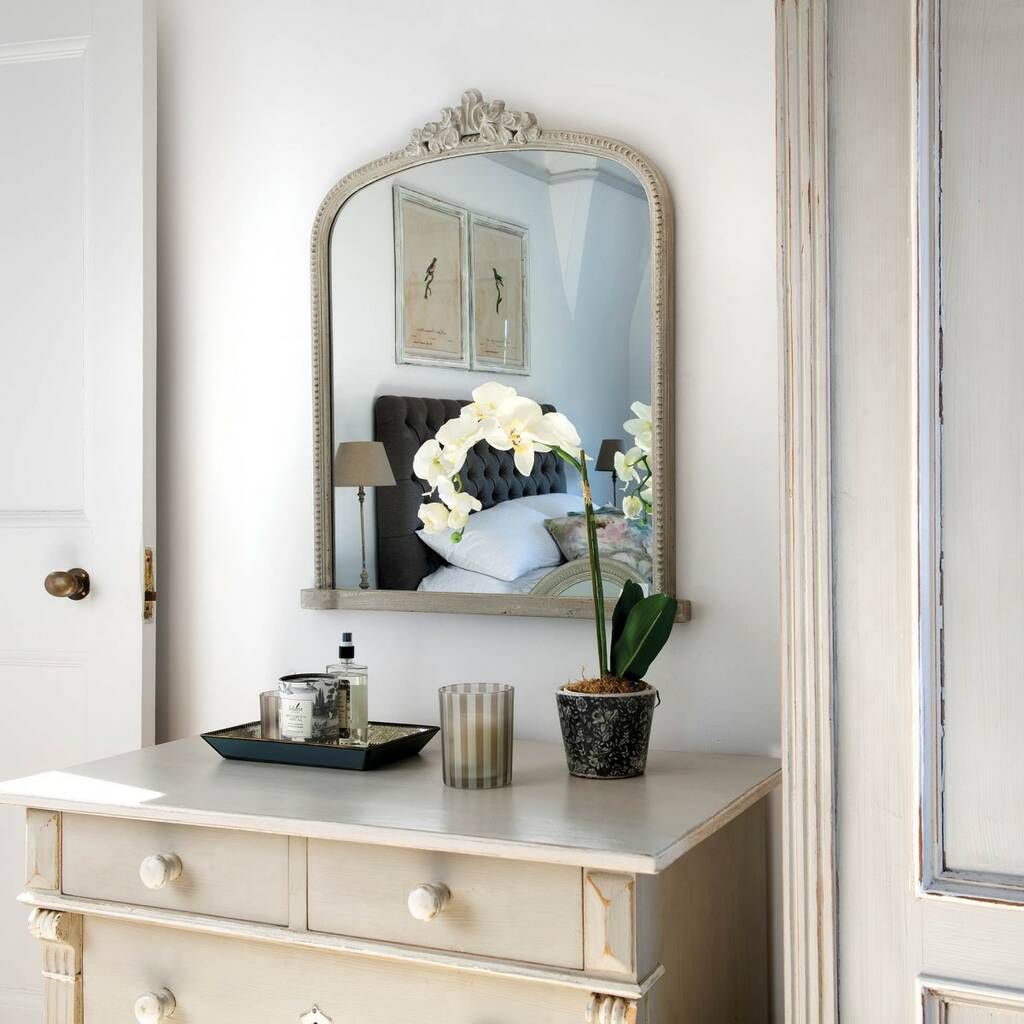 Dressing before going outside is important to do. You can install an antique mirror to tie up the look of vintage style on the wall. An antique mirror has its characteristic of a large and curved frame. This characteristic makes an antique mirror feel so classy. It is a focal point in your wall for a Shabby Chic interior design.
Conclusion
Shabby Chic interior design has a vintage, antique, and classic style. It uses soft color, light color, white, and pastel color. Shabby Chic bedroom is a comfortable room to relax your mind and body after doing daily activities. Designing this design into your bedroom doesn't need much vintage stuff. You can put a little amount of this stuff is enough to create a vintage accent. Moreover, using old stuff will save you money. You can also redecorate your old stuff then put it in your Shabby Chic bedroom. We hope you take these ideas well if you want to design your bedroom using Shabby Chic design. So, happy decorating!