Druhomes.com – Rustic Industrial bathroom design is a combination of Rustic design and Industrial design. Both designs are interesting by using natural materials like solid wood, iron, stone, and using any mysterious color combination like black, grey, and brown wood. In Rustic design, it uses natural material from solid wood that tries to bring nuance to country houses. Meanwhile, Industrial design uses raw material to arouse a nuance of a garage. Black iron and unfinished wall are Industrial accents that are catchy to use in your home interior, especially in a bathroom.
For that, in this article, we will discuss various inspirations for industrial rustic bathroom designs that you can create in your home. We have listed some ideas to design your bathroom by using a rustic industrial design. Let's discuss these tips one by one.
Solid Wood Material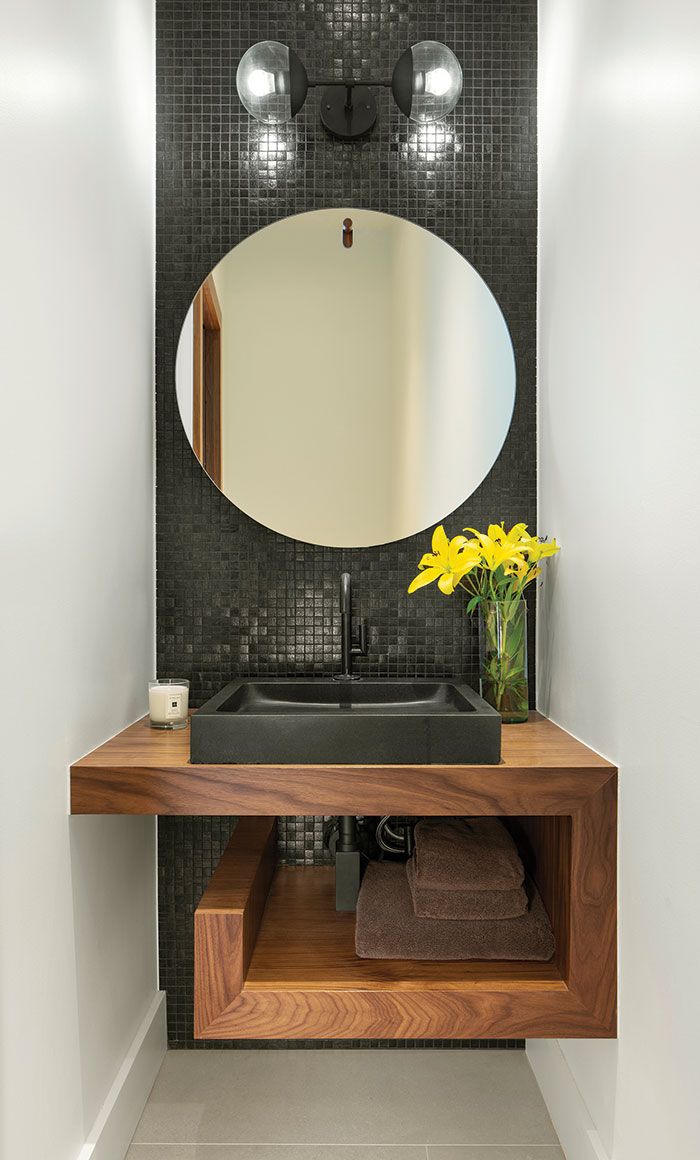 We know that Rustic design has a strong country accent by using the wood material. In Rustic Industrial bathroom, solid wood becomes an essential element to emerge the country style. It has natural patterns for each stem. This material glistens when it is lacquered and uses light brown color.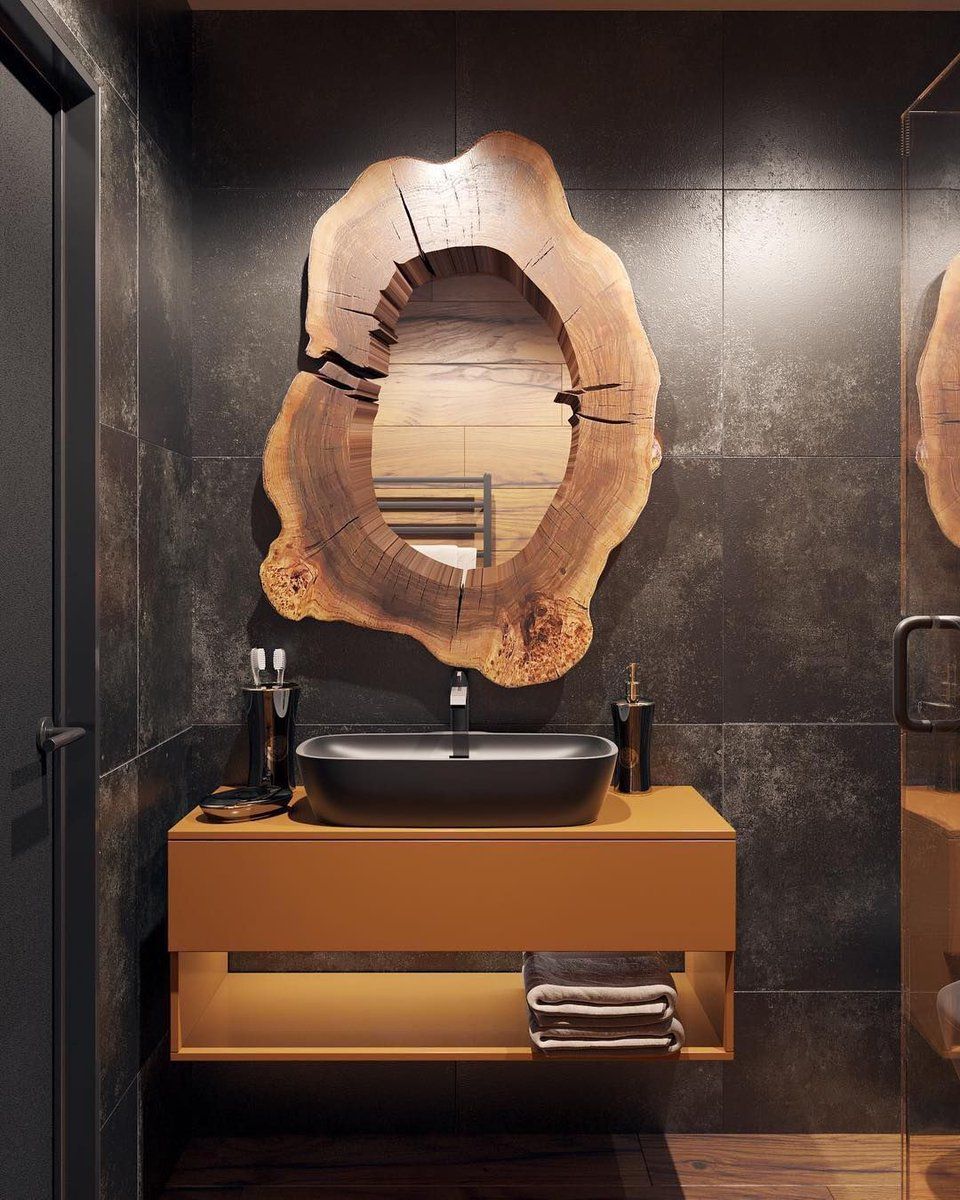 The solid wood material is attractive to transform your bathroom vanity by taking this material as a mirror frame. A perimeter shape of a tree has an attractive appearance and looks natural to have as a mirror frame. To make it safe for your mirror, this solid wood's surface needs to soften. The light brown varnish lets its natural pattern looks clearer.
Using Stone Material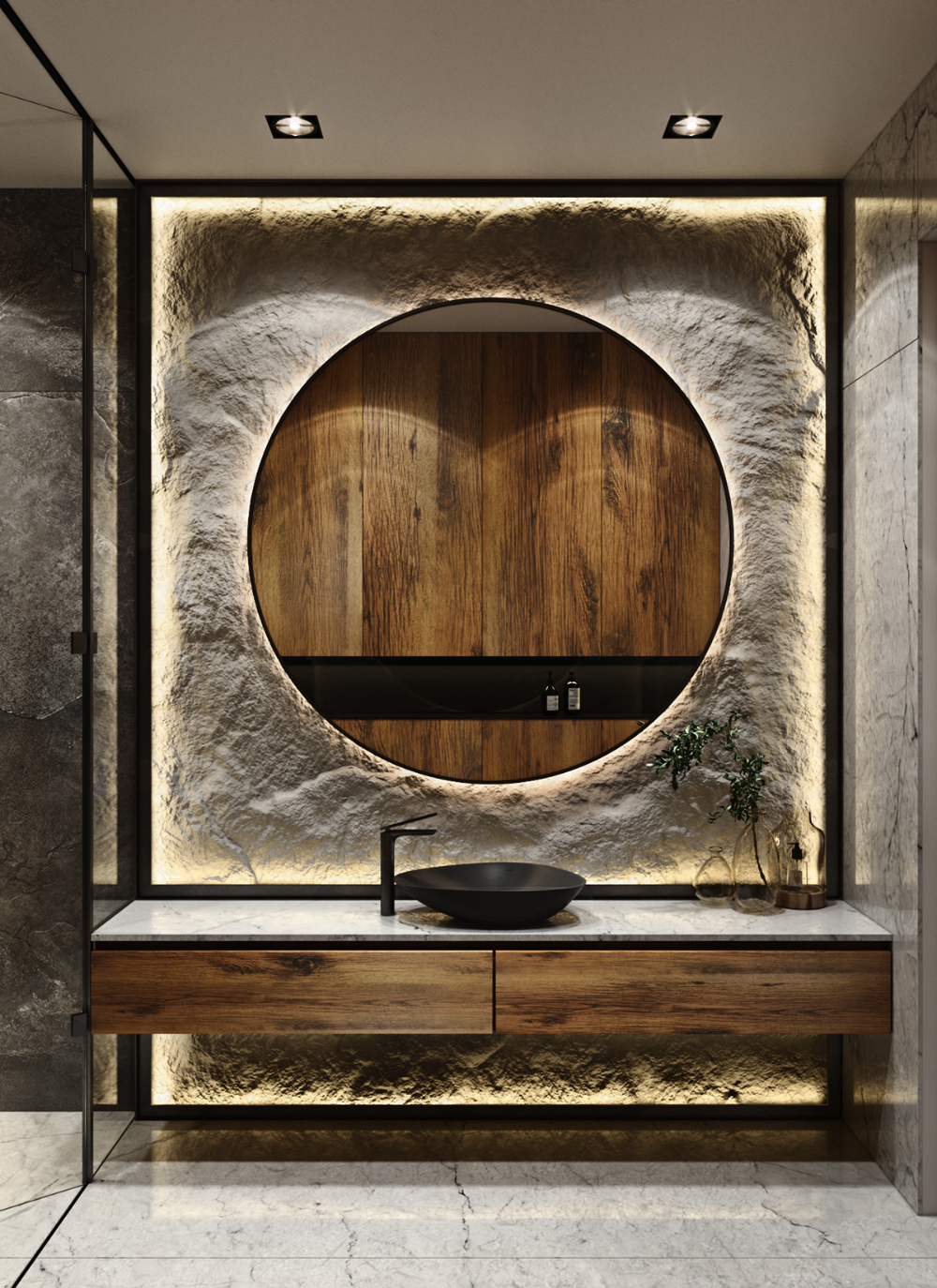 Another natural material for your Rustic Industrial bathroom is using stone material. It is a strong and harsh material to use as a Rustic element. It emerges a natural ambiance into your bathroom. The stone material makes your bathroom colder by its natural ingredients.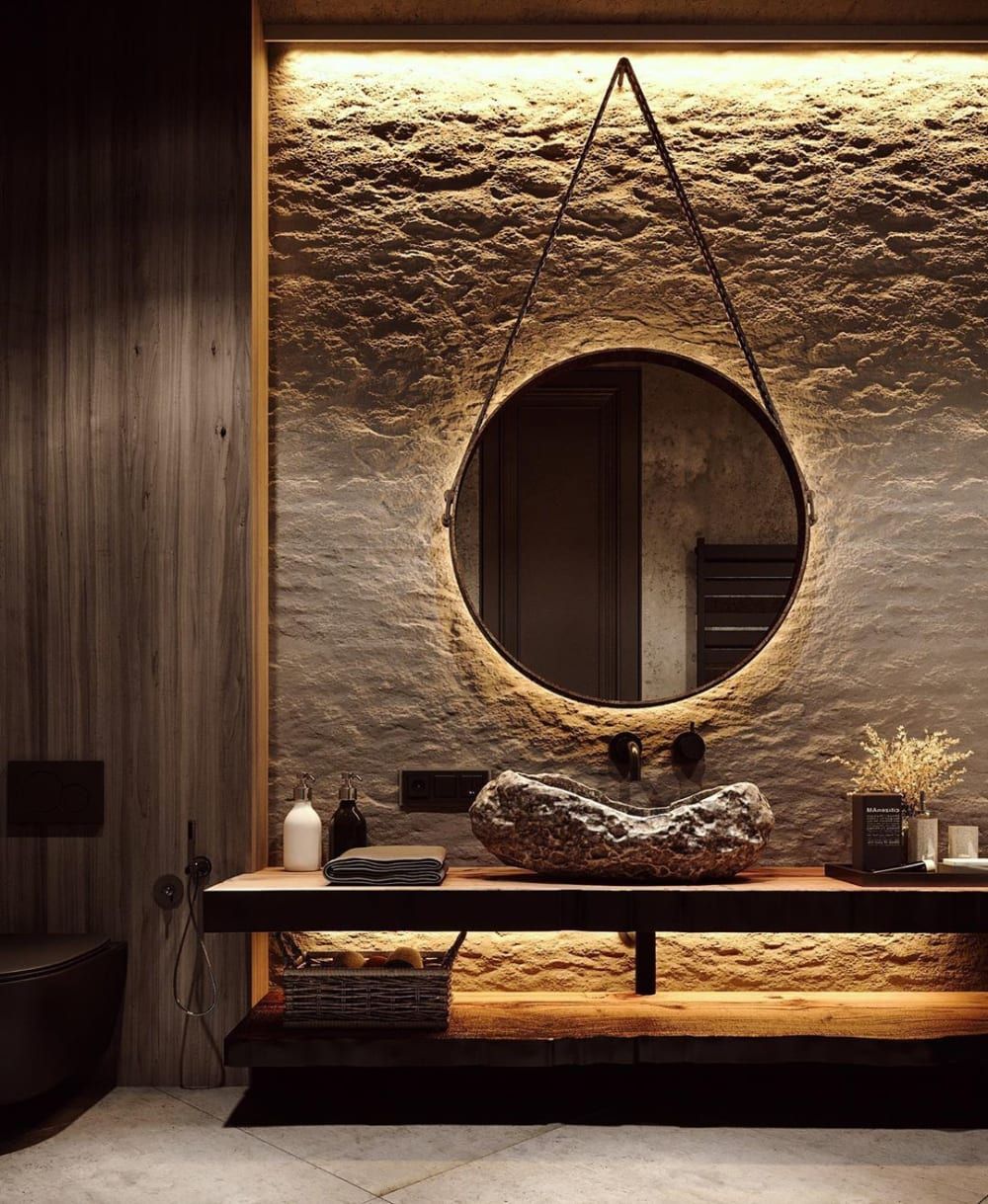 The rough surface of a stone creates an outdoorsy touch into your bathroom. It will look aesthetic if the light touches its surface. Hence, using stone as your bathroom wall drastically transforms your bathroom to feel the Rustic style and elegant in raw material in Industrial style.
Aesthetic Wood Decorations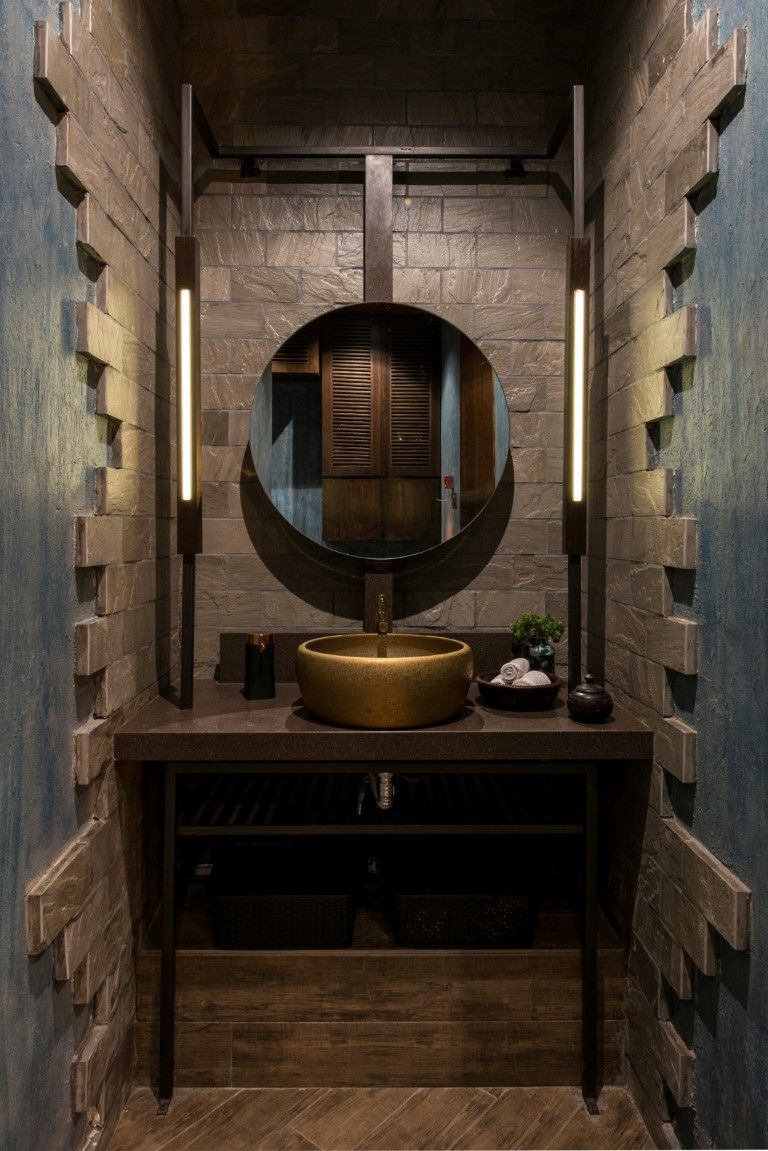 We have discussed wood material as an essential element in Rustic Industrial design. In this point, solid wood is an accent to create an aesthetic decoration. An ornament from wood offers a warmer atmosphere in a wooden area such as installing some wooden stems to cover a half bathroom wall. It creates a remarkable impression and shows the creativity to create artwork on your bathroom wall.
You can also use this solid wood to put your ornamental plant and toiletries. A big long stem has an interesting look to put on the vanity. The combination of solid wood vanity and black pendant light in Industrial style complements your Rustic Industrial bathroom interior. Even though it has a brighter color for the color of the wall, you can show the Rustic and Industrial accent on your bathroom.
Elegant Industrial Accents
Industrial accent plays the same role as Rustic accent. It emerges a masculine effect in a bathroom because it usually uses black color, like black pendant light. The use of iron material as a hanging towel enlivens a garage nuance on your wall. Moreover, it will look more aesthetic by designing your wall using the wood material.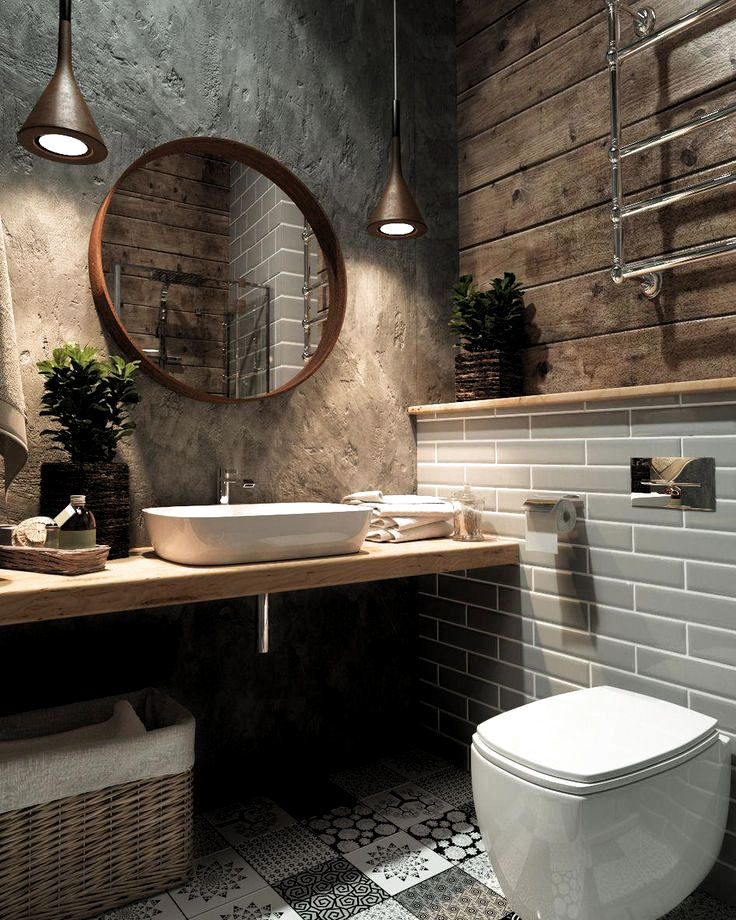 The other Industrial elements are installing a wall mirror in metallic color. It arouses an elegant impression. An attractive frame in Industrial style shows the transitional design between both designs. Moreover, the use of dark marble material gives an elegant look to your vanity. To complete this design, hang two pendant lamps with dim yellow light, it strengthens the country house's nuance.
An Exposed Wall
Sometimes, you maybe see an exposed wall in an Industrial room. This element creates an eccentric look in your bathroom. It is essential to determine which side of your walls to let with raw material. Some wall exposes their brick wall in its natural color and rough surface, but some room designers cover a half wall with concrete material, then let it unfinished.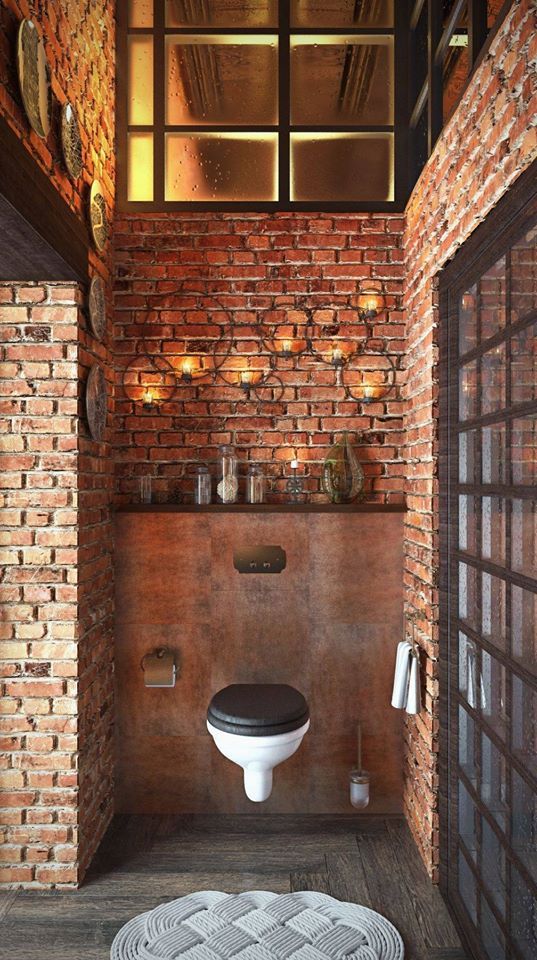 This exposed wall is contributing to creating a peaceful space and an earthy color on your wall. The brick wall shows is a raw material in the spirit of country houses and a traditional garage. Let your bathroom wall still bare lessens the cost to cover it by concrete or any design.
That is our discussion about Rustic Industrial Bathroom Inspirations for Aesthetic and Warm Decorations. Rustic Industrial emerges from a combination of two artistic interior designs. Rustic arouses the nuance of country houses that mixes with a garage nuance from Industrial design. Both designs generate a catchy Rustic Industrial design. It suits any room, even to attach to your bathroom. We know that there are many designs to modify your bathroom into Rustic Industrial style, but we hope the ideas above are beneficial for you. We hope it will inspire you to decorate your bathroom if you want to use this design. Happy decorating!