Druhomes.com – Modern Classic interior design is a home design that emerged in Europe in the late 20th century. This design combines modern elements and classic elements. The right proportion between modern style and classic style transforms your living room into an aesthetic room. Some designs in the Modern Classic living room interior imitate the carved furniture from Rome. It also has a calm color that is generally used in the Victorian era, like white, soft brown, and beige.
In this article, we will discuss some elements that contribute to creating a stunning Modern Classic living room. By creating this concept in the interior of your home, you can create an elegant and luxurious interior in a classic aesthetic concept. Moreover, you can create a classic modern style in the simplest to the most festive concept for the interior of your living room. Let's see it from the first discussion!
Color Elements
Color determines your room impression. It brings a certain nuance into your room, based on its tones, shades, and hues. You need to know the colors for your Modern Classic interior. There is grayish blue, silver, gray, white, black, and dark brown. Here, some examples of Modern Classic colors.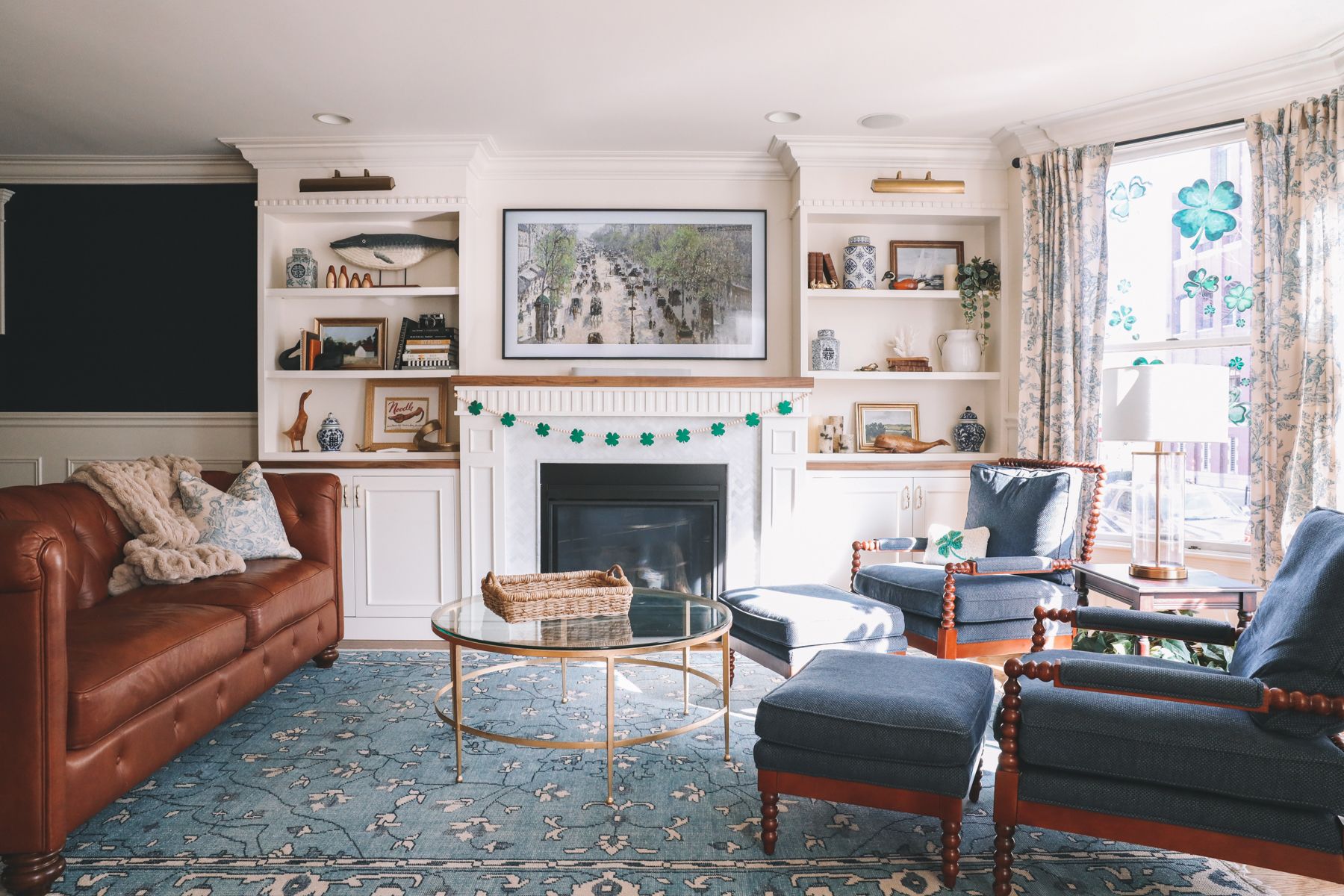 In classic style, the use of bold color gives an elegant impression into a home interior. This kind of color has a strong accent from the time past. Navy stands in the shade of blue and black. We see this color is darker than the shade of blue sea. This color calms your room and it is inviting drowsiness at night. You can lie on your comfortable couches.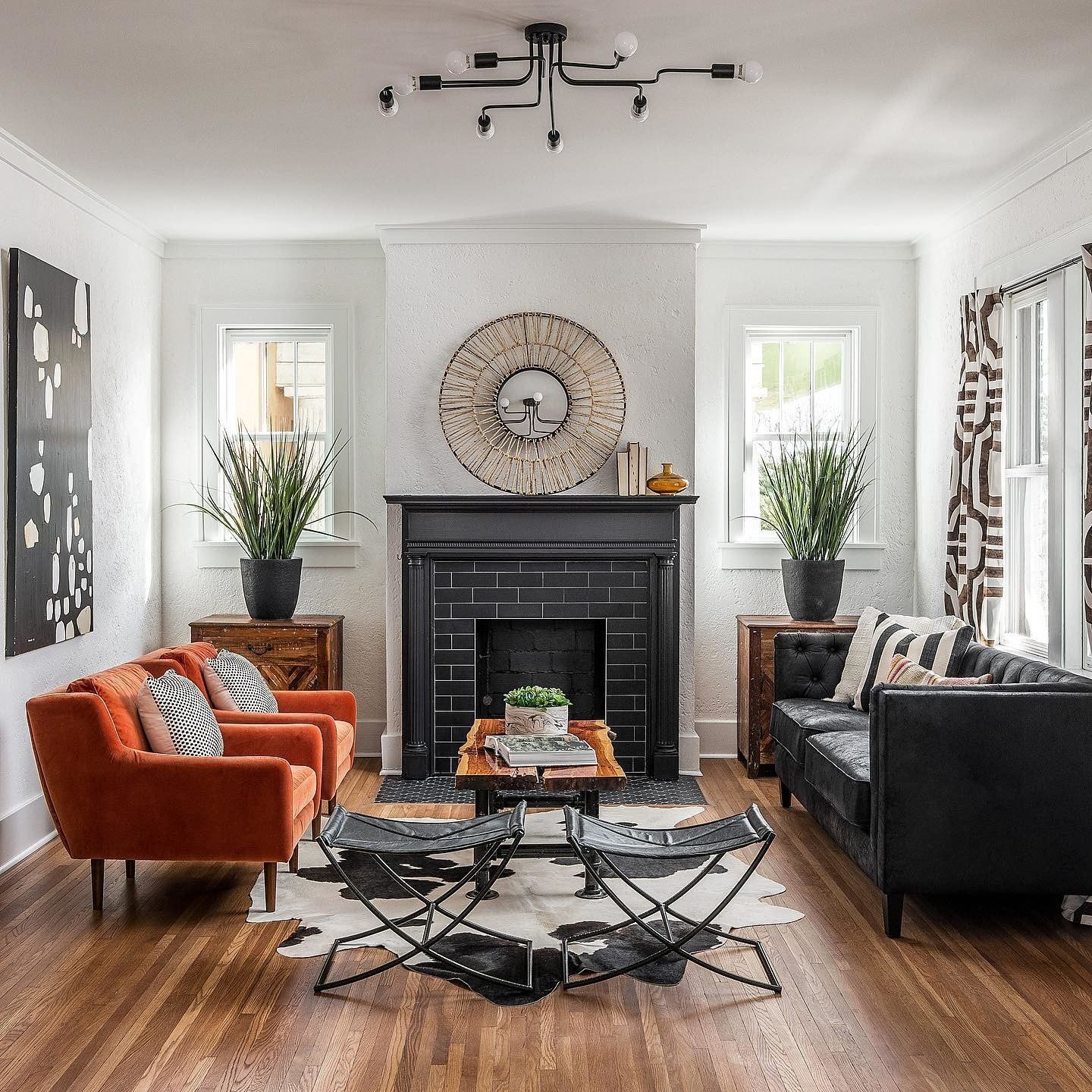 Another color for your Modern Classic living room is gray. This color is in the shade of white and black. It creates an elegant impression in your living room. The dark gray color gives a masculine spirit into your living room. It suits your living room decoration in any color of Modern Classic interior. It looks more elegant to pair this color with black furniture or white wall decor.
Furniture Elements
Furniture is an essential element to put in every room. Each room has identical furniture. Couches, tables, wardrobe, buffet, are examples of home furniture. In a Modern Classic living room, furniture determines its accent to create a stunning decoration in the right proportion. See the ideas below.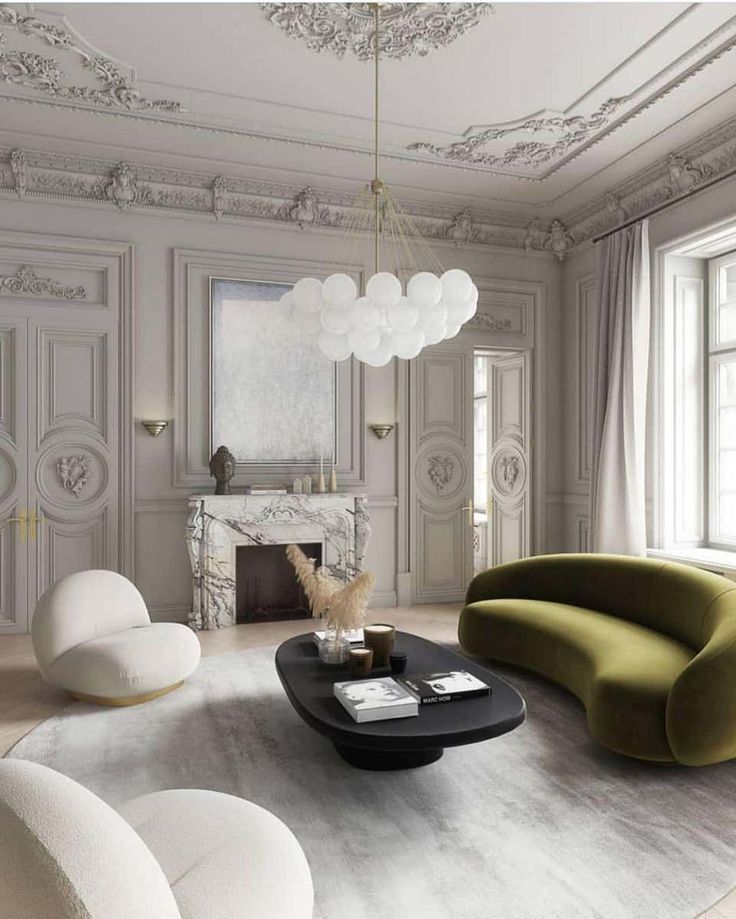 A couch is an essential piece of furniture to install in your living room. A comfy couch in bold color enlivens the classic style. Moreover, the couch shape contributes to arouse a modern accent. There are bold colors to use for your couches. Green emerald, yellow mustard, reddish-brown, and dark blue can emerge the classic accent.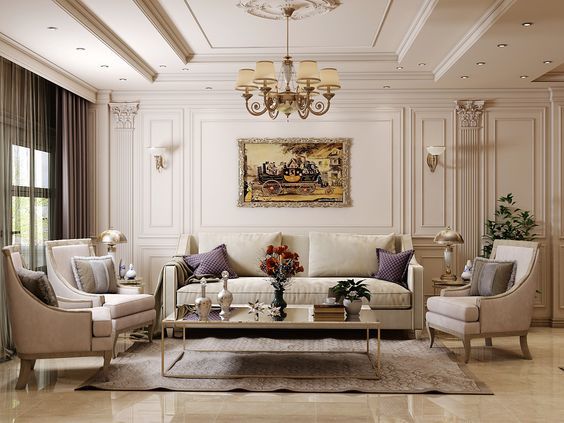 A comfy couch pair with a simply beautiful coffee table creates a nice interior for your Modern Classic living room. You can put a modern coffee table with a geometric shape and is made of glass. The glossy table emerges a glisten and glamor look. Moreover, the golden lines complement your modern coffee table style. You will the transitional accent between your couches and table in the Modern Classic living room.
Wall Elements
The largest element in a living room is a wall. This element has space to get a certain color for your living room interior. Moreover, a wall provides space to display some interesting ornaments. We give you some examples of wall decor as an important element in your Modern Classic living room.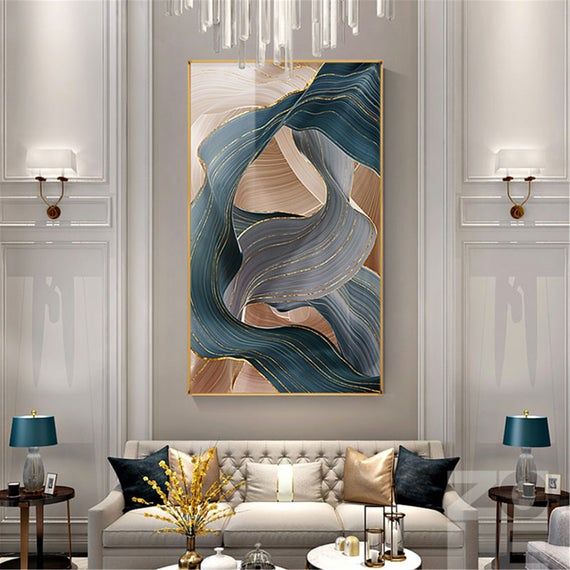 Painting is an aesthetic artwork people use as a display. Each painting has a meaning. To arouse a modern painting or a classic painting, you should match it with the wall color. Every painting suits a white wall, but it's a little bit changing the room interior if you put the high contrasting color. A painting with a combination of calm colors is compatible with your white wall for Modern Classic style.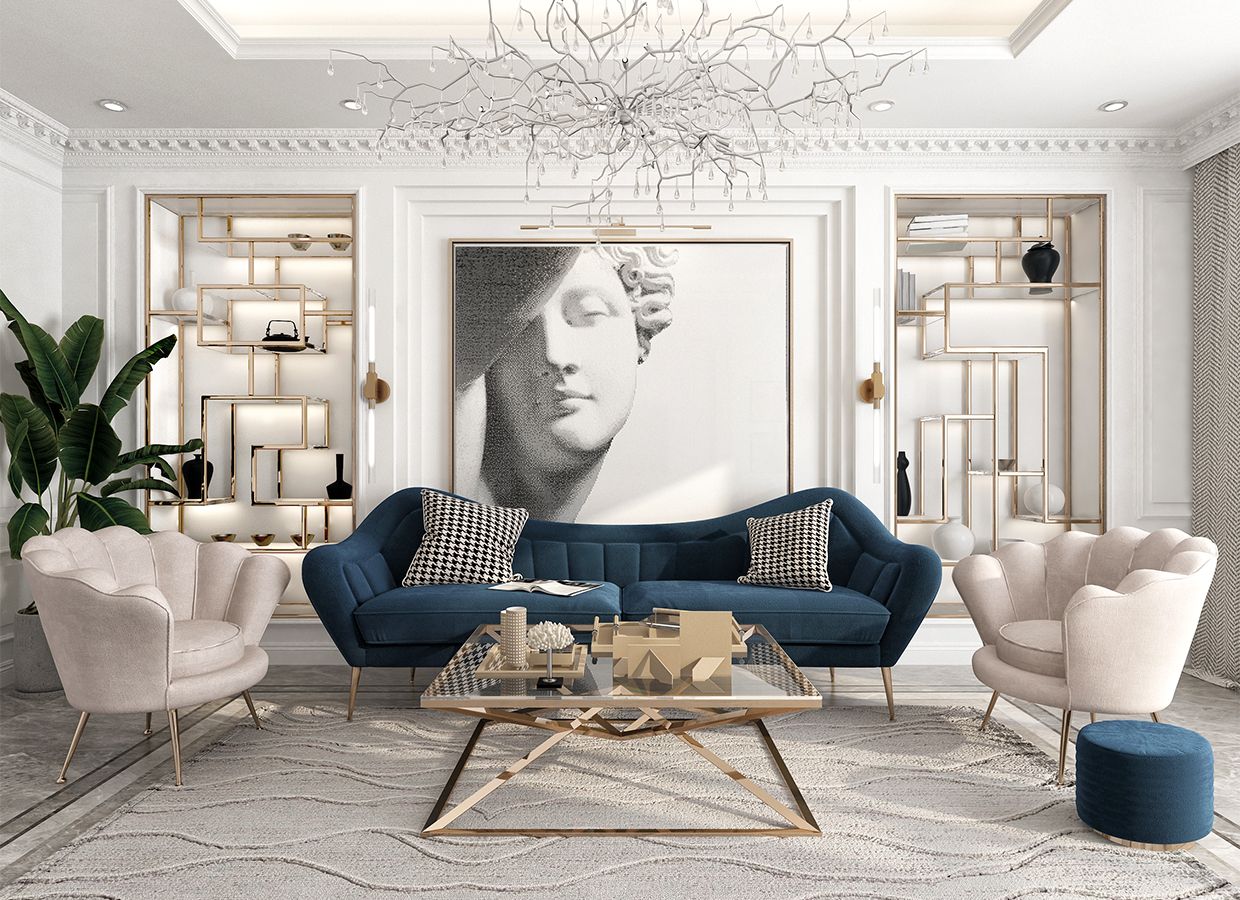 Another decoration for your Modern Classic wall is installing an interesting ornament. There are dozens of ornaments to modify your wall. An elegant bookshelf that has strict lines can be a nice choice. It looks stylish to a transitional side of your Modern Classic living room. The glossy material for this bookshelf enlivens your wall to deal with a space on your wall. Besides that, you can also use a variety of beautiful wall art for your walls.
Ceiling Elements
If you pay attention to many sides of your living room, you should see that ceiling is a nice spot to be explored. Having a decoration on your ceiling invigorates your roof view, such as the examples we provided below.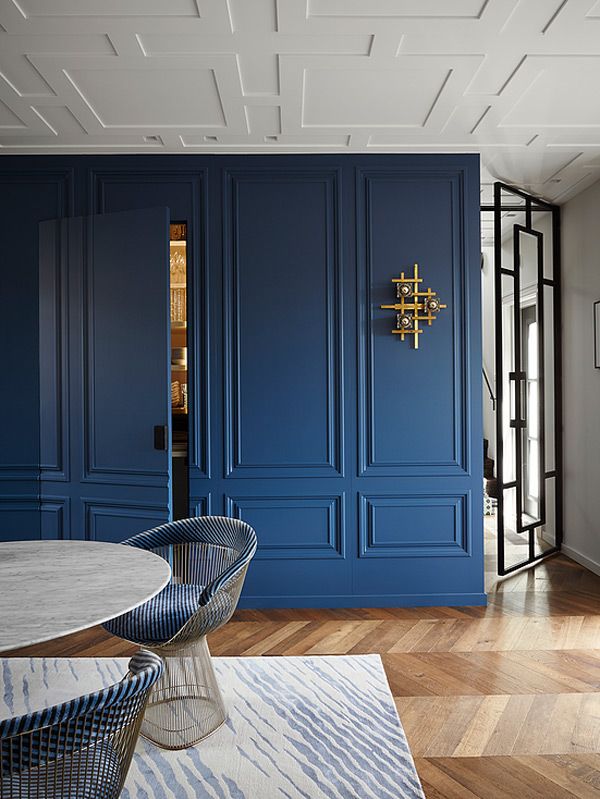 You might know that classic style has a variety of vintage elements. Art Deco style is close to classic style, it has an elegant decoration using bold colors and vintage designs. It also has an identical accent such as rectangular that forms strict motifs.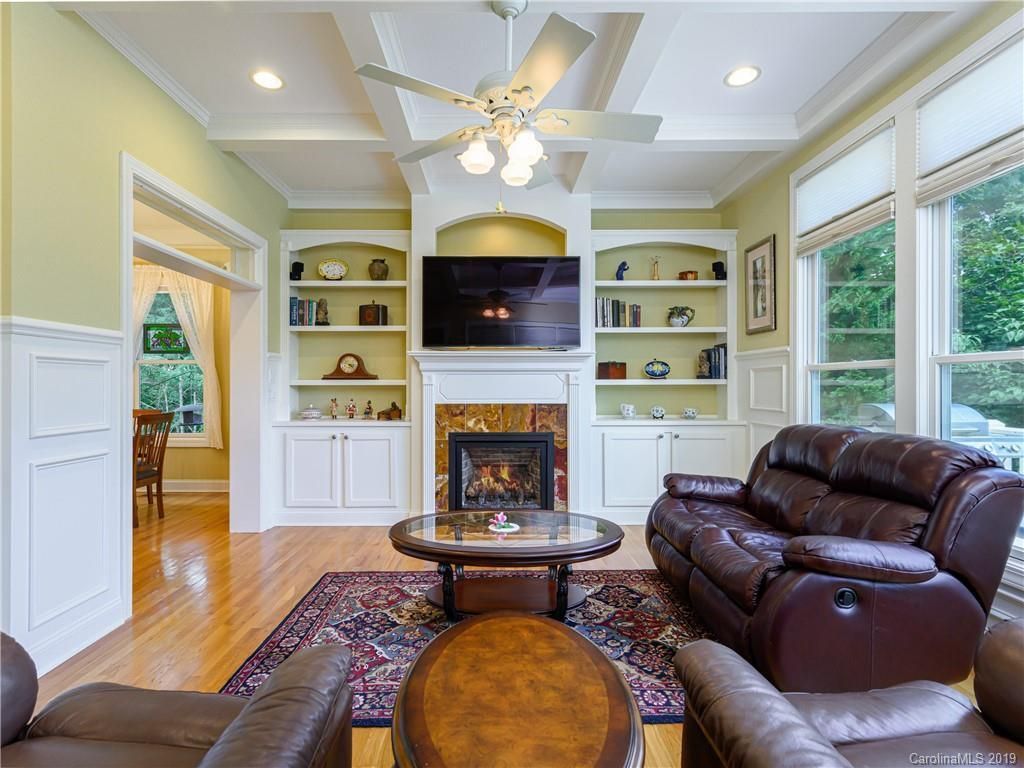 Another pattern for your Modern Classic ceiling is geometric. This is a repeated plain pattern that brings a distinct ambiance. Attaching a pattern on your ceiling for a living room presents an aesthetic adorned roof. Besides, this ceiling model lessens a boring decoration. 
Floor Elements
A floor can get more attention to be an interesting accent in your living room. It is an essential part of your living room interior. You can modify your floor by using these ideas below.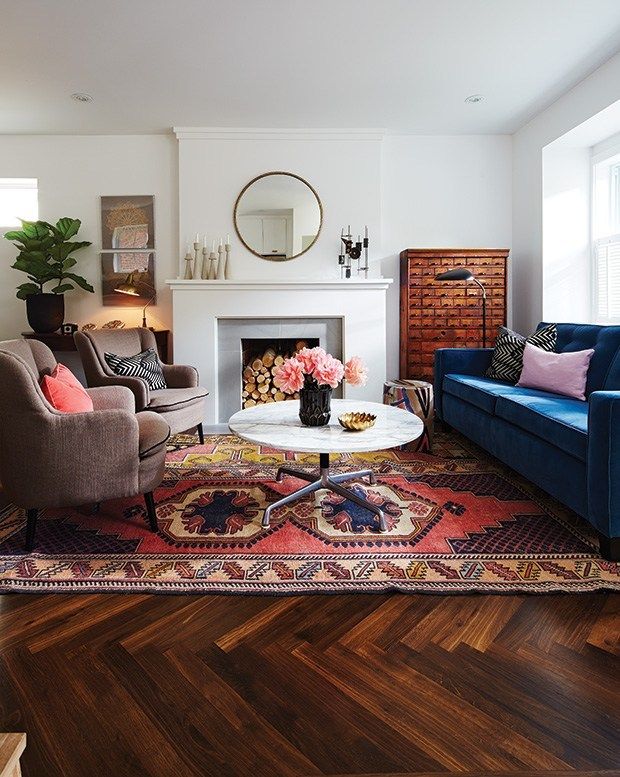 If you want to create an aesthetic impression on your floor, you can put an ethnic rug. This rug has a variety of artistic patterns. It arouses a classic style to complete your Modern Classic style. There are dozens of colors to enliven this furniture. This rug creates a strict line to create a transitional space for your living room.
Looking at a Modern interior, it uses gray color as a neutral color to show a simple design. Combining two elements in Modern Classic style is shown by gray patterns on white natural ceramics on your floor. It transmits a classy nuance in a clean modern design.
Conclusion
That is our discussion about Brilliant Elements for Your Modern Classic Living Room Decoration. Modern Classic interior design is a calm interior with the taste of Victorian, Art Deco, and Greek accent. It emerged in Europe in the last 20th century. The elements in Modern Classic interior design are combining neutral colors with bold colors, combining ethnic furniture and plain floor, etc. The elements we have mentioned above are some parts of dozen elements in the Modern Classic interior. We hope this information is useful for your living room decoration. Happy decorating!