Druhomes.com – In a home interior, a workspace is an important place for you to create for work and do your assignments from your home. Workspace is a beneficial room that people use as a place to work at home. This place provides a comfortable decoration to finish your work. Even though it is a place to work, but it can be indoor and outdoor. An outdoor workspace gives you fresh air when doing your work at home. Moreover, you can decorate an outdoor workspace with your favorite decoration to renew the atmosphere. Thus, having an attractive outdoor workspace can increase creativity because it will refresh your mind.  In this article, we have provided some ideas to create an outdoor workspace at your home.
Creating an outdoor workspace can give you a fresh atmosphere for all your activities in it. Besides, your productivity at work will also feel fresher in a beautiful outdoor atmosphere. Before creating an outdoor workspace, you have to know some elements to create an interesting decoration for your workspace. There are tables, chairs, baskets, and ornamental plants that enliven the ambiance of your outdoor workspace. Here, we have listed these ideas for you. Let's discuss these various ideas one by one!
Semi Outdoor Workspace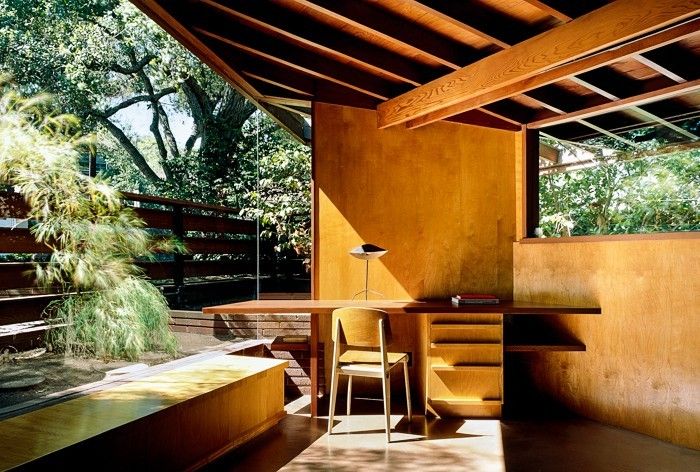 Semi outdoor workspace is an exciting design that provides an indoor place with an outdoor nuance. This workspace is doing well as a part of your home or makes it separates from your home. It has natural scenery through the large window and a skylight. These windows let natural light touches the interior design that enlivens the colors of wooden furniture. You can see the scenery even on a rainy day to seek inspiration. Moreover, it will show the starry sky at night when you do late-night work.
Workspace Under The Tree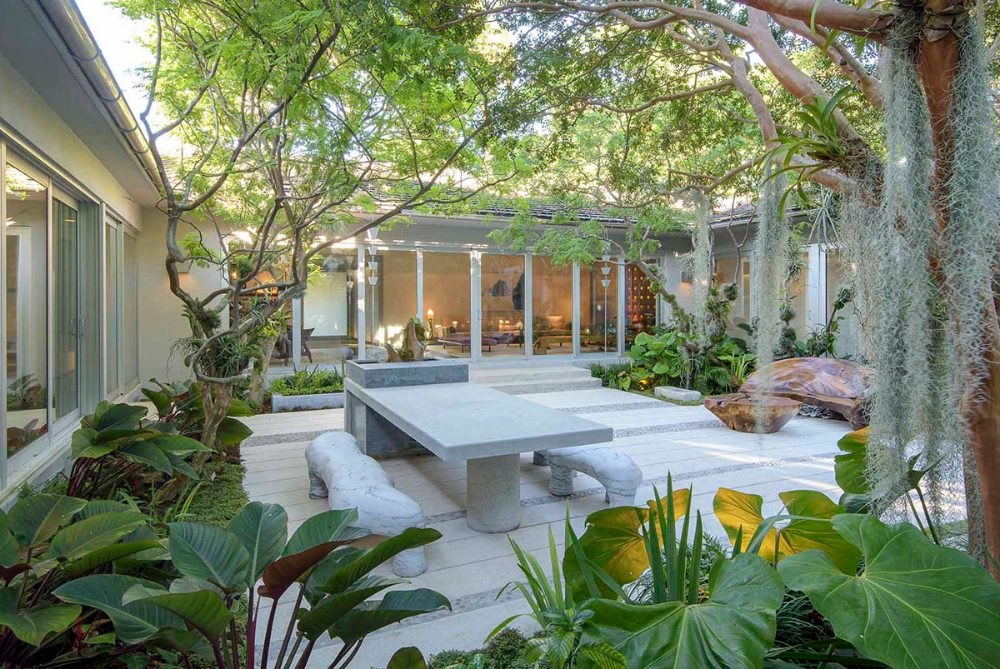 Do you feel a fresher atmosphere when sitting under the tree or in the tree house? If you do, it is nice to make your workspace on this spot. Since the green leaves of a tree produce oxygen, then it can increase your focus when you finish your work under the tree. Installing a table and a chair is a simple thing to create a contemporary workspace. Moreover, if you have a bushy plant, it looks fresher by the greenery scenery. This decoration challenges you to interact with nature when doing the work. The beautiful nature may improve your creativity and boost your mood, then you will enjoy the moment of finishing the work at home.
A Fresh Nuance Near The Pool
Another idea is creating a workspace near your swimming pool. This place has a bluish appearance that freshens your eyes. Besides, it is more interesting by growing some plants or having a canopy to create a shady place. It will be a perfect workspace with warm sunlight. You can design a workspace by adding a table and chair that facing the blue sky and endless scenery. For this kind of this furniture, you can use minimalist furniture that will look simple to pair with a bluish pool.
Garden Office Design for Workspace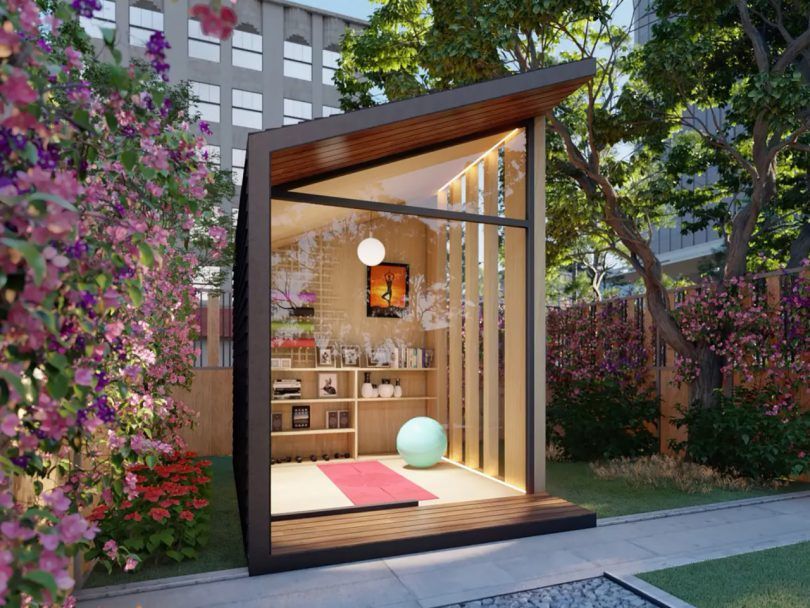 An outdoor workspace provides fresh air for your health. It uses natural colors for the furniture and decoration. Usually, minimalist garden office workspace uses wood material to draw a natural nuance. Moreover, this concept uses a natural finishing for the wall such as using stone, unfinished wood, an exposed brick wall, and so on. This element enlivens an outdoor view and connects with nature. You can create a small building in your backyard to separate the workspace and your home. This idea provides a calmer ambiance for you rather than doing work inside your home.
Using a Canopy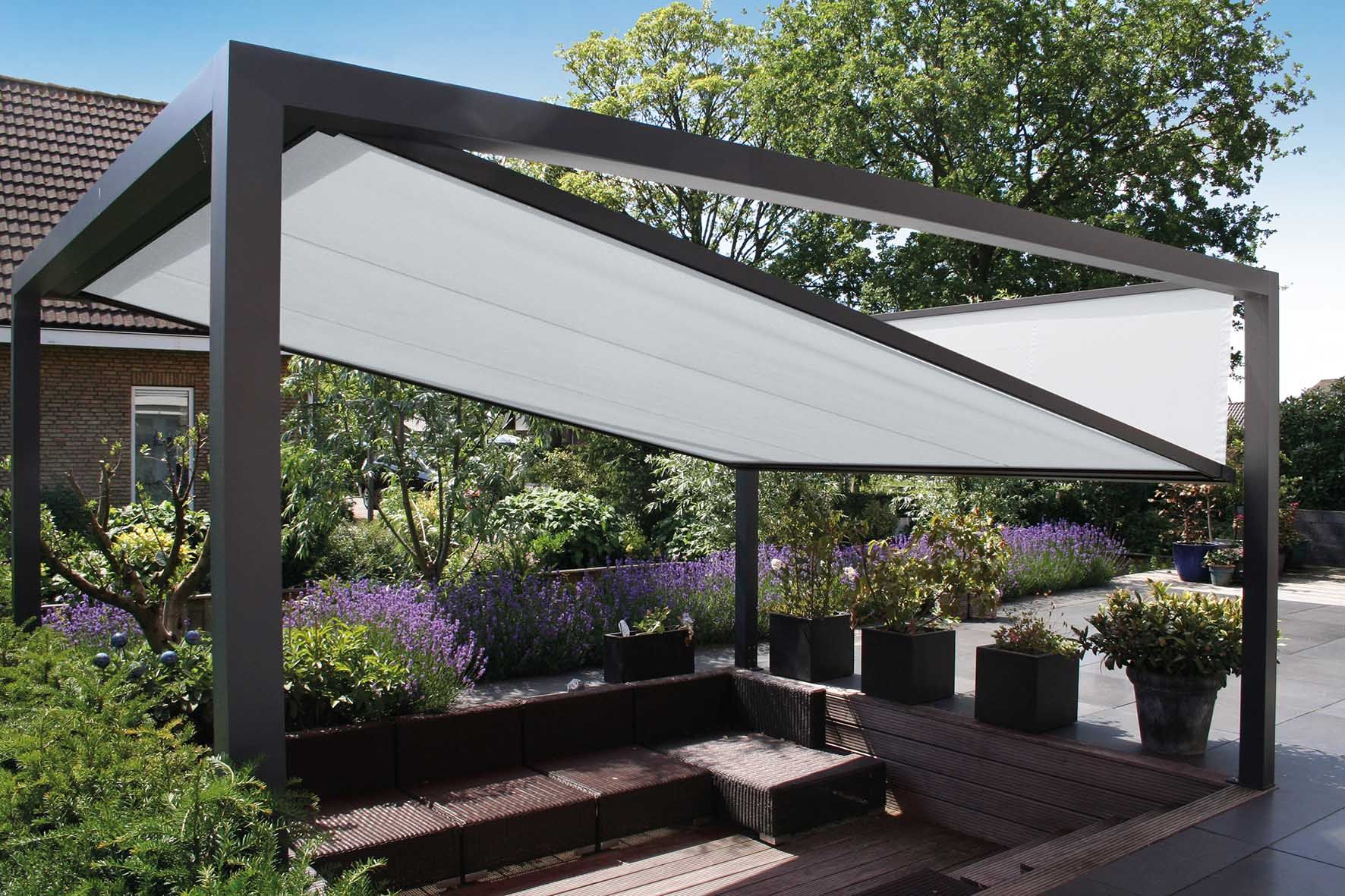 You may ever see a shelter in front of a house. This element has a function to protect a certain spot from direct sunlight and rain. Creating an outdoor workspace is more practice by using a canopy because you only need to design the table set under this shelter. Besides, if you make use of your canopy on the porch, it would be easier to complete the decoration of your workspace by putting on a table and a chair. Hence, it suits the size of your canopy, then you can arrange the position of your table when you are bored.
Decorate A Workspace on Balcony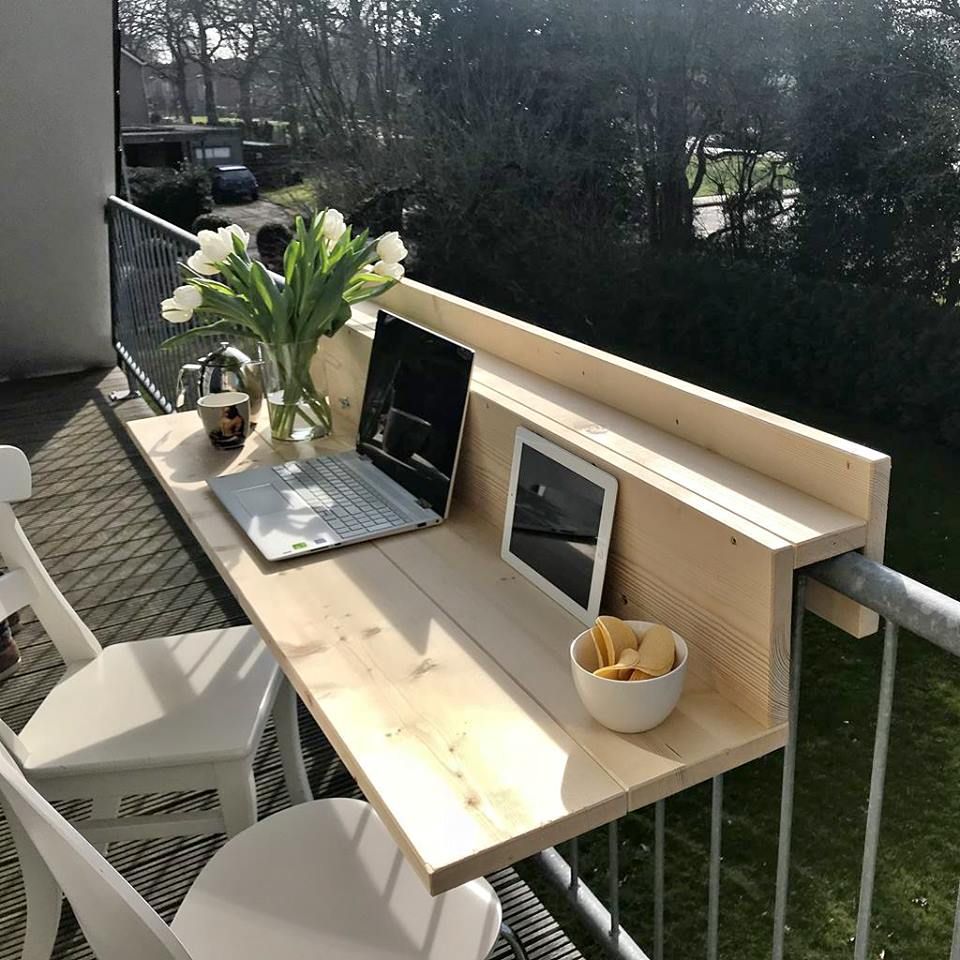 A balcony is a small porch on a certain floor in the levels building. A balcony has an innate function to connect a room with nature. It lets the fresh air and indirect sunlight touch the spot. The balcony workspace gives fresher air for you because it gets a natural breeze. It provides an interesting view from the higher place then it relaxes your mind. Moreover, you can work at home in the early morning while enjoying the warm sunlight touch your skin. Thus, it makes you healthier. It is also interesting if you finish your work on a rainy day. The sound of raindrops is natural relaxation music for your mood and mind.
That is our discussion about Create an Outdoor Workspace: Freshness in Your Productivity. Decorating a workspace is essential for those who like to finish work at home. It is a beneficial room that helps you find inspiration and a calm atmosphere. Moreover, you can design it with your favorite decoration. Hence, the furniture adjusts your need for a comfortable workspace such as using a comfy chair and wooden table. By creating a comfortable and beautiful workspace, you can be more productive at work and doing your assignments from your home. For that, create the most comfortable and beautiful outdoor workspace for you to use every day. Happy decorating!