Druhomes.com – In a home interior, creating beautiful decorations is what can make your home more attractive. You can use a variety of ways, such as using decorations or furniture that have aesthetic values in your home. For example, you can use beautiful wall art, interesting door curtains, attractive window curtains, and so on. By using these various decorations, you can create a more beautiful and comfortable interior appearance for your home to use in your daily activities.
Curtain is a beneficial element of home interior design that has a variety of colors and patterns. It is usually made of fabrics. Many home designers develop the idea of the curtain into many creative designs to complement the decoration to look more beautiful. This element is catchy to hang on your windows and your door. It will decorate the entryways to be an interesting accent when you walk through them.
Sweet Brown Curtain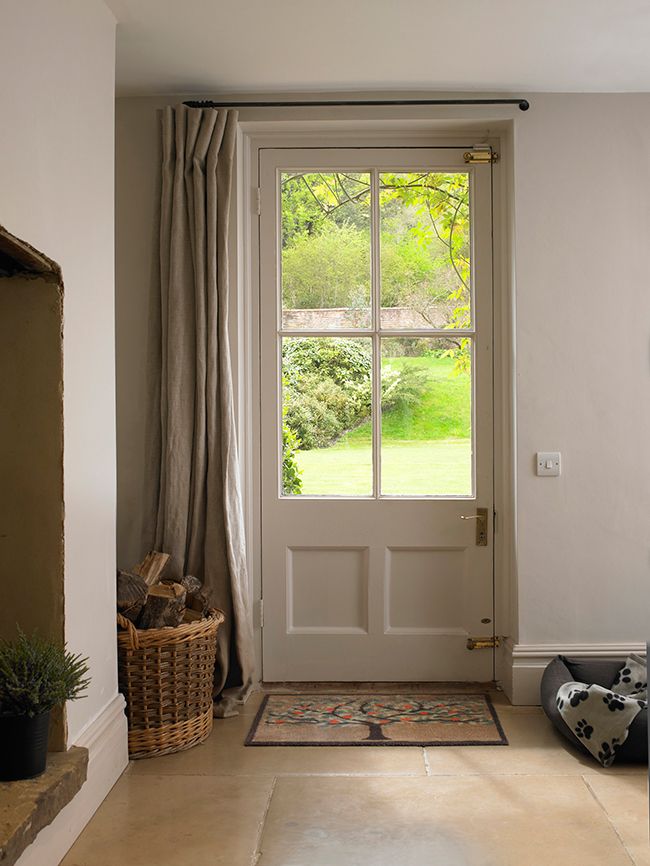 Installing an interesting curtain requires a catchy color to arouse an artistic accent. Many colors of curtains look trendy. If you want to get a calm atmosphere, choose calm colors such as light brown, peach, beige, light grey, and white. The color of a curtain brings a certain impression to your door. The sweet brown curtain helps you to create a clean nuance. Moreover, if you have the same saturation with the wall color, then it looks more catchy.
A Pair of White Curtains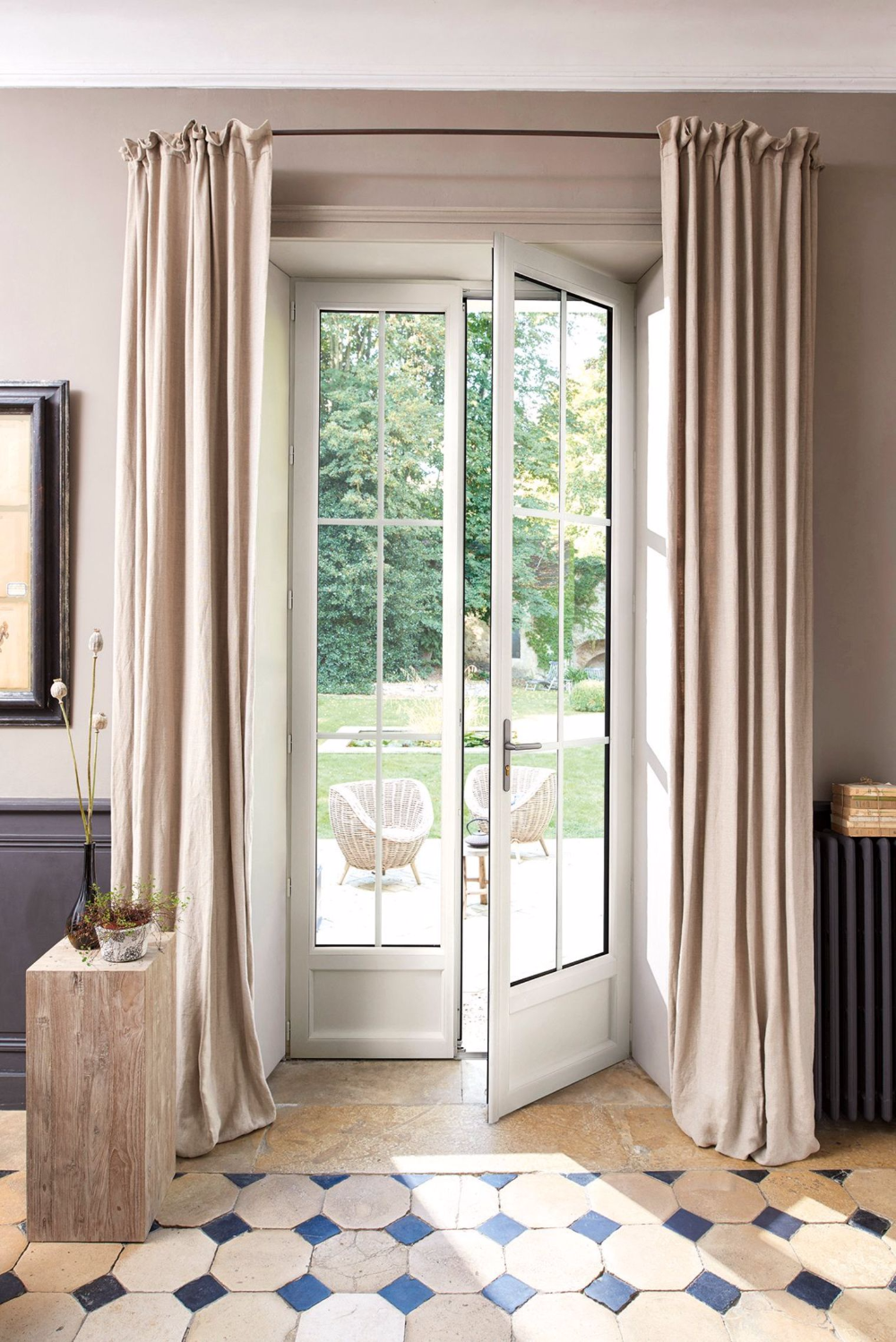 White color is a neutral color that is beneficial to emerge a clean and neat impression. By using this color, you will get a brighter nuance because the white color reflects the light perfectly. Moreover, if you hang your white curtains on both sides of your front door, it will grow a natural look and makes your door looks brighter. As a pair of door curtains, this curtain is easier to get dirt, then you should wash it when you see dirty stains on it.
A Velvet Curtain for Elegant Door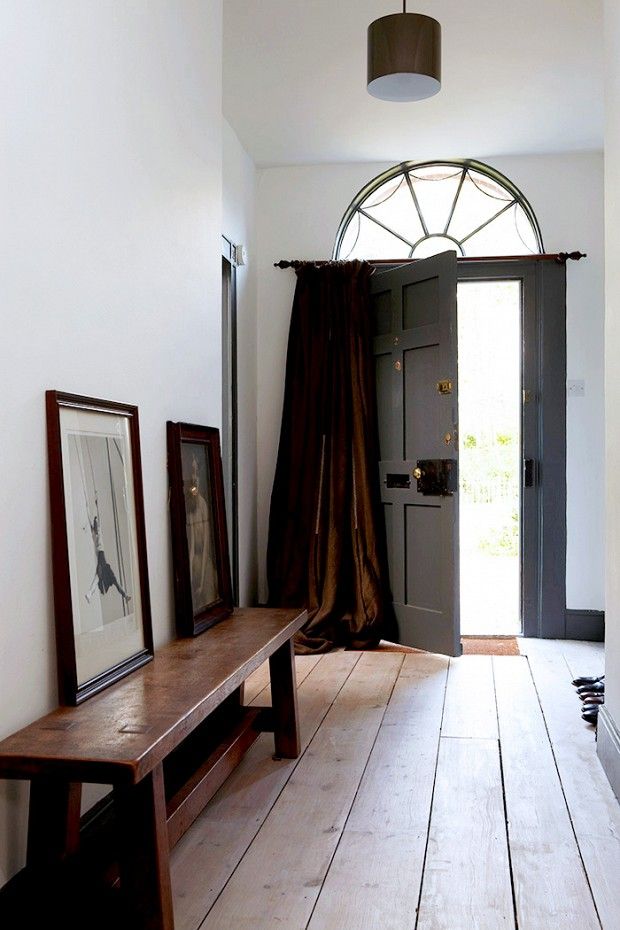 In farmhouse interior design, there is a door curtain to cover the entryway when the door opens. A velvet curtain is a thick curtain that perfectly protects your door from the people outside. This curtain has a soft texture since the velvet material is also used as upholstery for a comfy couch. A long velvet curtain will cover the door entirely to make it looks elegant. Hence, your elegant door emerges a punchy look by this velvet curtain.
The Interesting Lace Curtain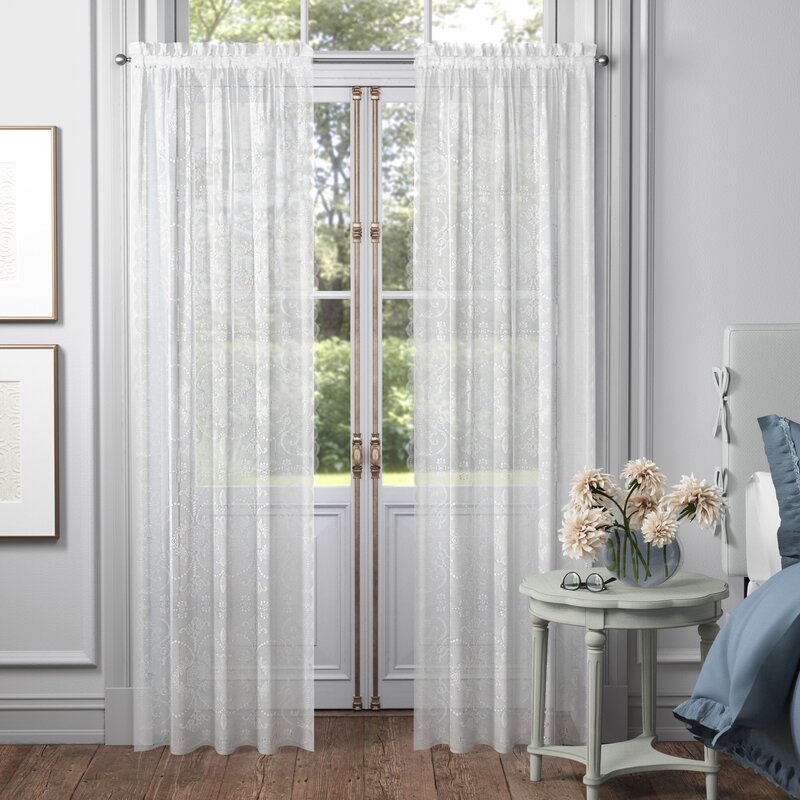 A lace curtain transforms the interior design perfectly. In a drastic change, the lace curtain arouses a classic nuance in your room. The lace curtain will look aesthetic when it gets draughty air from outside. It looks artistic to hang on your door, like what you ever see in the movie when this curtain moves by the wind. Seeing at the lace curtain provides an artistic blind when you pull the hook to 'close the door'. It looks amazing by the natural patterns like some vein plants, falling leaves, flowery patterns, etc. A remarkable design propagates from the whitish color of this curtain.
Fabric Door Curtain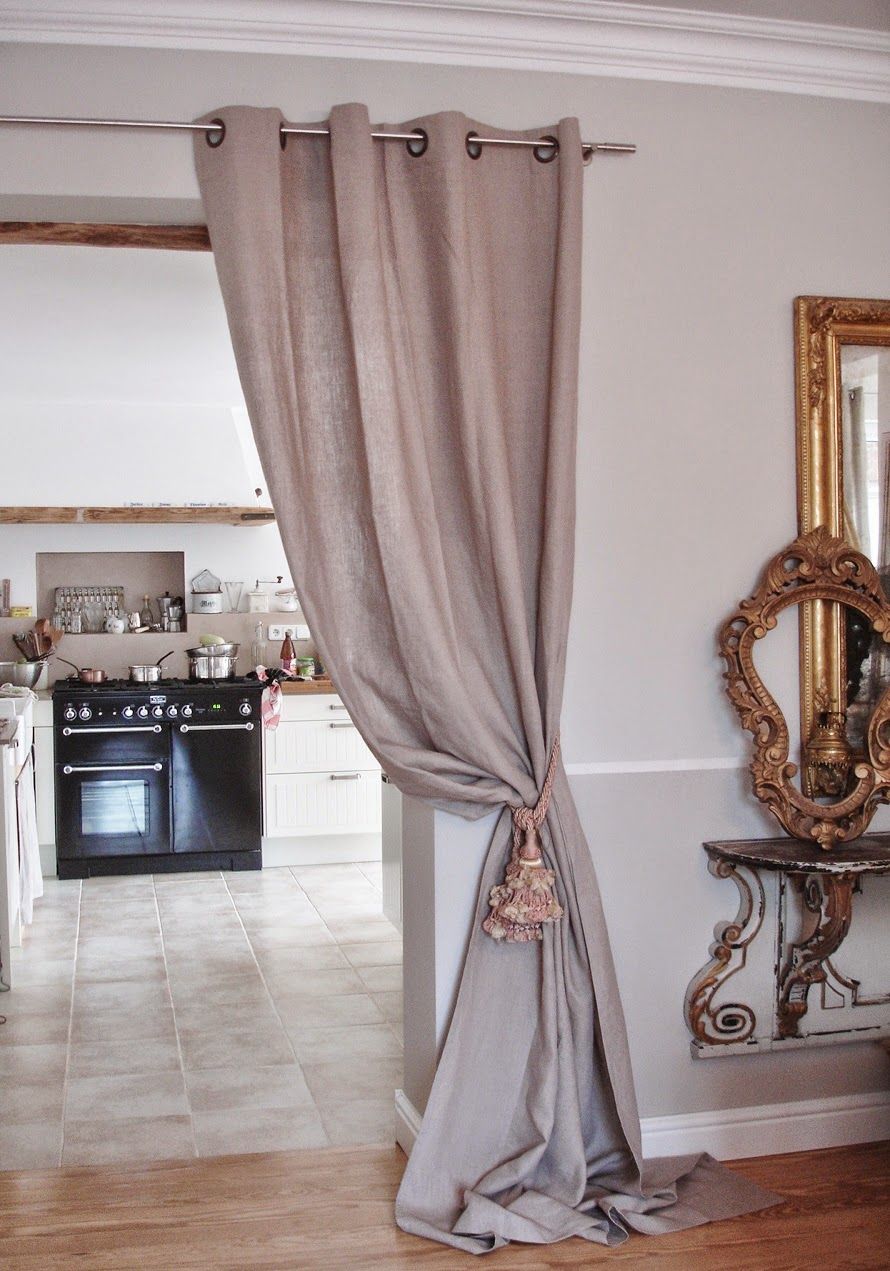 The common material to create a curtain is fabric. It is a multifunctional element for home interior design. Using a door curtain protects you from people seeing directly into your home. Moreover, fabric material has various levels of thickness that suit your need to create a private room from the world outside. Besides, if you use transparent fabric, it gives natural light into your room by its lattice.
Linen Door Curtain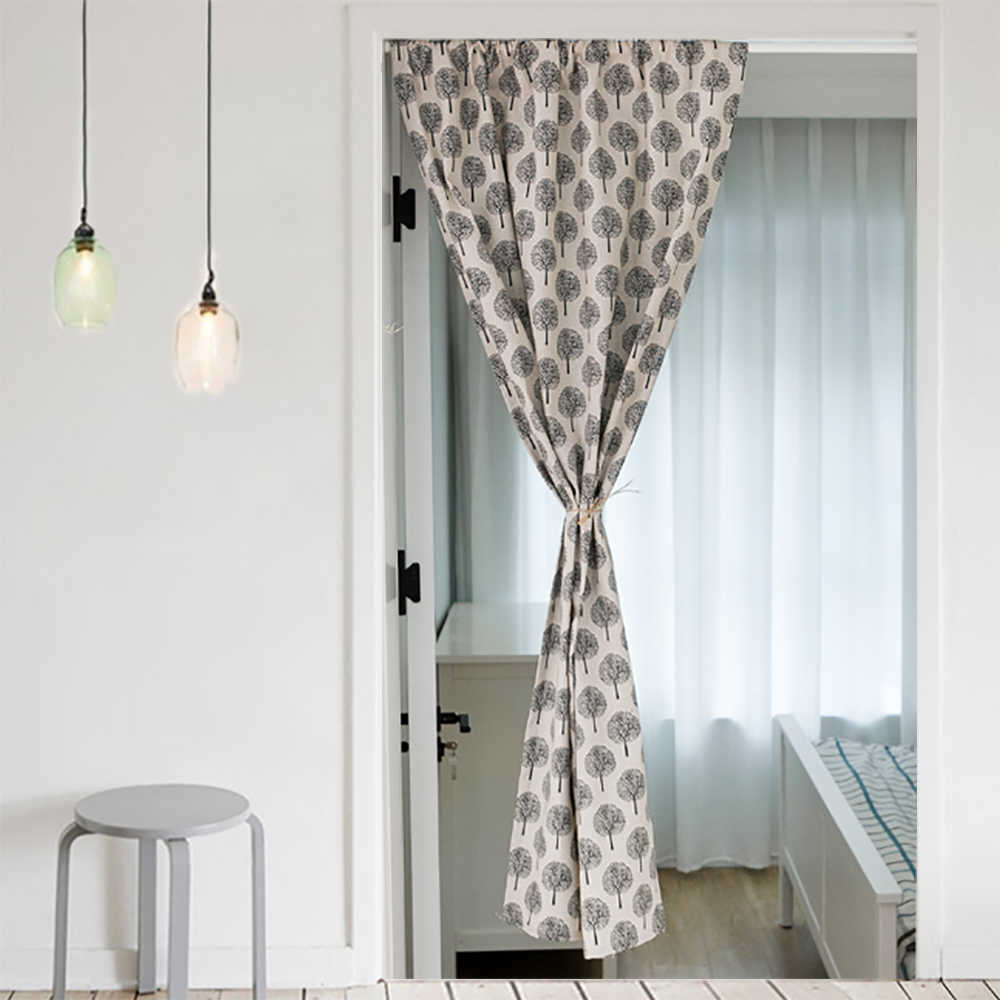 Linen is a kind of fabric that has a thin texture. The door curtain that uses linen material is commonly used by Japanese people. They use this door curtain to create a blind nuance in the kitchen and dining room. This door curtain has many motifs and colors. Sometimes, the motifs draw a certain story or scenery. It is interesting to hang this curtain on your kitchen door. The transitional style of Japanese design and the original design of your home interior are combined to create a cozy decoration.
Indian Silk Door Curtain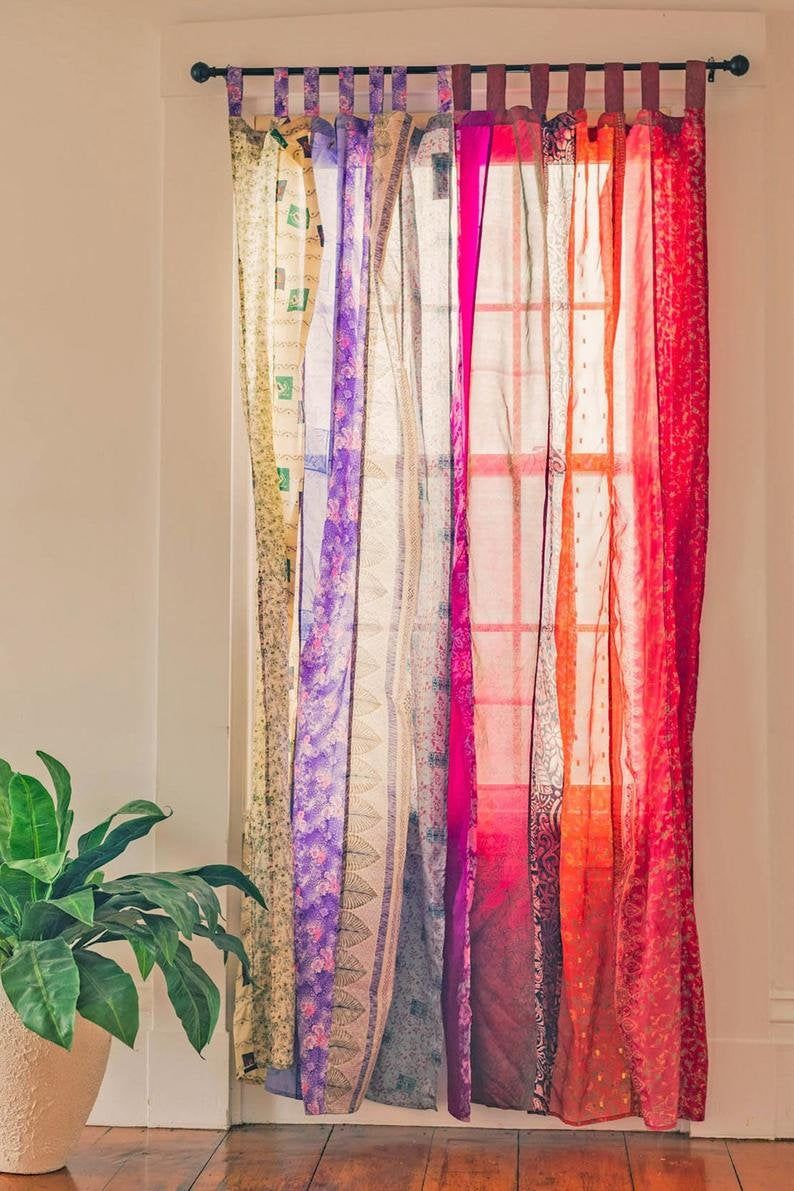 Another idea is Indian silk to make it as a door curtain. Indian has beautiful motifs for its traditional fabrics. The artistic pattern contributes to building a strange look of your entryways. It shows you how some traditional motifs are united to create an impressive look in your doorways. The colorful motifs enliven the cheerful atmosphere in your home interior. Moreover, your interior design looks more aesthetic with this concept.
Macrame Door Curtain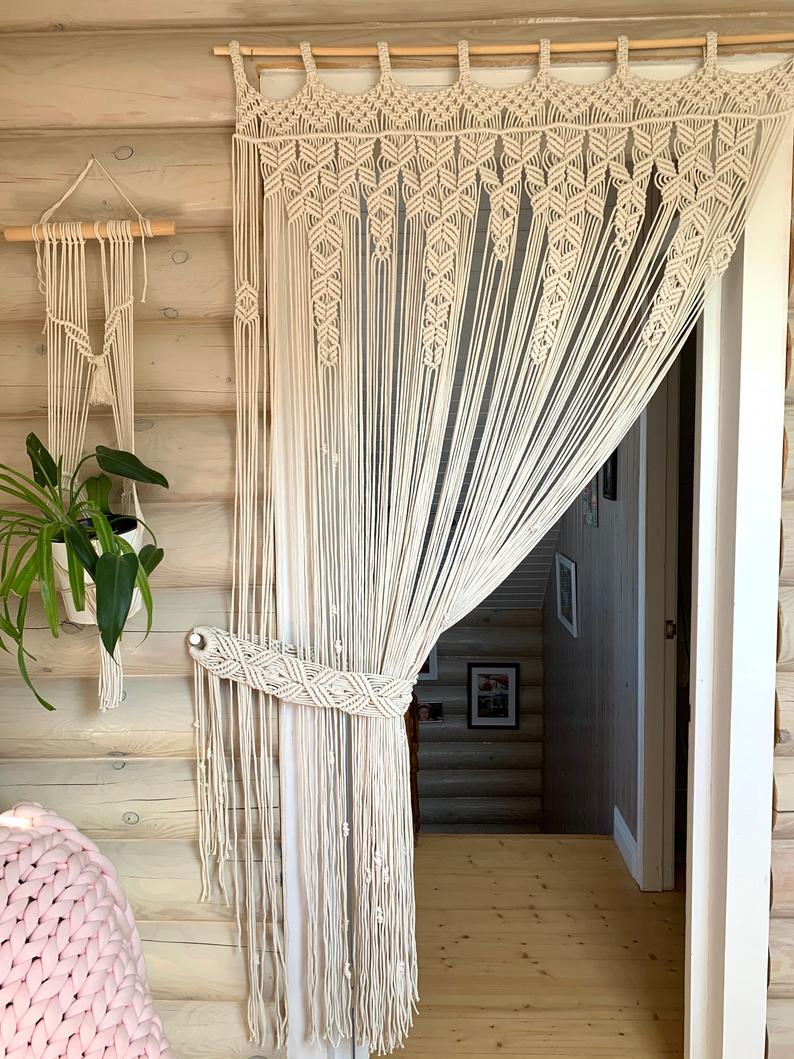 The macrame door curtain is another ethnic accent to modify your door. It consists of threads and a stick that has an artistic value by its plaited threads. These threads form a certain pattern that shows its original character. Macrame door curtain has a bohemian style and suits your interior design with a chic accent. This door curtain mostly uses a neutral color that has an outdoorsy touch. You can hang this curtain on your front door or your bedroom door.
Beaded Door Curtain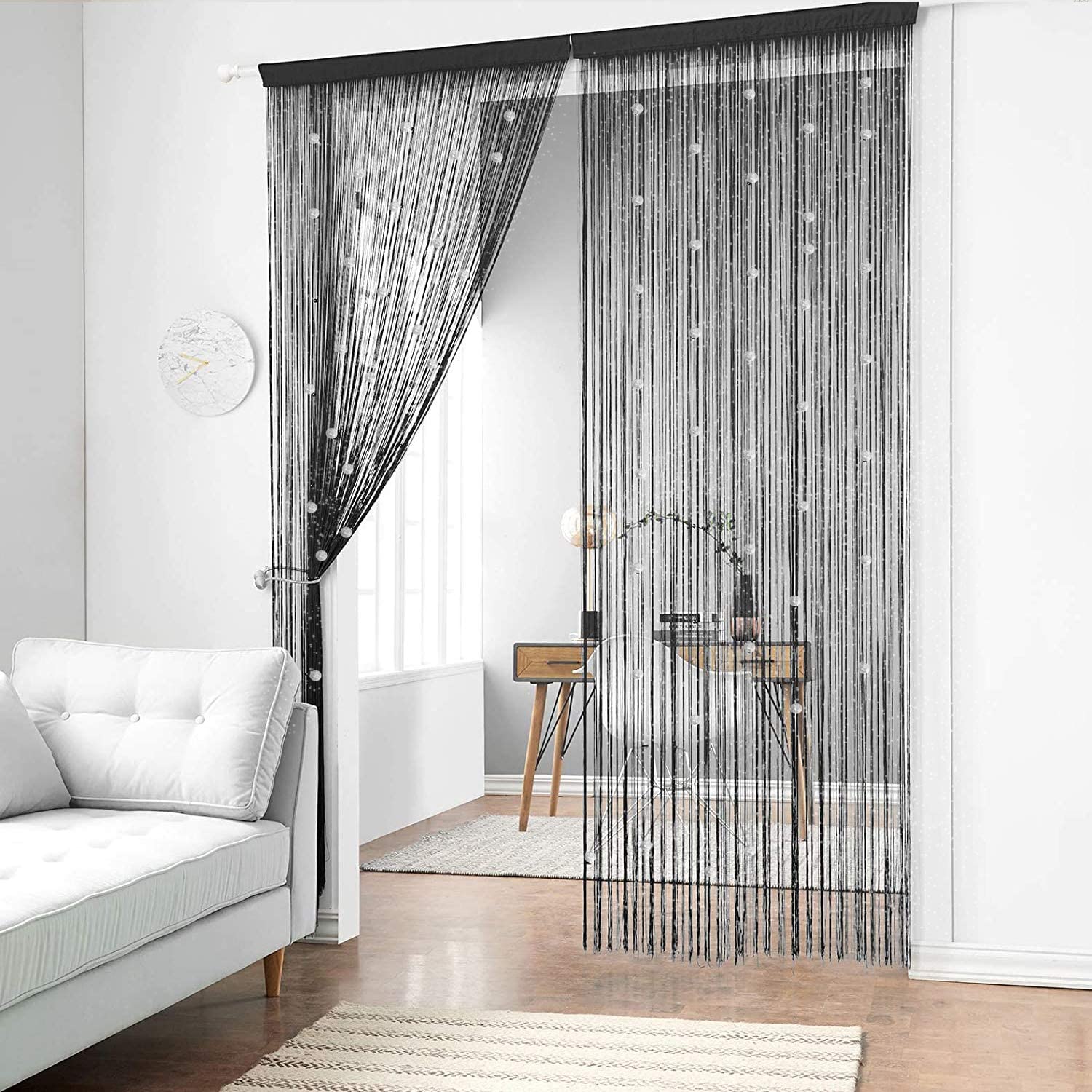 If you have a bunch of white shells, you can arrange them into an aesthetic door curtain. Besides, this door curtain is easy to make yourself. The material is available around you. The white shells can be replaced by beads, synthetic pearls, and many more. Arranging the beaded door curtain increases your creativity. The color choices are based on your favor. When you hanging this door curtain, hang them on different level positions to create a unique look.
That is our discussion about Interesting Door Curtain Ideas for an Aesthetic Decoration. By creating a home interior with beautiful decorations, you can create a more attractive appearance for your home. The door curtain is an aesthetic element to draw an interesting interior design. This element has functions to beautify the room interior, give privacy, and protect your room from sunlight or dust from outside. Besides, a curtain adjusts your door or other entryways to create a transparent blind in a room. Thus, hanging a curtain for your door is an interesting idea for your interior design. Happy decorating!