Druhomes.com – In a home interior, creating a space that suits your needs is an important thing for you to do. One of the rooms that you have to create in your home is the bedroom. By creating a bedroom you can have a personal place for you to sleep, relax and rest after a long day of activities. This makes a comfortable and beautiful bedroom an important thing for you to have in your home. In creating a comfortable and beautiful bedroom, you need to pay attention to various things such as the bedroom layout, the decorations you use, the furniture you use, bedroom wallpaper, and so on. For that, in this article we will discuss Tips for Arranging Bedroom Layout: Comfortable and Beautiful Interior.
The bedroom layout is a part of room decoration that contributes to creating an impressive interior design. Thus, it is important to prepare the layout that you want to use in your bedroom. It determines the arrangement over the furniture and its position to make a perfect decoration by considering the main function to take a rest. Determining the right layout for your bedroom requires some aspects to take on the first list. It depends on several things that you need to use. We know that arrange the furniture and play with a certain interior design is not easy. For that, we will discuss the steps to take you to a comfortable layout for your bedroom. But first, we will discuss the things you should pay attention to before arranging your bedroom layout. Let's discuss!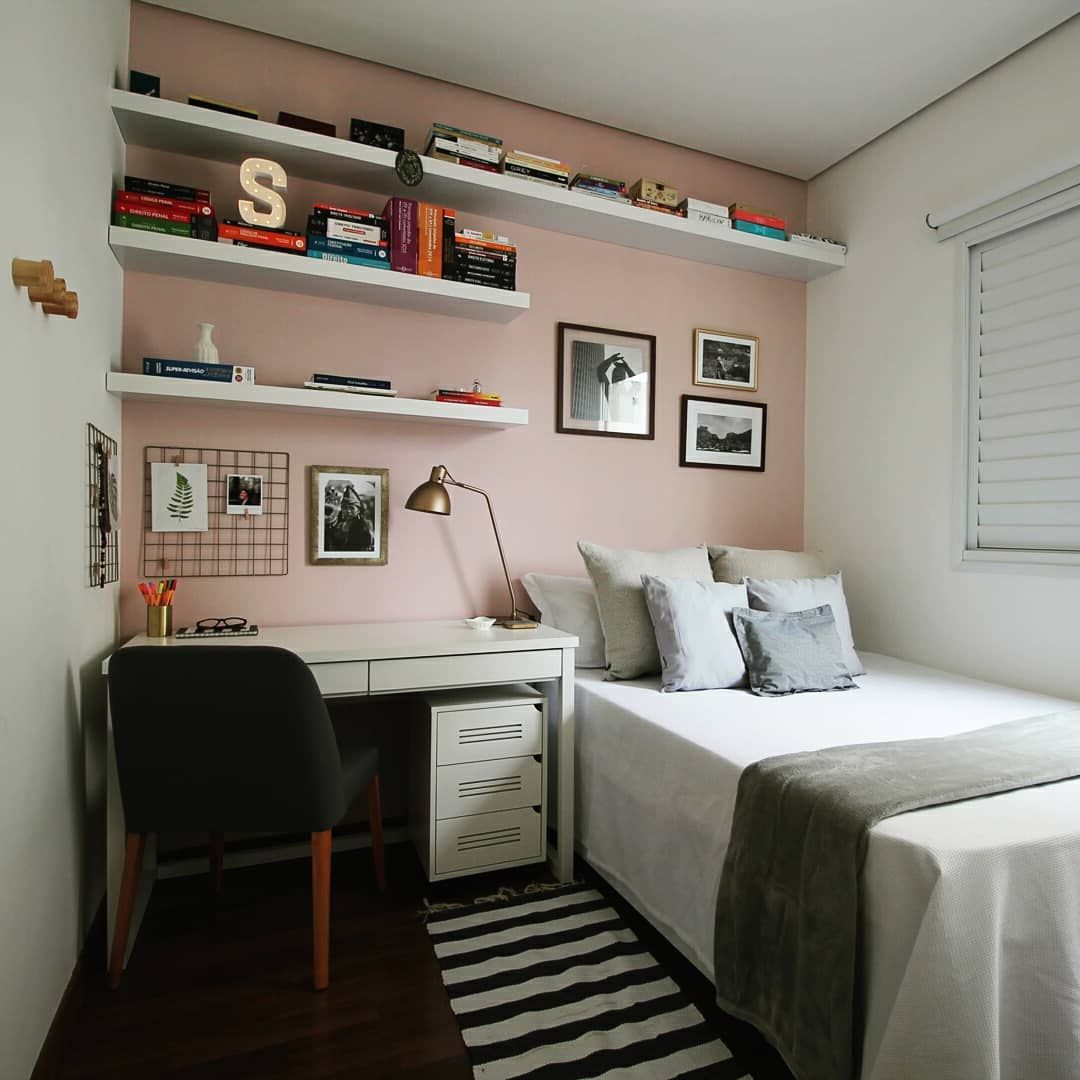 Things You Should Do Before Arranging The Bedroom Layout
We have summed some lists of the steps before decorating your bedroom. Since the layout is a dependent thing, we will help you to connect some aspects of decorating your bedroom. Here are some things you should pay attention to in creating a comfortable and beautiful bedroom.
Determining the bedroom type
The first step to do is determining the type of your bedroom. There is a certain bedroom that has a single bed, double bed, queen and king bed, etc. It also can be the master room or the kid's room. The function of your bedroom has an important role to help you decorate the room.
In every bedroom, it always has space that you can use to put some decorations. The room space offers a challenge to redecorate your bedroom by moving certain furniture to have a new look. Moreover, observing the space in the bedroom is meant a lot for you to change the theme in your bedroom interior.
Relate to the third step, determining the theme for your bedroom interior leads the decoration into an interesting one. It builds an impressive look if you change it regularly when you get bored. Besides, the layout of your bedroom may follow the theme that has been attached to the room. It will match the arrangement of your furniture and the theme of its interior design.
Furniture to Put in Bedroom
The kind of furniture in arranging bedroom layout is one of the important aspects. Decorating your bedroom layout will be easier if you take a look at the previous steps before choosing the right furniture to complement the layout. Put the furniture that you need the most. Besides, rearranging the position of the old furniture also helps you to give a new face to your bedroom layout.
Tips for Arranging Bedroom Layout
After knowing the various things you have to do before arranging your bedroom layout, the next topic that we will discuss is the main topic in this article. The following are various tips and ideas on arranging bedroom layouts that you can follow. By arranging your bedroom properly, you can create a comfortable and beautiful interior. For that, let's discuss these tips and ideas one by one!
Bedroom with Storage Layout
There are various types of furniture that you can use for your bedroom interior. You can use furniture with one main function or multifunctional furniture in the interior of your bedroom. One of the important pieces of furniture for you to use is storage. Storage is one of the beneficial furniture to keep things from dust and dirt. We have three ideas for a bedroom layout to put the storage within it.
Put A Wardrobe in an Accessible Position
In a common decoration, a bedroom has storage. It is furniture to keep the clothes and other things from the dust. To start arranging your bedroom layout, you can put a wardrobe near the wall. Make sure that this position gives you easy access to take and save clothes. For the wardrobe decoration, use the neutral color then it adjusts any interior design.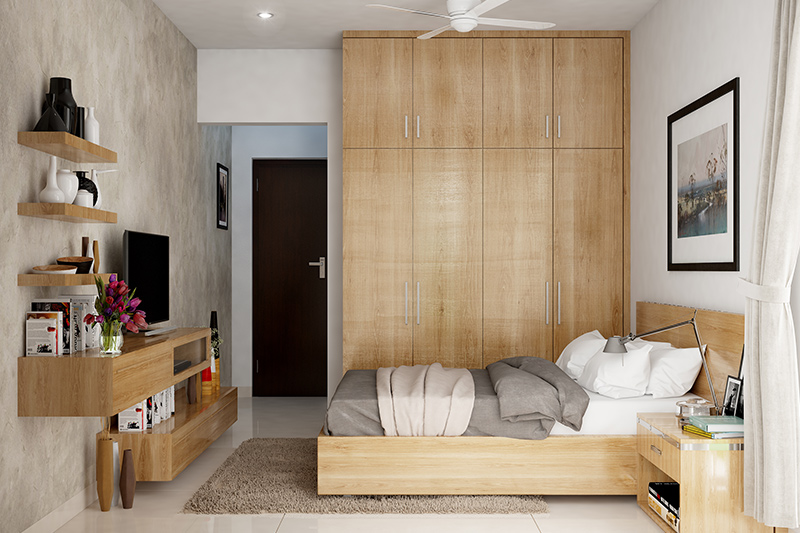 Storage in your bedroom consumes more space rather than other furniture. It looks interesting to have the same theme for your room's interior and the furniture. Installing a wooden wardrobe with metallic door handles matches your bedroom interior in minimalist and industrial design. Put this wardrobe near the bed to make an adjacent position. Moreover, you can connect this wardrobe with the table set and bookshelf.
Bookshelf and Drawer Arrangement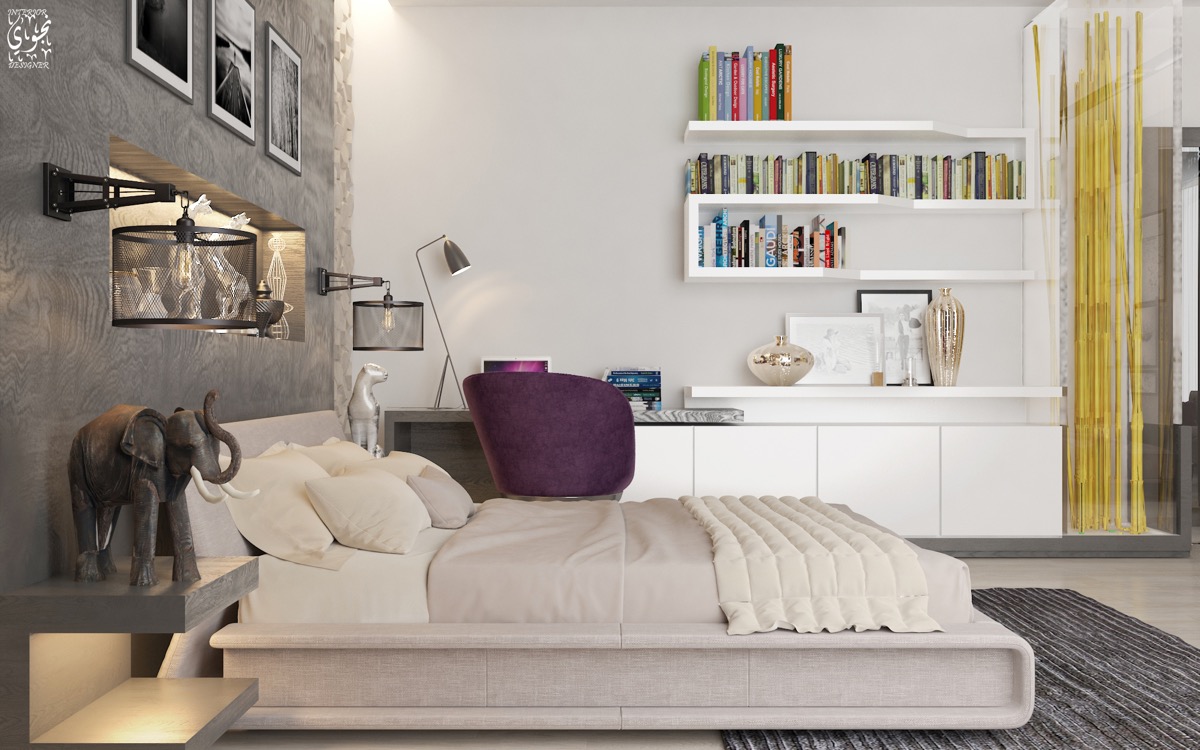 A bookshelf has an impressive accent because it is beneficial to contain many books as mini library and other ornaments. This furniture is made of wood, metal, plastic, etc that is catchy to install in your bedroom. A showy bookshelf gives a cheerful atmosphere to your room. Moreover, you can make a corner bookshelf with a table set. Add a drawer under the table to give more storage for your books. For your bed arrangement, it can dominate the most space in your bedroom as it should be.
Narrow Bedroom Layout
Bedrooms have various types of sizes. For those of you who have a narrow bedroom, we will discuss tips for arranging the layout in it. To deal with a narrow room is not easy, then we have some tips for you to decorate an interesting layout for a small bedroom.
The Position of Table Set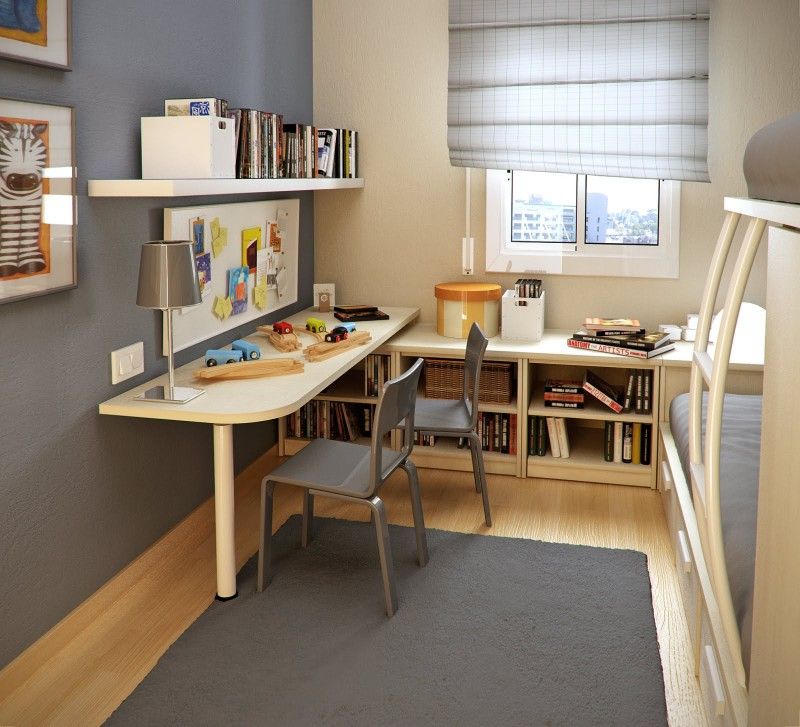 In a small bedroom, arranging the furniture is tricky, because you should consider the space and the size of your furniture. If your bedroom has a table set, install it to face the window is beneficial to get fresh air while looking for inspiration when doing work. For the small bedroom, the furniture must adjust the room space such as using a rectangular single bed, mounted bookshelf, and minimalist table. Thus, you can have enough furniture even though the bedroom is narrow.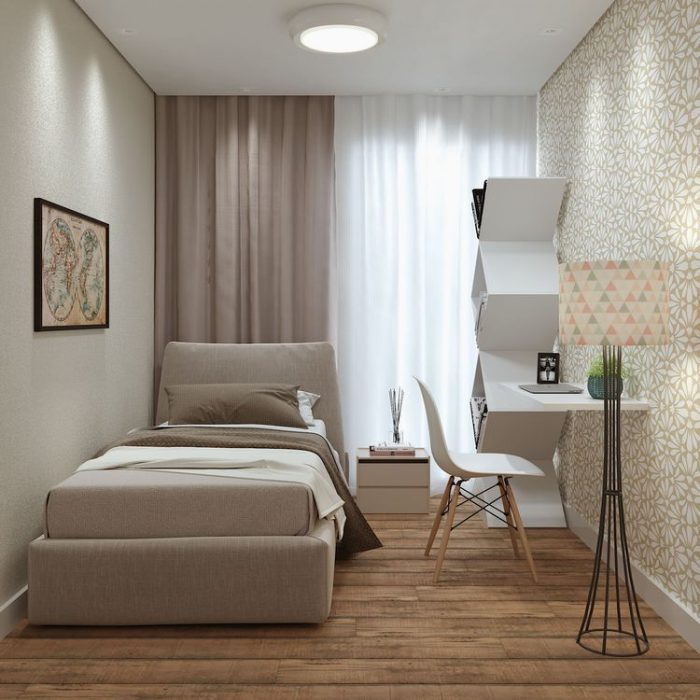 Creating a comfortable bedroom in a narrow room needs the right preparation. There are the furniture and its color that bring a clean and larger impression. Besides, installing a few pieces of furniture in your small bedroom saves more space to take a breath. Simplify the bedroom layout by arranging your bed in the corner of the wall and put a minimalist bookshelf and table. Moreover, add a standing lamp to brighten your narrow bedroom. This lamp has enough light to brighten the entire room.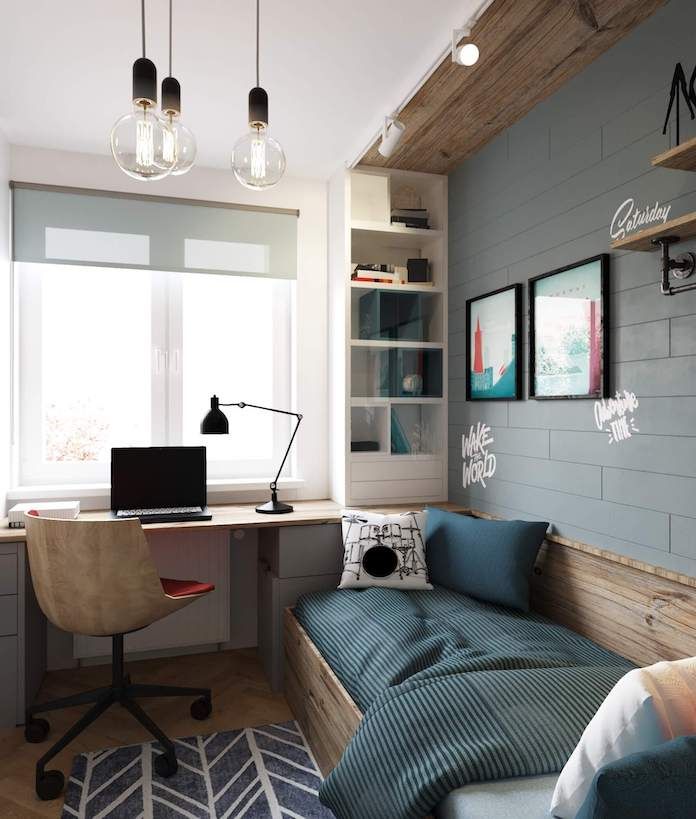 A rectangular bed has a simple design that suits your narrow bedroom. It gives more space to put a table and mini storage in the room. Connect the bed and your mini storage near the wall. Like the concept of interior design in a narrow room, you should use the wall as a beneficial space to draw an interesting decoration. It has a larger space to hang some displays and stick on it some bookshelf. Creating mounted storage above the bed is an impressive design for your bedroom layout. You can put a table beside the bed and the mounted storage.
Relaxing Bedroom Layout
Creating a comfortable bedroom for you to relax is an essential thing for you to do. This is because a bedroom is room to take a rest after doing daily activities. It is a private or personal room that should be comfortable for you. Thus, we have some tips for bedroom layout to create a relaxing bedroom.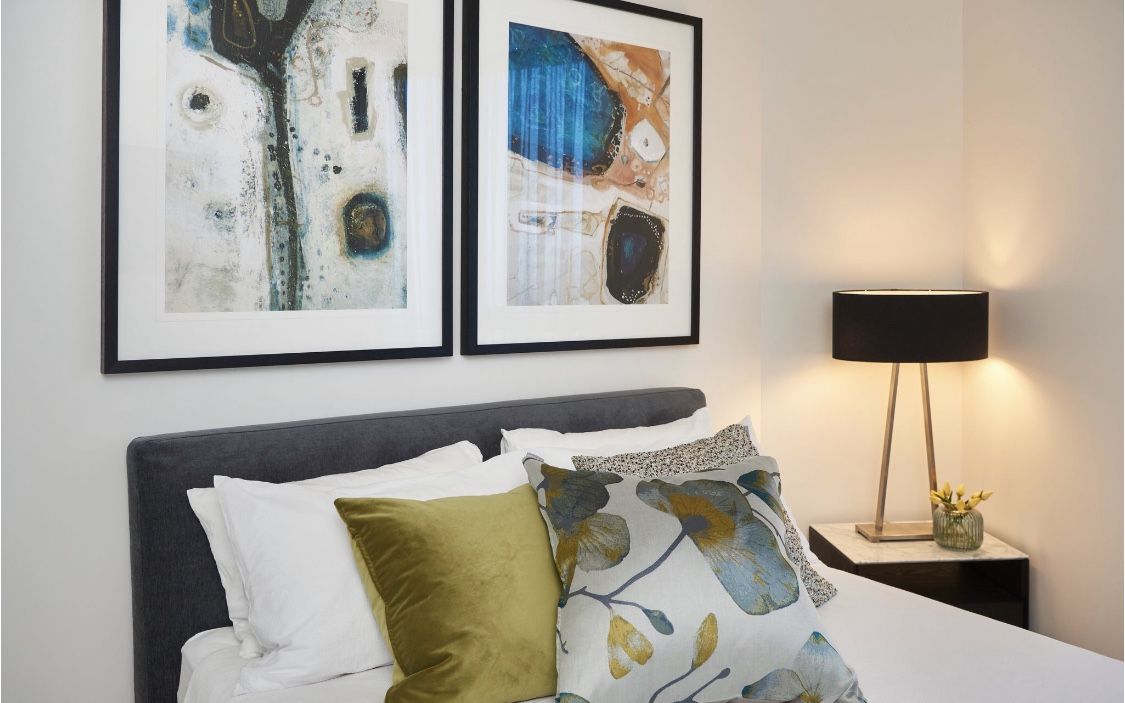 In a relaxing bedroom layout, it has comfy seat to sit, a comfy bed to sleep in, and more space to lie on the floor. It creates a sense of inviting a comfortable nuance from these things. Having more cushions gives you a nice decoration when you put cute cushions on your rug, then lying on it while enjoying your time.
Installing A Small Lounge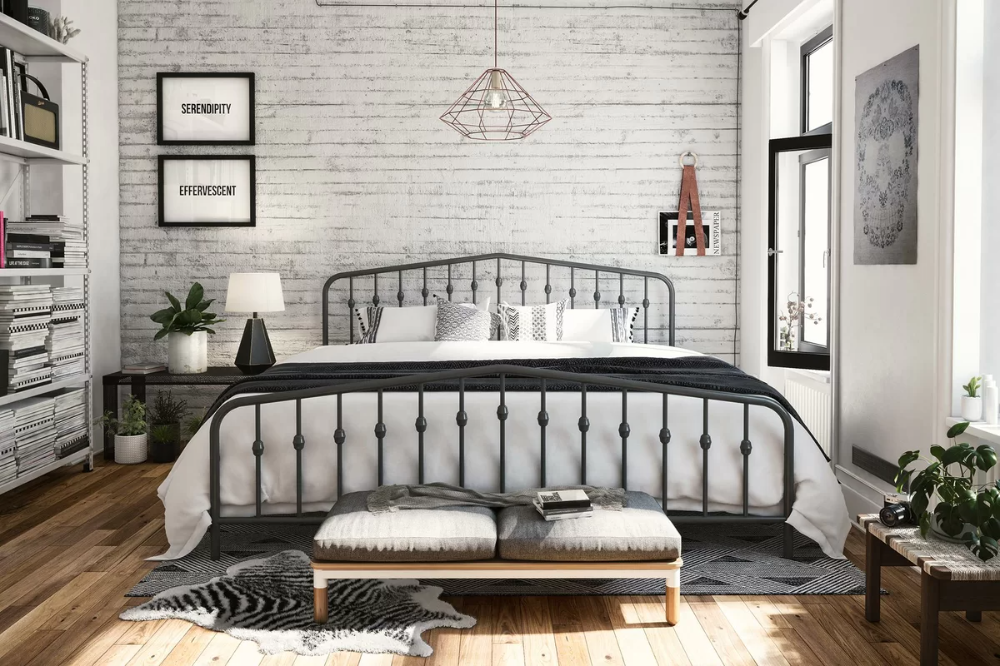 Another option to give a new look for your bedroom layout is installing a small lounge. This furniture is compatible to put near the lower side of your bed. It creates a comfy place because sitting on this lounge with a furry rug is relaxing your mind. For other furniture, it will be attractive to have ornamental plants on the table near the window. While the bookshelf and wardrobe are on the wall.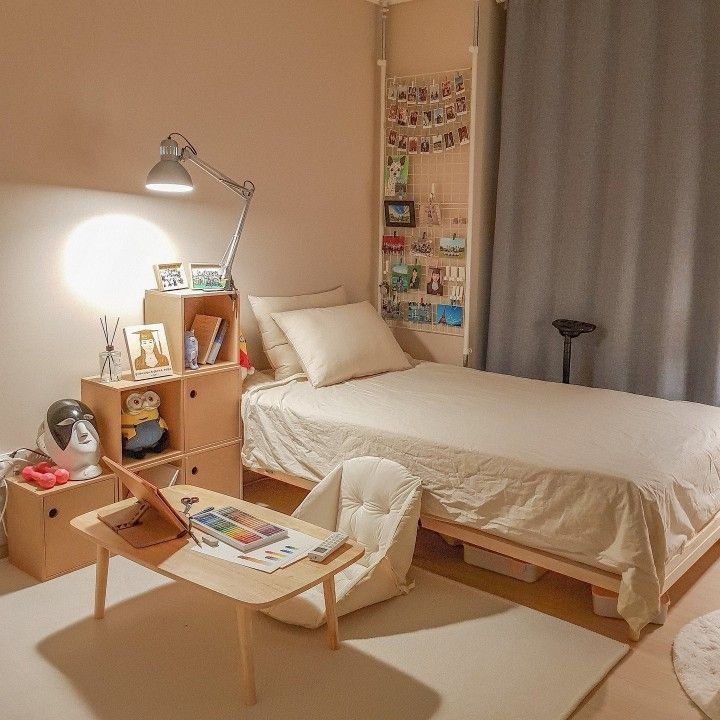 A comfy seat on the floor is another idea for your bedroom layout. It provides a comfortable seat to finish your work by sitting on the floor and facing the work on a table. This idea is simple and saves more space because you can fold the seat after using it. To get a nice layout, put it near the bed and feel a cozy atmosphere on the floor. Thus, put this seat beside the drawer to make it easy when you want to take things from it. This seat offers you an attractive design by changing its upholstery.
Versatile Bedroom Layout
A versatile bedroom is a bedroom design that has many functions. You can take a rest in this room by sleeping on the bed, watching TV, having a nice conversation on the couches, doing your work in a bedroom workspace, and many more. Here, we will give you some ideas for a versatile bedroom layout.
Decorating A Large Bedroom
The room size determines the decoration inside it. The furniture you want to put and the color to attach to the room bring a spacious look to your bedroom. It is easier to decorate a bedroom layout in a larger room because you can explore the decoration by the furniture and its arrangement. Install a small lounge near the window will give you fresh air when sitting on it. Put your drawer near the wall on the other side of the room. Try to design the layout that makes you move for a while. The space between the furniture creates a neat impression because these things are put in the right position that lessens the crowded look.
Having Multifunctional Furniture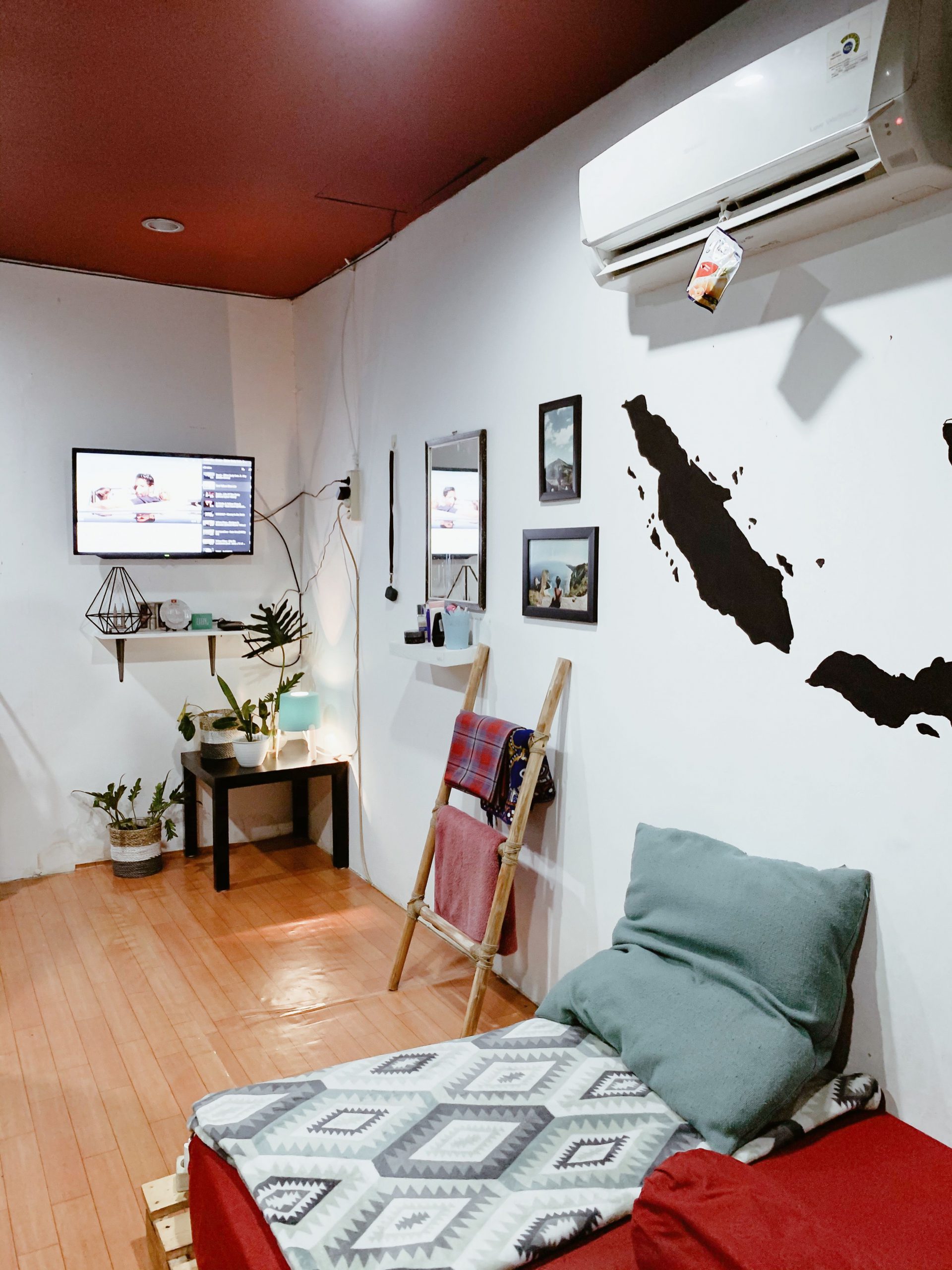 Decorating a nice layout for a versatile bedroom needs to consider some points. The use of furniture in this bedroom design can enliven the interior. You can put a decorative ladder to replace the hanging towel on the wall. If your bedroom has fresh air, thrive some ornamental plants to absorb pollution the interior. On the other side of the wall, install a TV and hang a mounted bookshelf behind it. To complete the bedroom layout, put a mirror on the wall with your toiletry on its mirror sill. Moreover, give an artistic touch on the wall by having an interesting painting.
Conclusion
Thus our discussion about Tips for Arranging Bedroom Layout: Comfortable and Beautiful Interior. By creating the right layout in the interior of your bedroom, you can create a comfortable and beautiful bedroom. Bedroom layout helps you to build an attractive room by considering the furniture, decoration, style, and theme. Besides, the size of the interior of your bedroom will feel wider by paying attention to this based on the interior layout of the bedroom that you created. For that, create the most comfortable and beautiful bedroom in your home by paying attention to the most appropriate layout for you to use. We hope that the information we have mentioned is beneficial for you to create a new layout for your bedroom. Happy decorating!