Druhomes.com – In a comfortable and beautiful interior living room, furniture and decorations are important things for you to pay attention to besides interior design. This is because the furniture and decorations will give you a functional value and beauty in the interior of your living room. For that, you need to choose the right design for your furniture and decorations. You can choose a one function design or choose a multifunctional design according to your needs. Besides, you also need to determine the aesthetics of the furniture you use to make it look beautiful and elegant. There are various pieces of furniture that you can use in your living room. One of the important pieces of furniture in your living room is an elegant coffee table.
The coffee table is very important for your centerpiece gathering with your friends and family in the living room you have. A coffee table is a low small table to put in a sitting room such as the living room, on the porch, the conversation pit, and in the backyard to gather together and enjoy the time. It has a cute design to simplify the need of putting some drinks and food. You can choose a variety of coffee table designs that you want for your living room.
One of the designs that we will discuss in this article is an elegant coffee table. It is quite simple to contain small things while having a conversation with people and attractive enough to be a decoration in that area. Thus, this table is usually use as a living room decoration or furniture. For that, in this article, we want to show you some elegant coffee tables to put in your living room. Let us discuss!
Mara Walnut Coffee Table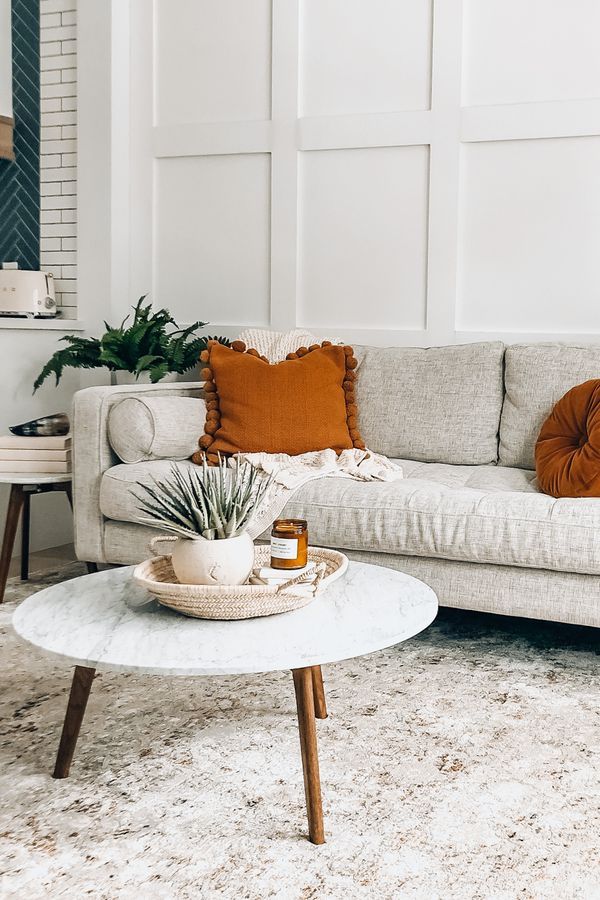 This is an elegant coffee table to present the mid-century modern look in that era. It has a graceful look with a set of stone on top and steel legs that are catchy to combine with a minimalist living room. It usually has three legs that are made of oak wood or metal steel. The slab has another design from marble material that shows its elegant grey patterns. This coffee table looks classic and matches with any chair as the style of seating in your living room.
Lift-Top Coffee Table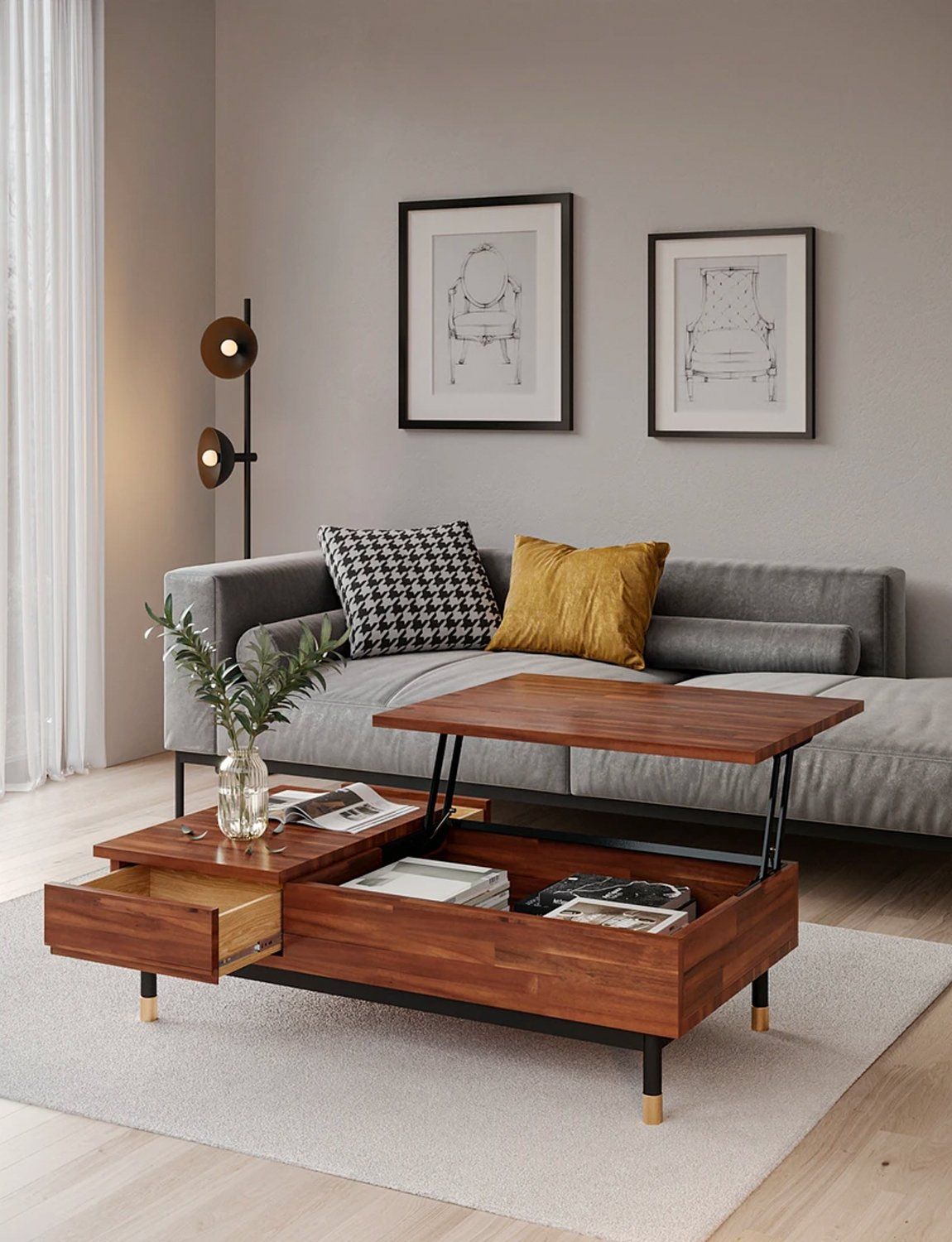 A lift-top coffee table is a small and friendly coffee table that has many functions. It is useful as storage in your living room. Save your books, magazines, and other small stuff for a multifunctional design. Moreover, the top slab is beneficial for those of you who want to sit in a higher chair and put a cup of tea on your coffee table. This coffee table is made of various materials, but the elegant type is made of wood because it has natural patterns on it. The lift-top coffee table has a glossy surface that makes it easy to clean when you spill water on it.
Streamline Coffee Table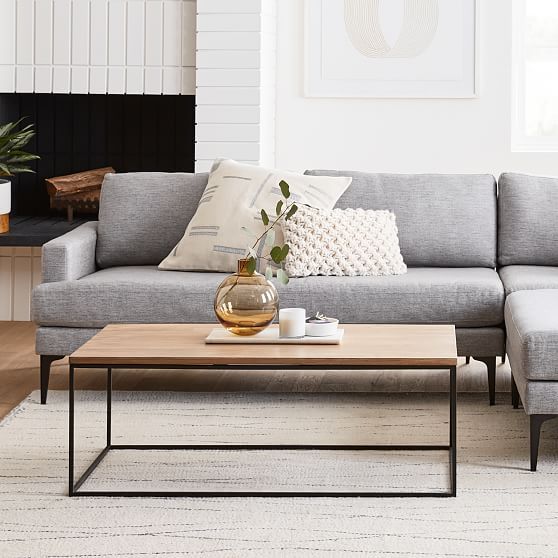 Do you want to get a simpler design for your coffee table? A streamlined coffee table is an answer to your need. It has a rectangular frame from metal and steel. The slab of this coffee table is made of wood. This coffee table looks simple and gives a minimalist accent to your living room. Moreover, the rectangular slab provides a wider space to put your stuff on it. Thus, you can try to put this coffee table to modify your living room.
Geometric Coffee Table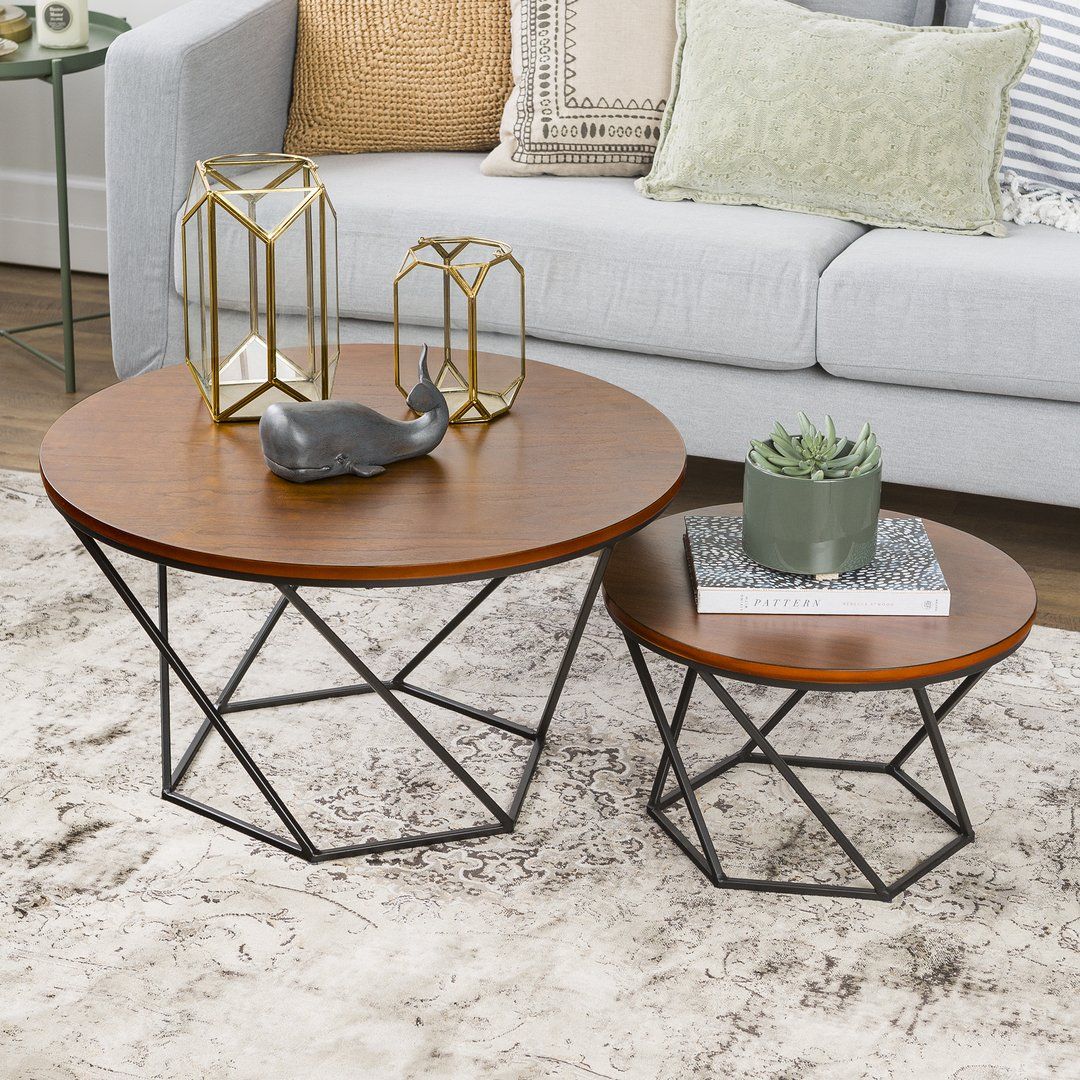 Giving a geometric impression in your living room by using a geometric accent is a nice solution. Maybe, you should take a look at a geometric coffee table. This table has geometric patterns from metal sticks as the legs. This coffee table usually appears in a Minimalist design for the living room. The geometric coffee table offers you more functions by the space under the table. This space is useful to save your book or a small chair.
Marble Coffee Table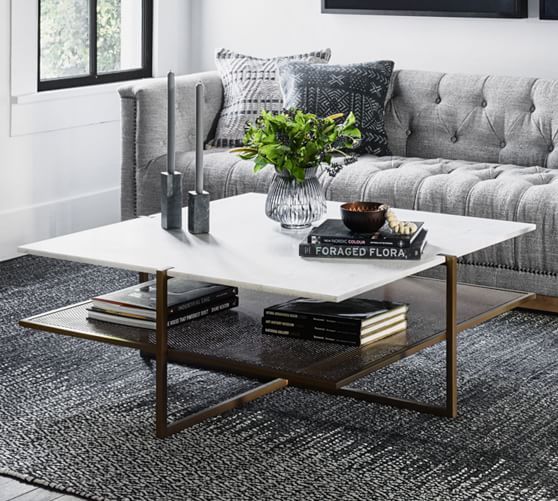 A marble slab has a glossy surface that is easy to clean. The marble material brings a cold nuance because it is made of stone and has a neutral color. This coffee table has various legs. Diagonal legs are one of the unique legs for a marble coffee table. This metal leg is strong enough to hold two slabs for a coffee table. The first slab is a marble surface, while the second slab is fine to use another material like glass, wood, or steel.
Modern Wood Coffee Table with Storage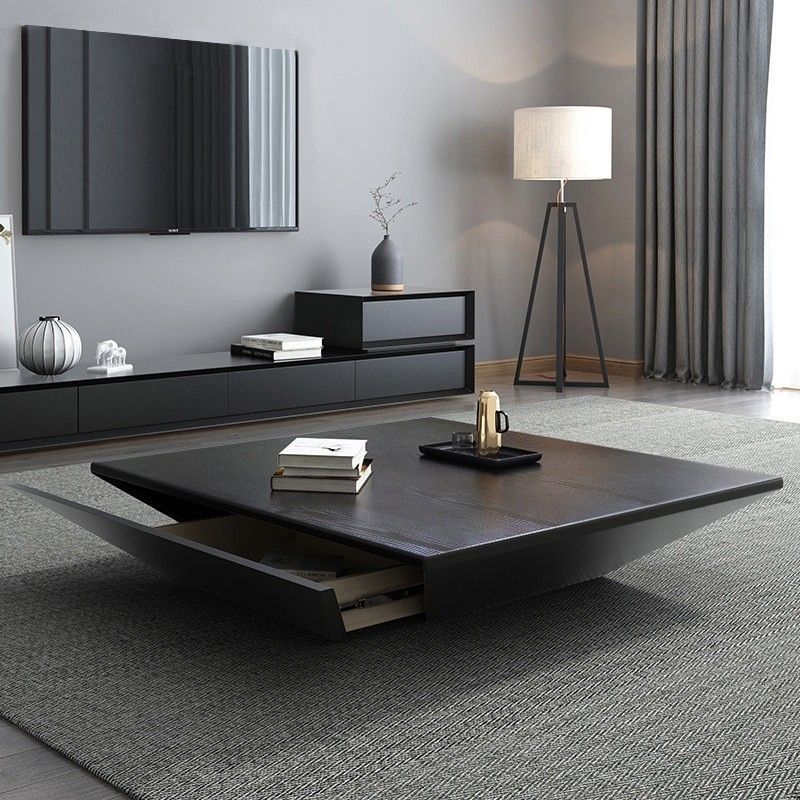 The modern design touches many pieces of furniture to adjust to the modern era. A modern coffee table with storage is an inspiring idea to add more function rather than just a coffee table. This coffee table looks elegant by its dark color and flat glossy surface. The form of this coffee table is following the modern style by using trapezoid sides. This coffee table is simple but elegant because your stuff is secretly put inside this table.
Industrial Round Coffee Table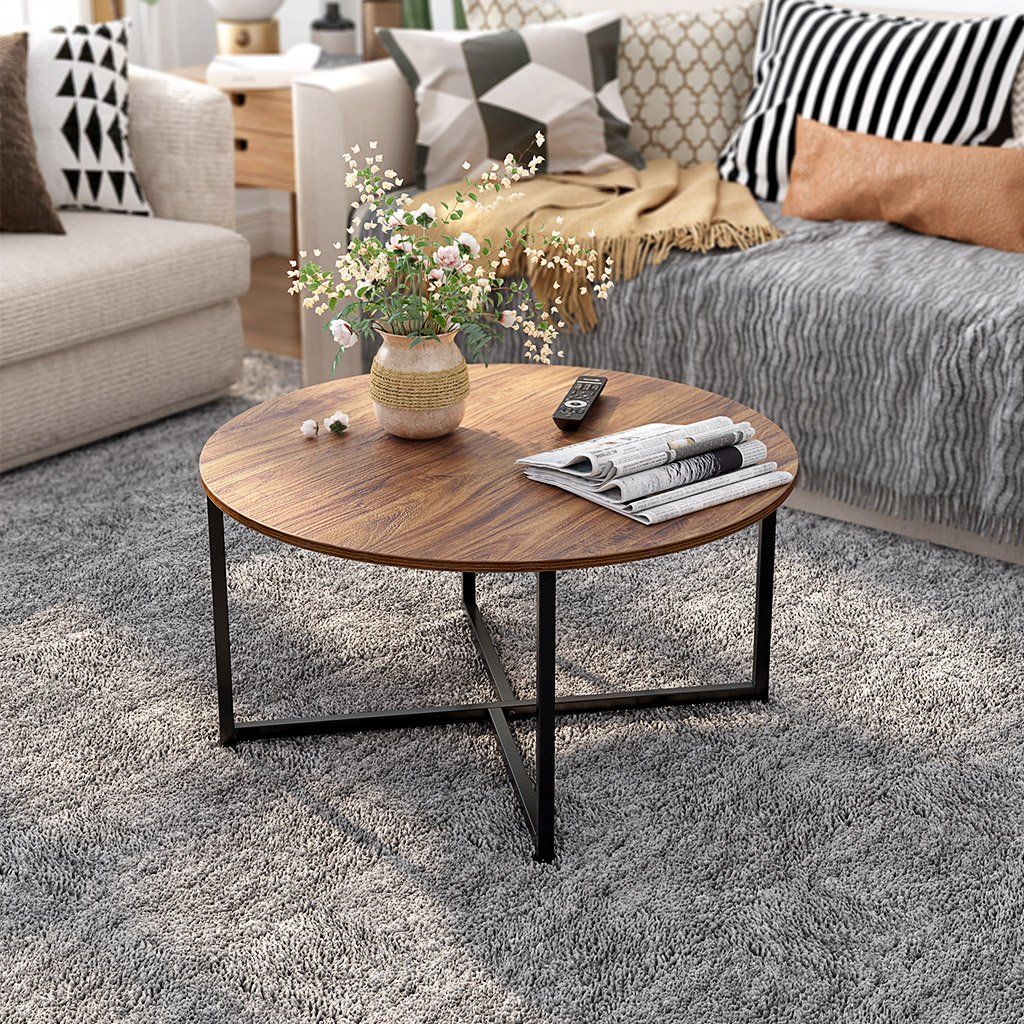 The industrial design brings an elegant impression to every room. It arouses the Industrial era with metals, irons, steel, pipes, and various raw materials. Having an Industrial coffee table brings a nuance of an elegant style and a brave impression. The Industrial accent from this coffee table emerges from the black iron legs. This will creates an elegant impression in your living room interior. This coffee table is catchy enough to put in the Classic, Rustic, and Industrial living room.
Mirror Leveling Coffee Table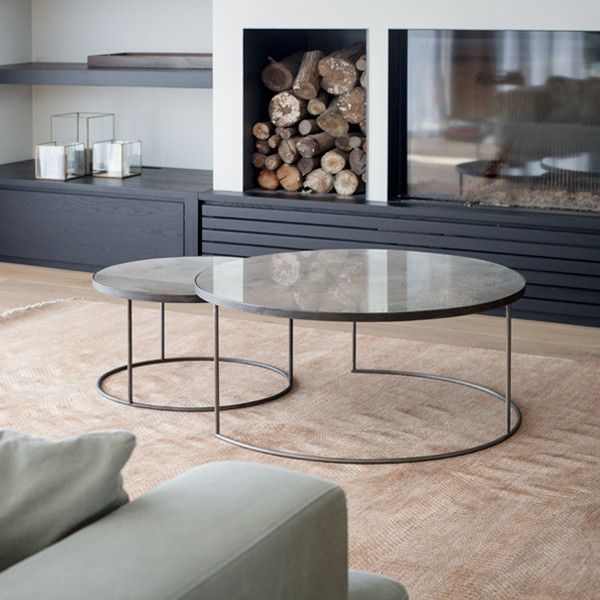 Like its name, a mirror leveling coffee table has a similar form to two in one coffee table. The metal frame forms a round nest to put the smaller table inside the wider table. Combining this metal frame with a glass slab looks classic but interesting enough to decorate your living room. This coffee table style will do well in a Scandinavian and Minimalist living room. It is also good to modify your Farmhouse living room.
Wicker Coffee Table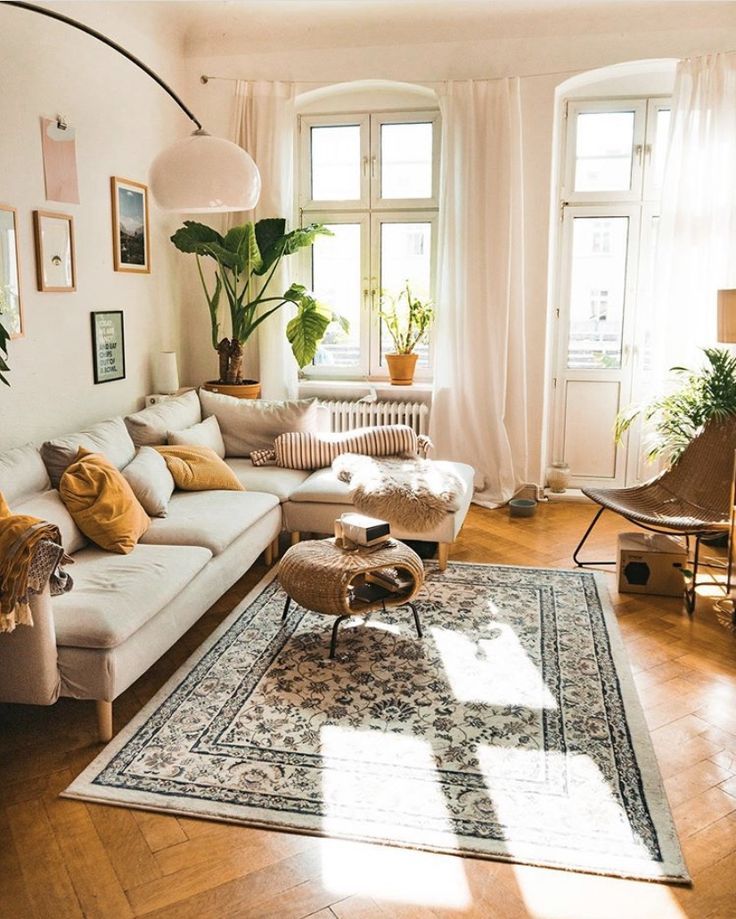 Wicker is an eccentric element that people used in Bohemian design. This element has a spirit of a traditional style by its natural material from rattan. If you want to give a transitional accent in your living room, you can put this coffee table to modify your living room. It looks interesting if you have this coffee table in the center of your living room. The natural patterns from the wicker technique are catchy enough to redecorate your living room.
Rustic Oak Coffee Table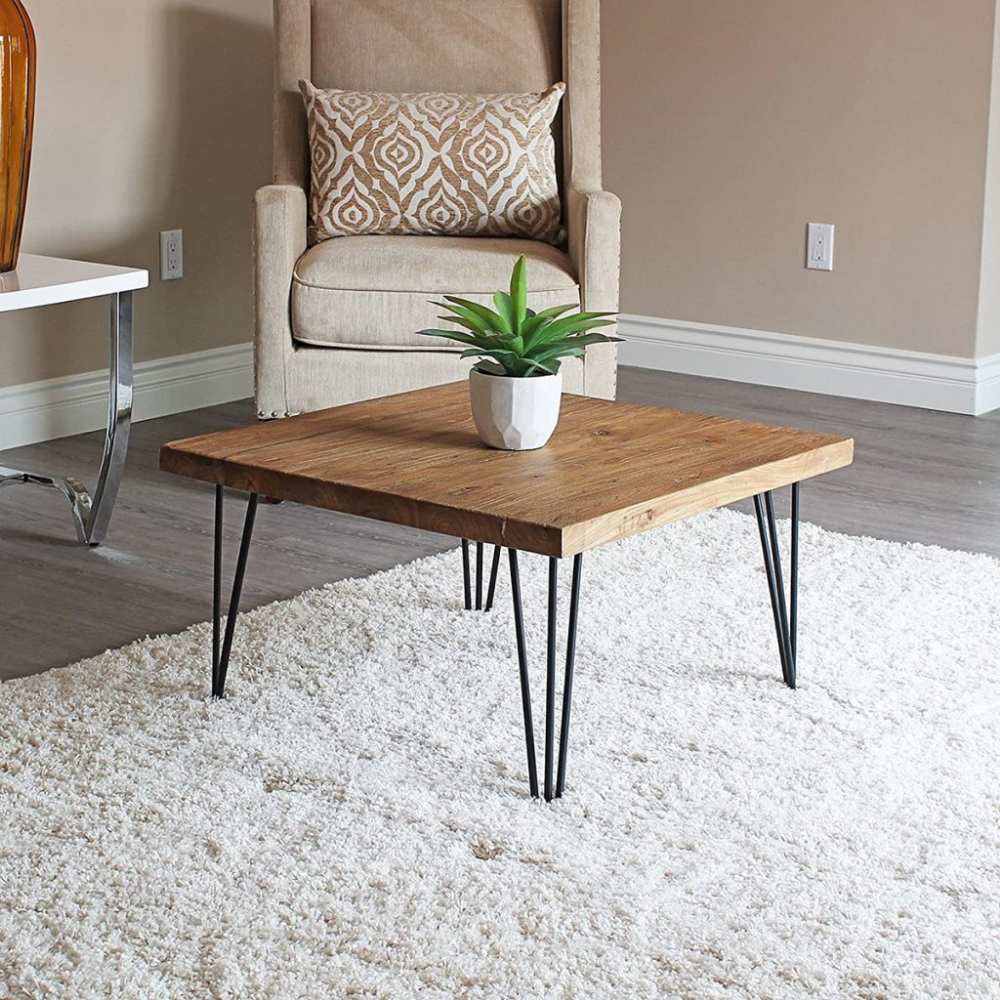 In a home design, the use of an oak tree as the main material has a special function. The oak tree has strong wood, consists of various shades of brown colors this tree is interesting to use as furniture. The oak wood strengthens the rustic accent by its brown color and natural patterns. As a coffee table, oak wood looks so good to pair with black iron legs.
Thus our discussion about Elegant Coffee Table Ideas for Your Living Room Interior. Using a variety of furniture and decorations that are right in your living room is an important thing for you to do. For that, you can use an elegant coffee table as a piece of furniture that provides functional and decorative value in your living room. Even though this table is small, but it looks good to complement the decoration in a seating area for your living room. The kinds of coffee tables we have listed for you are the small numbers among the myriad coffee table types, but still, we hope this article helps you a lot. Happy decorating!