Druhomes.com – Wall tile is often used as an aesthetic wallpaper in a bathroom. Most have a glossy surface and are made of ceramic material. The wall tile gives a clean impression because its surface lets the water spill to run down to the floor. It is also easy to clean by using a cloth or feather duster. The tile has various types based on the material, colors, texture, and stick out surfaces. Nowadays, the use of wall tiles is interesting to decorate another room such as a bedroom. Thus, installing glossy tiles is beneficial for you to have an aesthetic wall to modify your bedroom interior. Decorating a bedroom using aesthetic wall tiles is a creative idea for you to try. The tiles show a unique sidewall that becomes a focal point in your bedroom. If you want to know more about the wall tiles in a bedroom, we have some ideas for you. Let's discuss!
Colorful Tiles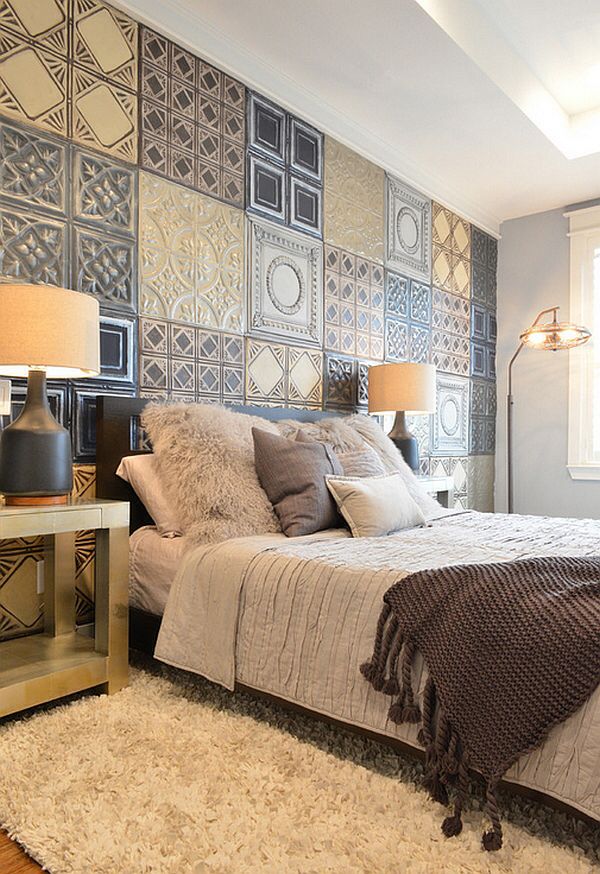 At a glance, bedroom wall tiles look like a backsplash in the kitchen. Some of the bedroom tiles use the same tile as a kitchen backsplash, but the impression in a bedroom is different. It looks nice to put behind your headboard in the bed. These bedroom tiles replicate an aesthetic wallpaper that you usually use to cover the wall. Moreover, this idea is beneficial for you since it uses a different kind of tiles, then you can use the old tiles from your warehouse.
Using an Artistic Morrocan Tile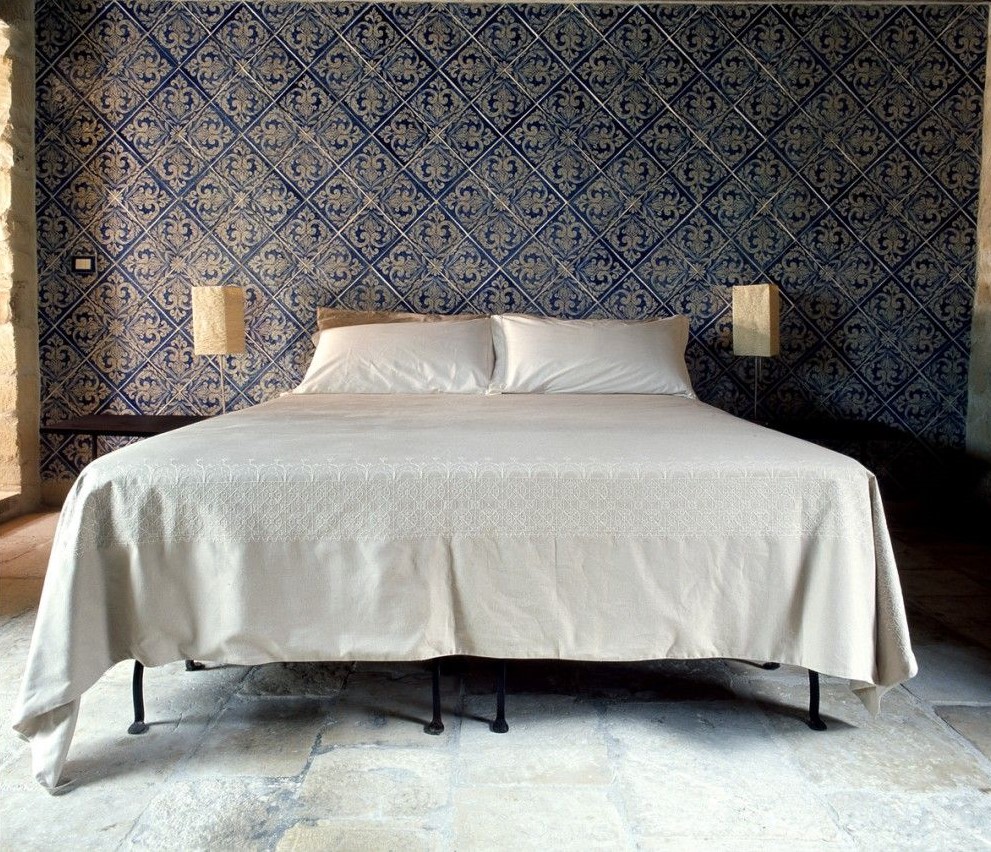 Morrocan tile is an energetic tile because it has an interesting pattern. Flowery and vine patterns are the common pattern from this tile. Most of these patterns are in blue and white colors. It shows the artistic side as the original pattern from Morroco. Attaching this tile for your bedroom wall is attractive enough to build a Morrocan accent on the wall. You can use it to give a classic nuance from the 10th century.
Using Protrude Tiles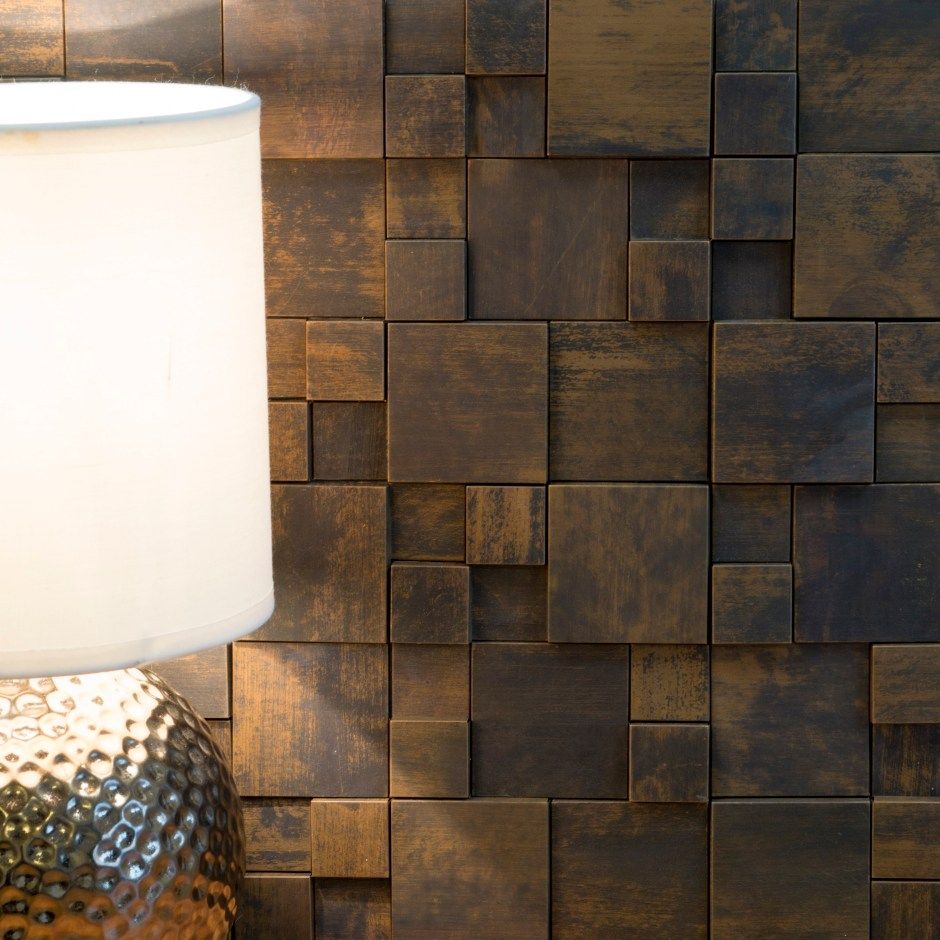 The protrude tile is one of the interesting tiles to give a different texture to your bedroom wall. If you have flat tiles, use a special technique to create a stick-out effect by arranging these tiles in different levels. This technique is effective to modify your flat tiles rather than attach them like the common installation. Besides, you can also use the tiles that already have a different thickness to arrange them easily by the same levels.
Back-lit Tiles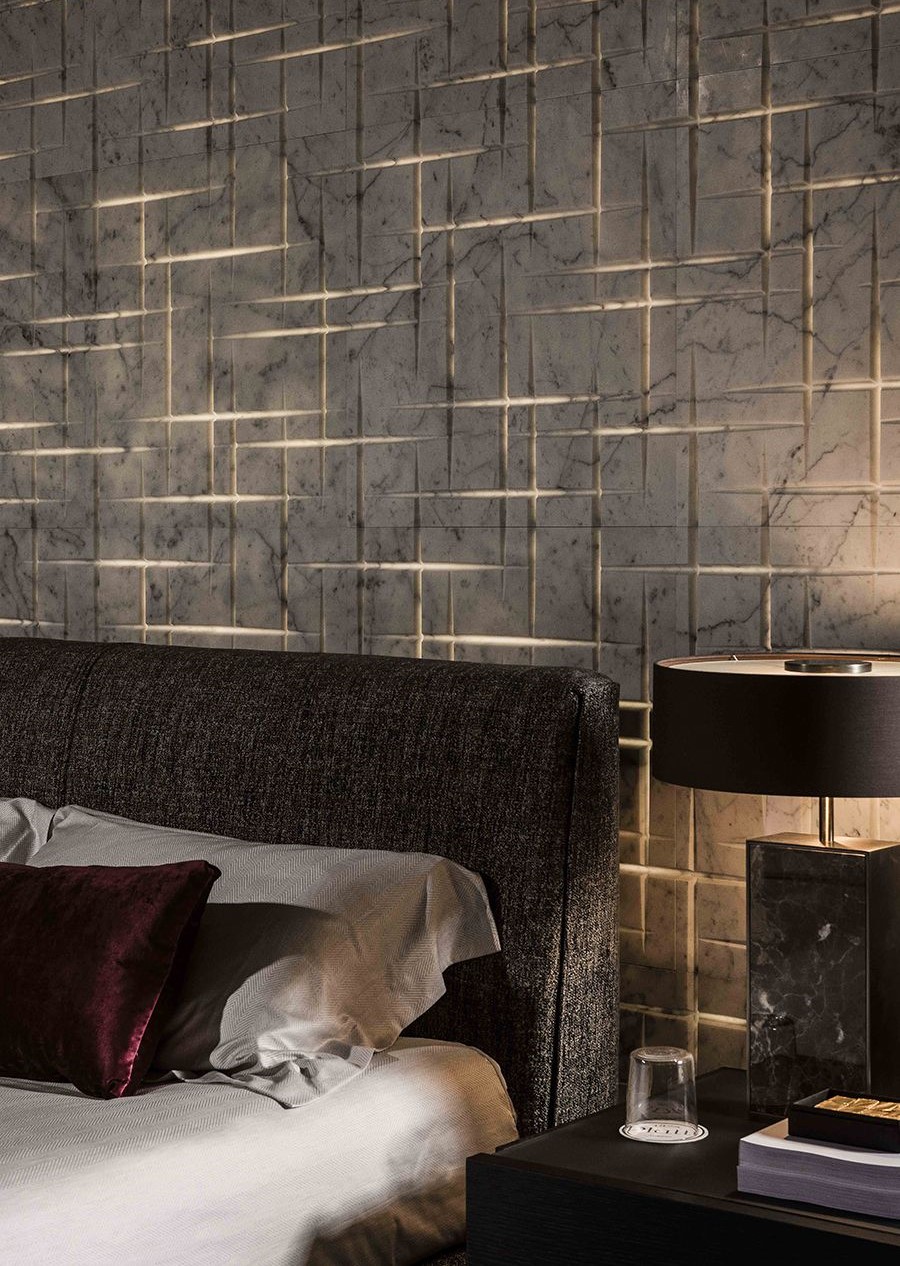 An elegant bedroom interior often has a black accent to enliven the elegant impression. Maybe, you ever see the combination of black and golden color that generates an elegant look. Creating an elegant look is not easy, sometimes you need to balance some different elements like playing with the tiles and lighting to create such effect. Using back-lit tiles will help to create an elegant bedroom wall. Like its name, back-lit tiles use a lighting panel to illuminate the space between your back-lit tiles. Simply, it lights up from behind the tiles.
Vertical Plain Tiles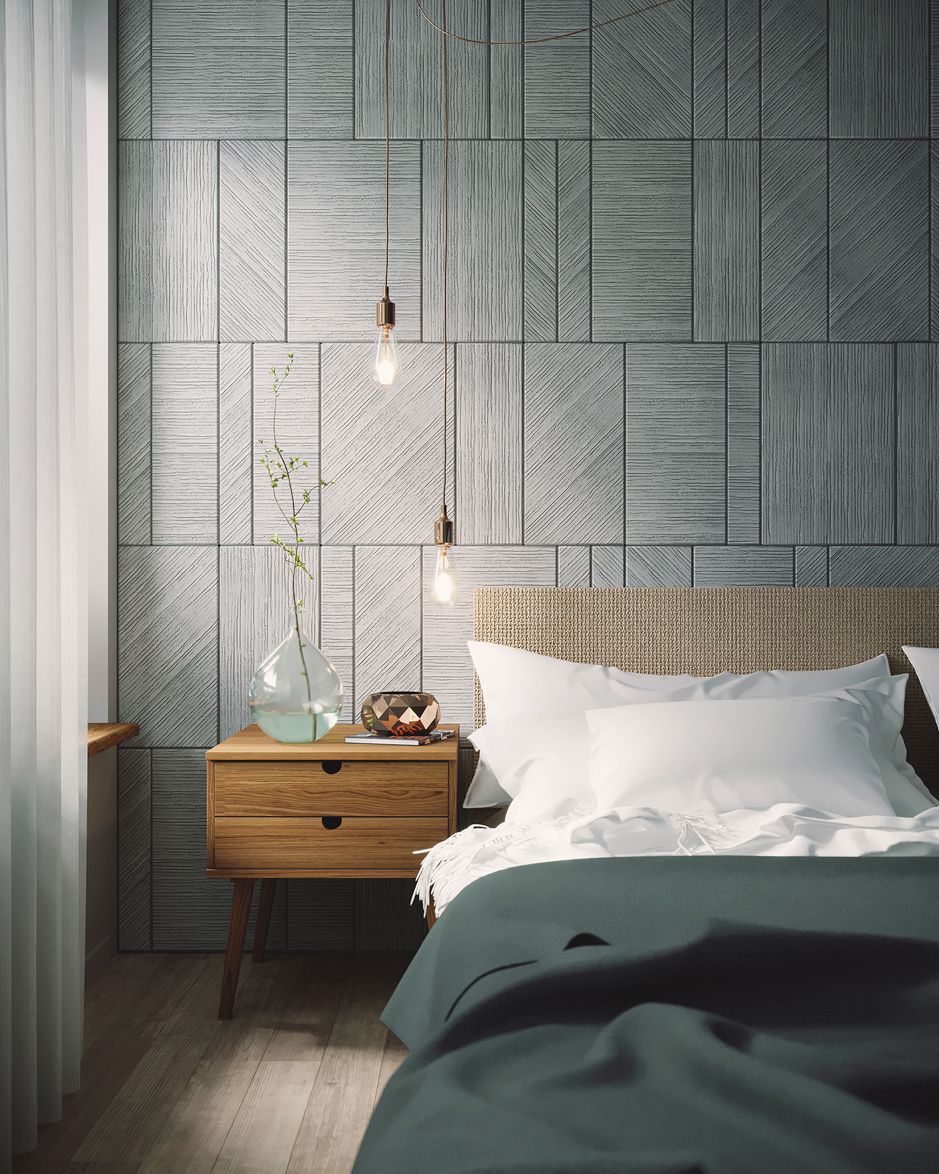 Arranging bedroom wall tiles vertically are the common technique to install them. Even though you often see this arrangement, but it challenges your creativity to give a new effect by choosing the same tiles with a different pattern for each tile. It is good to try at your bedroom wall tiles. Look at the inspiration above will help you to explore your creativity. Moreover, there are various colors of wall tiles are available to suit your taste in decoration.
3D Panel Tiles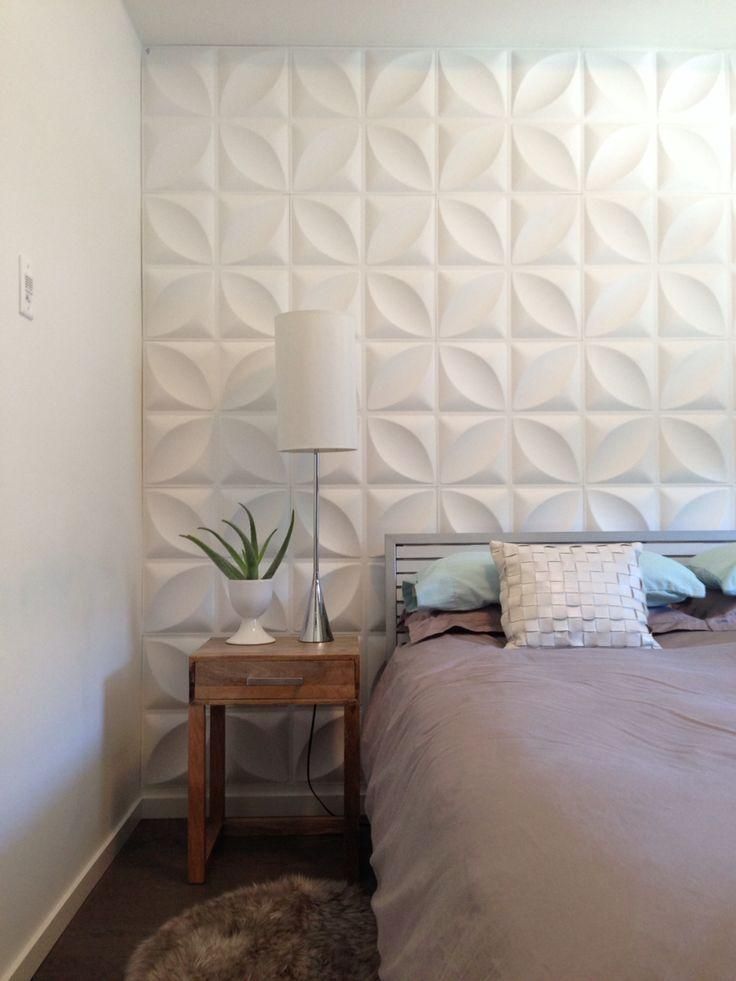 This idea is good for those of you who never use the 3D panel tiles at home. If you don't know what is the panel, you will feel familiar with the synthetic material with thousands of patterns to cover the floor and wall. Wooden panels with many colors and patterns are categorized as panel tiles. This material will do well on your bedroom wall. It has protruded surface, you can touch the 3D effect and feel the material.
Black and White Tiles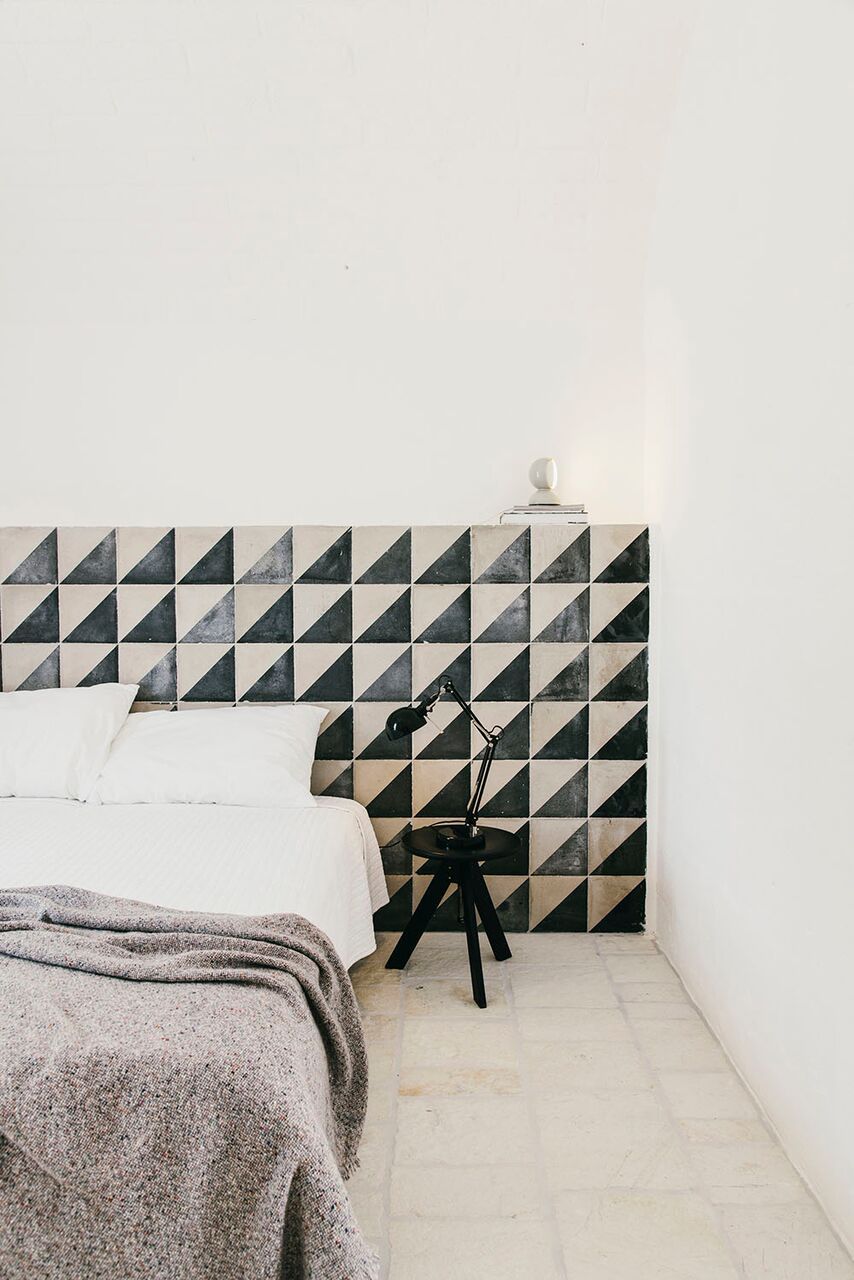 Another kind of bedroom tile is black-and-white tiles. Black-and-white includes a monochromatic color that looks attractive because it has a contrasting impression. You can use this tile to dominate your bedroom wall or arrange them on a half sidewall for a minimalist look. The color of black and white is from the pattern on each tile. Arranging tiles with two different colors with black and white are also helpful to draw a monochromatic impression.
Natural Stone Wall Tiles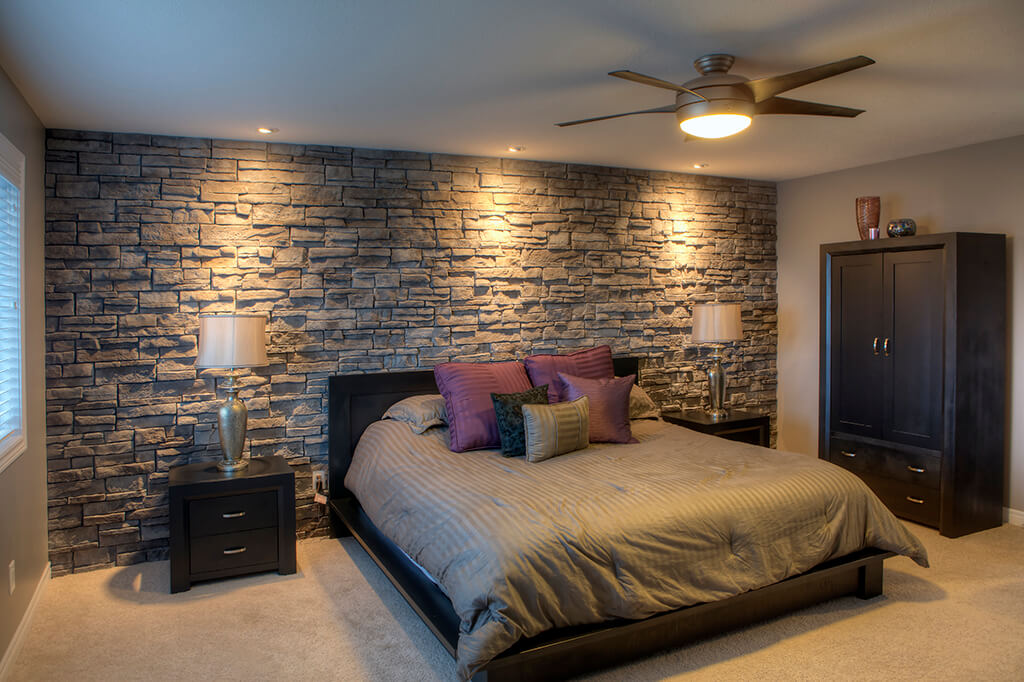 Stone is a natural material that most room designers use as an interesting accent. This material is addressing nature with many attractive forms and functions, like using it as wall tiles. As a wall tile, stone has a cold surface and natural rough texture. The stone wall tiles have some earthy colors like brown and grey in many shades. This wall tile is catchy to complement some neutral interior designs, there are Minimalist design, Scandinavian design, and Industrial design.
Stunning Hexagonal Wall Tiles
Hexagonal is one of the geometric forms that are usually used in bathroom floor tiles. This tile looks interesting to modify your bedroom wall. It shows brave and firm character through its line. Moreover, it allows you to create an attractive wall decoration by combining some different colors. The surface of each tile is also varied by having the protruding surface and the flat one.
White Stone Wall Tiles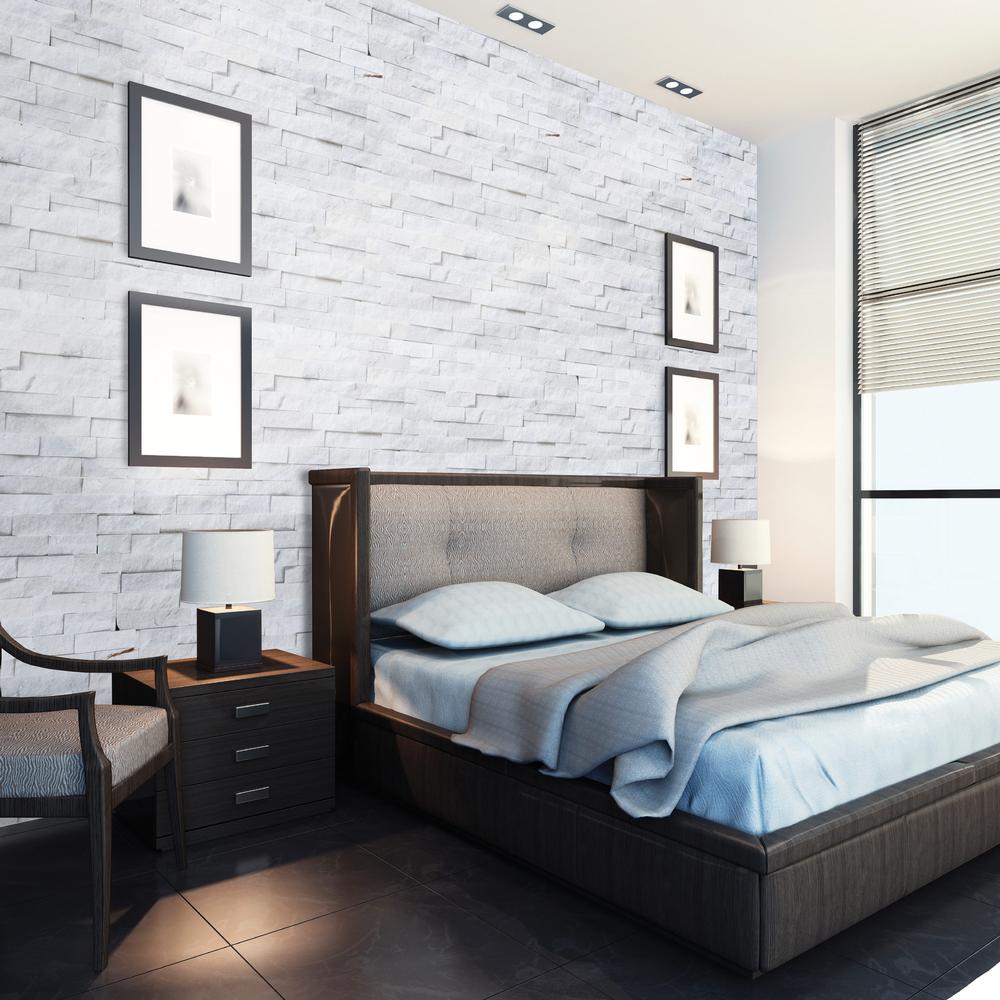 We have mentioned that stone material is compatible with some designs and Scandinavian design is one of these designs. The neutral color from a white stone may enliven the calm impression in the Scandinavian bedroom. It brings cleanliness nuance to your bedroom wall. Besides, the white stone usually has attractive protrude patterns.
That is our understanding of Aesthetic Wall Tiles Ideas for Your Bedroom Interior. Determining an interesting wall decoration is not easy. However, you can create them creatively according to your expression and character. For that, you also need to pay attention to the concept and interior design in your bedroom. You have to look at your plan to use a certain bedroom interior, then the wall tile is the part of your interior. Choosing the kind of wall tiles is an exciting activity. We hope you can use this article to help you determine the right tile for your bedroom wall. Happy decorating!