Druhomes.com – Interior design is an important thing for you to determine in any room in your home. This is because the interior design gives a certain character and atmosphere. One of the interior designs that you can use in your home is bohemian. Bohemian interior design is an independent design that uses many artistic accents. If you take a look at this design, you will often see the contrasting colors are tied to create an artistic decoration. Since this design uses many colors for each element, it becomes the characteristics of bohemian design. Thus, it looks stunning to modify any room at your home. Even in your dining room, this design can boost your mood when having a mealtime. Here are various characteristics of a bohemian dining room that you can follow.
Using artistic elements such as aesthetic rug and rattan display
Using rattan furniture or other natural furniture
Has many colors and texture in the interior
Using natural elements like dry grasses, wooden furniture, and ornamental plants
Sometimes, you need to give a fresh nuance and atmosphere into your dining room. The warm atmosphere is one of the important aspects of family time when having mealtime. Besides, an attractive interior also helps you to build a good feeling. Knowing the interesting decor from bohemian design, we have some ideas to create a bohemian dining room. Let us discuss!
Using Artistic Display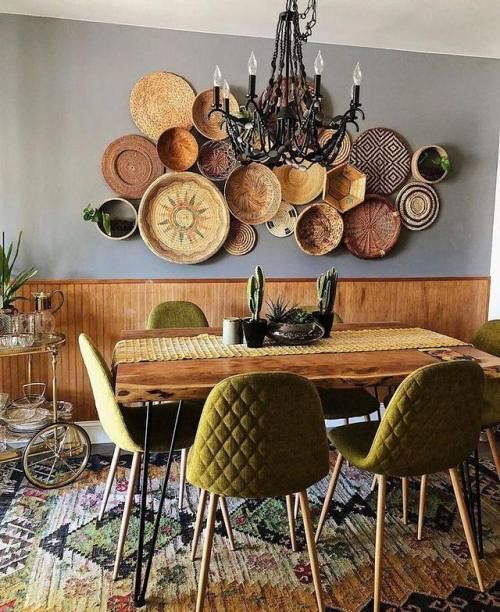 Since there are no rules in Bohemian design, then you can take it as an independent style. Combining some accents in one design is possible to draw a Bohemian dining room. This design is inspired by nomad people who traveled around the world, then it usually uses rattan ornaments to symbolize independence and an earthy design. Since rattan is one of the artwork, there are other artistic accents to use in this design, such as rugs, tablecloths, cacti, and craftworks.
Put a Macrame Tablecloth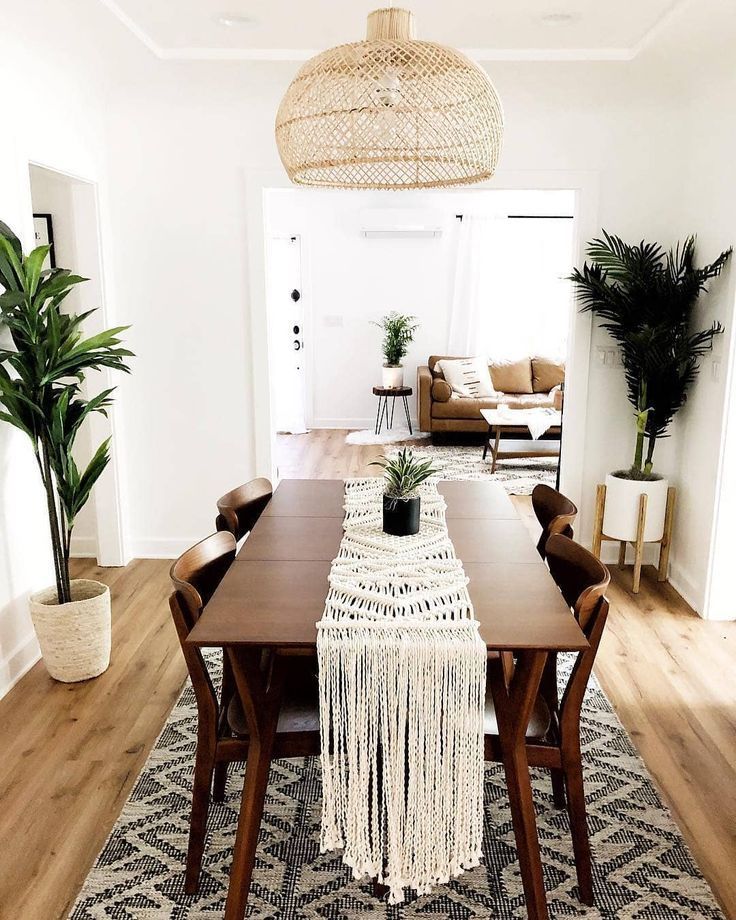 A tablecloth is an optional element in a dining table, but some people like to put a tablecloth for a decorative purpose. By using a tablecloth, your dining table remains clean and aesthetic. It is intended to give a different look to your table. An artistic macrame tablecloth can be a Bohemian accent that decorates your dining room perfectly.
Give A Colorful Wall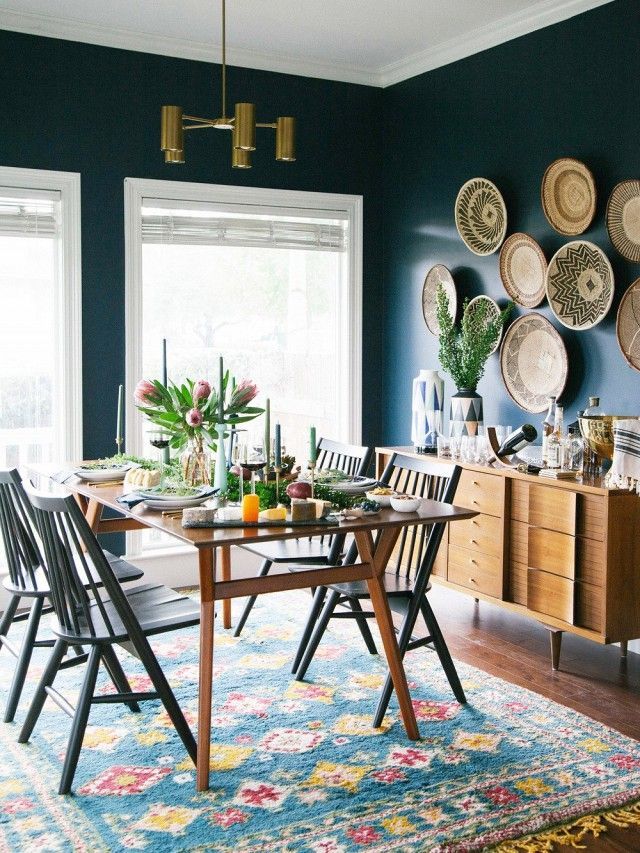 Bohemian design usually uses natural colors to draw an earthy look in every decoration. The neutral color is a calm color to refresh and relax your mind. Even though this design often uses neutral color it doesn't that you can't use a striking color or even dark color. Like the carefree spirit it brings to the interior, you can apply any color to makes your Bohemian dining room has a strange look. Paint your wall by using green, blue, red, or yellow color. It is fine to use these colors because it shows your freedom to decorate your room.
Hang An Artistic Lamp Shade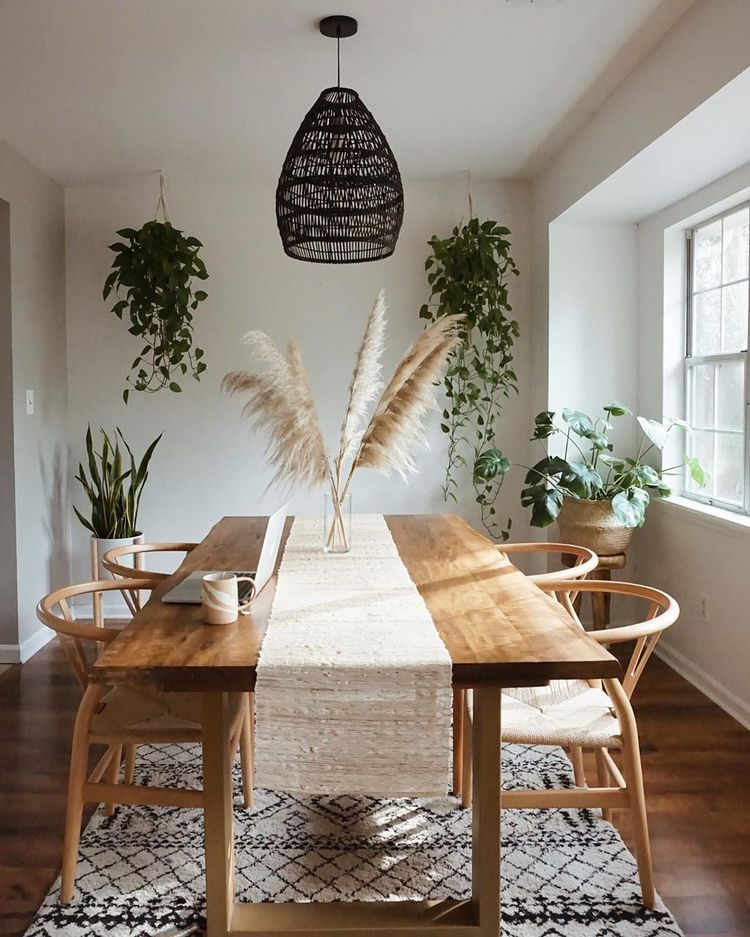 A lampshade is one of the important parts of lighting. This element draws a different impression when you use it to cover your lamp. In the Bohemian dining room, using a lampshade for the lamps should let the light illuminates most of the dining table. Thus, use a lampshade that has a vertical lattice to create an artistic shadowy light and brighten the dining table. This lampshade enlivens the Bohemian accent in your dining room interior. The point you need to highlight when using a lampshade is the space between the dining table and your lamp. Hang it on the medium range to sure that it illuminates the dining table properly.
Bohemian Dining Room by Installing Aesthetic Rug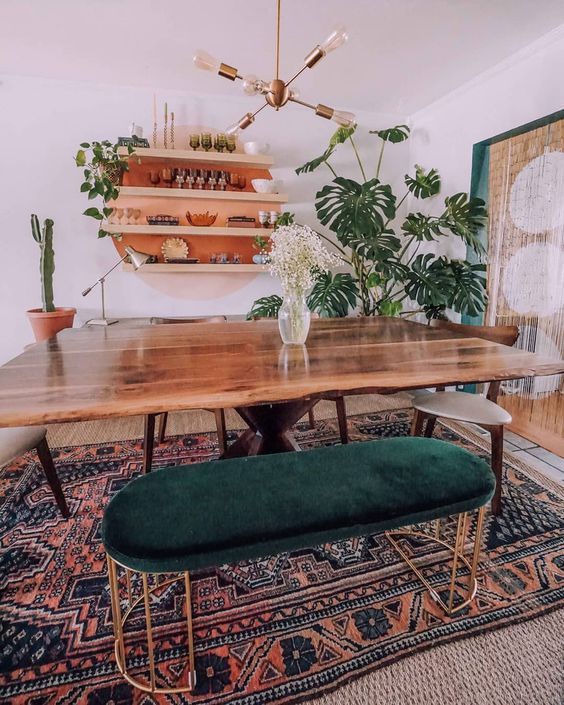 Since it is a carefree layer for the layered rugs, it transforms the floor on your Bohemian dining room. An unconventional accent in Bohemian design transforms the interior by using patterned stuff. It can be full of patterned accents, contrasting colors, and tossing the rules of a strict design. By using an aesthetic rug for your Bohemian dining room, it shows that you respect the cultures from the origins of its rug. Many ethnic patterns in the rugs that attractive enough to complement the decoration.
Combine with Contemporary Design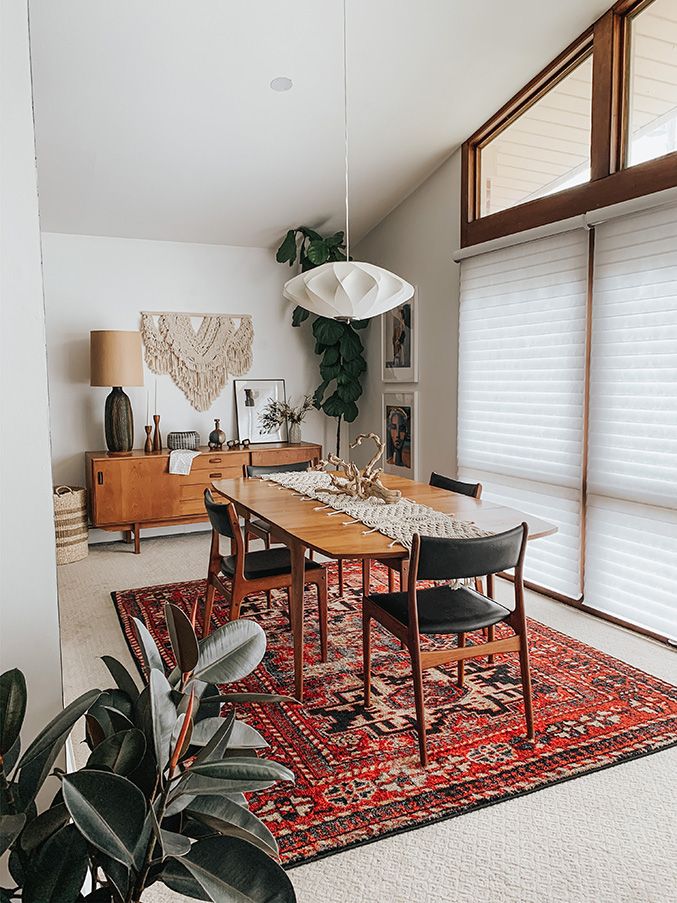 Bohemian design is one of the classic art that emerged in France around the 19th century. This style is categorized as an old design, but catchy enough to apply in your dining room. Bohemian dining room adjusts any interior design to be its partner, then you can put some classic accents like a table set from the Contemporary era to strengthen the old design.
Put Modern Chairs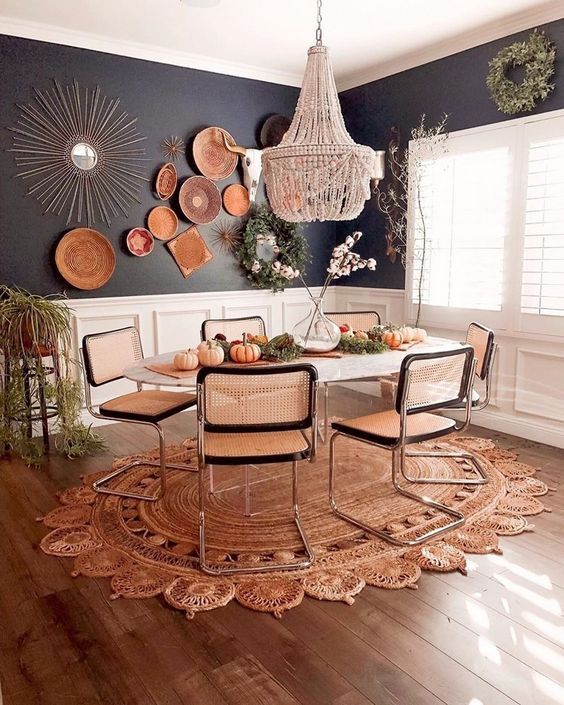 Even though you use Bohemian design for your dining room, you can put some modern accents to adjust the taste interior nowadays. The modern chairs with steel glossy legs and an artistic backrest are compatible to put in a neutral Bohemian dining room. Add more modern accents by installing a modern chandelier. Moreover, the modern accent from the beautiful wall art and decoration is catchy to suit your Bohemian dining room.
Illuminate Your Bohemian Dining Room Using Industrial Lamps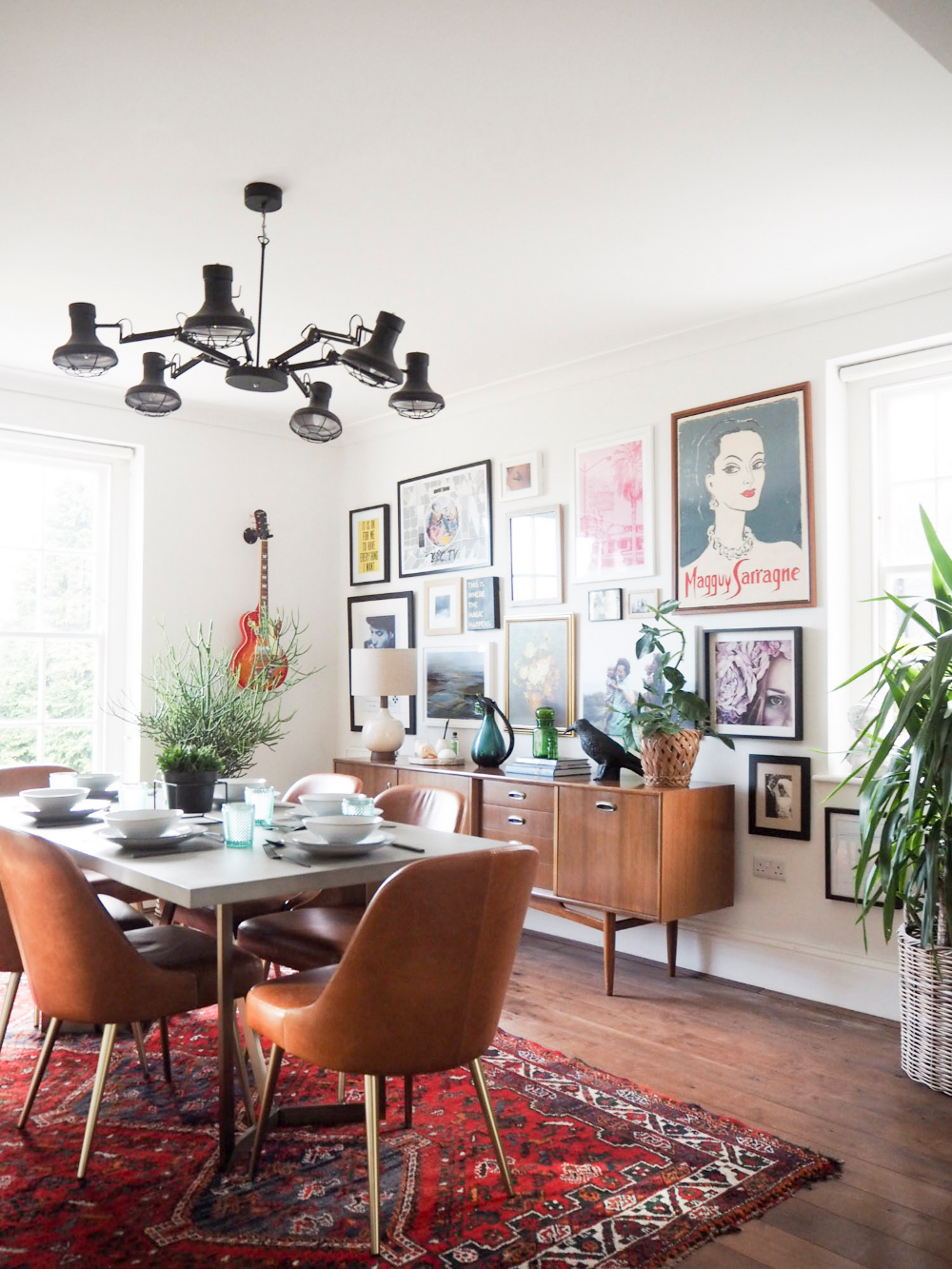 Having mealtime will be warmer if you can enliven the atmosphere in the dining room. Decorating your Bohemian dining room requires interesting lamps to make the decoration showy. The lamps will produce light to illuminate the entire dining table. Thus, you can choose the lamps that help you to see in the dark when having dinner time. The Industrial lamp is an interesting choice to be your dining room lamps. The elegant style of Industrial design complements the independent style of Bohemian design to arrange your interior by combining many accents.
Thrive Some Ornamental Plant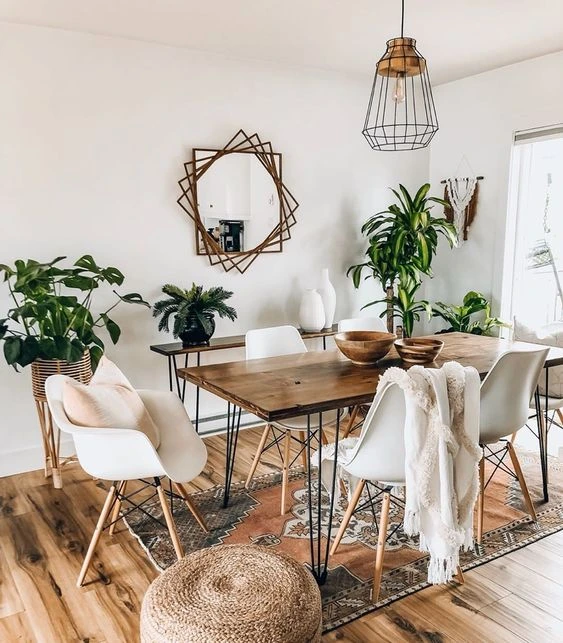 In Bohemian design, it usually grows tropical plants to complete the decoration. The tropical plants have an energetic appearance by their green stems that freshens the interior. You can thrive some tropical plants for your Bohemian dining room and make it as a greenery accent to transform the natural look in your dining room. Moreover, tropical plants help you to purify the air. Watering it when the soil starts to dry and give enough fertilizer when the leaves start turning yellow.
Thus our discussion about the Bohemian Dining Room: Artistic and Aesthetic Dining Atmosphere. Bohemian design is a unique design that has no rules to draw this design unless you pour your creativity into it. As long as you can combine the proportional artwork, then it is a Bohemian design. It is more than just these definitions because Bohemian design depends on your original style to explore the interior by your taste. Thus, you can apply this design in your dining room, even though you are not an expert in interior design. We hope you can draw your taste to enliven Bohemian design in your dining room. Happy decorating!