Druhomes.com – Japan is rich in cultures which you can adapt both for your lifestyle to the style of the house you have. The development of home interior design in Japan generates original characteristics that you can find in a standard Japanese home design. Generally, you will see the depiction of a house with a sliding door and a Japanese mattress. As a charming decoration in almost every accent, Japanese home design attracts attention from its simplicity and traditional style. If you take a look at some Japanese movies, maybe you are curious why Japanese home looks charming and attractive.
Here, we want you to join the discussion in this article to figure out the Japanese home design. Every region has original characteristics that distinguish it from other designs. Japanese home design is an interesting design that arouses simple and traditional style. We mention some characteristics of Japanese homes that usually emerge in movie and Japanese home depictions. Let's discuss!
Bedroom
The first part of the house that you can create using various accents from Japanese home design in the bedroom. Creating a comfortable and beautiful bedroom is an essential thing for you as a bedroom owner. For that, you can use a variety of charming accents in a variety of furniture and decorations that you use in your bedroom. Here are a variety of ideas that you can follow!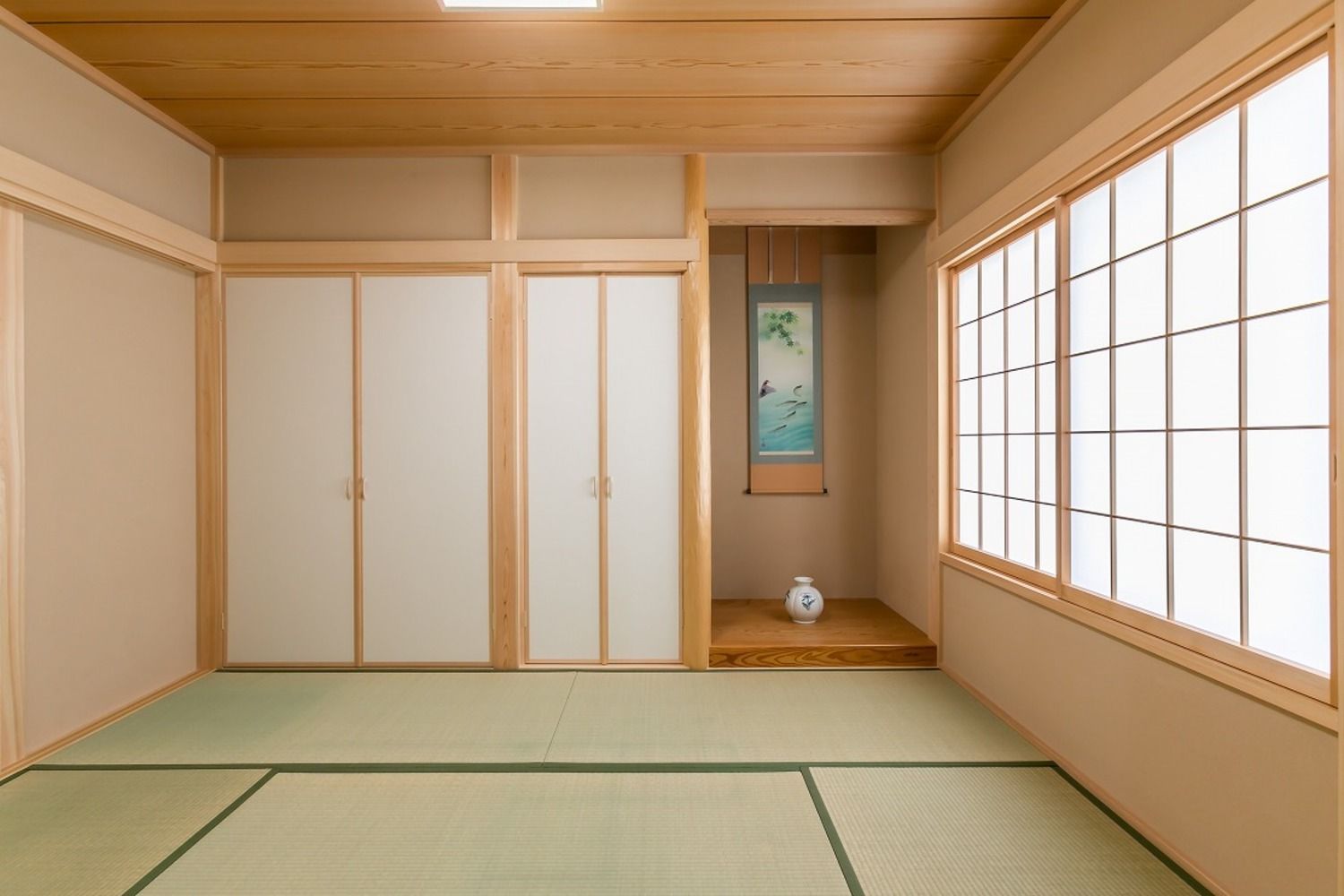 Almost all Japanese homes use a sliding door, especially for the traditional home design. The use of a sliding door has an important function in the summer season. A general Japanese traditional house, it has a long corridor in a semi-outdoor design and a sliding door along the corridor. Thus, the sliding door makes it easy to be an entrance for fresh air supplies when the hottest temperature arouses in the summertime. Install a sliding door for your bedroom door or window is interesting to adopt this Japanese accent in your home.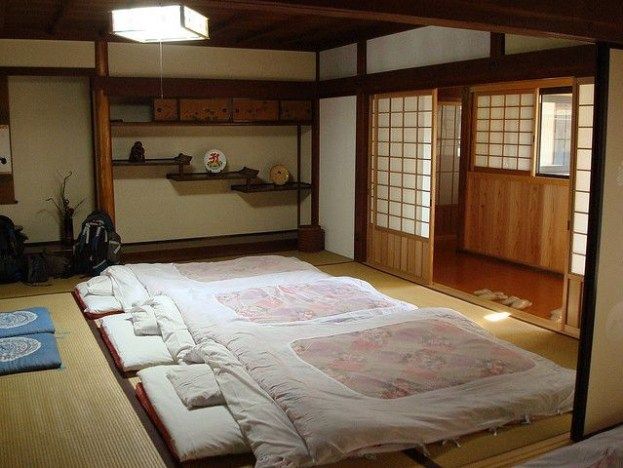 A Japanese mattress is an identical element that you will meet in a Japanese house. It is a tatami mattress that has a rough texture but comfortable enough to walk on it. Having a floor mattress for the entire room is a little heavy for the home interior but adopting this idea for a certain room such as a bedroom helps you to bring a Japanese nuance in your home. In a Japanese bedroom, it uses a futon to sleep.
Living Room
Apart from the bedroom, you can also create a variety of charming accents from Japanese home designs in the interior of your living room. Your living room will look more beautiful in the warm atmosphere of the interior design that you create. In addition, create a variety of Japanese accents from a variety of natural materials to create a fresh and warm atmosphere in your living room. Let's discuss!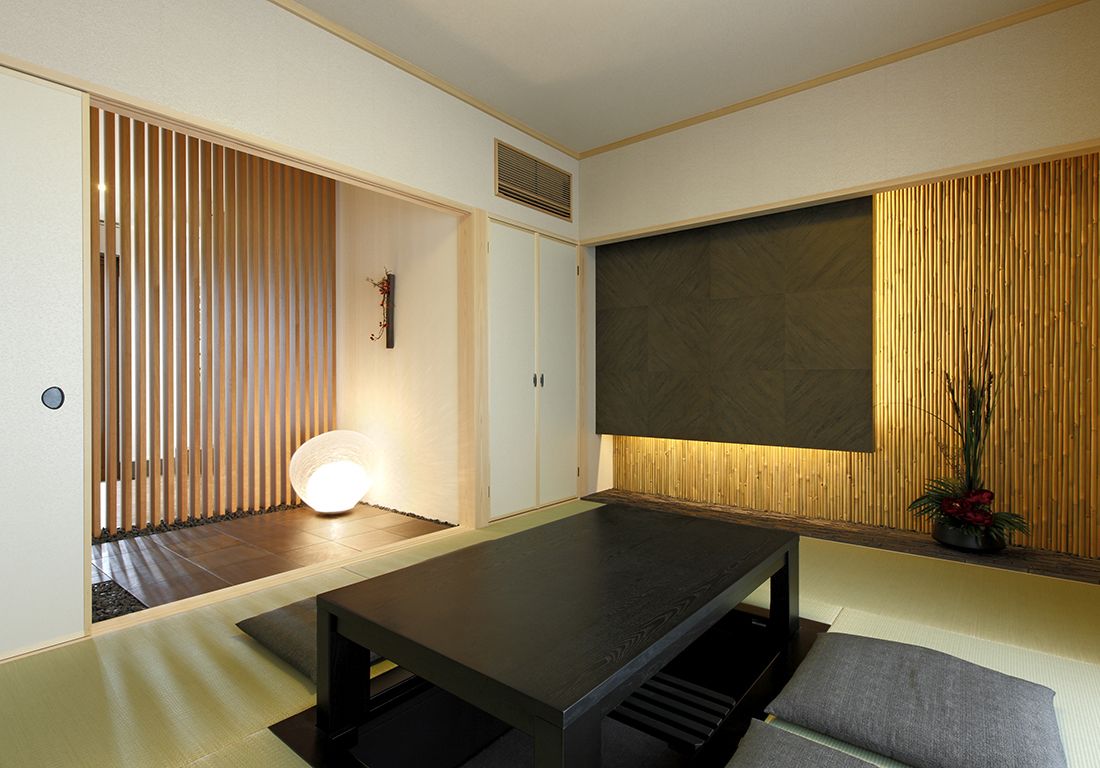 Imagining having a wide house with a traditional design in a Japanese nuance is intriguing enough. Even in a modern living room, attaching a bamboo door looks catchy to enliven a natural accent. Create a Japanese accent in a living room by using a wooden door or bamboo door. Using these materials as other furniture also looks good in a living room.
Has Few Ornamental Plants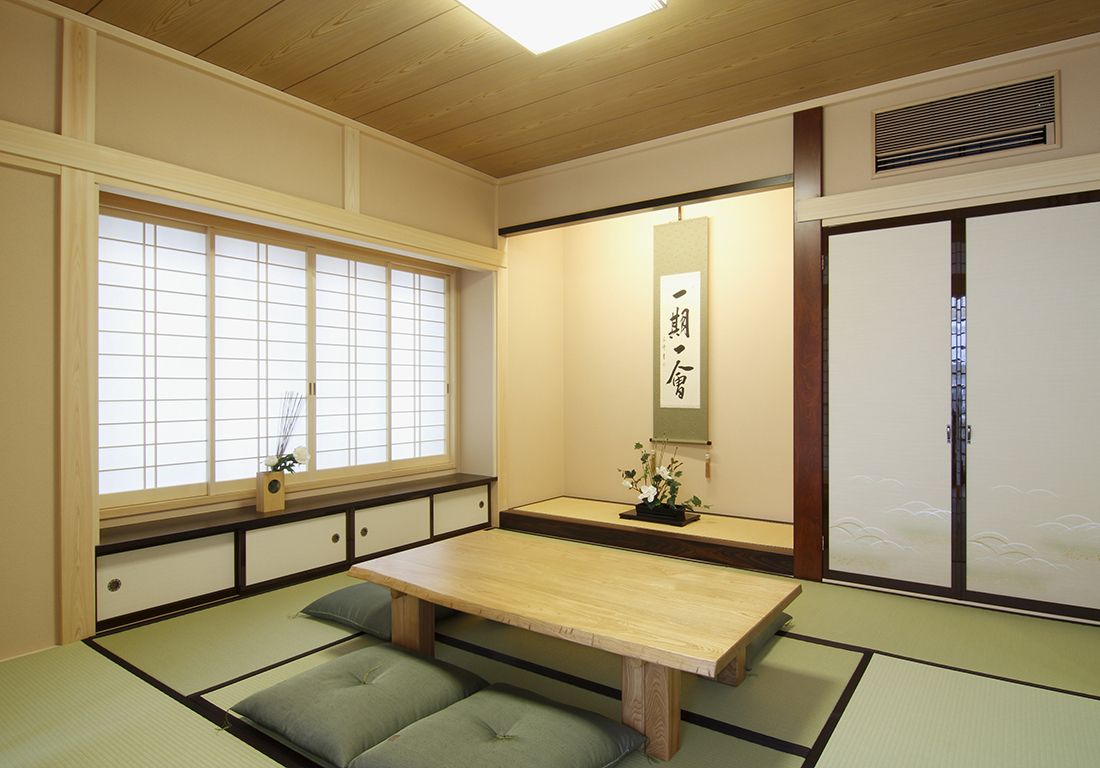 Maybe you wonder why a Japanese home has few ornamental plants to thrive indoors. It is a little bit strange to see the living plants inside the house. Thus, you will find a rare ornamental plant to thrive in a Japanese traditional house. Sometimes you find a bucket of real flowers to beautify their home. White lilacs are a charming flower in Japanese home design.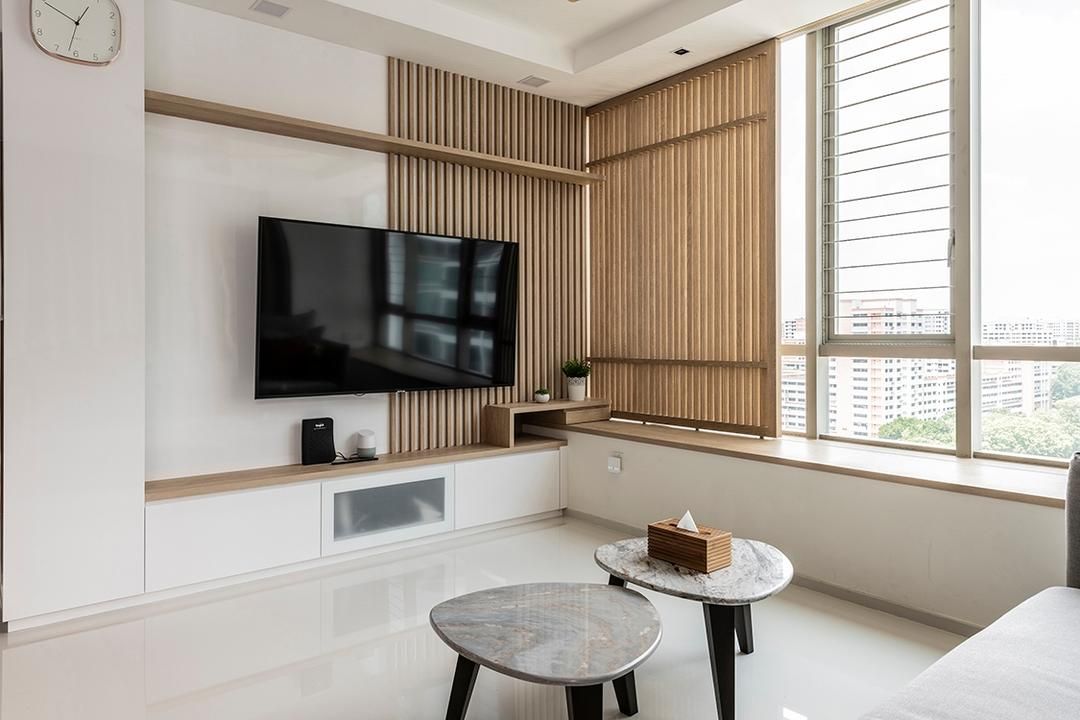 A good window design has a function to bring natural light gets inside your home. This element is interesting to have in a Japanese living room because it makes the room looks brighter. Usually, it uses thick paper that has a light color such as white and soft brown. This paper shows a shadow when someone opens the door.
Kitchen
You can also create a variety of charming accents from Japanese home designs for your kitchen interior. You can use a variety of furniture and decorations in your kitchen following the Japanese style. In addition, you also need to pay attention to your kitchen interior layout to create a comfortable and beautiful decoration for you to cook and prepare food every day. For that, here are a variety of ideas for creating a Japanese accent in your kitchen.
Kitchen is Adjacent to Dining Room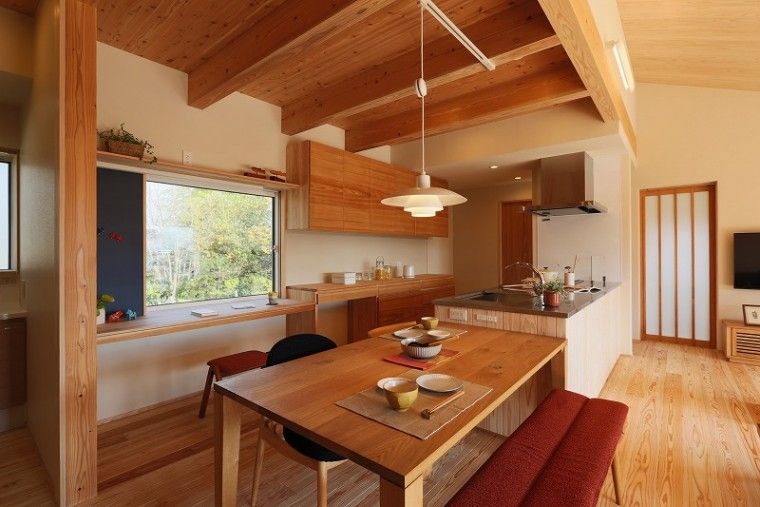 The kitchen in Japanese home design has an island to put the meal before serving them on the dining table. It is separate from the dining room by using a partition but adjacent to this room. Preparing the food in a Japanese kitchen gives a fascinating nuance. A typical Japanese kitchen has a rice cooker, thus it is easier to serve the food if the kitchen is near the dining room. Most of a Japanese kitchen adjusts a minimum space then it simplifies the position of the kitchen and dining room in one open space concept, even they can dine in the living room with a low table and cushions.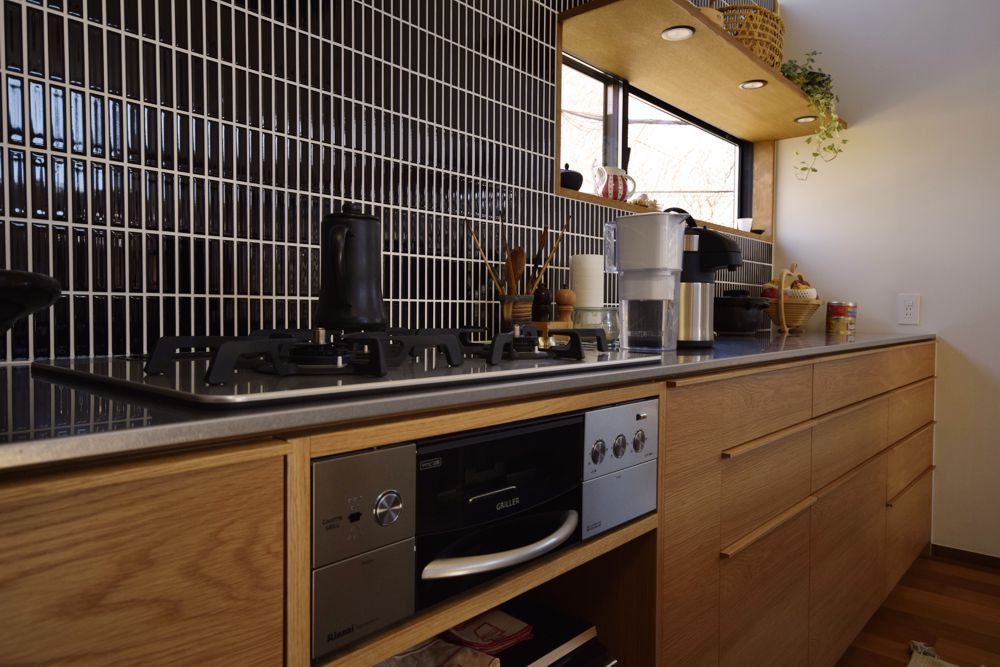 You will find a nuance of an outdoorsy touch in a Japanese house. Since it has a large sliding door, it provides an outdoor view from your kitchen. Another idea in a Japanese house is installing a large window for the kitchen interior. This design looks energetic by inviting outdoor spirit to brighten your kitchen. An outdoorsy touch enlivens a nuance of inviting nature inside your kitchen. Preparing a bowl of rice is more peaceful to do.
Dining Room
The dining room is an important part of the house for you to gather with your friends and family. Therefore, create a comfortable and beautiful dining room in a warm atmosphere using these various Japanese styles. You can even combine this style with other interior designs such as Scandinavia. Thus, you can create a Japandi dining room in your home. However, apart from that, there are several things that you should pay attention to create a Japanese accent in your dining room. Let's discuss!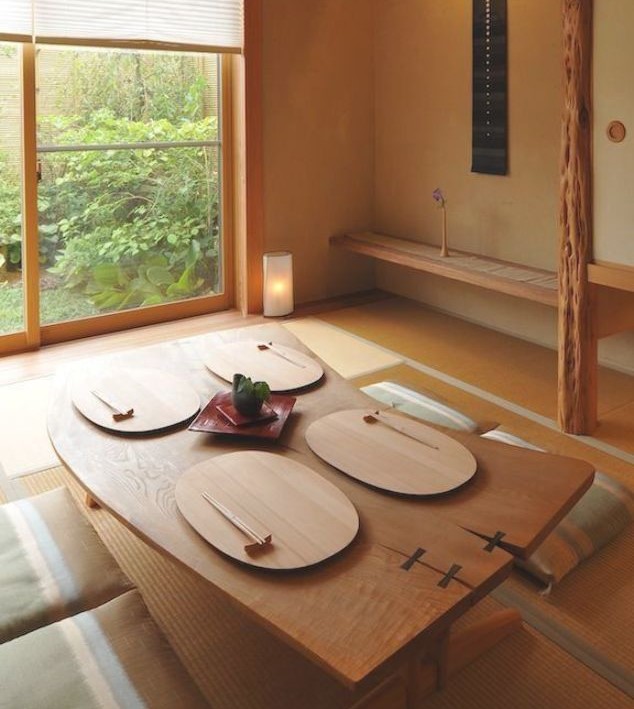 In a Japanese dining room, the design of its interior commonly uses neutral color. A low-table dining room in the Japanese dining room has a traditional accent and easy to install for any room size. The low dining table has easy access to eat the meal. A special low table has a warm blanket to cover your legs, then you can enjoy the meal deliciously on your Japanese dining table.
Cushions for Japanese Dining Table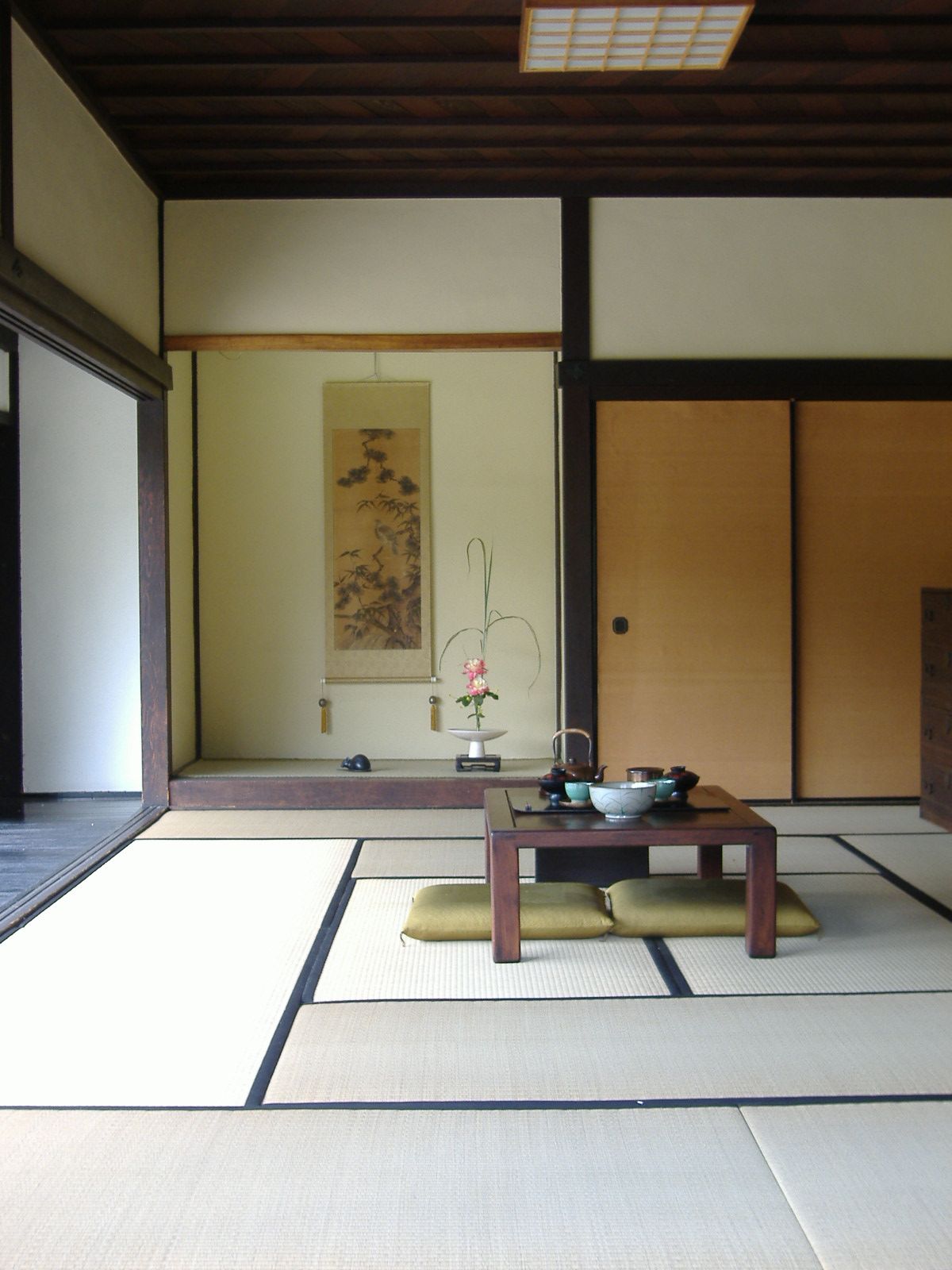 Installing some cushions for a Japanese dining table is a complement to this simple design. Maybe, you will find an attractive accent by having this cushion to sit on. This design looks interesting for those of you who want to feel a traditional nuance. Sitting on a cushion provides a comfortable seat that replaces a comfy couch or a dining chair.
Bathroom
The last part of the house that you can create charming and beautiful using a Japanese accent is your bathroom. You can use a variety of ways to create a bathroom with Japanese concepts and styles in it. But what you can create a simple but effective way to give a Japanese accent is a natural accent in the interior. Here is a discussion that you can follow.
Japanese bathroom uses a neutral color to arouse a calm atmosphere. It has a sense of minimalist design that looks simple and natural. We know that traditional Japanese design has a classic impression. Some neutral colors in the Japanese bathroom are soft brown that brings a sandy nuance and an earthy tone to your bathroom. We sound of waterdrops from a shower brings peace to mind. The space in the Japanese bathroom makes it easy to move around your bathroom when taking a hand towel or going to a bathtub.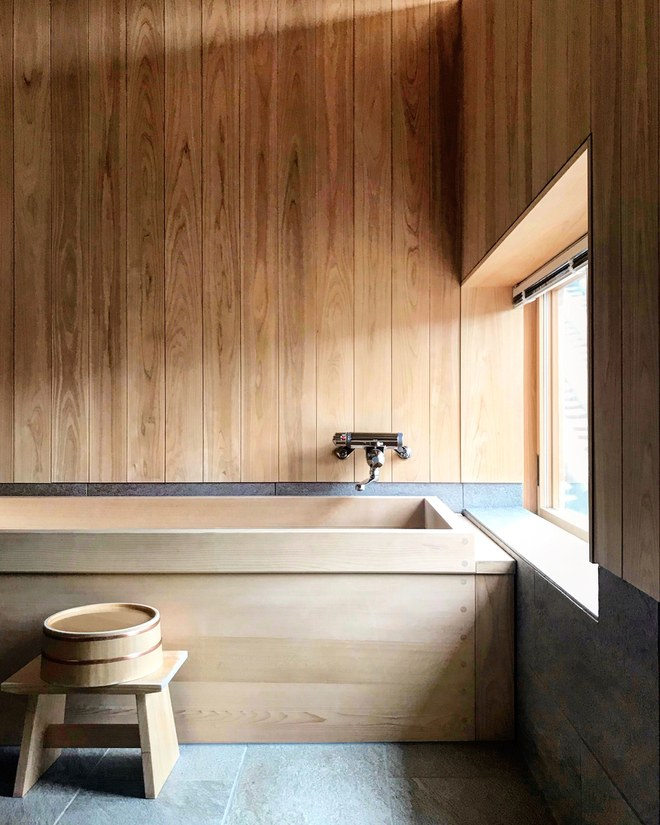 A refreshing shower looks interesting to attach to your home design. It usually uses wooden materials. A wooden bathroom has an earthy tone that looks fascinating with other brown accents. The floor is made of a wooden pallet, brown tiles, and stone tiles to arouse a simplicity and luxurious look. Other elements in a Japanese bathroom are a wooden bathtub, wooden shower, and a shower. Japanese bathroom usually uses warm water.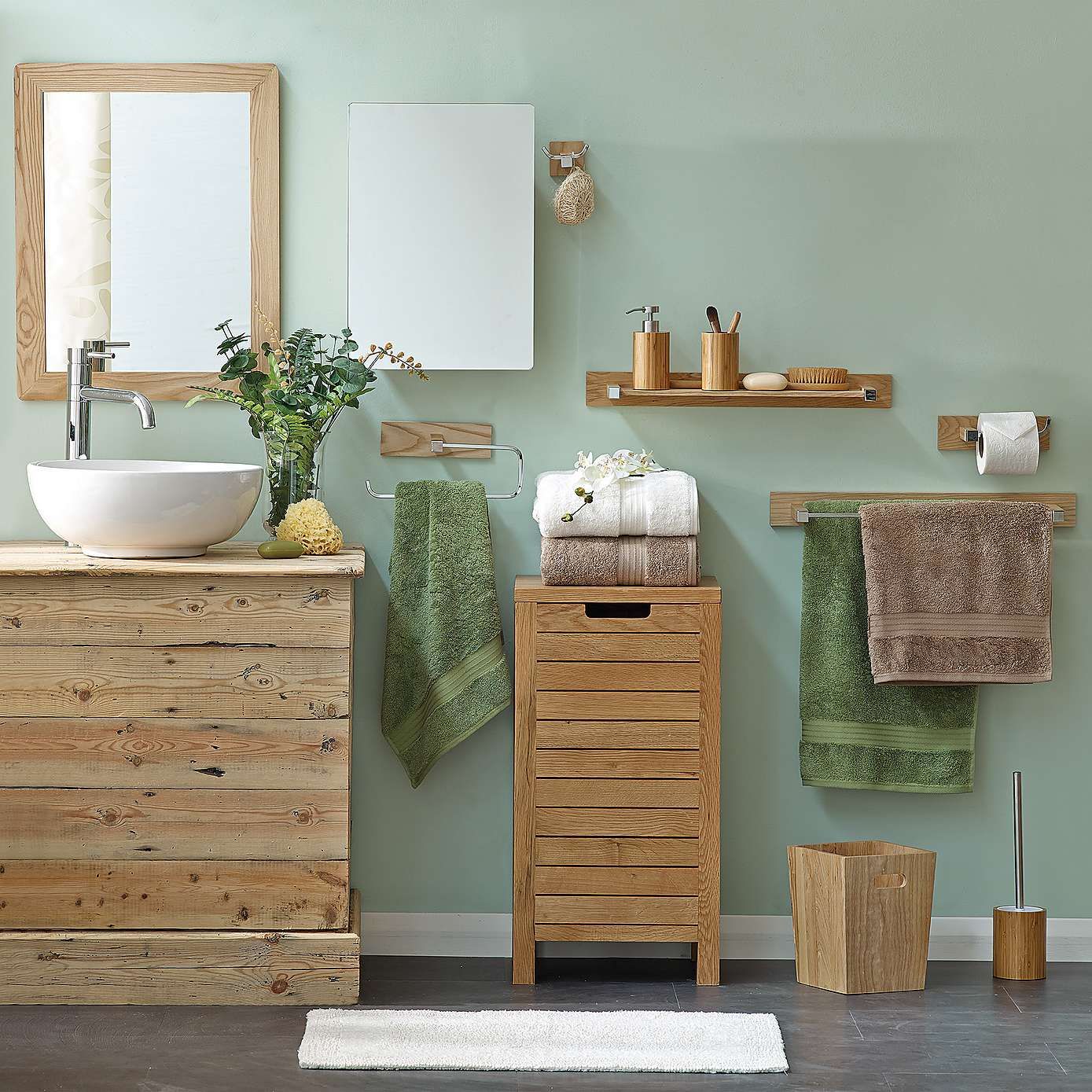 Ornamental plants play an important role for you to use in the interior of your bathroom to provide a charming natural accent. In addition, ornamental plants will also beautify various parts of your bathroom interior. For example, you can use ornamental plants to decorate windowsills, dressers, bathroom sinks, and so on. However, by using certain ornamental plants, you can create a Japanese home accent in your bathroom. For example, you can use bamboo, spider plants, and various other flowerless ornamental plants.
Thus our discussion about Adopting Charming Accents from Japanese Home Design. Japanese home design uses neutral colors, simple furniture, and wooden material to show a traditional style. It shows their original culture to use an outdoorsy touch by using a sliding door in a wide size. If you want to adopt this style at your home, it drastically transforms your home interior into a look alike Japanese home. You can create a variety of Japanese accents in various interiors of your home. You can use it in the interior of the living room to gather together to the interior of the bedroom for your private time. For that, create the most comfortable and beautiful home interior with a variety of charming accents from Japanese home designs. Happy decorating!