Druhomes.com – Reading a book is a positive activity you can do everywhere. Thus, a bookshelf is a must-have piece of furniture for book lovers. They can arrange the books based on some genres and classifications. We bet you need at least one bookshelf to put your book collections at home. If you like to collect some books, you can create a home library to provide a comfortable place to save and read your books. A home library seems better to suit any room size, even it accommodates a small house to have a home library by determining the DIY bookshelf that we will discuss.
A bookshelf is an important piece of furniture to draw attention in a home library. Thus, we want to show you that this furniture is quite important to install in a home library. Also, it brings a good vibe for you to do lots of reading. In this article, we have provided information on a DIY bookshelf for you to have at home.  A bookshelf is not just furniture to keep your books from dust. It is more than that because it offers you space to display attractive wall decorations, small ornamental plants, and small items to make your bookshelf more attractive. Let's discuss!
Cardboard Bookshelf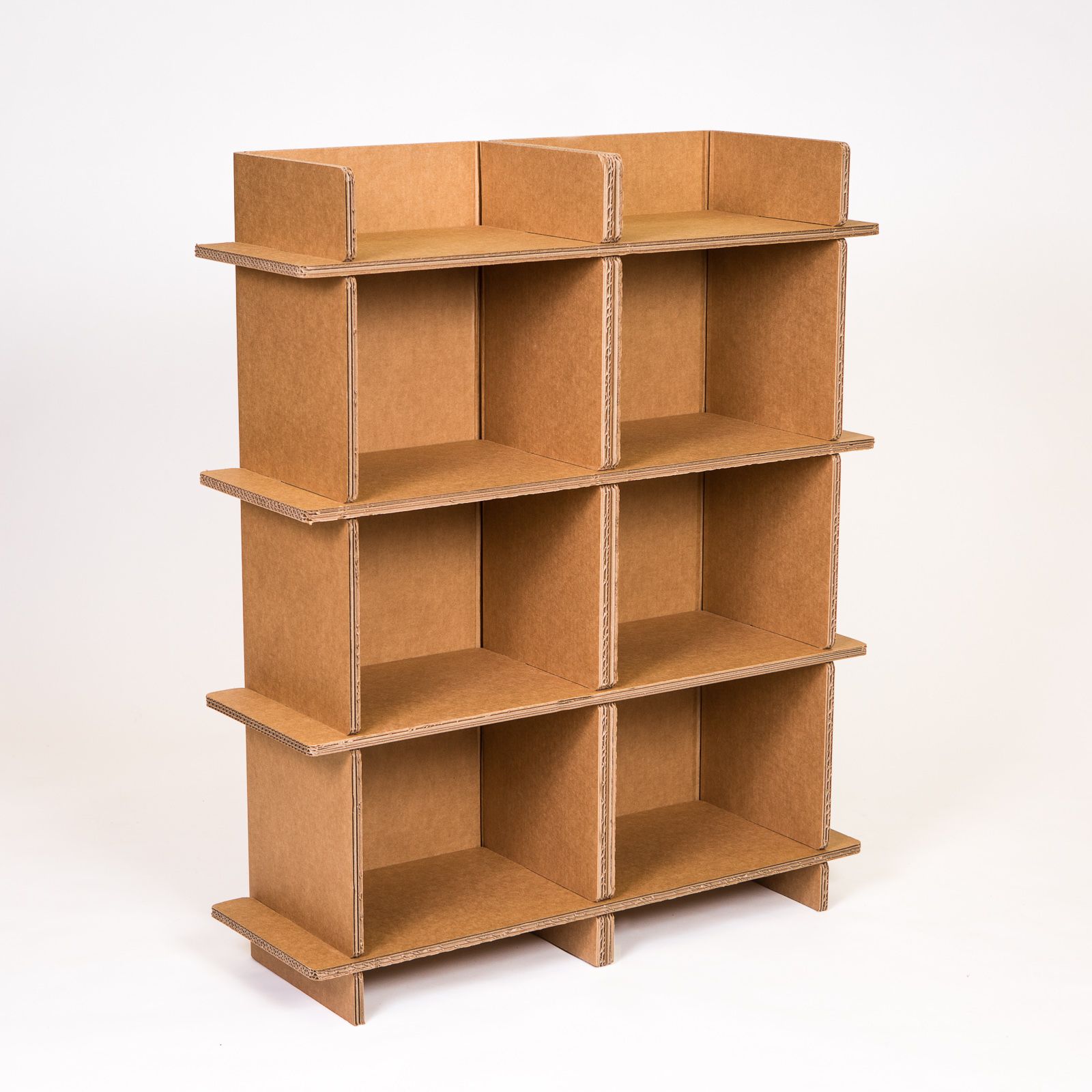 Even though cardboard is not a durable material, but it is useful to be your bookshelf for some time till you replace it with a stronger material. Using unused cardboard will help you to collect your book collections when you plan to have a home library at home. This material is easy to transform into a bookshelf by yourself. It doesn't many tools to resemble your cardboard.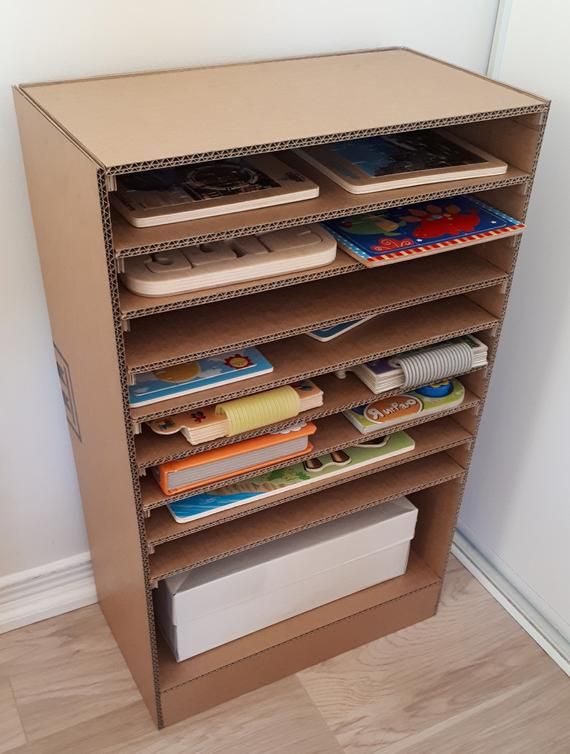 First of all, you need to take thick cardboard that can stand steadily as a bookshelf. Draw the design of your bookshelf on its surface, then cut the design by using a sharp knife. But you have to be careful. This bookshelf needs strong tape to resemble the designs. To make it looks fascinating, cover your cardboard bookshelf with flowery paper.
Wooden Bookshelf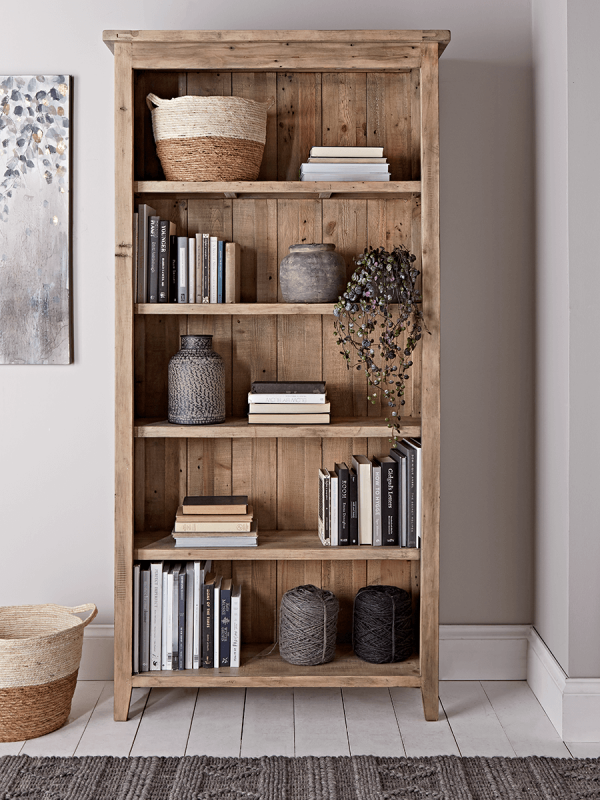 Wooden furniture is a general idea to have at home. A wooden bookshelf is made of solid wood to have strong furniture. The common designs of a wooden bookshelf are rectangular, square, and round. This bookshelf is easy to find in a furniture store but some designs are expensive and have a low quality of solid wood. The type of solid wood influences the strength of a wooden bookshelf.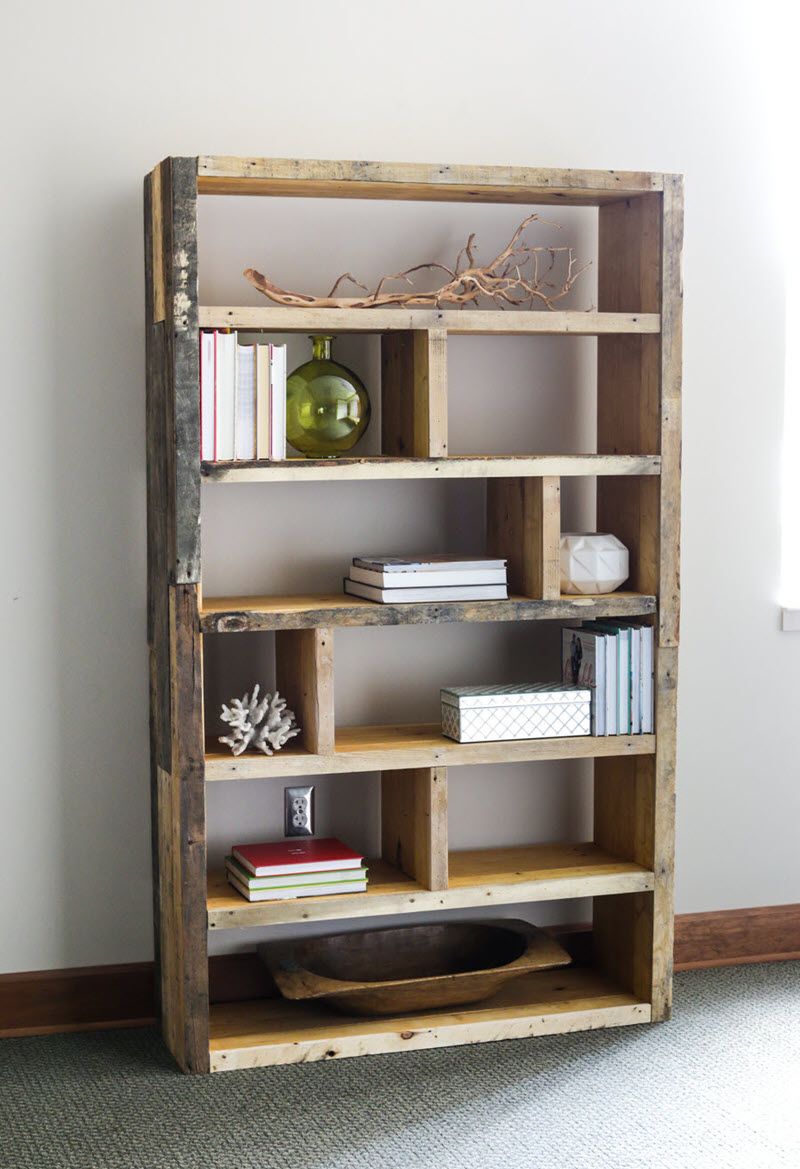 Thus, choosing the right wood is important. If you have some pieces of oak wood at your warehouse, it is beneficial to resemble these woods to make a bookshelf. The bookshelf size depends on the wooden material that you have. A big or small bookshelf has the same function. Both are interesting enough to draw attention in your home library because you can give some make-over by painting the bookshelf.
Industrial Pipes for An Elegant Bookshelf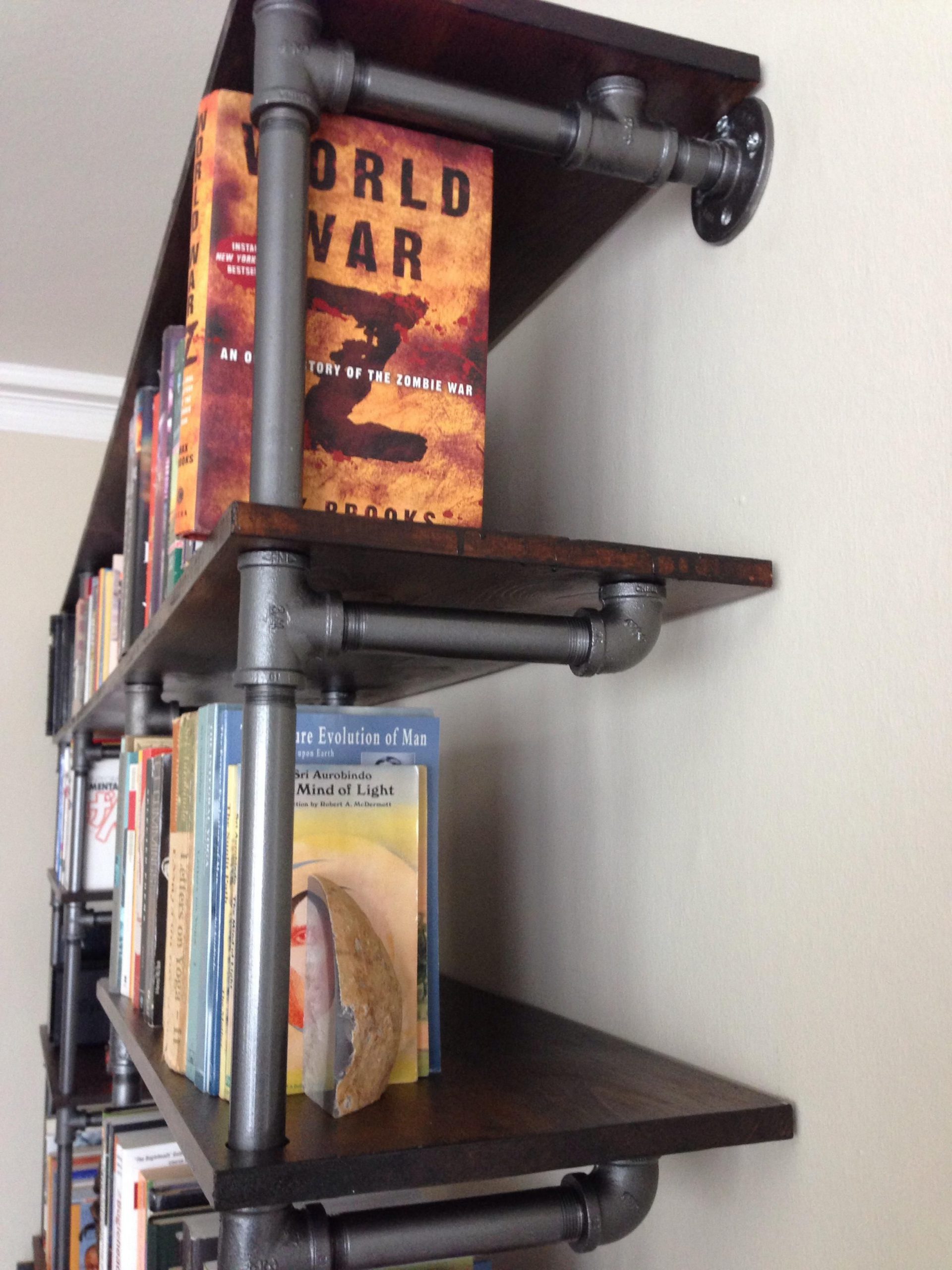 An industrial pipe has many functions. It offers myriad designs to be useful furniture. A bookshelf is one of the creative ideas to make use of your Industrial pipes. Since these pipes are unused material, compile more Industrial pipes to maximize the size of a bookshelf. Complete the preparation materials by having nipples, floor flanges, and screws to resemble the pipes.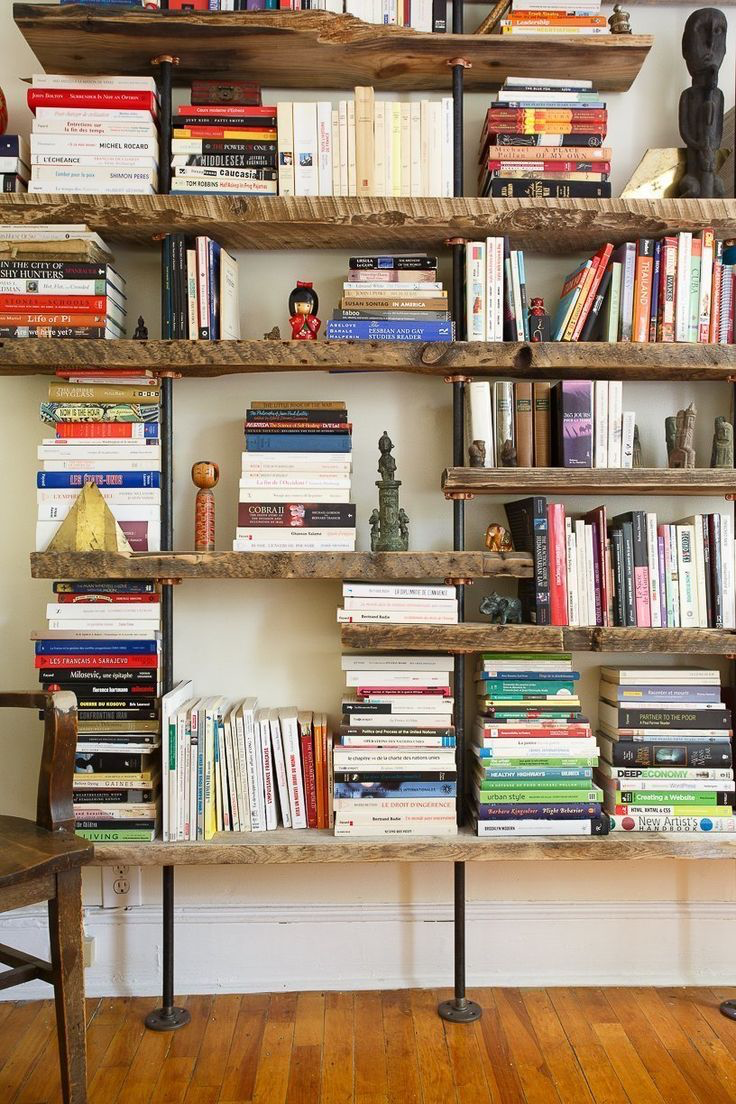 There are various results of an Industrial bookshelf by using black pipes. All of them look interesting and give a sturdy bookshelf to keep more books. A magnificent design brings a sense of inviting warm atmosphere. Also, the Industrial pipe material is fairly easy to look out a pint in your home library.
Concrete Bookshelf
A concrete bookshelf includes in the plan when you build a home. Some of the concrete bookshelves have direct access to the wall. Thus, this design has a deep background to put the books. If you don't have a deep space on the wall, you still can create it by building a concrete wall in your home library as a bookshelf. This way is a little bit complicated if you have to build a concrete bookshelf but intriguing enough to have a strong bookshelf.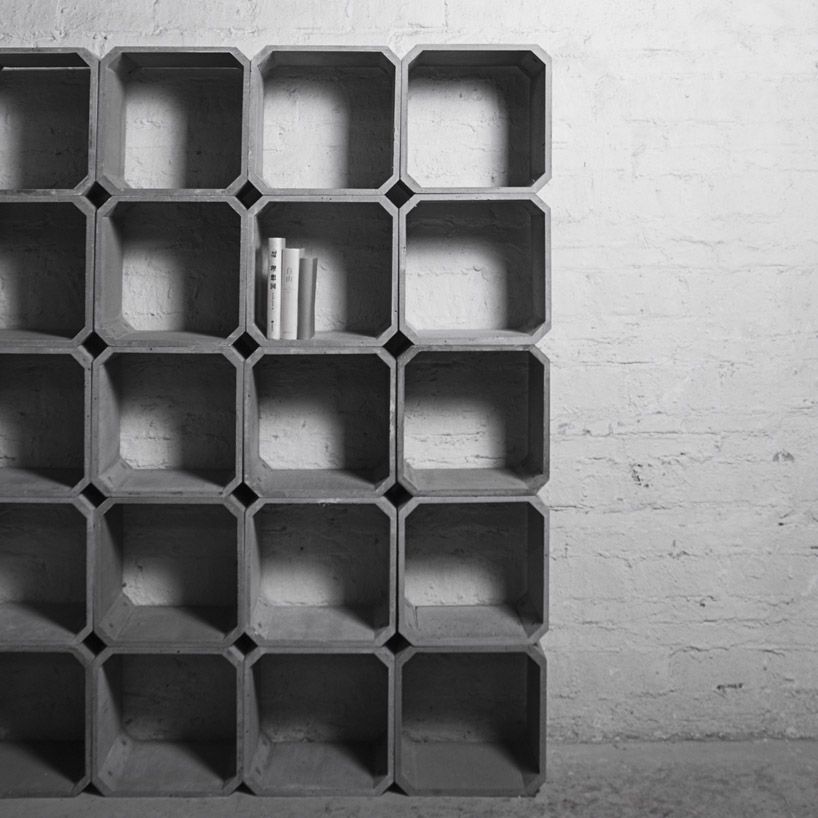 Another option is to put some concrete bricks in your home library, then you must unite them by using cement dough. The concrete bricks provide an instant shelf in every box that is accessible. By using this bookshelf, it transforms the layout in your home library in a unique way. An alluring concrete bookshelf is durable for years.
A Simple Mounted Bookshelf
Having a mounted bookshelf brings a simple design to your home library. A mounted bookshelf will invigorate the wall in your home library, even it also freely suits a bedroom and living room. Besides, this bookshelf has space for other items to beautify your bookshelf. Put a small cactus, pothos, or spider plant on the edge of its slab is fascinating.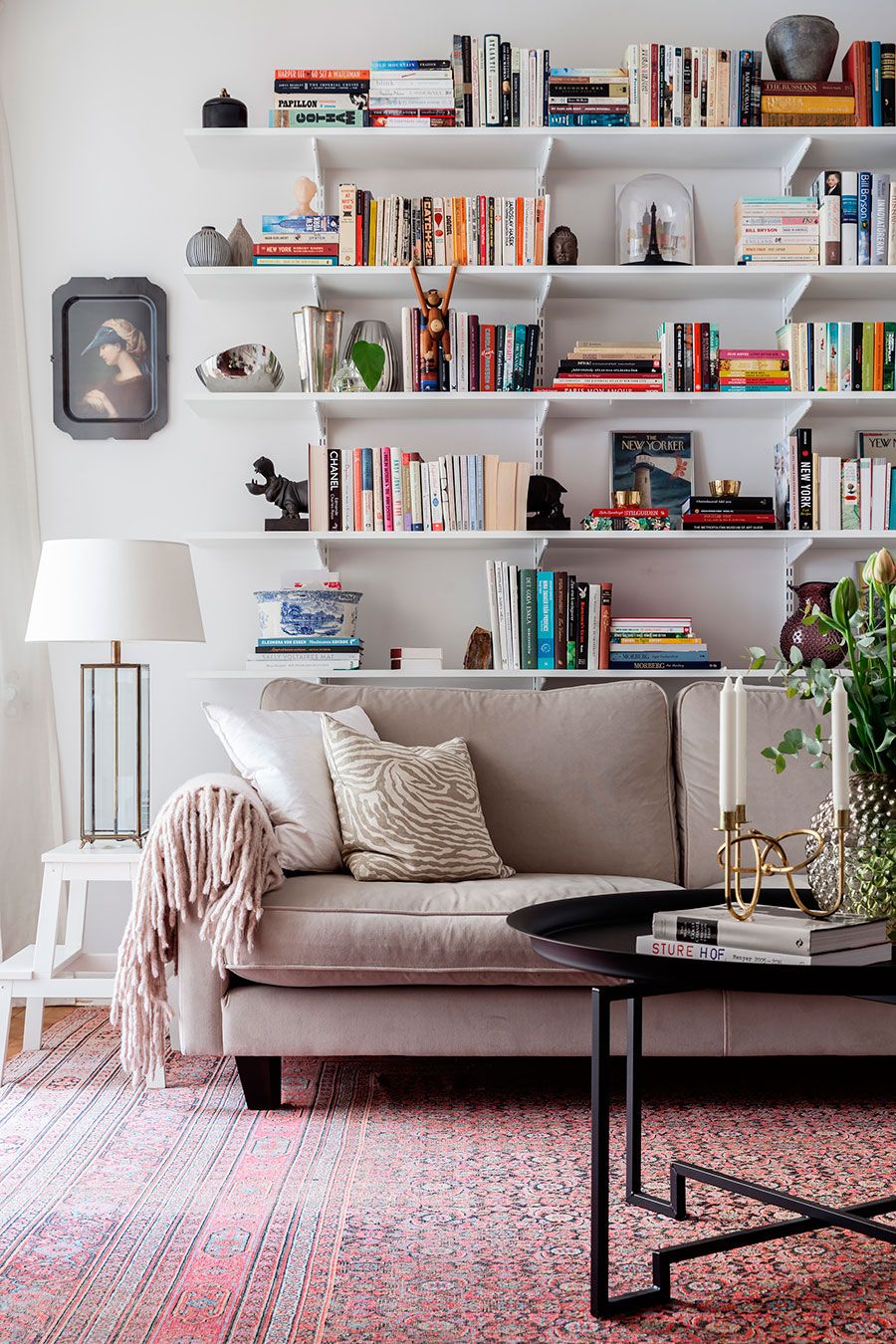 A mounted bookshelf is suitable for every home design. It has a decorative value to make use of a plain wall into a creative mounted bookshelf. To install this bookshelf by yourself, you need to drill the holes on the wall, mounted the two anchors, then pin the nail or screw on the anchor. Install a shelf after it is ready and strong enough to add more weight.
An Interesting Bed Frame Bookshelf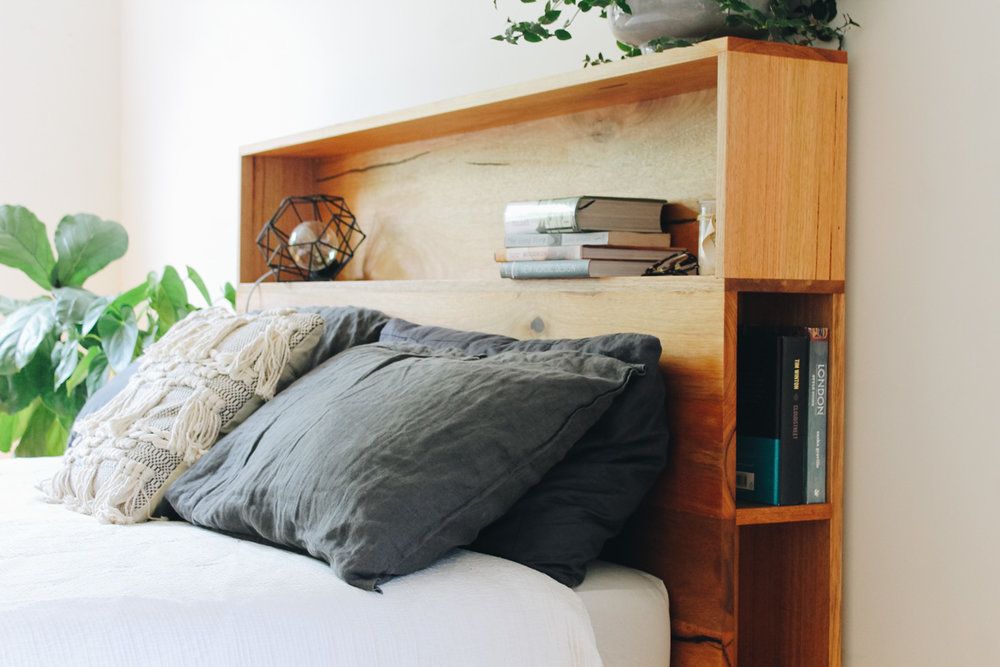 A dreamy house sometimes requires a unique and multifunctional furniture design. A bed frame bookshelf will grant your wish to add your book collections around your bed. This idea sounds strange or makes you worry to cut the space in your bed. Also, it takes advantage of the space net to your bed. This bookshelf is adjacent to your bed that provides easy access to draw your book from the bed.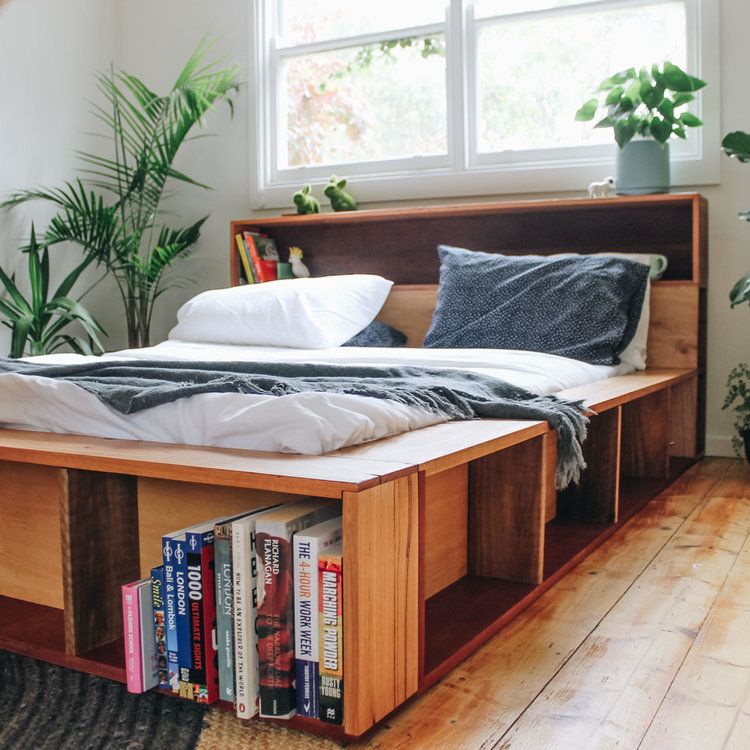 Some bed frame has a complete design with a bookshelf installation in this frame. It makes it easy to use the shelf without adding more storage. If you don't have a bed type as such, creates a unique bed frame bookshelf by yourself. Add some wooden drawers under your bed, make use of your headboard, and create a bookshelf in the footboard. It is a simple idea for those of you who don't have a home library.
Ledged Wooden Bookshelf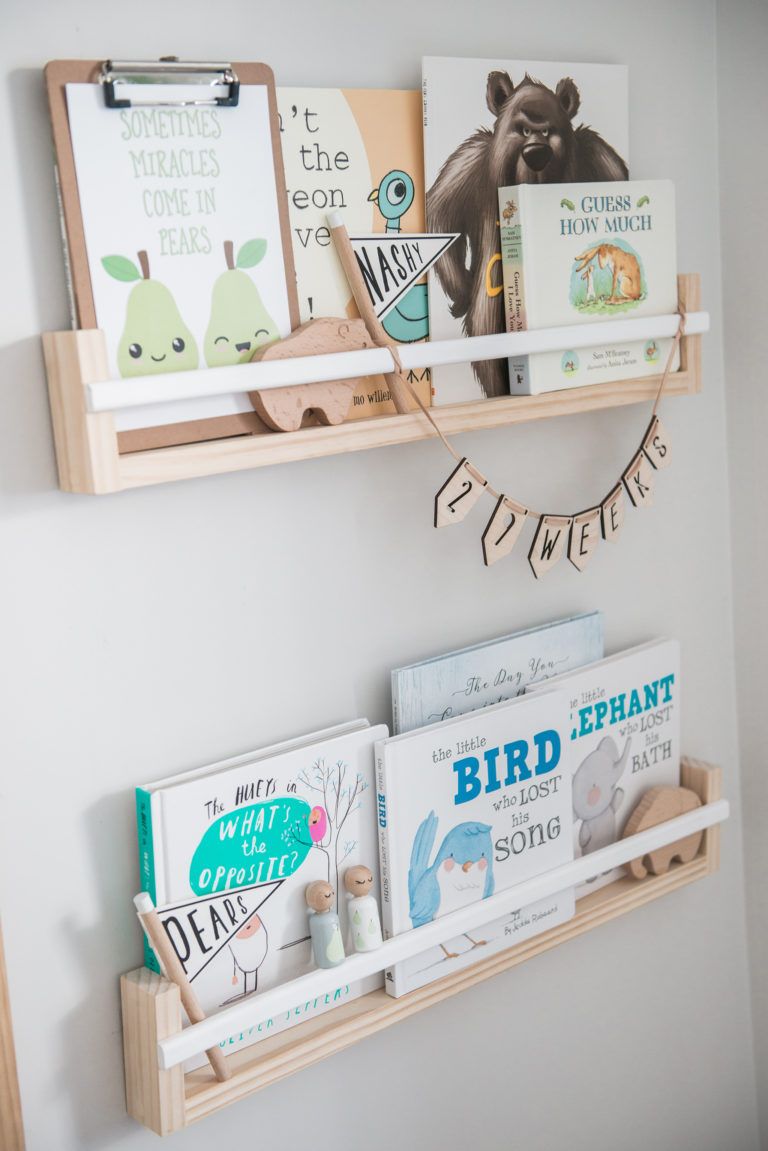 Ledged bookshelf idea looks simplest among the ideas we have mentioned. It only needs a long slab to display your favorite books. This bookshelf looks interesting to show off some bestseller books among your collection, but it doesn't work to save the book in myriad amounts. Thus, this bookshelf is usually put in a kid's home library that shows the book cover to draw their attention.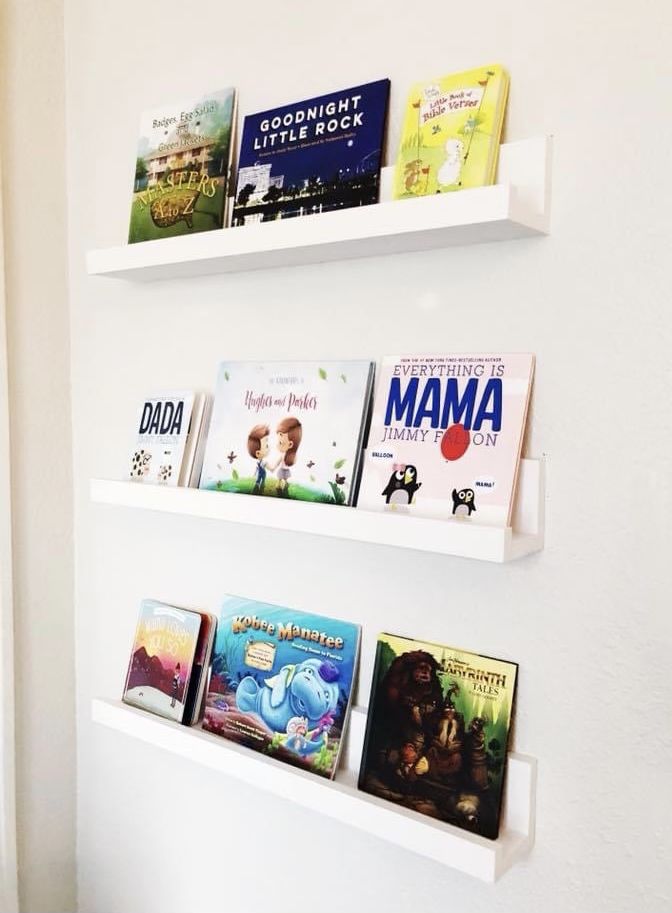 Besides, this bookshelf offers another function to display your book note to make it easy when you need it. Since it has a simple design and doesn't take lots of space, some people like to make it at home. If you want to have one of a ledged wooden bookshelf, you need two thick poplar boards, a drill machine, four screws, glue, and four dowels to assemble the boards.
Pallet Basket for a Creative Bookshelf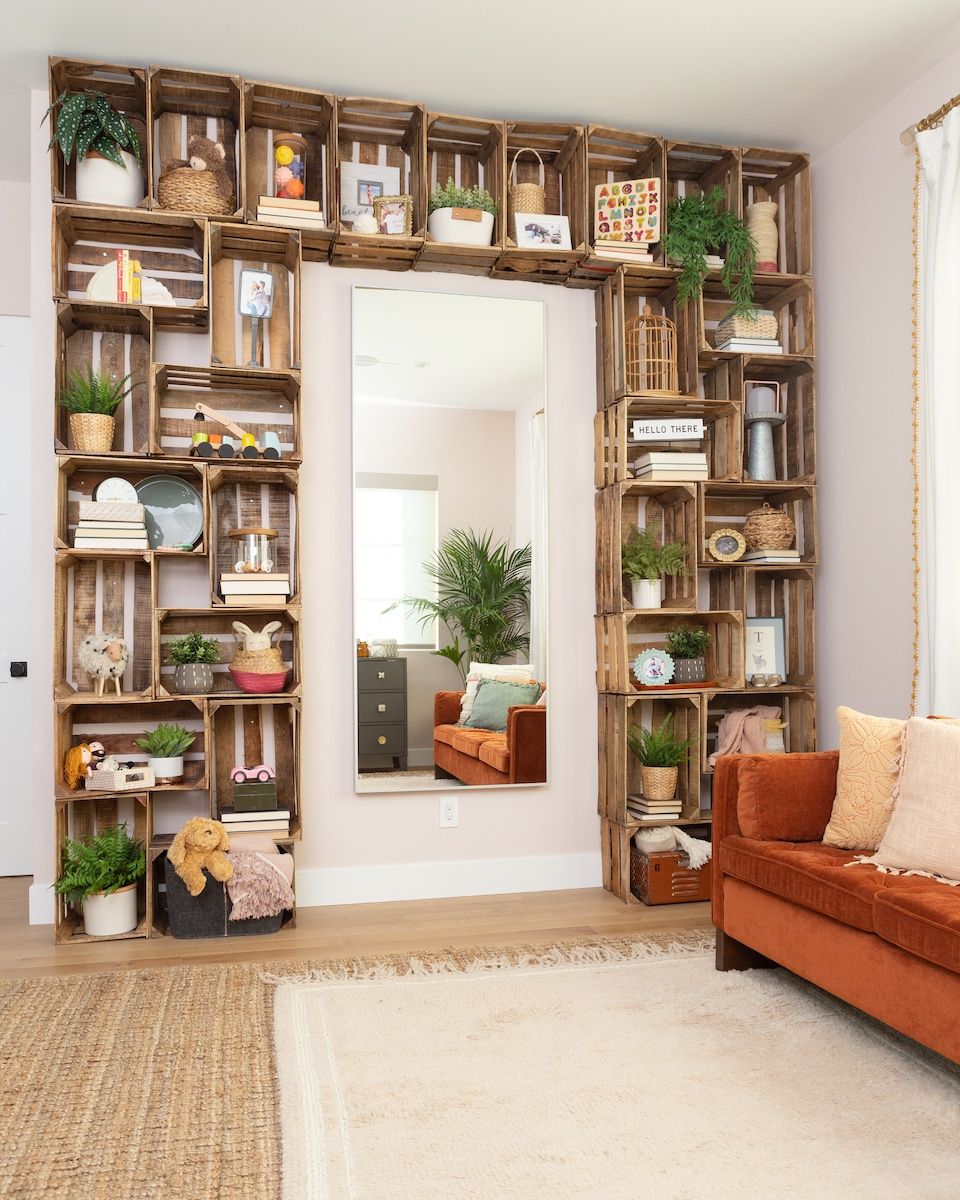 Make a DIY bookshelf is challenging your creativity. This idea dares you to make use of the cheapest material to create adorable furniture. A pallet basket is one of the recycling materials that offer you a natural design to be your DIY bookshelf. Even though this material is ready to use but it needs some makeover as a proper bookshelf. The rough surface of this pallet needs your treatment to smoothen this side by using a scraper machine.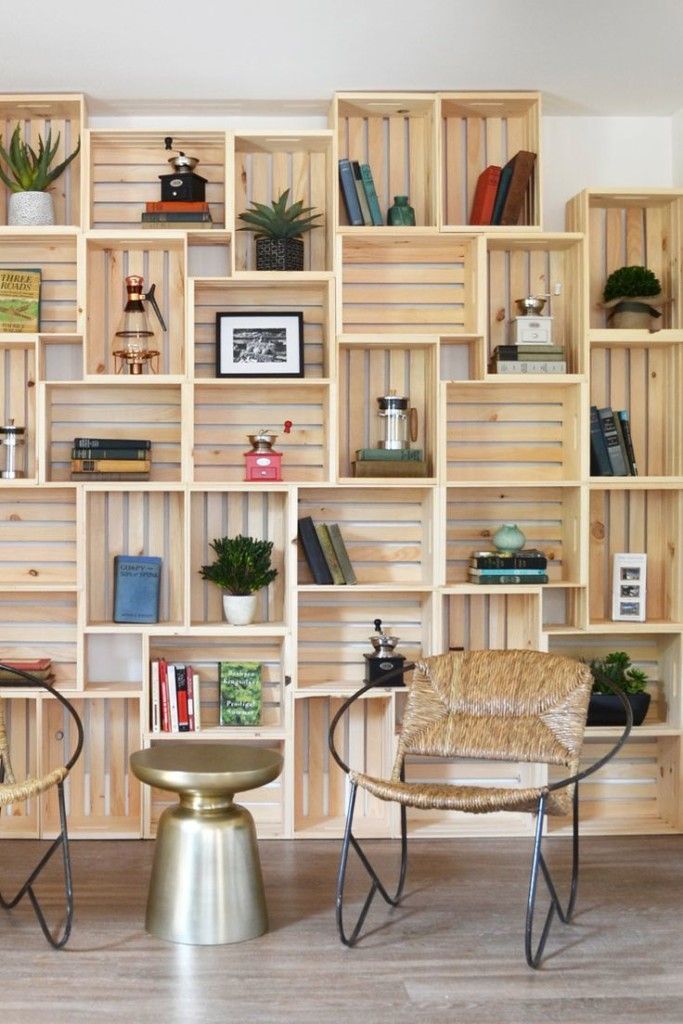 A smooth finishing is important to prevent the shard of wood to hurt your skin. A paper scraper is another option if you don't the machine. The pallet basket has a natural brown color but you are free to give it a shadowy design by varnishing it. Put this bookshelf vertically with the shelf facing outside. Then, your pallet basket is ready to draw attention to your home library.
That is our discussion about DIY Bookshelf Ideas for Your Cozy Home Library. Some bookshelf designs have an interesting appearance. It has a main function to keep your book collections in one storage. Besides, it gives inspiration for a cozy reading spot in your home library. Having a bookshelf is a recommendation to make your home library more alive. Even, creating this furniture by yourself is challenging and helps you to develop creativity. Thus, we hope that the ideas we have mentioned are helpful to inspire you in creating a DIY bookshelf. Happy decorating!