Druhomes.com – A couch is one of the must-have pieces of furniture in a living room. This thing has various designs with soft material from velvet fabrics. The soft texture is comfortable for those of you who want to relax in a comfy seat. Since it is beneficial furniture, a couch can draw a certain impression by its shape and color. A velvet couch brings a classic accent to your living room. To feel more classy, use the dark color style will relevant to the time past interior such as using a navy couch to enliven classic nuance. We know that the furniture in a living room is based on personal needs and favors. Even though we assume that the ideas below are interesting enough to inspire you. We want to show you some Elegant Navy Couch Ideas for Creating a Classic Living Room Impression. Let's discuss!
Luxurious Navy Couch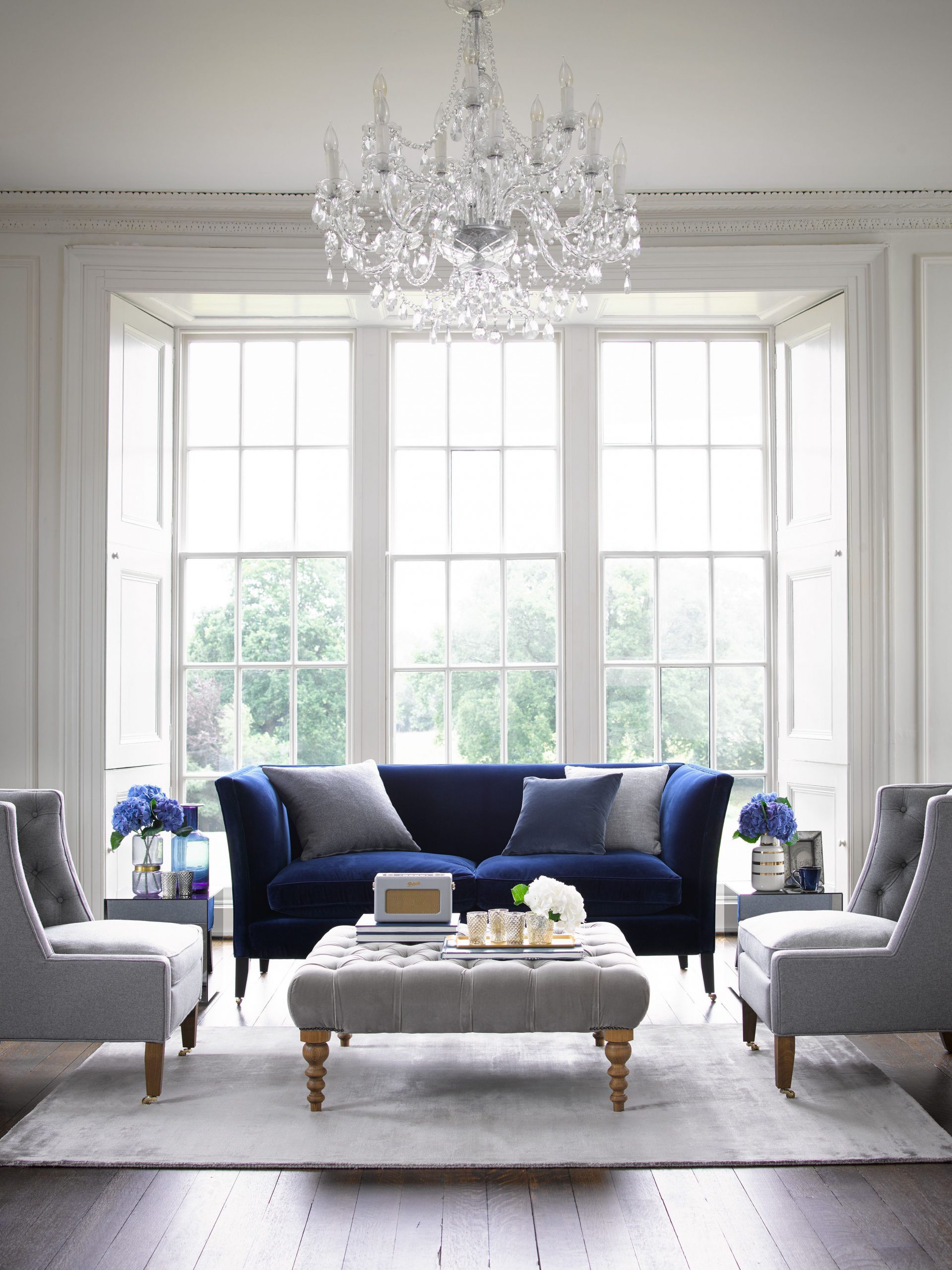 A luxurious accent emerged from the furniture and the decoration. A navy couch is compatible to draw a luxurious accent in your living room. This couch looks elegant to pair with some grey couches. Since both colors have an elegant impression, their combination generates a classic style by its velvet upholstery. Give a consistent theme by having some blue flowers in this living room.  The contrasting colors between a navy couch and grey theme look catchy with a luxurious chandelier and an elegant coffee table.
Navy Couch with Aesthetic Pattern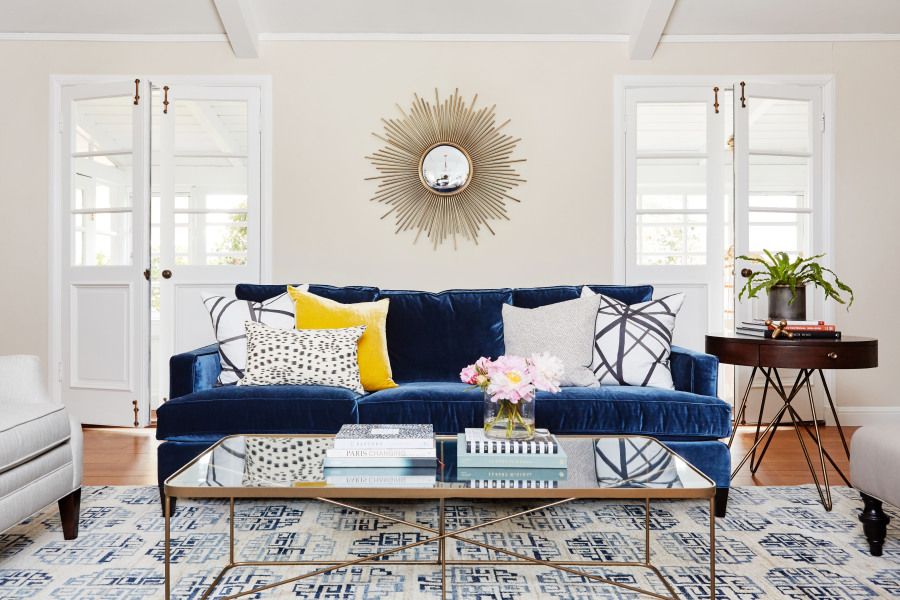 A classical style has an interesting impression by its original characteristics from the past. In a traditional style, it has rich patterns for the furniture and interior design. It only needs a glimpse to feel the traditional atmosphere from each element. Aesthetic patterned rug with Art Deco coffee table is the right combination to get a classic design. Cushions on the navy couch have decorative functions from the fabric cover. Thus, your living room looks more catchy by having a navy couch and this patterned element.
A Combination with Yellow Mustard Cushions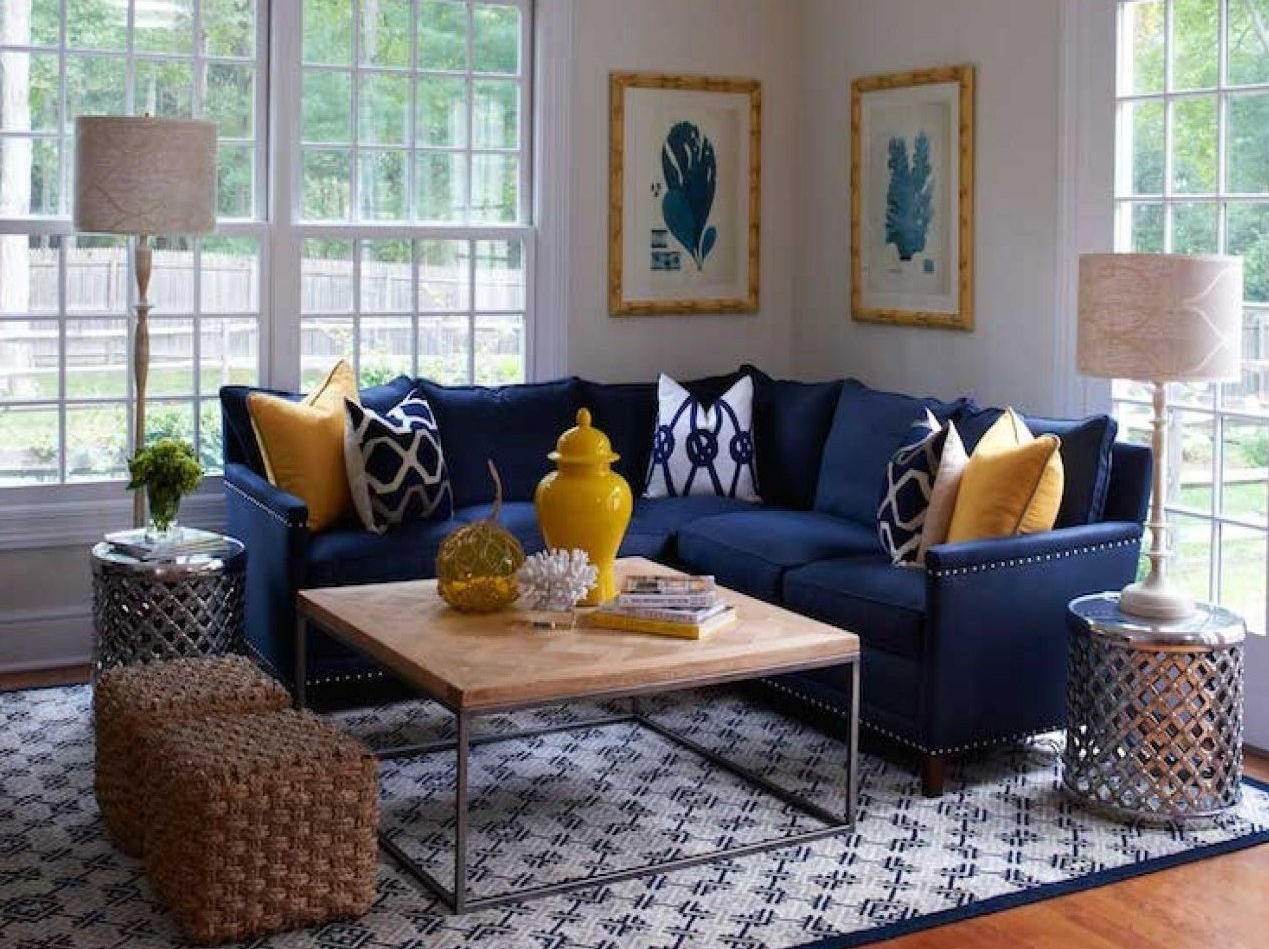 The cushion provides a comfortable surface to make your hand feel the soft texture. Another color to arouse an antique style is yellow mustard, red terracotta, and emerald green. These colors are interesting and have an elegant impression when you use them as decoration. Even though both furniture have different colors but it connects to the time past design. Mustard cushions that use velvet fabric are an additional element to strengthen the aesthetic design in the living room.
Modern Style Navy Couch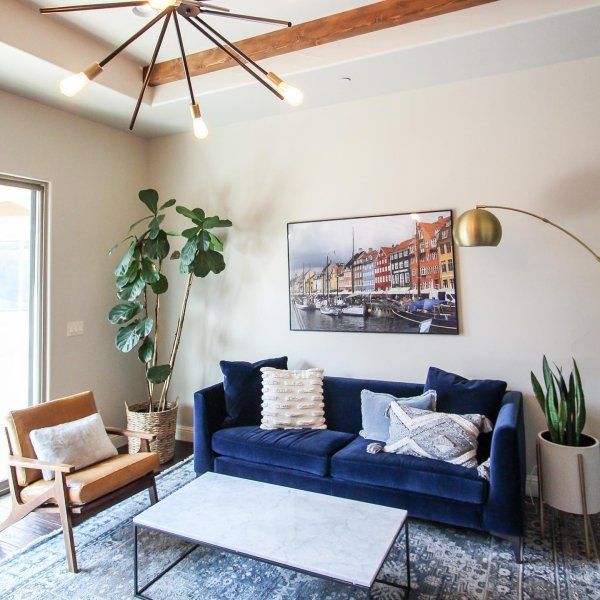 The modern style emerged from the art movement especially for painting, that this design has a character to have fewer ornaments. It has a meaning to create a clear impression from excessive ornate design in a certain living room. Thus, you need to consider what ornaments you will put in this room. Also, heavy textured furniture such as rich patterns and carved surface are not the characteristics of modern style. Thus, if you have a navy couch, it still has a classic impression, but it combines with modern furniture such as the window.
Navy Couch with Golden Accent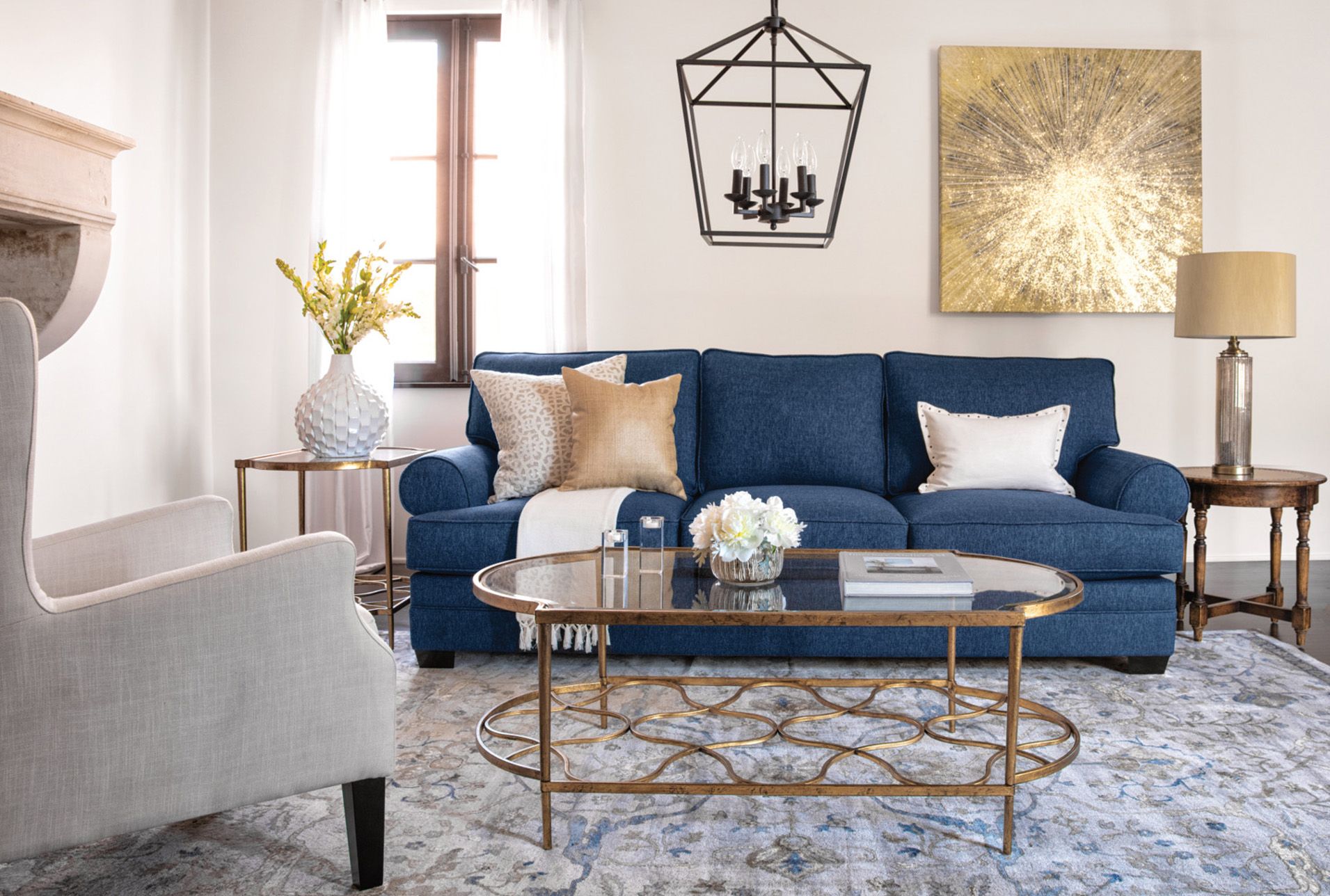 Golden furniture has a luxurious impression by its color and how often do you see a comfy seat. It transforms your boring living room with an energetic accent. Using a navy couch is catchy to add some golden furniture to enliven a classical design. You can use a golden table, a cute golden side table, and a stunning lamp. This idea adopts an Art Deco style with the touch of traditional elements such as your navy couch, patterned rug, and beautiful wall art.
Combine with Navy Cushion and One Sidewall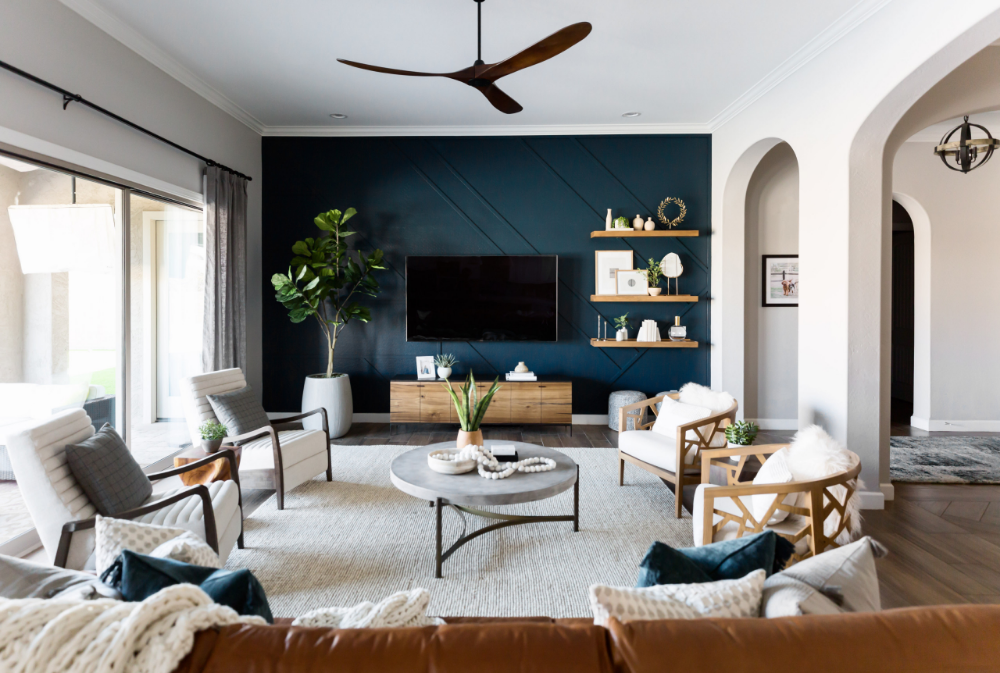 Another element that connects a navy theme is a cushion. If you want to draw a different design from the previous ideas of a navy couch, you can give a fresh step by having small navy accents in cushions. This furniture helps you to fill the gap of classic design in a living room. Besides, you can give more navy accents by painting your wall with navy color. It strengthens the classic style by arranging some traditional wooden chairs.
Navy Couch as A Striking Accent in Your Living Room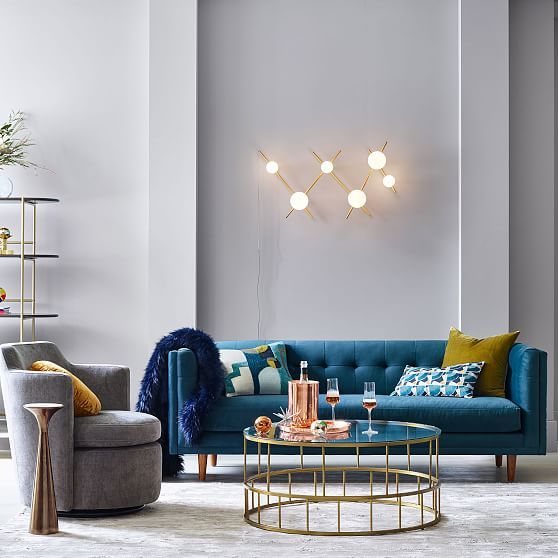 In a classic living room, it generally uses a neutral color to enliven a nuance of the time past. A soft grey is one of the classic colors that dominate a classic living room. The calm color makes it easy to create a striking accent by having a navy couch among the living room interior. Your navy couch looks distinct by its contrasting color with a soft grey living room. Moreover, you can add another element to make this classic design more alive. Put an interesting wall lamp to illuminate the grey wall. The grey color needs a punchy look by having a navy couch.
A Perfect Navy Living Room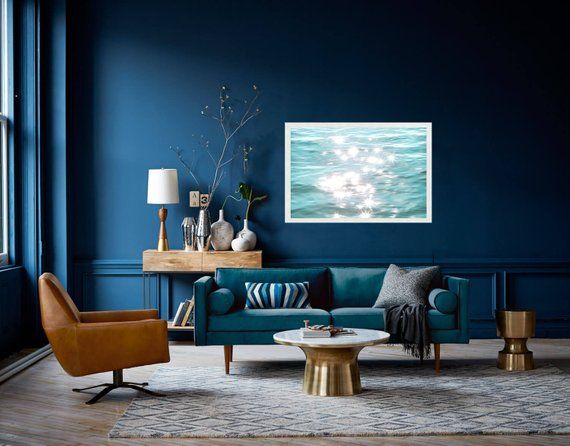 Even though a navy couch is the main element in this discussion, but it is a compliment in a living room. Decorating your living room to look entirely blue is a representation of a classic design. Navy color has a strong nuance to look classy and it is relevant to some classic designs such as Art Deco and Eclectic design. Thus, having this furniture in your navy living room completes the classic nuance. This navy room offers you an elegant combination of designing your golden furniture to complete the layout.
Combining with Flowery Upholstery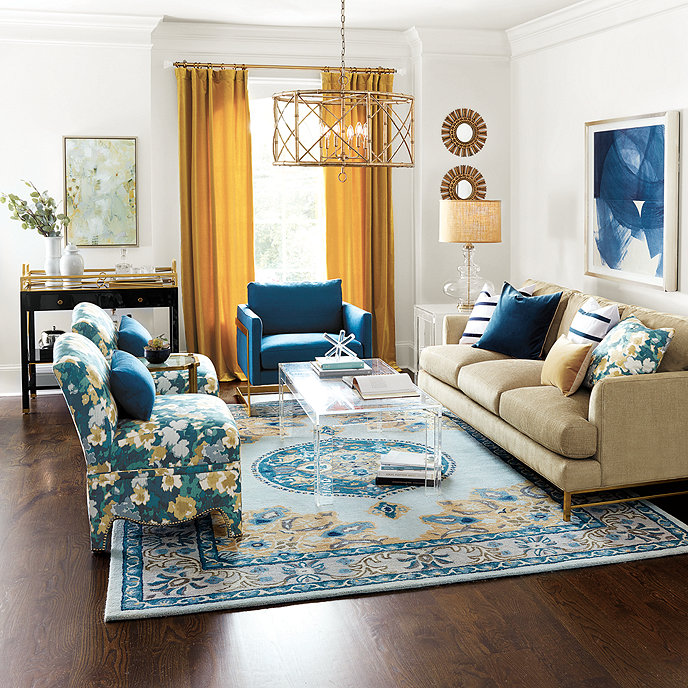 The couch has many designs and upholstery is one of the decorations for a couch. This element has a function to draw a different view on your couch. It offers you many artistic designs which in classic design like to show rich patterns. Thus, a flowery upholster is compatible with your navy couch. To enliven the navy theme, this upholster has a blue color too with a sweet navy cushion on the seat.
Couch with A Stunning Wooden Coffee Table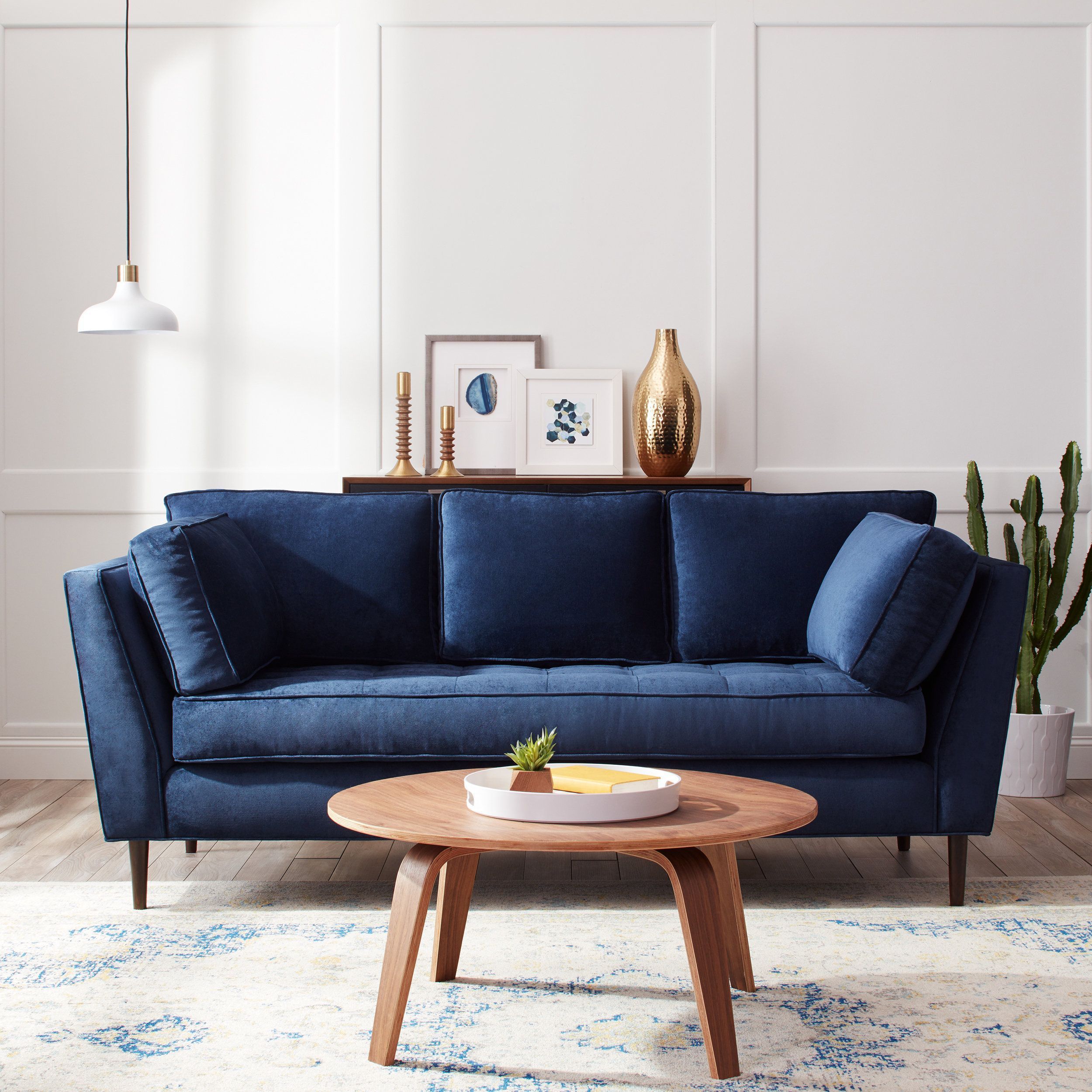 A coffee table is a low table to put drinks, snacks, and books while enjoying the time. This furniture is usually put in a living room. To create a classic design, a coffee table that is made of wooden material is doing well to pair with a navy couch. The color of natural wood makes it free to combine with a dark color. This coffee table complements the classic living room and offers a beneficial spot to put a classic ornament on it.
That is our discussion about Elegant Navy Couch Ideas for Creating a Classic Living Room Impression. Navy is a dark shade in blue color that has an elegant and luxurious impression. This element brings back the nuance of the 1960s era in modern touch. Combining some elements with a navy couch is effective to draw an aesthetic classic design in your living room. There are some ideas for creating a classic design by using a navy couch, we hope you get inspiration to combine your navy couch in various ways to get a classic impression. Happy decorating!