Druhomes.com – Wall decals have various patterns for you to use in the interior design of your home. It usually draws on the wall to get a unique and aesthetic decoration. Some of you may ever see this decor in a room, especially as an aesthetic mural indoors. Maybe those of you who have this wall artwork at home want to get an inspiring idea to renew the wall decals, then we have listed simple patterns that you can try at home. Since this decoration is useful to enliven a decorative impression in your room, this article will discuss Simply Aesthetic Wall Decals for Your Bedroom Interior. The simple pattern for wall decor gives you a chance to make it yourself. It challenges your creativity to draw attention by the wall decals. For that, let's discuss!
Flying Birds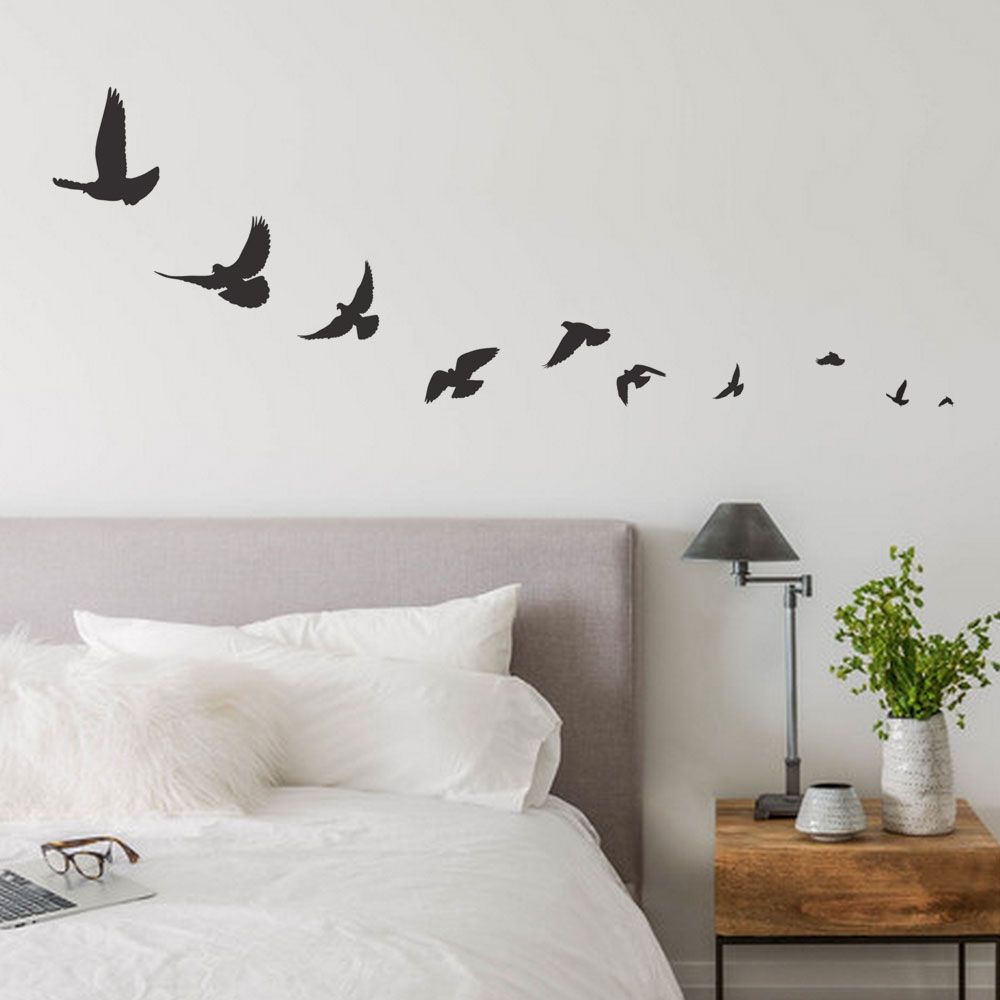 Animal print is an eccentric object to draw on the wall. Even you can find animal print in some decorations like Industrial rug and Bohemian mattress. This pattern brings a natural-like impression. Applying this pattern on the wall will catch attention because it looks clear on your plain wall. This pattern has a different shape for each bird, then it needs creativity to imagine a flying bird. Use a wall sticker for a simple application.
Loosening Feather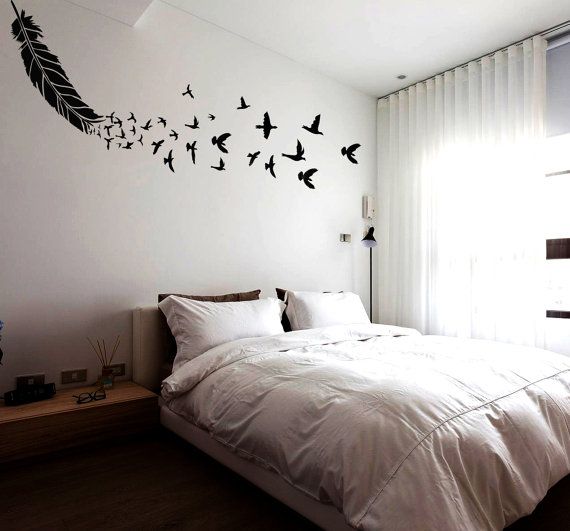 This pattern looks similar to the flying birds. Yes, it has the same birdy pattern. Both have a different look from their standing feather image. It is a representation of an absurd mind that is full of creative ideas. If you want to use this pattern on your bedroom wall, it needs a more detailed line but catchy enough to beautify the plain wall.
Artistic Dandelion Art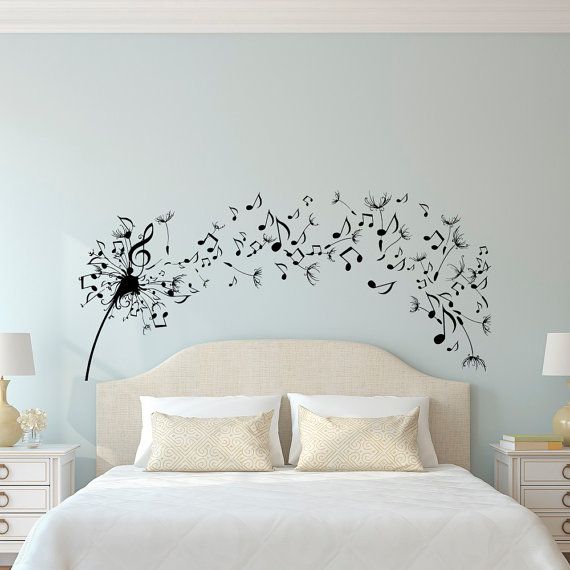 A natural print has an impressive look too. You may ever see a Dandelion flower. It is a beautiful flower with cheerful color. The most attractive accent of this flower is the tiny 'flowers' that will fly when it gets a strong breeze. Thus, it depends on your creativity to change the tiny 'flowers' by using other images such as music nots, polka dots, stars, and so on.
Star and Crescent Moon
You need a calm atmosphere to sleep at night. It makes your sleeping time more valuable. To get a sweet dream, you can draw an attractive image on your bedroom wall to calm your mind. A beautiful decor brings a good mood to relax your stress cells. Since the night sleeping is identical to the stars and moon, you can bring them inside your bedroom by applying the star crescent moon image. It makes your bedroom more perfect and seems like welcoming you to take a rest.
Love Arrow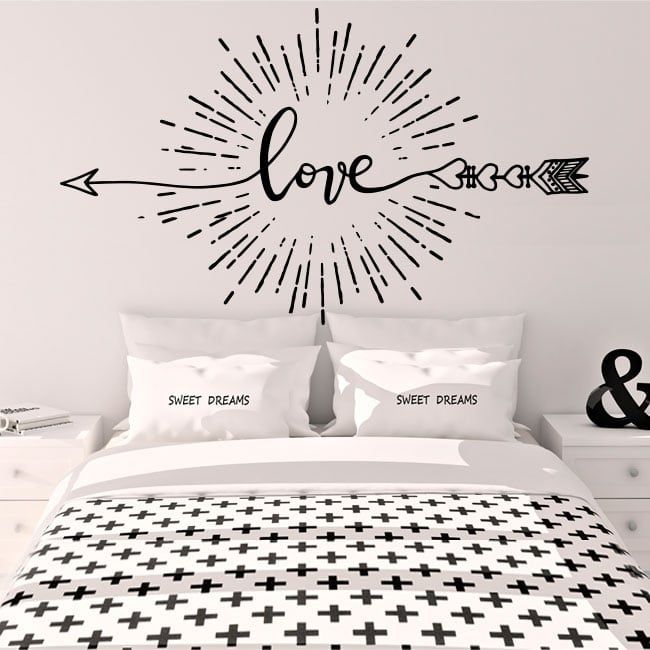 Cupid as the Roman god of love is identical to an arrow love. This is a symbol of love, peace, and faith. If you want to adopt this pattern, you can make a little modification by an artistic design. Even though this symbol is simple but it gives an impressive look to your bedroom wall. You can use various designs and sizes of these wall decals according to your expression in decorating the interior of your bedroom.
Hummingbird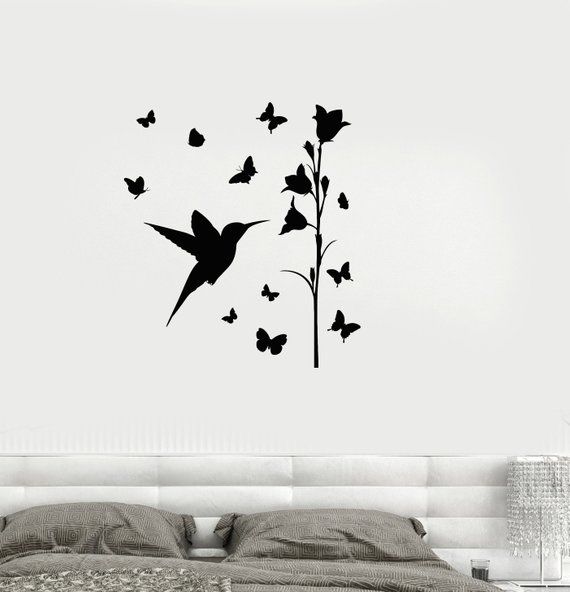 Calibri is a small cute bird that likes nectar from flowers. This bird is an interesting object to use as another animal print for a bedroom wall. Give a natural accent by applying a flying Calibri and a flower on your wall. Add some cute butterflies to make it more catchy. Thus, you will get an image of the outdoor nuance.
Charming Sakura Tree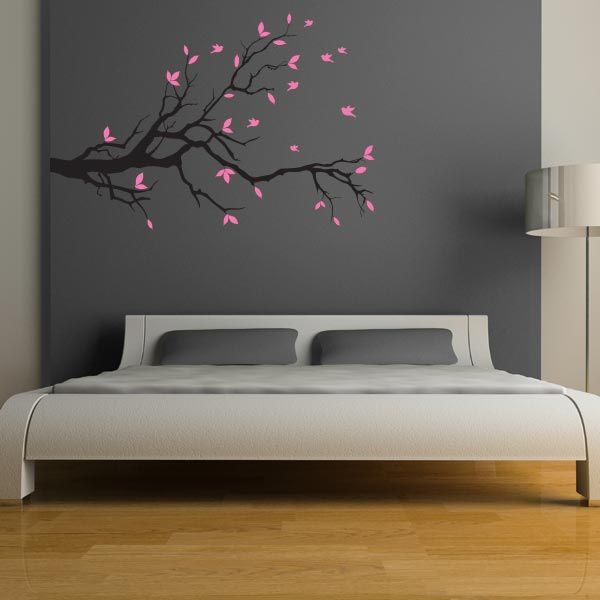 Sakura tree is a native Japanese tree. It is also known as cherry blossom. Sakura has beautiful flowers that bloom from mid-March till mid-April. If you love this flower, you may bring an image of the Sakura tree inside your room. Draw a beautiful Sakura tree by using a combination of black and pink colors. It makes your room looks like a Hanami event, it is a Japanese tradition to see Sakura flowers bloom.
Round Cotton Flowers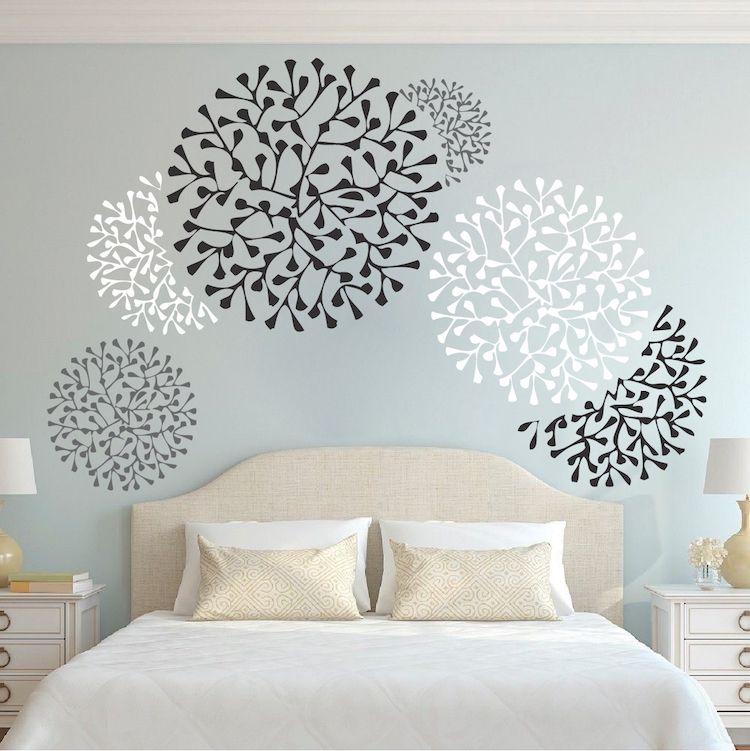 The round shape brings an elegant ambiance to your bedroom wall. Thus, if you want to make your wall looks full, draw some big round cotton flowers on the wall. The stunning detail of a cotton flower is attractive to draw attention from this image. To get an interesting design, you should consider the combination of your bedroom colors. A calm blue color is nice to emerge a peaceful ambiance.
Mandala Art for a Painted Headboard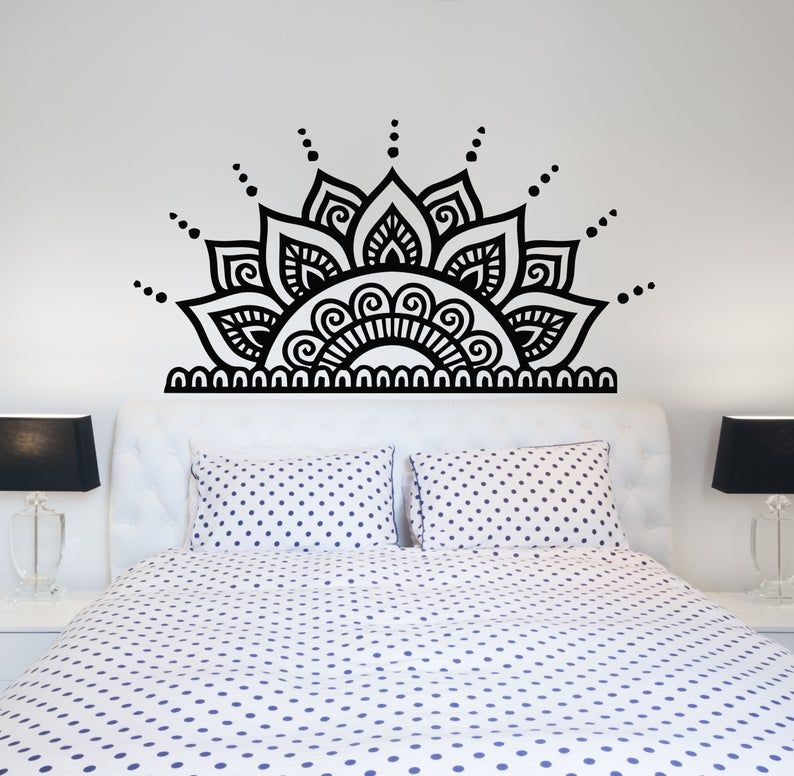 Mandala is a symbol in round shape that represents a unity of personality, characteristics, and cosmologist from the artist. The meaning of Mandala art is based on the artist that creates this art. To represent the universe, Mandala art has some layered patterns and creates a circle. As a spiritual pattern, it looks catchy to use as a decoration. Using this pattern as wall decals bring an artistic impression to your wall. Even you can use it as a headboard.
Gothic Moon Phases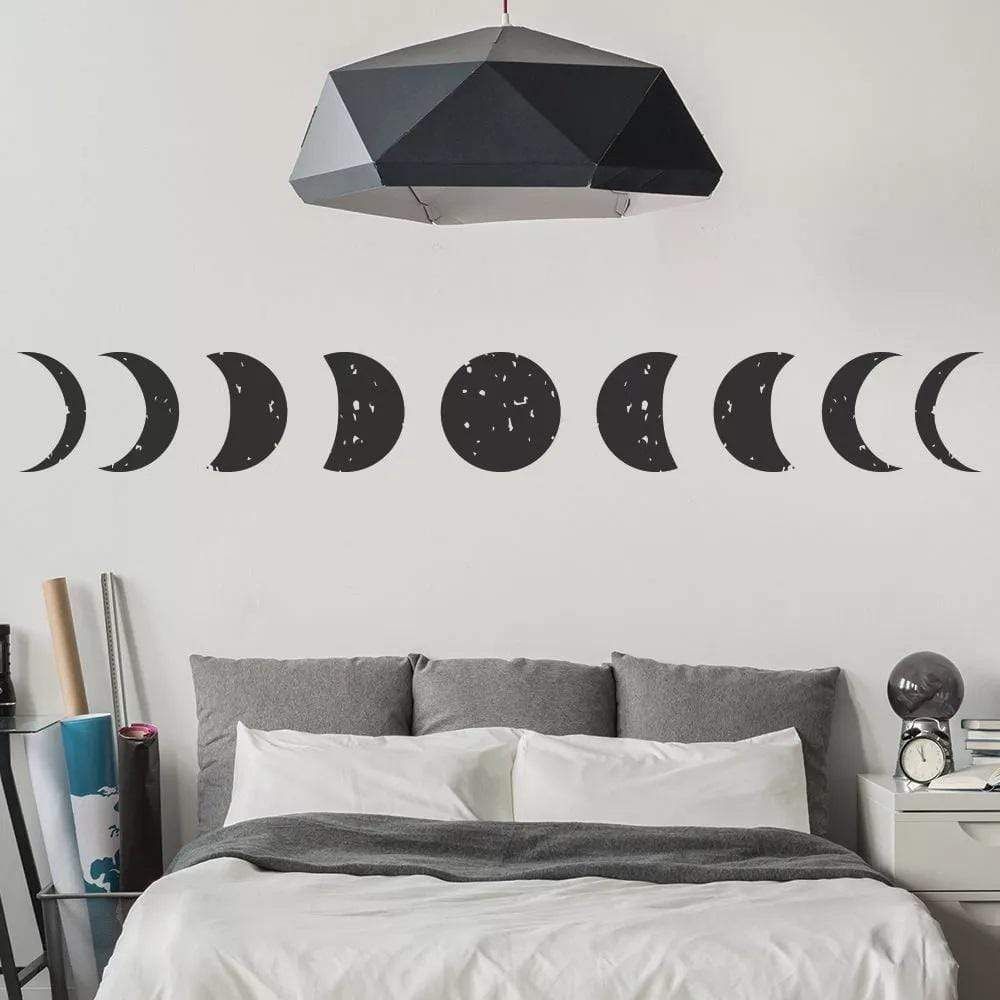 The moon phase or lunar phase is a natural cycle of the moon to show the position of the moon as viewed from the Earth. The visible side of the moon gets sunlit, while the dark side is facing the cold spaces. Adapting this natural cycle to your bedroom wall is a creative idea. You only need to draw the full moon, then adjust the phase by shading the dark side. It makes your bedroom has an astronomic ambiance.
That is our discussion about Simply Aesthetic Wall Decals for Your Bedroom Interior. Wall decals transform a boring wall to get a new face. Many attractive images to use as wall decals. If you are confused, you may take a look at the ideas we have listed in this article. Wall decals solve the problem of low-budget decoration, a DIY concept, and generate stunning decoration. You can create a variety of expressions and your character in the wall decals that you choose for the interior of your bedroom. We hope these ideas may help you to get attractive decor for your bedroom interior. Happy decorating!