Druhomes.com – Industrial wall finishing is a technique to determine the look of your room interior by using Industrial interior design. This technique is the final step to create a certain impression. Some interesting finishing results may draw attention, especially in Industrial design. This masculine design takes advantage of raw finishing to give an attractive decoration. It also has a simple but elegant impression by its raw finishing. If you want to know the types of Industrial wall finishing, we have listed some raw materials that look good to apply in your Industrial home design. Since the Industrial design is attractive to decorate any room, you can apply this design for free. Before we go further, it is necessary to know the benefits of attaching raw finishing in Industrial home design. There are benefits of having an Industrial wall finishing:
Gives an attractive look in your room
Saves on your money by having a raw finishing
It is easy to combine with any decor
Bring a classic ambiance to your room
Has a natural texture
With the various advantages that we have discussed, you can create an industrial wall that suits your wants and needs. You can get a variety of decorative and functional benefits from using industrial walls in the interior of your home. For that, the next topic that we will discuss is various design industrial wall finishing ideas that you can create in your home. Let's discuss them one by one!
Concrete Wall Finishing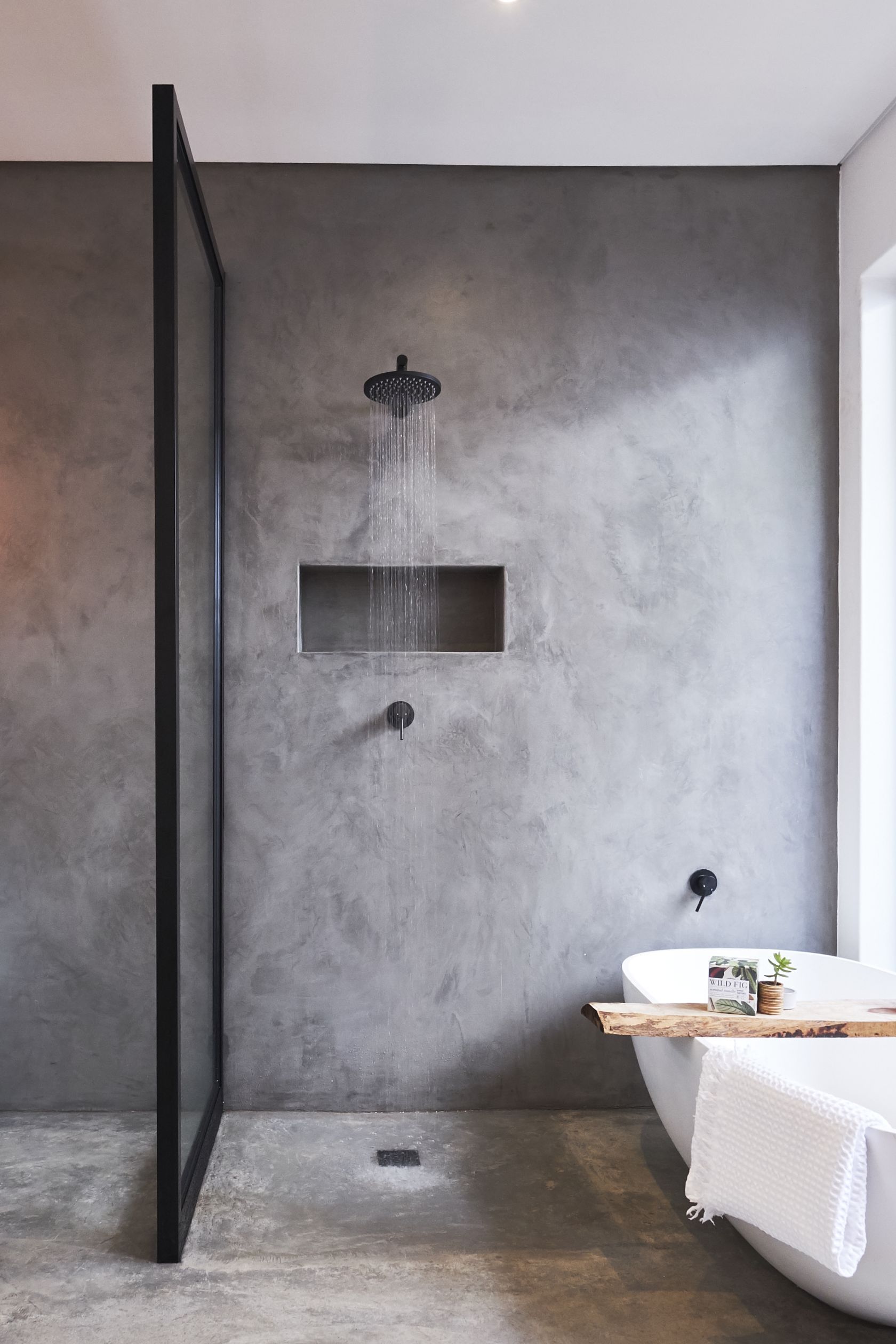 Concrete is a material to build a home. It has a rough texture when it is dry if you don't smoothen it. In an Industrial interior design, concrete finishing means that you let the wall surface shows its concrete material to decorate your room. It has a natural color in the shades of grey with broken white accents. This finishing looks catchy to transform the interior of your room, especially in the bathroom.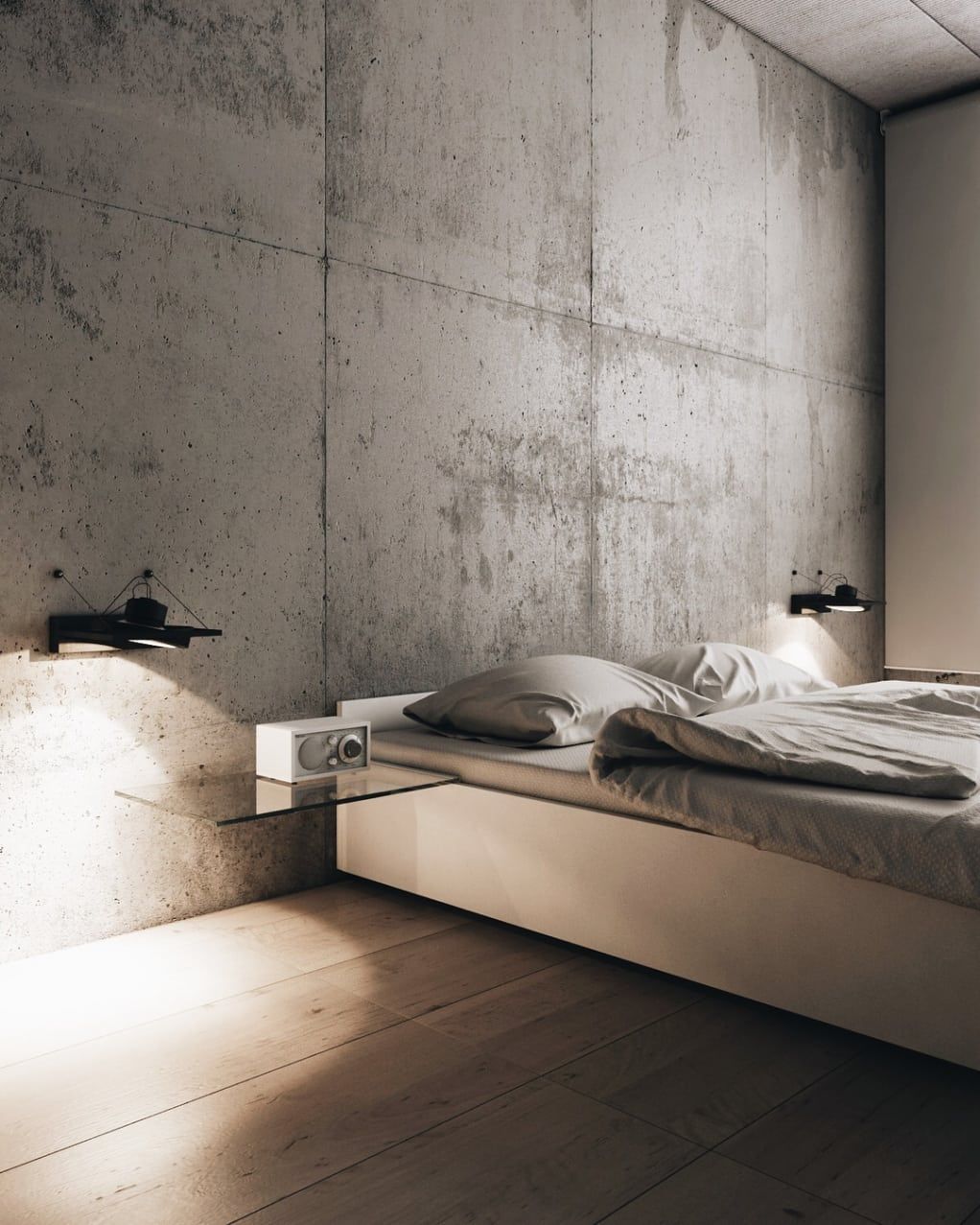 The concrete finishing also brings a strange look by another form. Some concrete tiles have a strong and masculine ambiance to use as a bedroom wall. It brings a natural cool atmosphere to its concrete surface. You will find a compatible accent with black iron light and grey bedcover. Grey color from the concrete wall is easy to mix and match with your Industrial furniture.
An Elegant Finishing of White Brick Wall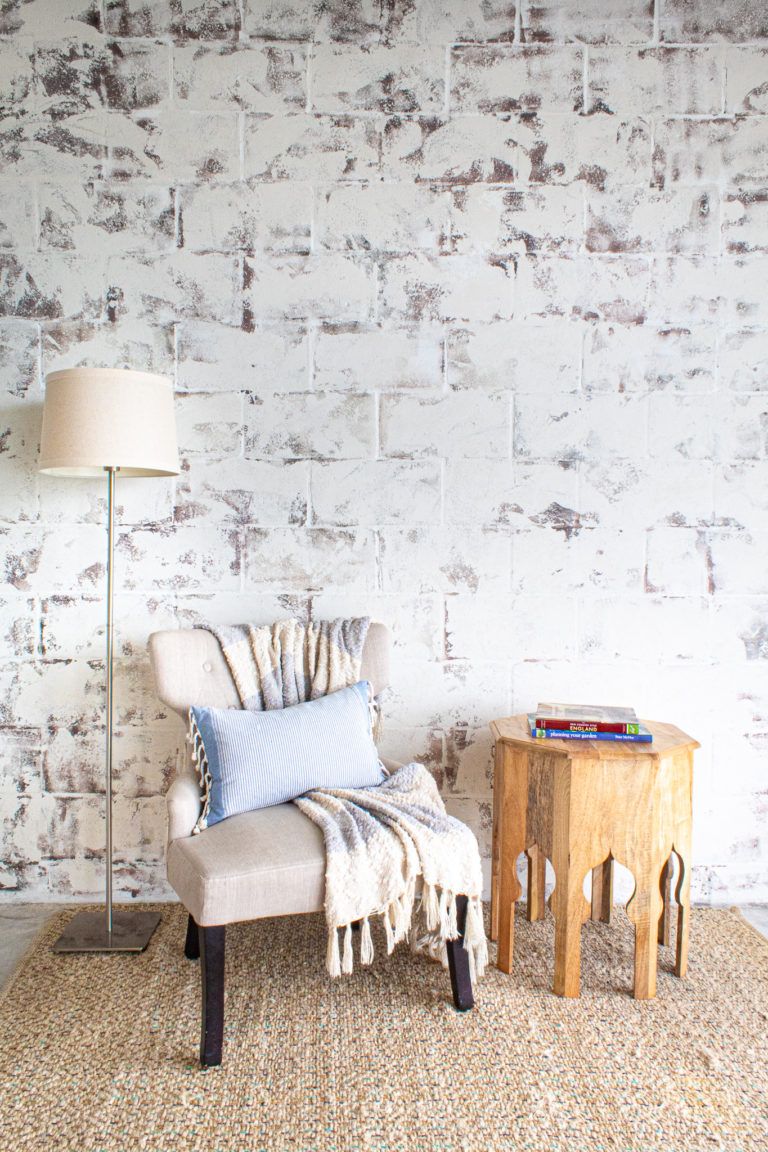 The white brick brings a calm look to a room interior. It makes use of rectangular patterns to create an Industrial accent, then you can paint it to give an unfinished look. To emerge an impression of Industrial decor, it looks better to put the classic furniture near this wall. Don't forget to consider the color of your furniture to get a consistent theme in your room by using a white brick wall.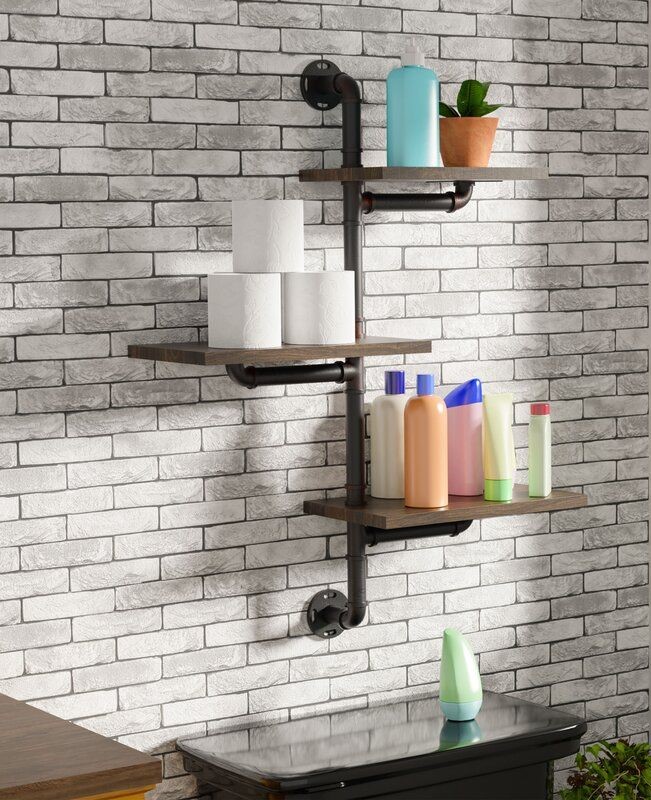 Besides, if you want a simpler decor, you can stick vinyl wallpaper. This wallpaper can replace the real white brick wall instantly. So, it provides myriad patterns to adjust your need to get an Industrial look. White brick wallpaper looks neutral to modify your room by a clean impression.
Earthy Tone by Using a Red Brick Wall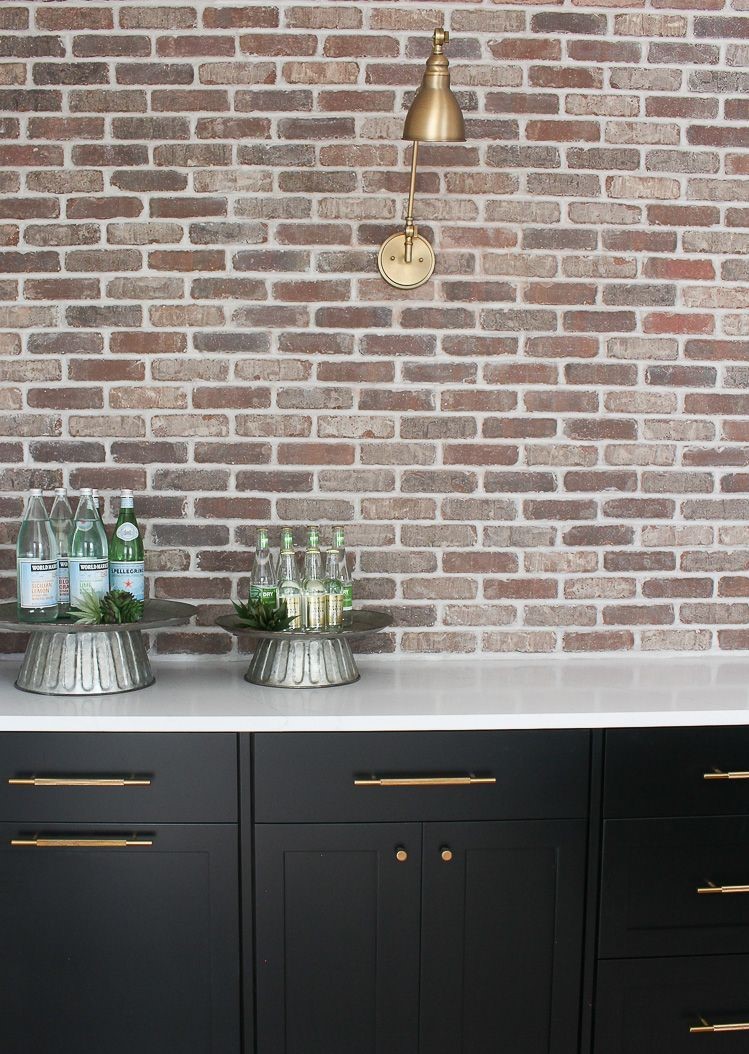 An Industrial design is a stunning design for architecture and home design. It emerges the idea of the Industrial era building and the development of architecture at that time. The original brick material is made of soil. Thus, this material has natural red color. It looks catchy to arouse an Industrial ambiance in your room. The red brick wall has a strong impression to show a raw finishing from a new building.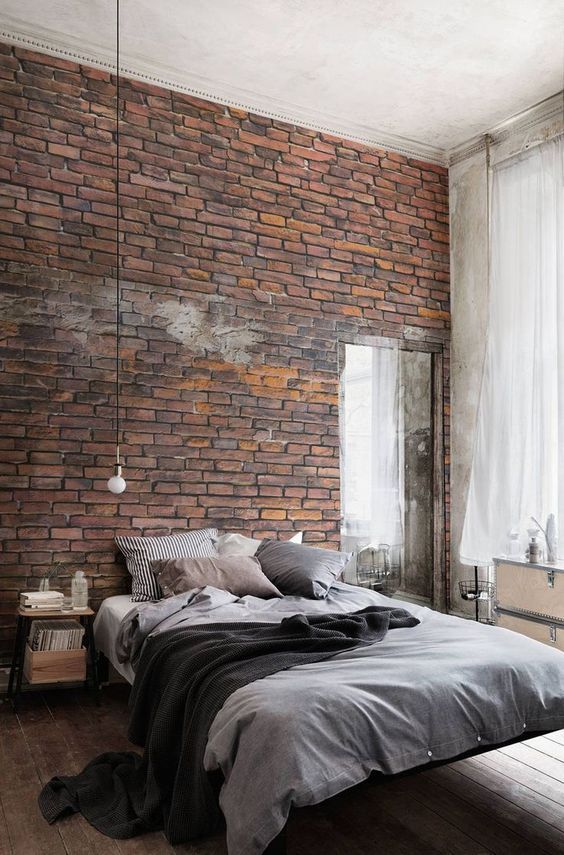 It looks stunning to decorate one sidewall or the entire room at home will be fine. By using red brick finishing, it offers a protruded texture to give an aesthetic look from any direction. You can get a 3D wall if you let the brick wall as such.
A Warm Impression in Wooden Wall Finishing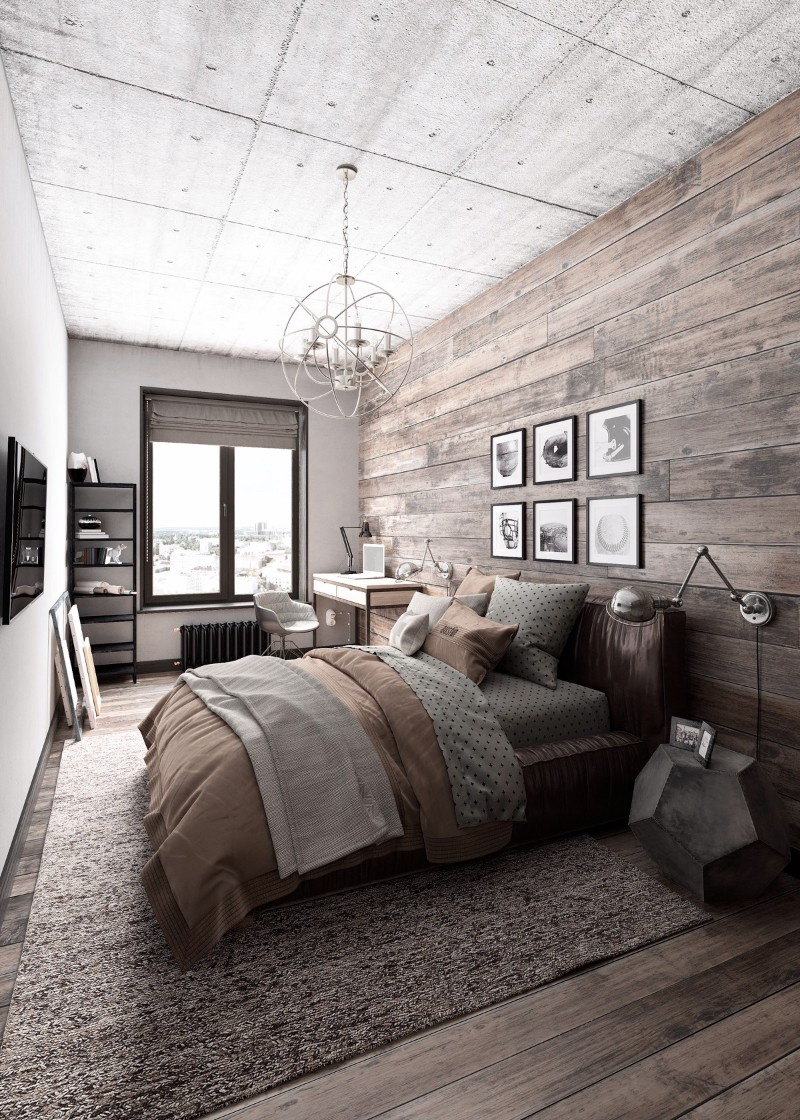 Industrial design is close to Rustic design. Both use the same materials to arouse their characteristics. The industrial design uses fewer wooden materials than Rustic design. It is functional to emerge a classic and masculine ambiance. The natural patterns from the wooden plank transform the look in your room to make it looks warmer. You can decorate the room by using some wooden planks naturally. Give another touch in Industrial style by having a concrete ceiling on concrete finishing for another wall.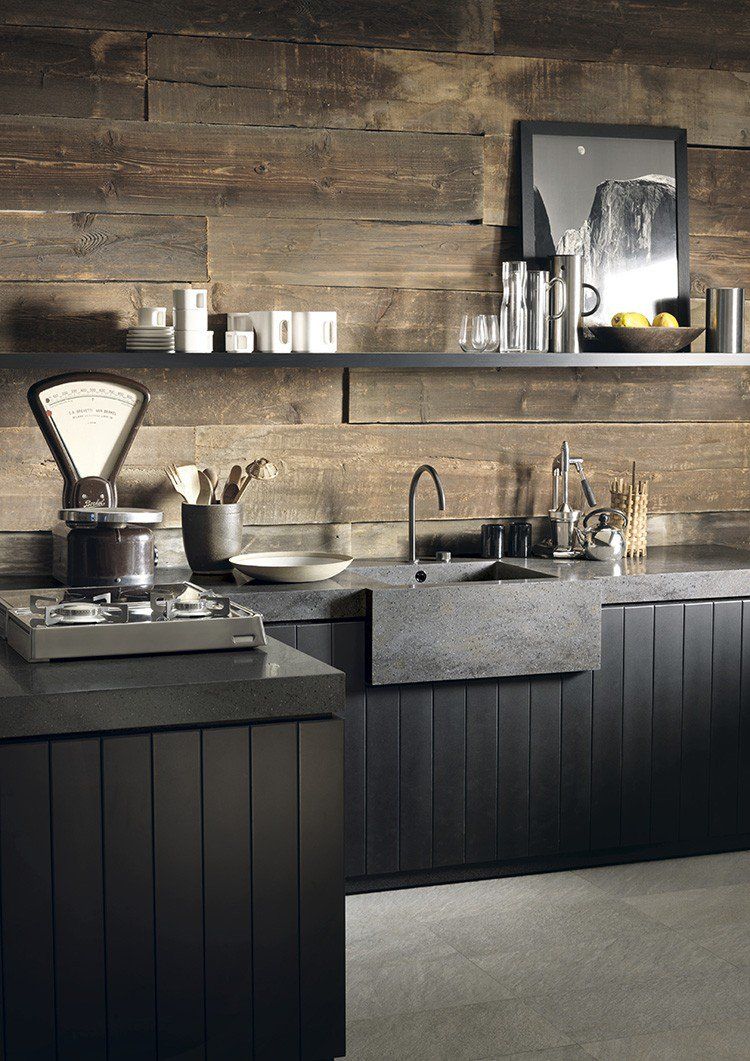 It also looks good as the main material to redecorate your kitchen. Since it is an Industrial design but it is welcoming other designs to combine with this style. Add some iron materials and black accents to represent the Industrial design. Mi and match with other natural accents such as a stone sink and marble stone floors.
Stonewall Finishing for a Natural Accent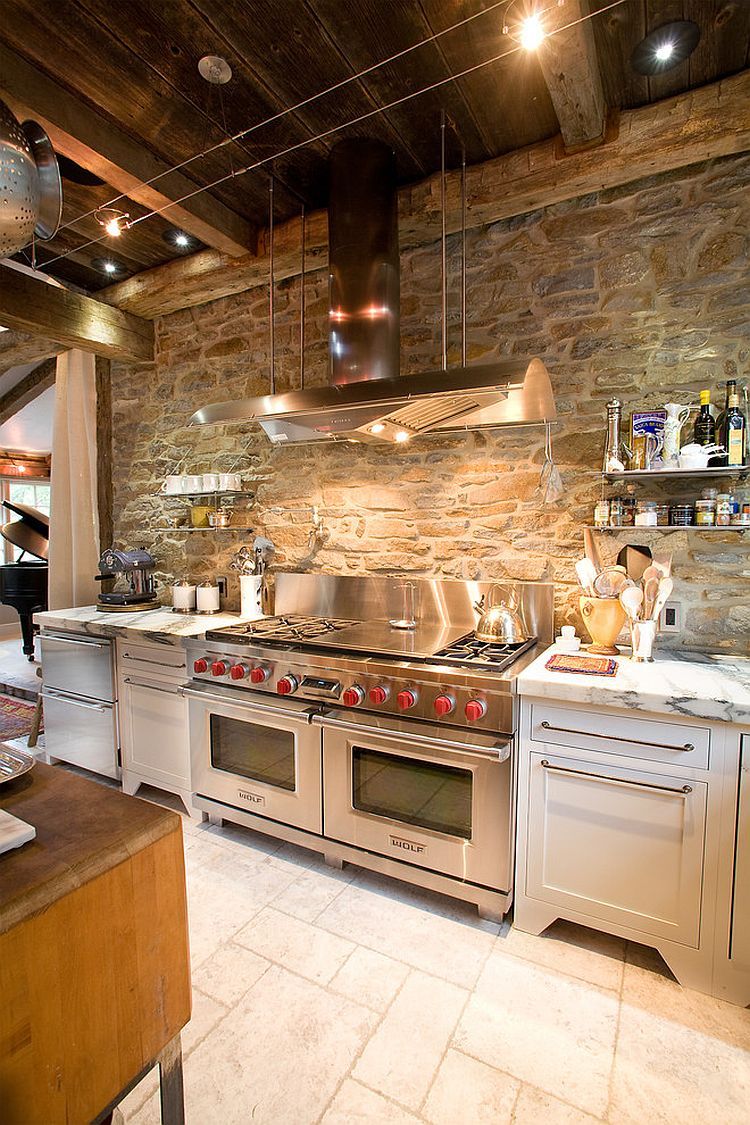 Industrial finishing brings a classic ambiance by its natural materials. Stone is an essential material to stick out an Industrial style. Even though this material is closer to Rustic design, but you may try the stone a stunning finishing for your Industrial design.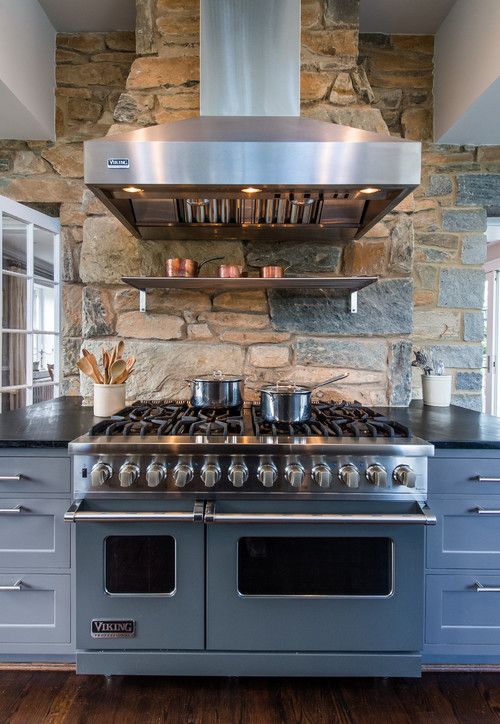 The stone finishing arouses a farmhouse impression but it connects to a classic design. Use it as the material to build your fireplace in the kitchen or living room. The stone material can hold the heat for a long time. Thus, it is nice to use it as a fireplace.
Marble Stone Wall for a Luxurious Look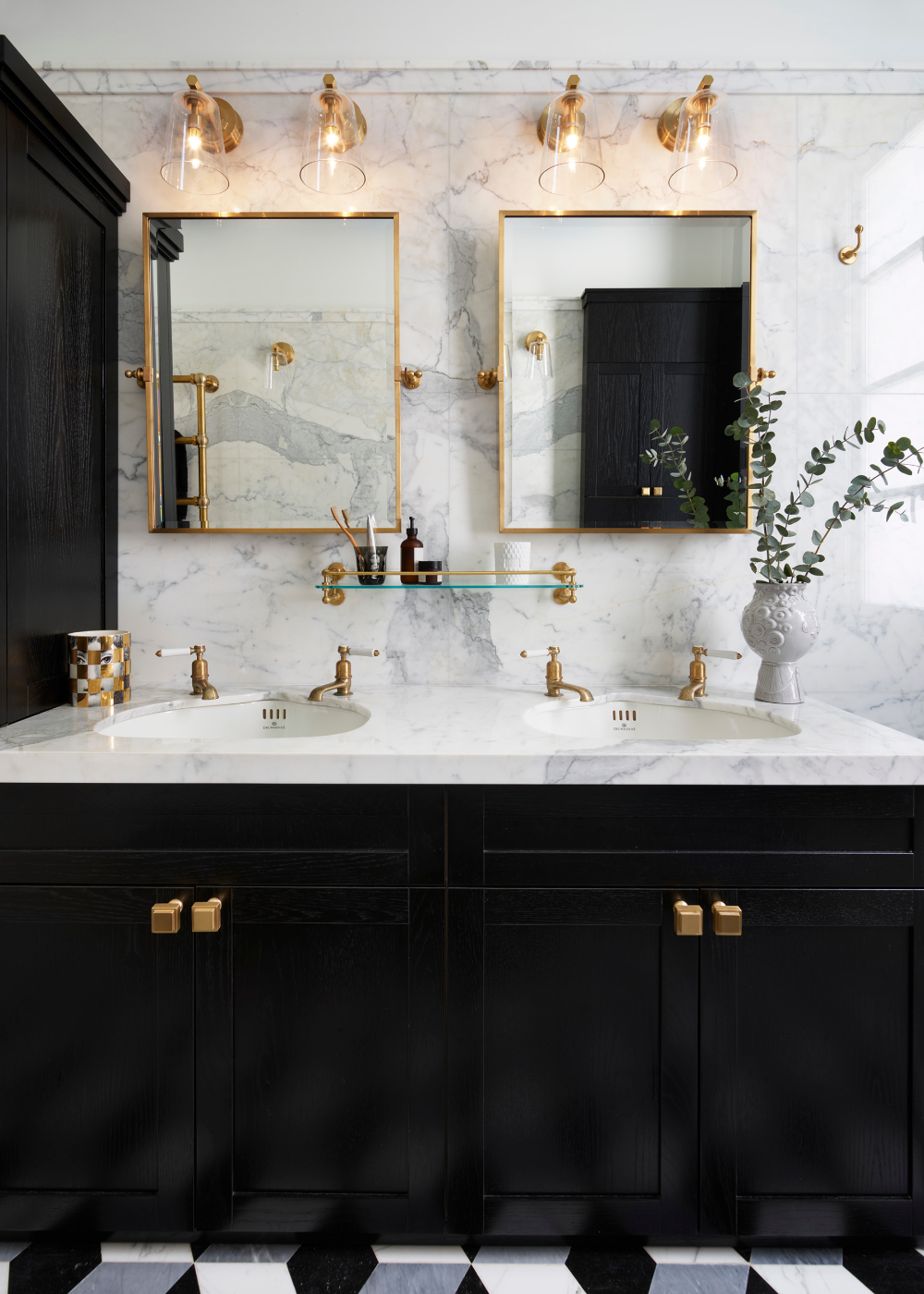 Marble stone is identical to a luxurious design. It has a natural elegant pattern. Some marbles are nice to combine with other designs such as Industrial design. Even though the Industrial design usually uses black pipes but it is fine to change the color of the Industrial pipe with the golden color. It makes the interior more luxurious. This stunning design brings a punchy look to modify your interior design. Thus, the marble stone wall is more stunning.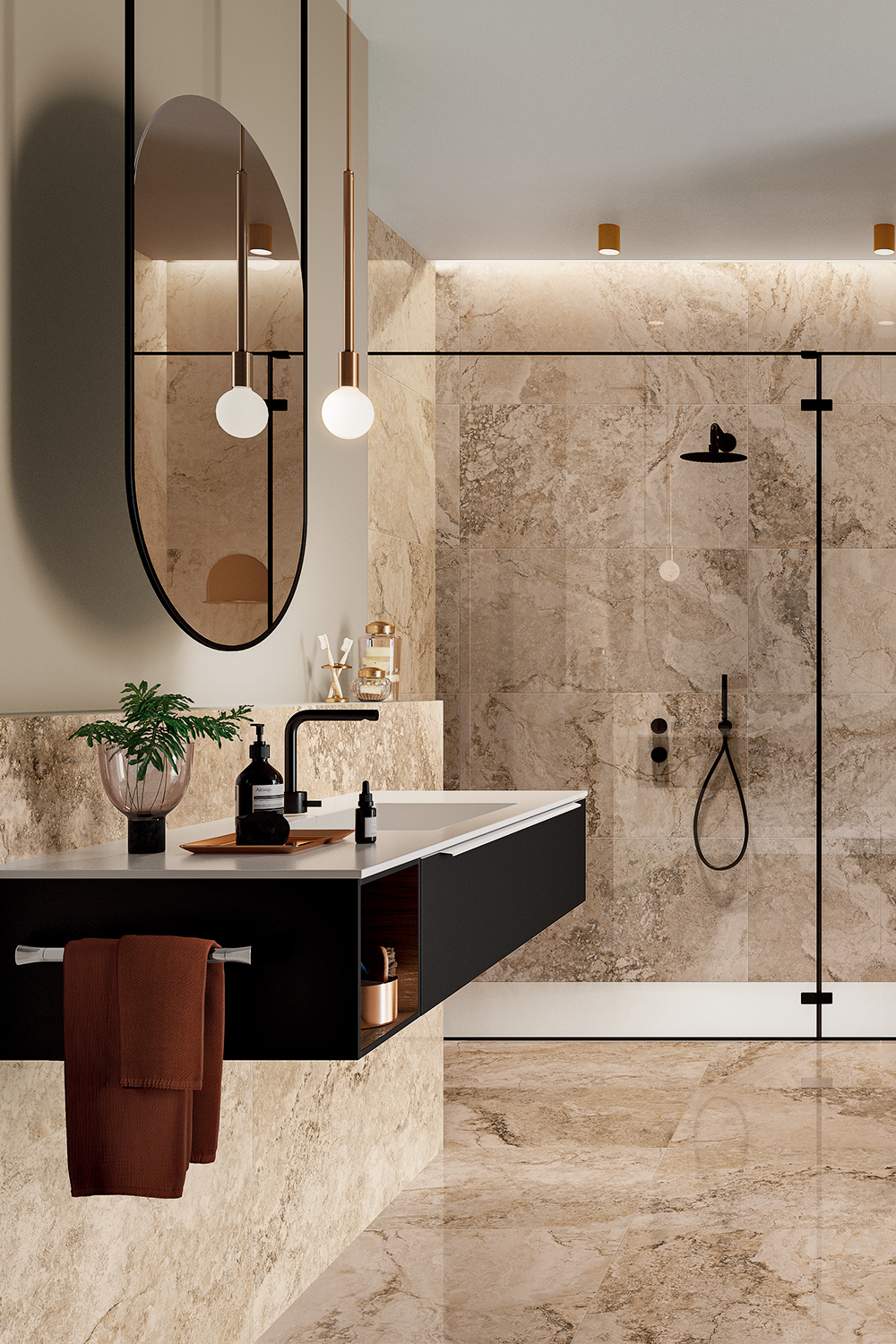 Complete the wall decoration with some warm lightings. The warm white color brightens the room by reflecting its light on the marble surface. Moreover, hanging two pendant lights near the sink is essential to enliven the luxurious ambiance.
Plain Wall Finishing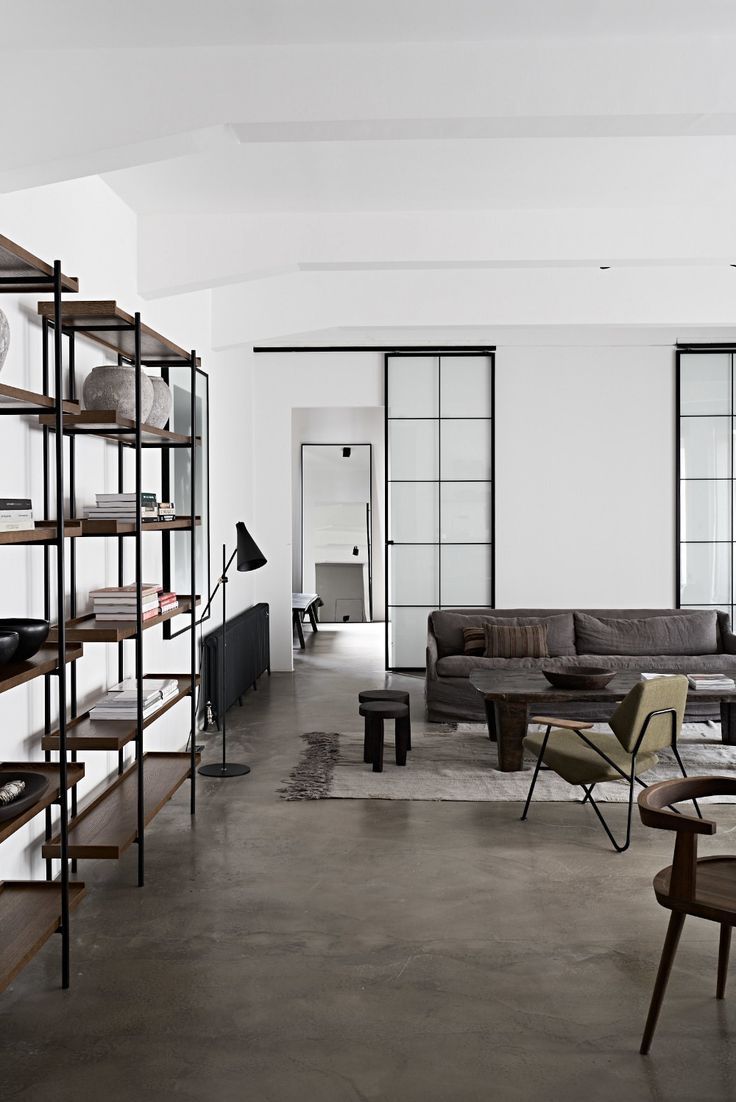 Another idea of wall finishing is the plain wall. In Industrial design, some people prefer to use plain finishing as other typical interior designs. The plain wall in this design has a function to bring a contrasting effect to the room. Thus, combine this theme with some black iron accents. Install some Industrial bookshelves in the white living room is a sufficient definition of this idea.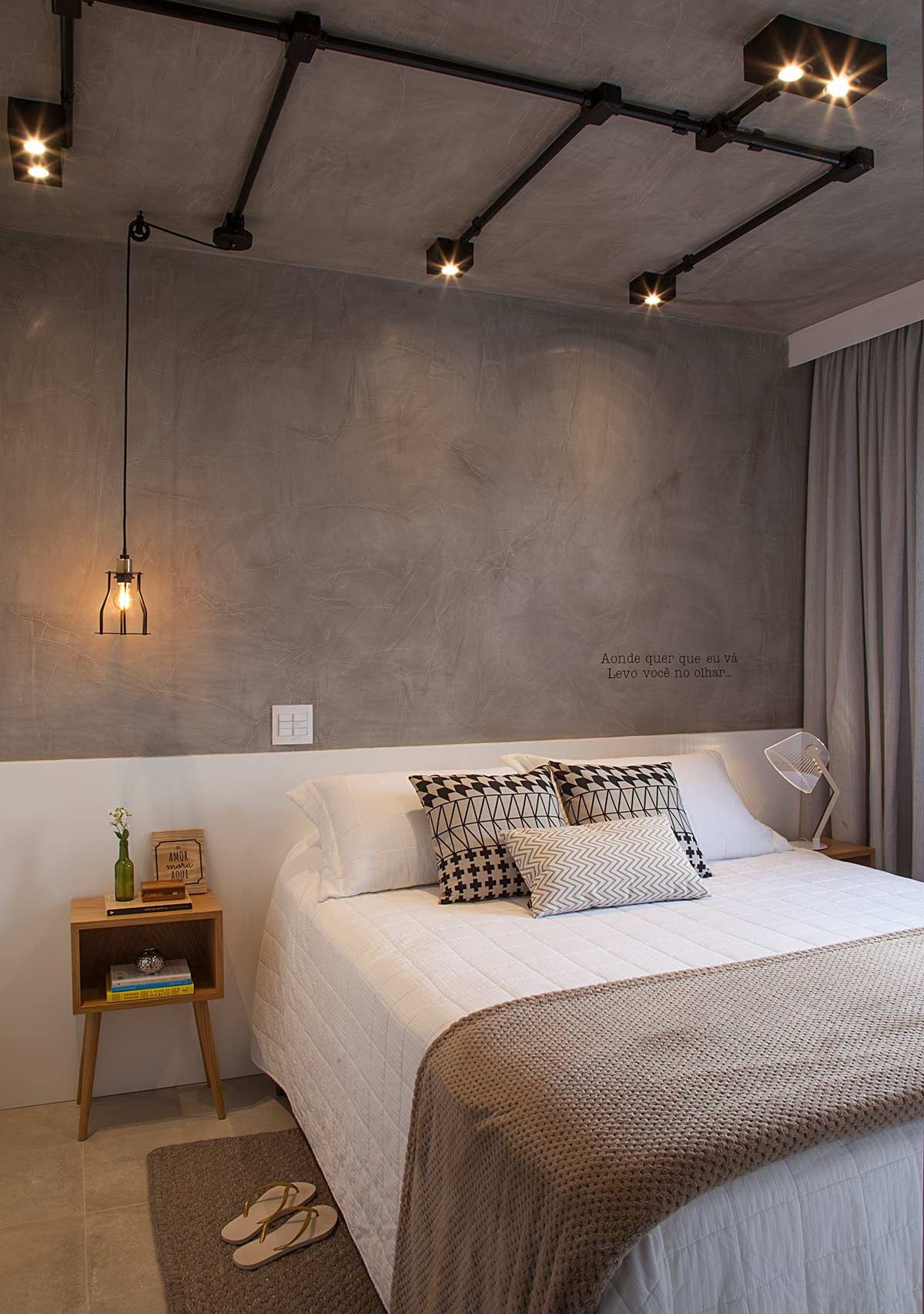 This idea is free to invite other wall colors to draw attention to this Industrial design. For instance, paint a half wall in your bedroom by using white color and let the other side in a raw concrete wall, it enlivens a contrasting effect. This wall paint works well when you provide it with elegant lighting. Some ceiling lights or spotlights will do just fine.
An Interesting Pattern by Using Tiles
The use of tile is a common technique to cover the wall. It is a simple wall finishing. Even though it is not a raw finishing but the wall tiles can decorate your Industrial room perfectly. You may often see the decoration of full wall tiles in the bathroom. Mi and match your wall tiles with Industrial furniture like black pipes and black ceiling lamps in your bathroom.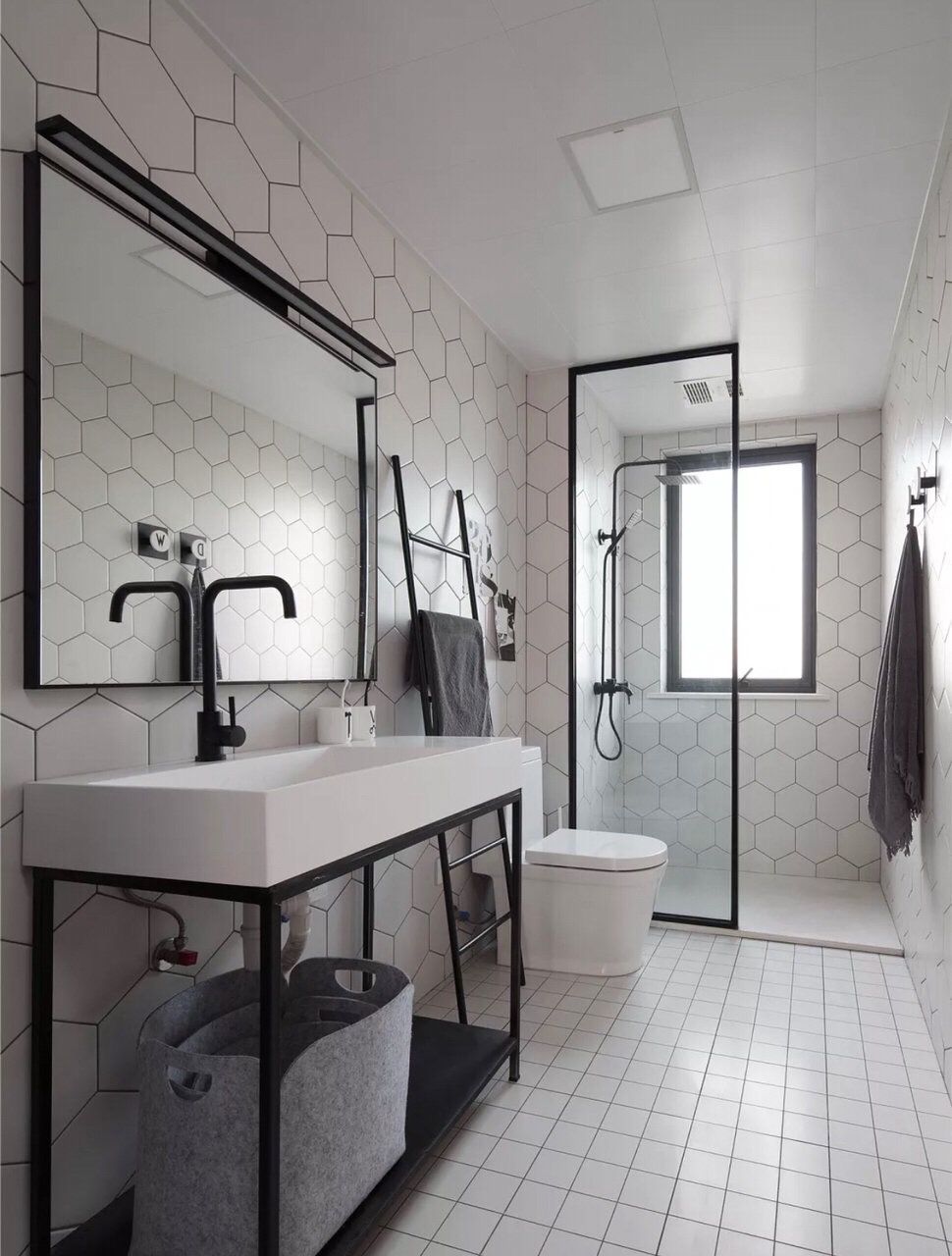 Create a strange effect on the floors by installing a different shape. Use the common square shape for your bathroom floors and hexagonal tiles for your bathroom walls. You can use the same color or attaching a different color but has a suitable hue.
That is our discussion on Create An Aesthetic Touch by Using Industrial Wall Finishing in Your Home. Industrial wall finishing is an attractive thing in home decor. It determines an impression that you want to build in this room. Some Industrial wall finishing uses raw material and some are plain finishing. You can adjust the finishing style by your taste to bring an Industrial ambiance to the interior design. Hopefully, this article is useful to inspire you. Happy decorating!