Druhomes.com – A coffee table is a simple table to install in a room, especially to replace a table in a living room. Many designs of coffee tables to adjust room interior. If you like to use a coffee table in your living room, you can choose the one that has an attractive design that relates to your living room interior design. Even though this table is small, but it is catchy enough to beautify your living room. Besides, it is more impressive when you decorate it by having some stuff on this table. In this article, we will give you ideas of useful things to decorate your coffee table. Without any further explanation, let's go down to this article!
Benefits of Installing a Coffee Table
The first topic we discuss in this article is the various advantages you get in using a coffee table in your living room. Using a coffee table will give you a variety of functional and aesthetic values for the interior of your living room. In addition, you can also use a variety of coffee table designs that match your interior design.
Make your interior design looks simple
It saves more space because it has a small and simple shape
It can be a focal point if you put an eye-catching table
Easy to pair it with any size of couches
It has various designs to adjust the interior design in a living room
Tips for Decorate Your Coffee Table in Modern Living Room
After knowing the various advantages of using a coffee table in your living room, the next topic we will discuss in a variety of tips for decorating your coffee table. Designing a modern living room brings a stylish impression. Most people like to put modern accents to arouse an elegant design. Installing a coffee table helps them draw attention in a living room. Here, some ideas to make a coffee table more interesting to decorate a modern living room.
Display Some Flowers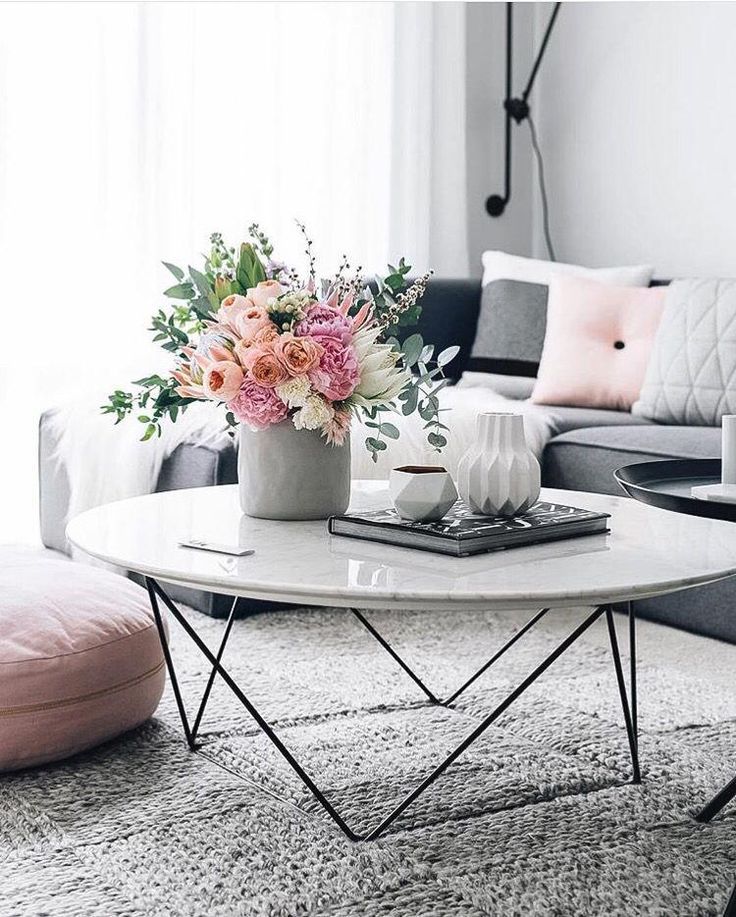 A flower is a decorative thing that looks catchy to decorate almost all objects. Even it is a common thing to beautify a living room. It looks nice to bring some flowers to your living room and put it as a centerpiece on your coffee table. The attractive shape and showy appearance make a flower becomes a focal point.
This flower draws attention to your coffee table because it gives an interesting look. You can combine some flowers to create a garden-like atmosphere. Put this flower in an aesthetic vase to support the charming impression. Besides, it looks more interesting if it has the same color to adjust your living room interior. The coffee table strengthens the whitish nuance by having a white vase for flowers.
Having The Books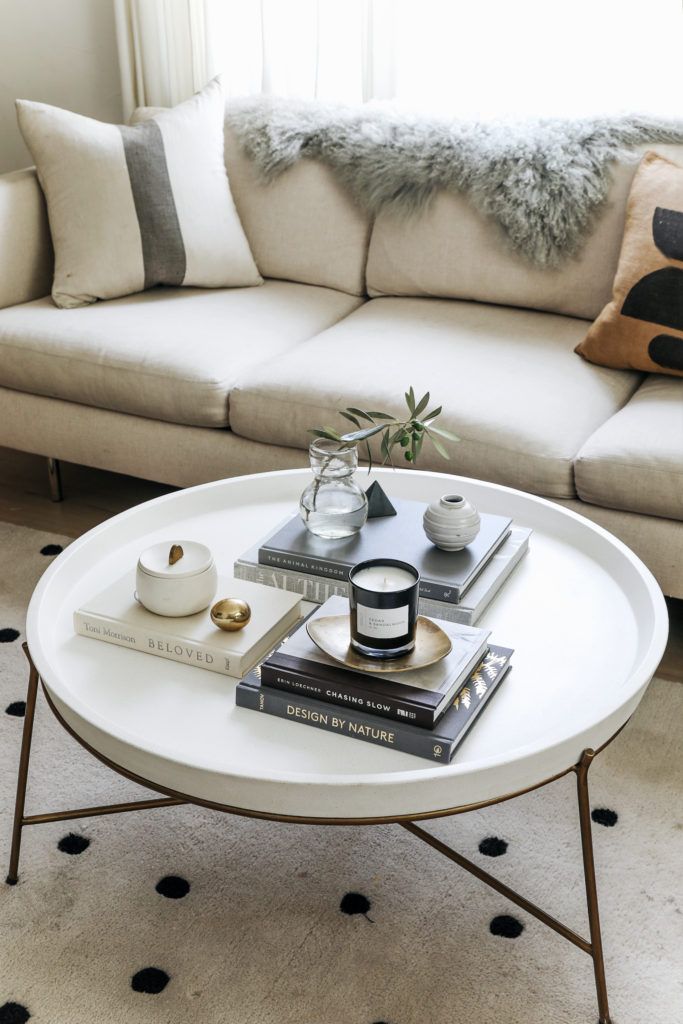 Collecting myriad books bring happiness for most people who like to read. Finishing to read some books is a satisfying activity. If you are a person who likes to read some books, maybe you want to put them in every room, even in a living room. Display your books on a coffee table. The arrangement of your books can be an attractive centerpiece in this room.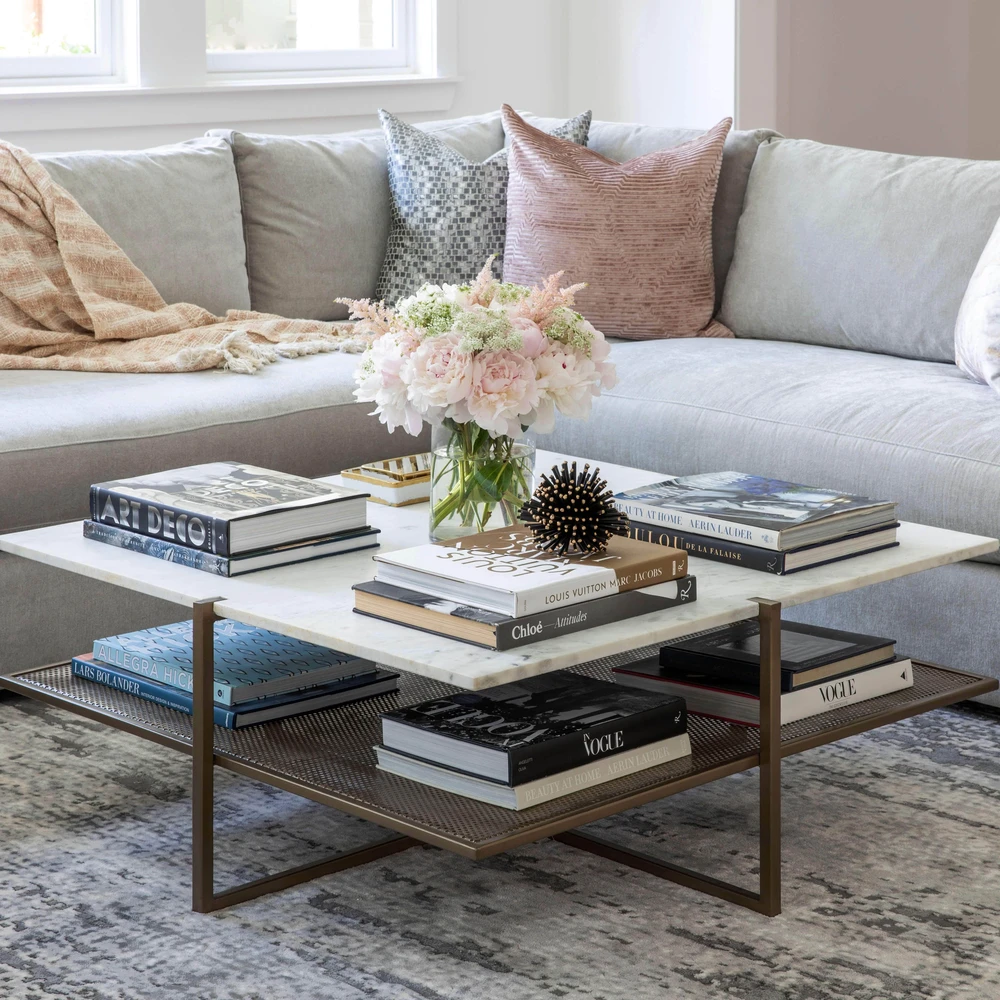 Moreover, you can display the best seller books or some magazine. You can classify them based on the topic. Besides, it is fine to add more accents to your coffee table. A small ornament and some beautiful flowers on it are interesting to reduce the plain design of myriad books. Match the proportion of these things to fit your coffee table.
Put an Aesthetic Tray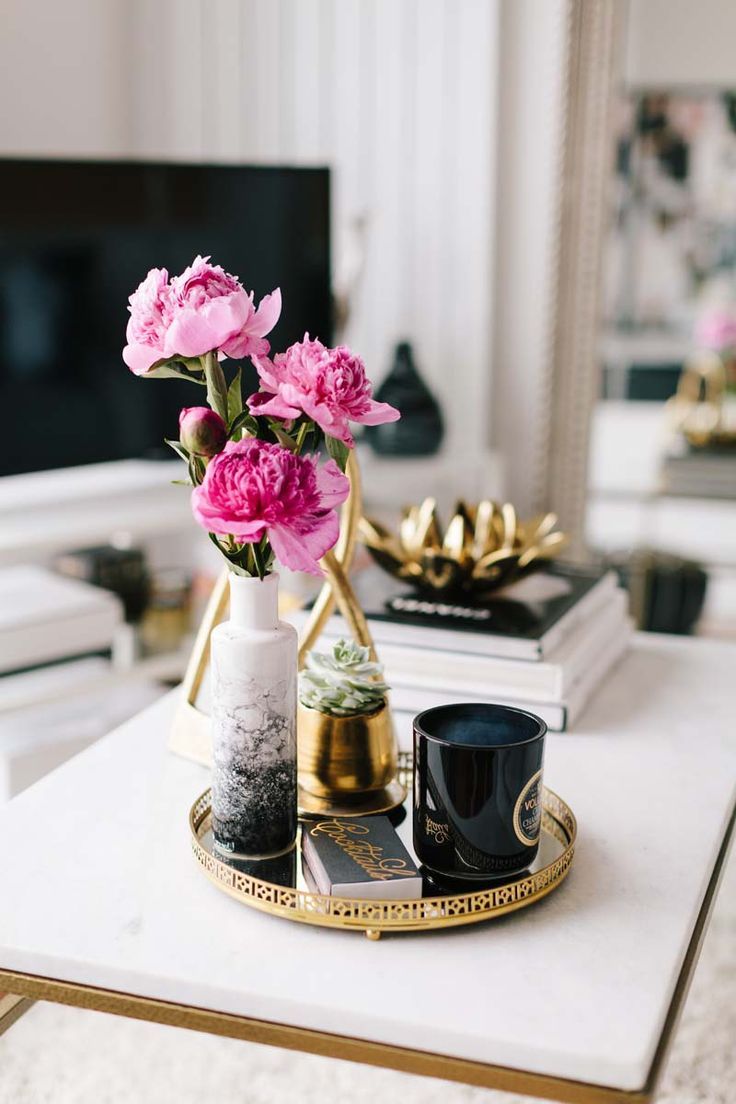 Is your coffee table versatile furniture? If you like to use it as a workspace, studying table, doing other activities. Put one tray to arrange other things in your living room. Thus, it is easy to take all things in one tray, then you can remove them all easily when you need to clean a coffee table. This coffee table can transform into versatile furniture to finish your job and studying tasks.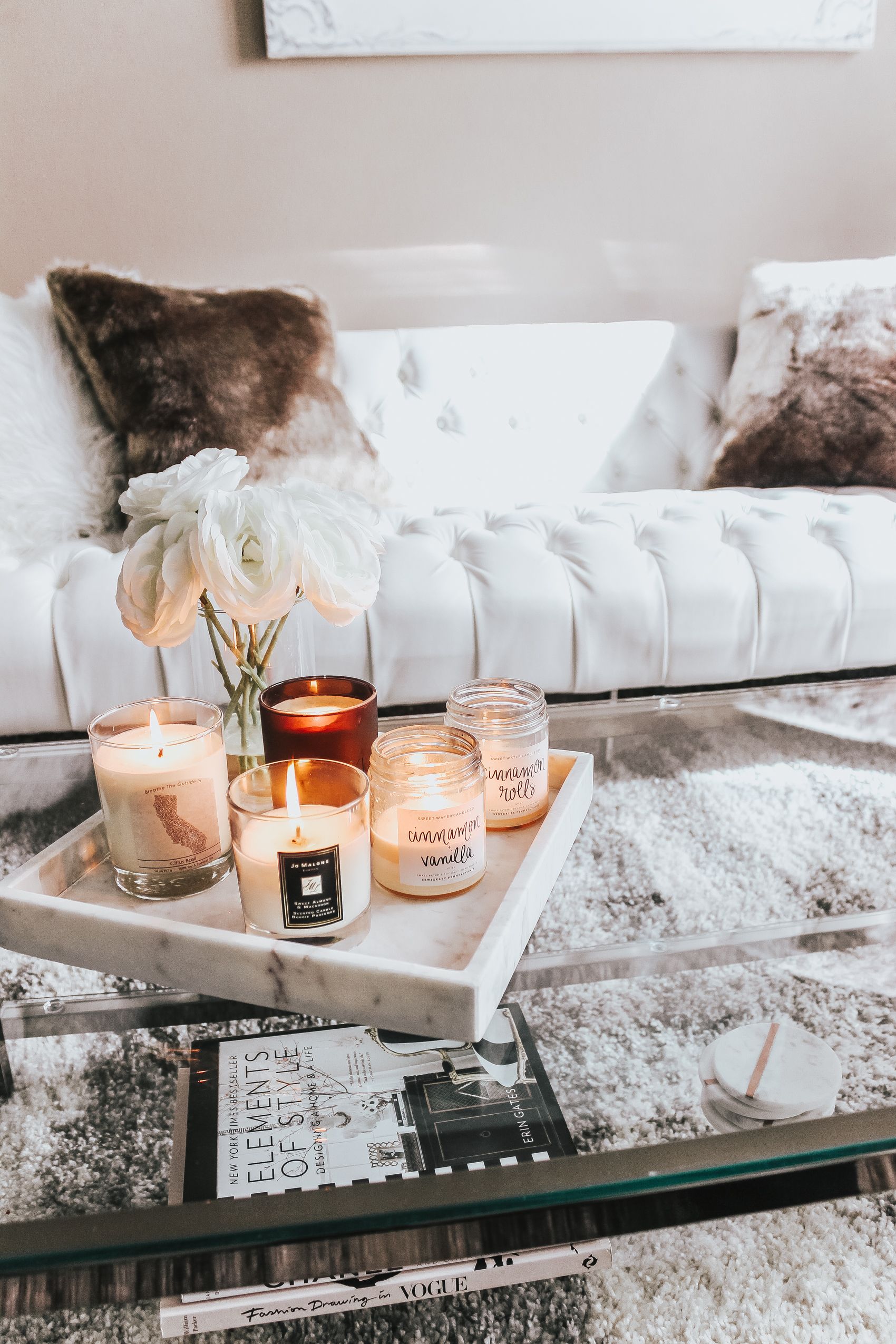 Having one tray in a coffee is helpful. It makes your coffee table more neat and clean. A plain table such as a rectangular shape brings a simple atmosphere. You can arrange some candles on this tray. Besides, maximize the decoration by displaying one small vase for roses and arrange some candles around it.
Add One Room Diffuser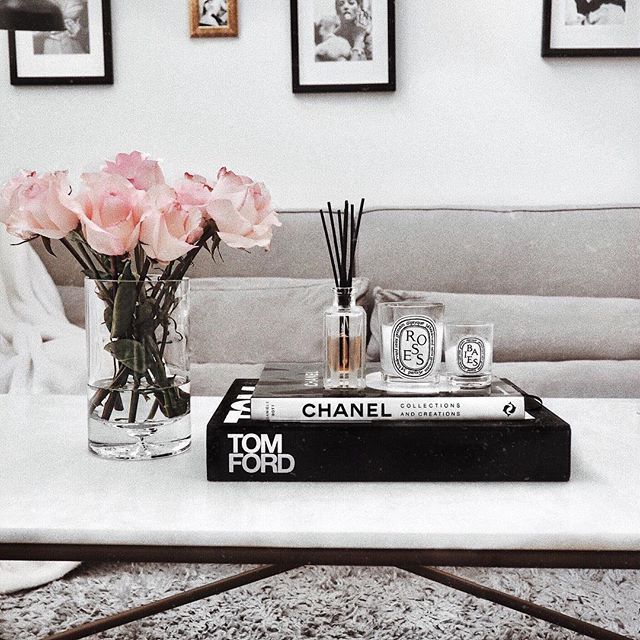 The room diffuser is one of the essential things to enliven the atmosphere in a living room. It brings a fresh atmosphere with its nice scent. Many room diffusers you can choose based on your favorite scent. To put it on a tray, you can choose a small room diffuser.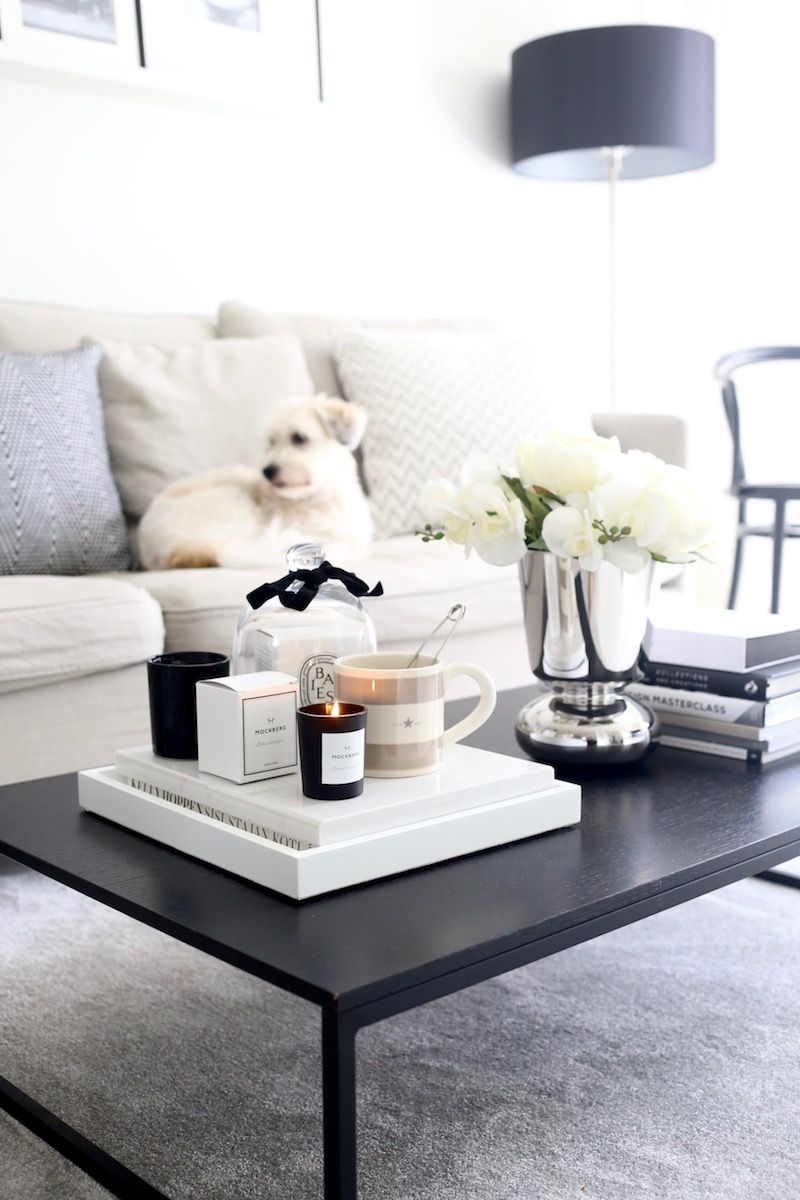 A candle diffuser is simple to put on a tray. To modify the look of your candle, use a contrasting container for this candle. Make sure that you apply the theme to your living room, so the contrast accent looks more attractive. The key to decorating your coffee table by having a room candle is taking the right proportions between the theme color and your coffee table.
Give Some Candles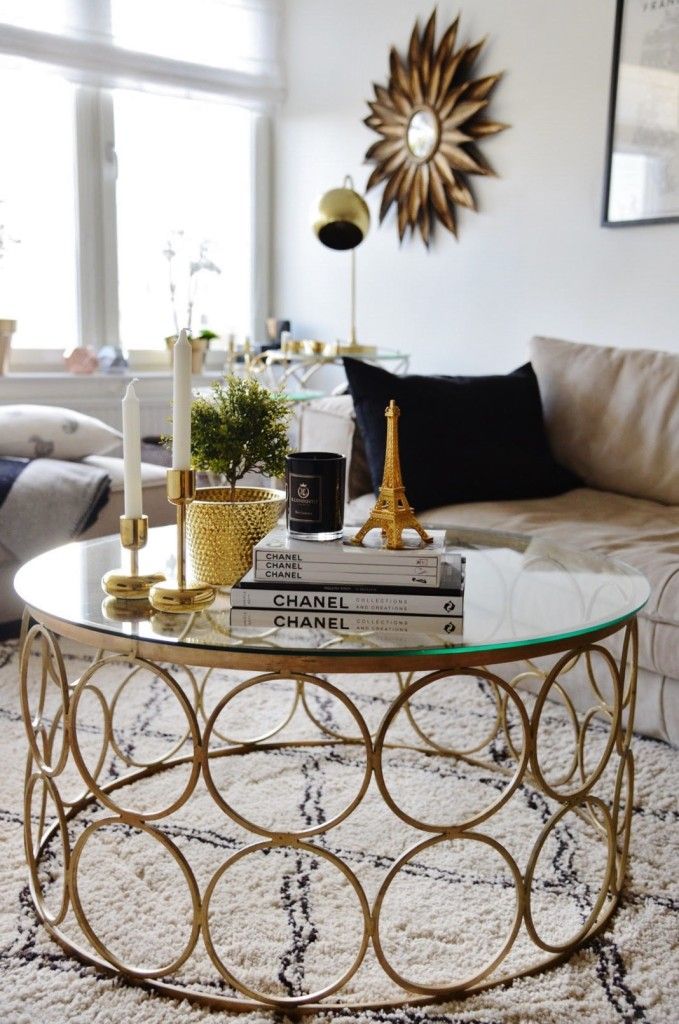 This idea relates to the previous idea, it uses some candles to decorate a coffee table. Apply the same color for your candle holder and coffee table. If your coffee table has golden accents, you can use a golden holder for your candles. This way brings a consistent theme to your coffee table. Thus, it depends on the theme that you want to show off.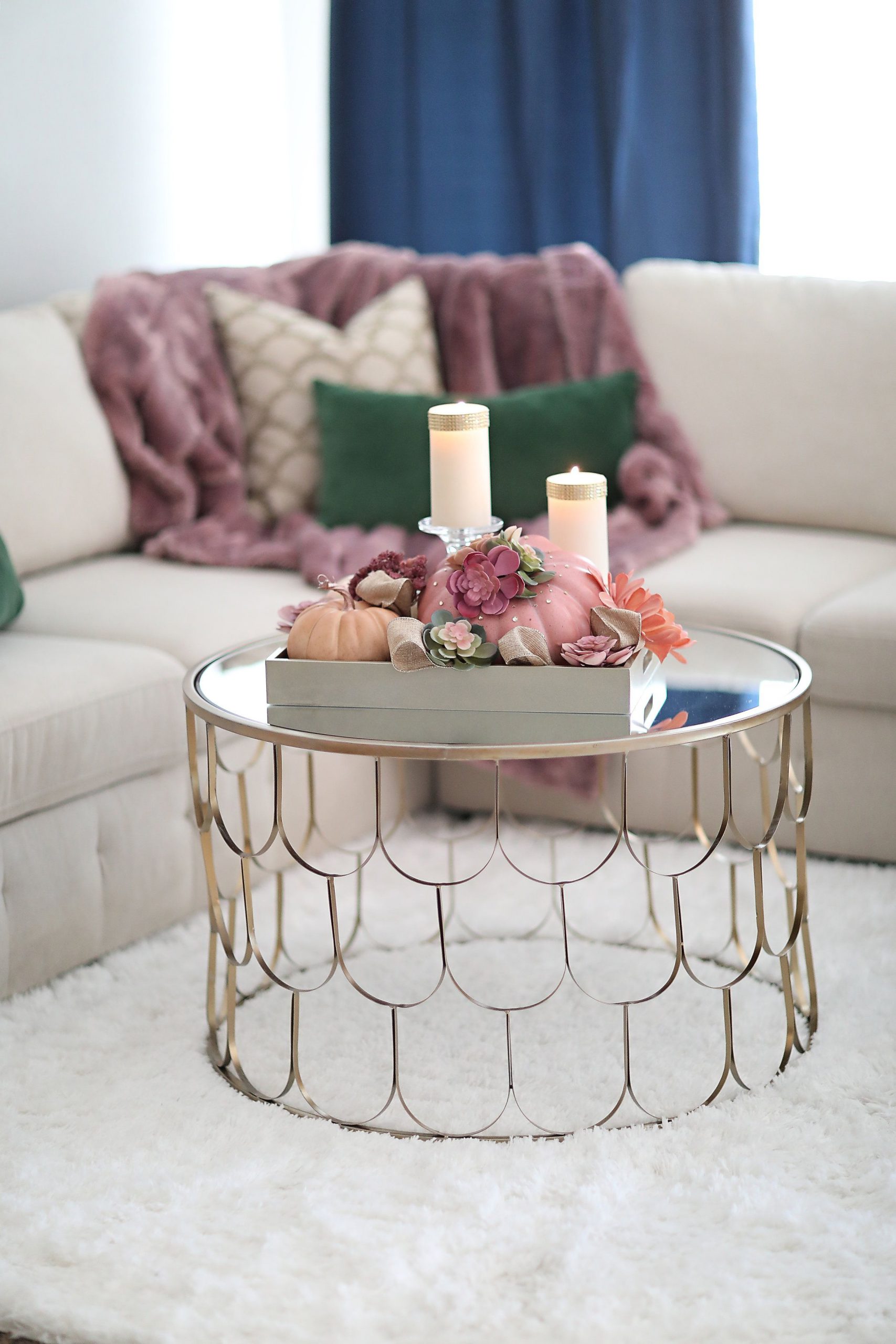 Having some candles on a coffee table brings a romantic and elegant impression. Even you can install an electric candle to reduce the smoke from the fire. This candle doesn't melt or leave any marks on the table. The electric candle is available in various colors and shapes for decorative purposes.
Thrive an Ornamental Plant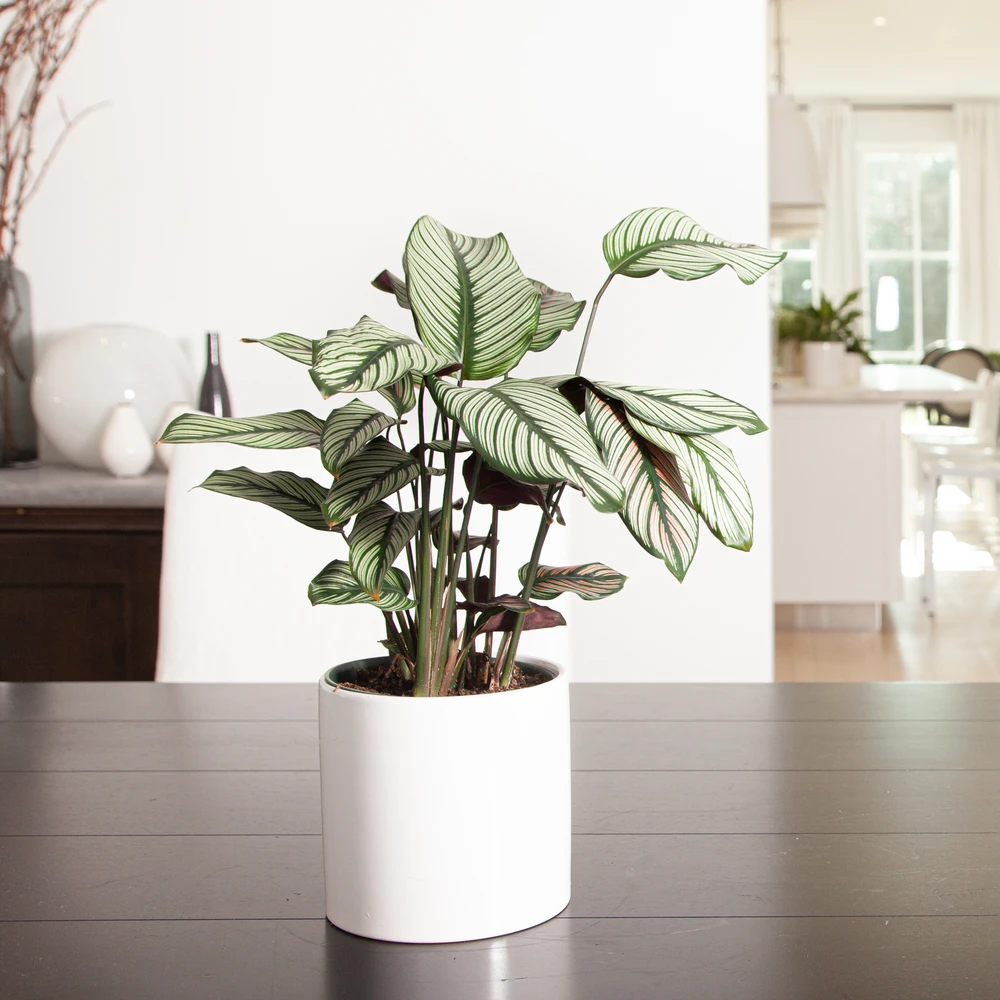 The ornamental plant always brings something different to a living room interior. It has a natural color and appearance to decorate your room. Even though it is a living plant, but it adjusts the conditions to thrive indoors. Calathea and Monstera plant has attractive foliages to bring into your living room. Even you can grow them well for indoors.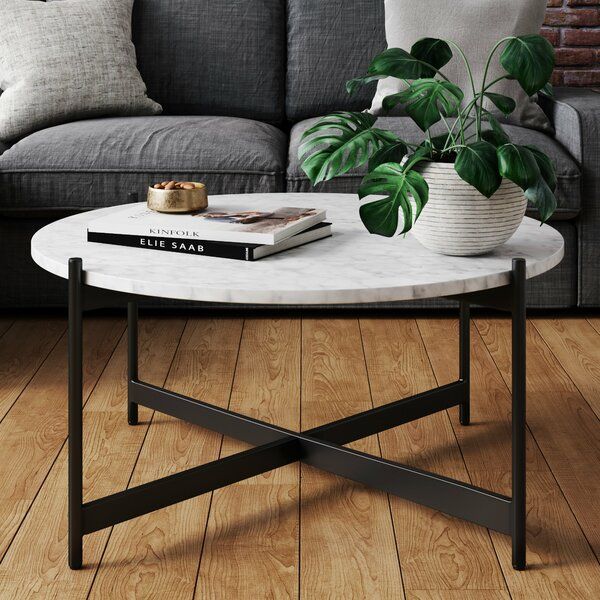 Monstera Deliciosa is a species of the Monstera family to adjusts the indoor environments. It likes high humidity, thus you can water it when the soil starts to dry. The deep green foliages enliven a natural nuance on your coffee table. It brings a garden-like atmosphere if you thrive some stems in one pot.
Conclusion
Thus our discussion about Things You Can Use to Decorate Your Coffee Table Coffee in Modern Living Room. Installing a coffee table in a living room brings a simple and elegant atmosphere. It brings a modern style by their appearance. Even though this table has a decorative value, but it allows you to explore creativity in designing an attractive coffee table. Having some things on this table is doing just fine for a modern look. Thus, the ideas above will inspire you to decorate your coffee table. May you find the right thing to beautify your coffee table.  Happy decorating!