Druhomes.com – Color is an important thing in giving character and atmosphere to the interior of any room in your home. The yellow color has a cheerful and bright impression. This color includes warm tones. It looks attractive to use a yellow color to draw a happy living room. You may ever see the yellow couches decorate a living room in a certain shade. Many shades of yellow color to adjust the atmosphere in a living room. Mustard yellow and light yellow are the colors that can bring a cheerful nuance. It brings an eccentric image to the eyes. In this article, we want to show you some ideas for yellow couches and how to arrange them in a living room. By using the right layout and concept, you can create a comfortable and beautiful living room interior for your daily use. Let's discuss!
Industrial Living Room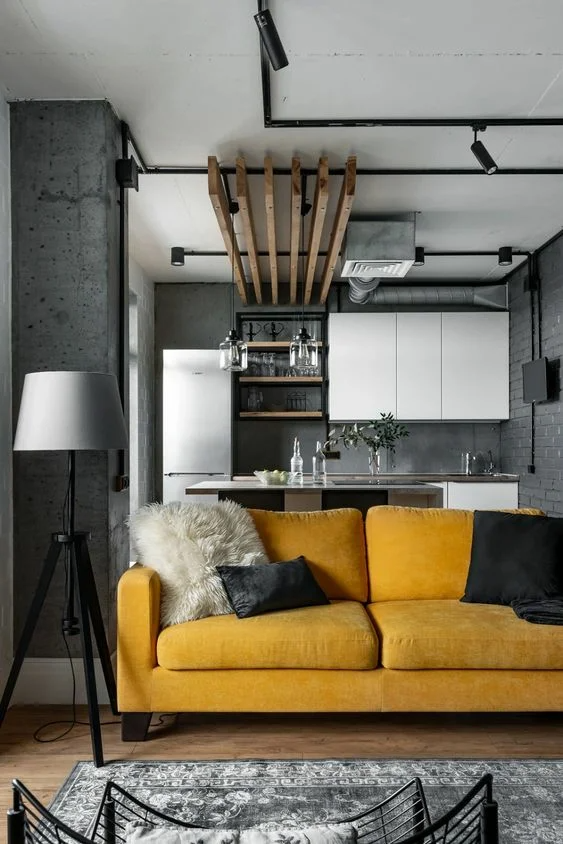 The industrial era infects the development of interior design. It uses iron material, black accents, raw material, hard finishing, and other characteristics that reflect the Industrial era. An Industrial living room has a masculine vibe that uses black and other dark colors. Installing a yellow couch in this room creates an eccentric accent that will be a focal point.
Yellow Couch for a Home Library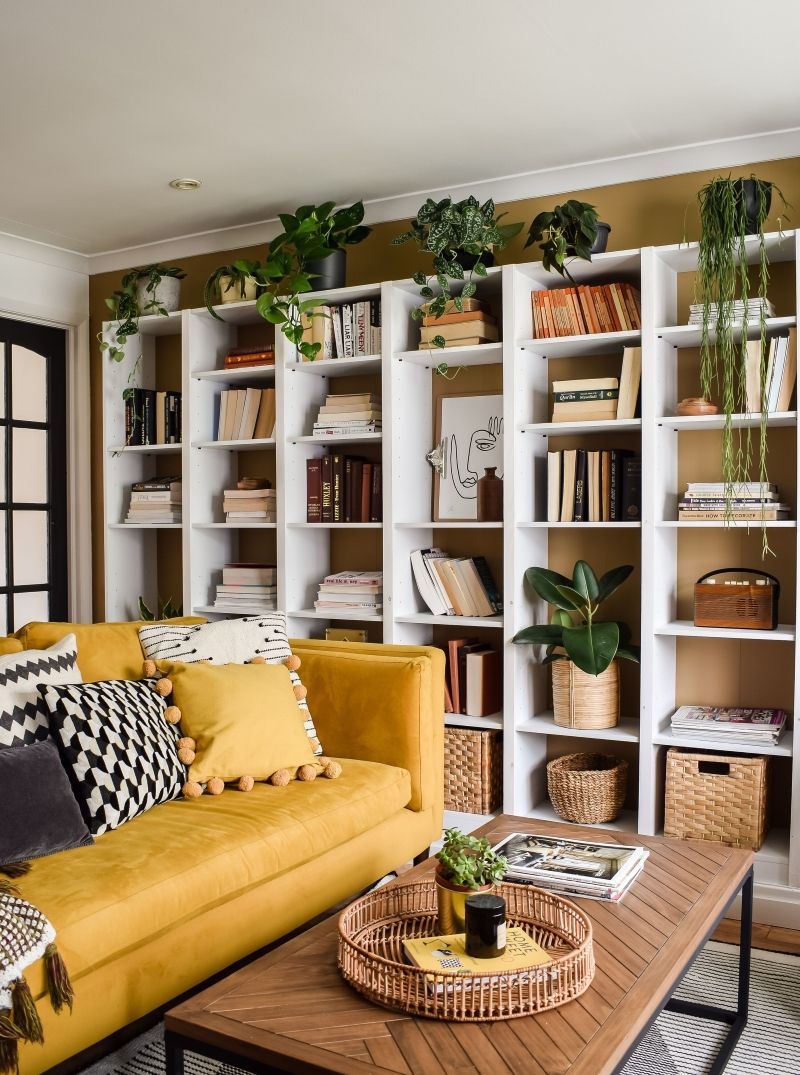 Creating a home library is such a paradise for people who like to read a lot. This room provides myriad books to read every day. Put a comfy yellow couch makes it more perfect, especially to sit and read. Mix and match the decoration by installing other classic ornaments or wooden accents. Even you can add some wicker baskets as bookshelves. That combination enlivens the classic atmosphere.
Yellow Mustard with a Comfy Blanket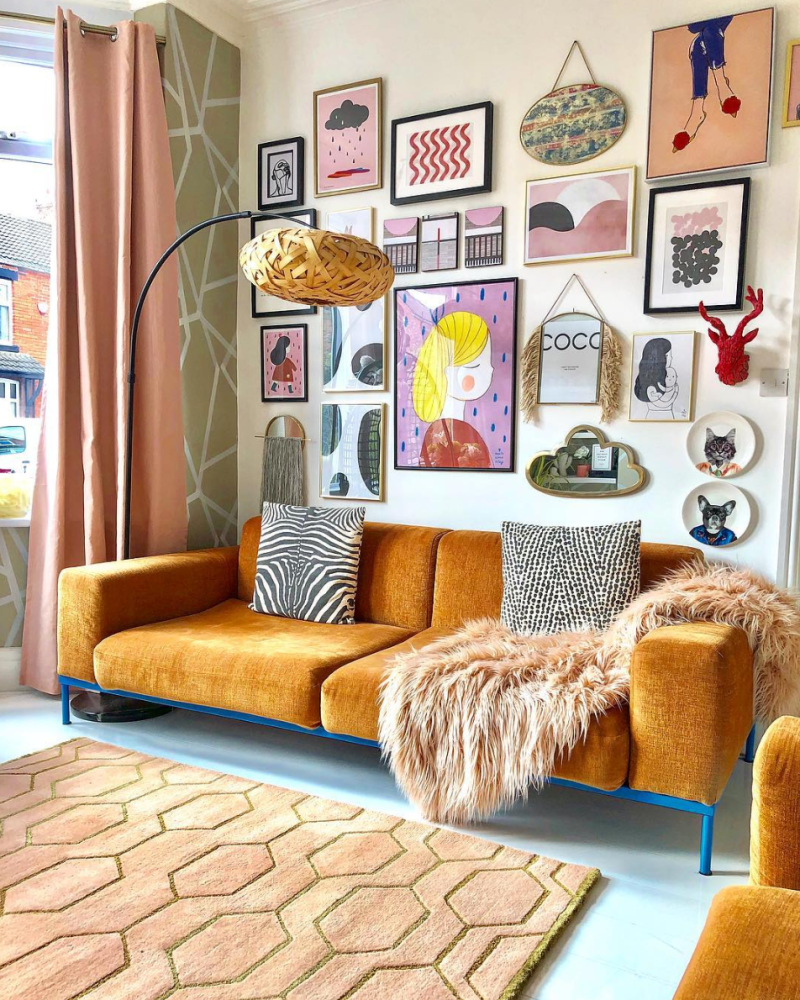 This idea is for those of you who like to decorate a table set. Add a fluffy blanket chair that is useful to beautify your couch and warm you when sitting on a cold day. Besides, that element can be another bed if you want to sleep outside your bedroom. The fluffy blanket connects to your living room interior when you have other accents in the same color. The yellow couch looks perfect to blend with a soft pink blanket.
Combine it with a Striped Rug
Having a contrasting accent looks attractive to draw an artistic design. A yellow couch looks brighter if you put black accents near it. Thus, install a striped rug is a good friend for your couch. Even the yellow couch is welcoming you to put more patterns from the cushions. Your living room has some eye-catching accents.
Pair a Yellow Accent and Velvet Blue Couches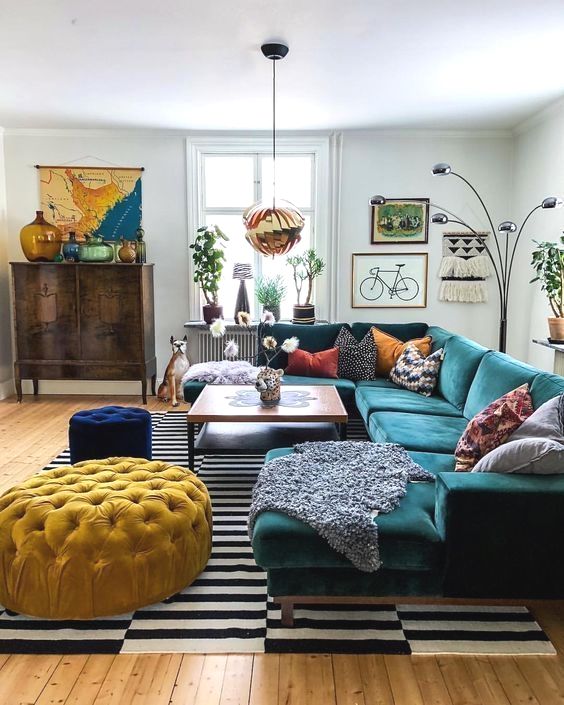 The use of velvet fabric enlivens a classic nuance. This fabric has a soft texture and usually generates a deeper color. Dark blue is a color from velvet fabrics. The furniture in a classic living room has some old accents. Maybe, you will find a yellow couch to accompany the velvet blue couches in a living room. Both are catchy to arrange in beside.
Golden Accent with Yellow Couches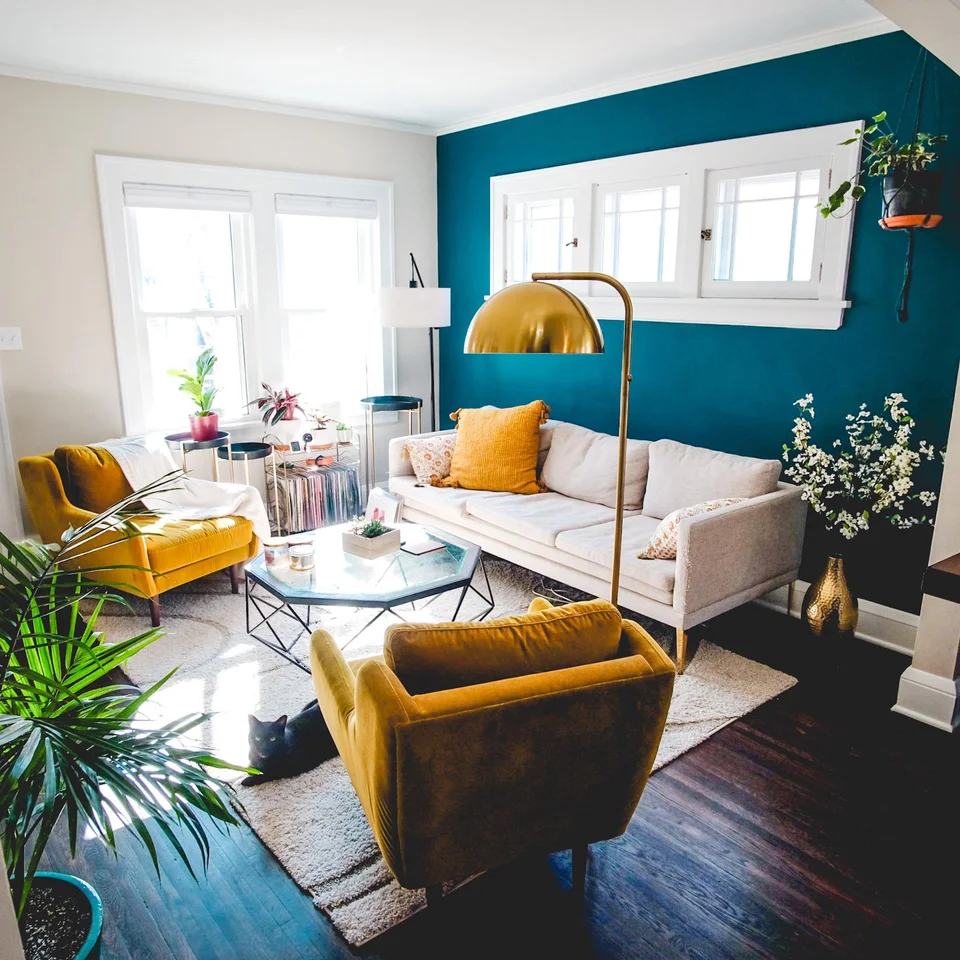 We have mentioned the classic design usually uses a yellow couch to draw the atmosphere. The yellow couch may complete the golden accents in a living room. Arranging some yellow couches in a living room bring a classic atmosphere.
Complete the Artistic Wall Gallery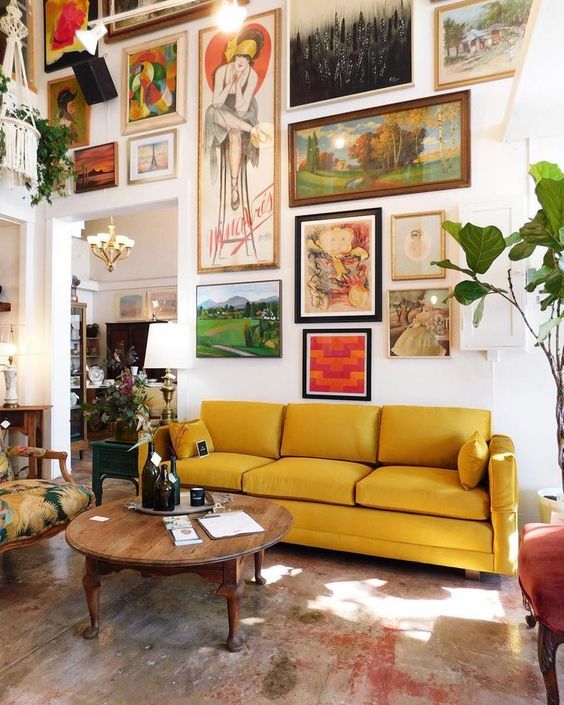 The wall gallery idea is a creative way to display your beautiful wall arts, photographs and paintings. These are artistic ornaments that beautify your room decor, especially in a living room. A yellow couch in a living room completes the decoration because this color is easy to combine with other elements. Even you can hang your display on the wall near the couch. The yellow couch creates a clean and contrasting effect in your living room.
Yellow Couches in Art Deco Living Room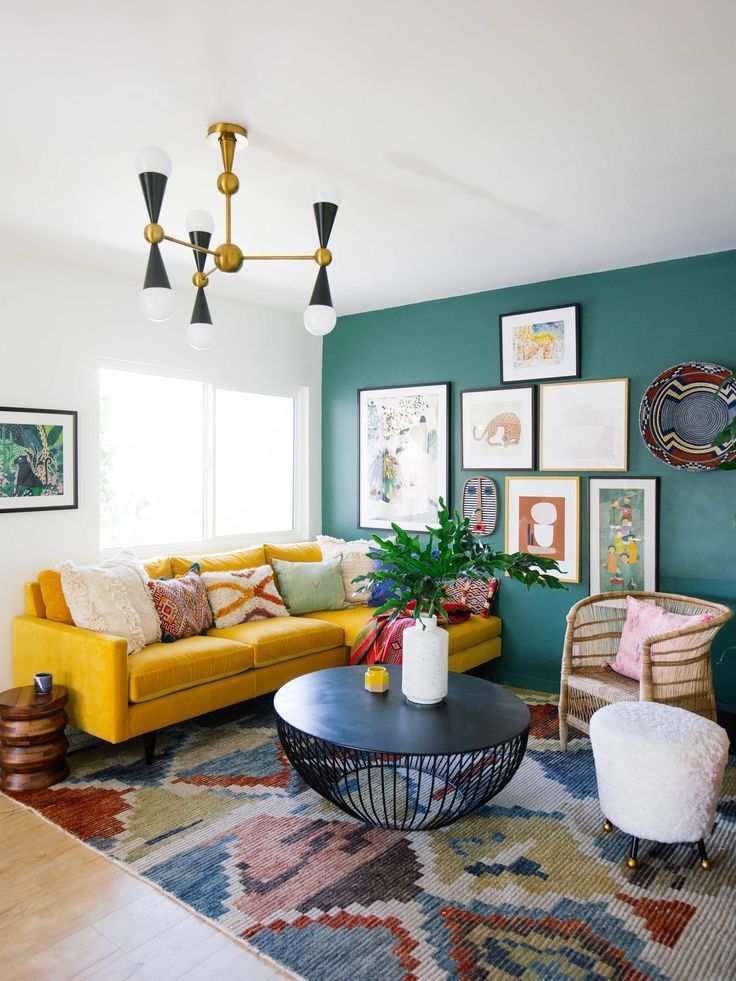 Mi and match the yellow couch with Art Deco interior design creates a classic impression. Since Art Deco has many artistic accents, the yellow couch is an interesting object to draw a focal point in a room. The key is combining the bright and dark accents in a balanced proportion. You can put your yellow couch in front of the white wall. The white color will show off the yellow couch as a focal point. Moreover, you can add an artistic rug and some aesthetic cushions.
Beautify Your Bohemian Living Room with Yellow Accents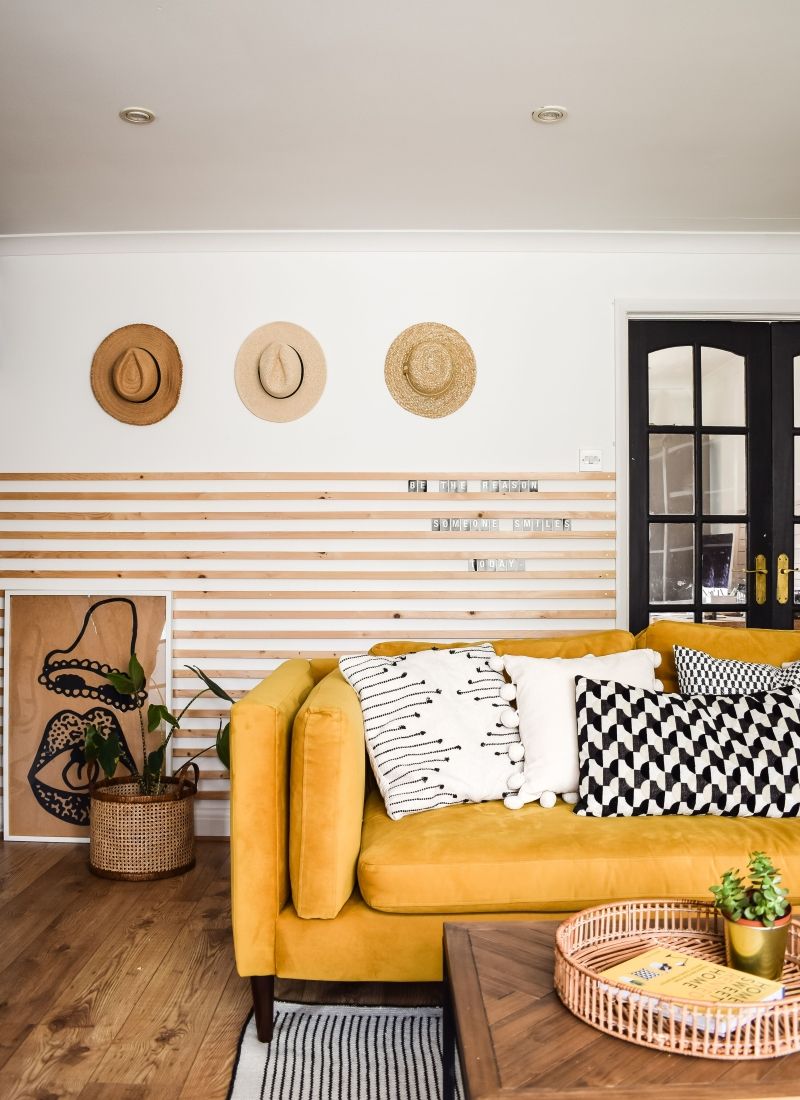 Attaching Bohemian interior can bring a nomad style inside the house. This design makes a living room feel freer. Even you can put many patterns in this design. Having some patterned rugs, cushions, and wall stickers are good to draw Bohemian spirit. Thus, it allows you to decorate your yellow couch by having some artistic cushions. Put other Bohemian accents such as wicker accent and wooden accent look more interesting. If you apply this design, you just don't be afraid to explore your taste.
A Neat Impression with a Yellow Couch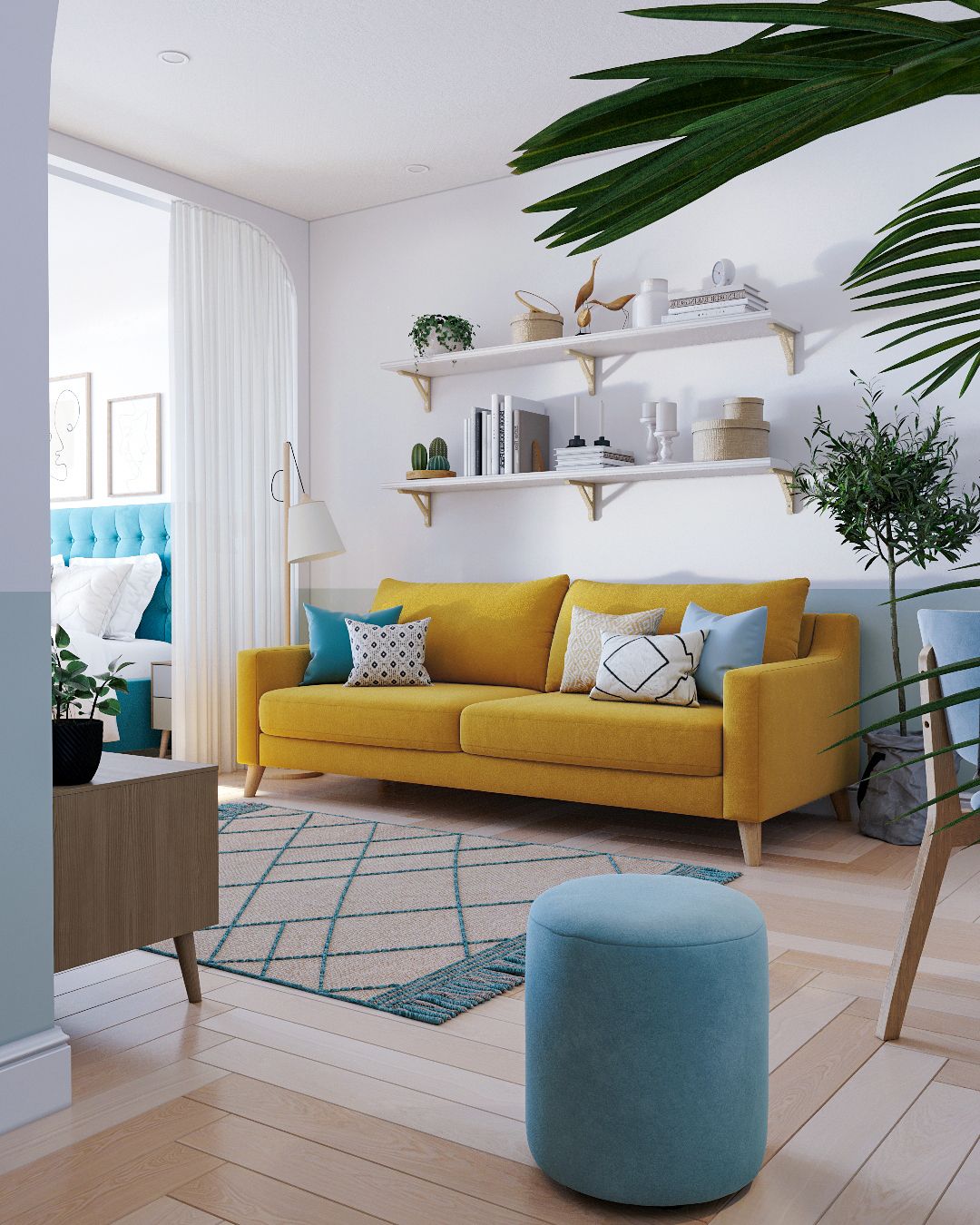 Some people use brighter colors in their living room to arouse a clean and neat impression. Thus, the yellow couch will help them to decorate their living room properly. This couch has a bright color that reflects light in a room. It looks more catchy to put other bright colors around the yellow couch. You can apply light blue, white, soft brown, and light green from ornamental plants.
Thus our discussion about Decoration and Layout Ideas of Yellow Couches for Your Living Room Interior. Choosing nice furniture to install in a living room is not difficult. There is a variety of furniture that you can use according to your needs and desires in creating a comfortable and beautiful living room concept. You can take yellow color to emerge a cheerful impression. We have mentioned some ideas for a yellow couch and how to arrange the living room layout by having this furniture. We hope it helps you to get an interesting design for a living room. Happy decorating!