Druhomes.com – The living room is an important room to design in every house. Some people like to experiment with decorating this room. In a certain design, a living room is the most attractive room because it is welcoming the guest who comes to visit their home. The attractive living room is about the furniture, layout, and nuance. Even a large and luxurious living room looks simple but elegant in a monochrome style. The combination of two or more colors in the same hue is catchy to draw a stunning design in the living room. For that, we have 10 Design Ideas for a Luxurious Living Room with Monochrome Style to discuss in this article. Monochrome color brings an attractive impression. The contrast effect creates a unique perspective in the eyes. Thus, let's see the ideas of the monochrome luxurious living room below!
Monochrome Furniture and Large Window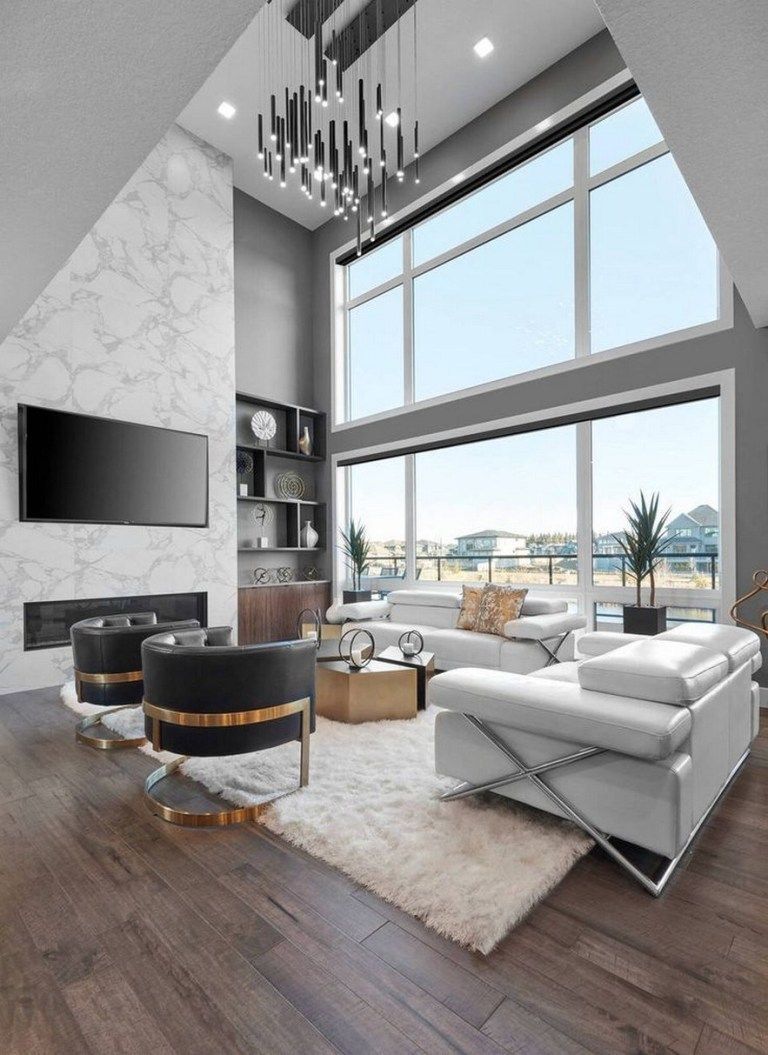 Design the interior home design depends on the architecture when it is built. Having a large window influences the interior design in a certain room. If you have a large window in your living room, take advantage of natural light. Combine the natural light with your monochrome decor. Arrange your black-and-white furniture to make U shape layout. Install some luxurious couch in white colors and give a black accent on another couch. The furniture color matches your white walls and natural wooden floor.
Industrial Chairs and a Black Accent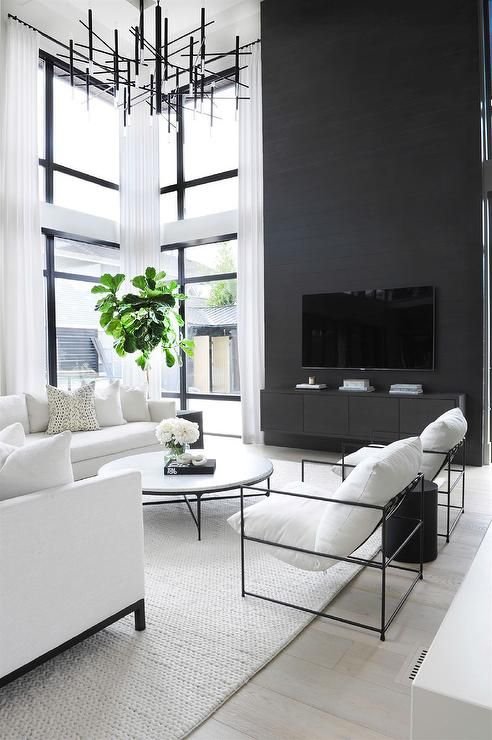 Industrial interior design has an interesting perspective. This design uses metal materials and tries to arouse an Industrial spirit from 1800 CE. Install two industrial chairs will do just fine to modify the layout in your living room. Add a comfy seat to make it looks luxurious on your feathery rug. To emerge a monochromatic effect, paint one sidewall with black color. This wall will create an Industrial accent among the white walls. However, you can give more black accents to the window frames and chandelier.
Black Cushions and an Exposed Living Room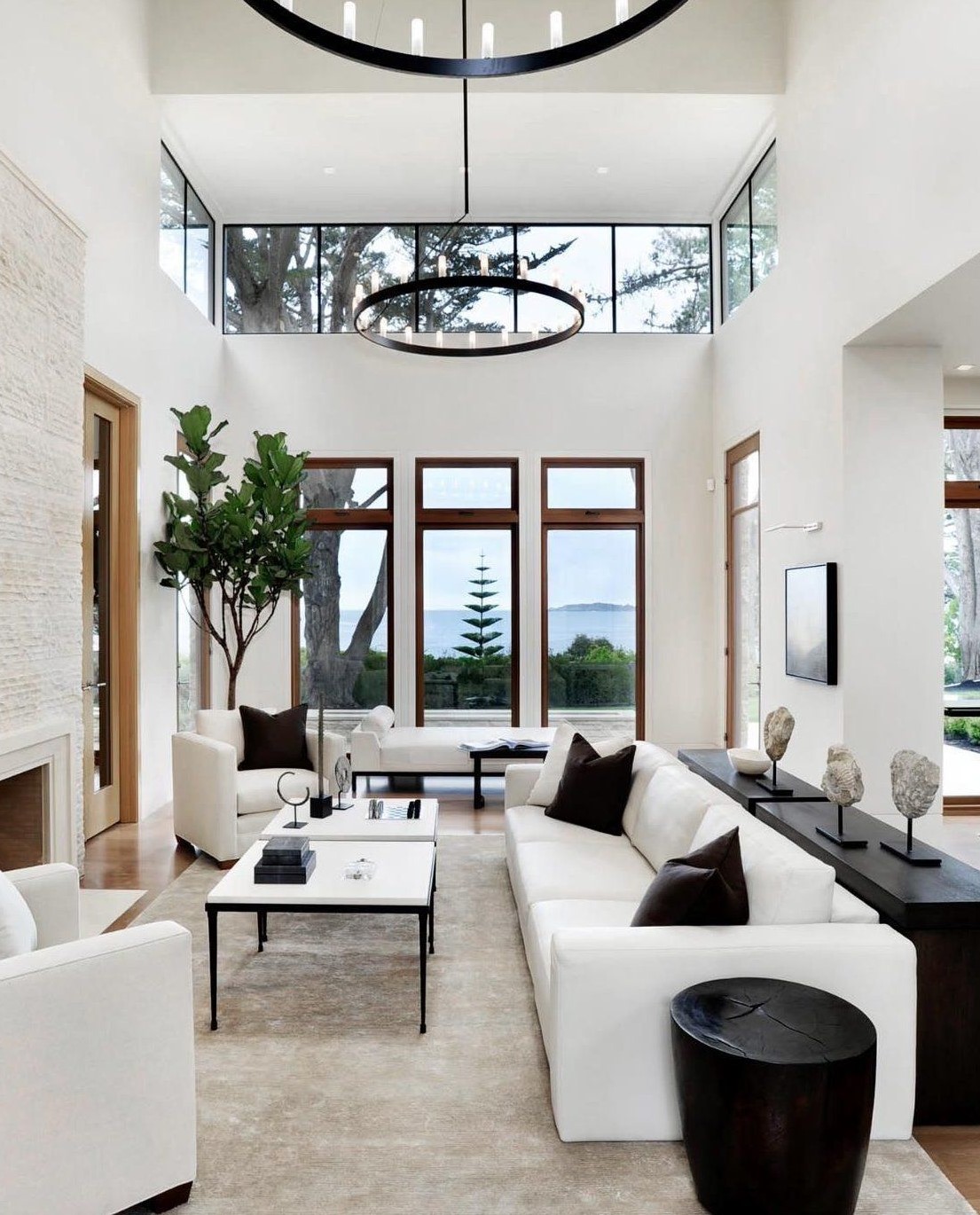 The cushion is a complement to make the couches in a living room more stunning. This item helps you draw an accent on your plain couches. Put a black cushion for each white couch. It creates a black dot on the eyes. Mix and match another black accent in your feet table, display table, wooden chair, and chandelier. This design looks more stunning even from the outside if you have some glass windows in your living room. It shows an outdoor view from the inside.
Greyish Couches in a Monochrome Room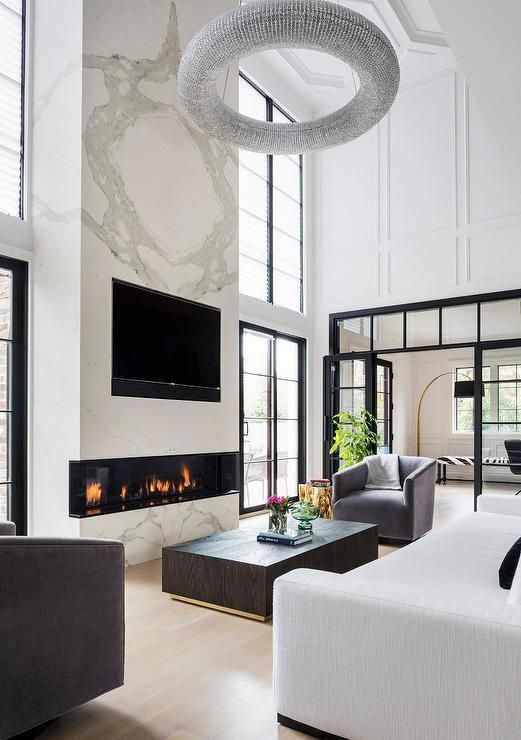 Grey color is a common color to apply in a monochrome room. This color draws a contrasting effect on the white theme. If you use white color for the basic theme in your living room, it looks interesting to install two grey couches to give a monochrome accent. Even you can use the same grey in your coffee table and chandelier. To make it more monochrome, black colors in this room will complete the monochrome atmosphere through your window frames and fireplace.
A Balanced Combination of Black and White Color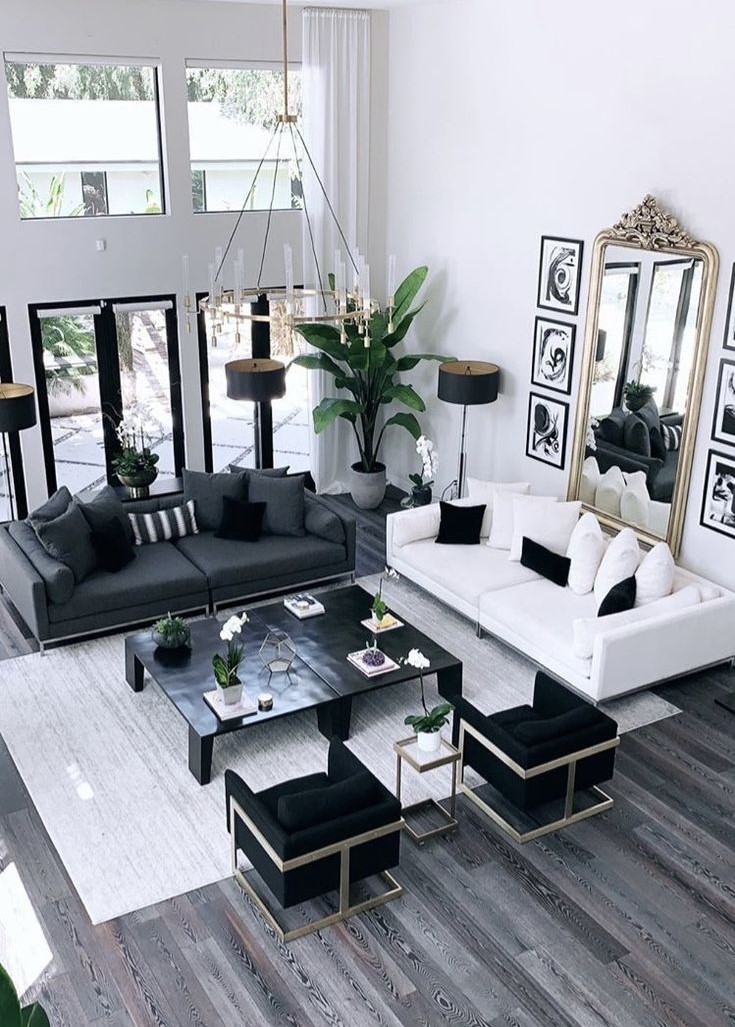 Attaching black and white color is the key to create a monochrome living room. It requires a balanced combination of both colors that you can start from the furniture, floor, wall, ceiling, and other accessories. The U shape layout is attractive because you can manage the black and white line in three lines. Arrange the black or grey couches in the same two lines and the white couch on another line. Install a white large rug to expanse the white accents. This rug brings a contrasting effect to the deep grey floor.
Mix and Match the Contrasting Furniture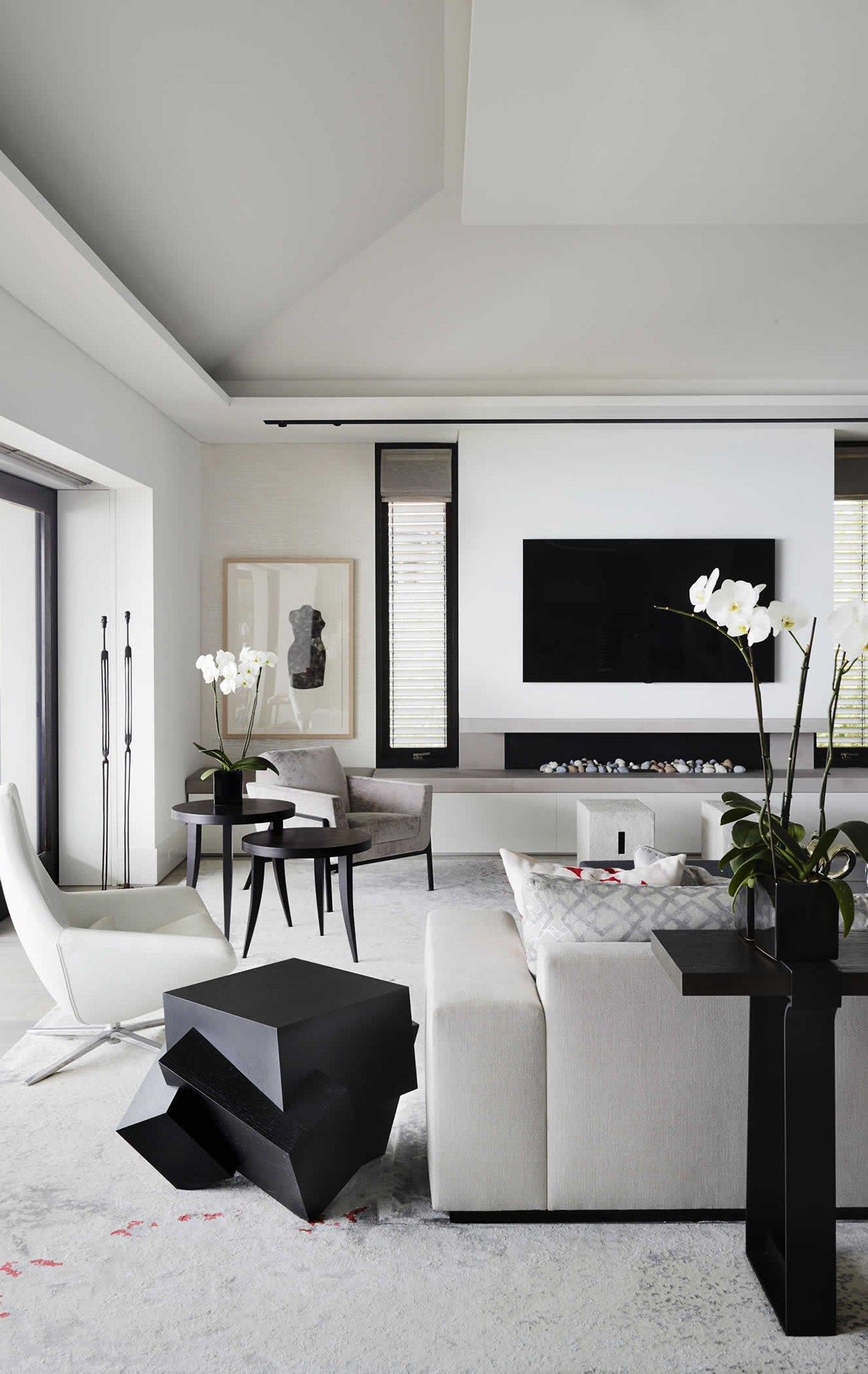 Create an interesting layout is not easy. In a monochrome living room, the layout determines the black-and-white impression to get a balance position. Mix and match the black table should pair with white accents such as the white couches. This rule is effective to apply on other white surfaces to have black accents on them. The white walls look monochromatic if you have a black fireplace and LED TV. Even the black window frames and other simple black lines can draw the monochrome design.
Black Coffee Table as The Centerpiece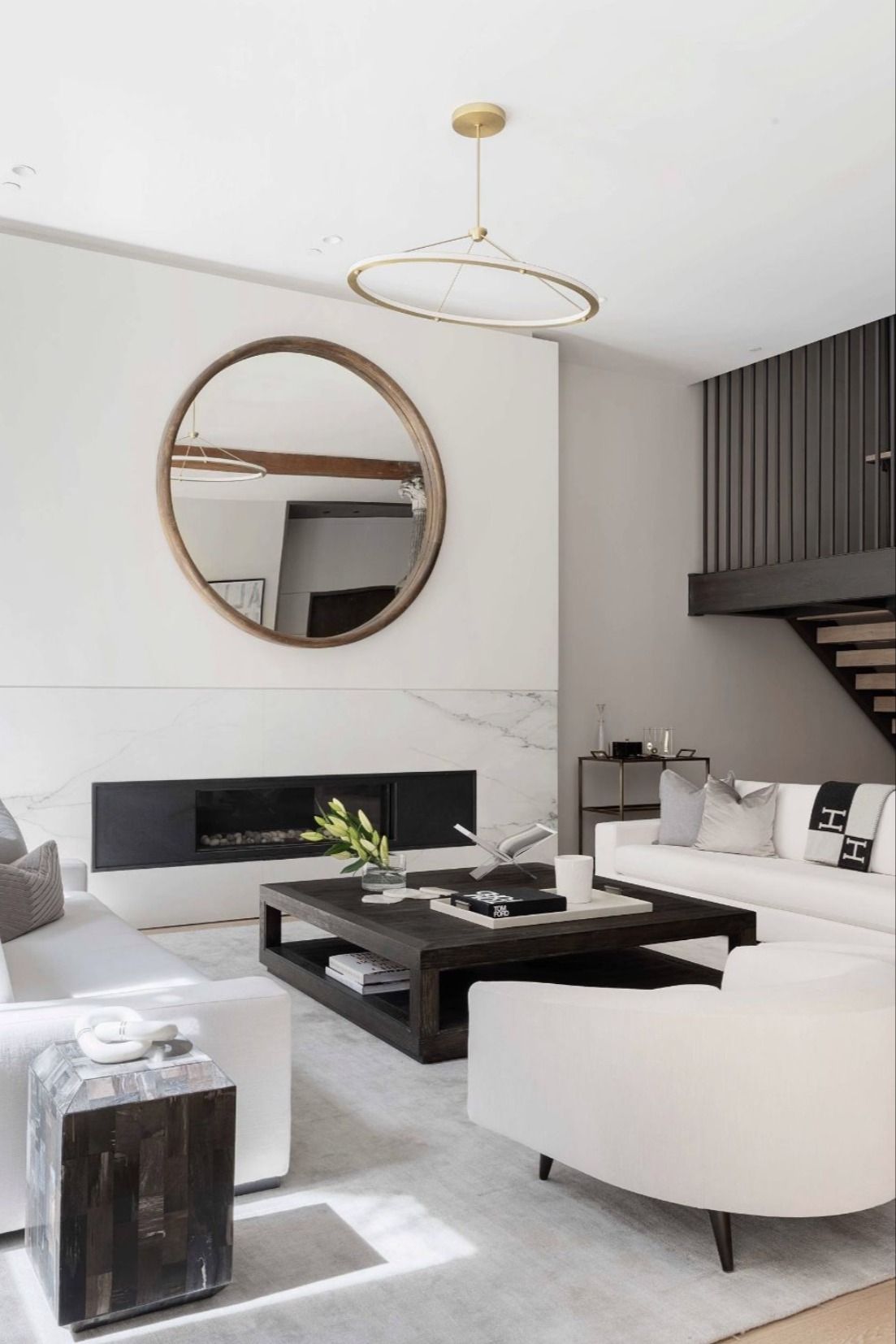 The U shape layout is easy to combine with the black-and-white style. You can explore the contrasting effect on the U shape. All white couches with grey cushions bring a clean and spacious impression but it needs a black accent to enliven the monochrome atmosphere. Put a black coffee table n the middle side of your U layout. This coffee table is like your black fireplace on a white wall. Both black accents are stunning in white color.
Attaching Some Golden Accents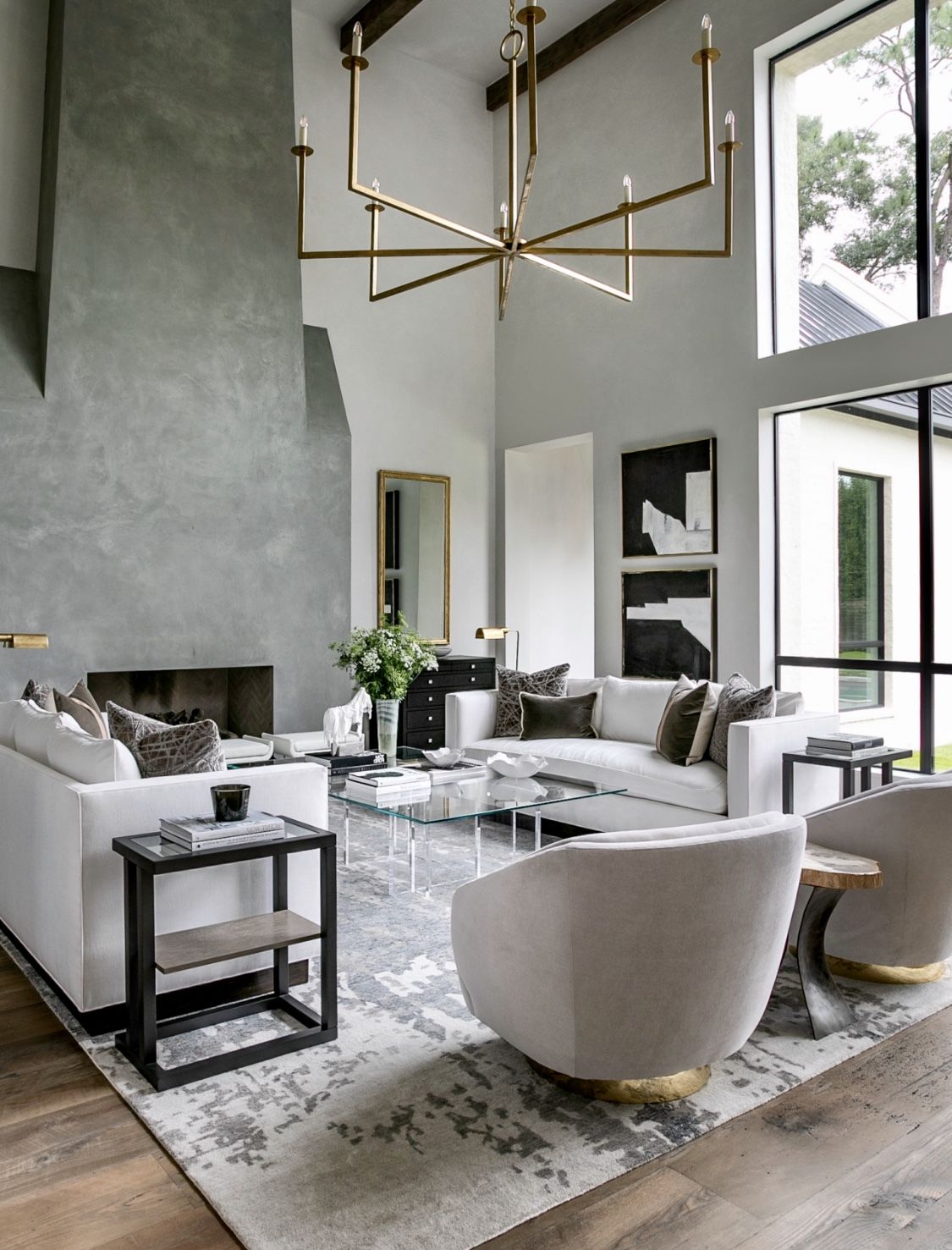 Golden color brings a luxurious impression in a living room. The golden accents in a white room can modify your monochrome style. It emerges a different nuance from other monochrome rooms. However, having two golden accents is enough to give a different design. Since the golden color looks striking, it suits your white living room. It is also impressive to modify white accents. You can use the grey color to emerge a monochrome design or using black for a more elegant impression.
Combining Black, Grey, and White Accents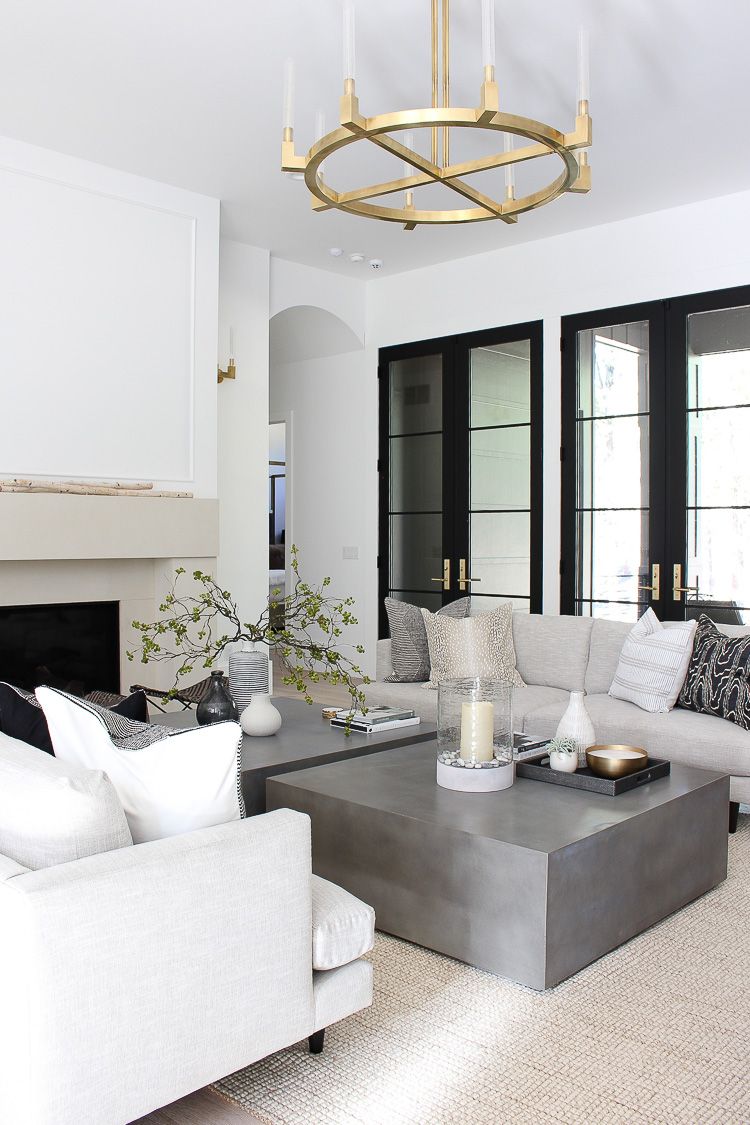 We have mentioned that grey color can bring a monochromatic effect in a white living room. This color will not interrupt the interior design even though you apply black accents in the same room. Having three combinations of colors will enliven the monochrome style. It creates a different shade through the furniture. For instance, you can arrange your white couches with some greyish cushions, then add black accents from one cushion, fireplace, and window frame.
Applying More Black Accents to Draw Monochromatic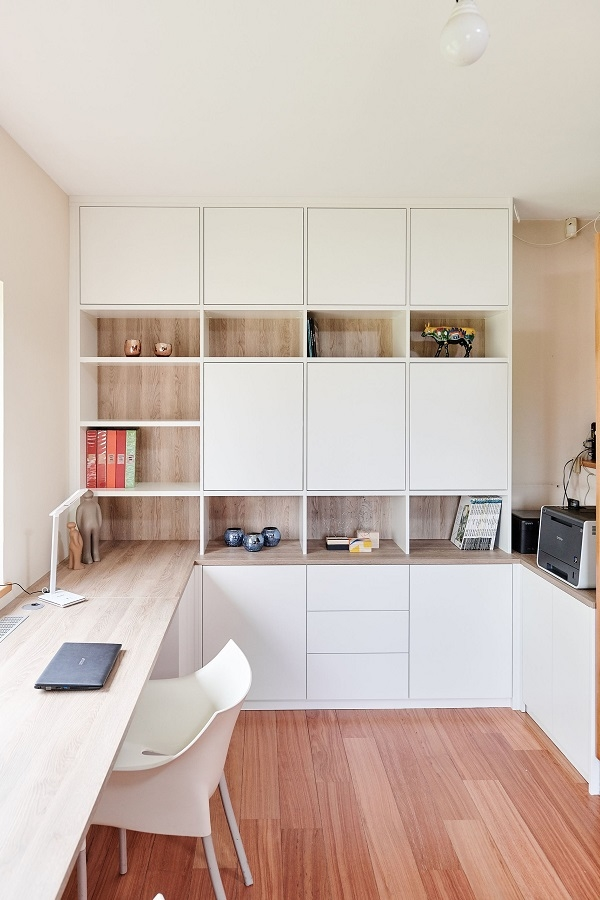 The white living room offers a nice canvas to create a monochromatic impression. This room is easy to combine with black accents. You can give more black accents in this room by the black patterned rug, black wall shelves, window frames, and the ceiling lamp. The more black accents the more contrasting effect that you create in the living room. Installing some couches in all grey colors is just fine to make your living room more masculine.
Thus our discussion of 10 Design Ideas for a Luxurious Living Room with Monochrome Style. Designing a monochrome living room requires an attractive combination and arrangement of black and white colors. This room will draw an eccentric effect on the eyes if you arrange the furniture and room color properly. Thus, this article will inspire you to create a stunning monochrome living room to make it more luxurious. We hope you get an attractive design for your living room. Happy decorating!