Druhomes.com – Working from home is something you have to do comfortably and pleasantly so that you are more productive. If you are those of people who work from home, you may design a workspace to do your job from home. Create a home office will take more space at home, then it is simpler to create a workspace. Designing a workspace looks similar to the design of a study place. The primary furniture is a table and chair, but it needs some decorations to enjoy a fresh nuance during the work. Therefore, in this article, we will discuss 5 Cozy Workspace Design Ideas for Doing Work from Home. Thus, we list five ideas of workspace decorations that you can try to create a stunning design. Let's discuss!
Industrial Design
Industrial design is one of the popular designs to apply in any room decor. This design uses raw materials, black colors, rough finishing, and some natural accents. For that, here are various things that you can create in creating this workspace decoration.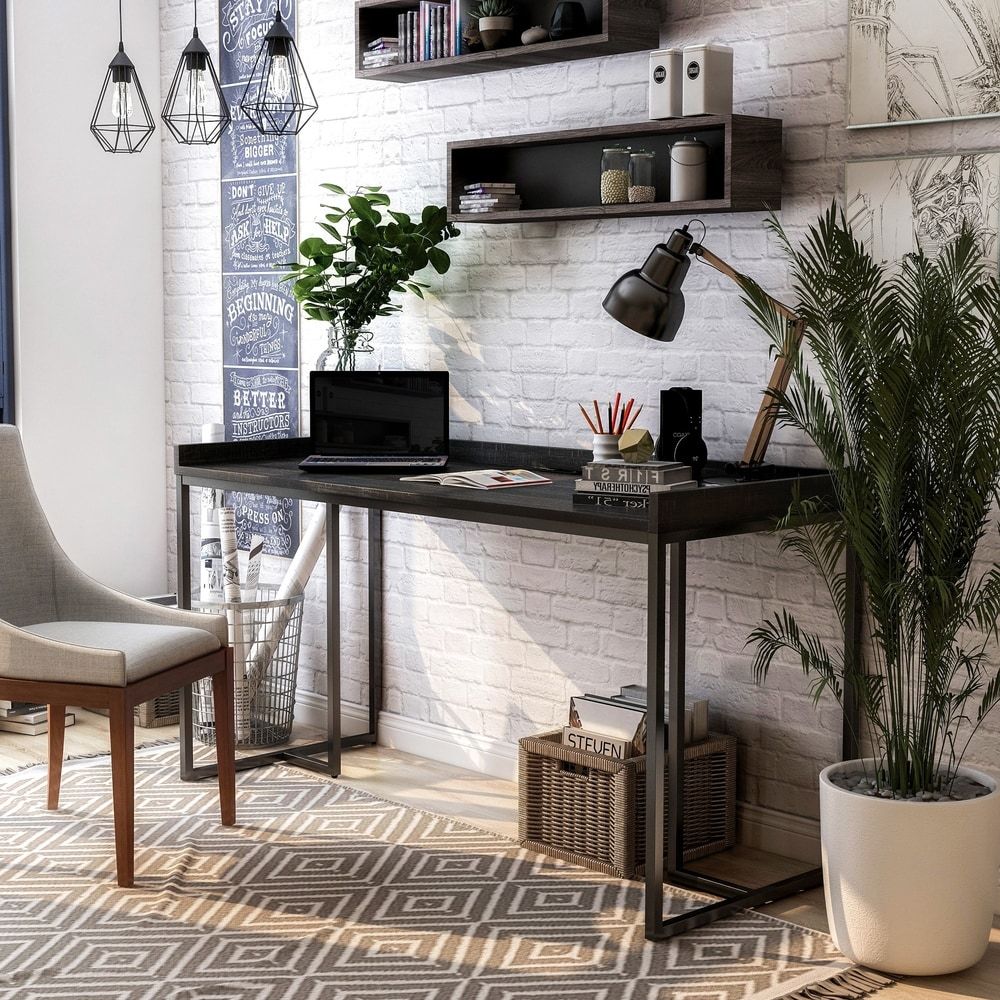 The industrial workspace consists of some metal accents and rough finishing. Besides, it also has deep colors like black, brown, and navy to draw a masculine impression. Designing your workspace in Industrial design will give a stunning look through the color impression. Choose a black table, or even you can repaint it, and install the wall shelves. Give it more Industrial by hanging black pendant lights and put a black table lamp.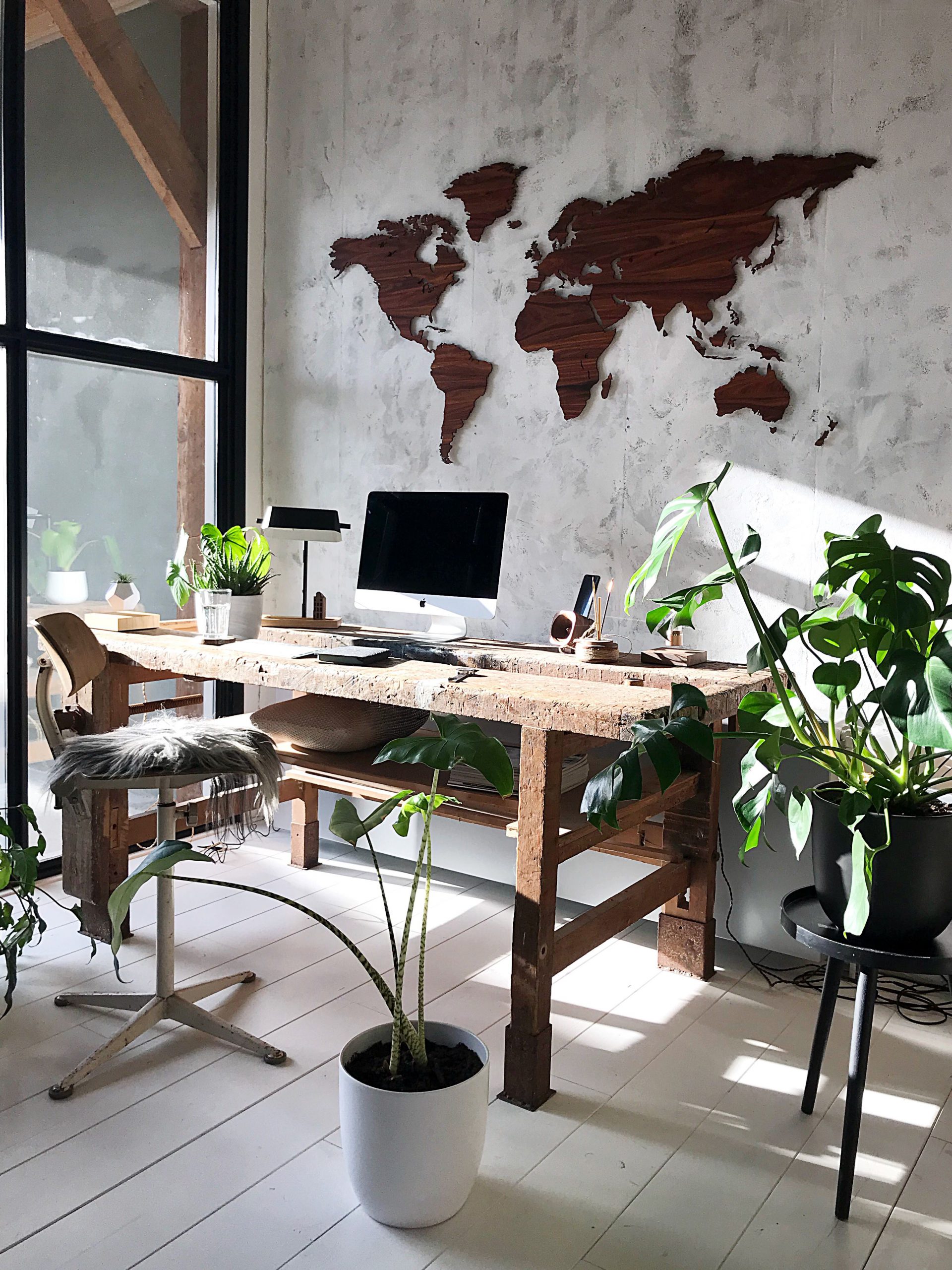 The characteristic of Industrial design is the raw material. This design let some materials show off their natural texture such as wood, cement, rock, and terra cotta wall. You may find these materials to bring an Industrial design. Bring an Industrial nuance by installing a wooden table with its natural patterns. You can smoothen the surface but also let a little texture stay on it. Put the small wooden plank as a pencil case, lamp set, and for an ornamental plant. Match it with the black accents.
Minimalist Design
Minimalist design is a simple design to get a large, clean, and neat impression. It has fewer accents and patterns. The bright and natural color is the common characteristic of minimalist design.
Whitish Workspace to Calm Your Mind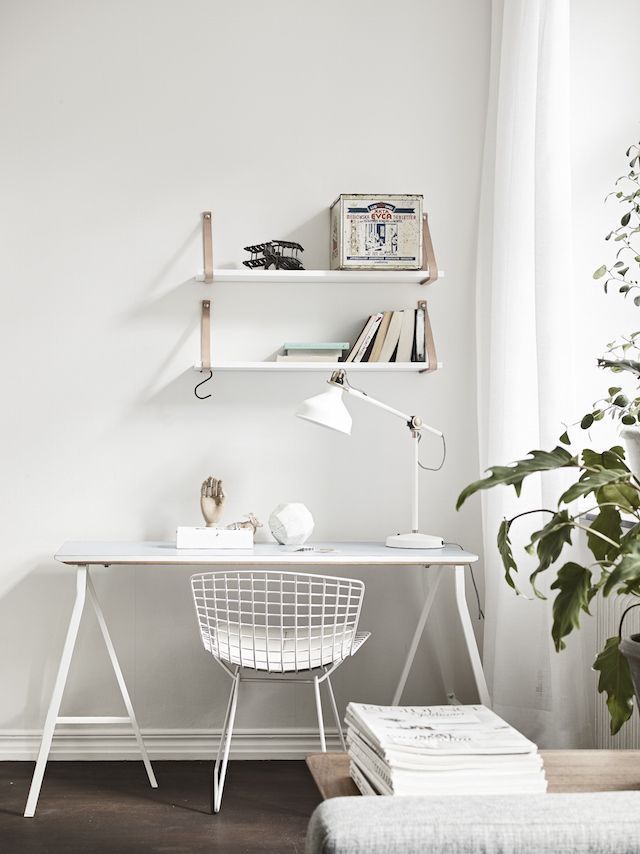 The white color has a calm impression. This color can peace your mind and relax your eyes from a crowded look. This workspace is more effective to design if your room has the same theme. Match the room color and your workspace with a white table and simple chair for workspace. Add other white accents with a study lamp and some white wall shelves.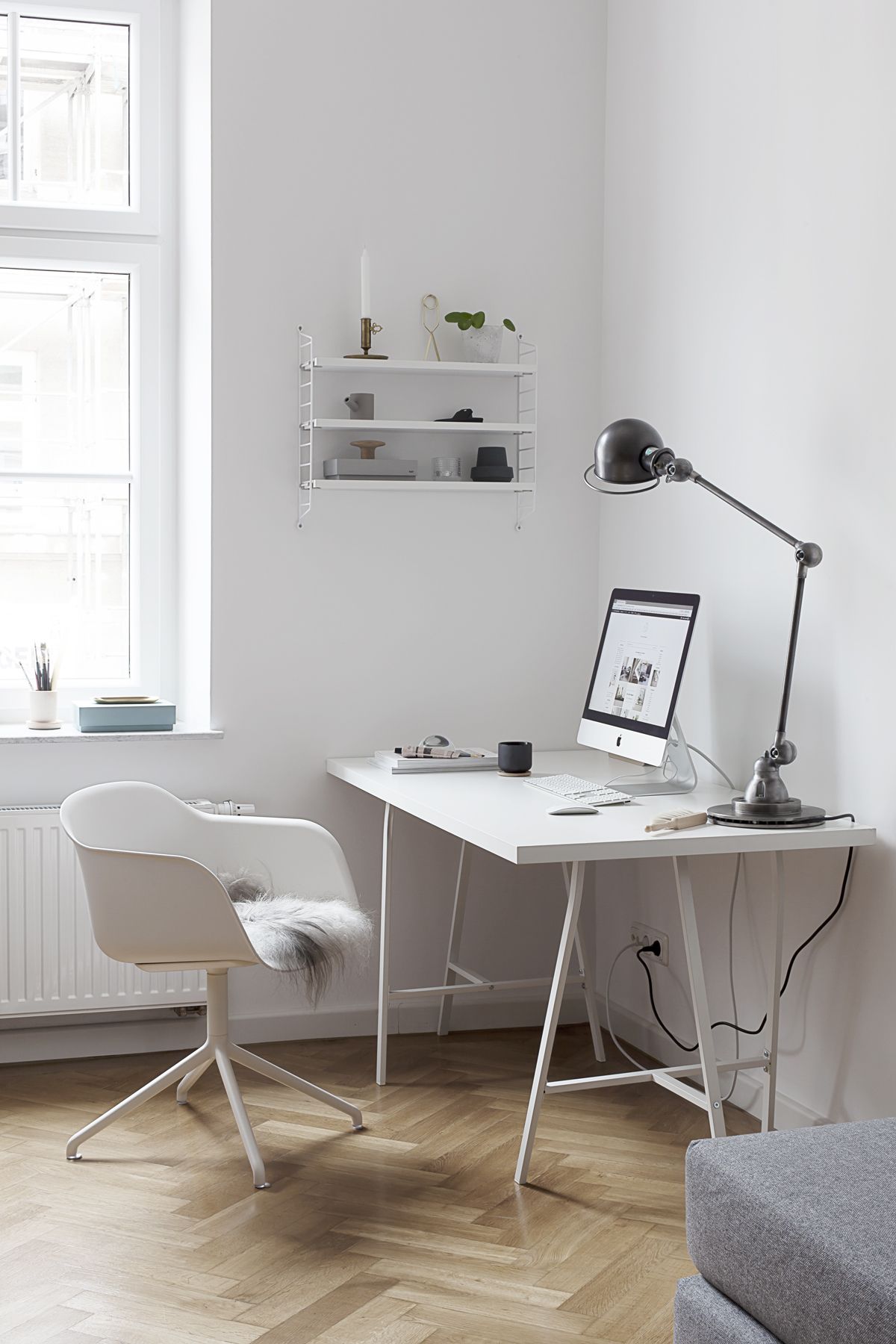 The key to design a minimalist workspace is creating simple decor. Design the simple layout for your minimalist workspace by setting a slim table and comfy chair with a low back. Add the furniture that you only need, a table lamp, wall shelves, and maximal two accessories are enough for a minimalist workspace. Besides, considering the location of this workspace to get natural light. A corner space with a window is beneficial to provide natural light for this workspace.
Vintage Design
Vintage design is an interior design with traditional accents to get a classic impression. This design takes you to travel an old period by its decor. It uses some classic accents to create a stunning design.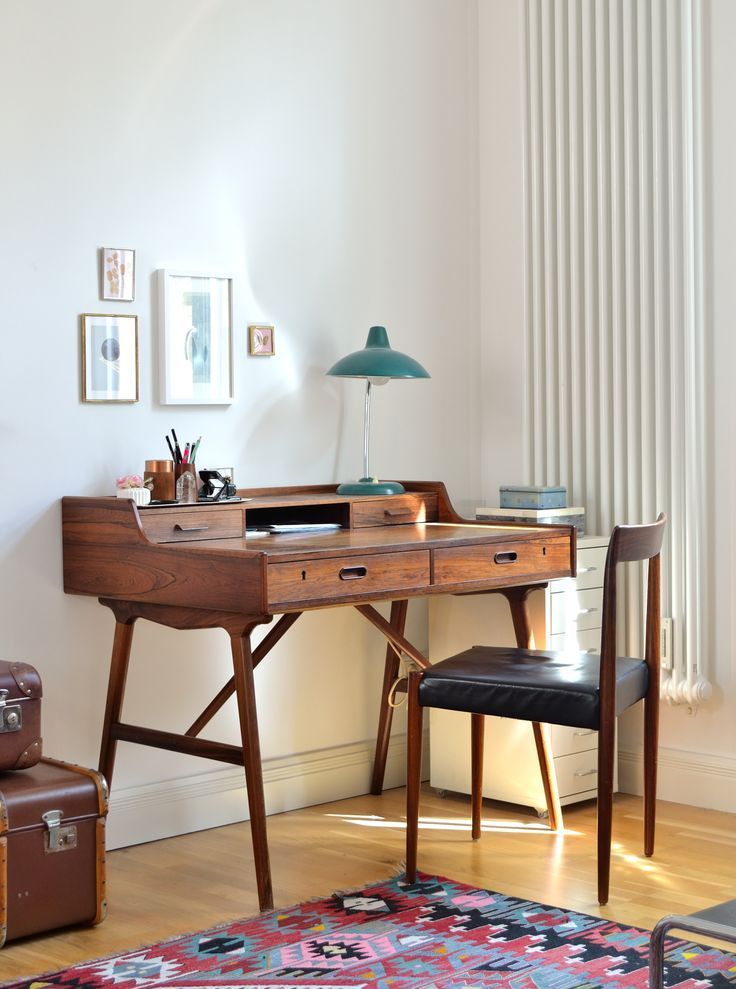 Collecting some furniture look interesting to use at home nowadays. The antique furniture makes your room feels homey. Designing a workspace by using vintage furniture can pick up the nuance of the time past. Set a contemporary table on the corner. Put a wooden chair to complete this table. The old furniture is attractive to draw a classic nuance. Even the old furniture usually has stronger materials.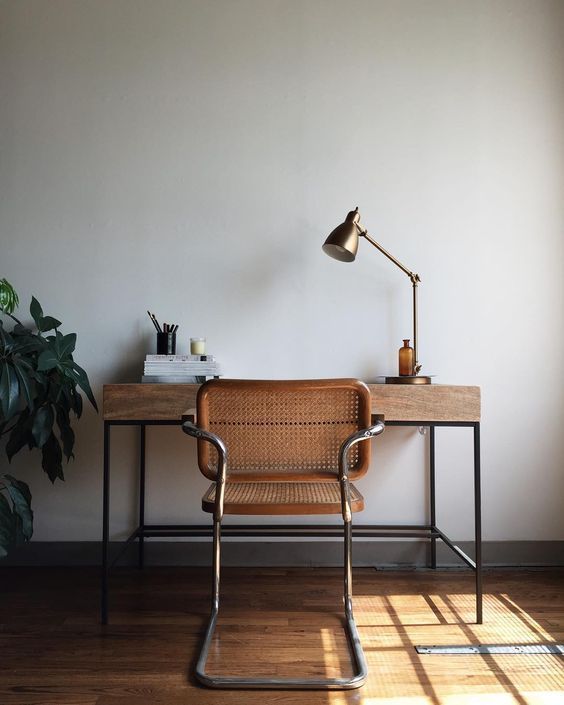 Decorating a vintage workspace looks more attractive if you use classic furniture. A vintage chair with two armrests is popular to draw the classic style. This chair shows off a classic style from its shape and material. Choose the chair that has the same hue as your table. It looks compatible with a wooden table.
Bohemian Design
Bohemian design is an attractive design that combines many patterns, colors, and accents in one room. It creates a showy room and a crowded look. This design has an interesting style to apply in any room, especially for a workspace.
Combine it with Some Designs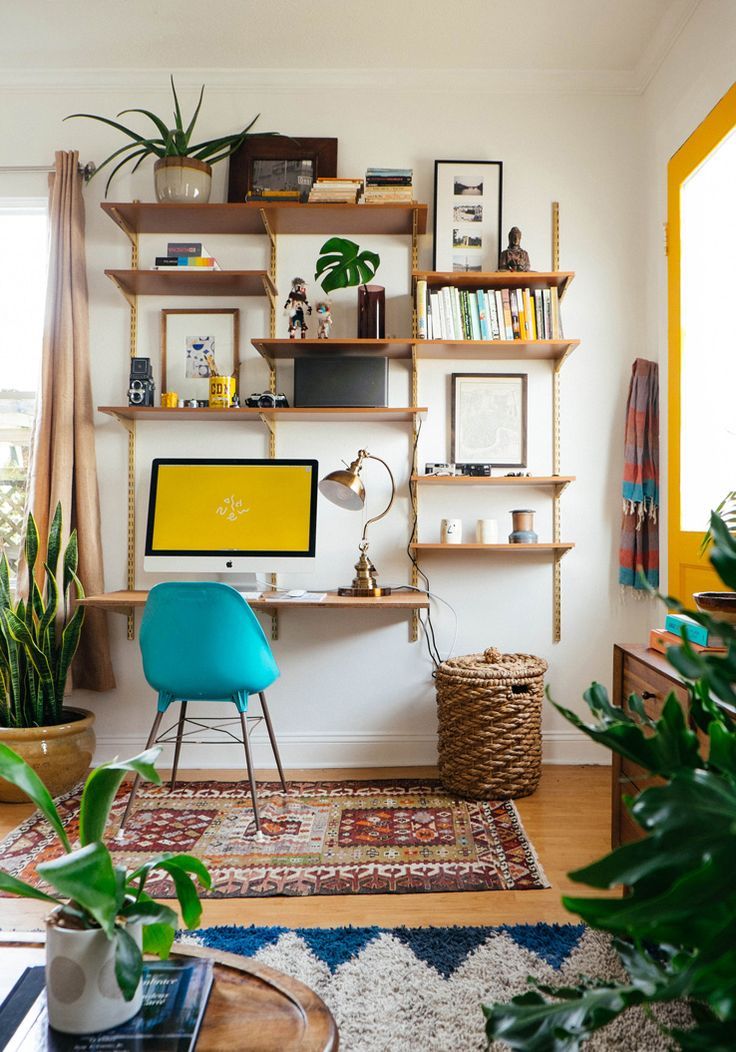 Bohemian design is easy to combine with any design. In designing a Bohemian workspace, you can draw an interesting layout with some furniture from different designs. Install a minimalist chair, a slim wooden table, a wicker basket, and a classic rug that are catchy to beautify your workspace. This design brings a magnificent layout, so you will not get bored doing your work from home.
Attach More Natural Accents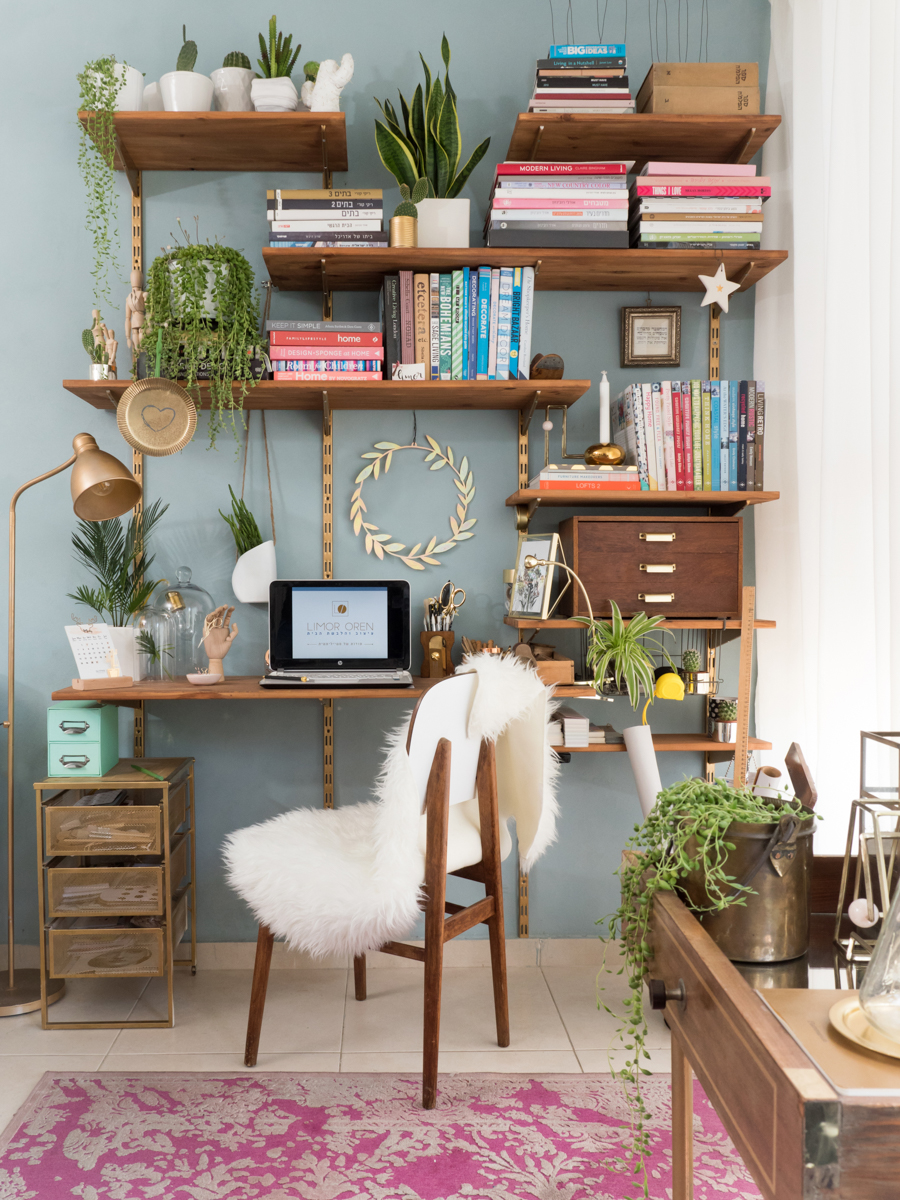 The bohemian design also has some natural accents to bring an outdoorsy touch. Growing some ornamental plants in a room will invigorate the atmosphere. Your workspace is an important room to get fresh air, then thrive some green plants to fresh your workspace. The snake plant and spider plant are ornamental plants that can purify your room. These plants can beautify your Bohemian workspace.
Creative Balcony Design
A balcony is a narrow porch upstairs. It gets natural sunlight and a direct view to see the outside. This place has many functions as a garden, restroom, living room, dining room, and even an outdoor workspace.
A Stunning Minimalist Workspace on Balcony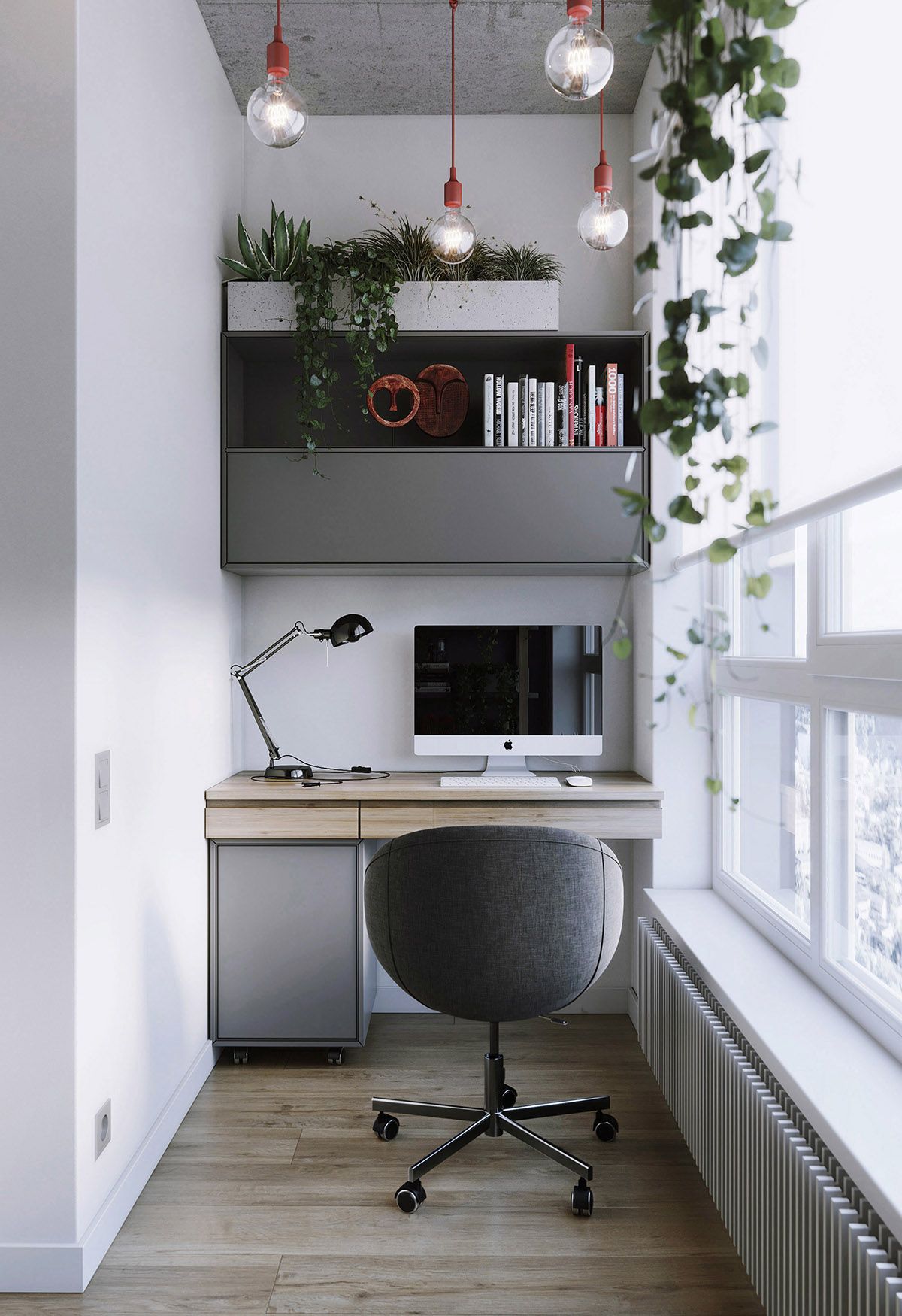 Decorate your balcony to be a workspace is a nice idea to provide beautiful scenery while doing the job. You can pick the minimalist concept for your balcony workspace. If you have a narrow balcony, then it suits this design to put the necessary things only. Make it a small room for workspace by installing a glass wall. It gives you protection from outdoor dust and raindrops. Thus, you can enjoy doing work at home in any climate.
Luxurious Design for Workspace on a Balcony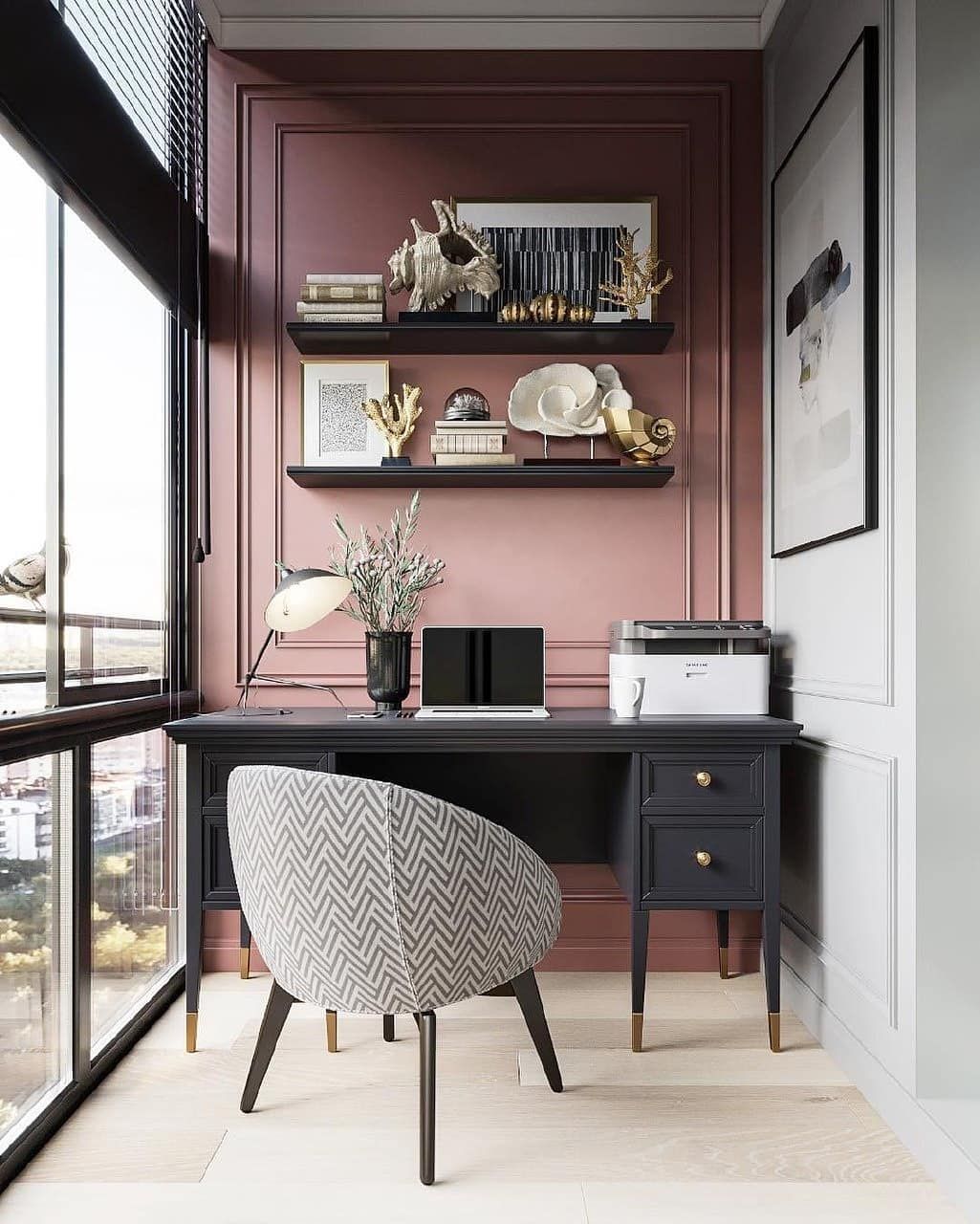 Attaching a luxurious design for workspace brings an elegant touch while working at home. Paint your wall with elegant colors like red, soft red, soft brown, or terra cotta. These colors help you draw a luxurious theme. Add a geometrical wall molding to create an attractive texture. Display some golden accents to make it more stunning.
Thus our discussion of 5 Cozy Workspace Design Ideas for Doing Work from Home. Doing work from home takes all time to do your job at home, includes your daily activities in the same house. It makes some people feel bored and try to get a different nuance by decorating their workspace. As an important room to work in, a workspace needs to get a stunning design. An attractive design for workspace may influence you to be more productive and creative. We hope this article inspires you to design your workspace during work from home. Happy decorating!