Druhomes.com – A breakfast nook is an additional design in a house. It is a multifunctional one-set room. You can have breakfast, lunch, and dinner in this room. Also, it is interesting to be your workspace as well. Some people have a breakfast nook to enjoy their spare time. They design a breakfast nook with interesting ideas. Here, are lists of 20 Ideas for Breakfast Nook Design, Create A Versatile Room for Your Daily Activities to inspire you!
Modern Contemporary Breakfast Nook
The first idea is a Modern Contemporary breakfast nook. It contains Modern and Contemporary accents. There are two chairs from rattan material with an interesting comforter. It matches the round table. The grey couch also fits this small nook.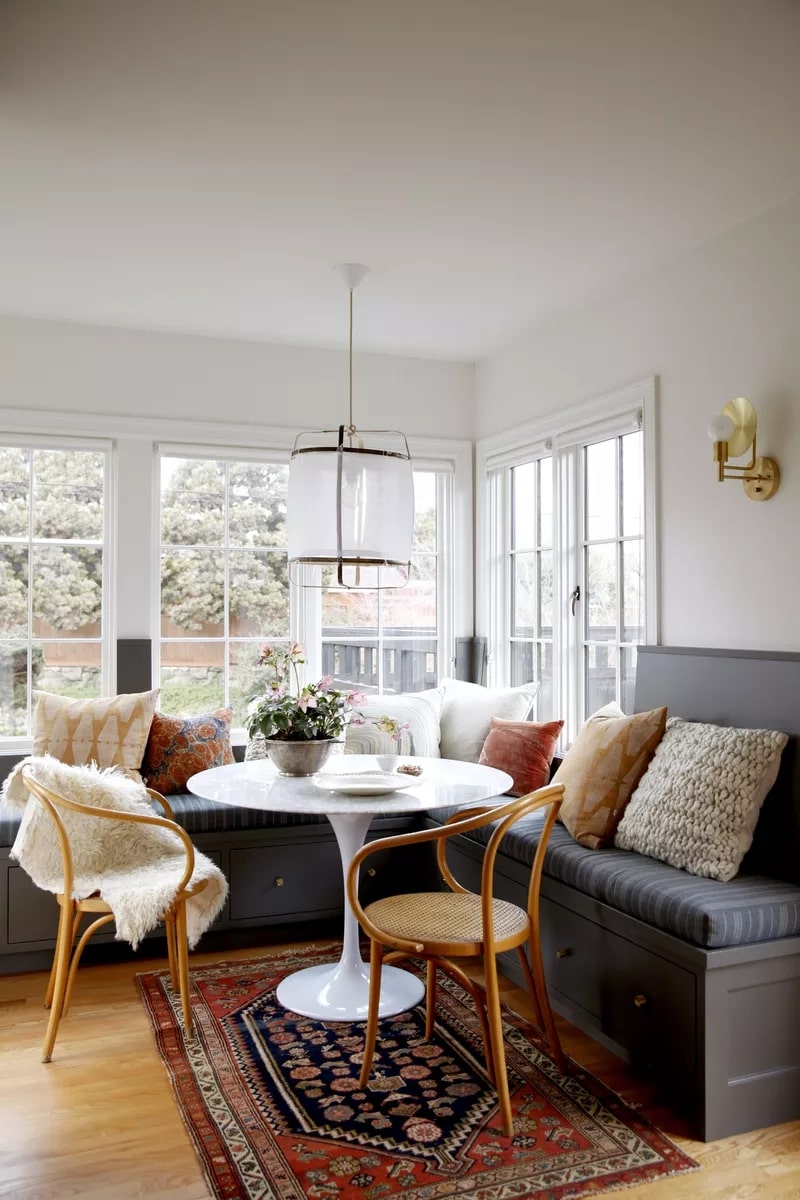 It is a wooden bench in the corner. Then, it gets a comfy seat with the same color. This furniture makes a perfect breakfast nook for this room. Also, some windows invite natural sunlight. You can enjoy your meal in this nook every morning.
1 of 20
Art Deco Design for Breakfast Nook
An Art Deco design is a popular home design for the interior and exterior. It emerges the luxurious accent in the 1980s. This design has striking bold colors and accents. Look at this breakfast nook. There is a bold green and white color for the wall. It has an interesting geometrical pattern on it.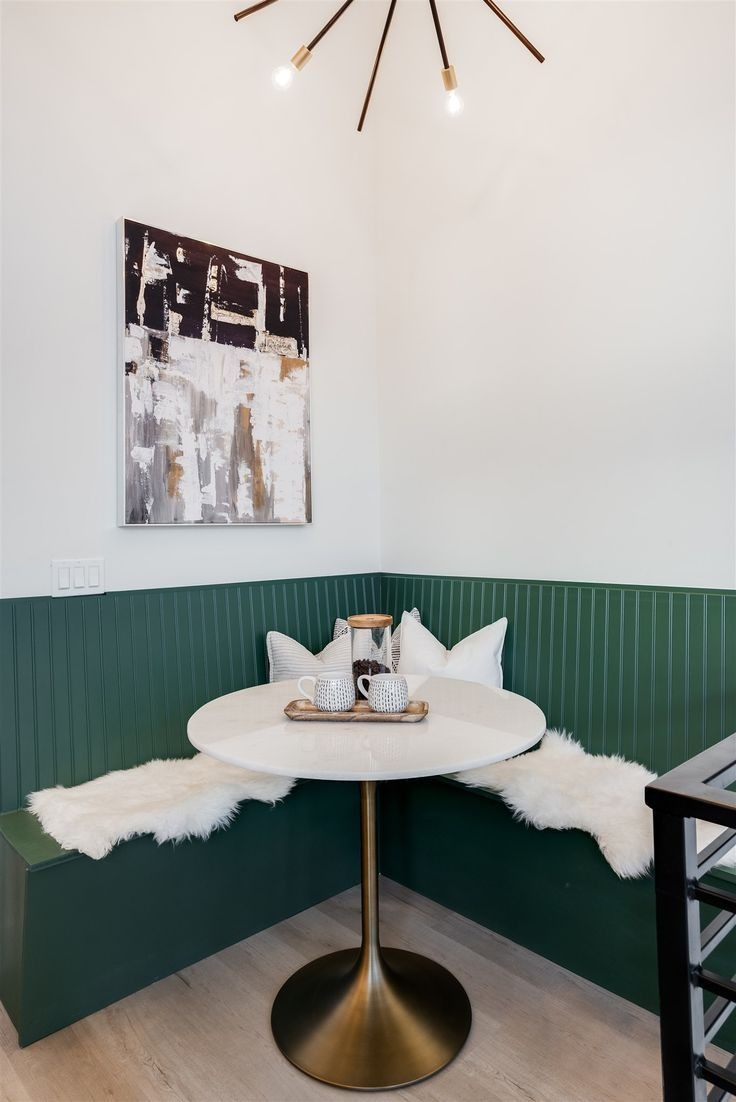 Moreover, the bench has the same green color. It gets a white furry comforter as the seat. The eccentric accents will decorate this nook perfectly. Also, there is a white round table with a golden leg. You will find other white accents on the corner of the green bench.
2 of 20
White Kitchen Breakfast Nook
White is one of the popular colors to bring a neutral impression. This breakfast nook uses a white theme. It adjusts the white wall. The main furniture is white as well. There are two benches for the nook. Every bench has a grey comfy seat. It brings a monochrome accent to this breakfast nook.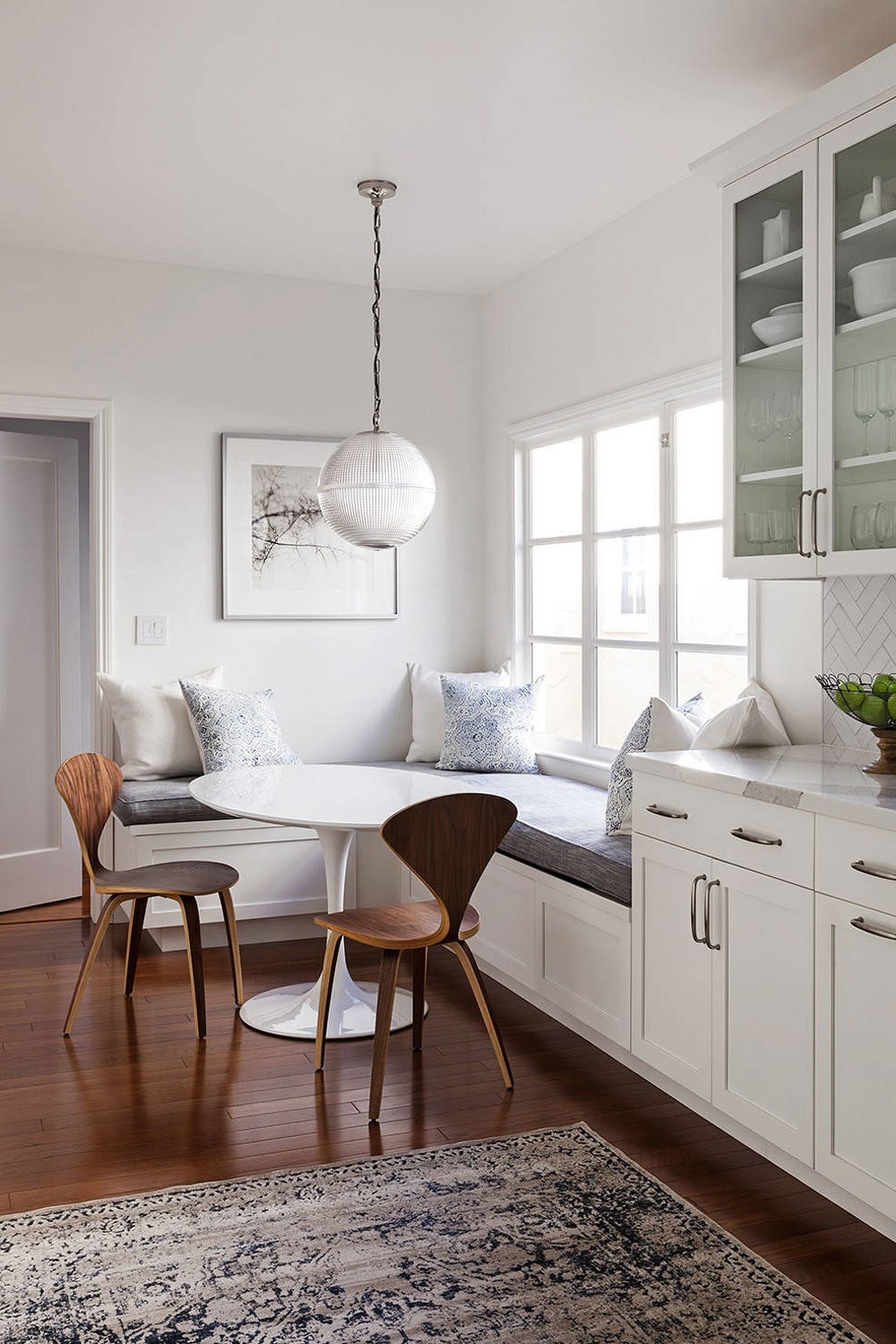 Besides, this breakfast nook has additional chairs. The wooden chairs are stunning to make a different accent. It looks comfortable to have some cushions on the bench and let the wooden chairs empty. You can use this nook as a workspace or resting place.
3 of 20
Add Sofa for A Homey Atmosphere
A sofa will bring a different impression to a breakfast nook. It makes the nook more stunning. Also, it is comfortable to have a comfy seat while enjoying the meals. Look at this idea. It has a homey atmosphere with the furniture in the nook.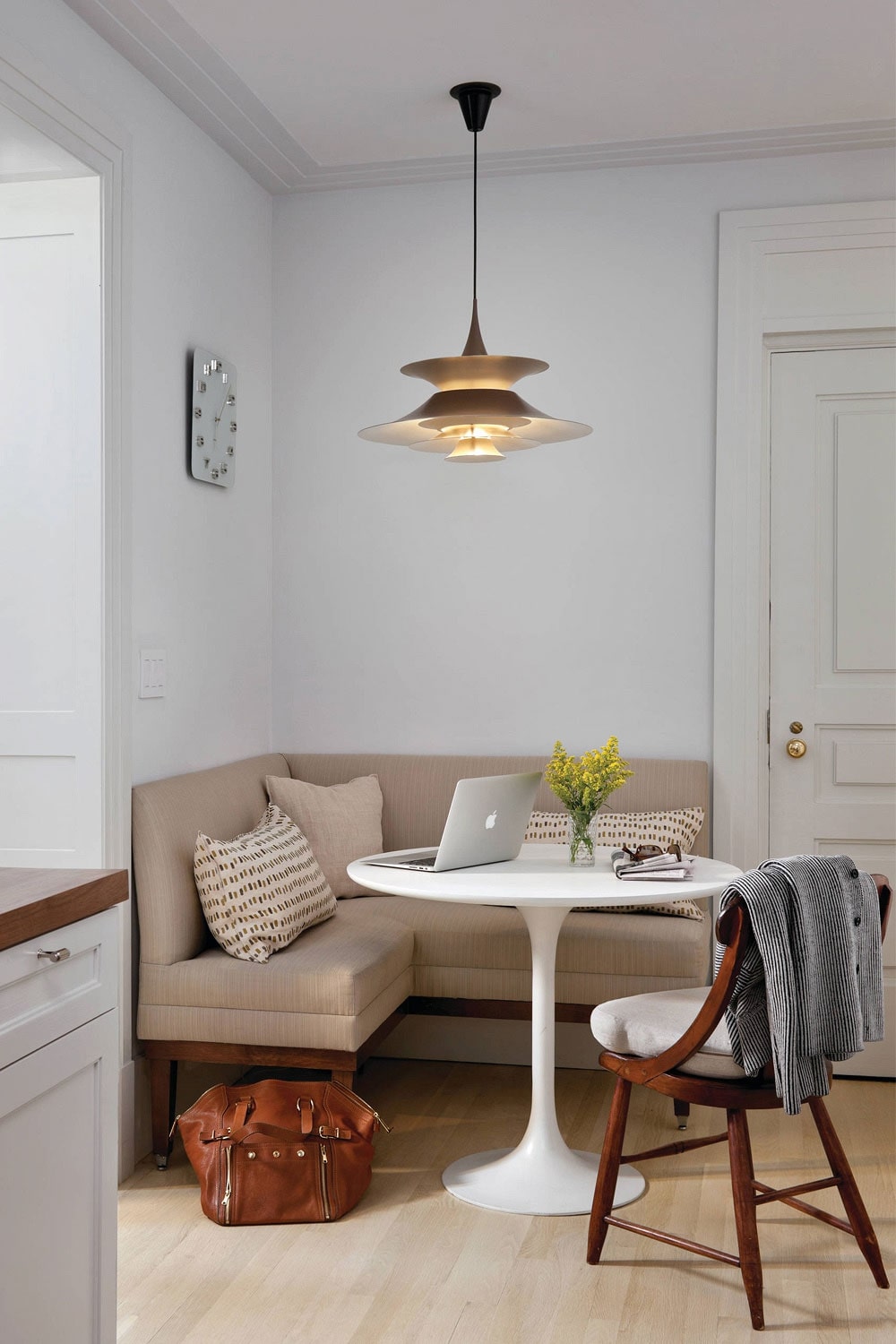 You can choose an L sofa like this one. The soft brown sofa matches the dark wooden frame. Like other breakfast nooks, it has an additional chair. This furniture has a round table. It fits the nook perfectly. This breakfast nook is functional to do many other activities.
4 of 20
Design Your Breakfast Nook Near Window Sill
A window sill is a favorite place to get an attractive design. It is an inspiring idea to have a breakfast nook near a window sill. Look at this idea. The breakfast nook is interesting with brown benches and wooden furniture. These colors will enliven a natural atmosphere near a window sill.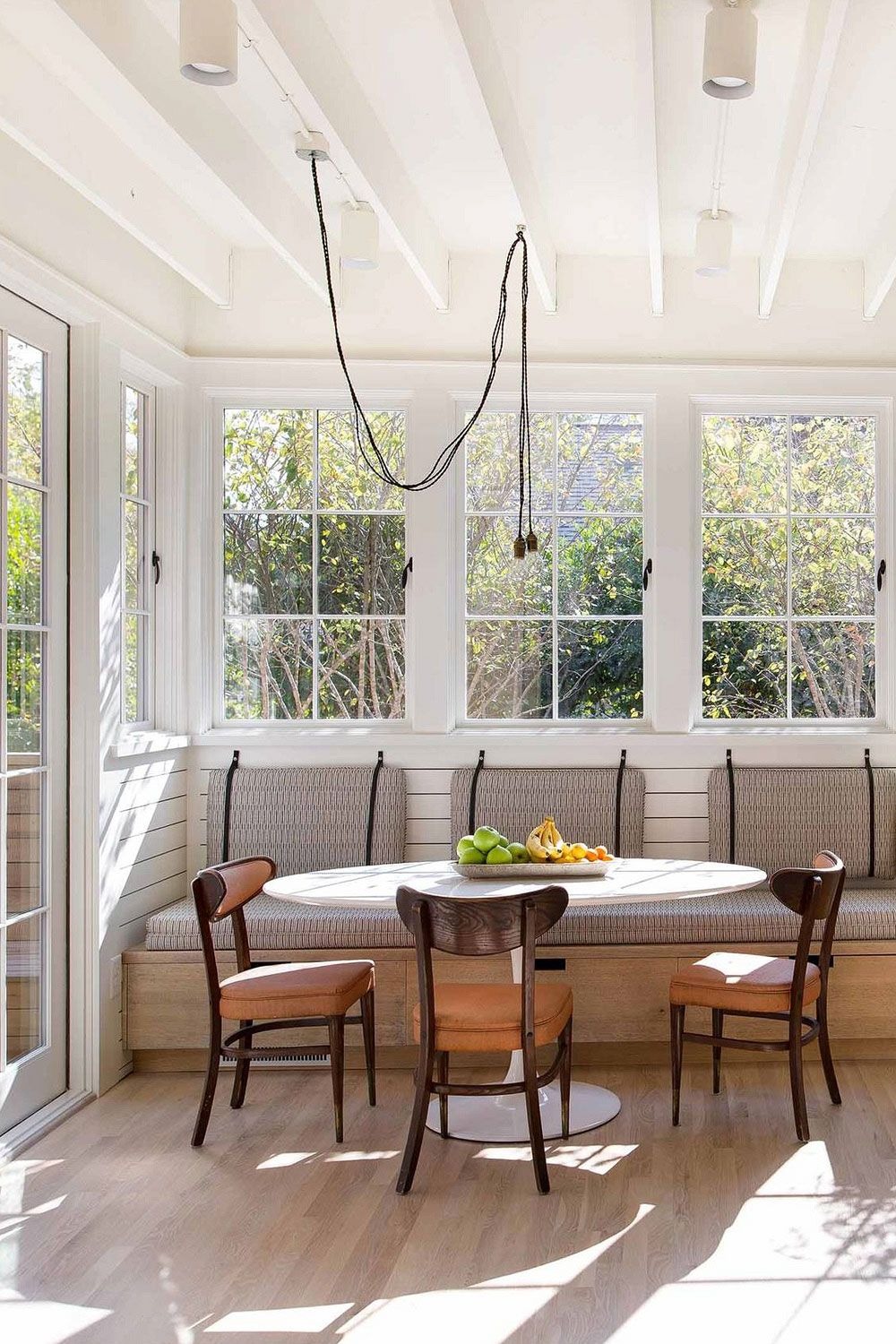 Moreover, the window sill provides a perfect view of the green landscape. You can eat your meal while enjoying the outdoor view. Besides, the wooden accents are attractive to create a contrasting design. The timber patterns and dark brown colors will add a breath of fresh air.
5 of 20
Monochrome x Vintage Breakfast Nook
A monochrome theme is suitable for any room. It looks stunning to decorate a breakfast nook. This idea uses vintage furniture with a monochrome theme. The horizontal lines on the wall will emerge a vintage impression. It looks like a farmhouse design as it goes with vintage ornaments.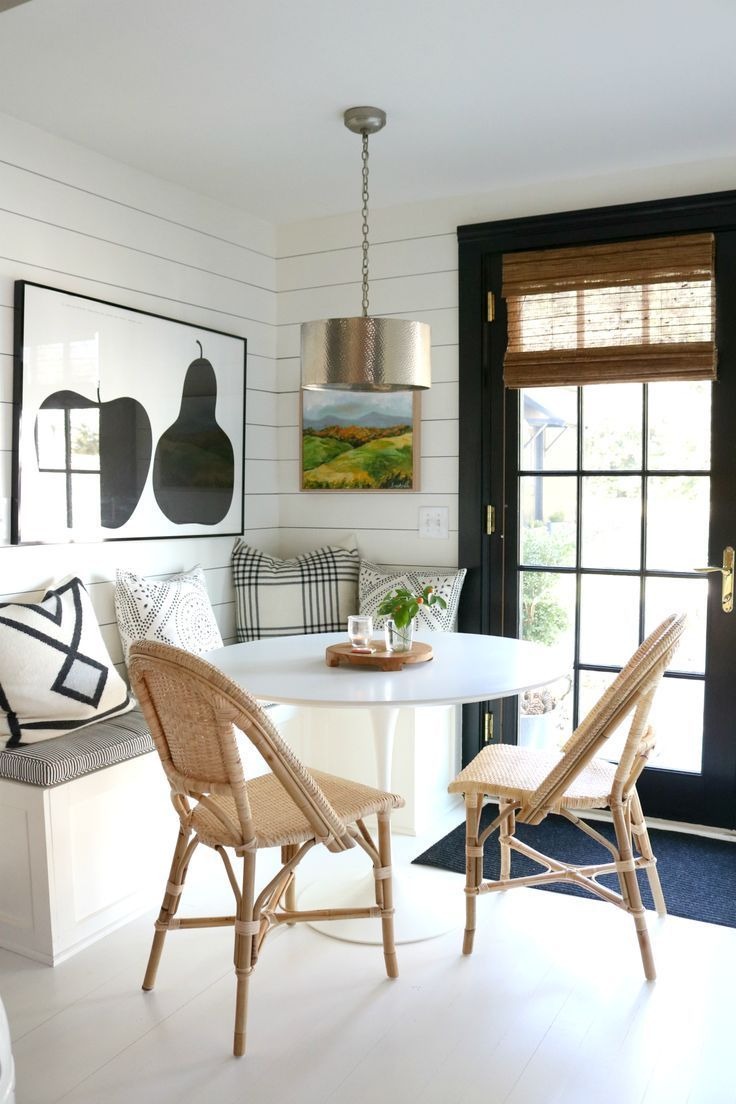 The main bench is white and simple. There are some monochrome accents near the bench. Look at the striking grey cushions. It has a geometrical pattern that looks classic. Meanwhile, it gets two rattan chairs near the door. Next to the door, you will see a large geometrical window.
6 of 20
Minimalist Breakfast Nook
Minimalist design is very popular for any house. It fits well in small and large houses. You can adopt this design into your breakfast nook as well. This minimalist breakfast nook is stunning. The neutral ivory-white color will soothe your eyes. It fits another calm color like soft brown and green color.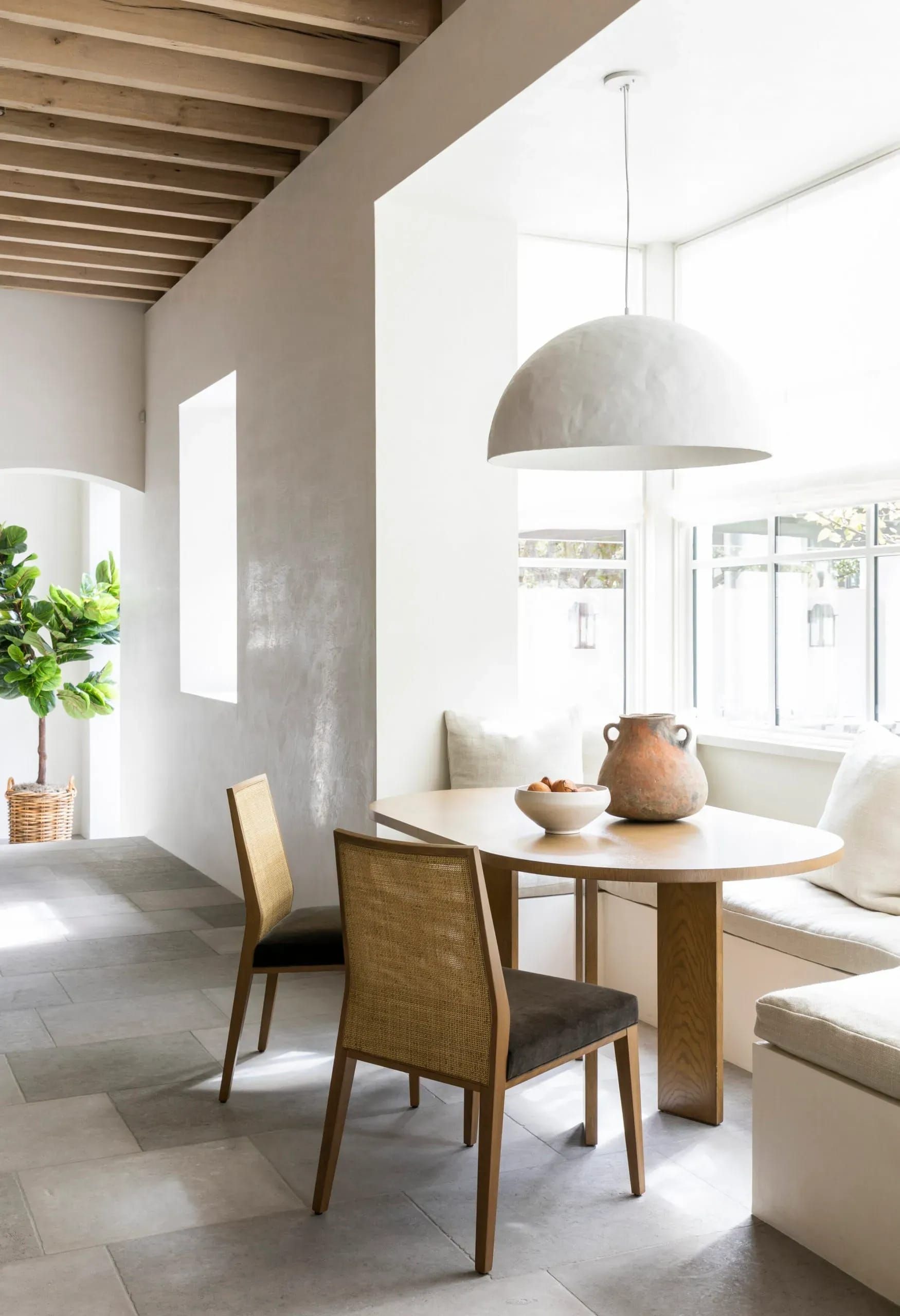 This breakfast nook uses minimalist furniture. The wooden chairs against the sunny window make it stunning for enjoying breakfast. Moreover, it has a curvy white lamp above the round wooden table. This minimalist room is more stunning with indoor plants. You can thrive on houseplants on some sides.
7 of 20
Luxurious Breakfast Nook
A luxurious design will bring a high-class impression to a room. Let's see some luxurious accents in this breakfast nook. This room has luxurious furniture such as a comfy grey sofa, two white sofas, and an eccentric wooden chair. There are some cushions on the grey sofa.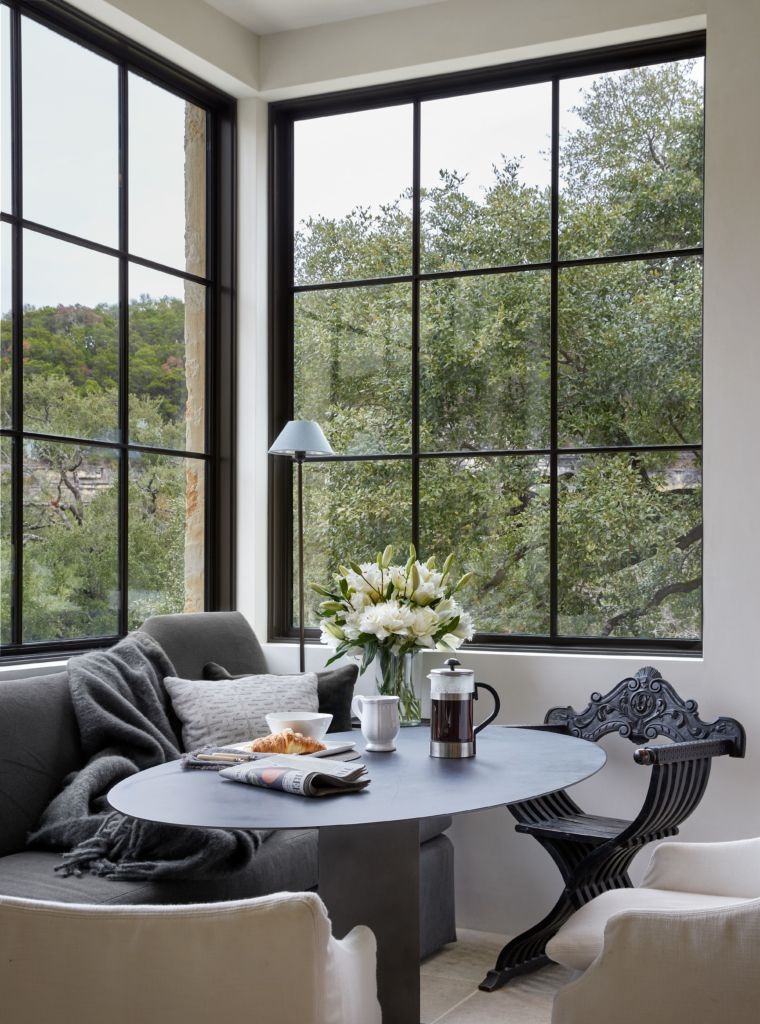 Also, this sofa has a grey comforter to make it sweeter. Besides, this breakfast nook has a proportional corner. There are glass windows with geometrical frames. The outdoor view is amazing. This breakfast nook is suitable for a house on the mountain or other natural places.
8 of 20
Charming Breakfast Nook with Classic Style
Some room designers like to use classic accents. It is stunning to have some vintage touches in your breakfast nook. This design will represent the classic style of a breakfast nook. There are two wooden chairs with grille backrests. Both chairs have a dark brown color and white backrests.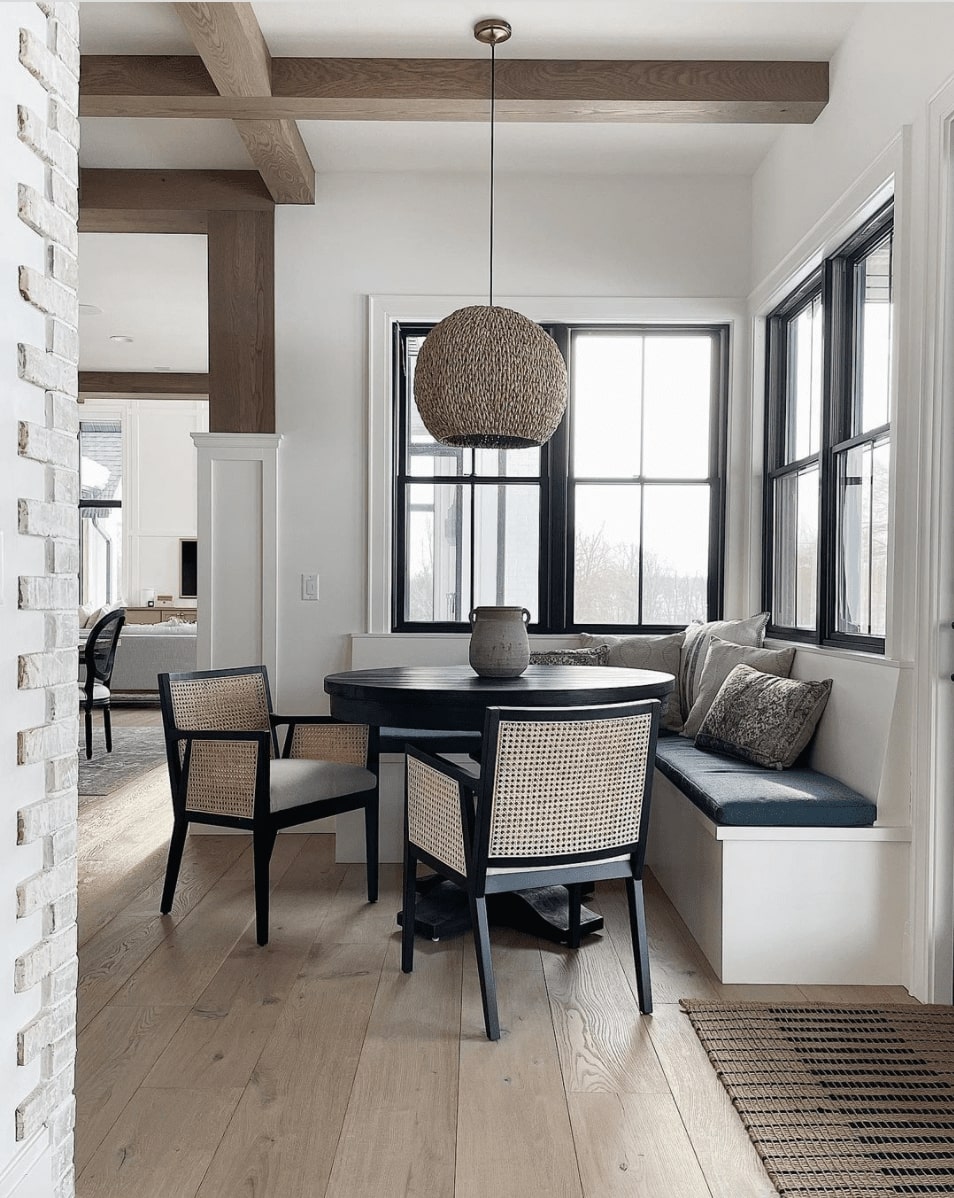 This breakfast nook will make a nice corner. The bench is a focal point in this spot. An L sofa is the best choice to adjust this nook. Then, add some cushions to the seat. Moreover, you can add a dark brown table to match the two wooden chairs. Also, install a classic pendant light with a lampshade.
9 of 20
Ornate Design for An Eccentric Impression
An ornate design is identical to Bohemian design. Besides that, this design is far from Bohemian. It uses an artistic design. The background for this breakfast nook will shift your focus. It looks eccentric with its striking colors and designs.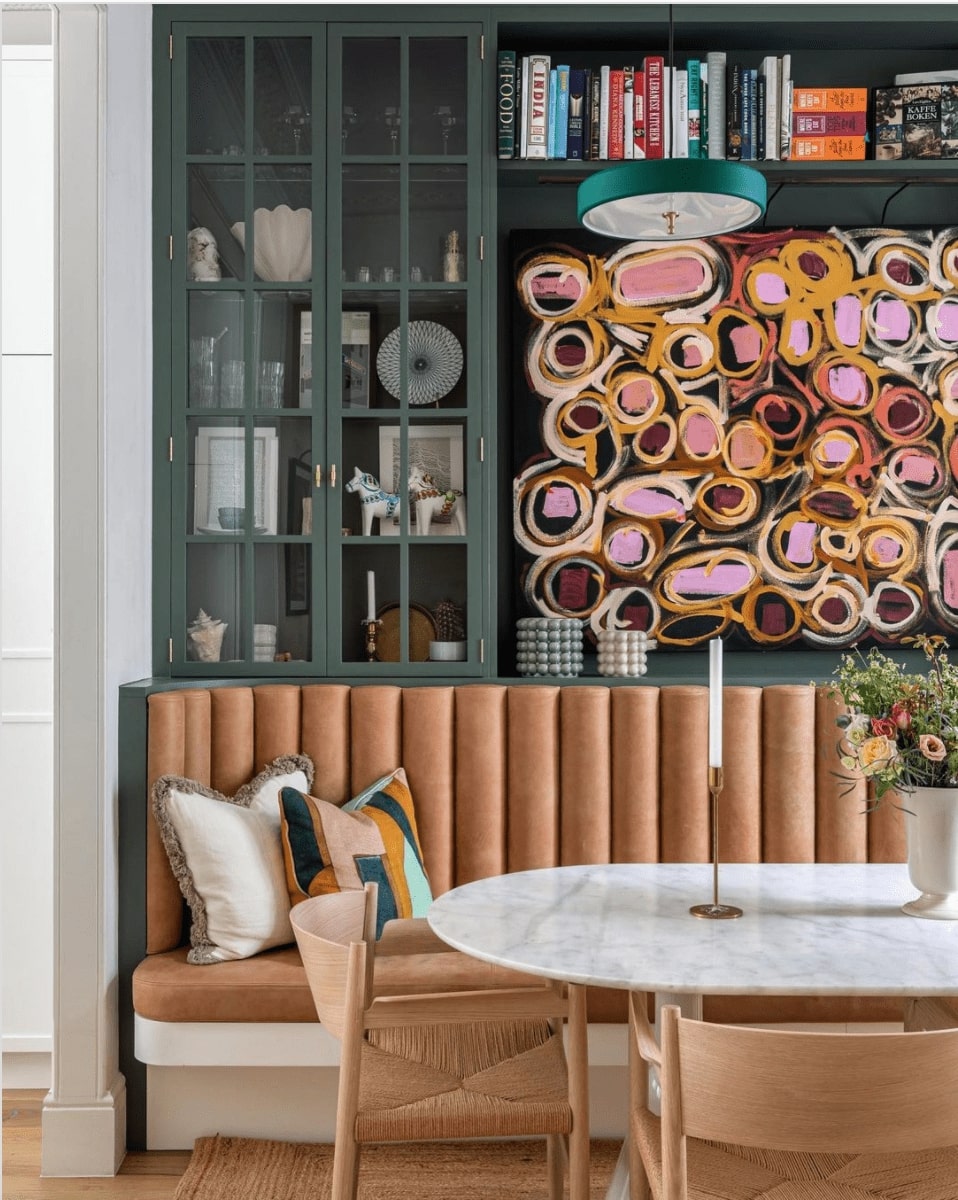 This ornate design is on a large cabinet. You can design a breakfast nook in front of this cabinet. Moreover, the large sofa has a nice Art Deco design. There are curvy accents on the back. This sofa is a perfect match for this long table. It makes an eccentric design for this comfy breakfast nook.
10 of 20
Use A Bench and Chair Near Window Sill
It is another idea for a breakfast nook near the window sill. The window sill is an attractive spot because you can see an outdoor view while eating your meals. Look at this dazzling design. The bench or window seat for a breakfast nook. It is quite simple and easy to decorate.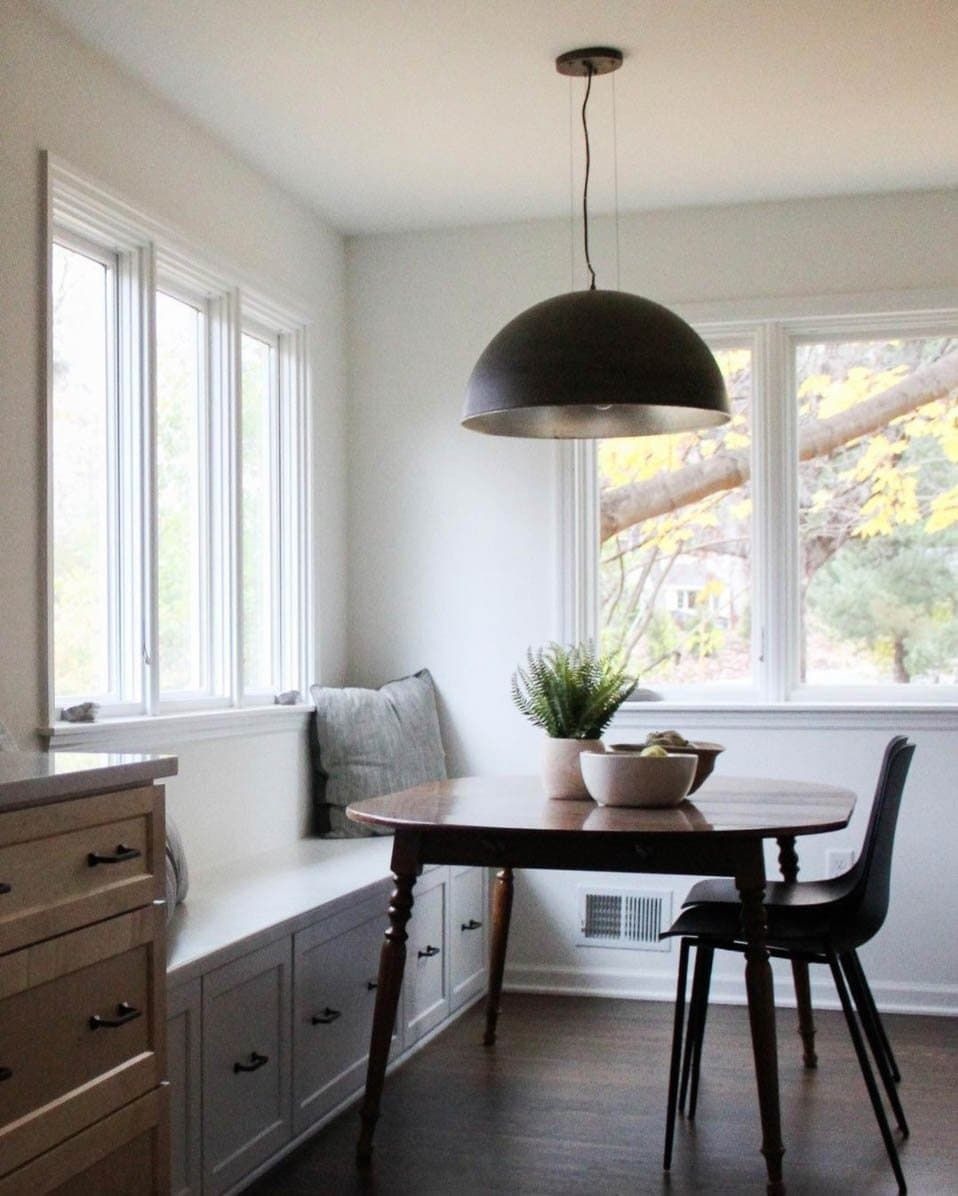 Add a wooden chair across the round table. Pick the best chair that represents a certain impression. You can use a dark wooden chair for a classic impression and the lighter one to match the white wall. In addition, put small indoor plants on the wooden table.
11 of 20
An L Bench for A Beautiful Breakfast Nook
A breakfast nook is identical to an L sofa. It adjusts the corner to make a comfy seat. This idea is interesting for decorating an L bench. The floating bench is simple and makes it easier to clean. You can save some stuff below it.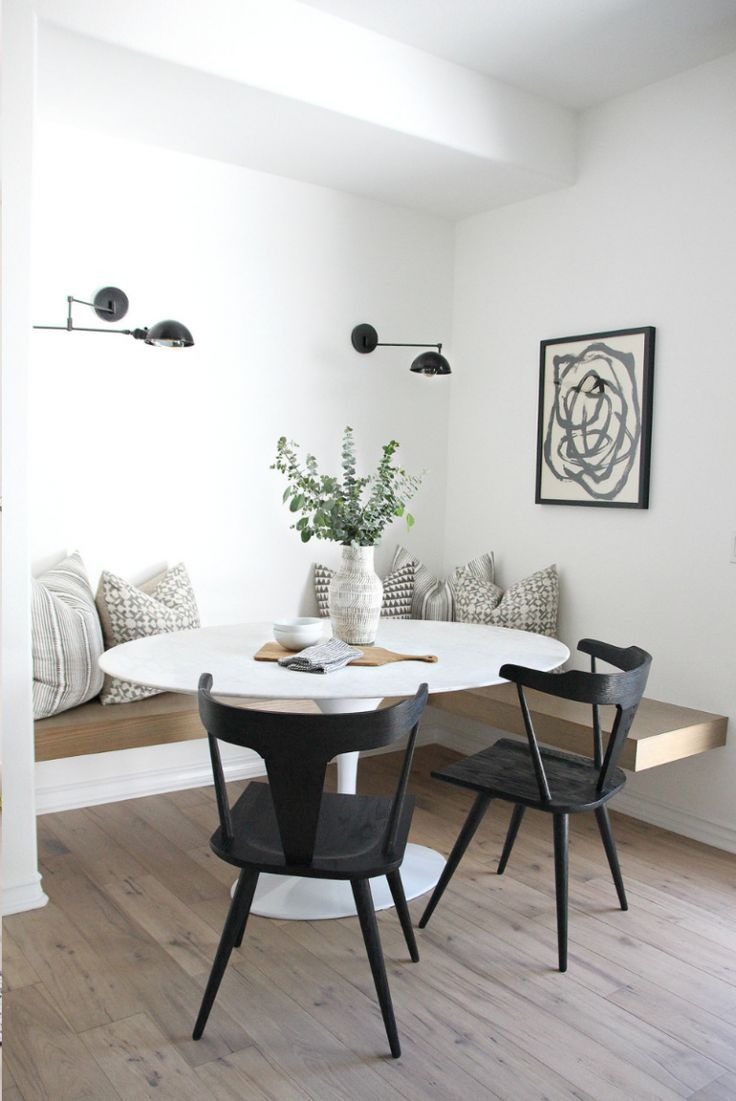 Furthermore, there are two dark wooden chairs. Both are classic and make a perfect contrast in this room. This beautiful breakfast nook has a white round table. You can add an ornamental plant to sweeten that table. Also, put some attractive cushions on the bench.
12 of 20
A Rustic Breakfast Nook Design
There are various interior designs to make a breakfast nook. Now, let's try this Rustic breakfast nook design. This design uses wood materials that dominate the furniture. Almost all accents are wood. There are wooden benches and chairs. Also, this breakfast nook has a long wooden table.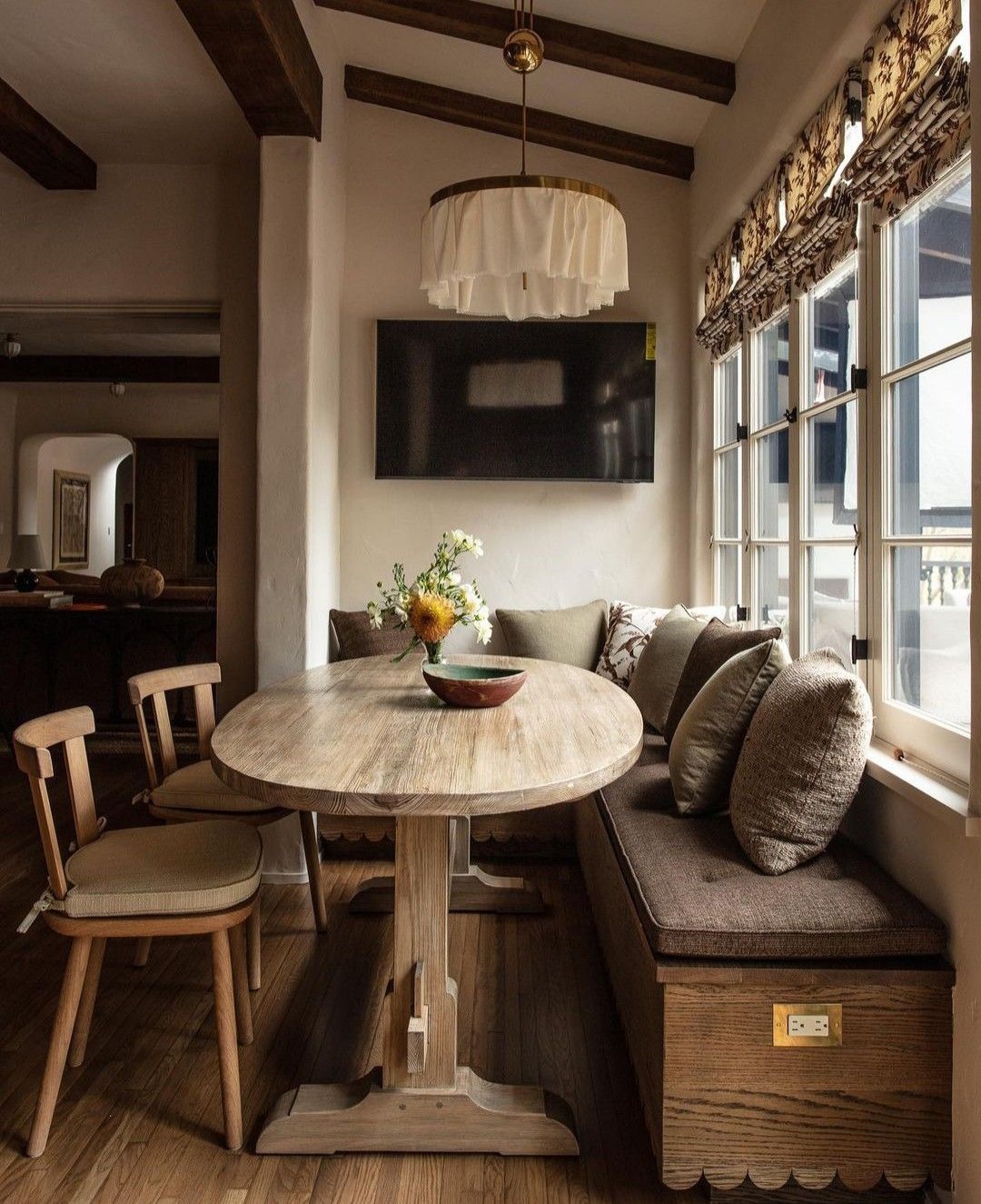 All wooden accents are pure and simple. This furniture shows off the timber patterns and colors. Moreover, the benches have soft brown seats. There are some cushions on the bench, like a living room sofa. Besides, this breakfast nook is near the window sill which makes it perfect to enjoy breakfast.
13 of 20
An Elegant Breakfast Nook with Raw Brick Wall
This is an elegant breakfast nook for any house. It has some combinations of different designs. There are two classic chairs with oval backrests. Also, there is a raw brick wall as an Industrial accent. It is a striking accent in this white room.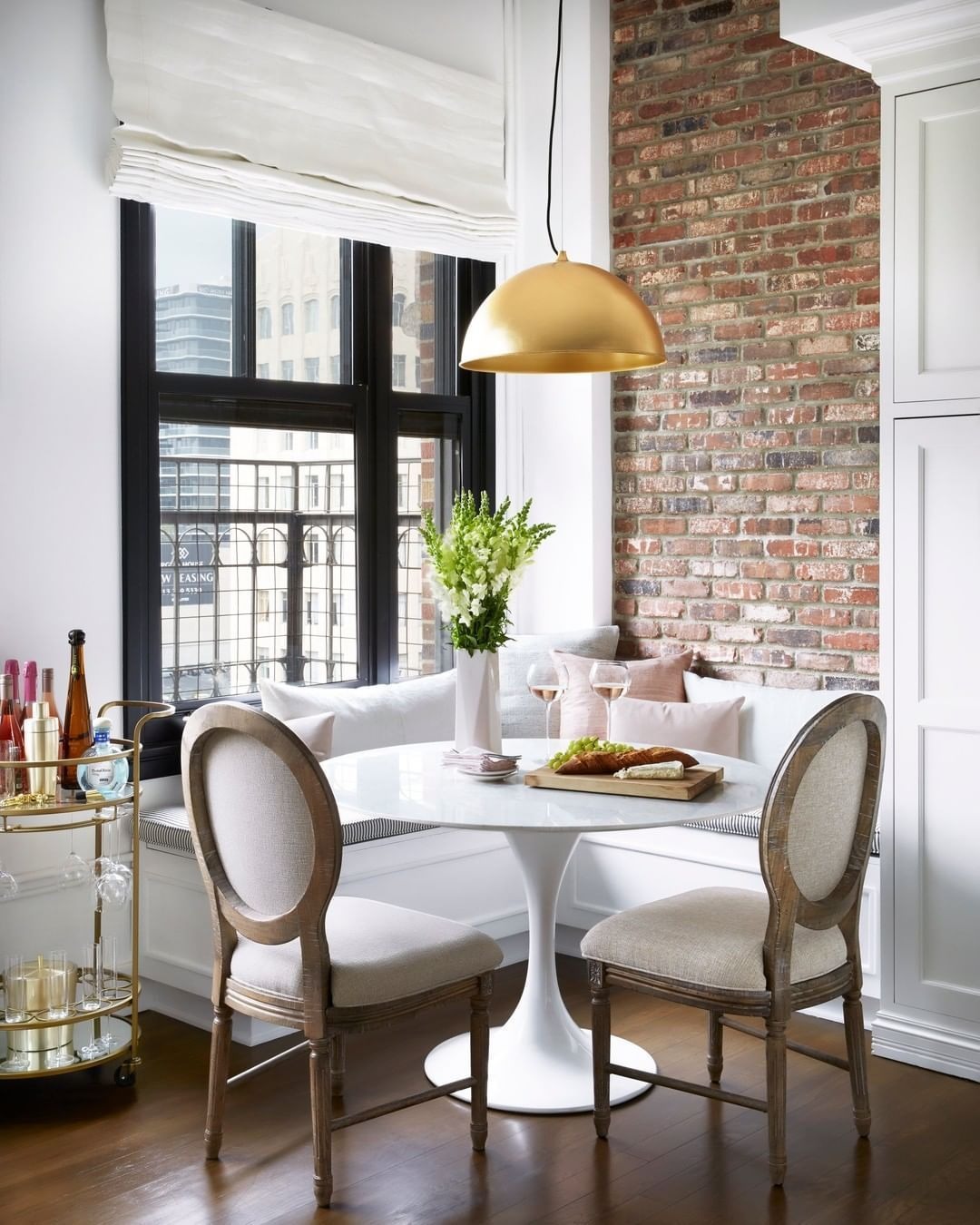 There is an average window with black frames. Then, add a blind for the window, so you can shut it and add privacy. This breakfast nook is more interesting to have an indoor plant. Put it on the table, so it will get enough sunlight from the window. Also, you can enjoy an outdoor view through the window.
14 of 20
Inspiring Design with Colorful Accents
This is a simple breakfast nook but has a cheerful impression. There are some colorful accents in this room. Look at the colorful cushions on the sofa. Also, the small ornaments on the white wall are stunning. These colorful accents will enliven the white wall.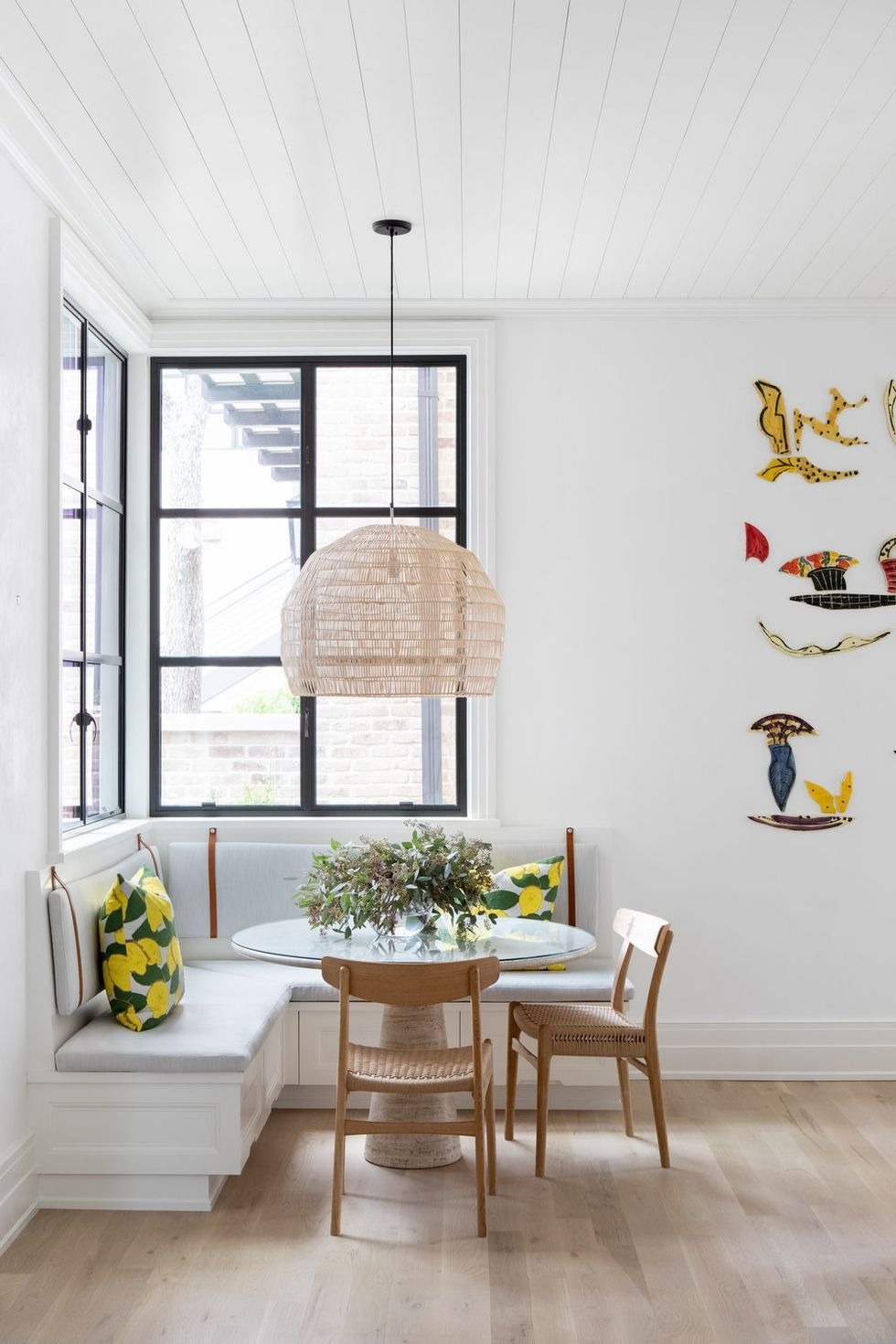 Furthermore, the breakfast nook has a simple design. It uses white benches with comfy backrests that stick on the wall. It fits the corner and window sill height. Moreover, there are two wooden chairs with wicker seats. It looks fresher with ornamental plants.
15 of 20
Grow Some Plants in A Small Breakfast Nook
A breakfast nook should be a comfortable place. You need some accents to enliven the fresh nuance. Here, is a brilliant idea for a breakfast nook near a window sill. Put some ornamental plants on the window sill that love the bright indirect sun. Also, you can start to plant some new growths in this place.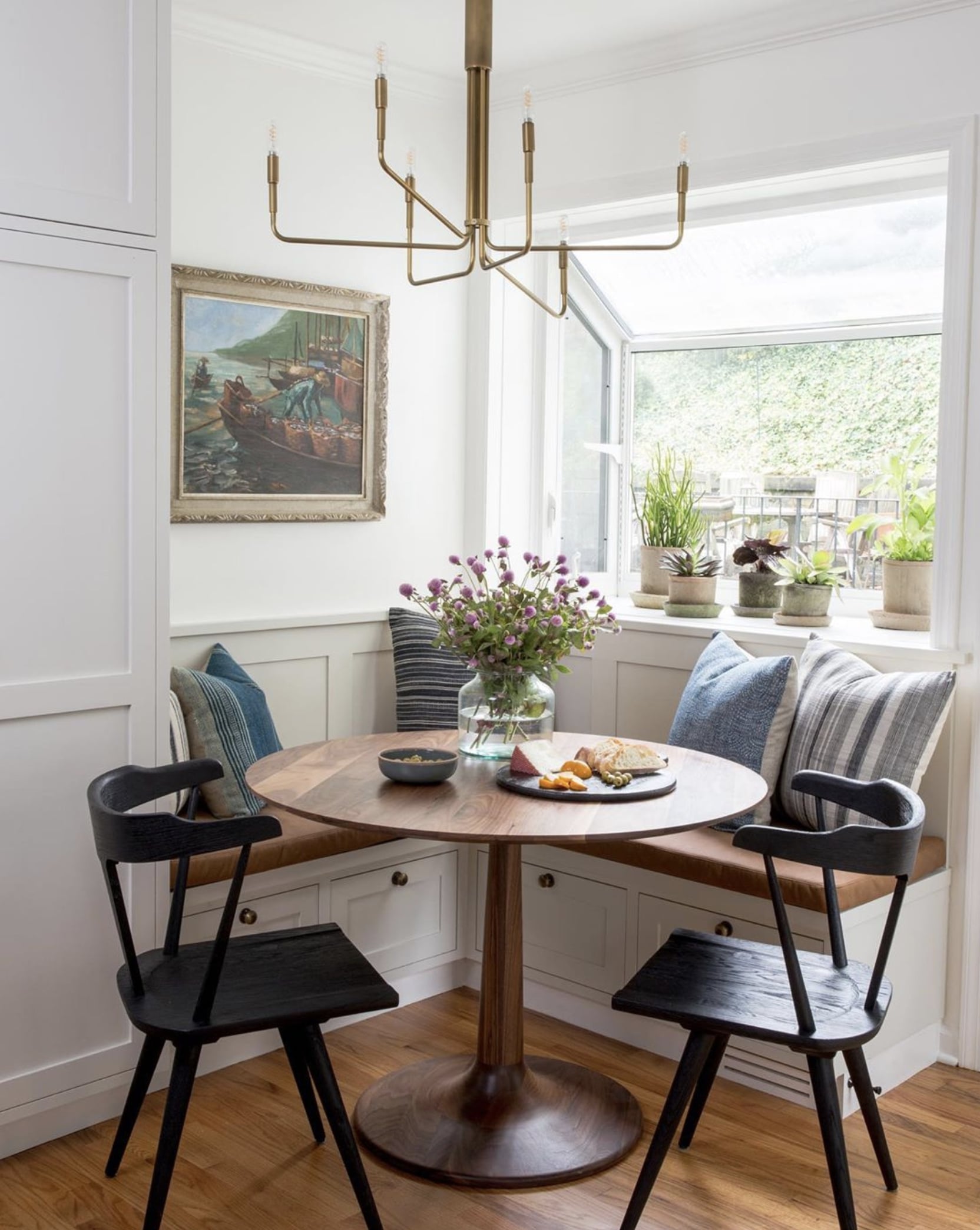 Besides, this breakfast nook has a chic style. The benches fit this small nook perfectly. It has storage beneath it, so you can save some stuff. Moreover, this breakfast nook is interesting with various cushions. In addition, two wooden chairs will complete the design.
16 of 20
Breakfast Nook with A Grey Blind
Some breakfast nooks are near the window sill. This location will be sunny and need protection. You can install a blind for the window. Pick the blind that fits your breakfast nook. Many designs of blinds with different shutters, colors, and patterns.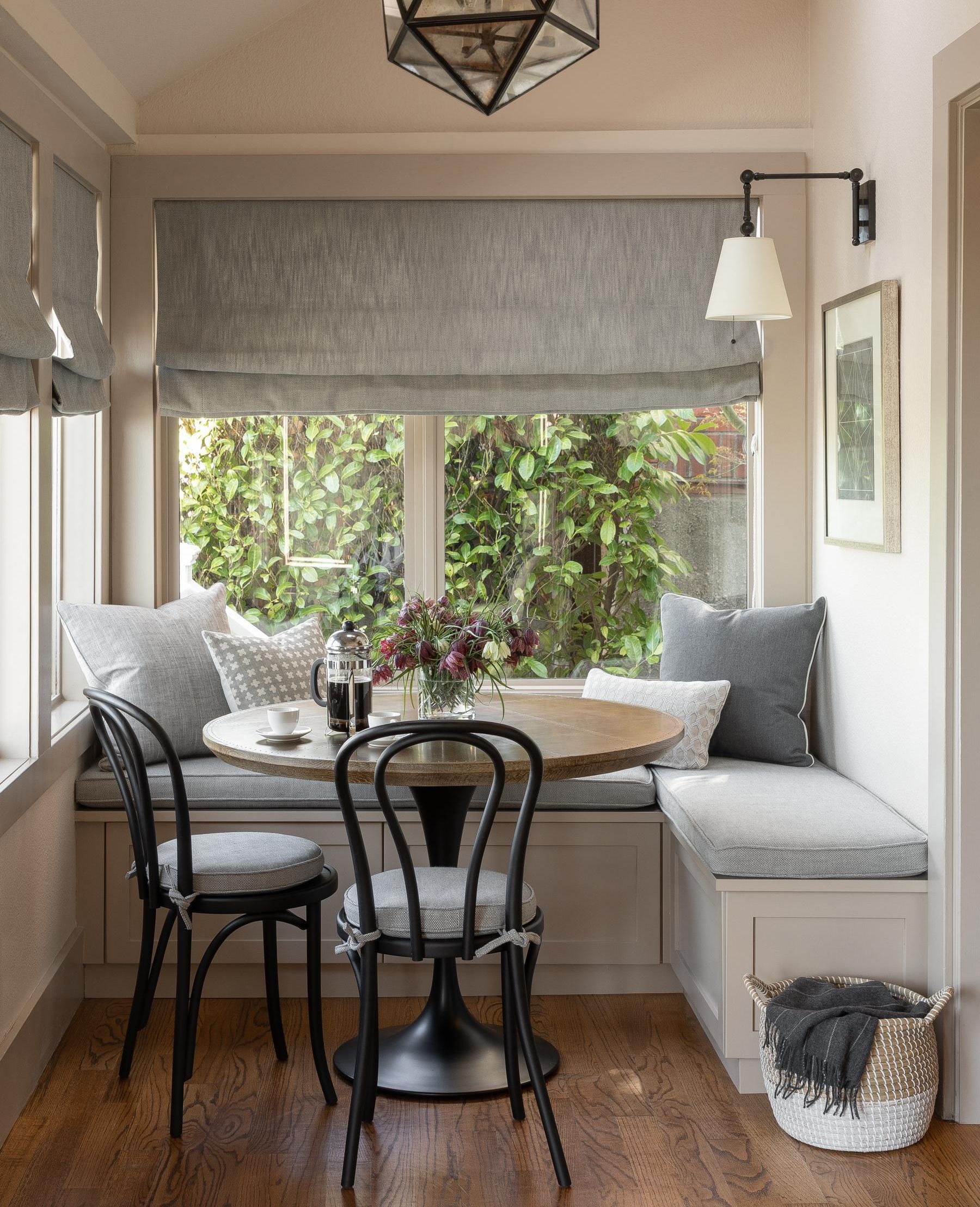 Here, is a simple grey blind for a breakfast nook. The blind fits this room with a grey-and white theme. The breakfast nook consists of comfy sofas, some cushions, and two chairs. The cushions are important to bring an attractive impression. Meanwhile, the ornamental plant makes a perfect decoration on the table.
17 of 20
Modern Luxurious Breakfast Nook
Let's combine Modern and Luxurious designs. This breakfast nook is interesting with wooden chairs and white sofas. The wooden chairs are shining in this room. Meanwhile, the white sofas have some cushions. There are different patterns and sizes of cushions.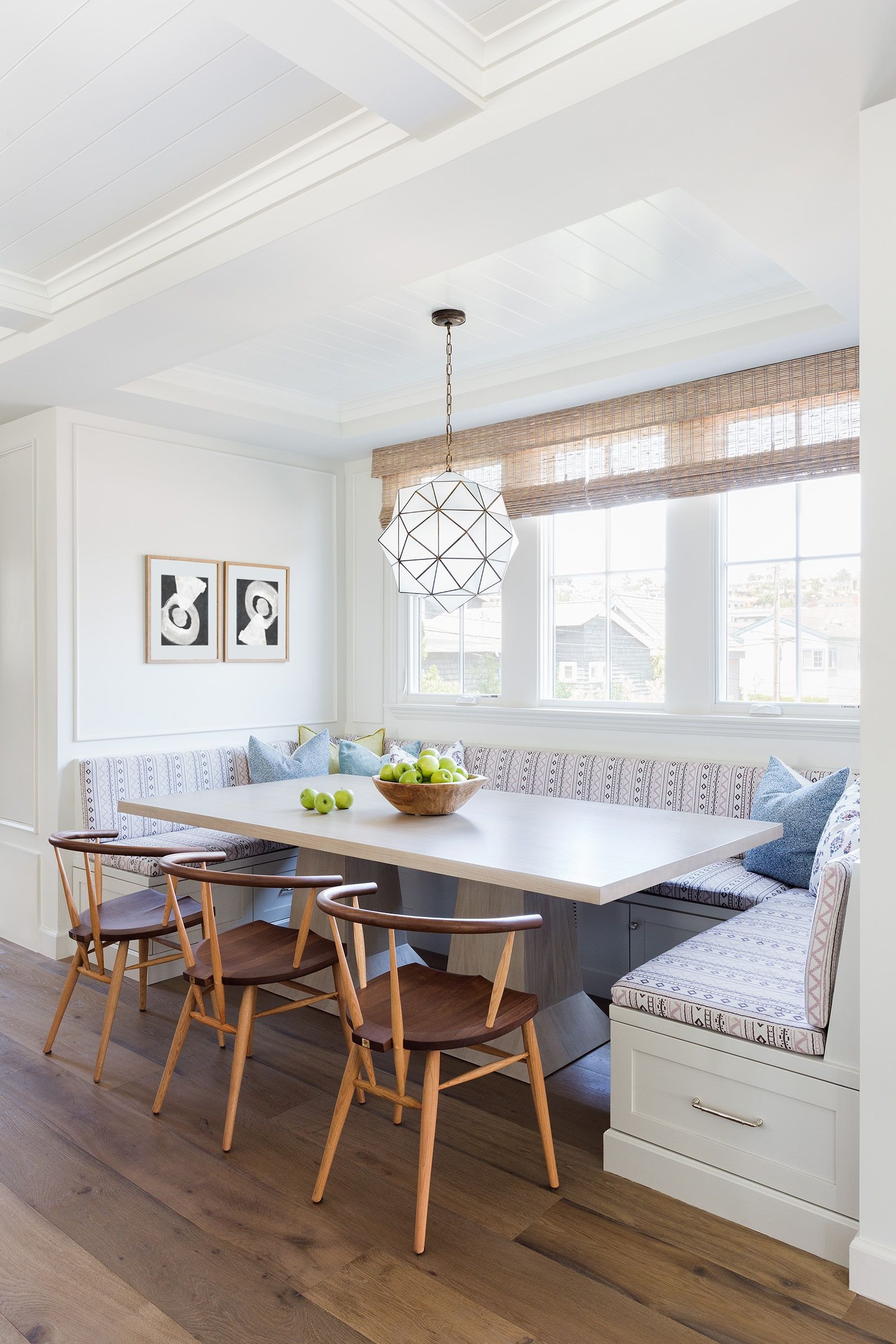 This breakfast nook uses a catchy seat with cheerful colors. Moreover, there is an eccentric pendant lamp above the table. Furthermore, put an attractive decor on the table, like an indoor plant or a bowl of fruits. You can design this breakfast nook with any ornament on the wall as well.
18 of 20
Add Striking Accents for Your Breaky Nook
The eccentric accents will bring a striking impression. Let's see this breakfast nook decoration. It is an inspiring design with cheerful colors like ornate wallpaper. This design adopts the Art Deco style, so you try on some Art Deco accents.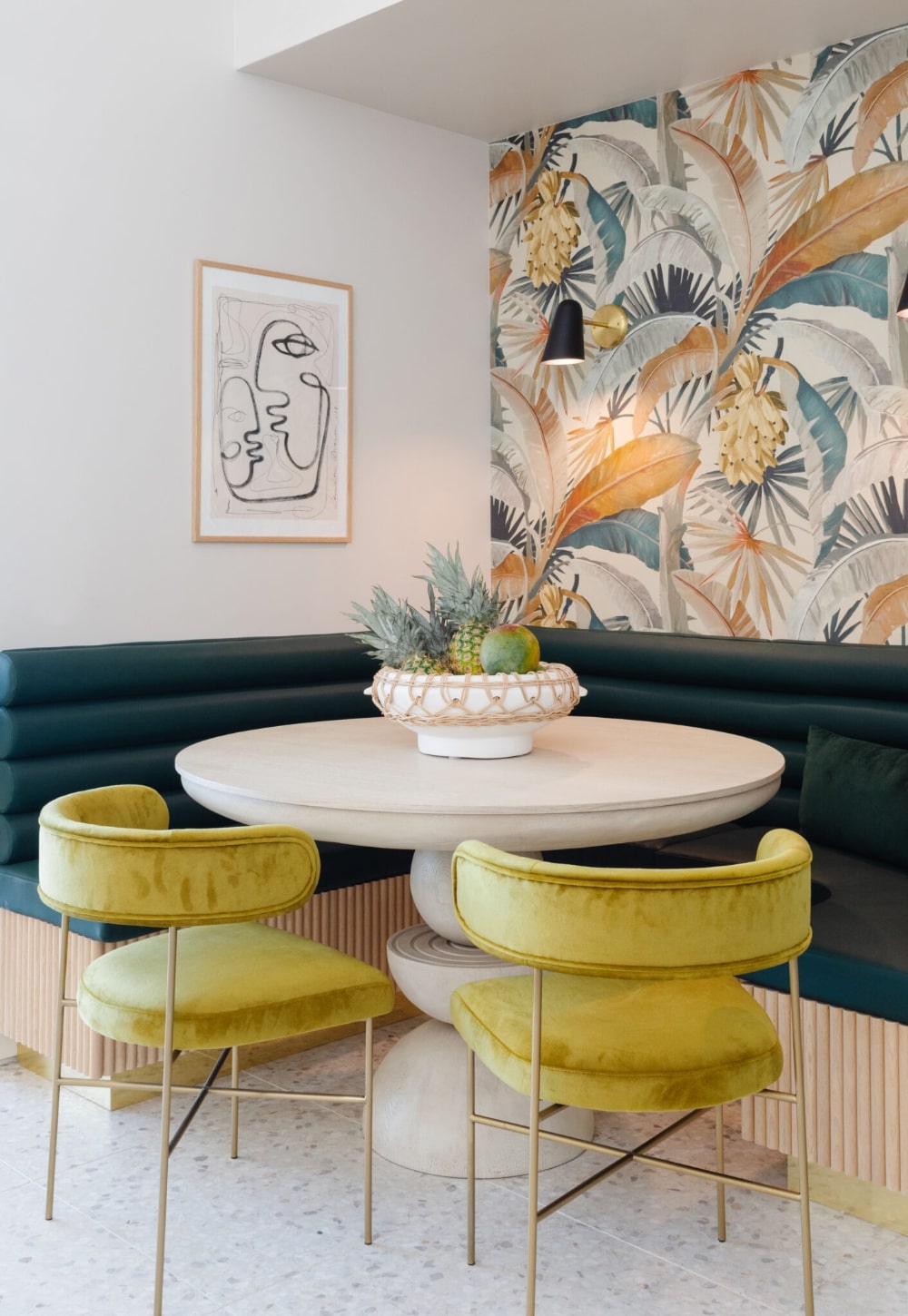 There are bold colors in this breakfast nook. The bold green benches fit well on the corner. It looks like an expensive sofa with a comfy backrest. Meanwhile, the additional chairs are bold yellow. These striking colors are dazzling with a golden chair frame.
19 of 20
Small Breakfast Nook With A Chic Design
This is a chic breakfast nook. There are some Bohemian accents. You will see the wicker lampshade on the pendant light. Also, this breakfast nook has an L bench without a backrest. There are only cushions as the backrest as well.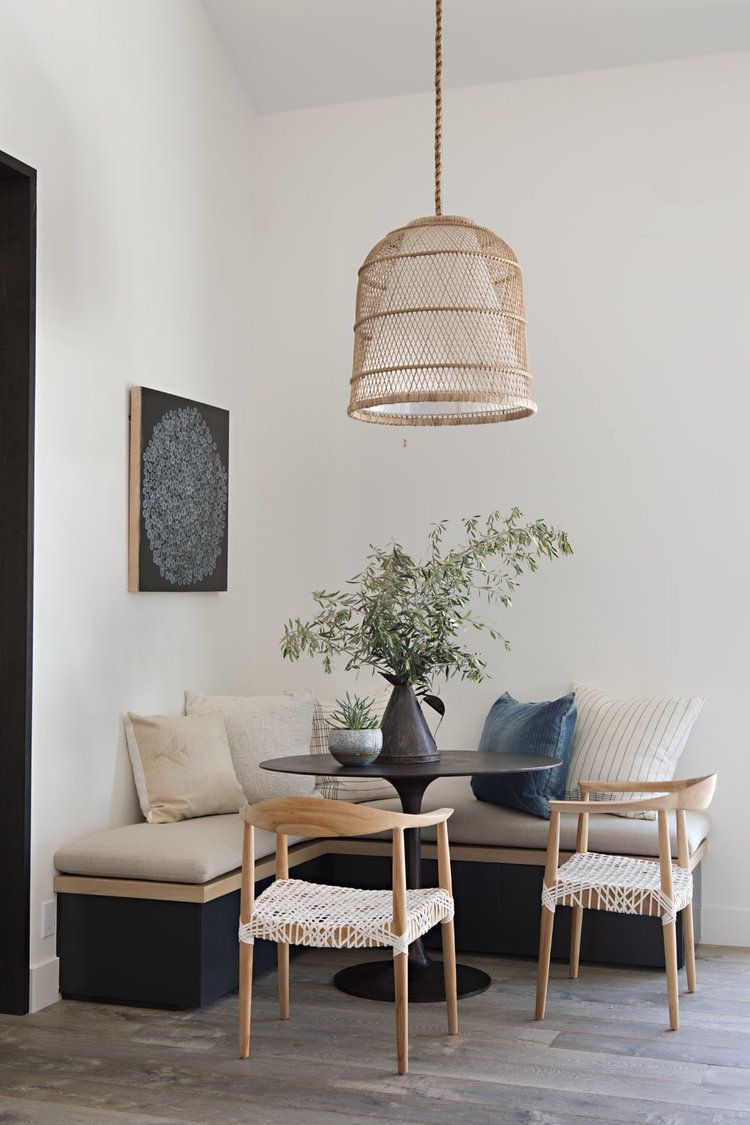 Meanwhile, the wooden chairs have simple designs and low arms. It has a comfy white seat. This breakfast nook uses a brown round table. In addition, put an ornamental plant on the table. You can display a painting on a wall. This breakfast nook is suitable for a simple interior.
20 of 20
These 20 Ideas for Breakfast Nook Design, Create A Versatile Room for Your Daily Activities. Every design is interesting to update your interior design. It is versatile. so you can design it in a living room, kitchen, or other room. Then, adopt some accents from an interesting design like Modern, Rustic, Industrial, Contemporary, etc. Hopefully, this post will help you to design an interesting breakfast nook. Happy decorating!