Druhomes.com – The stair railing is a beneficial part of the stairs that protects people from falling off the stair sides. It has various materials to make a strong stair railing. There are wood, steel, iron, and a combination of some materials. Besides that, stair railing is different from handrails. Handrails can be a part of stair railings as handles for people while walking down the stairs. For styling up your stairs, you can add stair railings with handrails. Here are, 17 Stair Railing Ideas for Styling Up Your Interior Design.
Classic Stairs Railings
The first idea is a classic stair railing. It offers an old-style design with black steel materials. This stair railing makes a shiny handrail that fits any interior. Look at this room. The stair railing is catchy to match wooden steps and white stairs. Even though this stair railing is short but interesting to add a classic accent.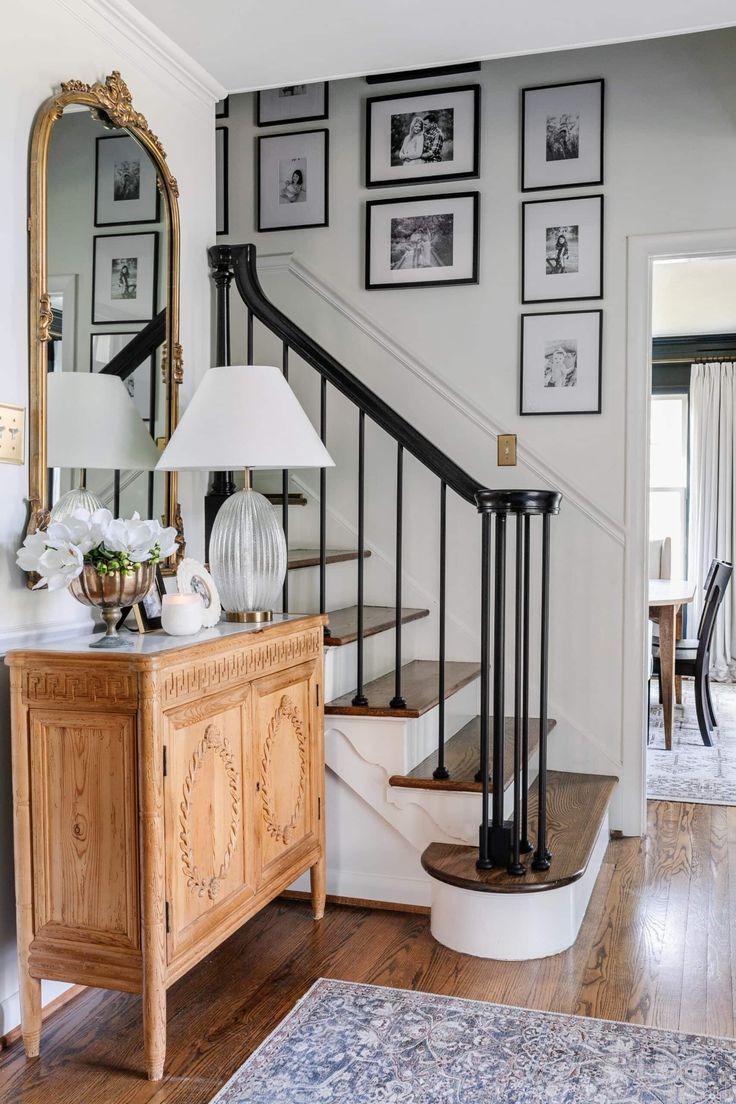 The design of the stair railing stands on two rails for every step. It is simple and its color can enliven a classic impression. Moreover, styling up these stairs with an eye-catching interior. For example, display some monochrome frames on a wall. Also, add a dressing mirror and a cute table near the stairs.
1 of 17
Industrial Minimalist Stair Railing
Let's move to an Industrial Minimalist stair railing. The Industrial accent brings an elegant impression to the design. Meanwhile, the Minimalist accent makes it simple. This stair railing is quite interesting for a simple person who loves fewer accents. It also uses natural colors to make a beautiful ambiance.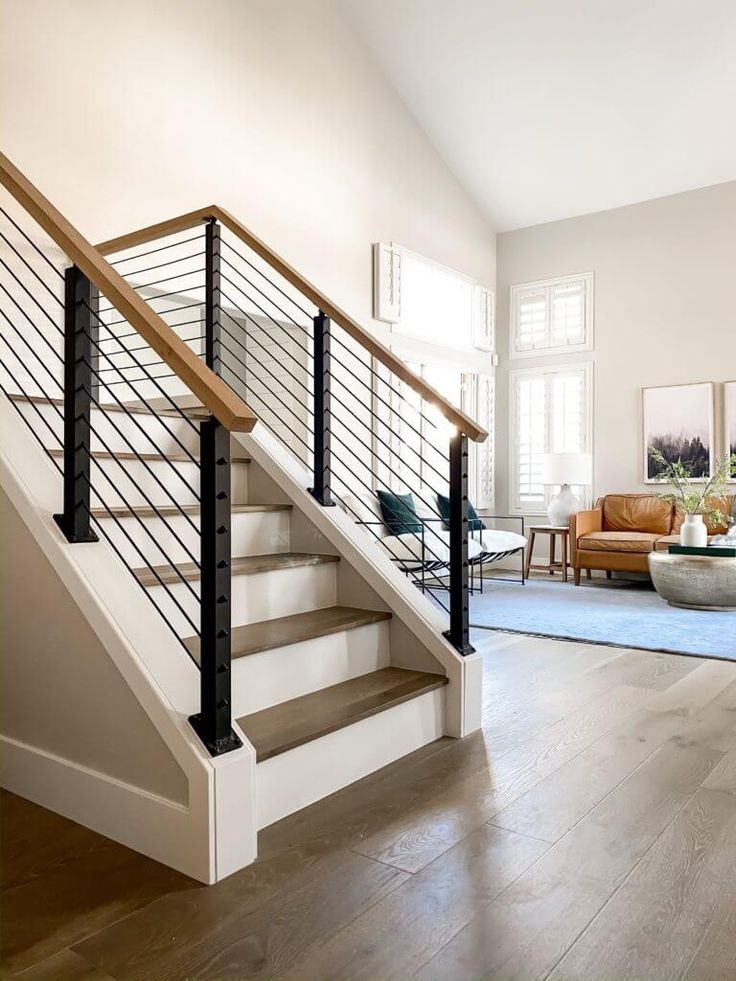 Moreover, this stair railing is strong because it is made of steel. The big black vertical rails connect the horizontal rails. It creates an elegant accent that touches Industrial design. Meanwhile, the handrail is made of natural wood. The timber pattern is perfect for making a Minimalist statement on the stairs.
2 of 17
Curvy Mediterranean Stairs Railing
The Mediterranean era developed an eccentric interior that became too famous. It is identical to floral accents and has many curvy details. Look at this idea. The stair railing is aesthetic with curvy handrails that come down along the stairs. Meanwhile, the stair railing is full of floral accents.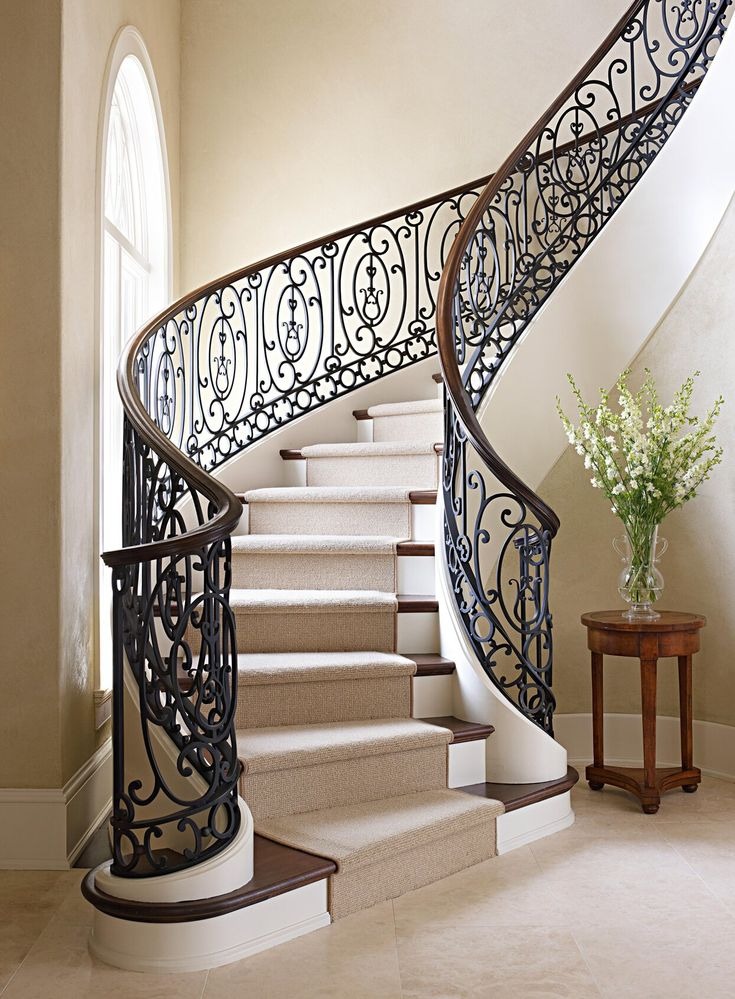 There are several details that you won't miss to see. Look at the small horizontal detail on the bottom part. Besides that, the steps are more attractive with a cream stair carpet. It shows off a little detail of wooden steps. This combination makes a luxurious Mediterranean stair railing.
3 of 17
Add White Paint for Classic Impressions
White is identical to classic designs. This color is quite popular for the interior, especially the stairs. It is interesting to combine with wooden accents. There are white railings that contrast with brown handrails. You will love to apply this interior in a white room.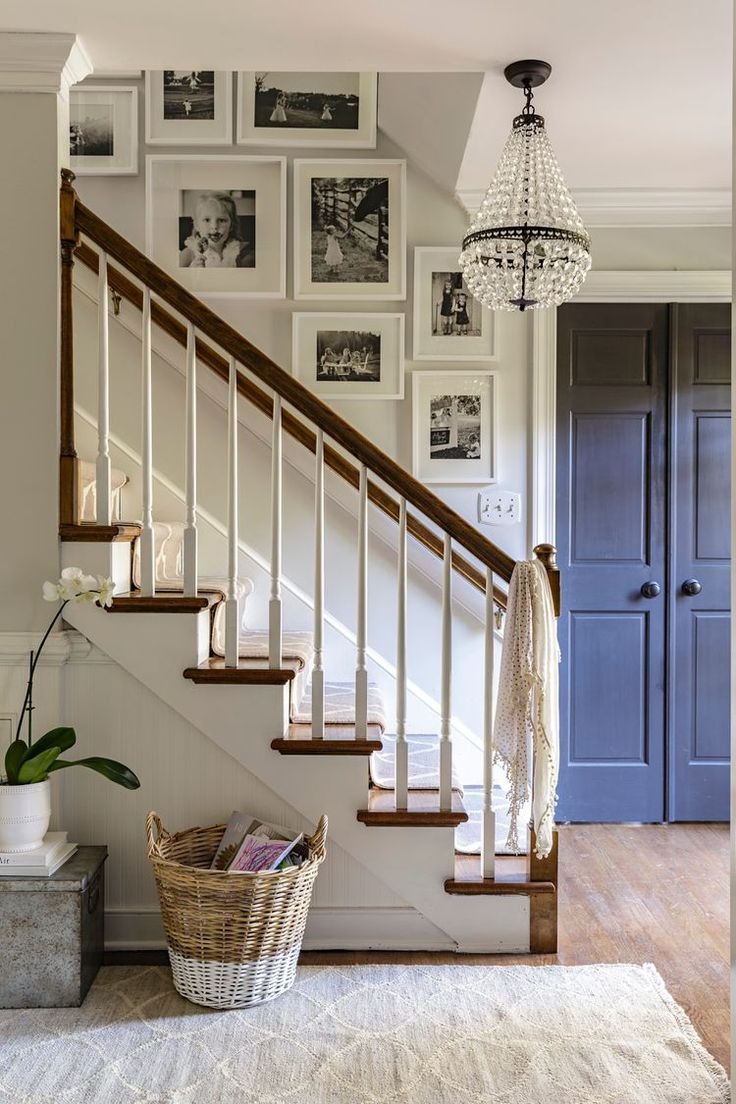 This stair uses a long grey carpet to decorate the wooden steps. It helps the stairs more alive with contrasting accents. In addition, put an indoor plant to sweeten the stair landing. Also, display some interesting photographs on the wall. It adds an interesting view along the steps.
4 of 17
Add Accent for Iron Railings
This idea is an interesting idea to put accents on simple railings. You can customize a simple pattern for a plain rail and an accented rail. Look at this idea. The star railings are useful to protect you from falling off the stairs. Also, it keeps your stairs more stunning without adding too much accents.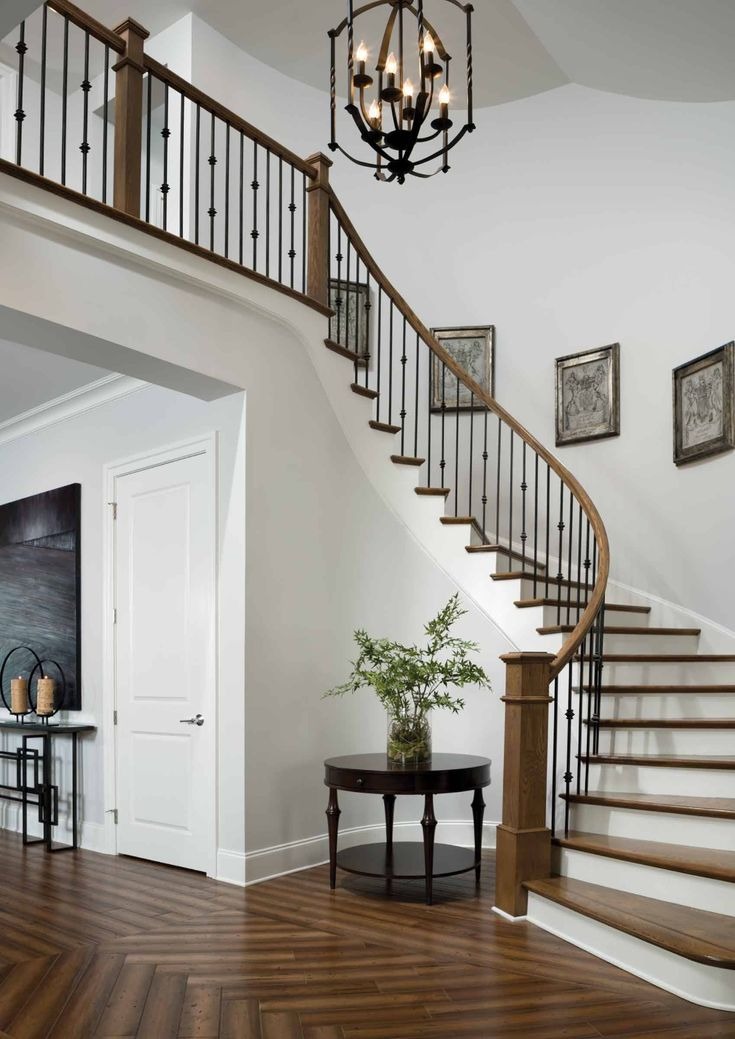 Besides, this stair gets a natural handrail with an artistic handle on the stair landing. This accent connects the wooden steps and white parts. Like the previous ideas, it looks attractive with some eye-catching photographs on the wall. It is a way better to install an interesting chandelier near the stairs.
5 of 17
Rustic Modern Stair Railings
This is a Rustic Modern stair railing. It has two elements wood and black steel. The stair uses a strong long black steel as the base. Then, there are wooden steps to make a floating-like stair. You can make a full wooden element for the stair landing.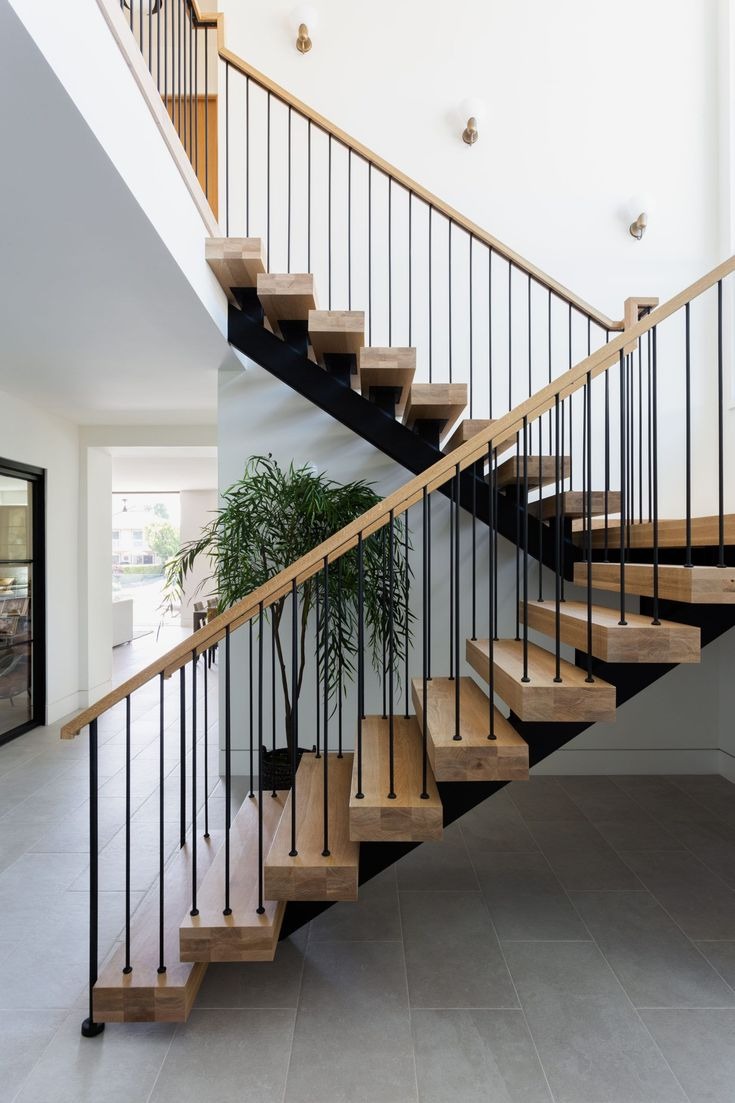 Furthermore, this stair has thin railings on both sides. It is simple without accents. The black steel matches the wooden steps very well. This stair model is compatible with any interior design. You will love to have this stair design more in a Rustic Modern house.
6 of 17
Using Full Iron Stair Railings
The stair railing should make a safe stair for everyone. You can use iron stair railings for your house. It has an elegant impression in black color. This color will go well on white stairs. Look at this idea. The best black makes an eye-catching accent on the stairs.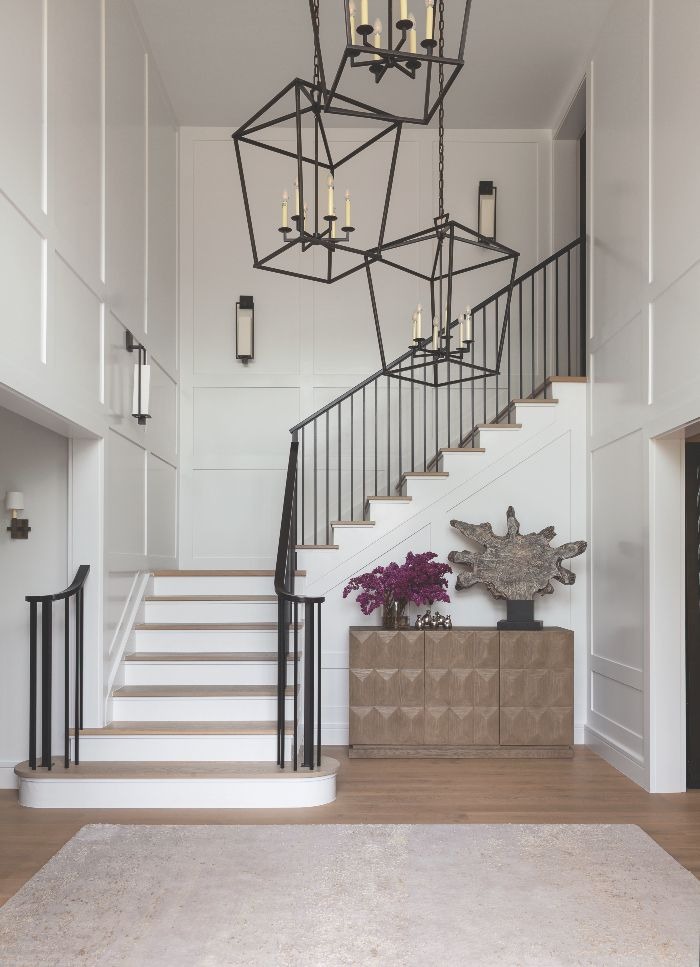 Besides, like a common classic stair, it has both white and wooden accents. It looks attractive to decorate a white room like this one. You can add natural ornamental plants and a small cabinet near the stair landing. Also, it is more alive with small wall lamps along the steps.
7 of 17
Wood Railings x White Paints
Let's see another white stair in this idea. This idea is an old-style stair with wooden handrails. The white paints bring a classic impression to the interior. This stair has a small room beneath it, so you can make use of it. Some people turn it into a workspace or store room.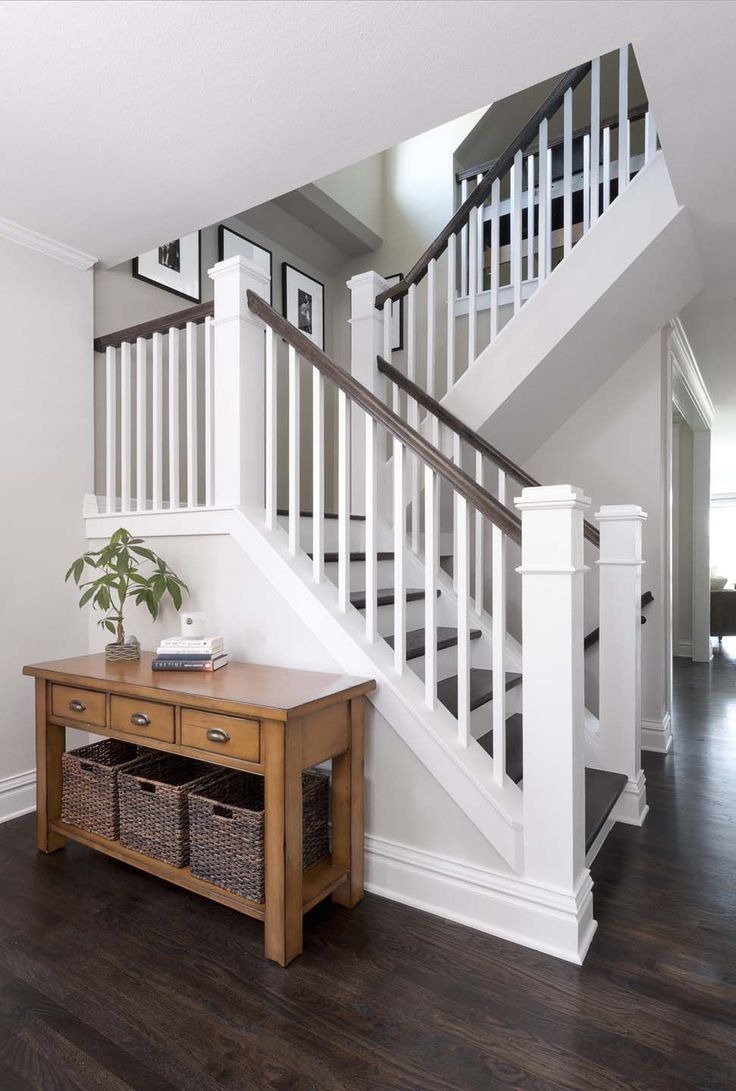 Meanwhile, the wooden handrail is quite natural with the white railings. The dark brown brings its timber patterns. This stair is more interesting with a small wooden table near the stair landing. Then, put a beautiful ornamental flower on it.
8 of 17
Iron Railings and Wood Handle
Iron is one of the common materials to make a strong stair railing. It offers various colors and is commonly in black. Look at this beautiful design. This idea is so elegant with curvy accent railings. It gets along too well on these stairs.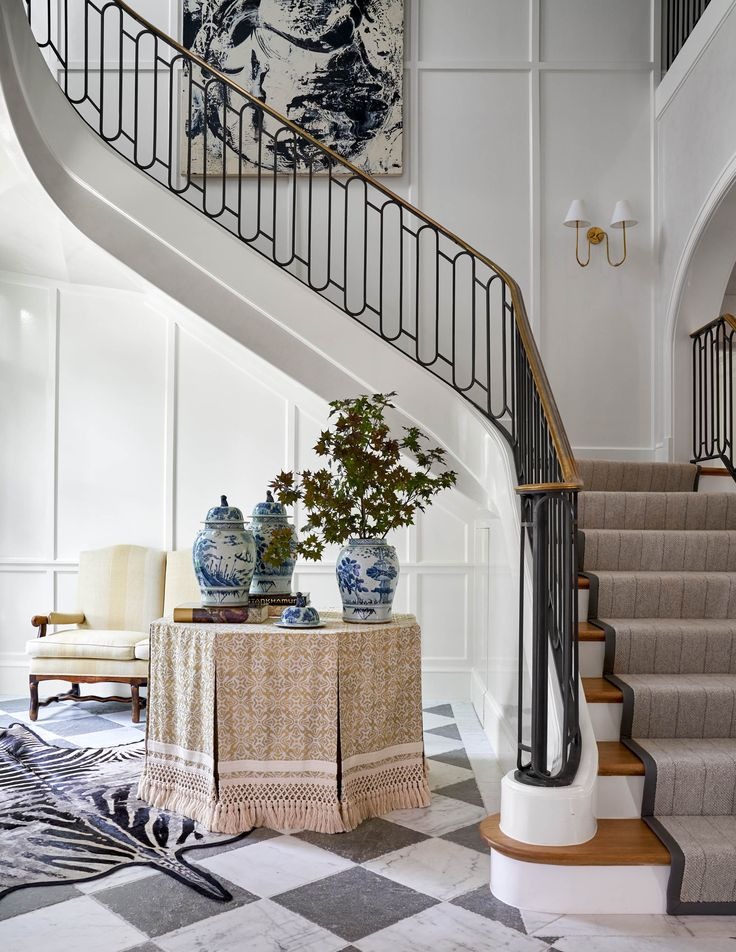 Moreover, this stair has wooden handrails. It matches wooden steps that have the same shades. Besides that, the stairs get a long carpet to sweeten the design. Meanwhile, this stair railing is compatible with the whole interior. This room has many Eclectic accents like animal rugs, patterned table sheets, wall lamps, and furniture.
9 of 17
Contemporary Design for Stairs Railings
Let's see this Contemporary stair railing. This design is very simple to bring a classic impression. It has black horizontal and vertical rails. Both patterns fit each other in a simple design. Moreover, the handrails are light brown and go in contrast.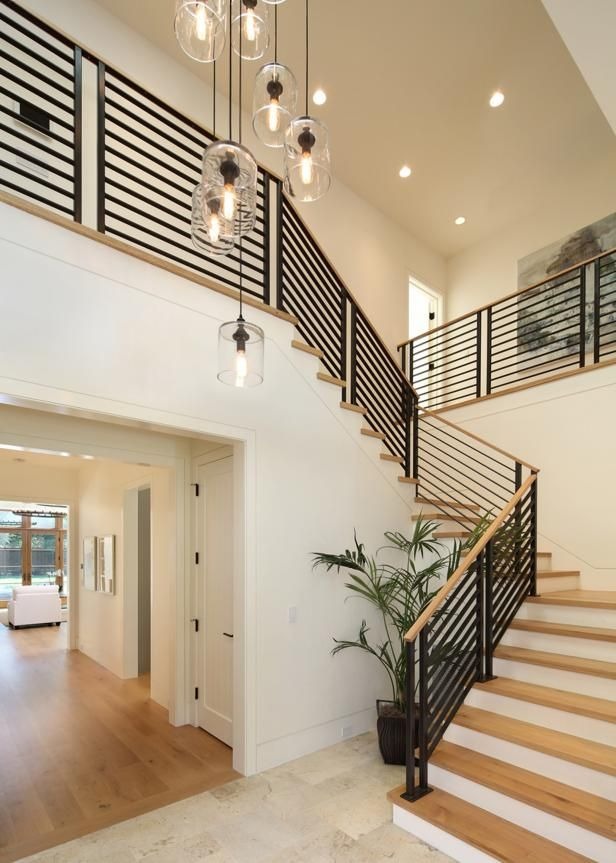 Meanwhile, the home designers make it feel warm. There are several orange lights in this room. This element is beneficial to lighten the stairs area which has wooden accents. Moreover, this stair has white accents around it. Therefore, this stair makes a perfect match.
10 of 17
Eclectic Stairs Railings
Eclectic was a popular design in the 1980s era. This design combines classic and modern accents. You will find some eccentric furniture as well. If we talk about stair railing, Eclectic design can be one of your best choices. It gives two sides and even multiple angles of beauty.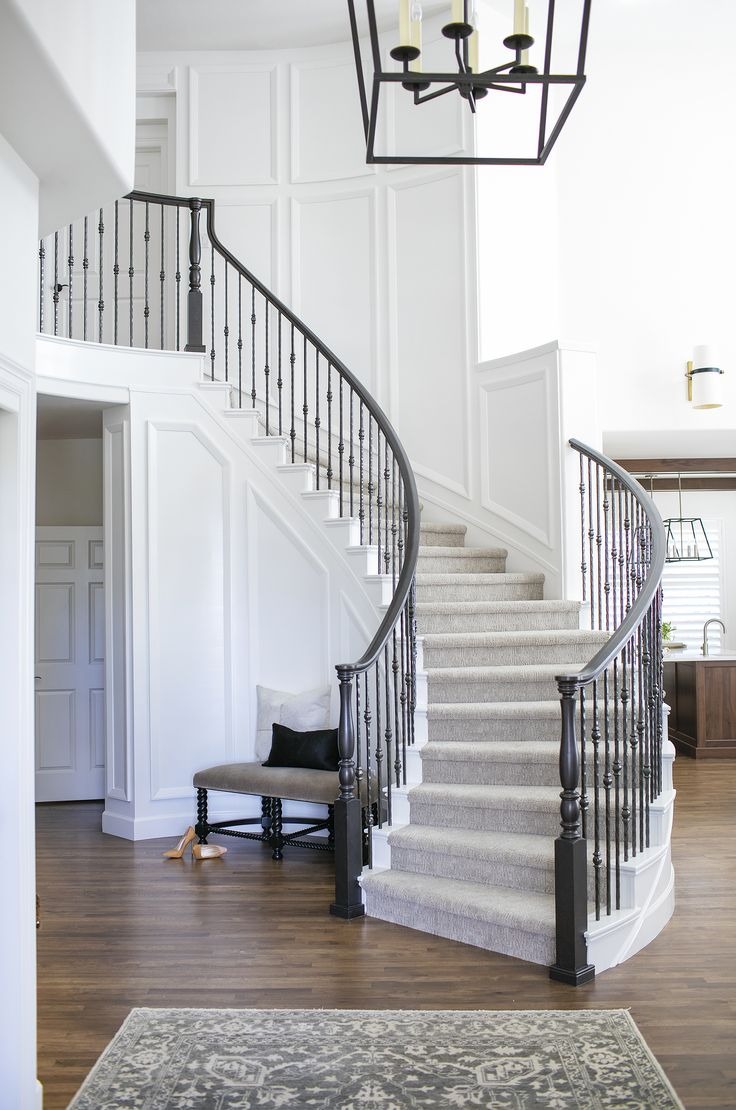 Look at this idea. It has rich accents on the railings. Even though it only has a gray shade, this stair railing is elegant. Moreover, the stairs have a white appearance that is more stunning with a cream carpet. If you want more Eclectic feelings, put an Eclectic rug near the stair landing.
11 of 17
French Country Stairs Railings
French Country is identical to traditional French houses. Some designers combine traditional accents with modern accents. This stair railing will tell you. There are dark gray stair railings. It makes a perfect accent for lighter interior design.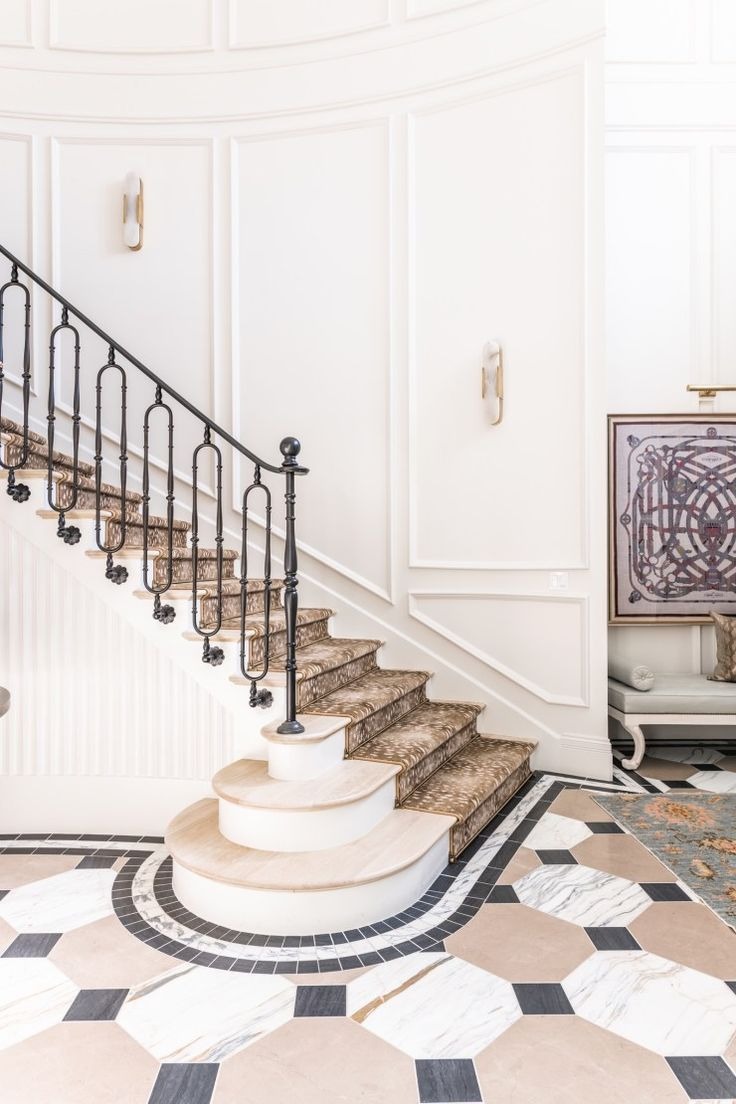 For example, you can match it with white stairs. Meanwhile, the steps get attractive with a brown patterned carpet on wooden steps. Moreover, this room has stunning flooring that you will love to adopt too. The contrasting accents in this room will support the stair design.
12 of 17
Black Rails for Modern Farmhouse
The black railing is a popular design for any interior. The Modern Farmhouse is one of the best interiors to use black railings. Look at this stair. It has stair railings in a geometrical design. Also, you can adopt this design for your Modern Farmhouse.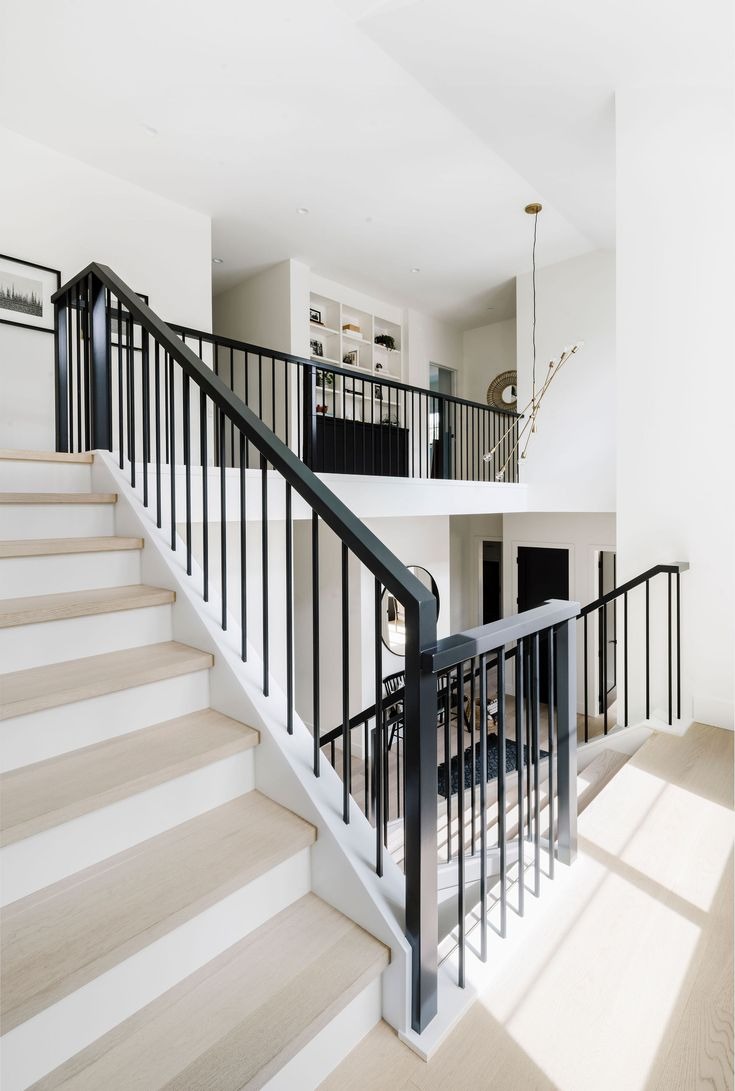 This design is very simple and also best for a Minimalist interior. This stair is interesting with wooden steps. Therefore, it is quite good for wooden flooring. The dark stair railing will make an eye-catching accent. You can add wall decor or wall lamps.
13 of 17
Floating Stairs and Cable Railings
This is an idea for floating stairs. It uses strong black steel to lift the stair steps. Also, the stair railings are thinner than the black bases. The black steels enliven an Industrial accent. Therefore you can use this idea to decorate your Industrial room as well.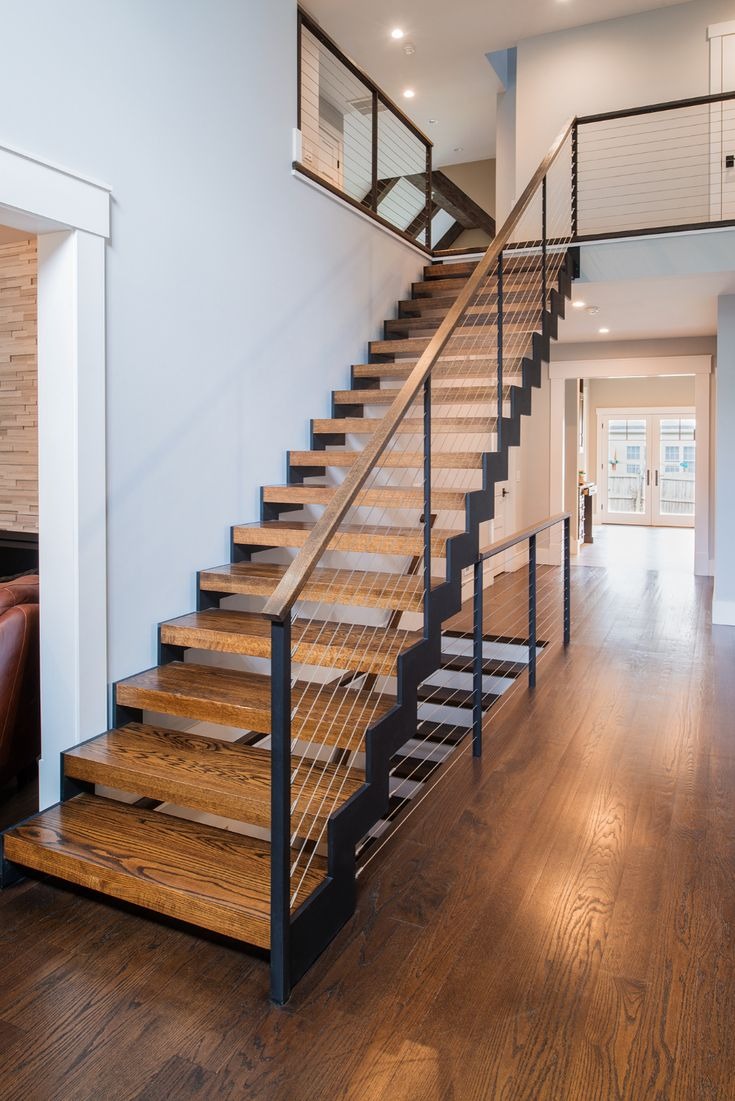 Moreover, this stair uses wooden steps to make a perfect design. Natural woods are the best materials for this style. It is compatible with black steel on both sides. It is okay if you don't put any wall decor. The warm timber accents are quite attractive for this design.
14 of 17
Use Striking Iron Rails
The iron is useful for a strong stair railing. This material is quite common to make an attractive railing. Look at this design. The stair railing has many patterns in curvy and floral-like design. This design is interesting for decorating a simple stair.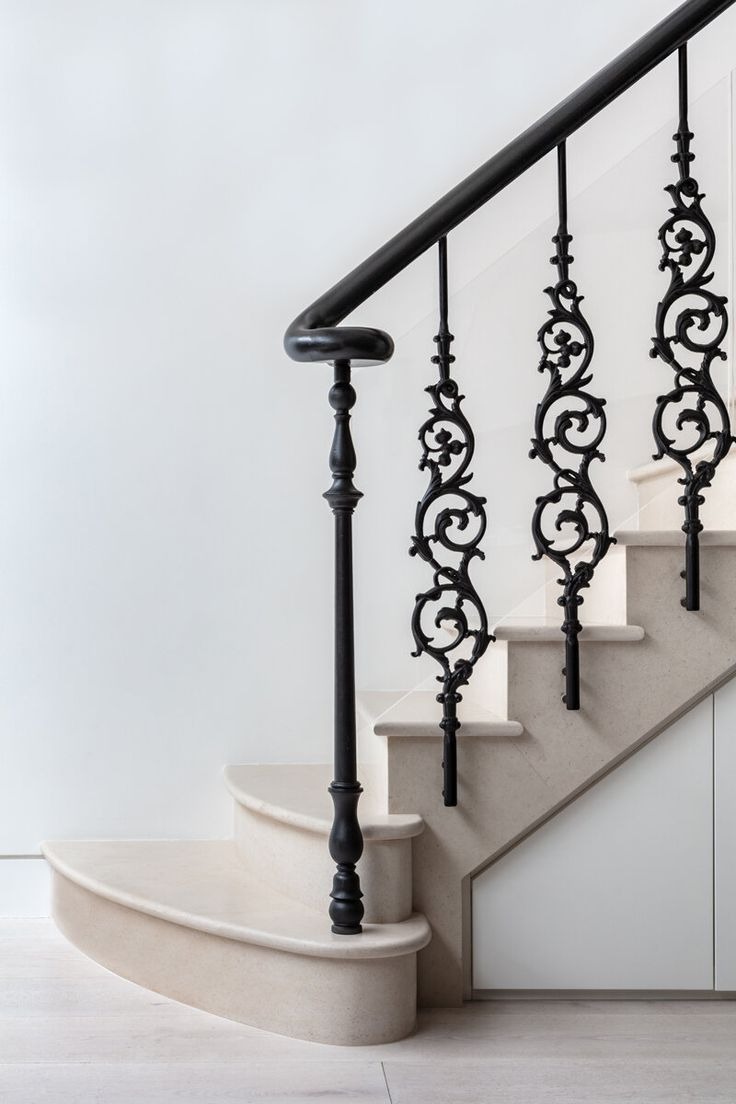 This railing design will change your stair impression. You don't even need to decorate your stairs. It looks natural if you keep the wall clean. Also, keep the steps on point with cream or brown wooden steps. It is okay to let it be and never put a long carpet on stairs.
15 of 17
Timeless White Railings and Neutral Handles
Do you want a timeless railing for your stairs? This idea will give a beautiful idea for you. It has white railings and wooden handrails. Both match the interior. This room is full of white and brown. Therefore, the stair keeps it in one line.
Look at the white railings on the white stairs. It has the same color as a small room under the stairs. Also, it goes well with brown handrails. It matches the floor and other wood accents. Moreover, this stair has an elegant gray carpet. It even has a shape that matches its stair landing.
16 of 17
Minimalist Iron Railings
This is a Minimalist iron railing. It goes best for spacious or narrow stairs. The black iron railings are best on a neutral interior. The wooden steps are attractive for white stairs. Meanwhile, the golden handrails will make it more stunning.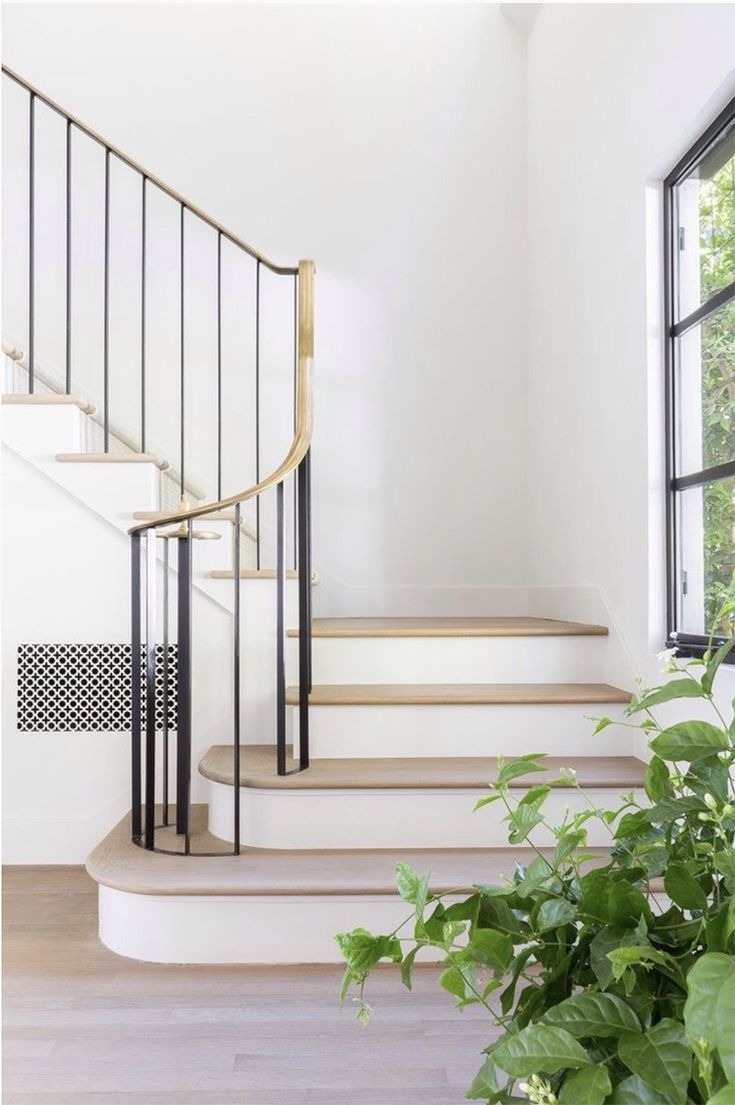 It looks simple in a few colors and thin railings. For styling up, you can add green ornamental plants. Moreover, the stair landing is quite interesting with a small window. This idea doesn't use a stair carpet and makes stunning wooden steps.
17 of 17
These are seventeen ideas for stair railings and handrails. You can mix and match some ideas for your favorite design. Besides that, you need to consider the material to guarantee it's safe. Ensure that you use a strong railing for your stairs. Steel and iron are examples of the best materials for stair railings. Also, pick a design that won't declutter the design or consume much space. The stair steps should be enough for you to walk down and up the stairs. If you need some fresh ideas, we hope this post with help you with that. Good luck!