Druhomes.com – Newlyweds need a house to live together after getting married. A house provides a private for newlyweds as they start living in the same house. Renting an apartment can be pricey for some newlyweds. However, they can build a simple tiny house or rent another one. This building is simple and contains beneficial rooms like other houses. The tiny house has a bedroom, kitchen, bathroom, living room, and a breakfast nook. If you are the newlyweds who need ideas for designing a tiny house, read the lists below. We will discuss 16 Tiny Houses for Newly Weds: A Cozy Place to Start Living Together!
Tiny Houses with Various Rooms
The first idea for tiny houses are accounting room that you need. A tiny house should have a bedroom, bathroom, kitchen, and living room. This idea has a kitchen and bathroom on the first floor. The kitchen has two countertops on the left and right. This design is beneficial for dwellers who love to cook together.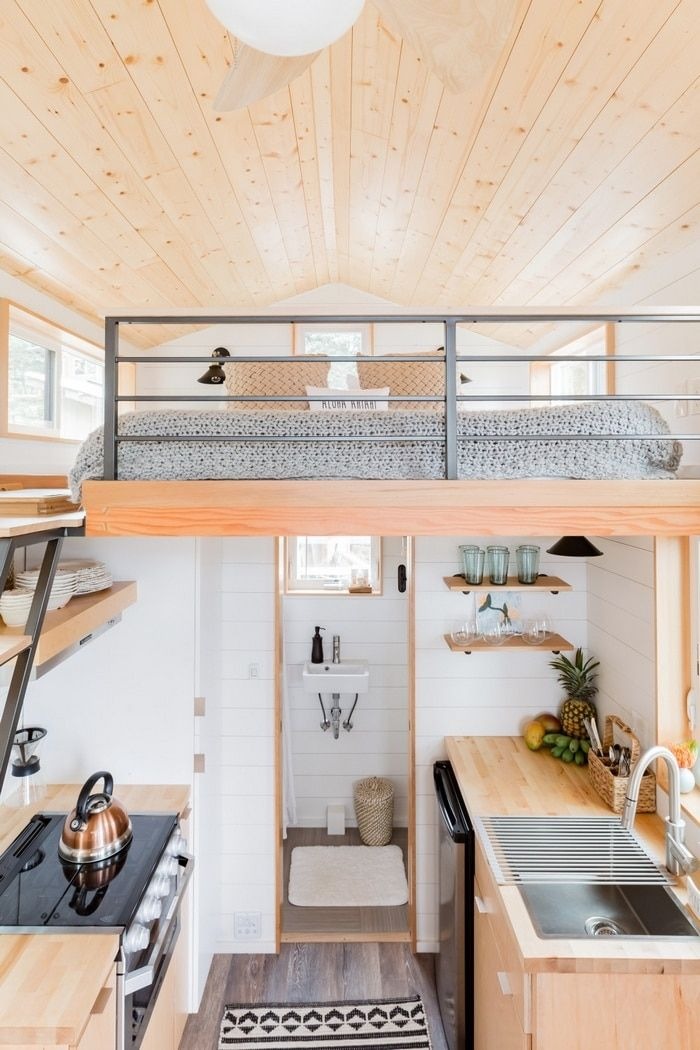 Meanwhile, the bathroom is on the corner. It needs some air ventilation on the wall. Also, the bathroom door should prevent the bathroom smells from getting out of the room. Moreover, add two rugs for the kitchen and bathroom floor. Besides, the bedroom is the best to put on the second floor. It has no wall or partition, so it brings a spacious impression.
1 of 16
Awesome Living Room
The living room is one of the most beneficial rooms in a tiny house. It can be one of the chilling rooms for newly weds. Look at this idea. The living room is simple with the L sofas. It has some small pillows with different colors. This living room is catchy with warm lighting.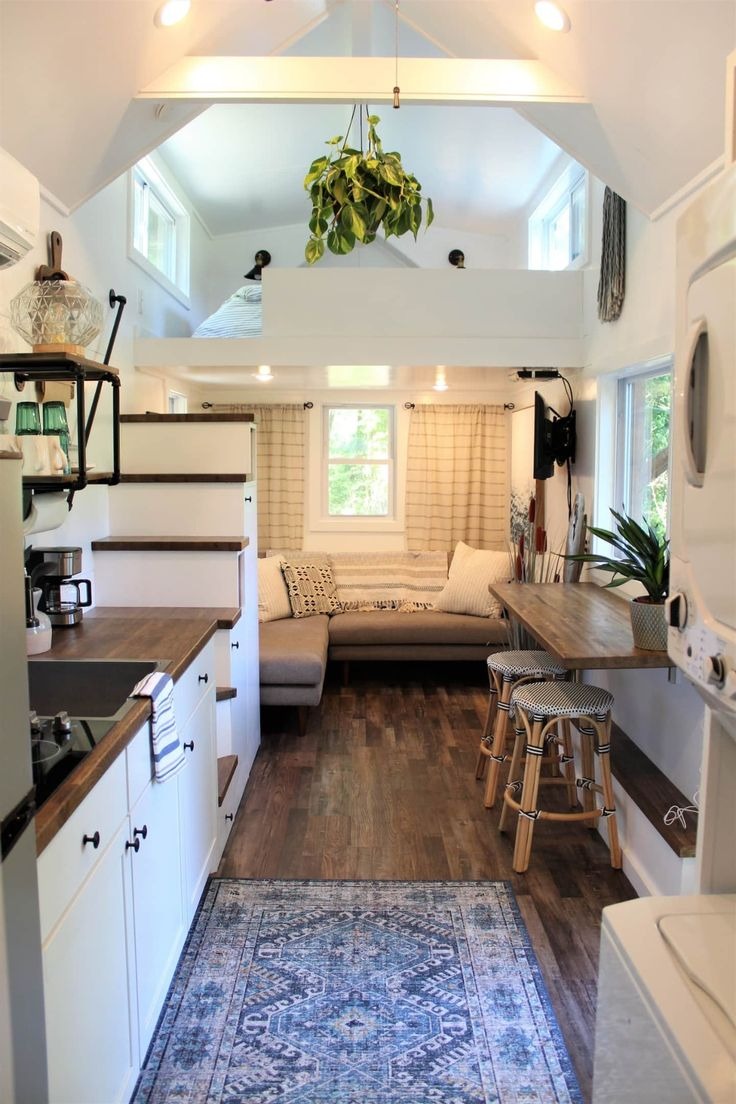 Moreover, the living room can be your extra bedroom. The comfortable seat is cozy to take a rest. Meanwhile, the bedroom gets the best design for a sleeping area. It has white sheets that are more stunning with wall lamps. You can hang a pot of Photos or Scindapsus and let their leafy strings go down.
2 of 16
Make It Feels Rustic
Rustic design is interesting for every interior like a tiny house for newlyweds. This interior uses lots of wooden elements. As you can see in this idea, the Rustic interior is there from flooring to ceiling. The brown wood and its timber patterns make a warm impression. Look at the L kitchen. The countertop has a glossy surface that brings elegance.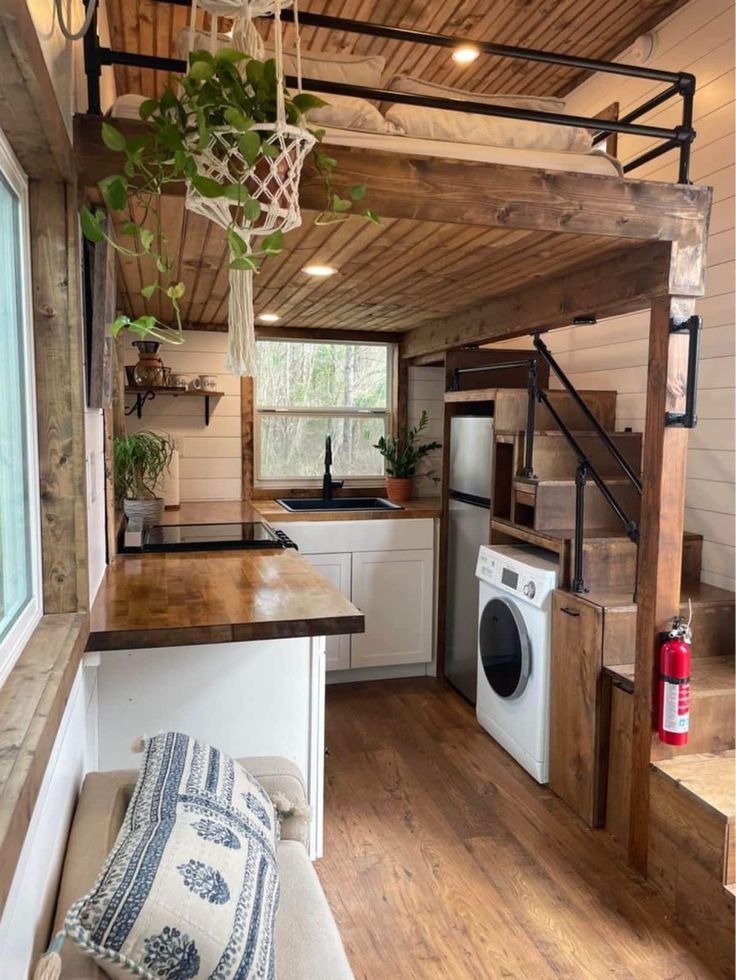 Besides, there are wooden stairs to the bedroom. This bedroom has a short fence for safety. Also, it has a short partition that separates it from other rooms. Moreover, this tiny house has some indoor plants that sweeten the interior. The warm lighting also makes the plants look more alive.
3 of 16
Add A Chandelier to Enlighten All Rooms
A chandelier is stunning for every interior. It has a great design with tiny bulbs. The chandelier is one of the best options for your tiny house. This light will enlighten all rooms very well. Moreover, it is perfect if you have a white ceiling.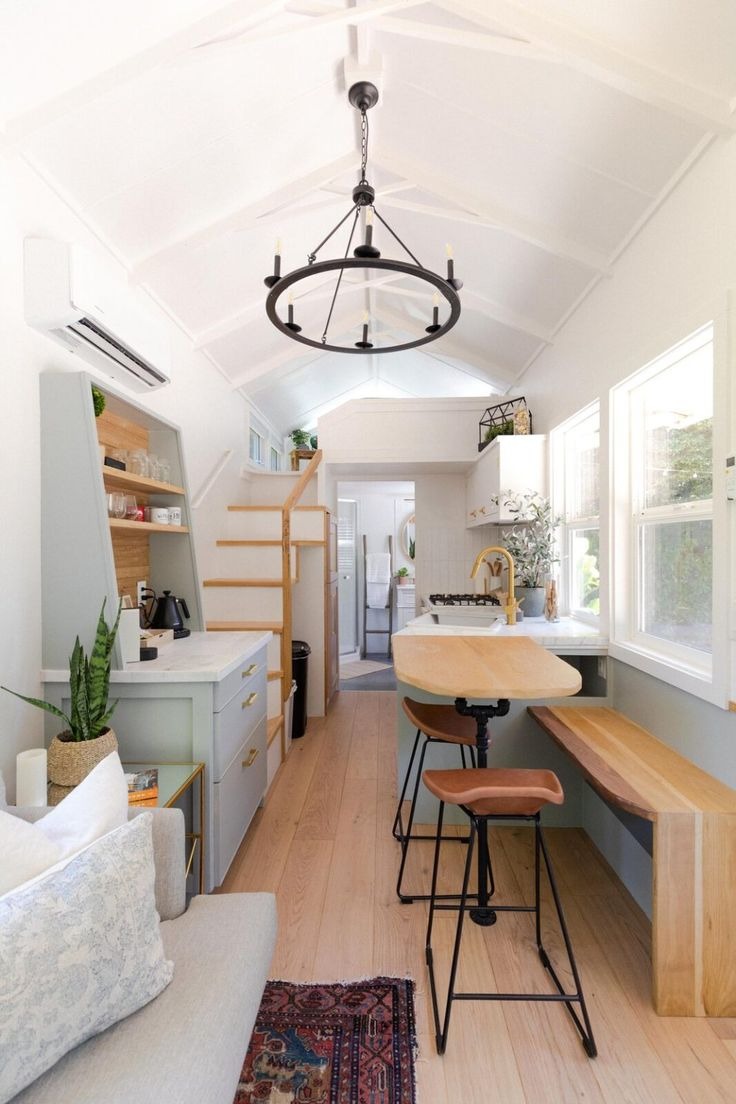 Besides, these tiny houses have creative designs. Let's see the kitchen cabinet that is useful for loading ornaments. Next to the kitchen, is a small dining room with a natural wooden bench. Then, there is a small living room that has comfy seats. This place is quite attractive with colorful pillows.
4 of 16
Redecorate Your Apartment like A Loft-House
Some newlyweds live in an apartment. They can transform a single apartment into a loft-house. It is a creative way to add extra rooms for a small family. This idea adds a bedroom above the living room. It uses black steel as the bedroom fence that connects to an Industrial ladder.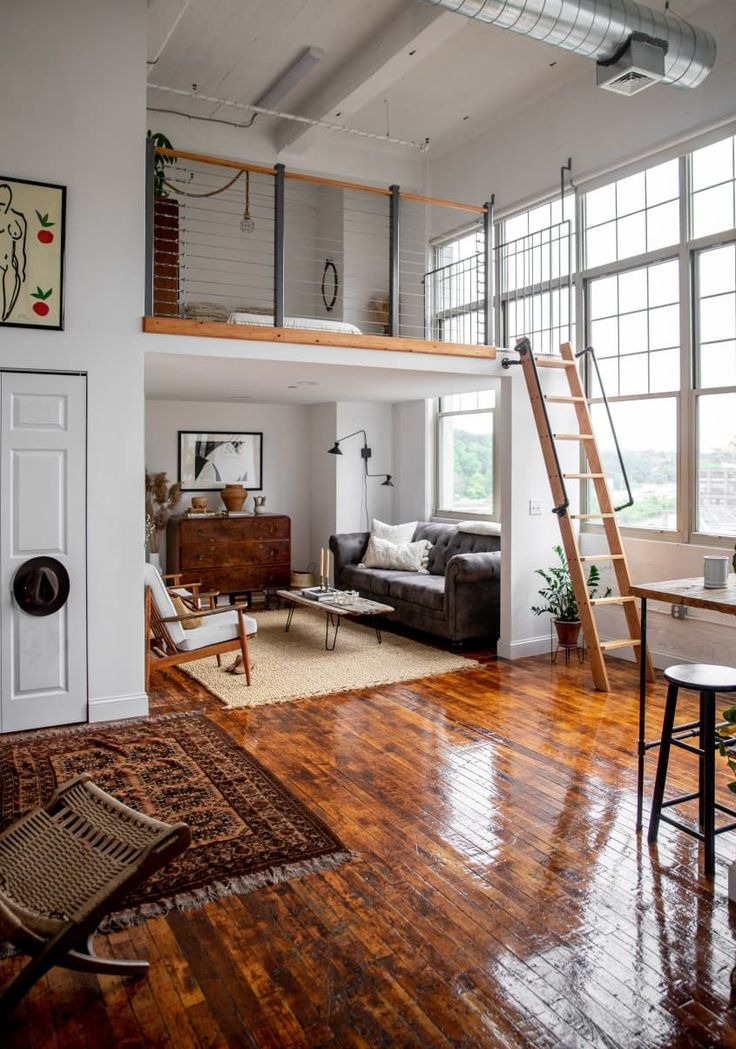 This loft house has an open space interior. You can see directly to the kitchen and dining room. It doesn't need many lamps because there are glass windows. Also, it looks stunning with wooden elements on the floor and many pieces of furniture. Moreover, there are classic furniture and ornaments that sweeten the interior.
5 of 16
Considering Some Glass Windows
The air circulation is important for every house. By adding some glass windows you will get more than good air circulation. This tiny house is efficient to save on electricity. You don't need to light on the lamps at noon or turn on the air conditioner. During a normal windy day, you can open the windows to get an airy atmosphere.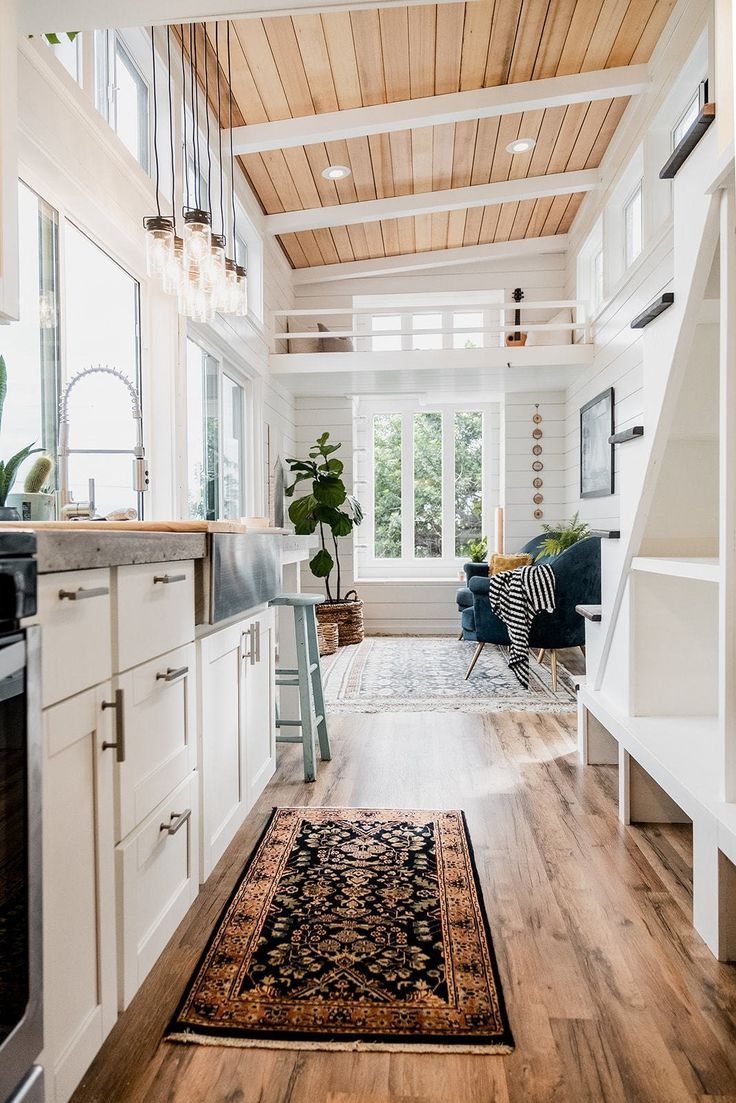 This idea is beneficial to bring a natural impression to your tiny houses. Besides, this house is catchy in white interior. The small living room is simple with few furniture. You can see directly to the kitchen and bedroom from the living room. It has a little privacy but you will love to live in this house with your partner.
6 of 16
Add A Short Partition
A partition is an additional element to separate the rooms. You may need a short partition to create a little privacy in a tiny house. Also, this partition can make a big change if you install it. Look at this tiny house. The tiny house uses a partition to separate the living room, workspace, and kitchen.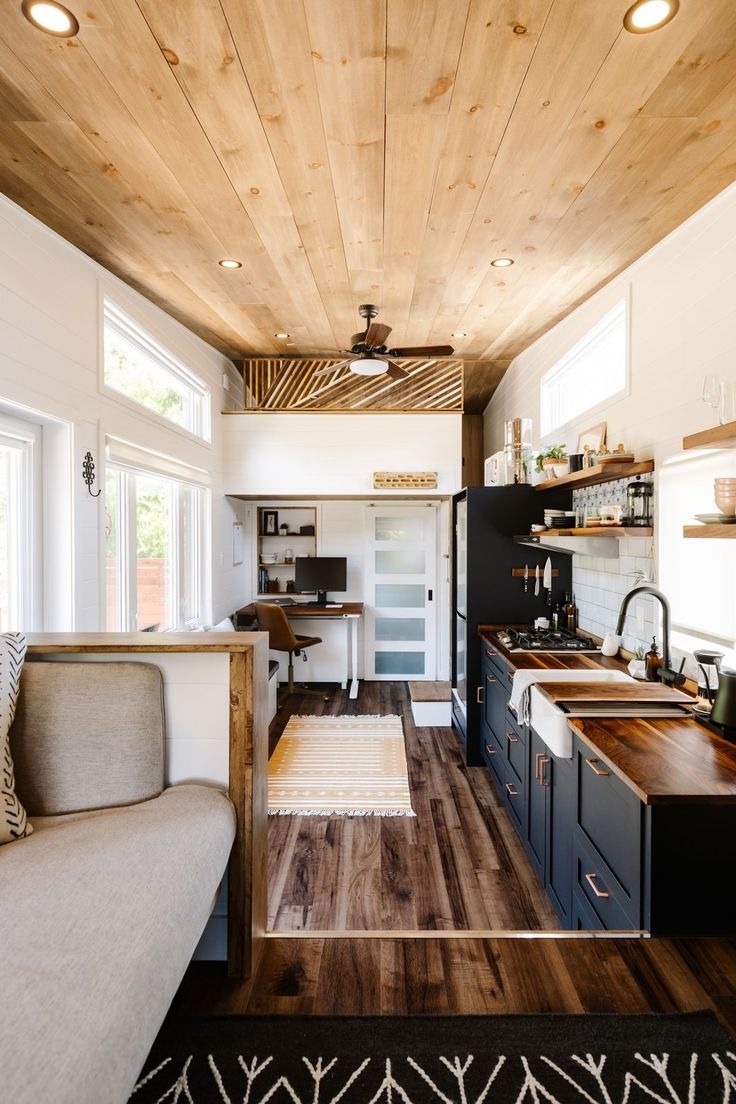 Meanwhile, the bedroom gets a better partition along the bedroom wall. It has a wooden partition from the footboard to the ceiling. Besides, this bedroom partition won't declutter or narrow the room. It has a nice design that allows the lighting to get through it.
7 of 16
Make A Private Bedroom and Living Room
Designing a bedroom in a tiny house is not difficult. You can make it comfortable with a partition. It is functional to separate your bedroom and another room. This idea will show you how. The bedroom is quite private with a partition. You can add a small door before the entrance.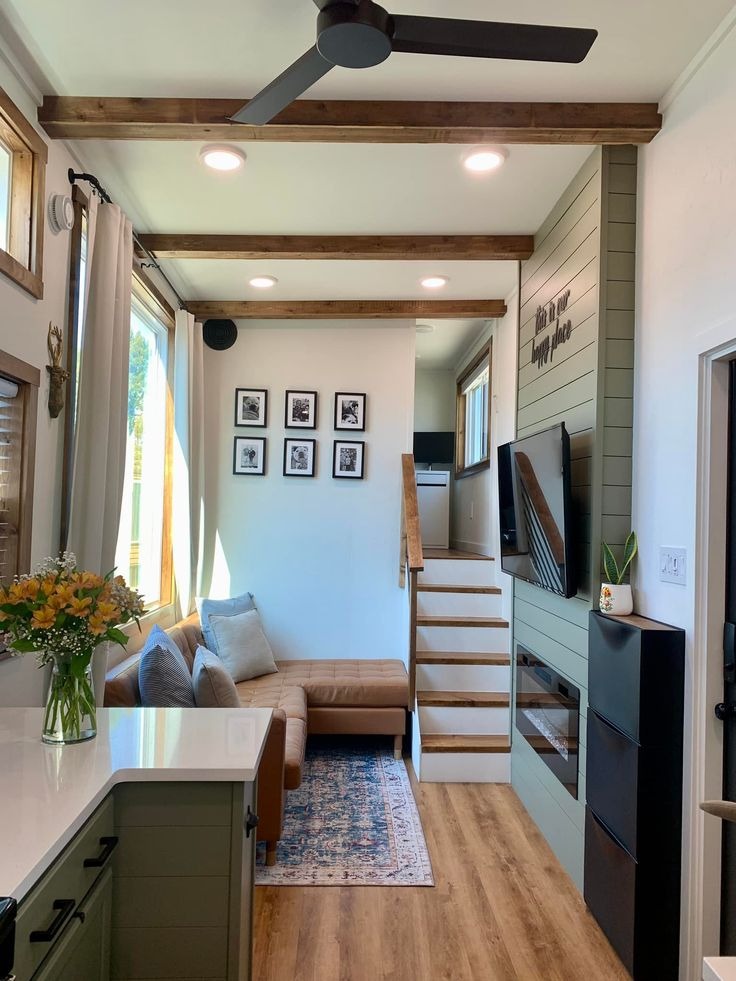 Moreover, you can decorate the wall partition with various photographs. It is functional for the living room decoration. Besides, this tiny house is quite neat. Even though there are lots of stuff, all things get a nice arrangement. Also, everything fits the space in this tiny house. Therefore, you need to measure your furniture before decorating this house.
8 of 16
Use Light Colors for Spacious Impression
The light colors are useful to make a spacious impression. There are white, cream, light green, light grey, etc that you can choose. It has a white ceiling that is useful for reflecting lighting. Therefore, it is beneficial to install a few lamps at certain spots.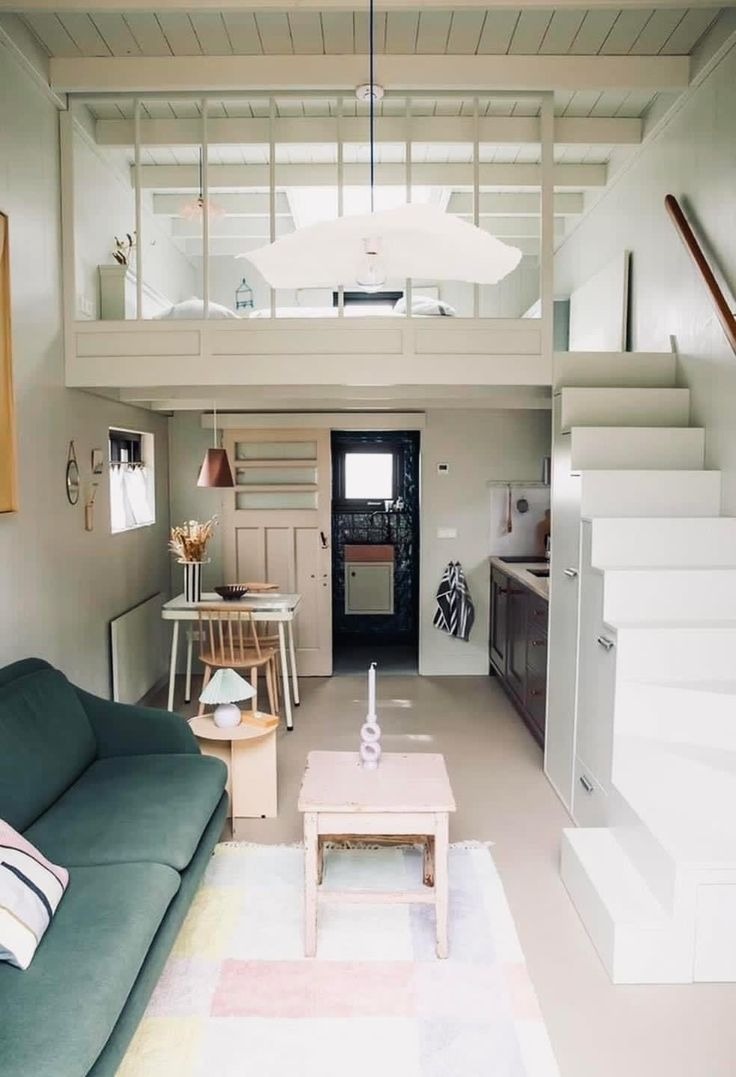 Furthermore, arrange the furniture near the wall. Then, make a wide traffic way to declutter the narrow space. You can start using small pieces of furniture to complete the tiny house. Also, pick the light furniture that will make your interior much better.
9 of 16
Add A Resting Room Above Your Living Room
A resting room is an optional room for a tiny house. You can design a resting room if you have a cozy space. Look at this idea. There is a resting room on the second floor. It is above the living room, next to the glass window. You can chill and take a nap in the afternoon or enjoy the holiday.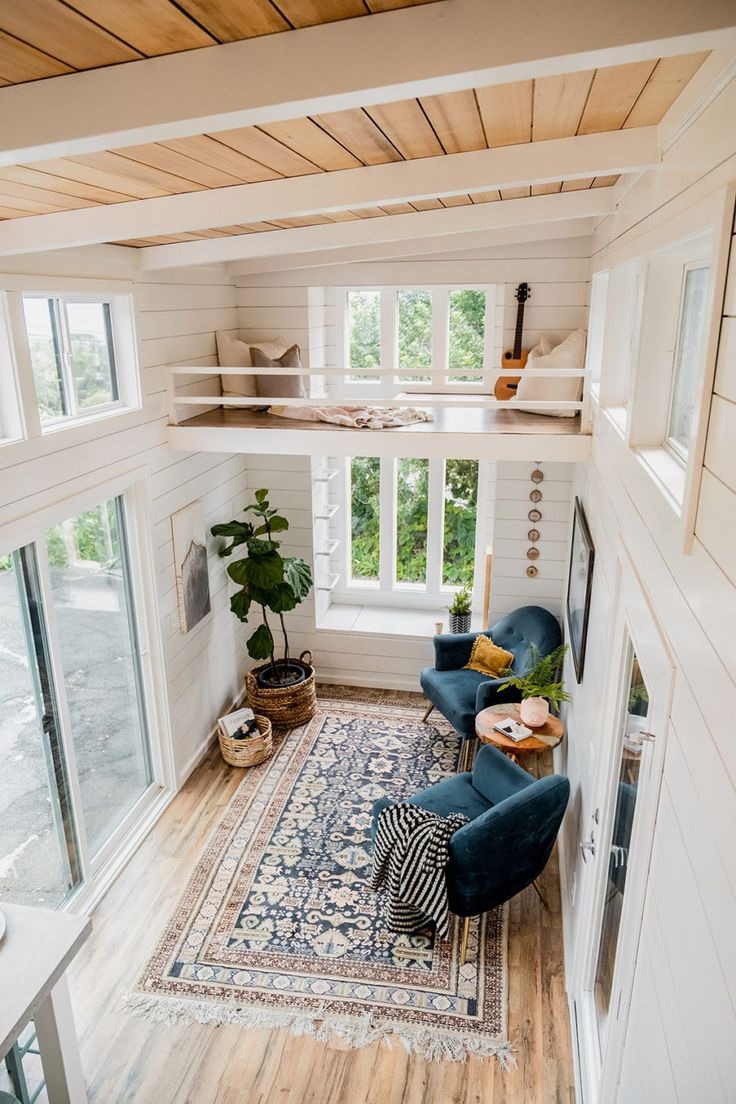 Also, it can be a multifunctional room as a home library. However, you can put some pillows or books to make a comfortable place. If you need more lights, it is okay to put an instant light in this place. Moreover, you can thrive on some plants that go well in bright indirect light.
10 of 16
Thrive on Indoor Plants
The ornamental plant is a classic element that goes well in any house. You can have tiny indoor plants to sweeten your tiny house. Some newlyweds need fresh accents at home like green leaves or colorful flowers. Therefore, pick the best indoor plants like Monstera, Photos, Cacti, Scindapsus, Ficus, etc.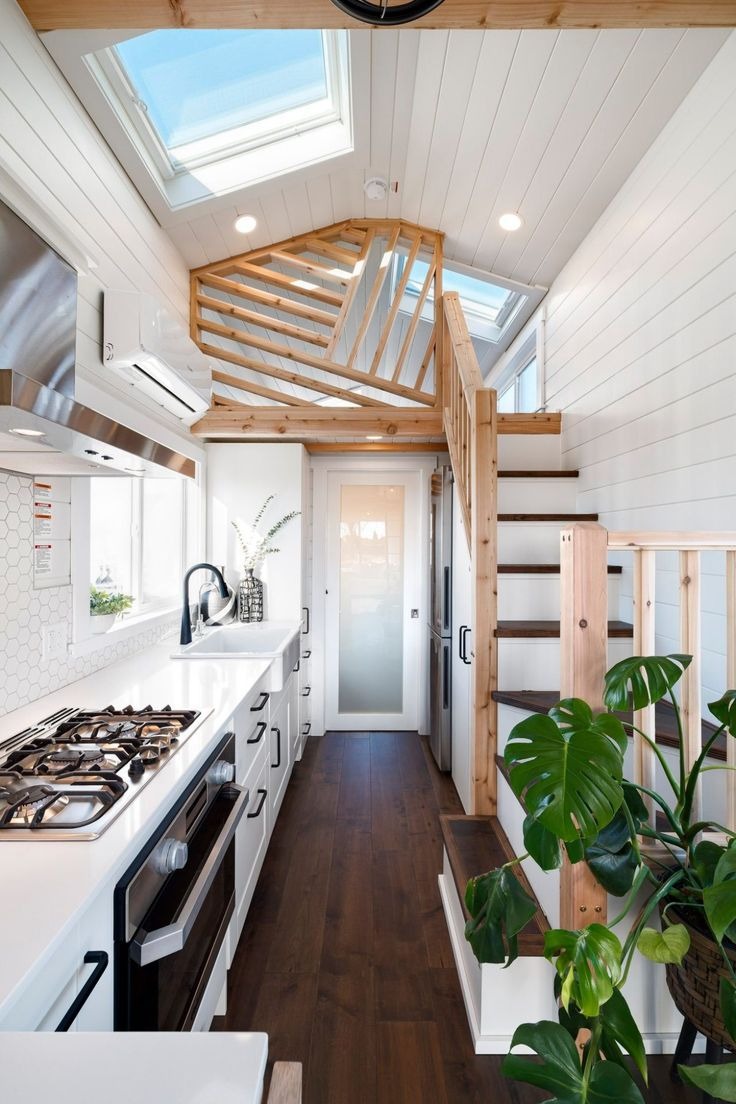 Then, find a sunny spot to provide enough sunlight for your plants. It grows well in the window sill or near the skylight. This plant is easy to care for. You can water it every day or during the hot days. Even though it lives indoors, the plant needs regular checking like water, fertilizer, and sunlight.
11 of 16
Install Windows for the Attic Bedroom
An attic bedroom is the best solution for a tiny house. You can make a functional bedroom for newlyweds. It is easy to design an attic bedroom that has an open space design. Look at this idea. This attic bedroom has functional windows for ventilation.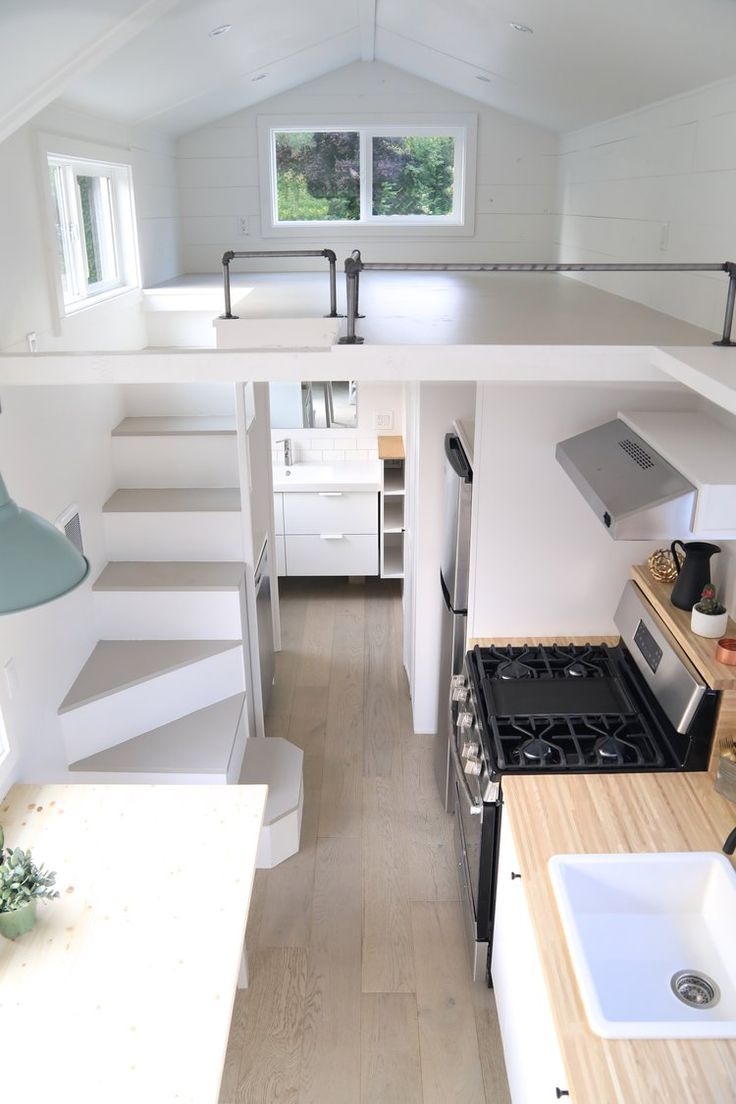 The bedroom walls have twin windows. You can open it during the hot days and let fresh freeze get inside. Also, it invites sunlight to enlighten the attic bedroom. Besides, this tiny house is quite neat with fewer elements. White color is the best color for this attic bedroom.
12 of 16
Design A Breakfast Nook
The breakfast nook is a nice choice for a tiny house. It is useful to be a dining room or workspace too. Look at this idea. The breakfast nook is interesting with a wooden small table and two chairs. You can design it near the window so you can enjoy meals with your partner as a newly weds.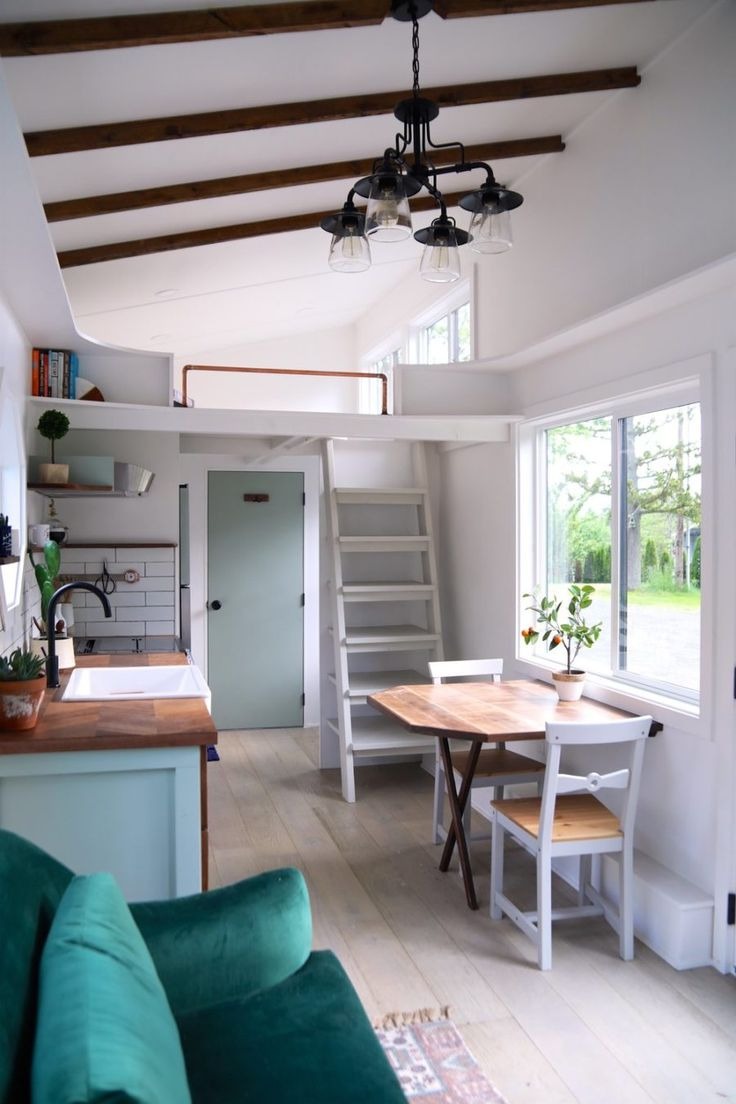 This place is attractive with an ornamental plant. Next to the breakfast nook, there is a small kitchen with some wall shelves. Moreover, this tiny house doesn't need many accents on the wall. You can let it be white with an additional chandelier.
13 of 16
Design An Interesting Second Floor
The second floor is a beneficial area for bedrooms in a tiny house. This room can be an open-space room or a semi-private room. Look at the second floor in this idea. The wide area is functional as a resting area. Next to it, there is a bedroom with a partition.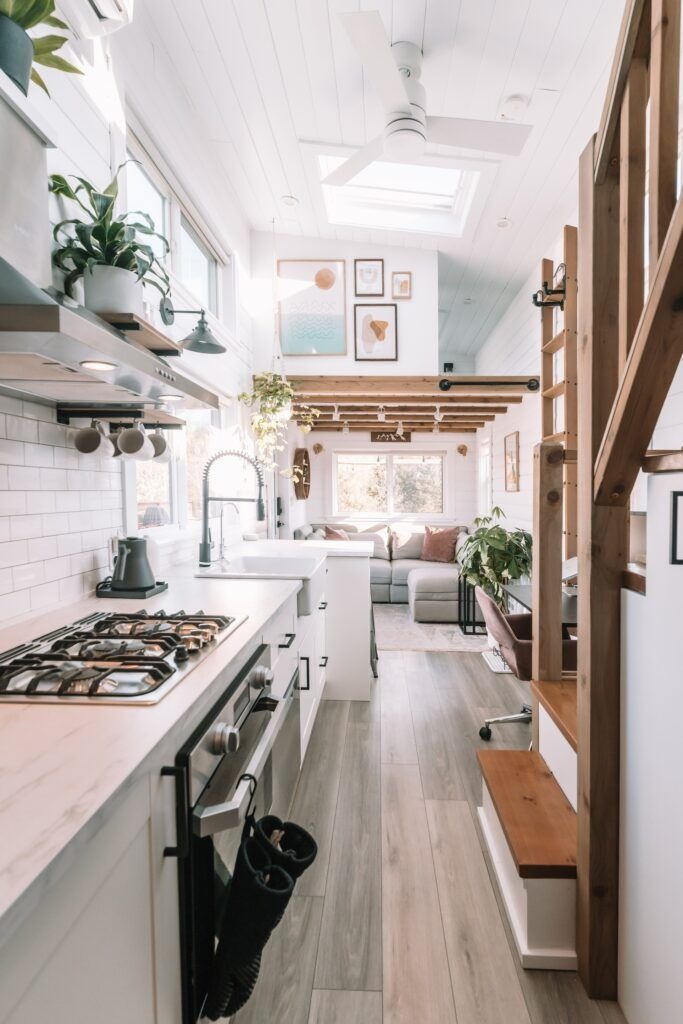 Moreover, the second floor is attractive with paintings. You can make it more alive by growing some indoor plants. Meanwhile, the first floor is quite long with various areas. The wooden planks on the ceiling make it stronger to establish the second floor. Also, it is beneficial to install ceiling lamps on the planks.
14 of 16
Put A Bedroom Near Bathroom
A layout is one of the essential things to deal with. The newlyweds should determine the layout of their tiny house before designing it. Putting a bedroom near the bathroom is beneficial to make an adjacent access. Therefore, you need a glass wall for a bathroom so it won't make a narrow impression.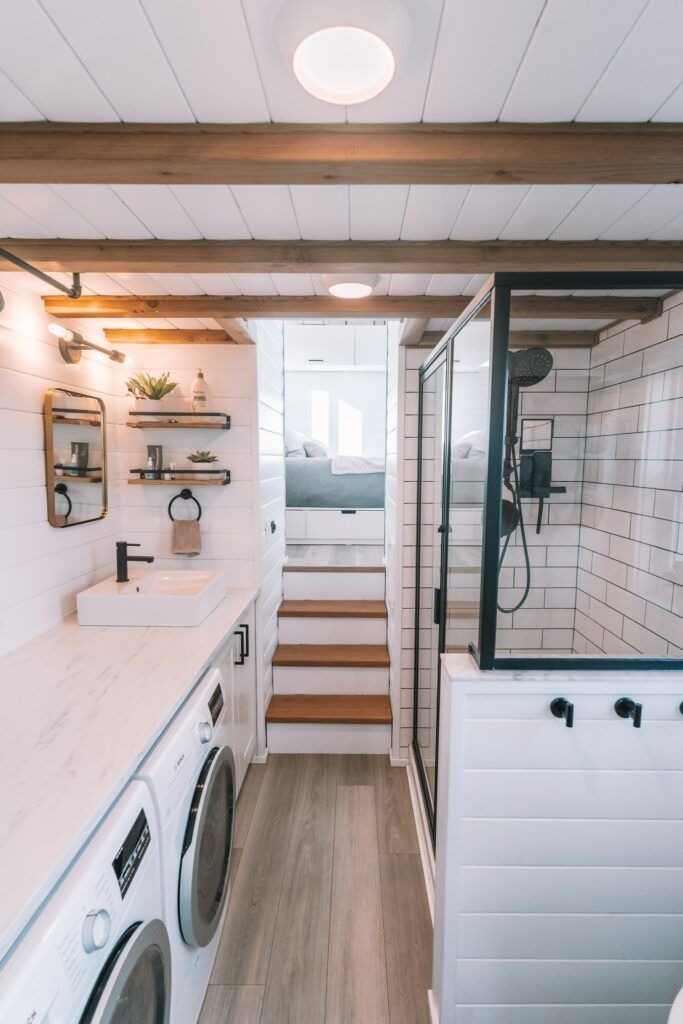 Besides, the kitchen is in front of the bathroom. This layout puts these important rooms in the same place. Meanwhile, the bedroom needs a door or partition to make privacy. You can make the bedroom a bit higher to create extra storage beneath it.
15 of 16
Rustic and White Interior
The rustic interior is stunning to match any color. This white tiny house has a perfect interior with wooden accents. The timber patterns are perfect for drawing a Rustic impression in this house. Look at the wooden floor. It looks catchy to match the wooden stairs to the bedroom.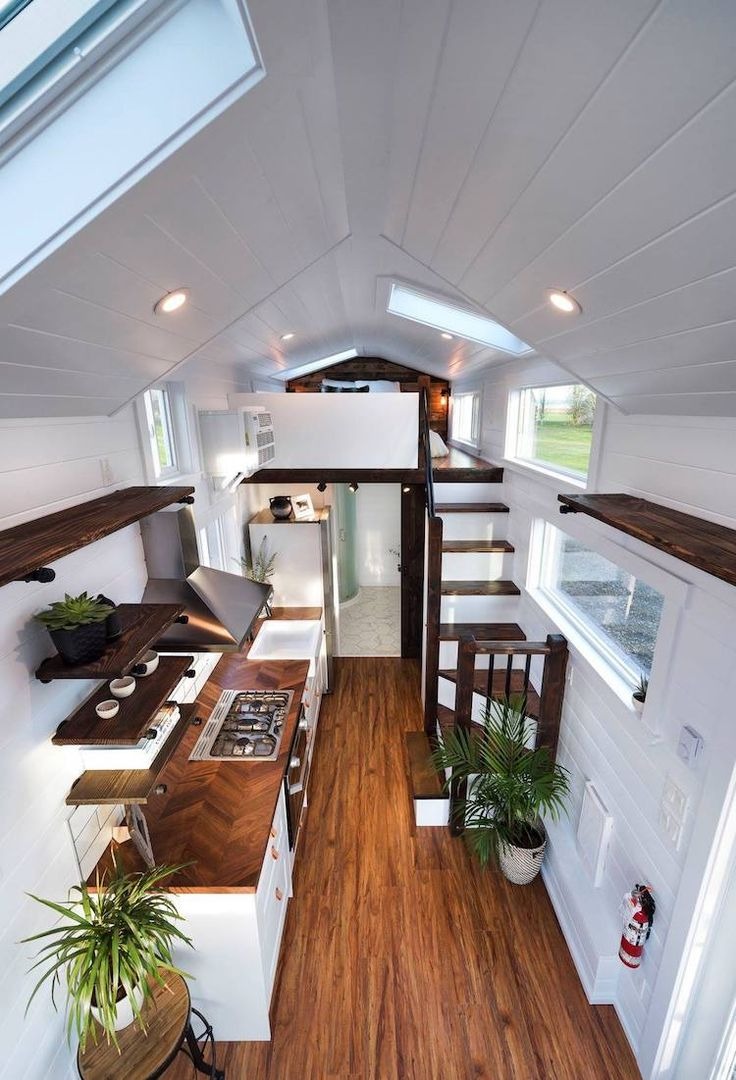 Meanwhile, the kitchen countertop has an attractive geometrical pattern. Also, there are wooden shelves that look interesting along with the kitchen countertop. Besides, this tiny house uses few ceiling lamps at certain spots. However, the white ceiling is a savior for reflecting the lighting in this house.
16 of 16
These are sixteen ideas for a tiny house. This house can be a nice option for newlyweds who need a simple house. The tiny house contains some rooms like a bedroom, bathroom, kitchen, and living room. These rooms are open-space and sometimes they need a partition. You can add a short partition to make privacy. Also, it is okay to use some indoor plants to sweeten the atmosphere. Hopefully, this post is useful for you to design a comfortable tiny house. Good luck and happy decorating!