Druhomes.com – Color has an important function to enliven this world. By having a color, everything looks more beautiful, especially to create impressive decoration. There are many colors with various hues and tones. Red, blue, yellow, green, orange, purple, and many more are examples of cheerful colors. However, in this article, we will discuss Green Bathroom Inspirations for A Natural Atmosphere. But before that, we will talk about color characters.
Each color has characteristics such as white color that has a clean, neat, and soft impression. Besides, color can bring a certain atmosphere into your room, such as a natural impression from nature. The green color is natural since it is the color of leaves and plants. Attaching this color in your room can arouse a natural impression. The green color relaxing your mind and boost your mood. Nowadays, this color is compatible with every room, especially for a bathroom.
Green Color Characteristic for Bathroom
Since each color can create a certain impression, there is a green color that has a natural impression. If you like to bring nature into your home, you can use this color to enliven your room. First of all, you should know the characteristics of green colors. Here we have listed the green color characteristics below:
Symbol of fertility
It is associated with growth
Has an elegant impression
Feeling fresh with nature
Energic color to boost your mood
Green Bathroom Inspirations for A Natural Atmosphere
Using green color for the bathroom brings a natural atmosphere when you take a bath. By having a green bathroom, you can get a green natural atmosphere that freshens your mind. It is necessary to find some ideas to design your green bathroom. Let's see the green bathroom inspirations we have provided below:
Emerald Green Tiles with Art Deco Patterns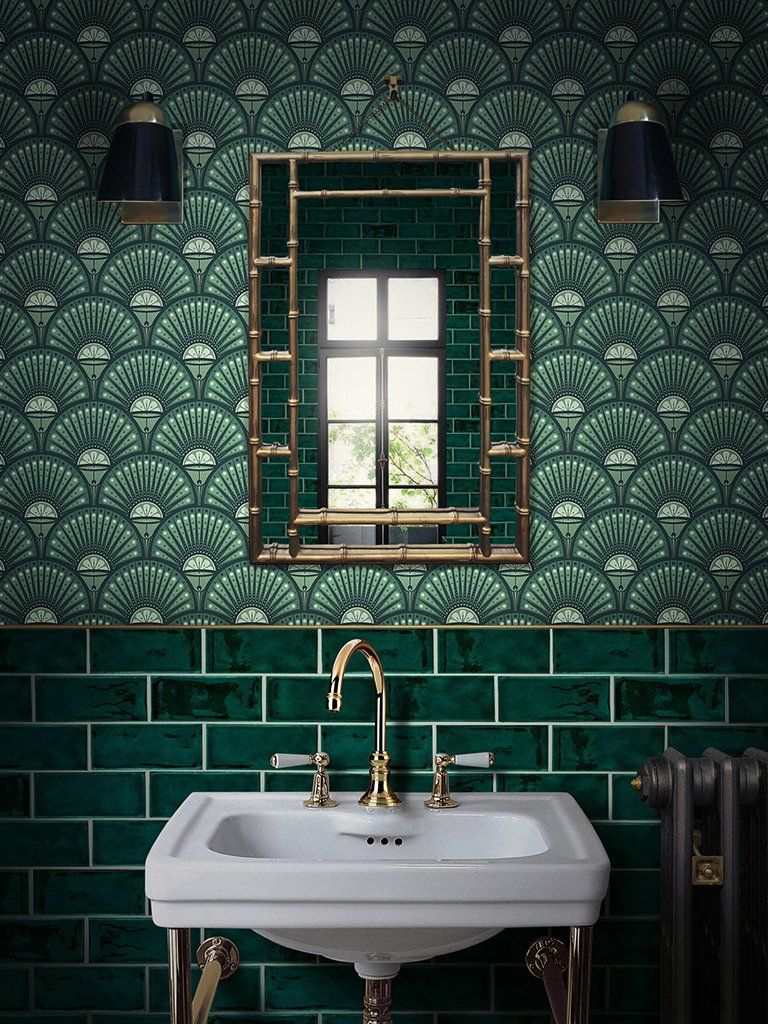 Art Deco design is an aesthetic style that uses bold colors and artistic patterns. Emerald green tiles are one of the examples of Art Deco color that you can choose for your bathroom. The curved bathroom tiles are catchy to apply on the wall. Besides, it makes your sink looks attractive to stand on the aesthetic green tiles. Moreover, emerald green is compatible with a golden frame for your bathroom mirror. It makes your bathroom looks elegant.
A Natural Atmosphere by Attaching Ornamental Plants
The popularity of ornamental plants makes this plant an essential accent to put in every room. Since any room looks more interesting if you attaching these plants, you can put it also in your bathroom. Having some ornamental plants in your bathroom creates a fresh atmosphere. The living plant generates natural air that freshens your bathroom. These foliage plants such as succulent and bird of paradise make you feel like standing outside your home in a fresh atmosphere. Moreover, the sound of water drops when you take a bath enlivens the natural atmosphere.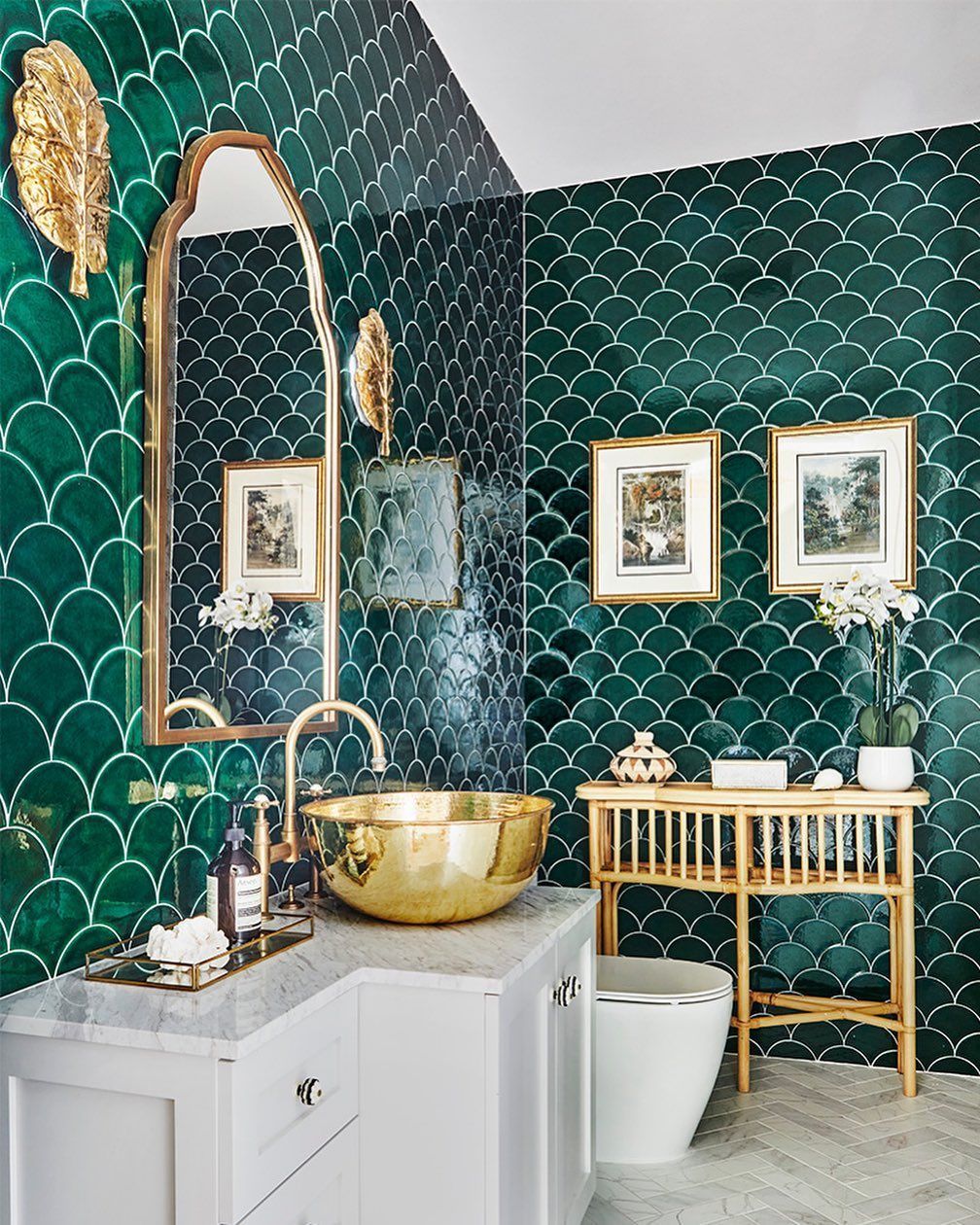 There are many green accents to make your green bathroom looks fresh. The Green fish-scale is an interesting accent to have in a bathroom. The shape of its tiles may remind you of a fish that lives in nature. Besides, the green color calms your mind with a punchy look into the room. Many tones in a green shade that you can choose to suit your bathroom impression. There are light green, dark green, emerald green, and mustard green. If you want to create an elegant impression, choose emerald green or dark green.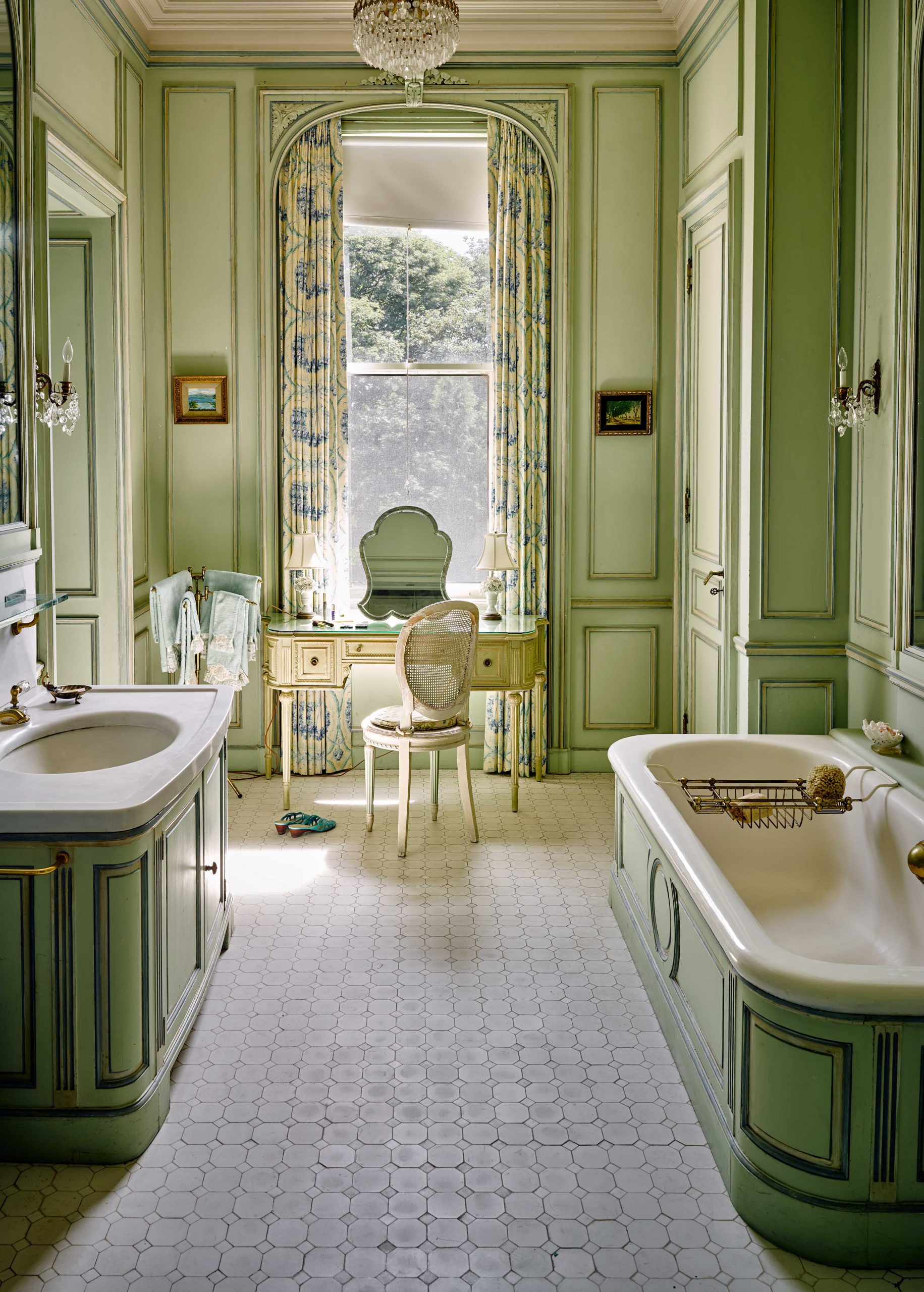 If you like to watch a classic movie, maybe you can see the decoration that describes this era. A vintage green bathroom has an elegant design like a bathroom for a noble family that you commonly see in Barbie cartoons if you ever watch it. It has a touch of vintage style with its floral patterns and geometrical lines on every piece of furniture. The green tone in this design uses the shade of light green or soft green. This green color emerges a natural accent that calming your mind. Moreover, this brighter color has a cheerful atmosphere.
Zigzag Green Tiles and Golden Mirror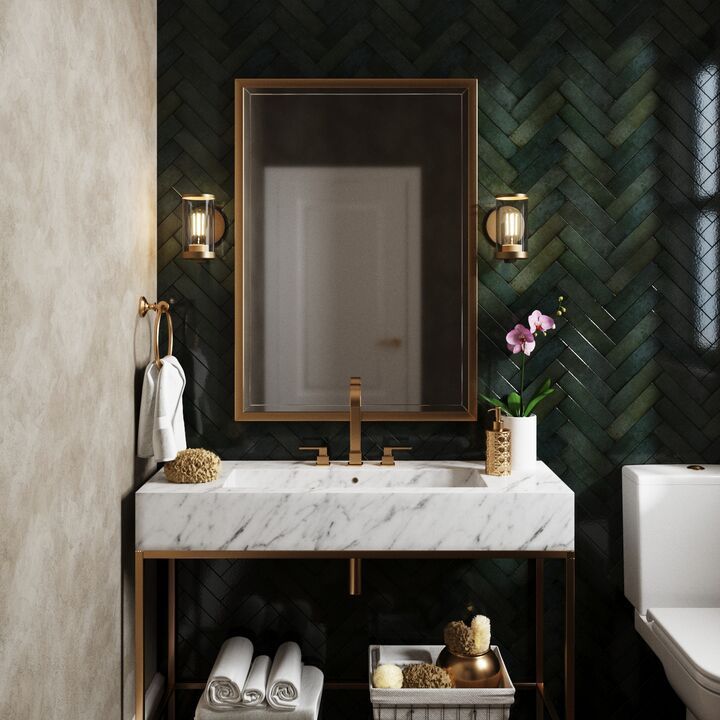 Since there are many kinds of tiles you can choose from, zigzag tiles are an interesting arrangement of bathroom tiles. It has a geometrical pattern that creates a distinct line. The green tiles in the zigzag arrangement bring an eccentric impression. Besides, you can combine it with the gold framed mirror. Dark green tiles are catchy to choose from as your zigzag green tiles for the bathroom. This color has an elegant impression.
A Stunning Green Shower Room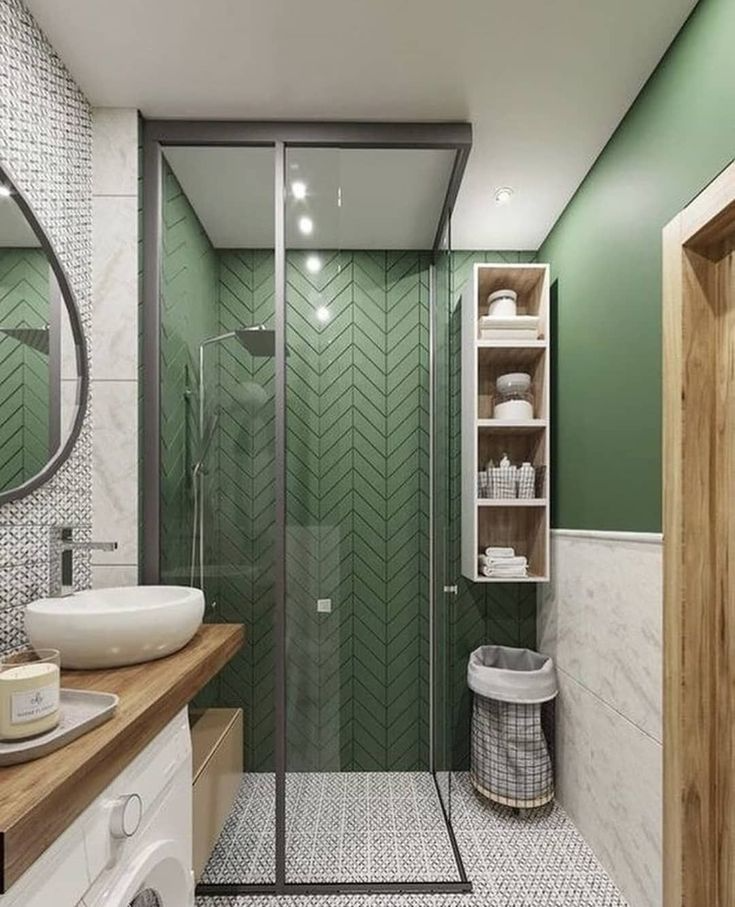 Nowadays, a bathroom has various layouts. Many room designer develops a bathroom design to get a more impressive design. A stunning green shower room has an independent room to keep your bathroom floor still dry. The green color in your shower room gives a fresh impression while you hear the sound of water drops from your shower. It can boost your mood to feel a natural atmosphere.
Industrial Green Bathroom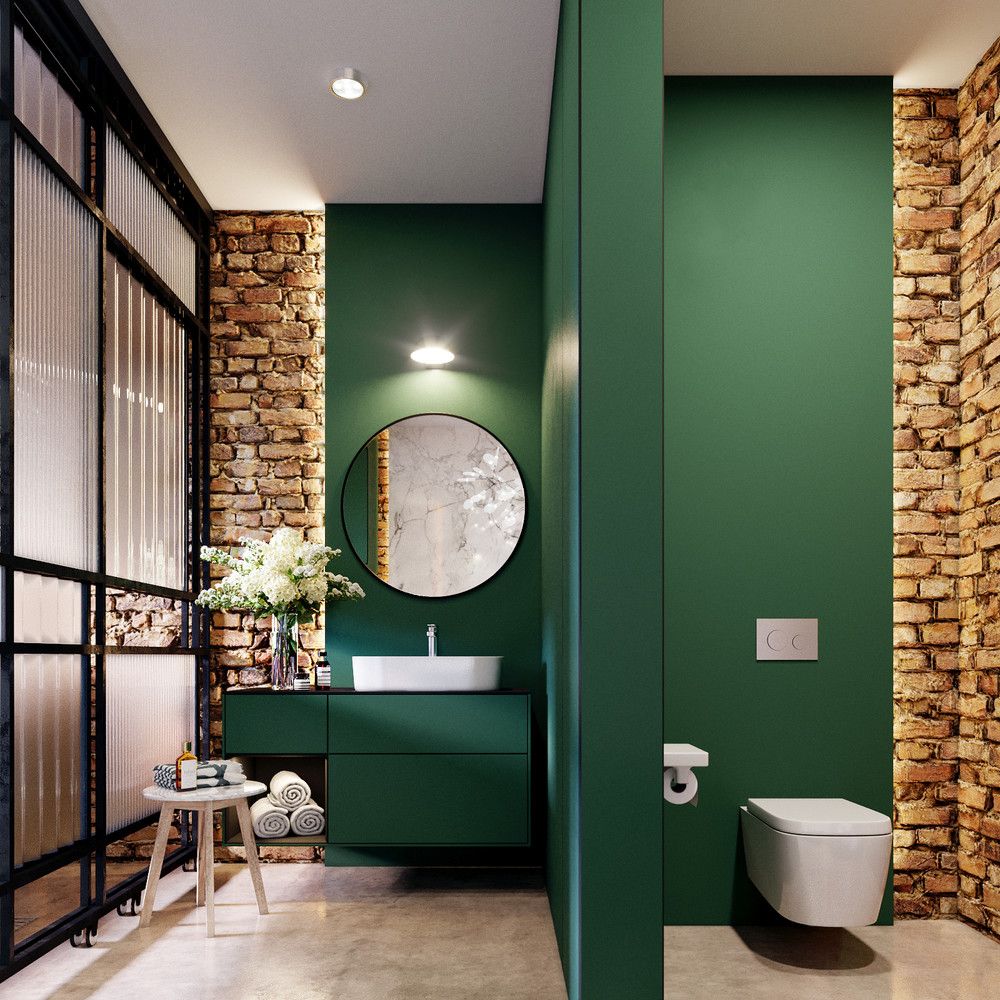 Your green bathroom is free to use any interior design. The industrial design also catchy for your green bathroom. Use some industrial accents such as wooden furniture, black iron, black metallic, and an exposed brick wall. Hence, choose a dark green color to strengthen the masculine and elegant impression for your Industrial green bathroom. The use of dim light is beneficial to arouse an eccentric perspective that reflects its light on your dark green wall.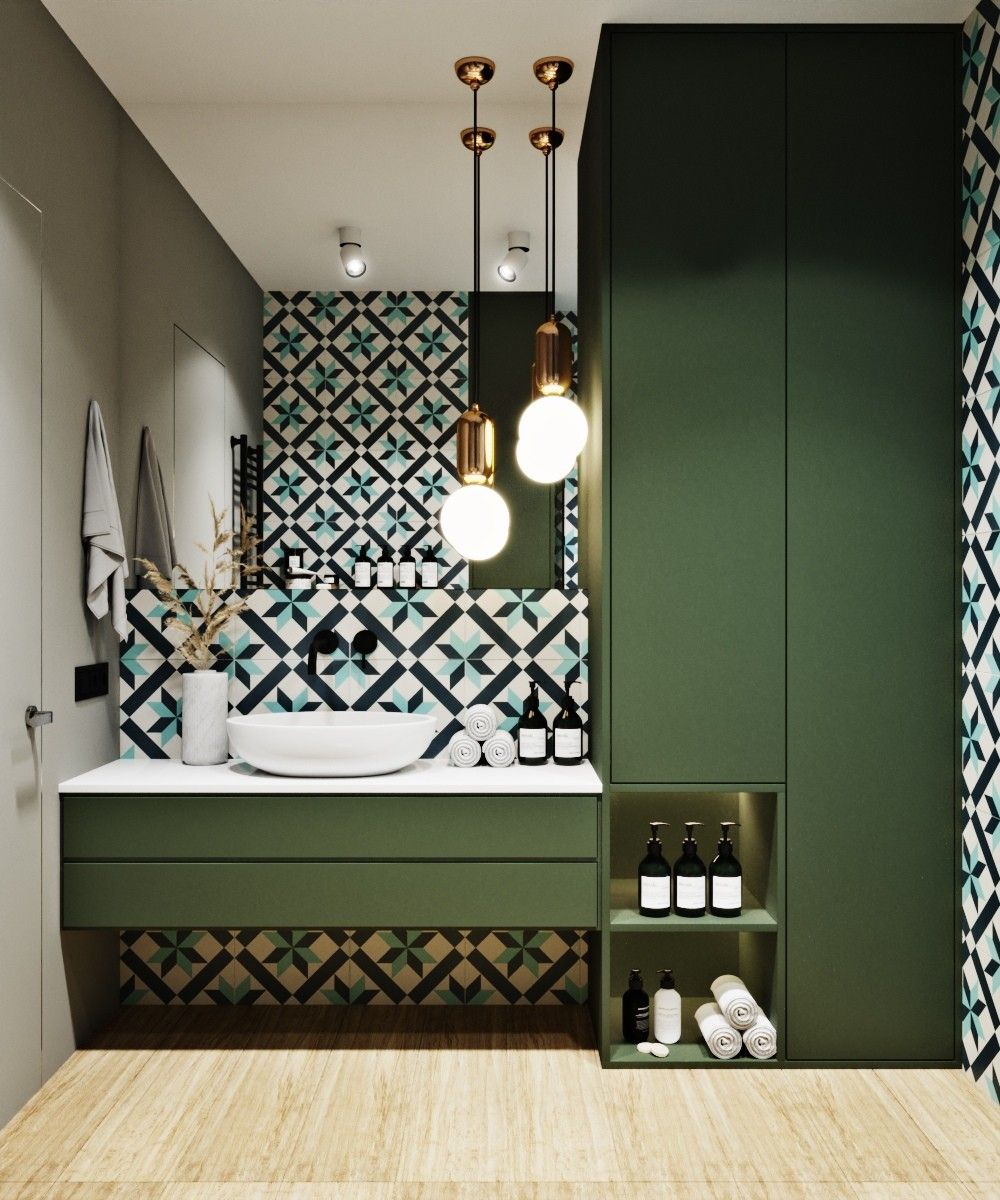 Another decoration for a green bathroom is paying attention to its wall. Nowadays, there are many wallpapers for bathroom wall that has dozens of artistic patterns. Installing this pattern for your bathroom wall is essential to emerging an aesthetic bathroom wall. It can be a focal point when entering your bathroom. Besides, pair this patterned wall with emerald green furniture is fairly easy to create an excellent.
Green Bathroom with Elegant Mirror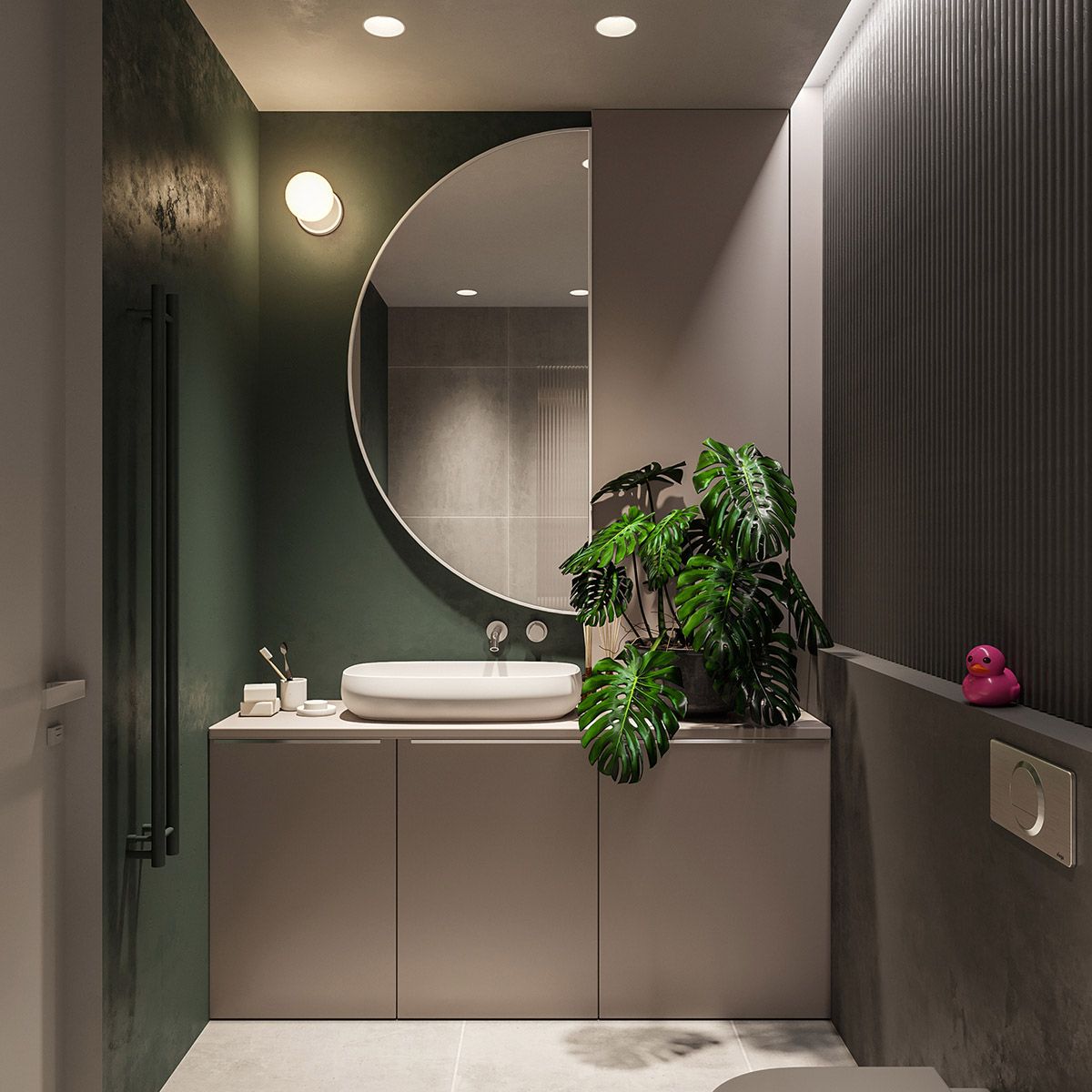 An eccentric design touches your green bathroom interior by having a half mirror. It will attract attention by its unique shape. To make your green bathroom more elegant, you can design each wall side with different colors and patterns. Since it is an elegant design, you can add an ornamental plant to make it looks natural. Monstera deliciosa is an example of an aesthetic ornamental plant. These green leaves are compatible with your green wall.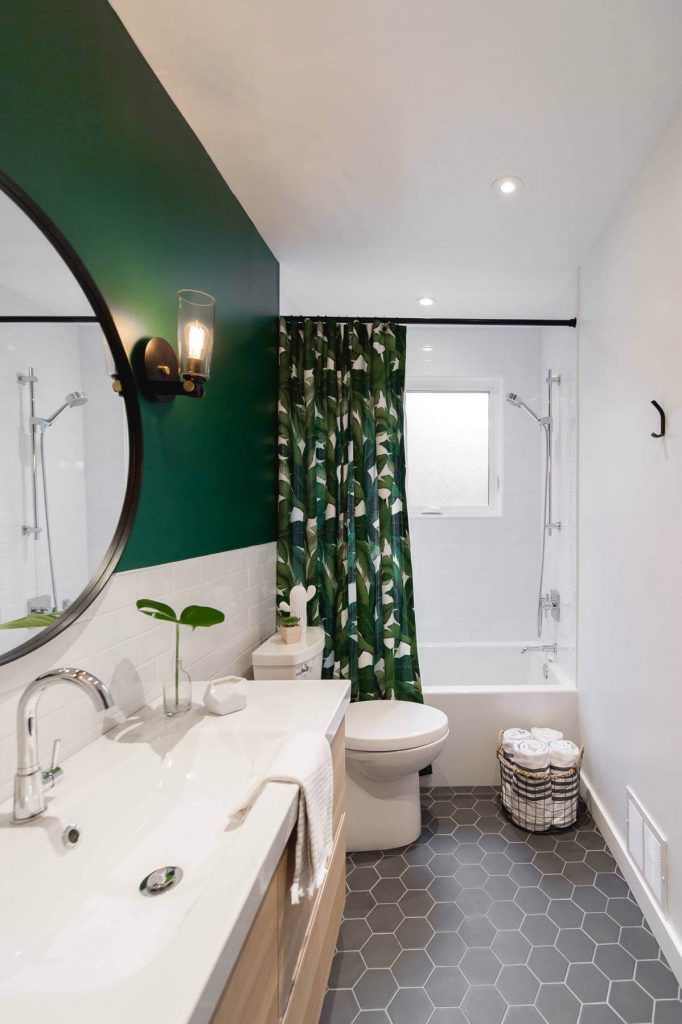 Creating a greenery accent in your green bathroom is an easy thing to do. Install some ornaments or stuff that has green colors that will suit this bathroom. Since a green bathroom is identical to a natural atmosphere, it is interesting to add a curtain with floral patterns. This curtain has many benefits, such as becomes an ornament, give you privacy when taking a bath, and protect your floor to be wet by the water drops. This green floral pattern is well imitated the real plants.
Conclusion
That is our discussion about Green Bathroom Inspirations for A Natural Atmosphere. The green bathroom has an energic color. It can arouse a natural atmosphere. Moreover, this color calms your mind and freshens the bathroom view. You can add some interesting accents such as a gold-framed mirror, using fish scale tiles, and put some ornamental plants. We know there are a bunch of green bathroom inspirations and designs to apply for a fresh atmosphere. We hope these ideas above are beneficial for you to create a green bathroom with a natural atmosphere. Happy decorating!