Druhomes.com – Color can bring a certain impression into the room. Even, each color has a variety of shades that emerge a certain effect on the eyes. Since it has an impressive function, there is a terracotta color that looks energic and earthy hue. This color name is derived from two terms, terra and cotta. It means 'fired earth'. Since terra means earth, this is a grounded color in brownish-orange shade. Other shades of terracotta are reddish-orange, yellowish-red, and brownish red. Attaching this color to your home interior can boost your mood because this color has a warm tone. For this reason, this article will discuss Create an Energic Terracotta Color for Your Home Design.
In a certain shade, terracotta has a fading sunset color. It looks beautiful and creates a romantic nuance into your room. There are dozens of interesting decorations in a terracotta color that may inspire you to change your room color. Here, we have summed some ideas of terracotta color for your home interior.
Living Room
The first place you can create using terracotta colors is the living room. By making your living room as beautiful and comfortable as possible, you can create a comfortable and beautiful interior. Besides that, you can also create a warm interior with a variety of energetic terracotta colors in the interior of your living room. Let us discuss.
A Compatible Terracotta Ornament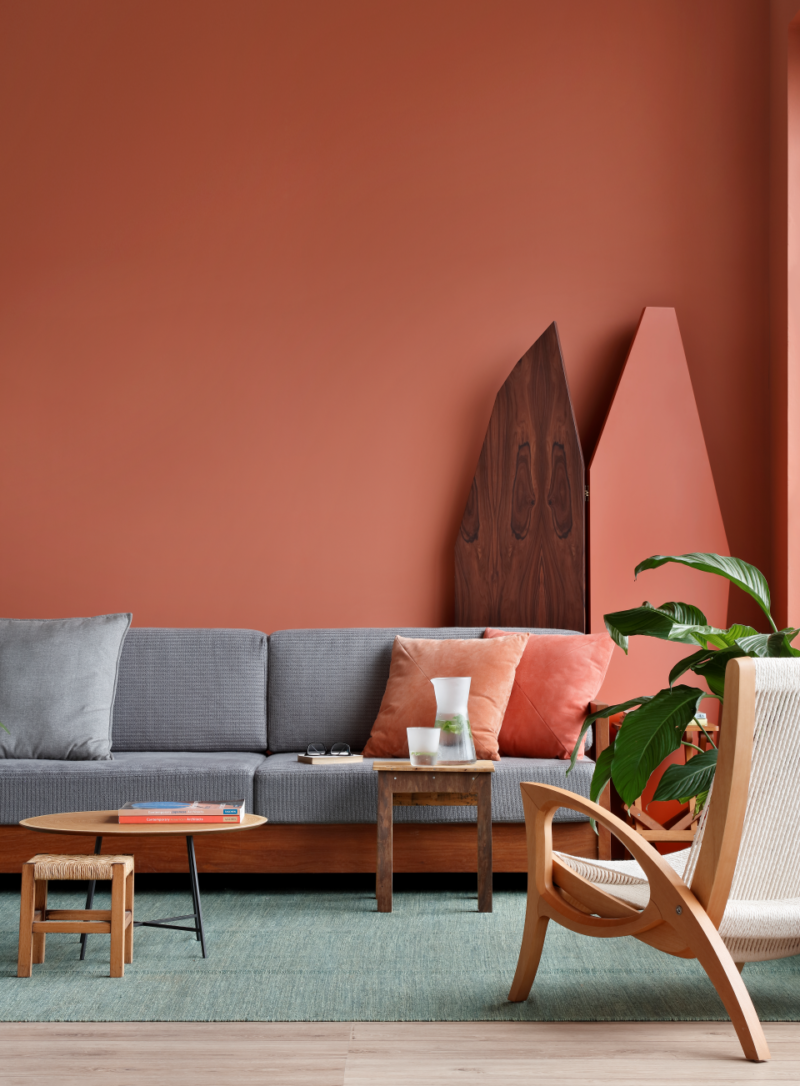 Having a simple design for a living room becomes a popular design in the modern era. A plain wall maybe creates a clean impression in a room, but put an ornament is not bad for your modern living room interior. You can display an ornament or as such in the same color as your terracotta wall. To create a distinct line, put your furniture in different colors but has the same tone as soft blue, peach, or light brown.
Enliven The  Look of Your Ornamental Plant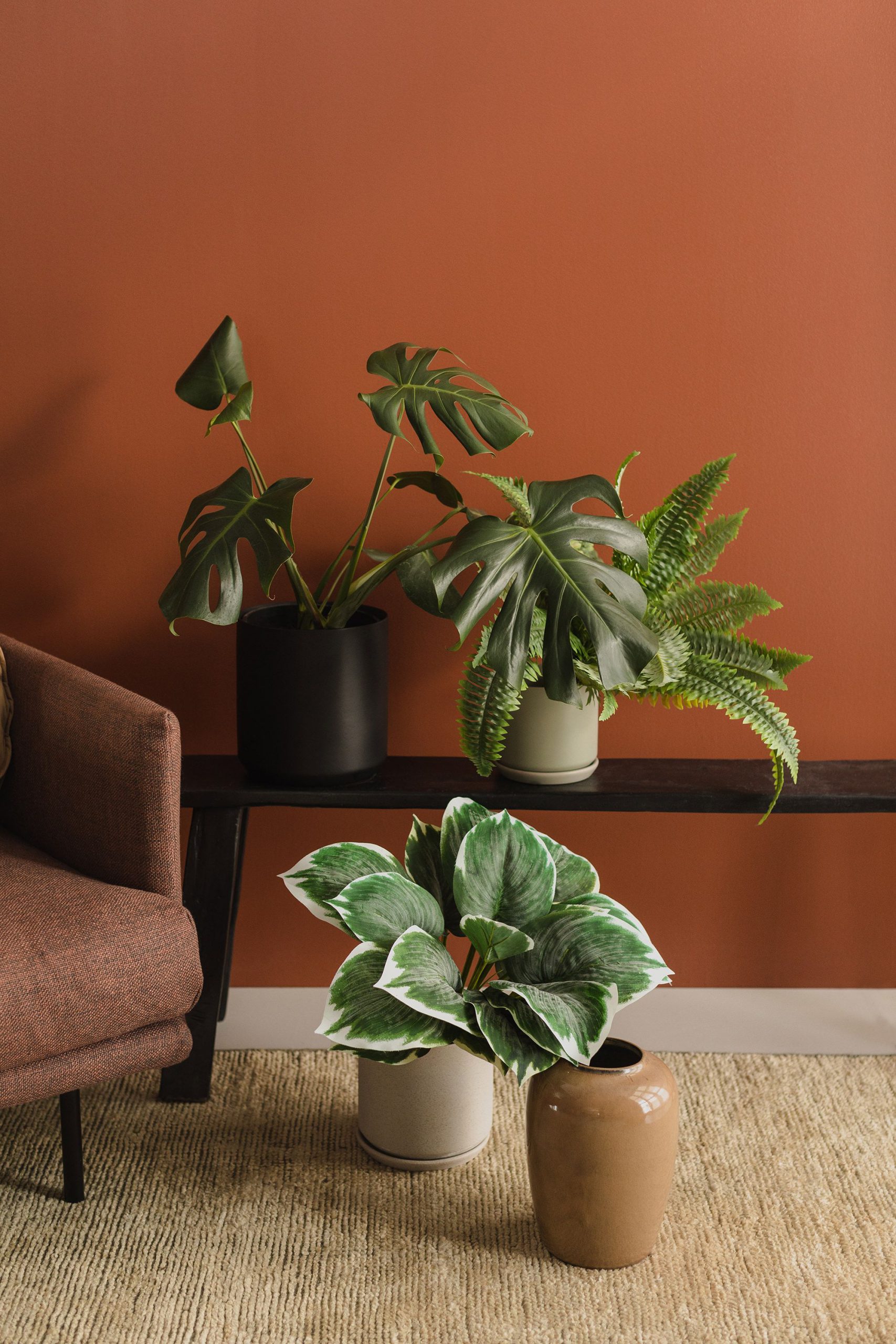 Here, if you have some ornamental plants in your living room, it can be a focal point. The foliage plant has a distinct color with your terracotta wall. Therefore, it emerges a tranquility look in your living rooms. Moreover, the terracotta wall creates an earthy landscape for your ornamental plants.
An Elegant Terracotta Color for Your Living Room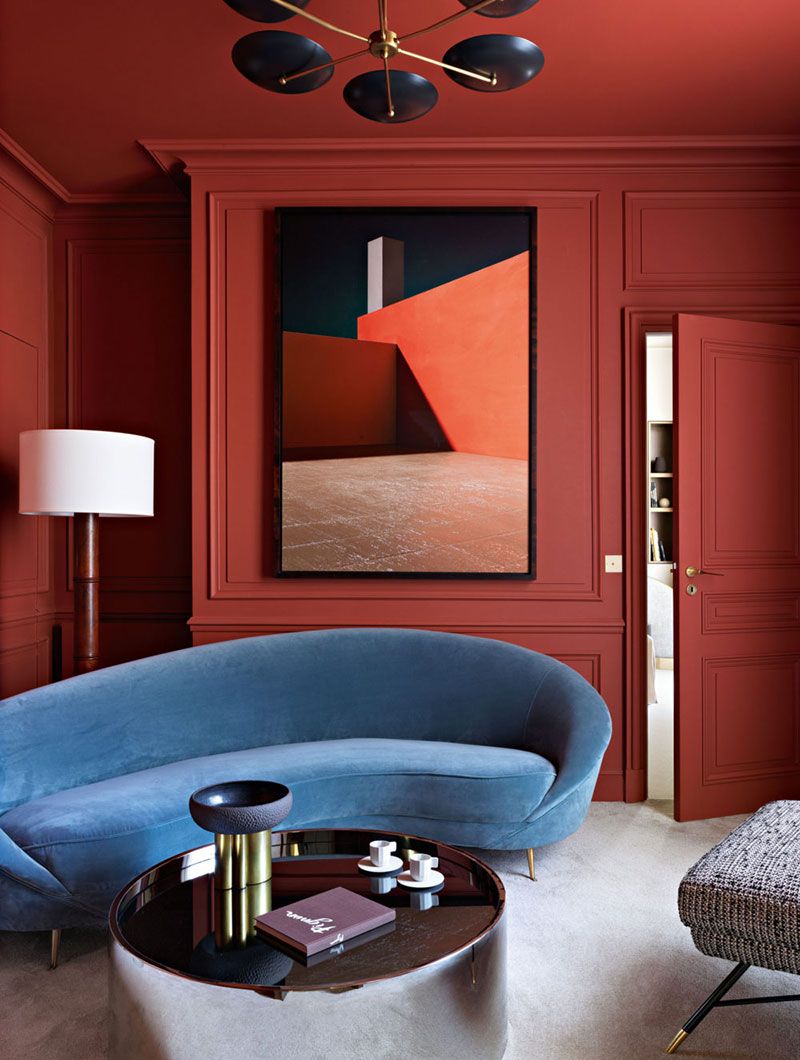 The living room design determines the look of your room. Furniture and the room layout have an essential function to make an elegant living room. Applying terracotta color to complement your living room interior may create a sense of inviting a warm atmosphere. The elegant furniture is remarkable to put before your terracotta wall. To make it looks more elegant, use the bold color like black, dark blue, and golden accents.
Combining with Bohemian Style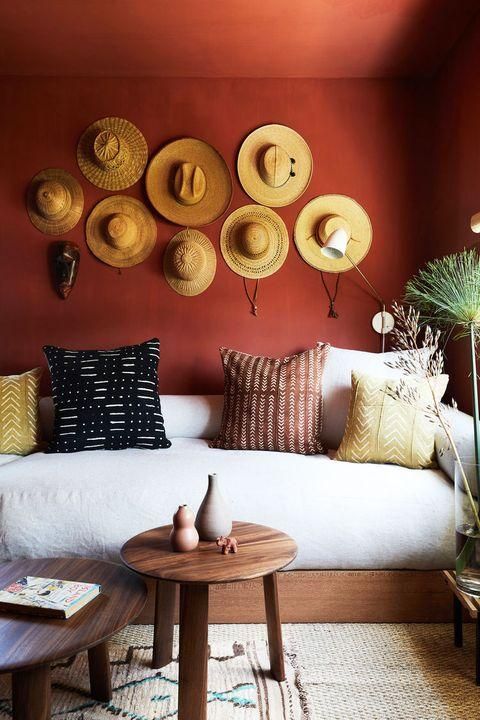 Do you know that a bohemian style offers an independent design? You can bang your creativity in this style. Terracotta color is catchy to pair off with this design. It has the spirit of nature as an earthy color that is compatible with wicker ornaments, ethnic motifs, and wooden furniture. They are a perfect combination for a bohemian living room.
Bedroom
The second place we will discuss is the bedroom. Using a bedroom with a variety of terracotta colors can give you comfort and beauty. Besides, you also get an energetic interior for all your activities in the interior of your bedroom. For more details, let us discuss various ideas that you can use.
Transform The Look of an Artistic Bedroom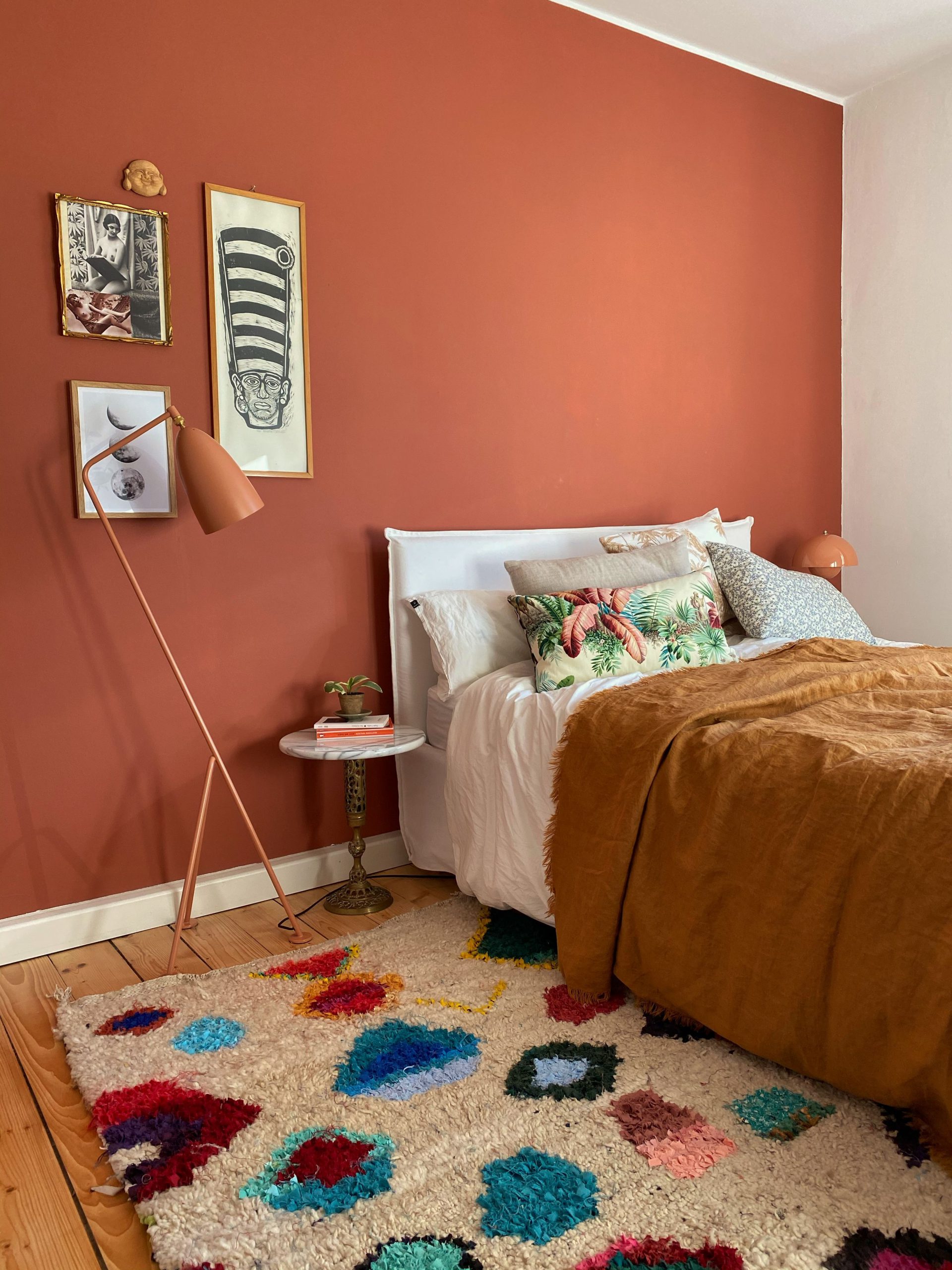 If you like to explore creativity by an artwork, maybe you display some artworks in your bedroom. Sometimes, hang some artistic frames need the right background color for your wall. Terracotta color has a rust orange color that creates a clean and beautiful view of everything that stands near it. This color suits any frame like black, white, and gold color frame.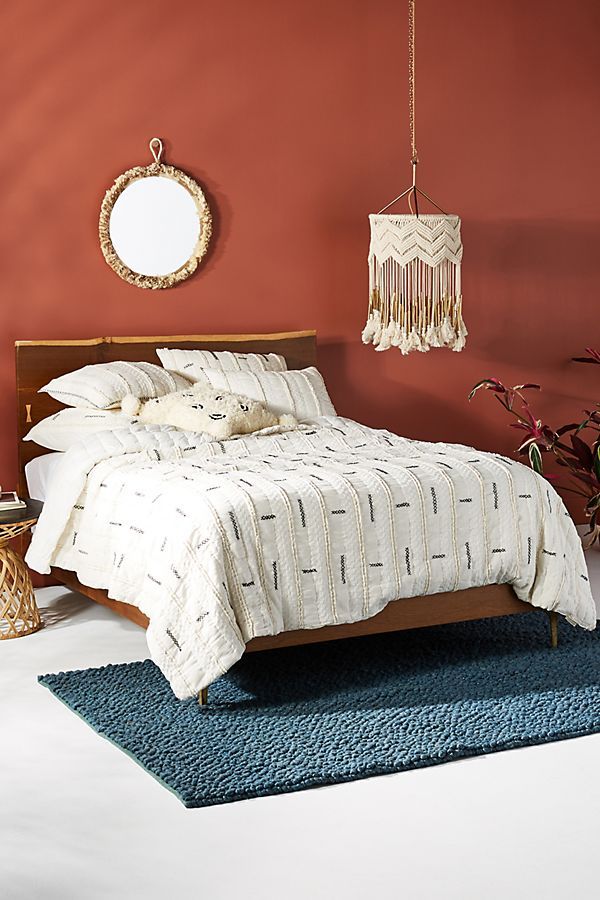 Having more than two themes in one room sometimes needs the right proportion. Mix and match classic style with modern style requires the right color to connect these styles. Terracotta color suits any room design, then it can contribute to conveying the modern and classic impression in your bedroom. The classic impression arouses from vintage furniture and modernity from the room layout.
An Energic Bohemian Bedroom with Terracotta Wall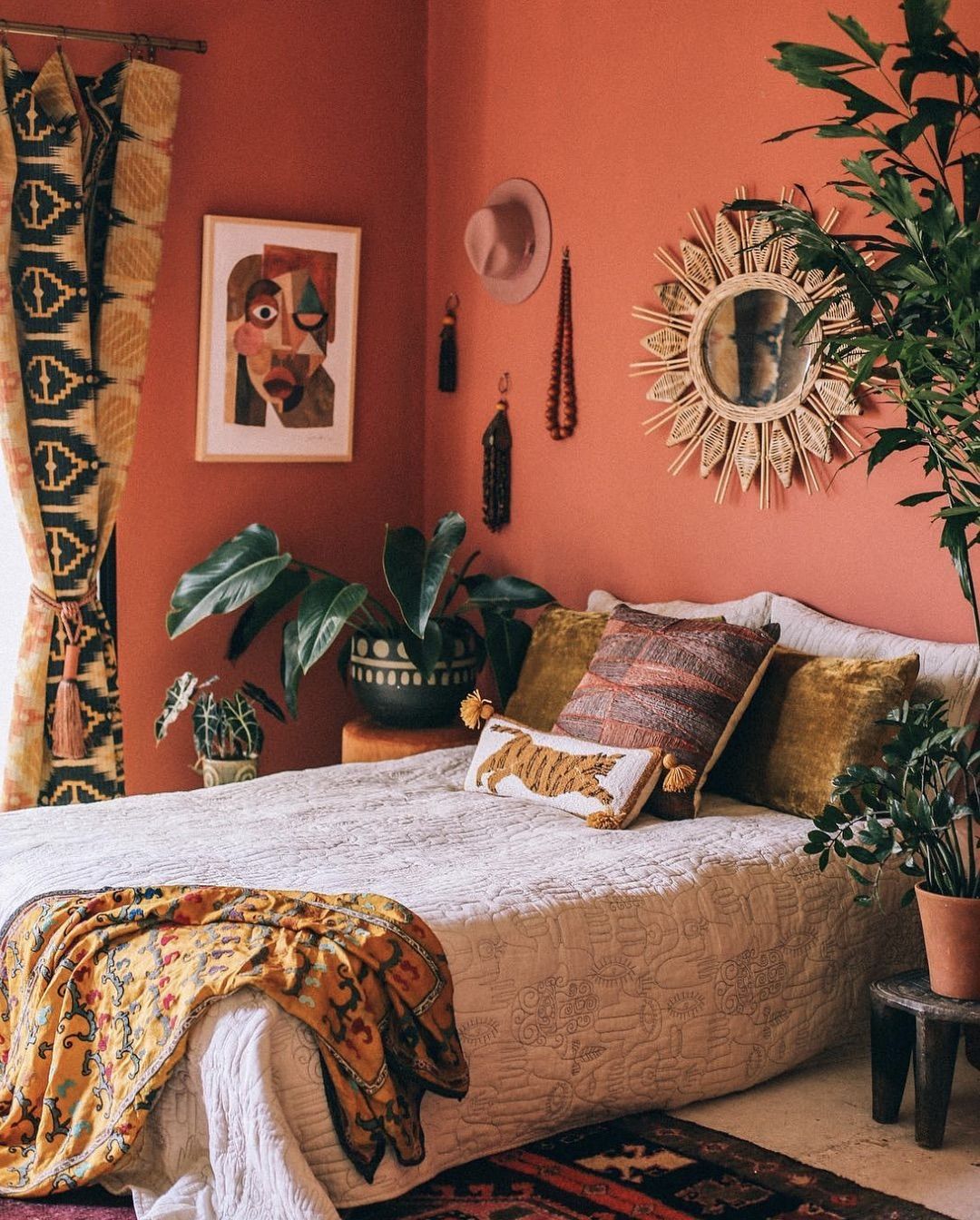 We have discussed above that a bohemian style is an independent design. You see that this style is identical to a crowded decoration. It transforms an ornate room by some artistic stuff like ethnic motifs, absurd patterns, and traditional furniture. These accents look clear on your terracotta wall as the fundamental color to put these things.
Dining Room
You can also create an energic terracotta color for your dining room interior. Using this concept will give you a comfortable and pleasant interior for you and your family to gather and enjoy dinner together. Let's discuss these ideas one by one.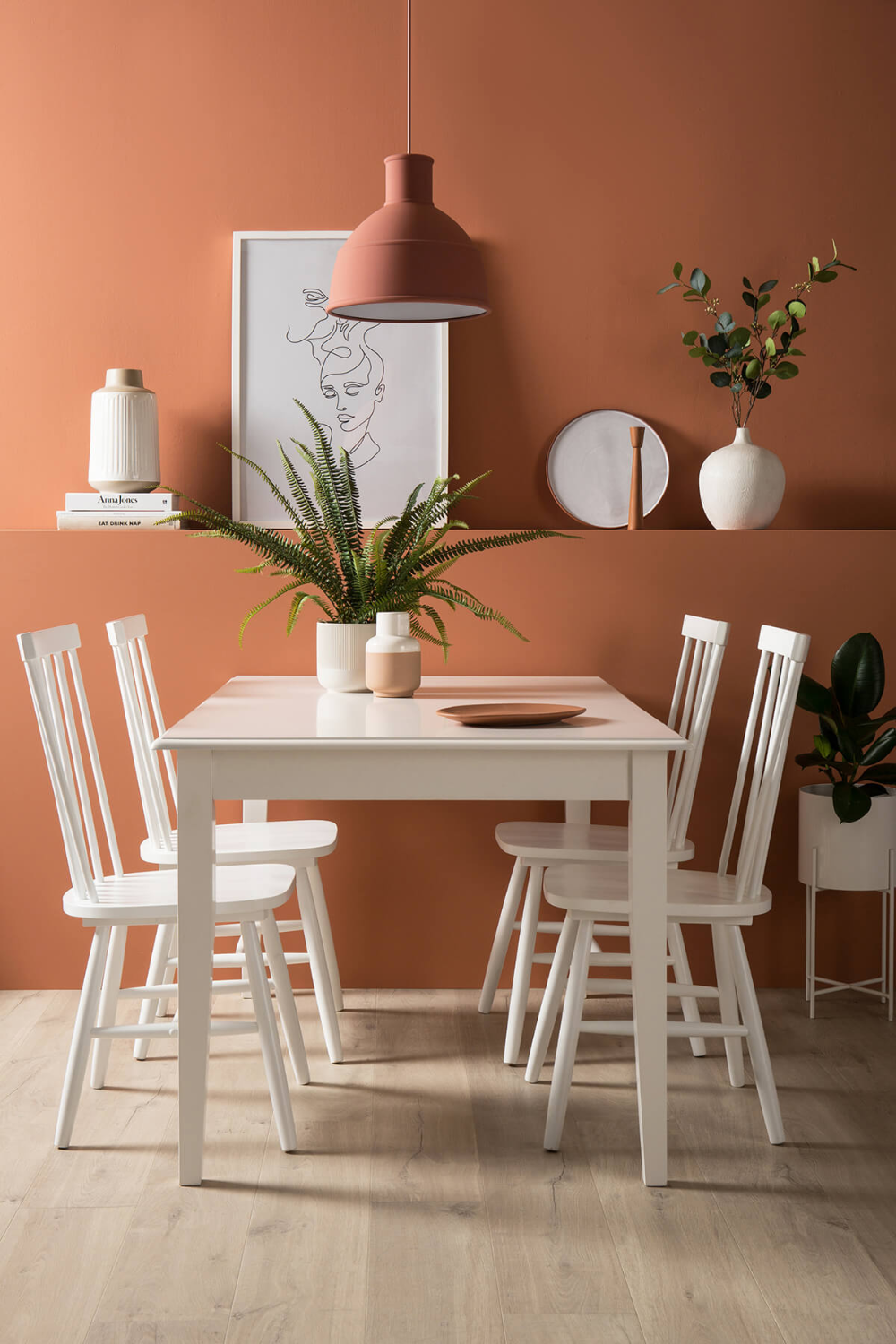 Designing a simple style for your dining room has a neat impression. There is a minimalist design that arouses simplicity and cleanliness, even in a dining room, this design is compatible to be attached to. Terracotta color can make your minimalist dining room looks cleaner. The white furniture and terracotta wall are magnificent to have in this room.
Play with Vintage Accents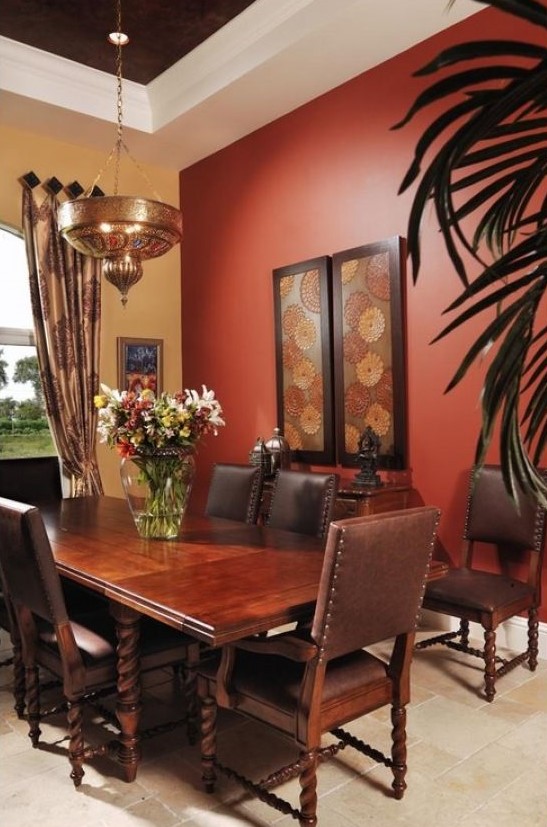 Installing vintage furniture like some carving wooden chairs. Hence, the atmosphere becomes warmer in a terracotta dining room. Aesthetic ornament is associated with a tranquil atmosphere. It brings a peaceful mind if you put it on your terracotta wall. The terracotta wall strengthens the classic era in a rust orange color. Brings back the memory of time past in your terracotta dining room.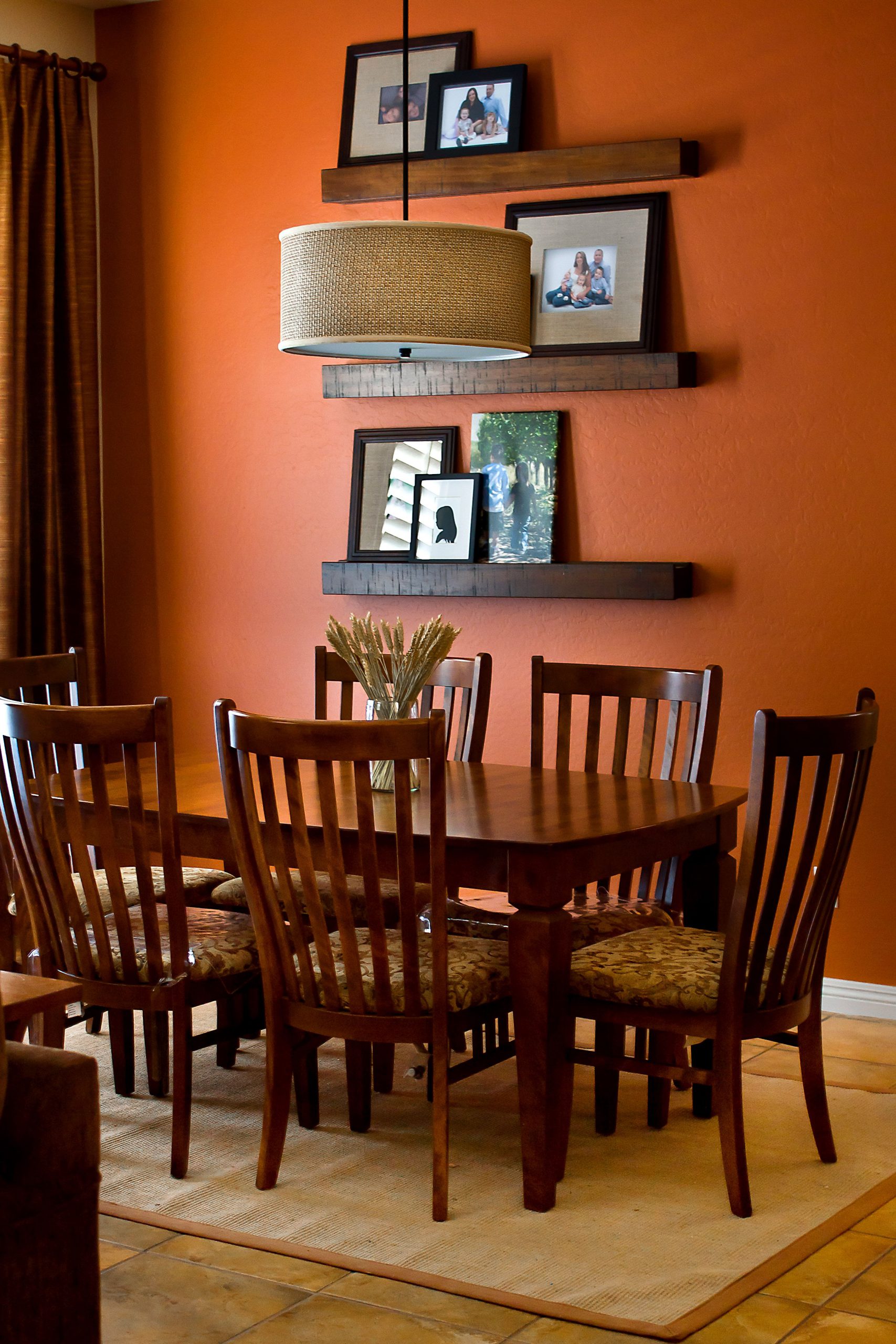 A warm atmosphere in a dining room is seen by its furniture and room color. Terracotta color brings a grounded look into your dining room. This color has a vigorous spirit that reminiscent of a sunset. The earthy color of your terracotta wall enlivens a cold color like dark brown furniture. The hint of orange makes your dining room looks charming.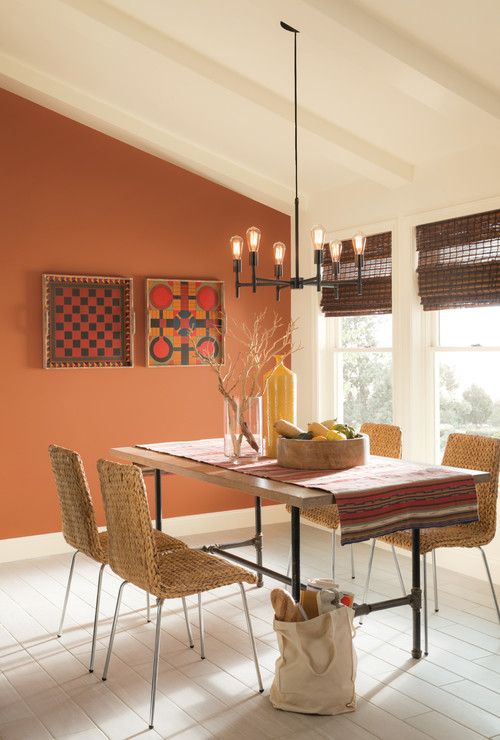 Having natural light in your dining room creates a luminous effect on your terracotta wall. This color reflects the light to shine the room. It increases the brightness of your dining room. Besides, pair it with the white wall brings a sense of cleanliness. This color emerges brown pigments and orange to generate an energic color.
Thus our discussion about Create an Energic Terracotta Color for Your Home Design. Terracotta color has an energic impression. This color is in the tone of light brown and orange. Terracotta is attractive to transform the room atmosphere to be warmer and cleaner. It also has an outdoorsy touch with its natural earthy color. This color suits any room space, then it is nice for every home design. We hope you might use this idea to get a warm and clean room interior. Happy decorating!