Druhomes.com – A master bedroom is the main bedroom in a house. It usually has a larger size rather than other bedrooms. Maybe you ever see this room in a luxurious house or a big expensive apartment. The master bedroom offers a wide room to explore the decoration by using a certain theme. We know that decorating a master bedroom can take more time to do. In this article, we want to give you some inspiration to modify your master bedroom. Designing a luxurious master bedroom requires stunning furniture and decoration. Thus, it needs more budget, but the interior design will not let you down. Here, we have listed some ideas for a luxurious master bedroom for you. Let's discuss them one by one!
Modern Style Master Bedroom
The first master bedroom design that you can create to create a luxurious concept is to use a modern style. The modern master bedroom style will give you an elegant and stunning interior look in a simple concept. You can also create this in a bedroom interior that is not too wide. For that, here are some ideas that you can follow!
Simple Decoration for Master Bedroom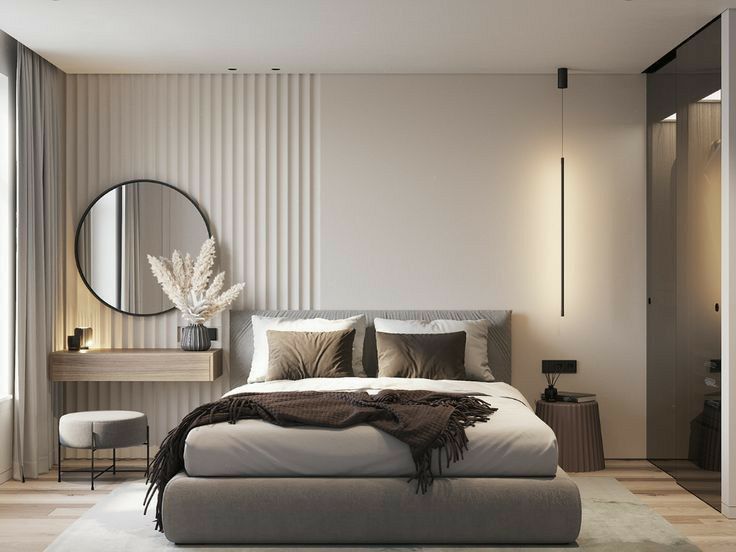 In modern style for master bedroom, it uses simple furniture that has elegant impression such as using geometrical line, neutral color, and less furniture. A simple decoration increases a spacious look that shows off the mighty room in your house. To give a sweet atmosphere, you can put ornamental grass on the dressing table.
Modern Master Bedroom in Grey Color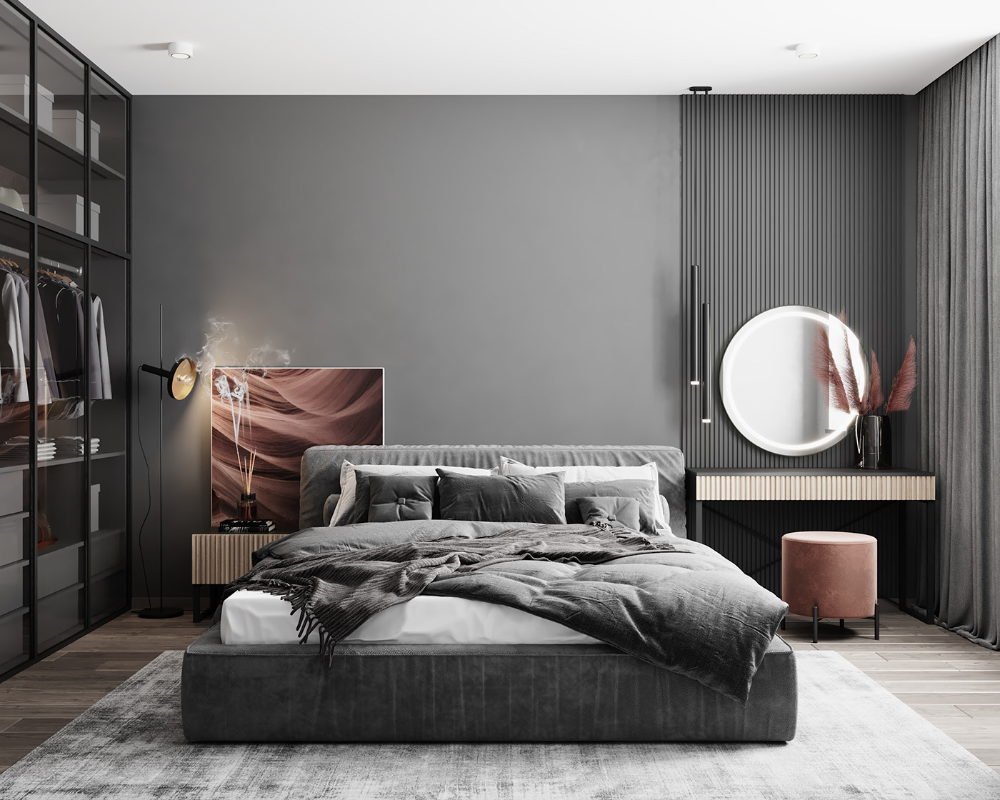 The bedroom color can connect the modern style and a calm atmosphere. By using a neutral color, it provides a fresh nuance to your mind. Grey color is one of the neutral colors to apply in your master bedroom. The combination of black and white color generates grey color in various shades. You can adjust the grey shade by determining its saturation. Mix and match this room color by installing terracotta color to create a luxurious accent.
Elegant Wall for Master Bedroom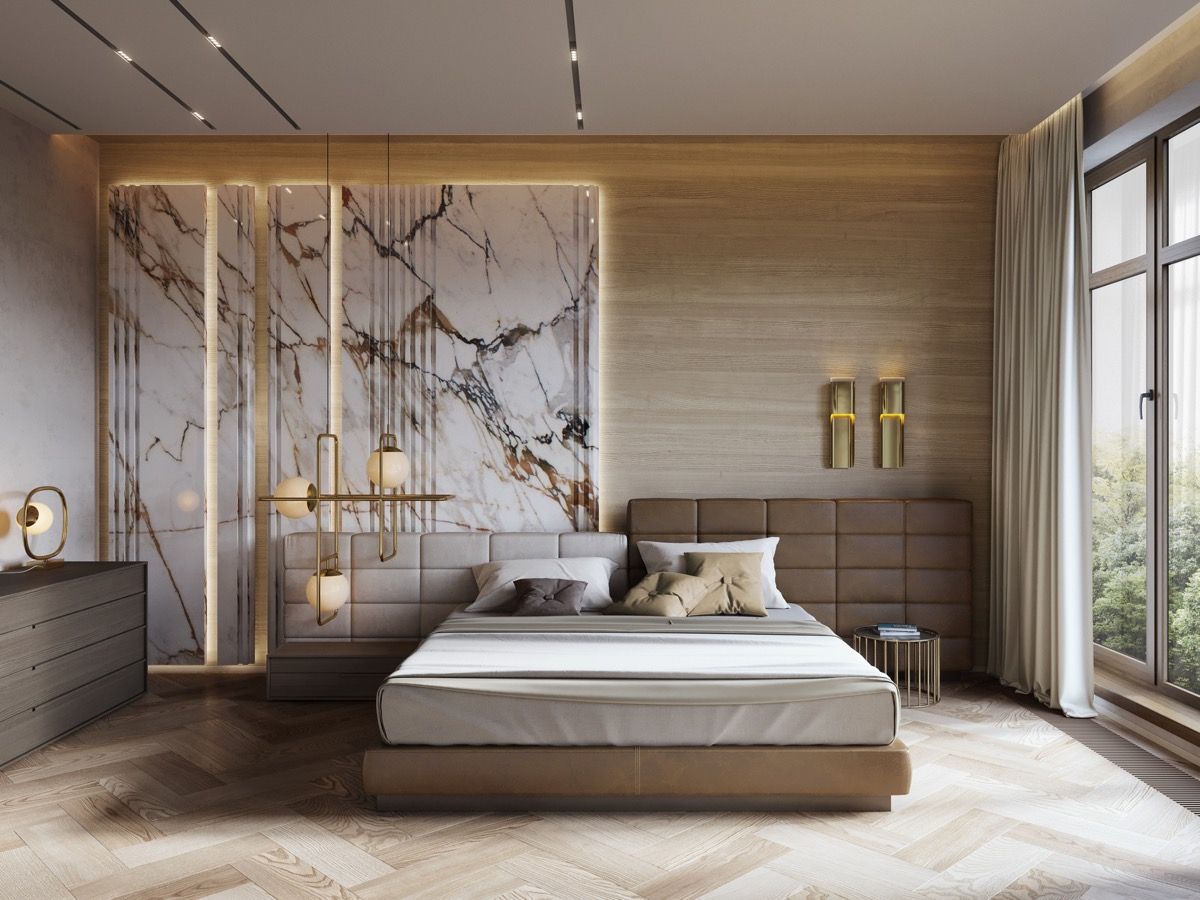 Another element of modern style is the display in your room. For a master bedroom, it looks luxurious if you install an elegant accent on your wall. Having a shabby chic design to your master bedroom can arouse a sweet and calm nuance. Thus, put a modern accent by having a patterned display on the wall. Moreover, you can install some yellow light to illuminate the wall perfectly.
Industrial Style Master Bedroom
Apart from using a modern style to create a luxurious master bedroom in your home, you can also use an industrial style. Creating an industrial style or interior design will give the bedroom an aesthetic and unique appearance. Besides that, you can also create a festive interior decoration with a variety of luxurious and elegant accents. This will make the interior of your master bedroom more stunning and comfortable for you to sleep at night. Here some ideas that you can follow!
Industrial Master Bedroom with a Modern Touch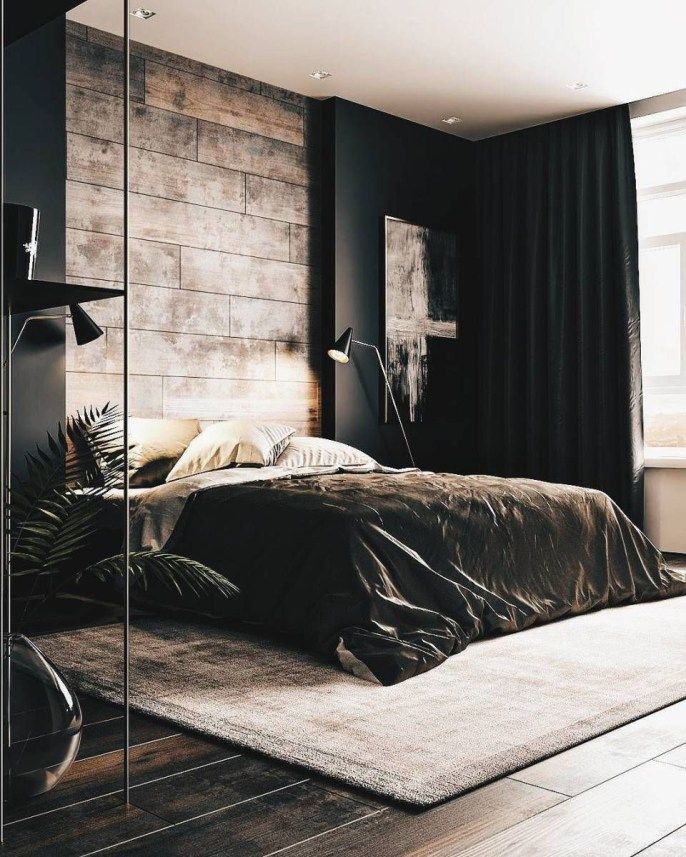 An industrial room usually uses dark color for the furniture and the wall. The dark color enlivens the luxurious look by the wall color. To arouse an industrial accent, expose one sidewall that shows a wooden wall or a brick wall. Add an aesthetic painting with a dark background to make a strange look. You can illuminate the master bedroom by having a standing lamp with a minimalist style.
Industrial Rustic Master Bedroom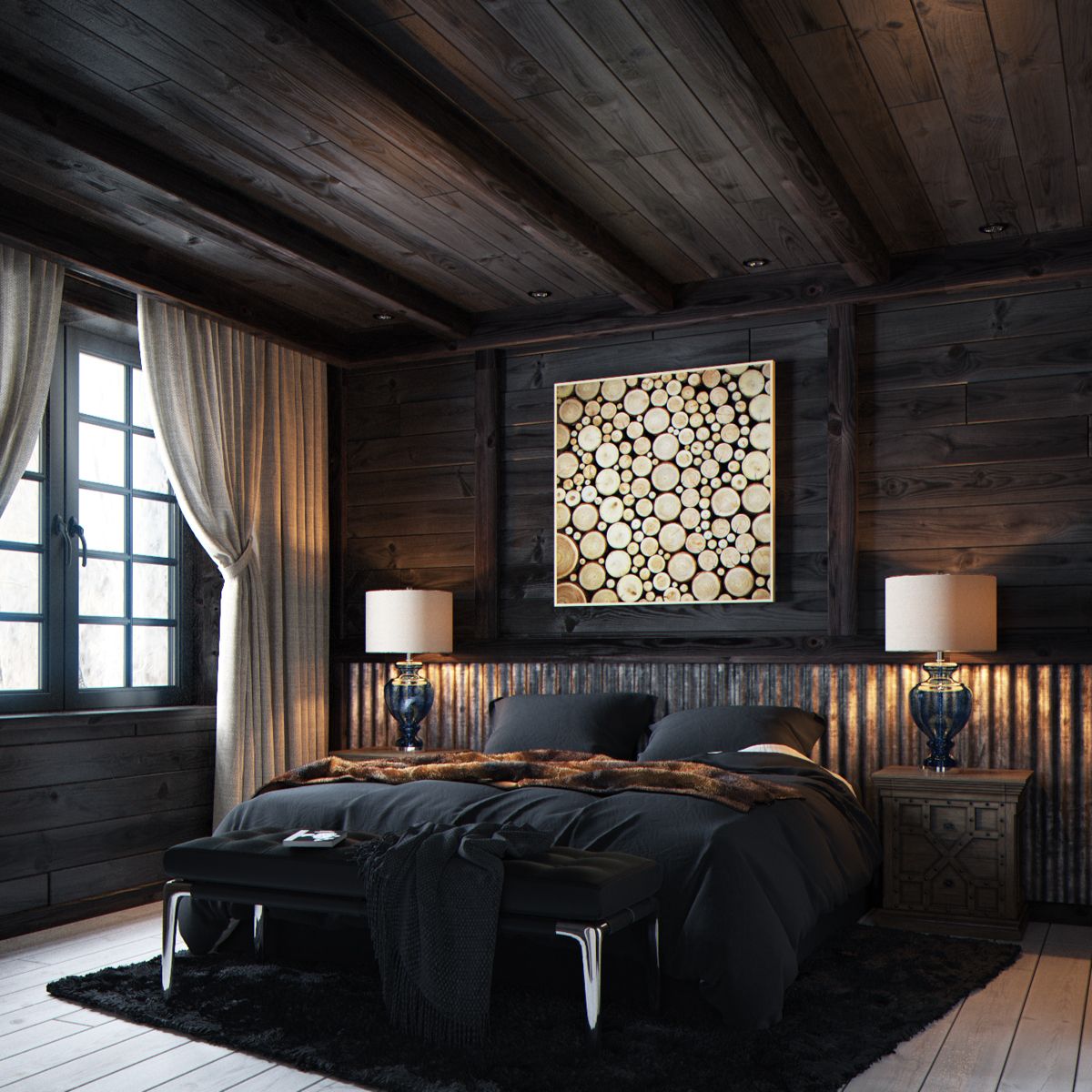 Industrial interior design is more interesting when you combine it with rustic design. Since industrial design uses raw material, then it suits rustic design that uses natural elements. For your master bedroom interior design, you can use the combination of both designs to draw a fresh nuance for your room. Wooden material is the common material in this design that you can see on the furniture, floor material, and decoration on the wall. This design makes your master bedroom warmer.
Industrial Master Bedroom with Pendant Lights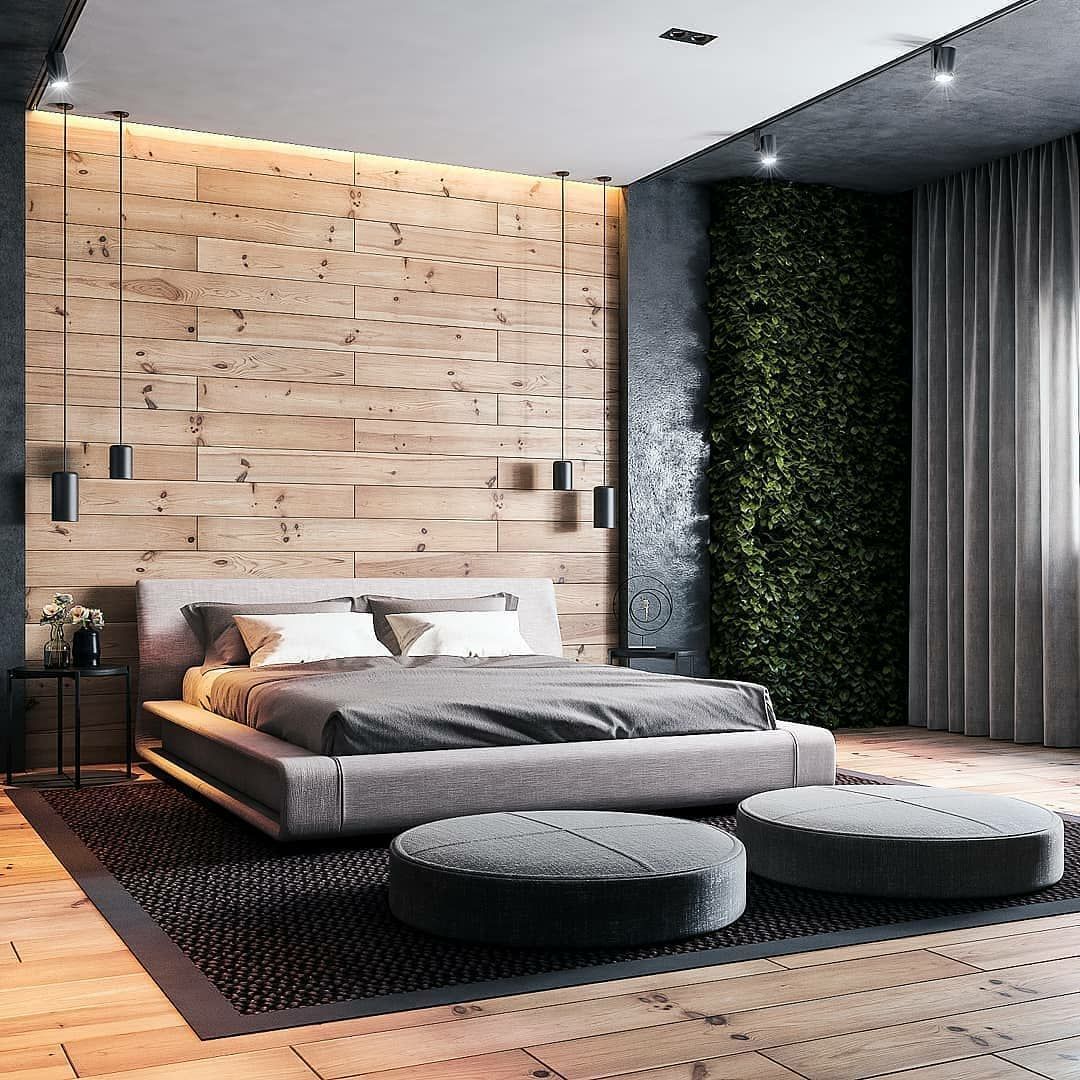 The pendant light is a long hanging light that is used as an attractive light to draw an industrial accent. This light usually appears in black and yellow light. Having this light on your Industrial master bedroom gives you a more aesthetic look. Moreover, this light is a simple element to strengthen an elegant master bedroom that looks larger.
Classic Style Master Bedroom
Also, create a classic and vintage look for your luxurious master bedroom. Creating a classic style will allow you to provide a variety of beautiful and stunning furniture and decorations. Besides, various vintage and classic designs also give it an elegant appearance. This will be perfect for those of you who want to create a luxurious master bedroom in your home. For that, you can follow a variety of ideas which we will discuss below!
Neoclassical Master Bedroom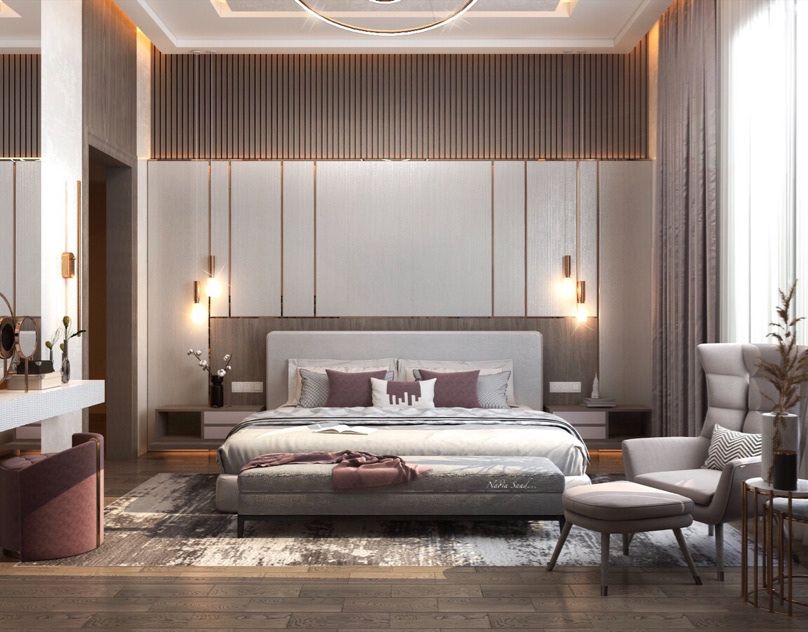 Neoclassical interior design is an era of interior design around 18th CE that uses old-fashioned furniture and soft brown color. It is seen by the carved wood, elegant molding, statues, etc. To enliven the 18th CE design, a master bedroom is the right room to apply this interior design by using soft colors such as white, gray, yellow, cream, green. It also uses a plain rug to create a luxurious accent.
Art Deco Bulb for Master Bedroom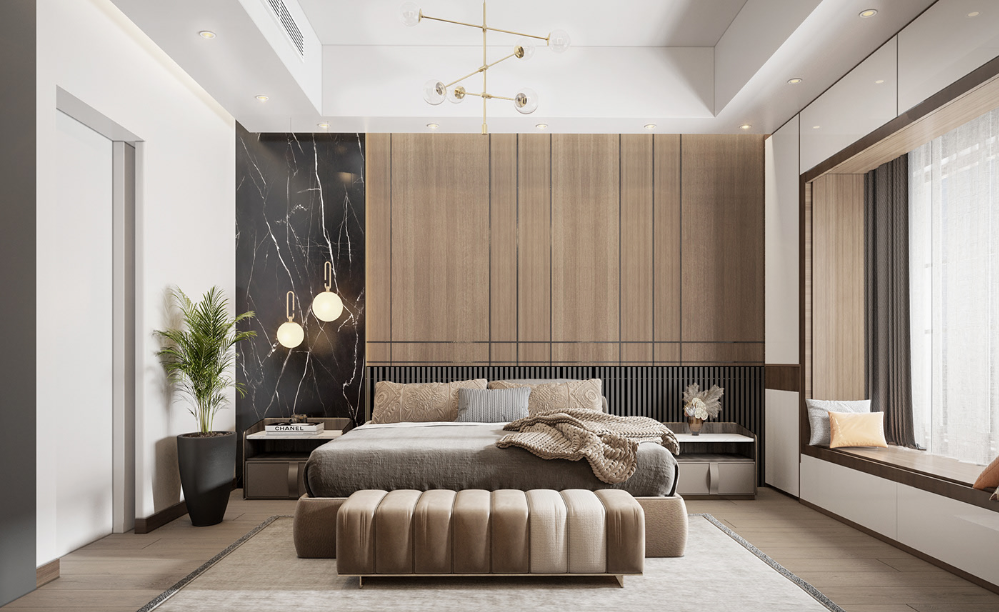 Art Deco includes in classic interior design because it uses most classic furniture to establish an artistic decoration. The white bulb gives a classic accent to your master bedroom interior. If you like to hang this bulb on the ceiling, choose the bulb with golden sticks to have a luxurious impression. Moreover, the yellow light from this bulb strengthens the classic atmosphere.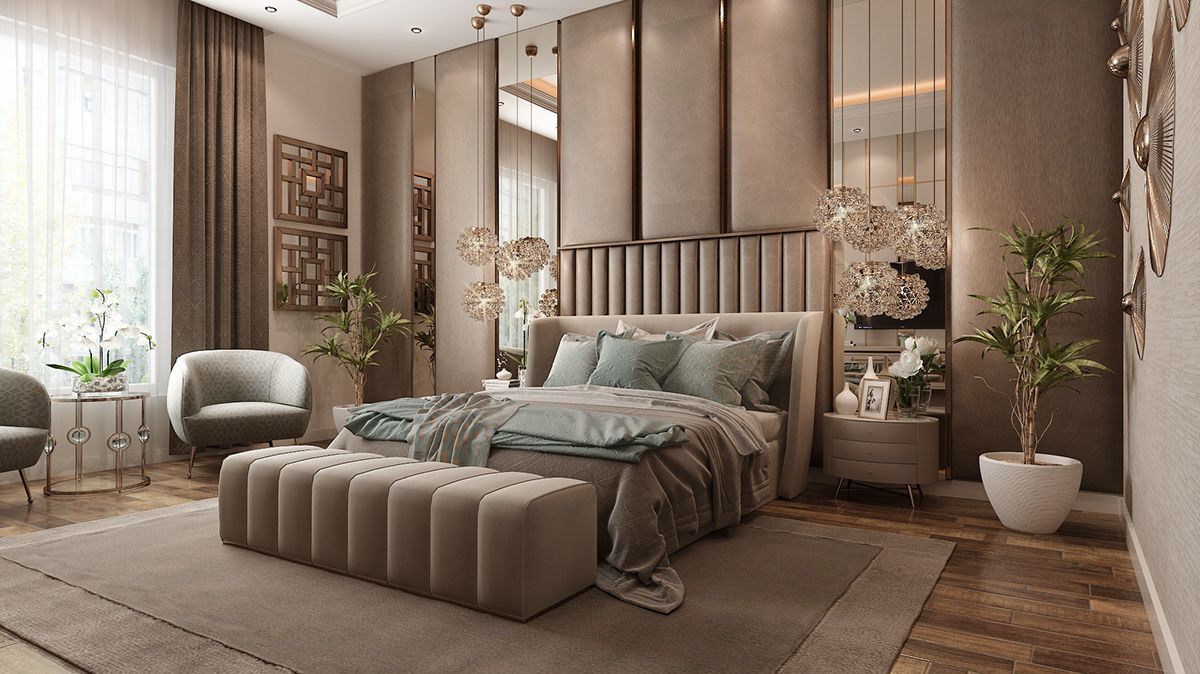 Using classic furniture in your master bedroom can establish a charm and classier atmosphere. The classic furniture helps you transform the bedroom to feel elegant. There is a chandelier, upholstery couches in a rich bold color, uses affordable chenille or linen cotton, uses leather, velvet, and silk. Thus, to create a classic master bedroom, put this furniture to give a punchy look.
Thus our discussion of Luxurious Master Bedroom : A Stunning and Comfortable Place for Sleep. Decorating a master bedroom needs certain elements based on the interior design you want to use. Each design has characteristics and creates certain impressions on your room. Besides, decorate your master bedroom will invigorate the atmosphere inside it. Thus, we have provided some inspirations for you to determine a master bedroom decor and how to make it looks luxurious. Hopefully, this article is useful for you. Happy decorating your master bedroom!