Druhomes.com – In a comfortable house, creating a beautiful appearance in every part is enjoyable for you to do as a homeowner. You can pay attention to the interior designs, furniture, and decorations that you use in your home. One of the things you can pay attention to is to create a comfortable and beautiful interior is the doors and windows design. These two things are important for access in and out of your home. However, the door is the main access in and out of you and the people in your house. Meanwhile, windows are used for access to air and light in and out. In this article, we will focus on discussing Glass Door Ideas for Elegant and Beautiful Home Interior.
A door is very important for you to create in your home. This is because the door is an entrance in every building. The type of door has been developed by many room designers to get a different impression than the plain door. It is made of wood, steel, or glass material. Like the other doors, a glass door has the same function but gives a different perspective. The glass door has a transparent look if you use it for your home. Moreover, it has various colors and aesthetic looks by its unique pattern. Knowing that a glass door is useful for decoration, you should see the ideas of elegant glass doors below. Let's discuss them one by one!
Bathroom Interior
In the first part of the house that you can give a glass door in the bathroom. By creating a glass door in your bathroom, you can give it a modern and elegant look. Besides, you can also use a variety of glass door designs that you want according to your wants and needs. For that, here's the discussion!
Transparent Bathroom Door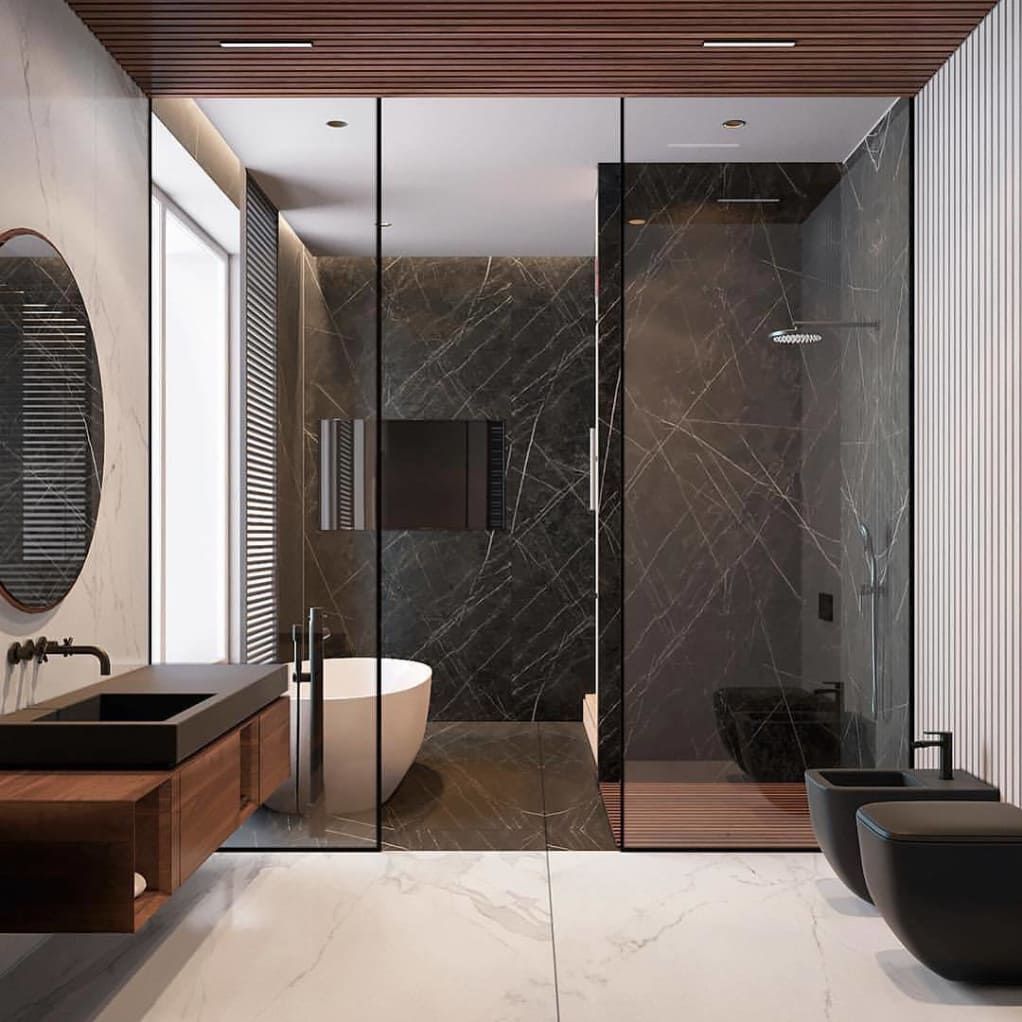 The use of glass material is generally used in a bathroom. This material creates a spacious look in your bathroom by using the transparent effect to show the bathroom layout. You can install a glass door for your bathroom to let everyone sees the entire bathroom. If you have a nice wall decoration then a glass door helps you to create a transparent room partition to separate the bathroom and other rooms.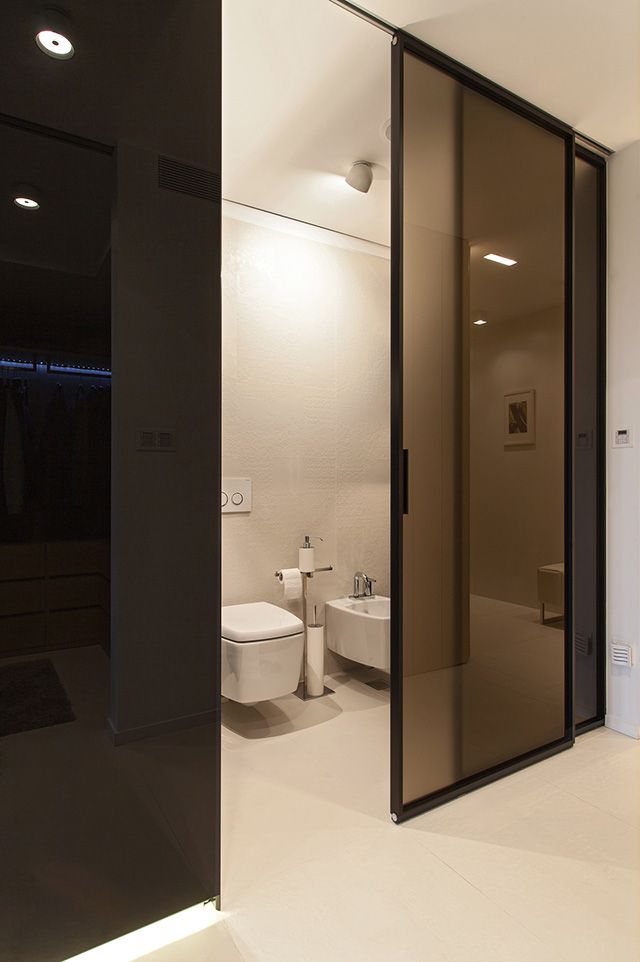 A black glass door has an elegant look if we see the impression from its dark atmosphere. You can see through this glass door, but it also creates a shadowy look in your eyes. The black glass door has two perspectives. The one side has a dark face that makes you can't see the things behind it. Another side allows you to see everything behind it. Thus, you should use the side that protects you from outside view for your bathroom glass door.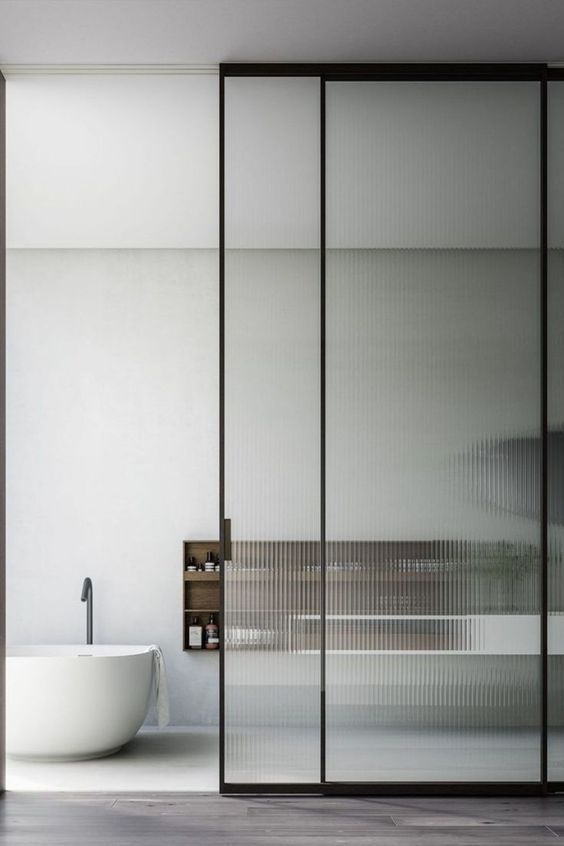 A sliding door is an interesting door that is compatible to draw an elegant view for a bathroom. As a bathroom door, you can choose the glass door that has a blurry face. It also has two faces but the transparent look lets you know when someone is using your bathroom. This sliding door has a unique side because it has a blurry face that protects you from the outside. You can see the things inside your bathroom from the outside, but the image is not clear. This glass door is catchy to apply if you want to have an elegant impression by a simple glass door.
Bedroom Interior
Apart from using glass doors in the bathroom, you can also use glass doors in the interior of the bedroom in your home. You can create a bedroom that has glass doors that will give a modern look to the interior. Besides, the glass material that you use can also provide an elegant and beautiful accent in a simple concept. For that, here are some ideas that you can follow!
Sliding Door on A Glass Wall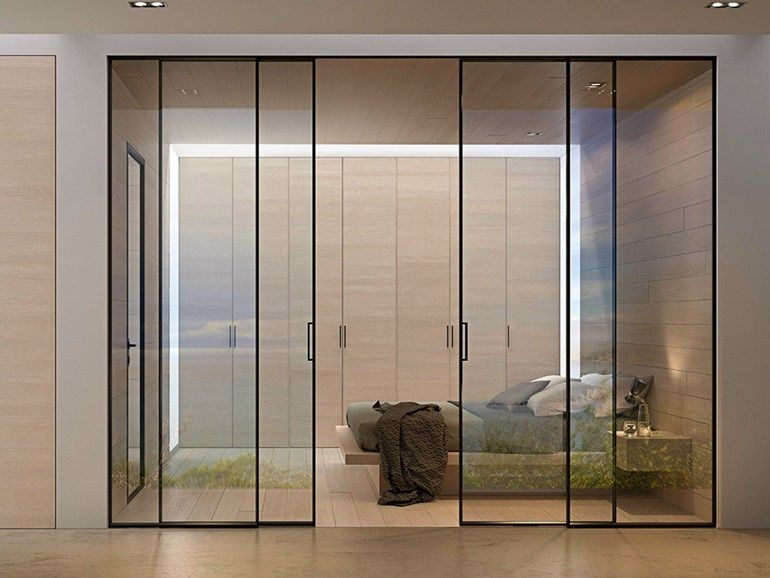 In a conservatory house, you will see a high level of brightness in every room. It provides natural light and offers you a direct scenery to the outside. Like the conservatory idea, maybe you want to attach this idea to your bedroom. Installing one sidewall that uses glass material can enliven a luxurious impression. This idea is interesting enough because you can use a curtain if you want to change the glass wall idea.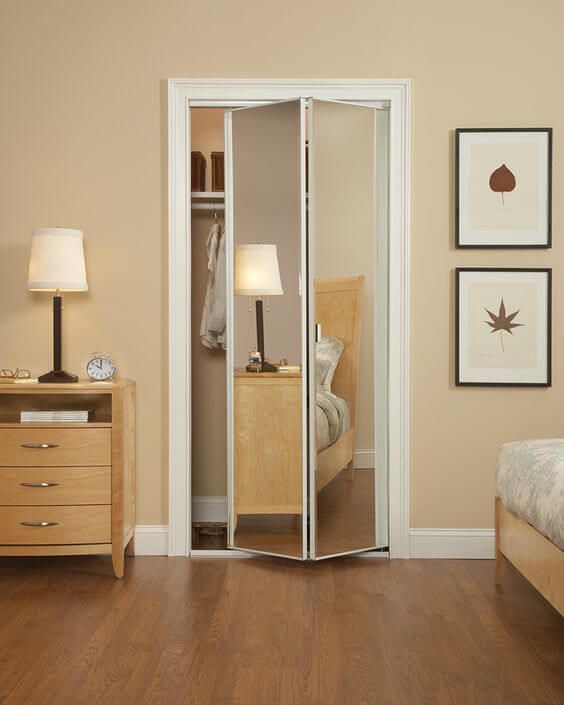 You can also create folding doors for your bedroom interior. The common design for a folded door is made of wood or steel. Using a folded door that uses glass material will create a different impression. You can see the reflection of your bedroom interior on the glass door. Besides, to get a perfect reflection, you can replace the glass with an aesthetic mirror. Thus, it makes your room looks spacious.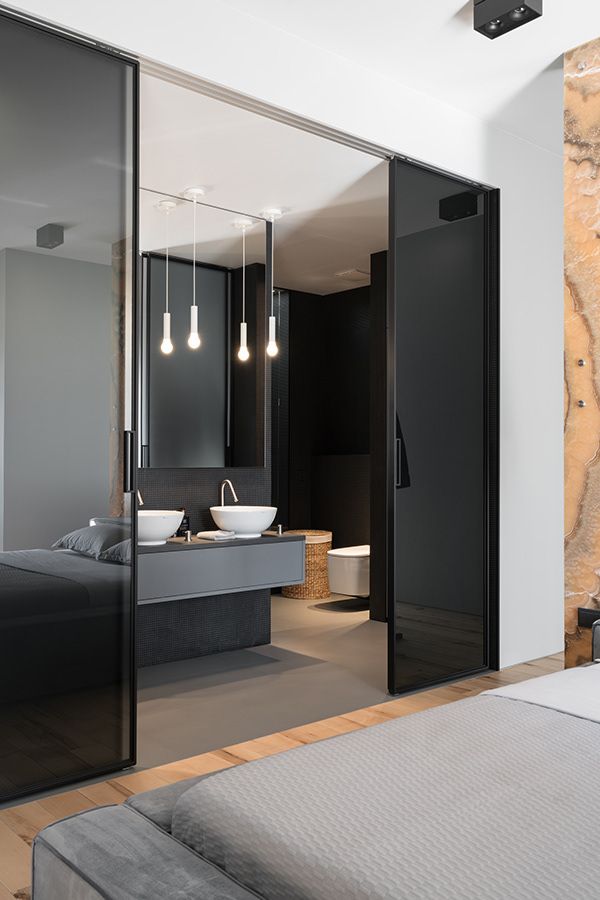 The black door always looks elegant. Moreover, if you a black glass door that can reflect light on it. Having the black glass door makes your bedroom interior more interesting. It can protect your bedroom from the outside. This black door is compatible with a dark theme bedroom. The black color creates a contrasting accent on the wall.
Living Room Interior
You can use the last glass door that we discussed in this article in the interior of the living room. Creating glass doors in your living room will give you an elegant and beautiful appearance to your living room. This is because the glass material you use can be created in a variety of modern door designs according to your expression and character. Here's the discussion!
Black Door to Adjust the Dark Theme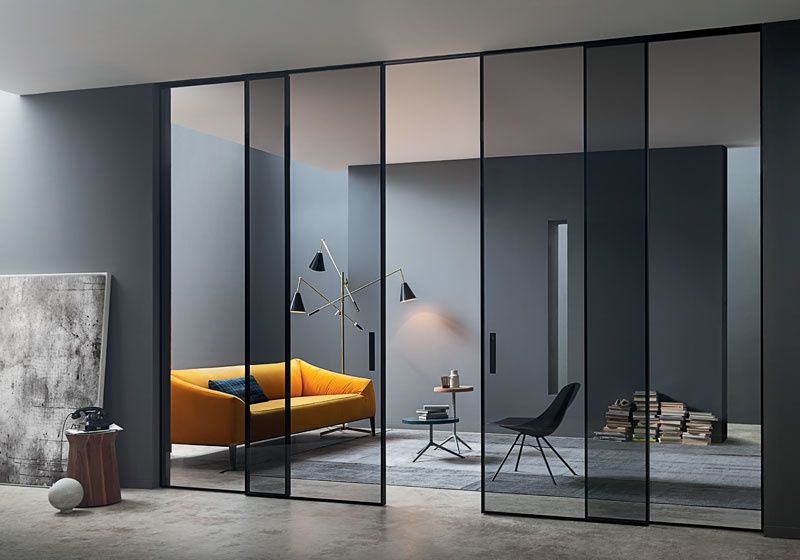 With the same vibe as the previous ideas, the black glass door is also interesting to install in your living room. It will create an elegant entrance to get into your living room. Thus, the design for this door is interesting in every form such as a sliding, folded, or ordinary door. Moreover, it also modifies your living room with a dark style with transparent view.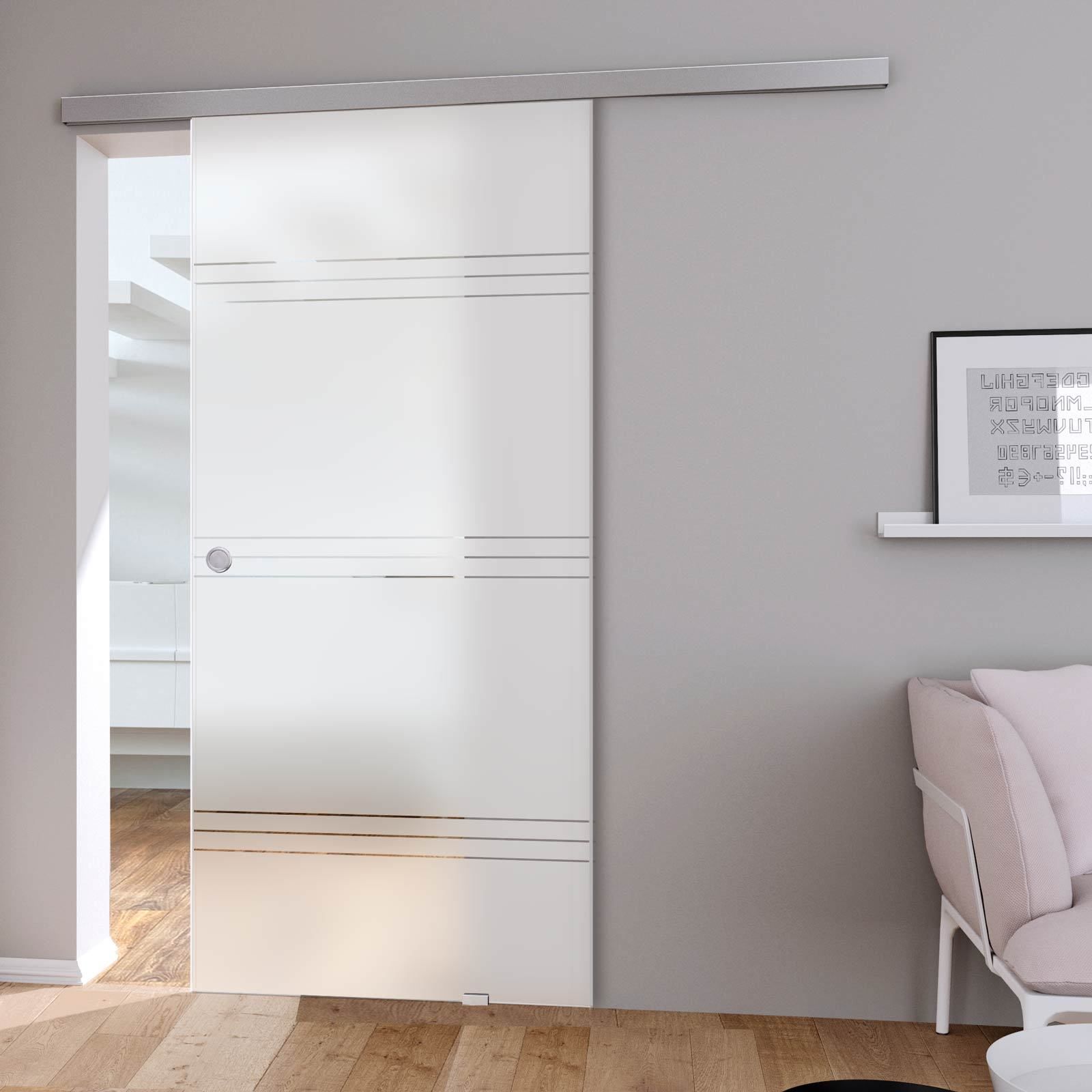 A white sliding door brings a simple and neat impression. This door is commonly used in the office, school, hospital, and so on. To decorate your living room, a white sliding door has a benefit when you close the door, you will know that someone stands behind the door by its shadow. The white sliding door covers the entrance for your living room with a white transparent look.
Glass Door with Aesthetic Pattern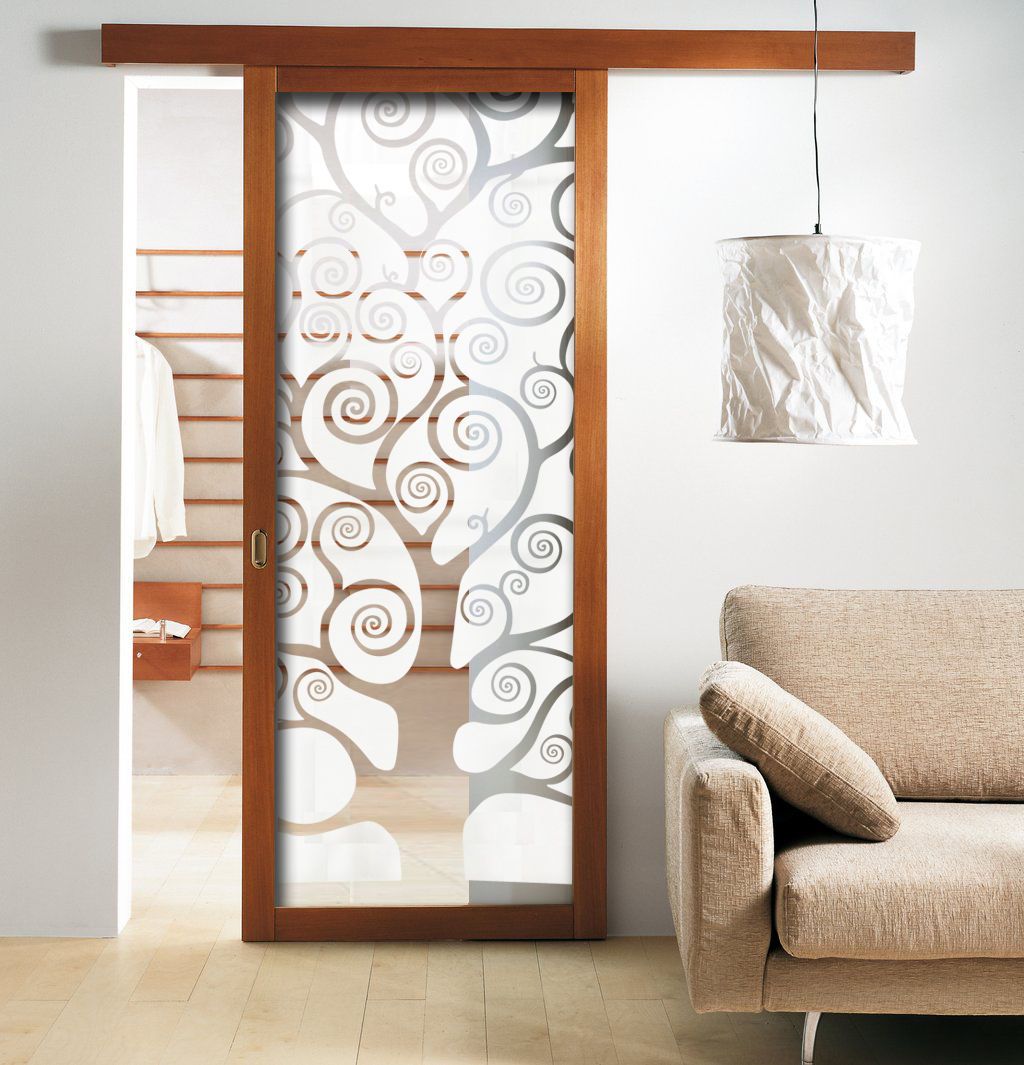 In a glass door, you can apply an interesting pattern to it. The glass material will reflect the pattern in natural motifs such as vines, ornamental plants, leaves, dragons, and other animal prints. Moreover, it refreshes the living room with a showy and aesthetic pattern to suit the interior. The combination of modern and traditional design emerges from a wooden frame and glass material within it.
That is our discussion about Glass Door Ideas for Elegant and Beautiful Home Interior. Glass material always is an elegant material in home design. This material brings a glossy and shiny impression to a room. It brightens the room with natural light from the outside. Moreover, using glass material is beneficial to create a spacious look and make a transparent partition. Thus, the ideas we have mentioned above will be useful for you to determine the right design to use a glass door. For that, create an elegant and beautiful home interior appearance using glass doors. Happy decorating!