Druhomes.com – Green color is one of the colors with a natural character among the many colors that you can choose from. It has various shades that create a calm impression. The green color in a certain home design brings peace to make that room feels comfortable. Also, it is nice to use as the main theme in a kitchen. This interior needs a fresh decoration by attaching green color to transform your kitchen into a greenery landscape. Some accents in a green kitchen decoration may arouse a positive mood and increase your productivity when cooking the meal. Thus, we want to show you some stunning green kitchen that invigorates the atmosphere. Before we go to the next ideas, we have listed some characteristics of green color.
Has a natural impression
It is a pleasant color and brings peace
Makes the interior looks fresh, energetic, and spacious
It looks interesting to combine with other colors
Represents a kind, generous, and good personality
By knowing the various characters that green gives you, you can create this color in the interior of a kitchen with the right interior design and interior style. For example, you can create green in a tropical or bohemian interior design. In addition, you can also use this color in a variety of home interior designs and concepts that you want according to your expression and character. For that, here are a variety of stunning ideas for using green in your kitchen interior. Let's discuss!
Mid Century Furniture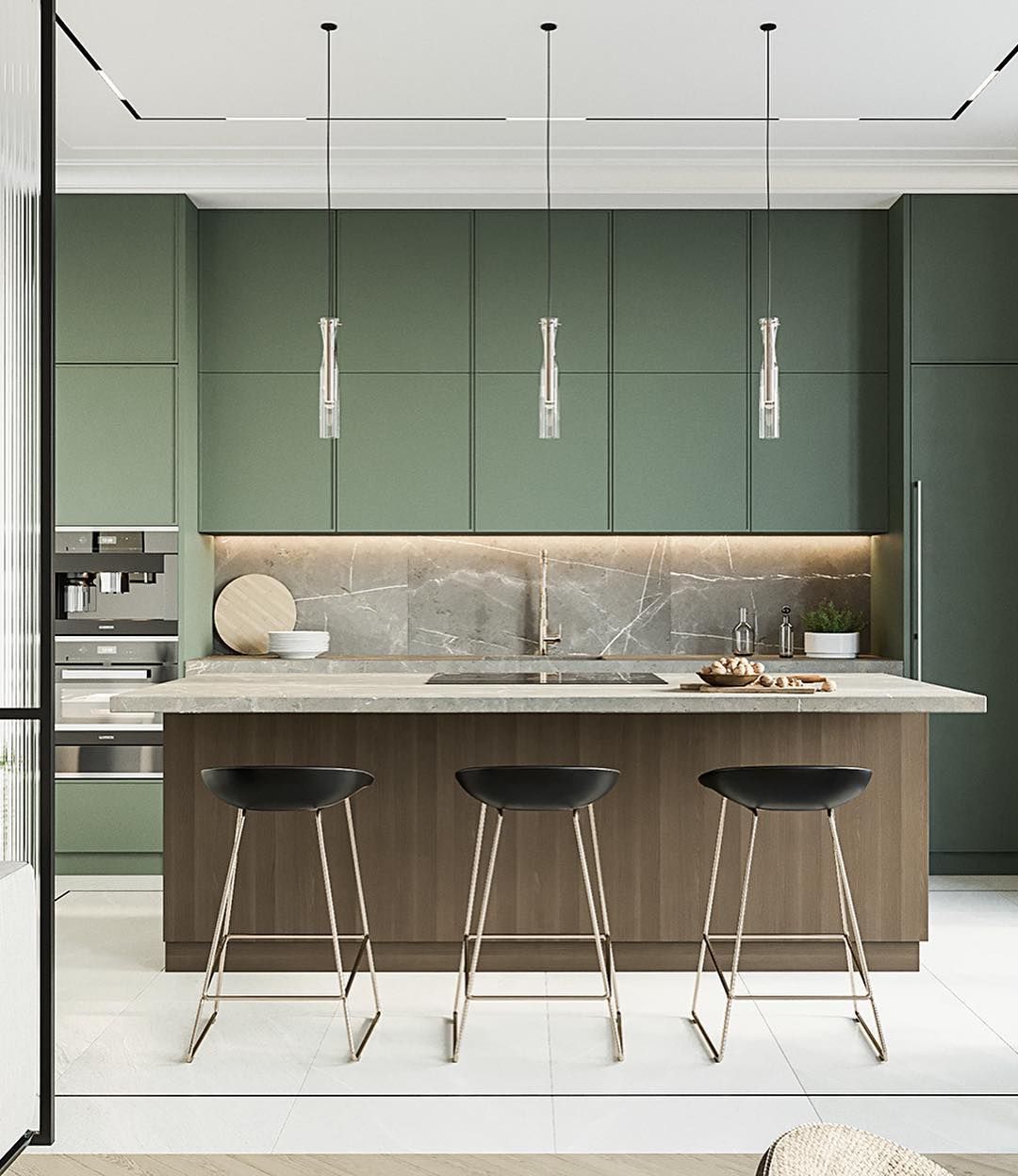 A kitchen that uses green color creates a classic accent based on the green color shades. Combining this green leaves' color with classic furniture such as mid-century dining chairs strengthens the antique decoration. Mi and match this furniture by using a glossy brown color to balance its classic elements.
An Elegant Backsplash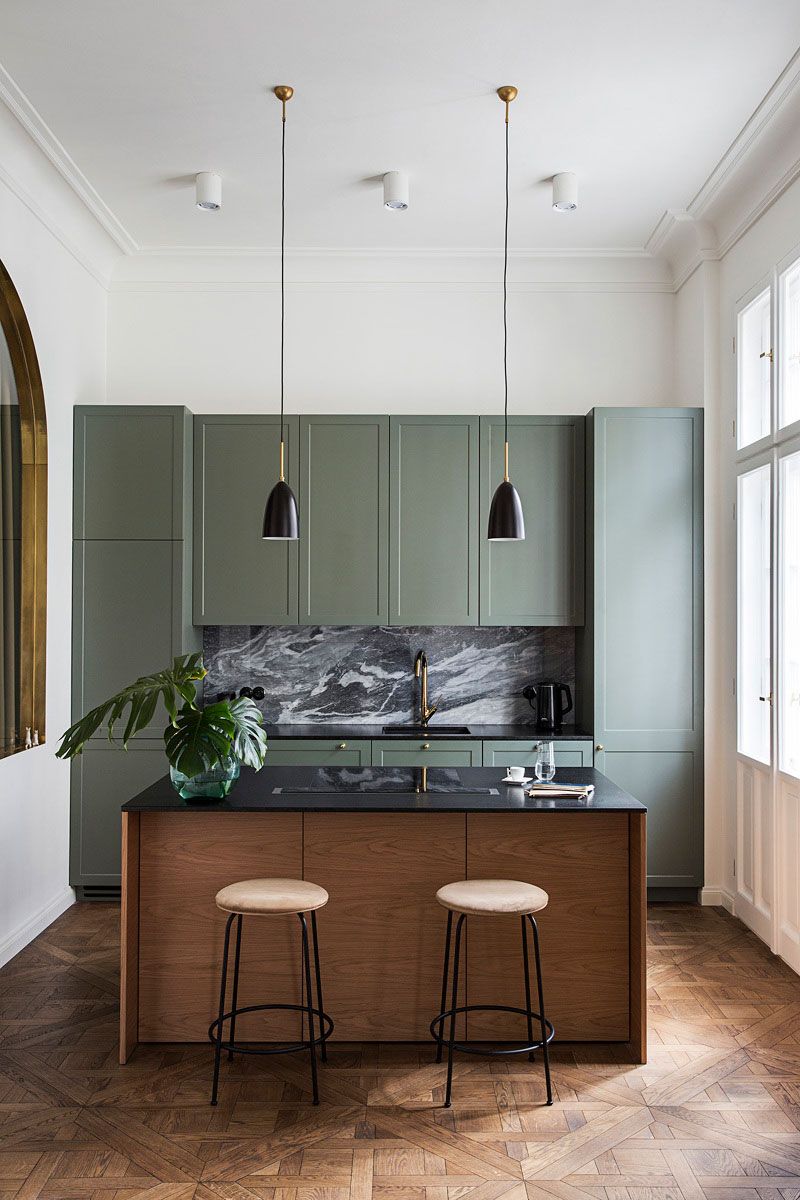 One of the interesting decorations you can attach to your green kitchen is a backsplash. It is wallpaper to beautify the wall in your kitchen. This interesting wallpaper usually appears on the space between a mounted kitchen cabinet and kitchen board. A grey wallpaper as a backsplash for your green kitchen is great to create a calm atmosphere. The use of calm colors relaxes your mind when cooking the meal. Moreover, it looks amazing if the backsplash has an interesting pattern.
Using Industrial Pendant Lamp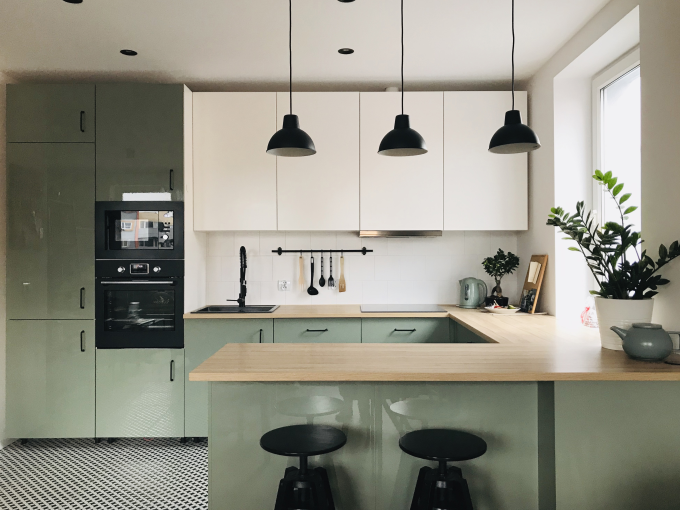 Lighting determines a certain effect that emerges in a room. Based on the brightening level, color, and saturation, lighting has an important role to modify the atmosphere in your kitchen. White light brings a clean impression, it illuminates the entire kitchen perfectly. Moreover, if you install a lampshade that reflects light. It is a simple solution to make your green kitchen more stunning.
Adopting Farmhouse Design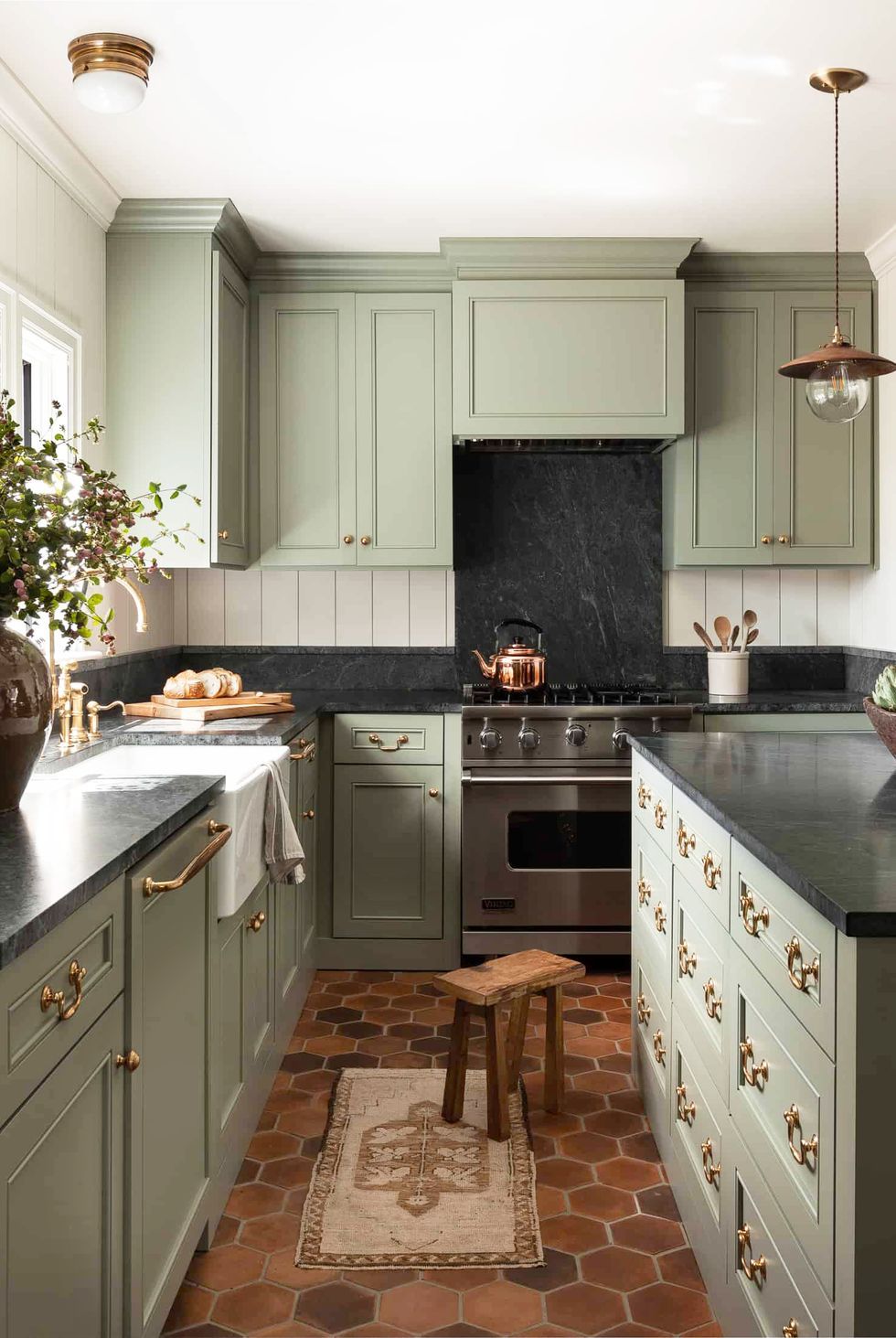 Farmhouse design is a home design that arouses a nuance of a farmhouse in a country. It relates to the French country design. The use of white color is a typical farmhouse design. Even in a green kitchen decoration, the use of white color for your ceiling is compatible with a nuance of a farmhouse. The domination of color theme in this kitchen is a white color. The green color has a faded shade to make a balanced combination in this kitchen.
Combining with Bohemian Accent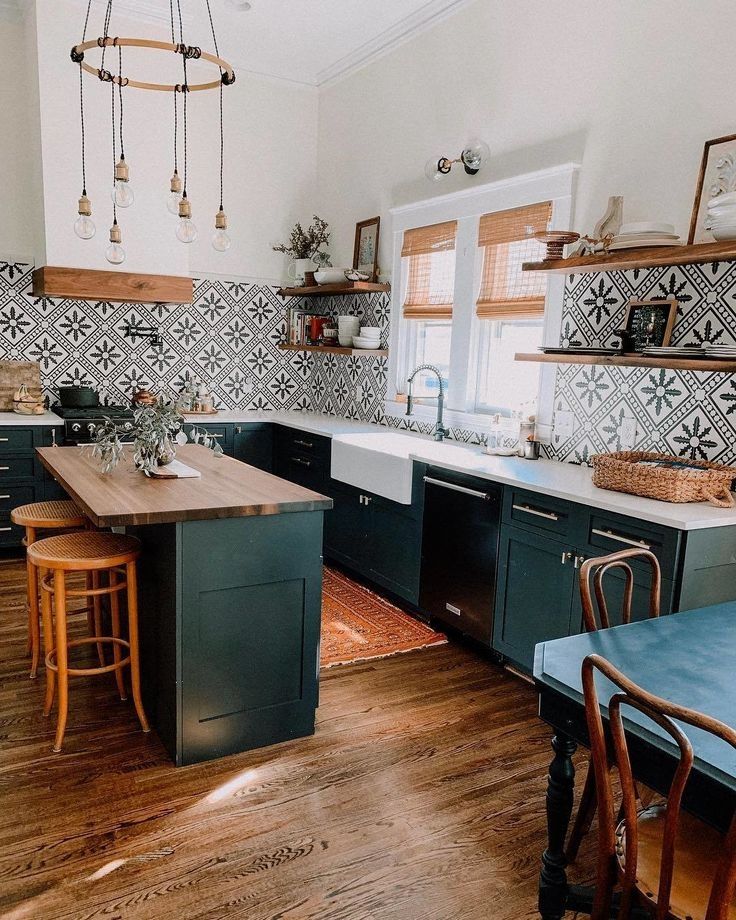 The bohemian design looks energetic to attach to any room. It has a taste of artistic design with a bunch of unique accents, various colors, and strange ornaments. Even though this design has no rules, but Bohemian design is attractive can transform your green kitchen to be more alive. The use of wicker basket, patterned backsplash in a black and white, rattan chair, wooden blind, and other wooden accents symbolize Bohemian style. For the green accent, attach a dark green color for the kitchen cabinet.
Thrive an Ornamental Plant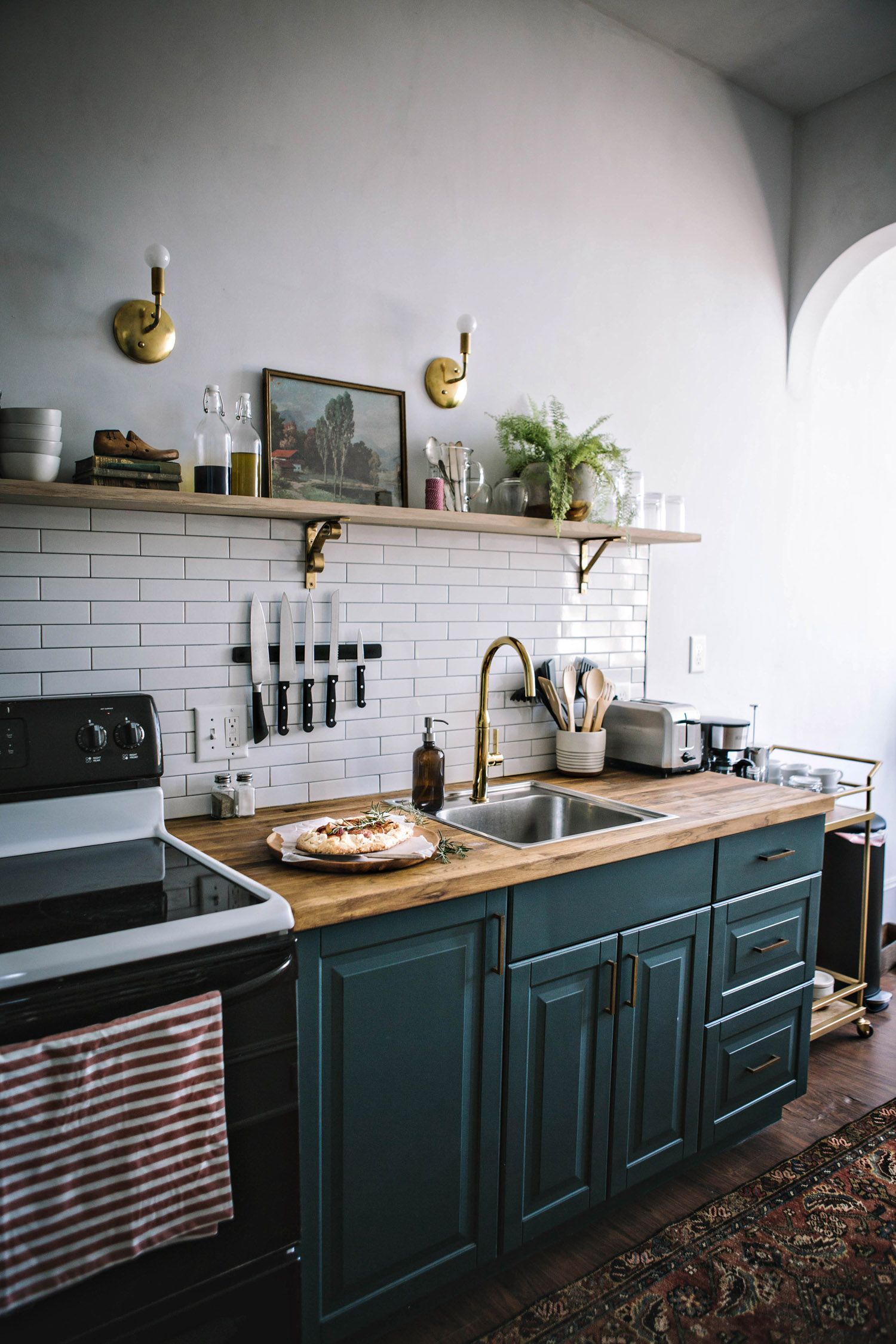 Green kitchen needs at least one natural accent to enliven a fresh nuance. Thriving an ornamental plant in a green kitchen solves this problem. The first thing you should do is considering the kind of plant to put in there. Small sansevieria, pothos, spider plants are catchy to grow in a kitchen. These plants have a small size and beautiful foliage. Thus, put a green ornamental plant in a spot that has low traffic.
Mixing Green and Grey Color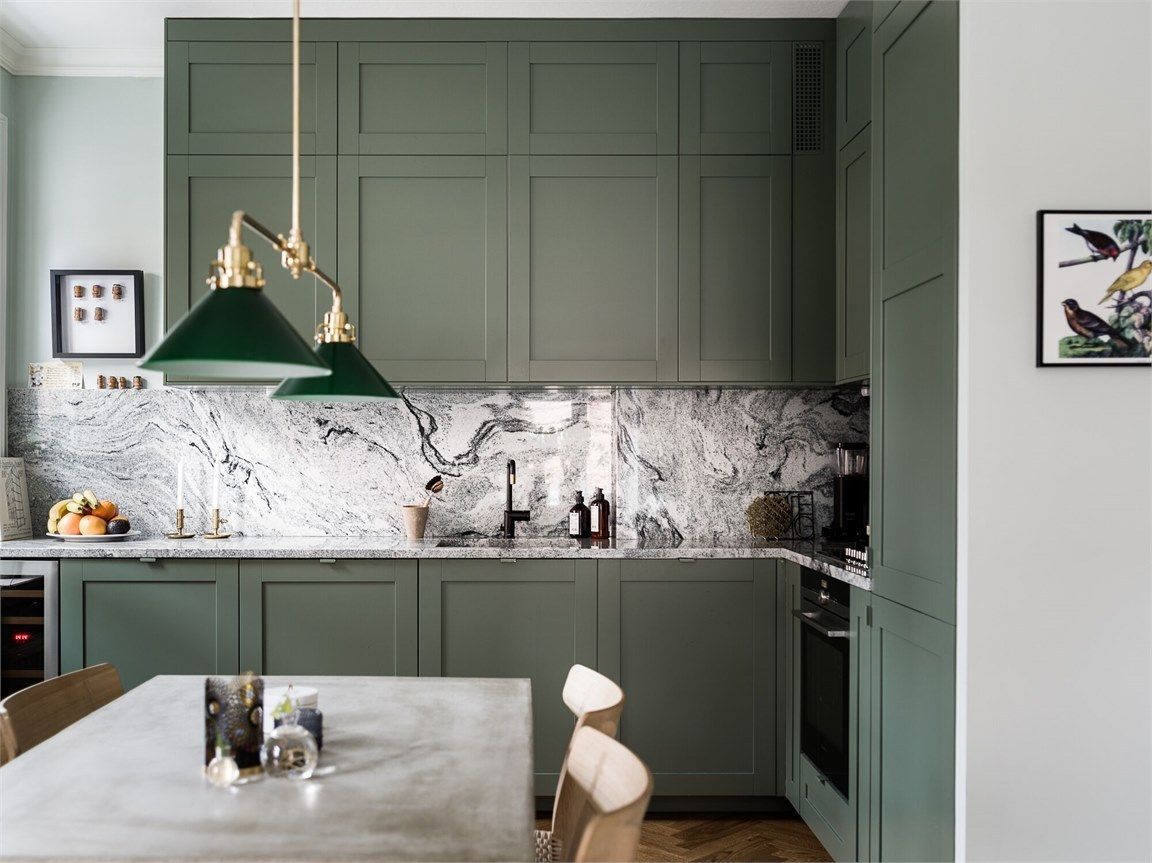 The use of grey in a home design emerges an elegant impression. The shade of dark style color of grey is catchy to combine with silver color. Both colors create a nice combination for an elegant backsplash. In a green kitchen, this backsplash brings a luxurious impression. Moreover, if you use the same color for your kitchen board, then it has a consistent theme in green and grey colors. For your green kitchen, use a customized green shade to adjust the grey color.
Using Green Emerald Color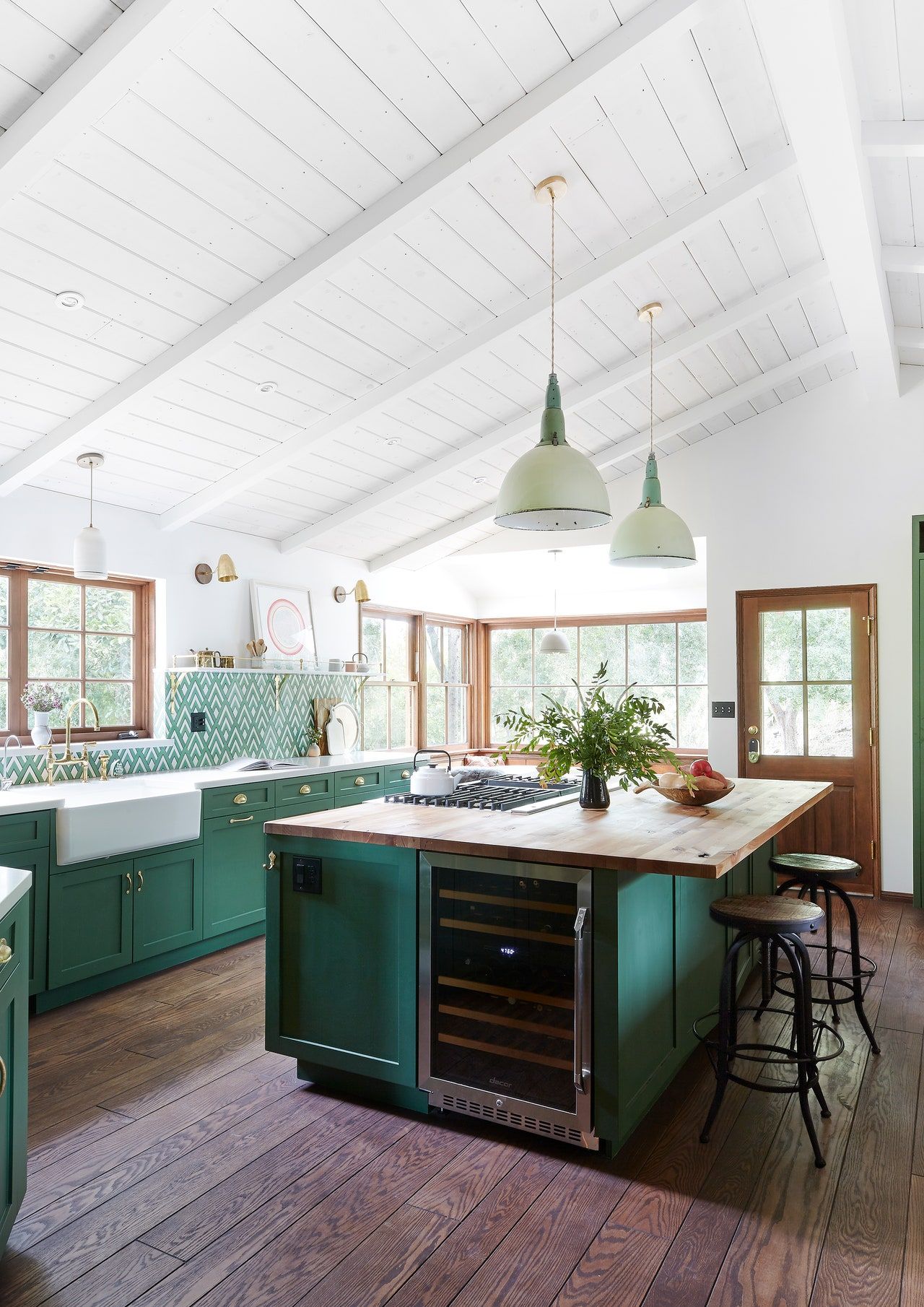 Green emerald is one of the calm colors that looks attractive to modify a certain interior. This green color imitates the color of emerald stone that has a beautiful green color. It has hints of blue and mostly green. Maybe, you want to use this color to make your kitchen looks elegant. Also, the green emerald color has a good reflection to light.
Thus our discussion of Green Kitchen Decoration Ideas for A Natural And Fresh Look. The green color has a natural impression and atmosphere to attach in a kitchen. It represents the color of nature such as the forest, lake, and leaves. You will feel a fresh atmosphere when seeing a greenery room. Thus, it has the same effect when you attach green color to your kitchen. Some elements that you need to consider are the combination with other colors, its proportions, the colors of furniture, and how you build a certain impression by the lighting. We hope you have attention to decorating your kitchen to get a fresh atmosphere by using natural colors like green color. Happy decorating!