Druhomes.com – A tapestry is a form of textile that has an artistic pattern. It is traditionally made by hand woven. Most of them use linen or cotton fabric. The use of a tapestry brings an artistic impression instantly. You may often see this decorative textile on the walls of castles. Thus, this thing has a classic and elegant nuance by the touch of royal castles. Even though this tapestry is identical to a castle wall, you can use it as a decoration in a certain room at your home. Having this tapestry in your living room, bedroom, and dining room brings an interesting impression. Moreover, the use of a tapestry may adjust your home interior by using the same shades of colors. For that, we will discuss Aesthetic Tapestry Ideas for an Artistic Home Interior Design.
Living Room
The perfect part of the house for you to give a tapestry in it is the living room. The living room is a place for you and your family or friends to gather together. For that, creating a comfortable and pleasant living room atmosphere is important for you to do. One way you can do this is to use a comfortable and beautiful tapestry. Here are some aesthetic tapestry ideas that you can follow.
A Tapestry for an Elegant Grayish Living Room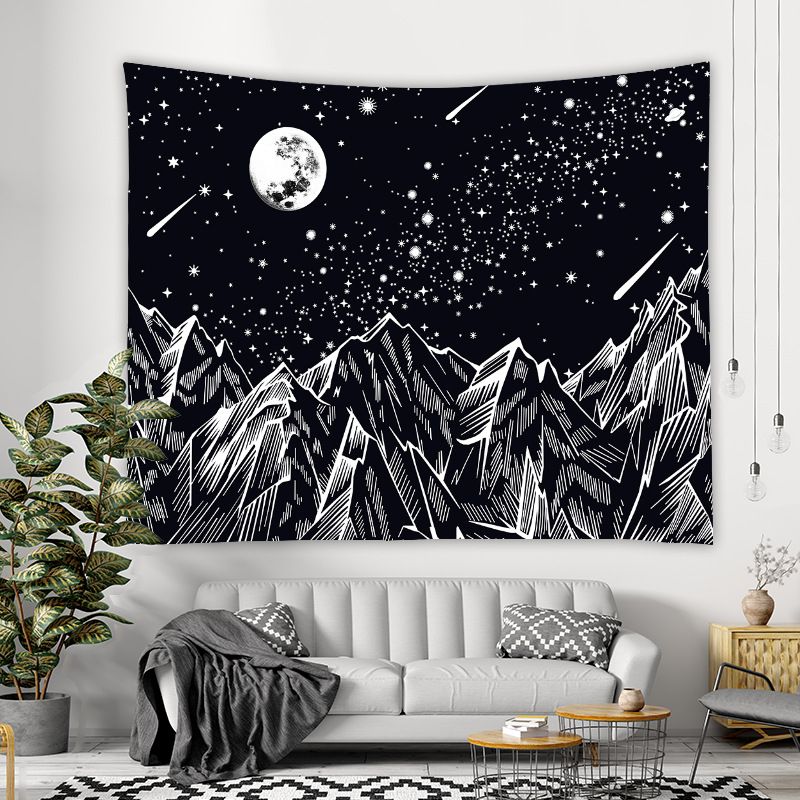 The grey color is a favorite color to make an elegant impression. This color is a combination of white color and black color. The different shades of white color create a certain level of greys such as dark grey, light grey,  soft grey, or medium grey. The function of a tapestry in this living room gives an elegant accent. Use the textile in a basic color of black will do very well in your greyish living room. This decoration creates a monochromatic scheme in this room.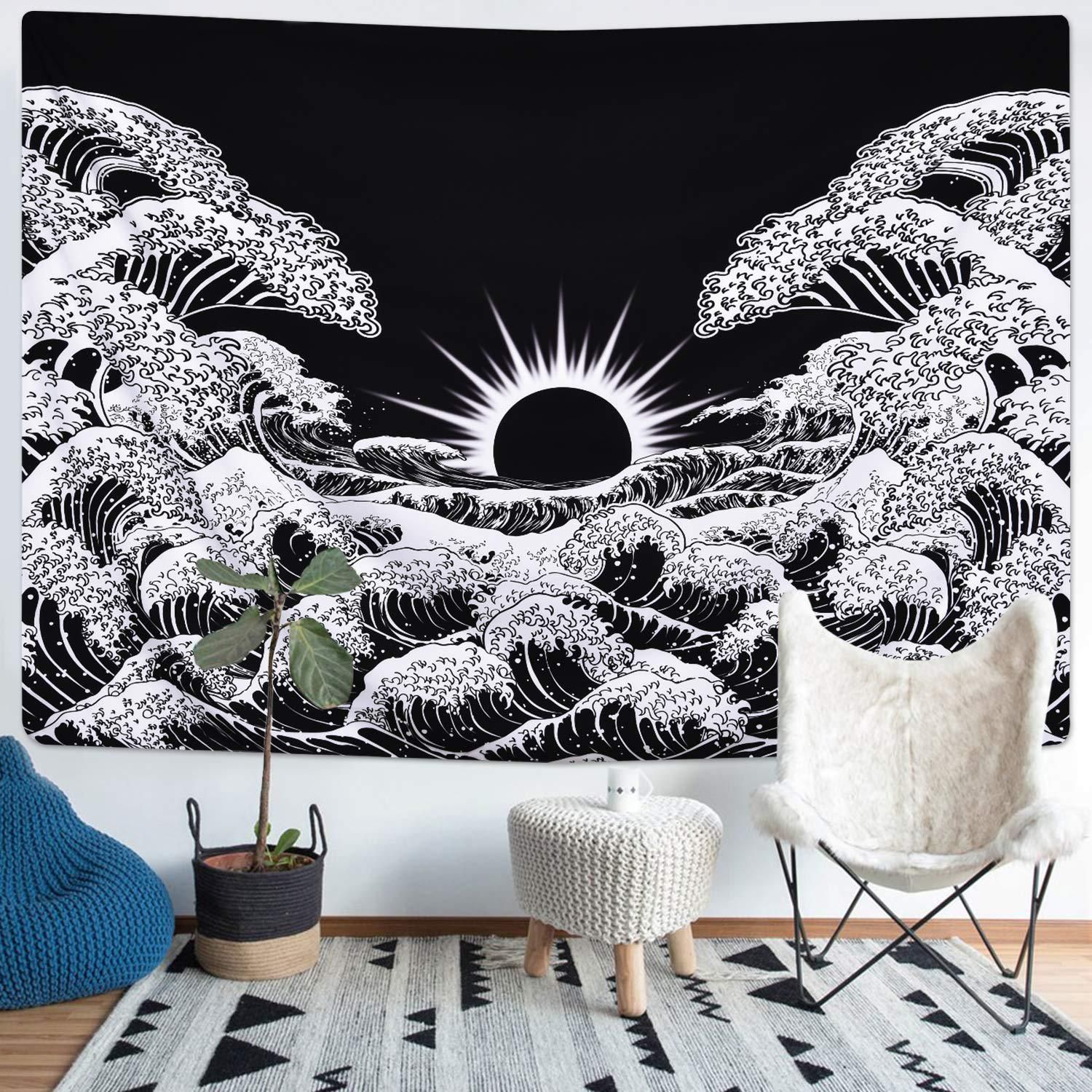 Bring a natural nuance by having a picture of nature on your tapestry. It becomes an attractive print for your tapestry to modify the living room instantly. You can hang this decorative textile above the couches on the wall. Let your guests feel an elegant nuance by displaying this tapestry in your living room. This picture is made of hand-woven or an instant print.
Create a Dramatic Nuance of The Starry Night
Give a huge modification to your tapestry looks amazing by displaying an image of the starry night. Thousands of stars on a black textile bring an aesthetic view to your living room. This tapestry is easy to customize the design by seeing the real object in the sky, then you will have an attractive accent on the wall. It brings an outdoorsy touch to your living room.
Use The Same Color for Tapestry and Wall Painting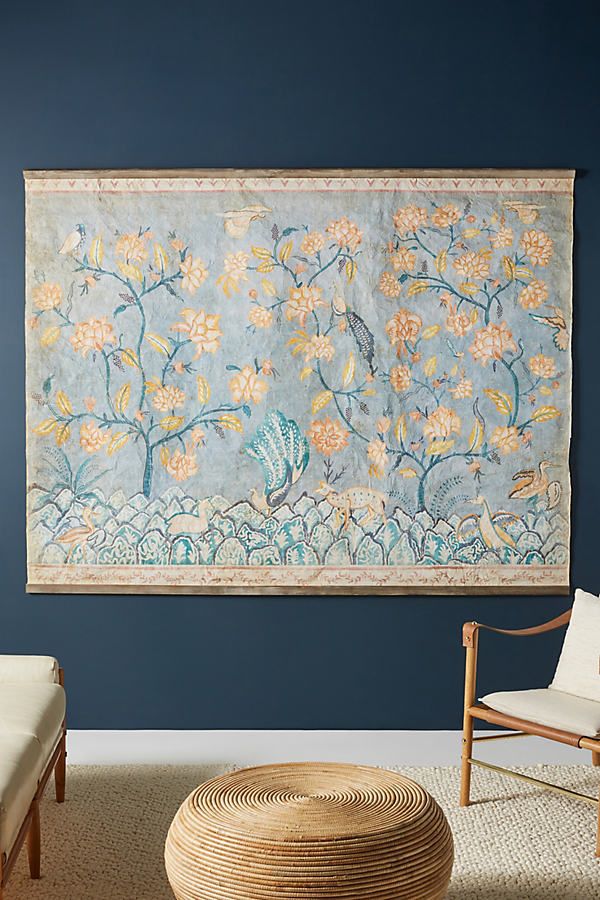 The natural pattern is a common pattern to enrich a traditional accent. This pattern brings a classic ambiance by its neutral colors and flower prints. Moreover, displaying this tapestry for your living room is incredibly inviting a warm atmosphere. Take one of the attractive colors in your tapestry to use it as the basic color for the wall in your living room. Use the same color like a blue flower and blue wall art or wall painting creates a fresh decoration.
Bedroom
You can also use a variety of aesthetic tapestry ideas for the interior of your bedroom. By using the right design and size, you can create a beautiful and stunning look in your bedroom. In addition, the tapestry in the bedroom interior will also give you comfort and warmth for all your daily activities. Here's the discussion!
A Beautiful Tapestry with Decorative Lightings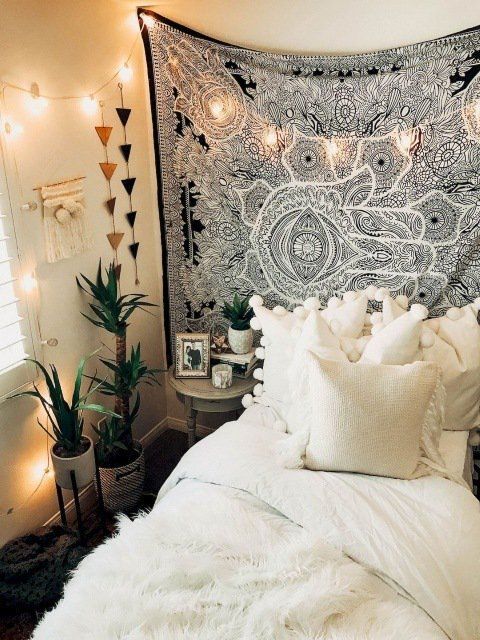 A bedroom needs lighting at night. Even though you have a tapestry on the wall, you can add yellow lamps around your tapestry to enliven an aesthetic nuance. The yellow light brings a romantic effect into the entire room. Besides, it reflects your beautiful patterns on this decorative textile. If you play with monochrome color, it creates an aesthetic contrasting room. The black-and-white theme looks catchy to get a yellow light on its decoration.
Using a Striking Color for a Cheerful Impression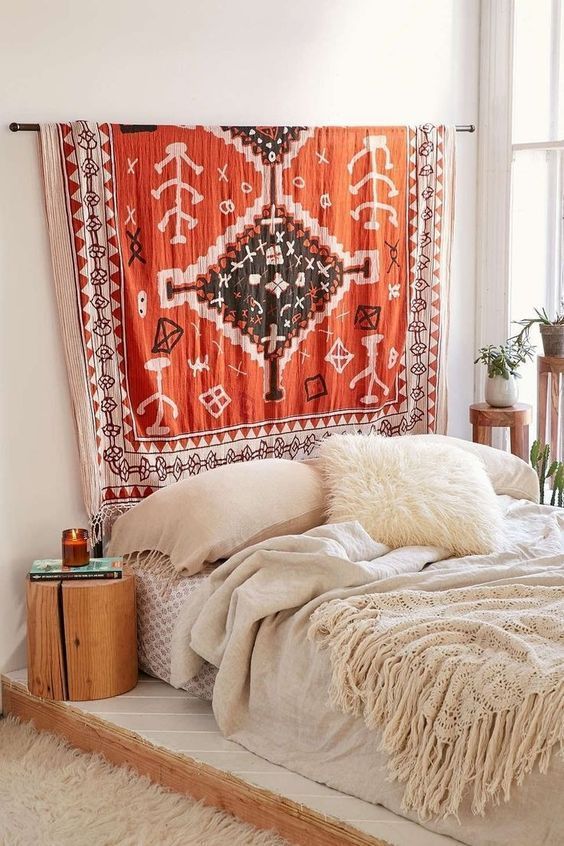 The use of a striking color sometimes gets a boring decoration. Even though it looks weird the first time but installing a tapestry with striking color is a nice option. You can get a fresher nuance in your bedroom. This tapestry becomes a focal point in this room and its attractive patterns show a traditional spirit.
Using a Neutral Tapestry for Bohemian Style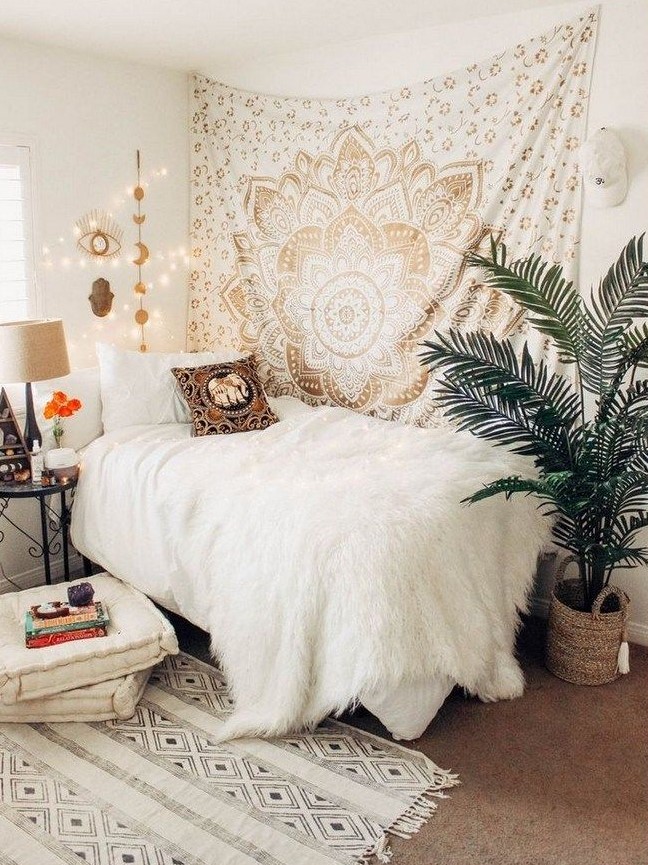 A neutral color is a calming color to have in a certain room. Install a tapestry with a neutral color brings a peaceful impression. It is compatible with Bohemian design that uses rich patterned accents. It shows you that a neutral color boosts the mood even though it has a crowded pattern. You can add this decorative textile to make your Bohemian bedroom more artistic.
Bring More Dramatic Nuance by Using Colorful Tapestry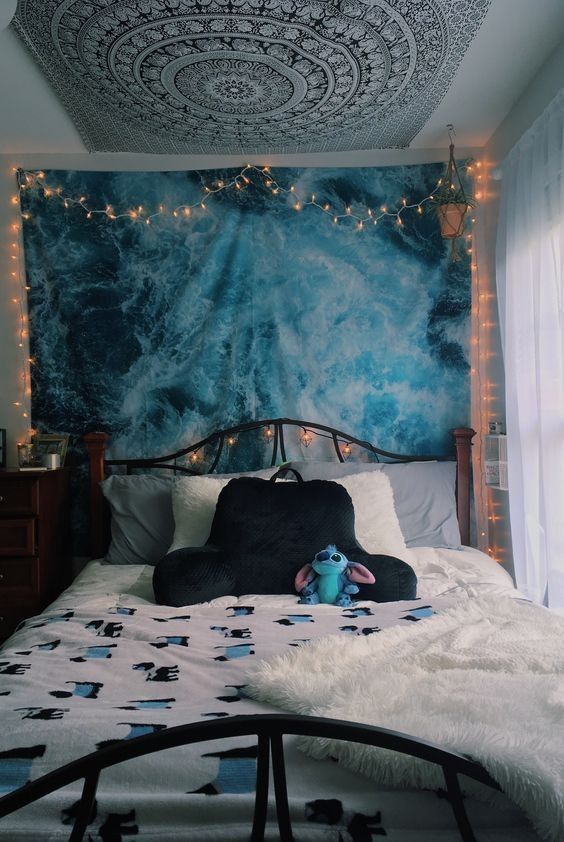 A tapestry is identical to a traditional nuance with its dark colors and artistic patterns. Also, you can give a little change to your tapestry by using a colorful tapestry in your bedroom. It is beneficial to get a different nuance to your tapestry. The colorful tapestry shows a cheerful impression when seeing at this textile.
Dining Room
In addition to using tapestry for the interior of the living room and bedroom interiors, you can also use a variety of aesthetic tapestry ideas for the interior of your dining room. By using a variety of tapestries with the right design, you can create a comfortable, beautiful, and pleasant dining room interior. In addition, you can combine various concepts that you want according to your expression and character for the interior of your dining room. For that, let's discuss!
Neutral Colors for a Classical Nuance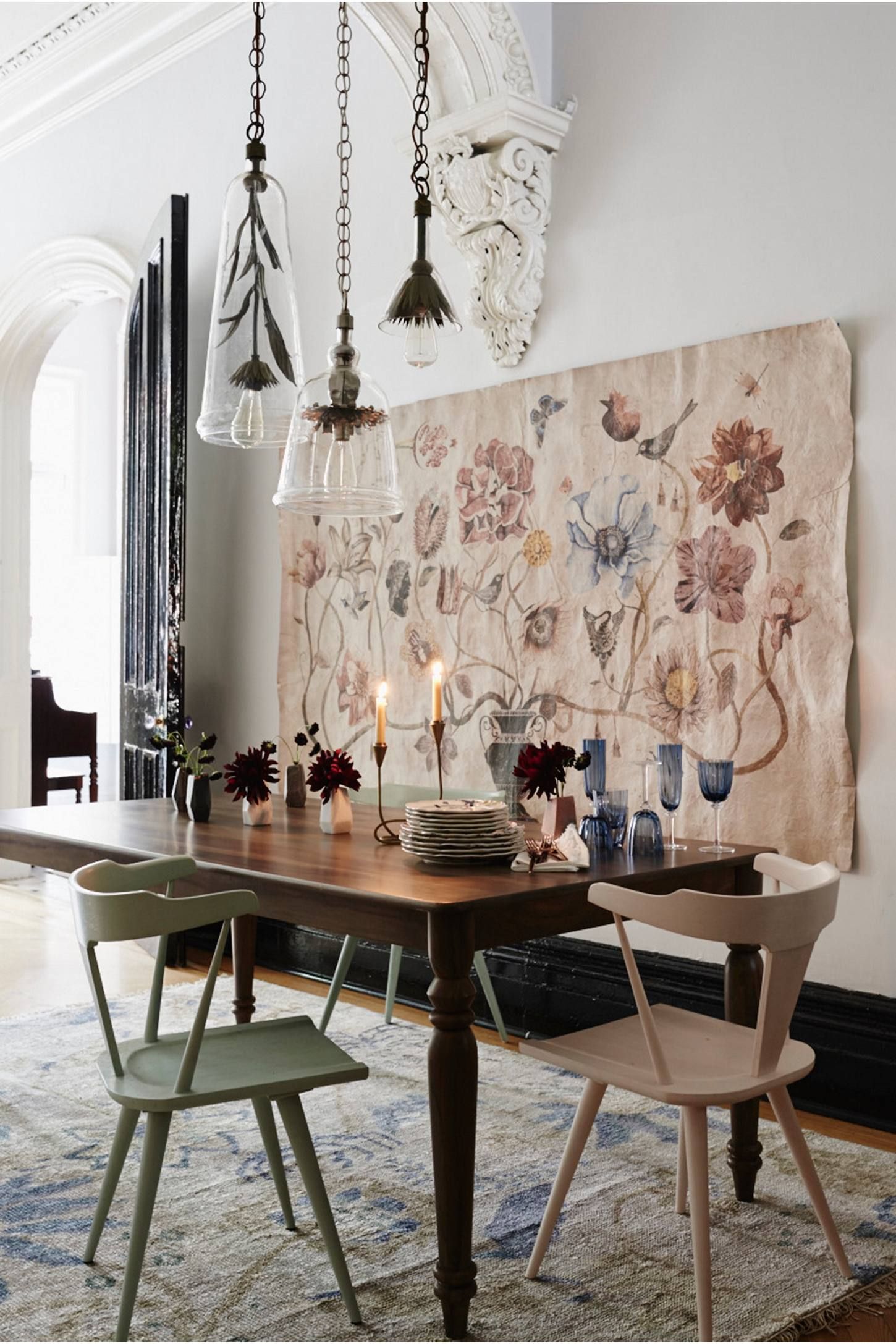 In a contemporary design, the use of traditional accents enriches the aesthetic decoration. Getting more attractive to your dining room by using a tapestry in neutral colors. Soft brown, white, and light brown is inviting a warm impression when having a mealtime. We can add more patterns by having flowery accents.
This idea is a common tapestry that you will find in a country house in Europe. The use of a traditional tapestry gives an attractive look to your dining room. It provides an earthy tone and natural patterns that make it looks natural. The key term in a traditional style is a natural pattern, thus, it represents the natural accent.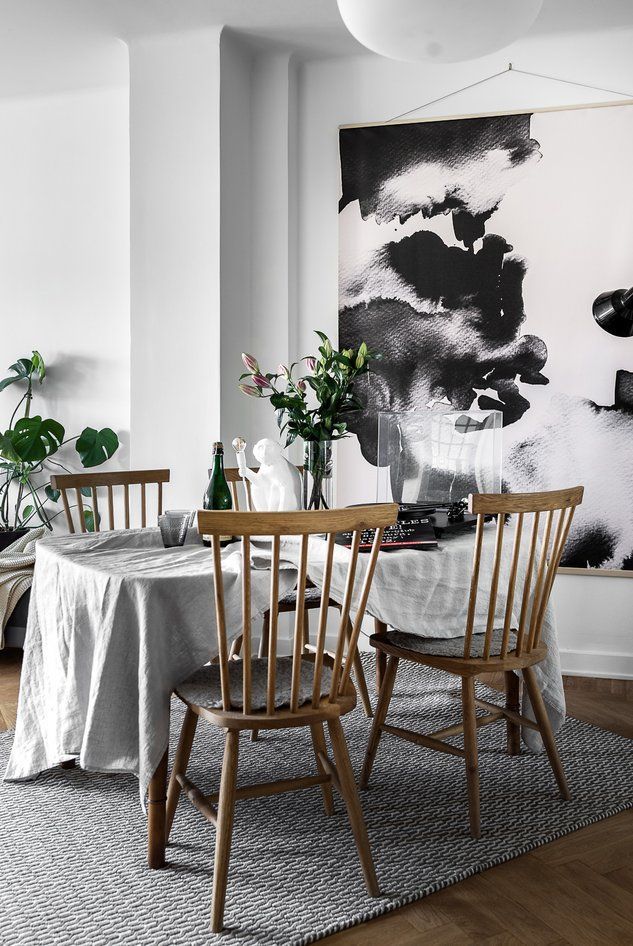 The black-and-white theme is interesting to apply in a dining room. It makes this room looks simple but elegant. You will get a fresh black-and-white decoration by combining black accents and white furniture or the white wall. Thus, a black-and-white tapestry helps you to complete this decoration to be more catchy.
The Mighty Tapestry for a Contemporary Dining Room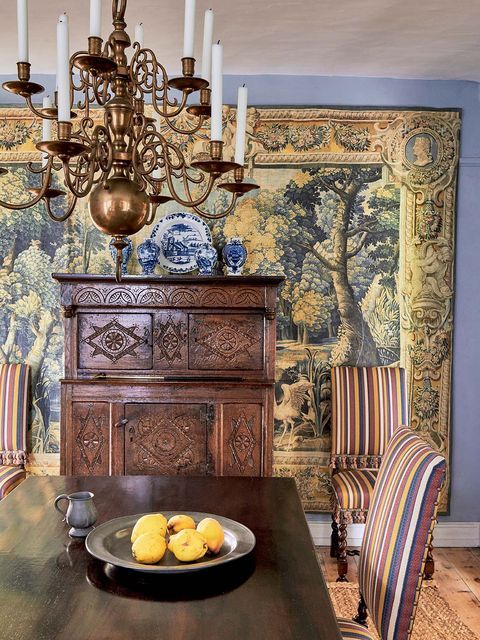 We have a little discussion about the contemporary design of tapestry for a dining room, now we give an idea of using a contemporary tapestry to modify your dining room. This tapestry brings a nuance of the time past in the 19th Century era in home design. Also, this tapestry is popular to be a decoration for walls and adopted into a ceiling painting.
That is our discussion about Aesthetic Tapestry Ideas for an Artistic Home Interior Design. Tapestry is a decorative textile that has an attractive pattern. It is made of linen or cotton. The use of a tapestry brings a strange view to get an interesting decoration. This textile is beneficial to modify your room, thus the ideas we have shared are useful for you as an inspiration to install a tapestry.  May you have an attractive decoration at your home. Happy decorating!