Druhomes.com – Ornamental plants are one of the decorations that you can use in a variety of interior designs in your home. By using ornamental plants, you can get a variety of decorative and functional benefits. One way to grow ornamental plants is to hang them. Hanging your plant is a creative way to make your plant looks attractive. It is useful to your plant because the hanging planter provides fresh air for the air circulation to their roots. Besides, this method is beneficial to make your plant a focal point in your living room. The higher position adjusts the space in this room, especially for a narrow room. To create an interesting hanging ornamental plant, you need to know some ideas of hanging plants to thrive in this living room. For that, in this article, we will discuss colorful hanging ornamental plant ideas. Let's discuss them one by one!
Crispy Wave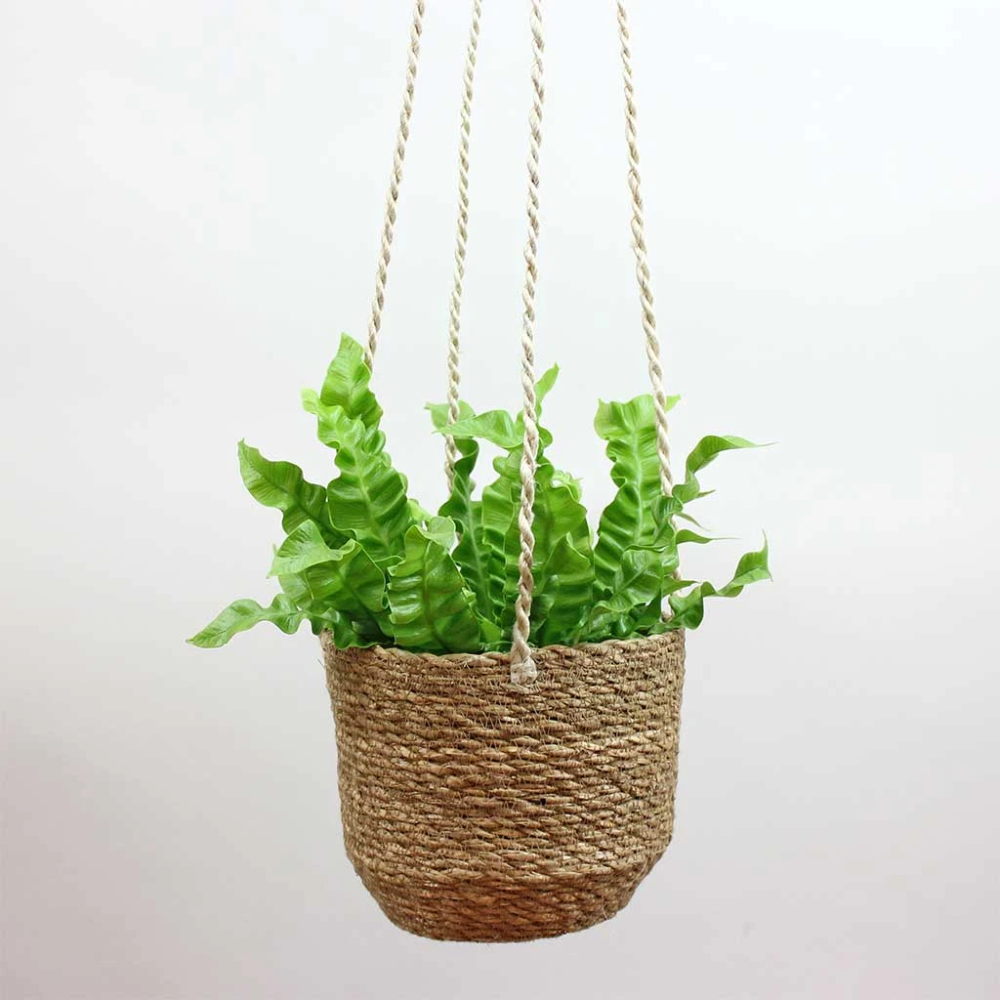 Asplenium Nidus or Bird's Nest Fern or Crispy Wave is an attractive perennial plant to thrive indoors. Hanging this plant in your living room gives a natural accent on the ceiling look. This plant has light green foliages. The leaves stand aesthetically to create a little bush plant. Like its name, the Crispy Wave plant has to wave leaves that are attractive to decorate your living room.
Chenille Plant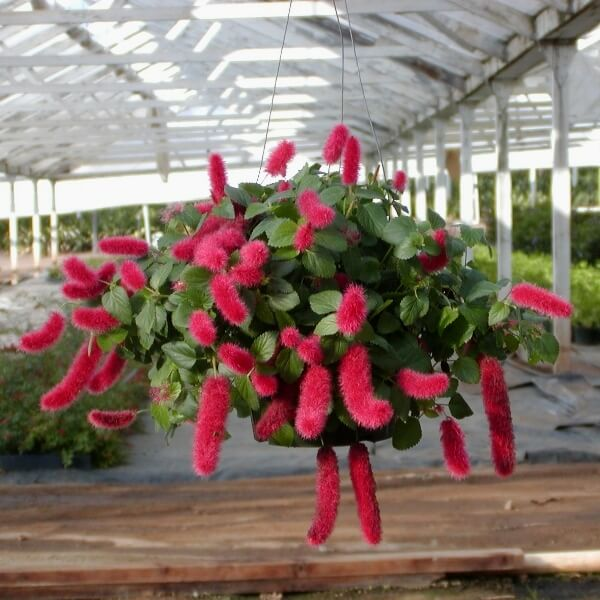 Acalypha hispida or Chenille plant is an ornamental plant with attractive red flowers. The flower has a tail shape to modify the entire stem. You will see the strange look of this plant by its combination of red flowers and green tiny leaves. This plant adjusts any season, then thriving them in a hanging pot is not a problem.
Boston Fern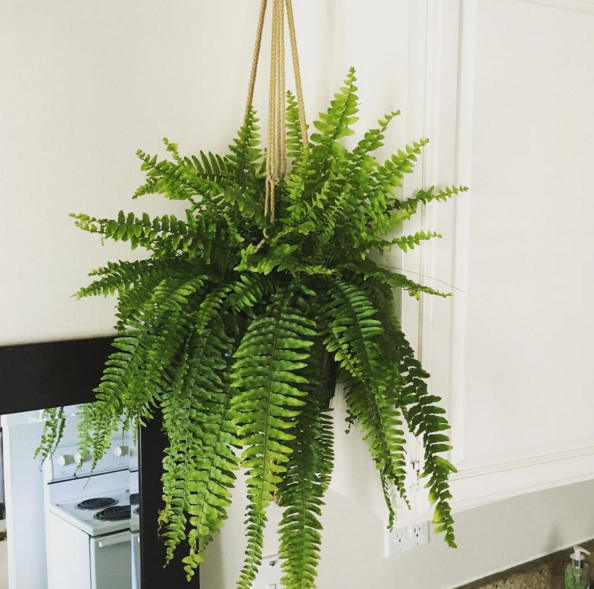 Nephrolepsis plant of Boston Fern is a perennial plant from the genus Lomariopsidaceae family. Boston Fern is popular to thrive in the kitchen. Its green leaves bring a fresh nuance when cooking the food. Moreover, it provides oxygen and good air circulation. You can grow this plant in another room such as growing them in a living room. As a tropical plant, this fern brings tropical nuance to your room.
Air Plant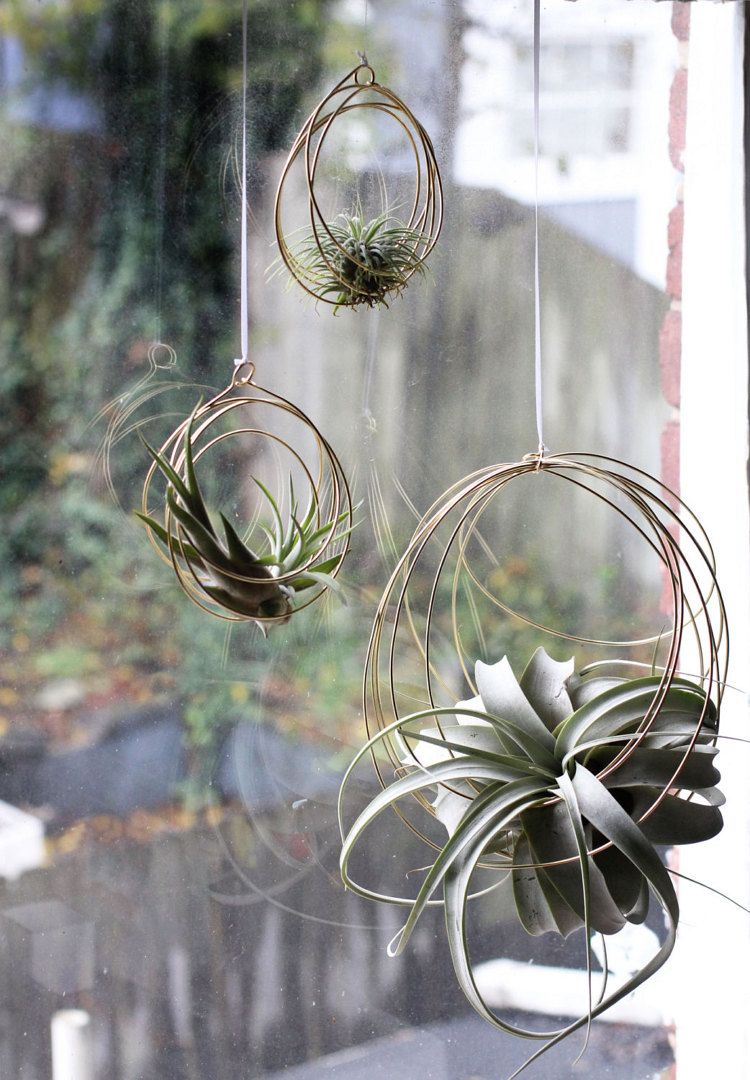 Tillandsia or Air Plant has attractive foliages. The small long leaves are simple but decorate your living room aesthetically. This plant is easy to thrive indoors because it stains in low humidity and a dry climate. Hang this plant provides enough sunlight and fresh air. Don't forget to spray the roots when it starts to dry.
Maidenhair Fern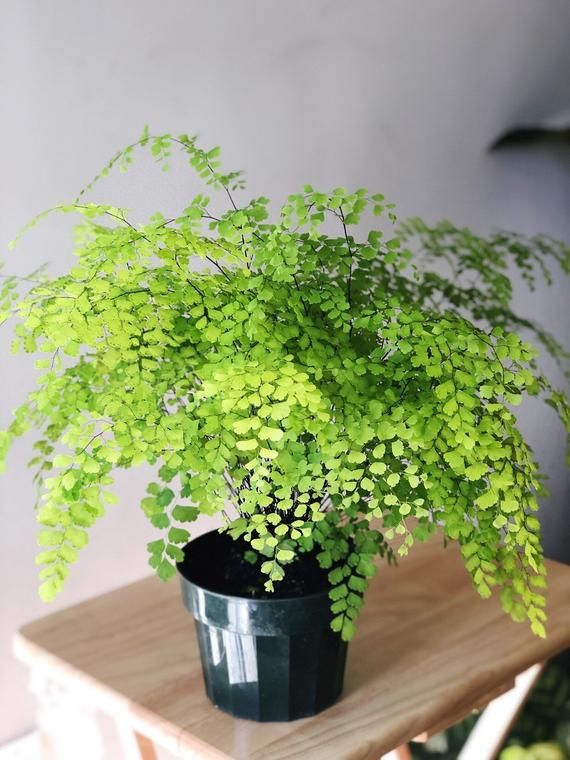 Adiantum or Maidenhair Fern is in the same family as Boston Fern. This plant has light green leaves and black fleshy stems. Growing this plant in your living room brings a greenery accent in this room. The green accent enlivens a natural nuance to get a fresher decoration. This plant is common to grow in the soil but it is also catchy to have them in a hanging pot.
Peperomia Caperata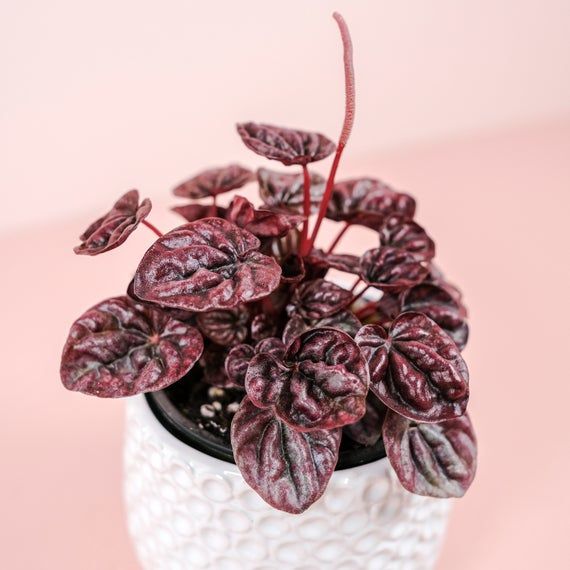 Ripple Peperomia has scientific name as Peperomia Caperata. This Peperomia species has a unique color of its foliages. The crimson leaves make your living room looks more stunning. It almost looks like an imitation plant from synthetic material, but it is surprisingly a living plant. You can grow them in a hanging planter to decorate the walls in your living room.
Sedum Morganianum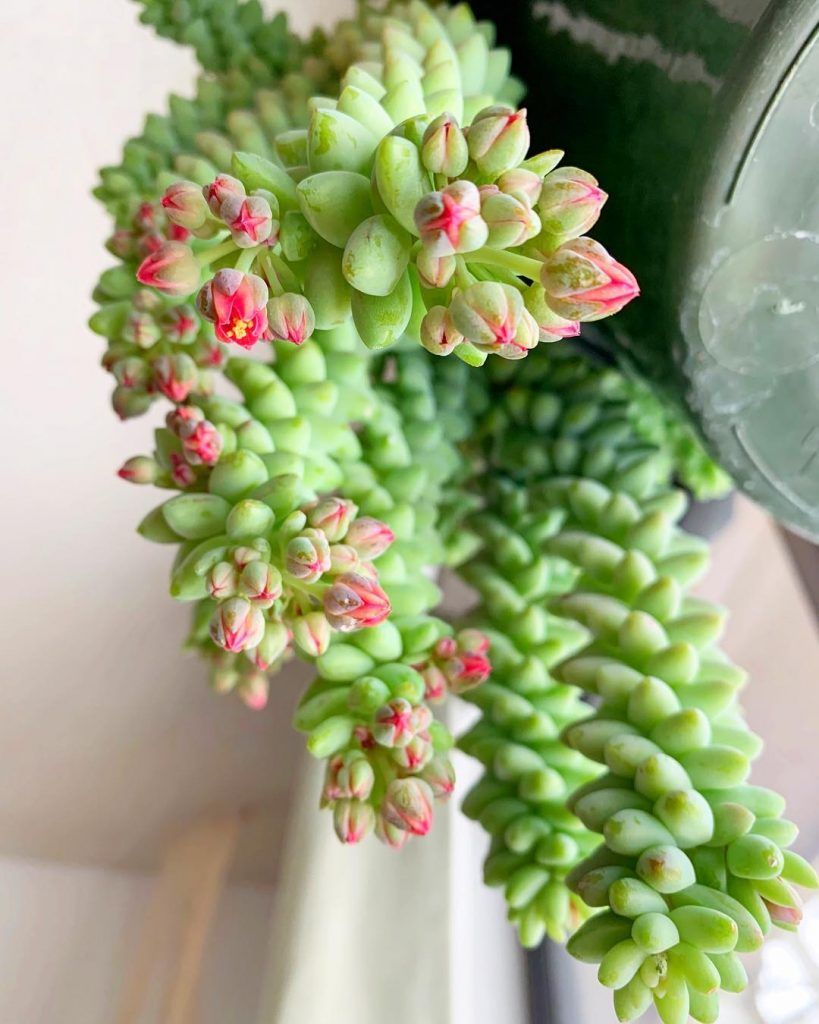 Burro's Tail or Sedum Morganianum is a perennial plant from succulent species. This plant has fleshy leaves and small flowers. It has long fleshy stems that make your living room gets fresher. As the name of Burro's Tail, the fleshy stem looks like a green tail. You can grow this ornamental plant in your living room and hang it near the window for aesthetic decoration.
Staghorn Fern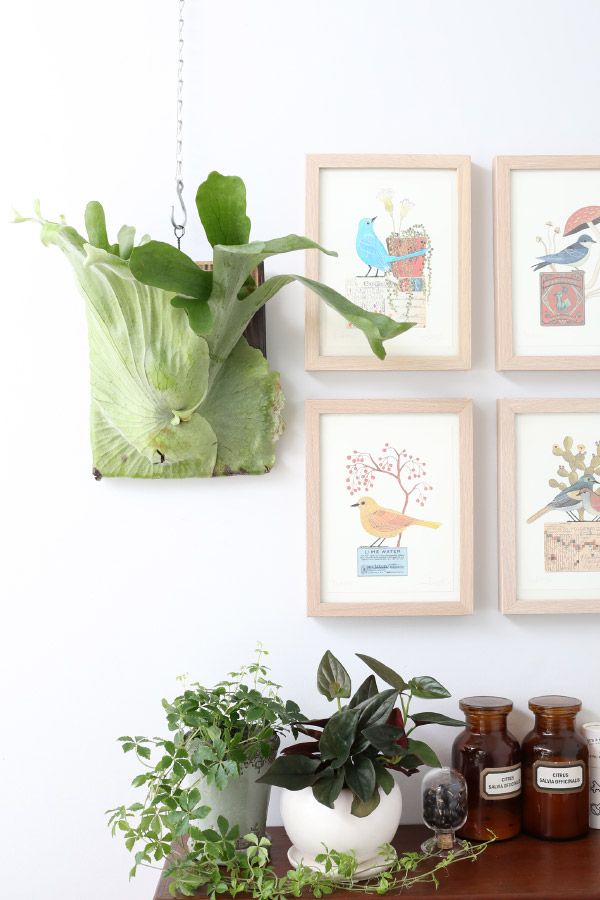 Platy Cerium or a popular Staghorn Fern is a unique plant with huge green leaves. This plant is suitable for a bathroom atmosphere. It thrives well in a cold temperature and sticks on the wall. The Staghorn Fern also looks catchy to decorate other rooms such as a living room. Grow a small plant to adjust your living room decoration. Since this plant likes to live in a wooden material or stone material, you can use a wooden slab as the medium to stick this plant.
Nepenthes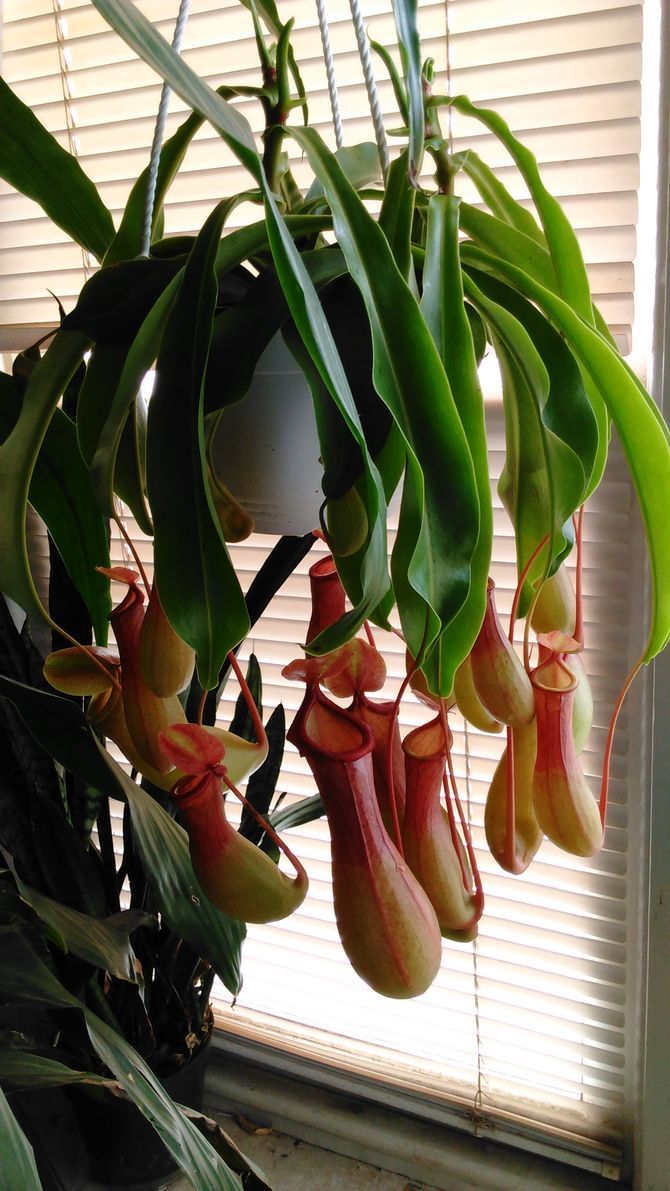 Pitcher Plant or Nepenthes is a carnivorous plant that has a 'pocket'. This pocket is beneficial to trap insects. It will wide open to attract insects with its natural fragrance. Having this plant in your living room brings a strange atmosphere because this plant sticks on point by its appearance.
String of Pearls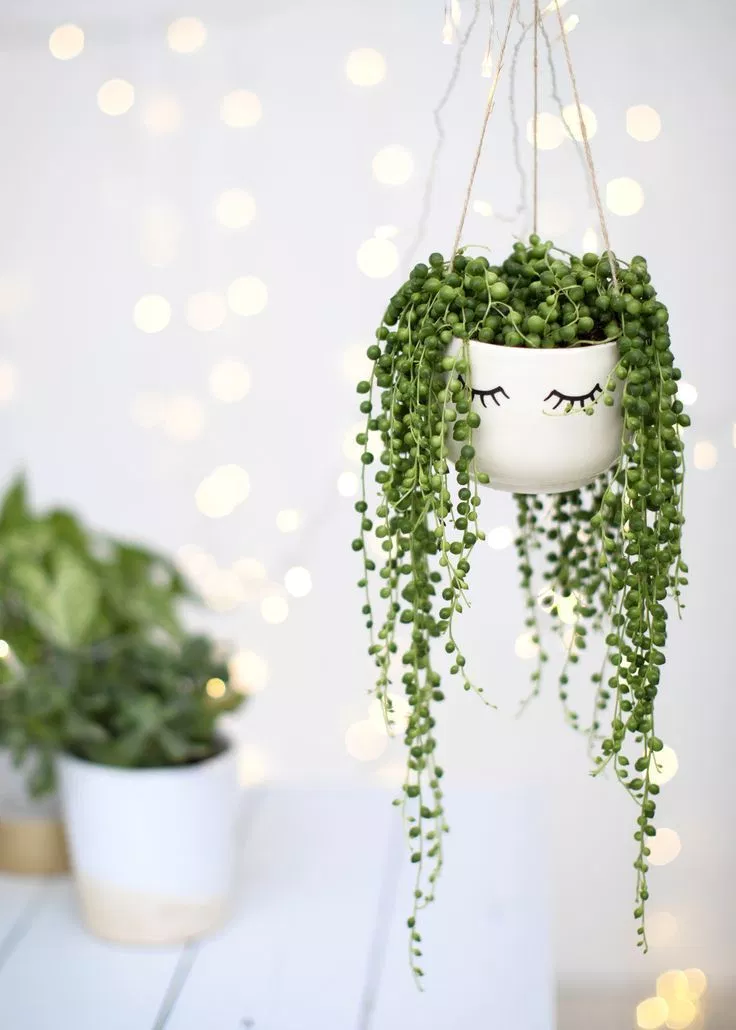 Senecio rowleyanus or also known as String of Pearls is an ornamental plant with myriad green pearls. This plant looks attractive by its vine stems that contain green pearls. You may see this plant to decorate a statue or hang it on a hanging pot. The string of pearls looks catchy to beautify your living room with its interesting green pearls.
Dischidia 'Geri'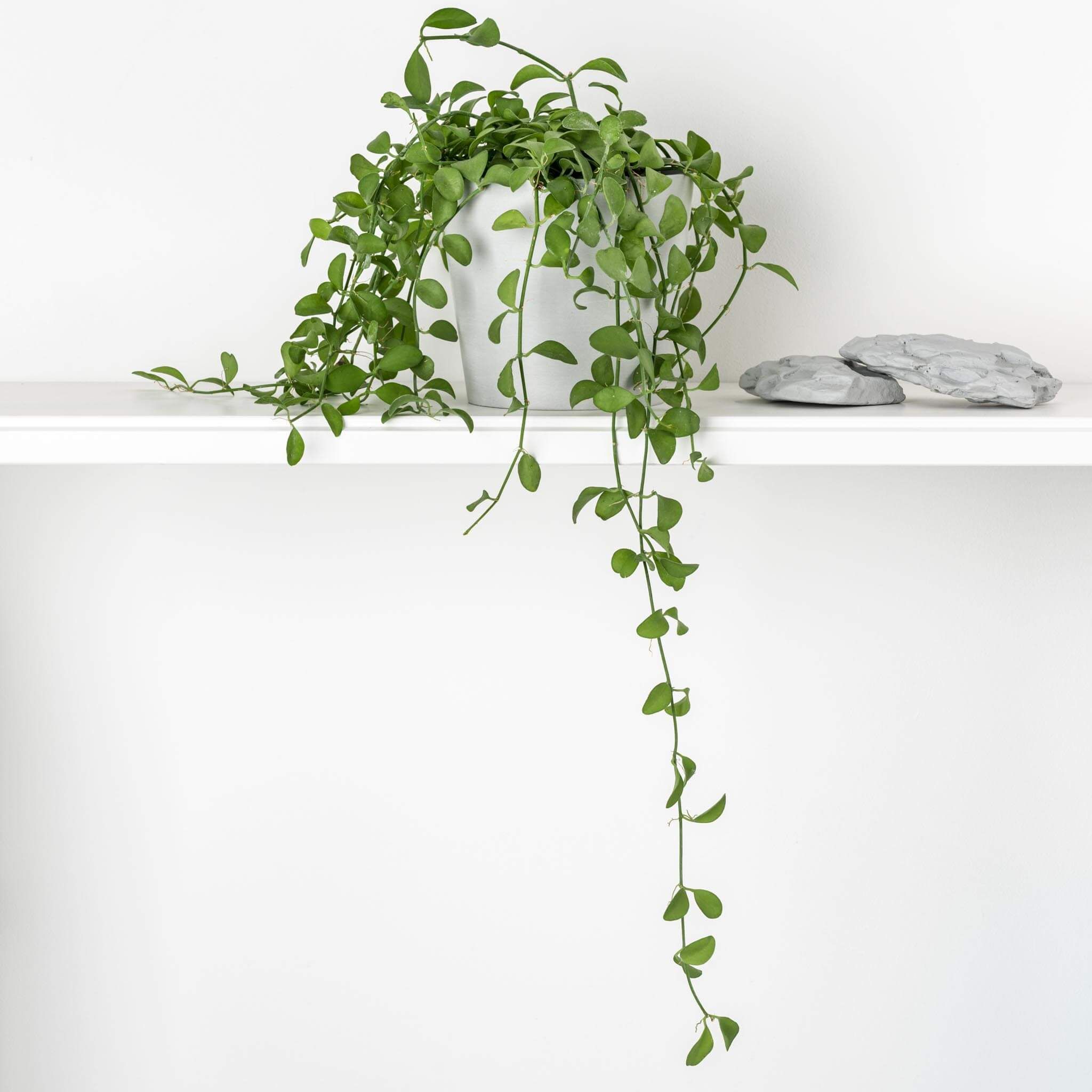 Dischidia 'Geri' has myriad tiny leaves. It includes the vine plant species. Like Golden Pothos, this plant looks catchy to show off its green stems. Even though it has tiny leaves but this plant is beneficial to decorate your living room naturally. You can hang them or grow them in a plain pot.
Million Hearts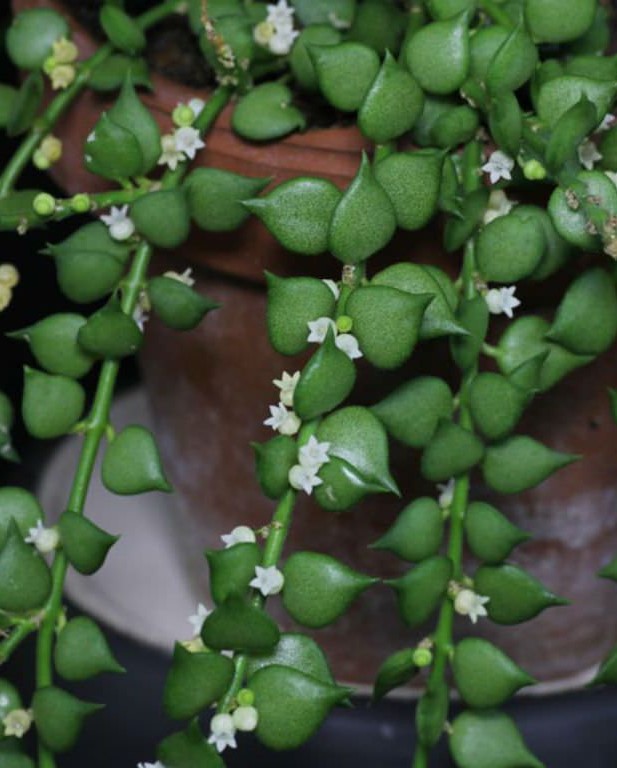 Dischidia ruscifolia or Million Hearts plant almost looks like Dischidia 'Geri' because it is in the same genus. The difference between both plants is the leaves' shape. This ornamental plant has a heart shape if you look at its leaves in detail. Moreover, this plant produces white tiny flowers as other characteristics with Dischidia 'Geri'. You can treat this plant like what you do to Dischidia 'Geri'.
Tradescantia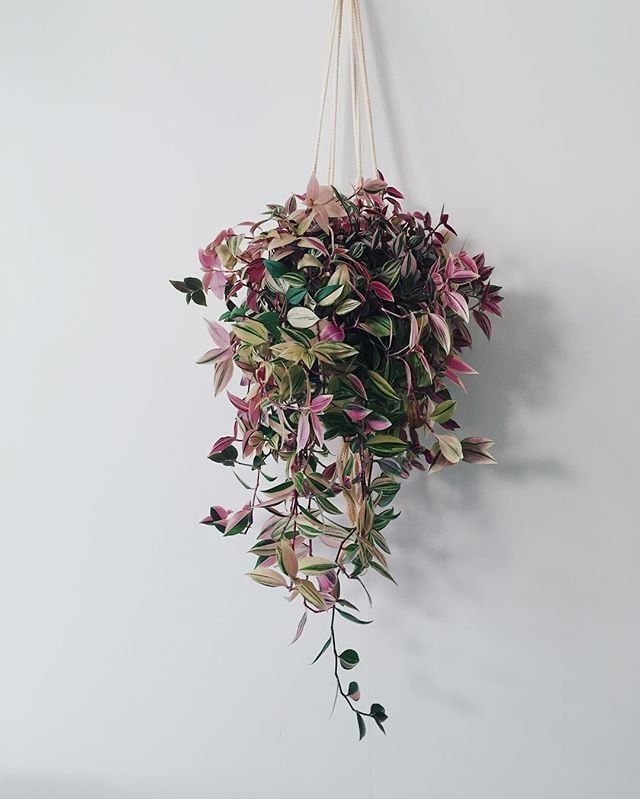 Tradescantia plant has colorful foliages. This plant is categorized as an ornamental plant with some colors. Tradescantia has fleshy leaves that you can feel the tenderness when you fold the leaves. The colorful leaves look attractive to form an interesting shrub. Hang this plant as a shrub plant makes it more attractive to beautify your living room.
Hoya Carnosa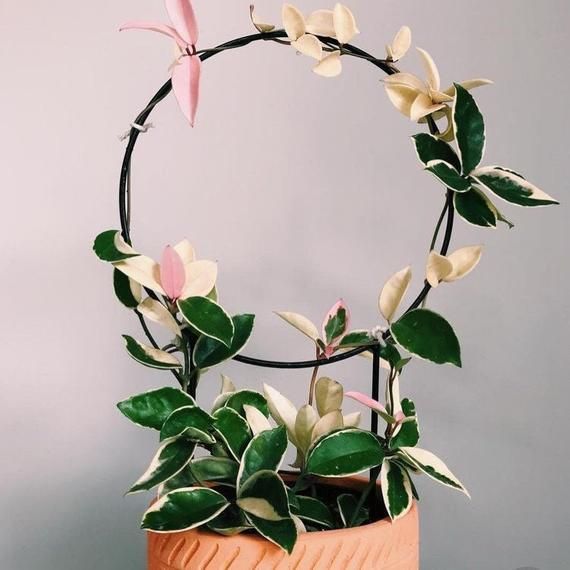 Hoya Carnosa plant is another colorful plant with stunning leaves. You can hang this plant to decorate your living room or do some modifications to its stems. The tender stems of this plant are easy to transform into an attractive shape. Moreover, it is useful to decorate the things in a living room by using this plant.
Dischidia Ovata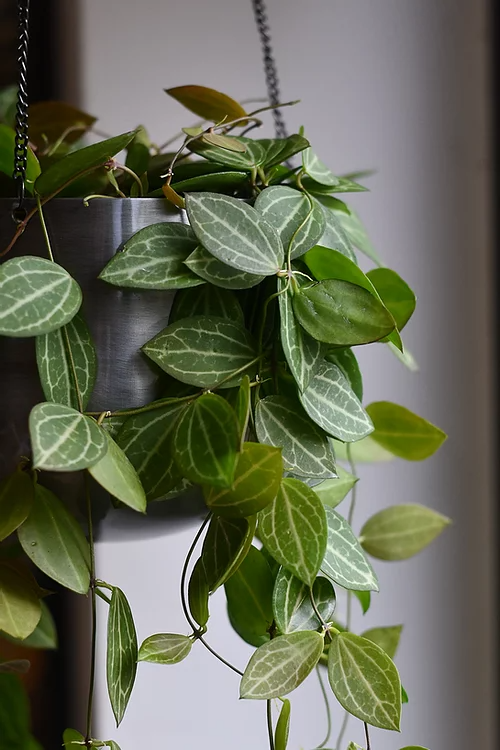 Dischidia Ovata is another species of Dischidia or Peperomia. This plant deep green foliages that look catchy as an ornamental plant. Dischidia Ovata is a vine plant, so it is more stunning to thrive this plant in a hanging pot to let the vine stems fall aesthetically. The natural growth of this plant looks interesting as a natural accent in your living room.
That is our discussion of Colorful Hanging Ornamental Plant Ideas for Your Living Room Decoration. That's all the kinds of hanging ornamental plants to decorate your living room. These plants adjust to any condition but using a hanging method brings a unique look to your room decoration. You can create a beautiful and comfortable living room interior with a variety of hanging ornamental plant that you choose. Choose according to your expression and character in creating a beautiful living room in your home. Moreover, using ornamental plants will create a scenic landscape in your living room. We hope the lists above are beneficial for you to get inspiration to hang your ornamental plant in the living room. Happy decorating and gardening!