Druhomes.com – A balcony is a private place to take a rest or enjoying your free time. This place provides a fresh breeze and warm sunlight. You can also feel the sprinkle raindrops from your roof or touch the snow in winter. A balcony can transform into a versatile room. It allows you to have a romantic dinner with yellow wire lights around you. Doing some works on the balcony may refresh your mind, painting the scenery, or sitting to enjoy a cup of tea and a good book. These activities sound interesting to do, but sometimes it needs a screen on the edge of your balcony, especially if you live in an apartment. Decorating a balcony is an exciting activity to see the result. For that, in this article, we will discuss DIY Tips for Attractive Balcony Screen Ideas for You to Relax. Let's discuss!
Garden Screen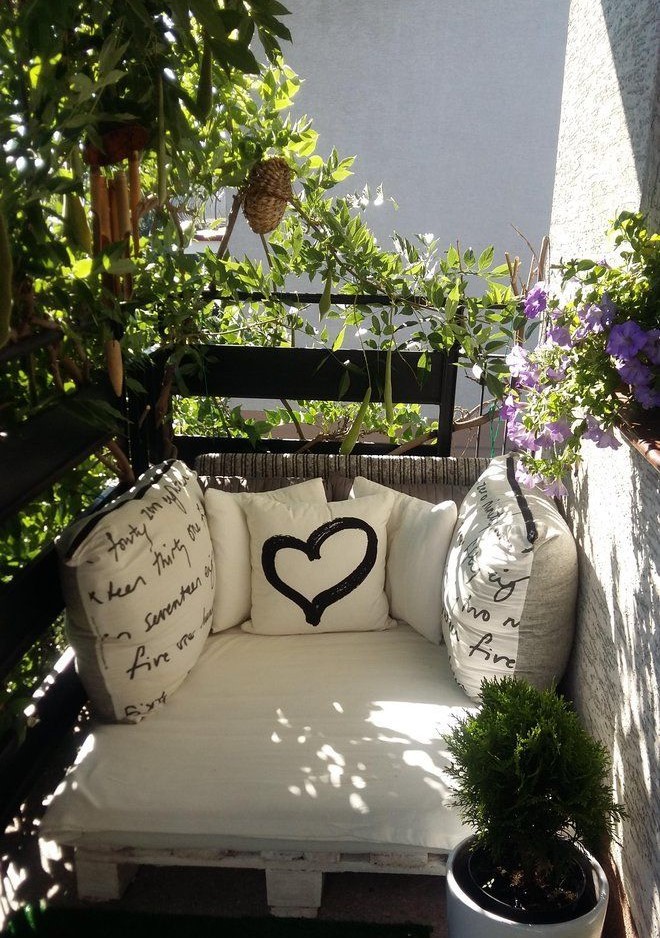 The first idea is a garden screen. It looks good for you who have a green thumb to grow some plants on the balcony. Take advantage of this space by creating a garden screen. It looks like a garden fence but smaller than the front fence. Since a balcony provides a natural environment, your plants will grow well in this place. Herbs, vegetables, flowers, and other plants are suitable for balcony conditions.
Bamboo Screen
Bamboo has an interesting color and natural pattern on each not. You may often see bamboo patterns in a certain house that brings a fresh and natural impression. Installing a bamboo screen on your balcony will make it looks shady and bring a forest-like atmosphere. Moreover, you can add other wooden furniture such as wooden chairs to complete the decoration.
Vine Plants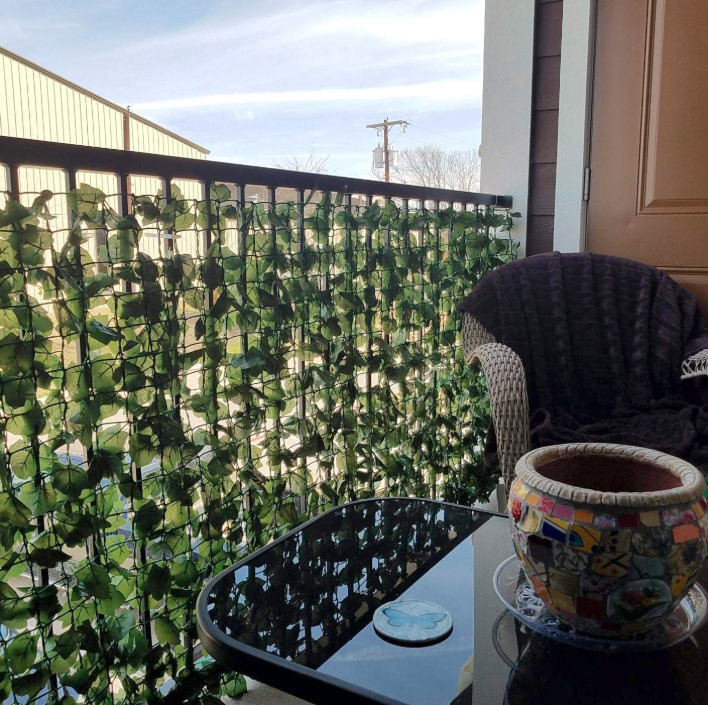 Vining plant is a common way to create a natural screen. This plant has an interesting appearance that is useful to creep on the fence, trellis, wooden plank, and other materials. Some vining plants for this natural screen are English Ivy, Pothos, and Peperomia are attractive vine plants to climb on the fence and trellis. The metal trellis is a simple medium to create a natural greenery screen. Decorating your balcony by using this idea is beneficial for a good combination of gardening and designing hobbies.
White Curtain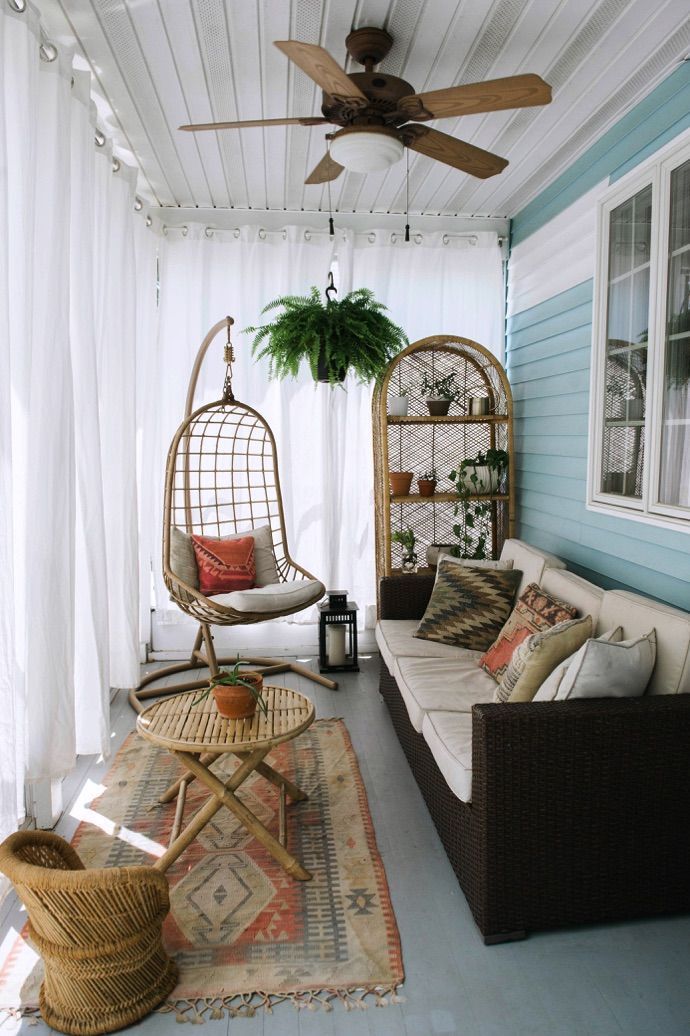 Having a balcony challenges you to decorate it based on your creativity. You can design your balcony by adding a white curtain to reduce the light on the balcony. Install roller curtain to make it easy when you want to pull and open your balcony. This screen is useful and simple for those of you who want to manage the privacy screen and create a temporary room.
Blurred Glass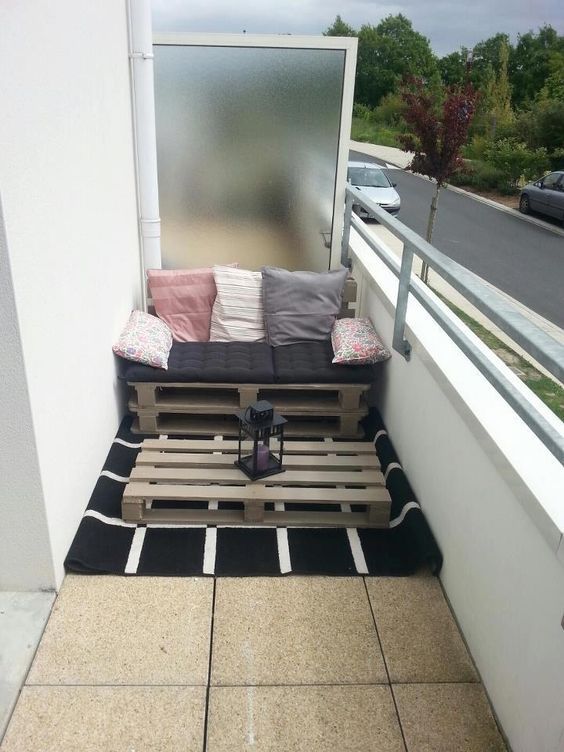 Another simple idea is installing a blurred glass screen. This glass screen protects you from people's eyes to see you enjoy the time on the balcony. You can choose the blurry effect on the glass based on your need. Some blurry patterns offer good privacy. Since this screen is made of glass material, you still can see the shadow of people and everything that stands behind it.
Canopy Ideas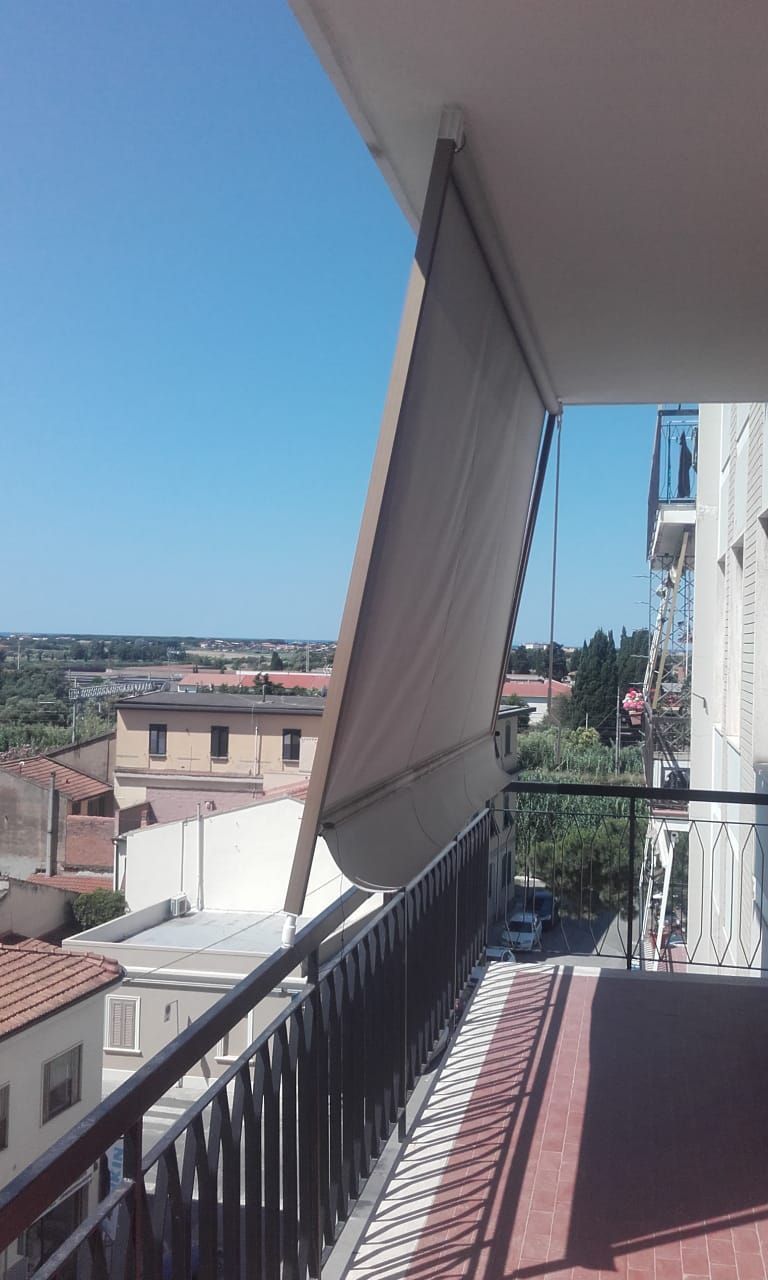 The east-facing balcony gets direct sunlight in the morning. Exposure to sunlight in the morning is good for your health, thus, you can do some stretching on the balcony. Enjoying morning exercises is good but you need shelter when doing an activity on a balcony in the afternoon. Install a canopy on your balcony gives shelter for you. It protects you from direct sunlight. The left or right corner is a common spot to hide from sunlight. The fabric material is the easiest material to install or remove by yourself.
Wooden Screen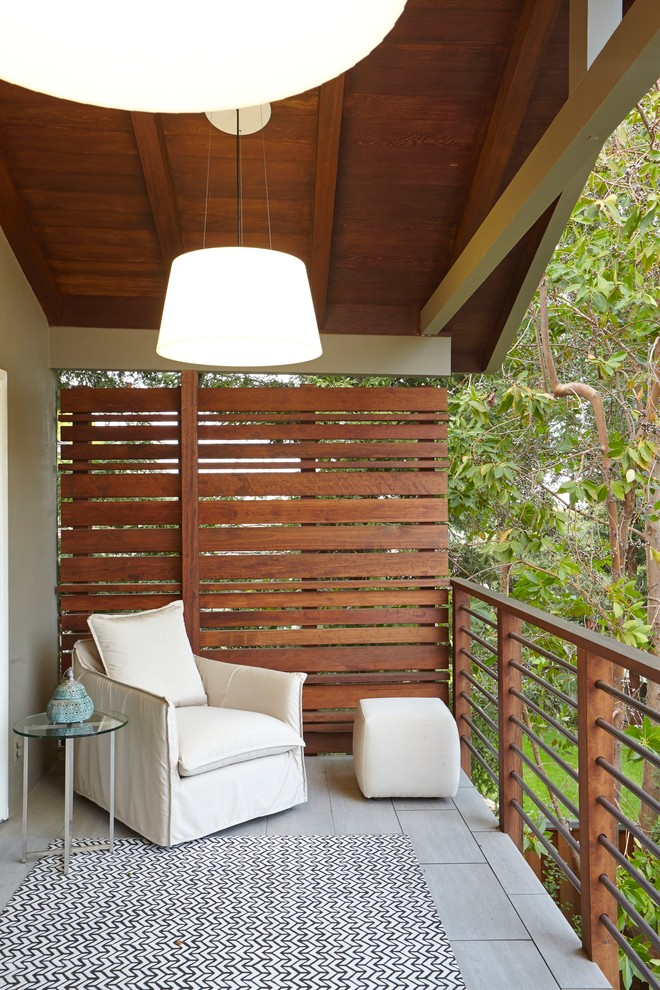 Having some wooden planks offer you a good material to create a DIY screen on the balcony. Measure your balcony to know how many planks that you need to create the screen. Install these wooden planks vertically or horizontally. If you like to give lattice between each plank, then don't install them too close. This screen looks attractive and natural. You can give some hooks to hang some ornamental plants. Add natural brown varnish to this screen to make it looks elegant.
Flower Screen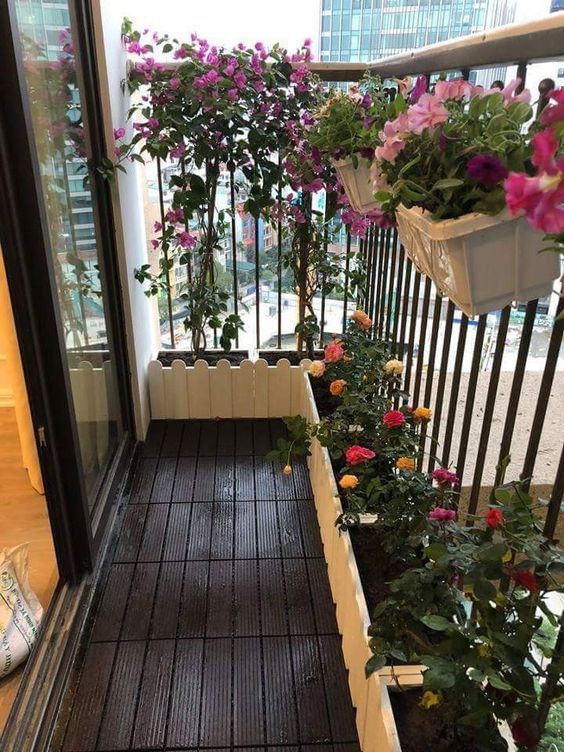 The flower screen is the living plants and their flowery appearance to cover your balcony. This idea can beautify your balcony naturally. The blooming flowers bring a fresh atmosphere every morning. Give more flowers by growing them around your balcony. Even though this screen doesn't give perfect privacy but it is catchy enough to create a semi-private balcony. Design your balcony to adjust this flowery place by having a rug and comfy bean bags to enjoy the time.
Straw Privacy Screen
Creating a DIY privacy screen for a balcony needs a fresh and interesting idea. Make use of the natural materials around you to transform it into a useful privacy screen. Knotting some straws to create an aesthetic fence around your balcony. You can use black thread or tie them directly on the frame. It looks like a farmhouse decoration in the summer and springtime. This privacy screen is more alive when you have some greenery plants near it.
Glass Privacy with Garden Shelves Screen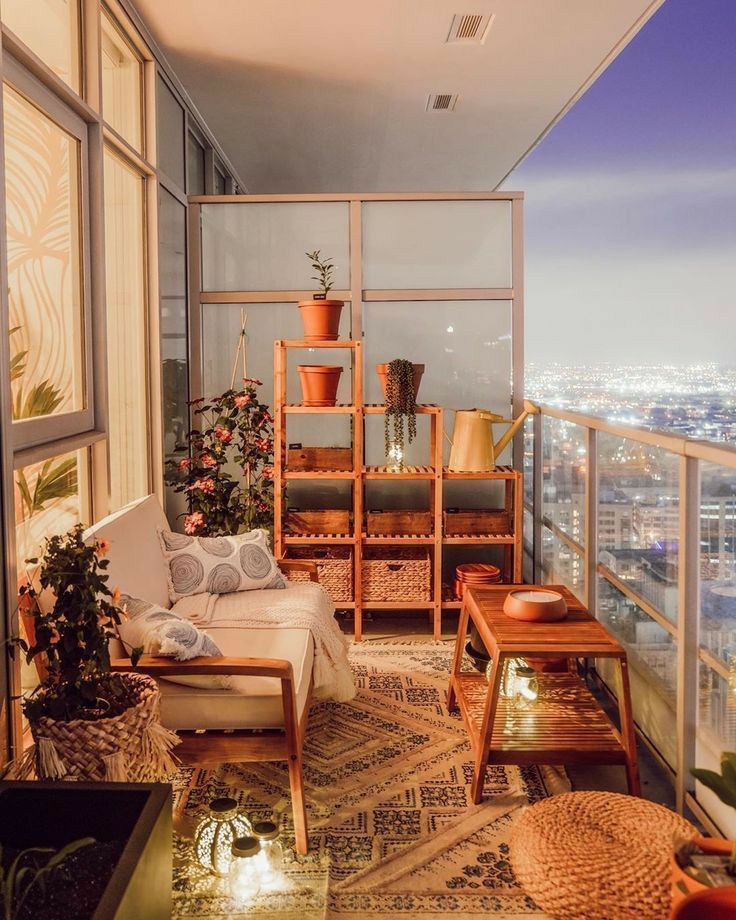 Doing a gardening activity on the balcony is beneficial to create a mini garden with enough sunlight and an outdoor atmosphere. Maybe you like to save the gardening tools and plant maintenance on the balcony too. Thus, you need to put a garden shelf in there. This shelf will be useful for your gardening tools and plants. It also gives a privacy screen from beside.
Thus our discussion of DIY Tips for Attractive Balcony Screen Ideas for You to Relax. A balcony is a strategic place to refresh your mind. This place provides outdoor scenery and calming atmosphere. Moreover, if you have an east-facing balcony that gets warm sunlight every morning. The west-facing balcony is another good direction to see the beautiful sunset. Enjoy these moments are more calming when you have a privacy screen from people's eyes. Thus, install a privacy screen will make you feel comfortable. We hope the ideas above will inspire you to create a privacy screen on the balcony. May you get a relaxing balcony and happy decorating!